If you're looking to learn about different types of boots for women, along with the various boot style names, and boot length names, your search is over!
I'm going to walk you through all the types of boots for ladies: from ankle boots to knee boots to trendy styles like combat & cosy shearling boots.
That way, you'll never have to ask "what are those boots called" again!
On shoe-tease.com, we've already outlined all the different types of women's shoes, the various types of women's heels and even written about all the types of sandals available.
So it was only time to write a complete guide to different types of women's boots for you too. Especially since I've already posted about these 27 amazing boots quotes!
You'll become familiar with all the boots style names, boot shapes, and the various heights available. Each boot type will be illustrated.
That way you'll get some visual knowledge out of this guide too. Not to mention some styles of women's boots you can shop and wear yourself!
Just how many types of boots are there, you ask? Let's just say there are a lot. I've been working in shoes for over 15 years and the sheer number of different kinds of boots for women surprised even me!
Of course, every few years a new style pops up – often a hybrid boot form. I feel like I'm constantly discovering more boot styles by the day!
A Condensed History of Boots for Women:
The first boots as we know them today originated around 1000BC. Before then, "boots" were made of 3 separate parts: soles, uppers and a form of legging that wrapped around the legs.
Not until the 19th century did boots become widely worn by women. And they were not categorized as a high fashion item until the swinging 60s. Of course, since then, women's boot history is – well, history!
Popular Women's Boot Brands
Reading from here, you will notice how many different boot types available to women there are. However, not all women's boots are made equally. Below are a few notable boot brands that are famous for both quality and style, below:
22 Different Types of Boots for Women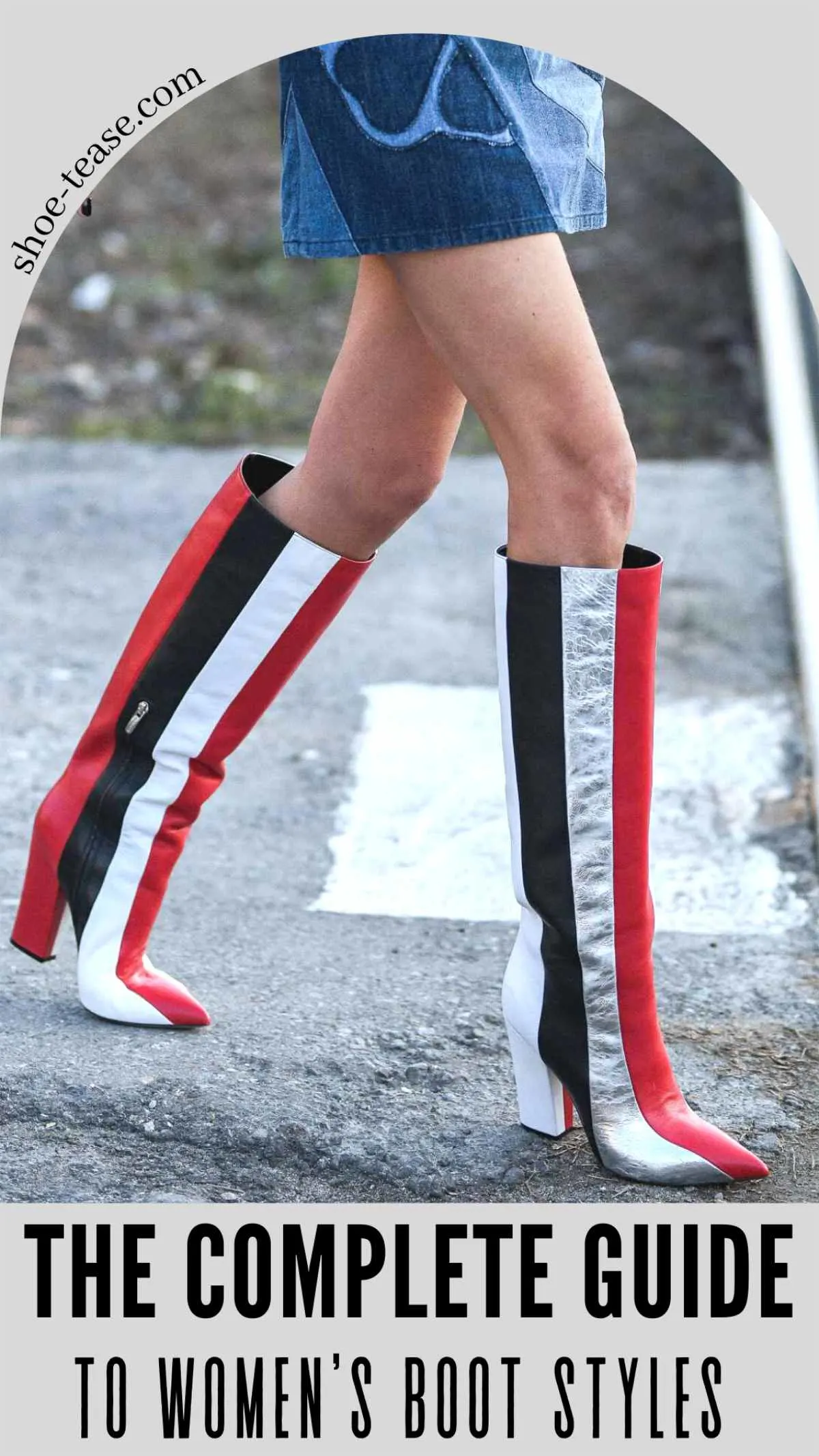 Ankle Boots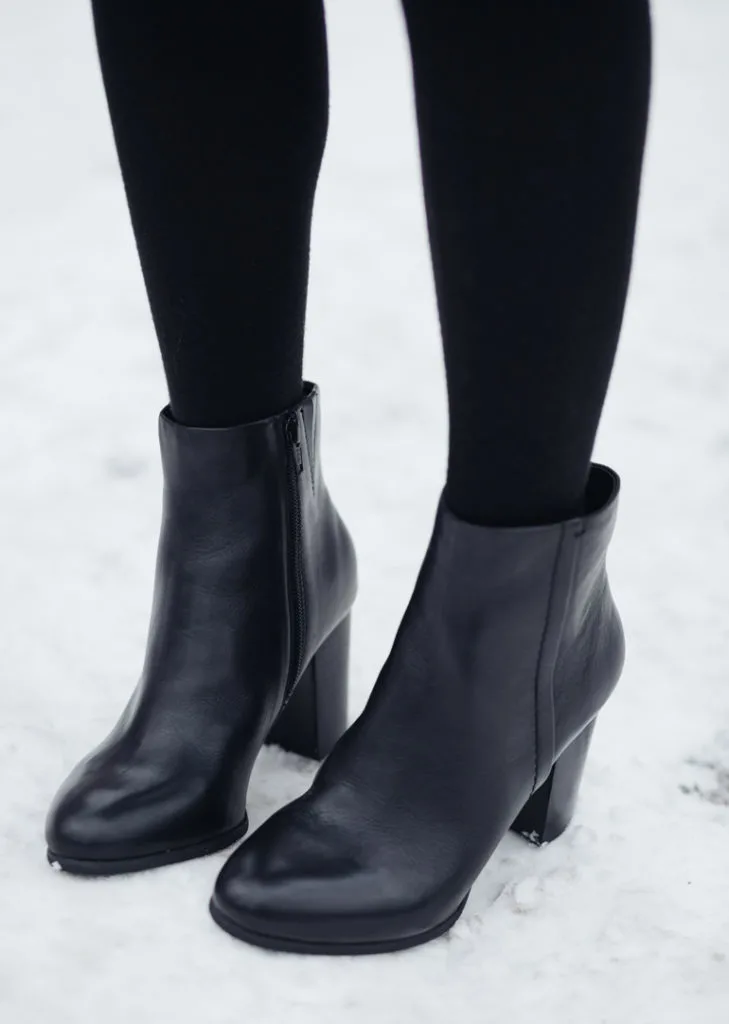 Ankle boots come in many shaft and heel heights. You'll notice that many kinds of boots for women are named for how much of the foot and leg they cover!
This is the case with ankle boots, they are a boot style that reaches a couple inches above the ankle.
Ankle boots were previously made of silk and satin when they were first introduced in 1804. Shoemakers eventually used leather. Along with nubuck and suede, it is still a popular ankle boot material today.
Ankle boots now come in vibrant colors, jet black, bright white boots and metallics such as gold. Some are studded and even embroidered, like these ones from Valentino. Many have animal prints such as snake.
Popular ankle boots at the moment are western-inspired ankle boots and lug-soled Chelsea boots, along with others mentioned in this post. Ankle boots are some of the best boots to wear with dresses, jeans and skirts!
Ankle boots, especially in black or neutral hues, make a great addition to any woman's capsule shoe wardrobe! Learn how to wear ankle boots outfits in my latest post.
Ankle Boots We Love:
Knee-High Boots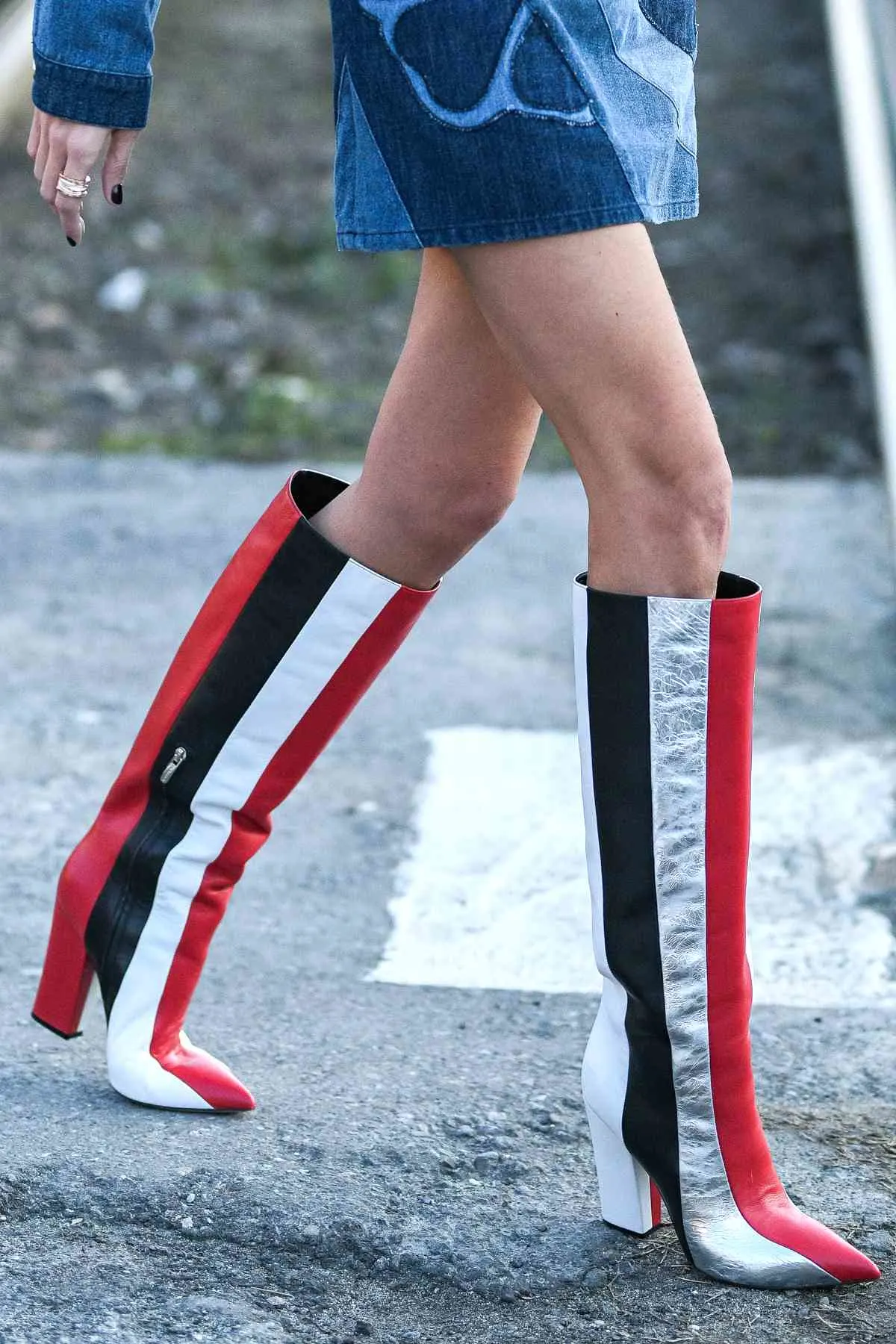 If ankle coverage isn't for you, then you can choose knee-high boots. Made from a variety of materials such as leather, suede, or fabric, they end just at or right below the knee.
It wasn't until 1913, when socialite Denise Poiret sashayed around New York in her Moroccan leather boots, that knee boots became a trendy boot style for women.
Over-the-knee boots took over women's knee boot popularity momentarily in 2019, but are now hotter than ever!
Current popular knee boots are straight leg boots that are roomy around the ankle area, like the photo above.
Knee boots work well with all kinds of outfits, and are my favorite boots for sweater dresses! Stuart Weitzman's 50/50 boot is an extremely popular style for those who prefer a tighter fit. Below are a few knee-high boots styles:
Straight leg knee boots
Slouchy knee boots
Lace-up knee boots
Stretch knee boots
Western knee boots
Rubber Knee boots
Combat Knee Boots
Check out all the ways to wear knee high boots outfits in my dedicated post!
Thigh High Boots (Over-the-Knee Boots)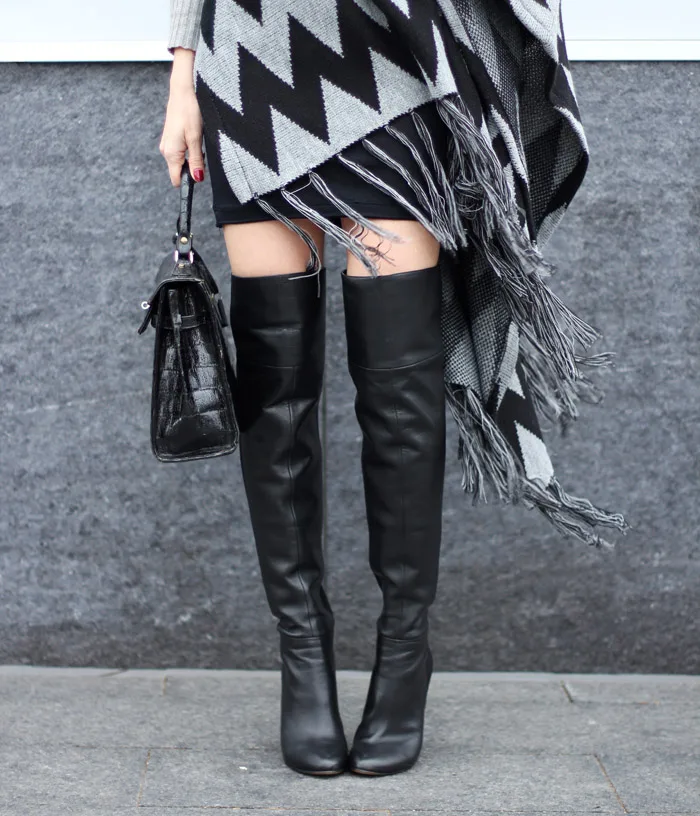 Speaking of which, we come to another kind of women's boot called tall boots. Also known as over-the-knee boots, these were first established to protect horseback riders' legs from being injured.
They were a type of boot exclusive to men until the 18th century. As mentioned in the knee boots section, it was not until the 1960s that they became more popular for women too.
Thigh-high boots used to be linked to courtesans and ladies of the night, particularly Julia Roberts' character.
However, they became a fashion phenomenon for everyday wear for celebs and us normal folks around 2016.
Ariana Grande is a case in point. She's been a huge fan of the Stuart Weitzman Highland boot. Tall boots work best with flowy maxi dresses, sweater dresses and mini skirts with voluminous sweaters.
Check out where to buy and how to wear thigh high boots outfits in my latest post!
Short Boots

Short boots are exactly as described – short! Well, the shaft is short, meaning that they end just at or under the ankle.
They're also considered ankle boots and often referred to as booties. More often than not, they look more like a tallish shoe, more than a boot.
Chelsea Boots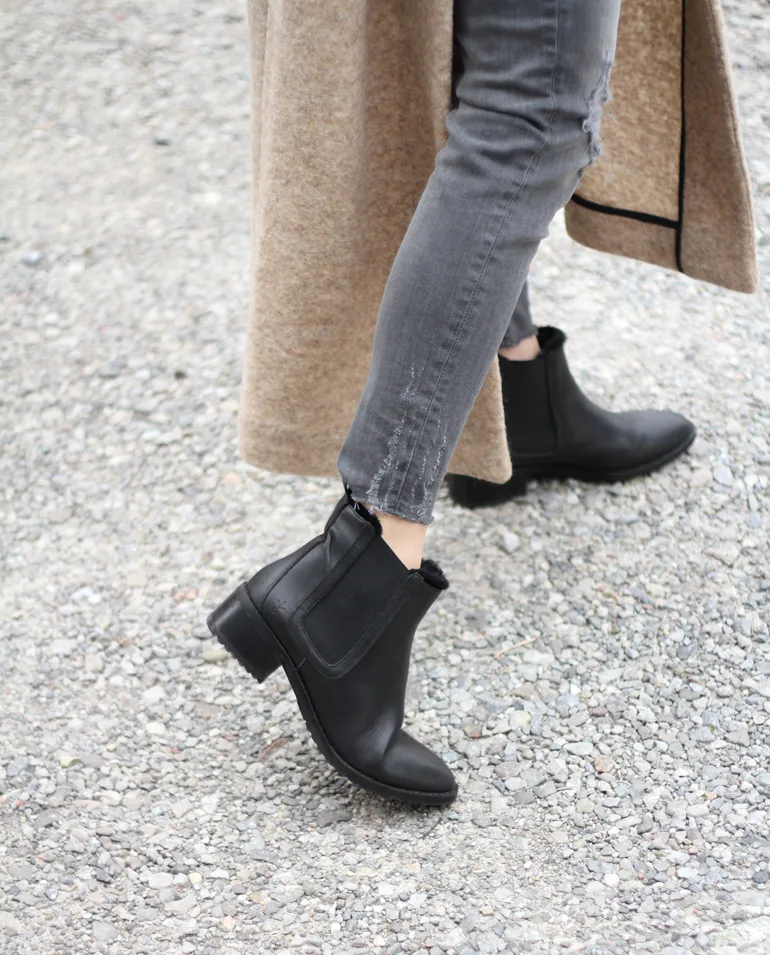 Chelsea boots are a type of women's shoe from the mind of famed shoemaker Joseph Sparkes Hall. They were not called Chelsea boots in the later 1890s.
The name came from Chelsea, the centre for the Swinging London revolution. The boot style, after all, was popularized during Chelsea's heyday in the 1950s & 60s.
While an ankle boot itself, Chelsea boots' particular trait is that they have an elastic panel on the side. Most types have a loop or tab at the back heel so that they can be easily removed.
Right now Chelsea boot are more popular than ever, especially with thick lug-sole. You can even find them in mid height and knee boot versions.
But lest we forget the classic Blundstone's classic weatherized version. See my other post all about how to wear Chelsea boots for more!
Chelsea Boots We Love:
High Heel Boots
Any type of classic boot can be considered a high heeled boot! From high heel ankle boots, knee boots and even over-the-knee boots, as long as it has a 2inch or higher heel, it's considered a high heel boot. Or bootie, if the boot shaft ends just below the ankle.
High heel boots come in as many as there are different high heels for women! These include:
Kitten Heel Goots
Block Heel Boots
Stiletto Boots
Wedge Heels Boots
Platform Boots
Wedge Boots
Wedge boots are a particular type of heeled boot. A wedge boot is one that has a special heel called a 'wedge'.
This is where the raised heel is continually attached to the outsole of the boot, without a break. Wedge boots are popular in various winter boot styles.
Salvatore Ferragamo is said to have invented the wedge shoe, to serve an orthopedic function in the early 1930s.
He used wood & cork as there was a material shortage of leather and rubber during the war at the time. Wedge heels are more seen in women's dress shoes than boots.
Sock Boots
Sock boots are named as such for their knit or jersey fabric that fits tightly around your ankle & legs, just like a sock.
They are made with a variety of materials – from plush suede to luxe leather. Some styles are made with fabric and neoprene.
Although most commonly seen as ankle boots, sock boots can also be of different boot shaft heights. Some even come in thigh high versions. They are a kind of boot that can look great even with more formal attire.
While most sock boots come in neutral colors, they are also available in other unique shades, including metallic gold.
Black stretch neoprene, knit or stretch suede styles with stiletto, block heels or clear heels are most popular. Check out how to style sock boots in my dedicated post!
Riding Boots
While riding boots are for horse riding, they're no longer that limited and are a great type of boots for ladies to give off a pretty, country club vibe. They are also known as Derby boots.
You can wear style riding boots with many outfits, such as shirt dresses or sweater dresses, and are great boots with skinny jeans or straight leg jeans for casual occasions.
So even if you're not going riding anytime soon, these boots can make you feel safe – and stylishly posh.
Many high-end designers incorporate riding boots into their current collections. I have seen the all-black minimal riding boot from Khaite everywhere!
Combat Boots
Combat boots are rugged, purposeful footwear worn during – you guessed it, combat or training for it. They were made for the specific needs of those fighting during the English Civil war.
In the US, combat boots were used in the War of 1812. However, they can be traced way back to when the Romans' wore their caligae hobnail boots.
Nowadays, they are one of the most popular types of boots for ladies. They're extremely popular nowadays with a lug sole and various finishes. But the classic look of a black combat boot can't be beat!
You can also find waterproof combat boots for women to take you through rain and snow. With their grip and stability, it's no surprise that Katie Holmes, Bella Hadid and all the fashionable women are loving them.
A great thing about combat boots is that they are boots that go with everything. Check out my post about how to wear combat boots that teaches you how to style them!
Combat Boots We Love:
Moto Boots
An abbreviation for motorcycle boots, moto boots are originally made of tough leather to ensure the safety of their motorcycle-riding wearers. This type of boot's chunky heel helps for better bike control on the pedal.
While they serve an important function for motorcyclists, they are a great pick for women. And why not? They come in a variety of styles, from ankle height to just below the knees.
They usually have a size zipper and a buckle across the front of the ankle.
I love that, as a combat boot, they are stylishly rugged – making them perfect for any outfit and a great choice for winter if treated for water resistance!
Hiking Boots
Hiking boots are boots for people who love the great outdoors and function well for trekking around uneven terrain.
I love wearing my winterized ones for Fall! They have grippy, thicker tread soles and high up to the ankles.
Although they were initially created exclusively for men – weren't they all!? – it was not long before women sought them out as well.
Their particular feature is that they have rugged metallic hooked eyelets. They come in many styles, materials and colorways.
Rain Boots
Wellington Rain Boots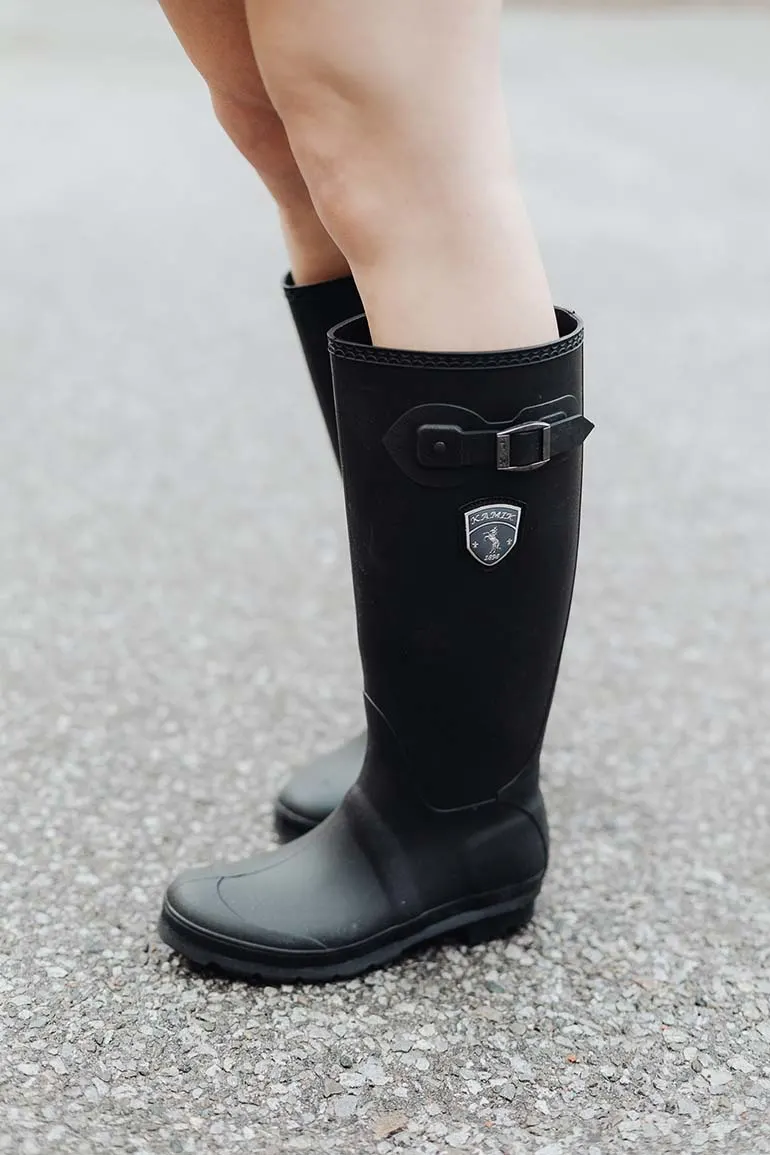 Wellington rain boots were inspired by the leather Hessian boots, and named after the Duke of Wellington. however, instead of leather, they're made with water-repelling rubber.
While mud boots are meant for outdoor work in the field of fishing in shallow water, they serve a fashion purpose too.
Hunter Boots have completely changed the Wellington boot game and are worn by fashionistas all over the world.
Including myself, as you can tell from my Silver Hunter rain boots post! However, many other brands offer chic and affordable tall rubber rain boots styles, such as Kamik, like I'm wearing in the Jennifer rain boot review.
Ankle Rain Boots
A more subtle approach to rain boots is ankle rain boots. We can find ankle rain boots in a lot of styles, but the most common is a rubber Chelsea boot version or a slip-on version.
The best thing about low rain boots? They're easy to wipe clean with some soap and water as they're made of either plastic or rubber. You can find ankle rain boots in many fun and classy prints.
Cowboy Boots
Cowboy boots have been a classic boot style for women and men for years. However, these and other western-inspired boots are gaining traction in the fashion world in 2022.
Many are wearing both contemporary and western style dresses with cowboy boots, while others are taking cues from Princess Diana's style book of what to wear with cowboy boots, including pairing them with mom jeans and blazers.
I mean, there so many ways how to wear cowboy boots, just check out my post to find out!
Tall Cowboy Boots
No kind of shoes represents the USA more than a pair of cowboy boots. But this boot type has taken the fashion world by storm!
Cowboy boots are a kind of riding boot and are usually built with a high shaft and leather stacked. They have no laces and often have a round or pointed toe shape, and come with an angled heel. Traditional cowboy boots are made of very sturdy leather.
Roper Boots
Nowadays, fashionable shoppers can choose from two separate styles. One is the classic, western design mentioned above. The other type of western boot is a Roper, which has a shorter shaft that stops at the ankle.
They are essentially an ankle-version of the cowboy boot. Many fashion brands have jumped on the roper bandwagon. Yee-haw!
Shearling Boots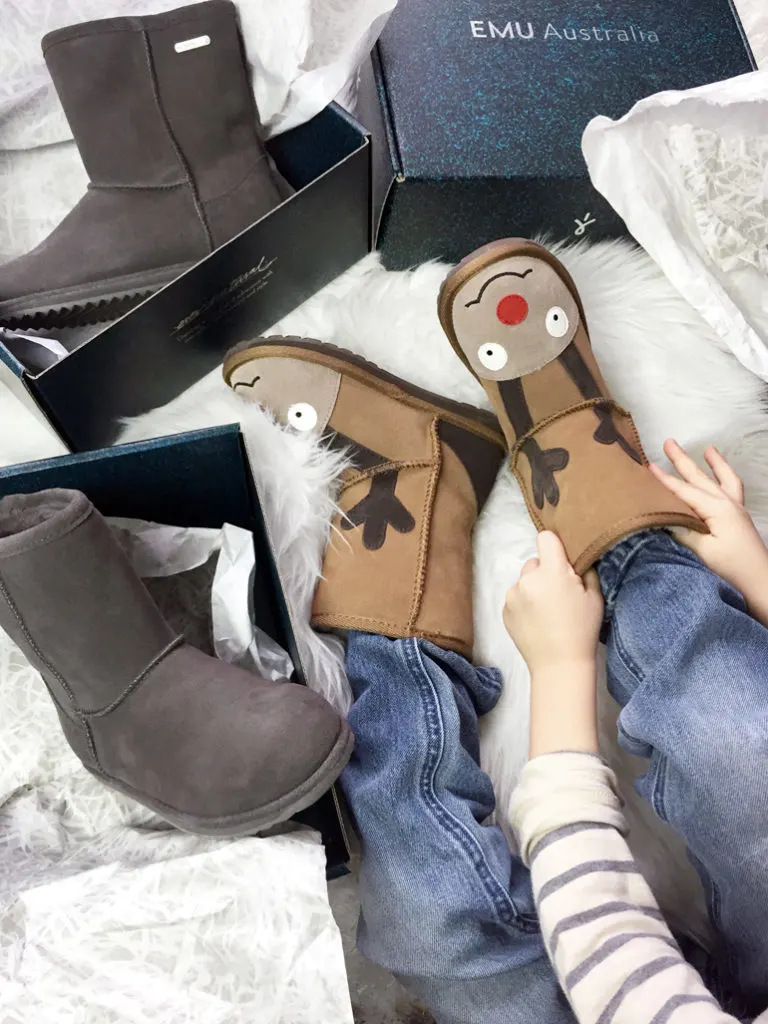 Also called sheepskin boots, shearling boots are boots that feel luxurious – and traditional styles have a price-point to match. They are called shearling boots, as they are lined with shearling, which derives from a sheep or lamb.
When you think shearling boots, most people think of UGG's classic boots. These boots were originally worn by surfers to keep warm after early-morning sessions and are worn in Australia as slippers.
The rest of the world has adopted shearling boots as outdoor shoes for all seasons. Now sheepskin boots can be found in a variety of styles, not just the classic slip-on boot and are made by many Australian shoe brands, such as EMU Australia.
See my post on how to clean UGG boots and other similar shearling boots!
Snow Boots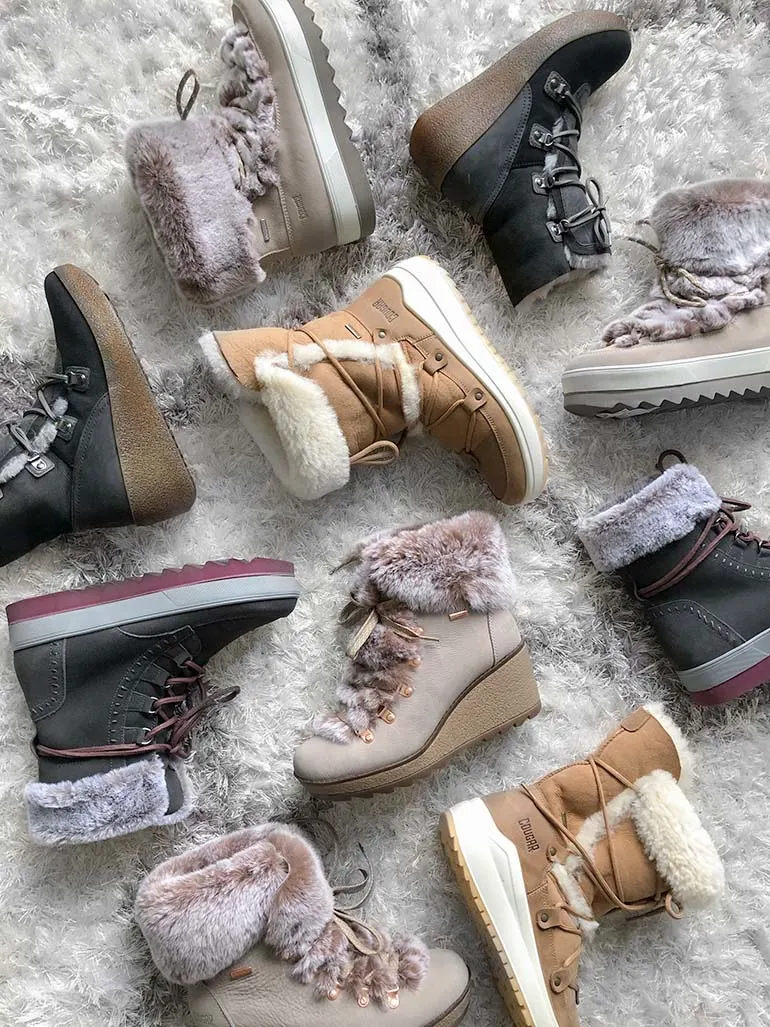 Snow boots are winterized boots that are great for walking in snow. They are waterproof and warm. Some styles even have a temperature rating to tell you how cold you can go in the boots.
Snow boots have great outsole traction to prevent slipping on ice and snow. Some even have sole grips and spikes to help in extreme conditions.
Snow boots come in a variety of styles and are a staple for anyone who lives in a colder climate such as myself! Most city styles are ankle length, but many come to heights a few inches under the knees.
There are too many brands that make snow boots to list out here. EMU Australia makes some of warmest winter boots. You can check out my post on the best Canadian winter boots for a great selection.
Don't forget to learn how to store winter boots for summer, so they're ready for you for the next snowfall!
Sneaker Boots
I said I wouldn't get into boot hybrids in this post, but it's hard to leave out sneaker boots. They are a mix between a high top sneaker and boot and usually have a thicker sole.
Many of them are insulated and double as a winter boot. Some sneaker boots have traditional laces, bungee cord laces, are slip-on or have a side zipper. They're a great alternative to a bulkier winter boot.
How to Care for Boots so that They Last Longer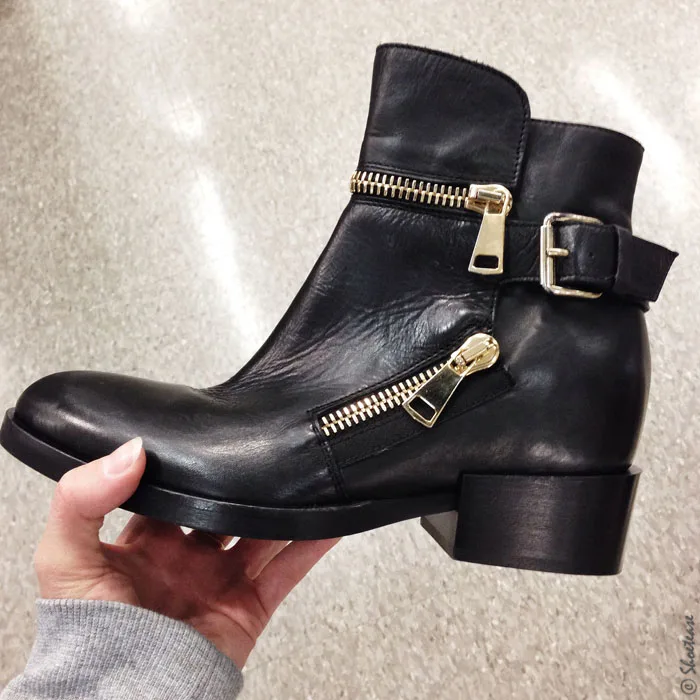 To prolong the look, feel and use of your boots, boot care is a must! Especially with our favorite boots, which can get damaged quickly.
My winter boots are no exception – they probably get the brunt of it from the snow, slush & salt. Yuck! That's why boot maintenance is key, before and during wear.
When you first get your boots, make sure you treat them, if they haven't been. Snow boots are usually pre-treated, as are waterproof boots.
But for those that aren't, applying treatment such as leather conditioners to preserve the material, is key.
If your boots aren't waterproof, but you know you'll likely be facing the elements, use a waterproof spray. Here is my post with the best waterproof sprays for boots on the market, to get you started.
Once you get using your new boots, clean them off with every wear and make sure you treat stains – especially from salt – right away. Take a look at how to clean suede shoes for how to get those pesky salt stains out of suedes & nubuks.
And don't forget to do a good job of storing winter boots when you've finished with them for the season – or for the day!
Final Remarks on Different Types of Boots for Women
Now that I've given you plenty to think about when it comes to the different types of boots and boot styles for women, I hope you've got a good idea of what boots are out there.
Of course, this list isn't the final list of all boots for women. That's because many of the above boots types can be a combination of boot styles with a variety of heels, finishes and details.
Call them fusion boots if you may! This means that the total amount of different types of boots is virtually limitless.
It all goes to show how difficult getting dressed in the right boots for your outfit can be. At least it is for me! Take a look at my shoe styling posts for how to make your outfit just right with the perfect shoes.
Which boots are your favorites at the moment? Any types of women's boots that I might have missed out on? Please let me know in the comments, below!

More Shoe Posts:
xo ShoeTease
Cristina is the chief editor, fashion & shoe expert here at ShoeTease. As a seasoned stylist and women's fashion & shoe designer, she boasts over 20 years of experience in the fashion industry. She loves crafting effortless outfits for ladies both online and off and believes that styling advice should be accessible to everyone. Whether you're a styling pro or just starting out, Cristina's here to guide you on your fashion journey! Learn more.