The best boots to wear with skinny jeans, you ask? There are so many footwear options with skinnies. And boots and skinny jeans are one of my favorite styling combos.
There are a lot of shoes to wear with skinny jeans, but for the Fall season, nothing beats a good pair of boots!
Being as tight as they are, skinnies pair perfectly with anything from lower ankle boots to the higher of thigh highs.
And there are so many trendy & classic options that no matter what type of style you prefer, one of these boots will surely strike your fancy as the boot choice to pair with your skin-tight jeans!
I have many skinny jeans & I have many shoes. I'm sure you do too, so the options are rather astounding! Especially in the winters when boots are the more practical shoe option.
Below are some of my top skinny jeans with boots pairings of the moment with links below each to the best choices currently available in stores.
The hottest skinny jeans styles at the moment have a mid to high waist and are ankle length.
Shop all kinds of skinny jeans – designer and otherwise – at Zappos, Saks Fifth Avenue, Bloomingdale's and My Theresa.
9 Best Boots To Wear with Skinny Jeans
Skinny Jeans with Ankle Boots
Ankle boots and skinny jeans are a perfect combination that I am pretty sure will never go out of style! The best ankle boots to wear with skinny jeans are many.
The type of ankle boot you choose to pair with your skinny jeans, can completely change the look of the outfit.
Of course, I could go into detail with all types of ankle boots to wear with your jeans, but that would take a few posts!
So here are my top 3 ankle boots for skinny jeans to keep you stylish into 2023:
Stiletto Ankle Boots
Stiletto ankle boots are definitely a more slick version of an ankle boot that, depending on heel height and material, can work from the board room to the bar.
Styling tip: show a little ankle to add some je ne sais quoi to your stiletto shoe style!
Block Heel Ankle Boots
Block and chunkier heel ankle boots are trendy & a lot easier to walk in than their stiletto counterparts.
These are one of the most popular style of ankle boot to wear with skinny jeans at the moment. Wear them anywhere for an on-trend look! Extra points for wearing block heel sock boots 😉
Styling tip: These are the shoes to wear with flare jeans for the next few season too.
Low-Heeled Ankle Boots
Low-heeled ankle boots equate low-key, but they can be seriously sleek. The easy go-to ankle boot that you can (hopefully!) walk for miles in.
Styling tip: the lower the boot on the ankle, the more awkward it looks to tuck your jeans into them. Try to keep a space between the jean hem & top of the boot, like the images above.
Check out my in-depth guide on how to wear ankle boots with jeans, including skinny jeans, in my latest post.
Shop Classic Ankle Boots for Women:
Combat Boots with Skinny Jeans
Show your tough side with a pair of lace-up combat boots paired with tight jeans. Add a destroyed skinny for maximum rebel effect! A solid leather pair of combat if well taken care of with last years.
Combat boots get more or less trendy in fashion, but are always present. For the 2023 season combat boots are all about chunky bottoms with notable lug soles.
This classic boot will surely never go out of style! Can't beat the fact that you can pretty much wear them with anything.
Not into lace-ups? A buckled biker boot will be just as tough & edgy, but easier to slip in & out of!
Read my post on how to wear combat boots with jeans and everything else! Don't forget to check out the best waterproof women's combat boots too.
Styling tip: As this classic style sits a little higher at the ankle, feel free to show a little sock layered on top of the jeans
Sock Booties with Skinny Jeans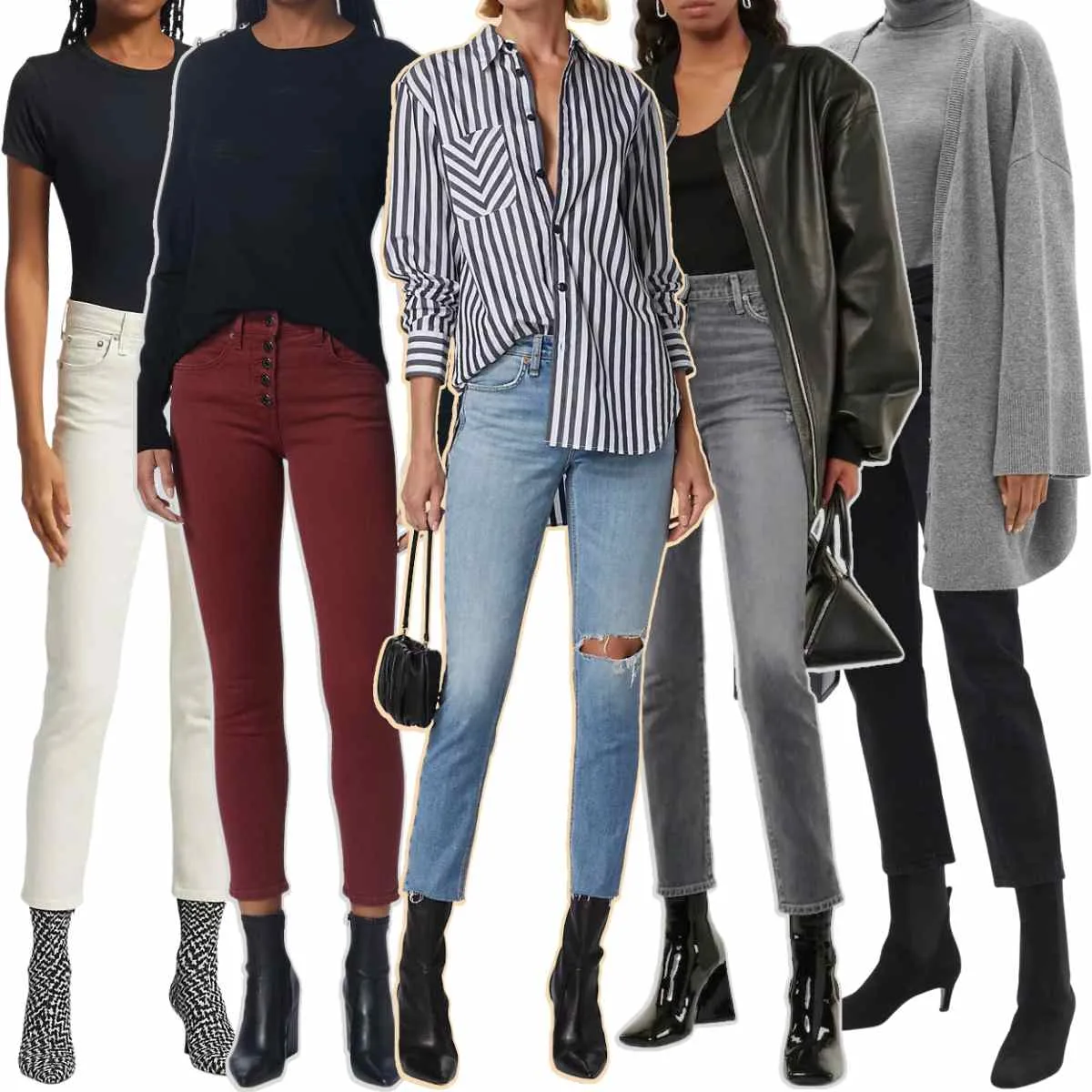 For a streamlined look, a tight, sock-like boot – aka sock bootie – is a great way to balance out your outfit. Especially if you're wearing a top with your jeans. Sock boots outfits with any outfit tend to elevate a look.
Sock booties in black or metallic hues with a stiletto heel and fine-toe shape are perfect for a night out with skinny jeans. Pick dark or black skinny jeans and add a silk top, or tank with a sparkly blazer for a chic night out.
Cowboy Boots with Skinny Jeans
Skinnies are some the best jeans to wear with cowboy boots because they'll fit into your boots effortlessly!
Or, if you prefer, you can roll them up with western ankle boots, to show off a bit of leg or socks.
Wear them in both winter or summer with any type of cowboy boot – ankle or calf height. I love high waisted pair of skinny jeans, tucking into them a fitted tank, classic boyfriend tee, or fun blouse.
Layer over a cardigan, light jacket or trench. Add a western buckle belt for some cowgirl flare.
For more elevated outfits, choose a dark or black pair of skinny jeans with a bodysuit. Layer over a dark or white structured blazer.
Cowboy boots in high-shine black, optic white or a metallic hue will add a dose of glam! Check out more style tips on how to Wear Cowboy Boots with jeans and other clothing!
Chelsea Boots with Skinny Jeans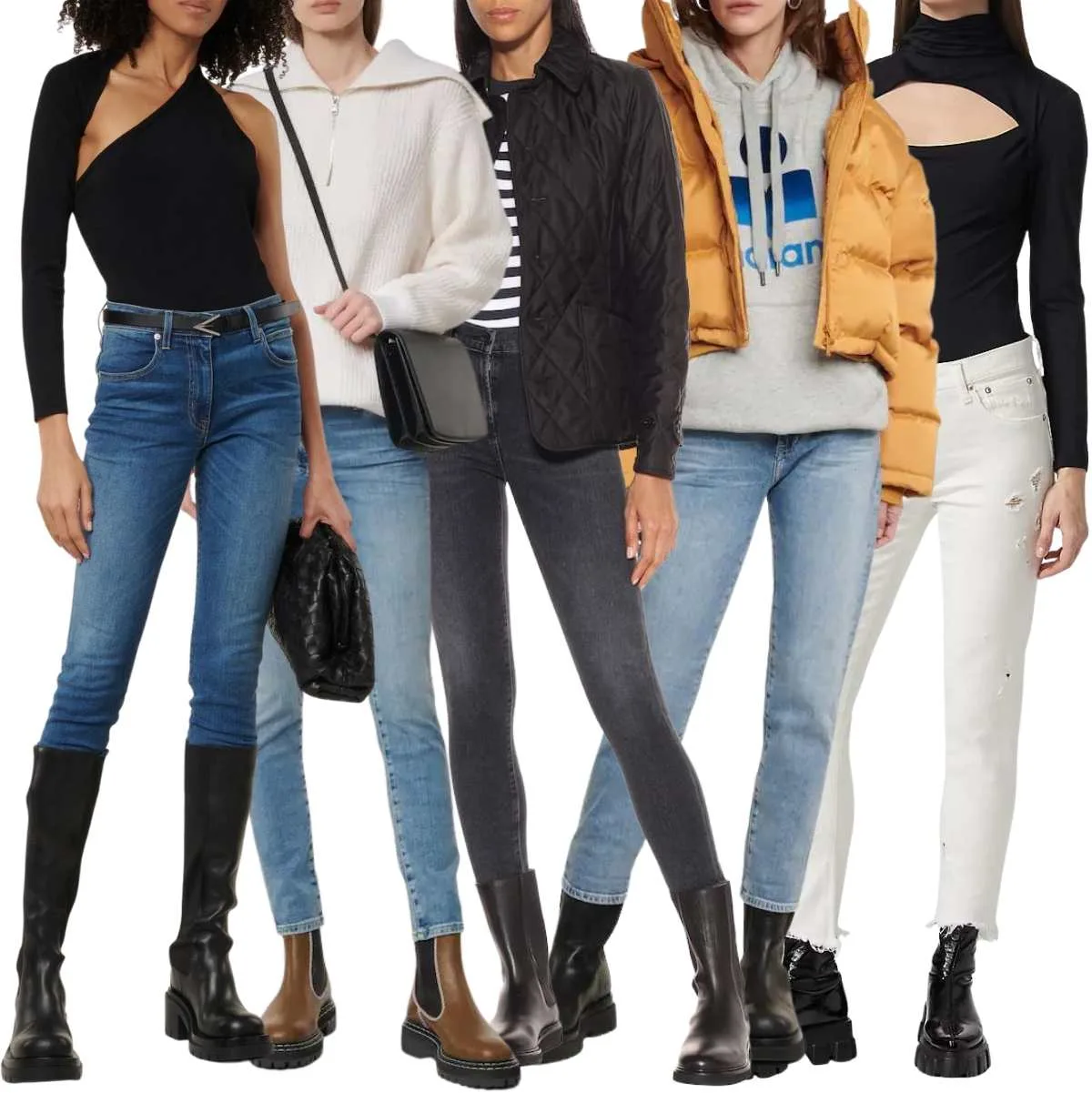 Chelsea boots outfits with skinny jeans look fab! Just like combat boots, they bring an edge to any outfit.
That being said, there are a slew of different types of Chelsea boots. That's because they're defined by the elastic side panels and not the shape or height.
That being said, current trending Chelsea boots are twofold. There are classic styles like Blundstone all weather boots, but the fashionistas are all wearing chunky, lug-sole Chelseas in black or white.
They are usually ankle height, but also come in mid calf and knee height.
Wear your Chelsea boots over your skinny jeans for a seamless look. Or, if your skinnies are a bit wider in the ankle, wear them over.
If you want to add a rugged touch, cuff them over the top of the boots!
Shop Chelsea Boots for Women:
Over the Knee Boots with Skinny Jeans
Skinny jeans with boots it brought to another level with over-the-knee-boot! They're not only the hottest boots for the current and upcoming season, but they're one of my personal favorite of all best shoes to wear with skinny jeans!
Whether low or high heeled, leather or suede, nothing beats skinny jeans with a thigh high boot for an updated, fashionable & sexy look. And now's a great time to score a pair of these on major sale!
Styling tip: Over the knee boots with skinny jeans work best with jeans that fit snugly. These can look rather unsightly when caught bunching up above the top of the boot.
Trouble fitting your skinny jeans into your high boots? Well if they are too long, you can simply cuff them up once (so the it doesn't add bulk inside the boot) & pull your socks over it before sliding on your boots.
Or you can wear a pant clip for boots to keep those jeans from bunching up & out of your boots! Check out my latest post on how to wear over the knee boots with more outfits, including slightly looser jeans.
Knee High Boots
Knee high boots outfits with skinny jeans are a great choice if you want more boot coverage, but don't want to wear thigh highs. A more conservative style from their taller counterpart, knee high boots are more timeless and versatile.
Skinny jeans will look great with all kinds of knee boots, whether tight, wide or looser styles. Add a leather or suede pair to darker jeans, a white tee and an oversized blazer for a timeless.
Choose an animal print or metallic knee high boot to give your look an edge. Opt for a black head-to-toe for an evening out or an office-appropriate outfit.
If your skinny jeans are longer, cuff or tuck them into your socks to avoid them bunching up at the ankles.
Skinny Jeans and Peep-Toe Booties
I love peep-toe booties with skinny jeans. Try a sultry sky-high stiletto or trendy block heel. Or, opt for a cut-out, lace-up or cage bootie.
Pair them to go on a date, a night out with the girls, this boot type will not disappoint & always ready show off a cute pedi!
Styling tip: I do love a shorter or cuffed skinny with booties to show off a little ankle, but that's just personal preference.
In the first image above left, the jean hem ends right at the shoe, while the middle pairing works well with a slightly slouchy skinny.
But they both end roughly and tightly at the ankle as not to look too sloppy.
Riding Boots with Skinny Jeans
Fashion bloggers have often proven how great a riding boot can look tucked into a classic riding boot.
Although riding boots are not on the top of the boot trend scale right now, like the combat boot, they've become one of the most classic & versatile knee high boots.
Just ask Kate Middleton! These are the perfect boots to wear with skinny jeans if your style is less trend of the moment & more demure.
Styling tip: Pair any tight jean, riding boot, striped long sleeve tee & plaid blanked scarf for an instant (& easy!) right-out-the-door outfit. Surely an American fashion blogger favorite!
Rain Boots and Skinny Jeans
Yep, Hunter boots are oh-so popular & the fad is not dying down! I wore silver Hunter rain boots myself in a shoe styling post & they're a fabulous high boot to beat a dreary, rainy day in style.
For all those reasons, that's what it makes Hunters hard to omit from a what boots to wear with skinny jeans post!
Styling tip: These rubber boots are wide enough at the calf to fit even a looser-fitting skinny, so no worries if your jeans aren't tight enough.
---
Are sneakers more your thing? Heck, I love them too! Check out my post on the 5 most fashionable pairings of skinny jeans and sneakers!
More Boots Posts:
How to Wear Short Dresses with Boots
xo ShoeTease