There are many great shoes to wear with dresses. But with the fall/winter season approaching, let's focus on the best boots to wear with dresses – all kinds of dresses!
Thankfully, not only are there are lot of dresses to wear with boots but there are many types of women's boots to wear with dresses. Not to mention all kinds of clothes!
Today on shoe-tease.com, I'll walk you through my favorite boots for dresses, along with tips on how to wear them. And yes, I'll also chime in with my best dresses to wear with each boot type!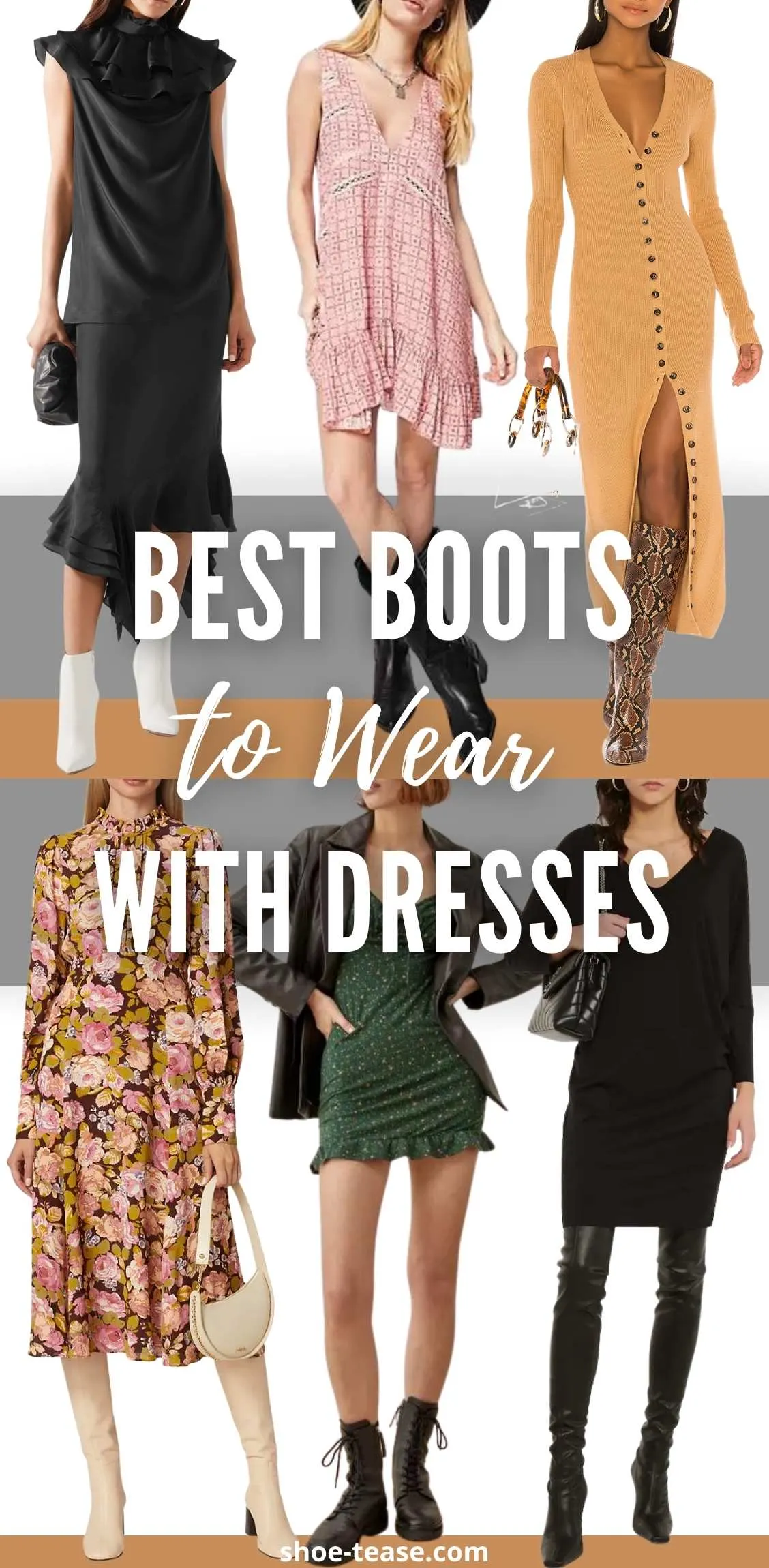 Shop Women's Boots for Dresses from:
Saks Fifth Avenue
Zappos
Taos Footwear
Frye Boots
My Theresa
Free People
Anthropologie
Revolve
1. Ankle Boots with Dresses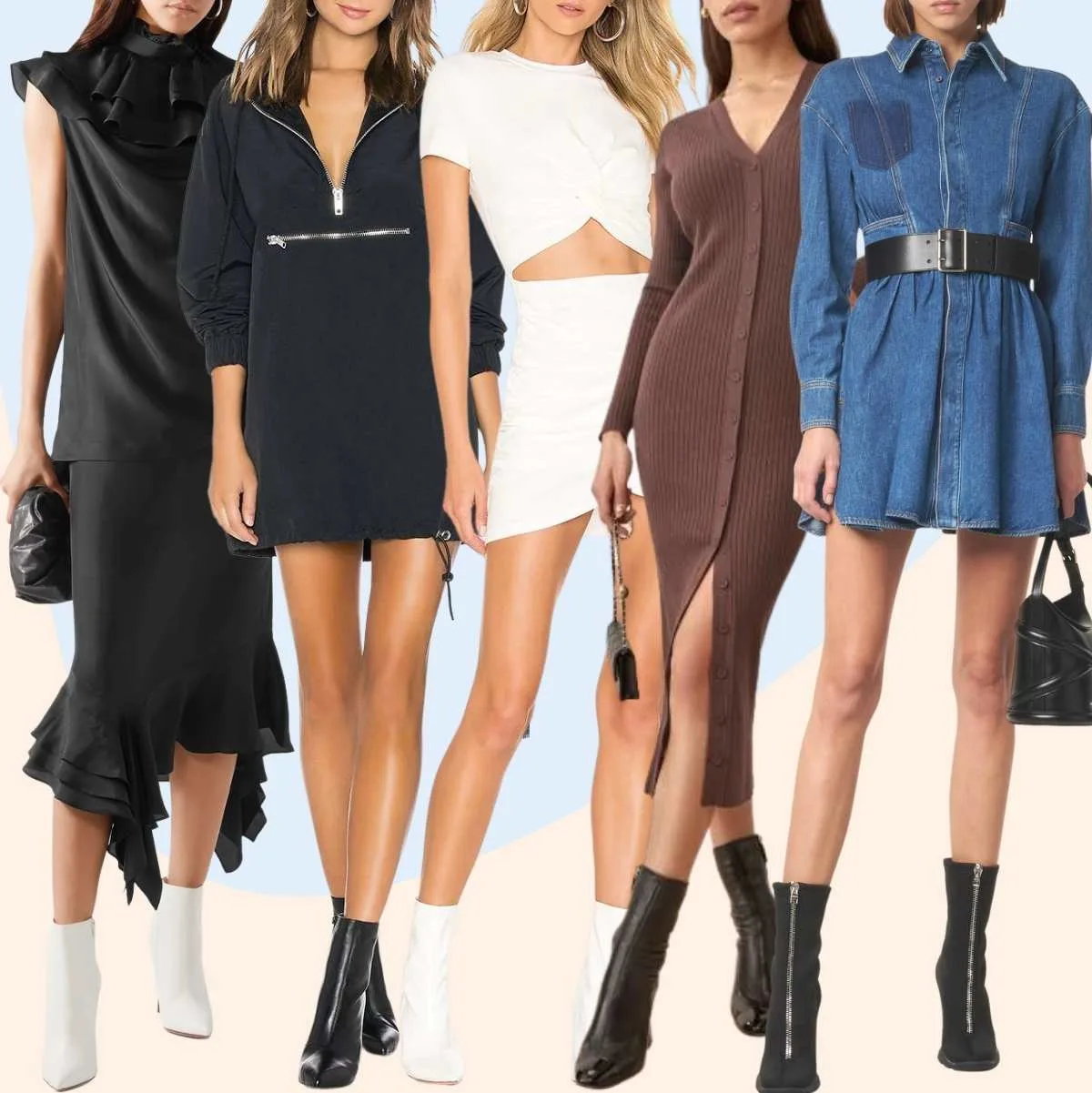 Ankle boots with dresses make a great combination! And there are so many heel styles, colors, and materials to choose from!
With ankle boots, we can all find a shoe for each dress and occasion, from casual to more formal.
There are a few ankle boots styles that are best for summer. Beige, white, cut out, perforated, and western styles in particular.
A quality pair of leather ankle boots with dresses during fall/winter months are a must-have. They come in a variety of styles, from structured or slouchy designs.
Some have studs on them, and all look great paired up with mini dresses for coffee runs or a shift or sweater dresses for an office look.
If you want to doll up a dress with ankle boots, reach for black sueded sock booties or a metallic pair with a sleek bodycon or cocktail dress. Learn more in my dedicated post about how to wear ankle boots with dresses of all kinds!
Best Dresses to Wear with Ankle Boots:
Mini dresses
Little black dresses
Sweater dresses
Slip-front midi dress
Shop Classic Ankle Boots for Women:
2. Combat Boots with Dresses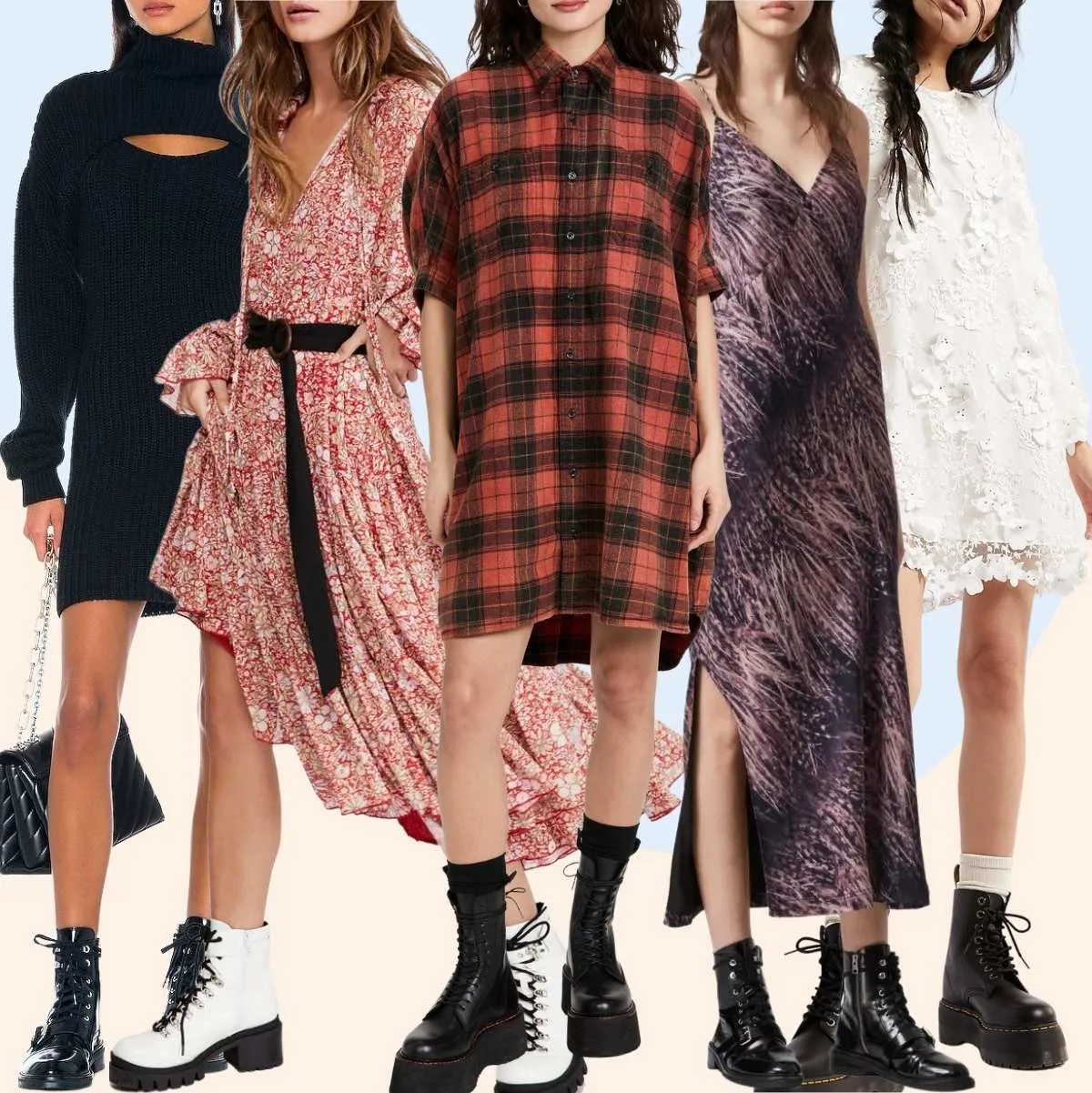 Combat boots outfits can often look masculine and rugged. This is why I like to pair them with more feminine pieces, like pretty dresses!
Combat boots are classics! Doc Martens, specifically— have been an alternative staple for years. Since becoming more mainstream, you can find combat boots in all styles and colors, with or without a lug sole & heels.
Combat boots work well for everyday wear with a t-shirt or sweater dress, with a bomber or utility jacket. For a casual work office look, pair your combat boots with a shirt dress, or wrap dress. A soft sweater dress also works well.
On a drizzly day, opt for a pair of waterproof combat boots. Need more warmth? Add a pair of tights or leggings under a mini dress with combat boots this winter.
Read my post about how to wear combat boots for more boot styling tips with dresses!
Best Dresses to Wear with Combat Boots:
Little black dresses
Sweater dresses
Shirtdresses
Formal dresses: slip dresses, tulle dresses, gowns
All dress lengths
3. Cowboy Boots with Dresses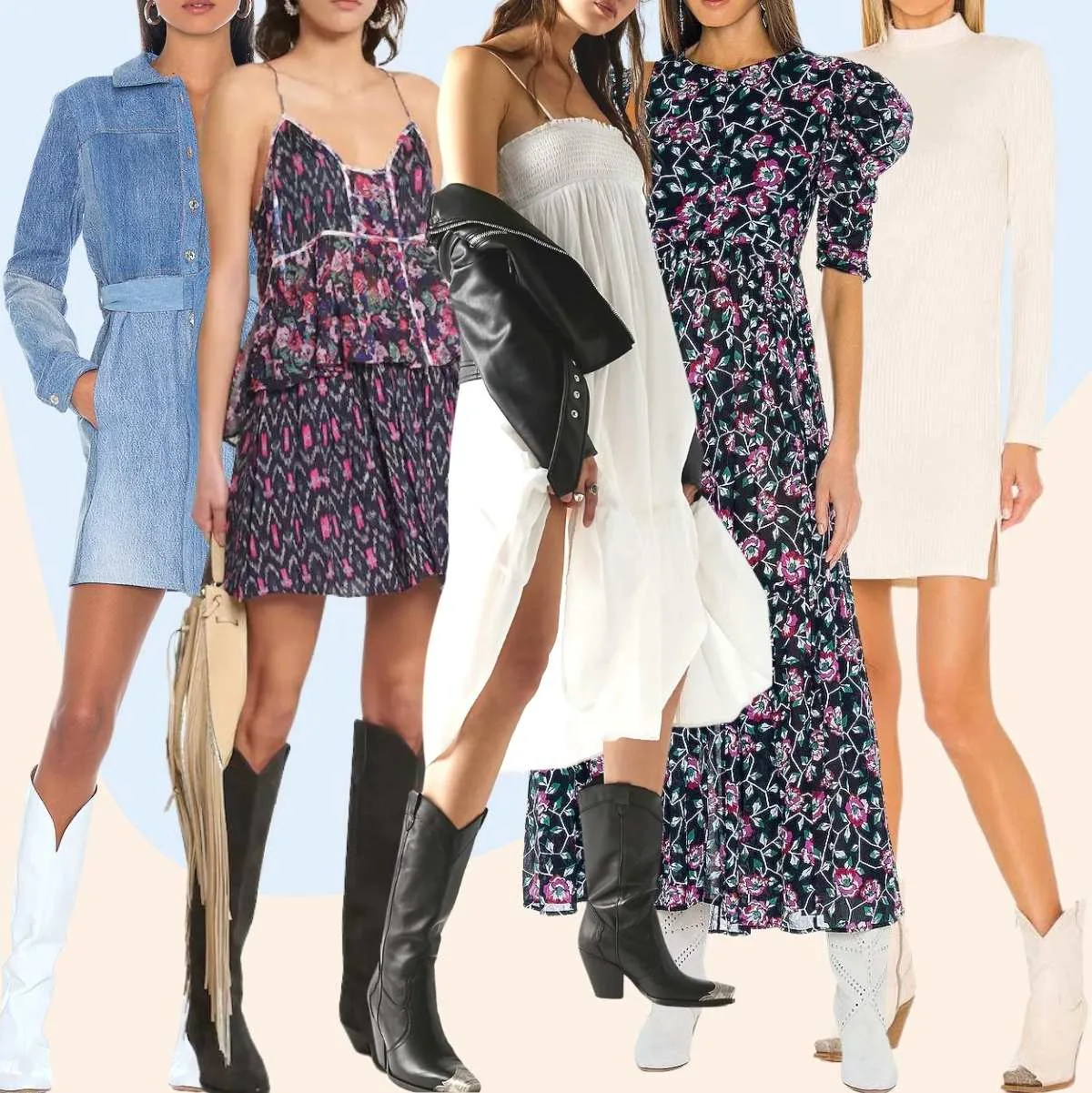 Cowboy boots are all the rage right now. In fact, you can't go anywhere without seeing someone wearing them. Thankful cowboy boots make great boots for dresses!
Of course, western boots, although they pair well with many dress styles, will make your dress outfit more informal.
This makes them great boots to wear with fancier dresses for an everyday look. Think of a silky slip dress with black cowboy boots, a denim jacket, or a cozy sweater!
For casual days, you can always pair cowboy boots with casual dresses, such as denim dresses or western dress classics.
Have a plain black t-shirt dress? Add a pair of black, white, or high-shine metallic boots to jazz up your look!
Check out all the cute dresses to wear with cowboy boots or my in-depth post about how to wear cowboy boots outfits in my dedicated posts!
Best Dresses to Wear with Cowboy Boots:
Casual dresses: western dresses, sundresses, denim and t-shirt dress
Sweater dresses
Slip dresses
Billowy maxi dresses
Crochet dresses
Tunic dresses
4. Knee High Boots with Dresses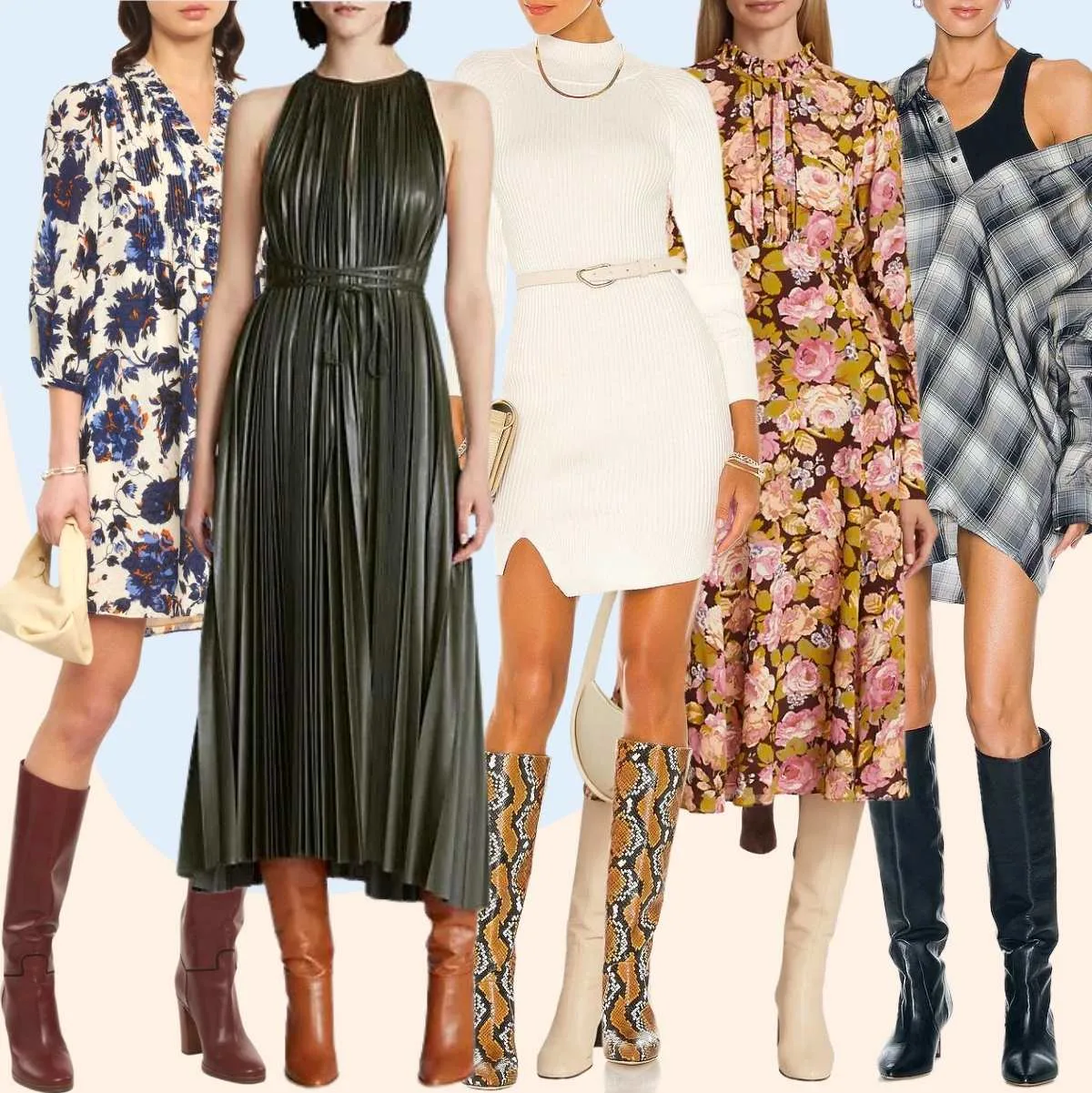 If you want to know how to wear knee-high boots with a dress, I can help. These are best for winter, as they will add a layer of warmth to your legs!
You can choose a mini dress or cozy knit dress that shows some skin between the top of the boots and the dress hem.
If it's too cold to have your legs peek out from above the boots, you can wear a knee-high boot with a longer sweater dress or a flowy maxi dress. Then put on a jacket and scarf, and you're good to go!
Ensure your longer dress is ample enough to make room for the boots. Otherwise, they will add bulk under the dress. Tighter knee boots work well for this!
Choose a pair of straight leg knee boots in black or brown for classic outfits. These are great for the office with a basic shift or blazer dress. Add some quirk with animal print knee boots paired with simple dresses.
Going out for the evening? Try on an LBD with metallic knee boots, a fitted jacket, and a sparkly clutch to complete your look!
Whichever dress with knee boots you choose, see to it that the hem is either above or under the top of the boots. Midi dresses touching the boots' edge can make for an awkward look – especially with snugger dresses.
For more tips, read my post about how to wear knee high boots with skirts, pants & dresses!
Best Dresses to Wear with Knee Boots:
Mini dresses
Split-hem maxi dresses
Sweater dresses
Midi dresses
Shift dresses
Blazer dresses
5. Chelsea Boots with Dresses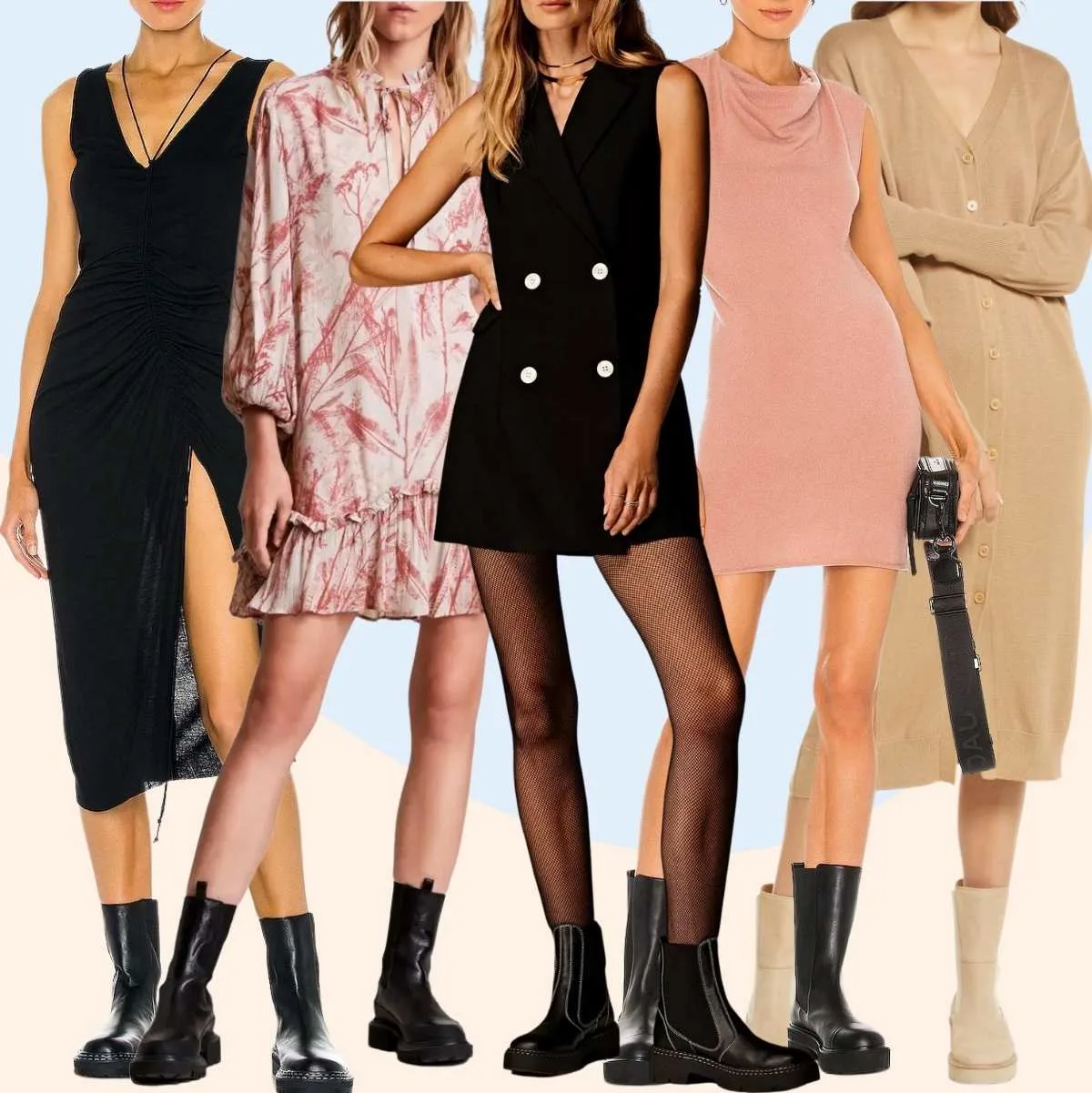 Chelsea boots are a great type of boot to wear with dresses. They add a touch of edge and style to any dress, whether it is a maxi, mini, slip, or sweater dress. Plus, they are comfortable, which is an added bonus!
Chelsea boots are mostly just over the ankle, but you can find many that are almost knee high. Trendy Chelsea boots come with an elevated platform, making them an extra rugged look.
These boots can be easily dressed up with a silky dress and blazer or dressed down with a sweatshirt dress, a moto jacket, and a crossbody purse.
You can't go wrong with wearing a pair of brown or black Blundstones with a dress for a classic, everyday look. I love these with a floral sundress, tights, and a slick leather jacket.
There are many great ways to wear Chelsea boots with dresses and other outfits. Check out my post all about how to wear Chelsea boots for more!
Best Dresses to Wear with Chelsea Boots:
Mini dresses
Sweater dresses
Shirt dresses
Midi dresses
Maxi dress
Shop Chelsea Boots for Women:
6. Thigh High Boots with Dresses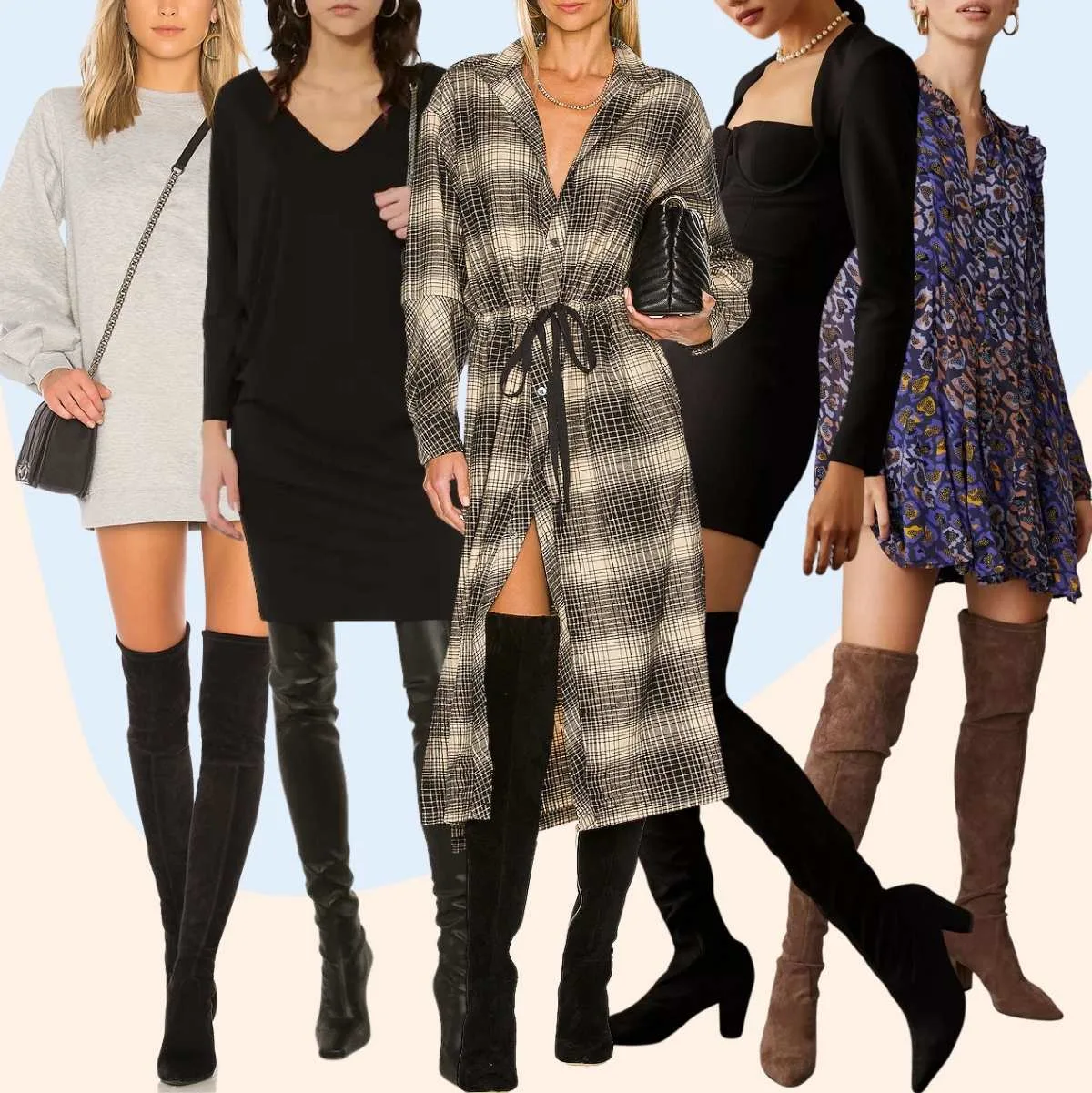 Thigh high boots outfits can be tricky to style with dresses but fret not. Many dresses look great with them! The trick is to not allow the boots to take over the outfit or to look out of place.
Tight fitting suede over-the-knee boots with dresses are easiest to wear. You can pair them with a mini dress, leaving part of the thigh to peek out.
Adding a blazer, sweater, or jacket to a mini bodycon dress will even out the look, making it look less risqué.
Bulkier dresses like thick-knit or sweatshirt dresses don't need outerwear unless the weather demands a wool jacket or trench.
Alternatively, you can wear a shorter or midi dress that falls over the boots, creating a seamless boots-as-leggings look.
For longer dresses, you want to show off the boots! So make sure the maxi or longer midi dress has a side slit or can be unbuttoned at the front.
I love brown suede thigh high boots with flirty floral dresses. Adding a sweater makes it easy to wear a summer dress in the fall.
Check out all the ways to wear thigh high boots outfits in my dedicated post!
Best Dresses to Wear with Over-the-Knee Boots:
Mini dresses
Side-slit knit dresses
Button-down maxi dresses
Shirt dresses
Western dresses
7. Sock Boots with Dresses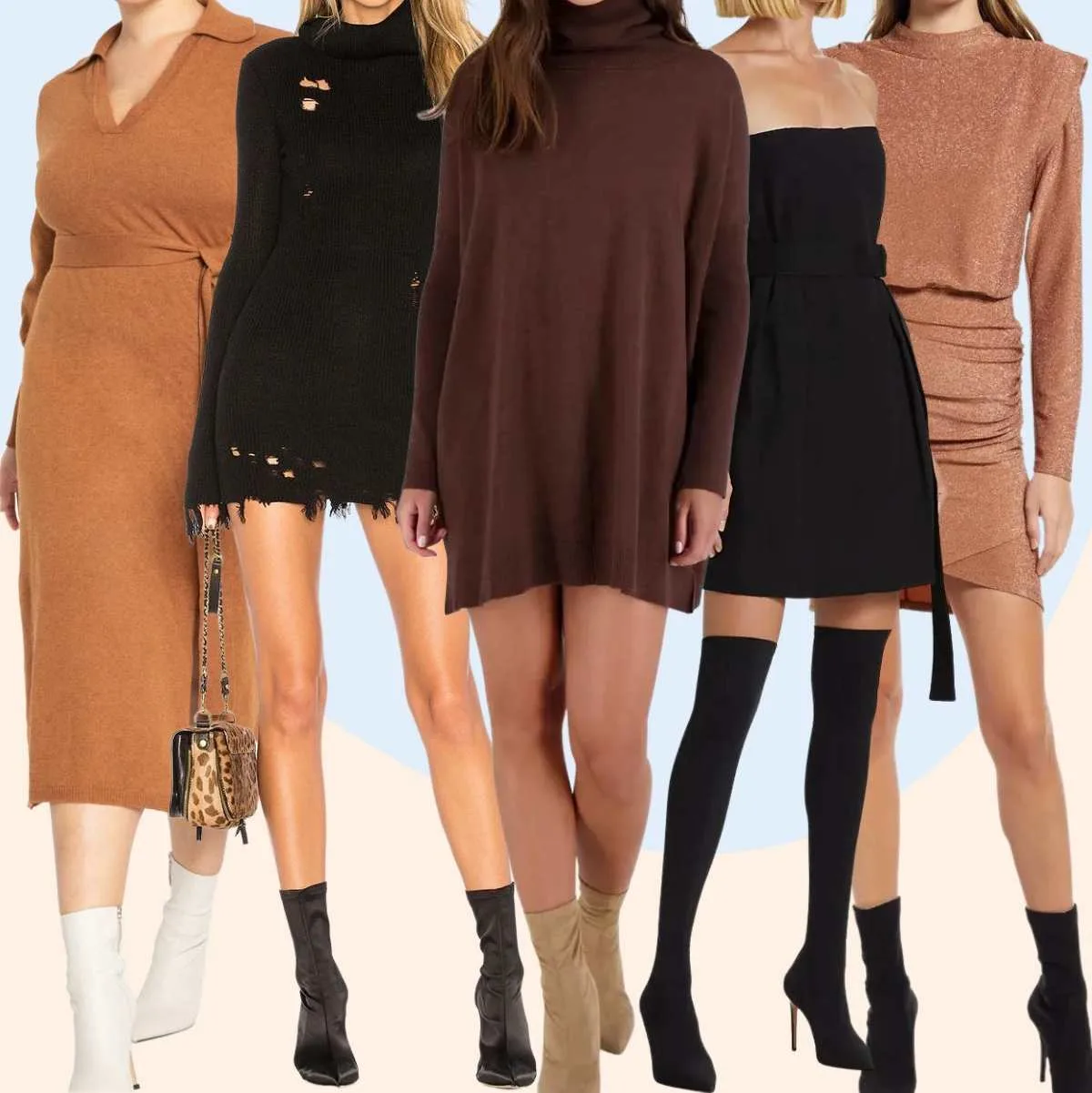 We might not think first of sock boots to wear with dresses, but they're a solid combo! Sock boots – especially with dresses – are a trend that has been around for a few seasons. And it shows no signs of slowing down!
Sock booties are meant to fit tightly around the ankles and calves, creating a streamlined look that is both stylish and elegant. While sock boots with dresses can be worn for any occasion, they pair incredibly well with more formal looks.
Chic little black dresses with black sock boots in ankle or over-the-knee height. Velvet, suede, or high-shine materials will look fabulous!
With a pointed toe and tall stiletto heel, they give an elegant base for adding a sparkly clutch and fancy jewels to outfit a fancy occasion.
Want to wear sock boots for everyday wear? No problem! A wrap sweater dress with block heel sock bootie make an excellent combo for work. Add brown or tan lower-heeled sock booties to a flowy summer dress to transition into fall.
Whether you are dressing up for a special occasion or simply want to add a touch of glamour to your everyday look, sock boots with dresses are a perfect choice.
Best Dresses to Wear with Sock Boots:
Formal little black dresses or sequin dresses
Blazer dresses (add sheer hose for extra oomph)
Midi dresses
Sweater & knit dresses
Final Thoughts on Boots to Wear with Dresses
Are you feeling better about what boots to wear with dresses? As you have read, there are many fab boots for dresses of all kinds!
You can't fail when styling your dress with classic or trendy boots during fall, summer, and all the months in between!
How to style your dress with boots depends on where the venue you're going to is located. But also leans on the occasion and the season you're dressing for. Of course, boots with dresses for fall/winter are a staple combo.
But don't forget that many boots, like cowboy boots or woven ankle boots, are suitable for spring/summer! My most significant piece of styling advice when it comes to wearing a dress with boots outfits is to have fun with it.
What are your favorite boots to wear with dresses? I love classic straight-leg leather knee boots with a mini sweater dress.
xo ShoeTease