Do you want to learn about the different types of shoes for women? Including shoe styles, shoe names and the most current styles of shoes for women? Well, look no further!
In today's post, I'm going to walk you through – pun intended 😉 – the various types of shoes for women.
From sneakers to ankle boots to ballerina flats, and over to lesser-known shoe styles such as barefoot shoes and huarache sandals, I've got you covered!
You'll become familiar with all kinds of shoes and their historical origin. You'll also learn the names of all women's shoe styles and specialized shoe types.
And don't worry – each shoe type will have a photo or sketch, so you'll come out of this guide with visual knowledge too!
Just how many different types of women's shoes are there, you ask? Let's just say there are plenty. Probably just as many styles as there are parts of a shoe!
And by that, I mean this: as someone who's been working with shoes for over a decade, some of these types of shoes surprised even me!
Don't forget that every few years a new shoe style will pop up. So I'll keep this women's guide to shoes as current as possible. I do feel like I'm continuously discovering new kinds of shoes each day!
Different Types of Shoes for Women – 30+ Shoe Styles
There are so many women's shoe styles, from casual to fancy, trendy to classic, low to tall. Each shoe type serves a different purpose.
However, many types are shoes that go with everything and can be suited for various outfits and occasions.
If it's the various heeled shoe types for women that you're after, I've written the ultimate guide for all types of heels.
I've listed over 30 different kinds and some will surely surprise you. I know a few surprised me!
Looking for more boots? I've also written a post about the different types of boots for women, with over 19 styles, both traditional and trendy.
For more sandals, take a peek at my guide to the different types of sandals.
Lace-up Sneakers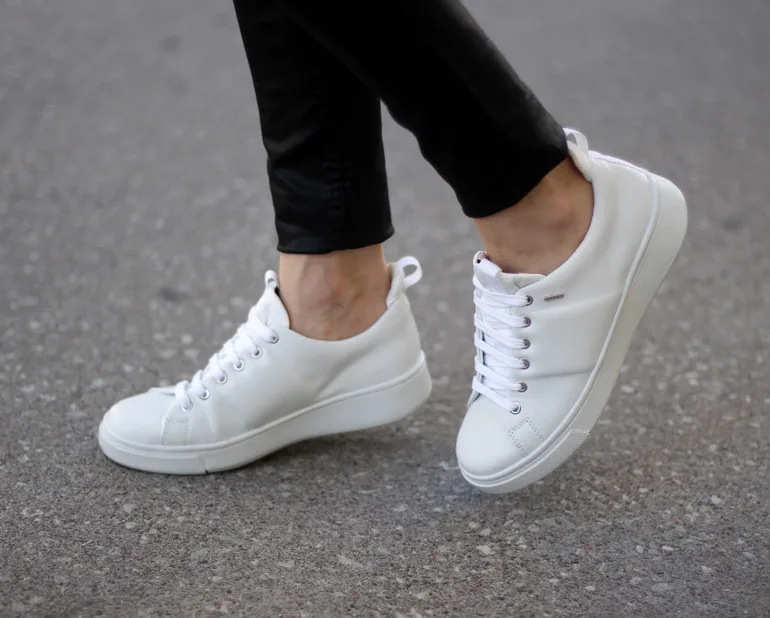 Lace-up sneakers are the most common sneakers you'll find in stores and on women's feet. As the name suggests, they come with shoelaces that keep the shoes snug on your feet.
Sneakers – also called trainers or kicks – were first developed in the 1870s. They were known as plimsolls, as inspired by the book "The Plimsoll Sensation."
These shoes have since gained traction (literally) throughout the world. By the turn of the 21st century, sneakers such as the Classic Chucks – have become true worldwide favorites. Get a pair in white as it's the optimal color of shoes that go with everything!
Some of the most popular lace-up sneaker styles today are classic white sneakers from well known brands such as Keds, Superga, Vans, Nike and more. These are my favorite shoes to wear with dresses.
Slip-on Sneakers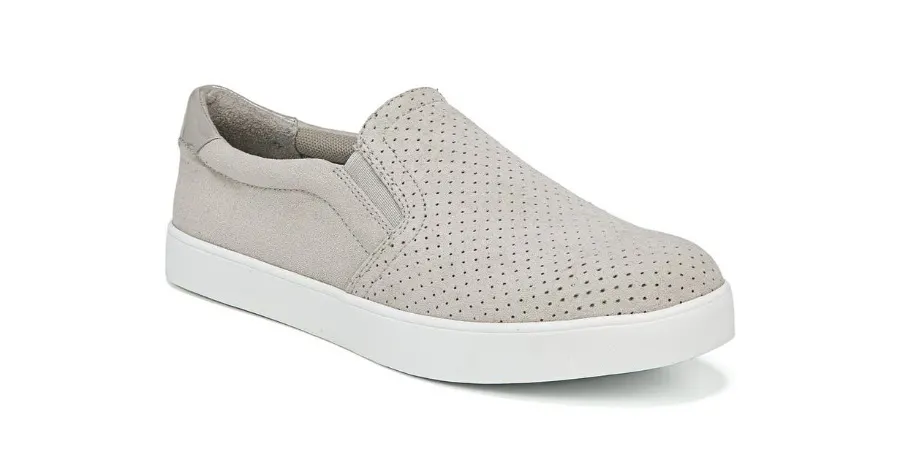 If you find tying shoelaces time-consuming for your busy lifestyle, then slip-on sneakers are perfect for you. Low and laceless shoes (such as Dr. Scholl's Madison, above) are easy to wear and slip on easily thanks to elastics stitched into the sides.
This women's shoe style can be traced back to 1847 when the first slip-ons (or loafers) were created. Throughout the years, the style has branched out into different forms, including cap toe and pointed toe slip-ons.
Many women stock their closets full with this comfy yet athletic equivalent. I know I do!
Running Shoes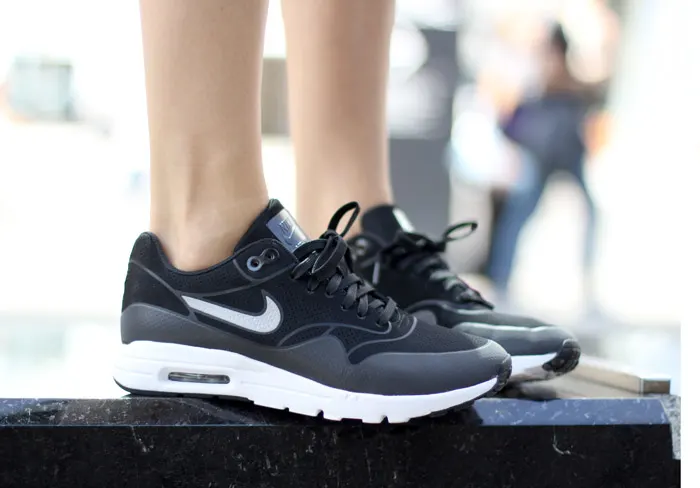 True to its name, classic running shoes are great for running – professionally or otherwise. Their cushioning technology can keep your feet comfy – even if you're running quite a distance, or just walking to the grocery store.
The best thing about this women's shoe style is that they're lightweight! Models such as Under Armour Flow Velociti only weigh 8 ounces, so it feels like you're not wearing anything at all.
As is true for men's styles, these types of women's shoes are aplenty. There are running shoes for all sorts of terrains and activities, such as high impact aerobics.
To go through all types of specialized running shoes, I'll need to write a types of running shoes for women post!
Popular running shoes at the moment are lightweight knit sneakers. Shop them here.
Slide Sandals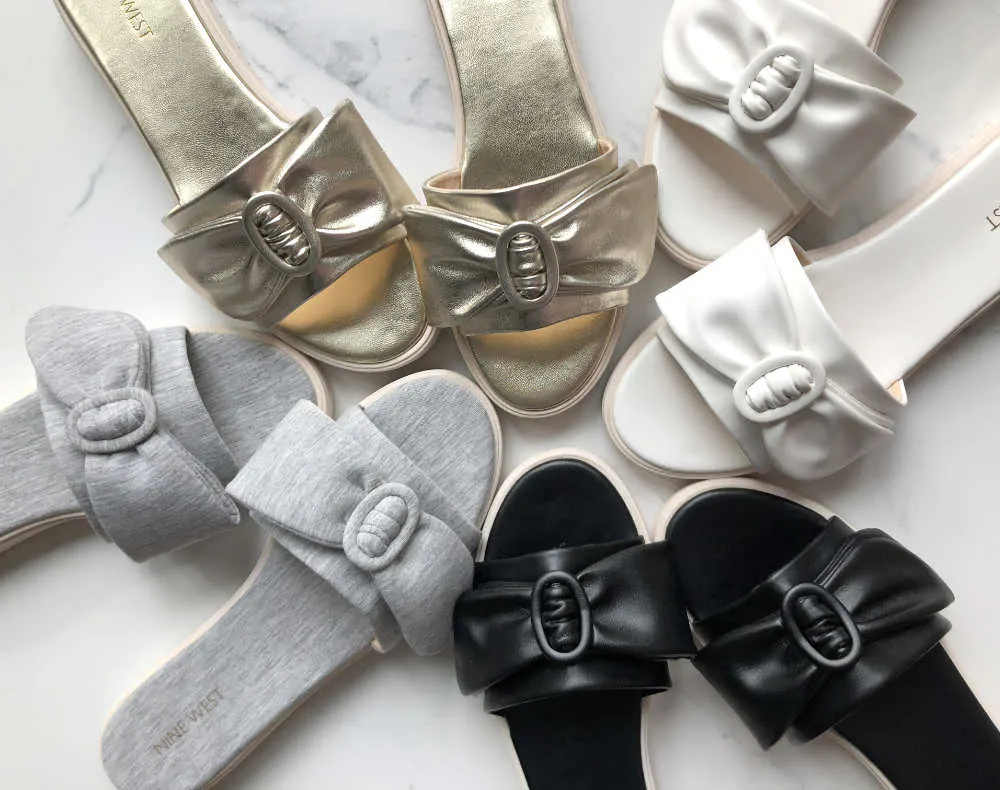 Also known as slides, this type of footwear is the epitome of casual style. This women's shoe style is 'backless' and open-toed.
There can be a number of straps or just one. Slide sandals date back to several millennia, with the ancient Romans proudly sporting them on their feet.
The popularity of the slides in the US & Europe came in much later, though: during the 1960s. For this, we have two iconic models to thank: classic Birkenstocks and the Adidas Adilette.
So popular have become Birkenstocks that I've written a whole post on the many ways to wear Birkenstocks outfits. Don't forget to check out my post all about how to wear slides in general.
Gladiator Sandals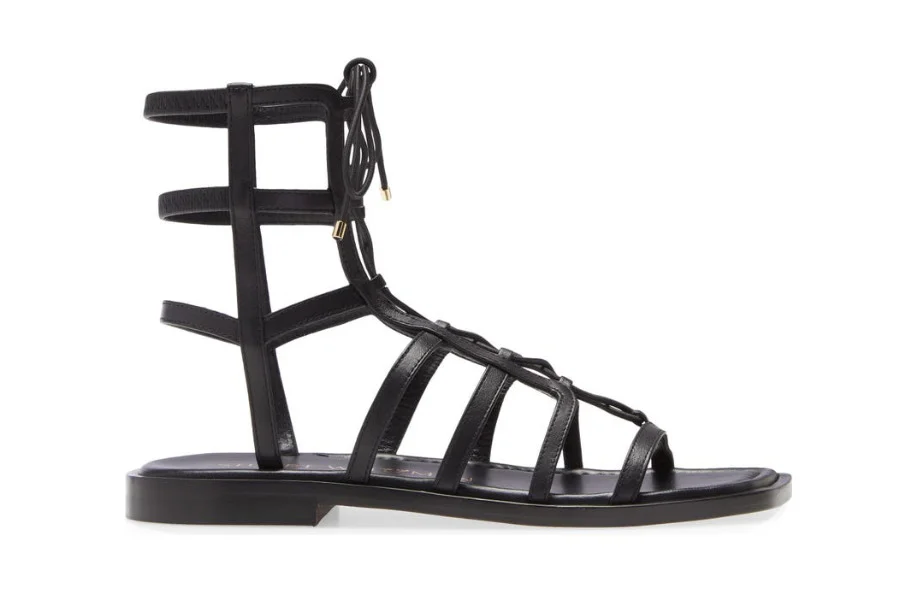 AKA Greek sandals – were originally created for Ancient Roman soldiers and gladiators. They originated as flat sandals composed of various straps that wrap around the foot, ankle and sometimes up around the calves.
Often made with cattle or deer leather, these sandals depicted the materials that come from the gladiator's region.
Today they continue to be a popular type of women's shoes, with many variations. A true summer staple and vital for the boho-chic look, they're often seen on the sunbaked grounds of Coachella and Burning Man festivals.
Tall gladiator sandals – flat and heeled – were trendy for women in 2015. However, lower strapped gladiators continue to be a classic, albeit not uber-trendy at the moment.
Mabu by Maria BK made these pom-pom gladiator sandals iconic in 2016, still for sale today. Check out my styling post on how to wear gladiator sandals!
Flip-Flops
Summer wouldn't be complete without flip-flops! This (usually) flat footwear – held by a Y-shaped toe thong and aka also called "thong sandals" – is another style that draws inspiration from ancient times.
Fun fact: did you know that flip-flops are believed to be the oldest type of footwear? Yep, Ancient Egyptians were wearing them as early as 4000 BC!
The American flip-flop craze, however, started in the 1960s with the Zori. This is a straw thong that the Japanese exported after the war.
Brazilian brand Havaianas has made the plastic flip-flop cool again and are now not only a beach staple, but a must-have in any woman's shoe closet – and gym bag!
Popular thong sandals have recently been high heeled with square toe (like these).
Huarache Sandals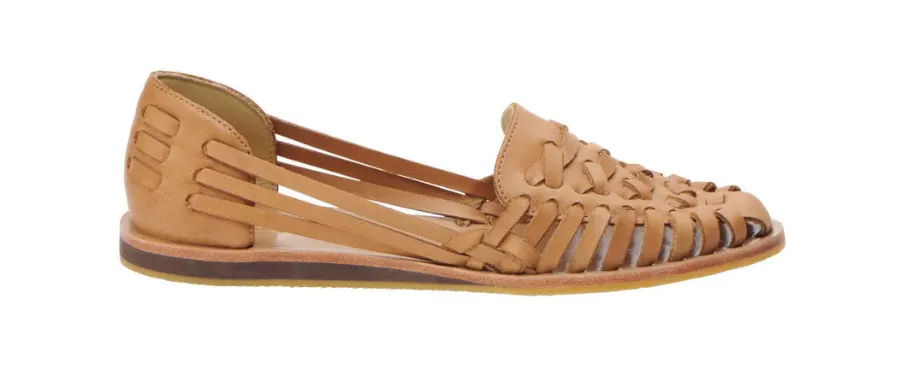 Huarache shoe style is actually a type of sandal. It's made of woven leather that can be traced to its origins in pre-Columbian Mexico.
Its name comes from the Purépechan term 'kwarachi.' In English, it directly translates to 'sandals.'
As with most sandals in this list, the clamor for Huaraches started in the 1960s. It was considered a trademark of laidback hippie fashion.
While their fame has come and gone, Huaraches continue to be well-loved sandals in the US and the world and give a boho feel to any summer outfit.
Crocs even made a jelly pair in 2011! Huarachs make great closed-toe sandals for summer!
Jelly Shoes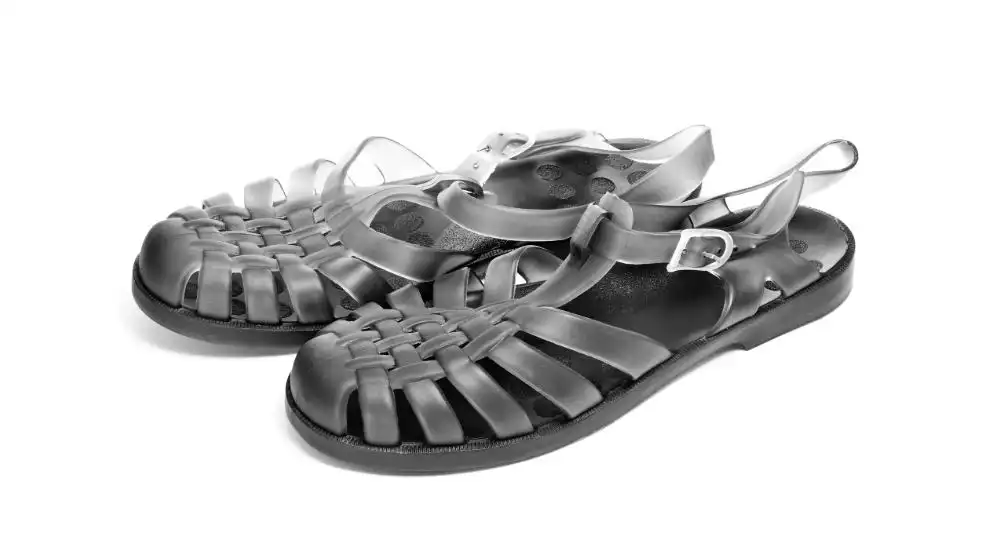 And speaking of jelly, our next type of women's shoes are jelly shoes. Also known as jellies, these PVC shoes were the epitome of 1980s footwear. I had a few pairs as a kid!
While its exact beginnings are unknown, they are said to be created during the second world war. Because of a leather shortage, a French shoemaker had to use plastic. The rest, of course, is jelly shoe history.
Jellies continue to enjoy fashion revamps throughout the years. Melissa Collections only designs jelly shoes and boots and many luxury shoe designers such as Valentino and Stuart Weitzman have joined the jelly shoe bandwagon!
Ballerina Flats
When it comes to comfort and style in a simple type of women's shoe, nothing comes close to ballerina flats. They're known for being low-heel – and classic styles have a small ribbon in the front.
The name is suggestive of its history, which goes back to the 16th century. These types of shoes for women – then known as pompes – were made for ballerinas.
While heels overtook the ballerina flats in popularity, they're still well worn today. Since Brigette Bardot's love for Repetto flats, women all over the world have a pair or two in their closets.
Popular ballet flats at the moment now have a pointed or almond toe. These make a great non-heeled flats option for fancier occasions.
Mary Janes
Fun fact: Did you know that Mary Janes are named after a Buster Brown comic character?
The Brown Shoe Company hired actors to perform this Buster Brown skit in the early 1900s. Eventually, they became synonymous with Mary Jane shoes.
Also known as doll shoes or bar shoes, they come with a characteristic t-strap across the middle of the foot.
While most Mary Janes for women are made with black or patent leather, some are made with suede. One casual example is the Bella Vita Virginia flat.
Grown-up Mary Janes have a twist: high heels and even an extra strap or two! Manolo Blahnik's Campari MaryJane is a fashionista favorite, with a slick stiletto heel and pointed toe.
Mules
Mules are backless footwear, invented by (surprise! surprise!) the ancient Romans. They have varying toe styles, from round to square, to pointed, even forked.
These types of women's shoes are some of my favorite to wear with skinny jeans and dresses!
It was known in the early days as 'mulleus calceus' and was often worn by senators and magistrates. Throughout the years, mule designs changed. Eventually, they became bedroom slippers in the 15th century.
Although their popularity waned, this shoe enjoyed a solid revival in the 20th century. Now, it's a celebrity favorite, especially the Gucci's Princeton Horsebit slippers!
Beyonce's Givenchy mules earned 2 million Instagram likes! A non-designer cult favorite are the original Crocs mules. Learn more about all about how to wear mules outfits in my dedicated post!
Clogs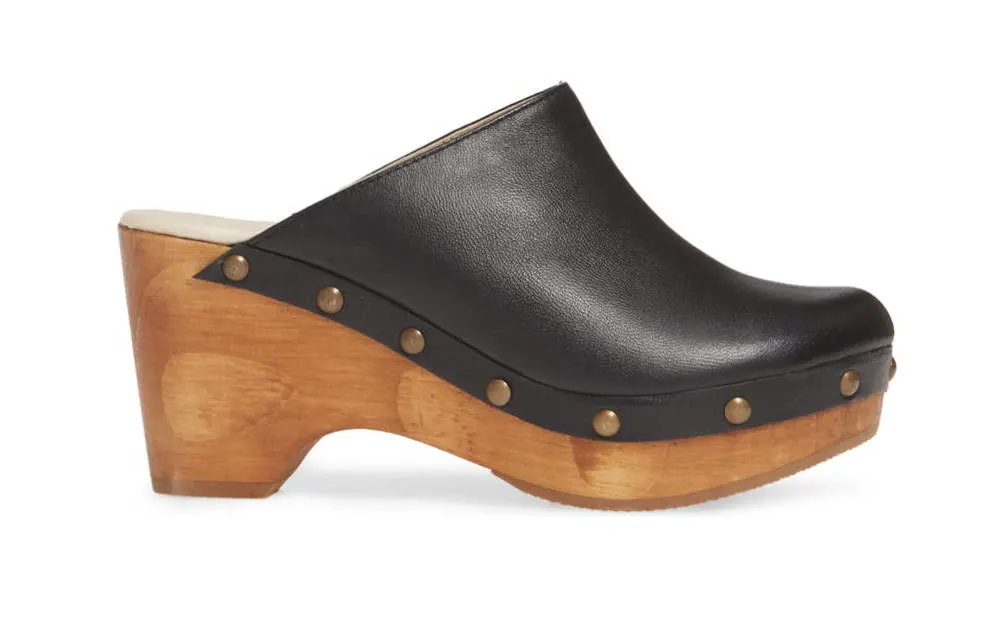 Clogs are mule shoes traditionally made entirely of wood. Since they can't flex like other shoes for women, they make up for it with a curved toe (aka cast).
Wooden footwear goes back to the time of Greek tragedies. The earliest example of clogs, however, was seen in the 13th century Netherlands.
Nowadays, clogs often stand tall – with heights ranging from six to eight inches. Once used as protective footwear, clogs have become mainstays for the designer Chanel and many other luxury shoe designers.
Swedish Hasbeens have even made clogs their whole brand! Mules also now come sherpa-lined and in more fun upper prints and colors.
The most famous plastic clogs are Crocs! Check out all about how to wear clogs, here.
Moccasins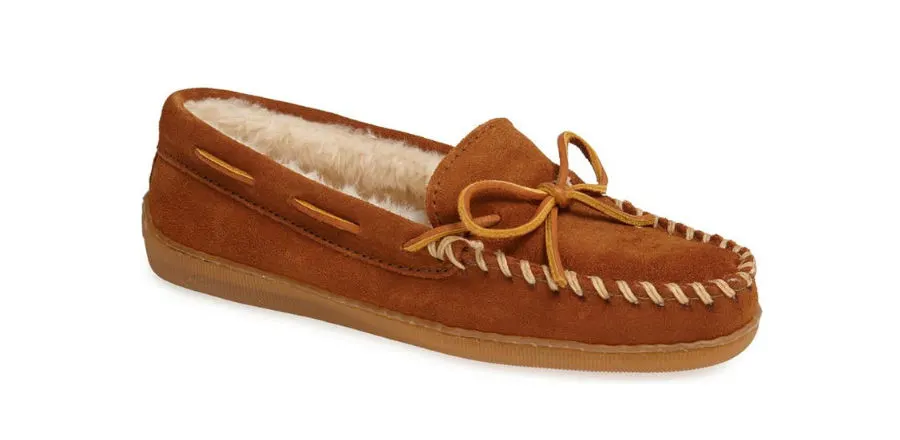 This ungendered shoe style's origin comes from the Indigenous peoples in America and Canada. In fact, the word "moccasin" derives from the Algonquian language Powhatan word, "makasin", meaning shoe.
The sole and sides are made continuously and stitched at the top. It may come with a vamp, which is a type of leather panel. Moccasins were originally made with deerskin or another type of soft leather.
Moccasins are now worn as casual shoes, often lined with sherpa or furry materials. They can be worn indoors as slippers or outside.
Canadian boot brand Manitobah Mukluks celebrates and keeps the indigenous moccasin tradition alive through their beautiful weatherproof slipper and boots. You can shop the hottest styles here.
Espadrilles
The name espadrille comes from the Catalan word 'espardenya', which comes from the esparto grass, the original material used to make the "rope" used to hold the canvas upper to the outsole.
Espadrilles have always been a unisex shoe. They are said to be the original footwear of peasants in France and Spain, dating back 4,000 years.
Espadrilles flats still look similar today, although many other different materials and embellishments are now being used, such as leather and satin. Some, like the ones above have an added rubber track sole.
Espadrilles wedges have also become a classic summer shoe. Many espadrilles are still made in Spain, carrying on the tradition.
Penny Loafers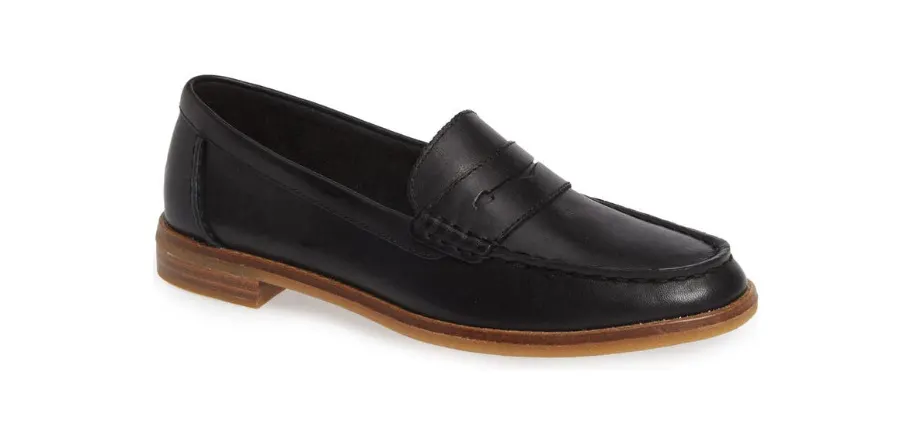 Loafers are slip-on shoes that come in a variety of styles such as mules and finishes such as patent leather. One such example is the penny loafer, which has quite a fascinating history.
Initially made for men, this shoe had enough space for a penny (which was needed to make an emergency call.) The name has stuck since then.
Penny loafers gained mainstream popularity in the 60s and 70s. It's the go-to shoe for an 'Ivy League' look. It's a style that Sperry Seaport Penny Loafer makes entirely possible. Just add a pretty cardigan!
Slipper Loafers
Slippers are considered the most formal of loafers, given their no-toe-stitch style and very often, fancy materials and accessories.
However, slipper loafers were actually created for the British royal family. In fact, so were most of the loafers on this list. Their regal flair continues up until today, though many opt to wear them as indoor shoes.
This doesn't mean they're not for the strolling outside, though! Styles such as the Madewell Frances Loafer will make you want a pair for a sunny weekend walk downtown.
Tassel Loafers
While all loafers are British-born, the tasseled style is purely American. It was created by the Alden Shoe Company for Paul Lukas, after all.
As the story goes, the actor wanted something like the shoes he brought from Europe. They had fringed tassels at the laces.
Tassel loafers continue to exude a preppy and country club chic, thanks to shoes such as ones made by Brooks Brothers and many other shoe designers.
Have a look at my post on what to wear with loafers to learn how to style them in a chic way.
Slingback Shoes
Slingback shoes – many of which are heeled – are women's shoes with an ankle strap that crosses around the back and sides of the ankle, right above the heel of the foot.
Slingbacks are different from ankle strap shoes because the strap doesn't wrap around the full ankle – only the back portion. Sometimes the strap has a buckle or an elastic for comfort and flexibility.
The most popular fashion sling-back is the iconic Chanel 2-tone from 2015. It has been profusely replicated by other brands and designers. Check out how it looks now at Chanel.
D'Orsay Shoes

A d'Orsay shoe, you ask? Pronounced door-say, it's a shoe that has at least one side of the shoe – where the foot's arch rests – is cut away.
Originally a men's shoe type from the early 1800s, it was created by the Count of d'Orsay Alfred Guillaume Gabriel as a military shoe and due to side cut-outs, was a good fit for wider feet.
Soon after, French aristocratic women took to the style and it became quite a controversial shoe, as it bared the women's arch.
D'Orsay shoes are seen today primarily as a women's shoe style. D'Orsay shoes can come as flats, loafers, even booties, but are often heeled. Some have ankle straps too.
Oxfords / Brogues
The Oxford shoe is a style known for its shoelace eyelet tabs that are placed under the vamp. As such, it comes with closed lacing and is often made with leather, suede, or canvas.
Named the prestigious Oxford University, this type of women's shoe first landed in the US in the 1800s. It has been a fan favorite ever since.
While Oxfords usually come in black or brown, some are patterned and perforated. The latter is called brogues, which is the shoe's other moniker.
Today can find women's oxfords that are classic, or patent, colorful, and now popular with a platform and/or lug sole.
Some have even become lace-less styles. Oxfords are a great shoe to wear to the office, among many other outings!
Different Types of Boots for Women
Below are the most common styles of women's boots. For the most extensive list, check out my complete guide to different types of boots for women in my dedicated post!
Ankle Boots
Boots come in various heights and are often named for how much of the foot and leg they cover. Such is the case with ankle boots, which only reach the ankle.
First introduced in 1804, ankle boots were previously made with satin and silk. Shoemakers eventually used leather, which is still a popular ankle boot material today.
Nowadays, these boots come in vibrant colors. Some are studded and even embroidered, like these ones from Valentino.
Current popular ankle boots are western-inspired ankle boots and lug-soled Chelsea boots. Check out how to wear ankle boots outfits in my latest post!
Shop Classic Ankle Boots for Women:
Knee-High Boots
If ankle coverage isn't enough for you, then you can go with knee-high boots. Often made with leather, suede, or fabric, they end below or just at the knee.
While boots were popular among women from the 19th to 20th century, they didn't cause much of a wave.
That is until 1913, when socialite Denise Poiret sashayed around New York in her Moroccan leather boots.
Although it is worth mentioning that they did become rather unfashionable for a few years until 2019. And that's because over-the-knee boots took over!
Over-the-Knee Boots
Speaking of which, we come to yet another type of women's shoes – or boots rather – called tall boots.
Also known as over-the-knee boots, they were first created to protect horseback riders' legs from injuries.
Although they were exclusive to men until the 18th century, in the 1960s they became more popular for women. And then again in 2016, when they became a hot fashion commodity!
Ariana Grande is a case in point. She's been a huge fan of the Stuart Weitzman Highland boot. Check out how to wear thigh high boots in my latest post!
Chelsea Boots
What differentiates Chelsea boots from simple ankle boots is that they have an elastic panel. Most types have a loop or tab on the back to facilitate sliding them.
Chelsea boots are usually ankle height, but can be calf height or low ankle height as well.
This type of women's shoe is the brainchild of famed British shoemaker Joseph Sparkes Hall. However, they weren't called Chelsea boots in the late 1890s.
The name comes from the trendy part of London called Chelsea. The style was made famous during Chelsea's heyday in the 1950s and 60s.
They are more popular than ever with their current thick lug-soled punk-appeal, but who can forget the classic weather proof versions by Blundstone.
Check out my dedicated post on how to style Chelsea boots outfits!
Shop Chelsea Boots for Women:
Combat Boots
Combat boots are not entirely new, as they can be traced back to the Romans' caligae hobnail boots. In more recent times, they were made to suit the needs of those who fought during the English Civil war.
In the US, such boots were used in the War of 1812. Hence the term "combat".
With their grip and stability and having a popular fashion moment, it's no surprise that Bella Hadid and Katie Holmes adore them.
They're extremely popular nowadays with their lug sole and various finishes such as patent leather.
But the classic look of a black combat boot can't be beat! You can even find many waterproof combat boots for women available too.
Check out my post all about how to wear combat boots, to inspire great outfit choices!
Wellington Rain Boots
Inspired by the leather Hessian boots, this type of women's shoe is named after the Duke of Wellington. But instead of using leather, they're made with rubber – a material that easily wards off water.
While mud boots are meant for work (think planting or fishing), they have become a rainy day fashion staple.
Hunter Boots have completely changed the Wellington game and are worn by many a fashionista – including myself in my Silver Hunter rain boots!
Cowboy Boots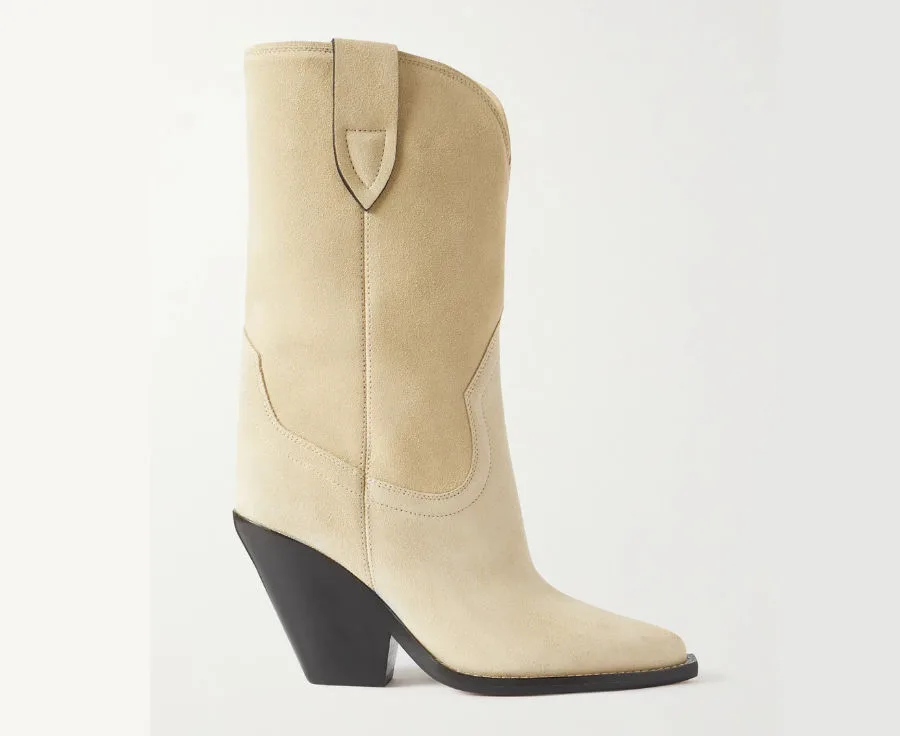 No kind of shoes represents America more than a pair of cowboy boots. A type of riding boot, they come with a high shaft and leather stacked. They have no laces and often bear a round or pointed toe and are very sturdy.
Nowadays, savvy shoppers can choose from two distinct styles. One is the western design, which comes with an angled heel. Another is the Roper, which has a shorter shaft that stops at the ankle.
Isabel Marant has many western boot-inspired footwear for women this season for fashionistas to enjoy.
Check out my posts on what to wear with cowboy boots and the best dresses with cowboy boots to create the ultimate yee-haw-inspired outfit!
High Heels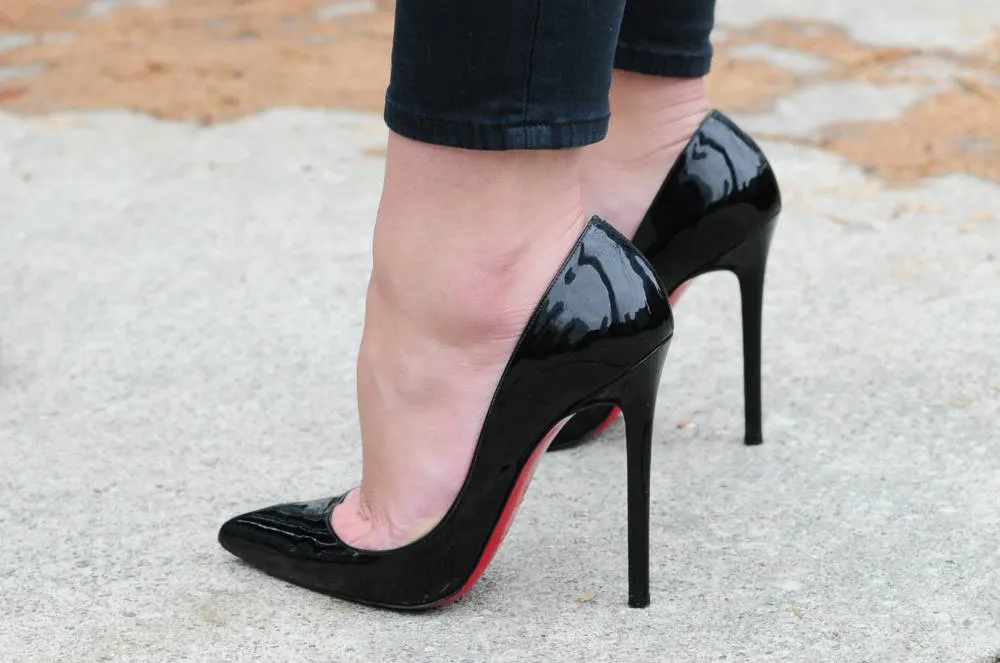 Heels were originally worn by men – army men and the cavalry – dating back to 10th century Persia.
As mentioned earlier, almost all shoe types and boot types for women can have a heel – from a small kitten heel to a high stiletto heel. Check out my post on the difference between Stilettos vs Pumps.
For the most extensive list of heels, check out my ultimate guide to the different types of heels for women, which also includes many hybrid heel styles!
Pumps / Court Shoes
High heel pumps, known as court shoes to the British, are one of the most popular women's shoe styles. What makes them pumps is their low cut front.
The term and shoe type pumps goes back to 1500s Britain. Men and servants wore this flat shoe type, which had no heel at the time and were referred to specifically as "pompes".
They have now become a women's shoe and come in a variety of heel heights (usually over 1 inch tall), with many heel and toe shapes and materials.
They can have a peep-toe and various ankle straps. Check out my post about the difference between stilettos vs pumps.
Wedges
A wedge shoes is one that has a special heel called a 'wedge', where the raised heel is continually attached to the outsole, without a break.
Salvatore Ferragamo is said to have created the wedge shoe as an orthopedic wedge in the early 1930s. He used wood and cork materials due to the material shortage of leather and rubber during the war.
Wedges can be found on many types of women's footwear including sandals, flip-flops, pumps and booties. They resurged in popularity in the 1970s.
Wedge sneakers became popular in the mid-2010s. Espadrilles wedges continue to be popular summer shoes today. See some great current styles of wedges here.
Platform Shoes
In the 16th century Venetian women were known to wear platform shoes to keep their dresses from touching the ground and getting dirty and wet.
In 1930 – like wedges – they were made famous by Ferragamo, who designed the very famous rainbow platform shoes for Judy Garland. They can still be purchased here, today.
Almost any type of heeled shoe can have a platform. Some platforms are fully flat, called a flatform. These are seen today as a raised outsole, often made of rubber and can be found in Chelsea boot, sneaker and loafer styles today.
True platform heels are those that have an added block under the front portion of the outsole to raise the foot. They can vary in height. Take a look at what platforms are in store right now!
Kitten Heel Shoes
Kitten heels are shorter, narrow heels defined by their height, which is usually between 1-3 inches tall. Kitten heels have come and gone in fashion since Louis XIV's reign in France.
They can be found on all kinds of shoe types for women in including booties, pumps, mules and sandals.
This heel type also comes in many shapes and sizes, including cone heels, stacked heels, comma heels and more. Many women prefer wearing kitten heels.
That's because they are easier to walk in, compared to their high heel counterparts. They are seen as more refined than a simple flat.
You can shop current kitten heels here, like the Louboutin's baby pink Pigalles Follies 55.
Other Women's Shoe Styles
Wedding Shoes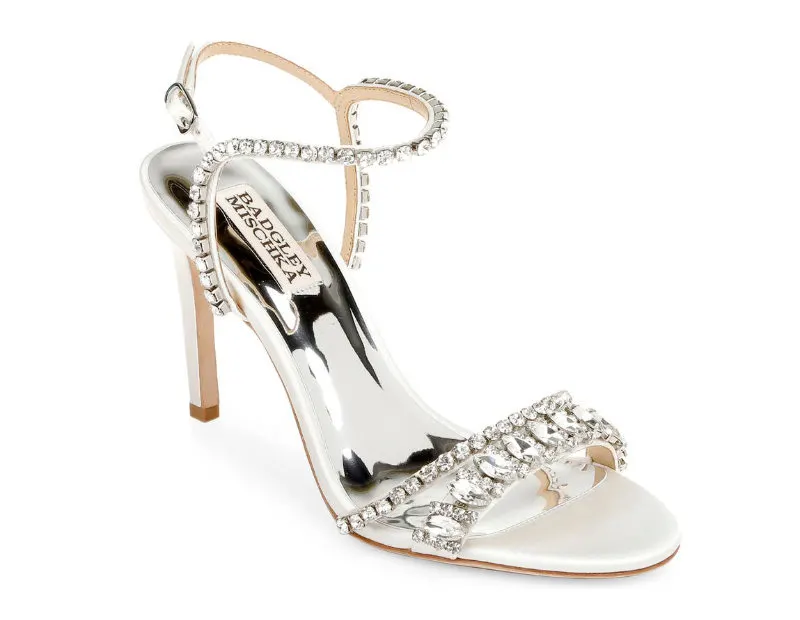 Here comes the bride – in what else, but a pair of glamorous wedding shoes! Whatever your style philosophy might be, you can choose from various shapes and sizes.
Women's wedding shoes are made of many materials, including satin, lace, mesh. They are often adorned with rhinestones, jewels, pearls, glitter, sequins – even feathers!
Wedding shoes can range from comfy flats to kitten-heeled styles. There are also many alternative wedding shoes. Such as wedding sneakers like Kate Spade X Keds bridal designs.
If you're looking for more traditional wedding shoes, then be sure to take a pick from this lot, including lots of Badgley Mischka Collection heels!
Barefoot Shoes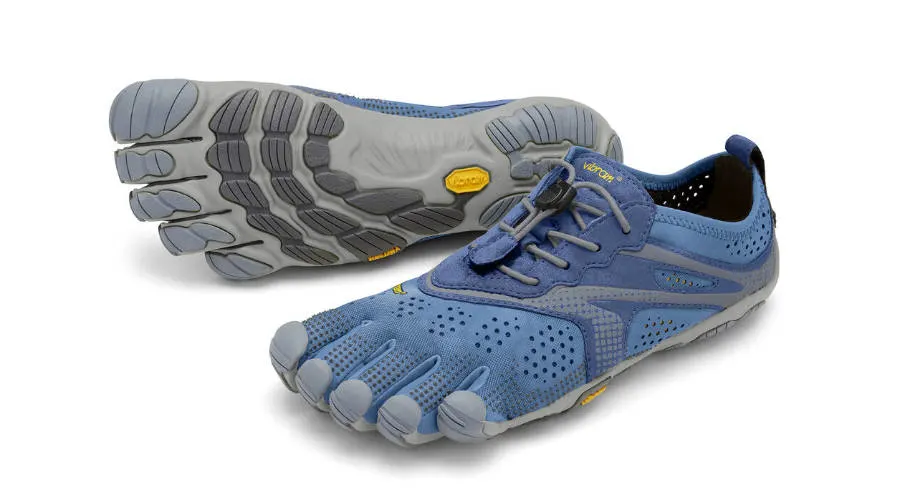 Barefoot shoes are pretty new in the market, having been developed in 2005 by the Vibram Company.
With barefoot shoes, your feet and toes can feel free while walking or running – despite the fact that you're wearing shoes. Barefoot shoes have no cushioning or any other form of support.
That's why it's lightweight and very flexible and why some say these make for an optimal running shoe.
Unlike most designs, this unisex shoe style that also comes in women's sizes has a zero heel drop, thin soles, and a wide toe box.
Those funny shoes that some runners love to wear that look like gloves? Those are barefoot – aka 5 Finger – shoes too! Balenciaga recently made a heeled version of the five finger shoe!
Slippers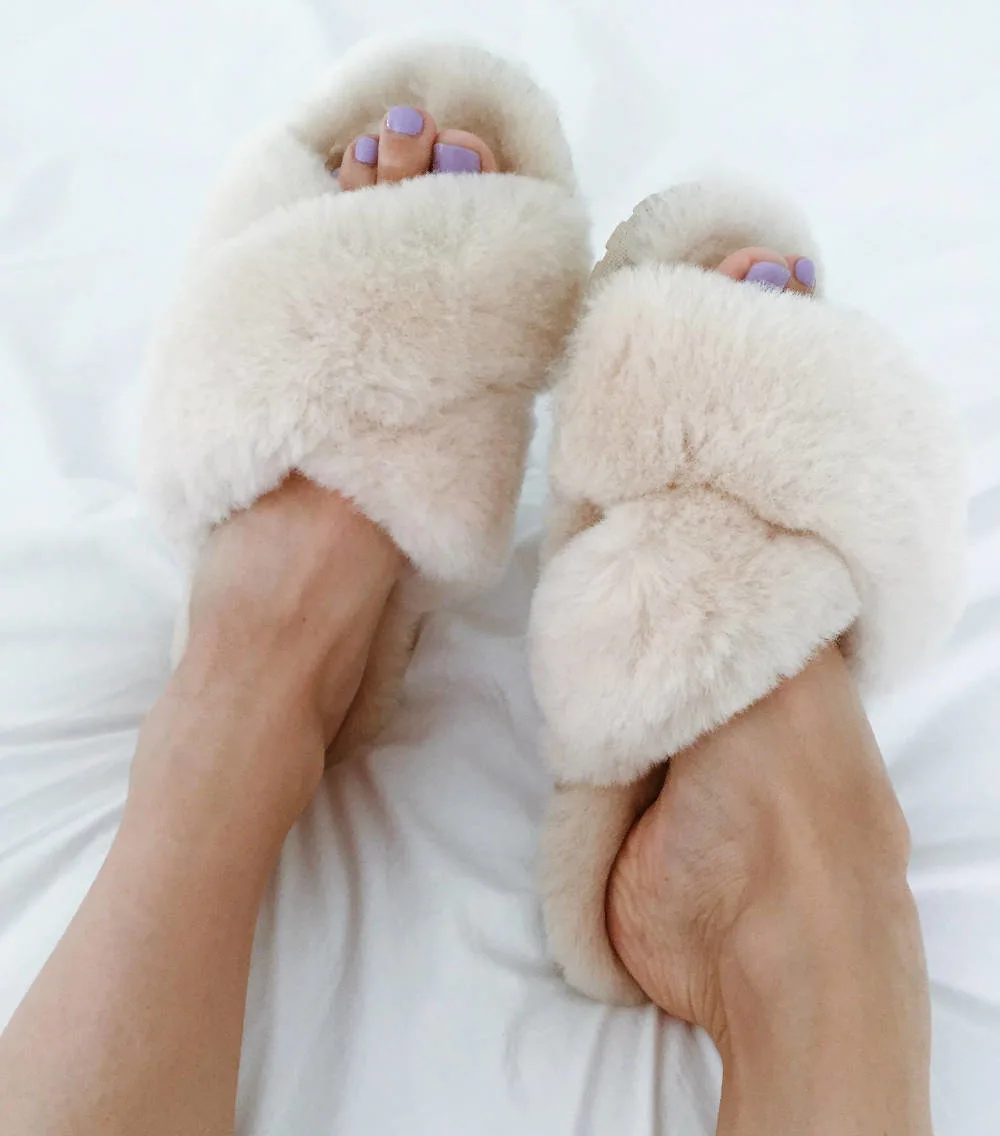 Slippers are a type of unixed footwear you can 'slip' on and off easily. While they're usually reserved for house use, there's no stopping you from using them outside!
Many outdoor slipper styles include slipper loafers and many types of low heeled mules that have the right soles to deal with outdoor traction.
Like many on this list of different types of women's shoes, slippers have been around since ancient times. It's been said that in China, slippers were worn as early as 3700 BC.
Popular slippers are usually backless, but many can be closed like a shoe and lined with sherpa. Fluffy slippers such as these EMU Australia's Mayberry slippers (photo above) are currently very popular. As are UGG's Fluff Yeah shearling sling-back style.
Dance Shoes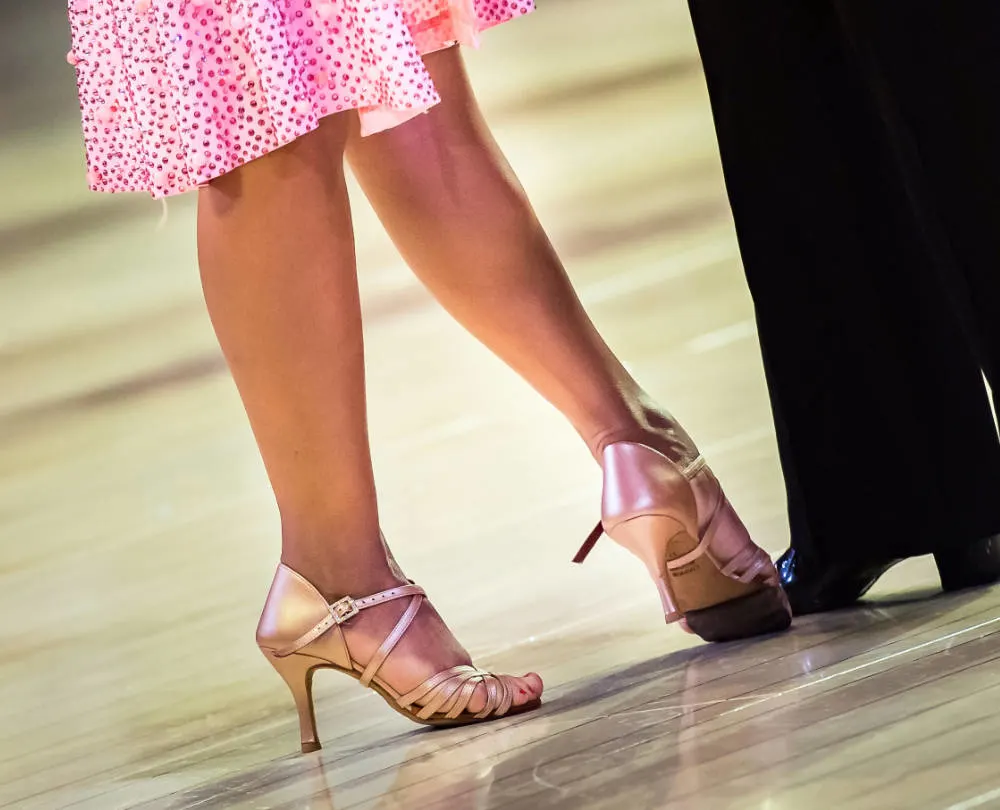 It would be hard to ignore the vast amount of dance shoes for women that exist in a post about women's shoe styles! Aside from ballet shoes, the most well-known dance shoes for women are ballroom dancing shoes.
Many designers have taken inspiration from this strappy sandal shoe with a curved heel. All dance shoe types are as follows:
Ballet Flats
Pointe Shoes
Ballroom Dancing Shoes (pictured above)
Athletic Dance Shoes
Character Shoes
Tap Shoes
Jazz Shoes
Foot Thongs
Final Thoughts on Types of Shoes for Women
Now that I've given you plenty of shoes for thought when it comes to the different types of shoes and shoes styles, I hope you feel like you have a solid grasp on all of them.
And even know all the women's shoe style names! But don't worry, no one's going to test you!
As you've seen, many of the above shoe types can be a combination of shoe types, heel types and styles. This means that the actual amount of different types of shoes for women is almost immeasurable!
It all goes to show how much more difficult getting dressed and picking the right shoes can be. Well, at least for me 😉
Post You Might Also Enjoy:
Which shoe styles and styles are your favorites? Any women's shoe names and/or kinds of shoes that have you scratching your head? Or have I missed your favorite shoe type? Let me know in the comments below!
Photo Credits: Bruna Rico, Joel Gale, Leonard Shen, Conrad Collaco
xo ShoeTease