If you're looking to create a capsule shoe wardrobe that you can customize to your needs, you've found the right part of the internet!
A capsule shoe wardrobe is a perfect way to narrow dow stylish shoe essentials with maximum versatility.
Today on shoe-tease.com, I'll go over 9 different types of women's shoes (+ some accessories) that will fit many personal styles and occasions.
By narrowing down your shoe collection to these classic shoe styles, you'll be able to create endless looks that are perfect for many outfits. That's because these are shoes that go with everything!
From high heel pumps to casual sneakers to ankle boots, there's a style for all your needs. With these stylish classics in your closet, you'll always have the right shoes.
I'll also give tips on where to shop for capsule shoes, how to keep them in excellent condition. This will include the 5 products you need in your shoe cleaning kit. Read on for more!
9 Shoes to Build a Capsule Shoe Wardrobe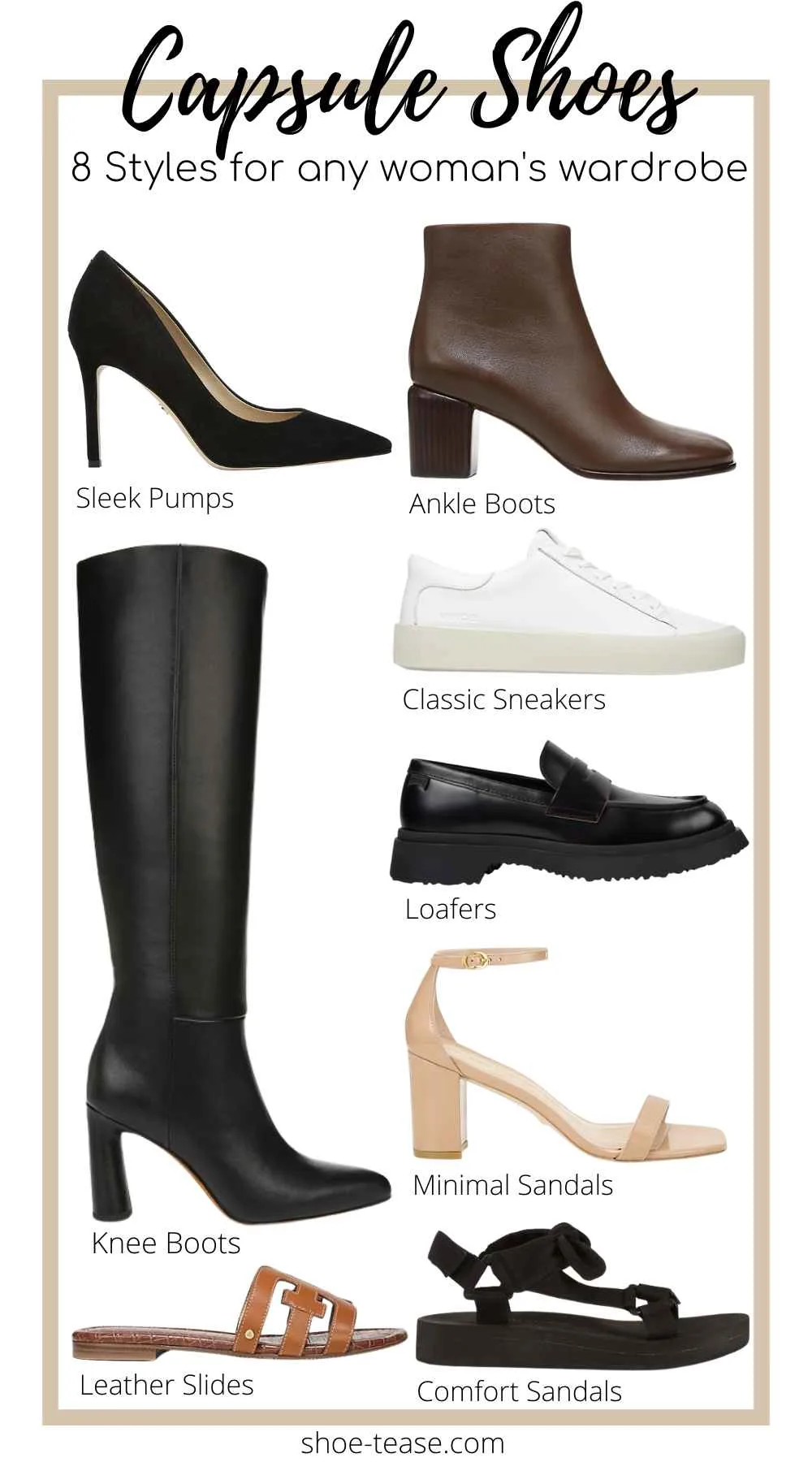 1. Heeled Pumps
Sleek pumps, especially in black suede, are my top choice to add to a classic capsule shoe wardrobe. Classic pointed-toe pumps with a walkable stiletto heel of about 3.5 inches are my favorite.
They can be worn to elevate simple jeans and t-shirt outfits while looking seamless with a cocktail dress or suit. The fact that they are seasonless adds to their appeal.
Clip on a sparkly shoe accessory and you've got a completely different shoe!
I bought my Tatiana pumps in black suede roughly a decade ago, and they not only still look current, but the brand is still making them years later.
If you prefer a trendier take on the heeled pump, you can choose a square-toe pump, or a slingback kitten heel. Just remember that these will look dated far sooner.
For those that prefer a more comfortable option, choose a pair with a block or lower heel. Think Ferragamo's classic Vara bow pumps. You can't go wrong with chic high heel pumps as capsule shoes either way!
2. Loafers
Loafers make great capsule shoes! They are a versatile shoe style that works in any woman's base wardrobe. Especially now that they've increased in popularity.
Whether you're wearing dress pants, a sweater, or a flowy sundress, the loafer is always a stylish choice.
And there are many types of loafers to choose from! Opt for a penny loafer, or have fun with tassel or fringe loafers for a preppy look.
If an elevated look is more your style, look for a classic horsebit style, like Gucci's loafers.
For a more edgy look, choose a pair with a lug sole and grippy treads. Studs are optional.
My top loafer contender to add to your capsule wardrobe? A classic black leather penny loafer with a slightly elevated rubber outsole. You can easily style these with many outfits, including many socks for loafers!
I prefer black, but a beige, brown or burgundy, even in patent versions, might suit your needs – and wardrobe! – better. Read my post about how to wear loafers for how to incorporate these great basics into your wardrobe.
Loafer Alternatives:
Black or neutral ballerina flats
Two-tone ballerina flats
Mary Janes
3. Simple Sneakers
The casual lace-up sneaker is the perfect style to have in your wardrobe. But to be genuinely capsule shoe wardrobe worthy, you must pick the right pair.
I would avoid chunky sneakers, tall platform sneakers, or high tops as they aren't as versatile. A classic, rounded toe style sneaker with a low profile makes for a better capsule sneaker.
In terms of colors, I'm a big contender for white running shoes. These can be teamed up with anything from jeans to dresses to sweats and suits. Especially if the sneaker is made of leather.
That said, white sneakers need to be cleaned regularly to look chic enough to wear with more formal outfits. This, however, may not work for some lifestyles.
For easy 'white' sneakers, try a trendy pre-scuffed sneaker. Golden Goose sneakers are a great choice, as are the many Golden Goose dupes at more accessible prices.
A white or off-white sneaker with a crinkly leather or grey pattern can be just as versatile. Avoid canvas sneakers if regular washes won't fit into your schedule!
Lace-up Sneaker Alternatives:
Slip-on sneakers
Sporty ballerina flats
Neutral flat espadrilles
4. Classic Ankle Boots
Classic leather or suede ankle boots with a solid heel are always in style and perfect for in-between seasons and fall/winter. They make great contenders to add to your capsule shoe wardrobe!
Whether pairing them with skirts and blouses in summer or wearing them with tights or cargo pants in winter, ankle boots with a block or finer heel easily pair with many outfits and fashion styles.
A pair of black or tan leather ankle boots with a 2-3 inch block heel will make the most versatile addition to a capsule shoe wardrobe.
However, if a beige or white pair will blend better with your wardrobe (think suits and pants), or stiletto boots are more your thing, go for it!
My biggest suggestion? Choose a pair of waterproof ankle boots, so they will also double as fall rain boots. I absolutely love all of my EMU Australia waterproof boots for this!
Can't find a splashproof pair? Try one of these waterproof shoe sprays, or have a go at making your shoes waterproof!
Get more styling info in my ultimate guides on how to wear ankle boots outfits. Or skip o over to my posts about ankle boots with dress pants, ankle boots with dresses, ankle boots with jeans and the best socks for ankle boots!
Shop Classic Ankle Boots for Women:
Alternatives to Classic Ankle Boots:
Combat boots
Chelsea boots
Sock booties
Ankle-height cowboy boots
5. Leather Slides
Whether you're headed to the beach or running errands around town, classic slides outfits are an effortless choice that will suit any capsule shoe wardrobe.
A chic slide is a perfect shoe for warmer days when you want to throw on something quick and easy. I love a flat leather tan version with one or two straps, or with a criss-cross strap.
Not one for slides? Pick a Greek sandal or strappy version that ties around the ankle. Tan is my preference to add to a capsule shoe collection, but dark brown, gold or black are viable alternatives.
Alternatives to Leather Slides:
6. Comfortable Flat Sandals
A comfy flat sandal is a great go-to for summer trips to walk the dog or run errands. Not only that, but they pair well with various outfits.
Birkenstocks are trendy yet timeless choice. Perfect for more earthy appeal, especially in brown or warm tones. Birkenstocks also come in many styles including PVC, platforms and studded black patent designs if an edgier look is what you're after.
See my posts outlining the many ways how to wear Birkenstocks and styling Birkenstocks with socks.
If your lifestyle is more casual, opt for a sporty sandal. Black or white pairs will go with most outfits. But given the current trend of all sporty sandals, they will work over time as a statement shoe.
It's trendy and unexpected to wear sporty flat sandals with light pantsuits and even with floral dresses! Try the Adidas Adilette and the classic Teva sandal.
7. Minimal-Heeled Sandals
For when a simple leather slide isn't going to cut it, try a mid to high heel sandal with thin straps. When it comes to minimal sandals, the choices are many.
Try a 2-3 inch block heel sandal for easier wear. For something a little more elevated, opt for a stiletto.
If the height isn't what you're after, there's always a short, sweet kitten heel. You can easily style minimal sandals with everything from jeans and tee to pantsuits and a cocktail dress. You can even dress up track pants with a pair!
Sandal simplicity at its finest is Stuart Weitzman's collection of Nudist sandals. With their thin straps, various heel heights, widths and colors, this sandal hits the minimalist mark every time.
For the most minimalist sandals, opt for beige, skin-tone or gold sandals. You can also opt for transparent straps for an almost completely nude look.
8. Knee Boots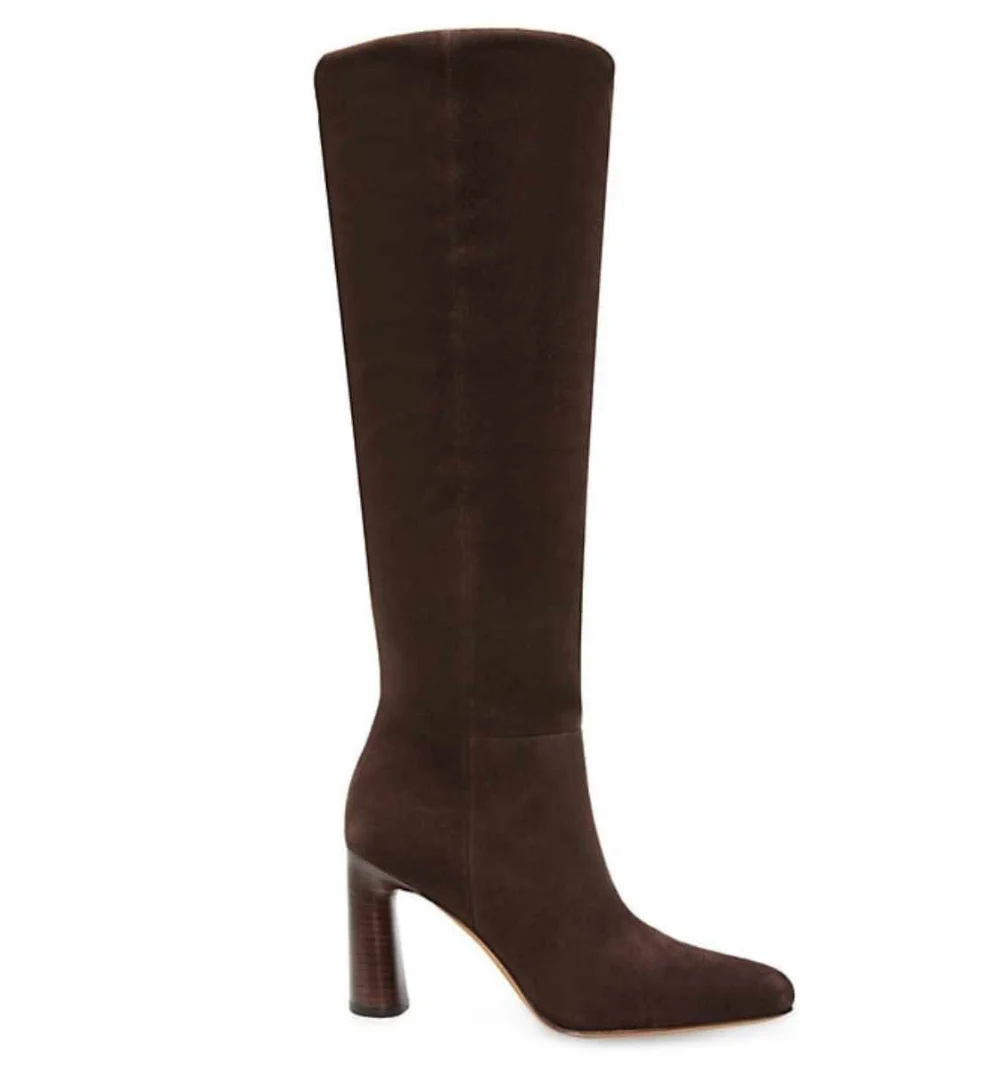 You can skip this one if you live close to the equator or in a year-round beach town! If not, knee boots are highly versatile to wear to the office or on a dinner date.
If you already have leather ankle boots in your capsule shoe wardrobe, opt for a suede knee boot or vice-versa. Any shade of brown, tan and black will always be in style.
In terms of shape, I love the look of a straight leg leather knee boot with a sturdy 3 inch heel or kitten heel. However, a slouchy knee boot might be more apt for a laid-back style.
Pair your knee boots with a button front midi dress, a sweater dress, or a mini skirt and blouse. Dress the look up or down with tights, leggings and the right outerwear.
Check how to wear knee high boots for styling inspiration, in my dedicated post!
Alternatives to Knee Boots:
Cowboy boots
Tall Chelsea boots
Riding boots
9. Statement Heels
And last but not least, the wildcard! You wouldn't think statement shoes for capsule wardrobes make any sense, but some of us have a shoe itch to scratch!
For those who need a bout of bright color, metallics, bejeweled details, an intricate heel (or all of the above!), this is where you can play things up.
You can choose a super-strappy number, pick a platform sandal or opt for a pair of clear heels. These are perfect to pair with a little black dress, wear to a wedding, or to play up a jumpsuit or jeans.
Don't want to invest in a party or statement heel? Try a stiletto sock bootie or a statement ankle boot in a fun, colorful print.
Or, have fun with your capsule shoes with shoe accessories. For instance, shoe clips are a great way to change the look of your shoes (especially pumps and sandals) to add some pizzazz.
What's most important is that it's a shoe that – in the words of Marie Kondo – brings you joy but also fits your personality.
Check out all the fantastic brands that make unique shoes for women to get inspired!
10. Shoe Accessories
Ok, so not actually a shoe, but shoe accessories are great nice-to-have addition to your capsule shoe wardrobe.
Some, like decorative jeweled clips, pom pom shoe clips or shoe straps, can change the look of your shoes. Other shoe accessories are more functional.
These include high heel protectors to save your heel's top piece from wearing out and/or keep your heels from slipping into the grass!
Take a look at the shoe accessories section of my blog to see what might work best for you!
Maintaining Your Capsule Shoe Wardrobe
Now that you have your perfect capsule shoe wardrobe, its' time to learn how to keep it strong! If you're a minimalist and want to keep your shoe collection for a long run, here are 4 suggestions to follow:
A. Store Shoes Properly
Proper storage is key to keeping your shoes clean and looking as good as new. Not to mention it'll make for a more organized shoe closet!
I suggest keeping your clean shoes in their original dust bags (or buying your own) within their original box.
This will prevent dust and dirt from accumulating and protect them from snooping pets and sneaky children!
To make sure they keep their shape, I suggest shoe horns. Since these can be expensive, inserting a shoe deodorizer pack is a great alternative. I use bamboo charcoal shoe deodorizers to keep my shoes dry, fresh and well shaped.
Don't have any of the above? Tissue paper (like the ones shoes often come inserted with) makes a great shoe-stuffing alternative!
B. Use Quality Shoe Care Products
To maintain shoes in excellent condition, buying top cleaning products is a must! Brands such as Jason Markk, Kiwi, UGG, Clarks and Bootrescue's ShoeRescue Kit are great go-to's.
5 Shoe Cleaning Kit Essentials:
Leather conditioner
Suede & Nubuck Brush
Shoe brush
Soft shoe cloth
There are also many DIY products to have on hand, such as white vinegar, baking soda, oil-free face wipes and micellar water, if you prefer.
Check out my various shoe cleaning posts to read more about cleaning various shoes, including suede shoes and white shoes.
C. Find a Good Cobbler
A cobbler is vital to maintain your shoes in the best shape, but a good one is key! Even the most rugged shoes can get scuffed, and the heels will wear.
A knowledgeable cobbler will fix these issues and extend the life and look of your shoes. Pick one close by to your work or home to make life easier!
D. Purchase Quality Footwear
Shopping for good quality footwear means that your shoes last longer, will be more comfortable too and you'll get more use out of them. The great news is you don't have to go for high-end designers, either.
Sam Edelman, Nine West and Vince make various well made women's shoes. I like these brands for pumps, flats, ankle boots and sandals.
For a step up in craftsmanship (and price, although much less than other designer shoes), try Stuart Weitzman!
However, each shoe style can differ (not all are made in the same factory and quality can vary). So always check the actual shoes before buying.
Look to see that they are stitched correctly and that there is no visible shoe glue. And of course, that quality shoes are comfier from the get-go!
For taller boots especially, I recommend footwear brands specializing in high-quality leather boots.
Taos, Frye, EMU Australia, Doc Martens, Rockport and Geox come to mind, all of which I've had great experiences with.
Want to dive into a bit of luxury? Tods, Prada and Aquatalia have never let me down! I love the boot collection at both Saks Fifth Avenue, Zappos and Nordstrom if you want to have a look there.
See below for where to shop for the best shoes for capsule wardrobes:
Great Brands for Capsule Shoe Wardrobes

:
Final Words on Creating a Capsule Wardrobe
And there you have it: 9 shoe styles that will complete an essential shoe capsule wardrobe for any woman!
These 9 must-have shoe styles are a great base to help you build a stylish yet effortless capsule shoe wardrobe. The many variations of each style can allow for personal style to shine through.
Of course, depending on your lifestyle, more shoes might be needed. For instance, flip-flops for the beach, athletic sneakers for your run, foldable ballerina flats for your commute or warm winter boots.
Choosing high-quality shoes with a more timeless appeal and taking care of them well is a winning combination. This way, you'll get a decade's wear of shoes that you can mix and match with your favorite outfits!
There are many benefits to pairing down your shoe closet, and even more benefits to creating a capsule wardrobe for all your clothes and accessories. I encourage you to do so to look stylish and save you time, energy and space!
Have you created a capsule wardrobe yet? If not, why not start with the shoes!?
Check out my new Capsule Shoe Wardrobe Guide which outlines 11 different 9-piece capsule shoe collections based on your personal style, a shopping guide, and a slew of bonus content!
xo ShoeTease