Although we adore our shoes, we are often neglectful in our shoe care regimen, especially when it comes to shoe protection. Which is silly, considering what we put our shoes and boots through while walking in rain, puddles, dirt and even -GASP- snow!
Why should you use waterproof spray for shoes or boots? Because a waterproof shoe protector spray is one of the best and safest ways how to waterproof shoes.
It adds an invisible shield to your footwear, to protect the upper materials from the elements: primarily water and dirt. This is especially important to protect your white boots outfits aesthetic!
This protective barrier will make it less likely that you will damage your shoes' upper material with rain, dust and debris. The coating also makes your shoes easier to clean, and gives them longevity.
Some waterproof spray brands are multi-purpose, and can be used on your handbags, belts and even upholstery! Other waterproof sprays cater to specific shoe and boot materials such as suede, leather, canvas and more.
I will be listing them out by shoe material, so you can easily scan the article to the section best suited to your shoe type. Luckily many of these shoe spray options work well for different types of boots and shoes!
Ready to protect your shoes? Below are the best waterproof shoe sprays for shoes and boots to easily use at home!
RELATED POSTS:
Best All-Purpose Waterproof Spray for Shoes & Boots
Kiwi Protect-All Waterproofer Spray
From one of the most renowned shoe care brands, Kiwi has a slew of protective sprays for shoes. Their multi-purpose protect-all waterproofer spray will shield all types of shoes from rain, snow, saltwater and dirt.
Best suited for: all color heels, shoes and boot types made of leather, suede, nubuck, fabric, and textile.
Crep Protect Universal Protector
Crep Protect Shoe Spray Protection will help protect your shoes, boots and more from stains and heavy rains with its hydrophobic properties. It's special, quick-drying and transparent coating allows moisture to roll off the material, rather than soak in.
Best suited for: leather, suede, nubuck and canvas footwear, and can even be used to protect your finished art projects!
Rust-Oleum NeverWet Boot & Shoe Spray
Rust-Oleum'S Neverwet Boot & Shoe Water Repelling Treatment is a 1-step product with superhydrophobic, water-repelling properties. Applying this clear product allows for your shoes, heels, sneaker and even boots to stay dry longer.
And it doesn't change the look or feel of the fabric. The trigger spray makes it that much easier to use!
Best suited for: all kinds of fabrics such as canvas, polyester and cotton blends, leather and suede. Not recommended for use on nylon materials.
Best Waterproof Spray for Suede Shoes & Boots
Scotchgard Suede & Nubuk Protector
If protecting suede and nubuck is on your shoe care list, reach for another Scotchgard product specially formulated for these delicate shoe materials. This spray resists salt stains and protects from moisture, sleet and snow.
Although like most waterproof spray for shoes, the product usually has an odor, rest assured that the smell will go away once dry.
Best suited for: all suede and nubuk products including shoes, heels, boots, handbags and accessories. Should not be used on smooth, finished leather.
Kiwi Suede & Nubuk Waterproofer
Another goodie from Kiwi to also specifically protect suede and nubuck footwear from stains and water, prolonging the life of your lovely shoes, loafers, boots and heels! This one particular product is a shoe lover favorite.
Best suited for: any color of suede and nubuk.
UGG Protector Spray
Of course, caring for UGG boots – or any sort of suede upper sheepskin boot – you can bet UGG knows their shoe care for their beloved boot! UGG's protector is non-toxic, non-aerosol, biodegradable and animal product free.
You can also find this shoe protector spray in the UGG Care kit set, which also includes a cleaner/conditioner, shoe freshener, bamboo handle brush and suede scuff eraser.
It's always best to spray your suede shoes – if not new – after a proper cleaning. Read more about how to clean UGGs and get rid of salt stains, in my dedicated post.
Best suited for: all sheepskin boots, shoes and slippers, UGG brand or otherwise.
Jak Snow Magic Spray
If you're looking for a non-toxic shoe spray, Jak Snow Magic Spray does a great job. It's an eco-friendly, non-aerosol, colorless formula that protects shoes and bags from everyday water damage, oils, dust build-up and it even helps with UV color fading. Yes, it's that magic!
Best suited for: Suede and nubuck shoes, boots, sneakers and accessories.
Best Waterproof Spray for Leather Shoes & Boots
Apple Brand Gardé Rain & Stain Water Repellent
Another fruit-named brand is Apple Brand's Gardé Rain with its Rain & Stain Repellent. It repels water and provides resistance to oil, grease and sweat stains on shoes & accessories.
This colorless spray doesn't affect texture or color. It dries extra fast so you can slip into those shoes soon after you've waterproofed them!
Best suited for: leather shoes, boots and accessories in all colors.
Nikwax Fabric & Leather Spray-On Waterproofing
Eco-conscious and easy to use, Nikwax Fabric & Leather proof spray helps keep dirt and water out of fabric. This water-based, biodegradable formula is packaged with a sponge-on applicator to facilitate use.
This shoe protector spray contains no PFCs, VOCs, added scents or optical brighteners and is non-aerosol.
Best suited for: all textured leather shoes, bags, accessories and coats. Safe for Gore-Tex.
Now that you have the tools to shield leather shoes and accessories from moisture and grime, check out my post on how to shine leather shoes!
Best Waterproof Spray for Canvas Shoes & Sneakers
Scotchgard Fabric Protector
Another all-purpose fabric waterproof spray from Scotchgard that works wonderfully on fabric footwear! This clear fabric water shield is lighter sealant that will help repel spills from water-based liquids without leaving a residue.
Makes it that much easier to wipe your canvas Vans, Keds and Superga sneakers and shoes clean from mess before it penetrates the fabric.
Best suited for: canvas shoes and sneakers, boots, backpacks, books, outerwear and more.
Best Heavy Duty Waterproof Spray for Shoes
Kiwi Boot Boot Waterproofer
Best suited for: Outdoor hiking boot and gear, but works just as well on x pumps and x loafers. Need an even stronger formulation? Check out Kiwi's Camp Dry Heavy Duty Water Repellent.
Scotchgard Heavy Water Shield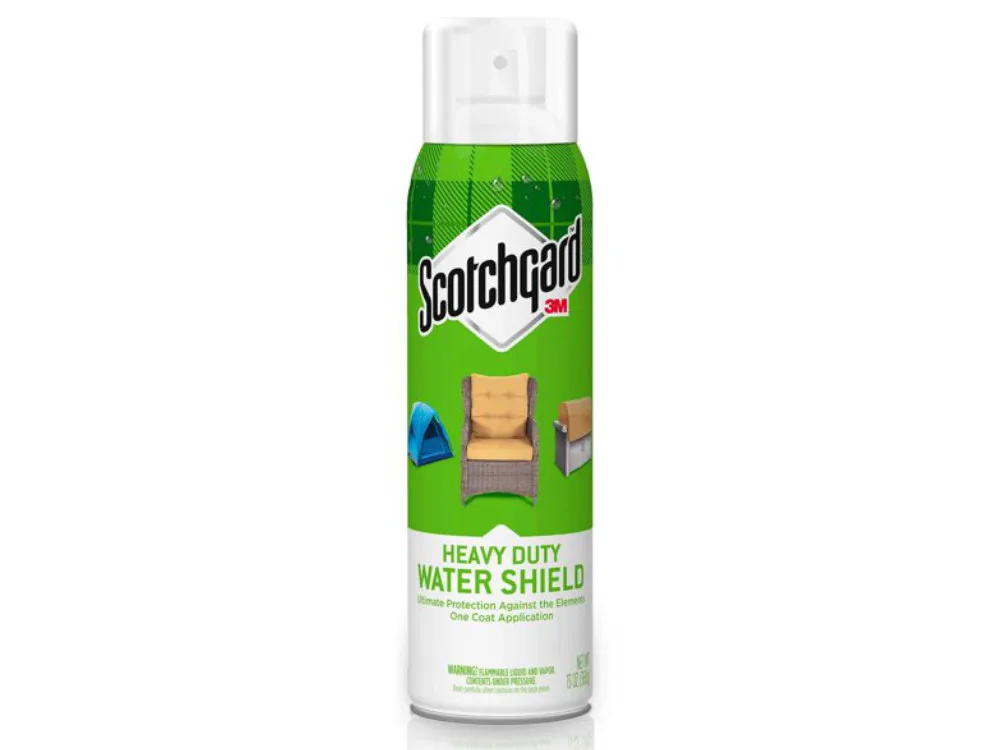 Looking for a heftier waterproof spray for shoes and boots? Scotchgard Heavy Duty water shield is perfect for patio furniture and tough on shoes, only after 1 coat!
This odorless formula creates a durable, yet breathable barrier that will keep shoes, clothing and even furniture and sporting gear, drier for longer and contains no CFCs.
If your shoes aren't odorless as this shoe protector spray, have a peek at my post about how to get rid of smelly shoes!
Best suited for: cotton/cotton blends; leather/suede materials.
---
Shop Waterproof Sprays for Shoes:

---
Final Thoughts on Waterproof Spray for Shoes & Boots
As you're learned in this post, there are a variety of elements that can ruin the look, and feel while decreasing the longevity of your shoes.
Why run the risk when you can easily grab one of the above top-performing shoe protector spray products to coat your footwear with an invisible barrier?
I do advise that for harsher weather conditions, like the cold and soggy conditions up here in the Great White North, you opt for a waterproof boot, like these fabulous waterproof combat boots for women. Or, for reach for a pair of great Canadian winter boots to keep you dry and warm!
Waterproofing your shoes and boots, after cleaning them off end-of-season, is also a good practice before you store away winter boots for summer, as it will prevent dust damage as well.
Since this post about shoe sealant spray wouldn't be complete without answering some frequently asked questions on the topic, find some sough-ought answers to popular shoe waterproofing questions, below.
FAQs
DISCLAIMER
Attempting any of the above methods to waterproof your shoes with waterproof shoe spray yourself may cause irreparable damage to your beloved heels & boots. ShoeTease and its partners are not liable for any damages to persons or property arising from any of the advice given in this post. Please follow the advice in this post at your own risk and always follow the instructions provided on each product. For best results, take your precious footwear to a professional who specializes in shoe care. This is highly recommended for your pricey designer shoes!
xo ShoeTease