Ankle boots are some of my favorite boots for women! But how to wear ankle boots outfits, you ask?
Today on shoe-tease.com, I'll give you all tips on how to wear ankle boots, booties & short boots in my ultimate guide to styling ankle boots with anything!
I'll include essential clothing items, outfit styles and even socks to pair with them!
You'll come out equipped with a slew of styling tips and ankle boot outfit ideas. Including – but not limited to – how to style different colored ankle boots with outfits ranging from pants to jeans to dresses styled for work to play.
Read on to learn how to style your favorite ankle boots outfits for all occasions! They are a capsule shoe wardrobe staple, after all!
Different Types of Ankle Boots for Women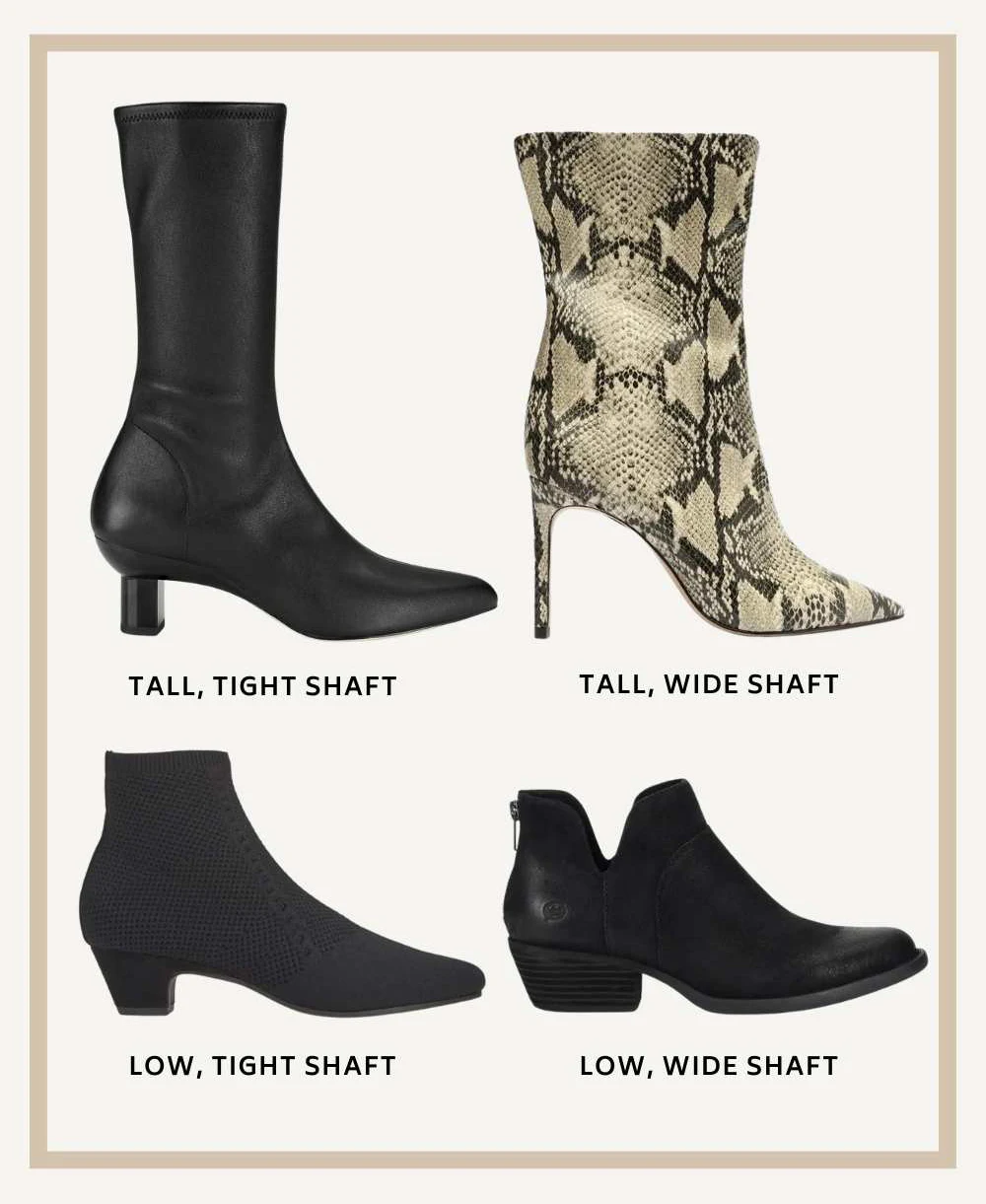 As we all know, many different types of women's boots exist. However, a slew of various ankle boot styles makes up that list!
Ankle boots come in many shapes, widths, heights, and heel sizes. I mean, what makes an ankle boot an ankle boot is, in fact, its ankle height!
Classic, stylish ankle boots today have an almond or pointed-toe shape and end right above the ankle. They have a block, kitten or stiletto heel.
That said, squared-toe shapes are making a comeback and will give an outfit a more edgy look.
The most popular ankle boots have a side zipper and are slip-on with elasticized sides, similar to Chelsea boots.
There are so many kinds of ankle boots that I couldn't list them all here. In fact, I even have another post outlining all the different types of ankle boots for women!
Below are the 10 most notable ankle boots styles that are currently trending. The style below can come in various materials, finishes, heel & shaft heights, and toe shapes.
Classic ankle boots
Western ankle boots
Stiletto ankle boots
Kitten heel ankle boots
Block heel ankle Boots
Platform ankle boots
Cut-out ankle boots
How to Wear Ankle Boots Outfits for Women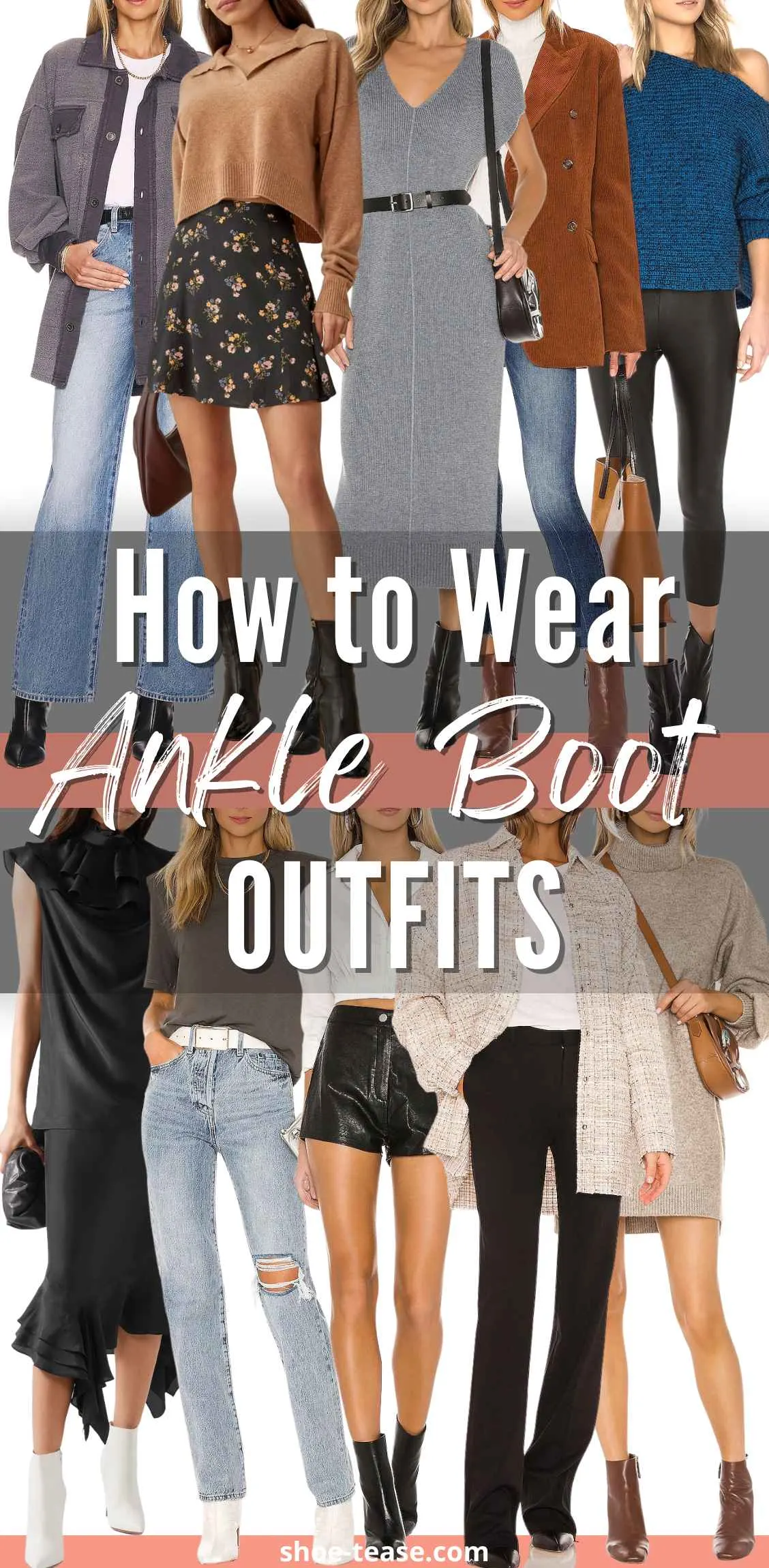 Shop Classic Ankle Boots for Women: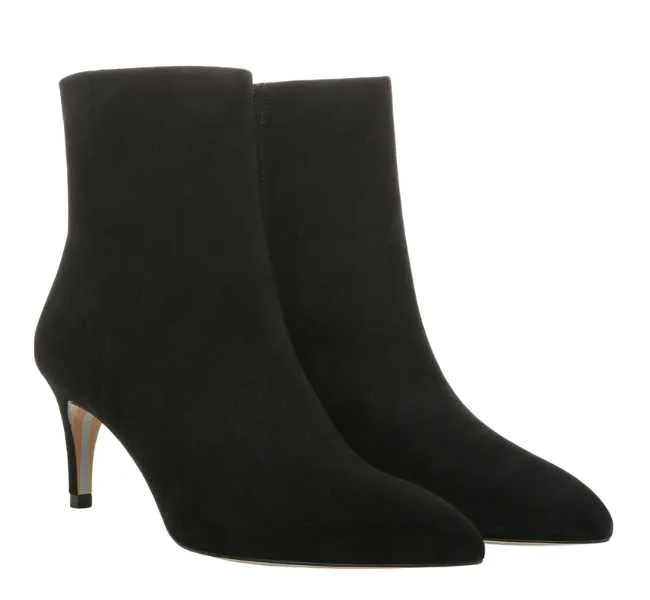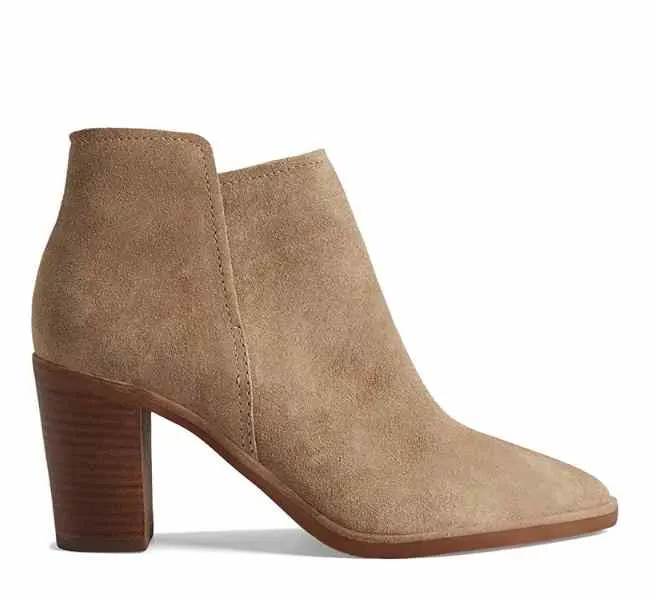 Where to Shop for Ankle Boots:
1. How to Wear Ankle Boots Outfits with Jeans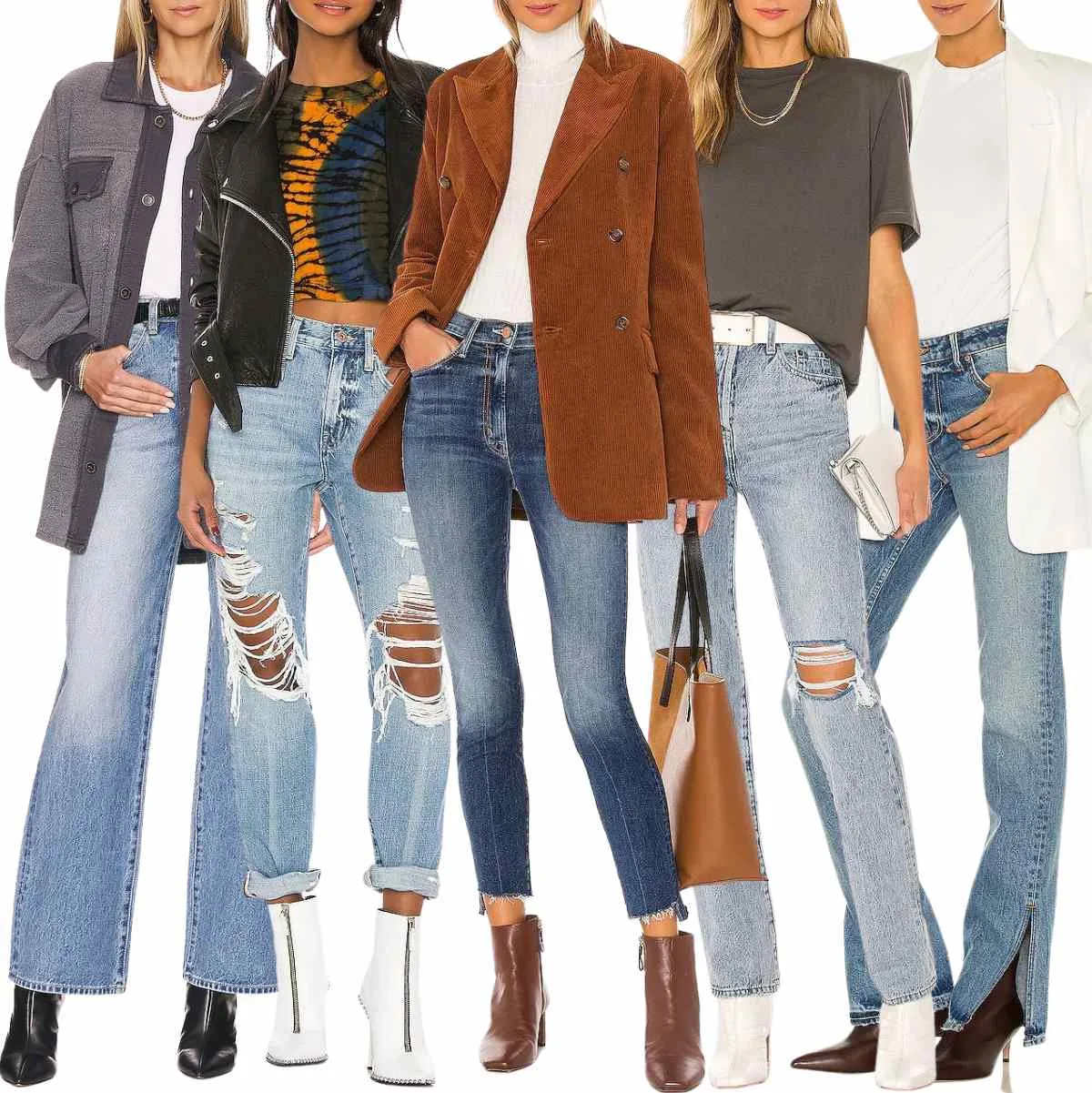 Ankle boots with jeans look fab with all jeans styles! From slim to wide to cropped and long, there is an ankle boot that will pair well with your jean of choice.
With jeans specifically, you'll have to consider jean length, width and wash. This, along with ankle boot height, width and heel type. Below are some ankle boot outfit suggestions with various styles of jeans:
Cropped Jeans:
Choose a short ankle boot to show off more ankle, special boot detailing, or a taller ankle boot that hides under the pant leg.
Slimmer cropped jeans look best with sleeker, less chunky boots, while wider styles can balance out block and platform-style ankle boots.
Hem suggestions: you can cuff the jean hem if the pants aren't too cropped and loose enough to give a laid-back outfit vibe.
Long Jeans:
Long jeans, ankle or floor length, look great paired with tall, chunky or platform ankle boots.
Wear an ankle boot heel height that keeps the jeans from dragging on the floor.
I love roomy long – even baggy – jeans with block heels and lug soles with or without a platform.
Unless the jeans leave 2-3 inches of noticeable heel from the boot, avoid thin-heeled boots, like stilettos or delicate kitten heels.
Hem suggestions: Let the hem fall where it may, or cuff them once or twice if the jean style is not too wide-legged.
Skinny Jeans: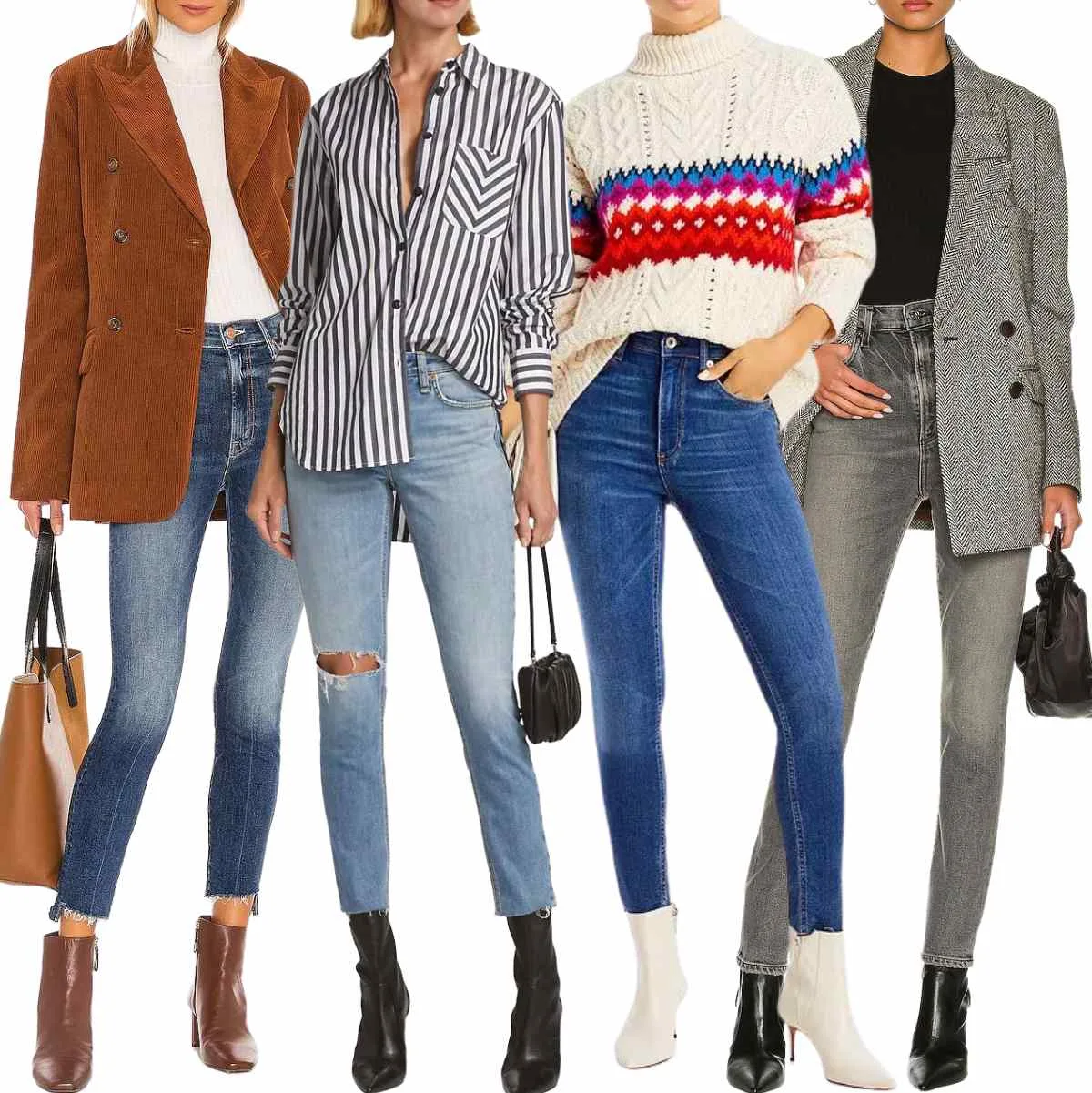 Skinny jeans pair well with most ankle boots. Tighter ankle boots with slim jeans balance out the outfit best.
Block heel boots with a square toe look great with skinny jeans that aren't skin-tight at the ankles.
A pointed-toe stiletto heeled or sock bootie in black, patent, or metallics will dress up your skinnies. Add a sleek silk blouse or bodysuit and fitted blazer.
Lower, block-heel ankle boots or those with kitten heels give your jeans a classic, subdued vibe.
Hem suggestions: Place the hem of your jeans over a tight boot, under a taller boot, or leave a gap in between. You can cuff once if the jeans are tight enough at the base.
Straight-Leg Jeans: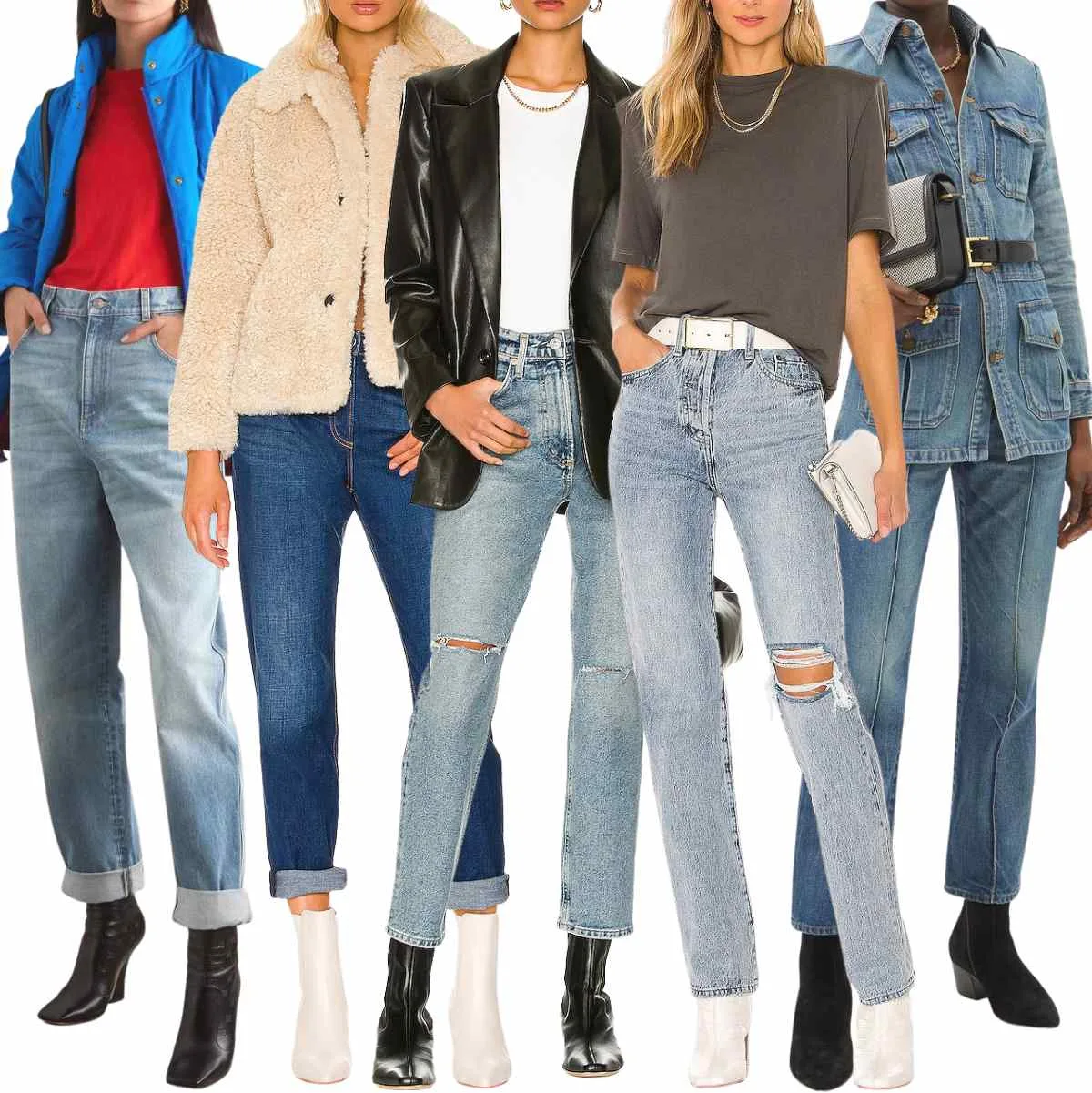 The most versatile of all women's jeans! There are various widths and lengths, although many trending styles are in the middle.
Hem suggestions: You can easily cuff straight-leg jeans once or twice to show off more boot or leave the hems as they are. I like a messy, uneven cuff for more casual outfits.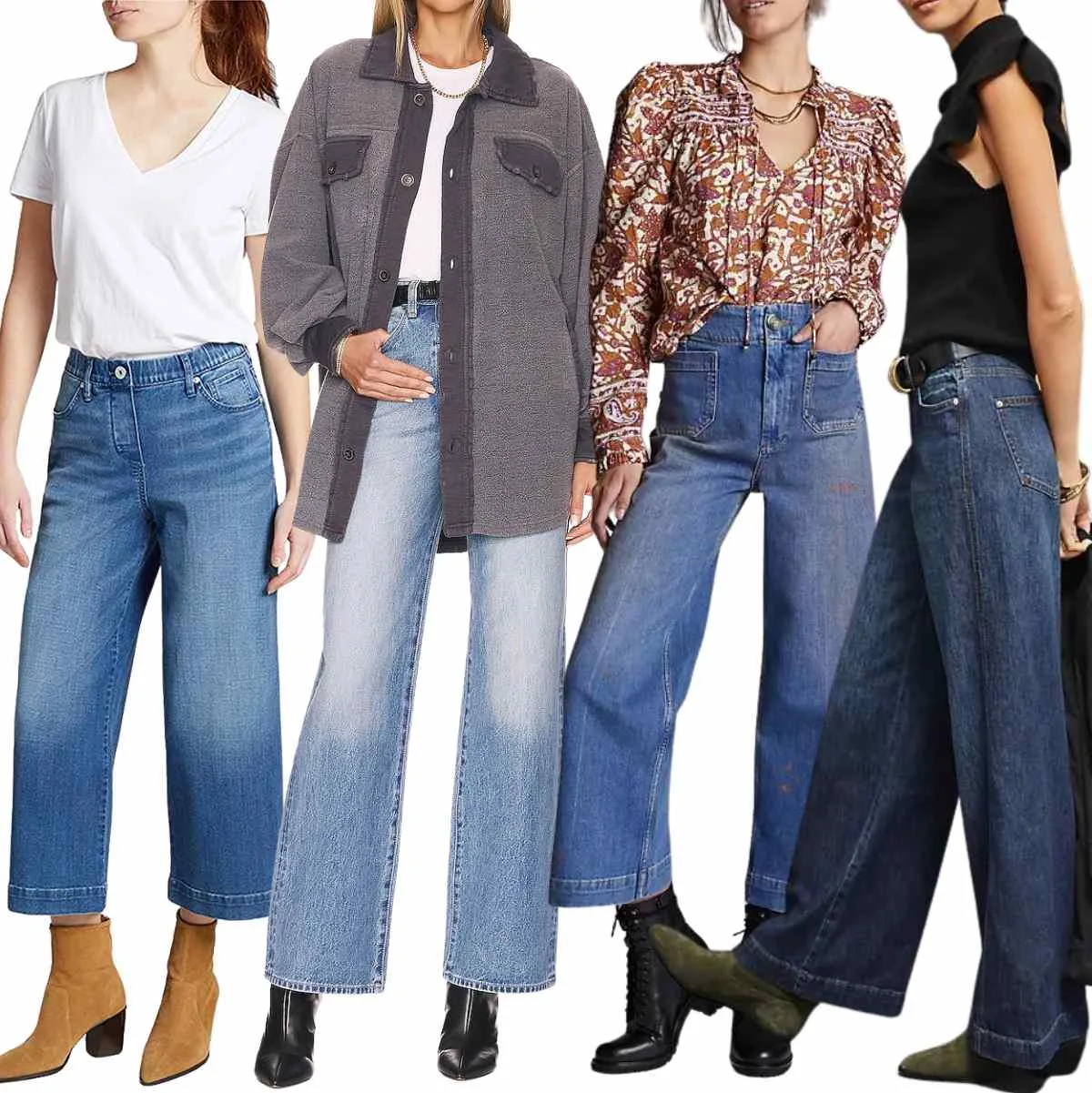 Wide Leg Jeans:
Whether long, baggy or cropped, wide-leg jeans suit various ankle boot styles. From taller boot shafts that hide under a less cropped style or a shorter boot that shows off more skin, the choice is yours!
I love wider-leg jeans with chunkier heels and platforms, especially with trending flare heeled booties. This makes for a relaxed daytime outfit with a bodysuit, oversized cardigan, or jacket with long or cropped jeans.
Hem suggestions: Very wide-leg jeans, especially if flared, will be impossible to cuff. Hem these jeans to hit just below the ankle to give you more ankle boot options.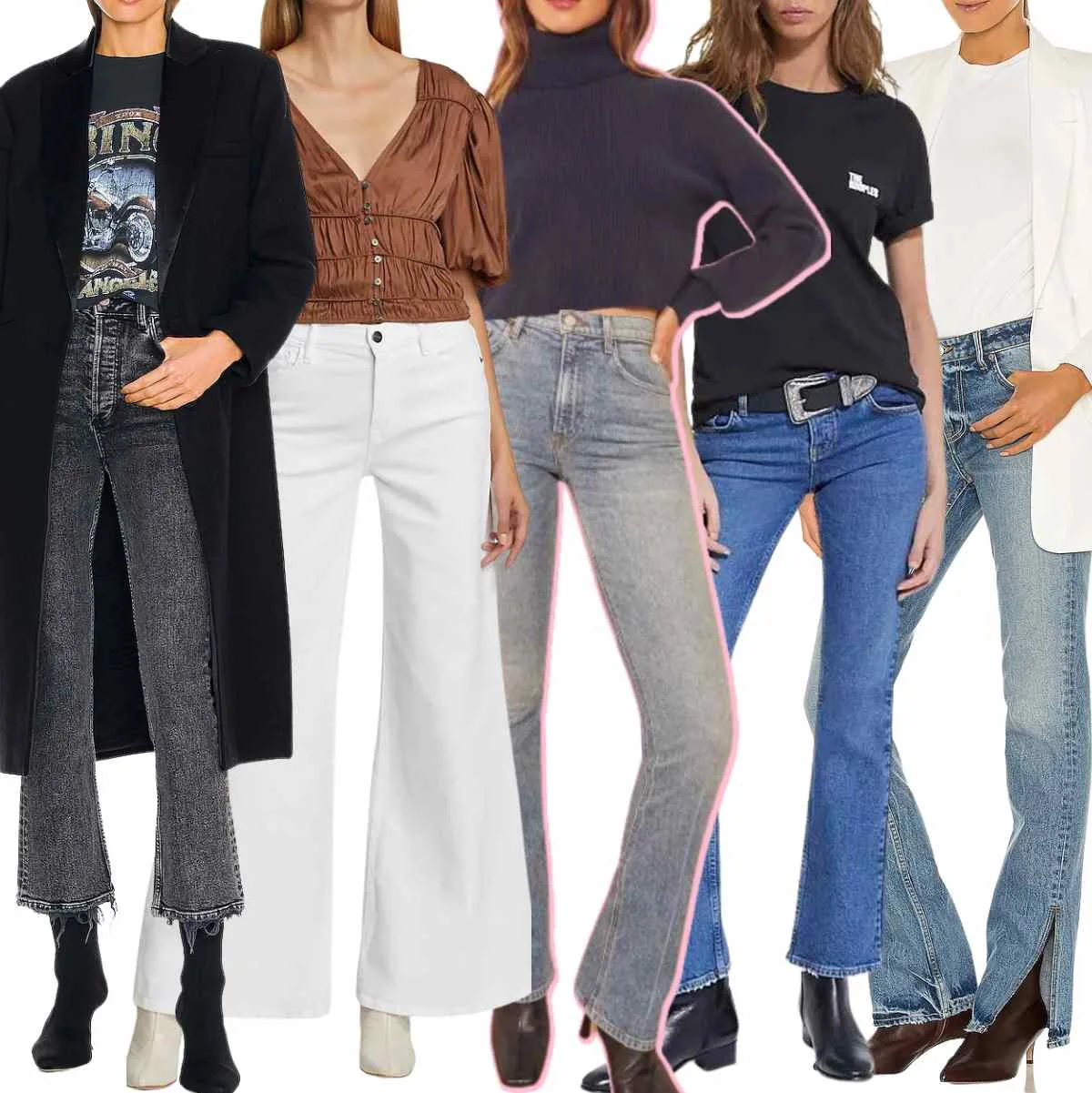 Flared or Bootcut Jeans:
Wear ankle boots that are snug on the calf, especially with a taller shaft. This prevents the boot from interrupting the pant line and creates a cleaner look.
Choose a platform or high-heeled ankle boot to avoid jeans that drag on the floor.
Opt for a square, pointed, or almond toe shape when selecting ankle boots with flare or bootcut jeans. This creates a more polished look.
Light denim kick-flares are great for summer with western or woven booties, while dark or black versions look great with a tight stiletto ankle boot.
Take a peek at my blog post about how to wear ankle boots with jeans for more info!
2. How to Wear Ankle Boots Outfits with Dresses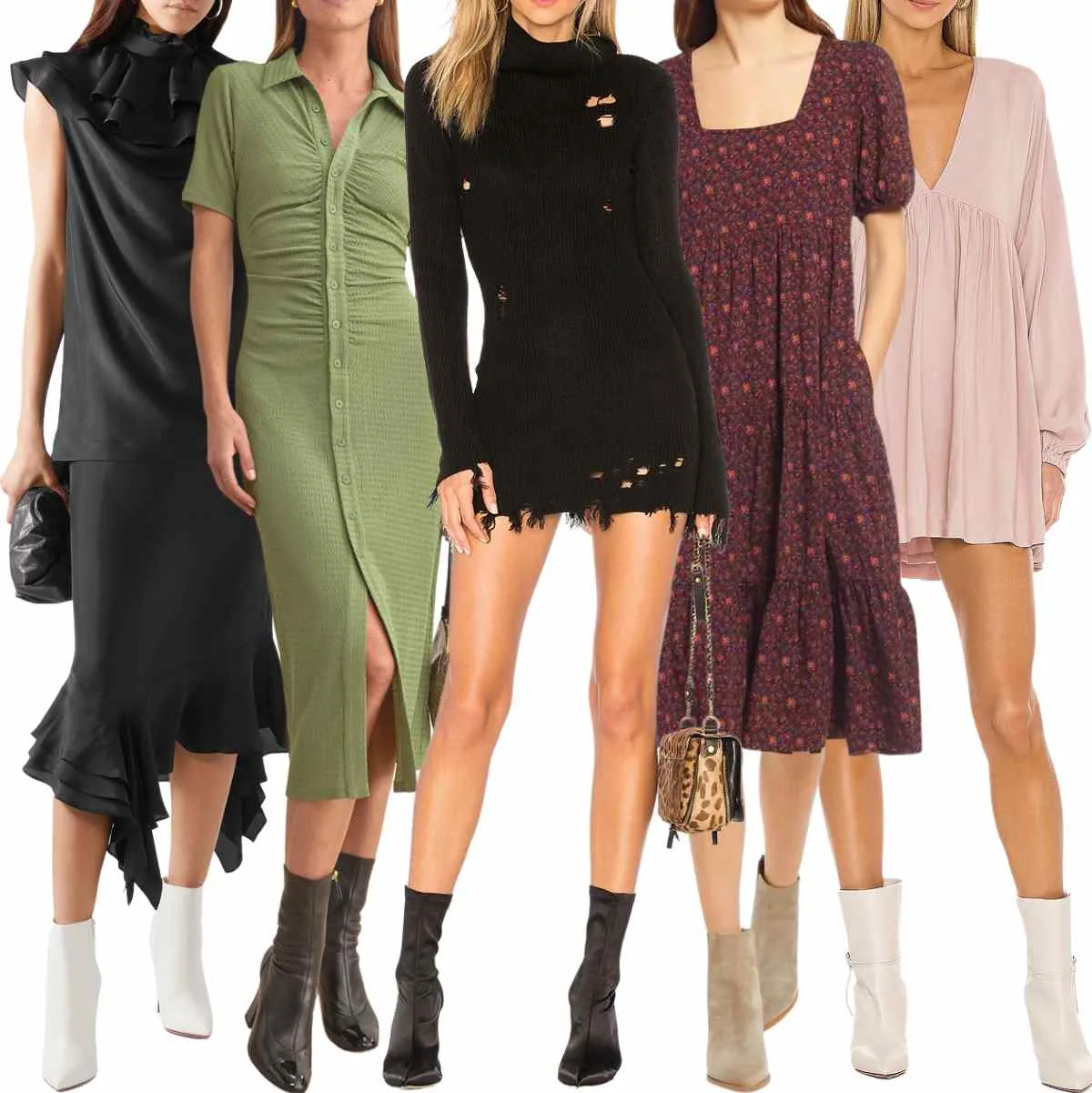 Whether rocking a little black mini dress or a flowy white maxi, an ankle boot perfectly complements any dress.
Ankle boots can be styled with many types of dresses for many occasions. You can change the look by wearing socks, leggings, and hose! Below are tips for styling your ankle boots with different dresses:
Midi Dresses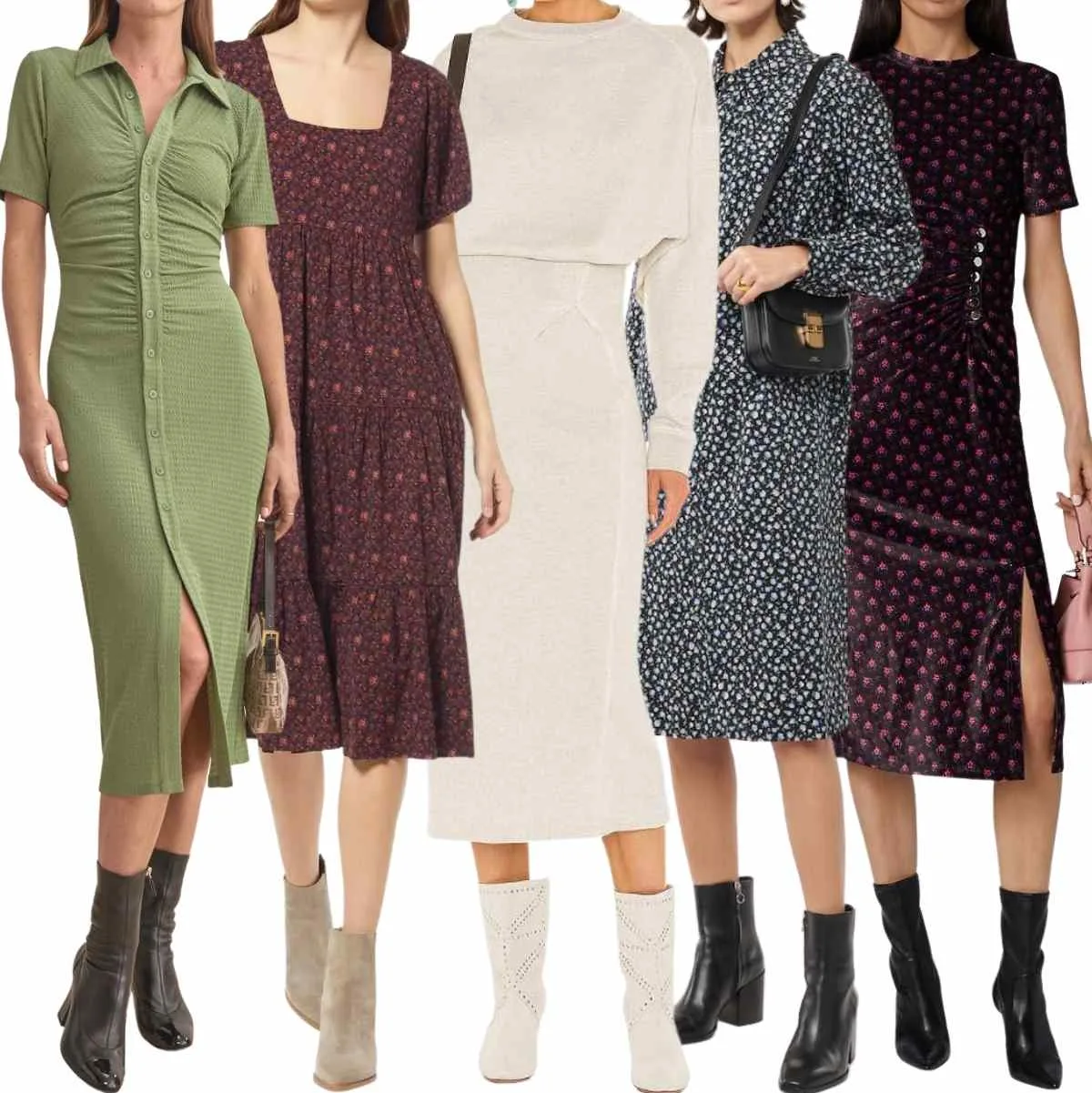 You can wear midi dresses with ankle boots, but the dress style, boot type, and height will be factors in putting together your outfit.
Tight, sleek ankle boots will work with any midi dress. A heel will help elongate your look.
Calf-length midi dresses work well with most ankle boots, including short-shaft styles.
Shorter midi dresses look better with tight-fitting high-heeled ankle boots.
Avoiding midi dresses that end at the largest part of the calf with ankle boots, as they can make your legs look short.
If you are petite, consider wearing a knee-length dress with ankle boots instead.
Mini Dress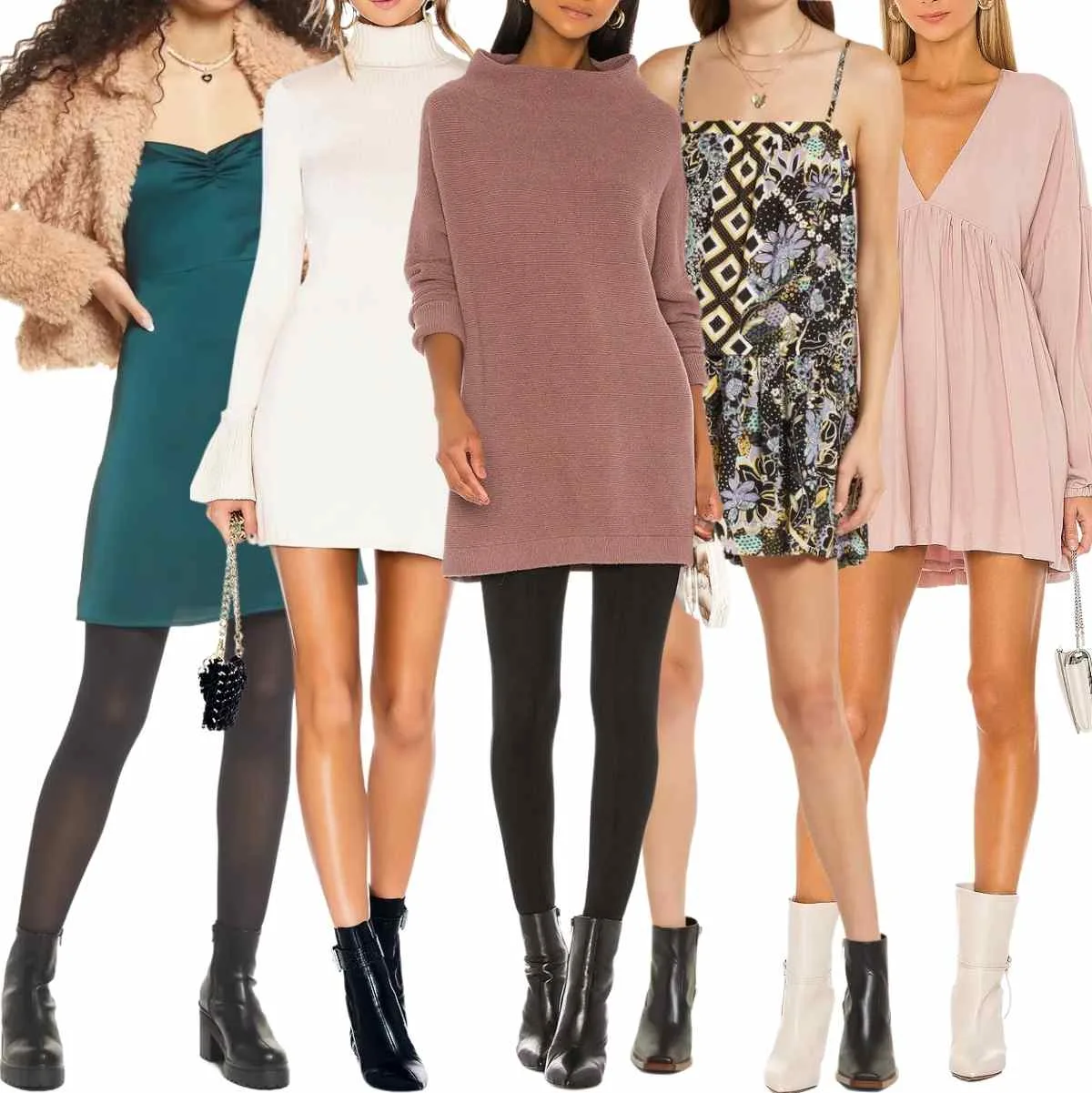 Try black or patent leather ankle boots with a pointed toe and delicate heel to dress up a short dress. Socks booties are great too.
For a softer look, wear an Earth-tone suede bootie with block heels.
Animal print ankle boots will add some cheeky fun! Think reptile or leopard print boots that are flat or with a heel.
Short ankle boots with block heels will look more casual with a mini dress than a taller shaft, even mid-calf boot. Think v-shaped side cut-out suede booties with a denim or t-shirt dress.
Maxi Dress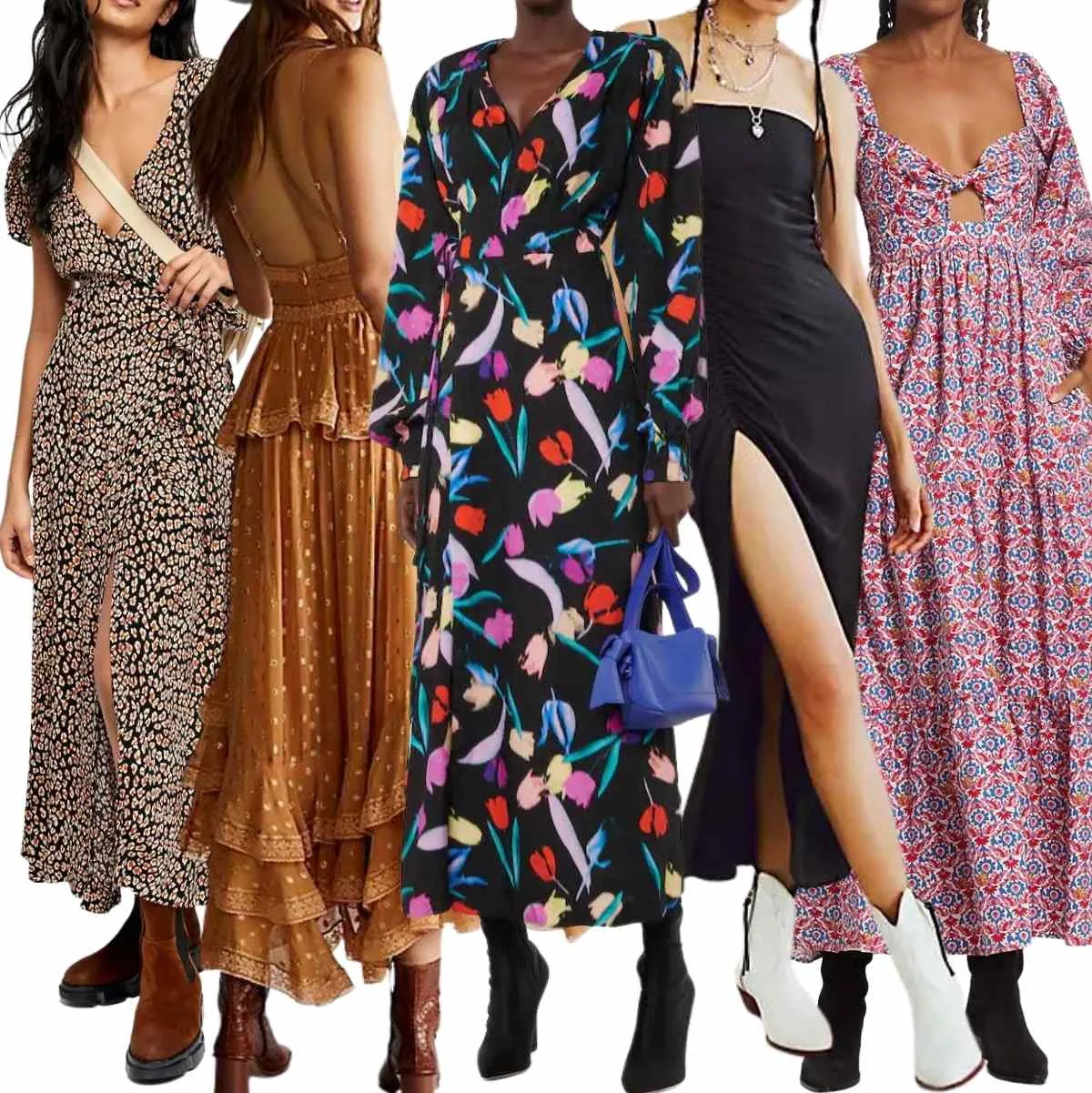 A trendy platform can be fun with a patterned or tiered maxi that shows off the boots.
Boho vibes can be achieved by pairing western booties with a flowy, tiered, or floral maxi.
Combat and Chelsea-style ankle boots with a lug sole will add edge to even the most feminine dresses.
For an elegant fall evening look, replace pumps or sandals with socks booties with a pointed toe to keep your ankles warm!
For more pairing options, check out my in-depth post on how to wear ankle boots with dresses of all styles. Including sweater dresses, shirt dresses, bodycon dresses & more!
3. How to Wear Ankle Boots Outfits with Leggings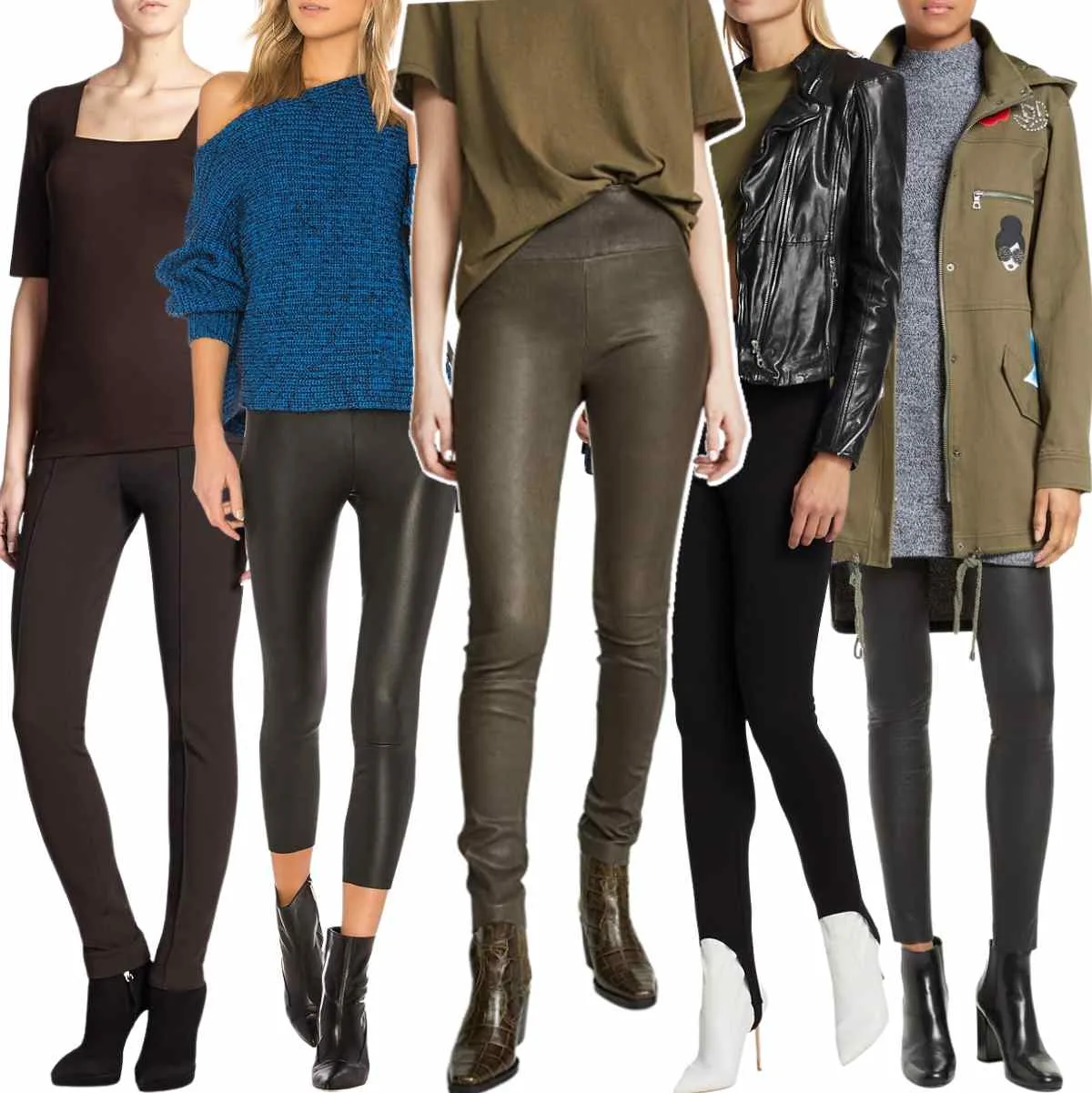 Ankle boots are some of the best boots to wear with leggings! There are so many styles of ankle boots to choose from to switch your look around. Finding the perfect pair for your outfit will be easy!
Try pairing your leggings with some western-style ankle boots for a casual look. Or, go for edgier outfits, and try lug-soled or studded booties.
Leather ankle boots with kitten heels or mid-height block heels are office chic. A heeled stiletto bootie will easily take you from the office to a night out on the town.
Leggings can also be worn with short dresses and ankle boots for added coverage and warmth during cooler temperatures. I love them with sweater dresses too!
The easiest way to wear ankle boot outfits with leggings? Go for a pair of thick black, ankle-length leggings. These are a great staple that looks perfect with any ankle boot.
Leggings can also pair well with mini dresses and ankle boots. These add coverage and warmth during cooler temperatures and look particularly great under sweater dresses.
4. How to Wear Ankle Boots Outfits with Dress Pants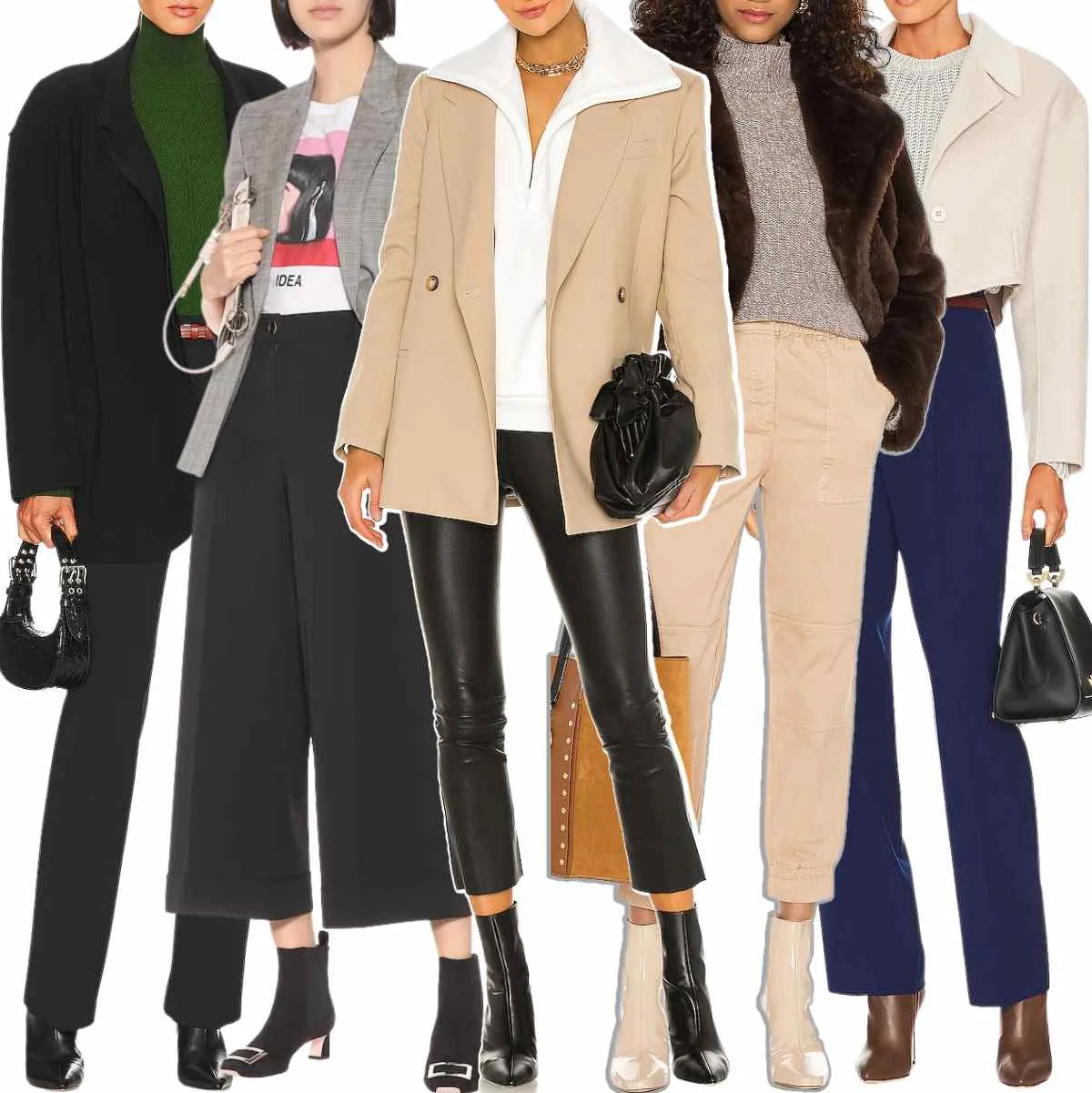 Ankle boots might not be your first choice for dress pants, but they work great together!
They can be suitable for casual, elegant or chic office looks, with cropped, wide or slim dress pants and suits. Leather dress can look dressy or edgy.
Pair dress pants and ankle boots with a sleek tee under a blazer and some statement jewelry for a neutral look. Below is how to wear them with the 2 main dress pant styles:
Cropped Dress Pants:
An easy way to wear ankle boots with dress pants is cropped ankle pants. You can hide a taller shaft boot inside or show off your ankle with a shorter boot.
For slimmer cropped ankle pants, choose a tighter-shaft boot with a thinner heel, so they don't look too chunky in comparison. Love a sock bootie with skinny dress pants!
With cropped wide-leg pants, you can wear tight boots, like sock booties, to elevate the outfit. Opt for a wider boot with a chunky heel for more rugged dress pants.
Wide Leg Dress Pants:
Choose a chunkier ankle boot with a block heel when wearing wide-leg dress pants. This is especially true with longer, thicker fabric pants.
For an extra trendy look, pair wide-leg dress pants and ankle boots with a square toe.
For ankle-length or cropped styles, tighter ankle boots will look chic. Try wide-leg pants with a slit under the knees to show off a fabulous pair of booties and dress up your look!
Choose a wider, chunkier ankle boot with slouchy socks for a more casual outfit.
Need more suggestions? Click on my post on how to wear ankle boots with dress pants, from skinny to baggy to flared!
5. How to Wear Ankle Boot with Skirts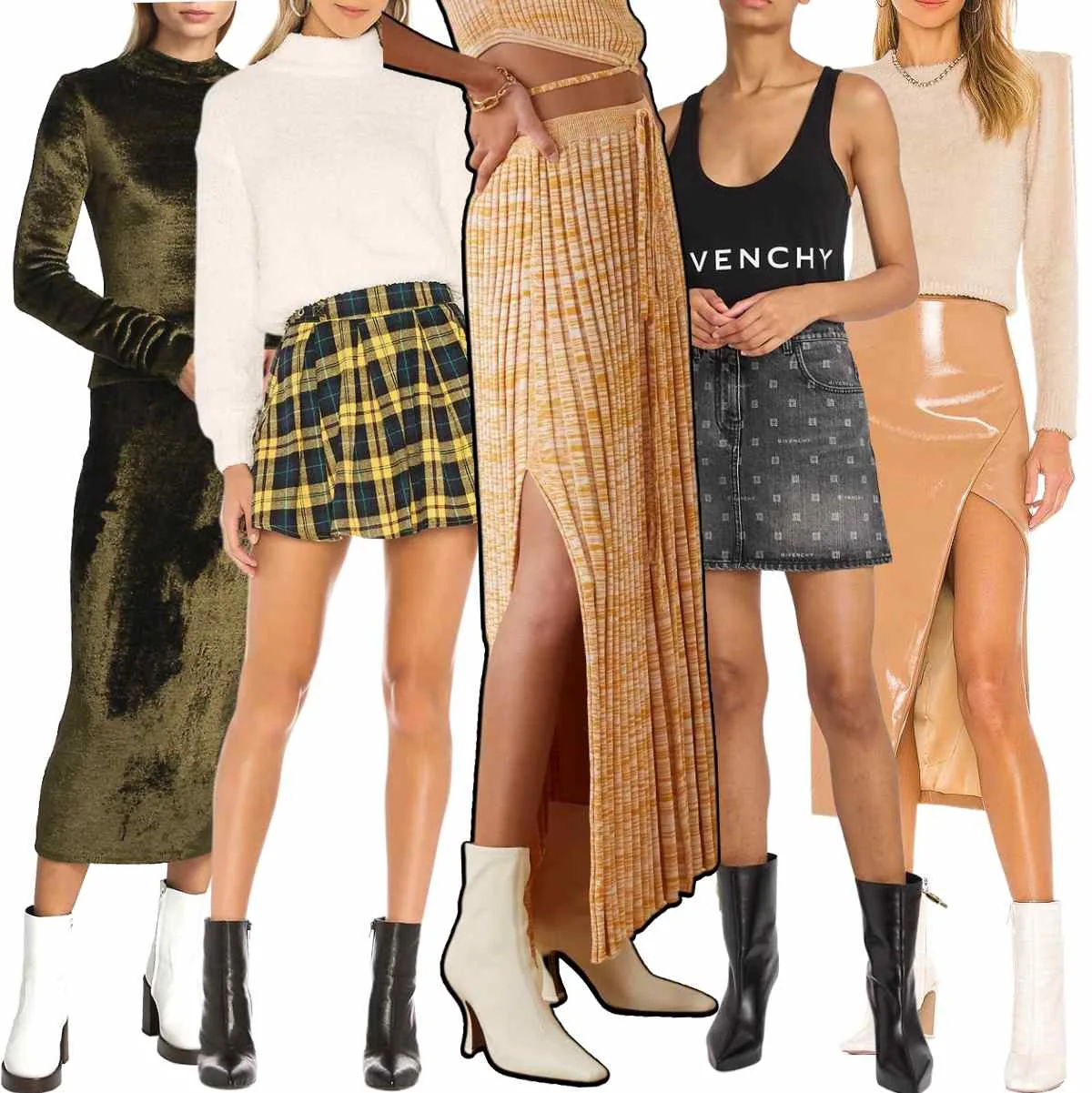 From mini to maxi, trendy or classic ankle boots will keep your look current with any skirt you choose. Generally, ankle boots are most effortless paired with mini skirts, but they can also work with midi or maxi skirts.
Outfit proportions are key! Below are some favorite pairings:
Classic ankle boots with skirt suits can look fabulous. Pick a minimal pair in a shade of brown, beige, or tan with a sleek toe and 2-3 inch heel
Western ankle boots or a more rugged style can look edgy or laid back for casual outfits. Great paired with denim or flowy skirts.
Dress up a leather mini, or satin midi tucked over a bodysuit with a pair of tight, pointed-toe stiletto ankle boots or socks booties.
Avoid wearing ankle boots that fall at the skirt hem. I prefer the look of maxi skirts falling over or midi skirts having a significant gap in between
Love skirts? See my article all about the best shoes to wear with skirts of all kinds!
6. How to Wear Ankle Boot with Shorts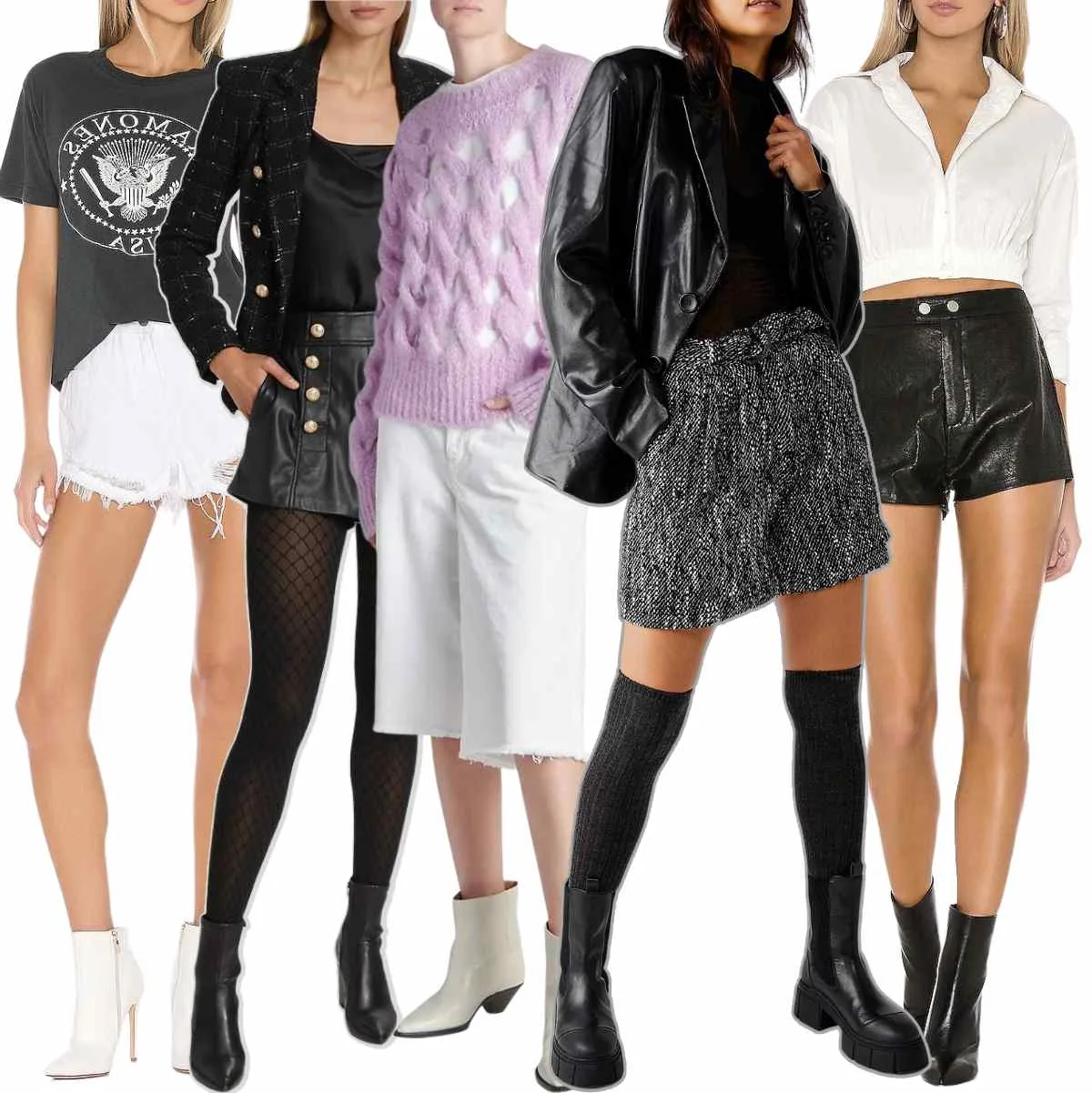 While shorts typically pair well with sandals or sneakers, it's also possible to rock shorts with ankle boots. This look is ideal for transitioning from summer to fall. Here are some outfit tips:
Pair your boots with denim or cargo shorts, a loose-fitting top, and more rugged ankle boots for a casual outfit. For a cozy fall look, add a pair of thigh-high knit socks and layer over a cardigan.
Leather shorts, a pair of white thin-heeled booties and a silk top will dress up your look.
For a dressier vibe, opt for structured or paperbag shorts with a blouse or button-down shirt. Add a pair of classic ankle boots to complete your look. Black tights are optional.
You can wear a pair of Bermuda shorts with a matching jacket and a simple top and ankle boots for work.
7. How to Wear Ankle Boots Outfits with Socks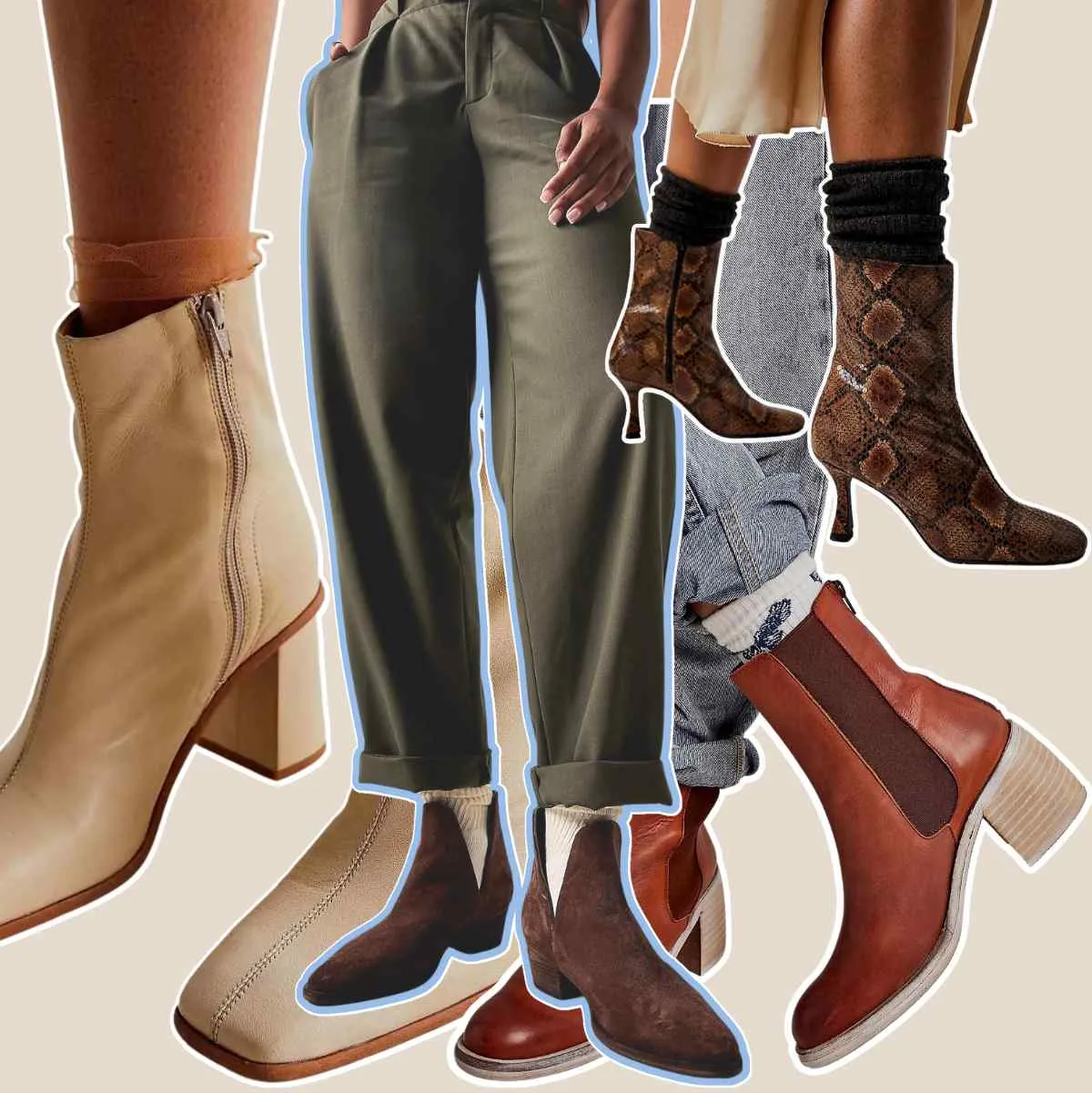 There are just as many practical reasons to wear ankle boots with socks as there are styling ones. I'll be focusing on the latter in this post!
But before choosing a pair of socks for your ankle boots, consider these 4 things:
What is your outfit style? Relaxed, conservative, elegant, or work-appropriate? This will help narrow down the right socks.
What's the occasion for your outfit? A casual event will call for a different sock choice than a fancy night out or brunch date.
What pieces will you be wearing together? Will a type of sock add interest or clash with the outfit?
What will the weather be like? No one wants their feet to freeze their legs on a cold day or overheat on a hot one!
There are many socks for ankle boots that will pair well. Here are how to wear my top 5 + styling tips:
No-show socks: great for when you want your boots and outfit take centre stage. These socks remain hidden even under low, cut-out ankle boots. Choose a well padded pair for extra comfort.
Crew socks: A white ribbed pair will add a sporty vibe, while a black pair will suit most casual outfits. A logo or striped pair can look fun, as can choosing one in a contrasting color.
Cottage socks: Wooly speckled socks, look tweed-like and will add a cozy vibe to your outfit. You can add them over leggings, tights, or show them off with ankle boots, a mini skirt, or casual shorts.
Tall socks: These can be thin, ribbed or knit, but each will be a different vibe. Thick ones are great for winter dressing, and simpler styles can take on a prep school look.
Mesh socks: transparent and subtle, these work well peeking out of ankle boots with a suit or skirt. Choose a skin tone, black or embroidered pair.
Check out my post on how to wear socks with ankle boots, including the top 9 sock choices for ankle boots!
How to Wear Ankle Boots Over 40, 50 & 60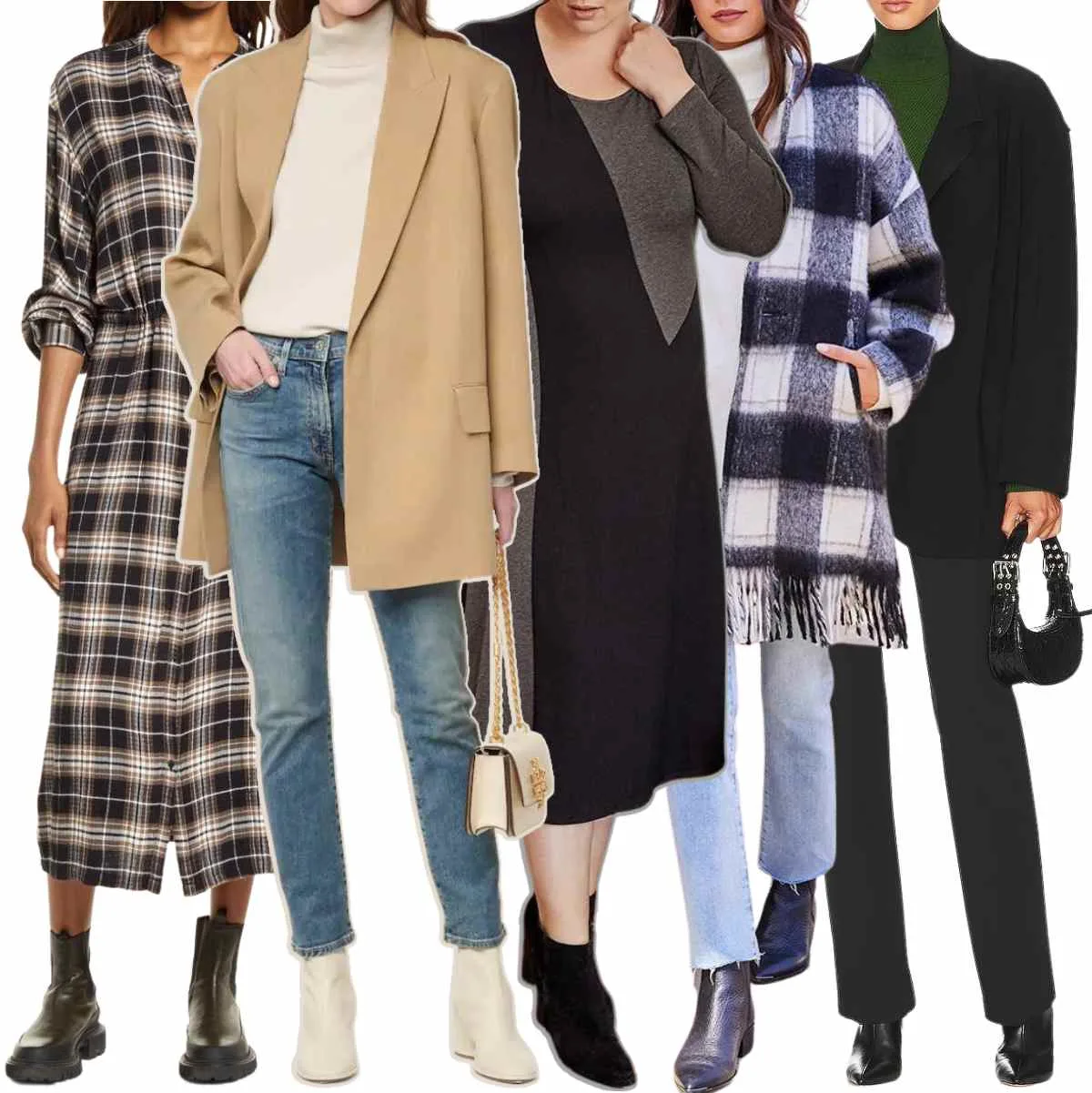 As a woman in her 40s, I don't like to tell women my age or older to dress differently than younger women. I think dressing for your shape rather than age makes more sense.
That being said, there are a few reasons why women over 40 or above might want to wear their ankle boots outfits a little differently.
Firstly, for many, body shape changes. As can one's level of comfort in clothing and trying new styles. Some might want to avoid the tighter clothing, higher heels and shorter hemlines they enjoyed in their 20s and 30s.
That said, my top suggestion is to wear what is most comfortable. So with ankle boots outfits, aim for a boot style that is easy to slide in and out of and offers foot support.
If heels are an issue, aim for low-to-no heel or 2-inch block heels with a platform. I recommend Taos Footwear, Vionic Shoes, and Naturalizer, as each brand designs stylish shoes for comfort.
I love wearing my ankle boots with loose dresses and skirts, black leggings and longer tunic-like t-shirts, topped with a moto jacket.
However, if you love a more 'youthful' ankle boot or outfit that you will feel great wearing – including bursts of color – wear it! Life's too short to be defined by age!
How to Wear Chunky Ankle Boots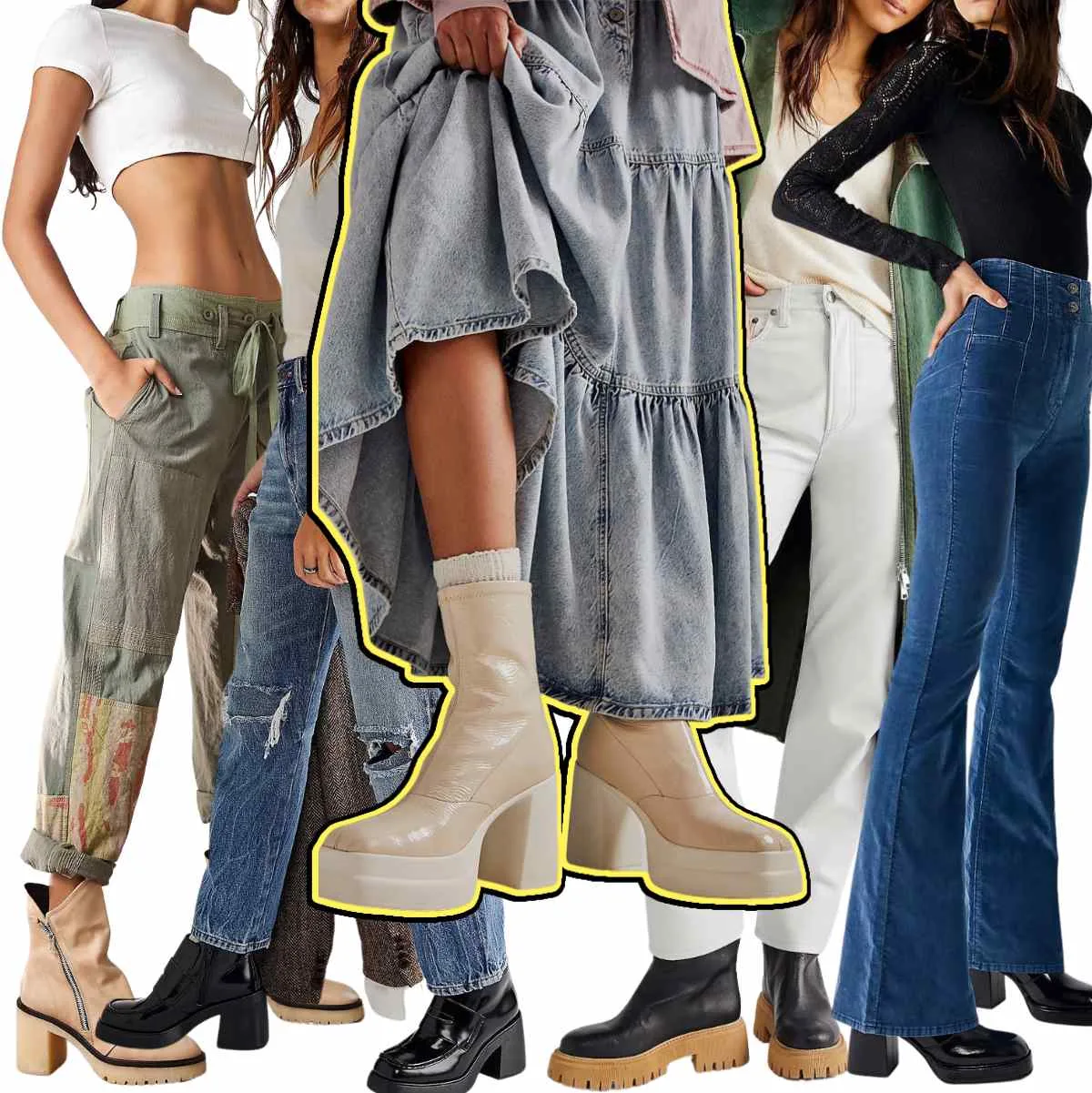 Whether with a chunky heel, oversized lug sole, or platform, chunky ankle boots are very on-trend. You can find them in zip-up, pull-up, Chelsea and combat styles.
Tall lug soles and block heels are everywhere and can be trickier to style than a more streamlined boot with a fine heel.
Here are a few suggestions on how to wear chunky ankle boots:
Pair them with a flowy dress or cropped wide-leg pants to balance out the proportions.
Cuff a pair of roomy straight-leg jeans or cargo pants to show off the boots. Top with a tee and an oversized jacket or a boyfriend shirt.
Chunky ankle boots with shorts or mini and a band tee make a great, rugged look.
Tuck leggings or slimmer jeans into chunky boots. Layer with an oversized sweater or jacket to even out the look. Add a pair of knit socks that peek from under the boots for an added touch.
How to Wear Ankle Boots to Work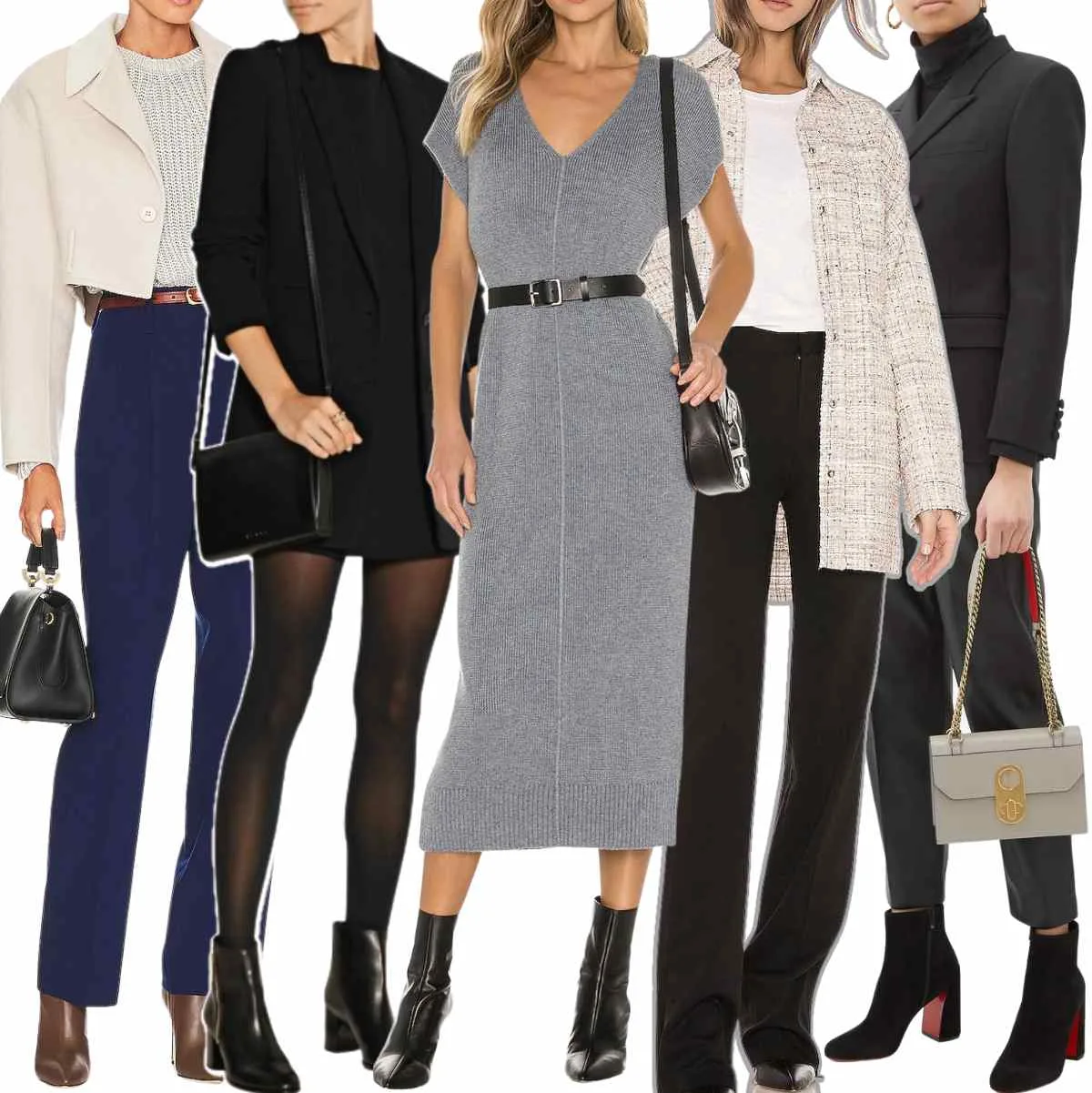 For many women, the ankle boot is a wardrobe staple. But how do you wear them to work without looking too casual, especially in a business casual environment?
Here are a few tips:
Stick to classic styles in neutral colors. Black, tan, and grey are all options.
Almond, pointed, or subtly squared-toe booties shapes will suit most office looks. Aim for a more fitted boot in simple suede or leather.
Look for pairs with a low heel, like a block or kitten heel. Sky-high stilettos are best for after work events!
Avoid anything too trendy or embellished. If you want to add personality to your look, pick a classic ankle boot with a color block or metallic heel.
Ankle boots look great on cropped trousers or even shorter hemlines such as culottes and skirts. Balance out the silhouette by opting for tailored pieces.
Pair your boots with ankle dress pants or a flared skirt with a simple or patterned top. Dark flare, straight or slim jeans are also good choices.
Add a blazer, fitted jacket, or cardigan to finish the look. This will help to give you a polished, put-together appearance.
How to Wear Different Ankle Boot Colors
A. White Ankle Boot Outfit Ideas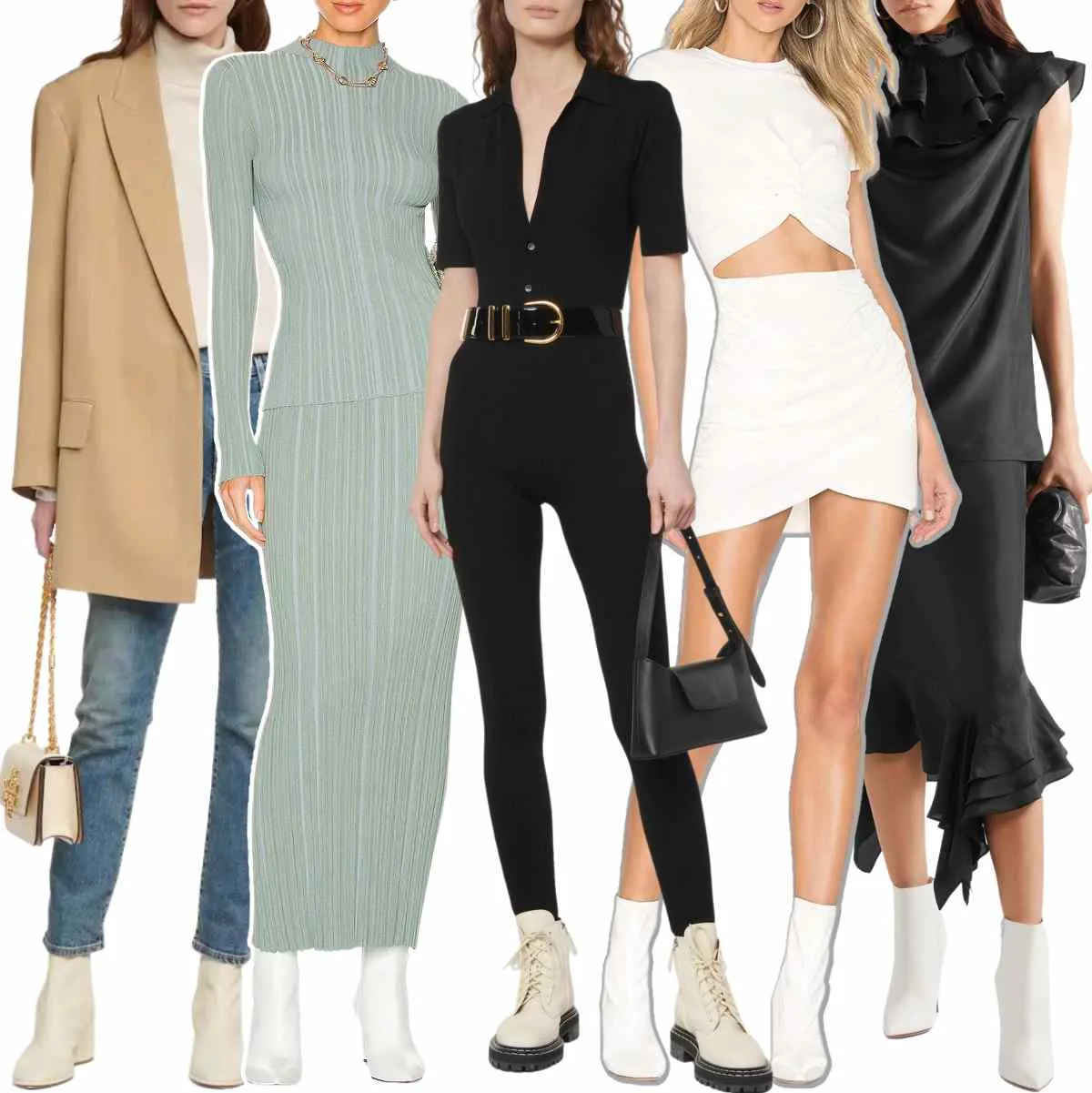 If you're looking to add a little boldness to your outfit, white boot outfits are the way to go!
You can wear them with just about anything, but I think they look especially contrasting with dark clothing, bright or pastel colors, denim, and all white looks!
Below are some favorite white ankle boot outfit ideas for women:
You can wear loose tan or brown dress pants that fall over the boots. Add a matching jacket or neutral cardigan to wear to work.
Dress up a pair of white leather stiletto ankle boots with a side slit gown or sparkly dress.
Add white ankle boots to an all black look with slim pants, leggings or a matching skirt set.
With a denim tuxedo consisting of a white tee, denim jacket and jeans, white booties will be the perfect combo.
You can wear anything from a maxi skirt to a shorter pencil skirt with white boots for a flirty look. Tights are also an option.
Add a pair of semi-sheer skin-tone hose with a slight sparkle with sleek heeled booties for a night out.
B. Black Ankle Boot Outfit Ideas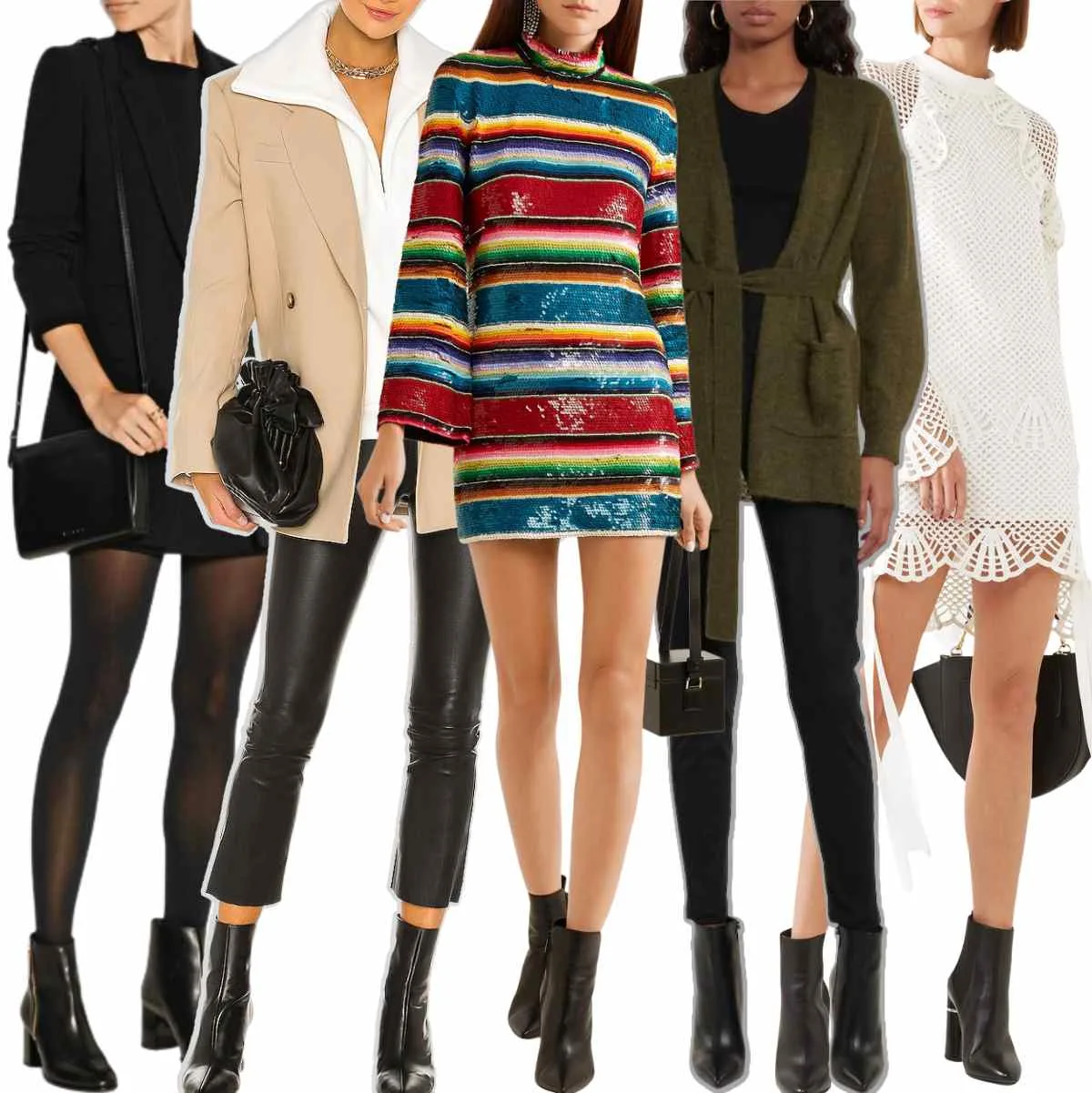 Black ankle boots are the easiest and most versatile ankle boots. You can wear them in any color, outfit or dress, and they'll look great, especially in a classic style.
Add them to colorful or neutral looks. I love them with an all white or total black look!
Wide ankle boots, such as slouchy or Western styles, will make your outfit more casual, especially in opaque black materials. These look good with skinny jeans tucked in or loose skirts, dresses and wide-leg pants.
Sleek, pointed toe ankle boots and stiletto heels on a tight black bootie will elevate any look. If the material is patent black, even more so!
For an added edge, try black studded boots with denim jeans & a tee or jeweled ankle boots with dresses for fancier occasions.
C. How to Wear Brown Ankle Boots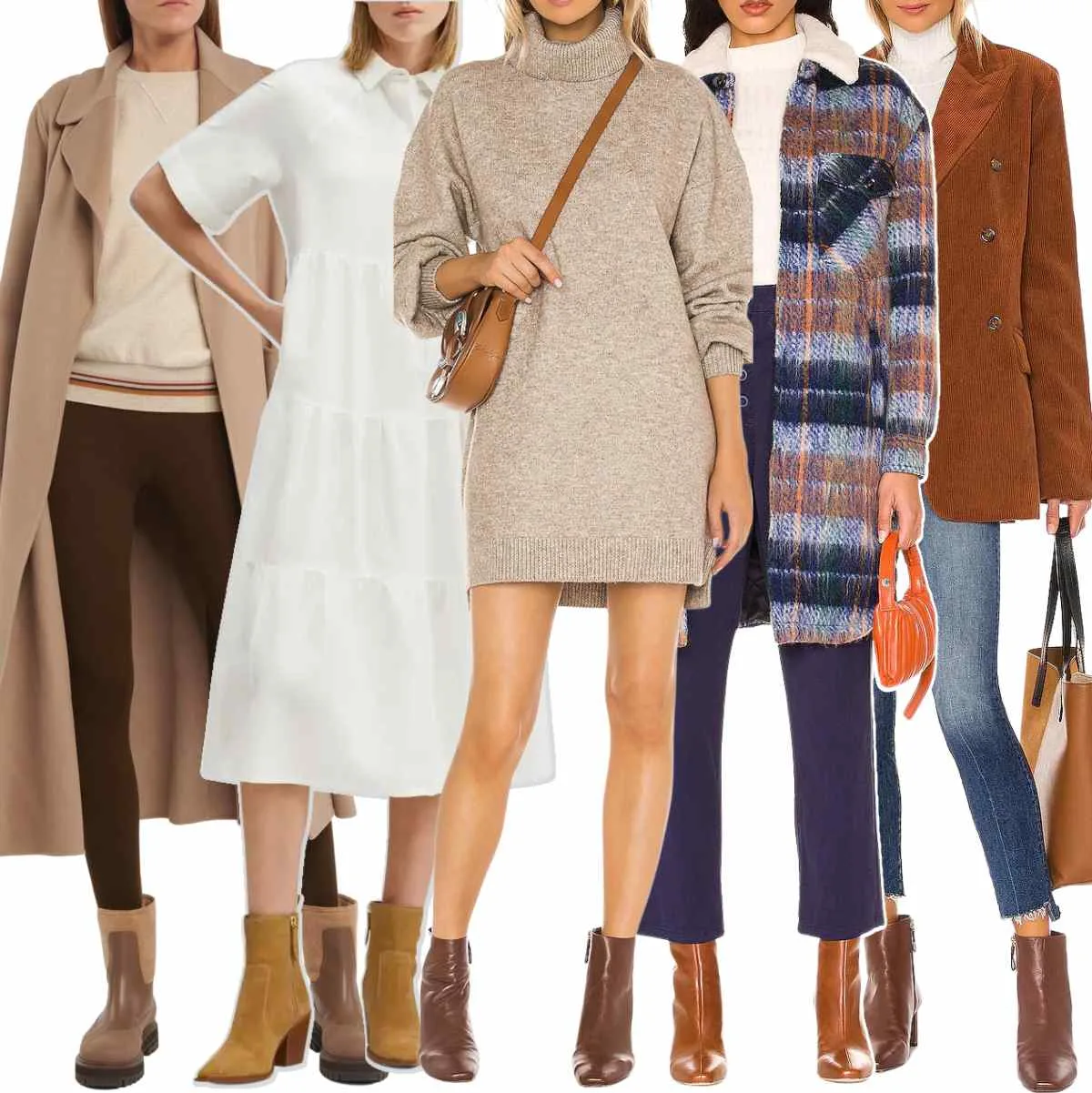 Brown ankle boots can be a little trickier to style than black, but they're still a great option for more casual looks and office styling, especially in tan colors and suede materials.
Pairing them with a denim dress or soft beige or white sweater dress is always a good bet.
Brown ankle boots look great with printed dresses, skirts and suits that have a beige, orange or other warm tones, like leopard print.
Caramel colored booties look fab with deep jewel tones in the fall/winter season.
These ankle boots can make any outfit boho-chic in a slouchy suede style, with fringe or western detailing.
Final Thoughts on How to Wear Ankle Boots Outfits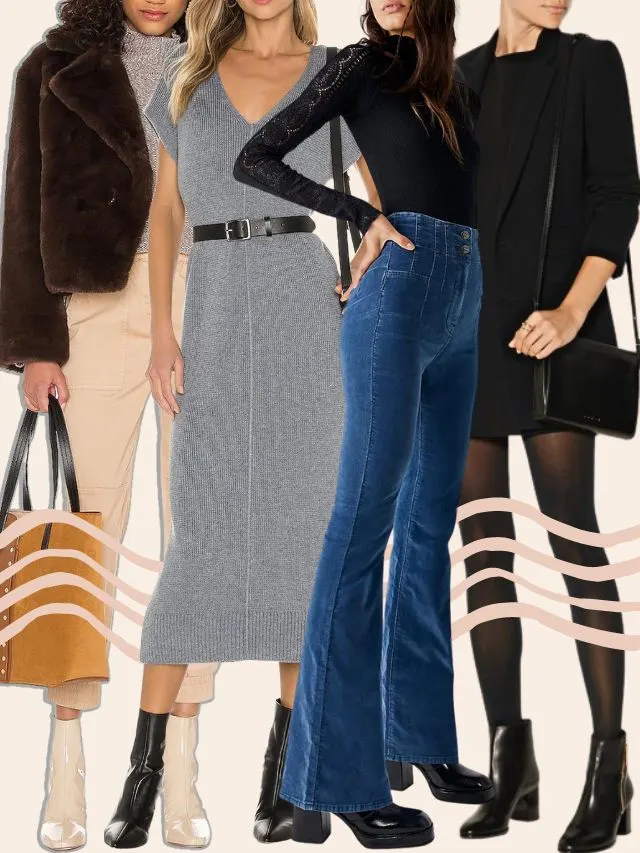 As you've seen, there are many ways to wear ankle boots outfits with different clothing, colors, styles and occasions!
Of course, every type of ankle boot has it's own unique look, especially if it deviates from a neutral shaped and colored boot.
I have posts that cover how to wear cowboy boots, how to wear combat boots and what to wear with Chelsea boots for more styling tips.
Shop Classic Ankle Boots for Women: