The fashion world has gotten a severe case of rodeo fever for spring/summer and I'm here for it! A great little dress with cowboy boots has been a notable outfit choice for fashionistas and magazine editors alike.
All of which have recently served some fabulous cowboy boots outfits with both western and contemporary dresses during recent global fashion week. Even designers such as Isabel Marant, have pushed the cowboy boots with floral dresses aesthetic – hard!
To steal the look, I'm going to list out the best dresses to wear cowboy boots with. From white dresses to structured dresses, to boho dresses to wear with cowboy boots – there are many choices, ladies! That is why these western lovelies are some of the best boots to wear with dresses!
You'll notice that there aren't many dresses that don't look great with western boots. However, certain dress styles and lengths are better styled with particular cowboy boots. Some dresses look better with taller or midcalf cowgirl boots, while others pair best with a shorter style of boots.
So if you're wanting to learn how to style cowboy boots with a dress this post on shoe-tease.com is for you! Whether you're off to a wedding or casual outing you will find the perfect dress for the occasion.
Below are the 23 best dresses to wear with cowboy boots to putting together the perfect western dress outfit or a more current one. I'll start with boho and western dresses, moving on to dress types, then to some more structured styles.
Shop cute dresses for cowgirl boots at Saks Fifth Avenue, Revolve, Reformation, My Theresa and Nordstrom.
Itching for some new western boots? You'll find a great selection from Free People, Lane Boots, Isabel Marant, Steve Madden, and from various designers at ASOS and Revolve.
22 Best Dresses to Wear Cowboy Boots With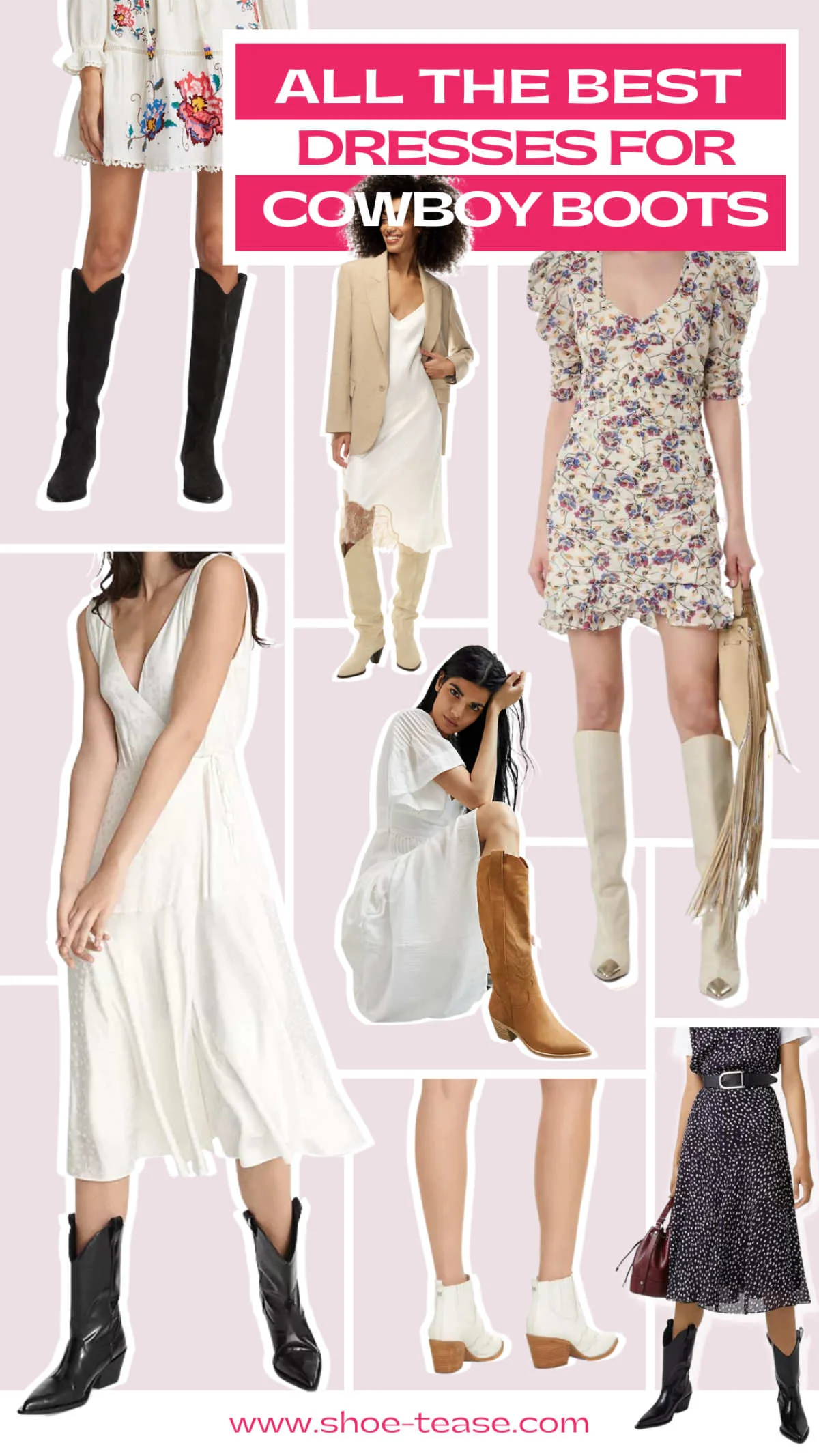 Boho Dresses for Cowboy Boots
If you want to take your cowboy boots with dress outfit and give it extra flair, a boho or 70s-style dress is your best bet. The hippie heyday aesthetic is key to giving off a bohemian look!
What kinds of boho dresses to wear with cowboy boots, you ask? Look for dress details including cross-stitching, embroidery or and crocheted dresses. Dress shape and fit are also important to give off the right vibe.
These include bell sleeves, high collar sleeved mini dresses, and boxy dresses. Long flowy tired dresses also fit the boho bill.
Maxi Dresses with Cowboy Boots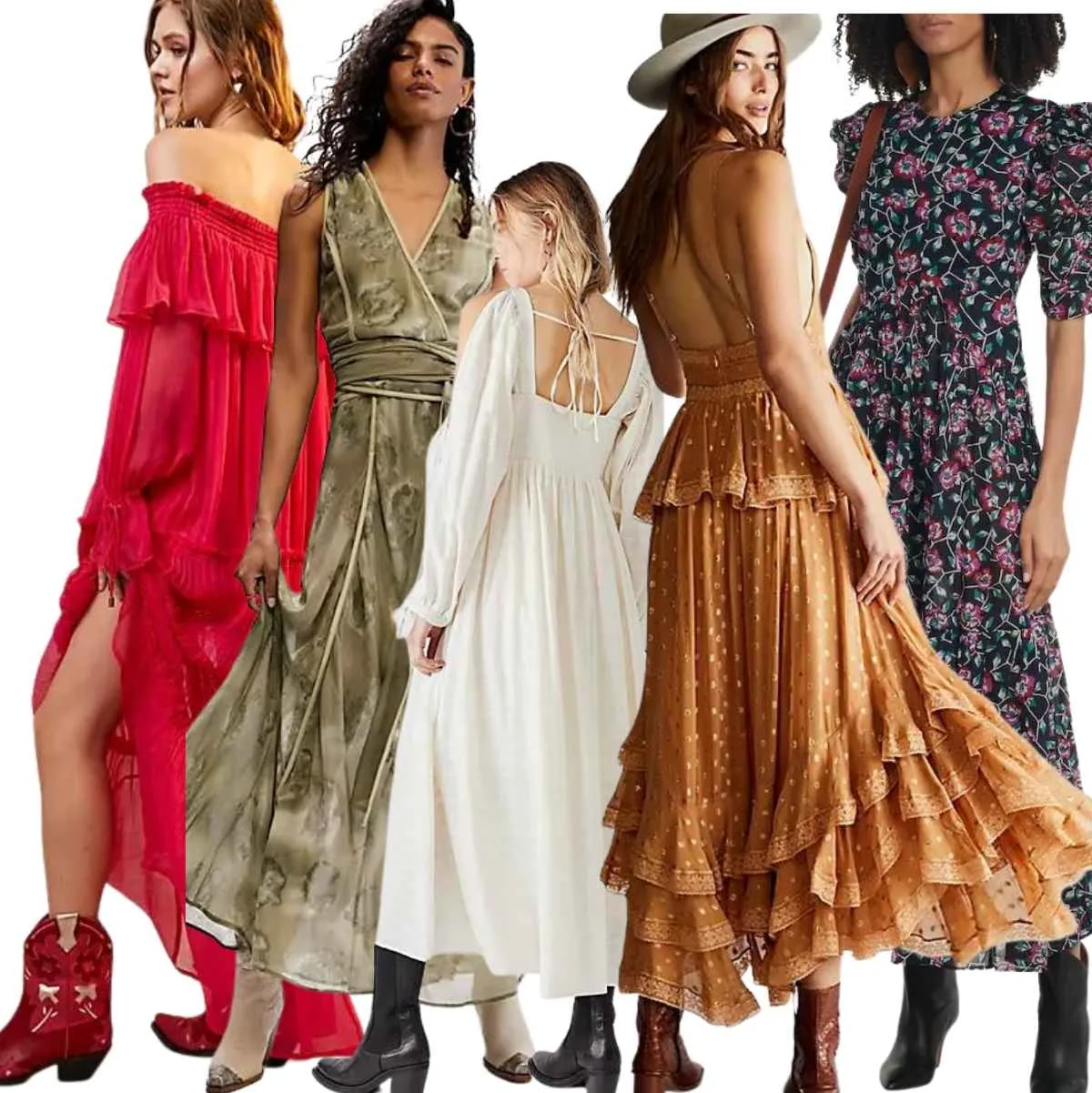 Long dresses with cowboy boots are such a great combination! Especially if you're pairing a tired, flowy or embroidered western dress to wear cowboy boots with.
Pick classic cowboy or short western style boots with a maxi dress that is less roomy with little legroom. Complete the look with a leather shoulder bag or tote and large hoop earrings for the win!
Looking for more long dresses and boots parings? Then check out my post all about what shoes to wear with maxi dresses all year long!
Gingham Dresses with Cowboy Boots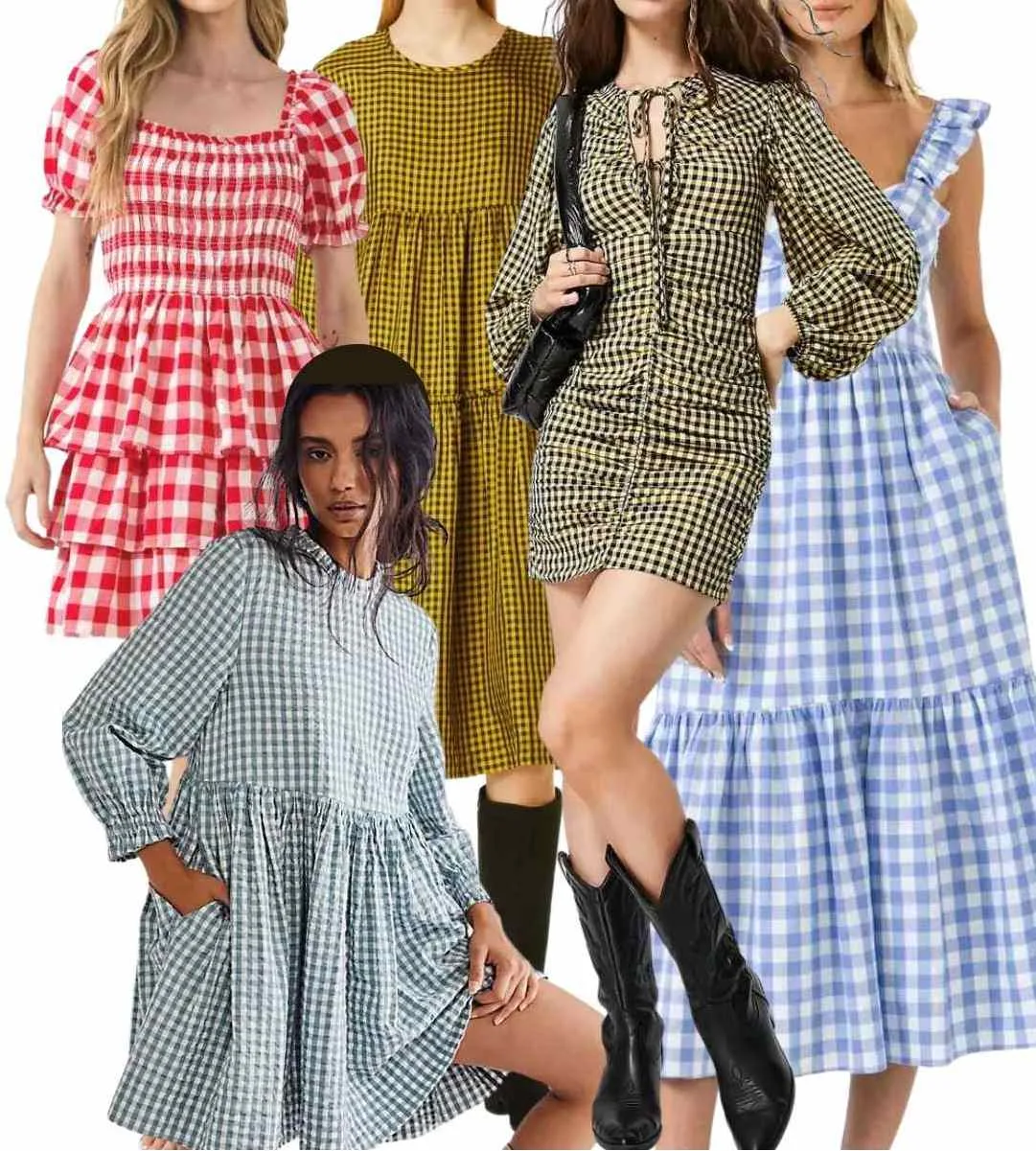 It's hard to think about country dressing without thinking about gingham! Fun, laid-back and vibing country summer days, a gingham dress to wear with cowboy boots is a great match, no matter the cut or shape of the dress.
Style it with a classic cowboy boot color that compliments the dress. Brown, tan or beige cowboy boots give it an extra country/earthy feel. Add a straw handbag to make most of your look.
If your gingham dress has a more contemporary feel, you can choose a more structured purse and add some edge with some jet black cowgirl boots.
Chunky Lace, or Eyelet Dresses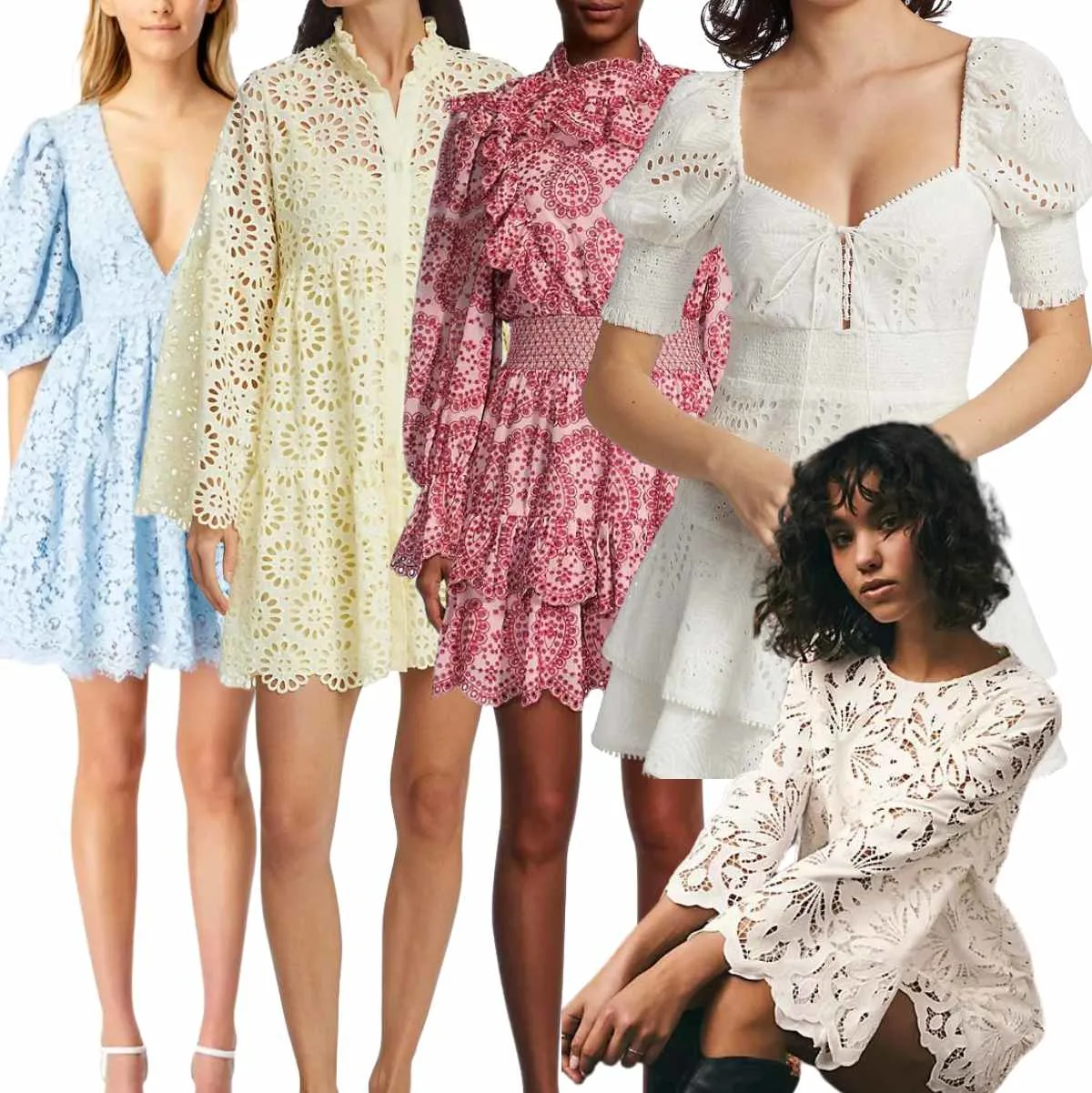 A chunky lace dress with cowboy boots is so decadent. Especially if you pair a white lace dress with darker western boots. The flared sleeves on this particular dress, like the one bottom right above, add a lovely western feel.
However, nothing gives boho-meets-country vibes quite like an eyelet dress, no matter what the shape, length or color. I love an eyelet summer dress worn with classic cowboy boots, a small leather cross-body purse and a cute straw hat! Take a look at my other post to learn all about what shoes to wear with a lace dress.
Tunic Dresses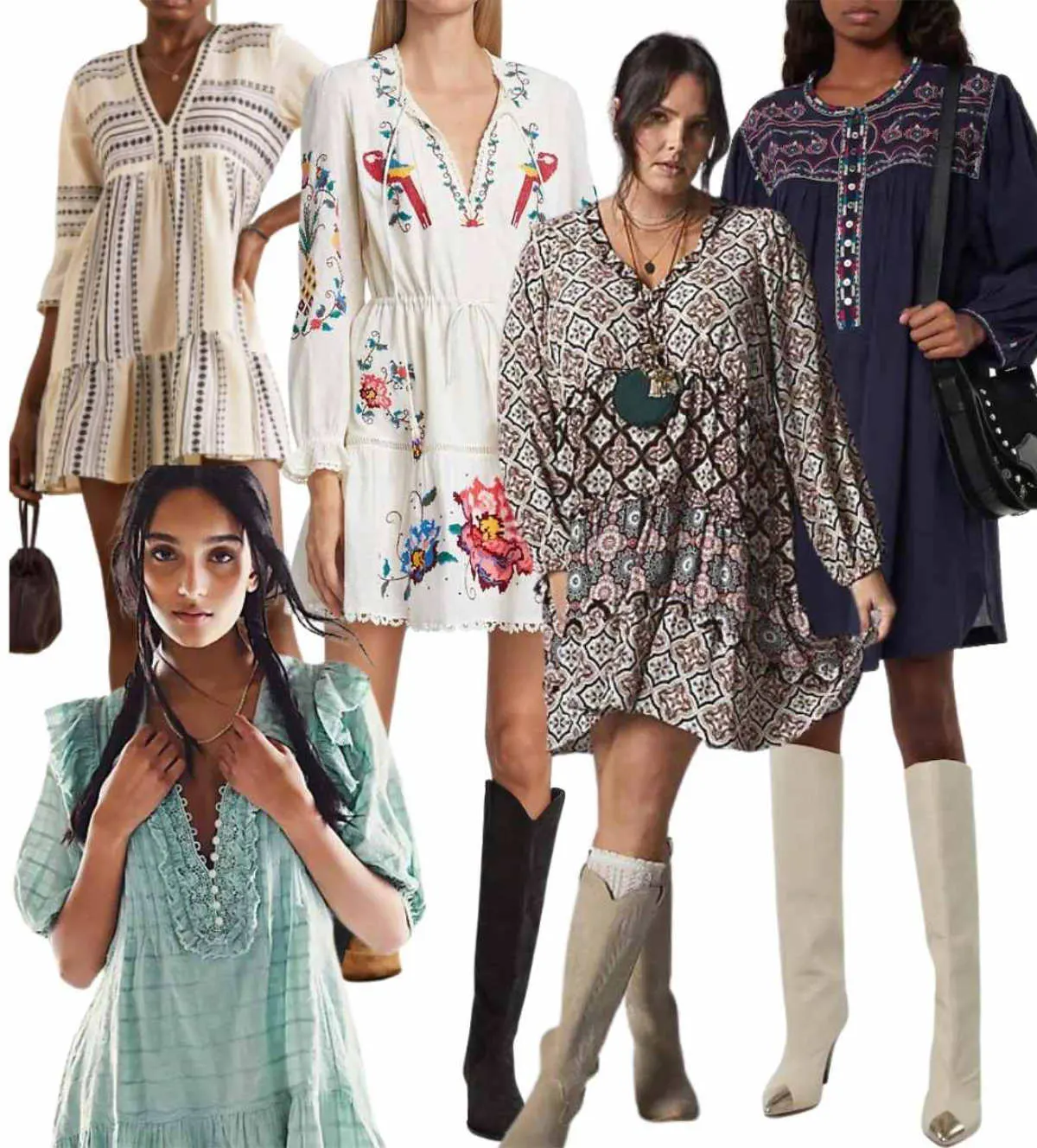 A list of boho dresses to wear cowboy boots would be lacking if I didn't include a tunic dress. A dress staple from the 70s, its laid-back look works well with western boots, especially classic rugged taller styles.
That being said, a short western style ankle boot can also work too. Frills, lace and embroidery will give your tunic dress a heightened bohemian look. Any leather purse – rugged or dainty – will do. A cowboy hat is optional!
Crochet Dresses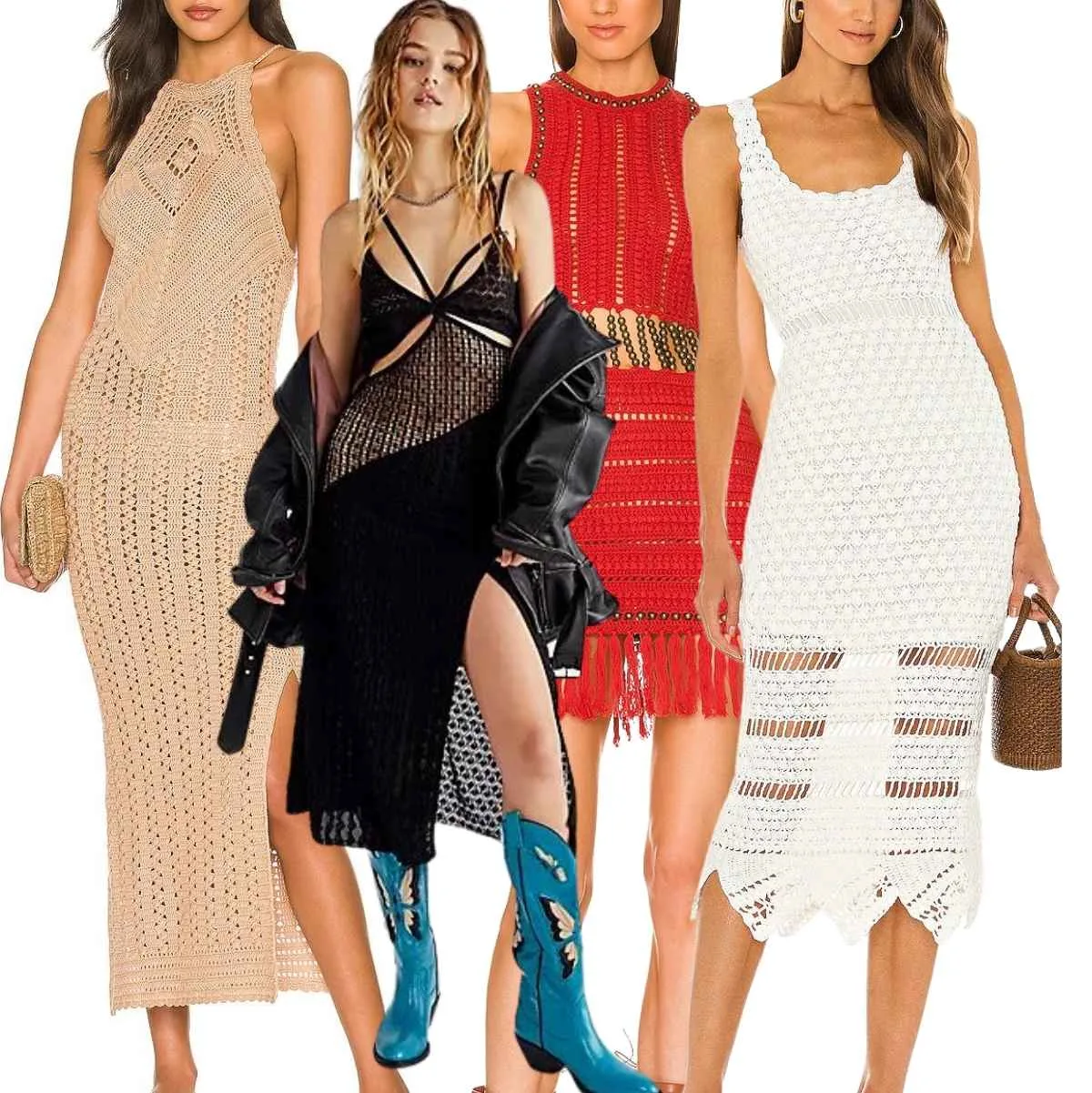 The most seen dress type at any fashionable summer music festival has got to be the crochet dress! These exude summer and bohemian appeal, and of course, will look incredible with cowboy boots.
The more open the crochet dress is woven, the more casual and relaxed it will be. Look for crochet dresses with a side slit or over the knee for classic cowboy boots.
Pair a longer, tighter dress with western-style ankle boots, rather than taller ones. Finish the look with a leather or denim jacket and a contrasting handbag.
White Dresses with Cowboy Boots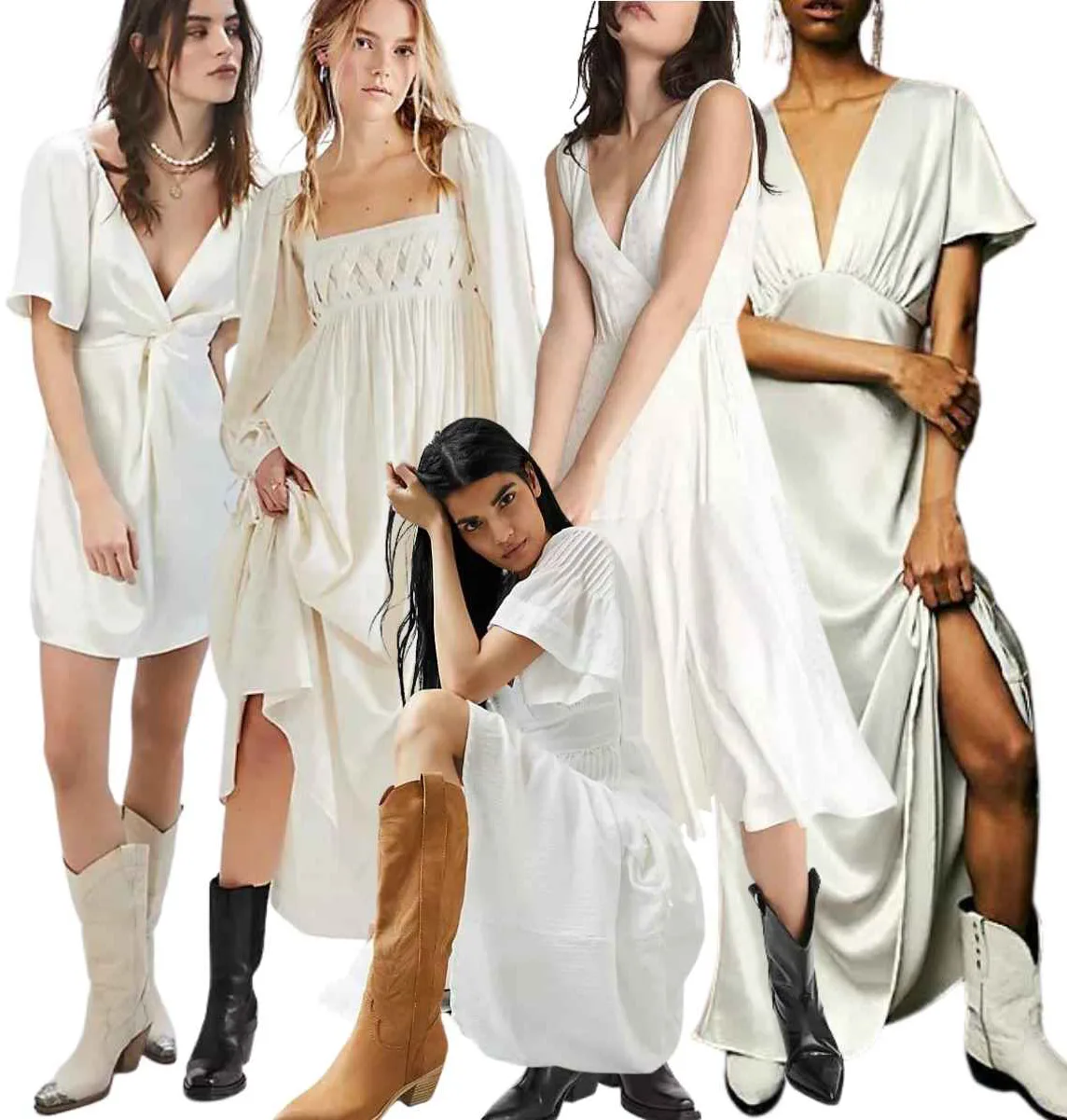 A white dress to wear with cowboy boots – whether black, white or brown will look amazing. And they need a category of their own! Quite honestly, the dress type doesn't really matter, as most will look great. I prefer a soft, flowing dress, no matter the length.
If the dress is long or midi, opt for a roomier dress such as a flared bottom or gathered dress for a higher cowboy boot. Is your white dress long and tighter fitting? Choose a lower-height western boot so that the boots don't get bunched up under the dress.
Because a white dress is such a blank slate, try belting it with a thin, double or thick leather belt, and add some fine gold jewelry and flowy hair for the ultimate boho feel. Any color cowgirl boot will do. Learn more about what shoes to wear with white dresses in my dedicated post.
The Little Black Dress with Cowboy Boots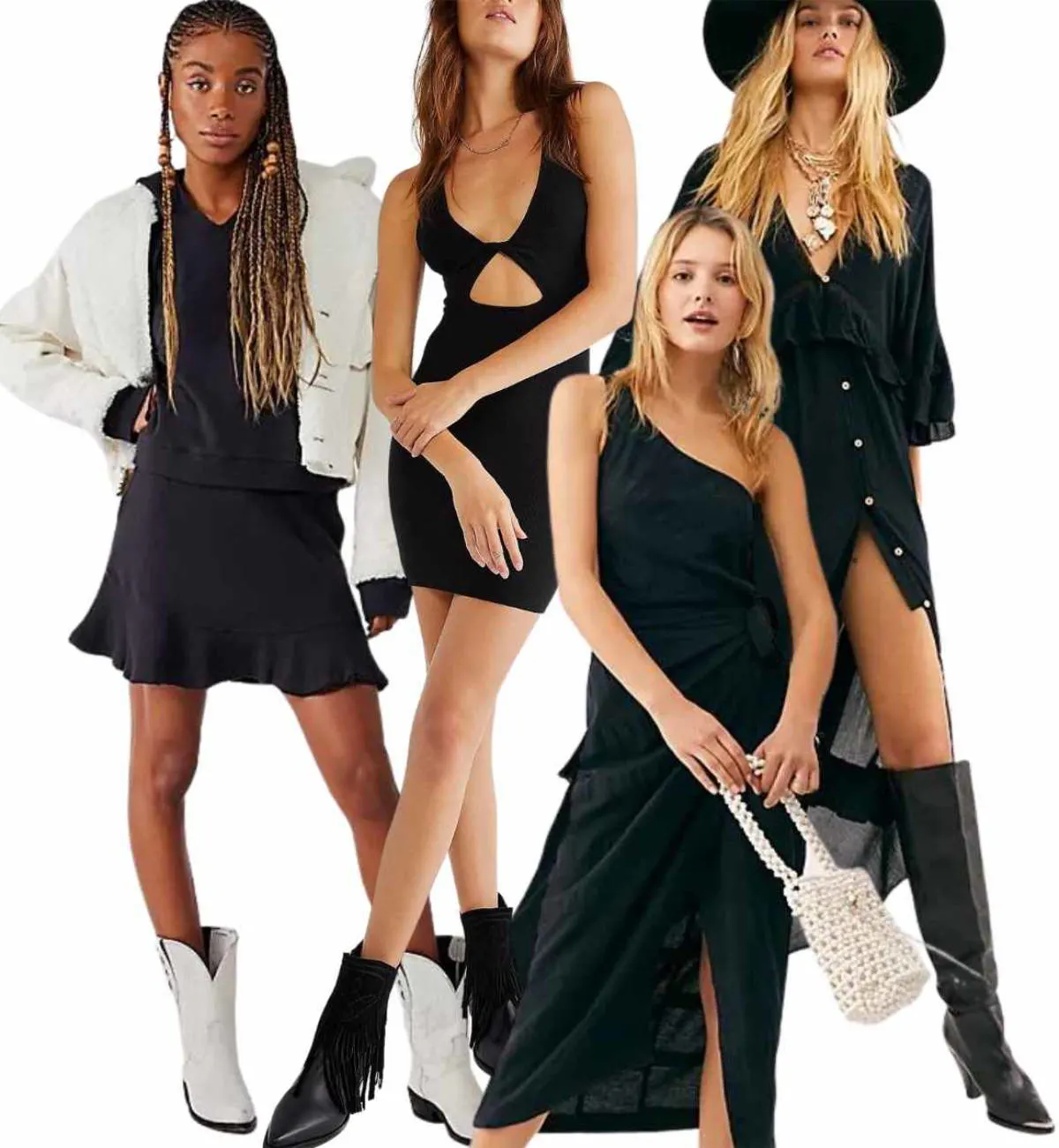 There are many shoes for a black dress, and cowboy boots are definitely a great fit for any casual LBD outfit. I love a short and flirty little black summer dress with my cowboy boots, but so many can work.
From mini bodycon dresses, side-slit midi dresses to flouncy maxi dresses, I would be hard-pressed to find a black dress that didn't style well with a pair of black or white western boots! Well, maybe one type to avoid is any super tight dress that falls below the knees and doesn't leave a gap for taller cowboy boots.
Complete the look with a beaded or straw purse in the summer and a thicker leather crossbody in the fall/winter for a more casual look. A statement necklace or earrings will be a fun addition.
Country Western Dresses for Cowboy Boots
What is a western dress, you ask? Any dress with a country vibe, from florals, smoked and eagle detailing, to dresses made or designed with a utilitarian feel. Think denim and/or buttons running down the front. It's country gal-meets cowgirl! Below are some favorites:
Tiered Shirt Dress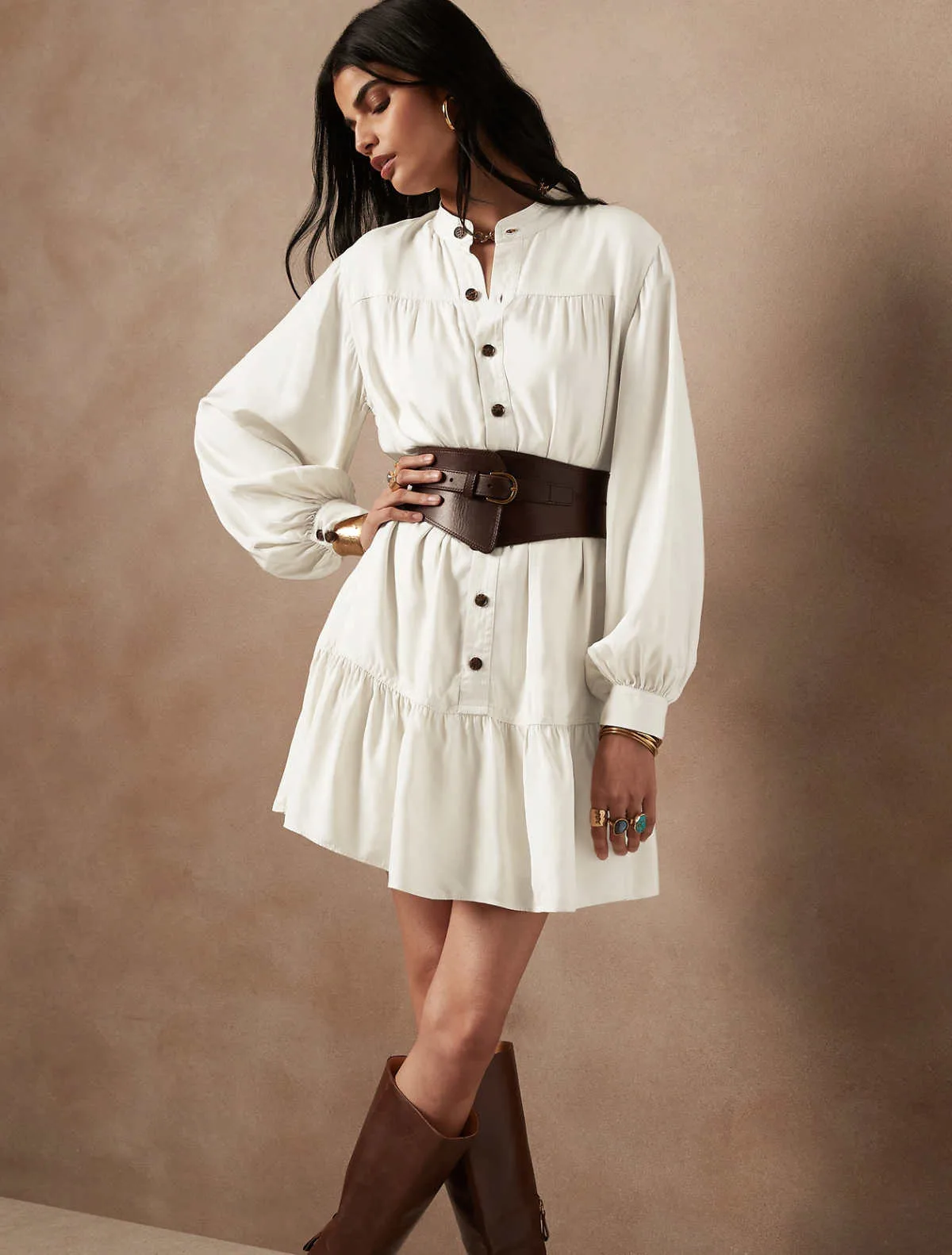 I love this dress in particular as embodies a subtle but recognizable western flair. Like the flounced hem, contrast buttons and the western yoke (aka top seam) that give it a yee-haw feel.
Belt this type of dress with a thicker leather belt as pictured or a western buckled style. Add a structured leather shoulder bag to match or contrast the cowboy boots, along with some chunky statement jewels. Go full on cowgirl with a western hat.
Denim Dresses with Cowboy Boots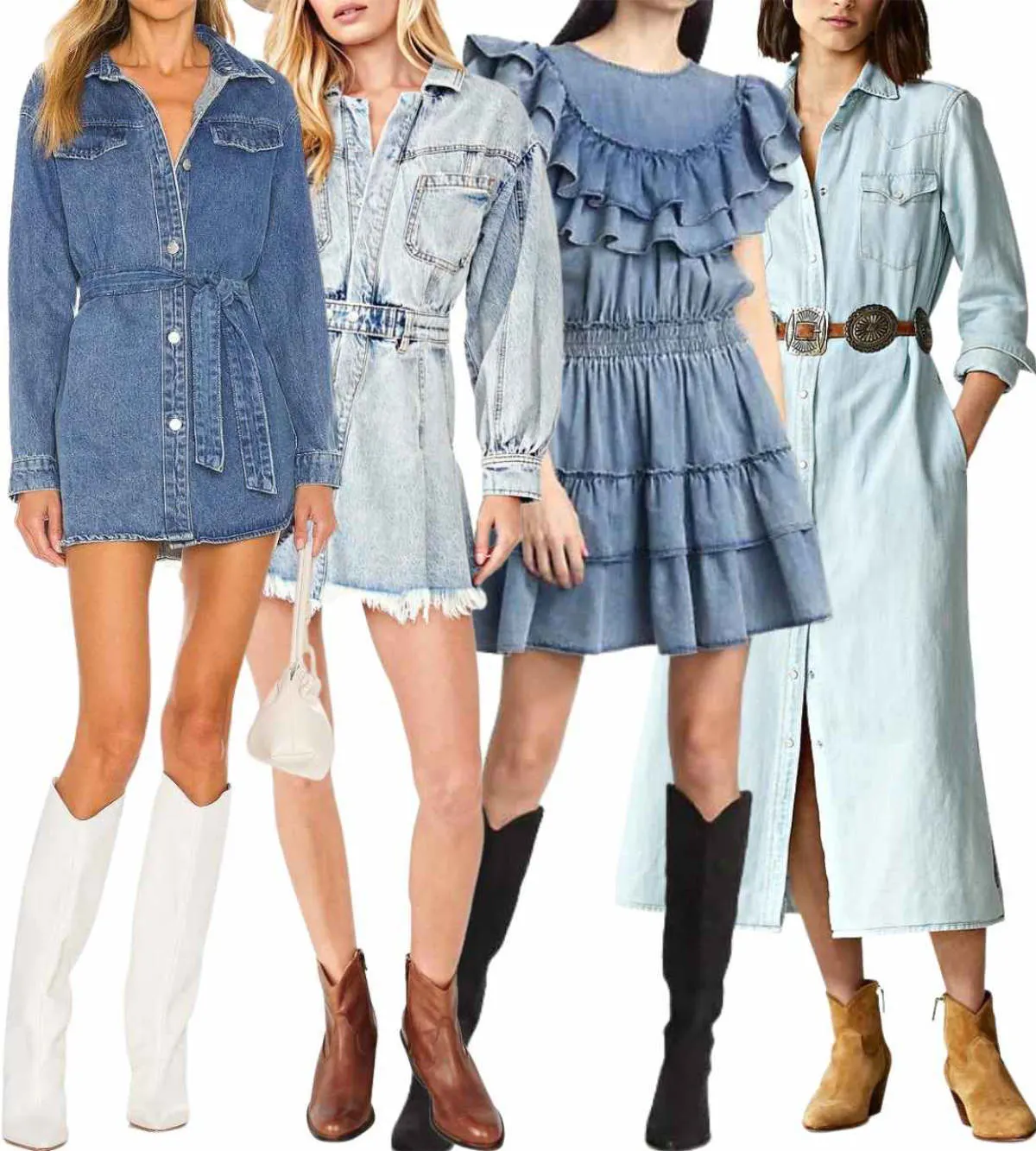 Of course, I included cowboy boots in my post about what shoes to wear with a denim dress, because the pairing is timeless and gives off 100% cowgirl vibes! Pick a denim shirt dress of any style, whether a flouncy or sleek modern denim dress cut.
Shorter dresses work well with ankle or knee high cowboy boots, while longer button-down styles will work well with any style boot. Add a western belt if you want to go all out, or keep things simple with minimal gold jewels and a small leather handbag.
A short, or even long, tiered shirt dress with gathered sleeves is a great denim style dress to wear with cowboy boots. White, floral or embroidered works well. Wear this style with lots of chunky gold jewelry and belt it to give it extra flair.
Fringe Dresses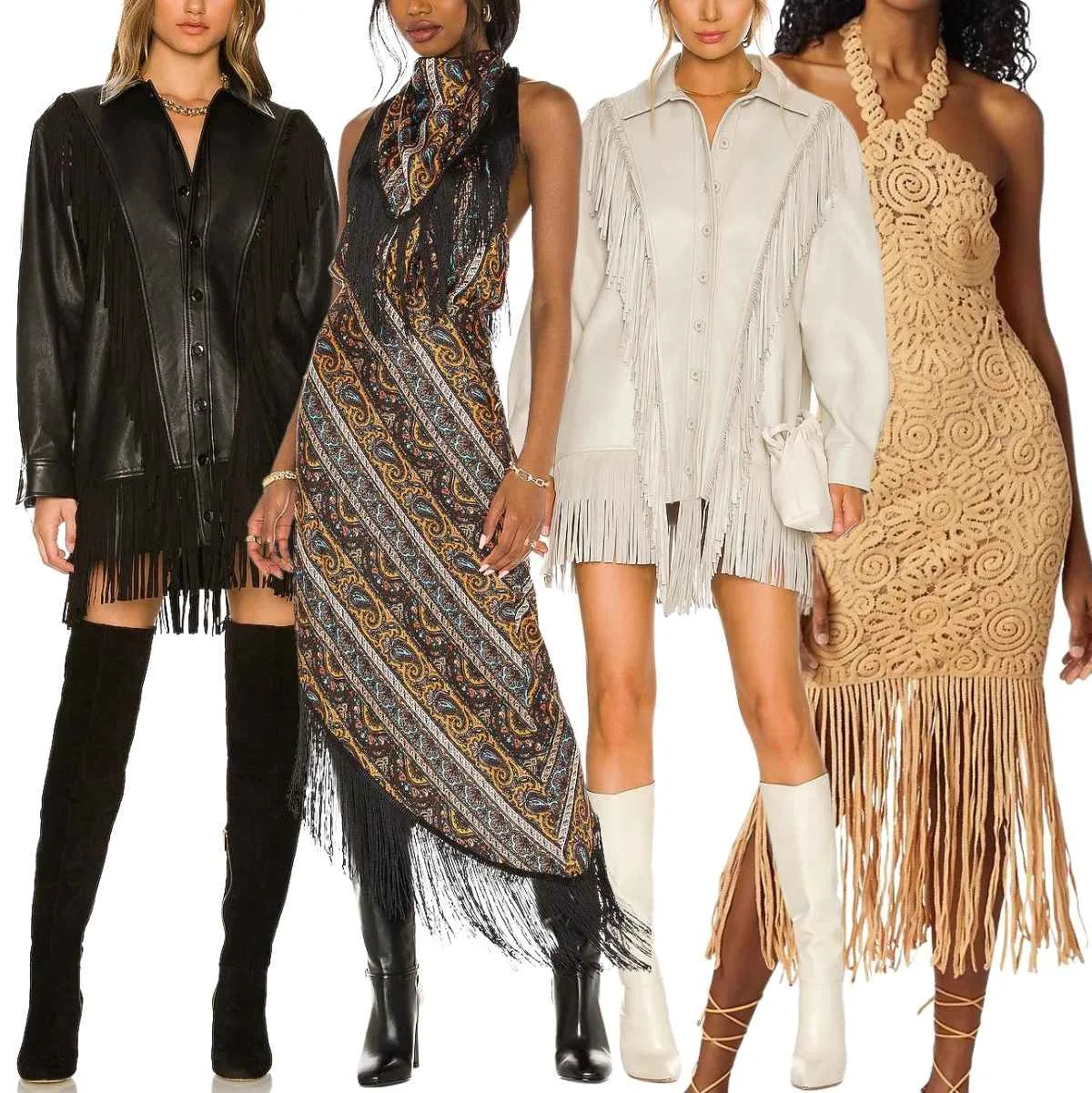 Nothing gives a Coachella-ready feel quite like a fringe dress! From leather, satin or crochet fringe dresses, match your favorite with tall or low cowboy boots, to give your fringe dress outfit some Western or boho flair.
Add a leather shoulder bag with the outfit, along with some dainty jewelry and statement earrings if you're in the mood. For a more elevated look, opt for a satin clutch and pair your crochet dress with a pair of high heel western style boots.
Floral Dresses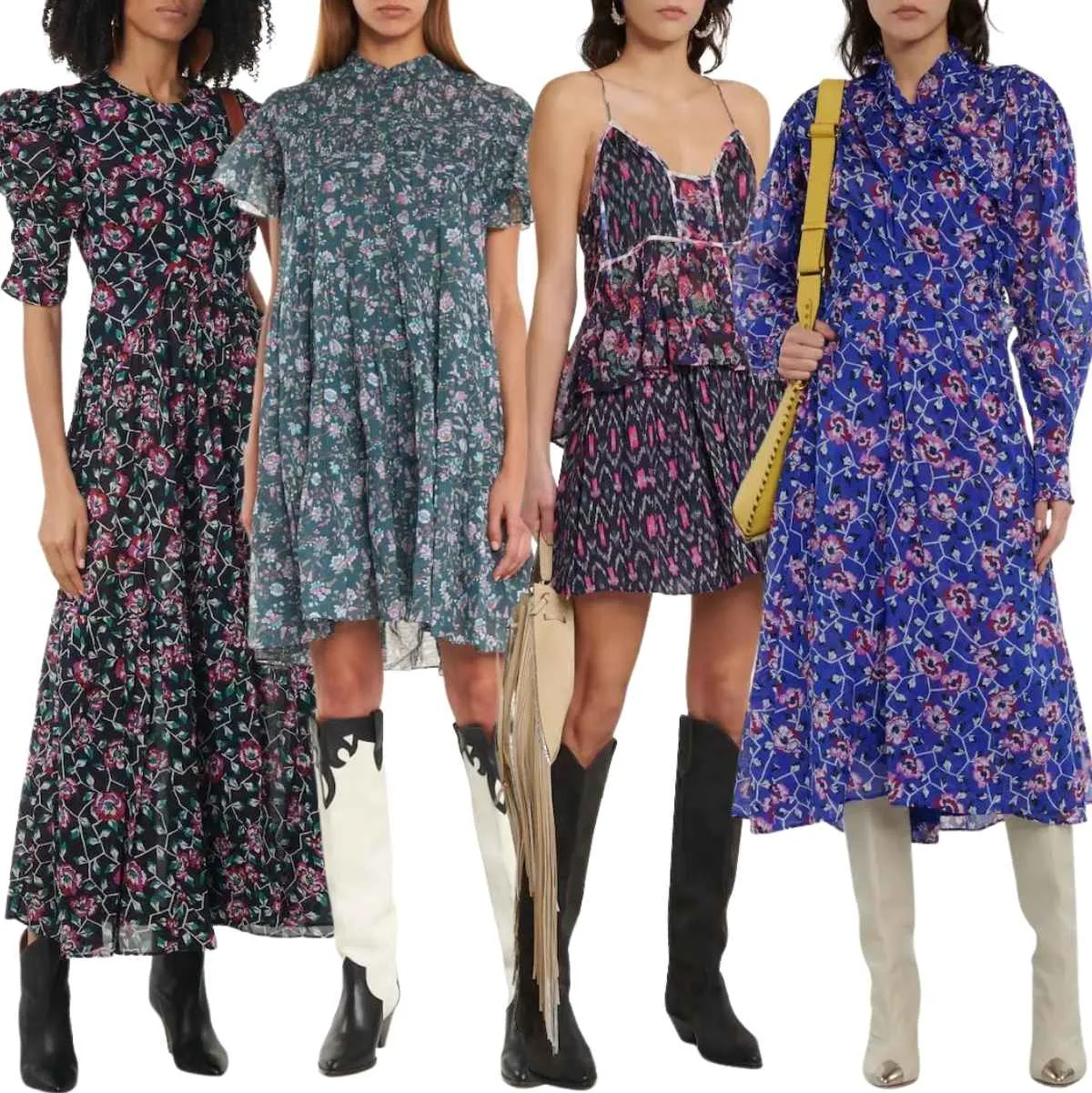 Floral frocks are cute dresses to wear with cowboy boots. There's something about floral dresses that just work with these boots! From floral mini dresses to longer styles, I can't think of a floral frock that won't look well with western boots.
Choose a country-looking floral dress with flounce or a more contemporary-looking floral frock with your cowboy boots. Add hoop earrings and a fringe purse to up the western ante.
Plaid Dresses with Cowboy Boots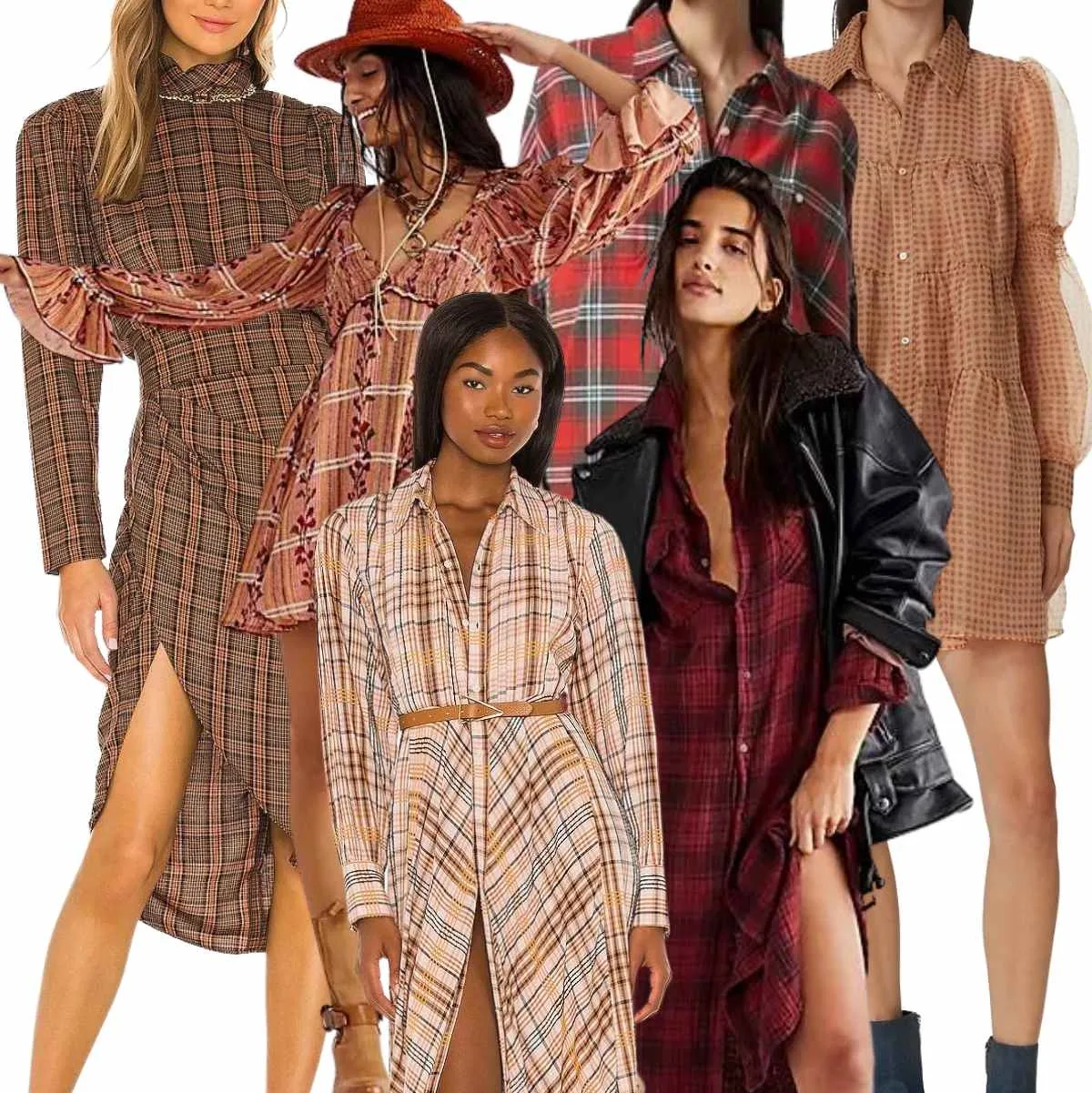 I know that combat boots are "the" boots to wear with plaid dresses, especially buffalo print shirt dresses, but cowboy boots are even more versatile.
Not only are they great for transitional months, but western boots also give a cool gal vibe, rather than a moto chic look. Because, why not switch things up a bit? Wearing a plaid dress with cowboy boots is a great choice for fall or spring outfits!
Tulle Dress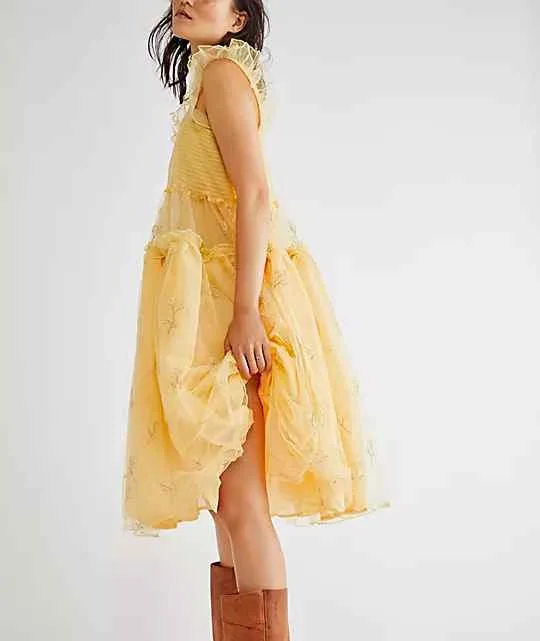 Make your tulle dress feel even more "country", with a pair of cowboy boots! I love how cowboy boots give a softer, pastel tulle dress an edge. A great choice to wear to a western wedding as a guest, or even as the bride.
Wear it with a small handbag or clutch and large, but dainty gold earrings and bangles. The bolder and frilly your tulle dress, the more muted your accessories should be. In theory, anyway!
Contemporary Dresses with Cowboy Boots
Cowboy boots with contemporary dresses are all the rage at the moment. Styled with a western vibe or city feel, the look is up to you.
When in doubt about wearing your current day dress with cowboy boots, this is a neat trick: if the dress looks great with an ankle or knee boot, swapping it with a western boot equivalent will work wonders.
What to wear over it all? Oversized blazers over any dress with cowboy boots is the fashionista look of the season! Not your style? Choose a roomier denim or utility jacket for functional flare. But you can't go wrong with a classic trench, either!
Below are some of my favorite contemporary dresses to wear cowboy boots with for a ode to the cowgirl aesthetic.
Slip Dresses
Slick and sassy, make your slip dress styling unexpected with cowboy boots. The fine straps and delicate fabric contrast the rugged boots, allowing you to wear them casually, day-to-day.
If your dress is longer, make sure it has a side-slit to give your boots room to move. And, of course, show them off! Top the dress off with a knit sweater or oversized blazer.
Or, if you're looking for a wedding dress to wear with cowboy boots, a white slip dress – with or without lace detailing – is a fabulous western wedding choice!
Short Dress with Cowboy Boots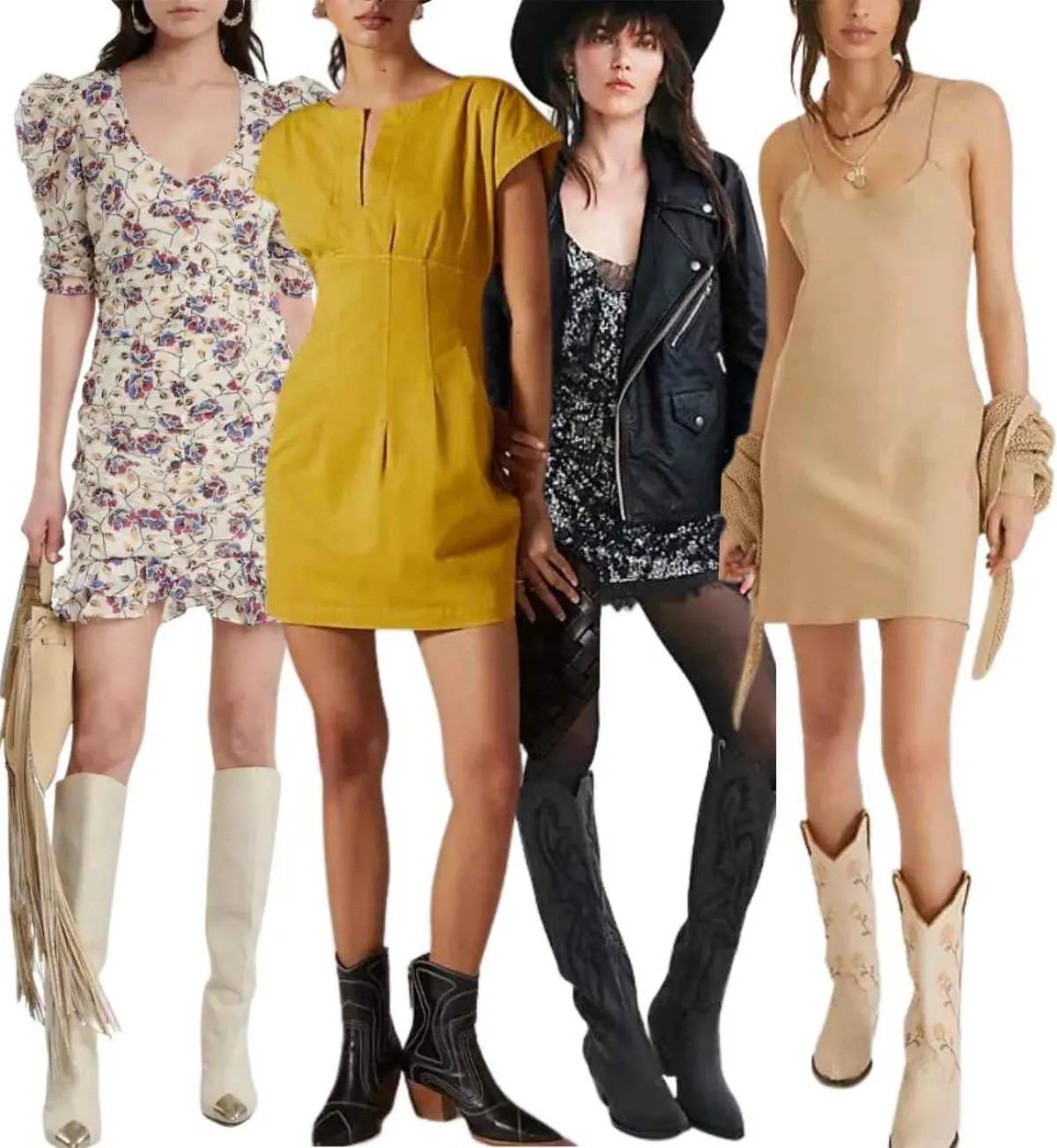 No dress is better to show off your tall cowboy boots than a mini dress! And, yes, western boots definitely made it onto my list of boots to wear with short dresses.
Mini dresses offer lots of versatility with cowboy boots, as you can wear them with a short to knee-high pair. Choose any style of dress, from contemporary and sleek, to frilly and floral to suit your mood and style.
Shirtdress and Cowboy Boots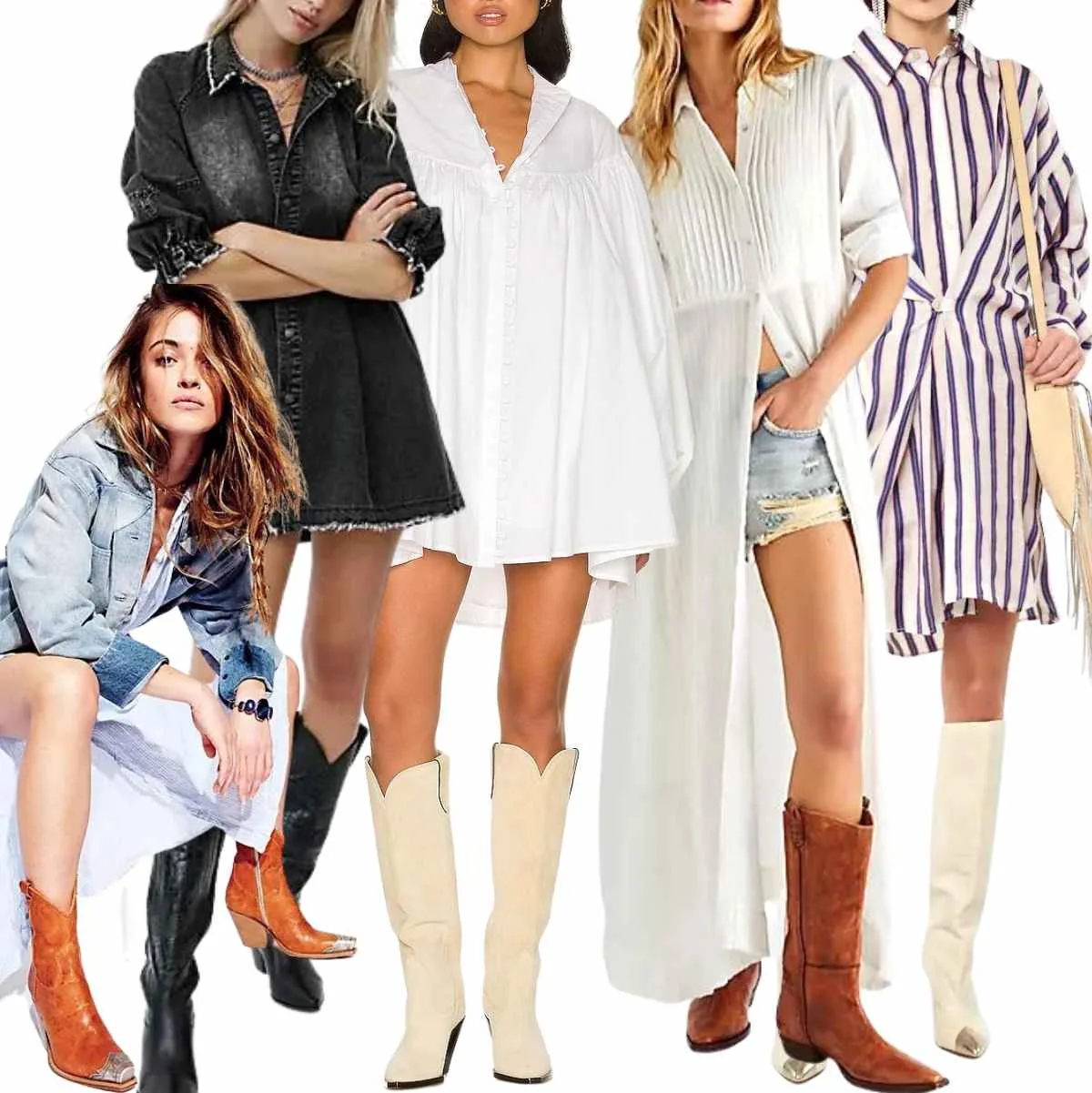 The right shirt dress with cowboy boots can look amazing. And you don't even have to reach for a western-looking shirtdress unless you want to. Classic belted shirt dresses, wide and roomy ones and denim fabric shirt dresses are all contenders.
Want to make it an ultra-casual breezy look? Opt for a long, button-down shirt dress with a pair of shorts, shown off by unbuttoning it from the midsection, down.
For any long or midi shirt dress combo, choose your fave western ankle boots and add on a denim jacket for a cool vibe. Moto jackets can also look fun, but the moto-meets-cowboy look is harder to pull off. More tips on how to style a shirt dress in my dedicated post!
Midi Dresses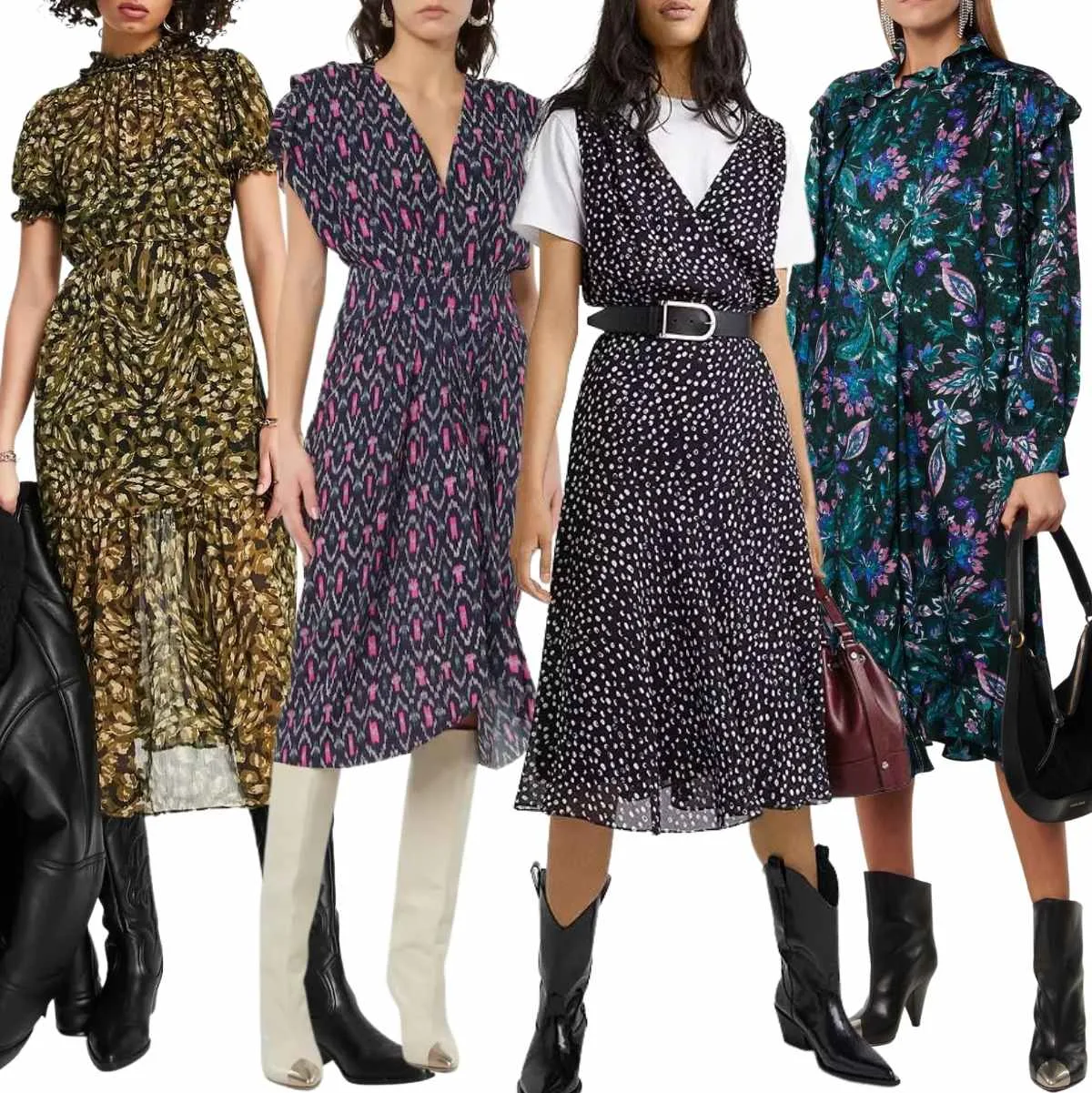 Midi dresses look lovely with cowboy boots, although the length of the dress and height of the boots will play a factor. With wider hemmed midi dresses, you can choose any boot height you like.
However, with any less roomy midi dresses that don't have any front or side slit, you're best to opt for a shorter western boot. Many ladies love to wear their taller cowboy boots so that they disappear into the dress hem, while others prefer to leave a gap in between.
A simple sleeveless summer dress is a perfect canvas for a western-ish-inspired outfit. Belt a dress over a white tee and match your cowboy boots to the belt color and you've just created a fashionably casual comfy outfit.
Sweater Dresses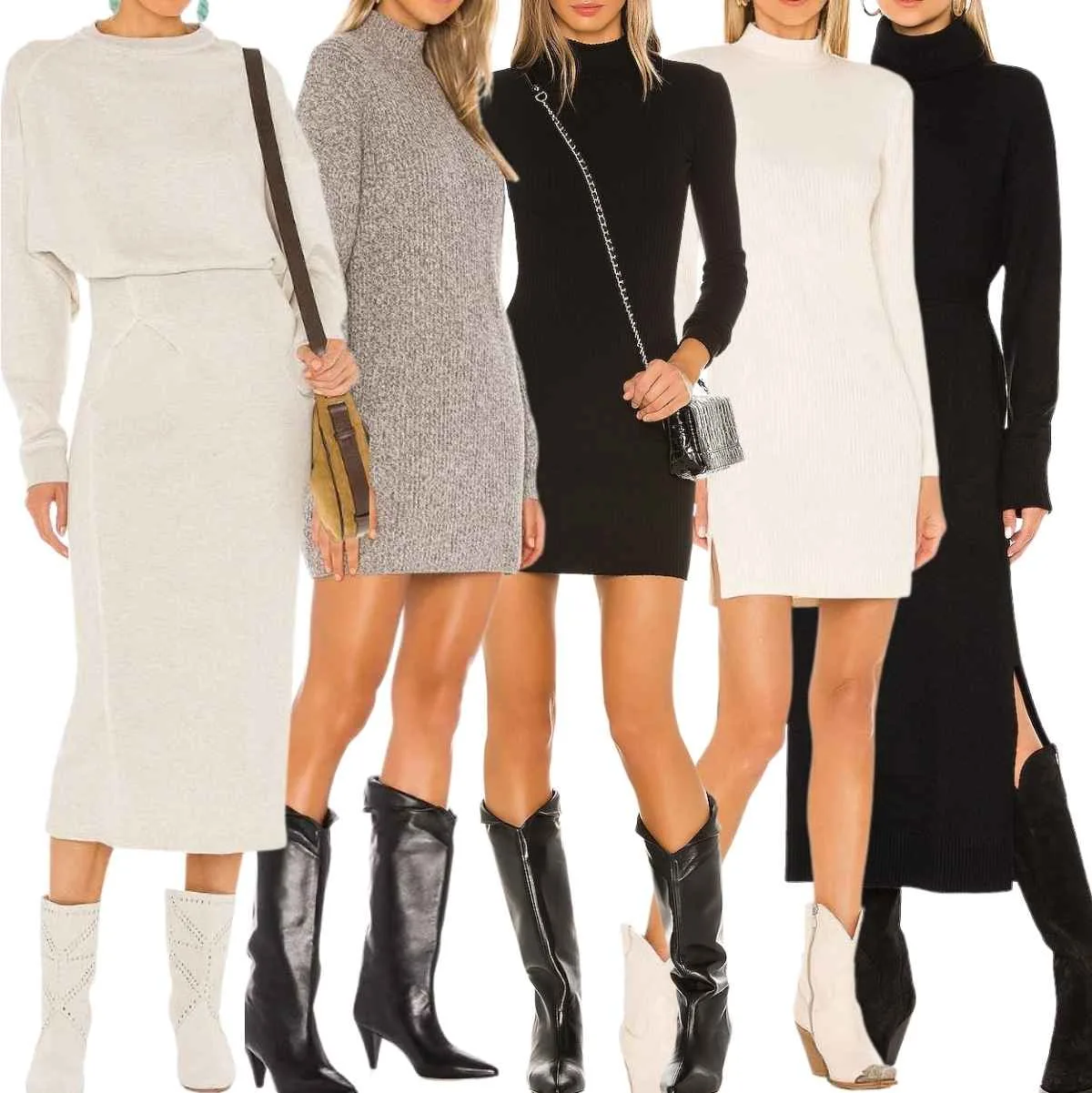 You can transform even the fluffiest sweater dress with a pair of cowboy boots. With either a mini, midi or even maxi sweater dress with side slit, your outfit will have a cozy western feel for fall/winter.
Pick a short or knee high cowgirl boot with a short sweater, or side slit-midi for a snugger knit dress. Lower boots are best with a longer dress. Pick a contrast color of stick to the same hue for a tone-on-tone total look.
Cowboy boots are one of my favorite sweater dress with boots combo and yes, I've also blogged about it! Want to wear a sweater dress with cowboy boots in spring? Opt for a cooler fine knit dress and western boots topped with a light jacket.
Wrap Dresses with Cowgirl Boots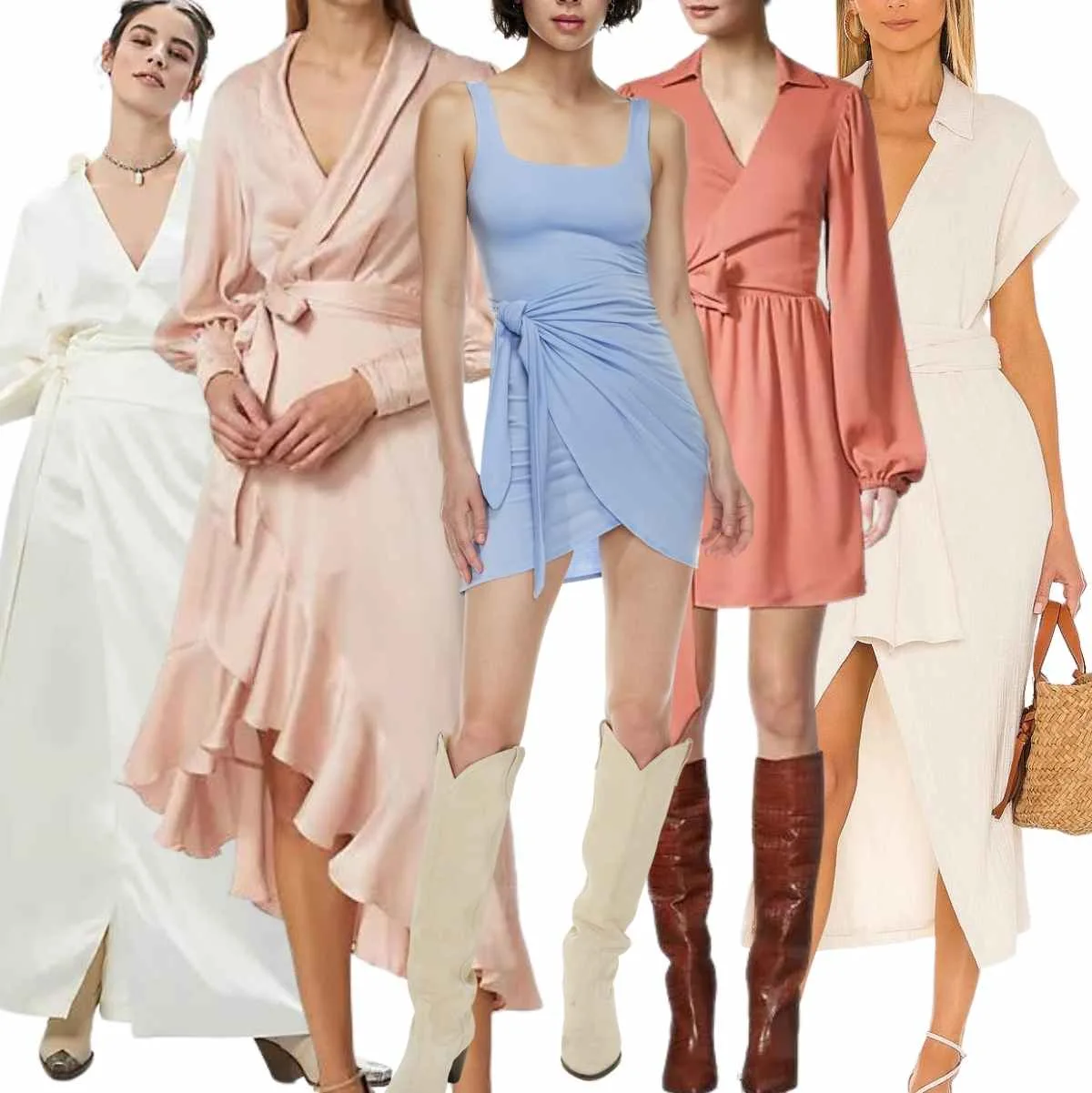 Wrap dresses come in many shapes and sizes and many of them will look fabulous with a great pair of cowgirl boots! If you want a more contemporary look, pick a uni-colored dress with clean lines that don't have any western detailing.
Looking for a more bohemian feel? Pick a floral, flouncy wrap dress or 70s-shaped dress with boots. Finish the look with a straw handbag in summer or a leather crossbody all year round.
Blazer Dresses with Cowboy Boots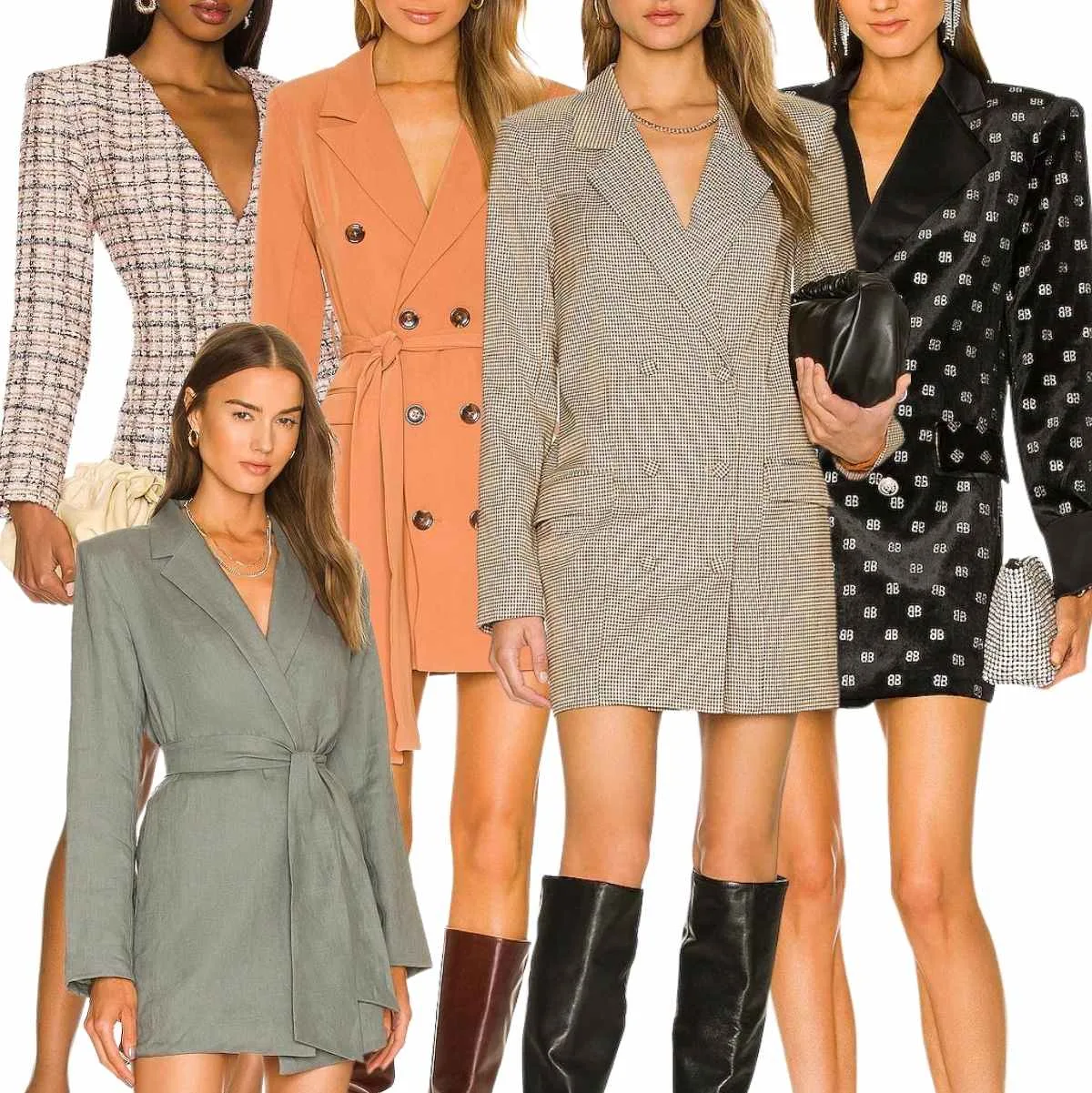 The ultimate contemporary way to wear cowboy boots with dresses is with a blazer mini dress. Or, alternatively topping any dress styled with western boots, with a blazer!
The blazer or trench dress gives a cool and functional aesthetic. It adds a current day slickness to your cowboy boots outfits. You can choose a simple linen or trench-style blazer. Also fun is juxtaposing a tweed satin blazer with your more rugged cowboy boots. An unexpected combo.
A structured handbag, tote, or soft clutch is a good choice. Adding a pair of gold statement earrings will complete this chic outfit!
Sequin Dress with Cowboy Boots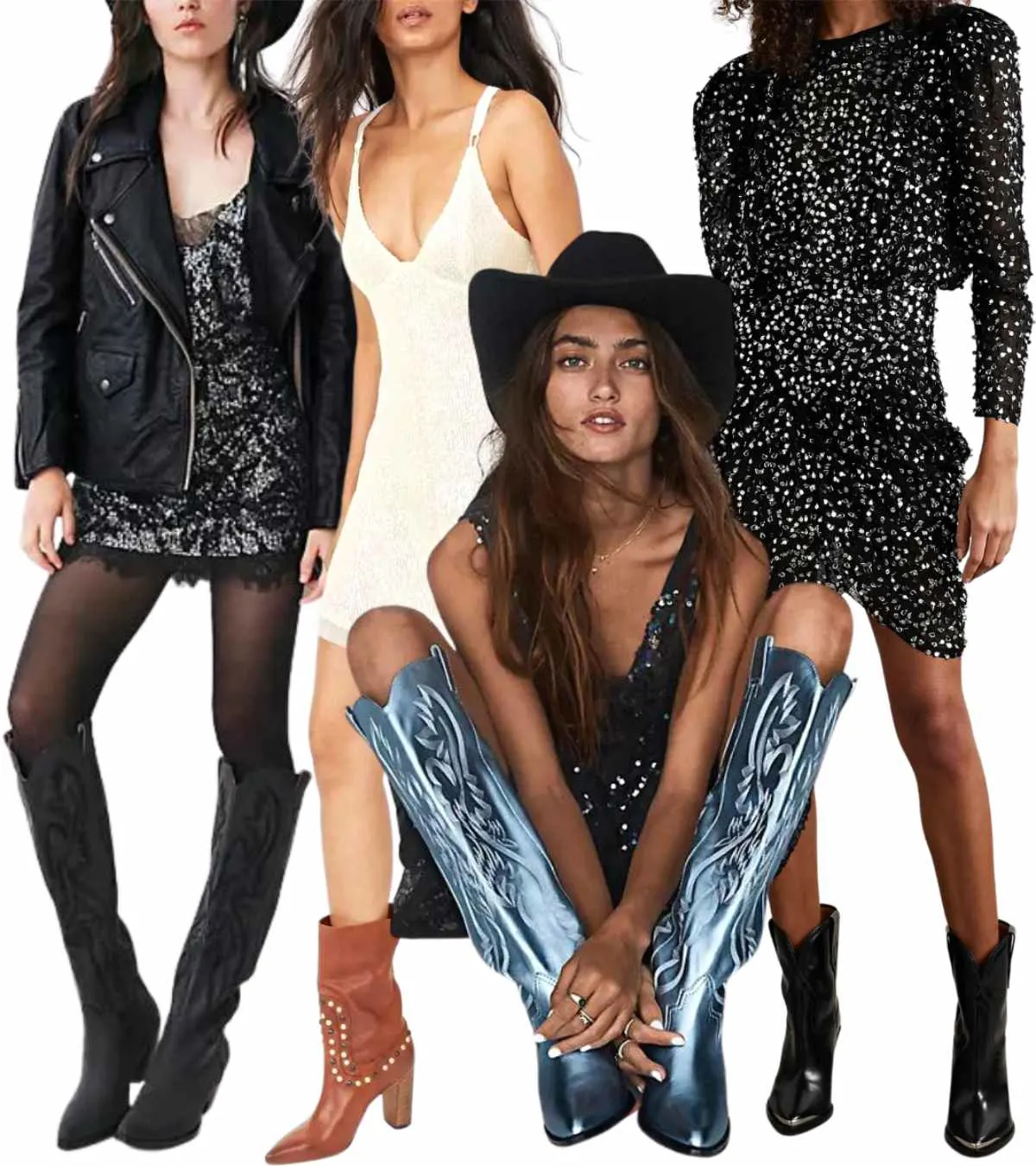 I was hesitant to include sequin dresses in this dress with cowboy boots post. Western boots didn't make the cut in my what shoes to wear with sequin dresses post for more formal outfits, but they did here!
Why? With the right sequin dress, especially those with fringe detailing, western boots can add to the look, depending on your event. Complete the everyday sequins look with an oversize denim jacket, or add a roomy tuxedo jacket for a modern western chic vibe.
Sweatshirt Dresses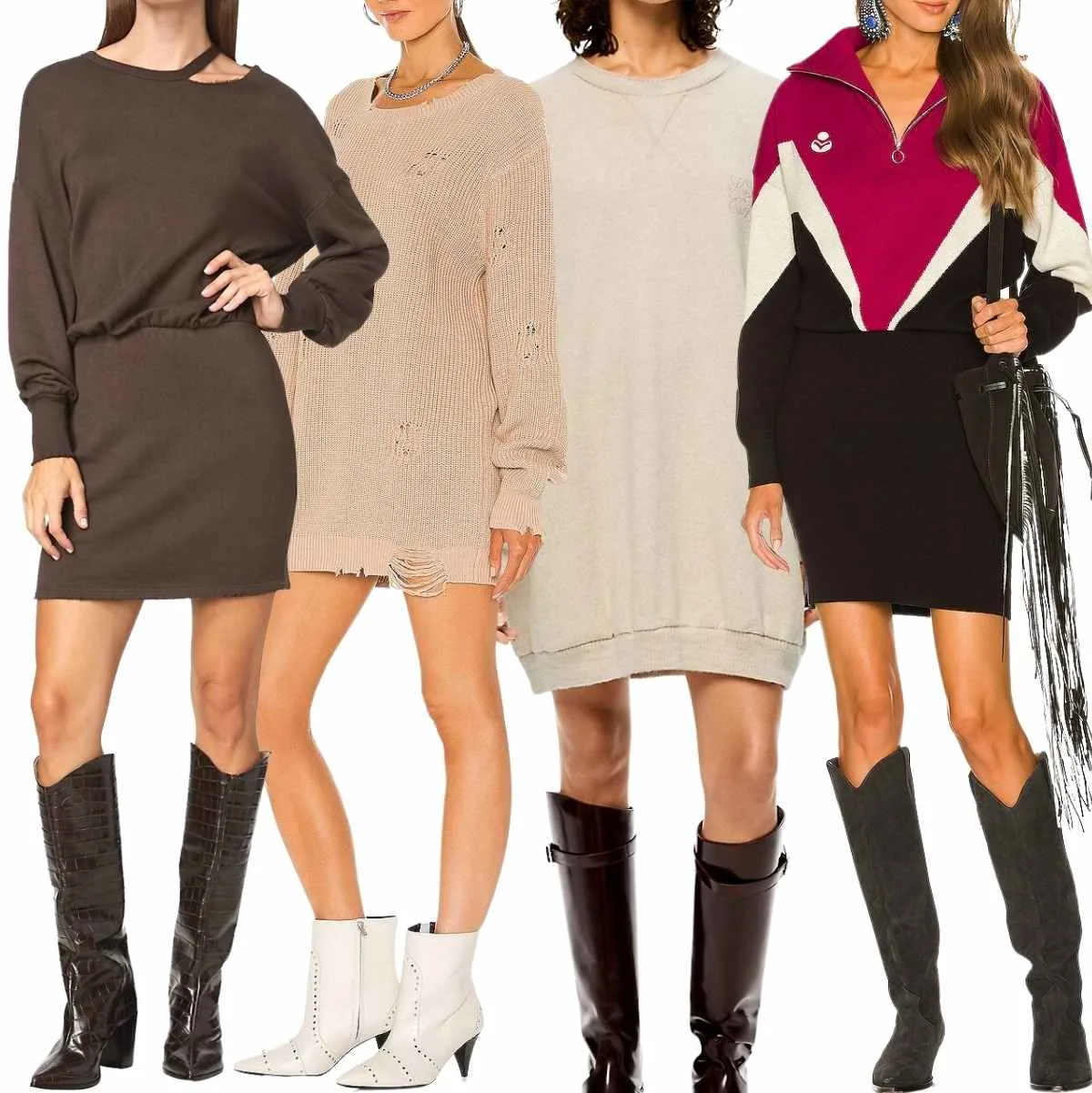 Sweatsuits are all the rage, but it's sweatshirt dresses, especially hoodie dresses and oversized style dresses that look especially good with cowboy boots.
Why? Because the combination is surprisingly chic and gives a city-slick feel to a country boot!
You can make the look more country with a fringe purse, or keep lines clean with a structured leather purse or handbag. A sweatshirt dress with cowboy boots is a great transitional outfit for Spring and Fall.
T-Shirt Dresses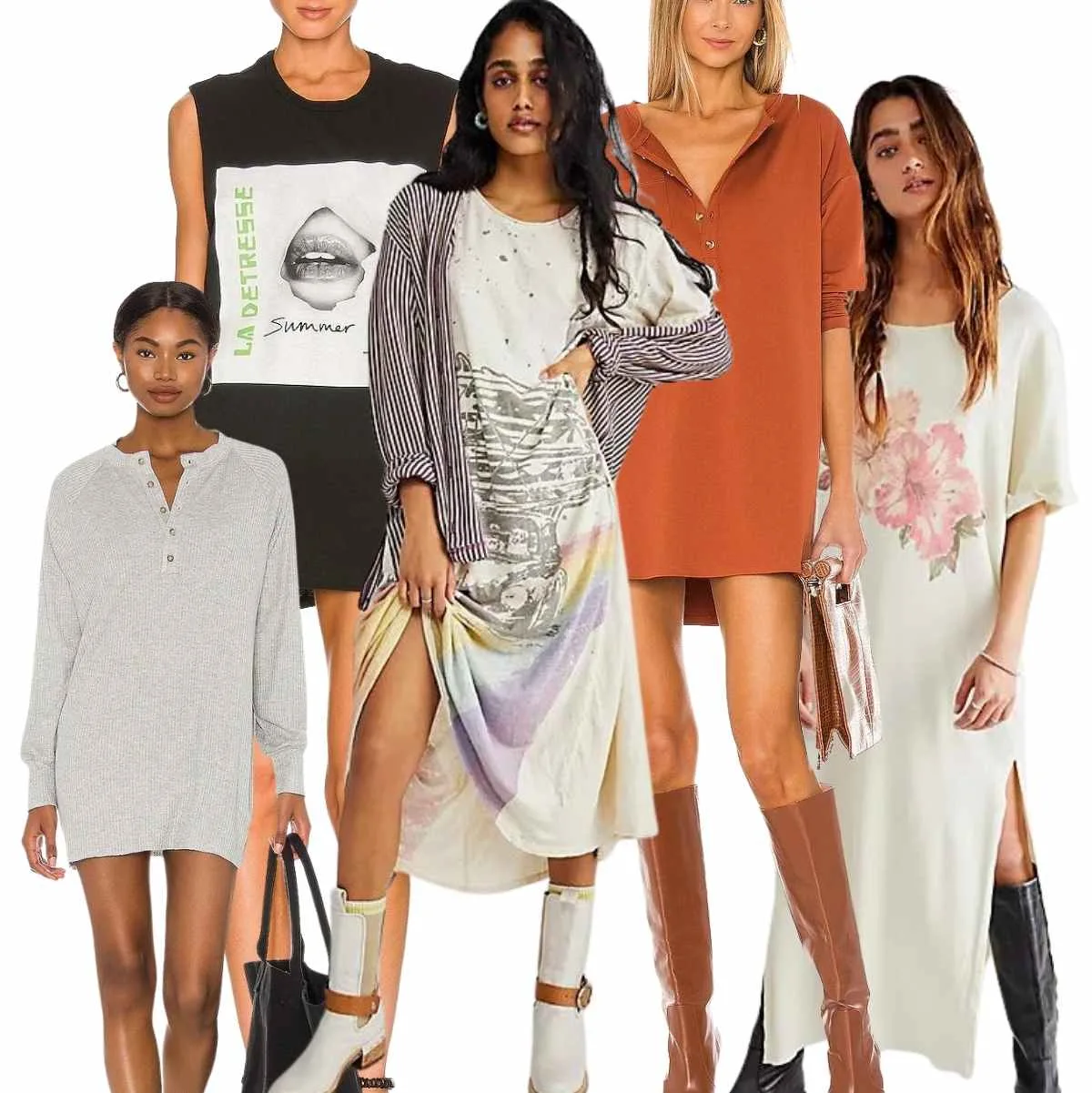 A t-shirt dress is extremely versatile as a layering item, but also looks fab on its own with cowboy boots and a statement necklace. Choose a t-shirt dress with an edgy vibe or a soft pattern for a more boho feel.
Long t-shirt dresses look best with a side slit to show off a pair of classic cowboy boots. Short t-shirt dresses look great any way, including tight, oversized (a fave!) and asymmetrical cuts.
Add an oversized jacket, blazer or trench over your t-shirt dress, completing your look with a tote bag or studded crossbody.
---
Looking to shop for cowboy boots? Find lots of great styles from Free People, Lane Boots, Isabel Marant, Steve Madden and various designers at Revolve.
Final Words on How to Wear a Dress and Cowboy Boots
The choice of how to style your dress with cowboy boots will always depend on the event you're off to and the look you're going for. Of course, cowboy boots with dresses – any dress, really – will create a more casual look.
Wearing a wedding dress with cowboy boots is best reserved for a country and/or laid-back affair. Even if more casually, wearing a dress with cowboy boots can be fun because you can make it look as "western" as you like.
Add a western buckle belt, a fringe cross-body purse and even throw on a cowboy hat to go all out! Just have fun with it. I always advise wearing what feels best for you!
Nervous about wearing cowboy boots with dresses? No need. Just swap out your regular knee boots or ankle boots for a western pair and it will likely look amazing!
And if you're wondering if there are other great outfits for cowboy boots aside from dresses, there absolutely are! Pick a pair of straight leg jeans or cropped wide-leg jeans.
A new post about cowboy boot outfits with all kinds of clothing will be up soon, so stay tuned for that!
Check out more about shoes to wear with dresses and read all of my styling guides for wearing dresses with shoes!
xo ShoeTease