I love me a good black combat boot. But I tend not to wear them often if not built for all kinds of inclement weather. Thanks to Canadian weather, of course!
It's a good thing many of my favorite brands have made amazingly great looking women's waterproof combat boots for the Fall/Winter season.
(Post updated for Winter 2022)
Below are a few of my faves weatherproof combat boots for the current season, along with the features of each. 7 are great for mid-weather wear, while the others can double as winter boots as they are both waterproof & insulated for winter warmth!
Some are classic combat boots, some are heeled, some have a je-ne-sais-quoi quality about them, but all are 100% stylish. And most at decent price-points. Some are even temperature rated for extreme weather. Can't beat that!
I own a couple of pairs mentioned below & have experienced wearing many of these boot brands first-hand.
It's safe to say that I'm rounding up the best of the BEST black women's waterproof combat boots out there. Right now!
Combat boots are fabulous because you can style them in so many ways. You can easily wear them with your favorite tailored jacket, furry teddy coat, or go full-on badass by pairing your combat boots with a leather moto jacket or trench.
The styling possibilities are endless, really. I've written a whole post on how to wear combat boots with all the right outfits, so be sure to check that out! Already bought boots but they aren't waterproof? Check out these 8 methods on how to waterproof shoes!
11 Best Waterproof Combat Boots for Women
You can shop some of the best waterproof combat women's boots from Zappos, Saks Fifth Avenue, and DSW. All three retailers have a large selection.
---
Shop Waterproof Combat boots for Women:

Alt text: Women's black combat boots in various lace-up styles.
---
The following 5 women's waterproof combat boots are all highly rated boots with waterproofing technology. So you can splash in the puddles, but without needing to wear clunky (and often style-free) rain boots 😉
If you need waterproof boots that offer insulation for cool to freezing temps, you can scroll down to my top 5 combat boots with snow boot properties, down below.
But don't forget that even if your boots are pre-treated for the elements, you should always spritz on some waterproof spray for shoes every few months!
Featured image captured by Bruna Rico
Taos Crave Leather Combat Boots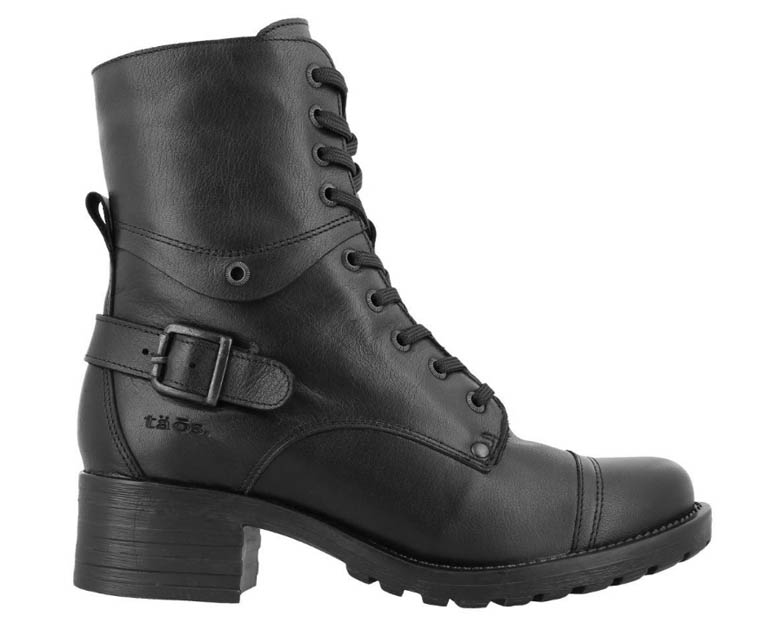 Taos' Crave Boots areat the top of the list for a reason. These water-friendly boots also offer a high dose of comfort.
They have an inner zipper you can easily get in & out of, along with an adjustable rear buckle to make them fit perfectly. I like how they're a little taller than most boots of its kind.
The removable leather-lined insole with arch support & cushioning makes them the go-to waterproof combat boots for stylish comfort. I can speak to this effect, as I own this exact pair!
Taos' Crave combat boots also come in a rainbow of other colors, but the only colorway that is waterproof is the black-on-black. You can shop all of them here.
Sorel Lennox Waterproof Boots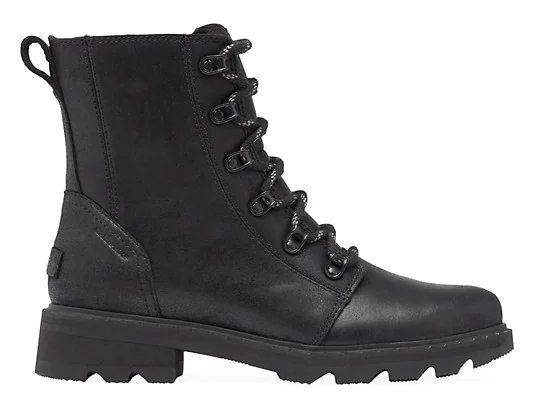 These Lennox boots from Sorel are one of the most fashionable waterproof combat boots. They are fully water-friendly & minimalist looking, with an intensely grooved outsole. Perfect for walking on ice, slush or snow.
Special features includes: full-grain leather, slim fit, comfy memory EVA footbed & handy side zipper.
This Lennox style combat boot also comes in a velvet tan color with red laces among the many. They also come in a shearling-lined version if you're so inclined!
You can grab these and many other Sorel boots from Zappos (in 5 colors), Saks Fifth Avenue & directly from Sorel.
Blondo Noah Waterproof Boots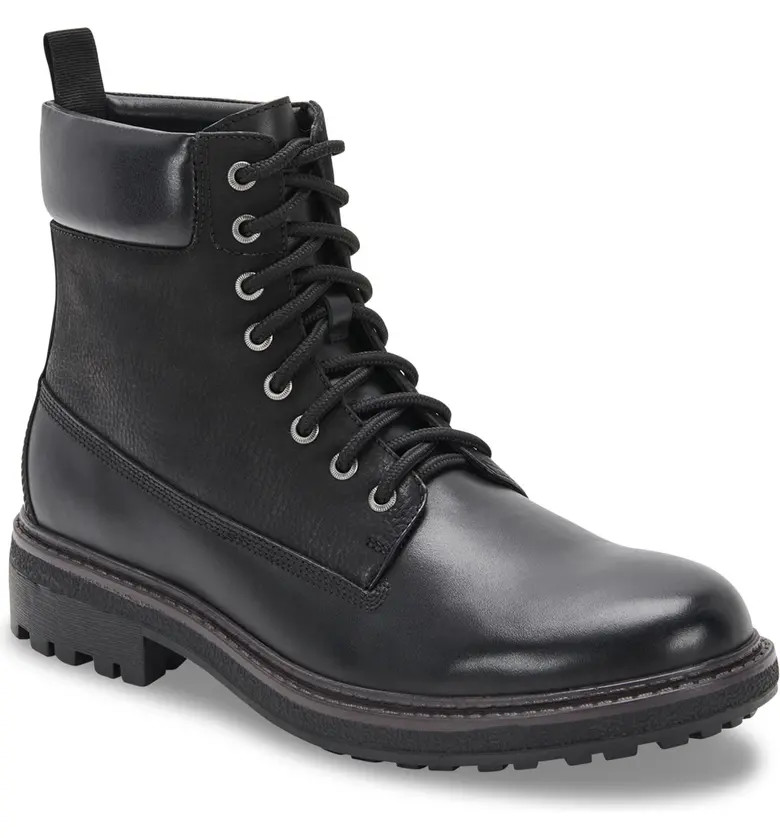 If you're looking for a water-happy combat boot with minimal detailing, the Noah from Blondo is a surefire contender.
This slip-on style remains competitive in price vs. other women's waterproof combat boots, being just over $100 on sale.
With its durable lug sole and waterproof leather with AquaProtect® sealed seams, these combat boots will help keep your feet dry and cosy in all weather!
I'm loving the matte vs semi-shine leather contrast and upper ankle padding. Shop Blondo's Noah here from Zappos and also from Nordstrom.
UGG Zorrah Waterproof Buckle Combat Boots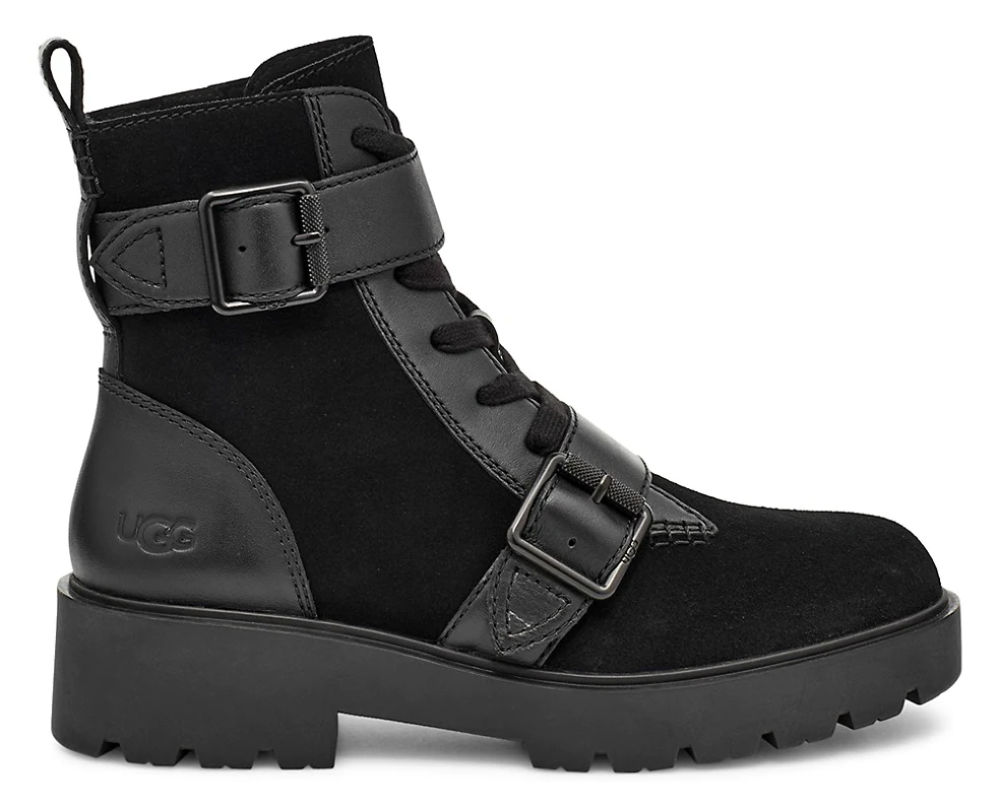 I really love how chunky and cool these Zorrah UGG boots. This is a great combo of streamlined biker style with that very popular double rubber lug sole!
They also come in a stunning contrast calf hair option if you're looking for a little extra oomph!
These combat boots have waterproof leather and suede materials, along with a plethora of features such as seam-sealed construction and non-wicking laces.
It has an added footbed cushioning for added comfort. These are recommended for walking in light to moderate rain & snow.
You can shop these gorgeous UGG combat boots from Zappos, Saks Fifth Avenue, and directly from the UGG website.
La Canadienne Brendan Waterproof Combat Boots
These might be a little on the pricey side, but I couldn't resist adding these amazing black lovelies (that also double as cold weather boots), in this post about black waterproof combat boots!
I love how refined yet rugged they are, perfectly on trend yet also timeless with their lug sole.
The Brendan by La' Canadienne might be a steeper price, but this great Canadian winter boot brand boasts luxurious quality & durability.
This style offers a slimmer, less bulky fit & is perfect for office to outing transitions during the winter! Shop them at Zappos and Nordstrom.
If you're looking for La Canadienne quality with a sleek feminine look and studs – in the vein of Valentino – then these Bronx combat booties are for you!
Vince Cabria Water-Resistant Combat Boot with Lug Sole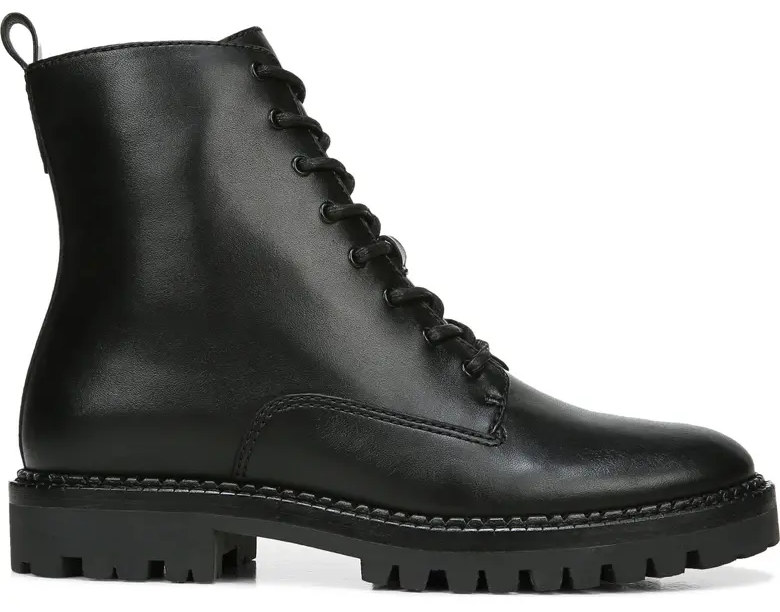 A classic look with an extra toothy tread, Vince's Cabria lug-soled leather water repellent combat boot is a winner.
The price point is close to that of La Canadienne models, but you can often find it on sale for over 20% off during the off-seasons.
It has a side zip, so that's always handy and it's likely the closest combat boot style to the Doc Martens aesthetic without the clunky feel.
You can find Vince's Cambria at Zappos and Neiman Marcus.
Timberland's GreenStride Ray City Waterproof Boots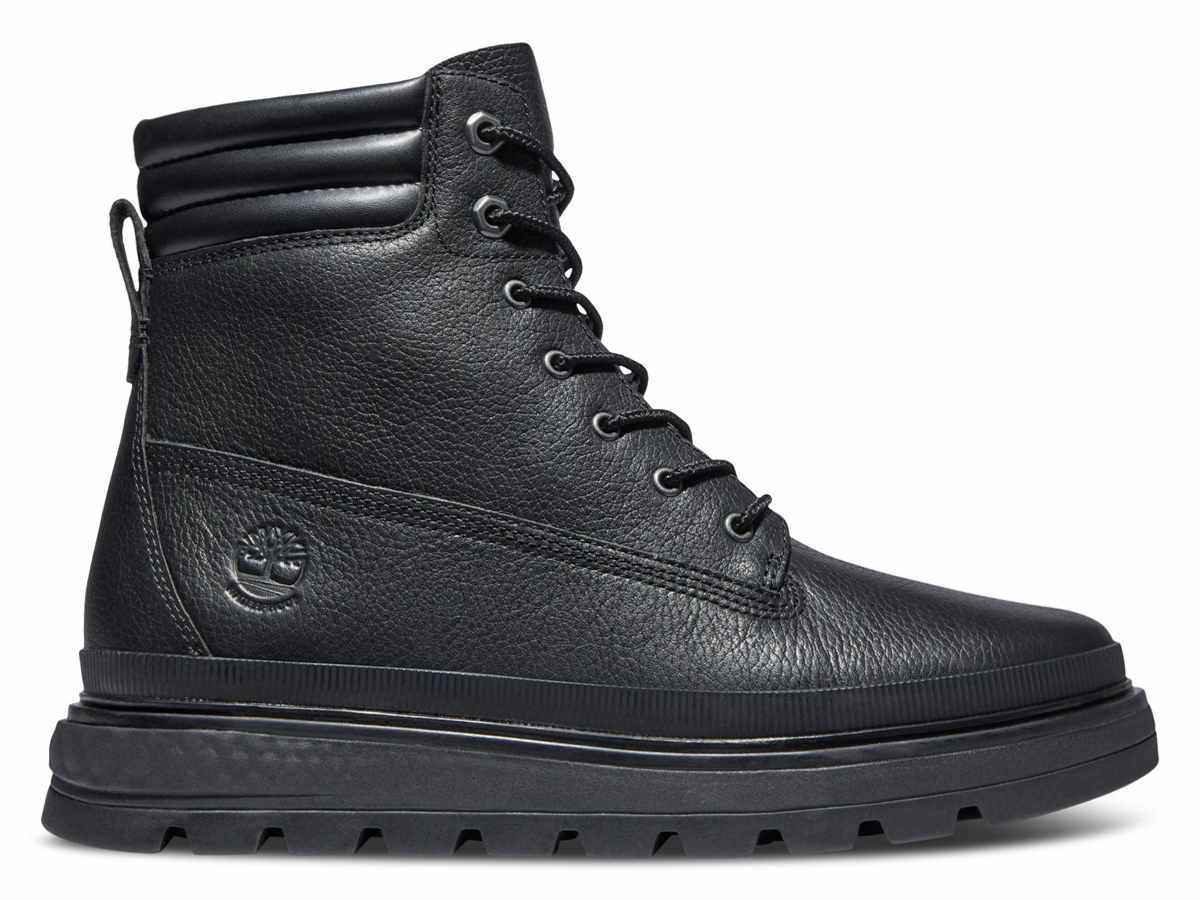 These are just so cool and give off a combat boot-meets-sneaker as only Timberland can do! And it's called the GreenStride for its more conscious components.
It's made with a GreenStride™ comfort sole, 75% natural sugar cane and tree-derived rubber. It also had ReBOTL™ fabric linings made of at least 50% recycled plastic.
This Timberland boot comes in both black & super trendy optic white, is outfitted with a cushioned insole & signature waterproof leathers.
Shop these puppies on sale – and selling fast! – from Zappos, DSW (also in tan) and Altitude Sports.
Best Waterproof and Insulated Women's Combat Boots
If combat boots that are simply waterproof aren't enough for you, no worries. I've found some amazing combat boots that also double as cold weather waterproof winter boots. This way you don't have to sacrifice warmth for style!
Emu Australia Waldron Wool-lined Boots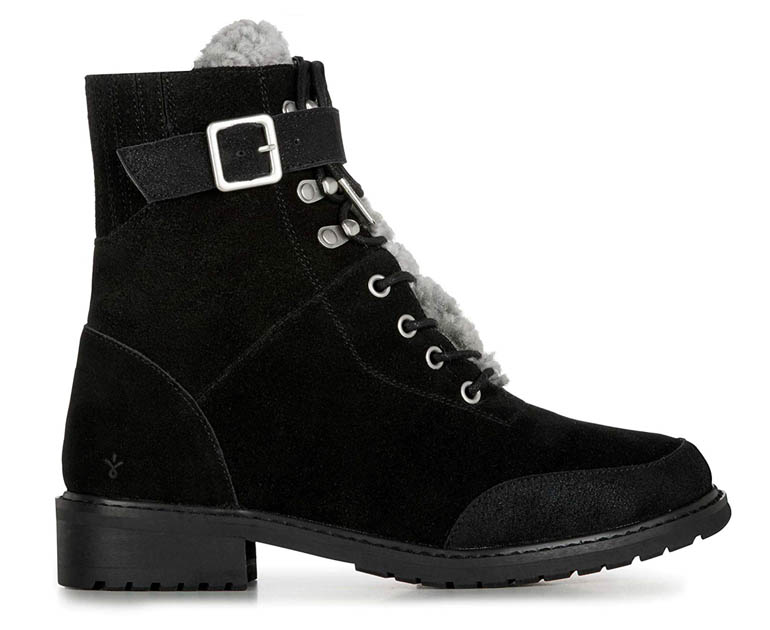 Moving onto a lower-height combat-meets-hiker boot is this beaut from EMU Australia.
The Waldron is a suede boot made from premium waterproof suede, with a hint of sheepskin that peeps out from the laces.
But don't be fooled, this super weatherized boot is lined with a 100% Australian Merino Wool lining & footbed.
Take it from someone who has tried a few pairs of EMU Australia winter boots: these are some of the warmest winter boots you'll ever wear!
EMU also has a sister style called Billington which is more of a hiking boot, but has a similar vibe. The rest of their women's waterproof winter boot collection is just fab & worth checking out, here.
Kodiak Glacial Arctic Grip Cold Weather Combat Boots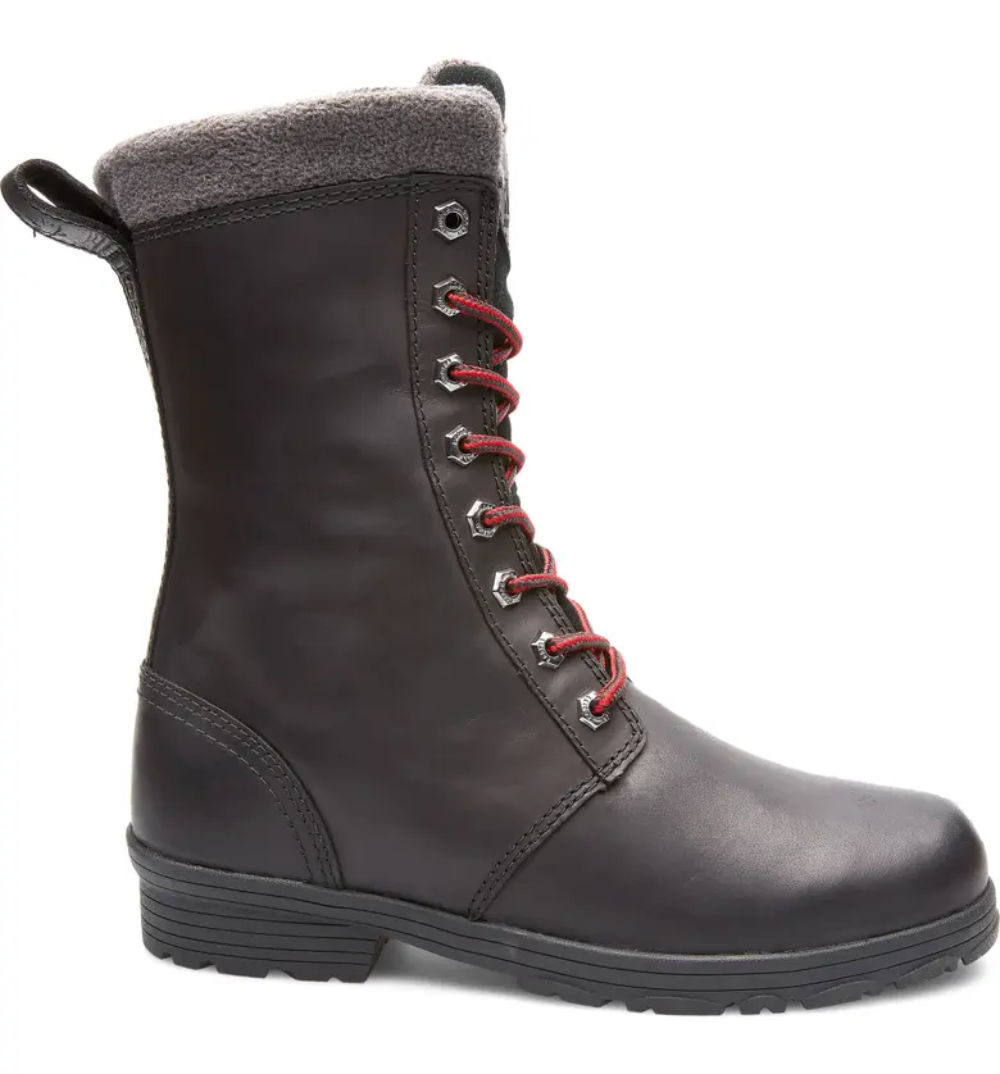 Kodiak's Glacial Arctic Grip is a tough high combat boot for winter. It comes built with a waterproof finish, 200gr Thinsulate® technology insulation & plush high-pile-fleece lining. So extra cozy & warm!
The rubber outsole is thick & extra sturdy with chevron treads, providing extra traction on winter surfaces. Love the pop of red in the laces too.
---
Shop all Waterproof Combat Boots:

Alt text: Women's black combat boots in various lace-up styles.
---
Final Thoughts on Waterproof Combat Boots for Women
To conclude, I hope this series of the season's best women's waterproof combat has allowed you to spot at least one favourite amongst the bunch.
The Fall/Winter 2022 season has definitely brought on some incredible styles to choose from: from waterproof combat boots to waterproof combat boots that also double as winter boots.
There are many other combat boots available, of course. However, I find that these are some of the best rated & highest quality combat boots that can even double as Fall/Winter.
And even Spring boots when you need them to be! Because what's the use of a tough boot if it's not both stylish & practical, am I right?
How do you wear combat boots in the cold season?
PS: Don't forget to properly store your winter boots when you're done with them for the season! It will allow them to last much longer (keeping dirt and mold at bay), not to mention get them out of your way during warmer months.
Check out my post on how to store winter boots and have a chuckle or be inspired by my list of 75+ Boots Quotes!
xo ShoeTease