I love me a good black combat boot. But I tend not to wear them often if not built for all kinds of inclement weather. Thanks to Canadian weather, of course! It's a good thing many of my favorite brands have made amazingly good looking women's waterproof combat boots for Fall Winter.
Below are a few of my faves for the current season, along with the features of each. 5 are great for mid-weather wear, while the others can double as winter boots as they are both waterproof & insulated for winter warmth!
Some are classic combat boots, some are heeled, some have a je-ne-sais-quoi quality about them, but all are 100% stylish. And most at decent price-points. Some are even temperature rated for extreme weather. Can't beat that!
I even own a couple of pairs mentioned below & have experienced wearing many of these boot brands first-hand. It's safe to say that I'm rounding up the best of the best black women's waterproof combat boots out there, right now!
Combat boots are fabulous because you can style them in so many ways. You can easily wear them with your favorite tailored jacket, furry teddy coat or go full-on badass by pairing your combat boots with a leather moto jacket or trench. The styling possibilities are endless, really.
5 Best Waterproof Combat Boots for Women
You can shop some the best waterproof combat women's boots from DSW and Nordstrom, as both retailers have a large selection. Just click on the retailer links or shop via the boot images, below!
---
Shop Black Waterproof Combat Boots for Women:

---
The following 5 women's waterproof combat boots are all highly rated boots with waterproofing technology. So you can splash in the puddles, but without needing to wear clunky (and often style-free) rain boots 😉
If you need waterproof boots that offer insulation for cool to freezing temps, you can scroll down to my top 5 combat boots with snow boot properties, down below.
Featured image captured by Bruna Rico
Taos "Crave" Leather Combat Boots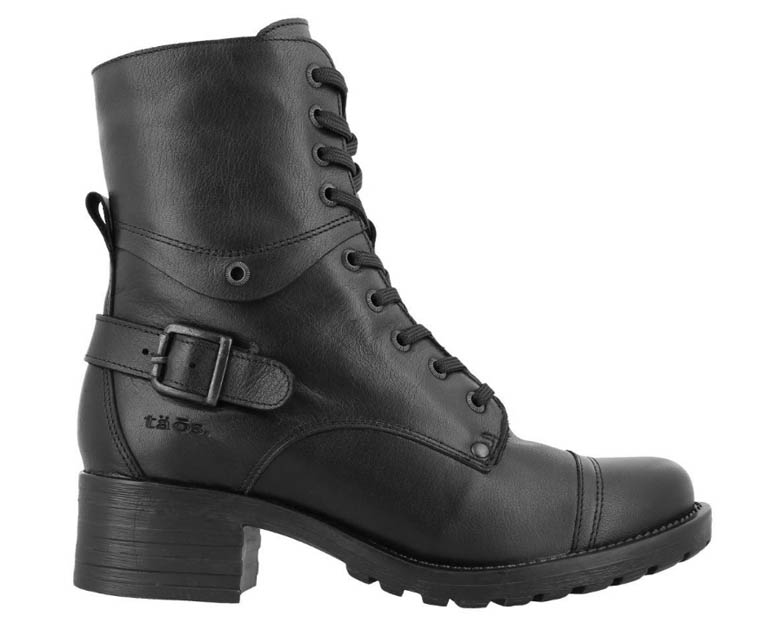 Taos' Crave Boots are water-friendly shoes that offer a high dose of comfort. They have an inner zipper you can easily get in & out of, along with an adjustable rear buckle to make them fit perfectly.
The removable leather-lined insole with arch support & cushioning make them the go-to waterproof combat boots for stylish comfort. I can speak to this effect, as I own a pair!
Taos' Crave combat boots also comes in a rainbow of other colors, but the only colorway that is waterproof is the black-on-black. You can shop them here.
Sorel "Phoenix" Waterproof Boots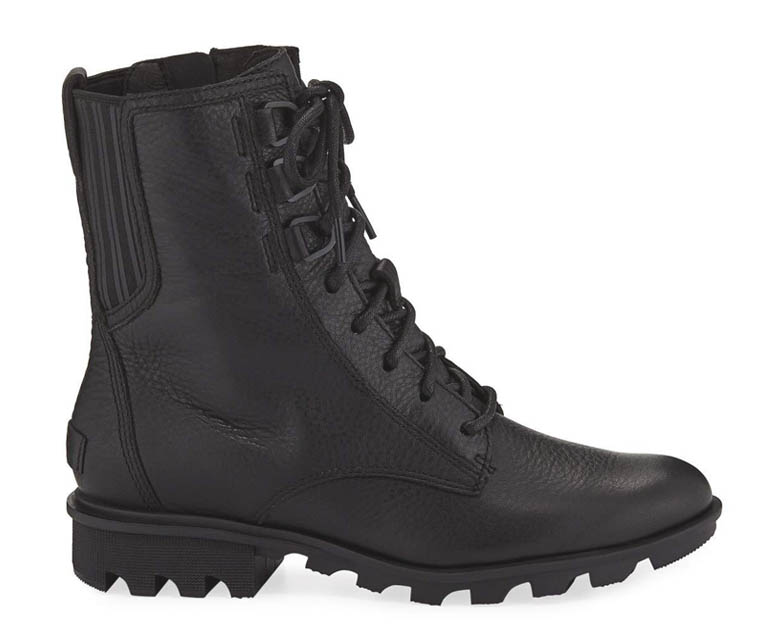 These Phoenix boots from Sorel are one of the most fashionable waterproof combat boots ever. They are fully water-friendly & minimalist looking, with an intensely grooved outsole. Perfect for walking on ice, slush or snow.
Special features include: full grain leather, slim fit, comfy memory EVA footbed & handy side zipper.
You may also like Sorel's other "Phoenix" styles like these ones with red laces, or these winterized ones with micro-fleece lining, topped with genuine shearling.
Blondo "Vicks" Waterproof Boots
If you're looking for a water-happy combat boot with a little extra detailing, the Vicks from Blondo is a surefire contender. This style remains competitive in price vs. its women's waterproof combat boot counterparts, being under $100.
With its fashionably sporty knit sock detail, streamlined look & lightly padded insole, it's the perfect boot to wear everywhere, whether rain or shine.
Kodiak "All Weather" Waterproof Combat Boots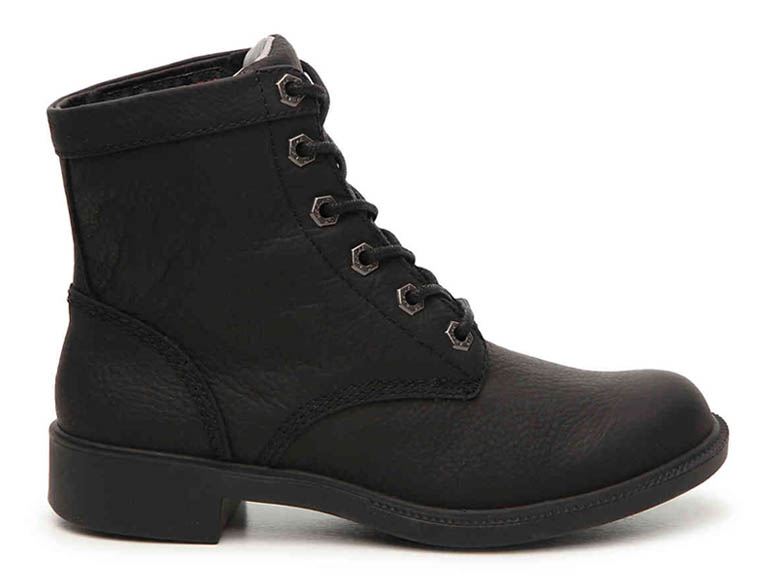 I'm fairly new to the Kodiak brand, especially for combat boots. From what I see of Kodiak's high buyer ratings, special features & design, it seems like one brand that couldn't be excluded from this post.
Especially this All Weather style, which has a slighly lower shaft than a regular combat boots with leather lining, removable insole & is (as all of these boots) puddle-friendly.
Love these but need more warmth? Kodiak's Original Fleece waterproof combat boot offers the same as the All Weather boot, along with a 200 gram Thinsulate® insulation & plush high-pile-fleece lining that transforms it into a cute warm winter boot.
Timberland's "Sienna High" Waterproof Heeled Boots
This contrast & heeled combat boot style from Timberland is called the Sienna High. It also comes in black & brown, is outfitted with a cushioned insole & signature TimberDry waterproof technology.
These boots are for you if are looking for a higher heeled combat boot to wear in the rain with added comfort. You can buy them here.
5 Best Waterproof and Insulated Women's Combat Boots
If combat boots that are simply waterproof aren't enough for you, no worries. I've found some amazing combat boots that also double as cold weather waterproof winter boots. This way you don't have to sacrifice warmth for style!
UGG "Ashbury" Insulated and Waterproof Boots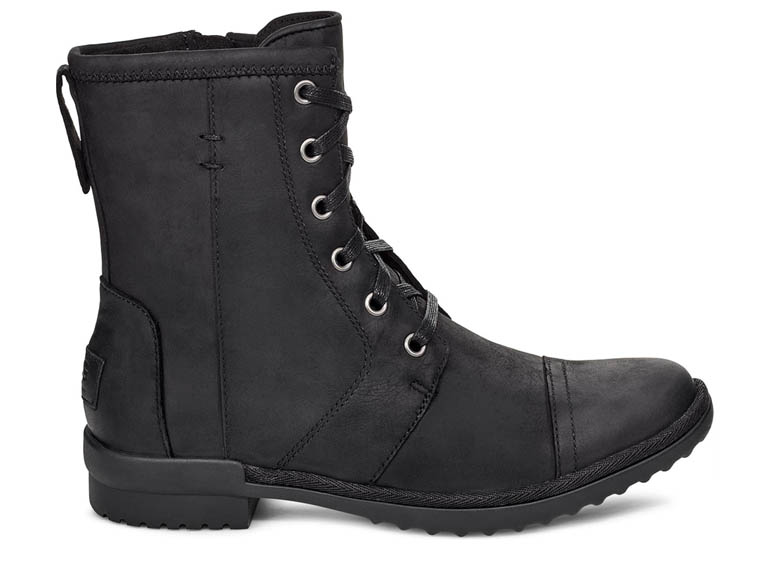 I really love how understated these Ashbury UGG boots are (which also come in chestnut brown, btw). This is a great combo of minimalist style merged with optimal function!
These combat boots are waterproof yet also lined with super warm UGGpure—a special fabric made entirely from wool to feel & wear like genuine shearling. It has an added footbed cushioning for added comfort.
Looking for an UGG combat boot, but want something a little more rugged? You will love UGG's Zia boots with heftier construction & contrasting black leather straps on black waterproof suede.
Kodiak "Marcia" Extreme Cold Weather Boots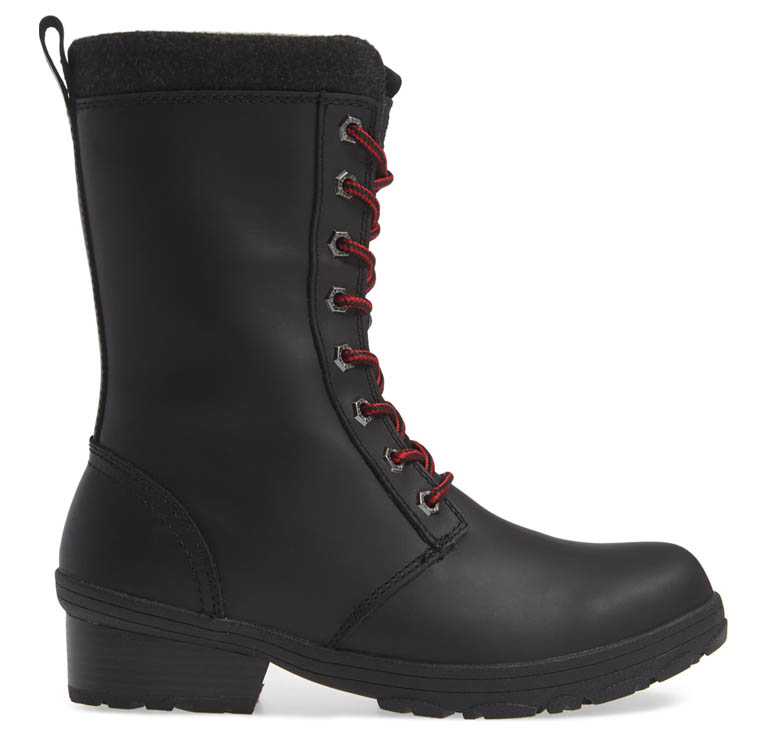 Kodiak's Marcia is a VERY tough combat boot for winter. It comes built with a waterproof finish, 200 gram Thinsulate® technology insulation & plush high-pile-fleece lining. So extra cosy & warm!
The rubber outsole is thick & extra sturdy with chevron treads, providing extra traction on winter surfaces. Love the pop or red in the laces too.
Cougar "Delson" Temperature Rated Boots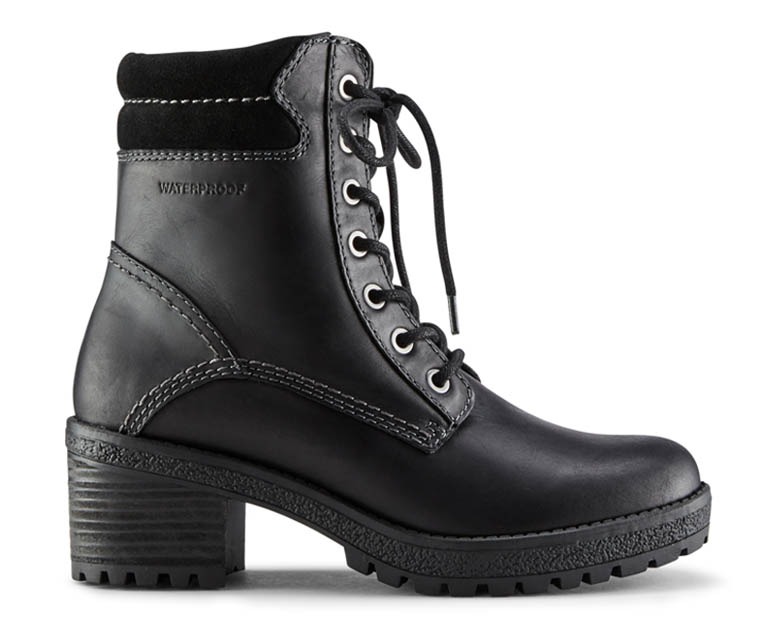 I also own this pair of black combat boots from Cougar Boots (as seen in the first image of the post). They are cushioned & comfy, fully waterproof & have extremely walkable heel. This, is thanks to the platform, which grips well onto snow & icy sidewalks.
This boot — named Delson — also doubles as a stylish winter boot, as they will keep your feet dry & toasty warm in cold temperatures down to -24°C/-11°F. One of the few combat boot styles you'll find with a temperature rating!
Love these? See the roundup of similar hiker style boots & the rest of the current Womens Cougar Winter Boots collection, in this post. You can shop them here in black & other colors.
Emu Australia "Waldron" Wool-lined Boots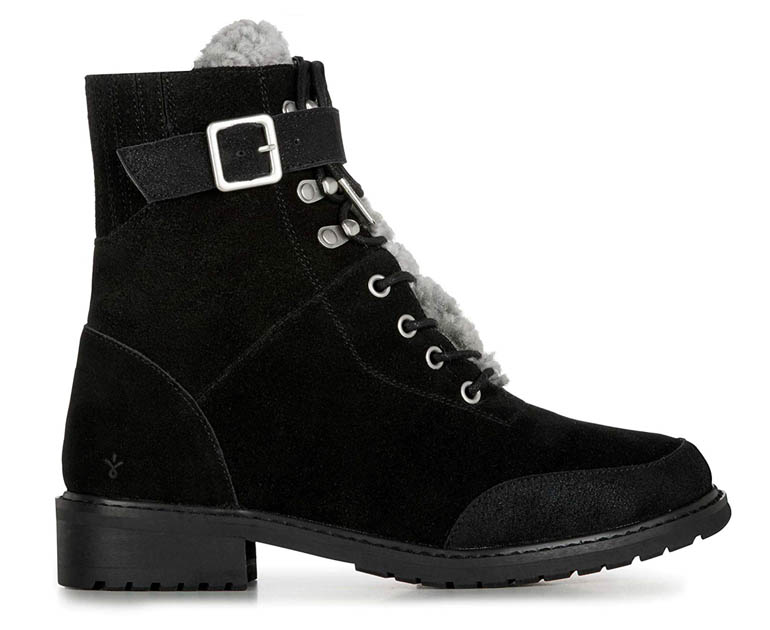 Moving onto a lower height combat-meets-hiker boot is this beaut from EMU Australia, which also comes in army green.
The Waldron is a suede boot made from premium waterproof suede, with a hint of sheepskin that peeps out from the laces. But don't be fooled, this super weatherized boot is lined with a 100% Australian Merino Wool lining & footbed.
Take it from someone who has tried a few pairs of EMU Australia winter boots: these are some of the warmest winter boots you'll ever wear!
EMU also has a sister style called Biricet which is a lower style sans buckle, but has a similar vibe. The rest of their women's waterproof winter boot collection is just fab & worth checking out, here.
BOS & CO. "Galaxy" PrimaLoft Insulated Boots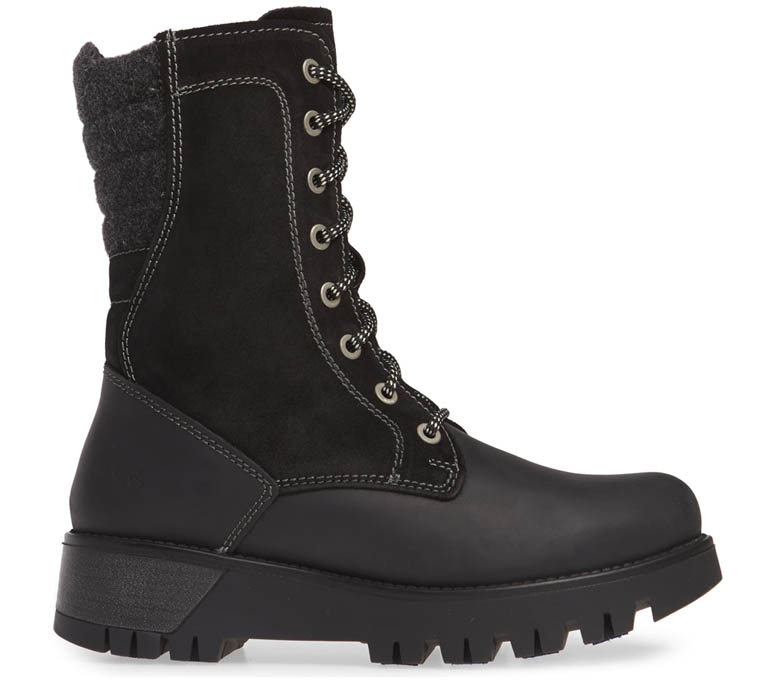 A definitely more rugged take on the classic leather combat boot & a great option for winter with all its extras. I mean, just look at that thick & grooved outsole! The boiled wool trim also adds a nice touch.
The BOS. & CO. Galaxy offers everything you need to get around on the coldest winter. Here's the rundown:
The IceGrip treads provide extra strong traction on wet & slippery surfaces
Foam-cushioned footbed with arch support provides and zip closure
Aquastop moisture-wicking merino wool lining
An exceptional temperature rating of -31°C-23°F
The Galaxy also comes in acaramel brown if you want more options on top of black.
La Canadienne "Camille" Waterproof Combat Boots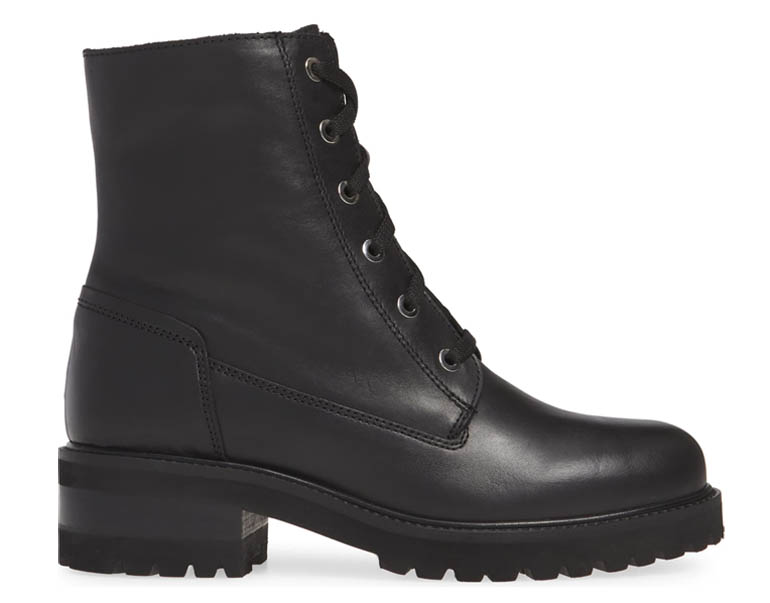 These might be a little on the pricey side, but I couldn't resist adding these amazing black combat boots (that also double as cold weather boots), in this post about black waterproof combat boots!
The Camille by La Canadienne might be a steeper price, but this great Canadian winter boot brand boasts luxurious quality & durability. This style offers a slimmer, less bulky fit & is perfect for office to outing transitions during the winter!
If you love these you will also adore La Canadienne's Sonnet combat boots. If you're looking for La Canadienne quality with a feminine look & added heel these gorgeous Parker weatherproof booties will definitely make the cut!
---
Shop all Listed Combat Boots:

---
To conclude, I hope this series of the season's best women's waterproof combat has allowed you to spot at least one favourite amongst the bunch.
The Fall/Winter 2019-20 season has definitely brought on some incredible styles to choose from: from waterproof combat boots to waterproof combat boots that also double as winter boots.
There are many other combat boots available, of course. However I find that these are some of the best rated & highest quality combat boots that can even double as Fall/Winter. And even Spring boots when you need them to be! Because what's the use of a tough boot if it's not both stylish & practical, am I right?
How do you wear combat boots in the cold season?
PS: Don't forget to properly store your winter boots when you're done with them for the season! It will allow them to last much longer (keeping dirt and mold at bay), not to mention get them out of your way during warmer months. Check out my post on how to store winter boots.
xo ShoeTease