I've put off purchasing a pair of Hunter Boots for the past few years because, well. They're everywhere. Literally on every fashion blog, Pinterest post & whathaveyou. And today I present you with these silver Hunter Rain boots-slash-space boots!
And while there's nothing wrong with in-your-face repetitive street style fashion, there are only so many red glossy "fashion" rain boots that I can visually take in without finding them increasingly redundant. But this is my fashion designer self talking.
If you work or have worked in the industry, you'll know exactly what I'm on about 😉 If not, let me explain…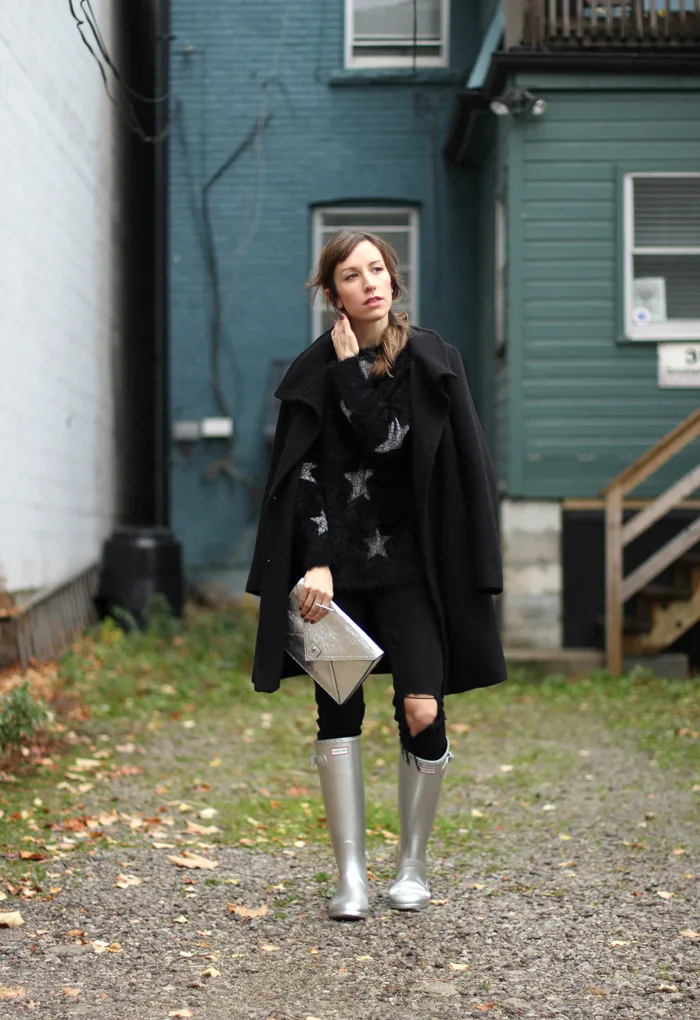 Silver Hunter Boots: Shoe Warehouse c/o Dixie Outlet Mall. Star Sweater: Joe Fresh. Ripped Jeans: GAP. . Nail polish: Butter London "Toff". Coat & Purse: old.
---
Shop the Post:

---
It's hard to live in the fashion "moment" when you're used to forecasting trends. When you're living 3 some odd years ahead of the fashion curve, the go-to outfit du jour no longer seems relevant to you, yet funny enough it actually is.
But even for those not designing, styling or working in the back end of the fashion industry, once a particular brand in a specific hue has been worn in every single way possible, it's seriously time to move on!
Rain boots, as winter boots (and often flip flops for that matter!) are all shoe types that if you live in Toronto or most parts of Canada, are a required category of footwear that are brought to us by necessity.
Like, say, prevent splashed pants & soaked feet from puddles & rain, keep warm in the mountains of snow & protect one's feet in gym showers. But the need to have dry feet has led to a huge necessity to buy into the rain boot trend (but not all rain boots, of course!).
Luckily for the Hunter brand, Wellington boots have not only become a must-have foot accessory, but Hunter the must-have brand to don with your Fall & Winter outfits. Which seems to be plaid blanket scarves for the most part. Goodness, don't get me started on this particular fashion trend!!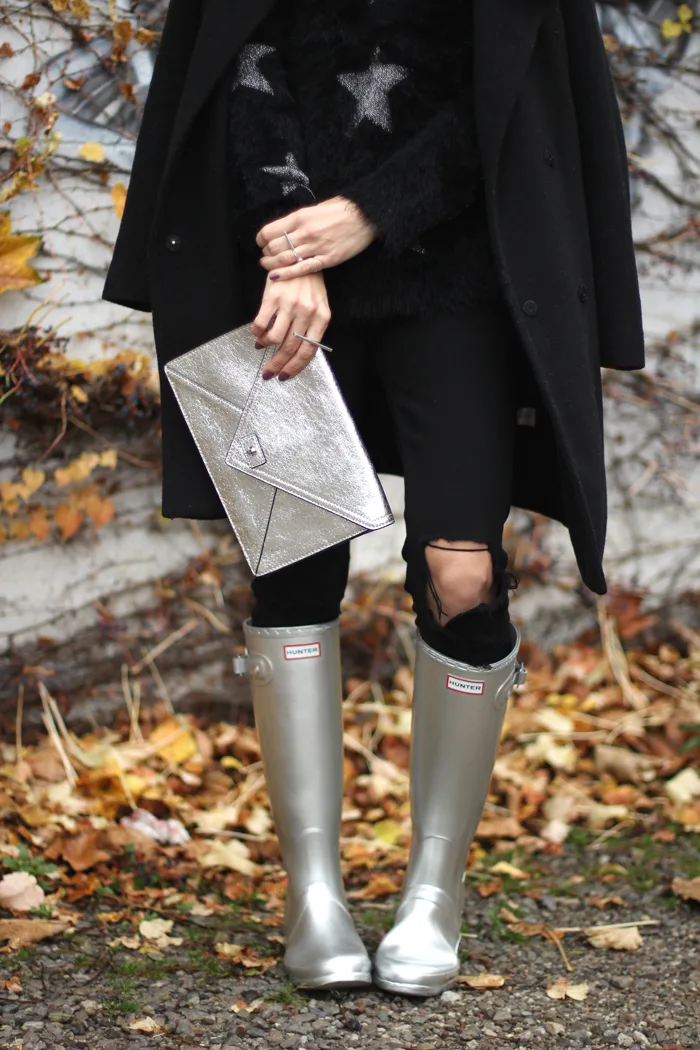 Now we all know what I think about wearing Hunter boots & non winterized rain boots in below normal temperatures. From reading my 5 shoes not to wear in the snow post, of course. If you haven't read it, then trust me, just don't do it! But it's hard to deny the advantages of sporting a pair of knee high rainproof boots during more mild, but damp to torrential downpours in the early days of Fall or Spring. And since they're ever so popular, you won't be confused for a gardener or rural mud trekker while wearing your Hunters out & about the city!
But my boot beef is why not try something slightly different? I mean, do you really want to be sitting next to the other three ladies, girls & gents wearing their fire engine red Hunter boots? Well, I don't & if you're anything like me, you'll want to opt for a different hue or finish, or goodness forbid: rain boot brand!
As the writer of a shoe blog, it did seem odd that I not yet owned a pair of these ubiquitous boot. So when I was working on my Mommy and Me Shoes post with Dixie Outlet Mall & trying to getting matchy-matchy with my son's grey/black/red Disney wellies, these silver Hunter rain boots from Shoe Warehouse were just begging to be featured.
My Hunter Boot curiosity aside, I took the amazing $50 label sticker (a long ways down from the usual $200 mark) as a sign that these had to become mine. And my if my social media feeds have any say about it, it looks like you're all ready for a change in rain boot too. They've been a bonafide hit (yeah, space boots are cool too now folks!).
So where can you find these no-longer-produced metallic silver Hunter rain boots? Well, if not in various Shoe Warehouse locations around the city/country, I've spotted these at Winners & Marshall's. If you have smaller feet, you're in luck as they have them in youth sizes in the US (see widget at the beginning of the post for link).
But are these silver metallic rain boots a little too much? Possibly. But they're a cinch to pair with most outfits (especially if you prefer black & white) & definitely not your typical rainy weather boots, if you want to stand in something a little different!
And just to be extra obnoxious, I thought I'd kick my newly minted "space boots" up a notch or two with a plush silver star sweater 😉
xo ShoeTease
Cristina is the chief editor, fashion & shoe expert here at ShoeTease. As a seasoned stylist and women's fashion & shoe designer, she boasts over 20 years of experience in the fashion industry. She loves crafting effortless outfits for ladies both online and off and believes that styling advice should be accessible to everyone. Whether you're a styling pro or just starting out, Cristina's here to guide you on your fashion journey! Learn more.