Teal dresses give off a luxurious vibe! This deep gemstone hue is rich in dark green and blue colors. In today's dress style guide, I'm excited to show you what color shoes to wear with teal dress outfits.
Here on shoe-tease.com, I've already written about what color shoes to wear with green dresses, the best color shoes for navy dresses, and how to what shoes match royal blue dresses.
However with teal dresses – a color you can also call cyan – is such a unique hue between green & blue that it needs its own outfit styling post to explore shoe & accessories options.
If you're specifically looking for what color shoes to wear with teal dresses and outfits to a prom, wedding or even to a chic office function, this post is for you!
Alongside each shoe color recommendation for teal dresses, you'll also get a tips to find the perfect color purses and jewelry to match your teal dress, your teal suit or any teal outfit you might wear.
Hopefully, you'll walk away with your teal-dress-what-color-shoes & accessories questions, answered!
What Color Shoes to Wear with Teal Dress Outfits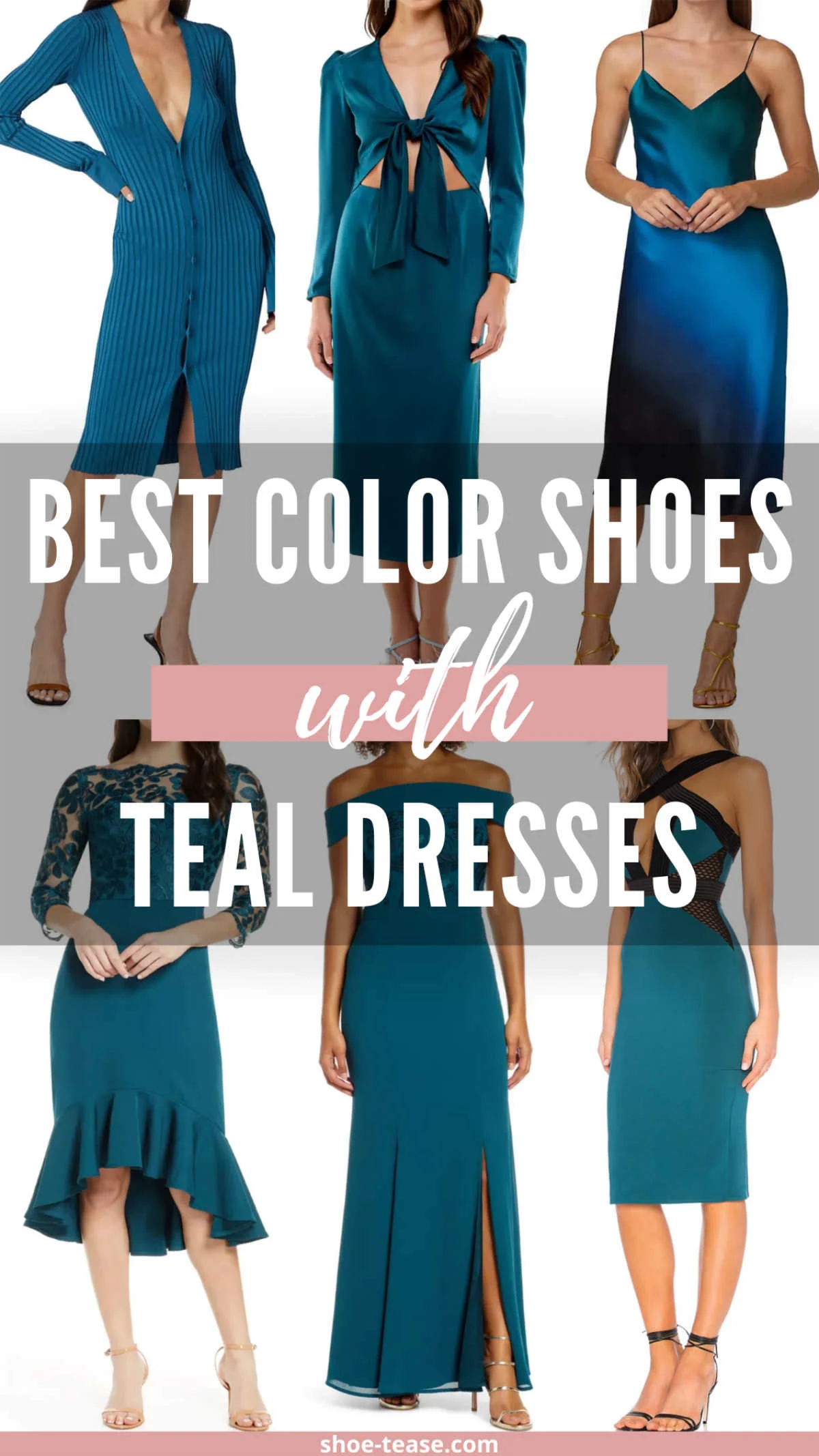 1. Beige & Blush Shoes with a Teal Dress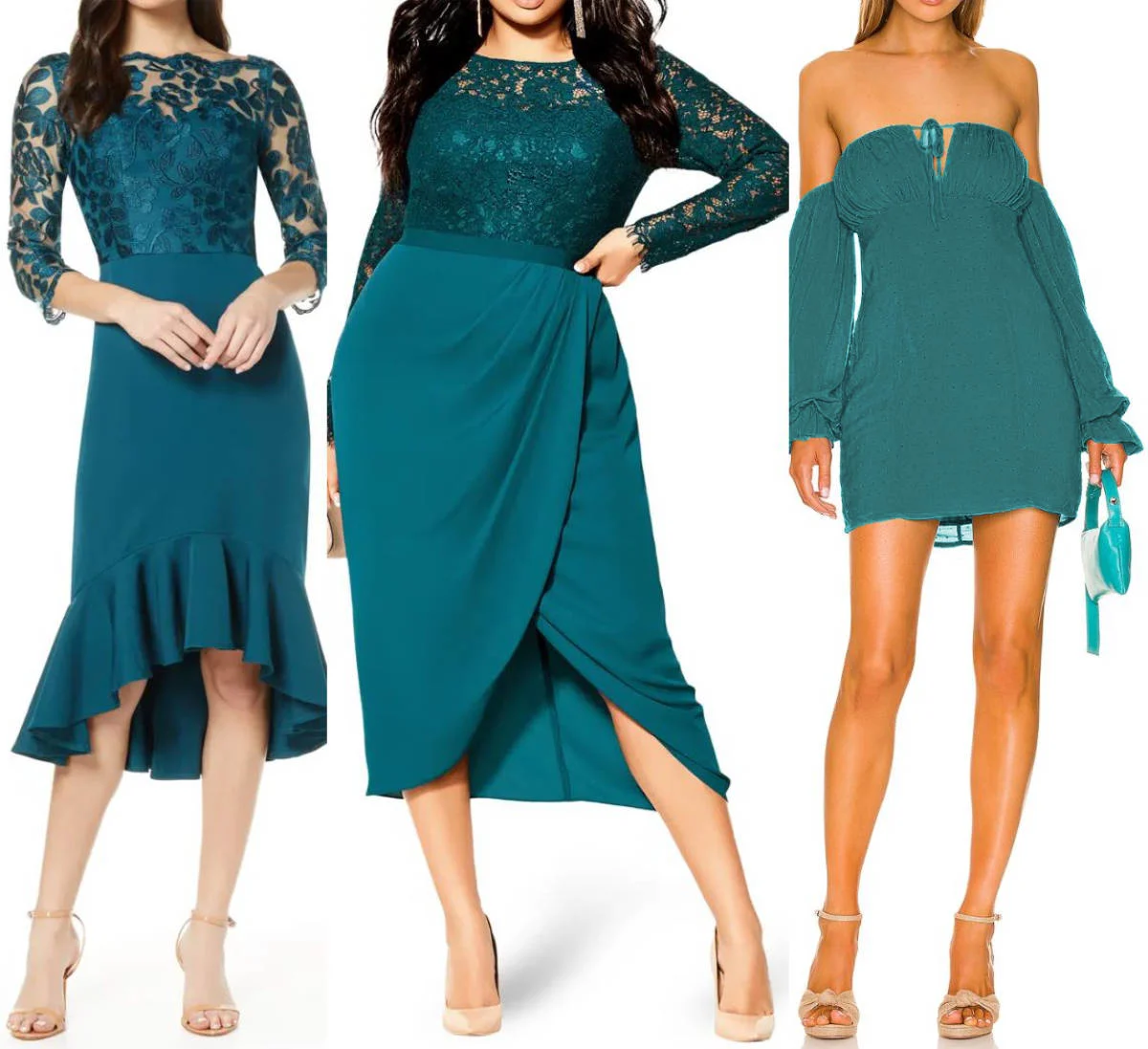 Keep it simple with a stylish pair of beige or blush shoes that look great with teal. These lighter, softer hues allow the teal dress color to shine in all its glory. This, without taking away from the overall appearance of the dress you're wearing.
Beige or blush – slightly pinkish shoes – are one of the safest choices because these shoe colors look stunning on all skin types. Choose from neutral shoes in various styles, ranging from ballet flats to wedges, kitten heels, and even stilettos, if you're looking for some height.
When it comes to specific shoes, be sure to choose the shoe style that you feel most comfortable wearing. If you're not sure which would look best, beige or blush sandals with straps around the ankles pair well with nearly any teal dress, whether it's short or long.
Chunky casual wedges are another great option. If you want to wear a heel without pushing past your style limits, kitten heels are an excellent option.
These combine sophistication and class with a trendy appeal – especially slingbacks. Also perfect for those who prefer less heel height!
Purse & Jewelry Styling Tip: with a neutral shoe shade such as beige or blush shoes, you can opt for a black or gold purse. Keep jewelry tones warm in gold or rose gold hues.
Shop Beige Shoes & Heels:
2. Metallic Shoes with Teal Dresses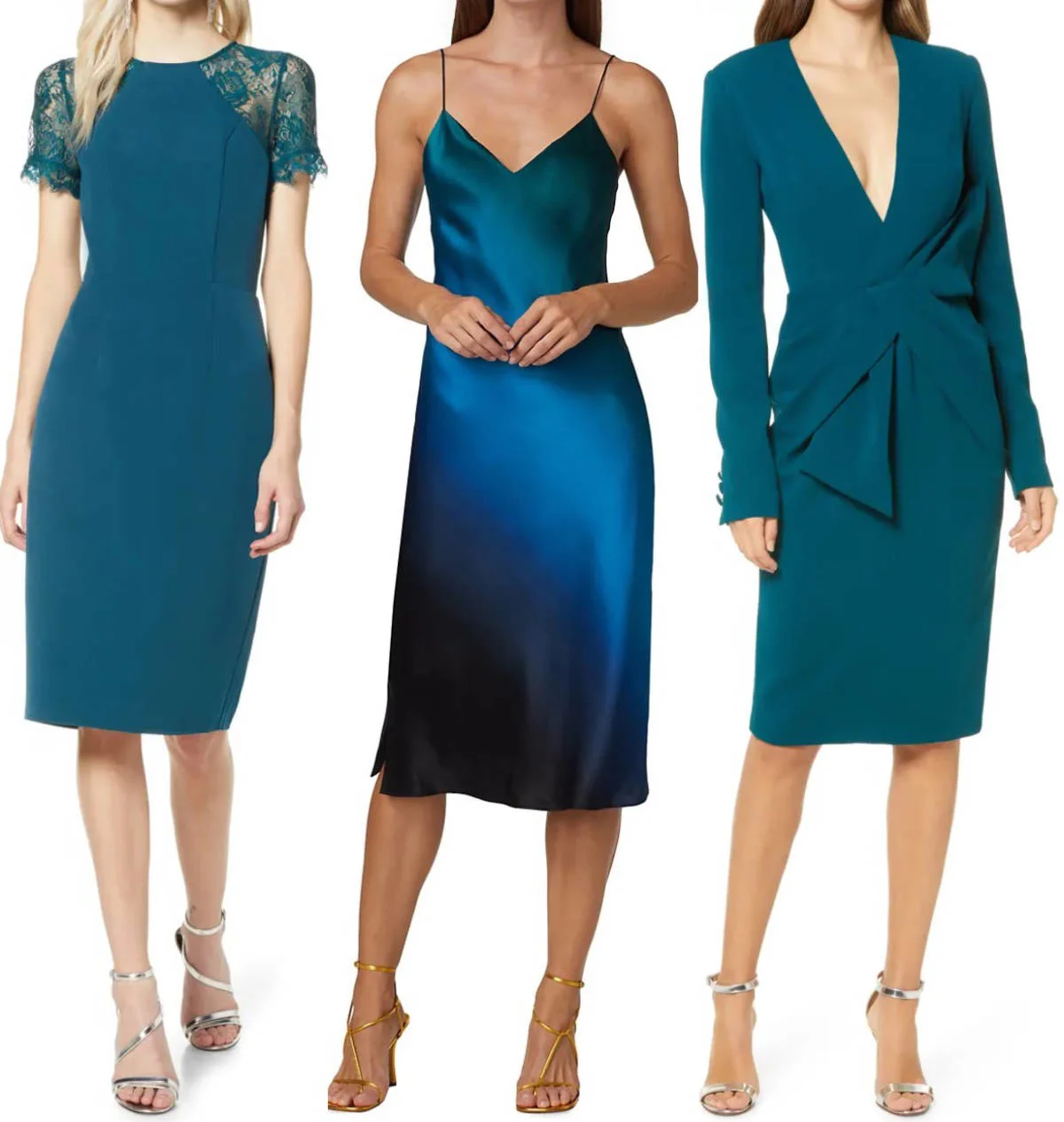 The question of what color shoes to wear with teal dresses can be answered again with metallic shoes. That's because there are so many options. These include gold, rose gold, silver – even pewter shades!
Both gold and silver are dominant metallic hues that pair perfectly with teal, adding a touch of elegance and sophistication to your ensemble. Let's dig a little deeper on the specific metallic shoes with teal outfits, below:
Gold shoes with a Teal Dress Outfit
High shine gold or rose gold shoes are perfect for formal affairs. I love how the warm tones will contrast the cool blue/green ones of the dress.
Go with a lace-up sandal to make a sexy statement or try minimal heels like a leather mule or strappy stiletto. These will show off your freshly pedicured toes while enjoying a night out on the town.
Stick with sparkling rose gold or gold for extra special occasions. Or keep shoe styles simple with matte gold dress shoes for laidback gatherings with loved ones or co-workers.
Purse & Jewelry Styling Tip: I love a beige, magenta or black purse with teal outfits + gold shoes. Match your jewelry tones with the shoes – gold or rose gold, depending on which metallic shoe shade you pick.
Silver Shoes with a Teal Dress Outfit
If you prefer the look of silver shoes vs gold shoes, ditch the gold and go for silver! You can choose high shine or matte silver or pick a darker silver shade of pewter. I prefer a bright light silver myself!
Go for high-heeled strappy stilettos to make a statement or pointy toe pumps to keep the look simple and sophisticated. You can also opt for simple leather slides in silver or any metallic with a more casual teal dress.
Purse & Jewelry Styling Tip: A teal dress with silver shoes has a few purse options: matching silver, black, white or a neutral beige. Keep your jewels in silver or dark silver tones.
Shop Silver Shoes & Heels:
3. Black Shoes with a Teal Dress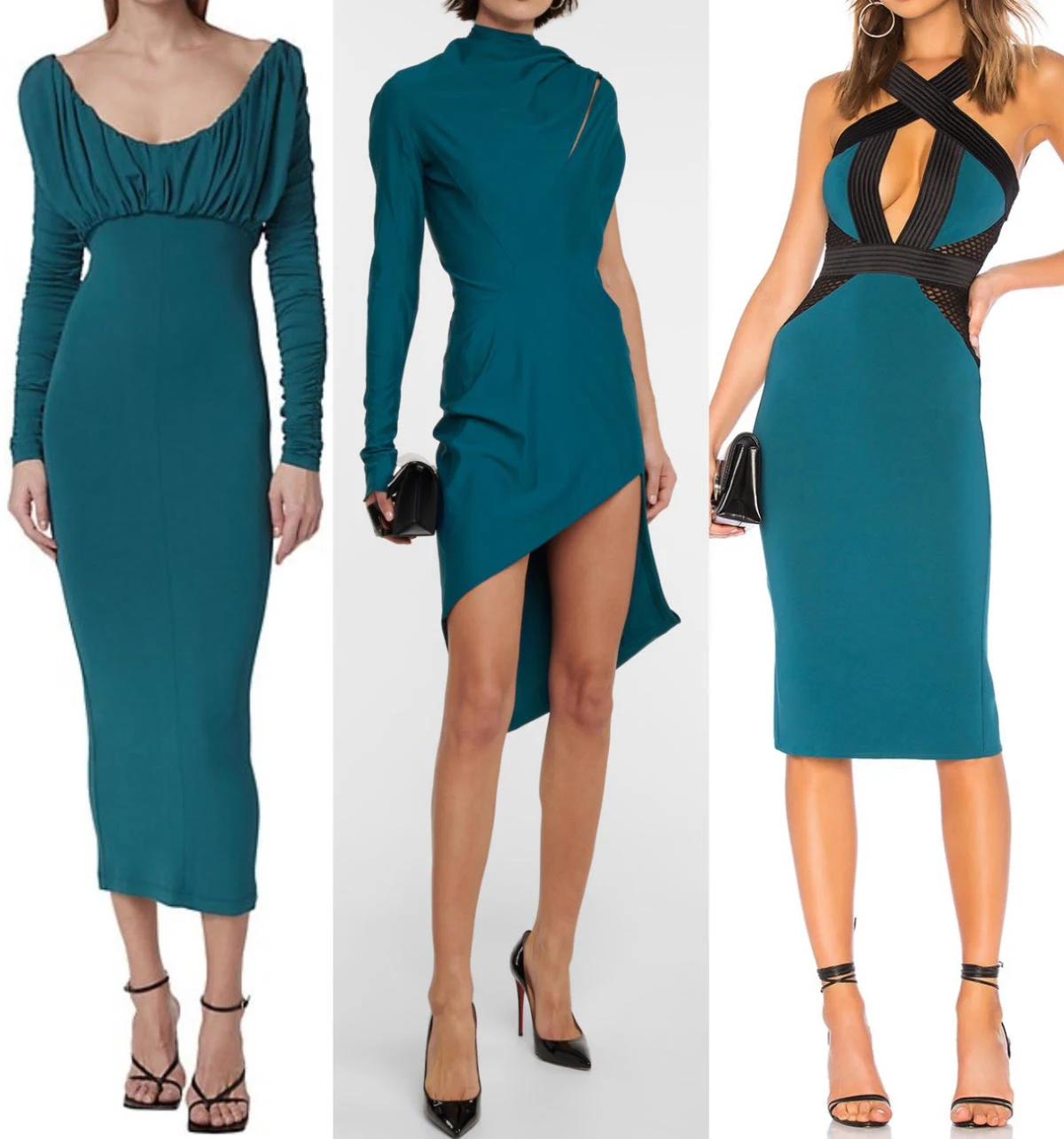 Some may assume that black won't go with teal, but black shoes go with everything, including this gorgeous, rich color.
It's all about finding the right shoes to pair with the teal dress, such as open-toe black heels that you can slip on or wrap around your ankles.
If you don't feel great wearing heels, you can always pair your dress with stylish black flats that increase your comfort level and look stylish on your feet.
A black shade for shoes goes great with accessories commonly worn with all dresses. I love including black cardigans and choker-style necklaces with a casual dress outfit.
If you're planning to wear some black accessories, this is the perfect color to choose for your dress shoes.
You have plenty of options for black shoes, from spring to fall! Including – but definitely not limited to – velvet black, matte black, or even silky, sparkly black with a touch of glam added. You can't go wrong with a good pair of black shoes.
Purse & Jewelry Styling Tip: You can match your black shoes with a black purse, or make a striking contrast with a metallic, or magenta purse.
Match your jewelry with the metallic shoe shade, or if the purse is a simple black or beige, opt for any jewelry color you like best.
Shop Black Shoes & Heels:
4. White Shoes with a Teal Dress
White is another great color shoes to pair with a teal dress. You can choose a basic shade of traditional white, off-white, or even a silky cream white.
If you'd like to add some glitz to your dress, be sure to choose a white pair of heels with added gemstones or glitter. A sparkly white heel is perfect for a glam soirée, allowing you to make a fashion statement wherever you go.
When it comes to the style of your white shoes, you have plenty of options to choose from, including kitten heels, minimal sandals, simple pointed-toe pumps, or even block heels if you're looking for something sturdier.
Purse & Jewelry Styling Tip: I love a black purse with this combo, but a gold or silver clutch could be a nice addition too! My preference is silver jewelry with this teal dress outfit.
Shop White Shoes & Heels:
5. Dark Red Shoes with a Teal Dress
Some might assume that red won't pair well with teal, but that isn't always the case. Stick with a darker shade of red that looks more like a wine-hued burgundy to make a statement without causing the colors to clash.
Avoid the brighter, bolder shades of red because you don't want the teal outfits to resemble Christmas colors, unless that is the whole point! When choosing a dark red shoe, pair it with your favorite dark red lipstick to ensure you're matching from head to toe.
You can choose from a broad range of shoe styles for this pairing, but I'm a fan of keeping color combos simple. I'm thinking of basic but stylish pointed pumps, strappy sandals or minimal slide.s
For a more casual Fall/Winter teal dress outfit – say, with a sweater dress – wear a pair of buttery leather burgundy booties. The style of shoe you choose will help you set the tone for the look you're trying to achieve.
Purse & Jewelry Styling Tip: A teal dress with dark red shoes calls for less (or more!) of a purse statement: black, white, or beige to keep things simple.
If you want to add drama, go for a gold or silver purse. Match your jewels accordingly.
Shop Red Shoes & Heels :
6. Pink Shoes with a Teal Dress
What bright color shoes go with teal dresses best, you ask? Purple and pink shoe shades can go a teal dress, if you choose the right shade.
A color combo like pink or purple makes the statement that you're not afraid to combine colors while showing off your personality and unique style.
With pink hues, look for something that is the perfect shade of magenta. You don't want any color that looks too pink or too purple because it won't match well with the teal outfit you're planning to wear. Magenta is the perfect hue!
The magenta-like hue will look fantastic with different teal dress styles, including maxi dresses, mini dresses, and knee-length, sleeveless dresses.
7. Purple Shoes with a Teal Dress
For purple shoe options with teal dress outfits, there are two purple hues that work best. I love a pale purple or deep purple for teal dresses.
When wearing either purple or pink shoes with a teal dress for formal occasions, I love a high shine dress contrasting with a matte teal dress. And vice versa!
Purse & Jewelry Styling Tip: Just like with any other colorful shoe with a teal dress, you can keep things simple with a neutral purse – black, beige, white.
For some fun, add a gold or rose gold purse. Keep your jewels in the same tone.
8. Brown Shoes with a Teal Dress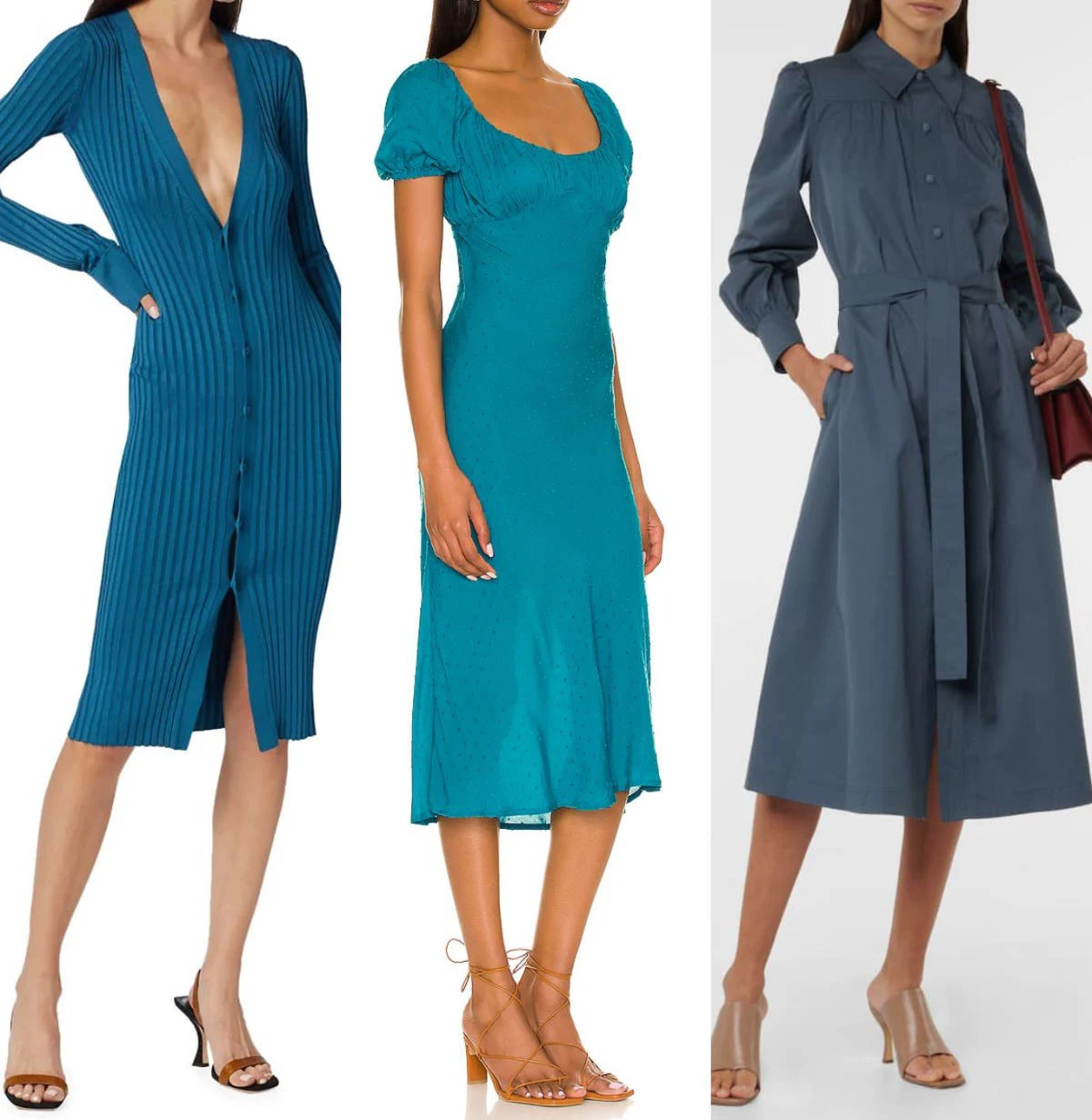 It's safe to wear brown shoes with a teal dress if you're pairing the right styles together. A caramel or tan shade of brown is perfect for a more casual event, while a darker shade of brown is best to use when attending a formal event.
Also, you can always opt to match your skin tone when you're wearing a shorter dress because it helps to elongate your legs, making you appear taller and leaner.
There are many great shoe style options to consider wearing. These include espadrilles wedges, slingback heels, and chunky heel sandals.
Choose what you feel comfortable wearing in a style that you like best, where you're selecting matte, flat, or even shimmery heels to wear with your teal dress.
You'll never have to ask yourself the what color shoes with teal green dresses question again, when it comes to pairing teal with brown shoes!
Purse & Jewelry Styling Tip: Black, white or matching brown purse will work well with this teal dress outfit combo. A gold purse can also look fun if the outfit is less casual. Warm-toned jewels in gold, work best.
Final Thoughts on What Color Shoes for a Teal Blue Dress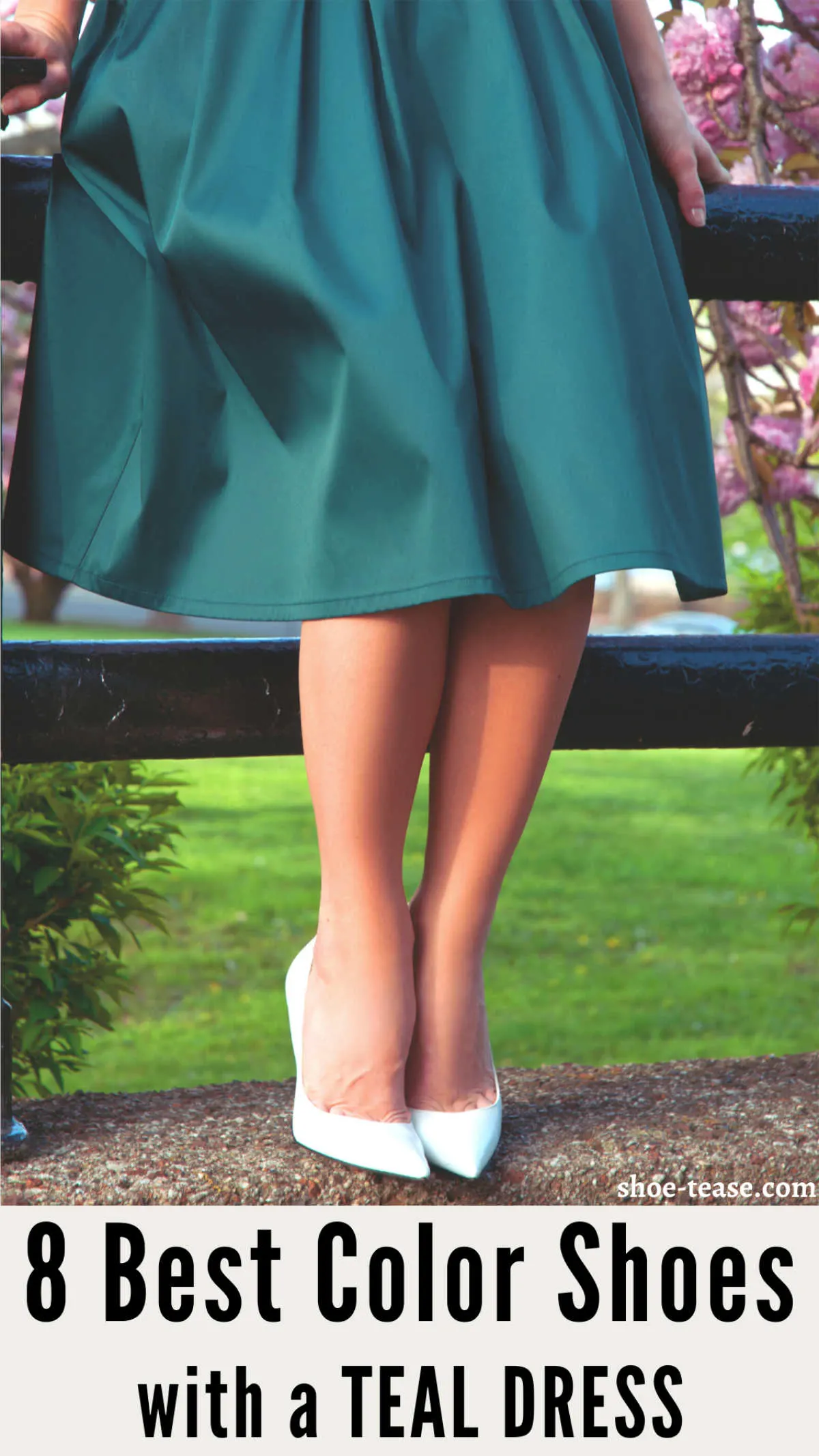 I hope this post has made it easy for you to understand what color shoes to wear with a teal dress. As you've come to see, the color shoes that go with teal dresses are many.
Not to mention all the purses and jewelry that you can style with teal outfits!
Of course, fashion & style is subjective. You might, for instance, enjoy wearing a pair of orange or neon yellow shoes with your teal dress or blue outfit. And a pair of dove grey shoes will also go with a teal outfit!
If you love how it looks and feel great about it, go for it! It's all about how the outfit works together, where you're wearing it & what you feel most comfortable in.
Now that you know what shoes to wear with a teal blue dress or cyan outfit, feel free to learn about more dress & shoe pairings in my other dress styling posts.
These include every color dress and outfit you could possibly want to pair, including what shoes to wear with a black dress.
What's your favorite color shoes to wear with teal green or teal blue outfits? Mine a high-shine gold sandals or pumps – so pretty for formal events!
Pick out your favorite shoes for a teal dress from the selection in my post about shoes that go with everything!
xo ShoeTease