Looking for something a little different in shoes? Check out these most unique shoe brands for the quirkiest and most unique shoes around.
From fun and funky prints to quirky shapes & designs, you're sure to find a type of women's shoes that will make you stand out from the crowd.
These make great statement shoes to add to your capsule shoe collection to shake things up a bit!
Whether you're looking for something special for a party or want to add personality to your everyday style, these unique shoe brands have you covered!
Some align themselves with fashion and shoe trends, while others march to their own drummer. From the unconventional to the straight-out weird, here are the most unique shoes for women from the most unconventional brands.
16 Quirky & Unique Shoe Brands for Women
Katy Perry Collections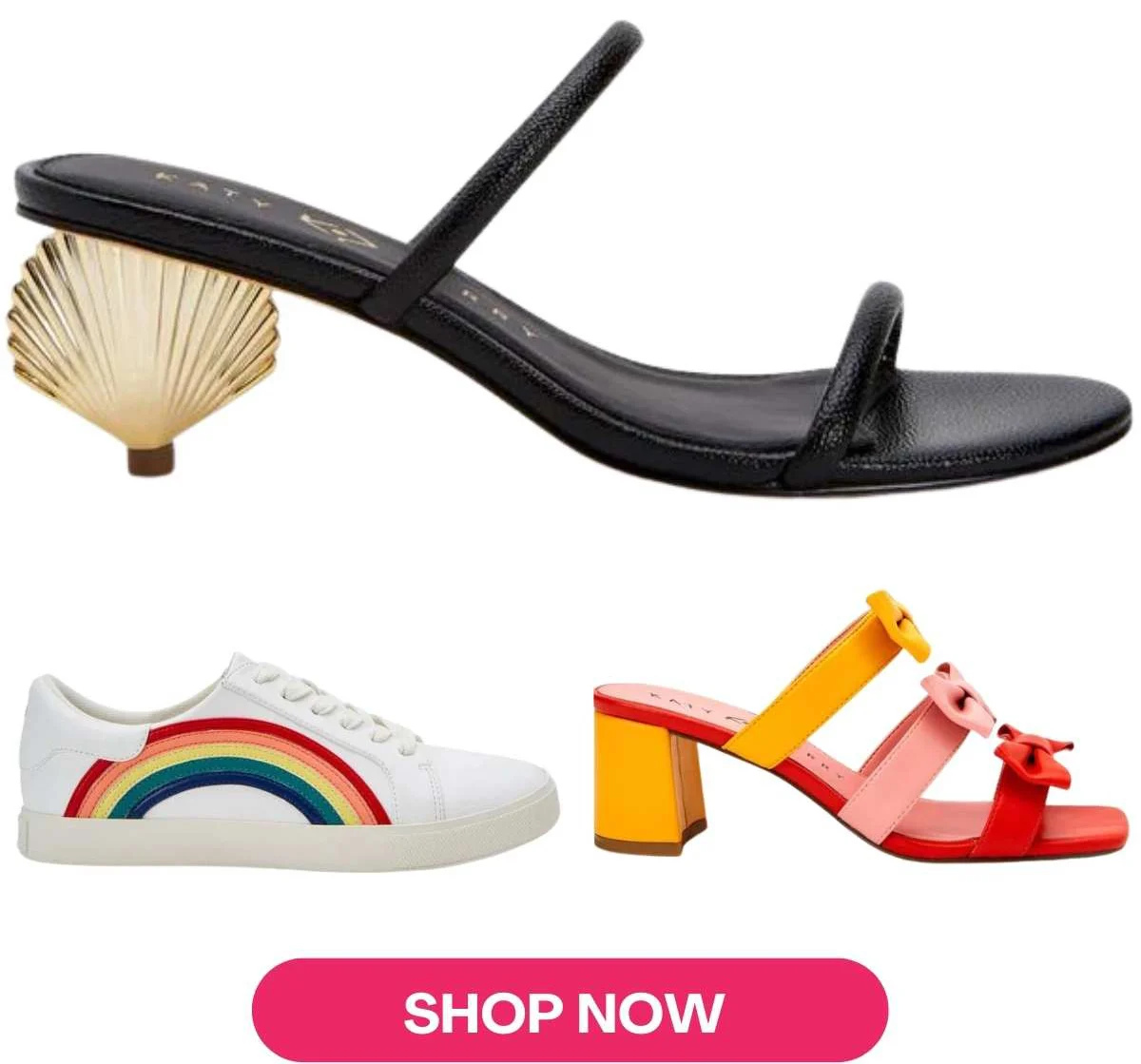 Katy Perry Collections surely matches the singer's eclectic style! Not surprisingly, this unique shoe line is designed for women who want to stand out and make a statement.
The shoes are glamorous, bold, and stylish, all at a lower price point for their unconventional style.
The quirky shoe collection includes casual sandals, jelly shoes, colorful sneakers, playful stilettos, and sophisticated pumps. Quirky detailing includes fun prints, statement heels and bows.
Shop from Zappos, Nordstrom and Amazon
Cult Gaia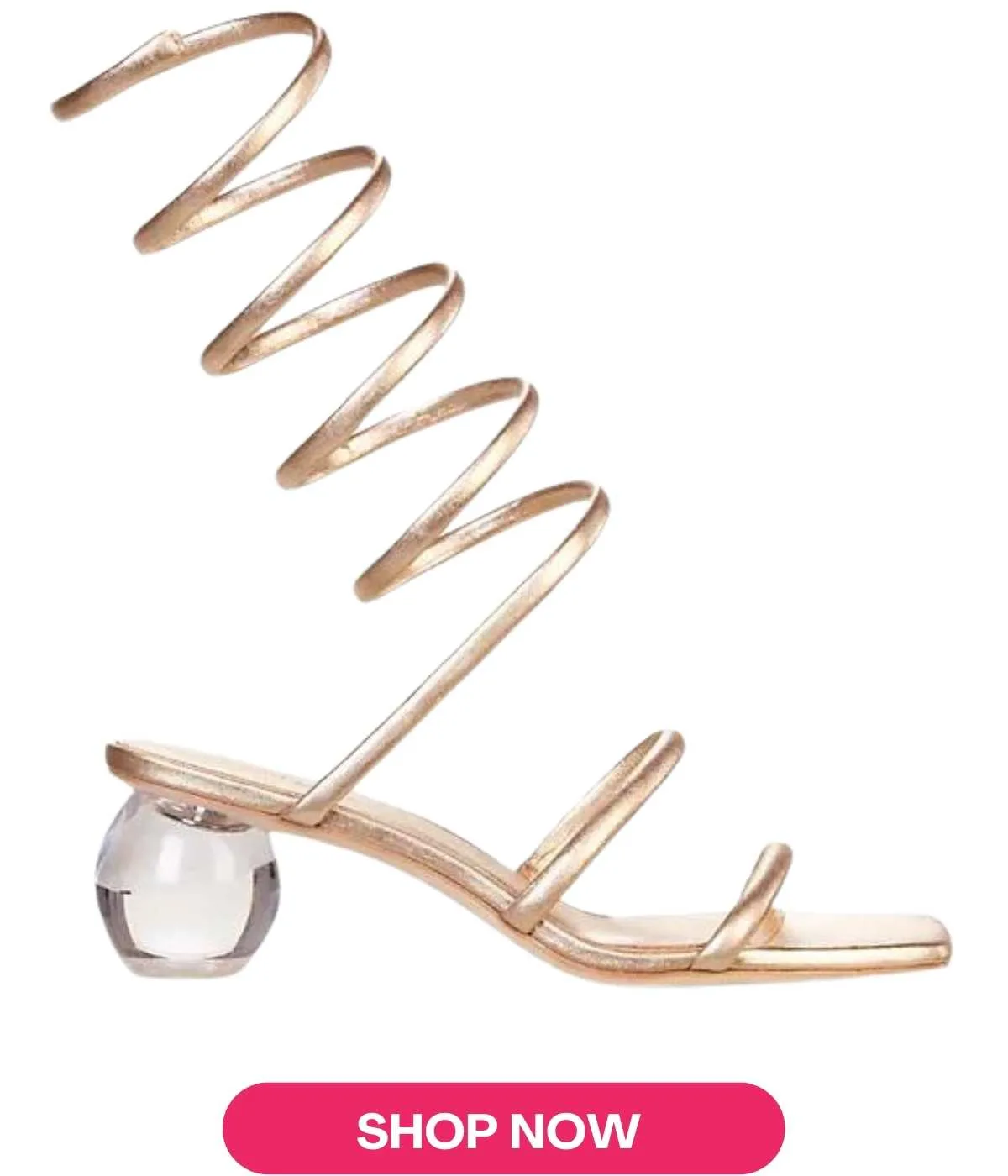 Cult Gaia creates unique, timeless pieces that make you look twice. And they most certainly do!
Since it was founded, the company has expanded from accessories into a full-on lifestyle brand, selling everything from clothes to shoes. It rose to fame due to its fan-shaped Bamboo "Arc" tote.
Cult Gaia's shoe aesthetic includes sky-high platforms and sculptural heels that take on many shapes and forms. A notable influence in their current collection is traditional Chinese Geta sandals.
Shop Cult Gaia shoes at Saks Fifth Avenue, Revolve, Neiman Marcus, and Farfetch
Fluevog
When thinking of unique shoes for women (and men!) Fluevog comes to mind! John Fluevog is a Canadian brand started in 1970 by none other than John himself.
It has an enormous cult following, with very active Facebook group for reselling & buying Fluevogs!
John Fluevog has come a long way since he partnered with a Vancouver shoe store. John recently celebrated 50 years in business in 2020 and came out with a coffee table book to mark the occasion.
Made in Portugal, Fluevog shoes are some of the most unique shoes for women on the market today. His designs march to their own drummer, far away from current aesthetics and fashion trends.
Curved heels, colorful, buttery leathers with designs that can be either futuristic or direct nods to vintage designs are all iconic to the brand. Shop online at John Fluevog.
Betsey Johnson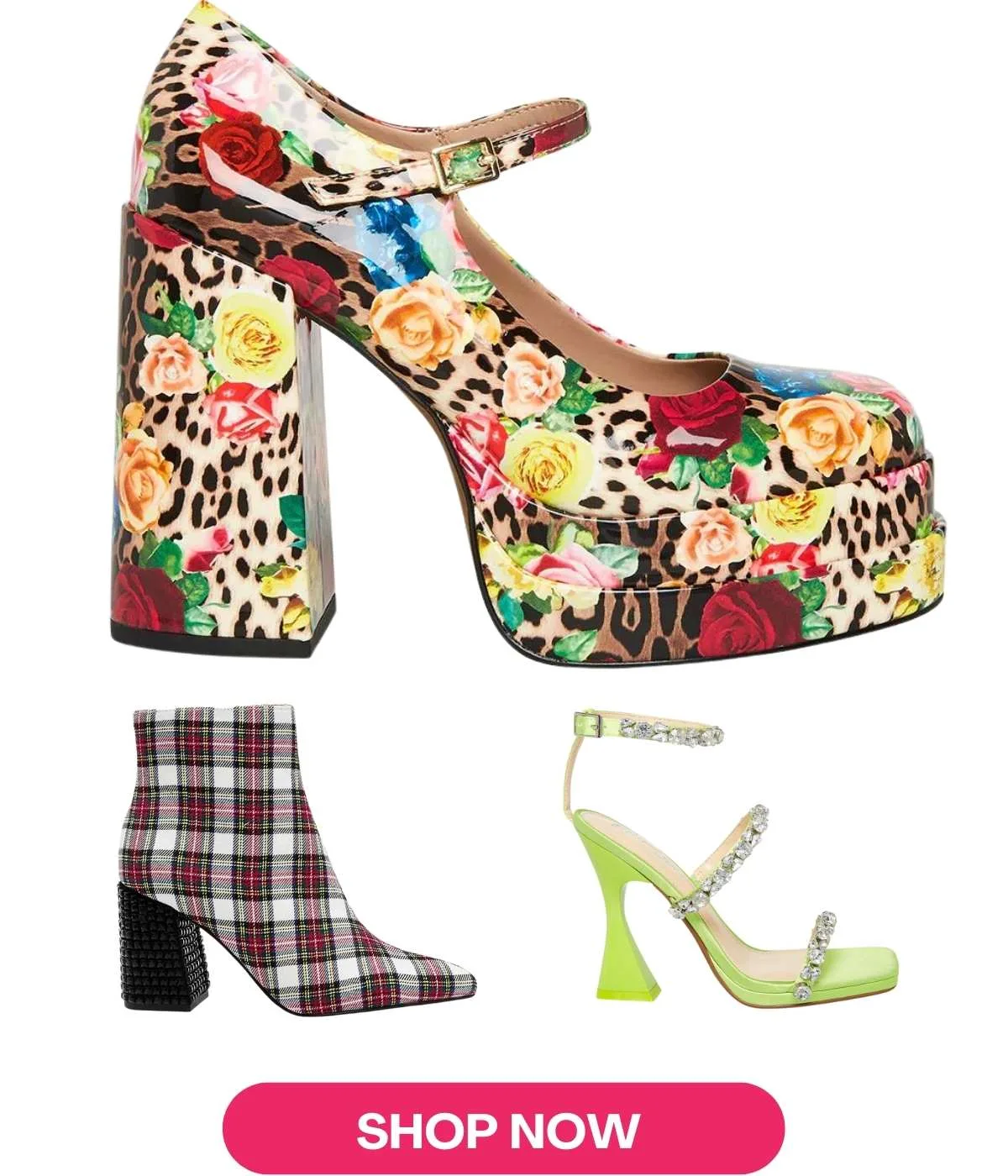 Betsey Johnson has been designing unique, original clothes since the 1960s. She is known for her commitment to staying true to herself and her unique vision and style.
Betsey's trademark look consists of se xy silhouettes, hippie-inspired flowing fabrics, whimsical detailing and bursts of color.
The current collections sees lots of flirty florals, sparkles, rhinestones and her signature plaid. You won't find a minimal pump or simple black bootie here!
Shop Betsey Johnson shoes from: Zappos, Nordstrom and Betsey Johnson
Irregular Choice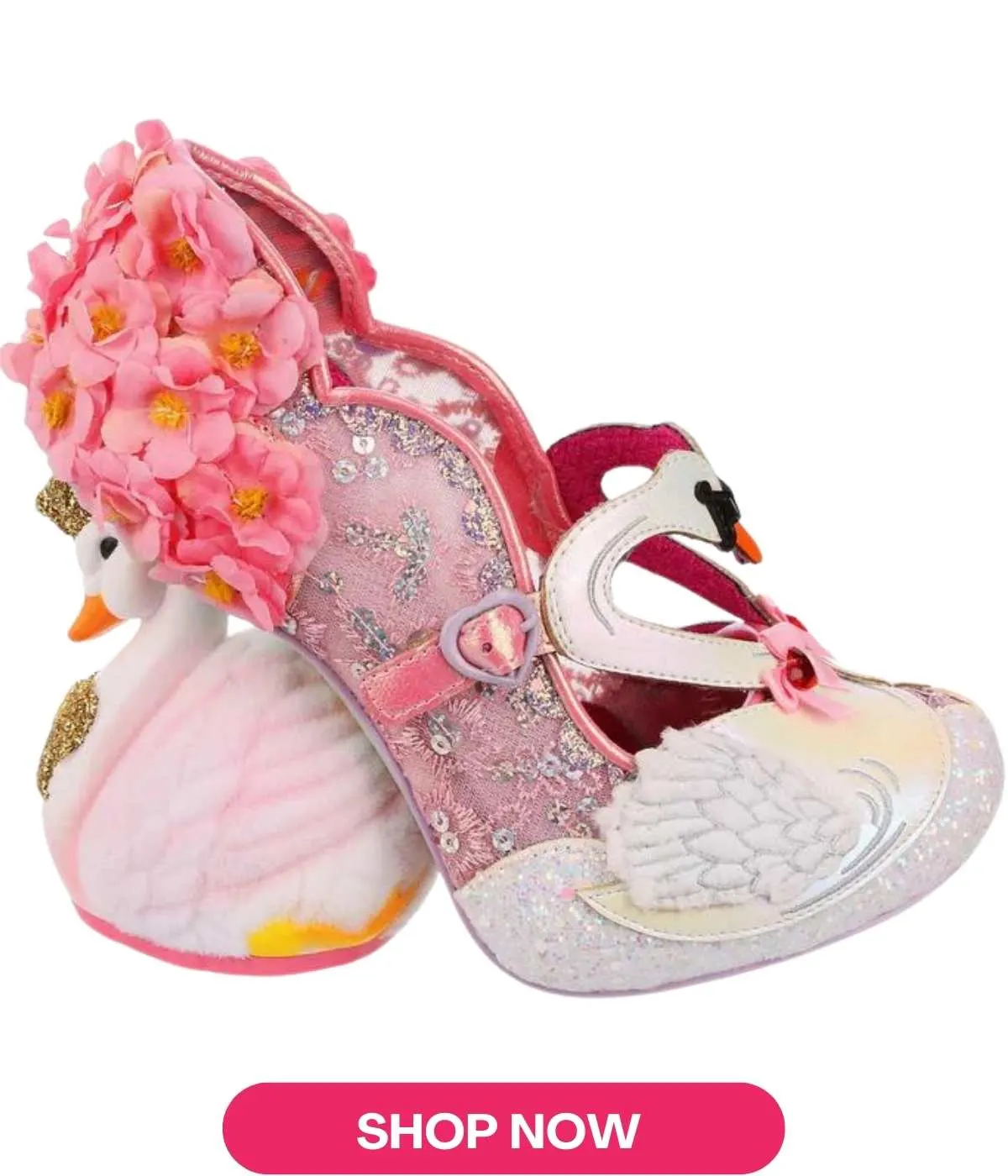 Irregular Choice is a cult favorite for women who love collecting unique shoes. The brand was born from the mind of British-born Dan Sullivan, who grew up on Kings Road in the 1970s during the punk era.
He doesn't let trends or the fashion industry influence his brand, resulting in unique shoe designs. They are known to be unlike any other shoes you will find.
People have different favorite shoes or stories because of how creative they are with their designs and color combinations. Even the outsoles are extraordinary!
With Irregular Choice shoes you'll find lots of use of mixed materials, textured fabrics, brocade and glitter. Including, of course, their unique concept heel designs that are literal works of art!
Most styles include curved heeled pumps and booties, but they also make sandals and sneakers.
I own a few pairs myself and they are absolutely quirky and fun. Check out my Hula girl heels, which are my favorite!
Shop from Amazon, direct from Irregular Choice, and smaller boutiques that carry unique women's shoes.
Sophia Webster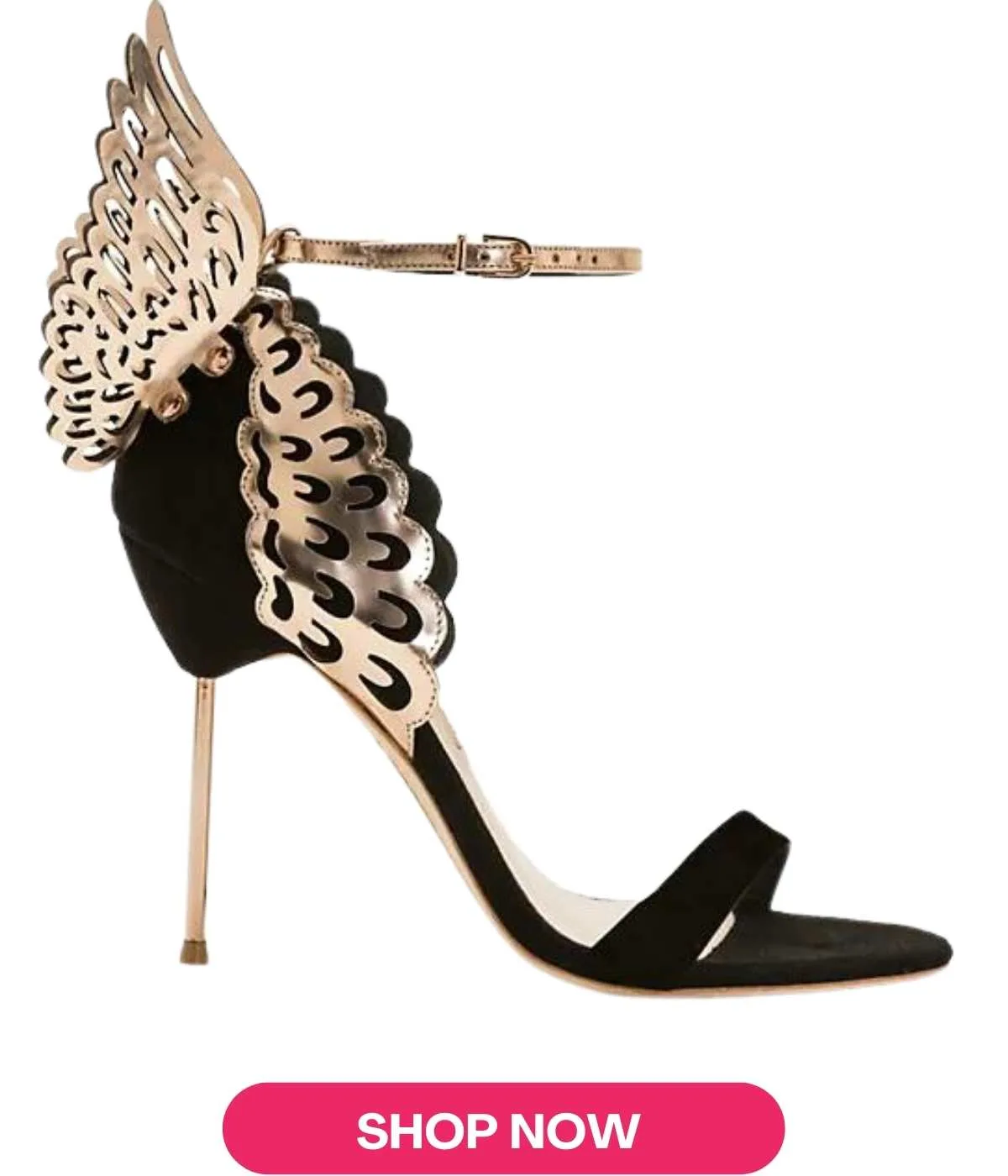 When I think of Sophia Webster shoes, I think of girly, quirky, fun, glittery shoes with lots of pink. Oh, and butterflies!
Sophia founded her namesake brand in 2012 with refined heels and flats with unique embellishments, including butterflies, which she is still known for today.
Sophia Webster shoes focus on many bridal heels and mommy and me shoes!
Shop Sophia Webster shoes from: Saks Fifth Avenue, SSENSE and Yoox
Chie Mihara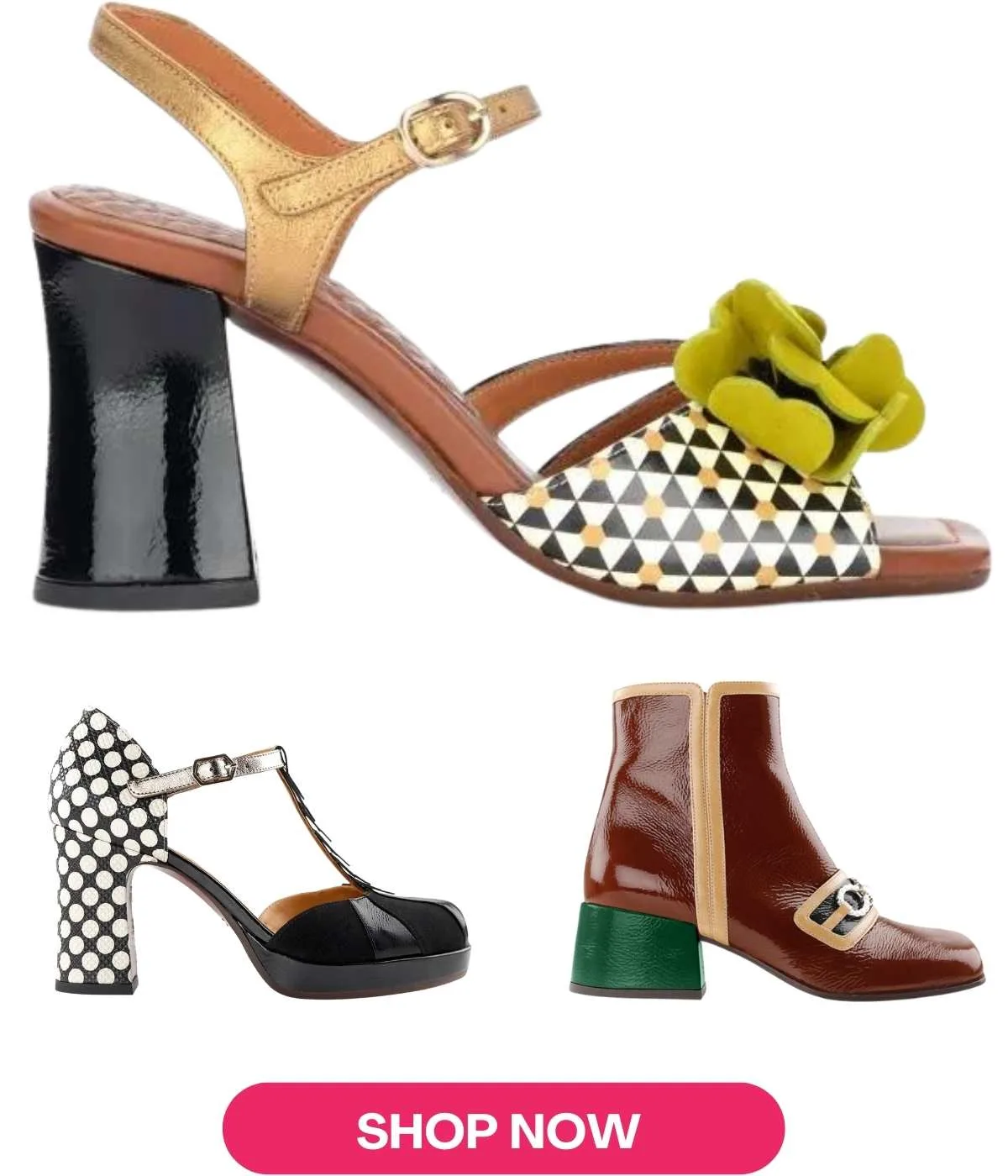 Chie Mihara primarily designs shoes, with a handful of handbags. Her designs are not for fleeting trends or fashion runways, as the designer is inspired by very personal things in her life vs trends.
Chie Mihara experiments with materials, cuts, proportions, and shapes to develop new designs. Her shoes don't refer to past or current fashion, but have their own entity.
As a Chie Mihara shoe fan for years, her signature look is hard to miss, albeit continually updated with new prints and colors. The made in Alicante, Portugal the shoe quality is exceptionally high and as is the comfort level! The shoes, although unique, are easily wearable in everyday life and will last a very long time!
Shop Chie Mihara Shoes from: Neiman Marcus, Nordstrom and Yoox
Jeffrey Campbell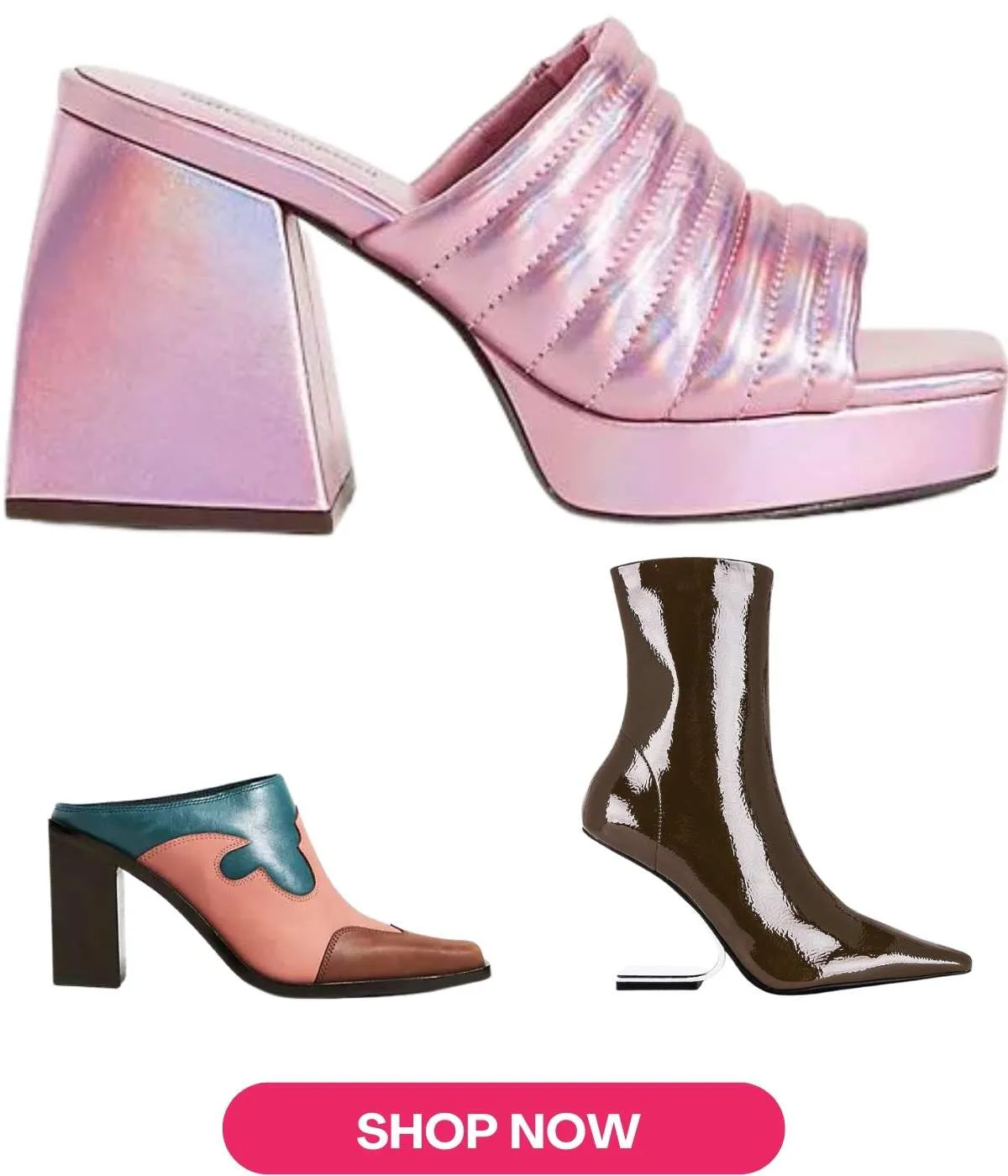 Jeffrey Campbell was started by Jeffrey and his wife in the year 2000 in LA. He designs contemporary shoes that pushes the boundaries of style.
The shoe label is likely most known for its ever-popular Lita platform ankle boot. Jeffrey Cambell creates both quirky and bold shoes at a more accessible price point.
You will see many platforms, interesting heel construction, fringe details and colorful cowboy boots.
The brand tends to copy many of the unique shoes for women designed by high end brands listed in this post!
Shop Jeffrey Campbell shoes from: Anthropologie, Free People, Revolve and Nordstrom
Amina Muaddi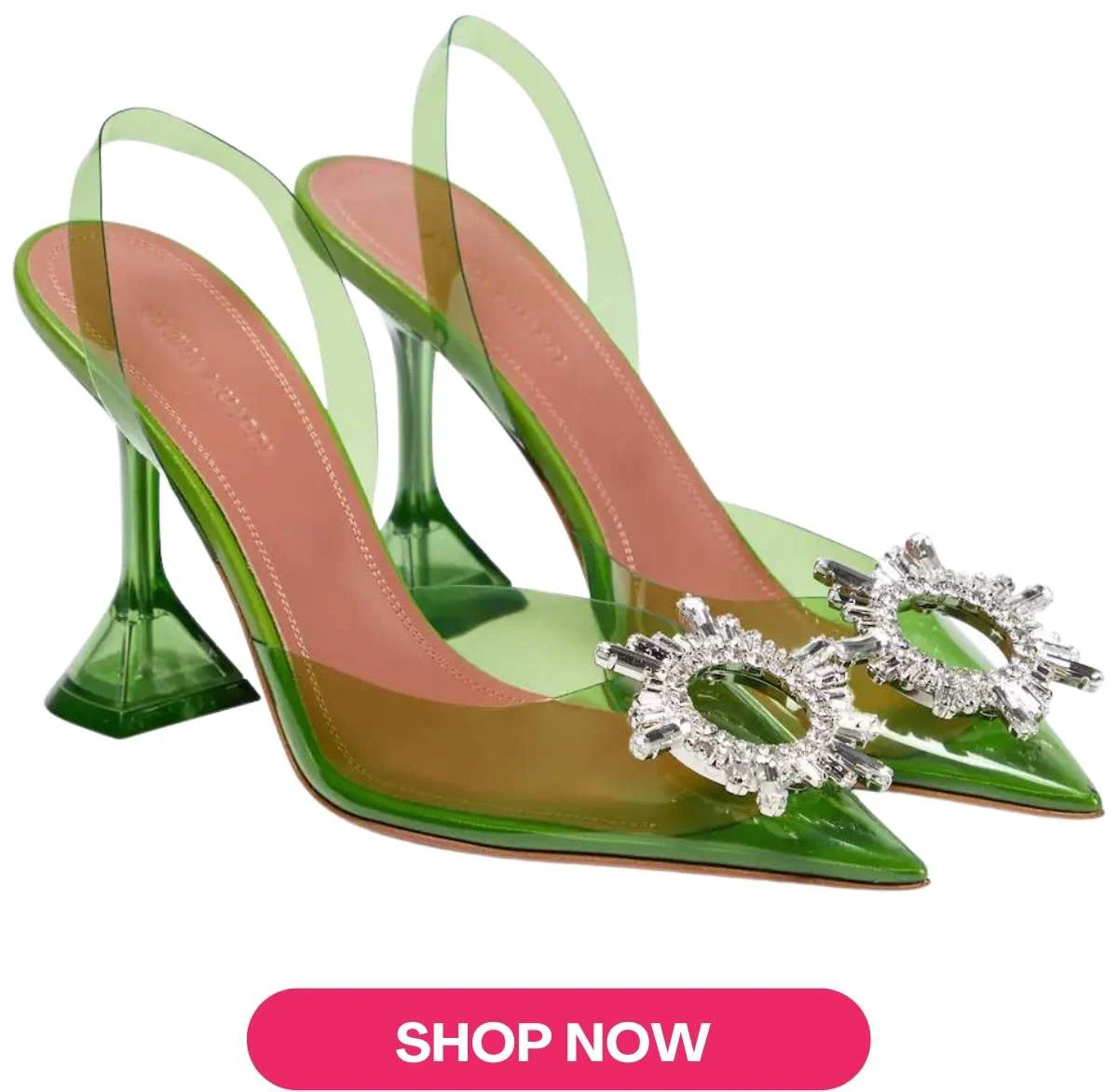 Amina Muaddi is known for her girly, yet modern unique high heel shoes are a celebrity and influencer favorite. Her colorful clear shoe designs, geometric heel tips, and sparkly bow and crystal detailing are most notable.
She gained lots of traction in 2020 in particular and the shoe designs were a breath of fresh air from what seemed like a stale creative output from conventional high end shoe designers.
Muaddi's designs have set trends with their refined, upscale look. They have propelled many copies by other designers such as Jeffrey Campbell and fast fashion brands.
Shop Amina Muaddi shoes from: Saks Fifth Avenue, My Theresa, Neiman Marcus, Bergdorf Goodman, Luisa Via Roma
Maison Margiela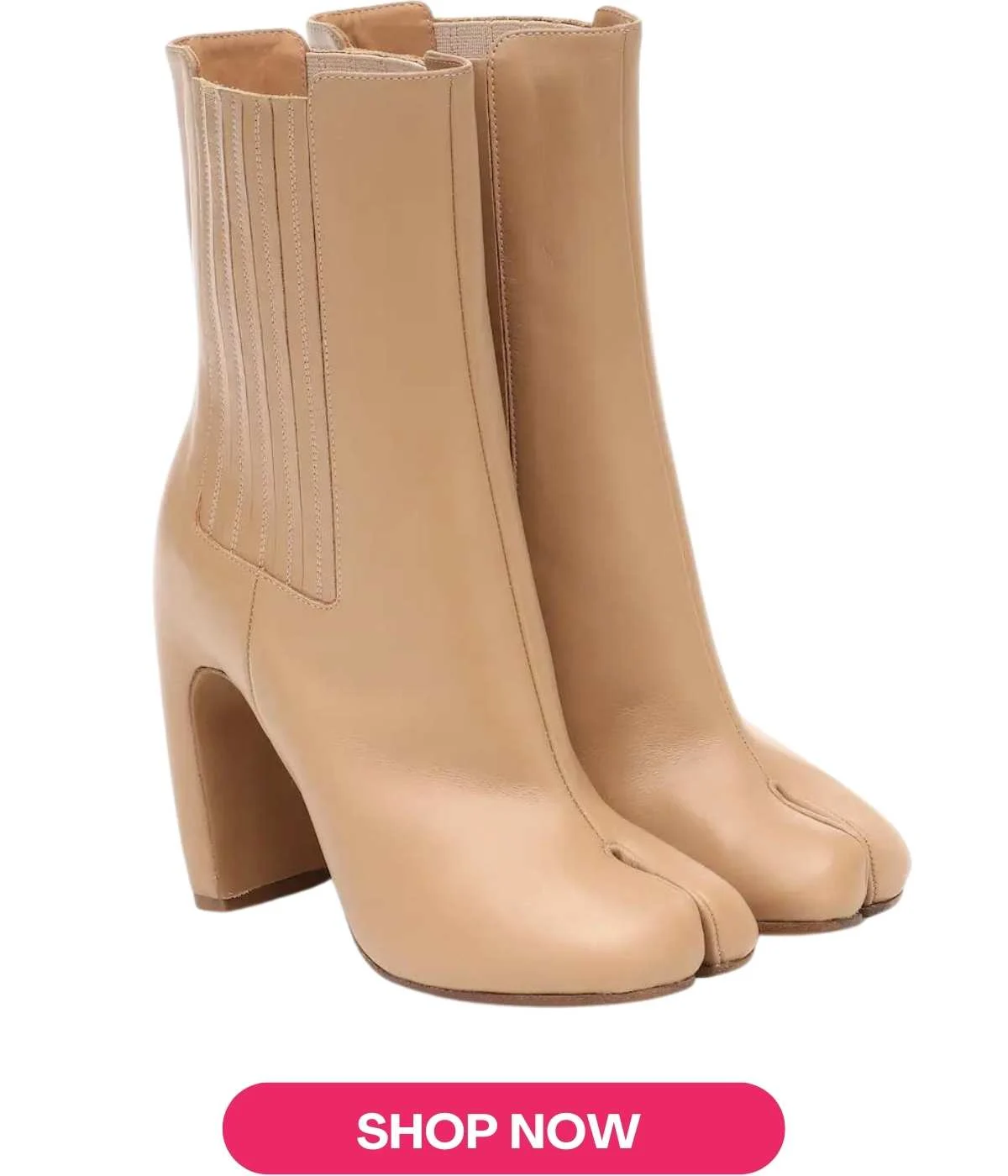 Avant-garde, provocative and unconventional are great words to describe Maison Margiela, especially with regard to their unique shoes!
Maison Margiela is a high end brand known for its unusual and often unsettling runway shows and designs and most recognizable for its forked shoes.
Martin Margiela's love of flea markets, second hand clothes and cheap-yet-stylish, upcycled aesthetic still show through the brand's current collections.
Shop Maison Margiela shoes at: Saks Fifth Avenue, My Theresa, Luisa Via Roma, Bergdorf Goodman
Camper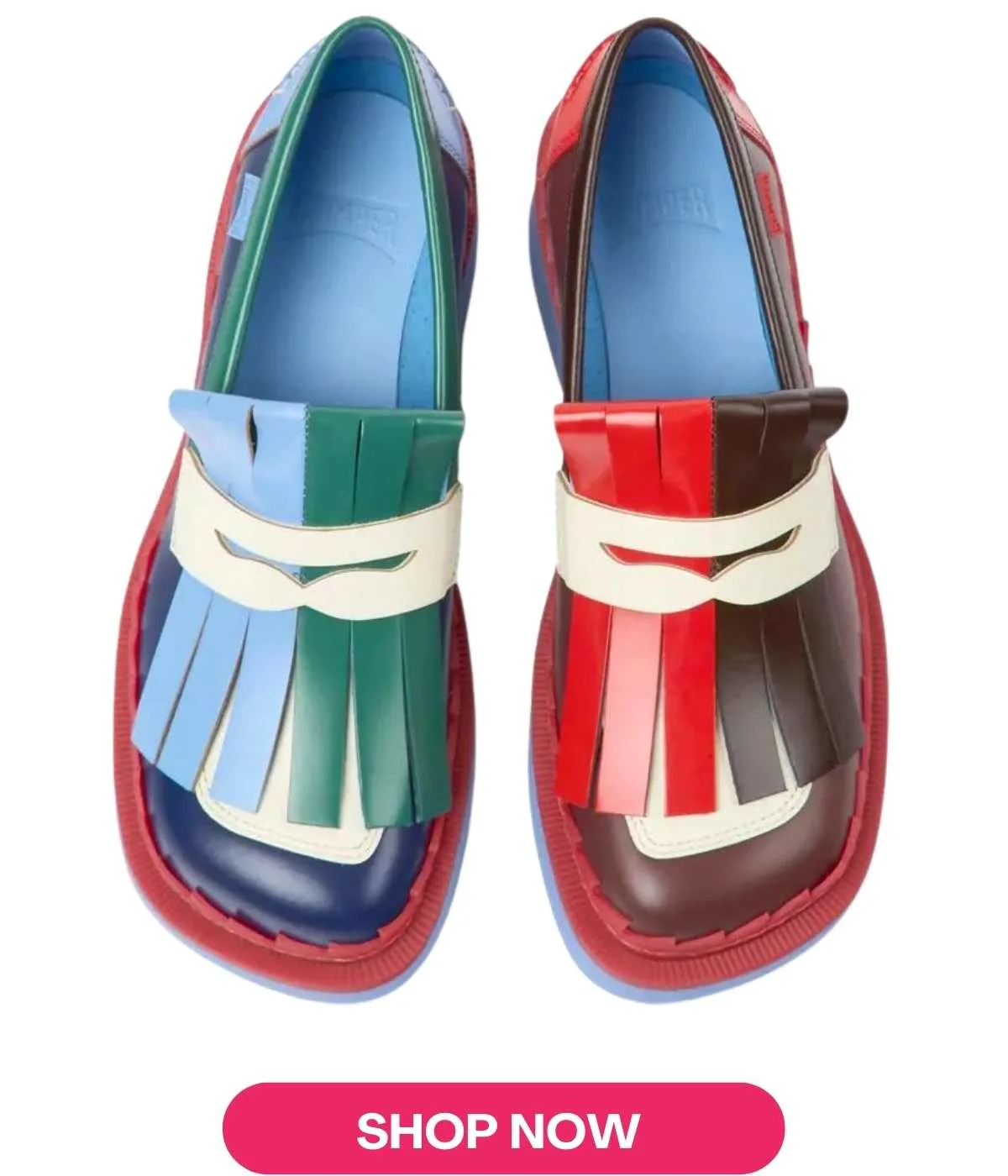 Camper has been around since 1995 and is most known for their bowling ball lace-up shoe aesthetic!
Created in Spain, Camper reinvents itself with each collection, looking past most fashion trends. Instead, they prefer to make original shoes for women and men. There is a ruggedness to even their more minimal sandal with chunkier heels.
The look is more casual, with many thick uppers and heels, rounded silhouettes and almost rubbery-looking shoes. Camper challenges not only trends, but also certain conventions, such as with their "Twins" shoes. These are a series of mismatched but perfectly complementing shoes!
They have now created a series of unique shoes for women in the form of puffy sandals, made of fully recyclable materials.
Shop Camper shoes from: Zappos, Yoox, Nordstrom and Farfetch
United Nude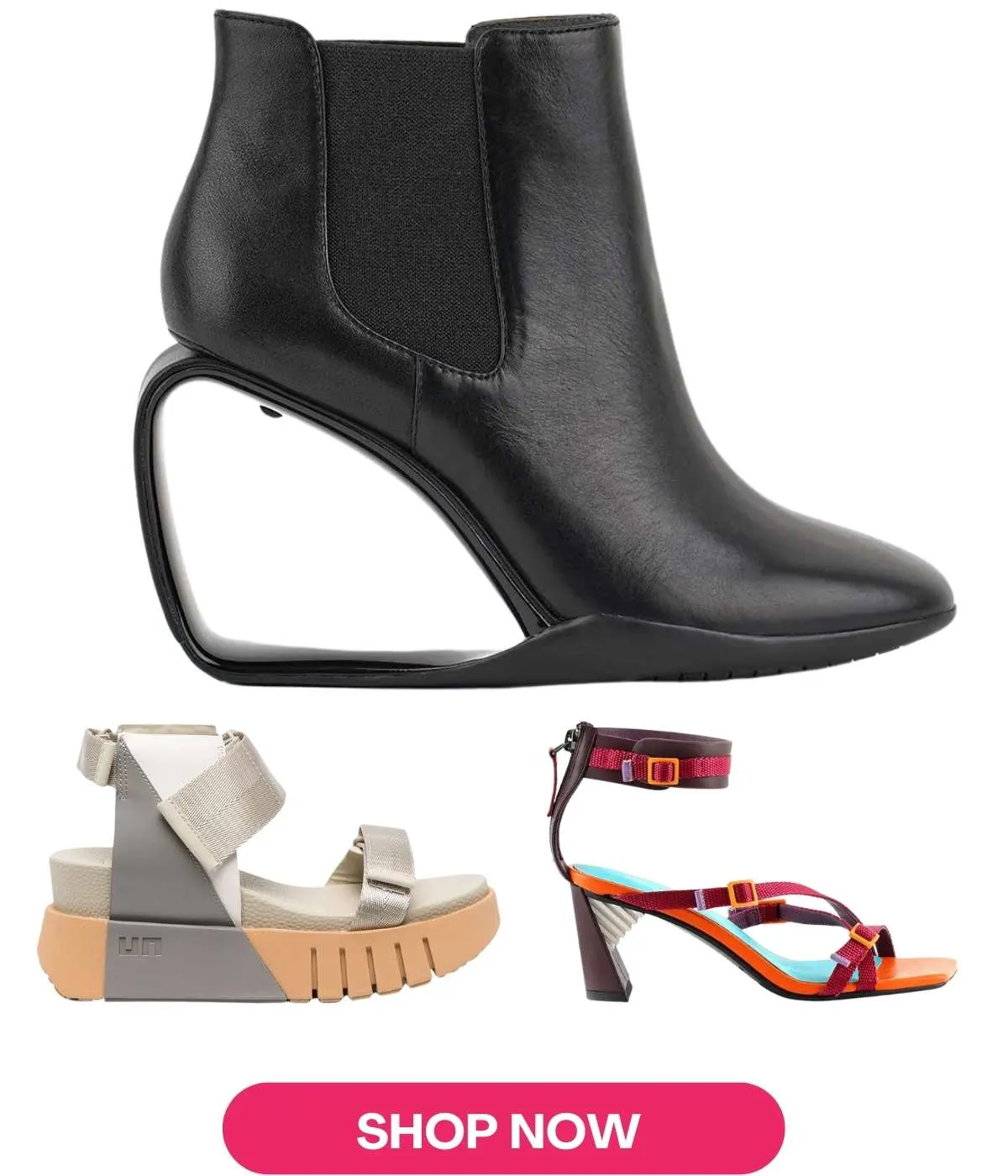 When I think of United Nude, I think of linear, geometric and futuristic as descriptive words. I love their innovative designs which are a pleasure every time they pop up on my social media feeds!
It's no surprise that the concept was devised by architect Rem D. Koolhaas, to fuse architecture and fashion that transcend time and trends.
They have collaborated with other brands, including Iris Van Herpen and Issey Miyake.
Shop United Nude from: Wolf & Badger, YOOX, Farfetch, Nordstrom & United Nude
Butrich Shoes
Handcrafted in Peru, from the intensely creative brain of Jessica Butrich, Butrich shoes combine a retro feel with Latin American panache. The result? Some of the quirkiest shoes for women!
From playful rainbows to bold checkers, glitter prints, stars & sky-high platforms and floral embellishments, Butrich Shoes has all the cuteness and quirk wrapped in fashionable silhouettes.
And from 250-400 USD for the shoes and boots, these could possibly be some of the most affordably priced footwear of its kind. Oh, and she also creates accessories to match your fun shoes!
Shop them direct from Butrich.com
Loewe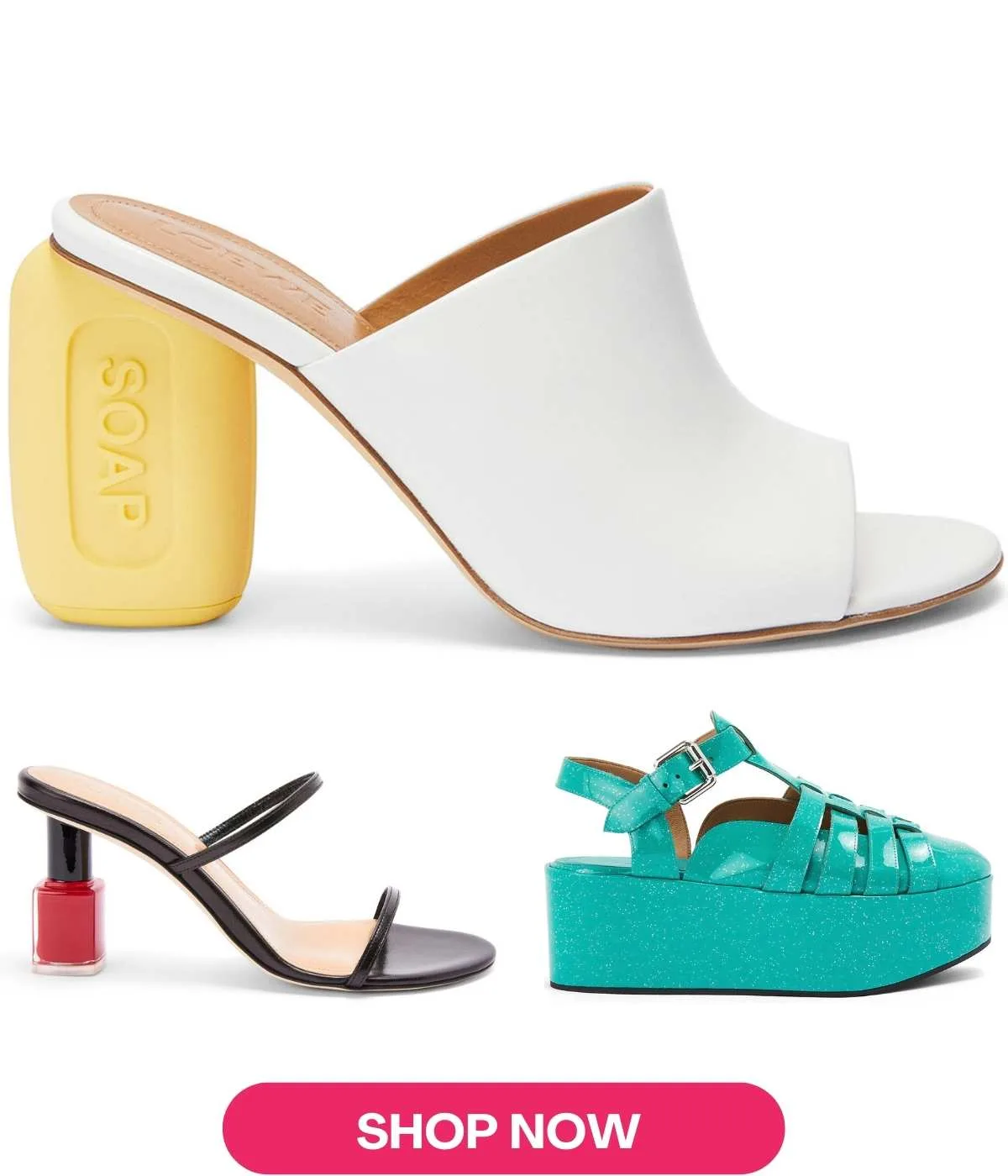 Loewe is one of the oldest luxury fashion houses dating back to 1846. It's a Spanish lifestyle brand that makes everything from clothing, perfume, leather goods and clothing & accessories. And yes, shoes!
Their current collection focuses on statement heels in the shape of roses, nail polish bottles, soap bars and even a cracked egg!
Their sneakers, although tamer, have a fun statement swirl logo on the side with some neon pops.
You'll also find oversize slippers and sky-high platforms that are all the rage this season!
Shop Loewe Women's shoes from: Saks Fifth Avenue, My Theresa, Bergdorf Goodman, SSENSE
Shoe Bakery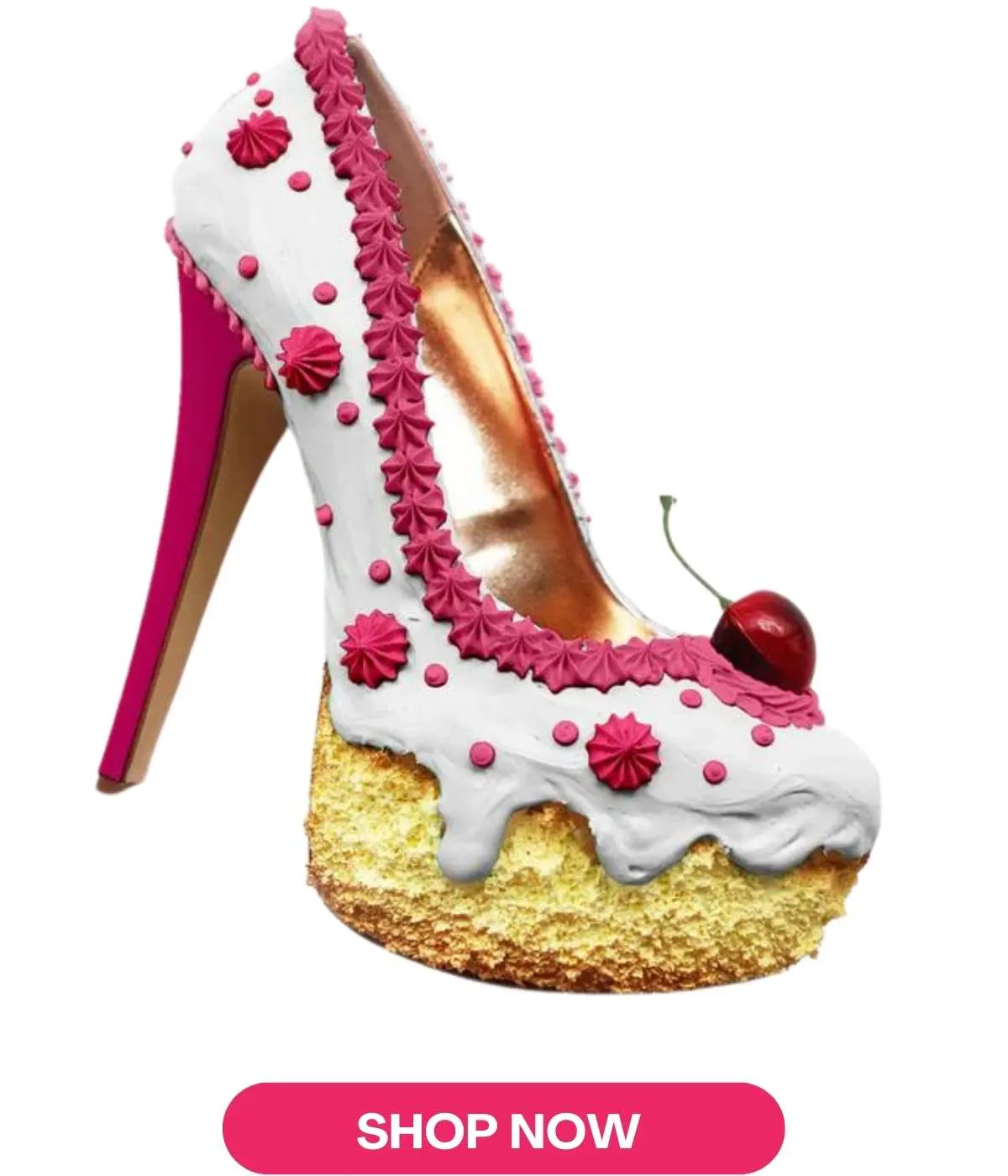 I've written an entire blog post on these cake shoes, but if unique shoes are what you're going for, these are IT! Their stunning and realistic textured cake and ice-cream shoes are literal works of art.
The company has since expanded to include purses, towels, tees and fully customizable shoes & branded sneakers!
Shop all the designs at Shoebakery.com
Nodaleto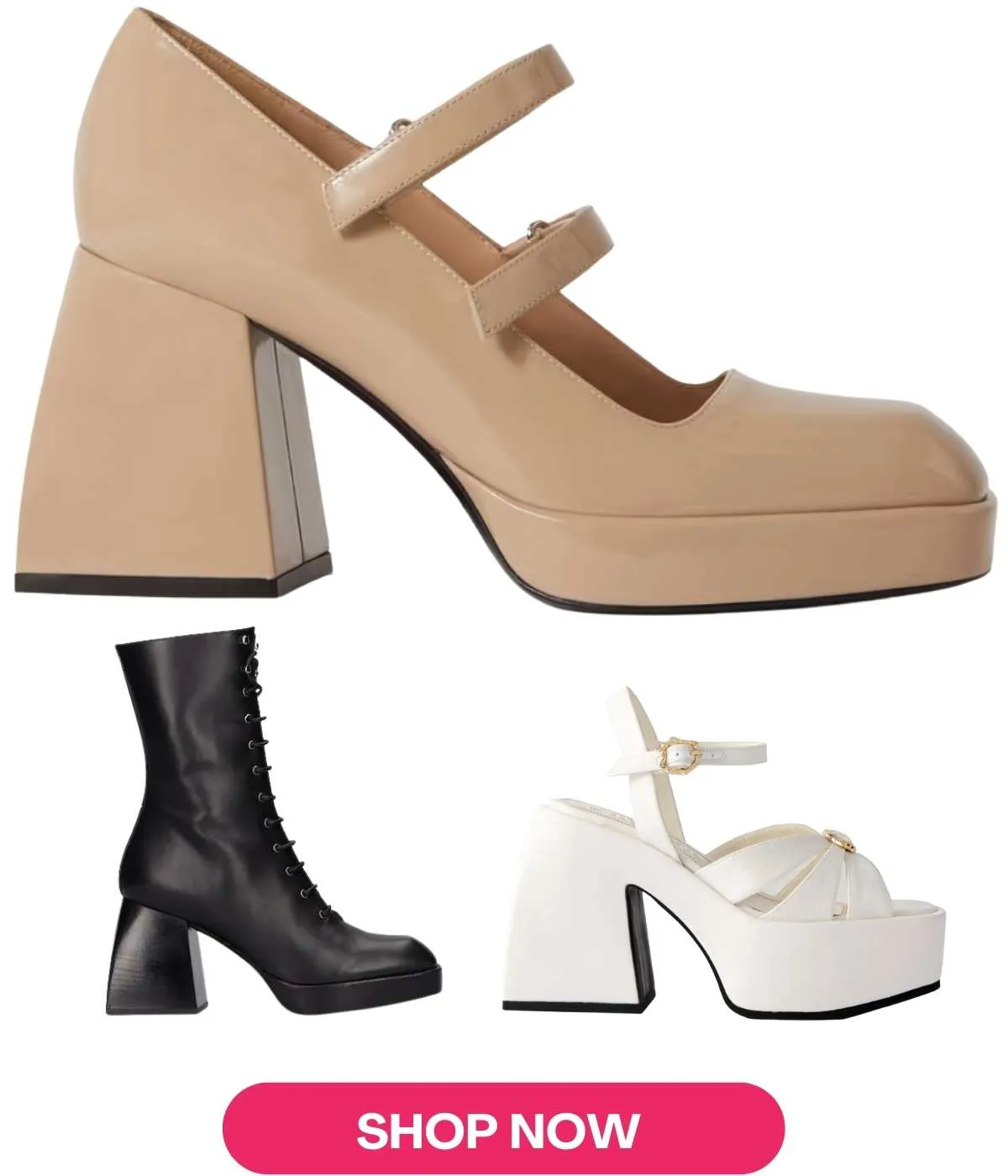 Nodaleto perfectly describes its aesthetic in these few words: "For some, '70s. For some, 90's. For some, girly. For some, daring. For some, chunky. For some, too high."
Designed by Julia Toledano, Nodaleto strictly focuses on women's shoes, which are manufactured in italy with high end materials and craftsmanship.
The lines, colors and materials are minimal, yet the platforms and extra chunky heels are not.
Like most brands creating unique shoes for women, Nodaleto's designs are meant to be timeless.
The brand is inspired by Warhol's Factory Pop eta, the LA art scene and Brutalist Japanese architecture aesthetic.
Shop Nodaleto shoes from: Farfetch, Bergdorf Goodman, Net-A-Porter, Yoox
Special Mention: Charlotte Olympia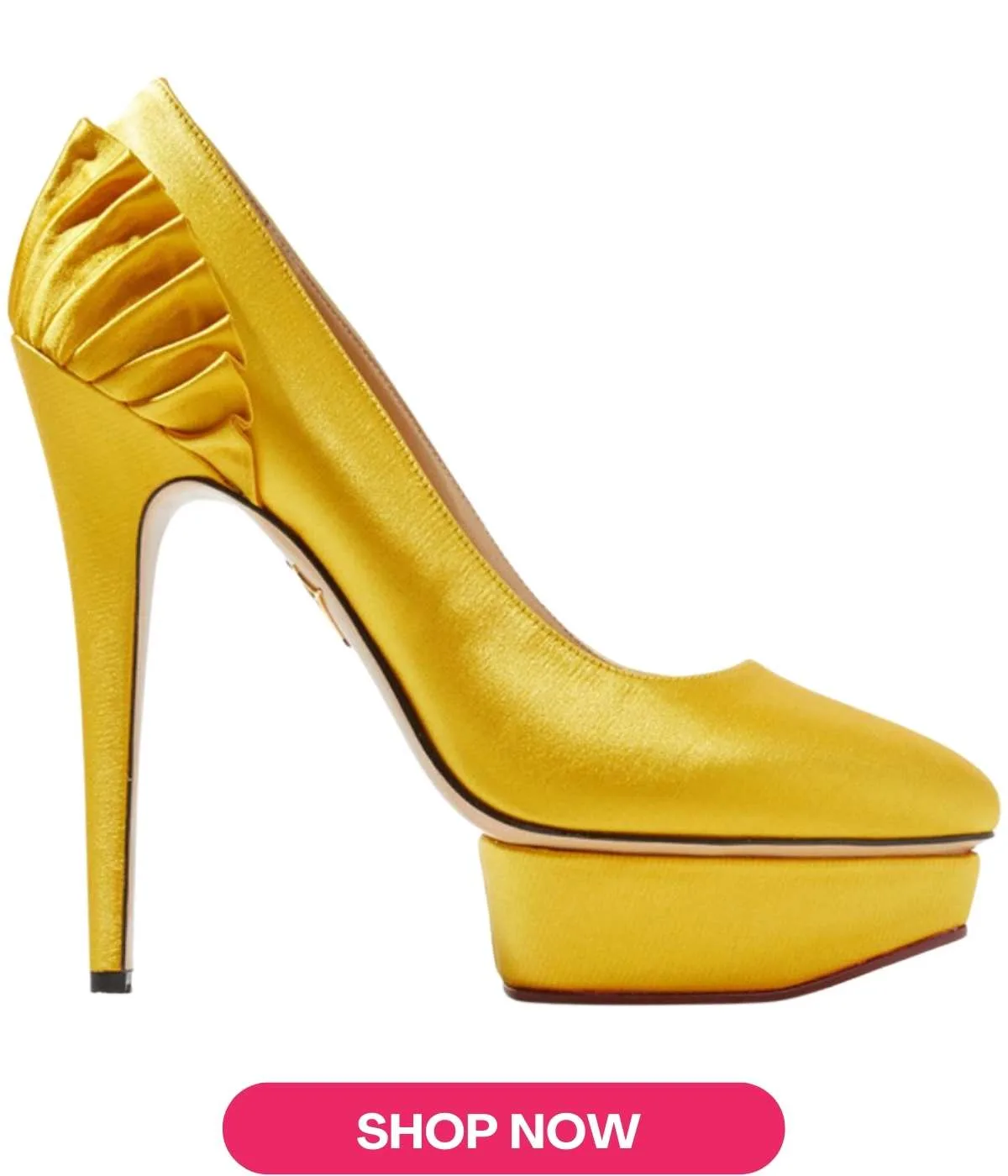 Created by Charlotte Olympia Dellal, the brand is heavily influenced by classic Hollywood glamour, movie stars & pin-up girls from the 1940s and 50s.
She creates fun, and humorous footwear that is both feminine and luxurious. Her line is known for her Kitty flats for both women and girls and incredibly high platforms, that can still be purchased today.
Sadly the company closed all of its stores in 2018. However, you can still find quirky shoes and handbags from Charlotte Olympia at certain e-shops and discount luxury retailers such as The Outnet, Yoox and Farfetch.
Online Retailers for Unique Shoes for Women:
Final Thoughts About Unique Shoes for Women: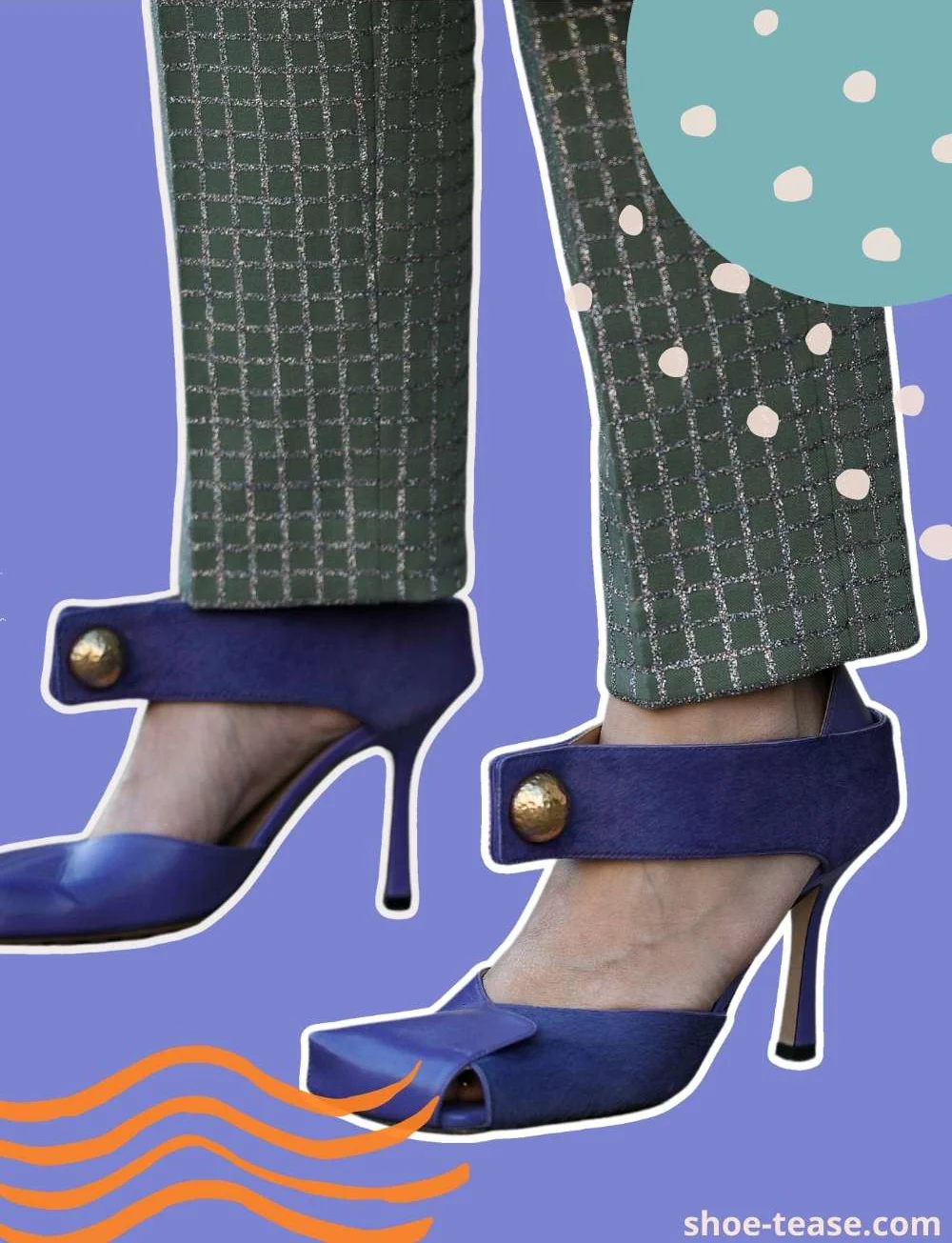 If you're in the market for a new pair of shoes, I hope you found my list of quirky and unique shoe brands helpful. And inspiring!
I had so much fun putting together these unique shoe brands and I think you'll love the quirkiness of their shoes.
So what are you waiting for? Start perusing these amazing shoe brands and get ready to add some new (and uniquely stylish) shoes to your wardrobe!
xo ShoeTease
Cristina is the chief editor, fashion & shoe expert here at ShoeTease. As a seasoned stylist and women's fashion & shoe designer, she boasts over 20 years of experience in the fashion industry. She loves crafting effortless outfits for ladies both online and off and believes that styling advice should be accessible to everyone. Whether you're a styling pro or just starting out, Cristina's here to guide you on your fashion journey! Learn more.