Welcome to my Kamik Jennifer rain boots review. The pretties black matte rain boots with flair. In my eye, they're the rain boot equivalent of matte black luxury vehicles!
The great thing about having a pair of matte black rain boots is that you can style them any way you like. Sooo many options here.
If you're looking for edgy, opt for a head-to-toe black look. Leather or leather looking jackets are advised 😉
Or you can inject some color (mustard is a fave summer hue!), adding a colorful umbrella & rainbow nails to complete a more playful look!
You can shop Kamik from their website or a ton of styles at Zappos and from Nordstrom.
RELATED POSTS:
Kamik Jennifer Rain Boots Review – Matte Black

Black Matte Rain Boots: Kamik Jennifer style, Dress: Zara (Spring 2019), Jacket & Umbrella: GAP (old), Purse: Ever New, Watch: Daniel Wellington
---

I own what seems like an infinite amount of ankle rain boots, like these black & white ones from Cougar, but am definitely lacking in terms of a more practical option when it really pours outside.
You know, to protect my clothing/legs from getting soggy. I mean, I haven't had a tall splash-proof pair since these silver Hunter rain boots (aka my "space boots").
Fun, but a little too out there for my everyday Spring showers wear. Also, had I not gotten them at a discount store, are 2x the price of the equally amazing Kamik Jennifer rain boots. No lie.
Actually, can't forget that I also have these special edition Kamik rain boots too (which are an awesome mid-weather rain boot) but not the best option for Spring since they're winterized.
So needless to say, I'm really excited to incorporate a more school drop-off friendly pair of splish-splashy boots! And so happy I opted for a go-with-everything option. THIS black is definitely not boring!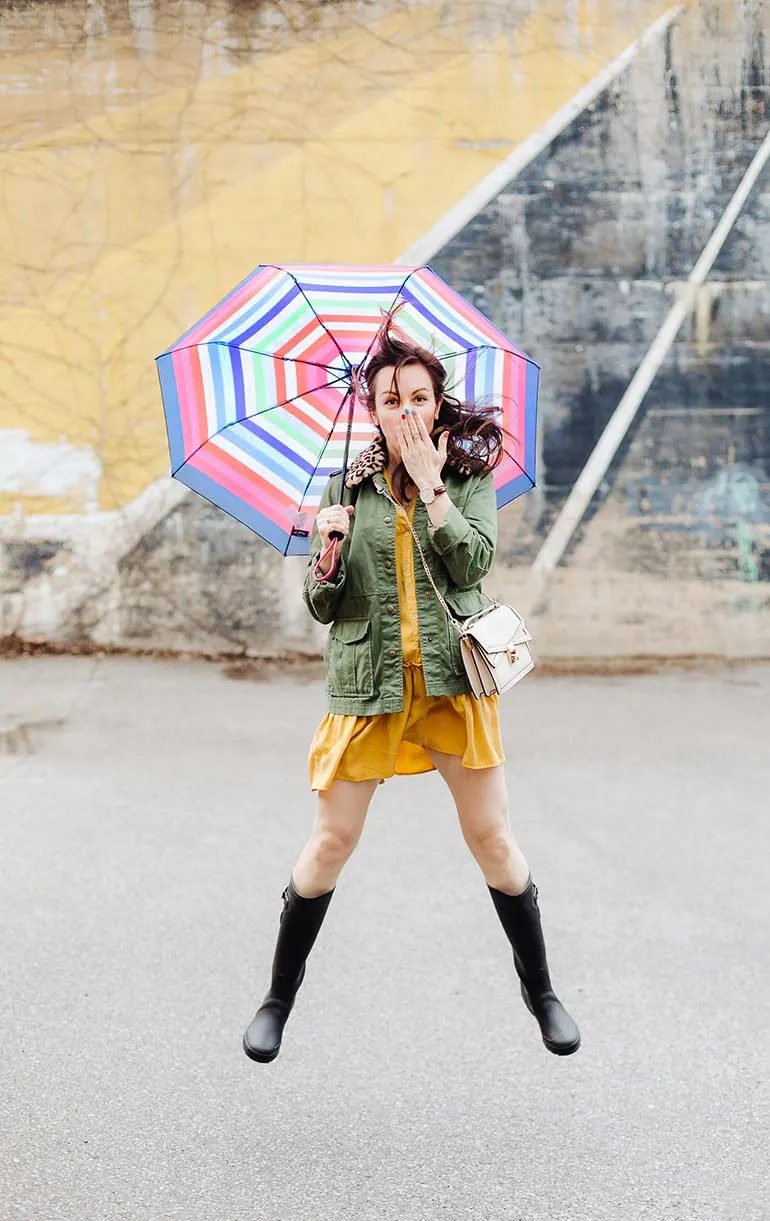 So, in this Kamik rain boots review, I must say that the Jennifer matte black rain boots styles from the Canadian brand are amazing for many reasons. Here are a few:
The Kamik Jennifer rain boots fit narrow, perfect for my small calves & feet
Made of rubber (not plastic!) so they don't reek of toxic chemicals
Made in Canada
Compared to other tall matte black rain boots, they are much more affordable!
Can be recycled (yes!)
Lightweight, but strong & durable
Kamik's Jennifer rain boots come in 6 different colors including grey, mellow yellow & my fave: deep red!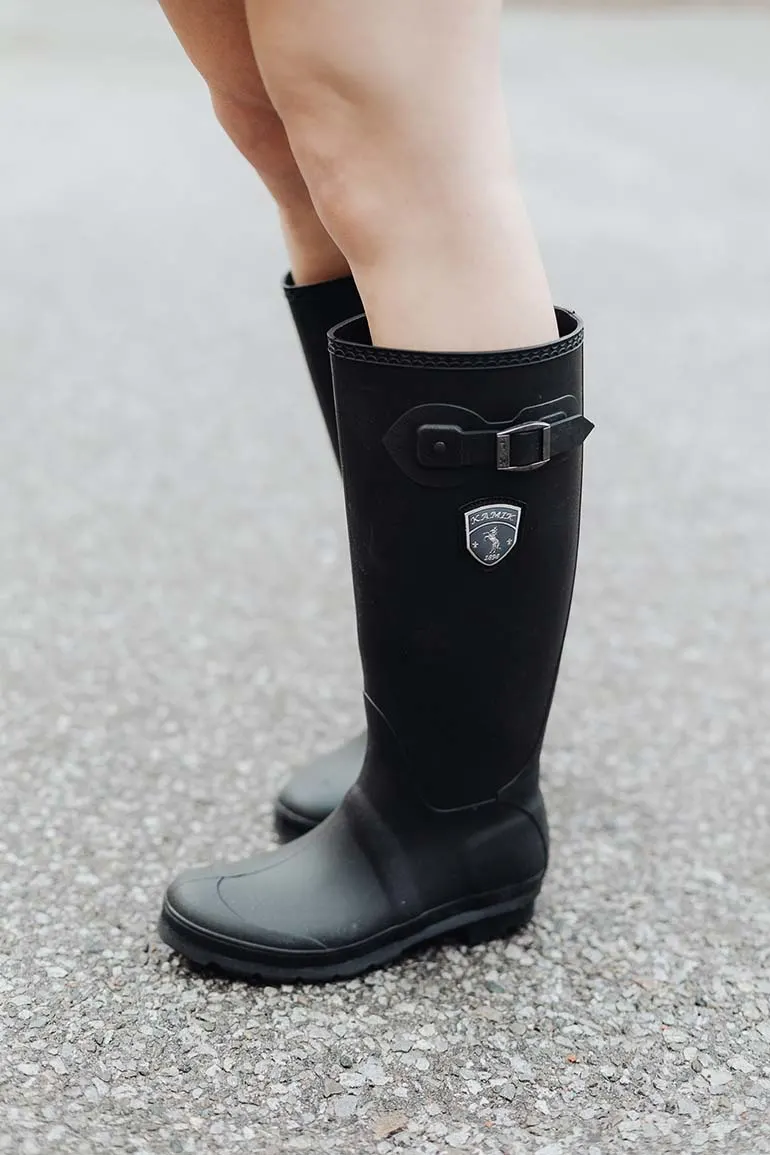 Shop Kamik Jennifer rain boots in all current colors:
These rain boots definitely go one step being simply basic. They're also incredibly chic with their metallic detailing on the buckle & crest.
Whether you wear them to work, out to the park or at your neighborhood music festival, you'll look great!
In terms of fit, the Kamik website does suggest sizing up. I didn't, because my feet are so skinny & my ankles are small.
If you have a regular width calf/foot and/or want to fit a thicker sock in them, I would suggest going bigger.
I would definitely order your regular size if your feet & lower legs are narrow like mine & don't want to feel like your legs are swimming in your boots!
The comfort level is great as well. Of course, keep in mind that these are rain boots & not built for countless miles of walking.
But for rain boots, they fit well & keep me dry and cozy for rainy walks to the supermarket & beyond. The thicker track sole is great too, as the grips can prevent unnecessary slips & falls on & in mud puddles!
What do you think of matte black rain boots? Would you opt for these, or do you prefer a more colorful pair for Spring & Fall? Let me know if you enjoyed this Kamik Jennifer rain boots review, in the comments, below!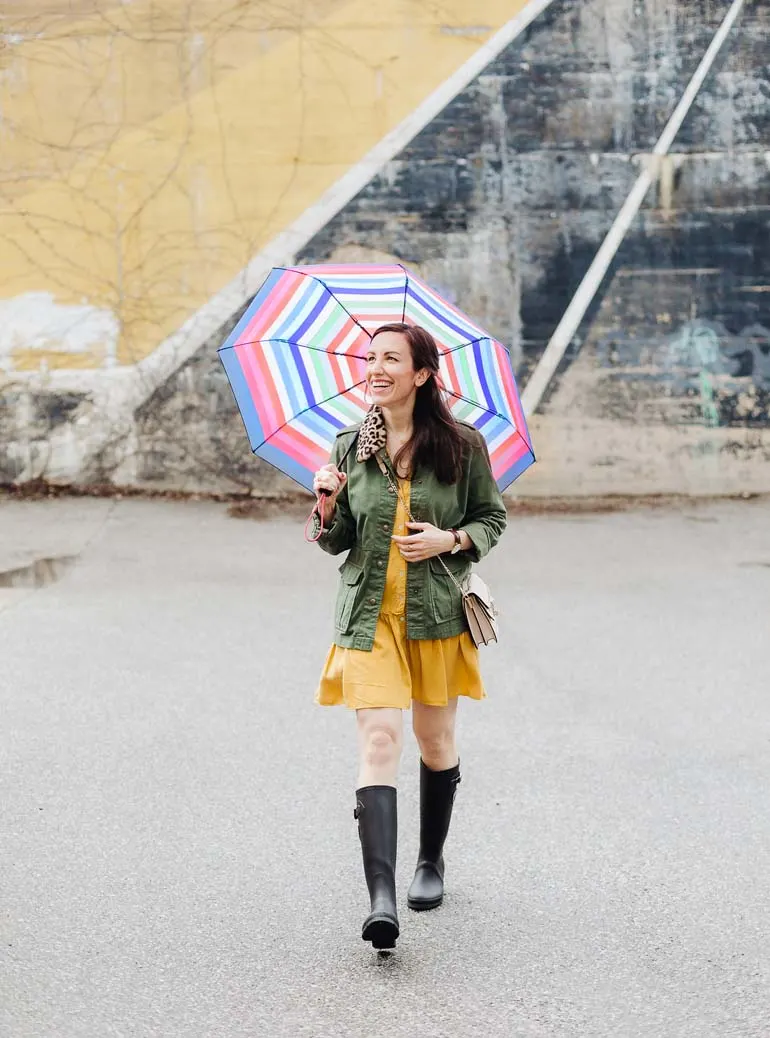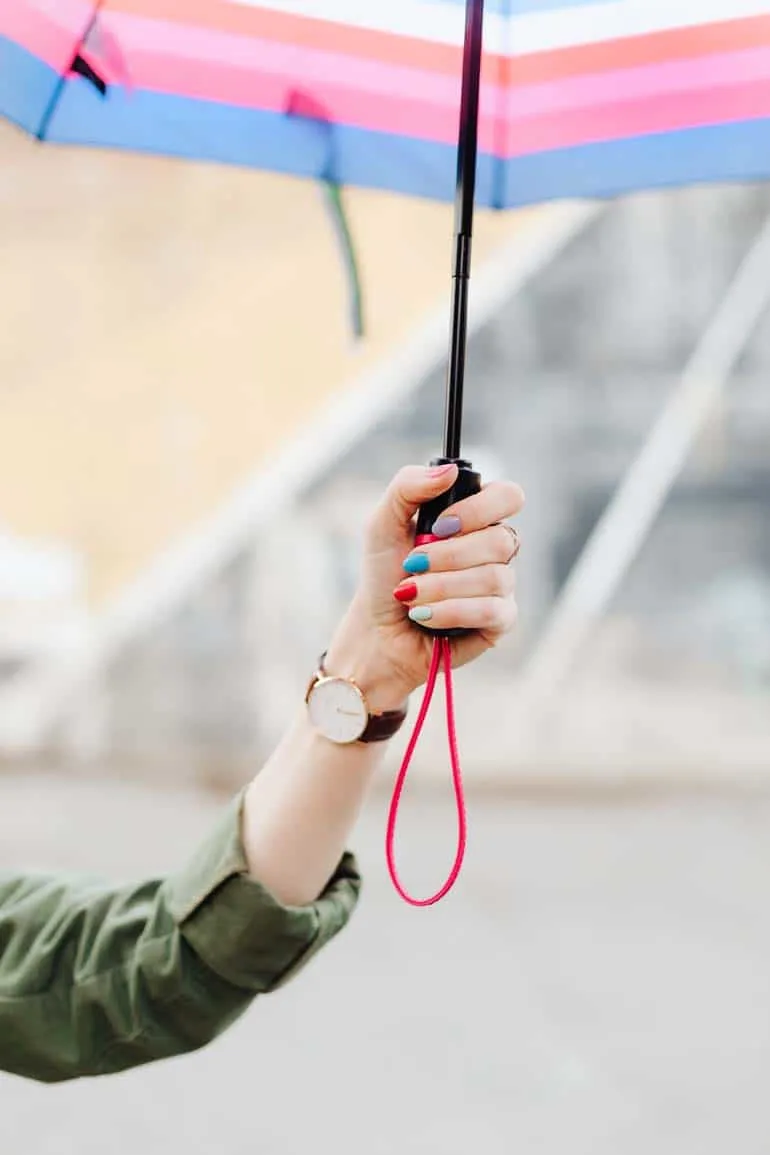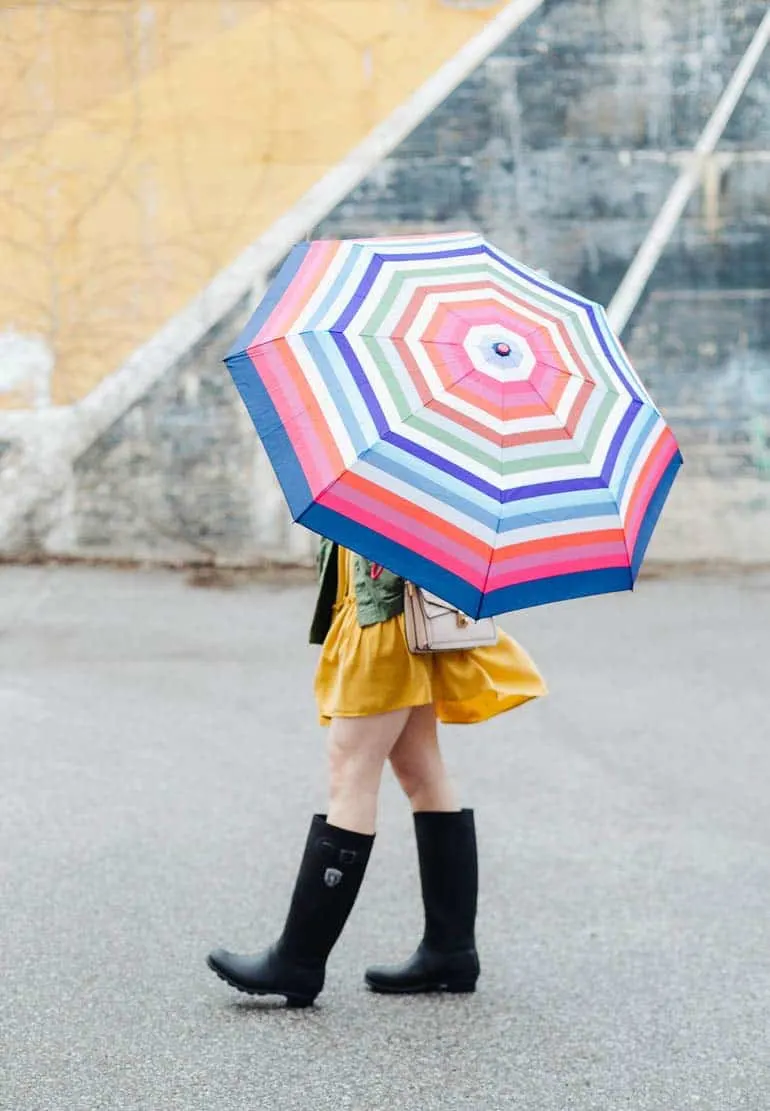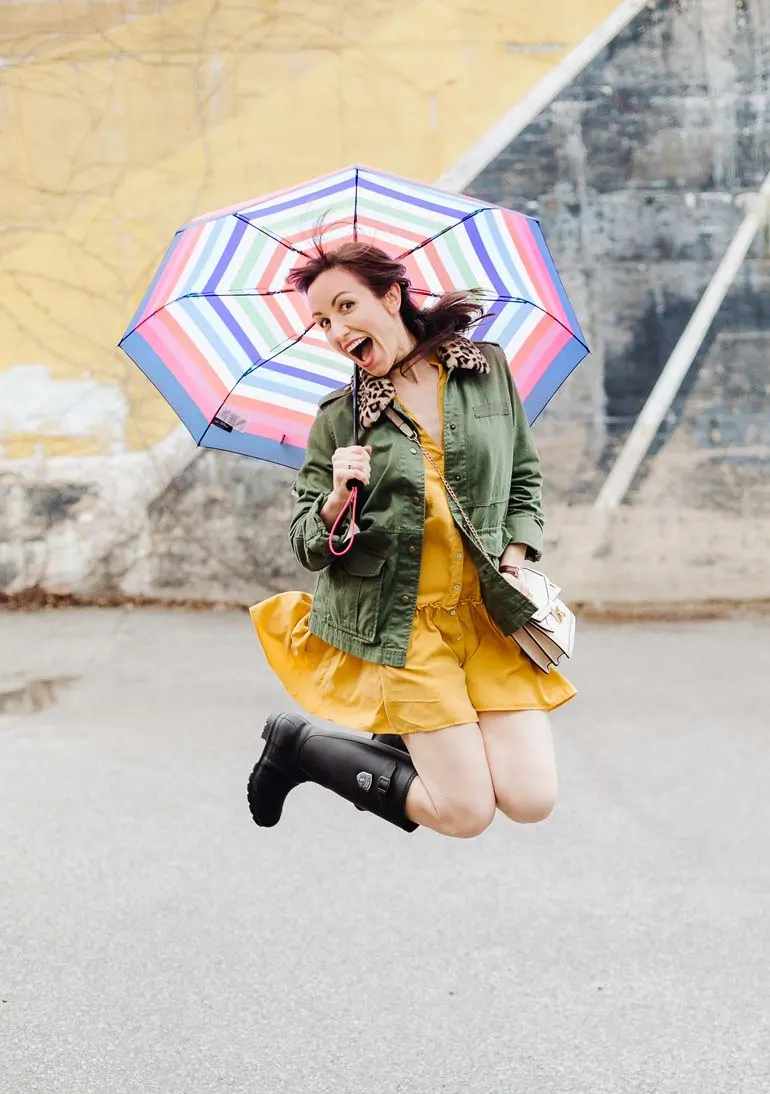 xo ShoeTease