If you want to add a western vibe to your outfit, cowboy boots are a surefire way to do it. But how to wear cowboy boots, you ask? No fret! Shoe-tease.com is here to answer all your cowboy boots outfit styling questions!
Cowboy boots outfits for women are having their moment in fashion right now. Whether ankle height or tall, one of the best parts about wearing cowboy boots is that they're shoes that go with everything.
From how to wear cowboy boots with jeans to the best dresses to wear, I've got you covered. Kinda literally 😉 Of course, there's no one proper way to way cowboy boots, making it both fun and often confusing.
Today, you'll learn everything you need to know about how to wear cowboy boots outfits. From elevated to laid-back casual outfits, you'll find a cowboy boots outfit combo to suit your vibe!
I'll also include practical advice on what cowboy boot brands and styles – both bohemian and street-style savvy – to make the most out of your western-inspired look!
How to Wear Cowboy Boots Outfits (for Women)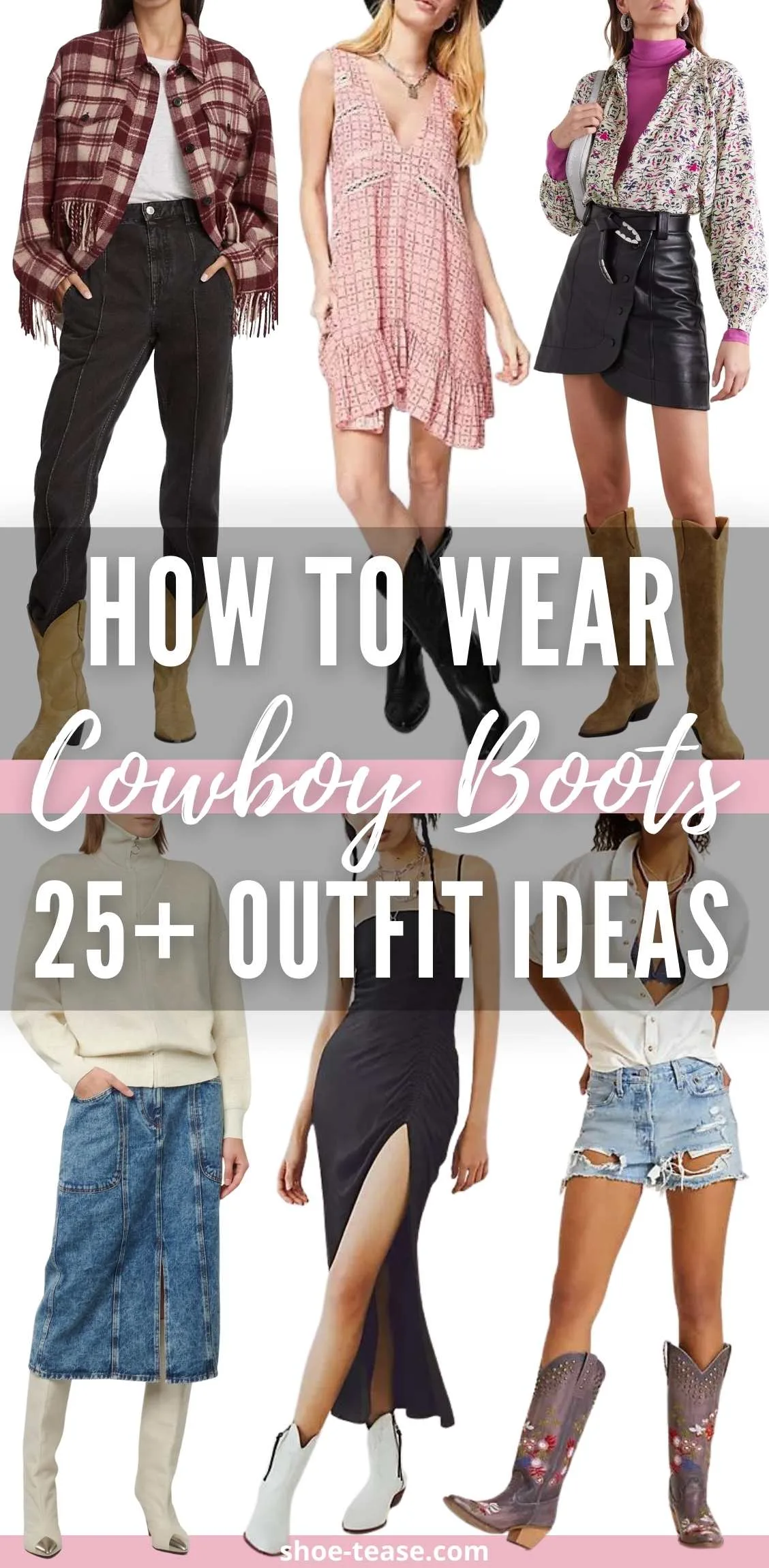 Cowboy Boots with Jeans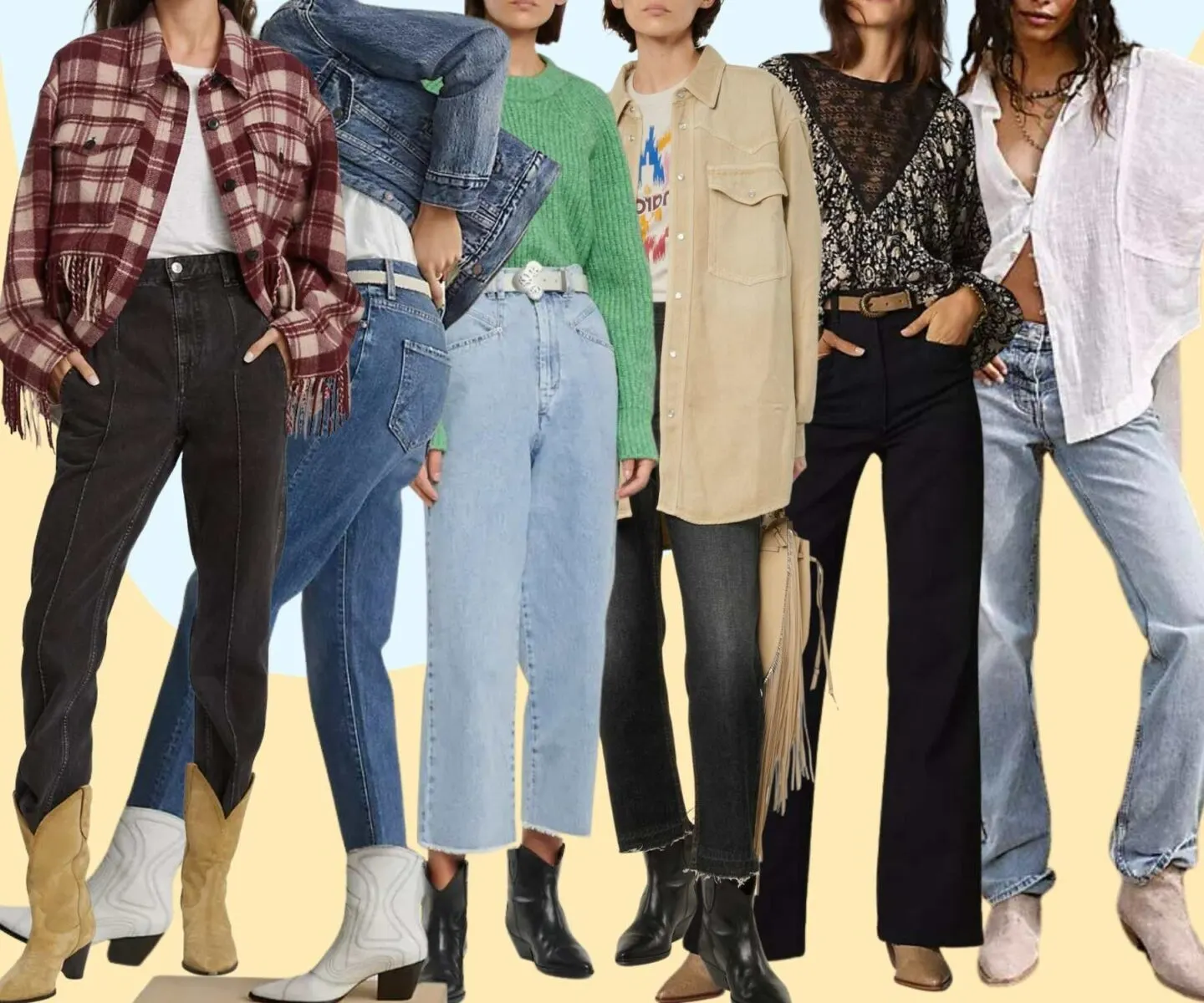 One of the most popular ways to wear cowboy boots is with your favorite pair of jeans. However, if you want to take it up a notch and dress them up a little more, there are some simple tips that will help you step up your game and elevate the style factor.
The best jeans for cowboy boots are many, and these don't only include flare jeans and bell bottoms!
How to Wear Cowboy Boots with Jeans
Skinny Jeans
Skinnies are some of the best jeans to wear with cowboy boots because they fit into your boots effortlessly and or you can roll them up to show a little skin between them & a pair of western ankle boots.
Pair them in winter or summer with any type of cowboy boot. Add a high waisted pair of skinny jeans, tucking in a fitted tank, classic tee, or blouse. Layer over a cardigan, light jacket or trench. A western belt will can add some cowgirl flare.
For more elevated outfits, choose a pair of black skinny jeans, a bodysuit and layer over a dark or white blazer. Choose a pair of ankle cowboy boots in black or metallic hue.
Straight leg jeans
Similar to skinny jeans, straight leg jeans make great jeans for cowboy boots and are the current trending favorite to pair with western boots. The looser fit will add some volume to your look, but they tuck well in the boots if the jeans are long enough.
I love straight leg jeans with a jean jacket over a simple neutral or rocker tee. Trust me, double denim is fun with cowboy boots outfits! A basic black, white or colorful cowboy boot work best for this combo.
Wide leg jeans
Wide leg jeans may not be the first choice with cowboy boots but the cropped version of these jeans are popular with ankle height western boots.
If the style is longer, you can easily wear any cowboy boot under them, leaving only the heel and toe peeking out to give a minimal dose of yee-haw vibes!
You can opt for a baggy shirt of sweater tucked into the jeans or keep things basic with a white tee.
Flared or Bootcut Jeans
Flares or bootcut jeans outfits with cowboy boots will most definitely make the outfit very western! If your flare jeans are cropped, any height cowboy boots can fit under, so choose the style you like best.
Play this combo up with a boho vibe by layer over a fringe jacket to a shirt or tee, and/or adding a western buckle belt.
Cowboy Boots with Dresses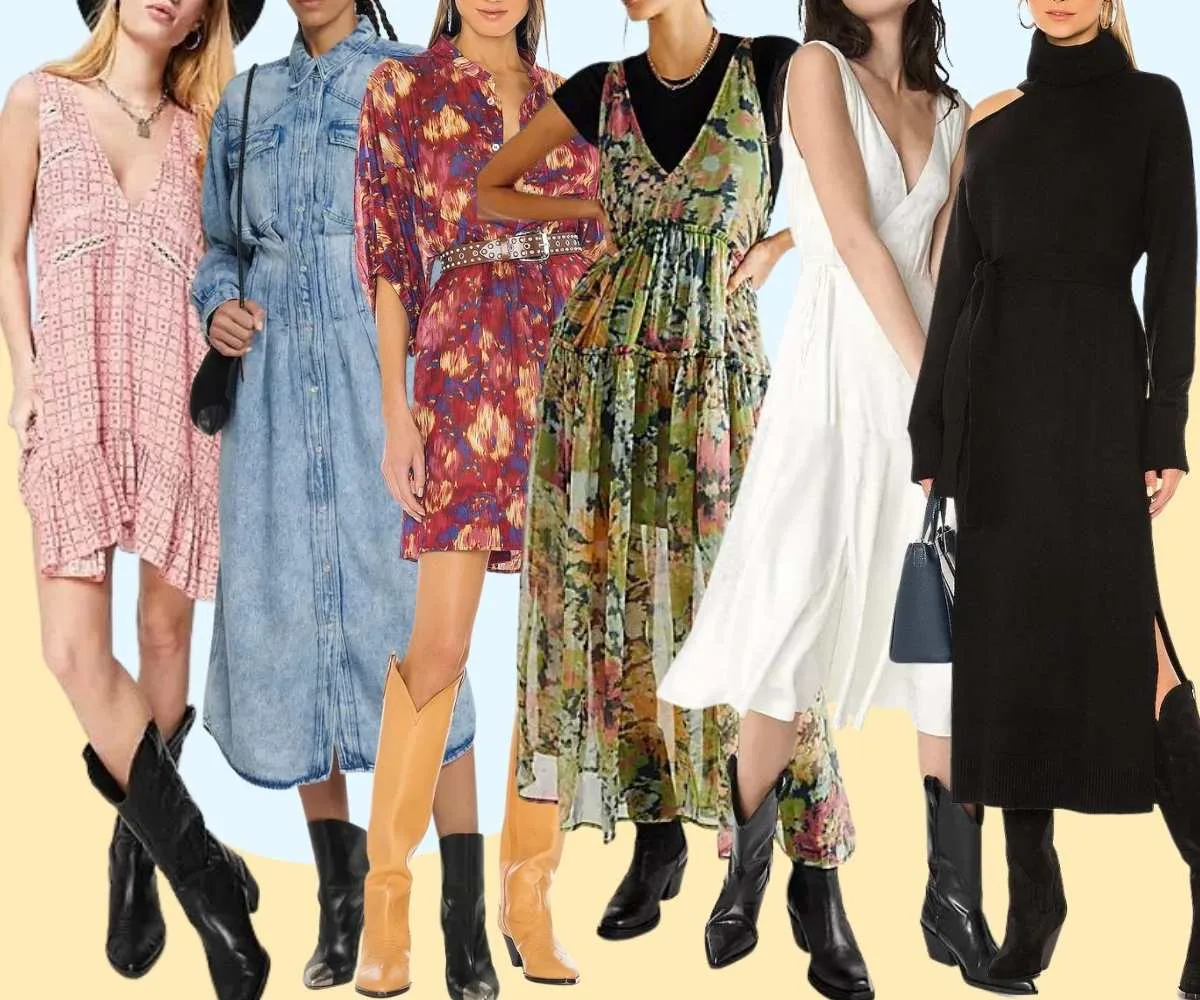 One of the best parts about wearing cowboy boots is that it's an outfit that goes with everything. If you're looking to wear a dress, you can simply pair them with another item of clothing and that's it!
Cowboy boots can give a laid-back, yet rugged look to a bohemian dress, while adding a dose of western appeal to a contemporary dress. Cowboy boots are one of the best boots for dresses for casual, spring styling.
How to Wear Cowboy Boots with Dresses
Mini Dresses
Cowboy boots are trendy boots to wear with mini dresses! Western boots have detailing such as a stacked, angled heel with an almond pointed toe. They are popular casual boots with short dresses during the spring and fall seasons.
A frilly, flowy and tiered short dress looks stunning with Western boots. Yet they can look great with tight mini dresses, an oversized cardigan, or a jacket. You don't even have to pair western dresses with cowboy boots anymore!
Many are reaching for structured blazer dresses or satin short slip dresses. Belt your short-hemmed dress at the waist and add a leather shoulder bag and hoop earrings to complete the outfit.
Keep your legs bare without visible socks or tights with this boots style. Check out more style tips in my post on wearing short dresses with boots!
Denim Dresses
Cowboy boots are a classic pairing with a denim dress, as they are tough and rugged. Great for summer and transitional months alike, they make a great layering base but are also cool enough to wear on their own.
Both long, short, tight or billowy denim dresses will work, in either classic denim blues, bleached colored or distressed grey denim. Add a western buckle belt to match your boots if you are inclined!
Reach for a leather shoulder bag or crossbody to complete the look. As with short dresses, denim dresses look best without tights or leggings when paired with western boots.
Check out my other post all about what shoes to wear with a denim dress for all the best boot & shoe pairings!
Maxi Dresses
Short or taller look great with maxi dresses alike. The rugged nature of the boots contrasts nicely with the flirty, longer garment. I love a long dress with a slit at the side or unbuttoned from the knees to see the boots.
Just remember to hold up one side of the dress so it doesn't touch the ground when you walk. This will not only help with making sure you don't get dirt on your dress, but it will show off your boots if the dress doesn't have a breath!
Complete your outfit with a small to medium cross body and a straw hat on a sunny day.
Little Black Dresses
If you want to make a statement with your LBD, add a pair of ankle or classic cowboy boots for a winning combo. The western boot style will definitely define LBD, so if you want to keep Western vibe, add a black fringe purse and buckle the dress to match the boots.
Cowboy boot-inspired footwear can also make great office-appropriate and elevated evening looks. Just mix a contemporary dress with a pair of polished black or white western boots.
Top off the look with a classic trench or blazer, a modern handbag, and delicate jewelry and you're good to go! More tips on shoes to wear with black dresses in my dedicated post
White Dresses
Breezy and attention-grabbing, a little white dress with cowboy boots is a winning combination! You can even pair a sleek satin white dress with white cowboy boots to your own wedding if that's your vibe.
Any type of white dress will work, from a shirt dress, a boho dress, a blazer dress or a slip dress. Most white dresses with cowboy boots look fab with an oversized blazer, sleek hair and matching leather handbag.
More boots that work well with a little white dress are knee boots, ankle boots & combat boots. Check all the best shoes to wear with a white dress, here!
Sweater Dresses
Cowboy boots look best with short and midi-length sweater dresses. These allow you to really show off the style of the boots. However, longer sweater dresses with a side or front slit will also give room for movement from which your boots can play peek-a-boo!
Avoid wearing taller cowboy boots with long or tight knit dresses. These will make walking hard, but also add unsightly bulk beneath your dress.
You can belt the sweater dress at the waist, adding a shoulder bag and statement earrings to complete the look! Keep your legs legging and tights free with this style of boots.
Look at my post about the best dresses with cowboy boots for 22+ fab dresses to wear with western boots!
Cowboy Boots with Dress Pants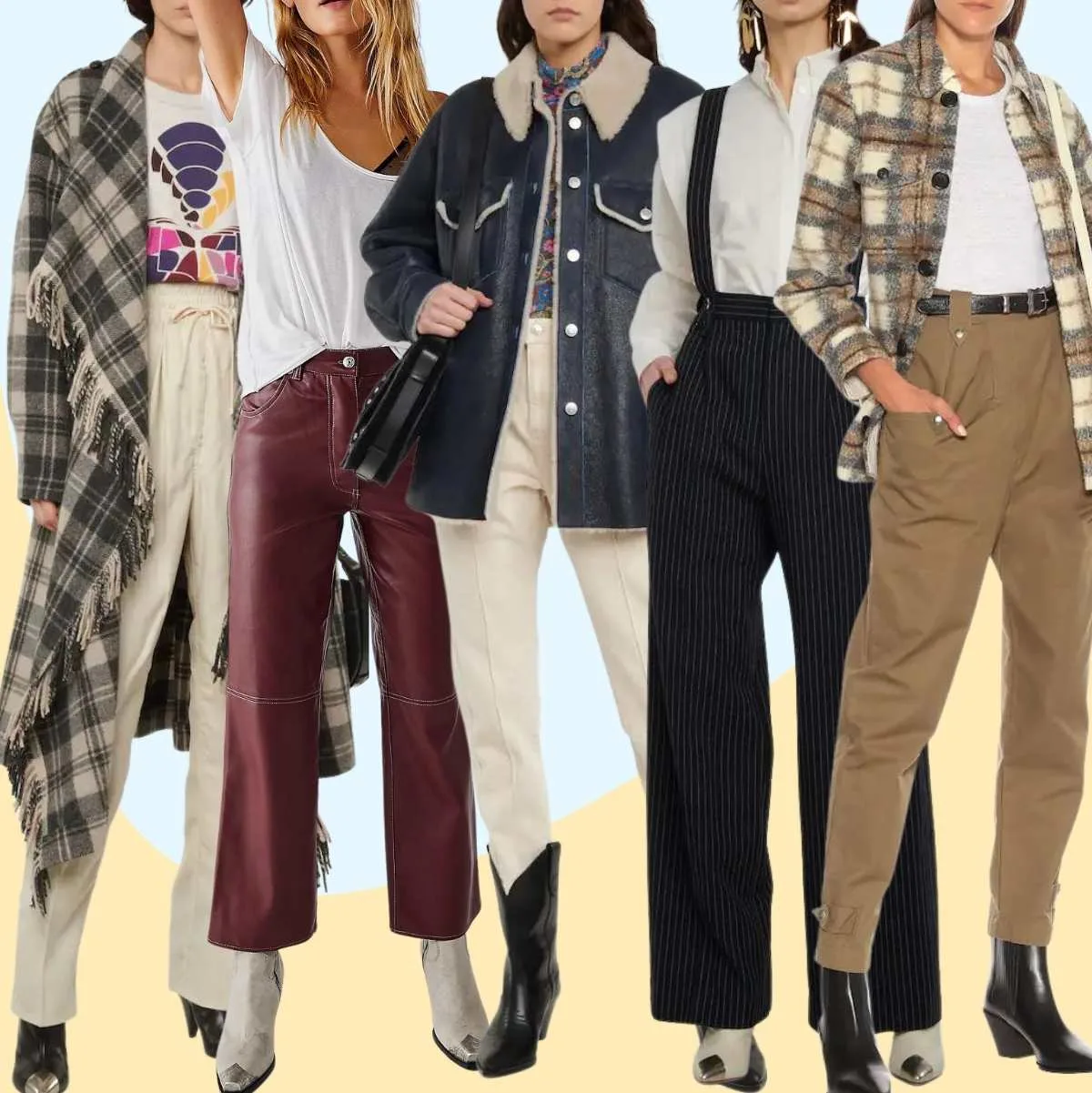 The trendiest and least expected way to wear cowboy boots is with dress pants, especially tailored pants! With these boots, you can play around with styling.
Loose or tight tops, whether minimal or intricate, slim or wide, will work. I prefer high-waisted dress pants. That way, I have the option to add a slim or big buckle belt or tuck into my top.
How to Wear Cowboy Boots with Dress Pants
Trousers that are slim fit or at least slim or lightweight enough to be tucked in your boots for an effortless look. Add a crip shirt, and a blazer and roll up the sleeves of both, so that the shirt cuff shows through for contrast. A belt and sleek leather shoulder bag will complete your look.
For wider dress pants, you can allow them to effortlessly flow over the cowboy boots instead. This will create a more laid-back aesthetic especially if your dress pants are baggy. You can add to the casual appeal with a boyfriend tee, or contrast a high-waisted pant with a cropped tank or tight-fitting bodysuit. Read all about the best shoes to wear with wide leg dress pants with the right shoes in my other post!
You can create a bohemian aesthetic. Think denim or fringed leather jackets and handbags. A cowboy hat is optional!
Choose a pair of leather pants, either slim fit or straight leg. Add a moto jacket for a western rocker chic look.
Want to be original in your styling? Pair a pair of cowboy boots with a pantsuit!
Cowboy Boots with Shorts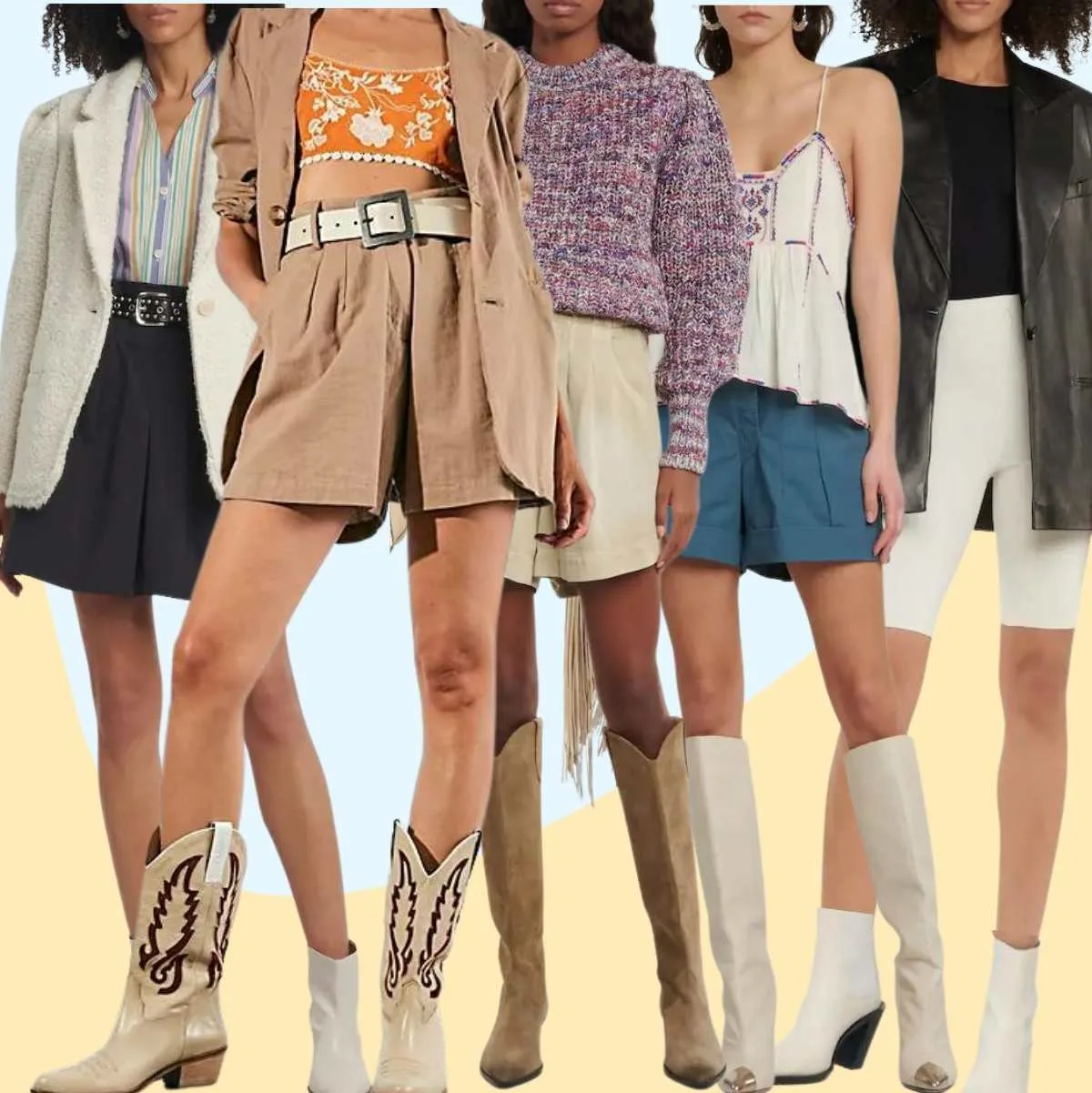 Daisy Duke and cowboy boots are a bit of a classic, don't cha think? However, there are so many more shorts you can style with cowboy boots whether denim or otherwise! Check out my faves, below:
How to Wear Cowboy Boots with Shorts
Denim/Cut-Offs: Rugged and casual, this pairing is a style favorite, especially with classic style cowboy boots. Add a tan or worn-in black pair with a grey or blue denim frayed short and simple tee with a fringe crossbody and you're good to go! Swap that tee for a crochet top if you're going to Coachella!
For Elevated Outfits: try a black high waisted denim short, a white tee with a black or white and metallic cowboy boot, with a matching belt.
Paperbag Shorts: I love these and they come in so many materials including linen, chambray, and leather. You can match your shorts with a jacket and simple top to make an office-ready outfit. Or, wear a casual pair with a rocker tee and black cowboy boots and some layered jewels for an edgy party look.
Leather Shorts: Short or just above the knee, leather shorts, especially black or tan ones, look fresh and chic with a sleek pair of ankle or calf-height cowboy boots. Tuck in a billowy silk blouse or crip white shirt, and with the right trench or jacket, you can wear it anywhere.
Biker Shorts: We can thank Kim K for this one, but I kind of like it. Bike shorts are flattering, easy styling pieces that look fab with a high shine cowboy boot, simple t-shirt and oversized blazer. Don't knock it 'till you try it!
Skirts with Cowboy Boots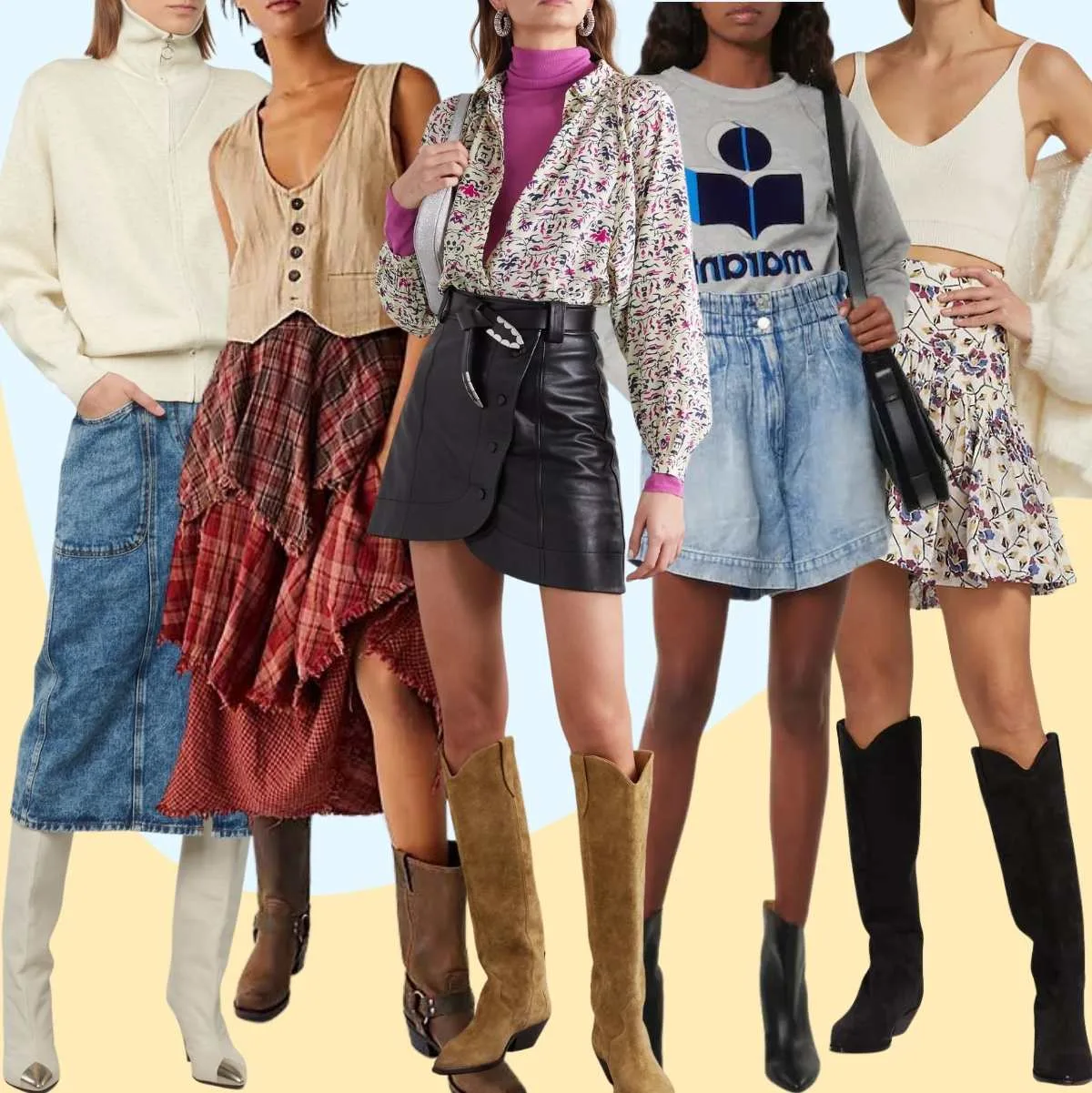 If wearing a dress with cowboy boots isn't your thing, or you're looking for a more casual pairing, skirts might be for you! And cowboy boots are great shoes to wear with skirts!
With the variety of skirt styles available for women, there are many you can pull off with cowboy boots, whether classic styles or western-inspired ankle boots.
You can pair them to a party, to a class, or even to a more formal event, with a glittery number. It's a fun and flirty way to show off your sense of western style. Here are some tips on how to wear skirts with cowboy boots:
How to Wear Skirts with Cowboy Boots
Denim skirts: These look great with cowboy boots. The Boots will add a bit of edge to the outfit, and the denim will help to balance out the look. You can either go for a mini skirt or a long, maxi skirt.
If the skirt has no slit, just make sure that it hits you at the right spot – around the knee or just above it. For longer denim skirts, look for a side slit of fuller skirt. The longer the skit and darker the denim, the less casual you can style it, whether with a blouse, shirt or chic fall sweater.
Leather skirts: are a glam and edgy option for cowboy boots. Again, you can either go for a mini or a maxi skirt. I do love a leather paper bag waisted or wrap leather skirt in black with a colorful tucked-in blouse. Elevate your black leather skirt with studded or metallic detail white or black boots. For leather tan skirts, opt for beige or black suede boots with or without embroidery.
Frilly or tiered skirts: are flirty and fun with cowboy boots. Choose a mini or maxi skirt with a tank. Layer over a cardigan for cooler days.
Rompers with Cowboy Boots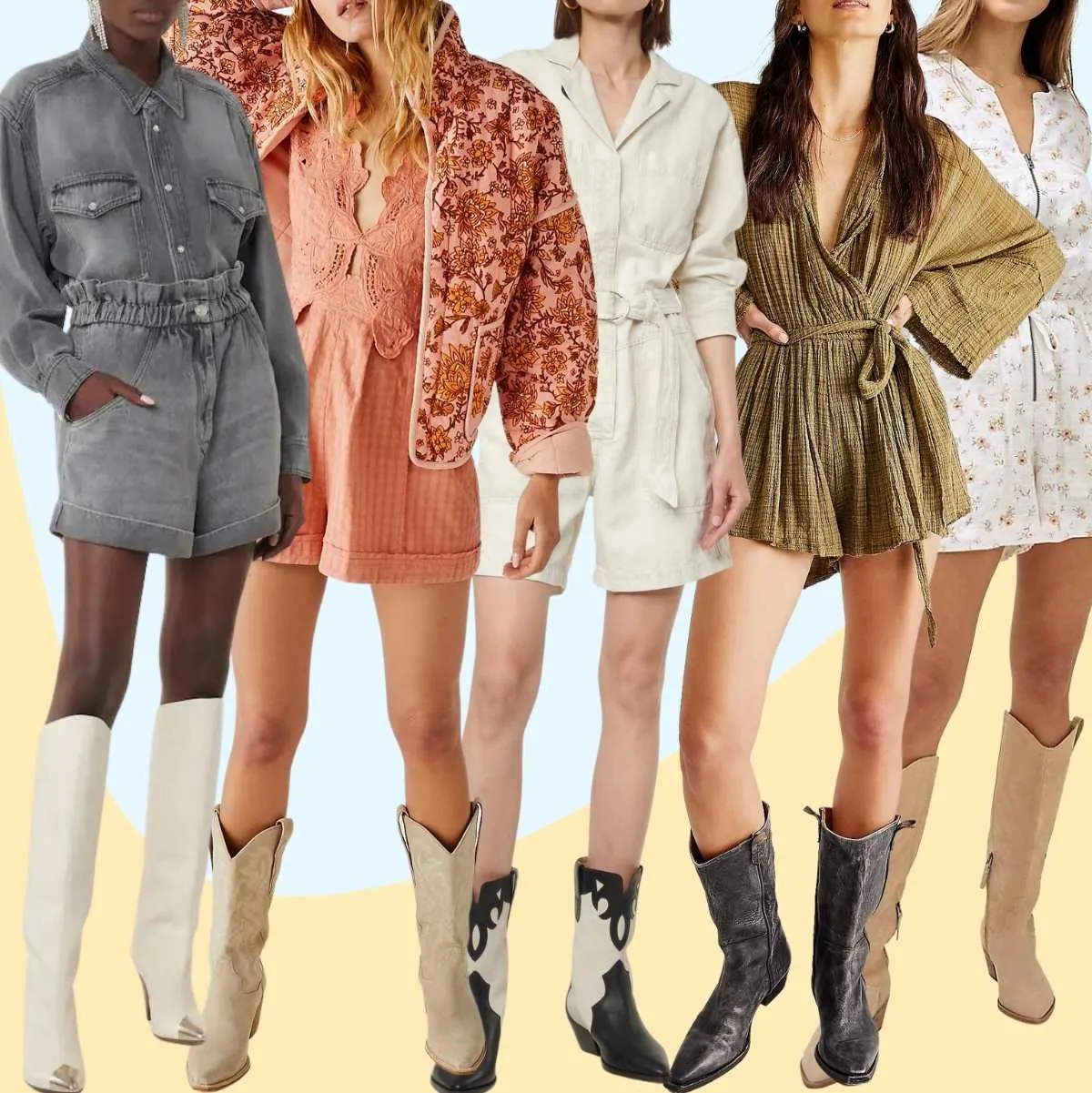 One of the most popular hot weather outfits with cowboy boots is wearing them with a romper. When it comes to how to wear cowboy boots and rompers, there are two main styles that you can look at styling. The first is a structured, tailored or utility romper, while the other is a bohemian style romper.
How to Wear Rompers with Cowboy Boots
A structured black romper with a metallic, black or black/white leather cowboy boot for a night out. Adding metallic hoop earrings, jewelry and a fun clutch to complete the look. For a chilly evening add an oversized blazer.
If you're feeling sportier, try a utility romper, such as a denim one with black or tan boots, for a touch of cowgirl cool.
For a touch of bohemian cool, pair a white or floral print romper with beige leather or tan cowgirl boots, adding a denim jacket & fringe crossbody. Put on a Western hat to go all out!
No matter what style of romper you choose, cowboy boots are great shoes to wear with rompers to add a touch of trendy cook to your look. More info on all the best shoes to wear with rompers, if you're interested.
Cowboy Boots with Leggings & Jeggings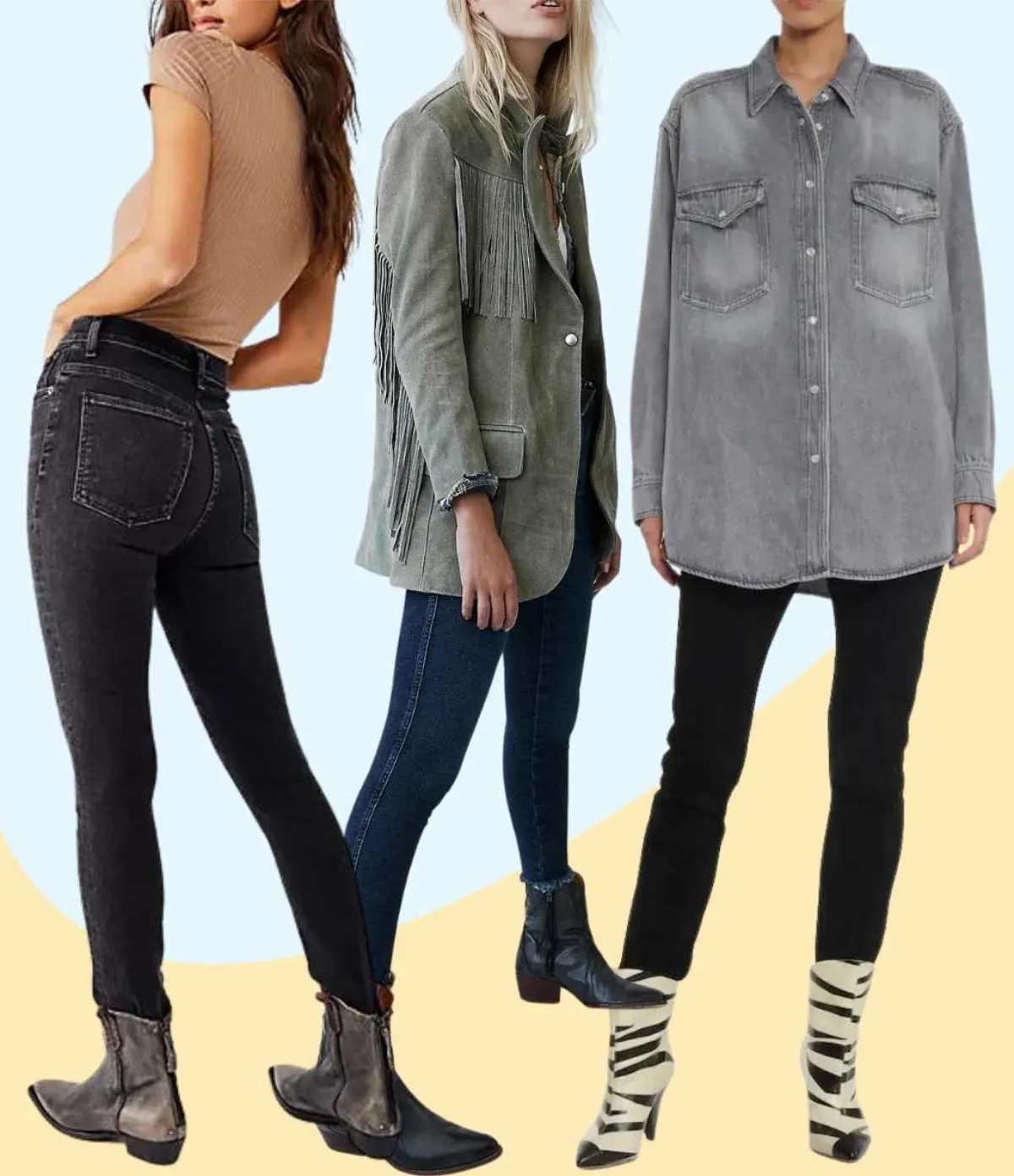 This is the most effortless outfit to wear with cowboy boots. It's simple, easy to pull off, and very chic, especially with simple leggings. These make a great layering base for fall or early spring looks and the perfect go-to style for running errands or casually hanging out with friends.
You can make it a lot fancier by adding layers of accessories or by pairing it with some other trendy styles, like leather-like leggings or flared slip-hem leggings.
You can even layer over a mini skirt. Below you'll learn why cowboy boots are great boots to wear with leggings!
How to Wear Cowboy Boots with Leggings
Black Leggings: If you want to make it more toned down, you could wear a tight tank with an oversized shirt over your leggings, and a classic trench for more style points! For a casual look, pair black leggings with brown cowboy boots or have fun with a colorful pair.
Jeggings: Whether skinny jeans of jeggings these are an easy pairing with cowboy boots, especially more rugged, casual styles. Add a t-shirt, fashionable belt and you've for a trendy outfit for everyday wear.
Leather Leggings: If you want to add a bit of edge to your outfit, try leather with cowboy boots. Easy to dress up with the right cowboy boots (high shine or metallic!) with a white bodysuit and blazer. Also perfect for those cooler fall or winter days!
Split-hem Leggings: And finally, for a unique and stylish look, try the trendy black flare split-hem leggings with cowboy boots. These are great to show off fashion cowgirl boots with embellishments, embroidery or a colorful pattern.
Jumpsuits with Cowboy Boots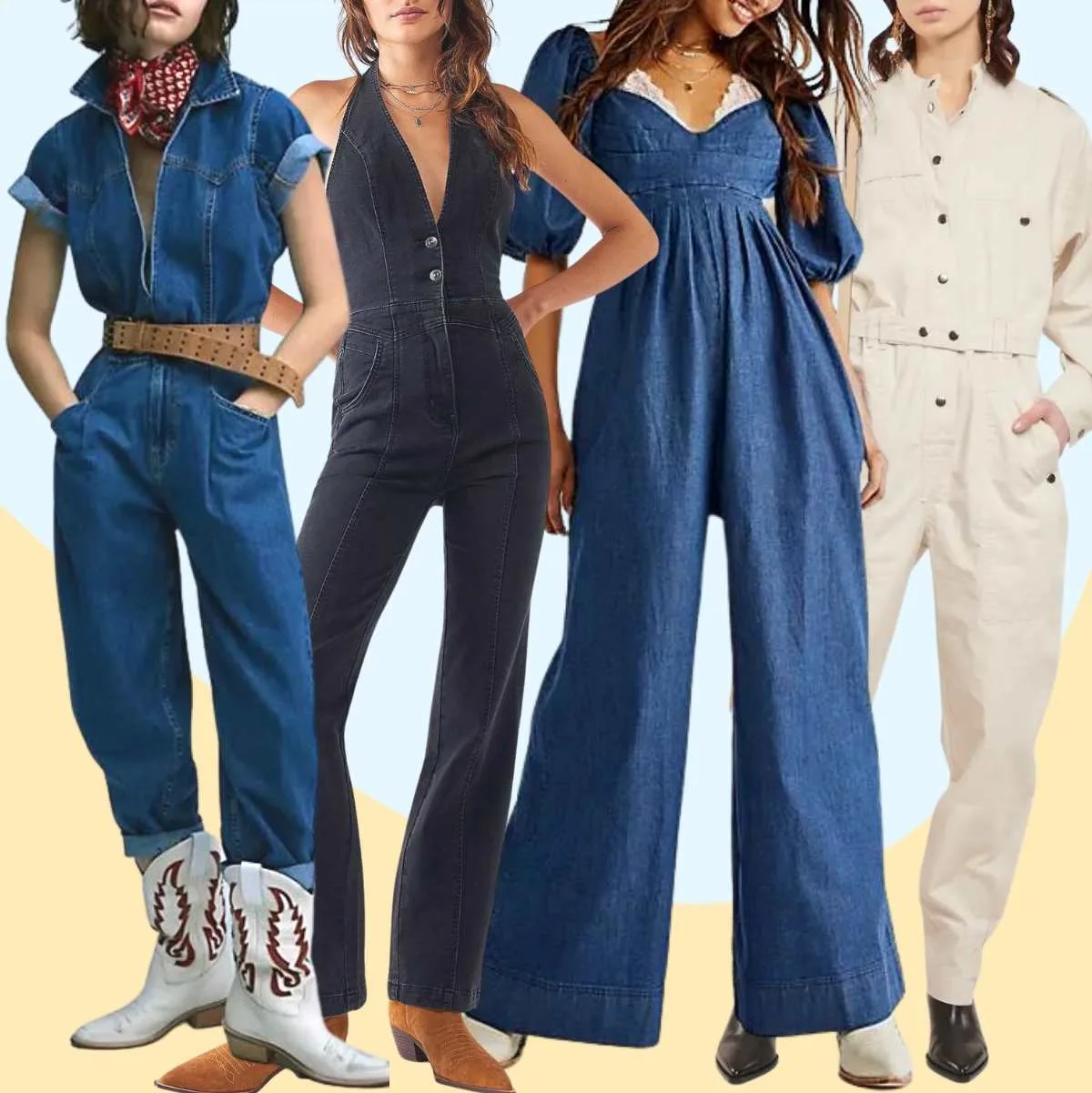 Like rompers, cowboy boots are the perfect shoes to wear with a jumpsuit. Be it denim, chambray or corduroy, a jumpsuit looks great with cowboy boots. The key is to find the right balance between the two pieces.
How to Wear Jumpsuits with Cowboy Boots
If your jumpsuit is casual: such as denim or chambray, try rolling up the sleeves and cuff or fold in the pant portion of the suit into your boots. For wide-legged versions, allow the jumpsuit to drape over the boots. A canvas or crochet shopper and belt the jumpsuit for added styling.
If your jumpsuit is more tailored: and sophisticated, then go for a high-shine cowboy boot in metallic white or black, or pick a color that matches your jumpsuit. An added heel and pointy toe style western boot will look chic. Add a structured leather handbag or clutch and minimal gold jewels.
To make a statement: try pairing your jumpsuit with a brightly colored or patterned cowboy boot. Try a pink, red or turquoise pair to really show off your boots!
Cowboy Boots Outfits – A Visual Style Guide
White Cowboy Boots Outfits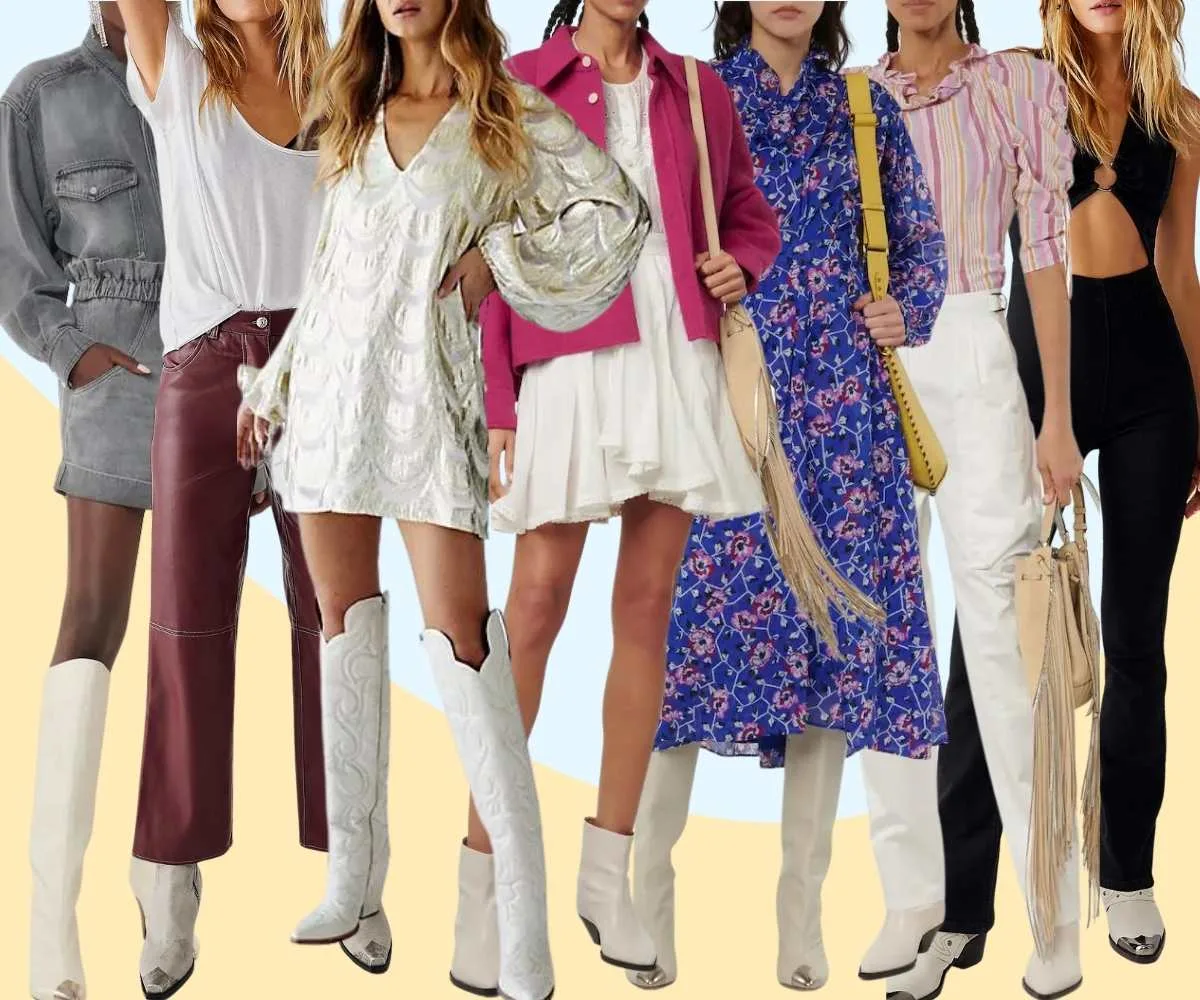 White boots outfits are hot right now and even more so in cowboy boot form. And I don't know if it's because they're trending right now or not, but I find white western boots more versatile than even black ones!
White boots, especially those that are embossed or metal-trimmed will elevate even the most casual of outfits. You can almost literally wear these boots with anything, like dress pants to give a little oomph to your outfit.
Leather pants and shirt dresses, denim dresses and colorful summer dresses all combo well. Heck, white cowboy boots are even wonderful to pair with wedding dresses of all types!
Since the boots are white, all colors mix well. I love to work them into an all-white, all-black or black and white contrasting outfit.
But it's also fun to add a pop of color, such as a jacket or purse, to a white cowboy boots outfit with a little white or black dress. Honestly, the possibilities are seemingly endless!
Black Cowboy Boots Outfits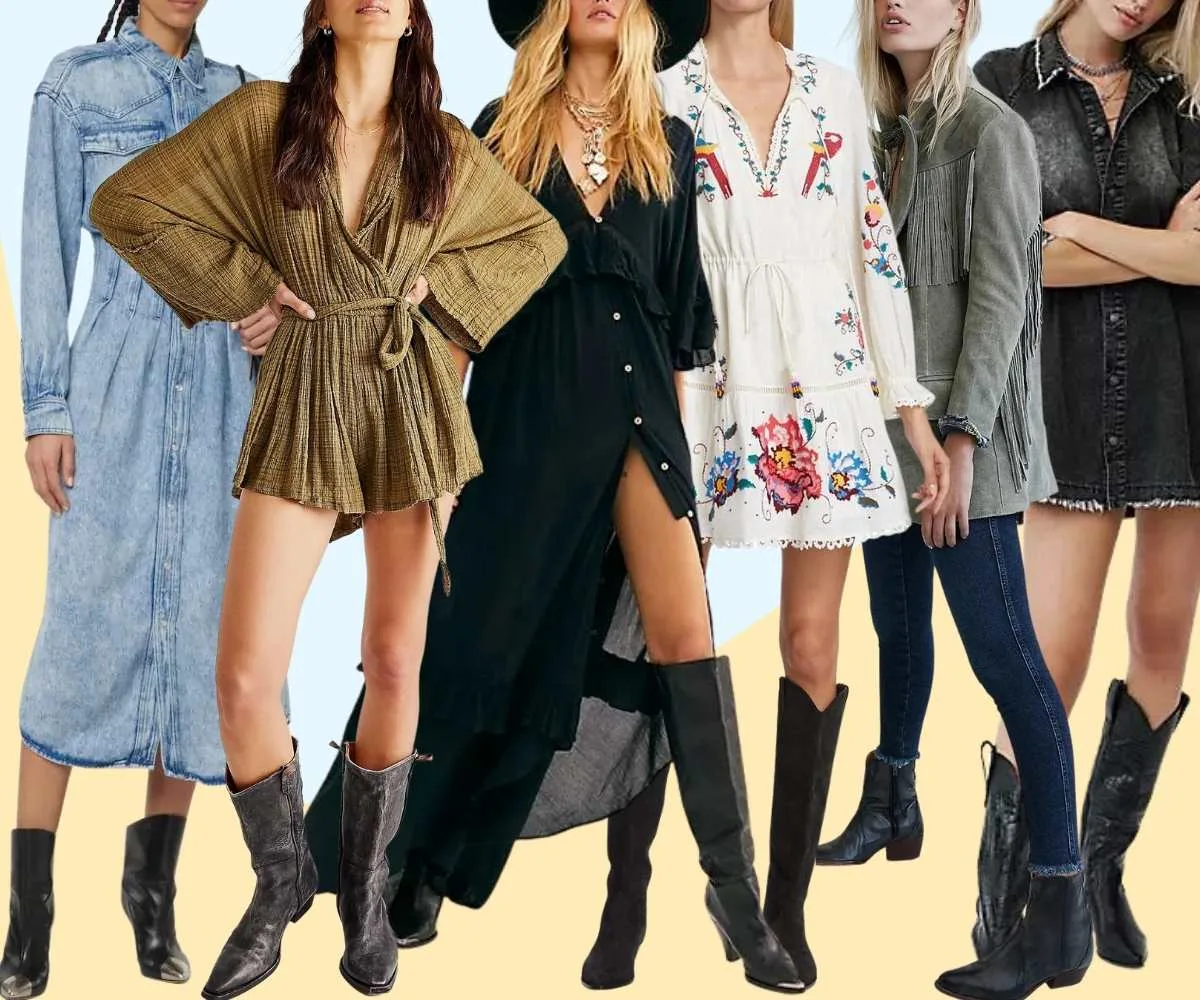 Black cowboy boots can work to both elevate or make your outfit more rugged looking. For chic black cowboy boots outfits, pick a smooth leather, patent leather or suede pair.
Metallic detailing is optional, but will add sparkle to your boots! These look fab with a structured jumpsuit or dress such as a suit dress, shirt dress, or leather mini, tee and oversized blazer.
For more casual outfits, choose your pair of favorite worn-in cowboy boots. The wear will not only give them character but will give your look a rugged vibe.
I love these paired with denim in all colors and casual tops, or with relaxed flowy dresses & rompers.
Black and White Cowboy Boots Outfits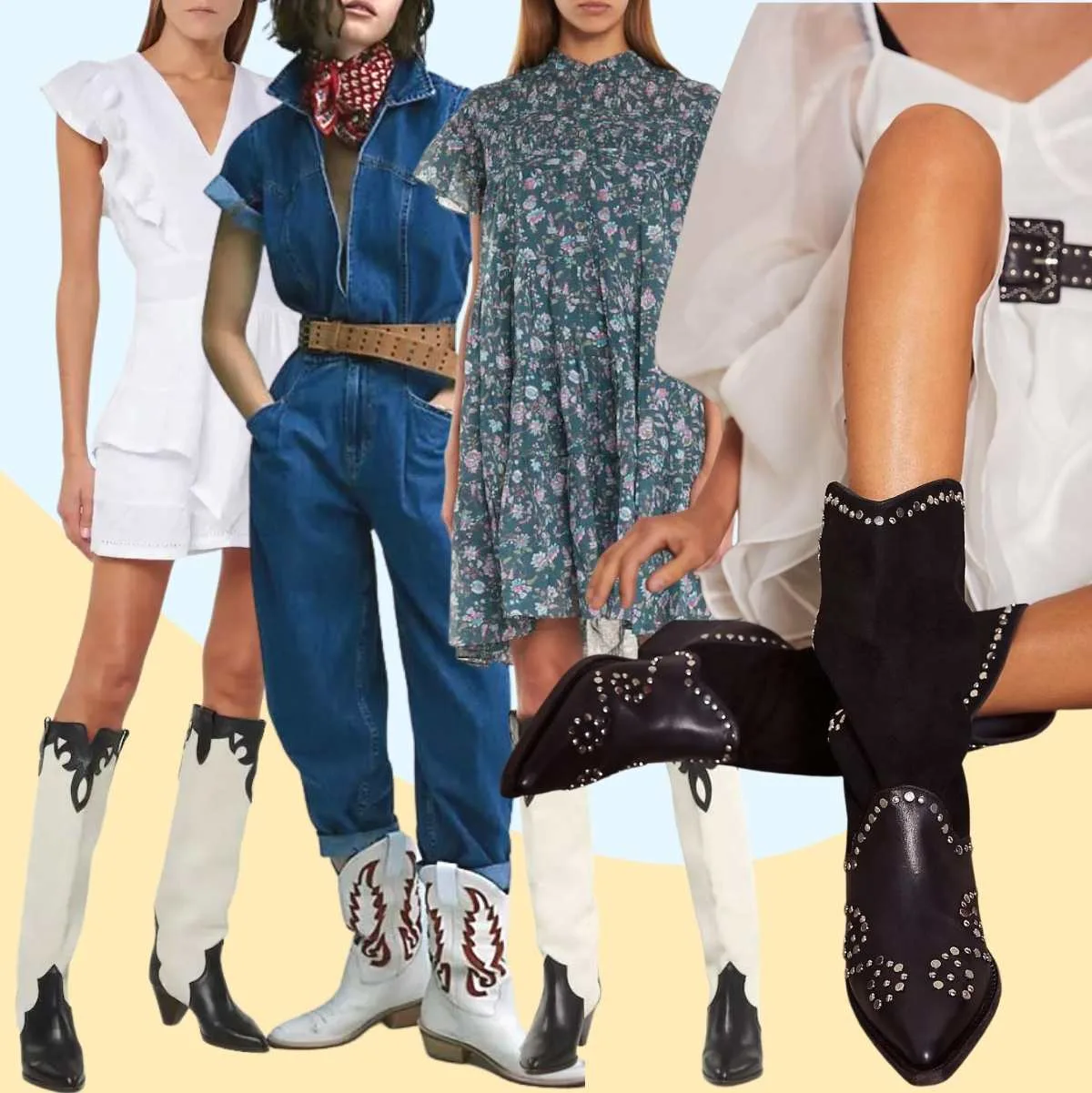 Outfits featuring black and white (or black and silver) cowboy boots are definitely my favorite! There is something so chic and modern about the combo and there are so many outfit possibilities.
Wear black and white western boots with head-to-toe denim, whether it be with a denin dress, jumpsuit or Canadian tuxedo.
Distressed denim (love me a shirt dress in this material) gets high styling points with these monochromatic boots! Of course, a denim skirt, short or jeans looks fab with these boots when paired with a black, white or colorful top.
Black and white cowgirl boots make for amazing black and white total looks. These include wearing them with a LBD, a crisp, billowy white dress, black leather pants with a basic white tee, or white jeans and a black tank. Add a contrasting black or white belt to your outfit to play up the look.
Final Words on How to Wear Cowboy Boots Outfits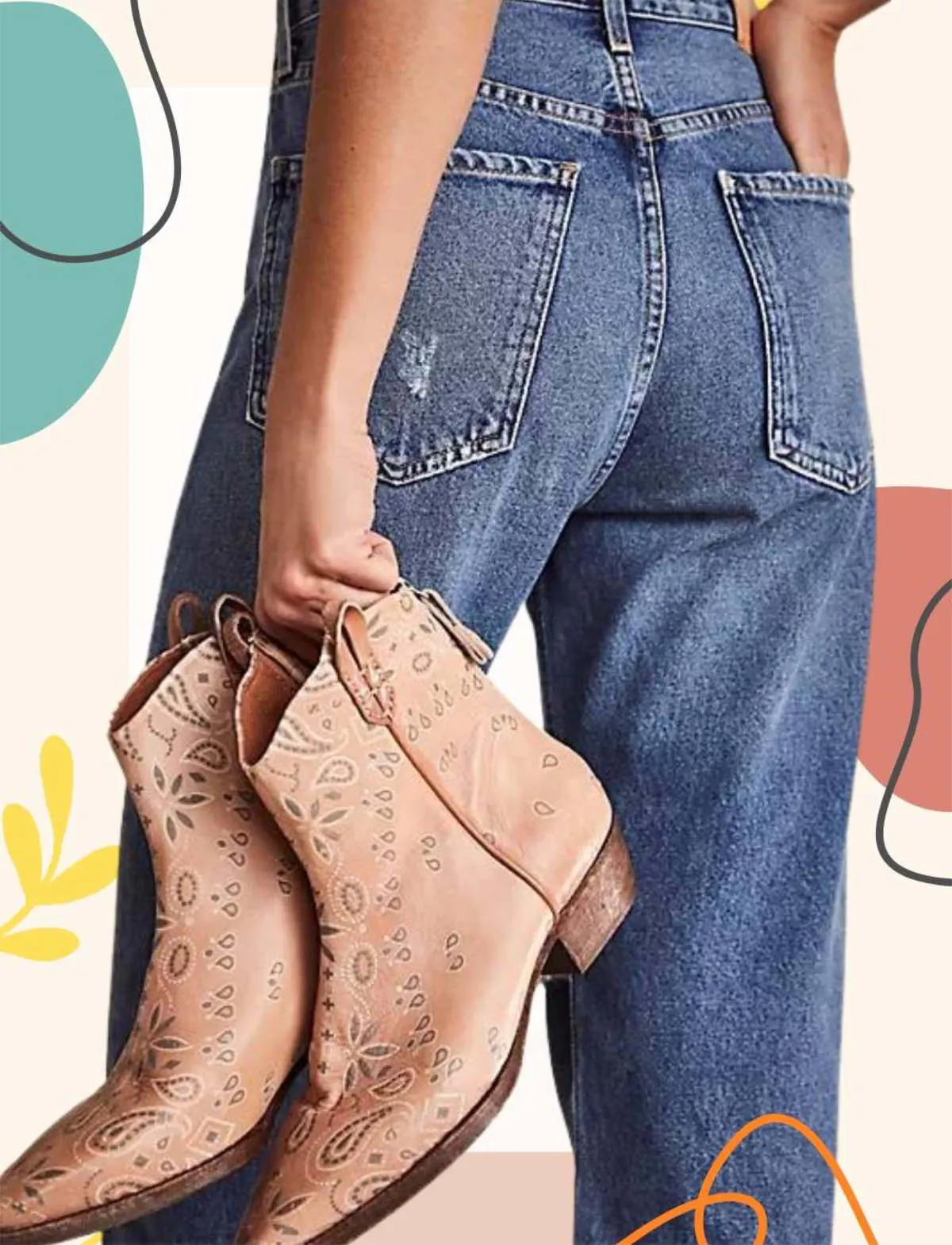 If you've made it this far reading my post, you'll know that cowboy boots are great boots that go with virtually any casual to smart casual look. They can give off a boho, funky or edgy vibe, depending on what you chose to wear with them.
I consider cowboy boots an essential boot type to keep in your closet, as they will never go out of style. That's why it's important to pick out a quality pair and they will last you for a long time.
Cowboy boots also come in a variety of shapes, heights and heel types, so there's definitely a cowboy boot for any lady!
Shop cowboy boots or Western-inspired boots from Saks Fifth Avenue, Zappos, and Bloomingdale's among the larger stores. Lane Boots has a great selection of trendy styles.
How will you be wearing your cowboy boots this season?
xo ShoeTease