If you're looking to learn about the different types of sandals, both fashionable and classic sandal styles, this one's for you!
In today's post on shoe-tease.com, I will walk you through the different types of sandals, from those ancient greek sandals to flip-flops to trendy heeled sandal types.
You'll also get a better idea of all the sandal styles, with each sandal name and sandal type illustrated, so you'll know exactly which types of sandals I'm talking about.
Sandals are a type of shoes and you might be wondering how many types of sandals there are. Let me tell you that there are surprisingly a lot more than I had initially thought!
That being said, every few years a new style pops up, along with hybrid versions of all the more classic styles. Kitten heel flip-flop slides are just an example.
Do you need to brush up on your shoe vocabulary? Take a look at my post listing all the parts of a shoe – inside & out!
20 Different Types of Sandals for Women + Men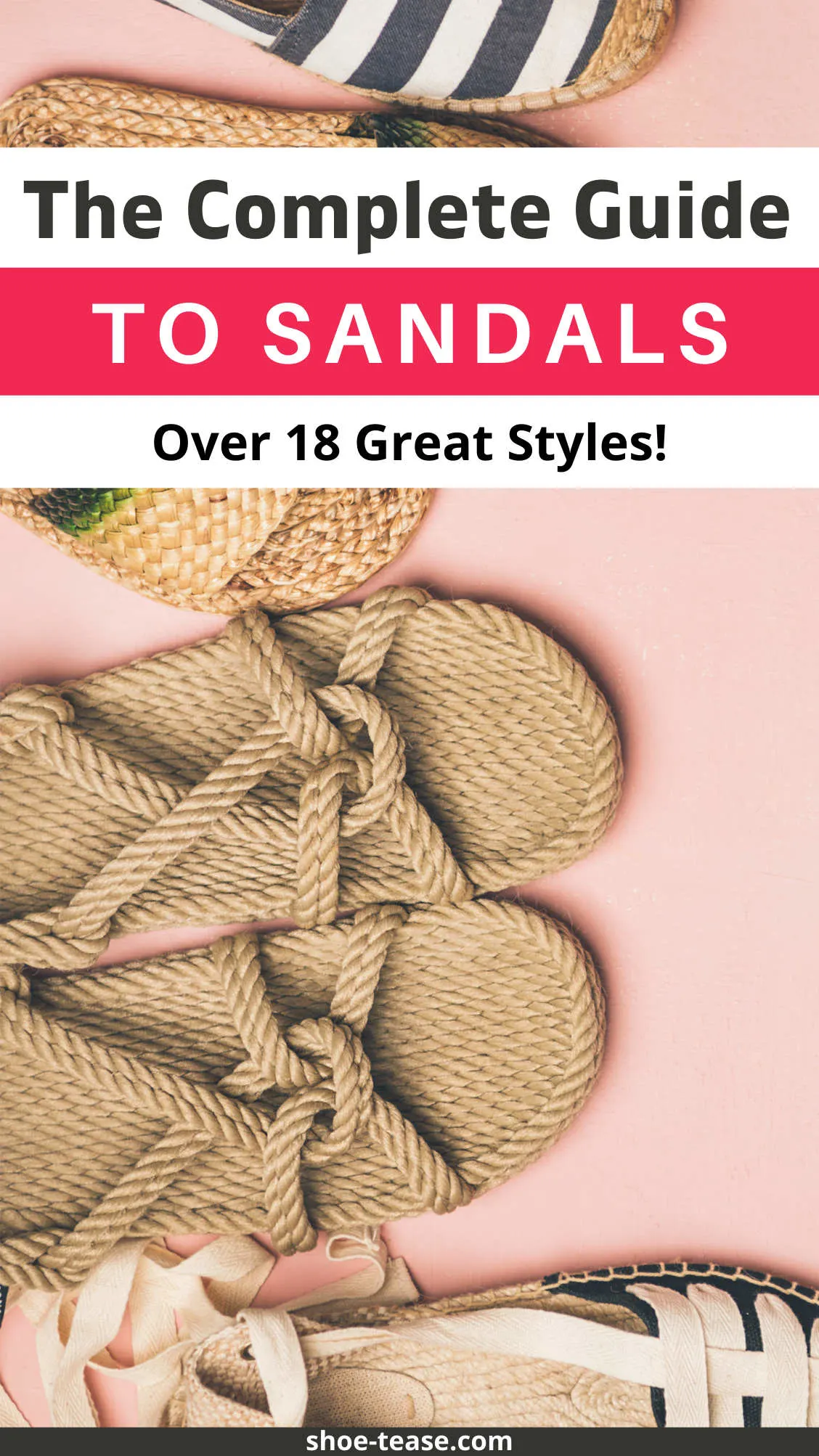 Before we get into the 20 different types of sandals, let's get a few things frequently asked questions answered first:
What are Sandals, exactly?
Sandals are a type of shoes. However, the anatomy of a sandal is different from other kinds of shoes. Shoes generally cover the whole or most of the foot.
Sandals are an open-toe shoe style that exposes most of the foot. Usually! Some sandals do defy this definition, as you will see.
Sandals consist of an outsole with at least one strap across the foot. Some sandals have various straps that secure the instep and the ankle and toes. Particular sandals have heels and different outsoles and uppers.
Brief History of Sandals
Sandals are said to be the oldest and original type of shoe that has been found in various continents and cultures.
Archeologists discovered the oldest pair of sandals dating back almost 10000 years from Oregon in the US, made of woven bark (source).
The word 'sandals' comes unsurprisingly from the Greek word sandalon. Yes, Ancient Green sandals are said to be at the forefront of sandals and footwear fashion.
Sandals, including flip-flops and many other sandal styles, didn't become popular in the US and Europe until the 1960s.
This was when the war introduced these continents to the traditional Zori sandals from Japan. And the rest is history!
20 Different Types of Sandals
1. Slide Sandals

Also known simply as slides, these types of sandals are the epitome of casual style. Slide sandals are a backless, open-toed shoe style made for men and women.
There can be one strap or multiple, a heel or no heel. Slide sandals date back many millennia, with the ancient Romans proudly sporting them.
Slides in the US & Europe became popular much later, around the 1960s. Two iconic slide styles are classic Arizona from Birkenstock and the Adidas' Adilette. Learn how to wear slides in my dedicated post all about them!
2. Gladiator Sandals
Different types of sandals have been around for centuries, with the first type originating in Ancient Rome. These included gladiator sandals.
Made of cattle or deer leather, these were made for soldiers and gladiators out of flat straps of leather that wrapped around the foot, ankle, and sometimes up the calves.
Gladiator sandals have become a popular type of women's shoes, with many variations. They're often seen on the sunny grounds of multiple music festivals, a true summer staple.
Tall gladiator sandals – flat and heeled versions – were trendy for women in 2015.
In 2016, Mabu by Maria BK made these pom-pom gladiator sandals iconic, still for sale today.
Classic gladiator sandals are considered a traditional women's sandal, albeit a less trendy style at the moment.
However, a take on gladiator sandals is low sandals with thin shoelace-like straps that wrap around the foot and ankle are currently very popular.
Check out my post on how to wear gladiator sandals for gladiator styling ideas!
3. Flip Flops
Summer wouldn't be the same without flip-flops! Also called "thong sandals," this sandal style is usually flat – held by a Y-shaped toe thong – is another style that pulls inspiration from ancient times.
Flip-flops are believed to be the ancientest type of footwear. It's said that Ancient Egyptians were wearing them as early as 4000 BC!
The flip-flop craze began in the 1960s in America with a style called the Zori.
This traditional sandal was a straw thong that the Japanese exported after the war. The Zori sandals have become flat versions, now referred to as Tatami sandals, made from Tatami mats. I will discuss this later in the article.
Brazilian brand Havaianas made the plastic thong cool again and are now a beach, summer and gym shower staple!
Popular thong sandals have recently been designed with a kitten heel and a square toe, like these.
4. Strappy Sandals
Strappy sandals are any type of sandal with multiple straps on the upper, strapping the shoe's outsole to the foot, often crisscrossing up the ankle and calf.
The original strappy sandals are gladiator sandals, but currently can be found on many styles with thin suede or leather straps. Strappy sandals can be high heeled or low heeled or have a wedge.
They're currently popular in tan, metallic or neutral colors with a flat leather sole. Strappy sandals can be worn with almost anything.
Including but not limited to cropped pants, white dresses, maxi dresses, and most clothing items in between!
5. Floss Sandals
Also known as Naked sandals – a term likely coined by Stuart Weitzman's popular Nudist sandals – floss sandals are minimal sandals with barely-there straps. In skin-tone colors, they are barely noticeable, as the straps are as thin as floss.
These styles of sandals are trendy for women at the moment. Strappy sandals can have multiple shapes and heels.
Square toe bases are currently trendy and they come in multiple colors, both subdued and bright.
6. Huarache Sandals
The Huarache shoe is a leather woven sandal whose origins date back to pre-Columbian Mexico. It looks like a shoe type but is actually considered a sandal. This makes them ideal closed-toe sandals for summer when you're not wanting to show off your feet.
That's because Huarache comes from the Purépechan word "kwarachi". In English, this translates to 'sandals.'
As with most sandals on this list, the Huaraches became known in the 1960s. It was considered a trademark of the laid-back hippie style.
While their popularity has come and gone, Huaraches have become a timeless classic. They continue to be well-loved sandals in the US, Europe & South America, giving a boho feel to any summer outfit.
Crocs even created a jelly pair of Huarache sandals that I owned and loved in 2011! Many retailers, including handmade sellers on Etsy, still make them today.
7. Wedge Sandals
A wedge sandal is a type of sandal with a unique heel/platform called a 'wedge .'This is where the raised heel is continually attached to the outsole of a sandal without a break.
Salvatore Ferragamo, in the early 1930s, is said to have created the wedge shoe as an orthopedic shoe. He used cork and wood materials due to the material shortage of leather and rubber during the war.
Wedges can now be found on many types of women's footwear, including sandals and various footwear types. They resurged in popularity in the 1970s.
8. Platform Sandals
Platform sandals have platform heels. These heels have an added element called a platform that fits under the front section of the shoe's outsole. It adds height to the wearer and can vary in size.
Platform sandals tend to be more comfortable because the platform itself decreases the incline of the foot and puts less strain on the ball of foot area.
Some platforms are entirely flat and are called flatforms. These are seen today as shoes with a raised outsole, often made of rubber or wood and can be found in many shoe and sandal styles, including espadrilles and fashion sport sandals.
Although any type of high heel shoe can have a platform, 70s-style platform sandals are what most people think of. And they are currently making a comeback, so get those disco dresses out of your closets!
9. Jelly Sandals
And speaking of jelly, the following type of sandals is jelly sandals. Also known as jelly shoes or jellies, these PVC shoes embodied 1980s footwear. I had a few pairs as a kiddo myself!
Although the origin of jelly sandals is unknown, it is said that they were created during the second world war.
Due to a leather shortage, a French shoemaker started using plastic. The rest, of course, is jelly sole history!
Jelly sandals continue to enjoy fashion revamps throughout the years. Melissa Collections designs jelly shoes and boots.
Many luxury shoe designers such as Stuart Weitzman, Valentino and Moschino (featured above) have joined the jelly sandal bandwagon, creating slides and flip-flops made of jelly material.
10. Birkenstock Sandals
Founded in 1777, Birkenstock is a German shoe company famous for double strap slide sandals with an orthopedic footbed. They are usually made from leather or suede and recently come in waterproof rubber material.
The brand's original purpose was to create shoes to support the foot, in contrast to the flat soles famous at the time. Which makes sense given their grampa sandals aesthetic!
They have since risen in popularity and have been adapted in avant garde design by high end designers. They are now worn worldwide by fashionistas and non-fashion folk aline and come in all the colors of the rainbow!
Check out how to style Birkenstocks in my dedicated post!
11. Kitten Heel Sandals
Cute as can be and much easier to walk in than their stiletto counterparts, kitten heels are short, narrow heels. These heels are primarily defined by their height, usually between 1-3 inches tall.
Kitten heels come and go in fashion and are used in all kinds of shoe types for women, including sandals and currently on many thong sandals.
Kitten heels come in many shapes and sizes, including cone heels, stacked heels, block heels, comma heels, etc. The current popular kitten heel shape is a block or slender heels.
12. Peep-Toe Sandals
Peep-toe sandals are shoes with a cut-out detail at the toe box, where the front 2 toes "peep" out. Peep-toes come and go as a shoe trend.
They can appear on various shoe types, including sandals, slingbacks, pumps, booties, and other hybrid dress shoes.
They became well-known for women in the 1940s & came back in style in the 1970s and 80s, out in the 90s, but back in again in the 2010s in the form of peep-toe booties.
Peep-toe heels are currently popular as dressy satin bridal and bridesmaid shoes and common in flat leather sandal form. Menorcan sandals are an excellent example of a traditional peep-toe style.
13. Toe Loop Sandals
Toe loop sandals are strappy sandal styles with a loop at the toe to secure the foot to the outsole. Some flip-flop styles and slides can have an added toe loop, as can gladiator sandals and other sandal types.
Minimal high heeled sandals can also have a toe loop, often bejeweled to look similar to a toe ring.
14. Espadrilles Sandals
Espadrilles are classic types of sandal style shoes that go with everything. And, they are the perfect shoes for a country summer look!
The term espadrille originates from the Catalan word 'espardenya'. This word comes from the esparto grass, the original material used to make the "rope" that holds the espadrilles' canvas upper to the outsole.
Espadrilles have always been a unisex shoe and are said to be the original footwear of peasants in France and Spain, dating back 4,000 years.
Nowadays, espadrille wedges and flatforms are a woman's shoe staple. Espadrille flats can be found in men's, women's and unisex styles.
15. Menorcan (Avarca) Sandals
The traditional Menorcan sandals from the Island of Spain are popular slingback, peep-toe flat leather sandals sold worldwide.
Menorcan sandals were initially designed for farmers who worked in harvest fields as they were strong, durable and practical.
Minorca was and is still known for its shoe craftsmanship. Today you can find unisex Minorcan sandals sold under many different brands' names. Also known as Avarcas, copies are now being sold around the world.
They still have an upper made out of leather and rubber soles just like they were originally created. However, only genuine Avarcas are made in Menorca.
These are higher in quality leathers & materials and comfortably mold to the foot.
They come in many different colors, including metallic leathers, printed fabrics and glitter versions and are perfect to style with many outfits.
16. Clear Heel Sandals
Ever seen clear, see-through heels and straps? Yes, clear sandals are a type of strappy sandal, even a floss sandal that uses clear and transparent materials.
More than likely, these are lucite heels with plastic straps. Lucite heel shapes are mostly block heels, but I've seen them shaped into curved and flared heels.
Some designers have fused them with other materials, created them as wedged and even filled them in with flecks of metallic or colored objects!
Although the high platform version are a preferred shoe for ladies who dance on poles, shoe designers have shaped them into a trendy type of sandal.
Clear heels are a fresh alternative to the naked sandal and are perfect shoes for outfits where the clothing should take center stage.
Shop Clear Heels for Women:
17. Tatami Sandals
The Tatami sandal style is derived from traditional Japanese sandals called the Zori. With chunky upper straps shaped like flip-flops with a rectangular sole, authentic Tatami sandals are made from tatami mats.
They are finished with a rubber or foam sole and fabric or leather straps.
A staple summer sandal in Japan, these sandals are made of an eco-friendly and breathable material that is healthy for the feet, especially in hot & humid temperatures.
They are still widely available and worn today. Find many handmade styles from Etsy.
18. Waraji Sandals (Rope Sandals)
Waraji sandals are strappy sandals that may look similar to other types of traditional sandals. However, they are relatively different in use and history.
They were popular outdoor sandals in Japan during the Heian Period (794—1185 AD). These were made of rice straw, lightweight and cheap to make.
However, they did not last more than 3-4 days of extended use, so they were disposed of often.
Waraji sandals also had a ceremonial use and were donated to temples as offerings to protect the feet from long journeys.
Also called rope sandals, the Waraji style sandals are becoming more popular with bohemian clothing brands. The Romano style by Nomadic State of Mind is a great modernized version of the sandal.
19. Clog Sandals
Clogs have taken on many forms from their original mule-style form, traditionally made of wood. Although wooden footwear goes way back to ancient Greece, the earliest example of clogs, come from 13th century Netherlands.
Nowadays, clogs often stand high – with raised platforms ranging from six to eight inches. Once used as protective footwear, clogs are now classic shoe and sandal styles that are seen seasonally on designer catwalks such as Chanel and other luxury shoe brands.
Clogs now come in sherpa-lined and in more fun upper prints, metallics and colors. They even come in plastic, rather than wood constructions such as with Crocs.
Swedish Hasbeens has made clog style sandals their whole brand, merging traditional clogs with a modern, sleek twist. Check out the many clogs outfits & how to style them in my latest post!
20. Hiking Sandals
Also referred to as sports sandals, they are just what they sound like: sandals for sports and more physical activities. I personally call them Dad sandals, but that's just me!
Perfect for hikes and camping trips and are more rugged than other types of sandals with multiple, thicker adjustable straps.
They have grippy, bendable rubber outsoles and arch support and can also have a front toe covering.
Some hiking sandals are worn more for aesthetics, such as Teva sandals, which offer less support with fewer straps than their more rugged hiking counterparts.
Final Thoughts on the Different Types of Sandals
I've given you plenty of shoes for thought regarding the different types of sandals in both unisex and women's sandal styles!
I hope you're all set to easily identify the various styles of sandals (so you can shop them better!).
Of course, this list isn't the final list of all sandal types. Many of the above sandals can be a combination of sandal styles. Call them fusion sandals if you will!
This means that the actual amount of the different types of sandals is a lot more than just the 20 styles defined in this post.
These multiple sandal types show how difficult getting dressed in the warmer months can be. There is just so much choice and the styling possibilities are vast!
If you're looking for how to style your sandals, take a lot through my various shoe styling posts to style your outfit just right with the perfect sandals.
Which sandal styles are your favorites right now? Are there any types of sandals that are still found today I might have missed in the list? If so, please let me know in the comments, below!
xo ShoeTease