Calling all boot lovers! Are you searching for the perfect boot quote or saying that expresses your deep love of this footwear type?
Or maybe you're looking for the best Instagram boot captions or cowboy boot Instagram captions for your boot-obsessed audience?
If so, you can grab one of the many favorite quotes about boots from my article on shoe-tease.com, below.
I've hand-selected the best boots quotes for you: from famous boot quotes, to funny boot quotes to boot fashion quotes and even cowboy boot quotes for a little yee-haw!
I've even sprinkled in a boot proverb or two, from past & present to inspire you with all things related to boots.
And not to worry, if you're looking for boots quotes to give you some guilt-free ankle boots, knee boots or high boots shopping inspiration, you've come to a judgment-free zone!
Looking for a shoes-specific quotes post? Check out my articles focusing on all shoe quotes and specifically high heel quotes. Or have a laugh with a list of all the best shoe & boot puns including jokes and riddles!
RELATED POSTS:
All the Best Boots Quotes, Ever!
Featured image by Bruna Rico Photography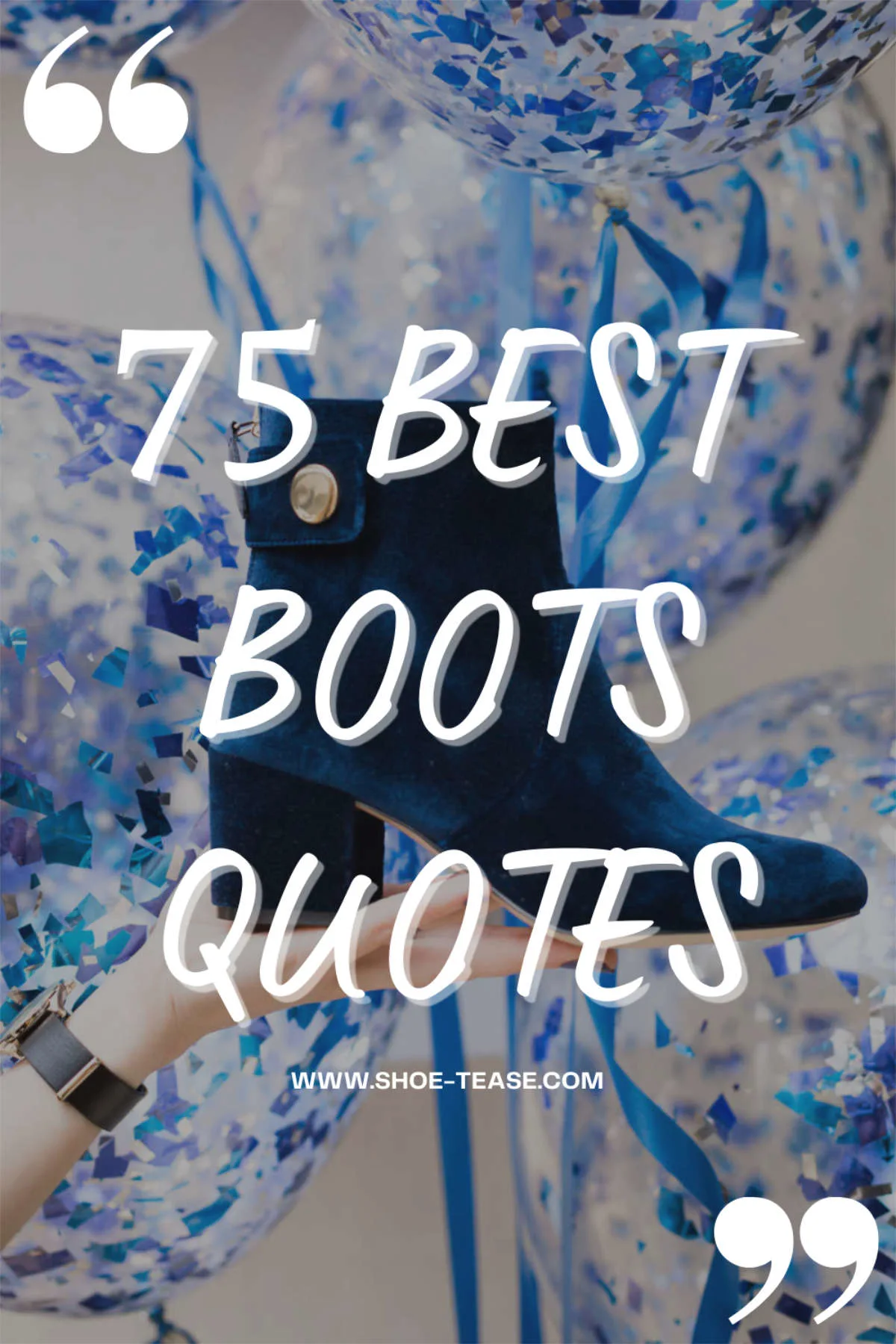 "I really love over-the-knee-boots. I think they're super segxy and they're fun. And they're also very strong and empowering." – Miranda Kerr
"Forget glass slippers, this princess wears boots." – Unknown
"I prefer a good pair of boots to Shakespeare." – Leo Tolstoy
"My signature style is super uniformed. I like black pants, black blazers, and boots". – Theophilus London
Emily: "Are you wearing the Ch–?"

Andy: "the Chanel boots? Yeah, I am"

– The Devil Wears Prada
"I find it very difficult to wear nice, pretty shoes. I'm much more comfortable in boots or Birkenstocks or loafers". – Kate Winslet
"I always love to dress up, but I usually end up in a leather jacket and boots!" – Bella Hadid
"I'd like to die with my boots on." – Daniel Berrigan
"I wear Sweet Revenge, the legging boots, a lot particularly in the winter." – Tamara Mellon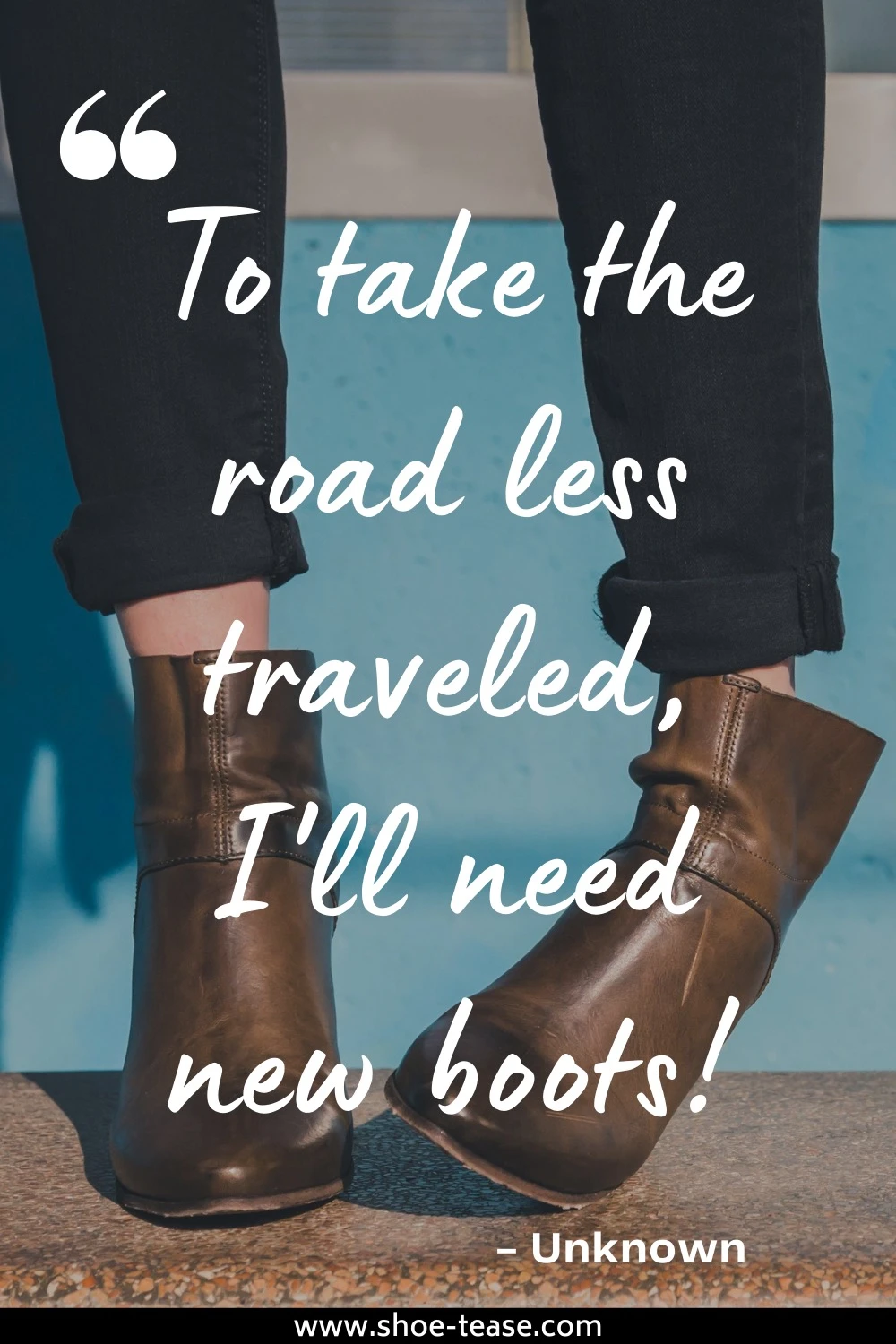 "To take the road less traveled, I'll need new boots." – Unknown
"I like boots that are comfortable. Better for fit and touch as well." – Neymar
"I'm a boots girl. The most I've ever spent on clothing is a pair of Ralph Lauren boots that go over the knee but can also fold down" – Jamie-Lynn Sigler
"Jingle taps on the majorette boots were an important part of a little girl growing up in the South." – Sissy Spacek
"Of course, I will keep myself fit, keep my boots clean and you never know." – Paul Ince
"I love to wear boots – and shoes, I don't like at all". – Reba McEntire
"I died in my boots like a pioneer With the whole wide sky above me". – Stephen Vincent Benet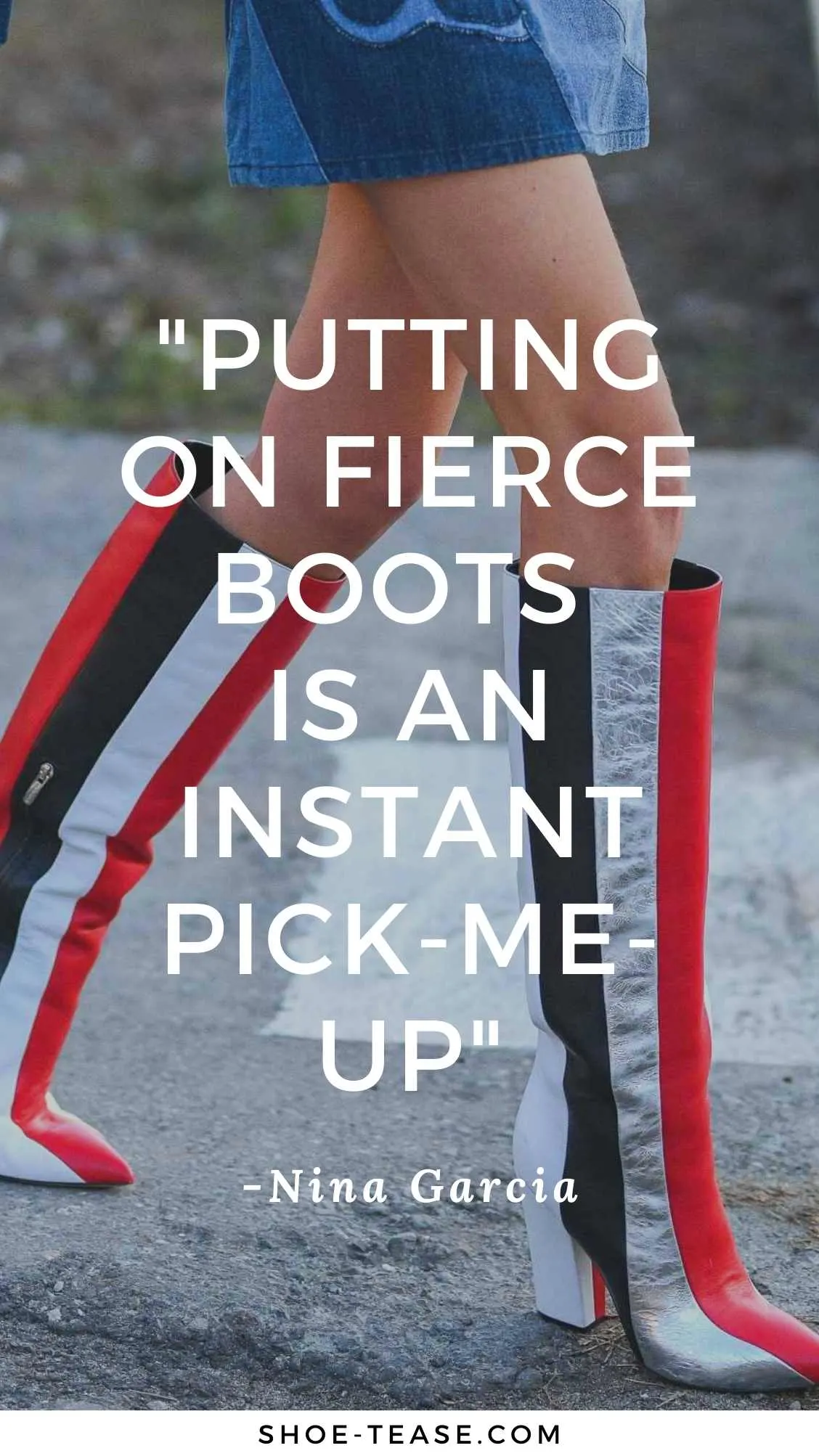 "Putting on fierce boots is an instant pick-me-up." Nina Garcia
"Like any sensible witch, she wore strong boots that could march through anything—good, sensible boots." Terry Pratchett.
"I could be a vegan in sackcloth and flip-flops, but I find fabulous boots with periwinkle cuffs a far preferable option." – Victoria Moran
"I garden a lot in LA, so fashion consists of boots, work pants and T-shirts, unless I'm going out." – Kyle MacLachlan
"I'm looking forward to getting back to my house and my Ugg boots and not washing sometimes, and getting back to writing. – E. L. James
"The holes in my boots and the holes in my jeans make me whole!" – Avijeet Das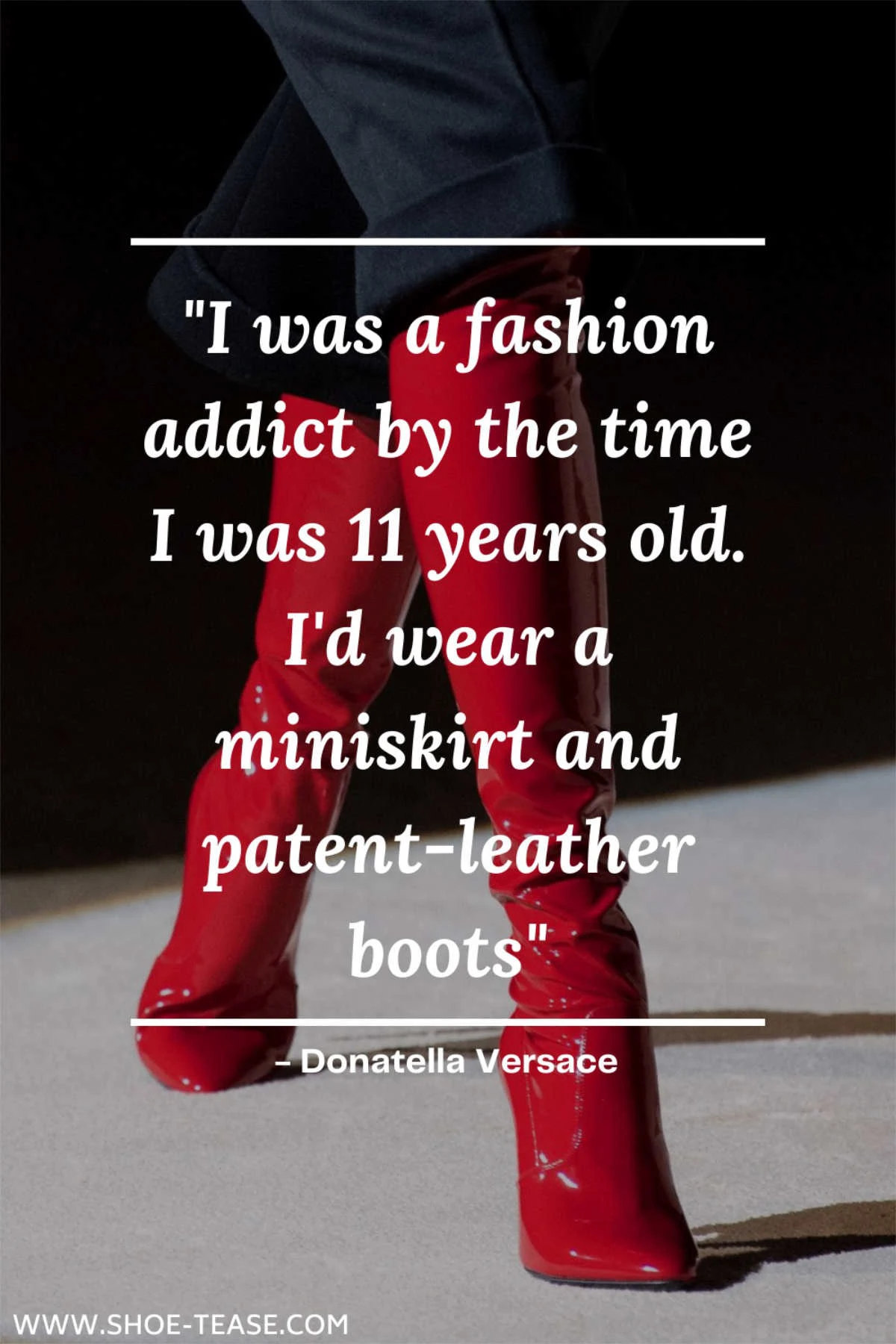 "I was a fashion addict by the time I was 11 years old. I'd wear a miniskirt and patent-leather boots." – Donatella Versace
"I'm a boots girl. I always wear boots. They only look better when they get dirty. – Sky Ferreira
"You want to be happy? You want to be well? Then put your boots on." – Norah Vincent
"If you want the law to leave you alone, keep your hair trimmed and your boots shined." – Louis L'Amour
"I've worn my share of leopard pink boots to premieres or belts the size of cars. I thought my pink leopard boots were so cool." – Brittany Snow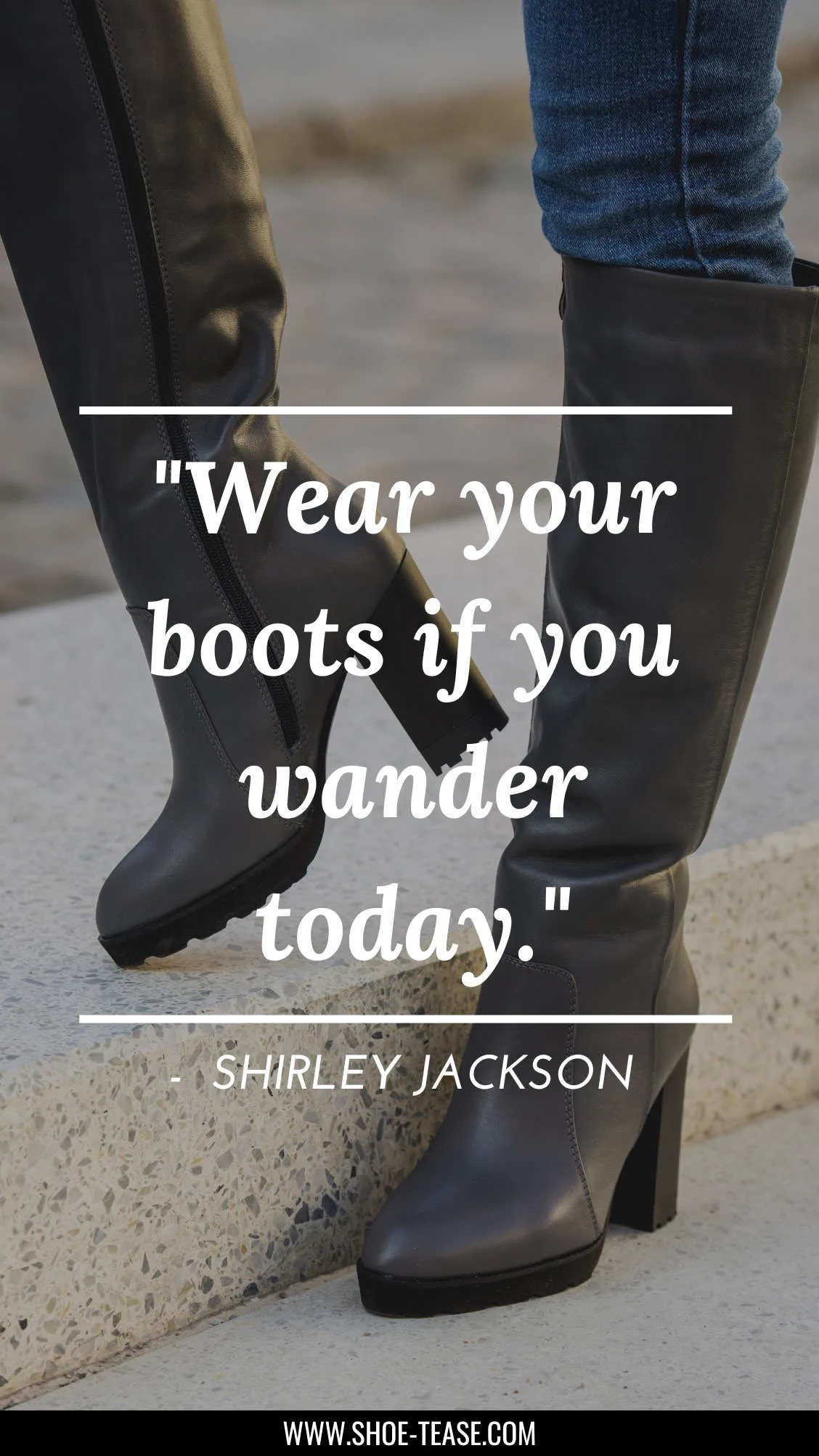 "Wear your boots if you wander today." Shirley Jackson
"I can't live without my silver Marc Jacobs boots! They are a little bit cowboy, a little bit space alien. They go with everything." – Wynter Gordon
"I like the crunch sound of snow under my boots. Better than stepping on knuckles." – Jarod Kintz
"Even on the most solemn occasions I got away without wearing socks and hid that lack of civilization in high boots" – Albert Einstein
"I don't wear heels. I'm all about flats from Chanel and wedges. I love my Gucci wedge boots." – Jourdan Dunn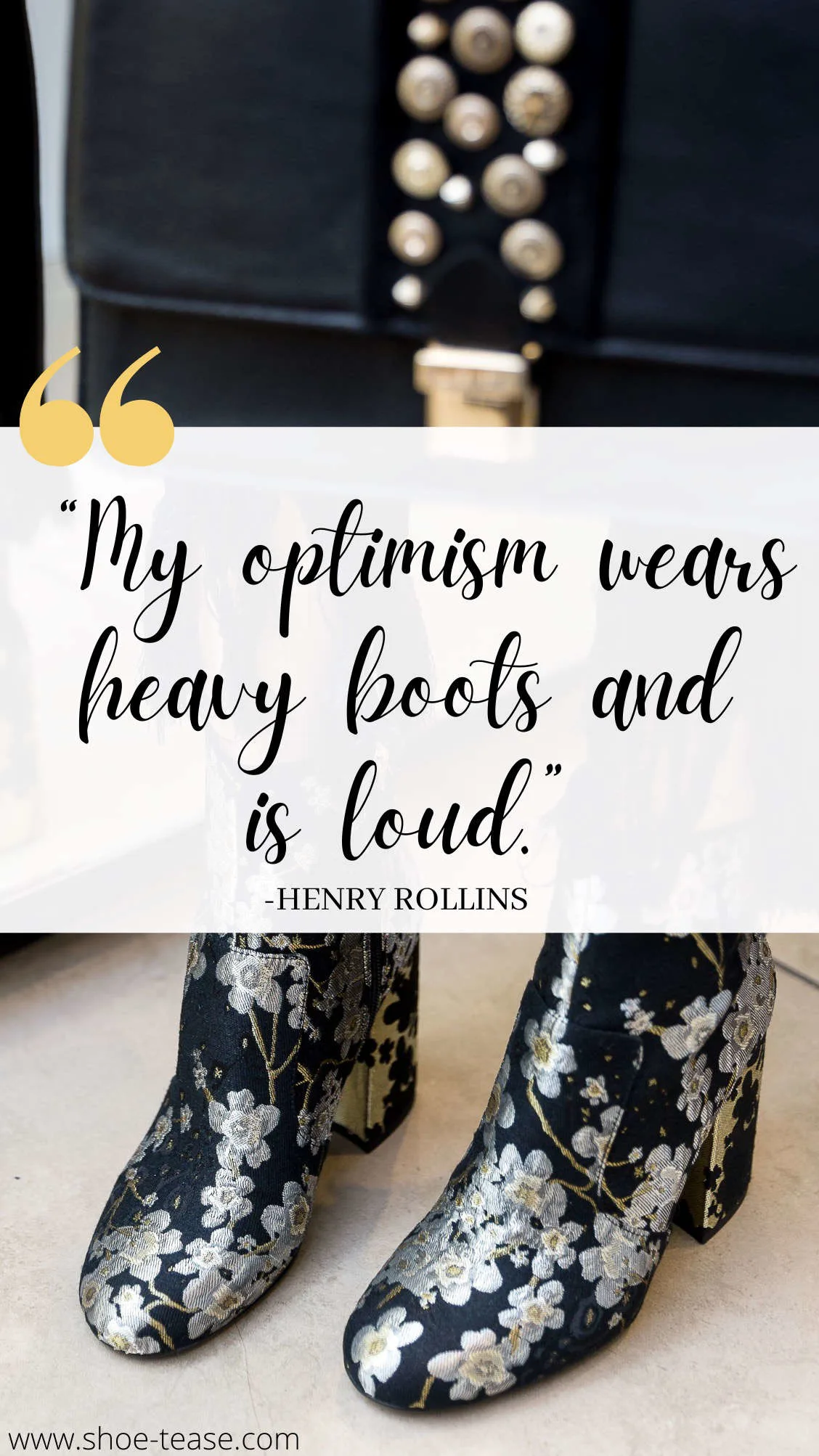 "My optimism wears heavy boots and is loud." – Henry Rollins
"Let's look different! I like monster movies, so why can't I have Godzilla's face on my boots?" – Gene Simmons
"No, I'm not Shirley the girl, I'm the woman on MTV with the big boots." – Shirley Manson
"There comes a time when what is needed is not just rhetoric, but boots on the ground." – Baldwin Spencer
"I love jeans, T-shirts, boots, and tennis shoes." – Ashley Benson
"If I ever go onstage at the Oscars, you can guarantee I'll be wearing my motorcycle boots." – Dean Winters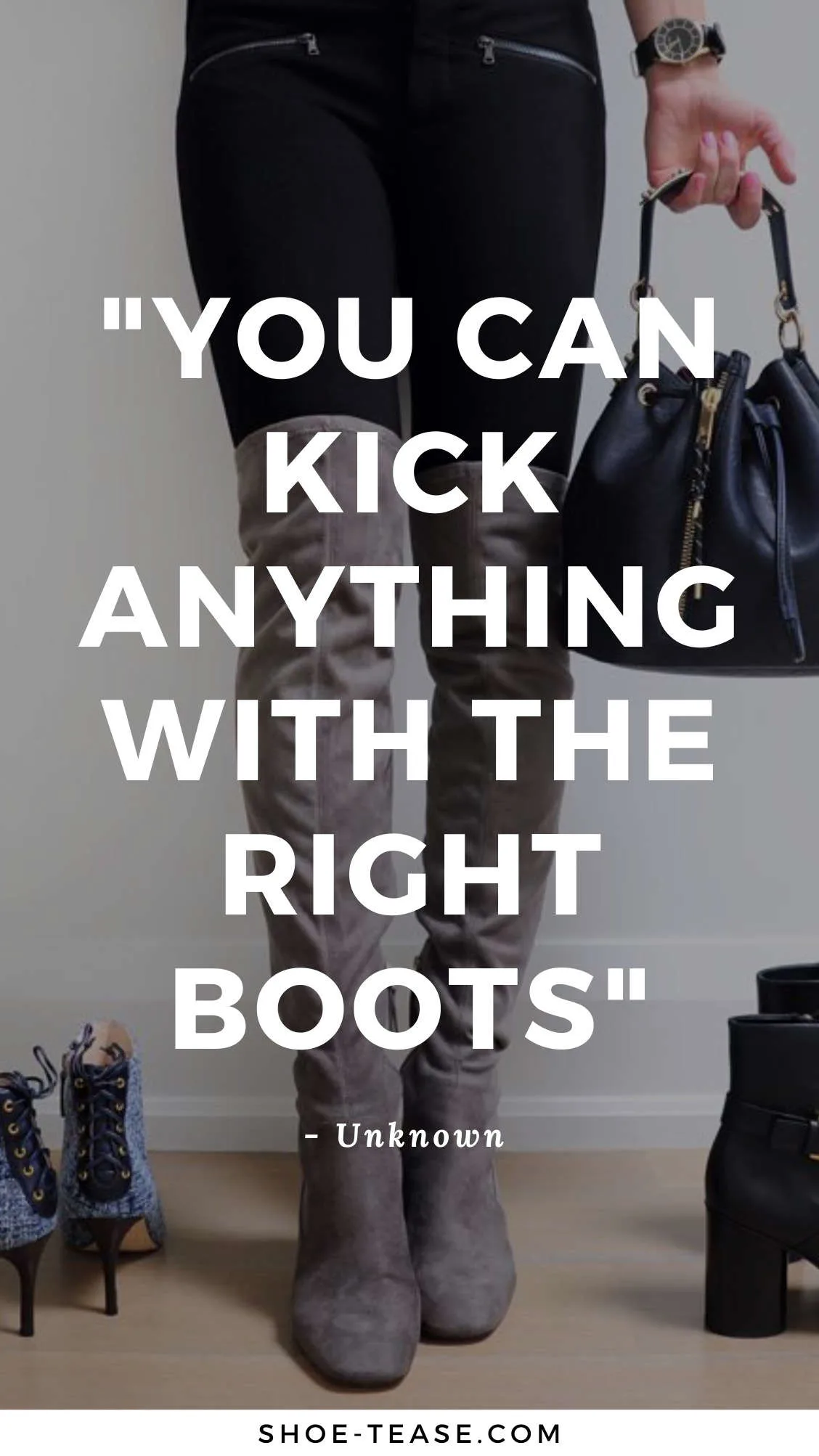 "You can kick anything with the right boots." – Unknown
"I won't be able to live without my guitar, my phone or my boots on tour." – Skylar Laine
"I'm a big fan of old boots." – David Beckham
"I've always liked boots. I always think it's better to wear a boot, not a shoe. "- Justin Theroux
"When you see someone putting on his Big Boots, you can be pretty sure that an Adventure is going to happen." – A. A. Milne
"Boots are a girl's new go-to accessory, whether worn with a dress or a pair of jeans. From winter white to rainbows to playful prints, there's so much to love about this must-have item."

– Madam Yang
"Short boots are cool, in my humble opinion. They say, 'Hey! Winter is over, but summer hasn't yet arrived – so enjoy this halfway point!" – Rachel Nichols
"I think I'm probably much better at the boots and pocket knife thing than I am at the high heels and martini thing." – Sarah Wayne Callies
"Ever since I can remember, I've worn big black boots. They are super warm and get me where I need to go." -Penelope Mitchell
"It takes a truly cool girl to pull off short-shorts and rain boots." – Peter Som
"They've been stepping on my toes for years. It's just a reason to get new boots." – Steven Tyler
"I don't carry a wallet. I keep my cards in my pocket and cash in my boots." -Jackson Rathbone
"The one hit song that I have tremendous gratitude for is Boots, because it has a life of its own. It's like being identified with a brand name." – Nancy Sinatra
"Boots and shoes are the greatest trouble of my life. Everything else one can turn and turn about, and make old look like new; but there's no coaxing boots and shoes to look better than they are." – George Eliot
"I would love to take off the stilettos and put the boots back on. Strap something to my hip, and let's go!" – Gina Torres
"I bought a pair of Carpe Diem boots, which were completely unnecessary and hideously expensive, but they make me feel quite fine and dandy." – Sean Pertwee
All the Best Cowboy Boots Quotes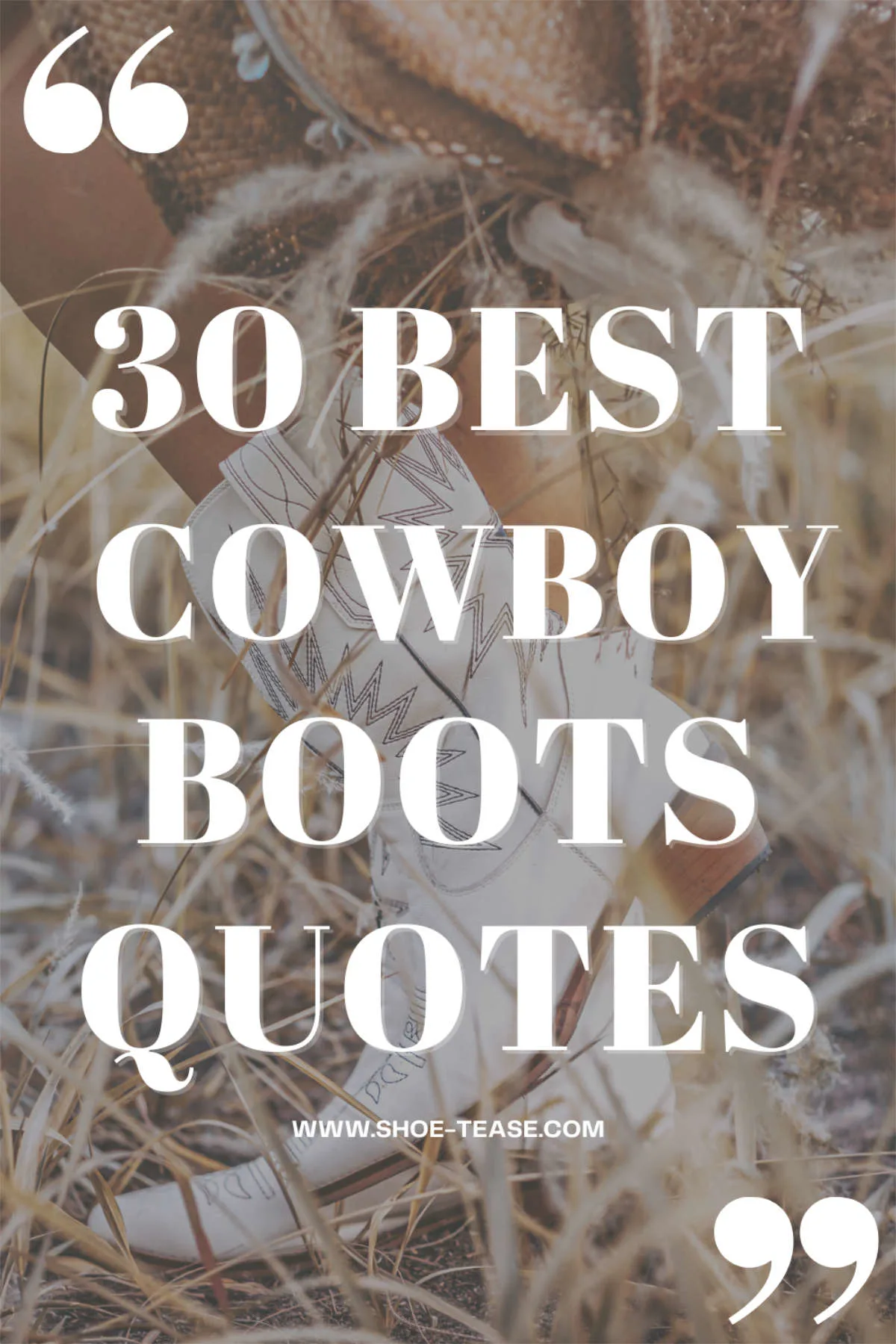 There are boot people, and then there are cowboy – and cowgirl boot – people! Although "other" boots can be more fashion and trend-focused, cowboy boots are a classic footwear staple, especially in many parts of the US.
But they have made a resurrection in the fashion world as of late. Hence my recent posts all about how to wear cowboy boots and the best dresses for cowboy boots!
Below is a slew of great cowboy boot quotes and sayings for all to enjoy! These are just a few favorites I've collected so far: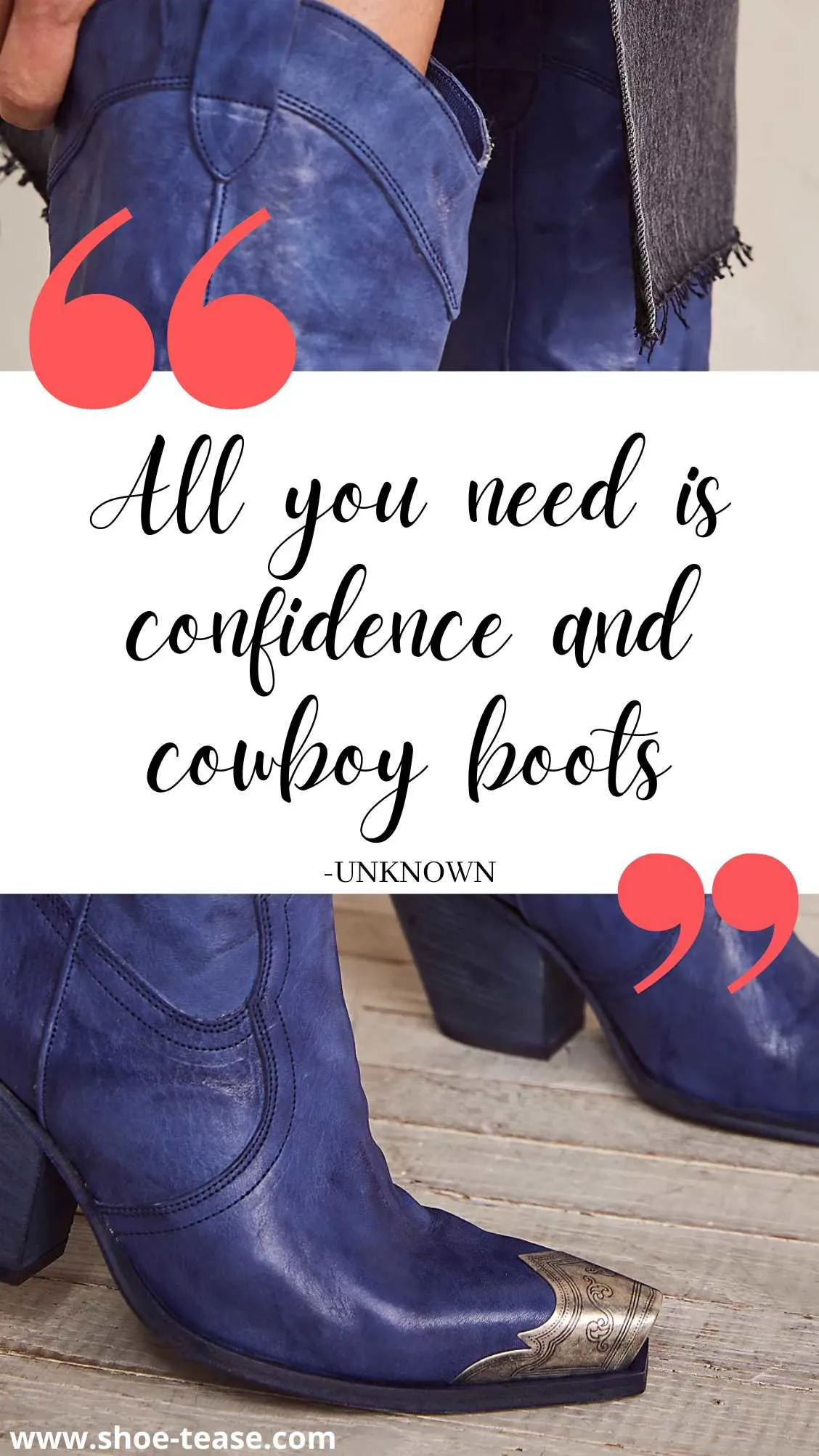 "All you need is confidence and cowboy boots." – Unknown
"I like sundresses with cowboy boots, little shorts with big wedge heels and a big piece of turquoise. I also love classic, Old Hollywood romantic styles. I'm 'country girl meets city girl' circa 1930." – Kirsten Prout
"I own now, I think about 38 pairs of cowboy boots, or 37, something like that now". -Skylar Laine
"I have horses, I drive a truck, and I wear cowboy boots. First I'm a Texan." -Henry Thomas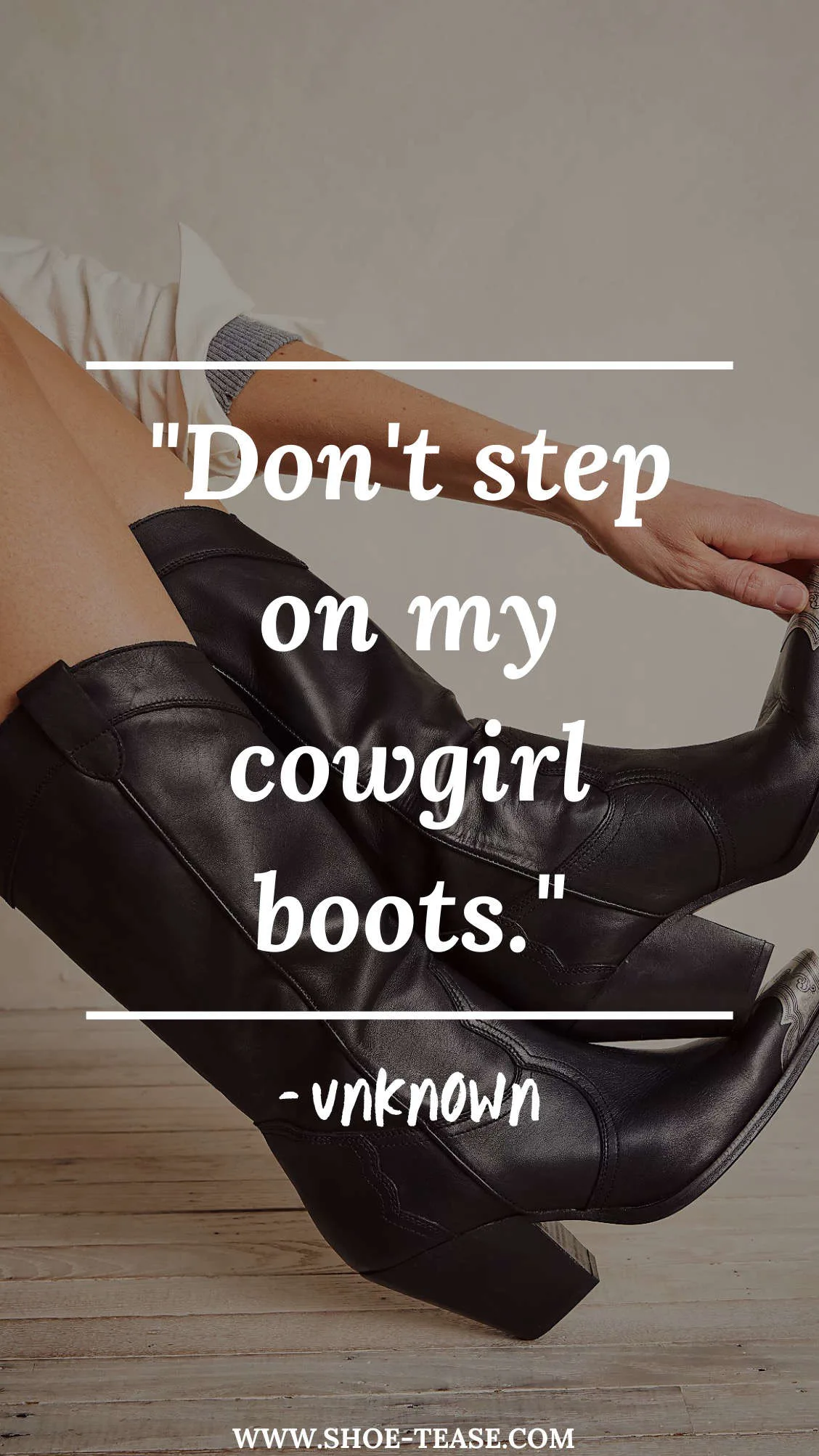 "Don't step on my cowgirls boots." – Unknown
"I'm like 6'2 when I wear heels, so I tend to wear cowboy boots a lot." – Taylor Swift
"All things are possible with confidence and cowboy boots." – Unknown
"Boots, chaps and cowboy hats." – Unknown
"Cowboy boots with a suit? You're a rough, tough businessman. Chaps with a bow tie? You're in the rough, tough man business". – Author Dana Gould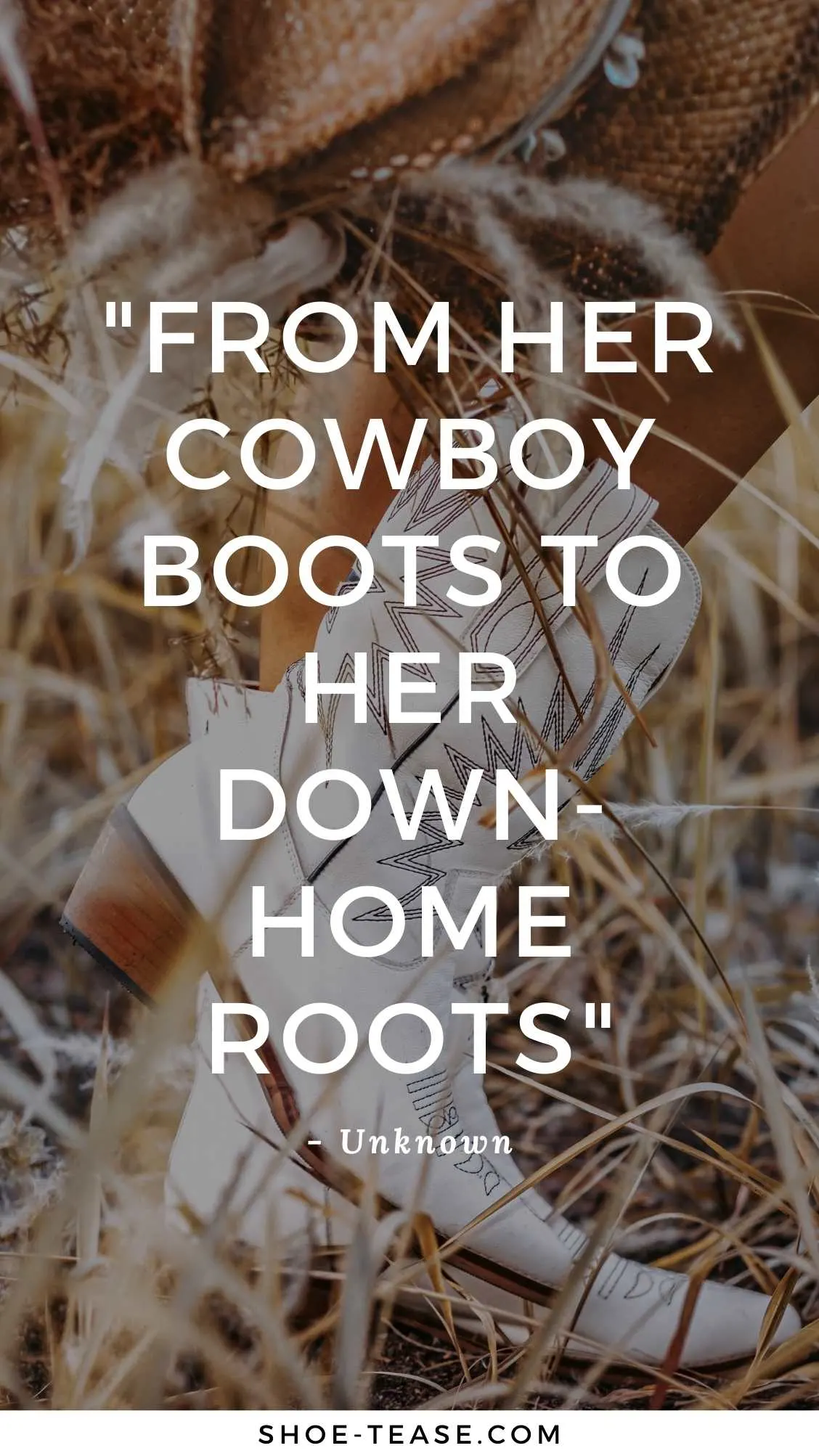 "From her cowboy boots to her down-home roots." – Unknown
"It never mattered to me that people in school didn't think that country music was cool, and they made fun of me for it – though it did matter to me that I was not wearing the clothes that everybody was wearing at that moment. But at some point, I was just like, 'I like wearing sundresses and cowboy boots." – Taylor Swift
"When in doubt, put your cowboy boots on." – Unknown
"I think every man should have a pair of boots. They're really segxy. Leather boots, cowboy boots, it depends". – Kemp Muhl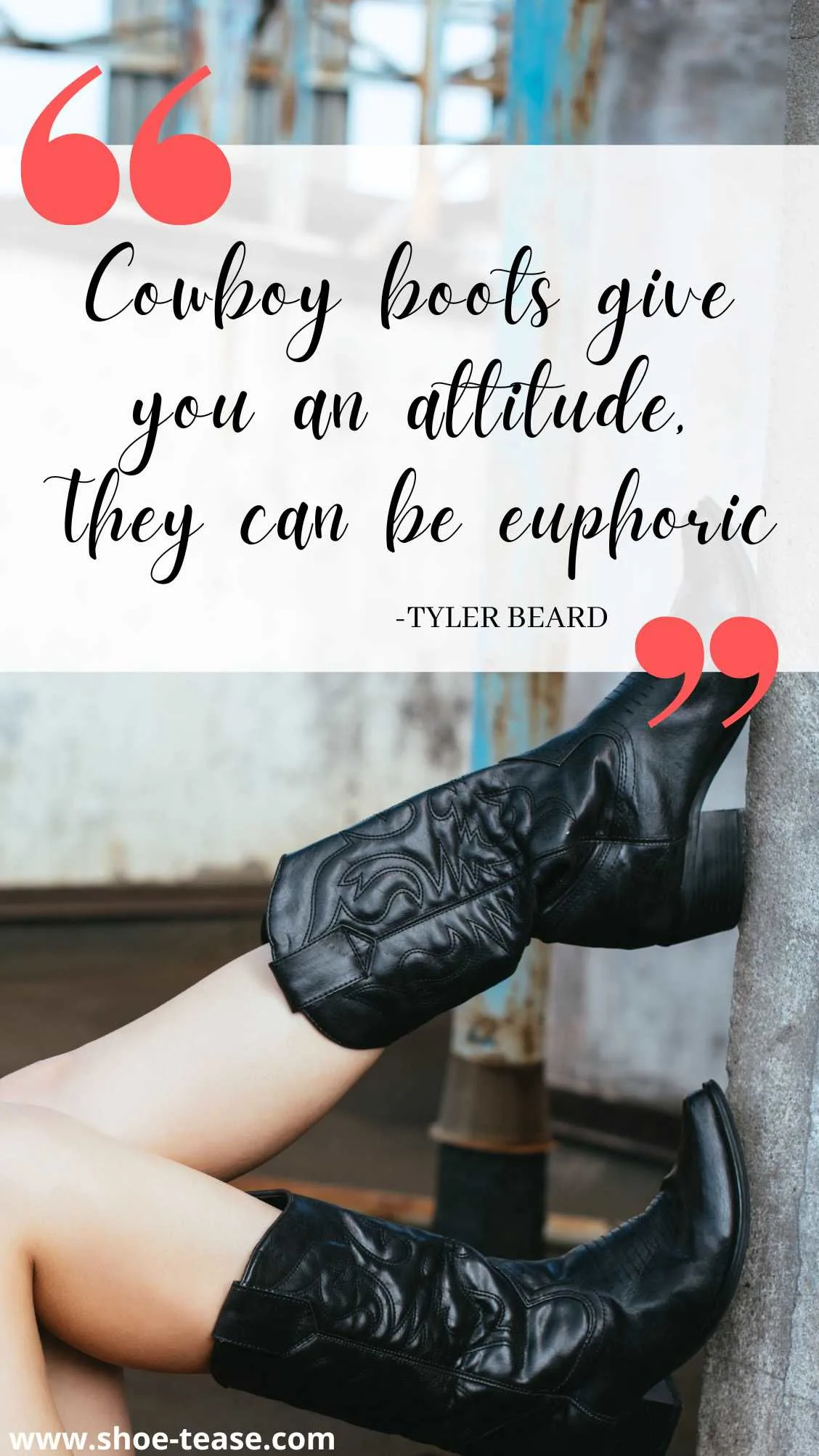 "Cowboy boots give you an attitude, they can be euphoric." – Tyler Beard
"Cowboy boots with a suit? You're a rough, tough businessman. Chaps with a bow tie? You're in the rough, tough man business. – Dana Gould
"My hero wears cowboy boots and I call him daddy." – Unknown
"Life is swimming to shore with cowboy boots on." – Christopher G. Moore
"You can do anything that you wanna do, but uh-uh, don't step on my cowboy boots". – Hank Williams, Jr.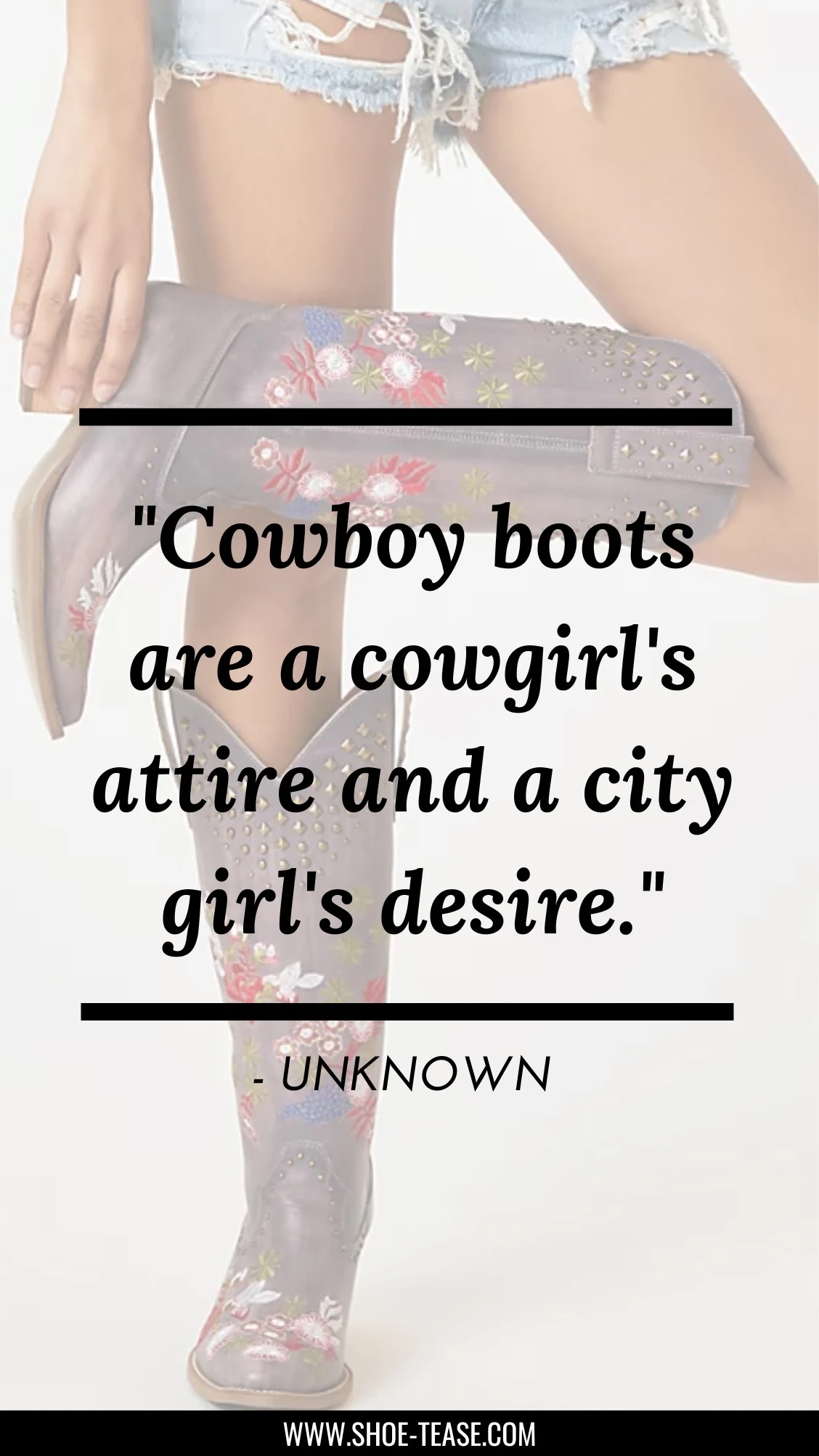 "Cowboy boots are a cowgirl's attire and a city girl's desire." – Unknown
"If I'm playing country, I gotta have my country hat and my cowboy boots."- Hank Williams III
"Why is it surprising that scientists might have long hair and wear cowboy boots? In fields like neuroscience, where the events you are recording are so minute, I suspect scientists cultivate a boring, reliable image. A scientist with a reputation for flamboyance might be suspect." – Steven Pinker
"Don't squat with your spurs on." – Unknown
"If I can't wear my cowboy boots I ain't going." – Melinda Lubbers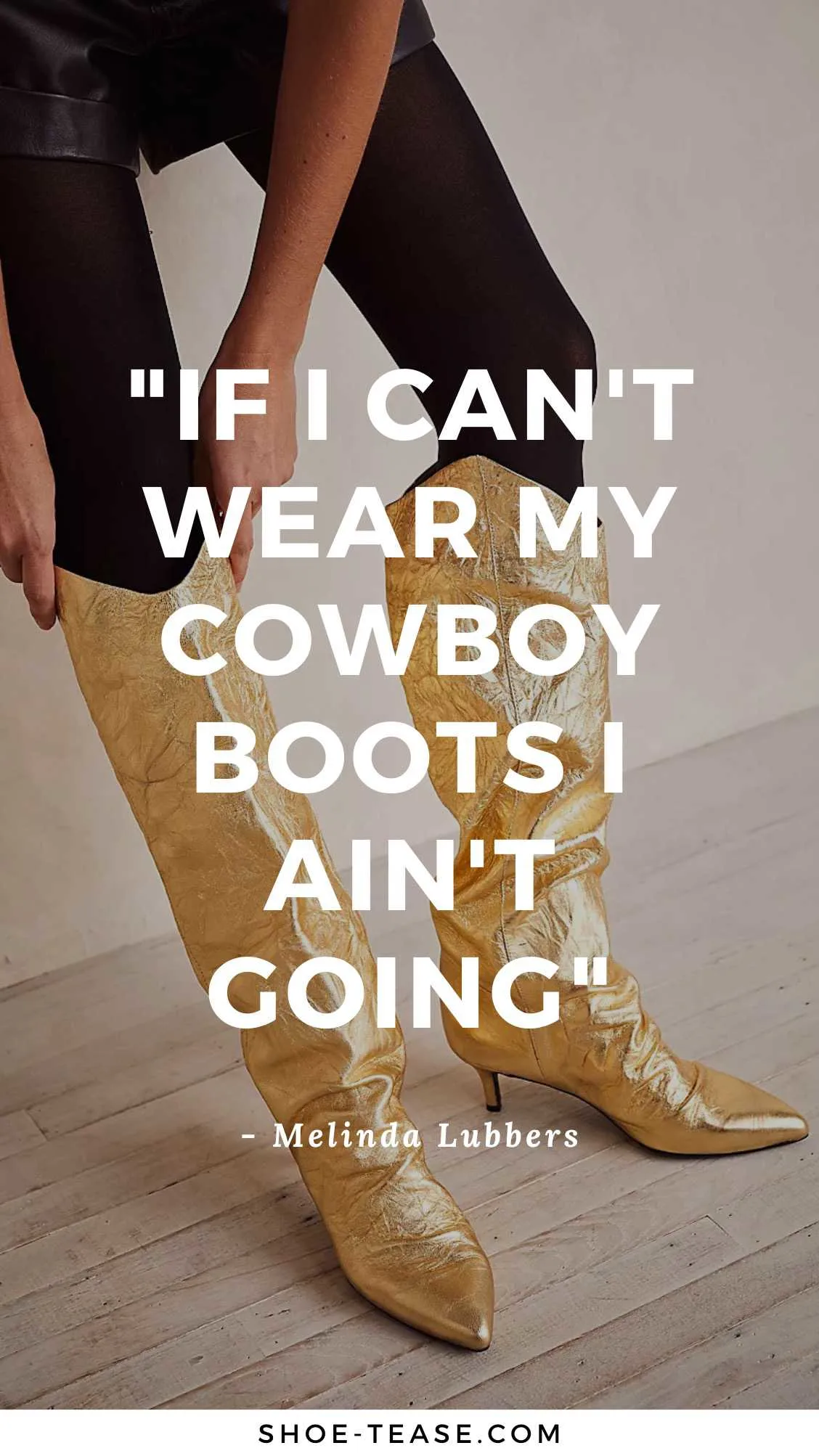 "I like crazy shoes or unusual cowboy boots and I collect big belt buckles." – Patricia Cornwell
"A Southern Belle is Country from her Southern Roots to her cowboy boots." – Mary Gilbert
"As a very young man growing up in Texas, usually I got a shotgun or cowboy boots for Christmas." – Robert Wilson
"Simple. Pared down. Timeless. The ties were never too thick or too thin; the pants were never too flared or too skinny. In my life with Dad, he wore Western apparel because we went riding – jeans, cowboy boots, the turquoise belt buckle. But it was all very simple, and that classic look is very 'Ralph Lauren.'" – Jennifer Grant
Final Words on Cowboy and Boot Quotes & Sayings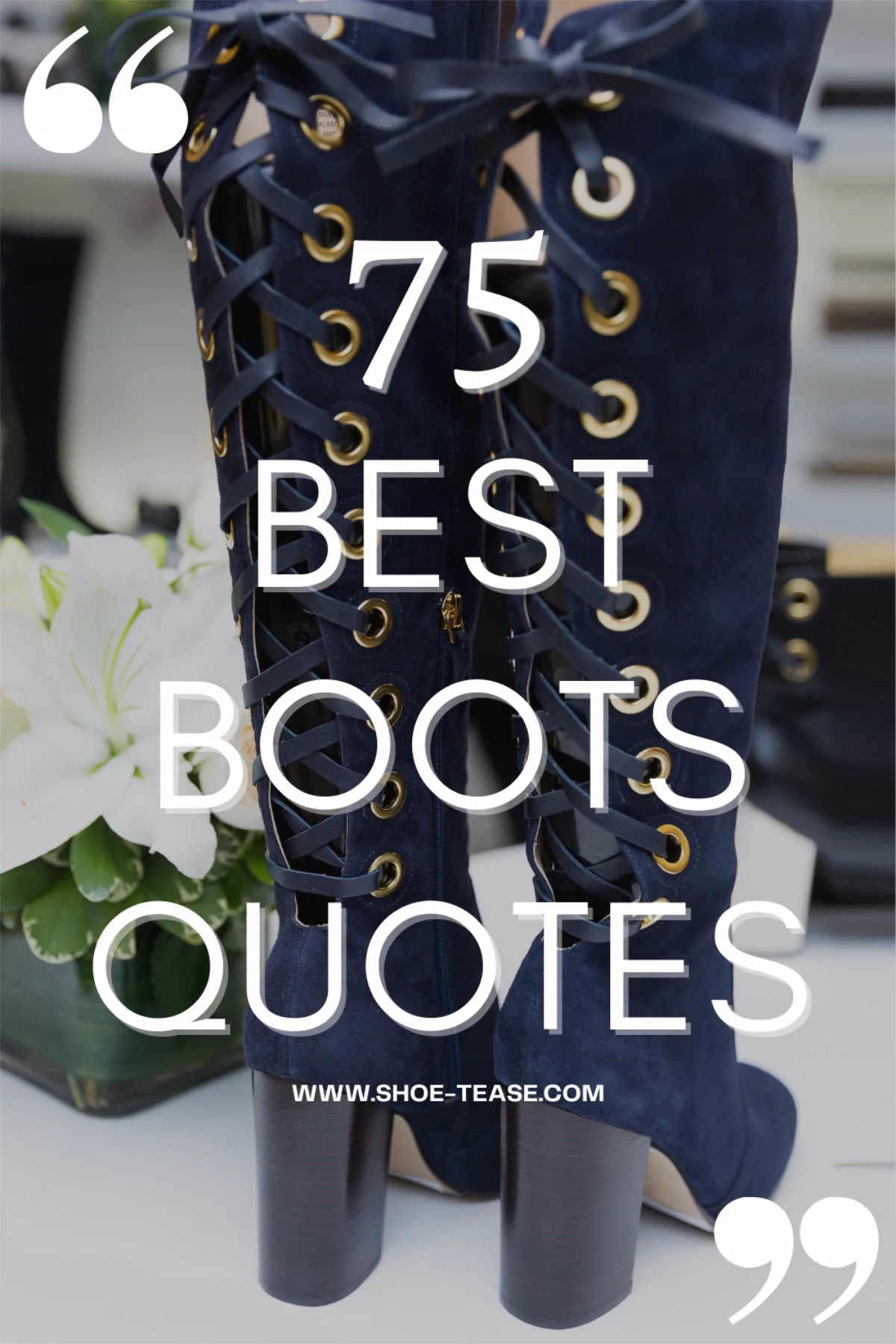 I hope you enjoyed reading the many quotes about boots that I've gathered for you here. I've searched far & wide to appropriately state the author of every boot quote and cowboy boots quotes.
If I've left any quotes stated by "unknown" and you're able to tell me who spoke those words, please let me know!
Looking for more reads and about women's shoes & footwear? Check out my ultimate guide on the various types of boots for women and gaze upon the gorgeous street style photos – that include many boots! – in the fabulous book It's All About Shoes.
Before you hop onto another article, please tell me: which are your fave boots quotes? If there are any great boot quotes or cowboy boots quotes that I've missed to add to this list, add them to the comments, below!
xo ShoeTease