If you're at all familiar with ShoeTease's history involving UGG boots, you're probably wondering why I'd consider writing about UGGs (ugly shoes posts aside) little less a post specifically on how to clean UGGs.
Especially after already writing a post about how to clean suede shoes! Here's my reasoning:
I figure that in a world where many women already own "classic" UGG Australia boots, the damage has already been done. These boots cannot be unbought. Or unworn in the slush & snow. Yes, the world just got a little less attractive.
And if you're reading this post, I'm betting your boots are in dire need of some serious shoe repair. And let's be completely honest here: clean UGGs look a heck of a lot better than dirty ones! This is one of the types of boots for women that can't get away with looking grimy.
So having you stomp around in stained versions of these boots is not an option. And because I take shoe cleaning seriously, I'm going to show you how to salvage them.
Even if this cleaning involves restoring soggy, dirty, even salt-stained UGGs. Because let's face it: whether it's the beginning or end of winter season, these puppies probably aren't looking so healthy.
And I'm guessing you've likely spent a small fortune on your slippers (whaaat? you didn't know "Classic Uggs" were indoor shoes!?).
Then gone & worn them outside in the rain/slush/snow. Tisk–tisk to YOU! Luckily, here's how to fix them 🙂
How to Clean Uggs: A Complete Guide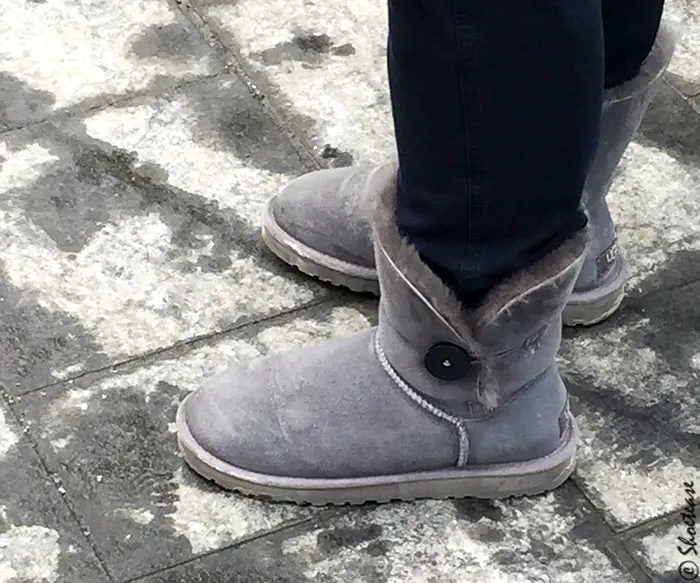 Cleaning Uggs with UGG Australia Cleaning Kit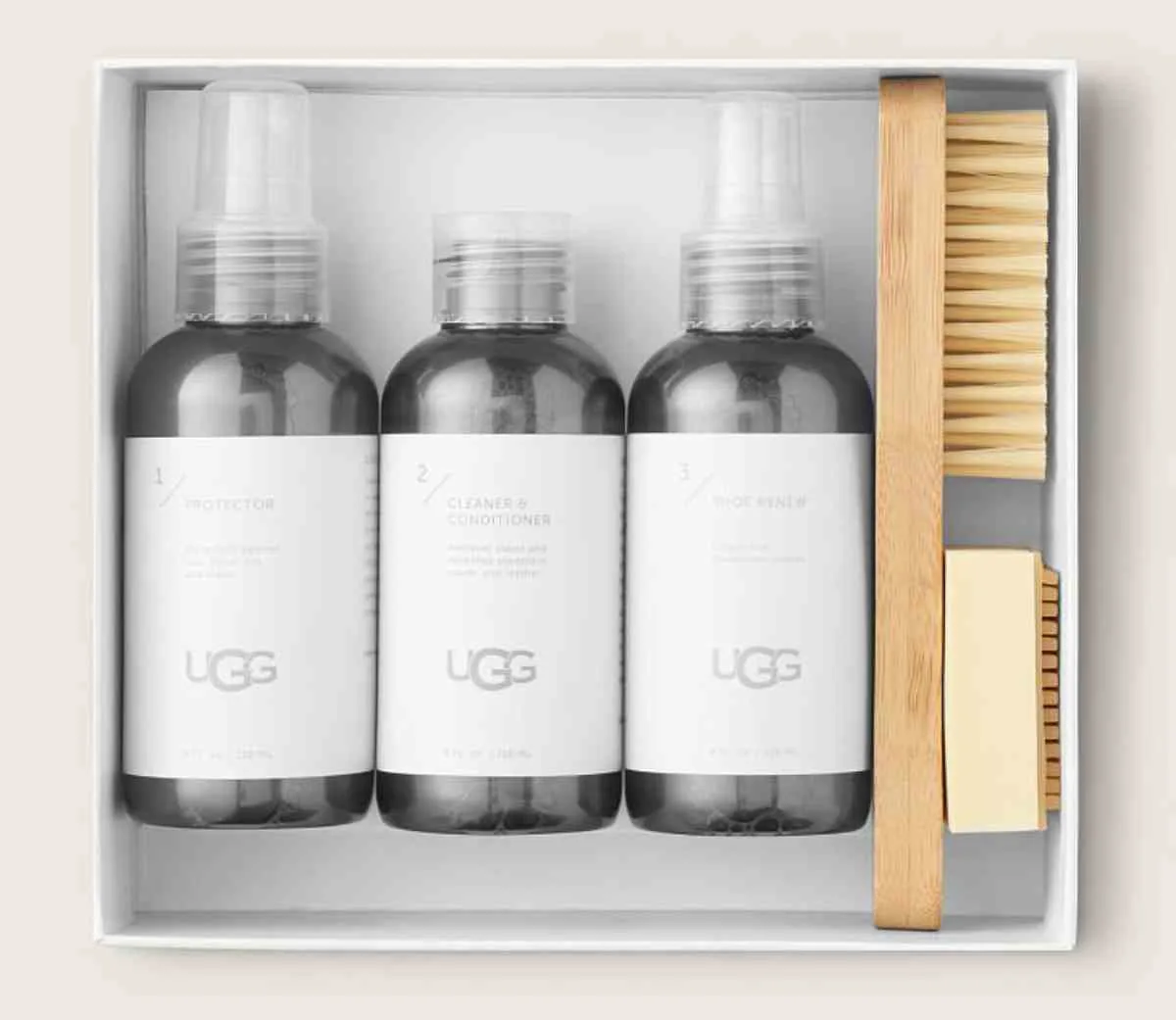 Of course, using the branded UGG cleaning kit products is an UGG care no-brainer! I've condensed the basic cleaning steps for you, below. Please note that these are cleaning instructions for the classic suede UGG boots only!
Preventative treatment:
Use UGG Sheepskin cleaner/conditioner by spraying it evenly onto your new boots from 6 or so inches away until the boots are wet. Make sure you're in a well-ventilated area or outside.
Let dry for at least 24 hours in an airy place, away from direct heat or sunlight
Using your suede brush (this is a great one, FYI!), brush the outer upper in the direction of the fibres
Cleaning with UGG products:
With a clean sponge & water, dab your boots to dampen, rather than wet them
Add some Ugg Sheepskin cleaner/conditioner with the same sponge onto the boots & gently scrub the outer surface of the boots
With a clean new, damp sponge, clean off the conditioner so no residue remains
Fill boots with paper so that the footwear maintains its shape
Air dry your boots for 24hrs
Spray them with UGG Sheepskin Protector following the package's instructions. Don't have UGGs brand shoe protector? You can find many worthy alternative

waterproof spray for suede shoes

in my dedicated post.
Let boots air dry yet again
Using a suede brush, brush suede in one direction
Basic DIY UGG Boot Cleaning
UGG Cleaning Tool Kit
Suede Brush (or stiff brush, or even a toothbrush but I recommend using one specifically designed for suede)
Clean rag, cloth or sponge
Crumpled paper, newpaper or rags to stuff into boots
Cleaning Instructions:
Use your suede brush to scrub off dirt from the material, brushing only in the direction of the fibres
With a damp (not wet!) rag or sponge, gently scrub the exterior boot uppers & completely stuff the boots
Stuff the boots with dry rags or crumpled papers to prevent the boots from losing their original shape
Let the boots air dry for no less than 24hrs in a cool place that is not directly exposed to heat or sun
If steps 1-3 don't clean your UGGs, then you need to apply a suede cleaner:
Repeat steps 1+2 above
Add a bit of cleaner onto a damp sponge or cloth & scrub the mixture evenly on each boot upper. Doing this will ensure the surface will look same, as water and products alter the leather's appearance. Make sure you follow cleaner manufacturer's instructions.
Fill up the rest of the boots with paper or dry rags & repeat step 4, above
You can shop the UGG Suede Cleaning Kit from Walmart or directly from UGG Australia.
Targeting Specific Stains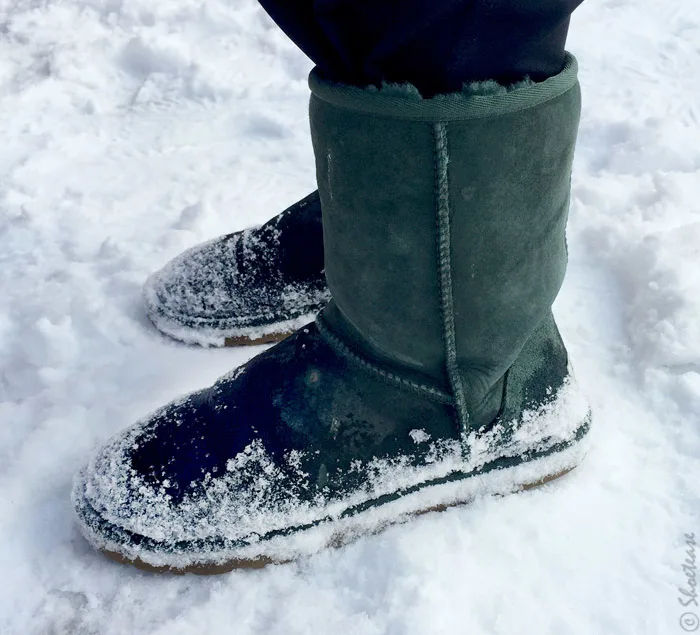 How to Remove Salt Stains from UGG Boots
Follow steps 1-2 of the basic cleaning instructions, above
Using a suede eraser or basic pencil eraser, rub on the salt stain
Dab a damp cloth or sponge to wet the salt stain. Avoid soaking.
Mix a small amount of a suede cleaner with cool water.
Use the mixture preferably with a soft sponge to blot or if necessary, gently rub onto the stain. Keep in mind that rubbing may cause dye to rub off.
DIY at home solutions: basic dish soap or a half & half mixture of white vinegar + water vs. commercial suede cleaner and apply the same way as step 5
Rinse washed areas with a clean, wet cloth or sponge.
Air dry for 24hrs +
When boots are completely dry, use a suede brush to brush the suede in the direction of the nap
Removing Oil or Grease Stains
Using cornstarch, chalk or talcum powder, apply it to the oil/grease-stained area
Let the boot absorb the powder for 12-24 hrs
Using a soft brush, carefully remove the powder
Repeat if stain does not come out, leaving powder on for longer
Follow the basic UGG boot cleaning steps as outline above
Make sure you clean using cold water only. Hot water may set, rather than clean the grease stain.
How to Clean the Inside of UGG boots
Can you clean the inside of Ugg boots, you ask? Yes, you certainly CAN! Here's how:
Gently use a thick bristled comb to clean out the wooly inside part of your UGGs & shake out upside down
To deodorize & soften the insides, use 1 part baking soda & 1 part cornflour (2 TBSP of each will do). Add a few drops of essential oils, such as lavender, to add a certain je-ne-sais-quoi scent to your boots.
Place mixture into each boot and shake to evenly coat the full wooly interior
Let the mixture sit in the boots overnight
Shake the excess powder out the next day
Clean the interiors often
UGG Cleaning No-Nos!
Do not dry clean your UGGs
Don't wash your UGG boots in a washing machine
Never put them in a tumble dryer or dry your boots with a hair dryer, on top of a heater or in direct sunlight. These can all cause shrinkage & will deform your boots
Never use hot water when cleaning your boots, only clean, cool water
So there you have it: your complete How to Clean UGGs guide to washing out salt & grime from your classic suede UGG boots.
I have no idea what you were doing walking in puddles, snow or dirt with these incredibly delicate non-weather proof boots in the first place, but hopefully you've now learned your lesson 😉
Check out these recent shoe care posts on how to
Disclaimer: Attempting to clean classic UGG Boots yourself may cause irreparable damage to your already unfortunate-looking footwear. ShoeTease and its partners are not liable for any damages to persons or property arising from any of the advice given in this post. Please follow the advice at your own risk. For best results, take your UGGs or Sheepsking suede boots to a professional specializing in UGG stain removal.
xo ShoeTease
Sources: whooga.co.uk, cleanmyspace.com