How to clean suede shoes & heels? That is the question. And I've got your answers in today's shoe care post dedicated to suede shoes + boots!
Genuine suede is one of the most delicate shoe materials out there & staining them is always an unfortunate affair, because they don't simply wipe clean like a good 'ol leather boot. But don't let that stained heel get you down!
Here I bring you a complete guide with some nifty tricks on how to get those suede shoes clean & how to maintain them before & after wear.
There are great store-bought options & at home DIY solutions, so simply pick your stain & let me show you how to get those suede shoes & boots outfit-ready again!
How to Clean Suede Shoes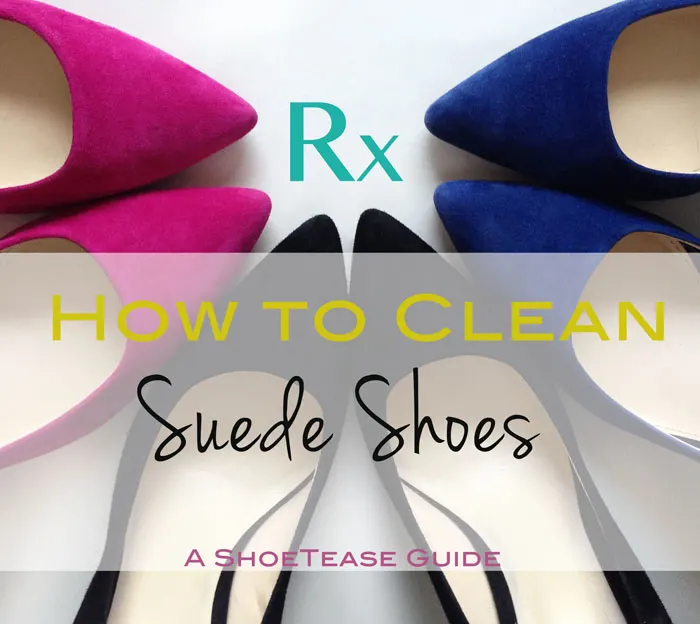 Your Suede Cleaning Kit – The Must Haves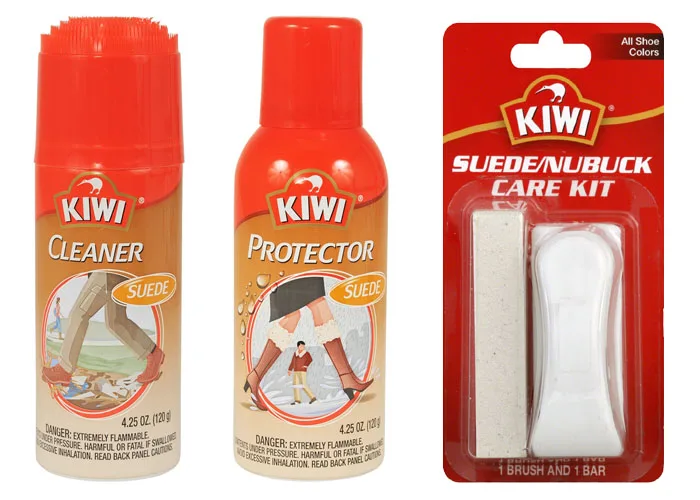 Alt text: various suede shoe care products with click links.
Your suede shoe care kit should include the following:
suede shoe protector
suede shoe brush
eraser bar
DIY home care options: nail brush, emery board, sponge or dry cloth, white vinegar, peroxide, iron/steamer/kettle
Cleaning Basic Stains from Suede Shoes: Dirt, Mud + Scuff Marks
If you're looking for in-depth info on how to remove scuff marks from shoes, I have a whole post about it! But here's your guide below, for a quick reference to removing them specifically from suede:
Let the shoes thoroughly dry.
Stuff your shoes with crumpled newspaper or dry rags.
Using a soft bristle brush (like a nail brush) or preferably a suede shoe brush. Gently brush away the dirt in one direction vs. brushing back & forth.
For scuff marks or if the stain is persistent & really caked on, then brush a little harder than before in both directions.
For marks that weren't removed, use the suede eraser bar.
DIY alternatives for suede eraser: a pencil eraser, an emery board (nail file).
Removing Water Stains from Suede: Fight Water with Water!
Use a suede shoe brush/spray bottle to apply a small amount of water starting with the outer edges of the affected area.
Using a clean sponge or dry cloth, blot any excess water.
Let shoes dry in a cool area. Avoid any direct heat, so put down that hair dryer! If the suede dries too quickly, the texture and/or color may change .
Brush with a suede brush as per the dirt & mud cleaning instructions, above.
How to Clean Road Salt Stains & Lines from Shoes
Alright Canada, this one's for you. No matter how many times you've been told not to step into snow or slush with suede shoes or boots, we all have at one point or another.
That's because when the snow melts away & the sidewalks seem clear, residual road salt remains & the minimal amount of moisture on the ground will transfer it right on to your shoes. Yep, totally unfair!
Use a suede brush to remove the first layer, brushing lightly & repeatedly in one direction.
Apply a salt stain remover & follow bottle directions.
DIY Option: White Vinegar. Pour a small amount of vinegar on a sponge or cloth & wipe gently. Rub with a suede brush. Let dry. I find that this method actually works better than the store bought products.
How to Clean Suede Shoes from Other Stains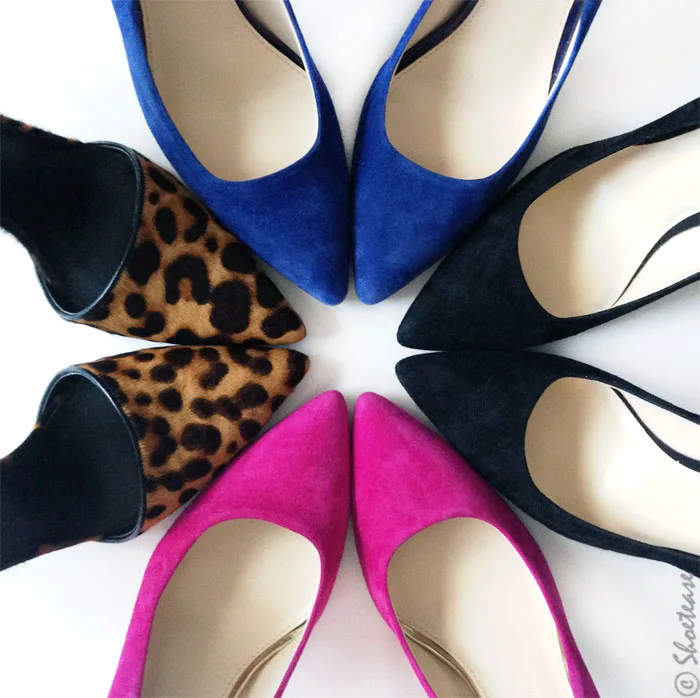 Removing Ink from Suede
If it's still wet, blot it with a rag. Then rub with rubbing alcohol-soaked cotton ball. If already dry, scraping with sandpaper is a common way to go, followed by a suede eraser.
How to Remove Wax & Gum from Suede
The funnest stain to remove from suede are these two offenders. Yes, fun! Hear me out: stick the shoe in a thin plastic bag & put it in the freezer overnight.
This makes the wax/gum hard & much easier to remove with a suede brush, or if particularly deep & you dare: a steel wool brush.
Removing Blood from Suede Shoes
Can't say I've ever spilt blood on my suede shoes, but, you know, blood happens (& it's easy to remove)! Use a cotton ball soaked in peroxide until the stain comes out.
If the stain is stubborn, scrub with a nail brush or soft tip toothbrush rather than a cotton ball.
Removing Grease
This is the mother of all stains as grease marks are the most difficult ones to eliminate. You can try cleaning the grease off with warm water, then applying baby powder or corn starch to soak up the oil for a good 12 hours or so.
Brush it off carefully & steam with an iron, steamer or kettle mist no closer than 6 inches, letting it penetrate the suede (I kid you not). Then use your suede brush.
Removing Red Wine
Red wine shoe stains might be the most common for me. And no, not because I drink too much of it, but because I'm a particularly clumsy walker. And I tend to walk with very full red wine glasses. Let's not judge, shall we?!
Soak a cloth in cool water & wring out. Blot the stain with the cloth.
As with grease, use your weapon of choice to direct steam towards the affected area
Comb with a suede brush
Let the shoes air dry naturally & revert back to using the suede brush
Removing Juice & Dog Drool
Some of us have pets & some of them eat, not to mention slobber on our other best friends: our shoes! Tackle it as you would dirt & mud.
Removing Mystery Stains
How to clean suede shoes when you don't know what the stain's actually from? A little trial & error will help in this case. Use your suede brush & follow with suede eraser.
If that's a no-go follow instructions as if it were an oil. Chances are, it likely is!
General Suede Shoe & Heel Maintenance
Suede shoes are as delicate as they are gorgeous, so a few basic key steps in suede shoe care need to be taken in order to preserve their velvety, rich state. Here are my tips for general maintenance (and preservation!) of your suede footwear:
Before you wear them, evenly spray a stain protector/water repellant onto the suede surface. This is an easy prevention plan to deter water & stains in the first place & consequently make them easier to clean later on. Make sure to follow your suede shoe protector's instructions, as some require some light brushing right after application.
A no-brainer worth mentioning: Never wear your suede shoes & high heels in the rain!
Gently brush after each wear.
To prevent scuff marks on the suede & help your shoes keep their original shape, store with a shoe tree inserted or with crumpled papers inside the whole shoe including the toe.
Store your shoes with the soles facing away from each other in a shoe bag within their original box or special shoe box. This will prevent scratches as well as dust from caking in.
An impossible suede stain getting you down? Before you rub a hole into the material or potentially cause irreparable damage to your suede shoes, take it to a pro.
So there you have it: your completely DIY & store-bought suggestions on how to clean suede shoes. I hope it was helpful for you! Here are some products to help make your suede shoe care a little easier:
Disclaimer: Attempting any of the above methods to clean suede shoes and heels yourself may cause irreparable damage to your beloved shoes & boots. ShoeTease and its partners are not liable for any damages to persons or property arising from any of the advice given in this post. Please follow the advice at your own risk. For best results, take your precious footwear to a professional specializing in shoe stain removal. This is highly recommended for your pricey Louboutins & other designer shoes!
xo ShoeTease