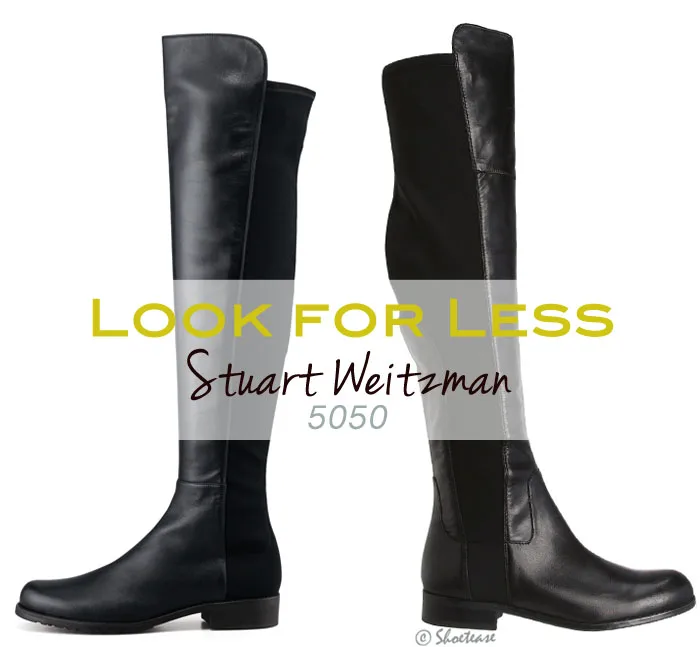 The Stuart Weitzman 5050 boots (both over the knee boots & knee high boots alike) has been a long-lasting shoe trend phenomenon. Remarkable sales worldwide? Check! Enormous celebrity/fashion blogger following? Check! It's safe to say that this is one of the most coveted Fall/Winter boots! But this particular tall boot doesn't come cheap, though. Luckily, ShoeTease is here to help you find Stuart Weitzman boot look alike styles as well as the real 5050 boots on sale!
Thankfully, a few designers have come up with several gorgeous copycat alternatives. One of the best "5050" look alike boot is definitely Franco Sarto's "Motor". With a slightly more intricate elastic back, this similar design gives you a fantastic look for less boot with a similar round toe, outsole & all around high-end look. It's amazing that you can get your hands on a pair of over-the-knee "Motors" for from $79-$129.90. That's a HUGE decrease from the price of the original designer version! Especially since this knock-off is made out of leather & particularly good looking. I've featured the black version of the boots here, because it's the most timeless & popular color. But fret not, there are many other hues to be had in both the 5050 boot original & more its affordable counterpart.
The Sarto version with its interior zipper, would allow for an easier fit for those with a wider calf. The 5050 from Weitzman is known for it's slender fit. I know this because I own a pair & happen to have a slim foot & calf myself! However, now you can custom order them to the approximate size of your calves. Below is the comparison between the two boot designs.
Stuart Weitzman 50/50 vs. Franco Sarto Motor
Stuart Weitzman 5050 OTD Boot
Upper: leather & elastic panel back
Simple slip-on with no zipper
Insole: leather
Outsole: rubber with light tread
Heel: 3/4 inch
Price: $474-$1093 (a huge price increase since last year BTW!) depending on color/material
These are the original 505o boots on sale & full price available now:

Franco Sarto Motor Tall Boot
Upper: Leather & stretch panel back
Inside zipper for easier entry
Insole: with cushioning
Traction outsole
Heel: 1 inch
Price: $128-248 depending on style, height & color

xo Cristina