Chelsea boots are a stylish and versatile addition to any woman's wardrobe from Fall to Spring. They can be dressed up or down, depending on the occasion.
Today on shoe-tease.com, I'll show you how to wear Chelsea boots outfits for women with a slew of clothing items. Including but not limited to: dresses, jeans, dress pants, shorts, jumpsuits, joggers and more!
What are Chelsea Boots?
Chelsea boots are types of boots characterized by elastic side panels. They come in a variety of styles, heel heights and outsole constructions.
Chelsea boots are currently more popular than ever, especially those with thick, lug-soles. But we can't ignore more classic styles like Blundstone Originals' weatherized version of the boot, or Chelsea rain boots!
For this post, I'll keep my styling advice based on how to wear chunky Chelsea boots outfits, along with more classic styles.
So keep reading for all the fashion tips on how to style Chelsea boots for different looks and occasions.
Whether you're looking for a new outfit idea or want some style inspiration, I hope you leave having a newfound appreciation for Chelsea boots outfits!
How to Wear Chelsea Boots Outfits for Women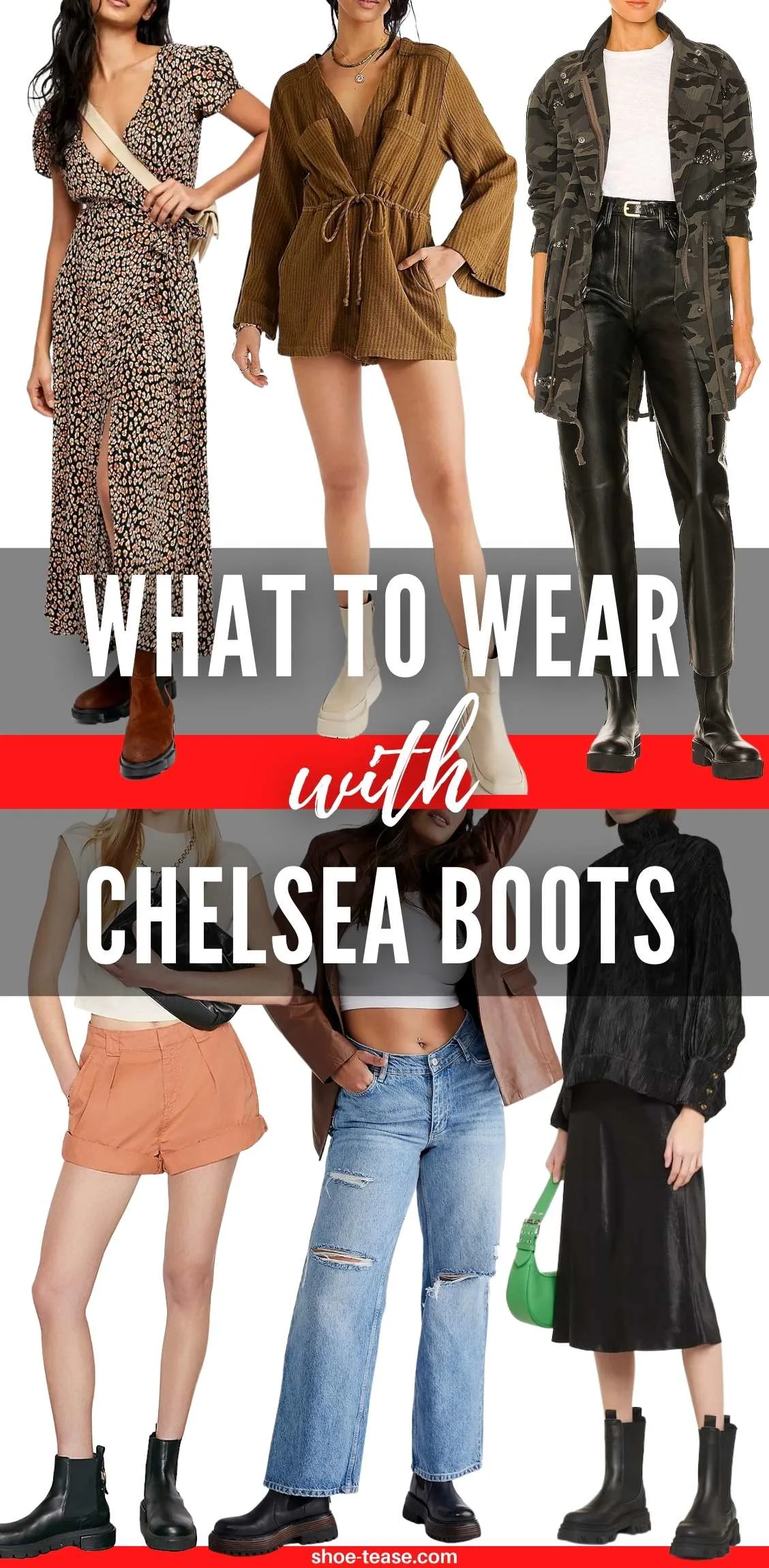 Shop Chelsea Boots for Women:
Shop Contemporary Chelsea Boots from:
1. Chelsea Boots with Jeans
If you're curious about what jeans to wear with Chelsea boots, there are many! When it comes to pairing Chelsea boots with jeans, the options are endless.
How to Wear Chelsea Boots with Jeans
How to wear Chelsea boots with skinny jeans for women is the easiest way to go! For a simple look, try skinny jeans tucked into the boots.
With straight leg jeans, you can cuff them right above the top of the boots, let them fall over them, or tuck them in.
For a more laid-back vibe, choose a pair of wide leg jeans. A cropped wide leg jean will showcase the whole look of your boots, while you longer, baggier jeans cover them. I like a platform Chelsea boot with these, as they add outsole interest and height.
For an edgy look, choose a head-to-toe black Chelsea boots outfit with black jeans and a black top, topping it off with a moto jacket for an extra rugged look. Try a pair of white Chelsea boots to contrast the total black look.
Or for more toned-down casual looks, reach for a pair of black or brown Chelsea boots with lighter wash jeans. Frayed or distressed more faded jeans will be most casual.
Top with a minimal or rocker tee, a simple shopper or a crossbody bag. A classic trench or oversized blazer will make a chic addition to the rest of the outfit.
And don't forget socks! You can add more style to your Chelsea boots and jeans outfits with socks. Roll longer socks over tighter jeans. Cropped jeans will showcase your favorite socks, by peeking out of the top of the boots.
No matter your outfit style, Chelsea boots with jeans make a great combo!
2. Chelsea Boots with Dresses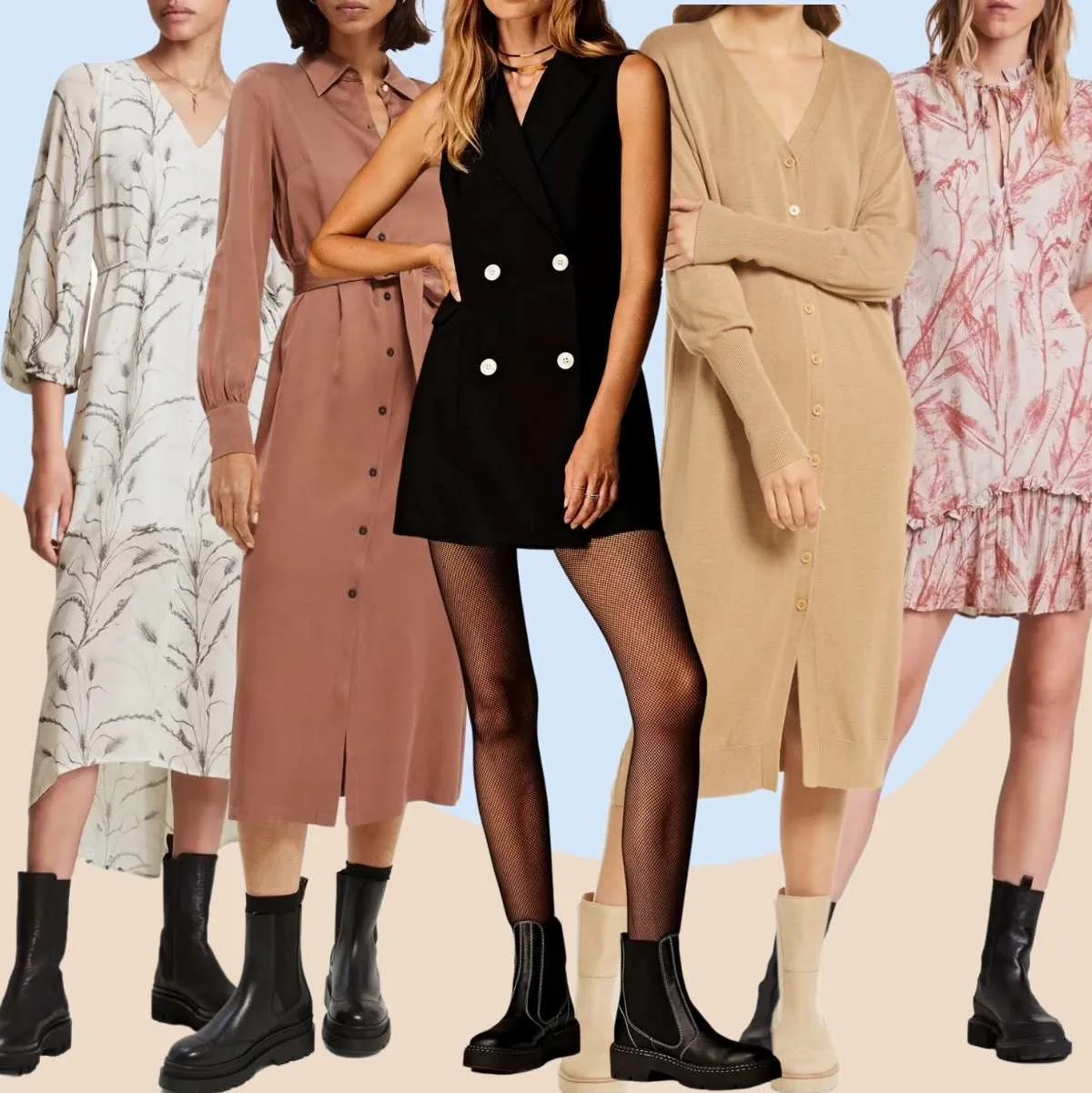 When I think boots to wear with dresses, I think Chelsea boots! These are great shoes to wear with dresses in Fall/Winter
They will add a rugged vibe to any dress, whether a mini, maxi, sweater or slip dress. These boots are also insanely comfortable, which is always a bonus.
Here's how to wear Chelsea boots with dresses for women:
How to Wear Chelsea Boots with Dresses
Mini Dress: Short dresses with boots look fab, and I love them paired with Chelsea boots for a flirty and fun look. Go for a printed dress and matching boots for a cohesive look.
Or mix things up with a solid-color dress and patterned Chelsea boots. I love florals! I love the utilitarian look of a safari-style midi dress with calf-height Chelseas!
Mini dresses with Chelsea boots also look great with all kinds of socks. From knee to over-the-knee styles, pick socks in the same shade or in tone with the boots.
Striped crew socks will add a sporty vibe while playing peek-a-boo from under your boots. From plain to printed, wooly to ribbed socks, the cozy style possibilities are endless!
Midi Dress: Yes, Chelsea boots can also be worn with maxi dresses! For a bohemian vibe, pair any color Chelsea boots with a flowy floral dress. If you're looking for something edgier, try teaming your Chelsea boots with a leather or denim midi dress.
In terms of length, choose a midi dress that shows some exposed leg between the top of the boots and the hem.
Slip Dress: For a contrasting look, team a silky slip dress with a pair of chunky Chelsea boots. The more rugged the boots, the edgier the outfit will look. You can top with a soft long sweater or amplify the boots with a utility or moto jacket.
Sweater Dress: Chelsea boots are the perfect way to contrast the softness of a sweater dress. Whether you're wearing a turtleneck sweater dress, slouchy sweater dress, a short or long one, all colors and styles of Chelsea boots with a sweater dress will look fab.
My preference? A midi sweater dress with a side slit to show off your boots! Tights are optional.
Maxi Dress: Tired, flowy and floral maxi summer dresses pair well with classic brown and chunky black Chelsea boots. It's all about the vibe you want to create! Great tips in my post all about boots & shoes to wear with maxi dresses!
You can choose shorter boots to show off some ankle, or taller ones that get lost inside the dress.
3. Chelsea Boots with Leggings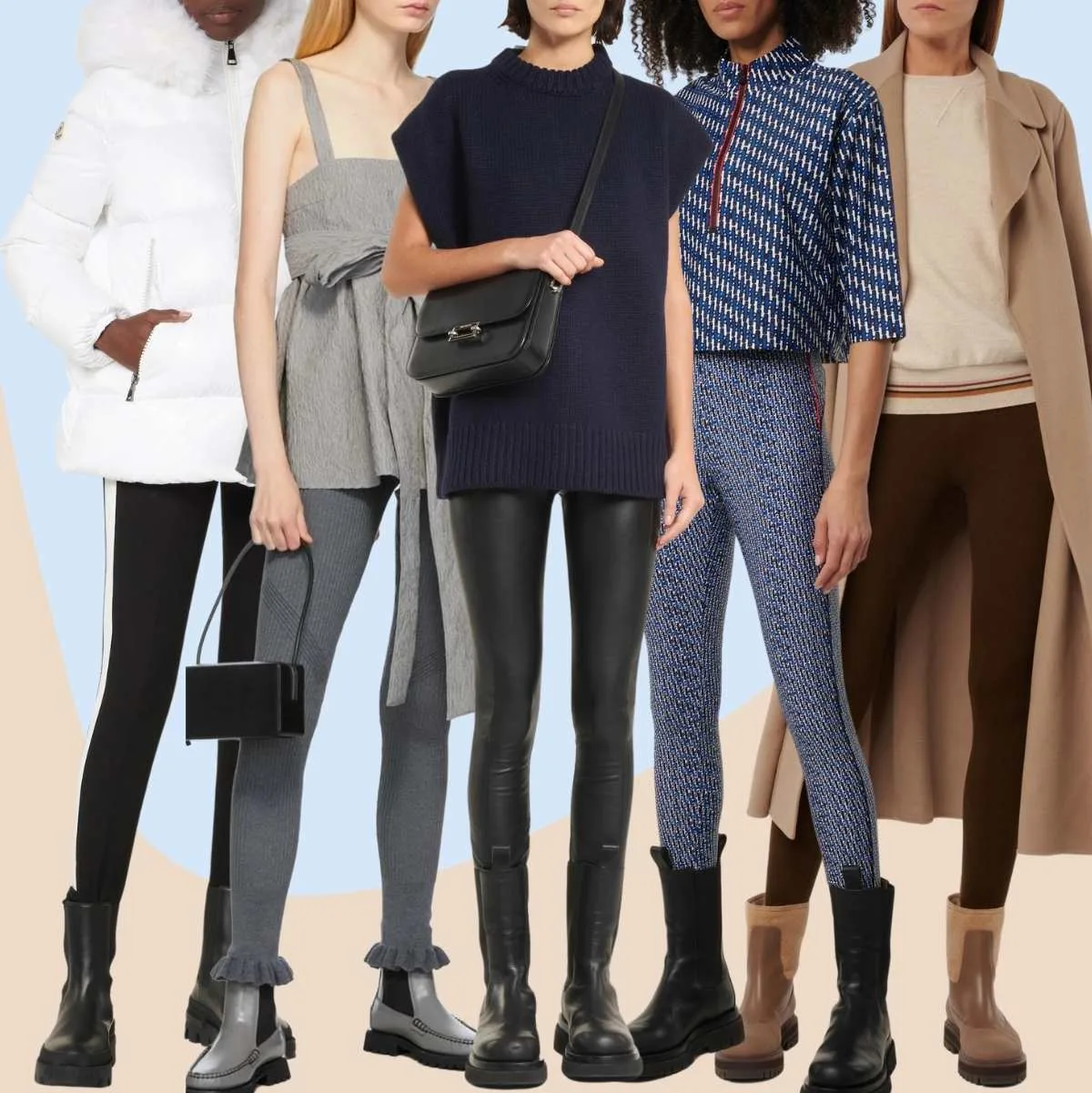 For an easy slip-on and go, Chelsea boots with leggings make the perfect combo for the lady on the move.
From black leggings, leather leggings, jeggings, and a slew of fun printed leggings, you have a choice when it comes to this combo!
How to Wear Chelsea Boots with Leggings
For moto-girl vibes, black, especially leather-like leggings will go the distance. Contrast with a cozy textured sweater or choose a tank and oversized blazer.
A sporty look can involve printed, black or white or printed leggings. For these, stick with Chelsea boots that match one of the colors in the leggings, or keep things simple with black.
Layer over a sweatshirt or tee and hoodie. Or, choose a leather jacket (I love a black moto style with a black Chelsea boot) for a more alternative look.
Learn about more shoes to wear with leggings in my dedicated post!
4. Chelsea Boots with Skirts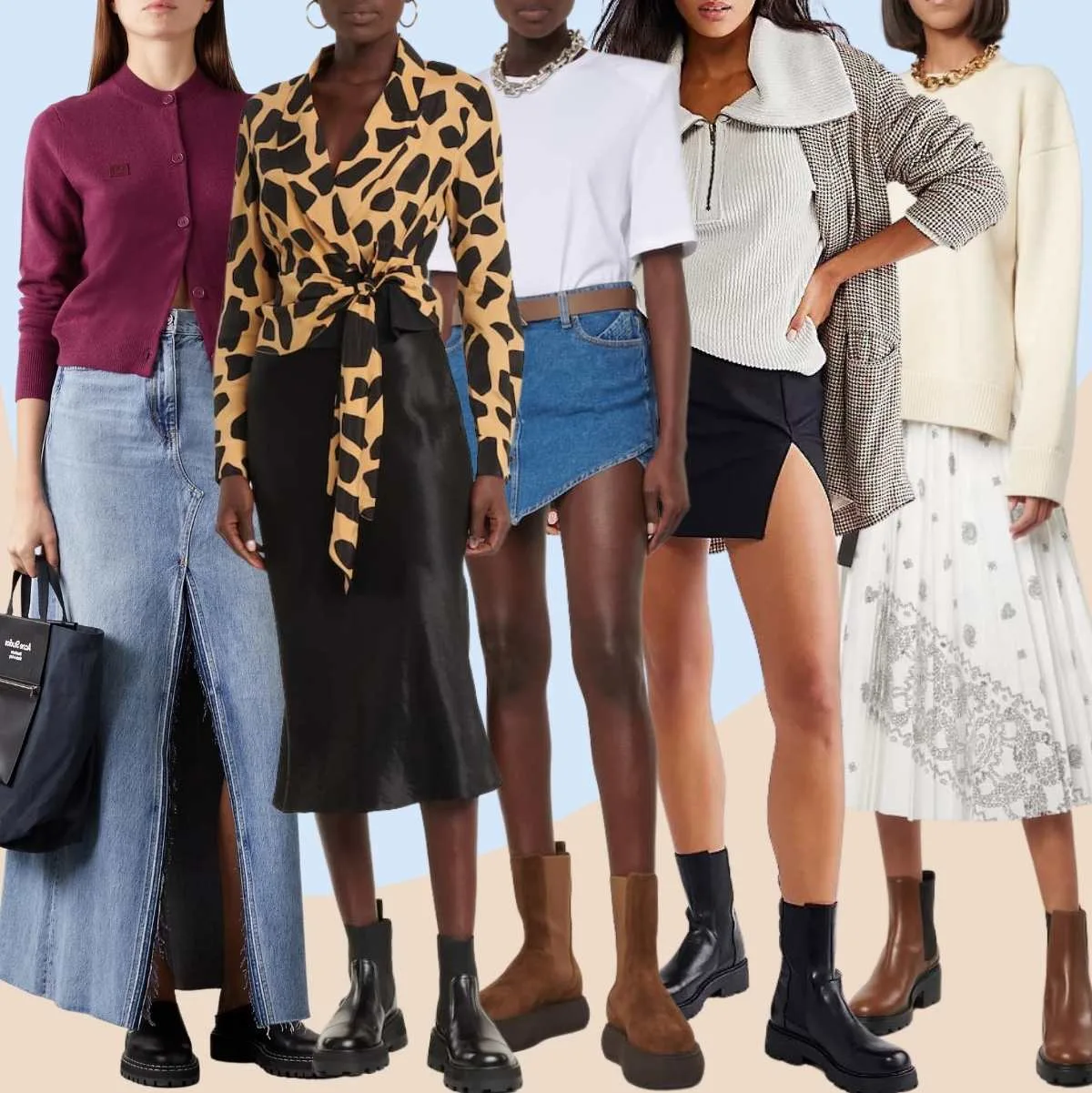 Chelsea boots are the It shoe of the season, and what better way to show them off than with a skirt. From mini to maxi, denim to tulle, Chelsea boots with skirts can make a great pairing when done right!
How to Wear Chelsea Boots with Skirts
For a casual look, pair Chelsea boots with a mini denim skirt. Throw on a cute top or sweater and you're good to go.
If you want to dress up your Chelsea boots, choose a dark or patent pair with a leather skirt. Mini, flared or pencil skirt styles will look great. Tuck in a blouse or sweater and you're ready for date night.
Have a flirtier side? Then Chelsea boots with a tulle skirt is the look for you! Choose a black lug-sole style for more contrast. Add a bodysuit, tucked-in oversized sweater, and some sparkly jewels to turn heads!
Check out my dedicated post about the best shoes to wear with skirts & how to style them!
5. Chelsea Boots with Dress Pants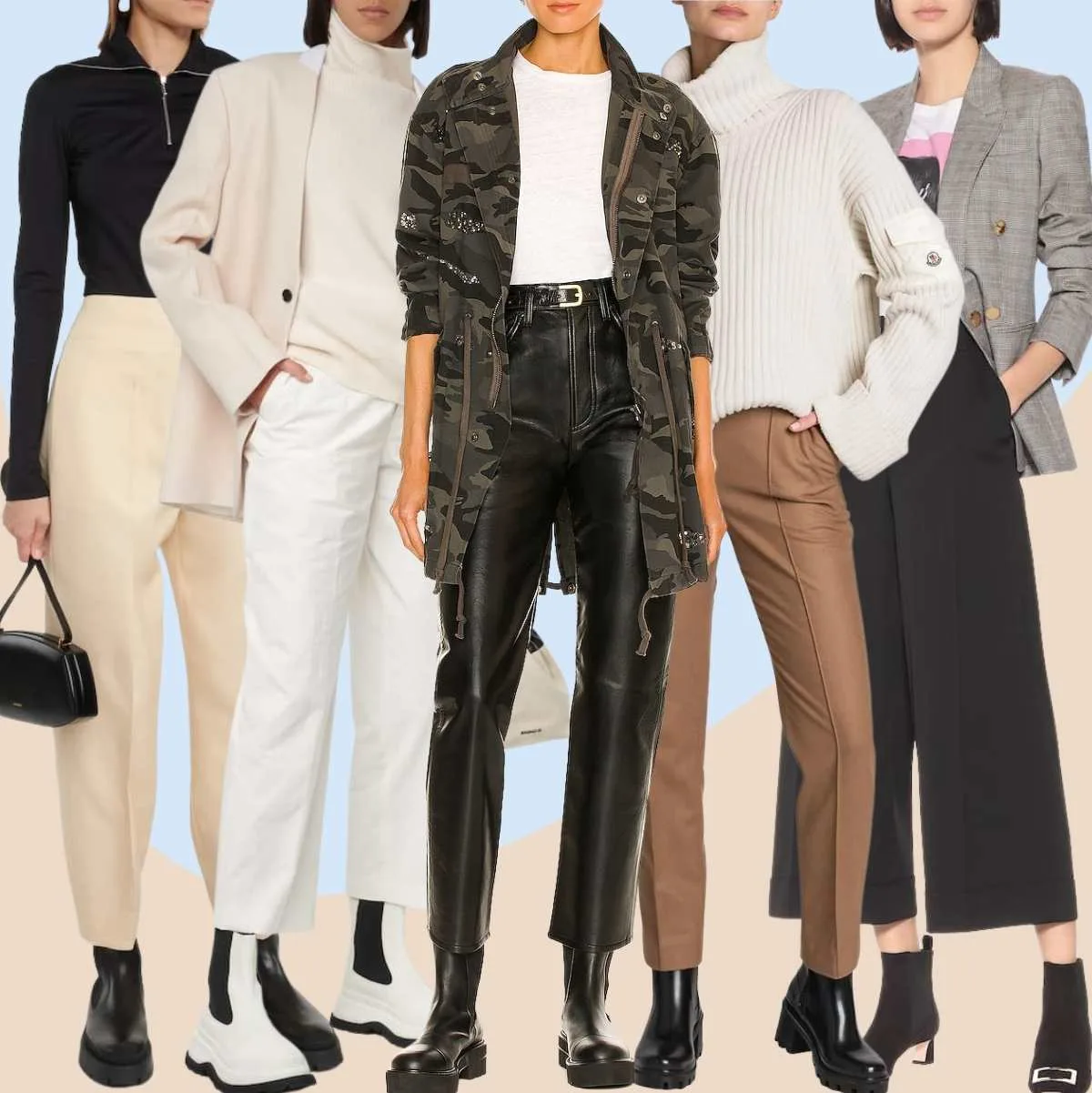 Chelsea boots are the perfect footwear for transitioning from summer to fall. They are comfortable, stylish and are easy to dress up or down. Some are winterized and waterproof, so look out for those to get you through the winter!
How to Wear Chelsea Boots with Dress Pants
With Chelsea boots, wide-leg pants, cropped pants, palazzo pants, leather pants, slim dress pants and cargos all look great. The key is to find the right balance between proportion and silhouette.
For a streamlined look, pair black Chelsea boots with black slim dress pants. A more classic boot, a basic tee and a blazer is a great look for work.
You can pair your boots with a pantsuit if you're so inclined. Of course, a slimmer-fit tailored pant tucked into a Chelsea style boot will look edgy, while looser pants will not showcase it as much.
Whether long or cropped, wide-leg dress pants are a great contender for Chelsea boots. You can choose a taller pair of boots to hide under palazzo pants for an edgy look.
Black boots, and cargo pants with a distressed white tee make a rugged outfit for the no-nonsense gal.
Leather pants will add the ultimate chic vibe to your look. Contrast with a beige trench soften the stern look.
6. Chelsea Boots with Shorts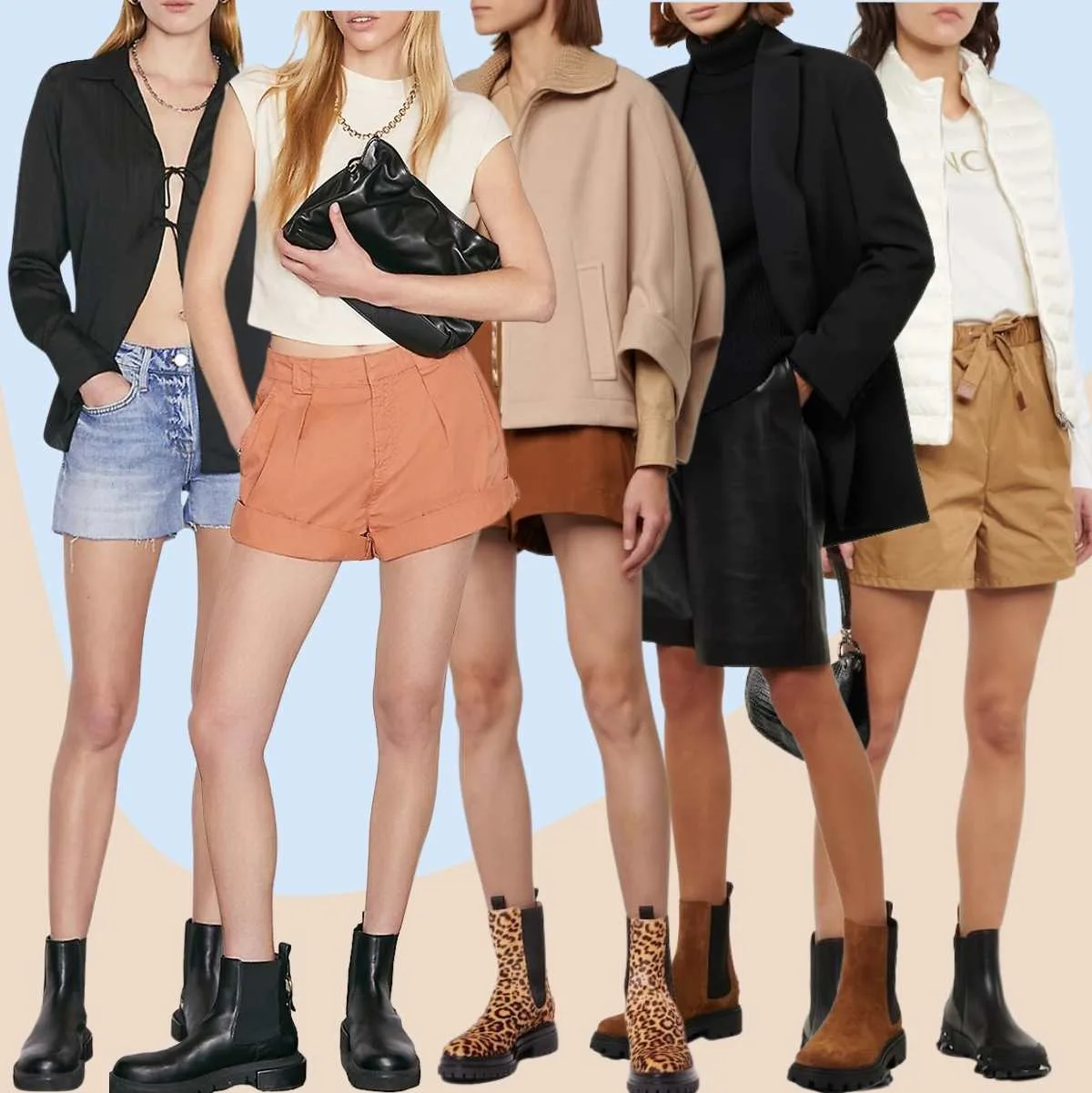 There are endless possibilities when styling Chelsea boots with shorts. The pairing is great for in-between seasons, where on chillier days, you can also wear tights.
How to Wear Chelsea Boots with Shorts
Jean Shorts: Chelsea boots with denim shorts are a great look. All you need is a comfy white tee and a leather jacket for a touch of edge.
Leather Shorts: Chelsea boots with leather shorts aren't for the faint of heart, but hear me out. Opt for these in a paper bag waist or wider styles with front pleats.
These will turn heads with a cropped top for warmer days or a thin knit sweater with sheer tights in the Fall.
Tailored Shorts: For a sophisticated summer look, style Chelsea boots with dress shorts. Whether you go for a black or colorful pair, tailored shorts with a billowy blouse or tight tank and a matching jacket will make you look put together.
7. Chelsea Boots with Joggers & Sweatpants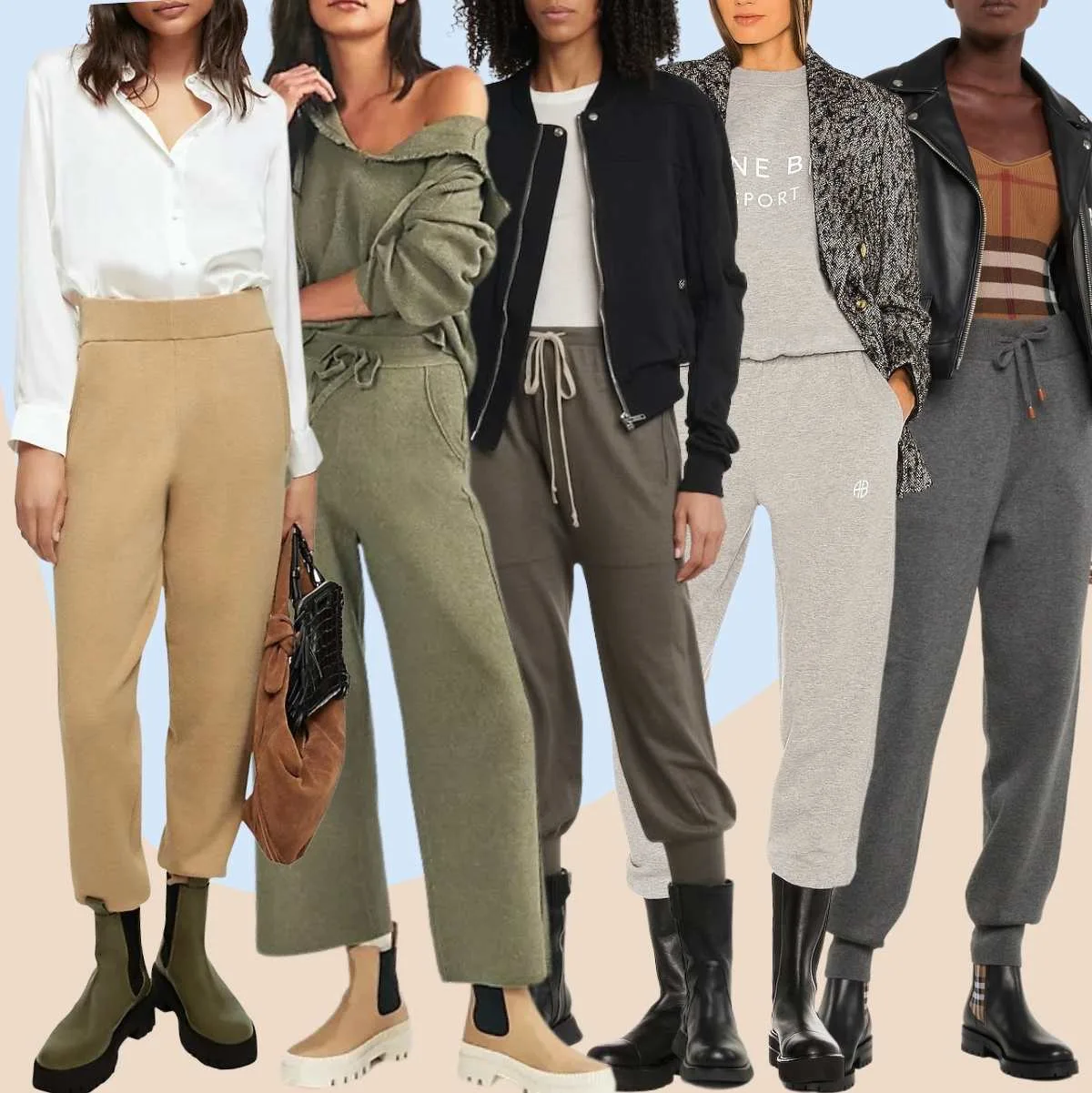 Chelsea boots are the perfect shoe to take your look from summer to fall and with joggers, you'll mesh two aesthetics perfectly!
The key to when styling Chelsea boots with sweatpants or joggers is to keep the rest of your outfit simple and let the shoes be the star of the show.
How to Wear Chelsea Boots with Joggers
There are different ways to wear joggers and Chelsea boots, primarily dependent on the pant style. Classic joggers with elastic hems can easily tuck into taller boots. Lower boot styles with cropped joggers will show and expose some leg.
If you're wearing Chelsea boots with looser sweatpants, you can cuff them over them. Or with wider type, they can hang right over them!
For tops, you can wear bodysuits, cropped tops, tucked in boyfriend tees, or even a matching sweatshirt!
Keep your purse and accessories chic but straightforward. I love a leather bag and minimal gold jewelry to tie the effortless look together. Check out my post on other shoes to wear with joggers!
8. Chelsea Boots with Jumpsuits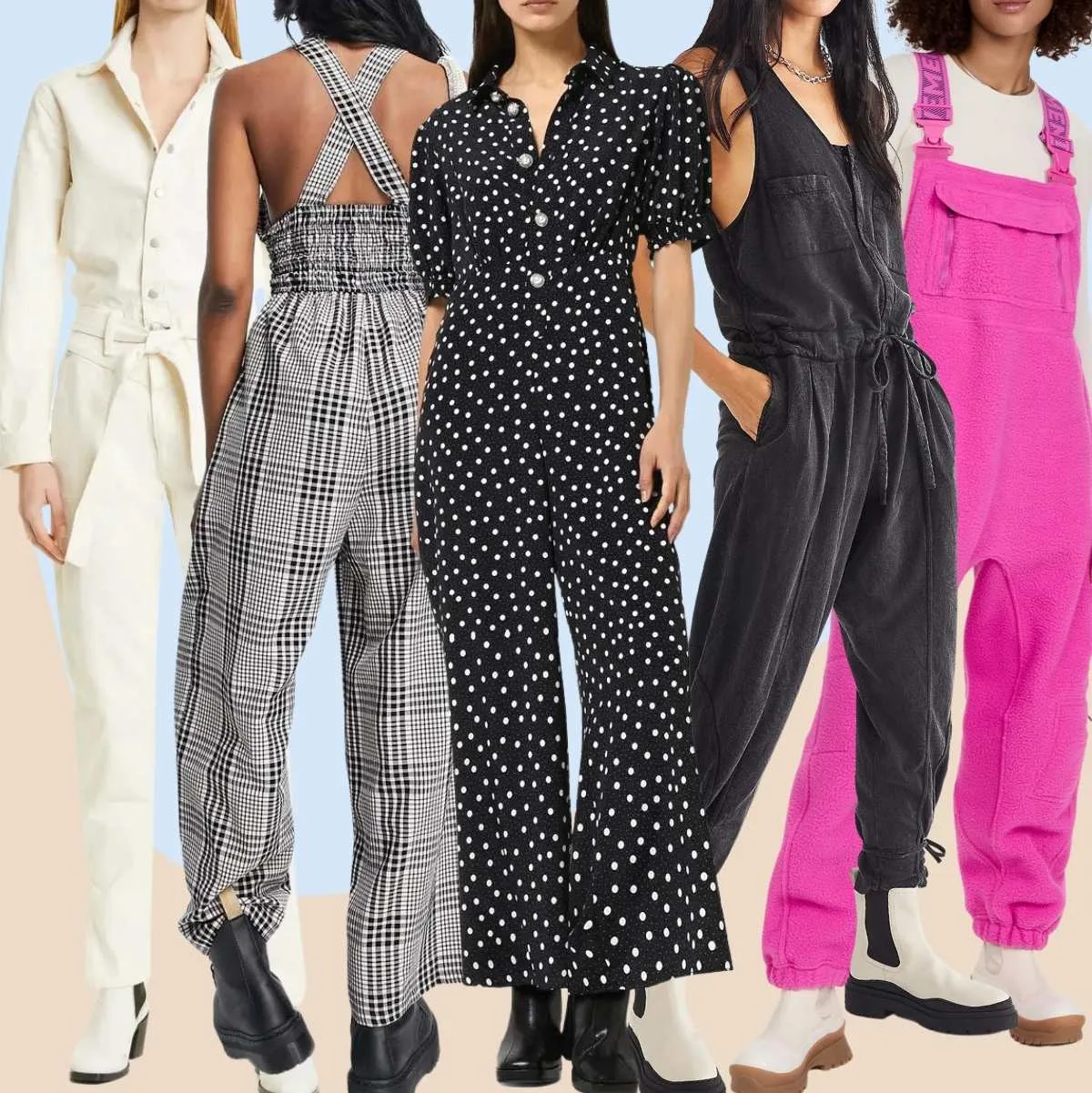 Chelsea boots are the go-to footwear for many celebrities, models and trendsetters across the globe. But how do you style these shoes with a jumpsuit? It's pretty simple, as you don't have to worry about choosing a top!
How to Wear Chelsea Boots with Joggers
Choose a pair of Chelsea boots in a color that compliments your jumpsuit, or go for contrast, like white Chelsea boots with a black jumpsuit.
For straight-leg or tighter panted jumpsuits, you can tuck them into your boots, or have them rest over them.
Cat-suit style jumpsuits can also look fun with taller, chunky Chelsea boots, topped with a contrast color jacket like a trench, or fun puffer for cooler days.
Wider-legged jumpsuits can be styled just like their dress pant counterparts: either showing off the boots in cropped versions or hiding them altogether when the jumpsuit is longer.
9. Chelsea Boots with Rompers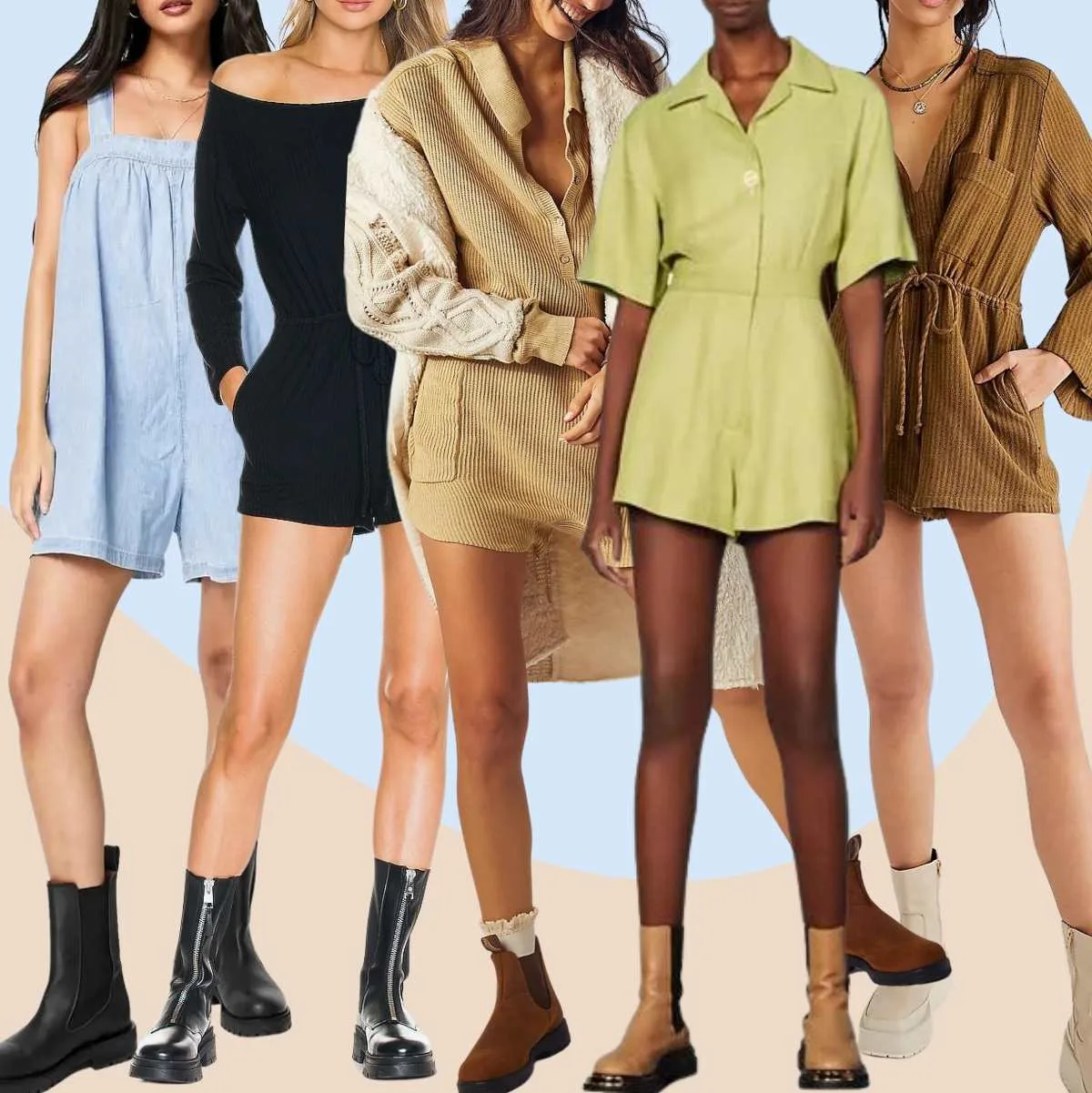 What do you get when you combine a trending boot with a trending clothing item? A fashionable Chelsea boots outfit!
Rompers come in many different styles, including structured and flowy styles. Chelsea boots can be worn with both types of rompers to create a stylish and unique look.
How to Wear Chelsea Boots with Rompers
When wearing Chelsea boots with rompers, choosing the right type of Chelsea boot is essential. For a more casual look, choose a looser or flowy romper, or a pair of denim romper overalls.
Accessories, like a canvas tote or a more relaxed crossbody purse will dictate how laid-back the outfit will look. If you want a more elevated look, choose leather, patent or studded Chelsea boots with a structured romper.
With or without tights, this will give a uniquely edgy vibe that you can rock in Fall or transitional seasons. Top the look with a military-style wool maxi coat or soft trench if you're looking for contrast. Check out more tips on how to wear boots & shoes with rompers!
10. Chelsea Boots with Socks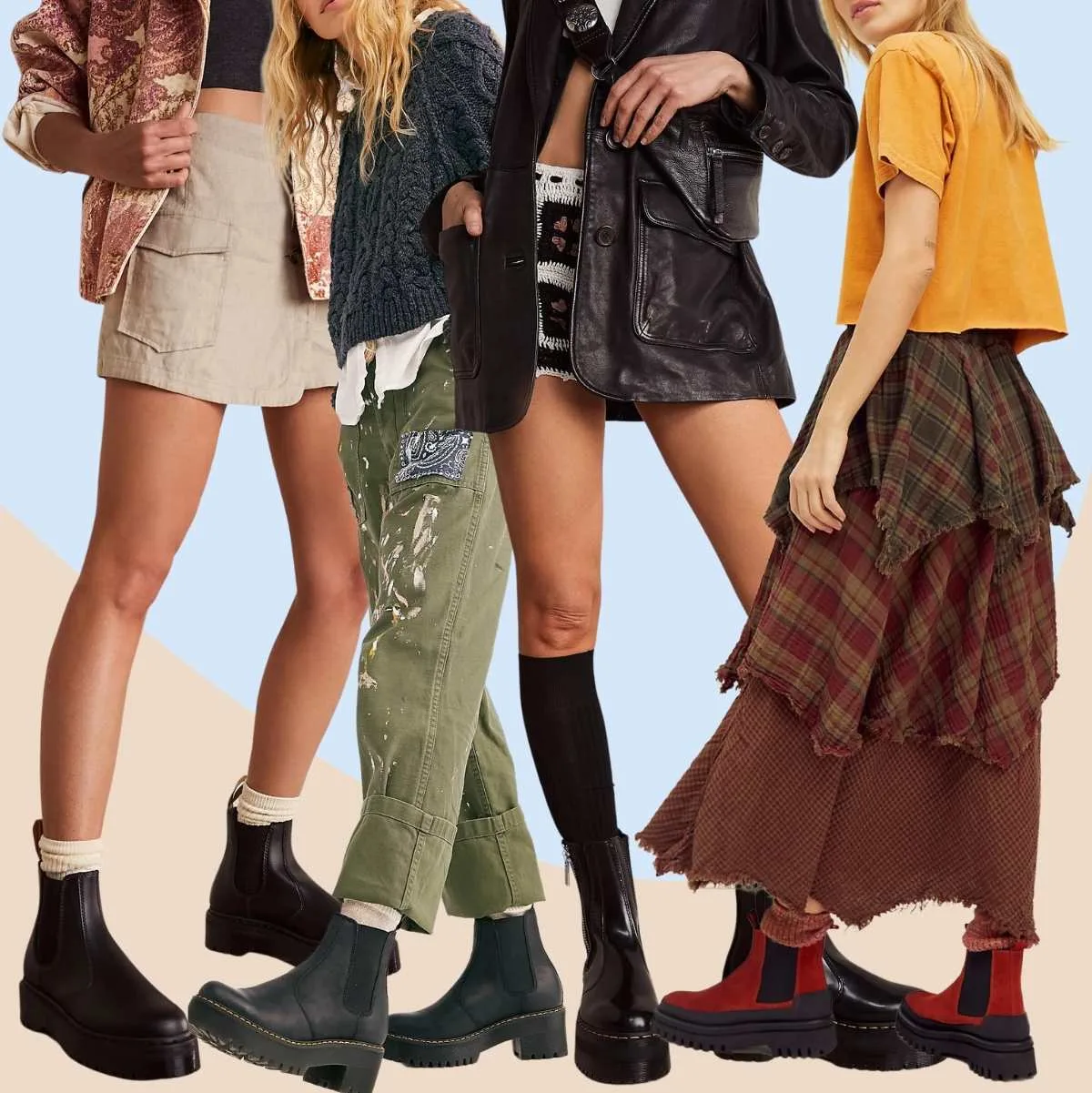 A few types of socks can add extra comfort and a touch of style to your Chelsea boots outfits! They're a fun and unexpected way to style such classic boots and there are endless possibilities!
How to Wear Chelsea Boots with Socks
You can choose colorful or patterned socks to add a pop of personality or opt for a neutral pair that will help to compliment the boldness of the Chelsea boot.
Contrasting tube socks are fun, especially those with contrast stripes or logos that peek out of the boots.But you can also add a cozy feel to these tough boots with soft slouchy socks in-tone with the boots.
Ultimately, it's all about experimenting until you find a look you love. So go ahead and try it – Chelsea boots with socks might be your new favorite style!
What Socks to Wear with Chelsea Boots:
White Tube Socks (with or without contrast pattern or logo): these pair well with pretty much any clothing for a sporty look
Hiker Socks: add a touch of cozy rugged style to Chelsea boots with joggers, jeans, jumpsuits and shorts.
Patterned Socks: Adds some quirk to your Chelsea boots outfit, playing down the toughness of the boots. Great with shorter skirts, dresses, shorts and rompers.
Tall socks: scrunched or pulled high: works over leggings or tighter pants and jeans, and a bold look with mini skirts, dresses and rompers!
How to Wear White Chelsea Boots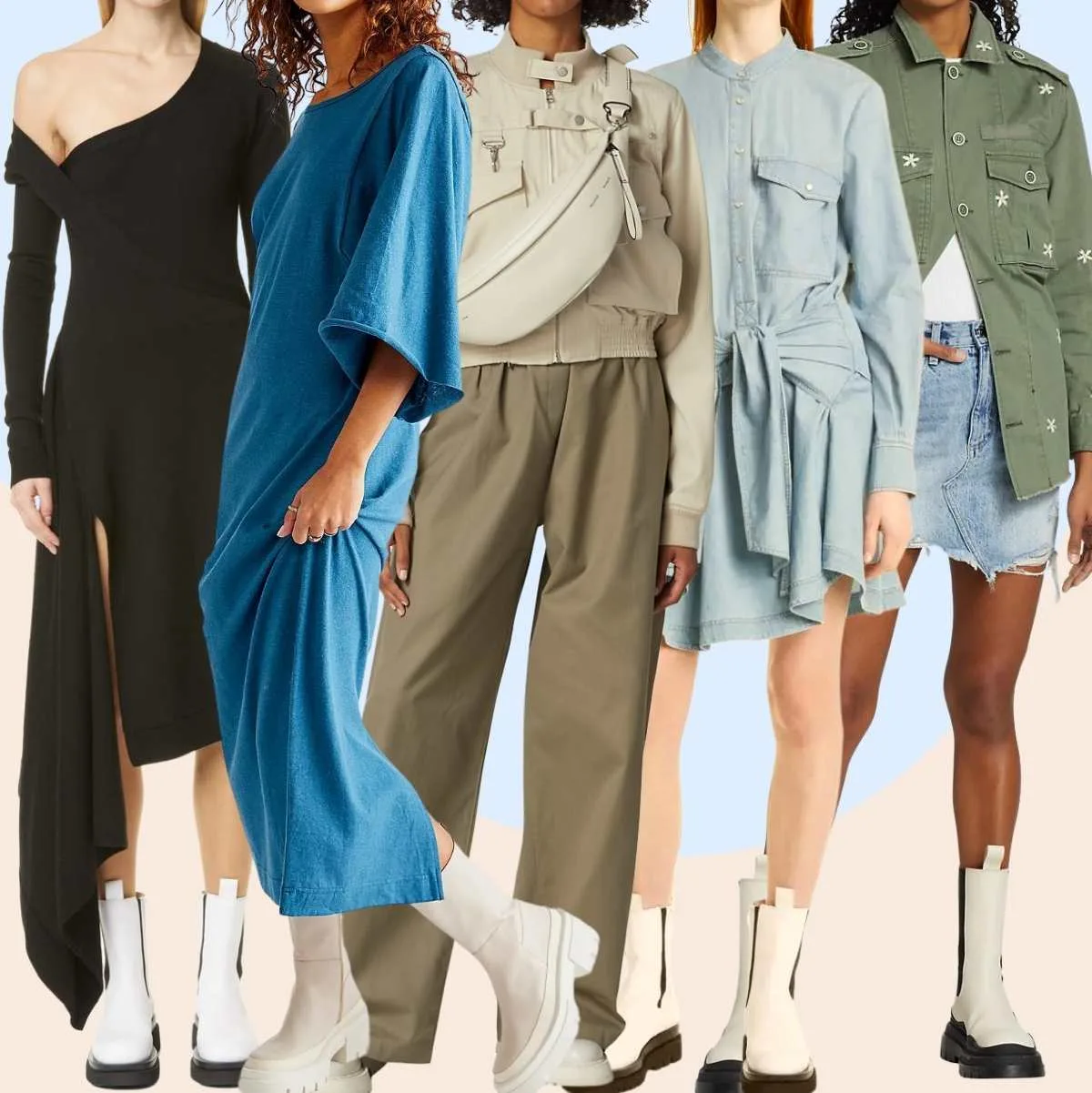 White Chelsea boots just like combat boots have a more rugged and edgy aesthetic. I love contrasting white chelsea boots with black details for a sportier vibe. These look great paired with all black or all white outfits.
You can also find Chelsea boots that are all white or cream-colored. You can pair them with smart-casual outfits, including dress pants, sweater dresses or suits.
Off-white Chelsea boots also pair well with earthy tones such as brown and khaki and denim pieces in particular.
Final Words on How to Wear Chelsea Boots Outfits for Women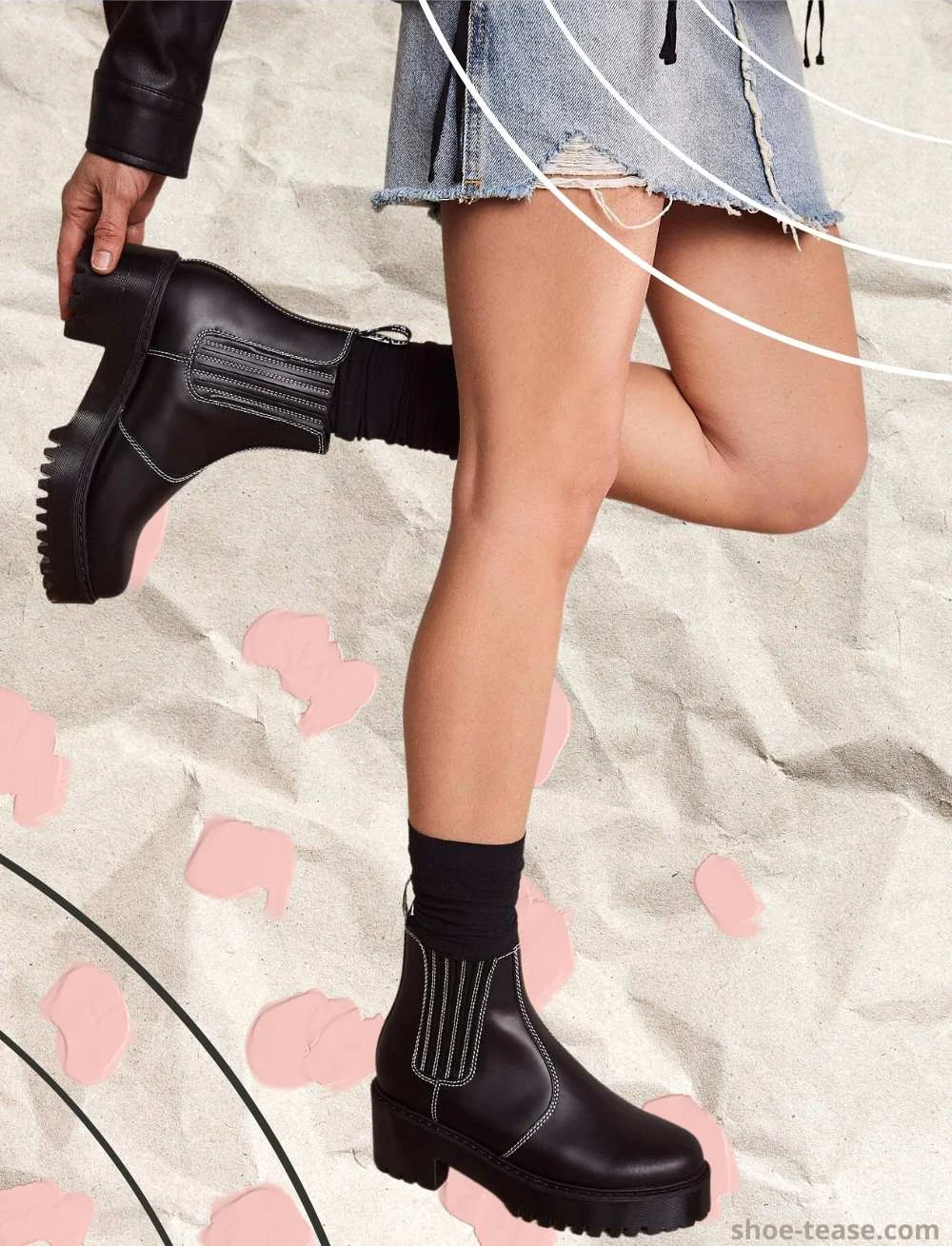 As you've made it to the end of my post, you'll know that Chelsea boots outfits are versatile. These boots are versatile fall/winter shoes with many casual looks.
They can wear Chelsea boots in an edgy, funky, or even conservative way, depending on what you choose to style with them.
I consider them an indispensable boot type to have in your closet! My advice when shopping for them is to invest in a quality pair and they will last you longer.
Chelsea boots also come in various shapes, heights, heels and styles, so there's a Chelsea boot for everyone!The color and style of the Chelsea boots chosen will have a direct impact on the total outfit look.
What is your favorite type of Chelsea boot? I love the rugged look of a lug-sole, calf-height style myself!
Shop Chelsea Boots for Women:
More Boot & Shoe Styling Posts: