Having to shop for large size women's shoes can be rather difficult. Not only on your wallet but on your confidence too.
It can be hard to feel to tap into your sassy size when the only shoes available seem to resemble clown shoes.
And it can be especially frustrating to see your friend's shoe closets brimming with cute shoes in every style & color imaginable. All the while, yours contains a tiny display that may — or may not — actually be men's shoes.
Finding large size women's shoes can almost feel like finding Waldo. You can travel up & down every shoe aisle, trying to find the magic red & white striped box that contains your perfect shoes, only to be thwarted by all the masquerading boxes.
But much like shoes for small feet, many retailers are now coming up with new, stylish, and most importantly, affordable large women's shoes.
So there's no more being frustrated over the lack of options or feeling envious over your friend's cute pumps.
You can finally build the shoe closet of your dreams (and one that would make Carrie Bradshaw herself envious!) thanks to these brands & retailers who sell extended women's shoe sizes.
RELATED POSTS:
Brands that Make Large Size Women's Shoes
Stuart Weitzman
Stuart Weitzman is a godsend for large size women's shoes. Shoes go up to size 12 and come in narrow, medium, and wide widths. They also come in a variety of materials from basic black leather all the way to crystal studs.
Of course, their icon status shoes & boots, inclusive of the 50/50 boot & Nudist sandal are also available in large ladies shoe sizes.
You can buy a range of different styles like winter fashion boots to summery sandals. It might hurt your wallet, with regular shoes selling anywhere between $500 – $2500, but they're well worth the price.
A powerhouse in the shoe industry, Stuart Weitzman shoes are durable and long-lasting making them easy to be a staple that stands up to daily wear and tear. And best yet, they can be shipped all over the world.
Sam Edelman
Another great brand that's offering large size women's shoes is Sam Edelman. A favourite amongst the fashion crowd, Sam Edelman offers on-trend shoes for sizes up to 13.
If you're looking to score a hot pair of plus size ankle booties for fall, this is the place for it.
You can't go wrong with the ever-popular Packer ankle bootie for more casual days. Or since the weather is getting a little chilly, the Hilty ankle bootie is always a good choice for keeping warm on date nights.
The average Sam Edelman shoe costs $120, but the brand does have frequent sales and discount codes. They ship around the world as well!
Department Stores that Carry Large Size Women's Shoes
Nordstrom
Nordstrom continues to be one of the best resources for women's extended shoe sizes. Like most department stores, prices range from very affordable to more pricey.
Like the super cute Steve Madden Daisie pumps for $35 all the way to designer brands like black tall slouch boots from Prada for $1400.
Although they carry up to large size women's shoe size 14, Nordstrom women's shoe size 12 is their most popular category.
So if that happens to be your size and you love designer shoes, Nordstrom's is your shop! Especially considering they ship anywhere in the US for free & offer international shipping.
Dillard's
Another popular department store to hit up for large size women's shoes is Dillard's. Their size selection goes up to size 13 and offer wide widths of every size. They have multiple styles available from sneakers to flats to pumps
Prices tend to be mid-range, around $125 per pair, but Dillard's does offer discounted large size women's shoes often. They ship internationally as well.
Long Tall Sally
It's not often that there's a speciality department store for tall women, especially not ones that offer global shipping, but Long Tall Sally fills that much needed gap.
They solely offer large size womens shoes that start at size 9 and work their way up to size 15, while offering wide widths at every available size.
Prices range from $20 to $250, depending on the style and if the pair you want is on sale, which frequently does happen for any price-savvy shoppers.
Online Stores that Sell Large Women's Shoes
Zappos
Much like Amazon, Zappos has made a name in the online retail world for being one of the most comprehensive shoe retailer sites. They sell every shoe style and offer up to women's size 12.
While their size selection may be lacking in compared to Amazon, they offer discount large size womens shoes.
Because of their massive shoe collection and frequent sales and discounts, it's hard to even define an average price. But just know that you don't have to break the bank to shop at Zappos.
ASOS
Another retail favourite is ASOS. Originally from the UK, the site has quickly made a home in North America and ships all over the world. Getting the perfect large size women's shoe doesn't have to be hard anymore.
They carry up to a size 12 and prices range from $5 to $365 depending on the shoe style.
Amazon
Amazon has come a long way from its humble beginnings. As true online retail giant, they've come to offer large size women's shoes.
Good news for everyone who's tired of searching endlessly in malls and love shopping in the comfort of their own homes. They offer every shoe style you could want, up to size 16 women's shoes, and ship globally.
Boutiques that Carry Large Size Ladies Shoes
Eytys
If you want to be super cool and you're under a shoe size of 13, Eytys is the place to shop.
They may only offer sneakers and boots for the streetwear crowd, but you get the added benefit of bragging about how you got your shoes from Sweden.
They do tend to run on the pricier side with sneakers averaging $250 per pair but some of their sneakers, like these lavender suede pairs, are downright enviable.
Thando's
Another specialty retailer is Thando's, which only offers their Akonmi flat. What makes these flats so special, besides being offered up to a size 15? They're foldable ballerina flats with fabrics designed by African artists.
Not only are they functional for those nights out where you really regret wearing heels, but you're supporting African artists as well.
For just under $75, you can own multiple Akonmi flats in different fabrics. They ship all over North America as well.
Margaux
Margaux only offers seven choices in shoes. They don't have a lot of choice, but for women looking for classic and well-made large size women's shoe up to size 14, this is the place.
Prices range from $145- $275, which seems a little steep. But their classic fit is able to be made-to-measure, so if you have difficulty finding the perfect fit in a classic ballet flat, Marguex's classic fit is made for you.
And for an added bonus: all their shoes are made from Italian leather and suede.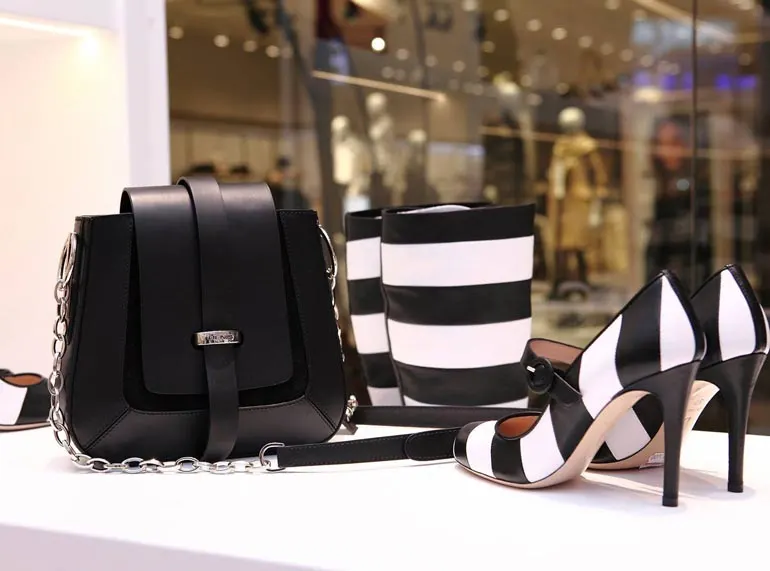 Whether you're looking for specific brands or just a specific size, these are the best of the best when it comes to large size ladies shoes. No more sacrificing fashion for comfort!
If you have large feet and hate shopping for shoes because of it, I would love to hear what you think about our shopping list.
Did we introduce you to your new shoe heaven, or did we miss your favorite place to buy large size women's shoes? Let us know in the comments, below!
Written by: Meagan Enciso
Stock Photo Credit: Alexandra Maria
Cristina is the chief editor, fashion & shoe expert here at ShoeTease. As a seasoned stylist and women's fashion & shoe designer, she boasts over 20 years of experience in the fashion industry. She loves crafting effortless outfits for ladies both online and off and believes that styling advice should be accessible to everyone. Whether you're a styling pro or just starting out, Cristina's here to guide you on your fashion journey! Learn more.