White boots are bold and bright. These quasi-neutral shoes that can be styled in many different ways. If you're interested in learning how to wear white boots outfits in a contemporary and chic way, look no further!
Today on shoe-tease.com, I'll outline several tips on what to wear with white boots. These will include outfit colors and specific pieces to wear them with, and trending boot styles.
After reading, you'll leave with over 50 white boots outfits and versatile combinations, so you'll never guess how to put together an outfit with white boots, ever again!
Are White Boots in Style?
White boots are not only trendy and widely available, they're also perfect for almost any occasion to style with your favorite pieces.
However, the white boot trend doesn't just lie in the color, but more in the shape of said white boots. That being said, white-hot and off-white versions are trending.
Both white shades are versatile, but ivory, off-white, to almost beige boots, are generally a tad easier to style. Not to mention less high maintenance in the cleaning department!
Trending White Boots for Women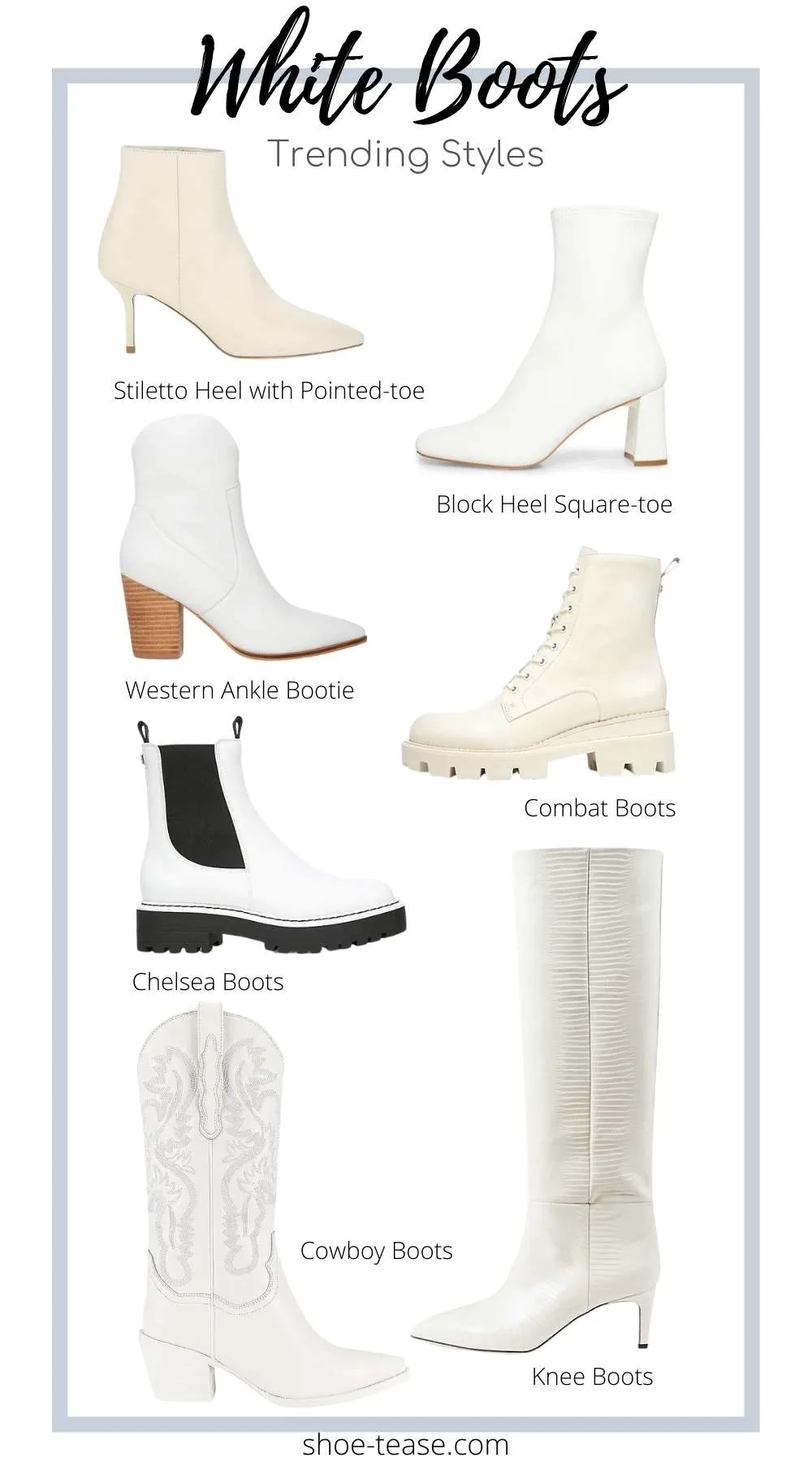 There are a variety of different types of boots for women. The pool is a little more narrowed for white boots but still enough to give you plenty of choices. These include white ankle boots, knee boots, western boots, or white combat boots.
But the importance lies in the details! When it comes to white boots, the trending styles are kitten heel boots, chunky or stiletto boots with either a pointed, almond, or squared toe shape.
Chunky white Chelsea and combat boots are also trending. Below are my top choices for white boots:
White Ankle Booties: great in leather or satin for special occasions, even your wedding!)
White Cowboy boots: these are usually rugged and great for casual outfits. However, they can also area great boots for a western wedding!
White Chelsea Boots: lug sole with contrast black details are hot right now!
White Combat Boots: any shade of white with or without a contrast sole
White Knee Boots: straight leg with a kitten heel and pointed toe, block heel with almond or square toe, embossed or simple leather.
White Winter Boots: furry hiking with sherpa or puffy snow boots, like Moonboots
How to Wear White Boots Outfits – 6 Styling Tips
1. All-White Outfits with White Boots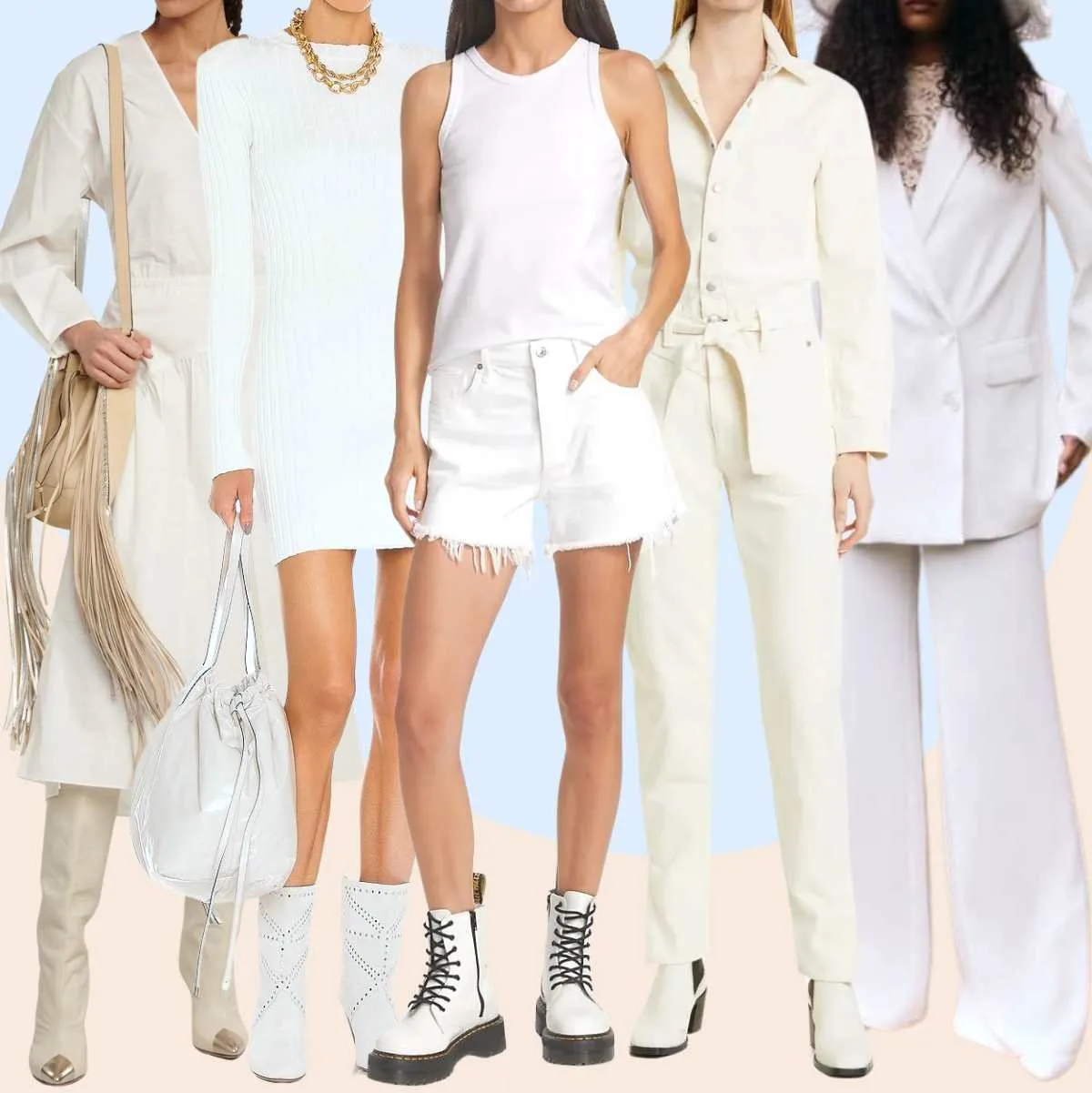 If you're looking for a chic look with white boots that's easy to pull off, then go for an all-white boots outfit. Try a pair of white jeans and a tee, or elevate your look with a tailored white suit and blouse.
A little white dress or jumpsuit makes this an easy feat! Like a total white look with a sweater dress and boots.
Add some unique jewelry, statement gold earrings, and/or delicate layered necklaces to amp up your outfit. Contrast your purse in a pop of color like trending apple green or a more subtle neutral, like tan or black.
Ideally, you'll want your white outfit to match the shade of white of your shoes. However, that's it's not a deal-breaker.
Mixing in an off-white item, like white boots, into the mix of bright whites can actually add interest. Well, as long as the contrast is stark enough and doesn't make it seem that one of the pieces is dirty!
I also recommend white booties as great alternative wedding shoes you can wear with your bridal gown!
2. Contrasting Black Outfits with White Boots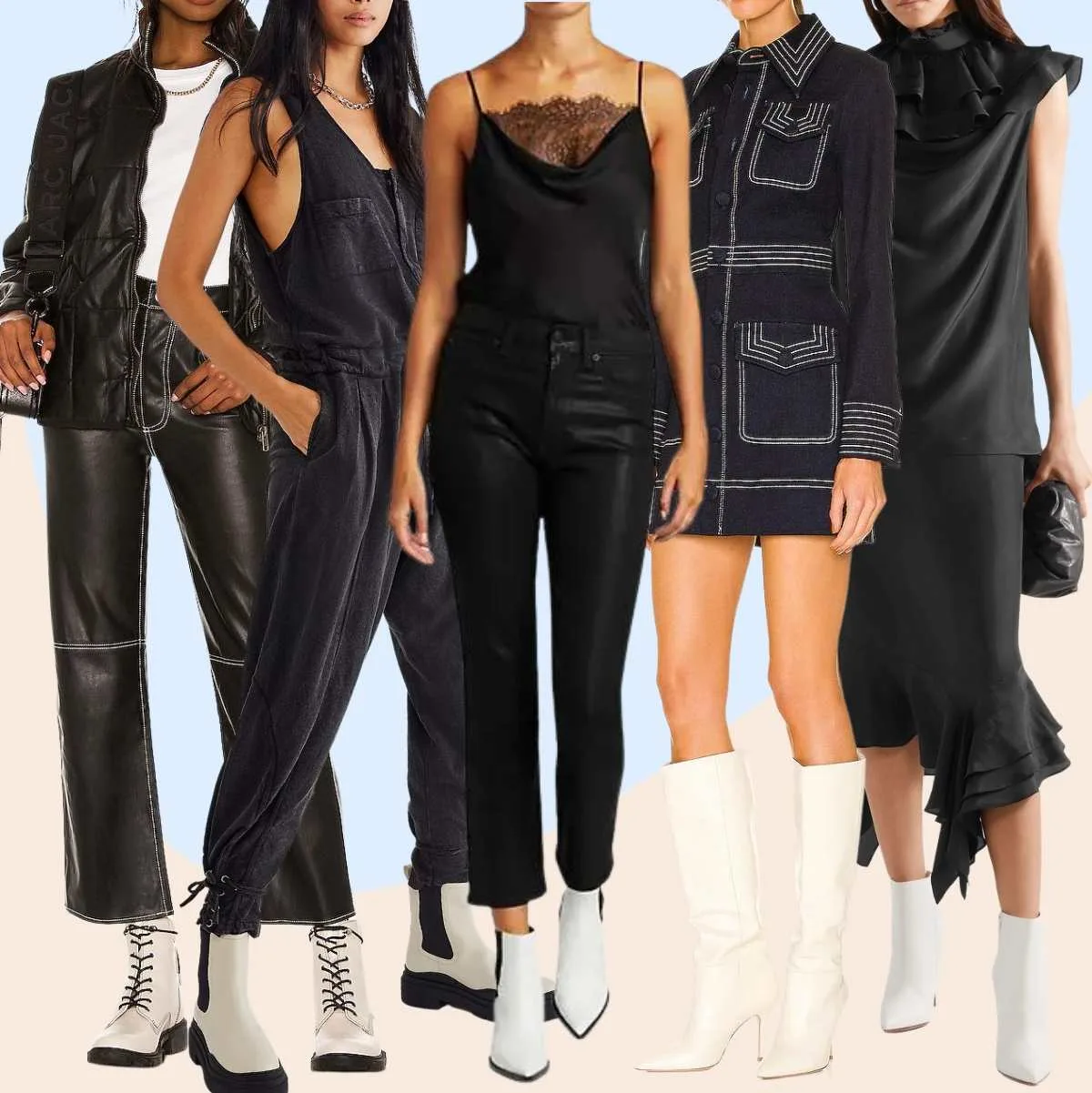 For a fun and easy way how to wear white boots & make them stand out, try a contrasting black outfit! This neutral color is easy to match with pure white shoes.
However, any Chelsea or western boots with black detailing such as black piping, heel, print or zipper will add even more interest to your look.
Black clothing is not all the same shade, so make sure it matches! Add a black or white purse to match your boots to complete the look. Or try a metallic one, like gold to match thick hoop earrings!
Check out my post on how to wear a black dress or outfit for more styling tips!
3. White Boots Outfits with Blue Denim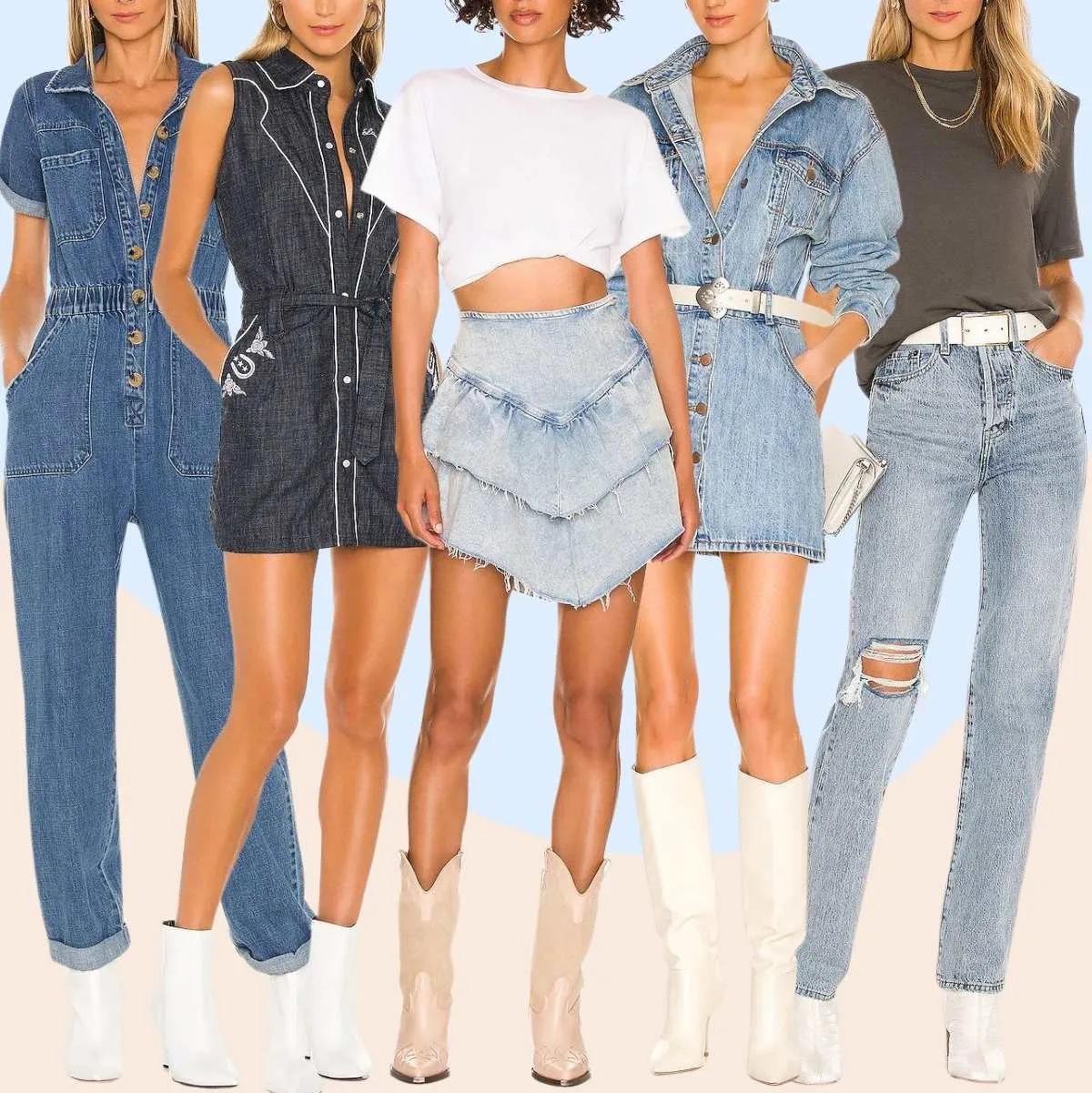 An easy-peasy way how to wear white boots outfits is to pair them with the one and only blue denim! This look has been seen on celebrities and street style stars alike, and that's because it works. No matter the denim wash.
From pairing your white boots with blue denim jeans or skirt and white tee to a denim dress or jumpsuit, this is a go-to casual look. Roll up your sleeves or cuff your pant legs for a rugged look.
White boots outfits with denim pieces go great with white or colorful accessories alike. Check out my post on how to wear ankle boots with jeans!
4. Colorful Outfits with White Boots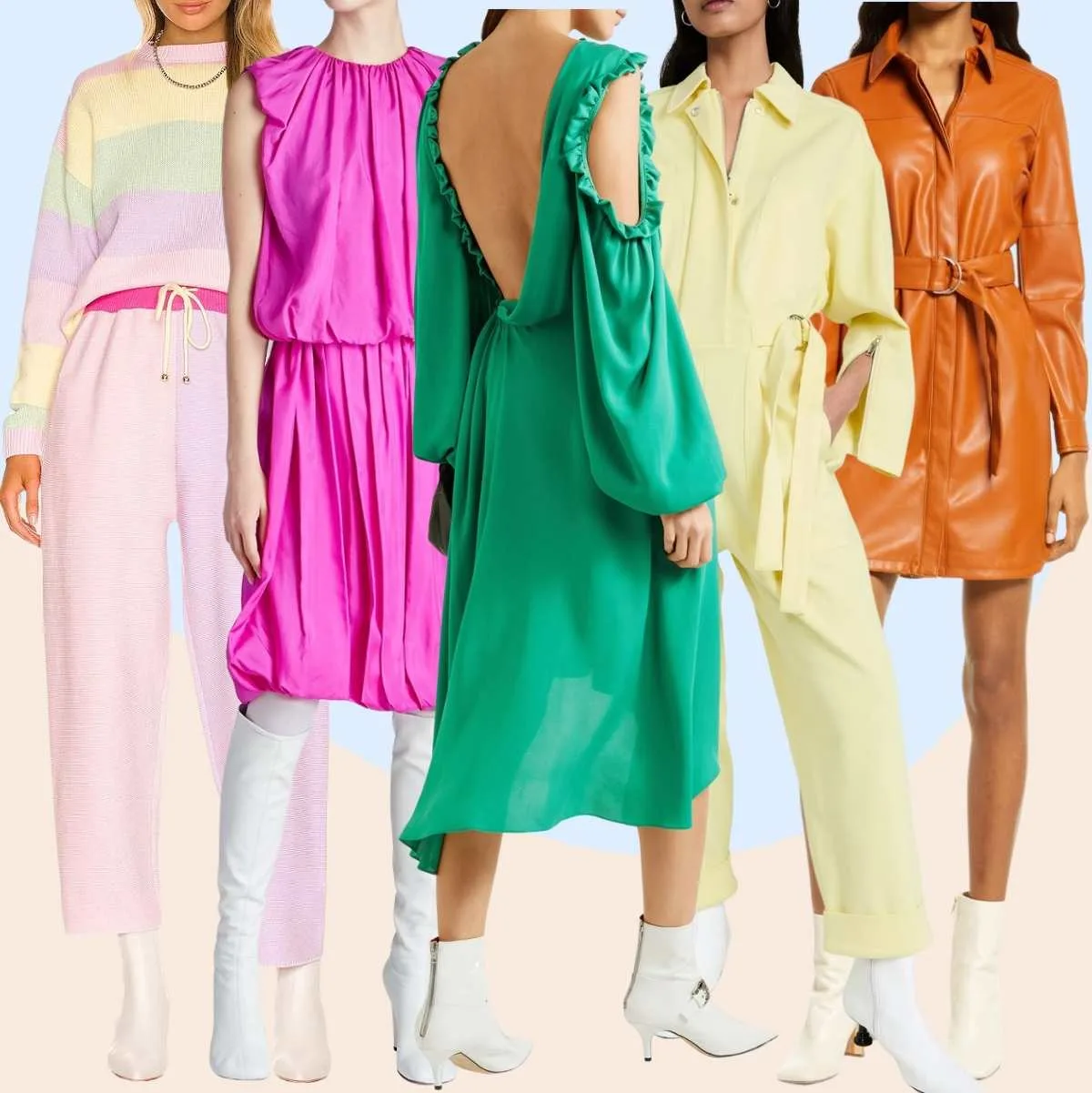 White is the perfect color for any outfit, so it's no surprise that colors pair well with white boots too! From bold brights to deep jewel tones to more muted pastels, there isn't one shade that will look poorly.
You can go one step further by color blocking your white boots outfits with more than 1 color item (think a red skirt and a purple blouse, even a yellow purse) if you want to be noticed!
5. How to Wear White Boots Outfits with Prints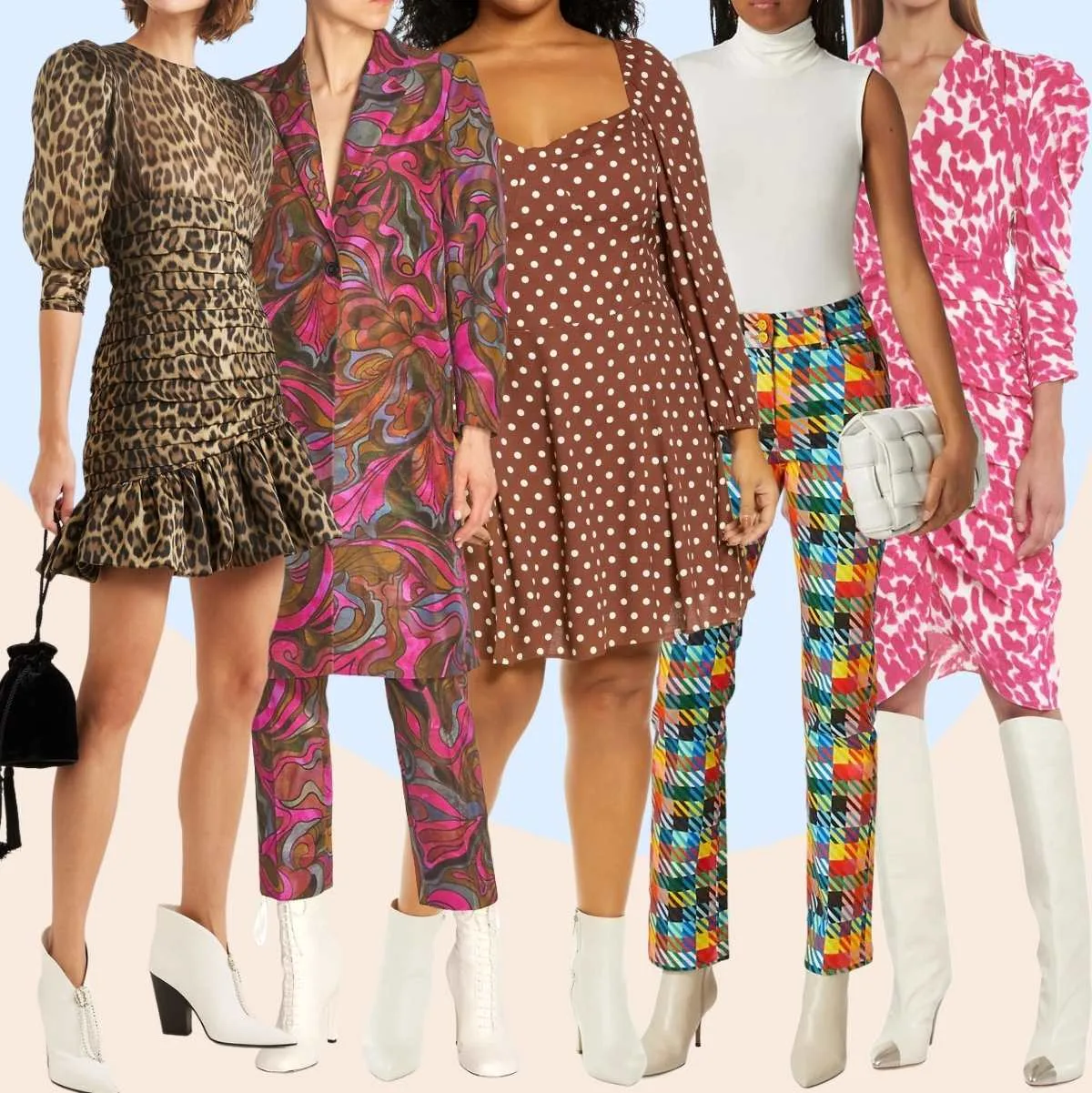 You can make a fab outfit with white boots when mixed with colorful prints! However, don't forget about more muted prints. Even black and white prints (hello herringbone and classic polka dots!) will look fab.
The patterns can be subtle or bold. If you're looking for something more muted, choose a classic color combo like navy with beige.
If you're looking for something bolder, the sky is the limit! Don't forget about neutrals like brown or tan – like a leopard print dress – can look just as fabulous with your bright white boots.
6. How to Wear White Boots in Winter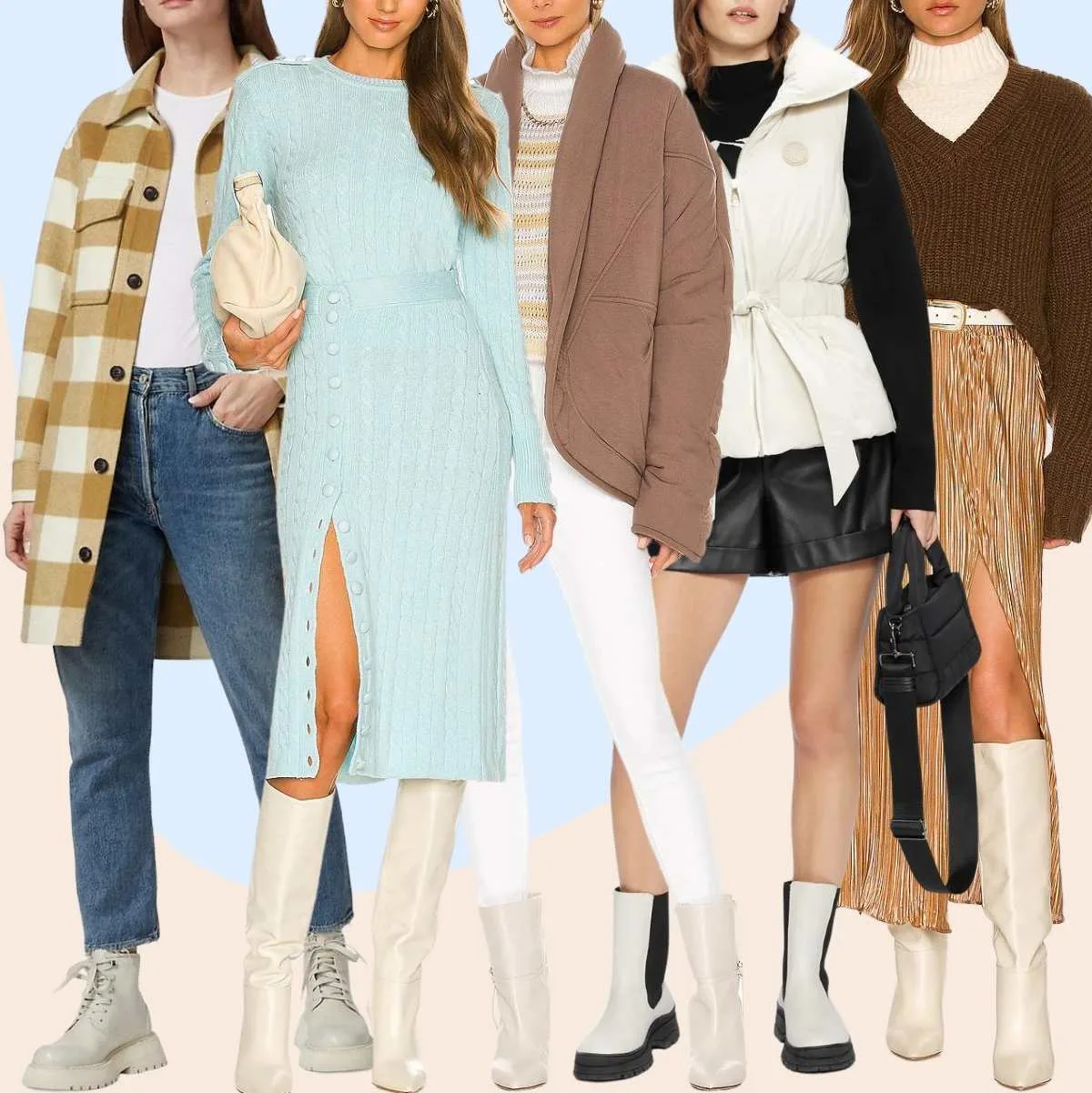 Can you wear white bots in the winter? Yes, you can! Heck, they even make white winter boots and winterized ankle boots, so why not?
I love bright white boots in the winter, but many stay clear from them because of fear of stains. That's why I recommend pre-treated winter boots and waterproof combat or Chelsea boots with a taller lug sole.
That said, you can also wear white knee boots and ankle boots in winter. Make sure you add traction to the shoes and protect the uppers by using a waterproof shoe spray before wearing them outdoors. Of course, consistently keeping them clean is also key!
So slip into your favorite pants and chunky sweater, mini and wooly tights or sweater dress. Add that puffer or plaid shacket to keep you extra warm!
How to Style Specific Types of White Boots
How to Wear White Ankle Boots Outfits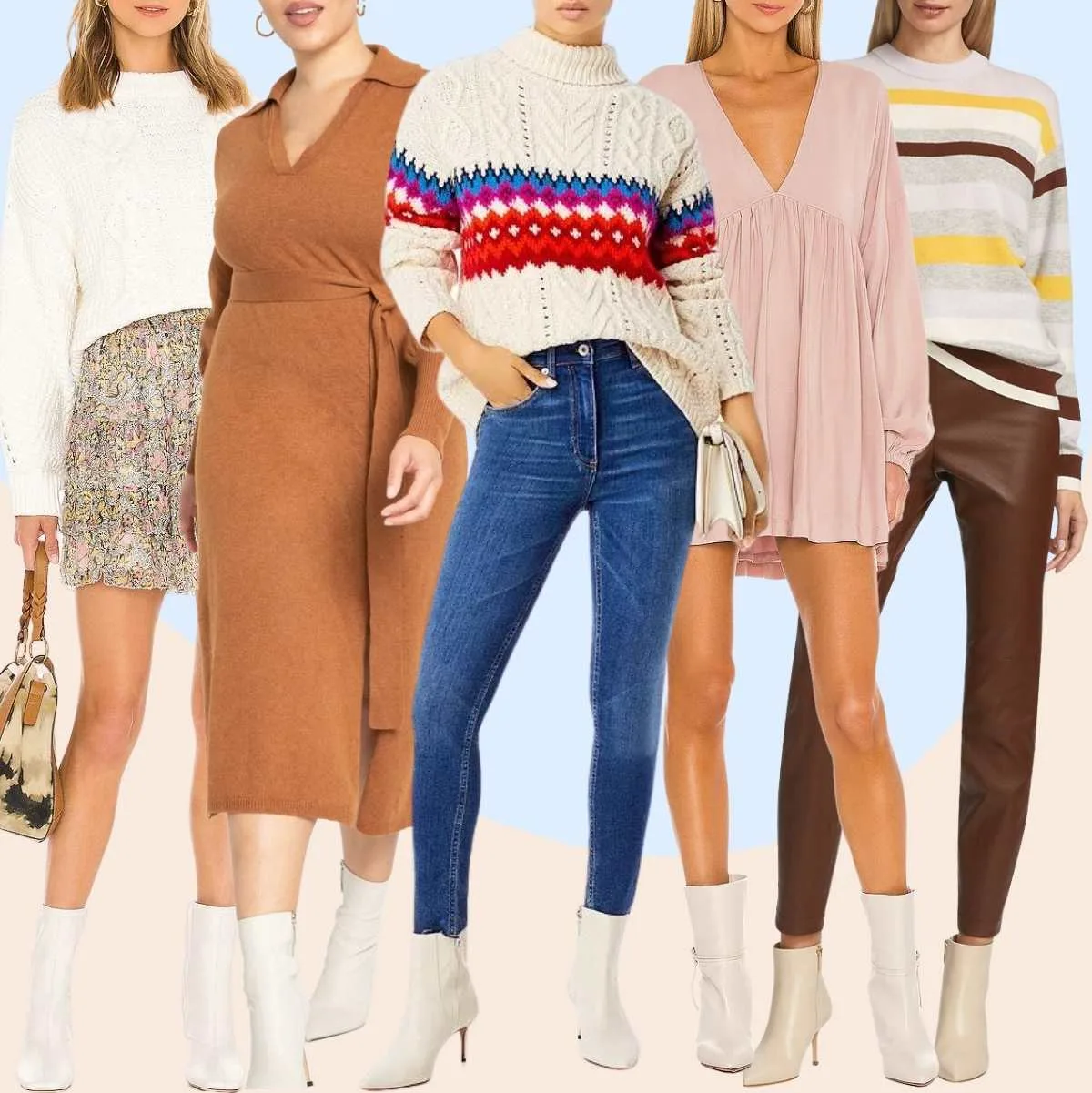 With classic white ankle boots, your styling choices are many. They will look great from skinny jeans to all dress hemlines!
You can wear baggier dress pants that fall over the boots. Straight to narrower jeans can be rolled to show off some leg!
Wearing skirts? You can wear anything from a maxi skirt to a shorter pencil skirt with white boots! Tights are also an option.
I love semi-sheer skin-tone hose with a slight sparkle. However, ribbed neutral tones or jet black to contrast your white boots outfit can work well. Check out my lastest post all about how to wear ankle boots!
How to Wear White Chelsea Outfits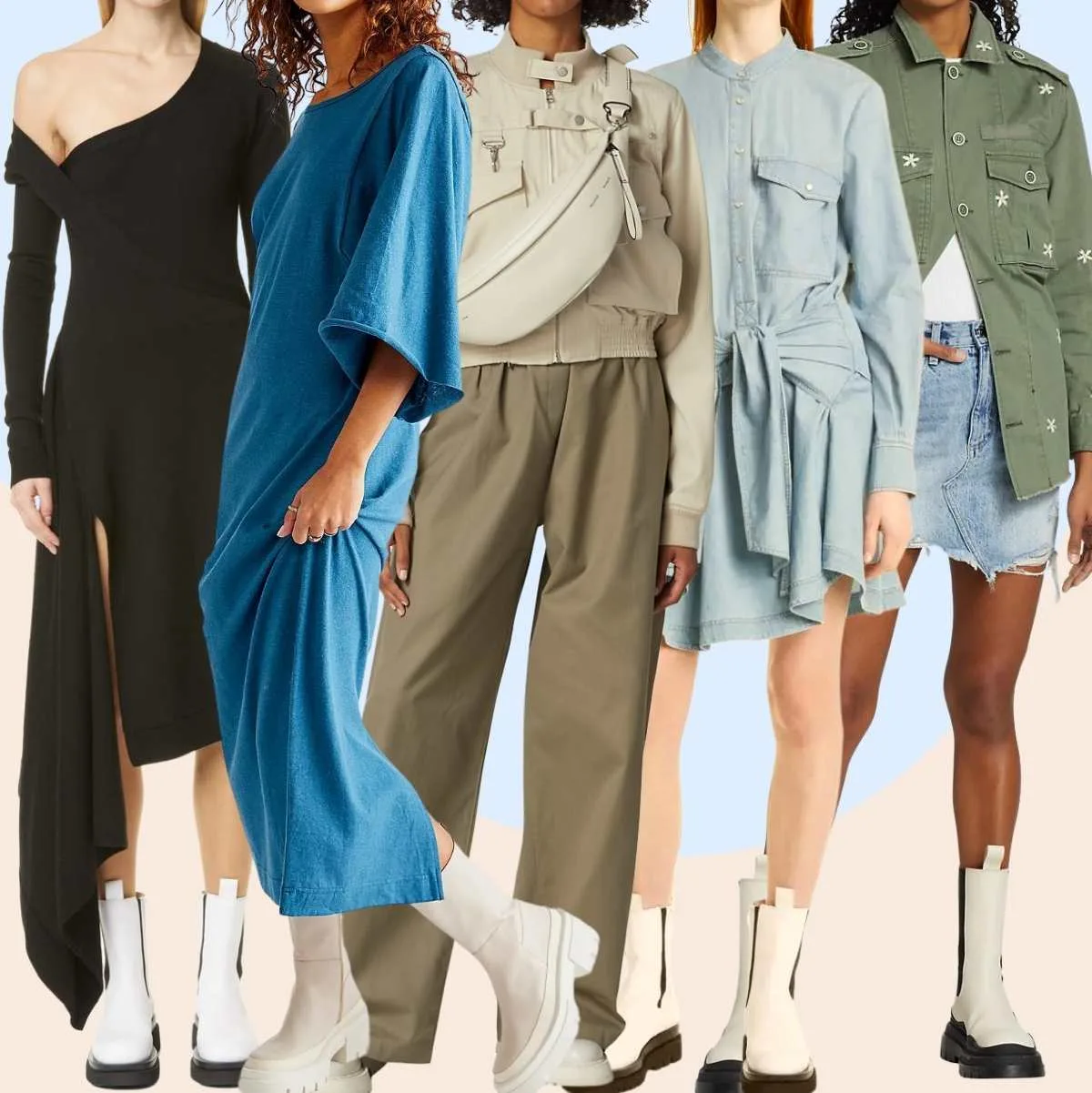 White Chelsea boots and combat boots can both have a more rugged to edgy look. I love these with contrasting black details for a sportier vibe.
Of course, all white or cream-colored boot styles also exist, if you want to pair them with more smart-casual outfits like dress pants or suits.
How to Wear White Combat Boots Outfits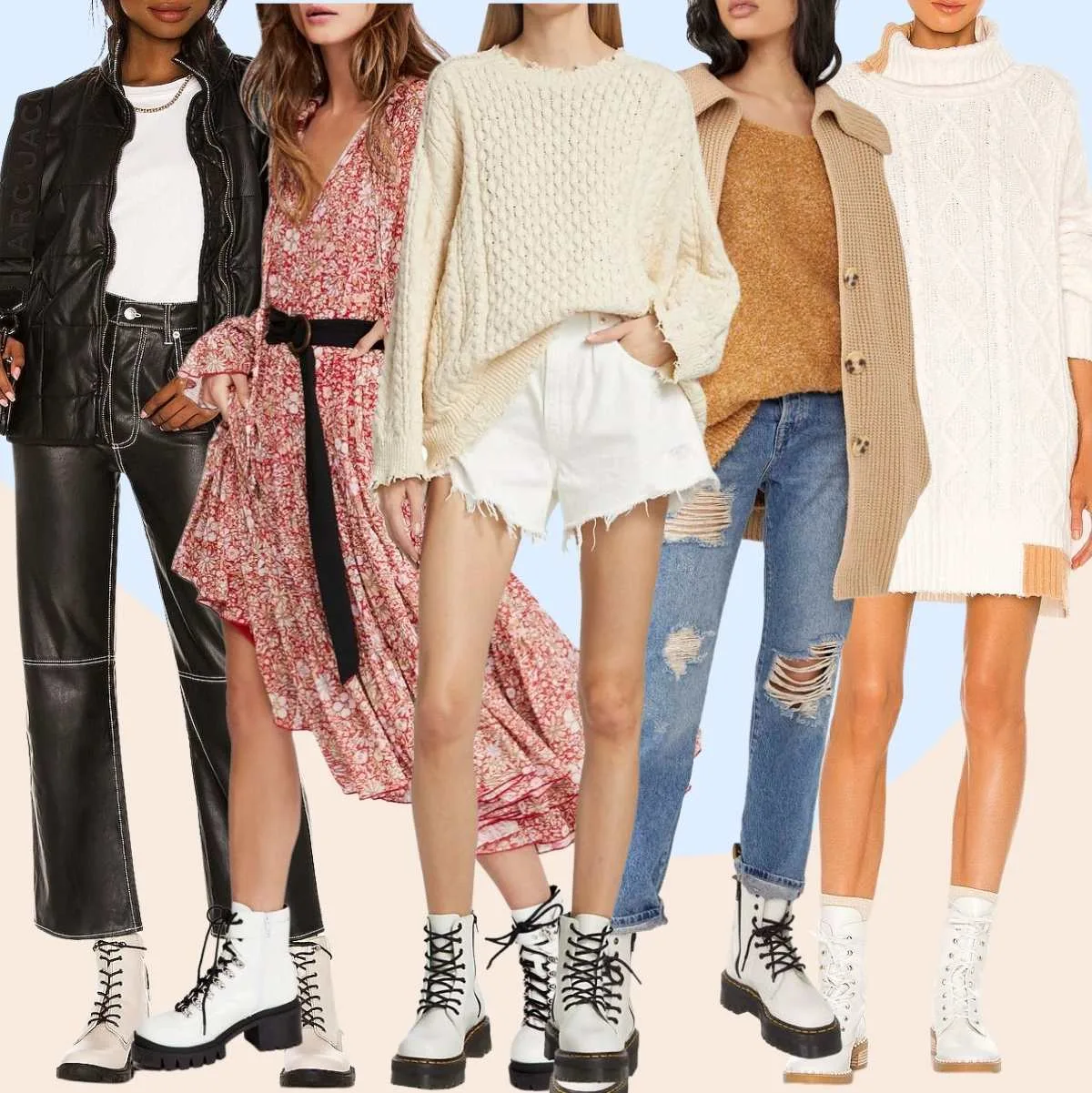 Great for Fall and winter, you can find many winterized versions of these boots to keep you styling through the cooler months.
Socks are also a great option, like matching white crew socks, contrast black stockings or a colorful stripey pop!
Check out my posts on how to wear combat boots and what to wear with Chelsea boots for more styling options!
How to Wear White Cowboy Boots Outfits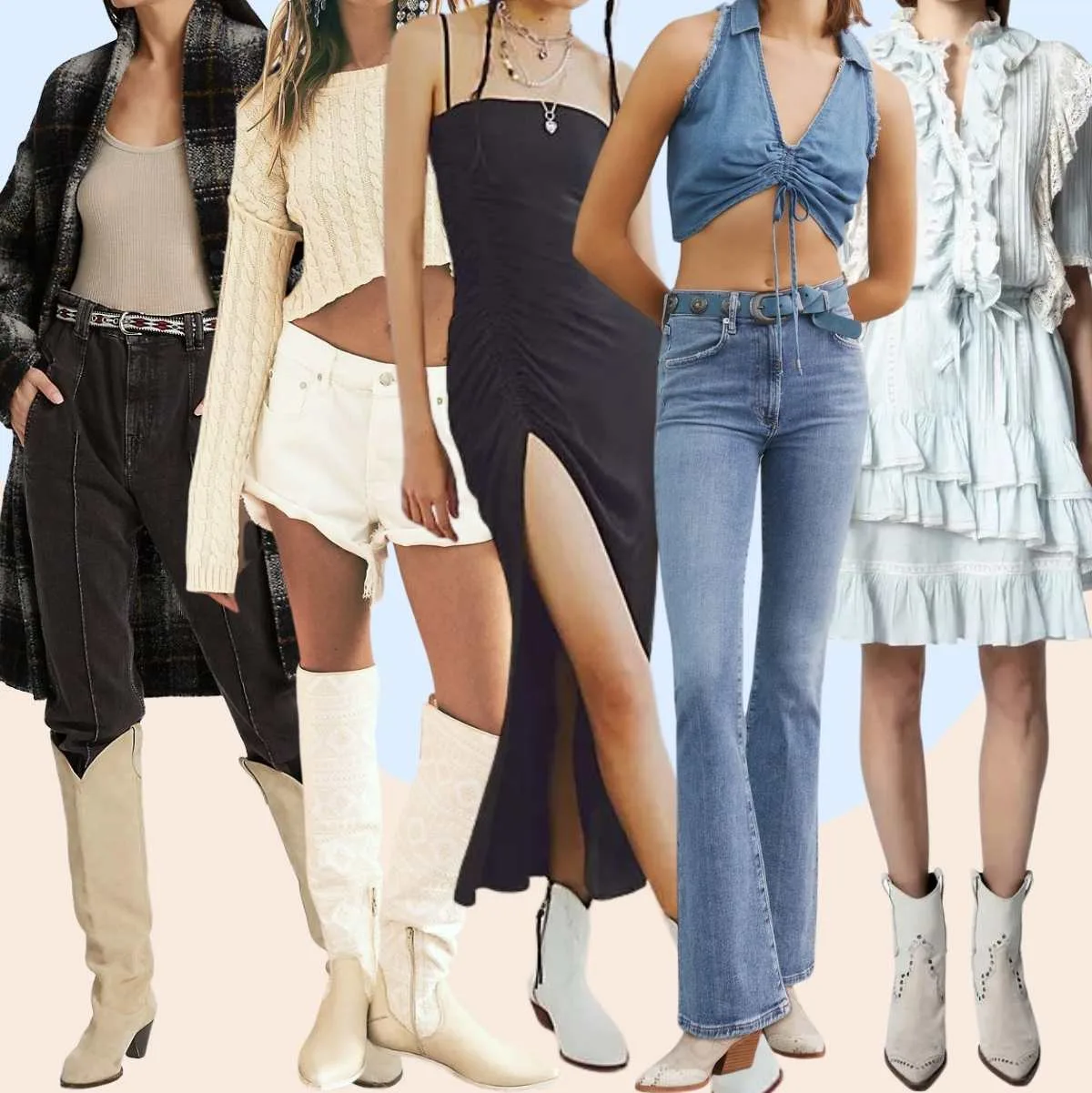 Wear a simple a simple little white or black dress outfit with white boots! Add a belt or crossbody purse and you're good to go. Wear western white boots with ripped jeans or distressed denim to make the outfit more casual.
You can also create a bohemian look with an embroidered dress, layered jewelry, a leather purse and white cowboy boots.
Looking to wear white cowboy boots to your wedding? Choose a western dress or a silky slip-dress with a side slit to add a little yee-haw to your special day! More tips on my post about how to wear cowboy boots.
How to Wear White Knee Boots Outfits
No matter your style, there are several outfit options for white knee boots! Most of these boots come in leather, while some beige-white knee or calk boots might come in a slouchy suede.
If you're hesitant about this combo, try something simple like skinny jeans and a tee with a blazer.
Or match the boots with a short white sweater dress. You can also try a bold romper or denim shorts and tee, to make your white knee boots stand out.
You can even try a white thigh high boots outfit if you're up for it!
What to Wear with White Boots Outfits: 30+ Styling Ideas
White Boots Outfits with Jeans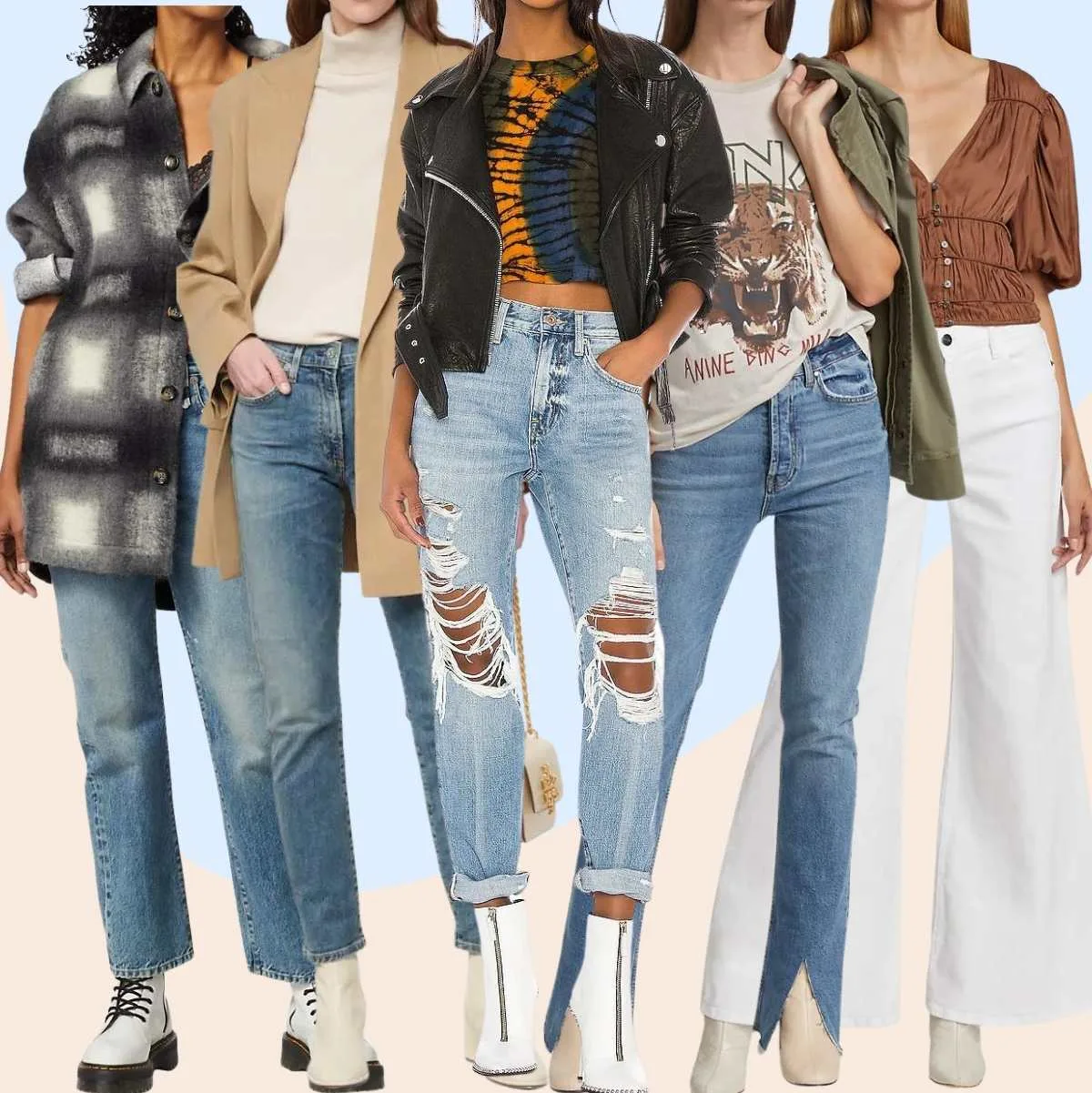 Jeans are the perfect canvas for white boots, and there are various ways to incorporate them into your look. One way to wear white boots with jeans is to choose a pair of skinny jeans in a dark wash.
Pairing dark jeans with light-colored shoes is a great way to create contrast and add visual interest to your outfit. Another option is to choose a pair of ripped or distressed jeans to create an edgy denim look.
You can also try tucking in straight leg or skinny jeans into your white boots for a more polished look. Or you can cuff them to add a little rugged edge.
Complete your look with a white or rocker tee and layer over any jacket, puffer or cardigan as you see fit. Check out my in-depth guide on how to wear ankle boots with jeans of all kinds!
White Boots Outfits with Dresses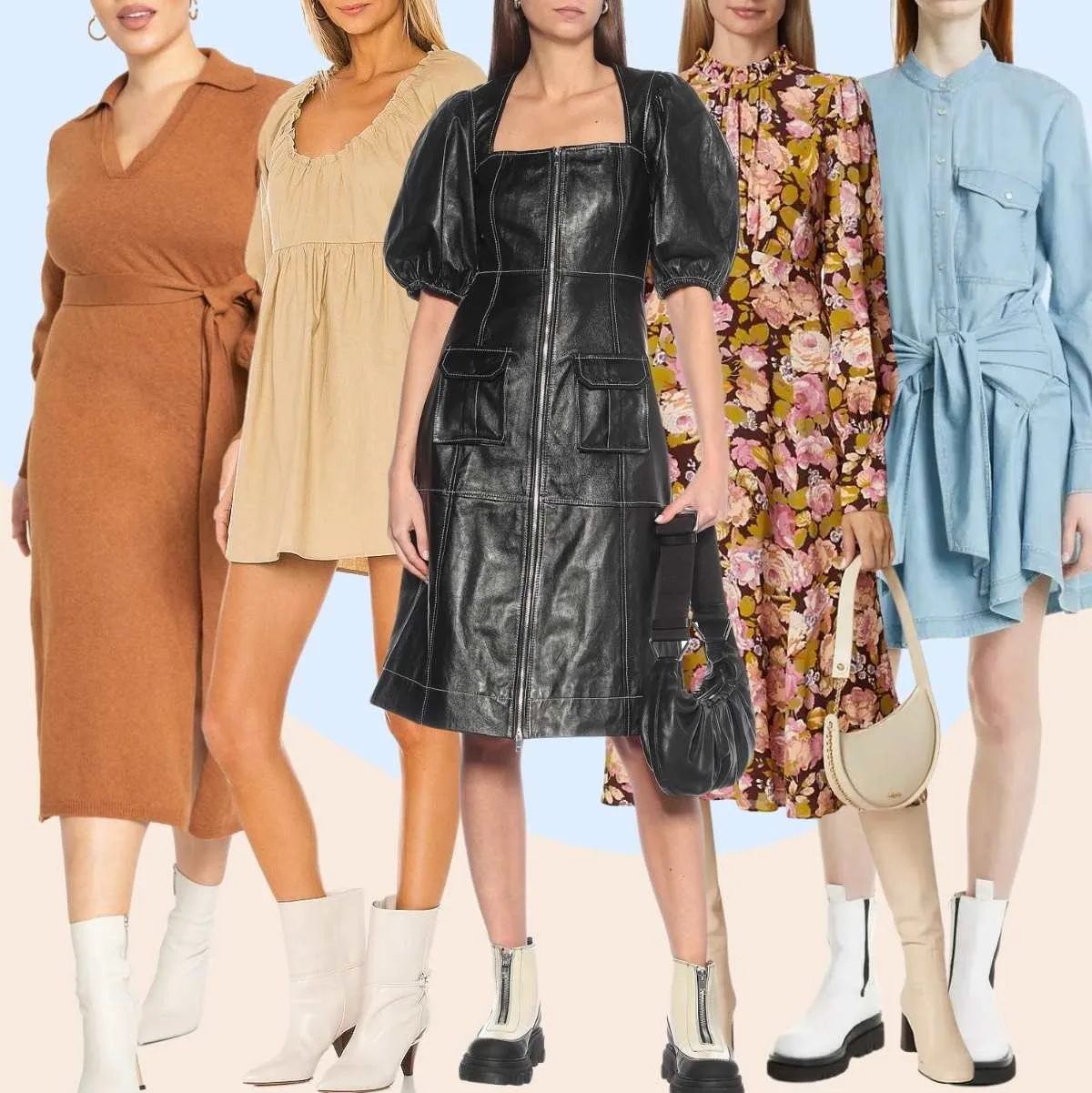 White boots look great with dresses. But if you're unsure how to style white boots outfits with dresses, here are a few tips to get you started.
First, consider the type of dress you're wearing. A white boot can give a casual dress a more edgy look, or it can add a touch of bright glamour to a formal dress. Especially if the boots are sparkly!
If you're nervous about which style of white boot would work best with your dress, try experimenting with different types until you find the perfect match.
Ankle boots with dresses are the easiest way to go, although with midi dresses, avoid having the hem end at the largest part of the calf, as it's not very flattering.
You want to ensure that any midi or maxi dress is roomy enough to allow for taller boots.
White Boots Outfits with Jumpsuits & Rompers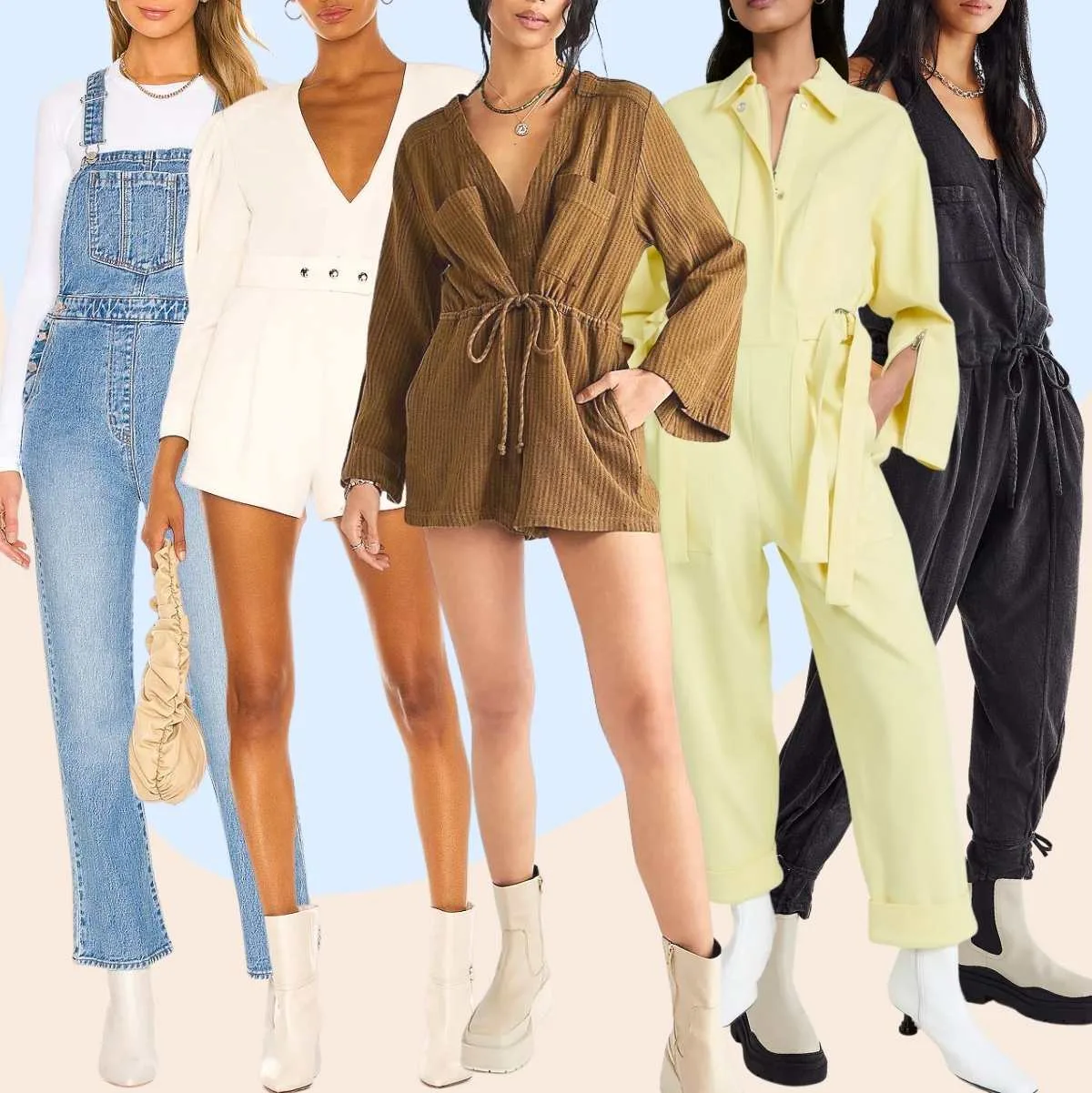 White ankle boots, combat boots and Chelsea boots with a jumpsuit or romper will brighten up your outfit. A utility of denim jumpsuit will add a sporty edge to your look.
You can also take cues from Victoria Beckham and wear your white boots with a printed jumpsuit for contrast. Or, to keep the outfit from looking too busy, choose a solid color jumpsuit or romper.
Be careful when styling rompers with knee boots, as I prefer cowboy boots here. However, the combo can work if you go for a 70s look with a colorful romper and block heel white knee boots.
Or, you can reach for a soft boho style romper with off-white slouchy suede boots. Cropped, wide-leg jumpsuits can style well with snug or straight-leg white knee boots, if they can fit seamlessly inside the suit!
Check out more styling tips in my posts about the best shoes for rompers and best shoes to wear with a jumpsuit!
White Boots Outfits with Dress Pants, Leggings & Suits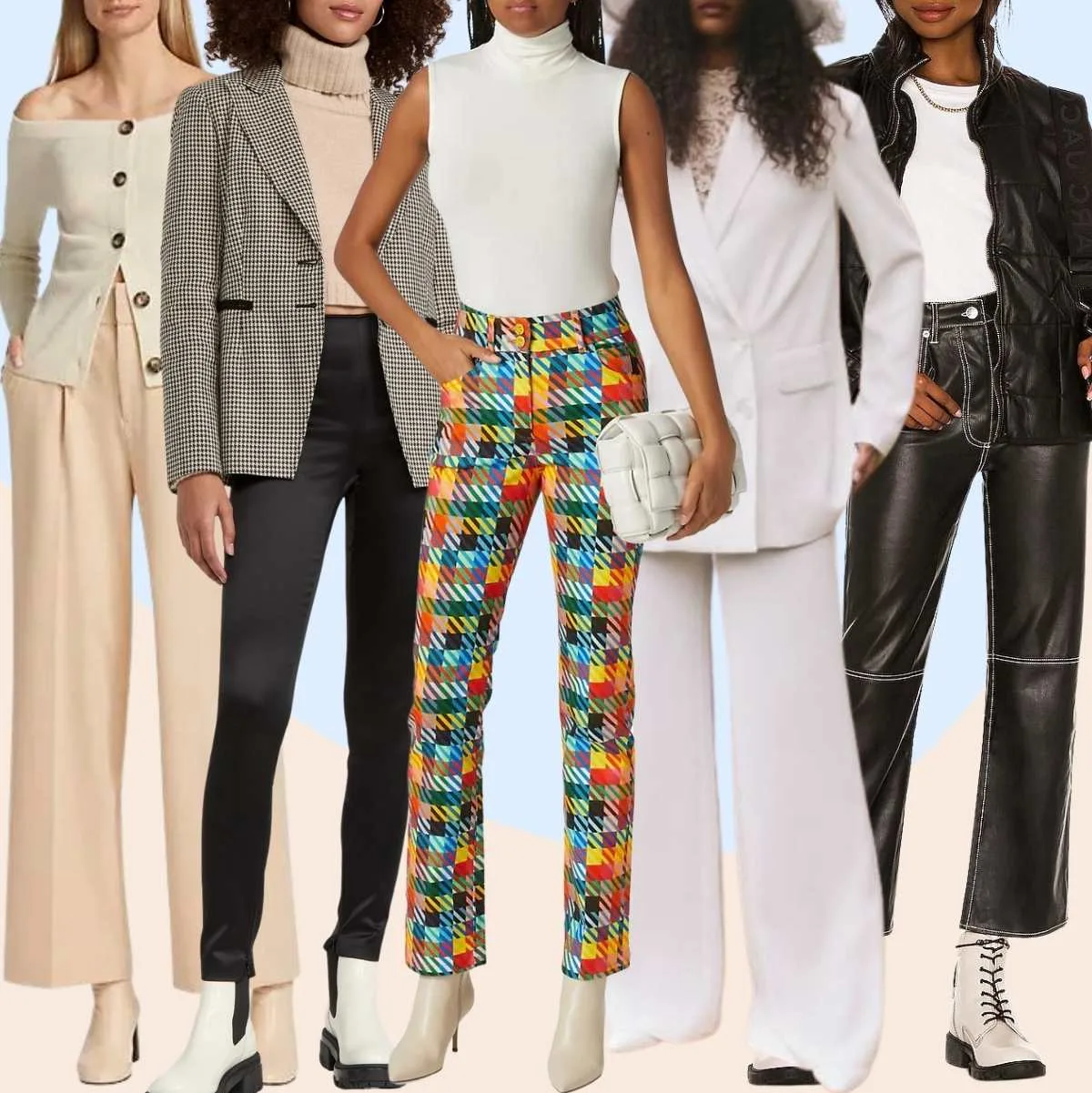 Wearing white boots with leggings, dress pants and suits can be a great way to make a statement and turn heads. Especially if they contrast with your outfit.
Add a pop of color with your top or accessories, or go for an all-white look to really make a style statement. Especially if you're looking to pair white ankle boots with a white suit on your wedding day!
Don't be afraid to experiment and have fun with your white boots outfits. Think colorful pants, or edgy leather trousers.
You'll want to avoid bulky-looking combat and Chelsea boots with tighter dress pants and leggings. You might end up looking clownish – especially if your feet are a larger size – and I nobody wants that!
More styling tips on how to wear shoes with wide-leg pants and the best shoes for cropped dress pants!
White Boots Outfits with Shorts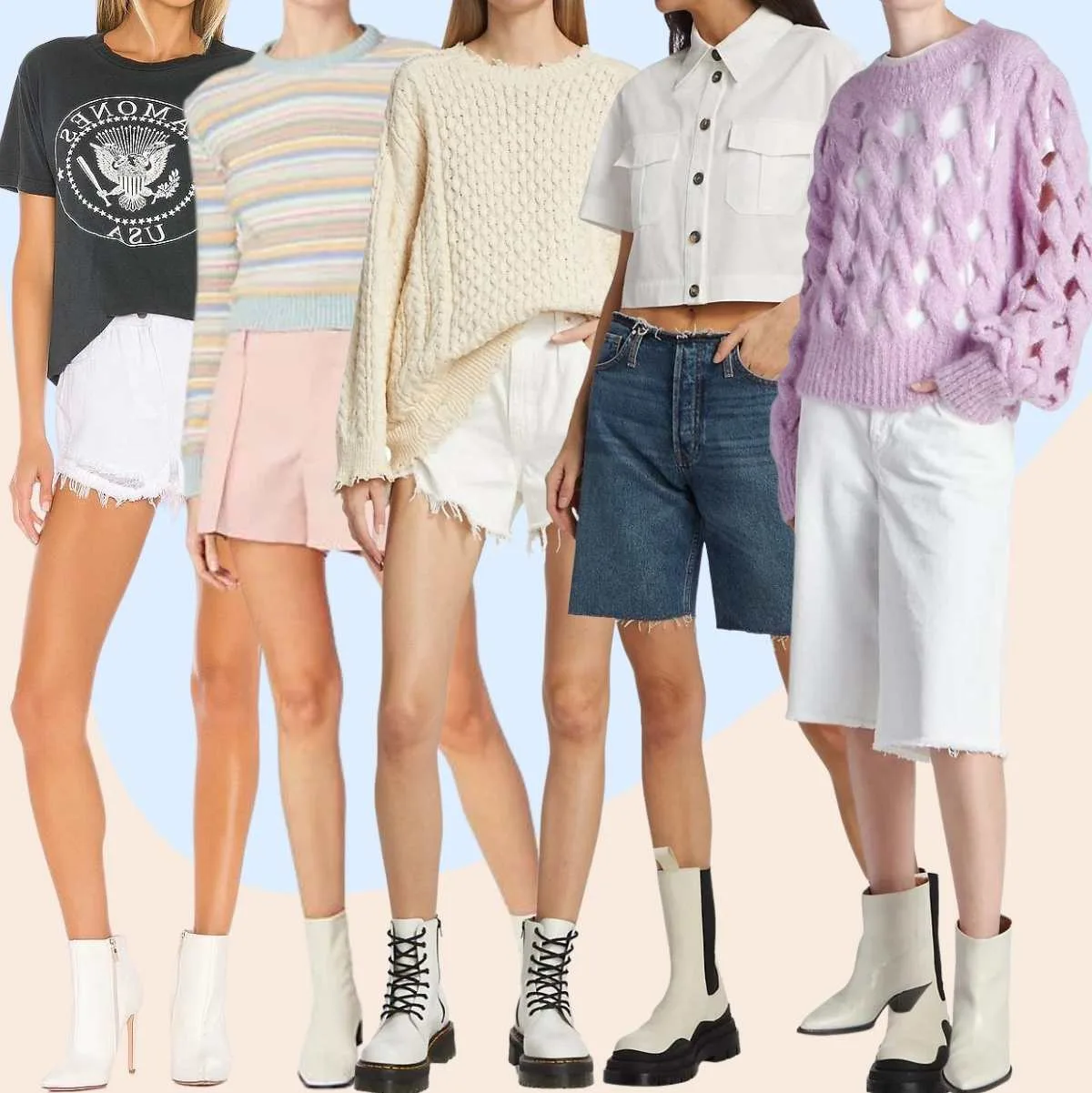 White boots outfits with shorts can be so fun, but there are a few things to keep in mind. First, choose the right length of shorts with the boot type.
Short shorts look great with combat boots, and western boots. However, classic white heeled booties can look great with the right top.
Consider the color of your shorts. White boots can be worn with any color shorts, but they will stand out most when paired with a dark or denim short.
Finally, accessorize accordingly. You can dress up your look if you choose tailored or leather shorts. Even denim shorts can be elevated with a half-tucked shirt and blazer.
White Boots Outfits with Skirts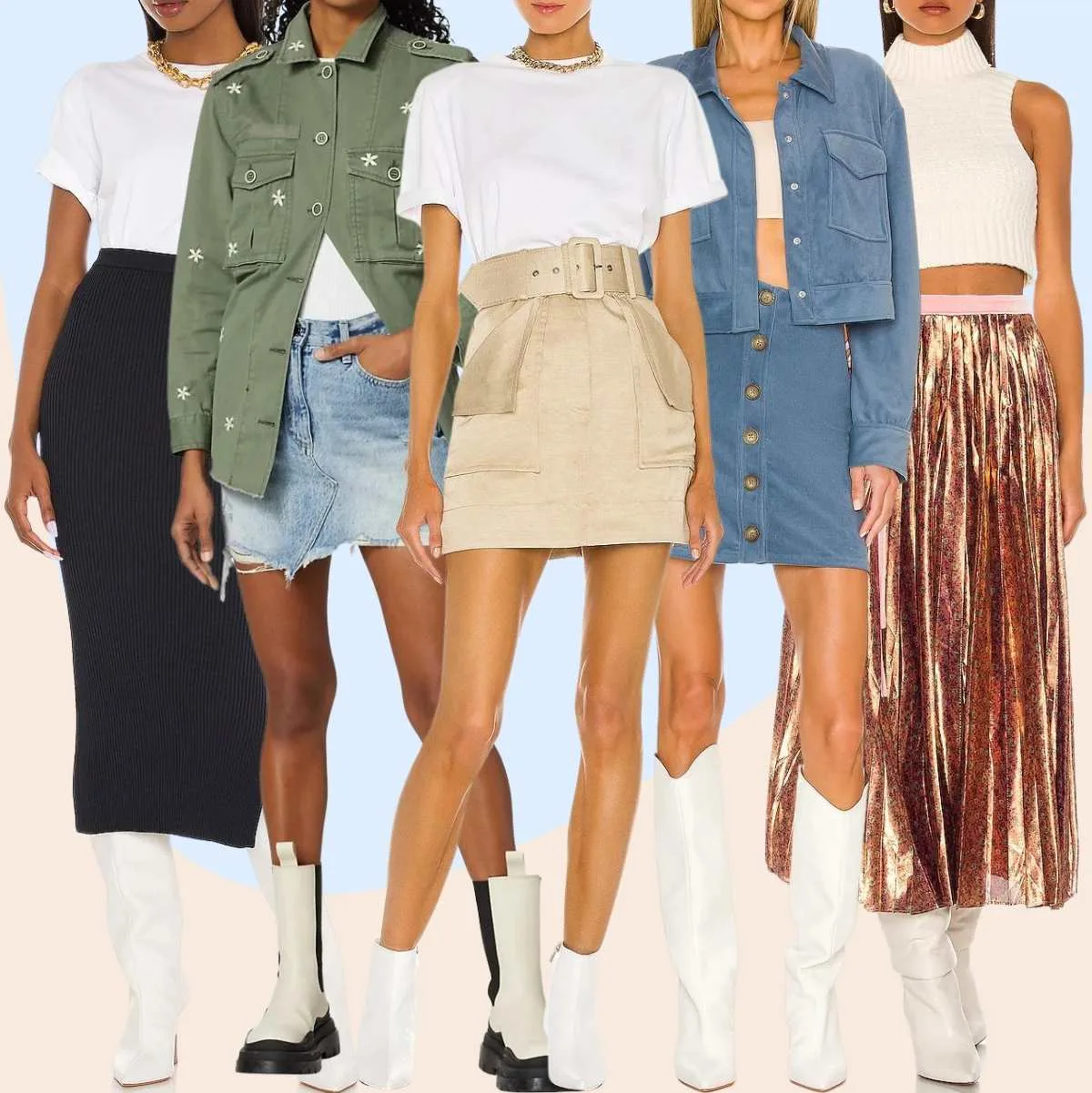 White boots with mini skirts is a great way to add a touch of style to any outfit. There are many different ways to wear white boots with skirts. Each look can be tailored to suit your own personal style.
For a casual look, style low ankle, cowboy or combat boots with a denim skirt and a boyfriend tee. If you're looking for something a little more dressy, pair white knee boots with a leather mini skirt or a floaty maxi skirt.
To really make a fashion statement, go for an all-white ensemble and team white sock booties with a white skin-tight knit skirt and matching sweater.
Final Thoughts – How to Wear White Boots Outfits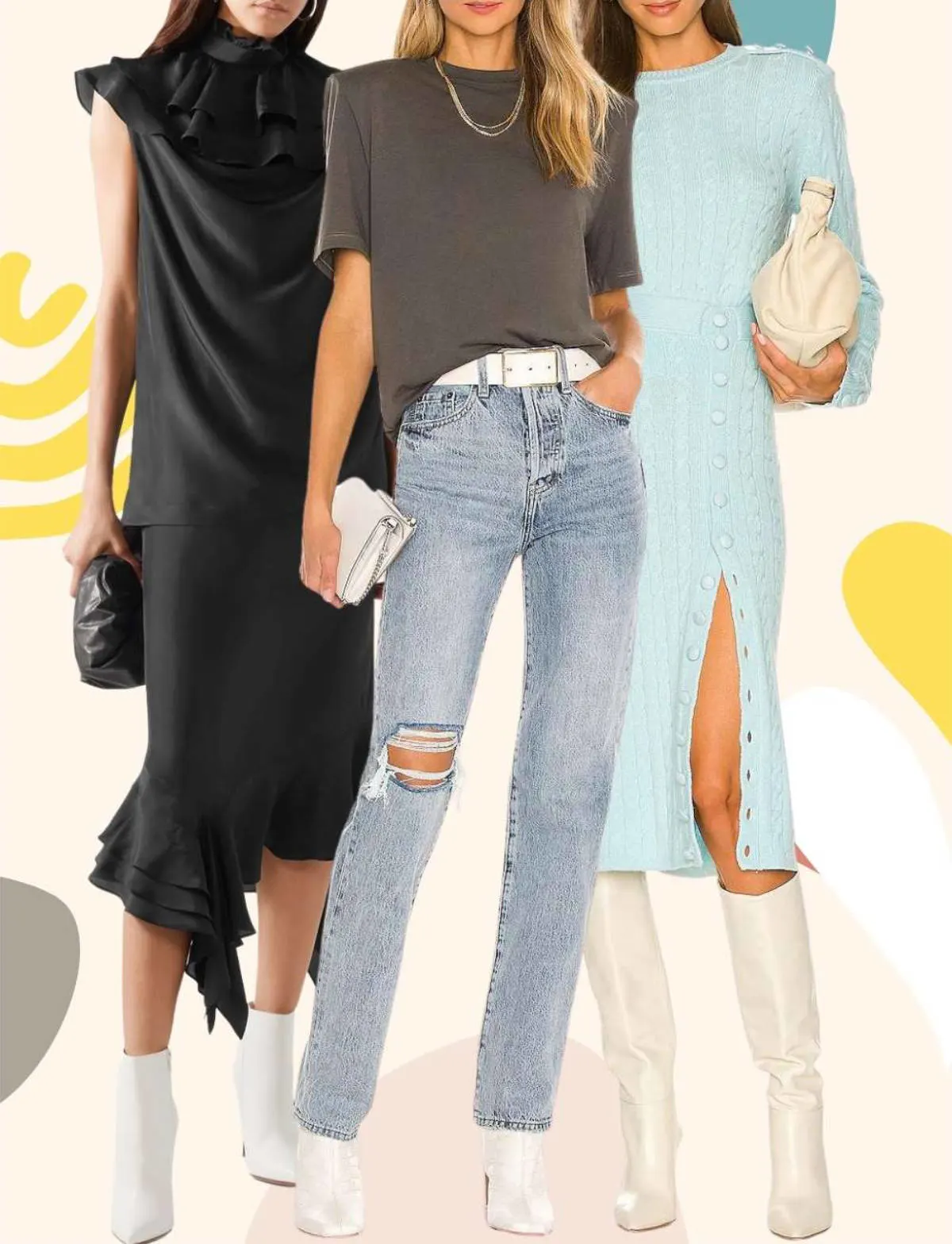 As you can see, there are many ways how to wear white boots outfits from winter to spring. Whether you are dressing up or down, there is a white boot style that will fit your look.
From white ankle boots, to white combat boots, to white knee boots & more, there isn't a shortage of choice!
I hope my tips on how to style white boots outfits have helped you feel confident when stepping out in your favorite pair!
Shop All Types of White Boots:
xo ShoeTease