Over-the-knee boots are the most misunderstood of all the different types of boots for women! That's because not many know how to wear thigh-high boots outfits properly.
Figuring out what to wear with them is the first step! The wrong combination of these tall boots and clothing can make or break your outfit. Especially when it comes to where you're wearing it.
Thigh-high boots, or over-the-knee-boots outfits, had a significant moment in 2015. However, they're still trendy today. They make fantastic boots for fall/winter because of their added coverage.
Worn over pants, jeans, and under or with dresses and skirts, they are incredibly versatile. Many styles are also available, whether tight on the leg, looser, wide-leg, or slouchy.
That's not even mentioning the various heel heights! So if you're eager to learn how to wear your thigh-high boots outfits this season stylishly, read on for more, below on shoe-tease.com!
RELATED POSTS:
How to Wear Thigh High Boots Outfits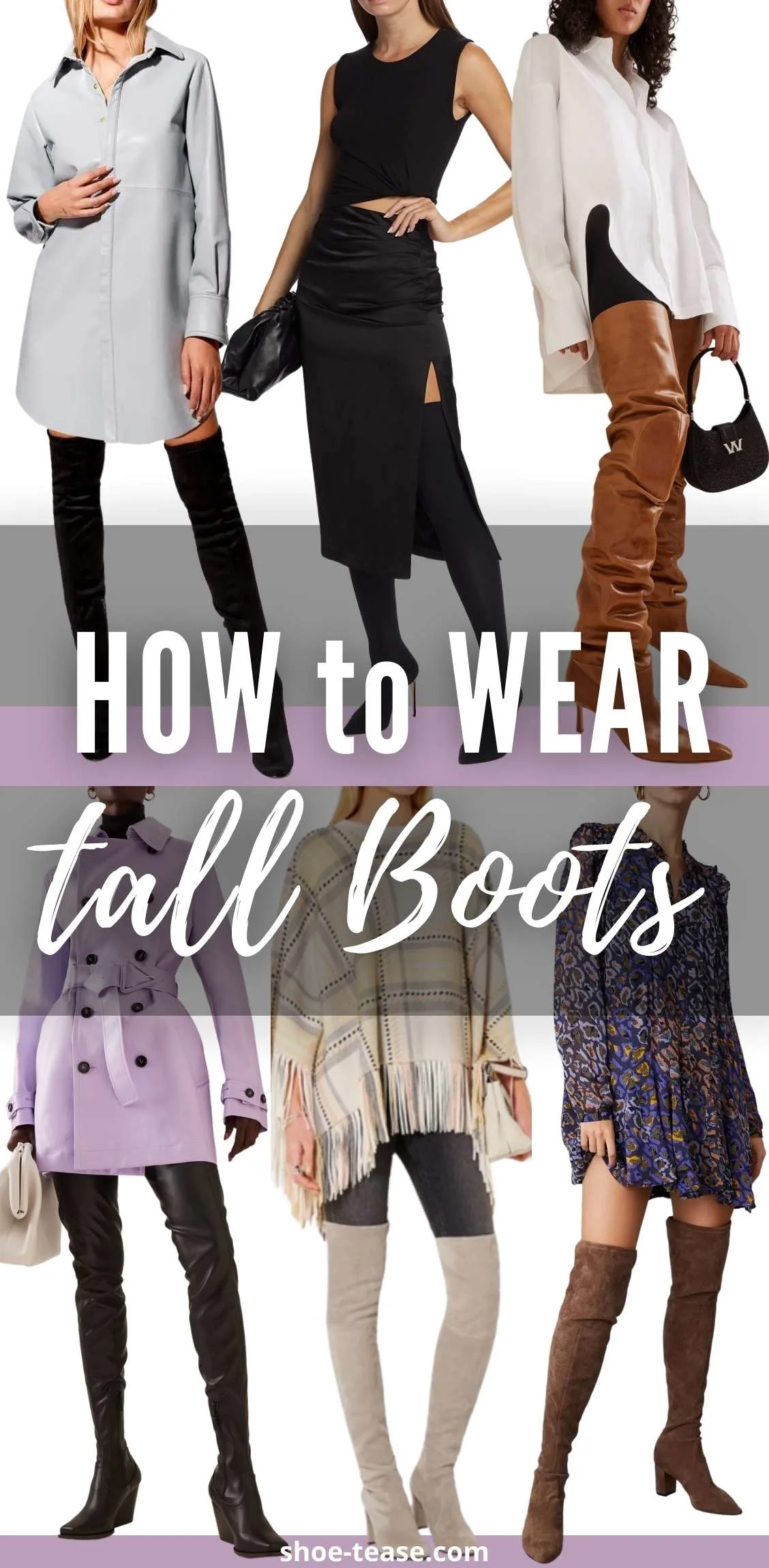 Where to Shop for Over-the-Knee Boots:
1. Thigh-High Boots with Dresses
I recently wrote a post on all the best boots to wear with dresses, and you better believe over-the-knee boots made the cut! Thigh-high boots with dresses can look fabulous for casual fall outings or fancier nights out.
You can keep your look casual with a flat-heeled over-the-knee boot style or opt for a block heel. Try a stiletto thigh-high bootie to make your outfit more enticing for the ultimate glam look!
It all depends on your chosen dress style and getting the proper thigh-high boots. An added bonus is that these boots keep your legs warm during cooler months! Here's a rundown below.
How to Wear a Midi/Maxi Dress with Over-the-Knee Boots: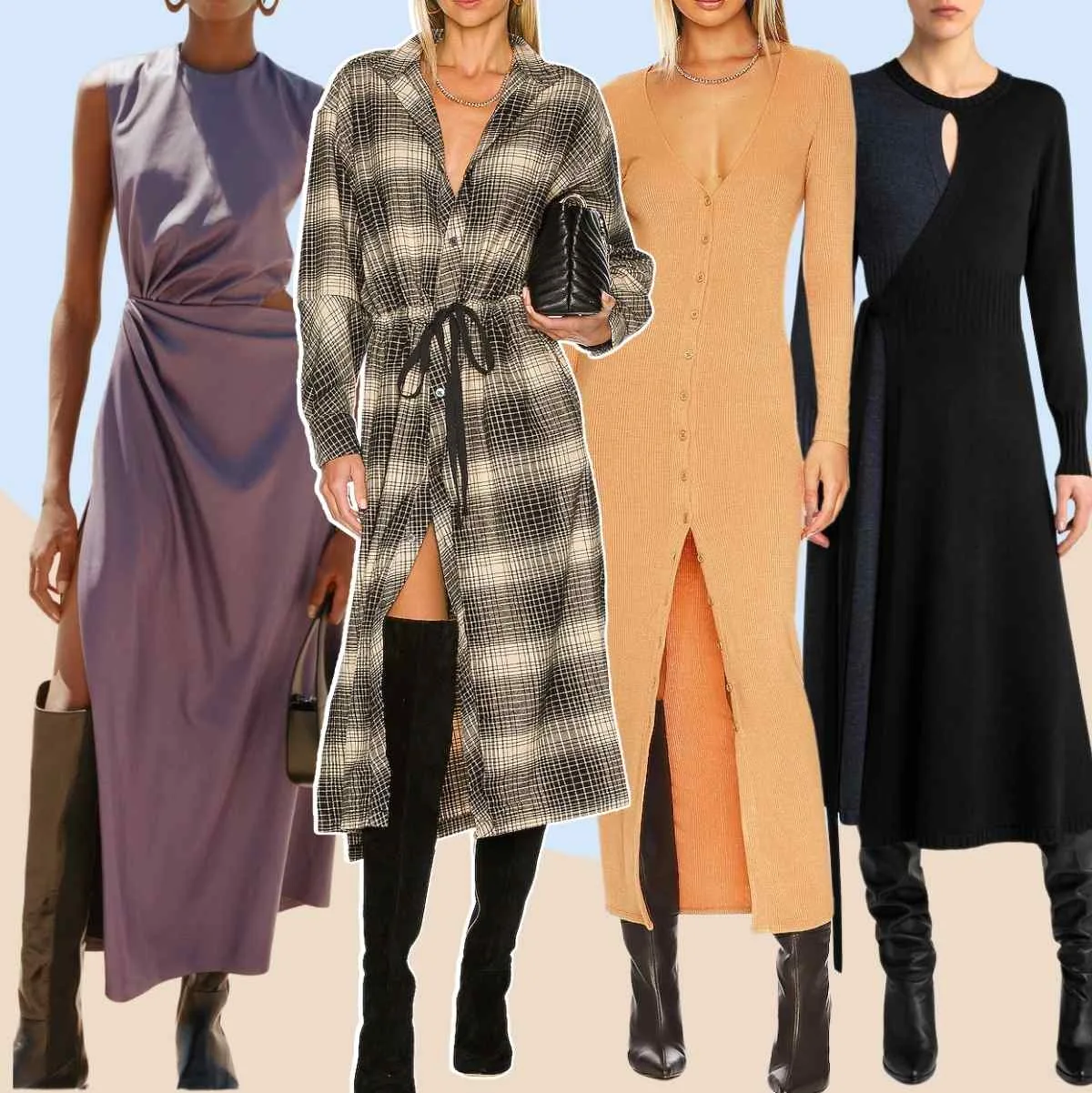 Although you'd not think of thigh-high boots to wear with dresses that hit under the knee, they work great! You can hide your boots inside your dress hem for a seamless boot/leg look.
Make sure your dress has enough flow and stretch for enough space to move. You also don't want your boots bunching up underneath.
Or, you can have a dress that buttons down the front (but unbuttoned to the knee or thighs) or has a side or front slit so you can show off the boots.
I love over-the-knee boot outfits with dresses: sweater dresses with suede OTK boots, 70s-style maxi dresses with wide leg or tall slouchy boots, and shirt dresses with sleek leather thigh-high boots.
You can even dress up your look with a tight-fitting midi with a slide slit and black satin thigh-high. Check out my post on all the best shoes to wear with midi dresses and shoes for maxi dresses!
How to Wear a Mini Dress with Over-the-Knee Boots: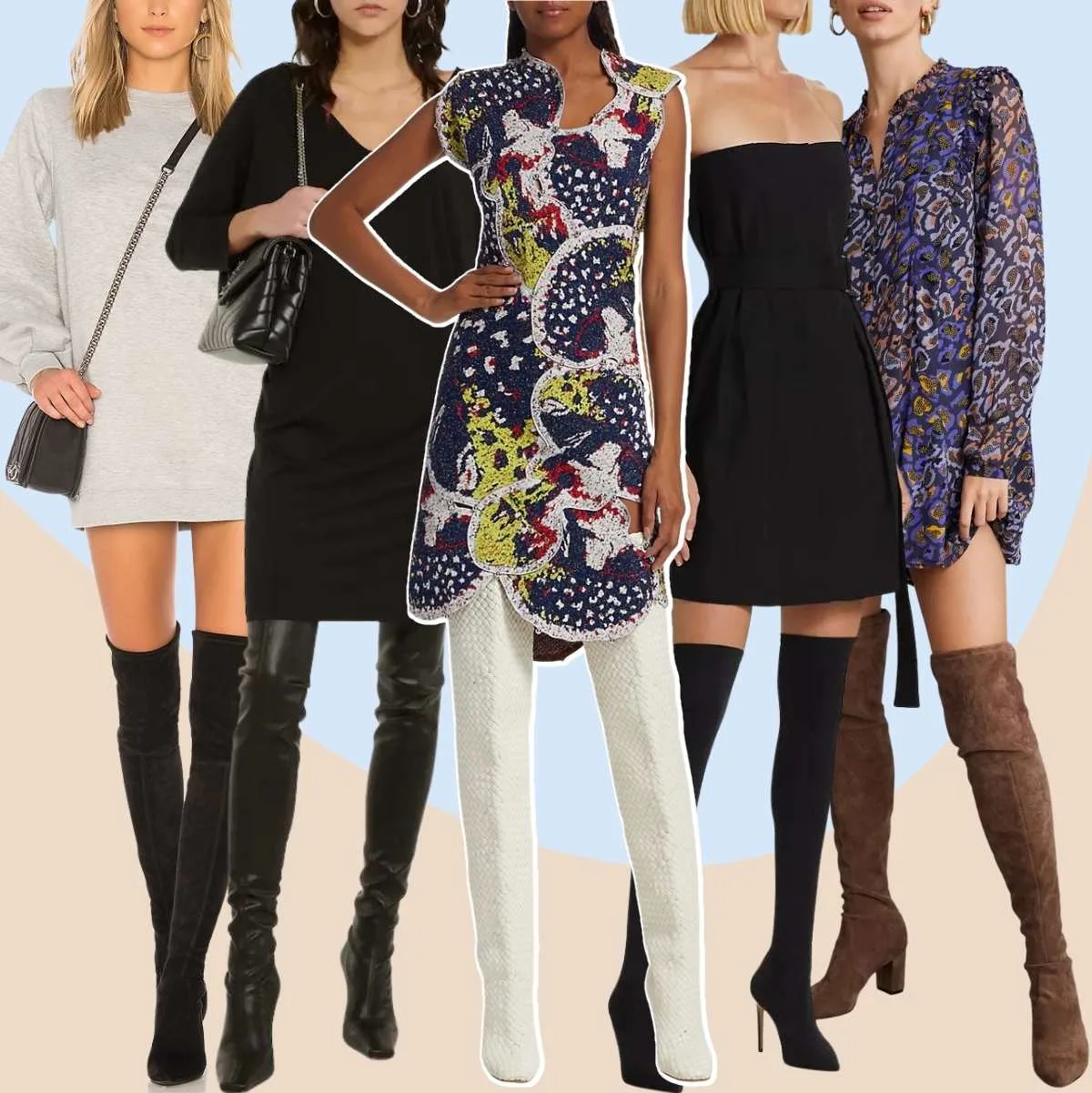 A short dress with over-the-knee boots can be a racier pairing. So depending on the occasion, it may or not be appropriate.
The combination, though, can look great with many mini dresses and boots types, but they must be styled right!
For instance, wider pair of tall boots with a chunky knit mini dress will look chic and fabulous for daytime wear. Or, for a fancier look, a super tall, skin-tight pair with stilettos, worn with a mini dress.
In the latter, the mini dress can cover the top of the boots or leave a couple of inches of thigh exposed, with or without tights.
The look, of course, has to be tasteful to pull off. So a thicker mini dress, a sleek 'do and subtle jewelry and a satin blazer will complete the look. Need more styling inspiration? Hop over to my post on how to wear short dresses with boots!
2. Over-the-Knee Boots Outfits with Jeans: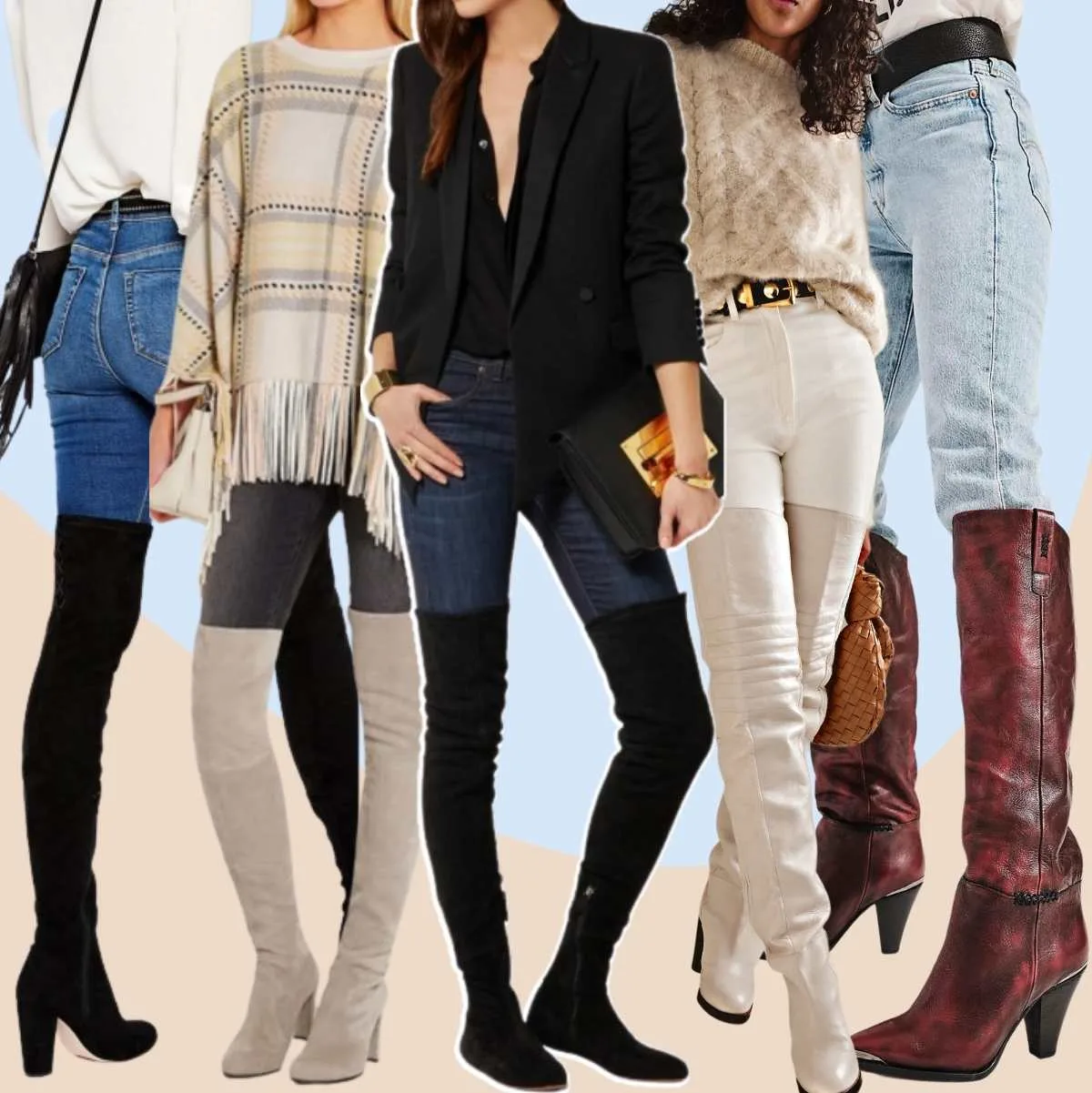 Jean with boots it brought to another level with over-the-knee boots! Of course, not all jean styles will fit into specific boots and vice-versa.
The trick is the boots have to fit over the jeans! That's why slimmer jeans work best with most thigh-high boots outfits.
How to wear over-the-knee boots with slim jeans:
Dress your skinny jeans with a tight thigh-high boots. You can wear suede boots with blue jeans during the day, with a tight bodysuit. Or you can add a flowy cardigan or textured sweater to give some volume to the outfit.
Opt for black or indigo, or slim jeans with black thigh-high boots in suede, leather, or patent fabrics, for a night out.
They're not only the hottest boots for the current and upcoming season but also one of my favorite shoes to wear with skinny jeans!
How to wear over-the-knee boots with straight-leg jeans:
If you want to pair your over-the-knee boots outfitswith less slim jeans, like mom jeans, or straight-leg jeans, that can work too!
Just reach for a pair on the slimmer side, with a sturdier thigh-high boot like a wide-leg leather boot. These boots with a block heel or a western edge will give your look a rugged edge, especially with distressed denim!
3. Thigh-High Boots with Leggings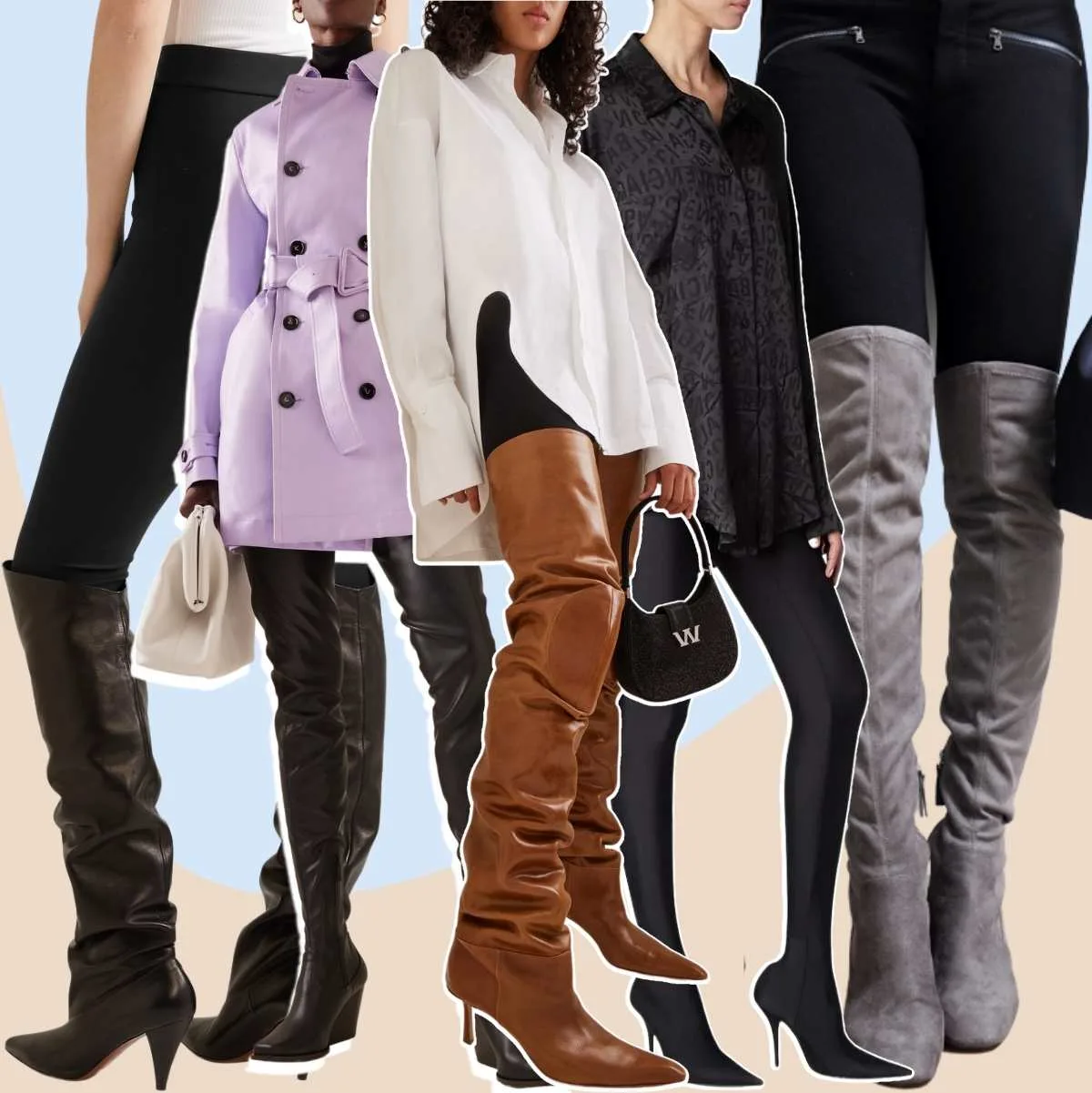 Thigh high boots are great boots to wear with leggings if you choose the right style. Honestly, the due are pretty much meant to be!
Just stay away from athletic leggings, cut-out leggings, or leggings with any stark print.
How to wear over-the-knee boots outfits with leggings:
I love simple leggings that match the tone of my boots. Black boots with black outfits are always a good choice, but warmer tones also look great!
I prefer to lower or flat-heeled high boots for day-to-day wear, like Stuart Weitzman's 50/50 high boot, which looks sleek and classy. Great for with a simple tee and flowy 3/4 length cardigan.
High boots with leggings and a high stiletto heel look a little racy. If that's not what you're going for, no worries.
You can keep things simple by pairing them with a long sweater, oversized blazer, cardigan, or boyfriend shirt. Such over-the-knee outfits with leggings look great for the office or more conservative venues.
Want to wear thigh-high boots with heels for a daytime office look? Keep it to a block heel with suede or matte leather finishes. And pick a thicker legging, such as a Ponte knit style.
I love a black polished over-the-knee boot with a sky-high stiletto and black cotton or leather leggings for a night out. A simple tank bodysuit with a sequin jacket will make a glittery statement!
4. Over-the-Knee Boots Outfits with Skirts
In the winter, over-the-knee boots are when they're most coveted. They work double-duty by completely removing the need for tights, especially with skirts, both short and long!
Over-the-knee boots will help stretch your skirts into different seasons and keep your legs warm. Below are my favorite ways to wear various skirt styles with them.
How to wear thigh-high boots with mini skirts: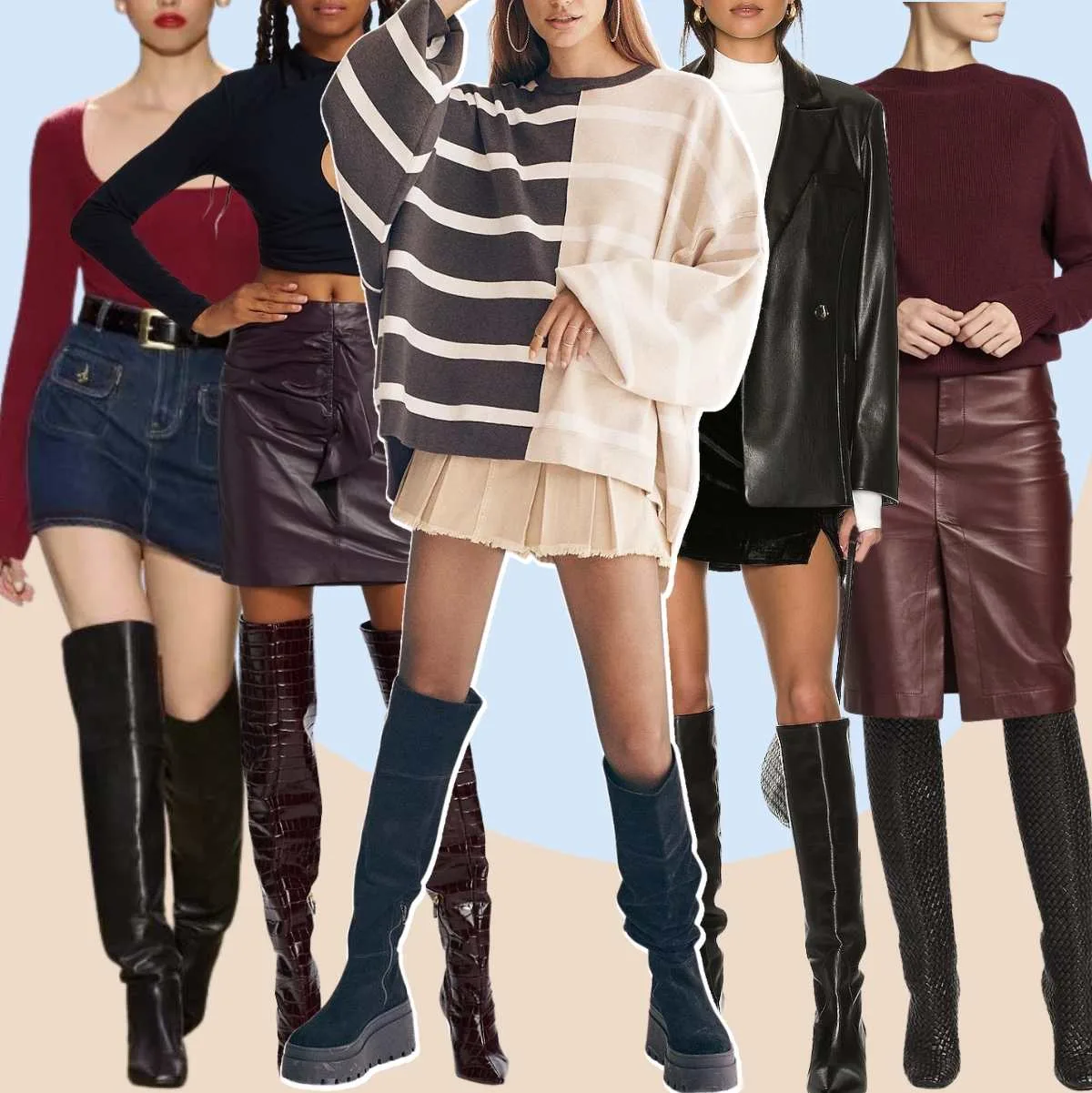 Like with mini dresses, outfits with thigh high boots and short skirts can be tricky. However, I find mini skirts easier to style with OTK boots than their dress counterparts. That's because you can play more with shapes up top.
For instance, try a leather mini with a block heel or flat-heeled over-the-knee boots, a puffy knit sweater, or an oversized blazer. I love a dark or denim mini skirt with suede boots and a roomy hoodie for a daytime look.
How to wear thigh-high boots with midi & maxi skirts: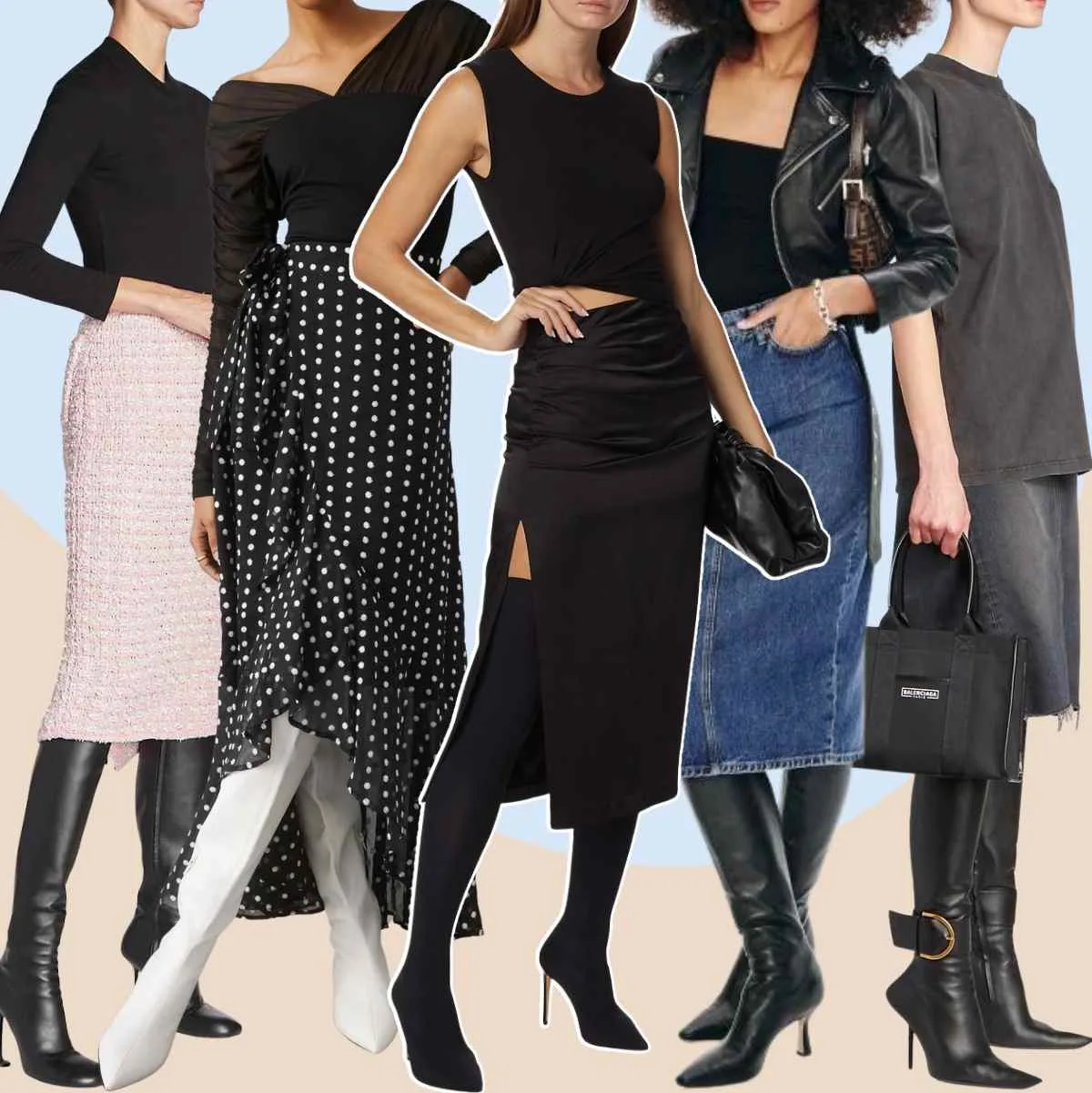 I love a pencil skirt with a tight pair of over-the-knee boots. Leather, skirt suit, denim, I love them all! Ensure your tall boots are slim enough to fit under the skirt well without showing underneath.
You can have fun with high-low skirts that show off the boots. I'm also partial to tight-knit skirts with front or side slits to show off the boots!
Try a sleek pair of stiletto thigh-high boots for a glam night out during the cooler months. Add a side-slit skirt that shows off a little leg. A simple tank and minimal jewelry will add just enough sass while keeping it all class!
Don't forget to check out my post all about the best boots and shoes to wear with skirts of all lengths and styles!
5. Thigh-High Boots Outfits with Shorts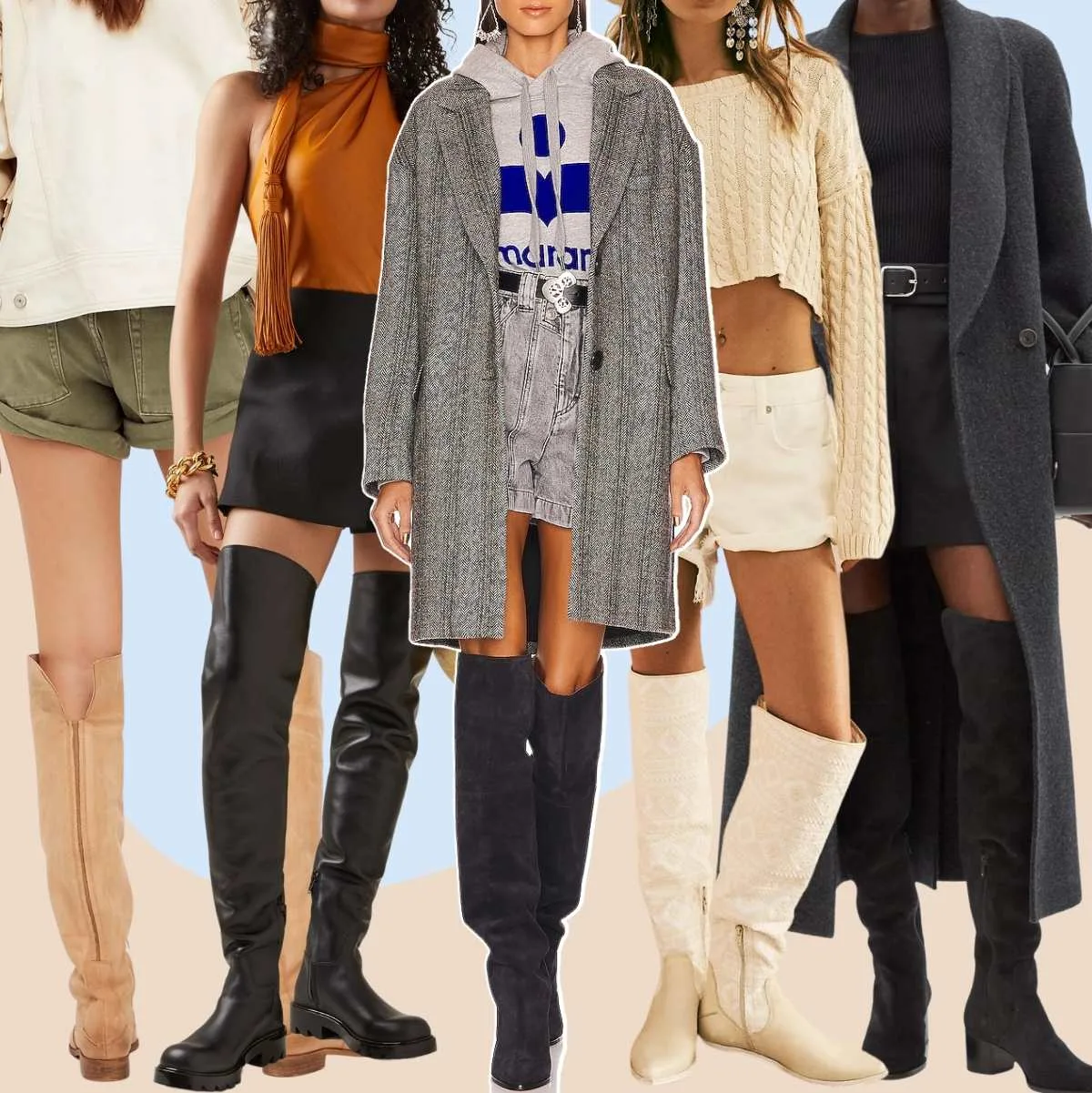 If you're wondering about over-the-knee boots outfits with shorts as an option, hear me out. In the past couple of seasons, high-end retailers have been showcasing fall looks with shorts, super tall boots and long coats, and I'm kinda loving it.
Not for everyone, but for those wanting to experiment with their OTK boots or extend the life of their shorts beyond spring/summer, they can be a fun option!
How to wear over-the-knee boots with shorts:
For a casual, transitional look, reach for a pair of western or more rugged boots with block or no heels. You'll give off a rustic vibe with a pair of denim or cargo shorts, a simple tee, or a sweater.
In the fall or cooler spring days, it's all about the wider-legged thigh-high boots, belted shorts and wool coat. Keep things casual with denim high-rise shorts and a sweatshirt.
Dress up the over-the-knee boots look with all black shorts, boots, a top and a charcoal coat. Add a silky blouse if you want to add some sheen!
Over the Knee Boots Outfits FAQs:
Q- What to wear with thigh-high boots on a night out?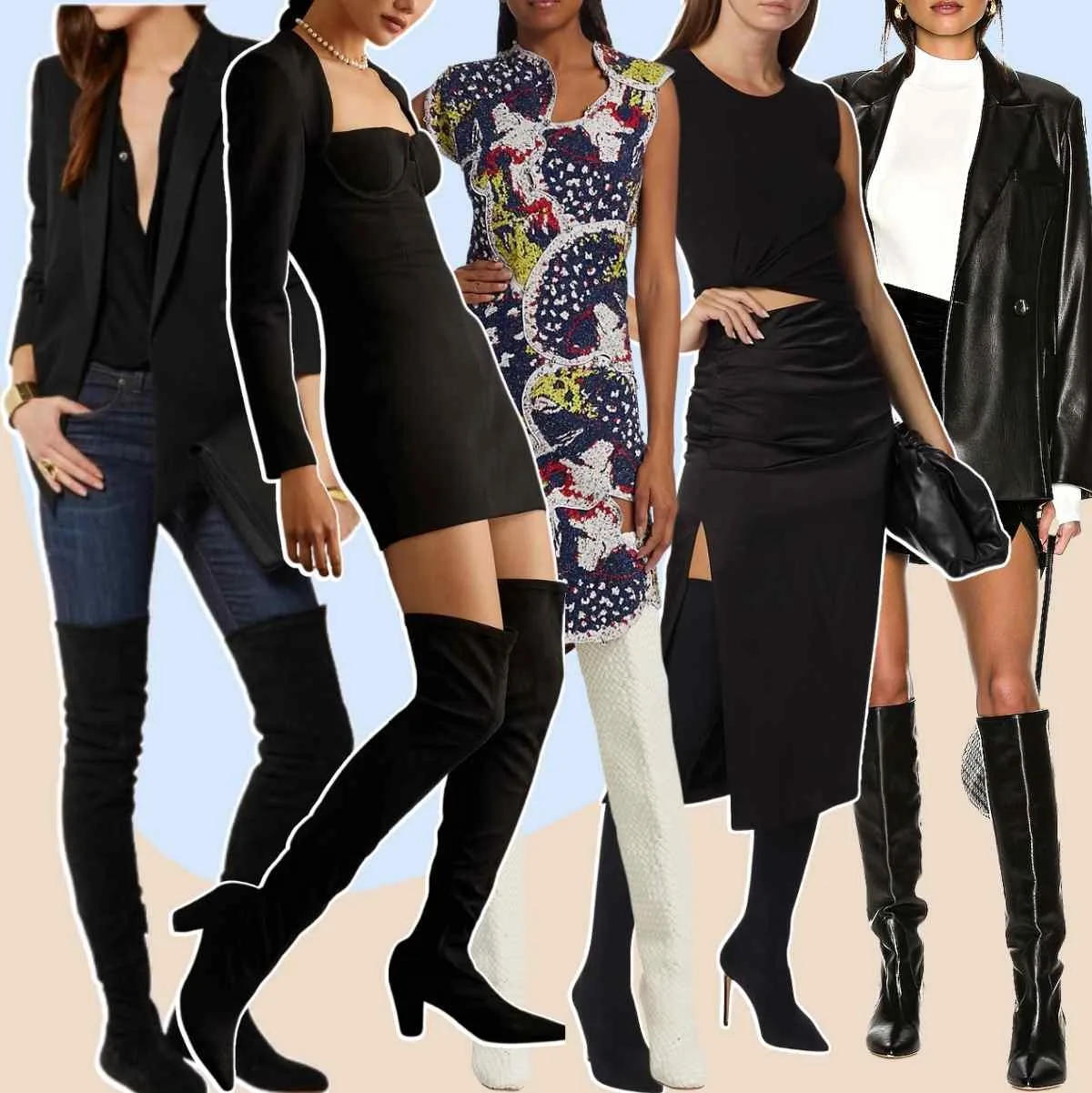 A- You can definitely wear your thigh high boots on a night out! My pick is black satin, leather or suede boots. Pick a tight pair of tall boots with a slimmer dress or skirt that hides underneath or shows a bit of leg under the hem or in a side slit.
For not-so-high thigh-highs, you can pick a wider pair of leather or suede boots (straight or slouchy) with a more voluminous or even tight mini dress or pants.
Dark denim, leather leggings or black pants can also look great with black boots with or without a shine. I love a pair of patent thigh-high boots with dark denim and a sparkly top myself!
Want to make a statement? Put on some bright white or metallic leather stiletto over-the-knee boots. Trust me, you will make a statement! Wear all white, add some colors or patterns, or contrast with a black outfit.
Q- What to wear with black thigh-high boots?
A- All black, charcoal, denim, and shades of grey come to mind when thinking about what to wear with black thigh-high boots! The possibilities are virtually endless.
You can easily wear a darker bottom with a contrasting white top or select a patterned blouse or jacket to add some interest.
Where to Shop for Over-the-Knee Boots:
When shopping for thigh-high boots, the fabric quality is important, since so much of it will be visible! They should also fit as they're meant, especially higher tall boots.
Now, that doesn't mean that cheaper boots won't look nice. However, generally speaking, investment is needed for a boot that is well constructed, fits well and will last you for seasons to come.
If you can't purchase higher quality thigh-high boots due to the price-point, shop during peak sale seasons (like Black Friday or Boxing Day).
Or, search the likes of Poshmark, Facebook Marketplace, local thrift shops or consignment stores in high-end areas to score a deal on gently used OTK boots!
Final Thoughts on Outfits with Thigh-High Boots
Figuring out what to wear with thigh-high boots outfits can be tricky. That's because these boots are just so darn tall!
But now that you now know how to wear your over-the-knee boots, hopefully, you're ready to add them to many outfits in your wardrobe!
With so many different tall boots styles and heel heights to choose from, you're sure to find a pair of over-the-knee boots that will suit your look.
When it doubt, you can't go wrong with a black suede pair of mid to low-block heel thigh-high boots. Add dark skinny jeans or black leggings with a flowy top or cardi, or with a flared midi dress and a wool coat.
How will you be wearing your over-the-knee boots outfits this season?
xo ShoeTease