So in Canada it gets cold, REALLY cold. And icy. And wet. So our winter boots must serve us well. So which ones, from personal experience are the warmest winter boots for women (and kids!) that can keep feet toasty warm & dry?
The Warmest Winter Boots
Hands down, the warmest winter boots I've ever set foot in are from EMU Australia. Specifically, their sheepskin lined booties which my son & I love to live in during the colder months.
The sheepskin lining is surely what makes EMU's winter boots so warm. Funny enough, these warm winter boots aren't a Canadian brand.
And don't get me wrong, there are many amazing Canadian winter boot brands (my faves I blogged about here), but it's tough for any of them – on the whole – to compare to my toasty EMUs!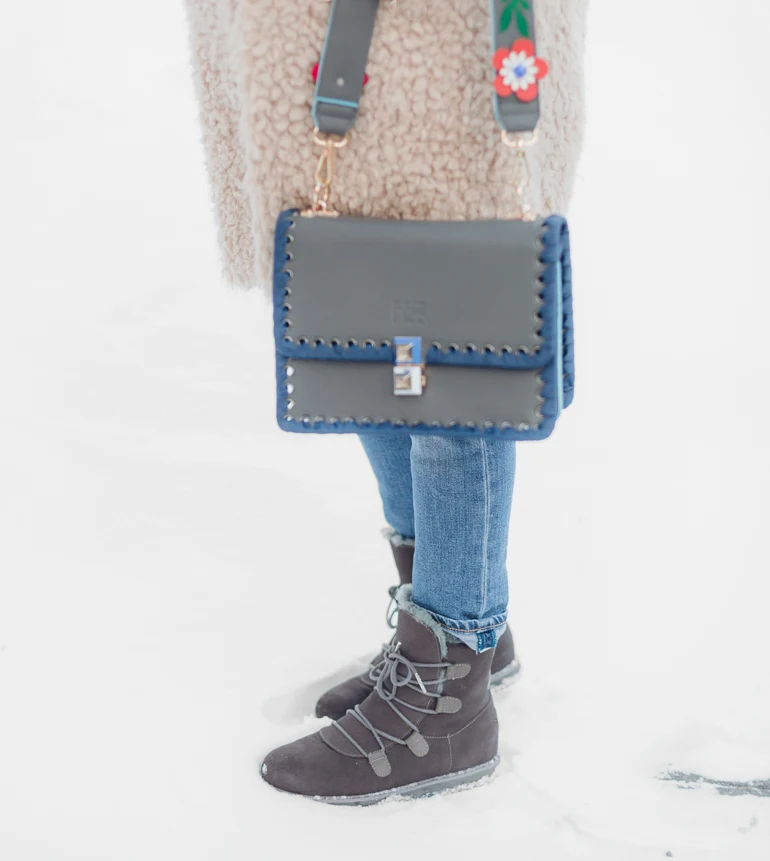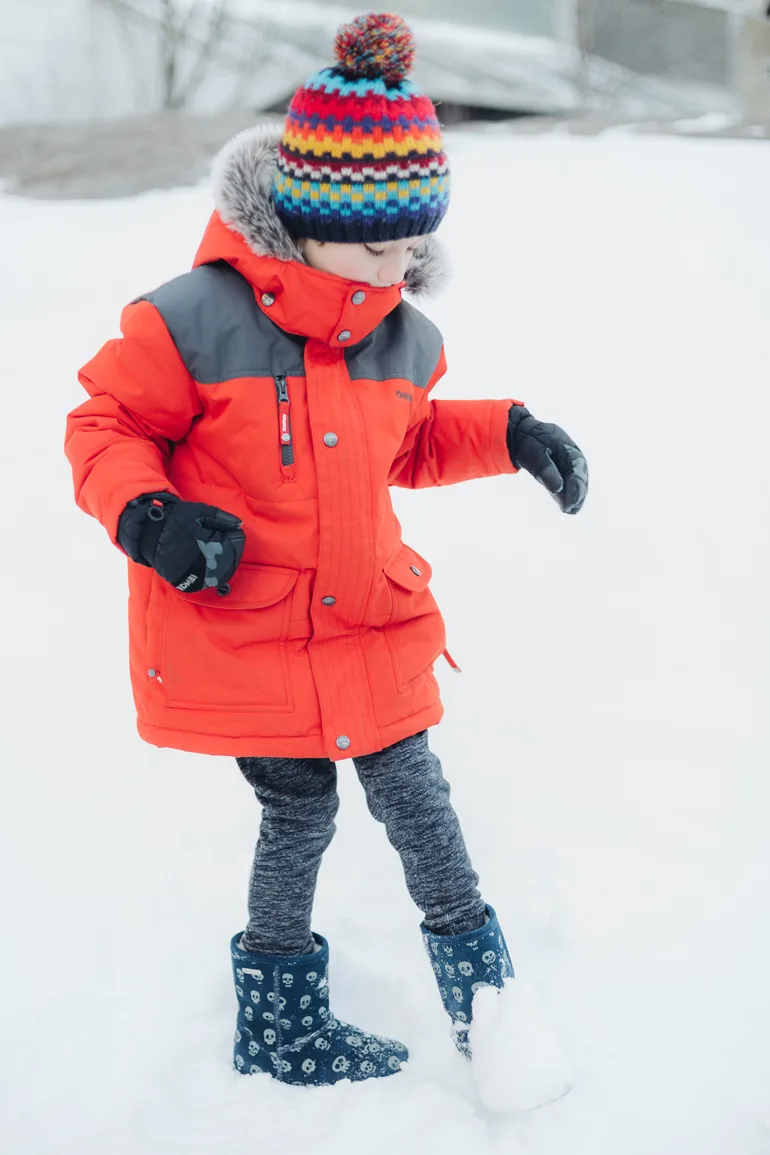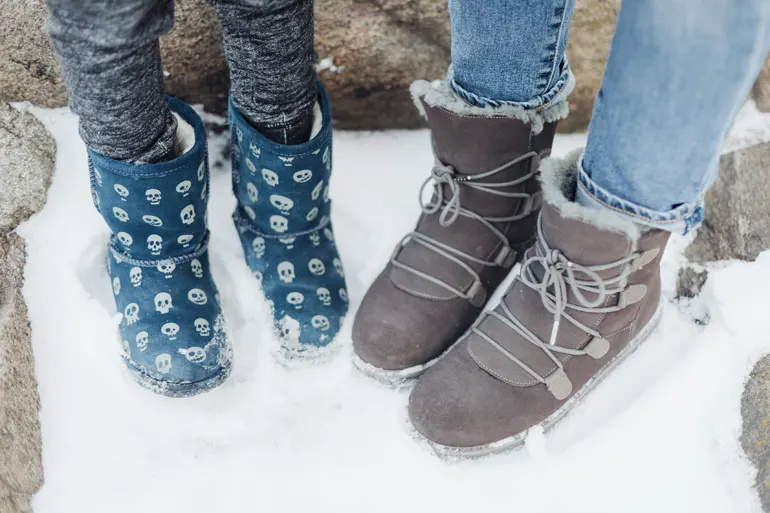 This year I spent much of the winter season in my grey Kamona lace up boots, featured above. If only the rest of my winter gear were as warm! My kiddo got his second pair of Brumby Lo boots (the Brumby Lightning Bolt boots are similar ) & adores them, skulls & all.
The Kamona's aren't available this Winter, but the similar, if not upgraded version, Rudledge style is definitely a fantastic option (which also comes in black!).
Although you wouldn't think it, these two pairs of winter boots are made of super waterproof suede. Like, dunk-the-boots-into-a-puddle-of-water-and-stay-dry, waterproof.
And considering how much my little guy runs, kicks & dives into the messiest slush/snow ever (ok, I'll admit it, I do as well!) they're still in solid shape & don't soak up any water.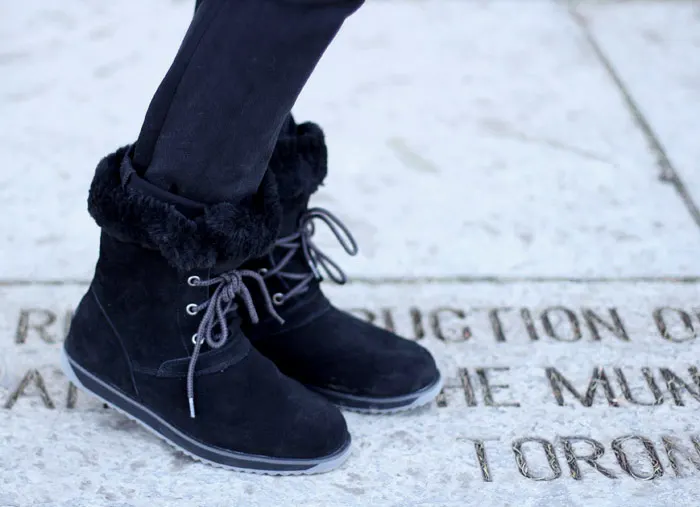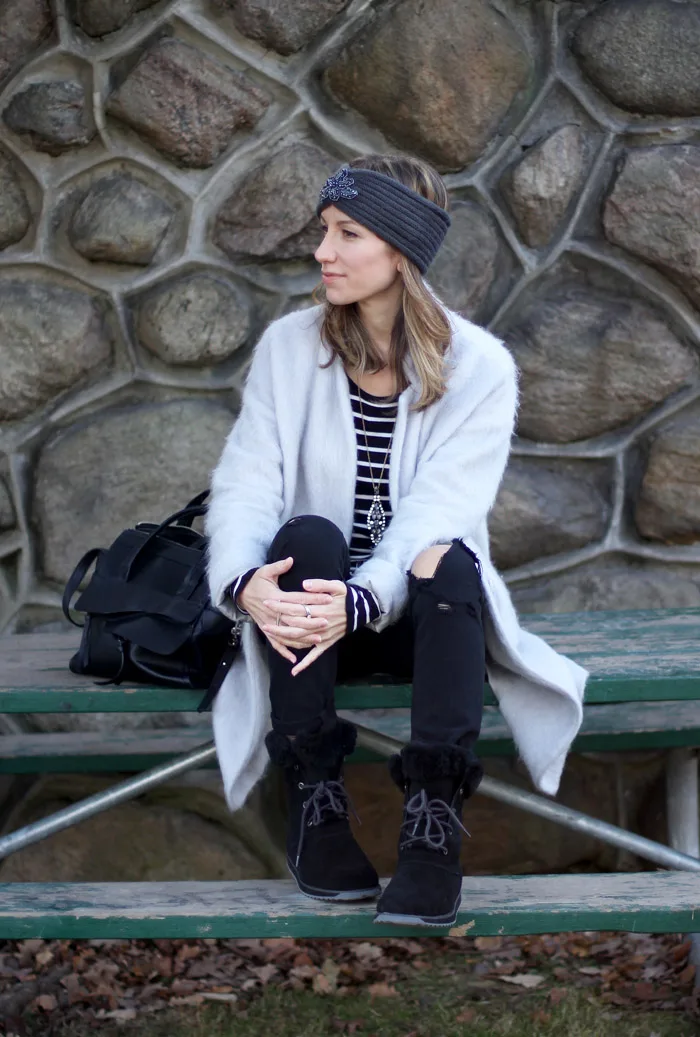 I got my first pair of EMU Australia boots a couple of years back. The new style that season was called the Shaw Lo (styled here), a mid calf lace up boot that I wore 2 winter seasons straight. I was told with these black Shaw Los that because EMU Australia sheepskin boots tend to fit small, I should size up.
I did that with the Shaw Lo's and found them to be VERY wide for my narrow foot, but decent in length. My Shaw Lo's did end up feeling too large & lost their solid shape after wearing them for 2 winters. So lesson learned: buy Sheepskin EMU's in your usual size!
This year, I ordered the Kamona boots in my usual size 8, and although they felt a little short at first, they ended up moulding perfectly to my foot size & shape after a couple of wears. Remember that natural materials do give, so better a tad snug at first vs too big.
What I love about my boots this season is the insole. The previous Shaw Lo style had a flat footbed, this newer pair has a moulded arch support, which makes them very easy to walk in. A small detail can make such an improvement to comfort!
Worth noting that EMU Australia's sheepskin boots are said to be naturally waterproof. There is no month limit of waterproof guarantee (most boots that do guarantee waterproofing, only do so for up to 6 months). I wore my black Shaw Los for 2 winter seasons quite regularly & only at the end of the second winter did I feel dampness enter the boots.
My sleek, most stylish winter boots, are the Ellin style. This one has been an amazing addition to my wardrobe & is so popular that it's become a recurring seasonal style for EMU Australia. They are the perfect leather boot lined with sheepskin that doesn't actually look like a winter boot. I've worn mine for 3 years now and they're still as warm and waterproof as the first day wore them!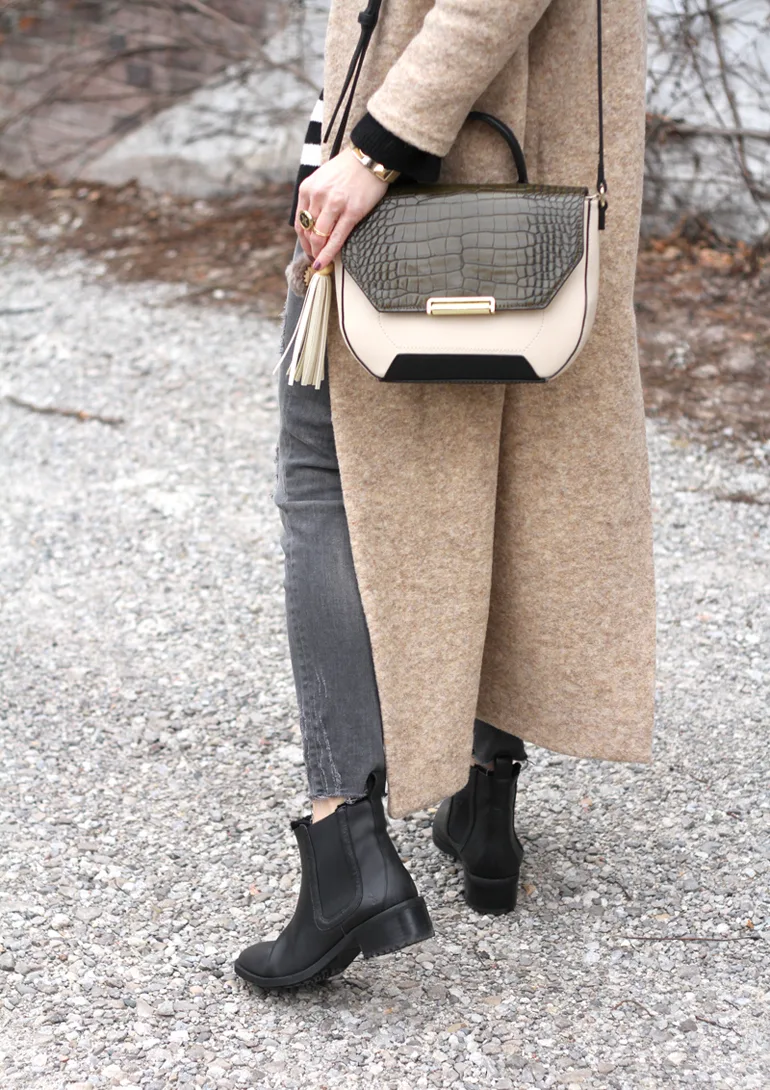 You can wear these with everything for any occasion & has been my go-to, wear-with-everything winter boot for the second year in a row. The waterproof element is still going strong & so is the warmth factor. Of course these are not as warm as the Shaw Lo/Brumby/Kamona sheepskin suede style, mind you, but they're also a less chunky style with less of a wooly lining.
EMU Australia now makes their Ellins in a burgundy with white sheepskin interior colorway, which is so unexpected & fun. I'm considering these as my second Ellins for next year!
So after 3 years of wearing various brands of winter footwear, I believe EMU Australia (their waterproof sheepskin styles) offers the warmest womens winter boots.
With city-friendly styles, their boots offer a chic & funky alternative to the typically frumpy looking après-ski type of boots. And they don't give the illusions of cankles, in the way many other sheepskin brands design their boots!
What are your go-to winter boots to keep your toes warm & dry?
---
Shop Warmest EMU Australia Boots:

---
Photography by Bruna Rico
xo Cristina
Cristina is the chief editor, fashion & shoe expert here at ShoeTease. As a seasoned stylist and women's fashion & shoe designer, she boasts over 20 years of experience in the fashion industry. She loves crafting effortless outfits for ladies both online and off and believes that styling advice should be accessible to everyone. Whether you're a styling pro or just starting out, Cristina's here to guide you on your fashion journey! Learn more.