It's no secret that fashion trends come and go, but sock boots – aka sock booties – are here to stay. But how to wear sock boots outfits, you ask? Don't worry; that's what shoe-tease.com is here for!
Sock boots are a particular type of boot for women. These skin-tight, slip-on boots are usually ankle height. They are usually made of a stretchy faux suede, leather, mesh, or jersey knit, similar to that of a sock.
They are incredibly versatile boots that go with almost everything. You can wear them to dress up any fall/winter look.
Whether you prefer classic, edgy or luxurious outfits styles, there are many options on how to wear sock bootie outfits to suit your needs!
Read on for the 6 perfect clothing items to wear with sock booties and how to style them in various ways and for different occasions.
How to Wear Sock Boots Outfits for Women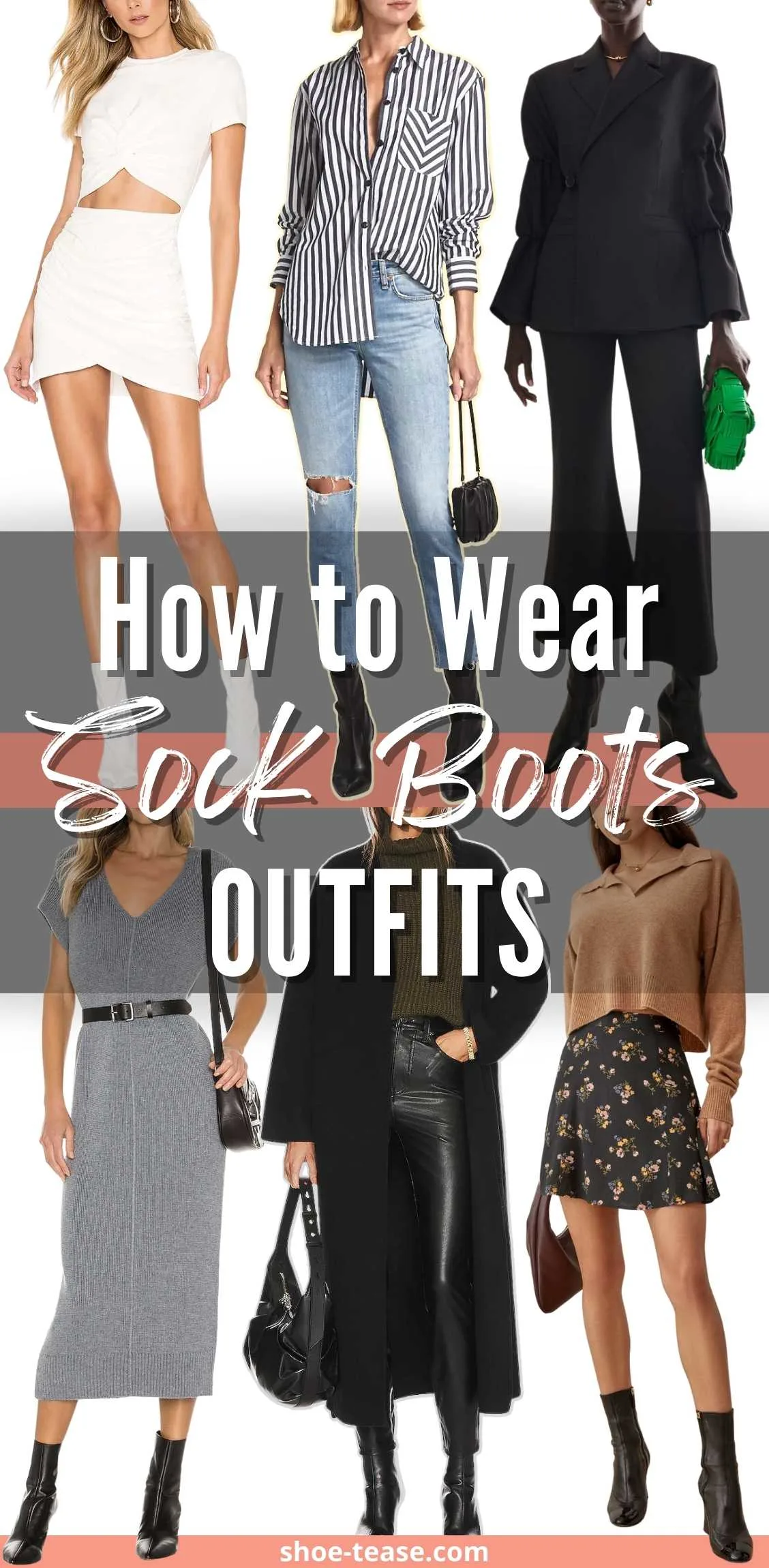 1. Sock Boot Outfits with Fancy Dresses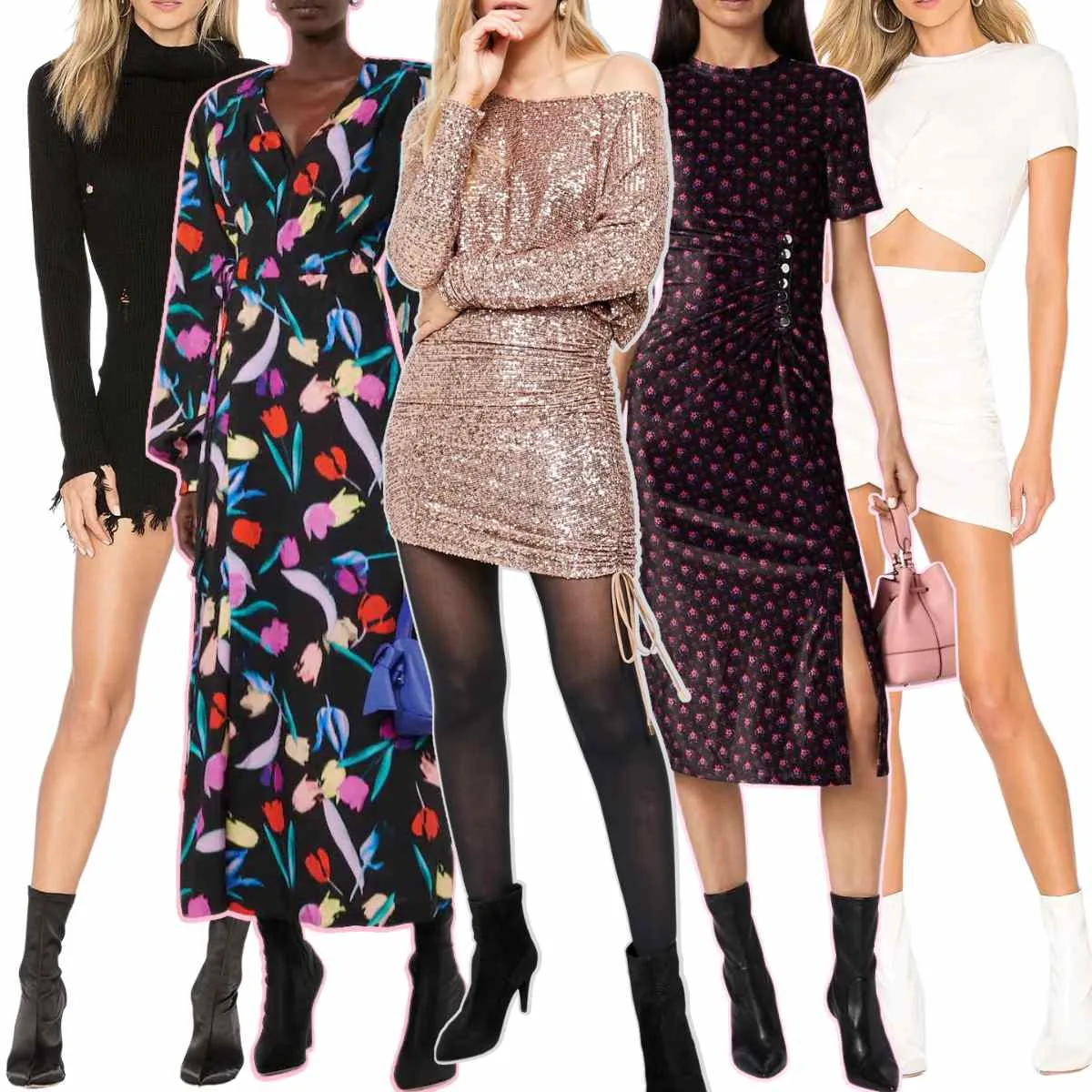 Looking for a boot to wear with a fancy dress instead of a heel? Styling your sock boots with a formal dress offers a similar look to a pump but in boot form.
Perfect for fall, winter, or a New Year's party. Yes, sock boots make great shoes to wear with sequin dresses too!
Pair your favorite cocktail or formal dress with sleek sock boots for a timeless combination. Think pointed-toe booties with a refined high or kitten heel. Black suede is a classic style that will go with most dresses.
For a bolder statement with an LBD, why not play with textures? Try velvet, satin, or metallic mesh sock booties to add more interest to your look.
2. How to Wear Sock Boots with Casual Dresses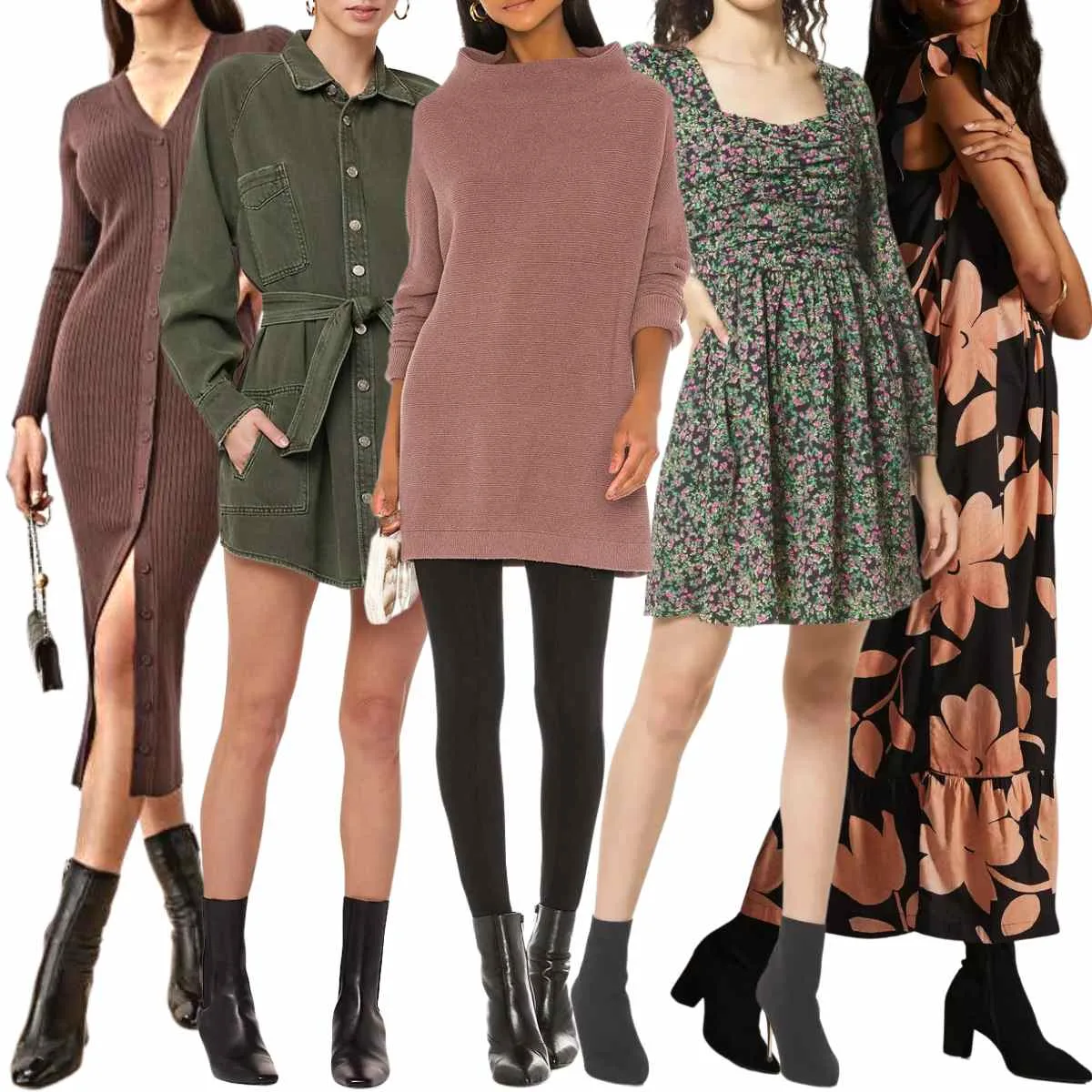 We all need those go-to outfits for lazy days when we don't have time (or energy) to think about our wardrobe. Look no further than basic jersey dresses and sock boots!
The stretchy fabric will hug every curve and so will the boots! With a high heel, sock boots are a perfect addition to a casual dress if you feel underdressed but want to make a statement. Add interest to your look by cinching your waist with a belt.
But don't worry, knit or sweater dresses aren't the only casual dresses that look fab with sock boots! I love pairing floral boho, utility and cute mini dresses with sock booties.
You can make a sweatshirt dress a little less casual with high-heeled sock boots! Add a pair of tights or leggings if you're feeling chilly. Top off the look with a moto jacket or oversized sweater.
Check out all the best shoes to wear with cocktail dresses, including boots, in my dedicated post!
3. How to Wear Sock Boots with Jeans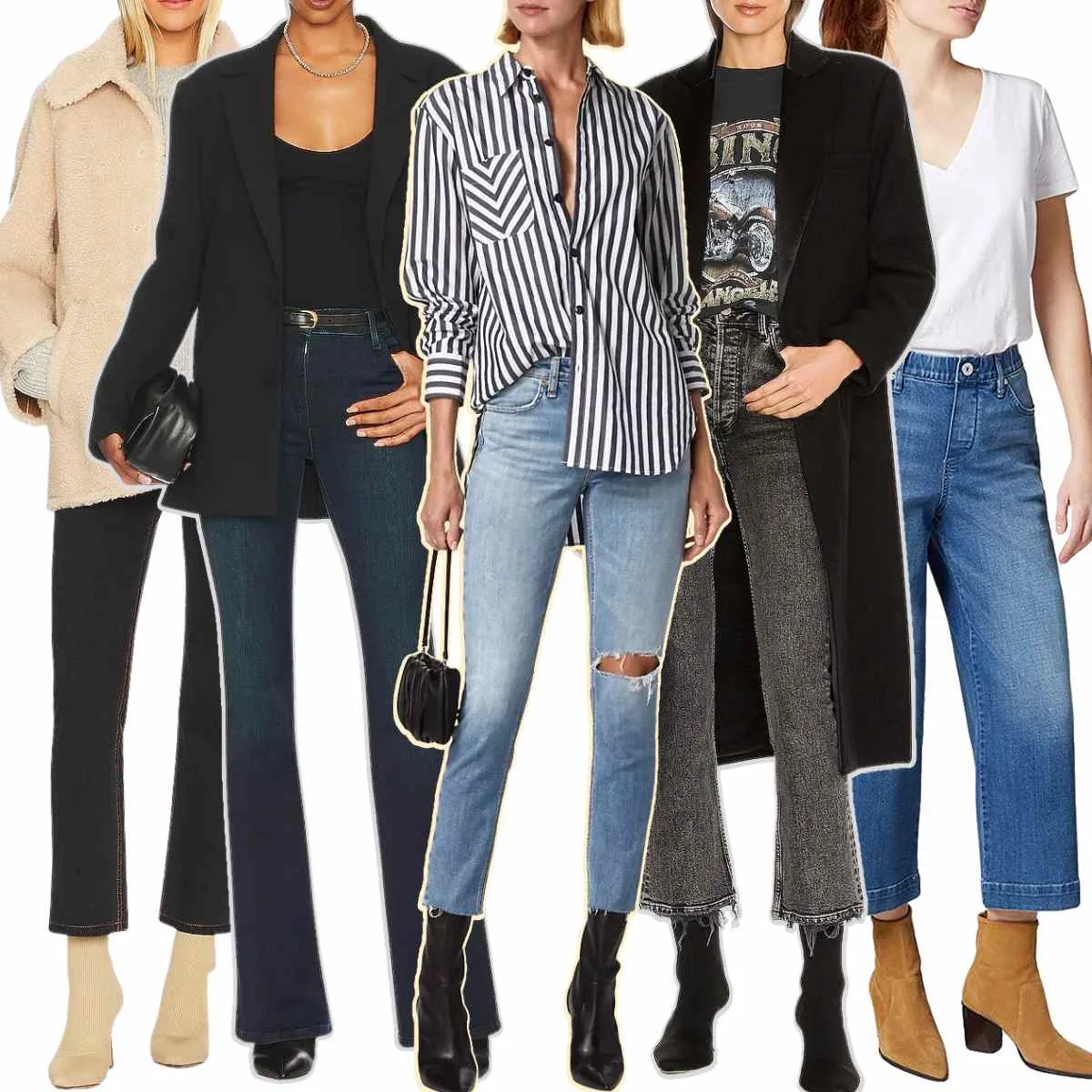 Whether you prefer skinny jeans, mom jeans or flare jeans, consider completing your look with stylish sock boots. The snug fit of the ankle creates an effortless silhouette that looks equally as good tucked into cropped jeans or pulled over skinny jeans.
With longer, flared or wide-leg jeans, opt for a block or curved heel and a squared toe to add a fashionable edge. Let your looser jeans fall over the boots, or give cuff them to show off any interesting heel or boot detail.
For skinny jeans, keep the boots fine-heeled with a pointed toe, especially if you plan to elevate your jeans with a fancy silk top or similar. You can tuck the skinnies into your boots or pull the boots over the edge.
Any color sock boots with jeans will look good, but if you want to look taller, pick a dark boot with dark jeans and vice-versa. See my post on how to style jeans with ankle boots for more styling inspiration!
4. How to Wear Sock Boots With Dress Pants & Pant Suits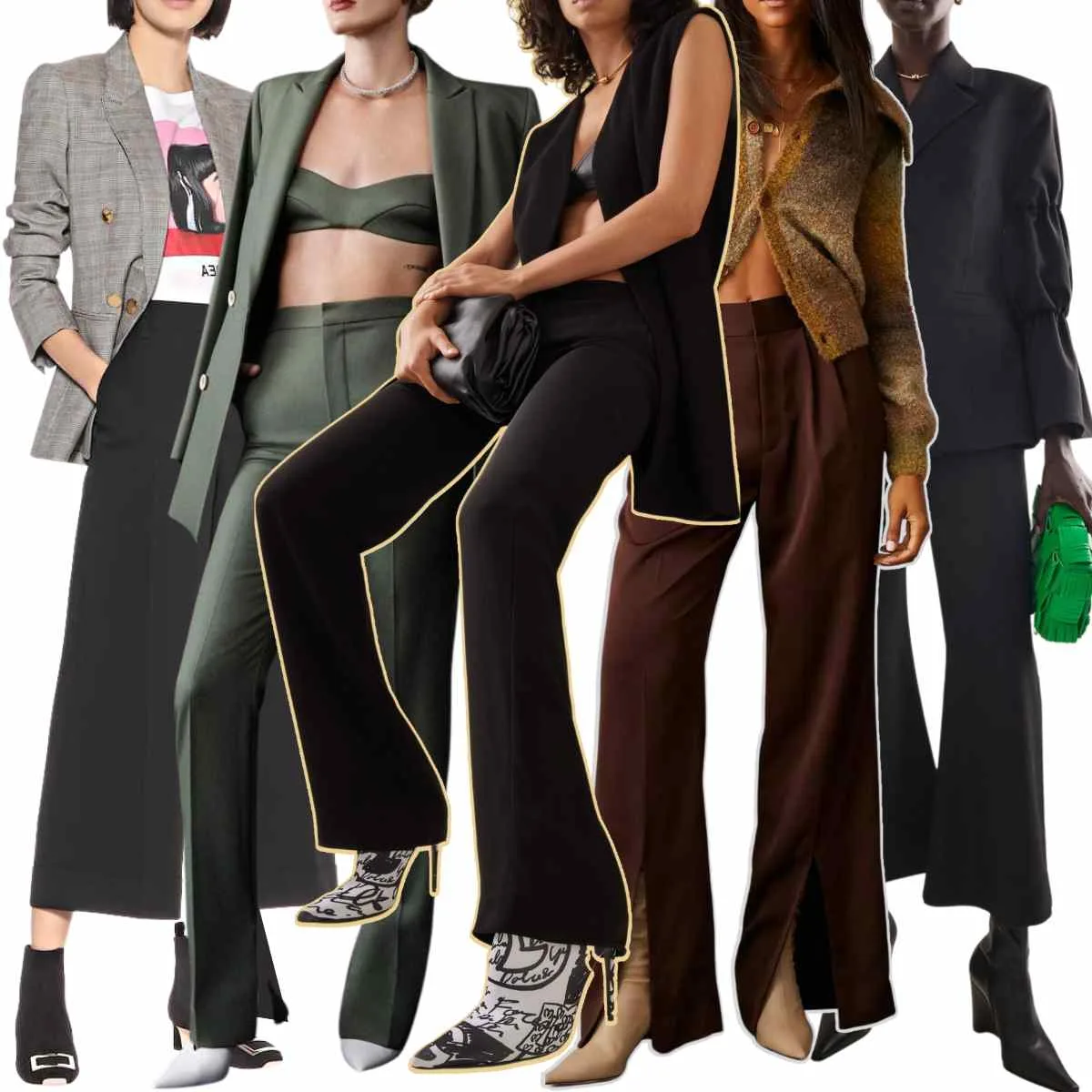 Whether heading off to work or attending an event in style, dress pants and pantsuits are always a good call. And in fall or winter, a sock boot will make a great addition to your look!
Make sure your look stands out from the crowd by trading traditional pumps for chic ankle boots instead!
Choose between classic black or mix things up in deep jewel tones. Or, have fun with black dress pants and statement sock booties with a buckle or print.
Pantsuits and sock boots outfits are also an effortless pairing. These boots will look great whether your suit is a plaid or beige for work or paired with a fancy satin suit for a cocktail party.
Pick a cropped dress pant to show off a sparkly or patterned boot while keeping your top minimal.
5. How to Wear Sock Booties with Leather Pants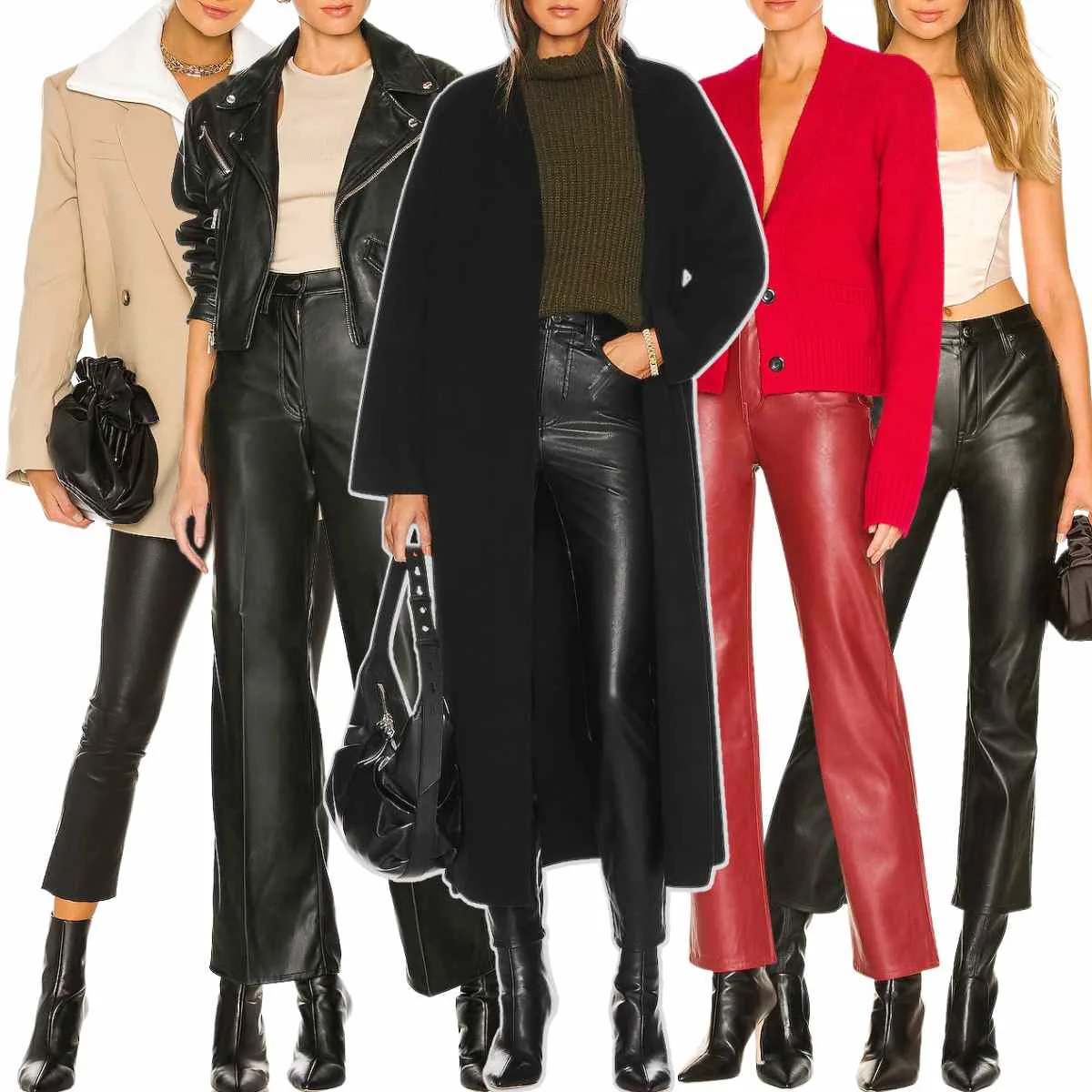 If you're looking for an edgier vibe, leather pants look fabulous with your sock boots outfit!
As you can see in the above image, all types of leather pant style well with sock boots: from leather or pleather joggers to cropped or slim legging styles.
Dress down these daring pants and booties with a plain white t-shirt. Or dress things up for a night out in town by adding a bodysuit, blazer and statement earrings.
Have fun experimenting with sock boot colors. Although I love a tight black boot with black leather pants, a bright white, red or metallic bootie. These latter colors will add extra oomph to your sock boots outfit!
6. How to Wear Sock Boots with Skirts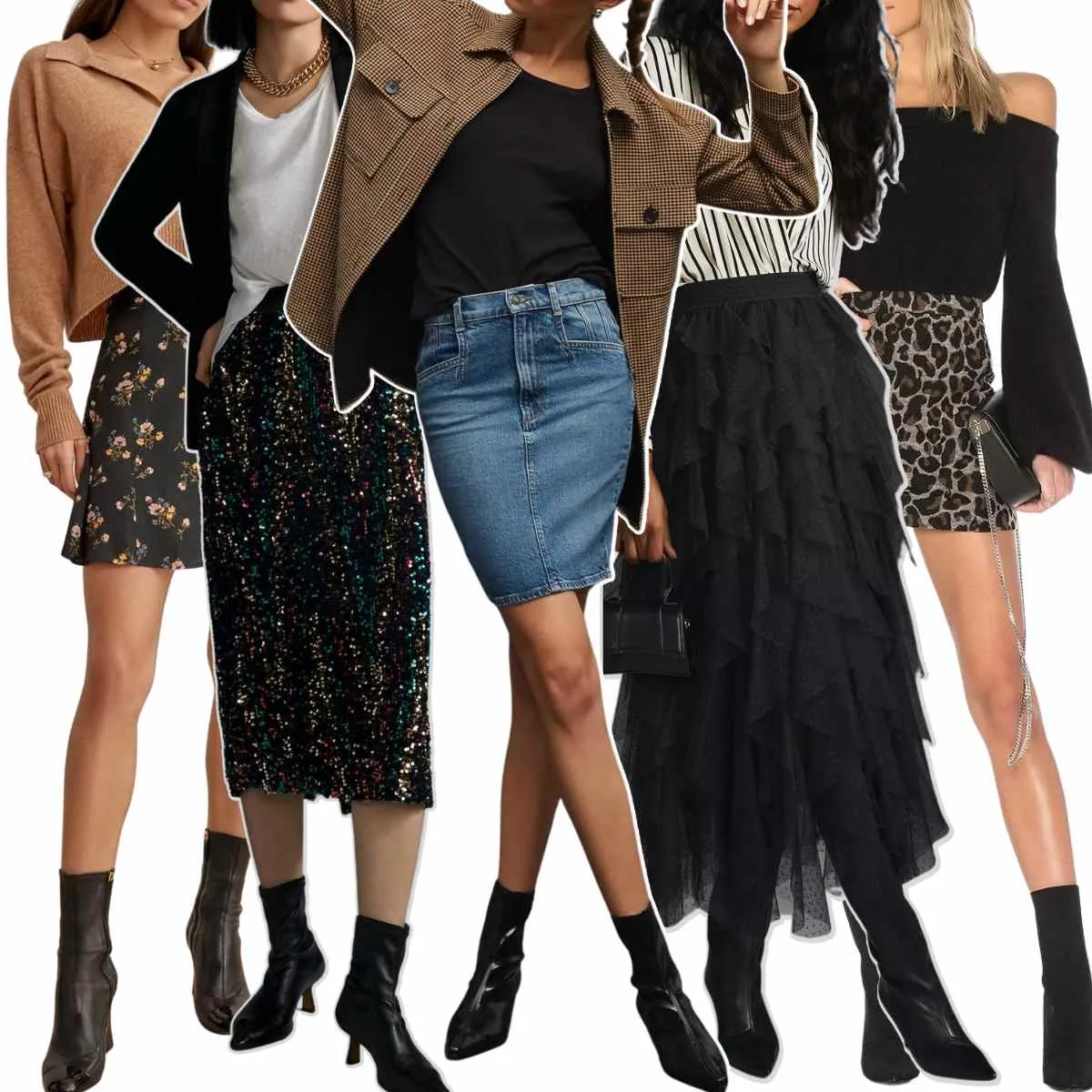 Sock boots make a great addition to all styles of skirts. Whether you're planning on wearing them to work or out for a fun night, there are many styling possibilities!
Sock booties style with a pencil skirt keeps the look streamlined and sleek, especially with a high heel. Tuck in a soft blouse and top with a cropped sweater or boxy jacket for a great work outfit.
Opt for sock booties outfits with billowy, midi, long, or hi-low skirts. These will allow your skirt to shine. Think tulle skirts for an evening out or a tiered floral skirt for a
We can't talk about this outfit pairing without mentioning mini skirts! Add a leather mini with black sock boots and a cropped or tight top makes for a perfect outfit for dancing.
Want something more casual? Nothing beats a denim skirt. Tuck in a simple boyfriend tee and an oversized blazer for a cool brunch look. Keep your sock booties styled with any patterned socks in a dark or black color.
Final Words on How to Wear Sock Boots Outfits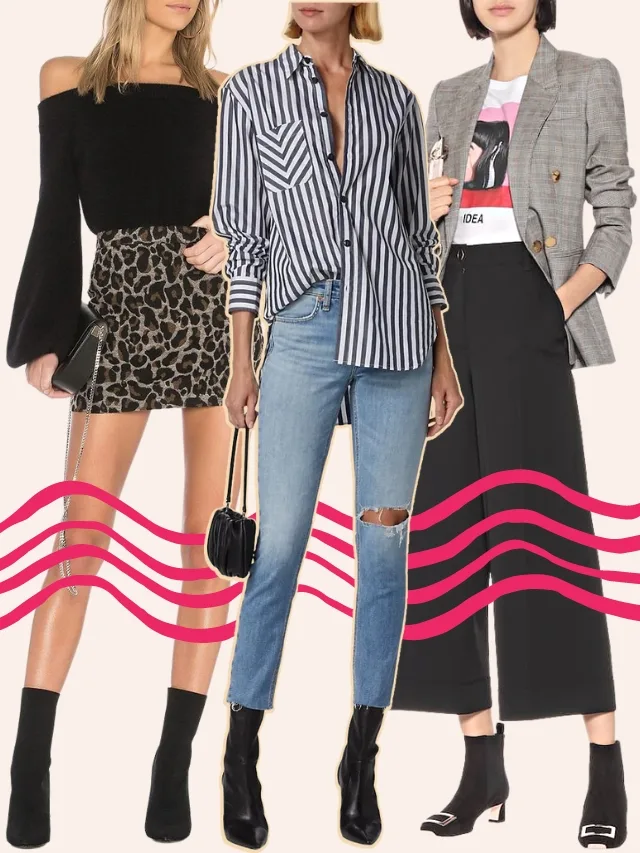 Sock boots are on trend right now, so why not take advantage? Because they're so minimal, they can easily take you from fancy soirées and casual brunch dates to special occasions and everyday errands. Well, as long as the high heel isn't too high!
Now that I've given you many foolproof sock boot outfit ideas, it's time to add some stylish new booties to your wardrobe so that you can rock any look this season.
Shop Sock Boots from my Fave Retailers:
Zappos (all styles and price points)
Saks Fifth Avenue (mid to high-end styles)
Anthropologie (quirky and classic styles)
Stuart Weitzman (trendy, well-made styles)
Frye (great quality leather)
Revolve (chic styles)
Nordstrom (all styles)
My Theresa (high-end styles)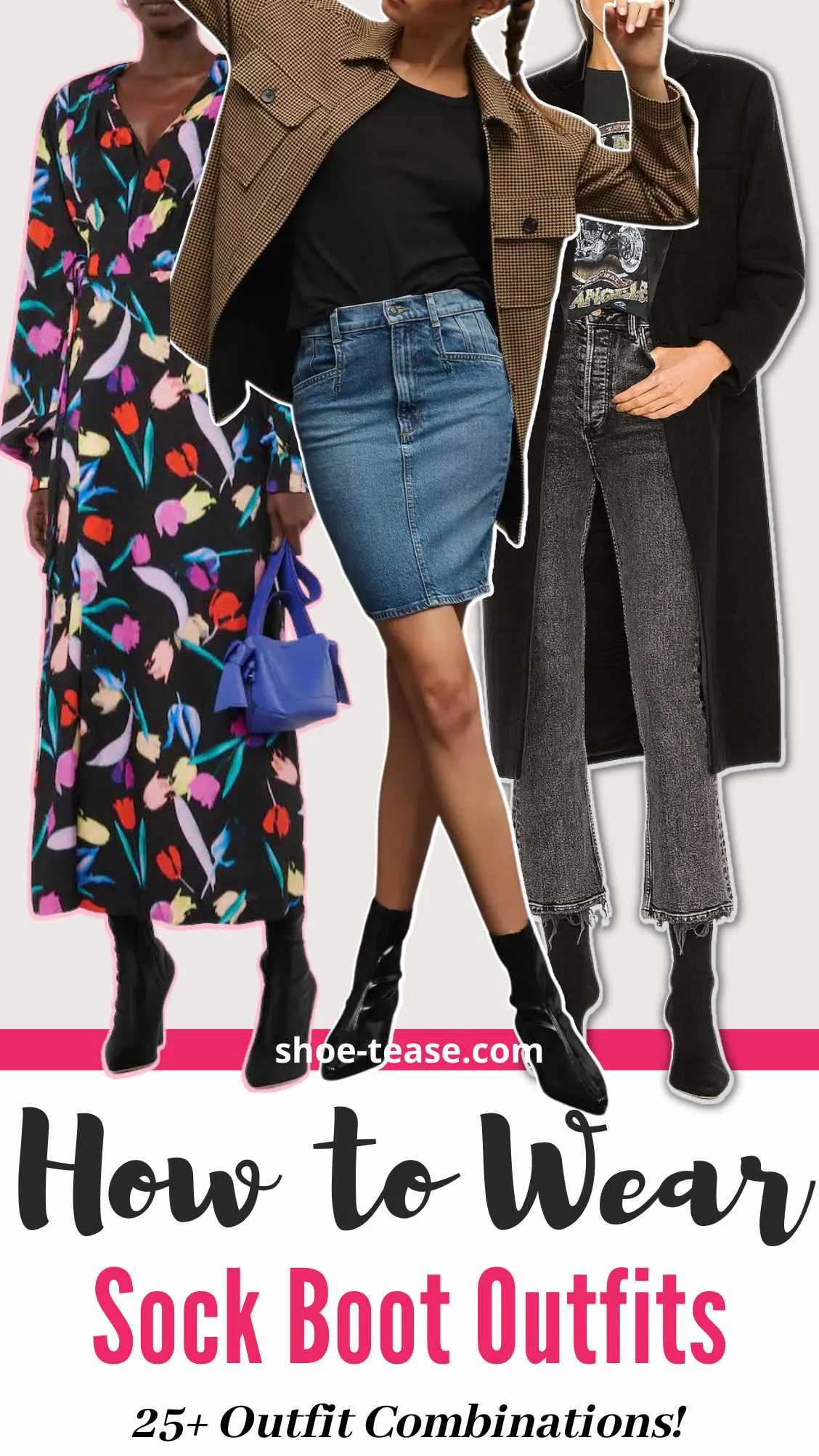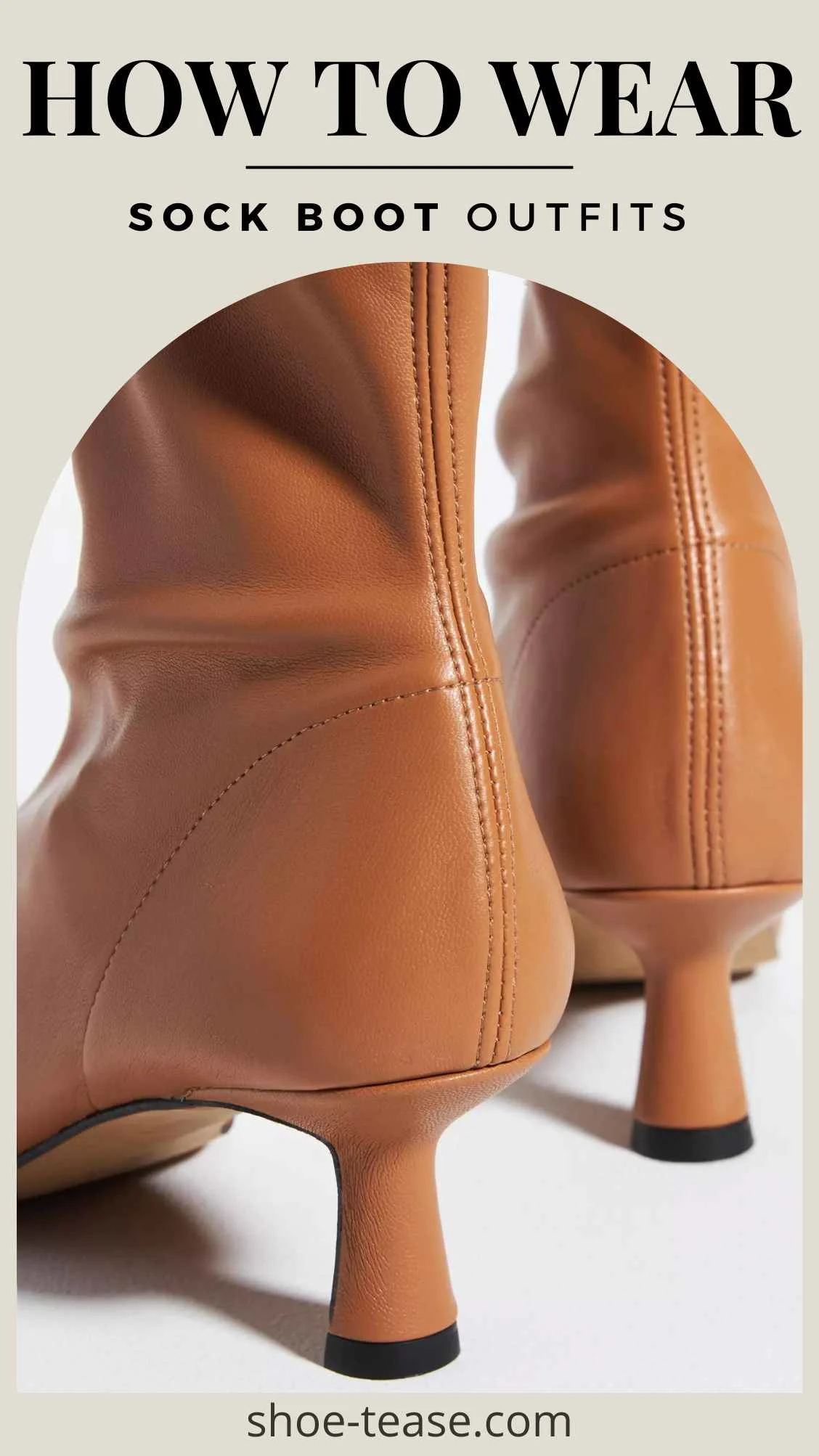 xo ShoeTease
Cristina is the chief editor, fashion & shoe expert here at ShoeTease. As a seasoned stylist and women's fashion & shoe designer, she boasts over 20 years of experience in the fashion industry. She loves crafting effortless outfits for ladies both online and off and believes that styling advice should be accessible to everyone. Whether you're a styling pro or just starting out, Cristina's here to guide you on your fashion journey! Learn more.