If you're scrounging around trying to find the best stocking stuffers or gifts for shoe lovers, look no further.
This shoe blog has you covered with some shoe-centric nuggets of joy to gift shoe lovers for the holidays, birthdays, or just because!
I've rounded up what I believe are some of the top, most unique gifts for shoe lovers – many of which I own & love, so I know they're great 😉
From shoe novelty gifts for under $25, to gifts for the home, office & wearable shoe fun, there is enough choice to make any shoe lover swoon with delight!
All the Best Gifts for Shoe Lovers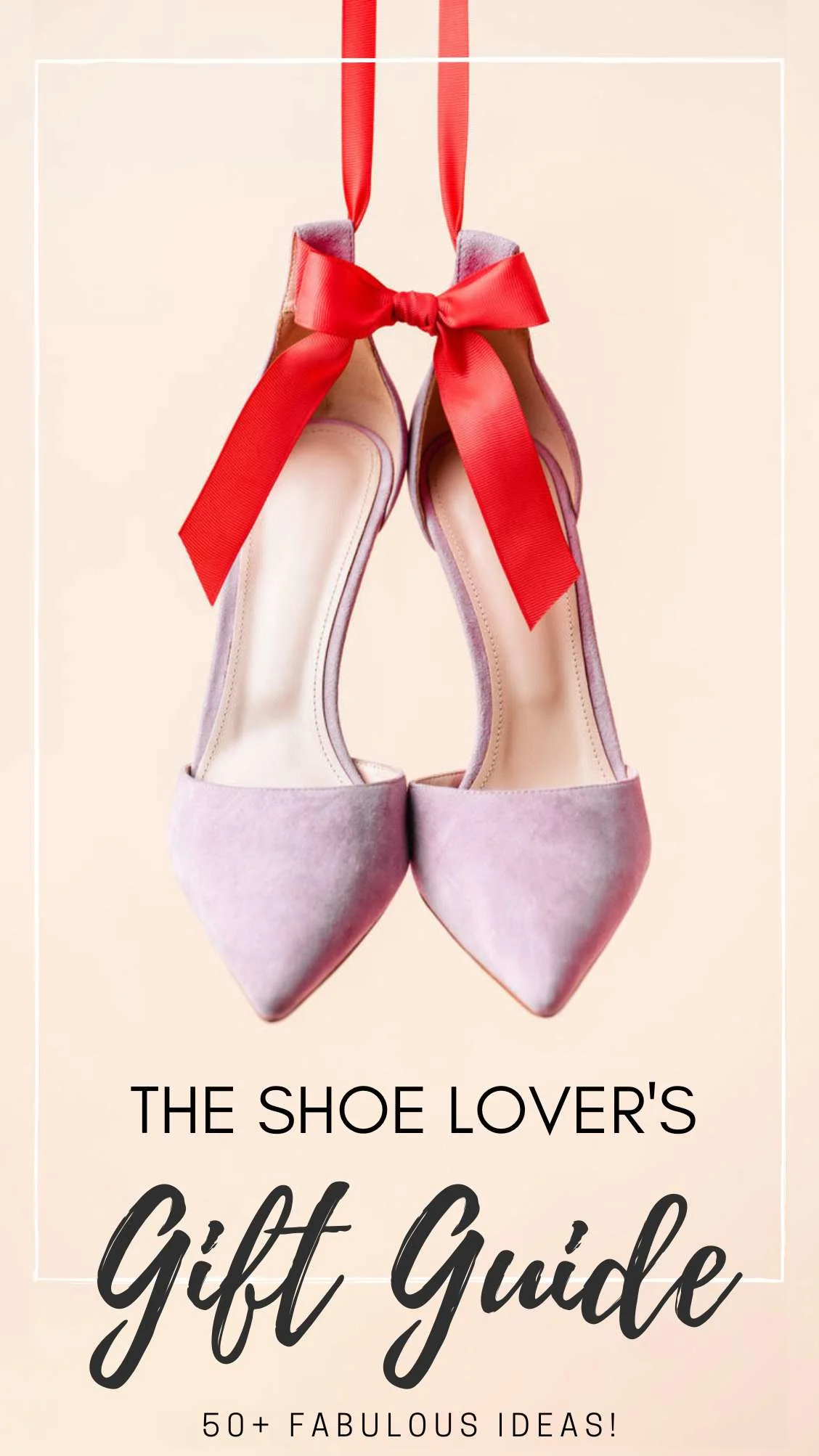 1. Novelty Gifts for Shoe Lovers
Looking for a cute gift for shoes lovers that will tickle their fancy, but not break the bank? A shoe-themed or shaped novelty gift is what you need.
And there is no shortage of them! From keychains to phone cases, kitchen tools, shoe-themed electronics and random knick-knacks, there are so many choices.
These great items give a giftee an adorable and subtle way to display their shoe-loving side without having to shout it out!
So if you're looking for an awesome surprise for your shoe enthusiast BFF but don't want to break the bank, read on for some of my favorite gifts for shoe lovers!
Shoe Keychains
One of the easiest gifts to give a shoe lover is a shoe-shaped keychain. I mean, most of us need keys, whether for our front door, office or PO box. So this is a no-fail and very cute present!
Shoe Phone Stands
As a shoe-lover myself, I can definitely vouch for how practical and thoughtful a shoe-shaped phone stand could be as a gift. The high heel ones are great and come in a variety of shapes & colors.
I own Fred's Pumped Up shoe stand myself! Mine sits on my nightstand, kitchen island or desk when I need it propped up!
Shoe Phone Cases
The shoe phone case is the perfect gift for shoe lovers and fashionistas! It's a thoughtful present that's both functional for daily use and fashionable too.
Every time your shoe lover drops their phone, they'll be reminded of you and how your gift saved their most precious device!
Shoe-Themed Mugs
Shoe-Themed mugs make a fabulous gift for any shoe lover in your life! Shoe fanatics will love these unique mugs, which feature their favorite shoes to start the morning off on the right foot.
Shoe-Themed mugs are an ideal way to show someone you know their shoe game and appreciate their love for footwear. Plus, who doesn't need a little shoe-related humor in their kitchen?
Shop Shoe Mugs:
Shoe-Shaped Cooking Cutters
Baking will never be the same for shoe lovers with shoe-shaped cooking cutters! The cutesy cookies these will make are perfect for birthdays, bachelorette parties and more.
These are also perfect to gift to yourself so that you can make the shoe lover in your life (including yourself!) happy with every bite 🙂
Shoe Trinkets for Wine Lovers
Shoe lover, wine lover or both? It doesn't really matter with shoe-themed wine trinkets!
Not only do they make a wonderfully kitschy addition to any shoe collecting fanatic's wine stash, but they'll also be sure to impress their shoe-loving friends too at parties and girls' nights in!
Shoe Puzzles
For the puzzle and shoe lover, a shoe puzzle is a no-brainer gift. I would love this one myself as a puzzle enthusiast!
Choose the design the giftee would most appreciate. Do they love to frame their puzzles? Pick a puzzle image that matches their decor! Or choose one that's already in a frame, ha!
Shop Shoe Puzzles:
2. Shoe-Themed Clothing
Shoe-themed clothing is the perfect gift for any shoe lover in your life! There's something about wearing a t-shirt with a shoe print, or funny socks with shoe prints that puts a smile on those shoe-obsessed faces.
Shoe T-shirts
Funny story: making shoe-themed t-shirts is actually what started this blog: ShoeTease. Get it, shoetees?
Although my efforts nowadays are more shoe blog-focused, I still sell some of my designs to this day :). Check out my ShoeTease Zazzle shop for all my designs, including my top-selling pink BCA tees!
Shop Shoe Tees:
Shoe Socks
These are the best gag gift for the shoe, sneaker or sandal lover! Shoe socks make great stocking stuffers and are a great addition to any goodie bag. I can see the thong sandal socks as a cute bachelorette party gift!
If your shoe-loving friend doesn't have the same sense of humor, I know they will love some socks to pair with their heels. Free People, Anthropologie and Nordstrom have some gorgeous mesh, knit and cozy cashmere socks that any shoe lover will enjoy!
Shop Funny Shoe Socks:
3. Foldable Flats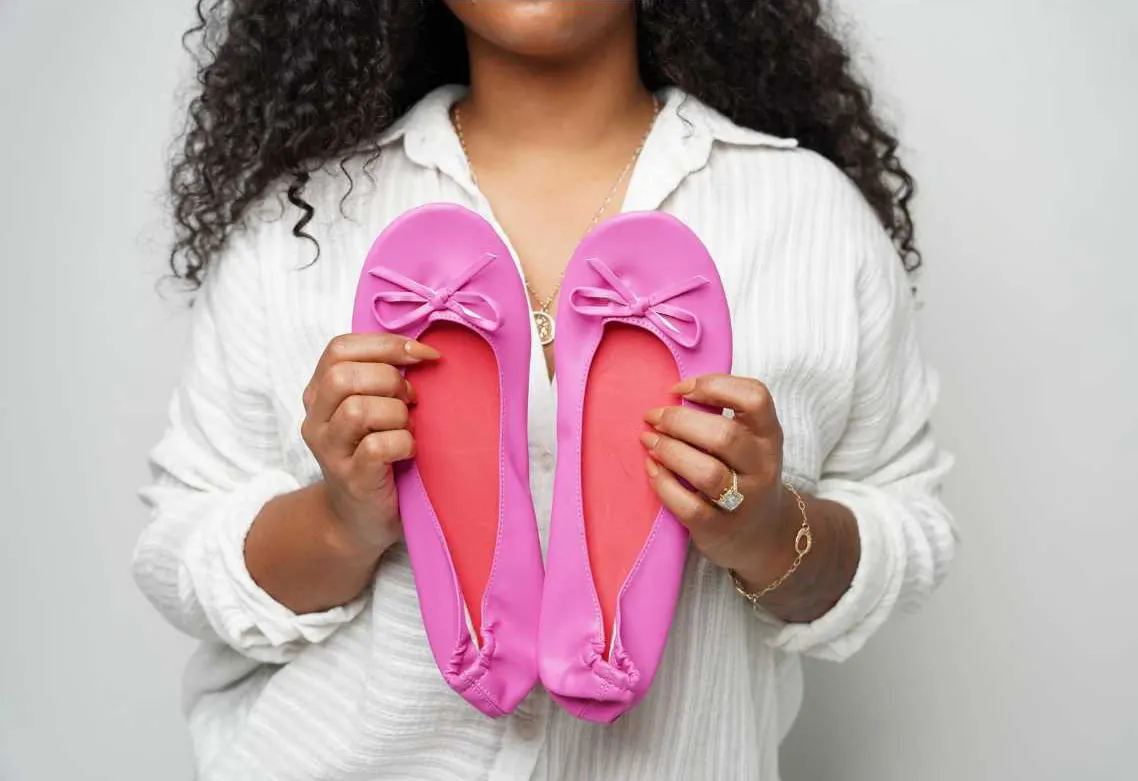 For any high heel aficionado, no matter how much they might love to wear their towering heels, pain is likely.
Especially after a long day at the office or conference, or dancing the night away at a wedding, every high heel love will have their limits.
So why not gift them with an easy way out? Foldable flats are not only light and versatile, but they are also portable and very cute shoes to slip into when your feet say enough!
Purchase all kinds of foldable flats in various colors and styles from Flat Out.
4. Shoe Design Courses
Does your shoe lover love shoes so much that they want to make their own? A shoe design course is a fantastic and thoughtful gift for those who want to create shoes.
Whether they want to learn how to make shoes for themselves or to start their own shoe brand/business, there are many digital courses at various price-points and levels to choose from!
5. Books About Shoes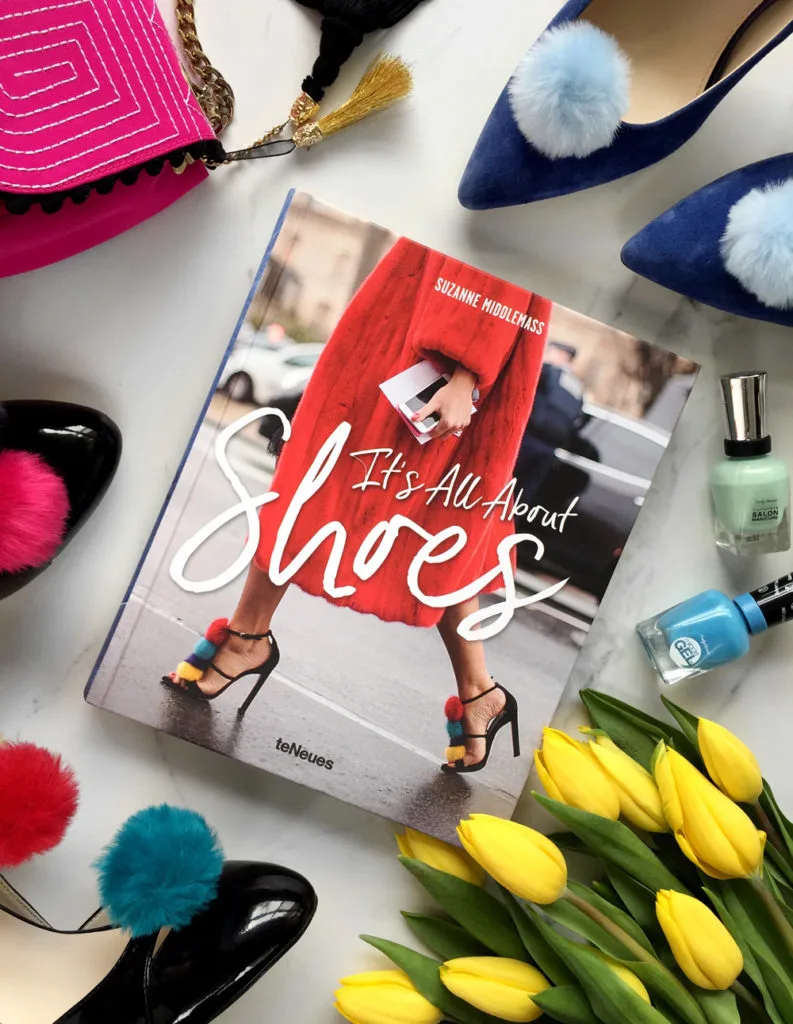 From fictional books about shoes, memoirs, and coffee tables to how-to books about shoes, there is no shortage of choice!
I personally own and have read many of the shoe books below. In fact, I've even written a few reviews on this very blog. And as a shoe lover myself, I can guarantee that these will tickle any fashionista's fancy!
Shop Shoe Books:
I have read most of these! Some are more serious than others, but they're all about shoes! Click on the link of each book title to see my full review of Tamara Mellon and Patricia Morrisrose's books.
Shop Shoe Coffee Table Books:
Stylish coffee table books are a must in any fashionable household. You can never have too many of them! They look great in all home decor and make a great gift for shoe lovers.
I have several coffee table books about shoes at home. They're a great place to get both style and shoe shopping inspiration!
6. Shoe Stationery
As a shoe lover, I understand why shoe stationery is the perfect gift. Not only does it show your shoe-loving friend your commitment to their shoe addiction, but it's also a cute and practical way to stay on top of their busy schedule!
From shoe-themed greeting cards and calendars, to shoe-printed notebooks and adorable pins and stickers – shoe stationery has it all! Perfect for perking up the shoe lover's office.
Shoe Greeting Cards
From my the ShoeTease Zazzle shop are my favorite shoe-themed greeting cards. They are blank and can be customized as you'd like.
You can also choose to have my design on a postcard and various types of stationery. Check out my printed shoe greeting cards, below.
Shop Shoe Greeting Cards:
Shoe Print Notebooks
For everyday notes, to journaling, notebooks with a fun shoe print on them are one of the most versatile gifts for shoe lovers. Choose a small notebook for the on-the-go shoe lover, or a larger one for those with lots of thoughts & ideas!
Shoe Calendars
Imagine looking up at your monthly schedule to be greeted by pretty shoes or cool sneakers? The great thing about these wall calendars, is that once you're done with the year, you can frame them to adorn your walls!
Shoe Stickers
For the big and little shoe lover in your life, stickers are always fun! Whether to seal some snail mail, add to an agenda or vision board, the possibilities are endless. I mean, we're all kids at heart, right!?
Magnets & Pins
From your fridge to your magnetic whiteboard or corkboard, there's no better way to tack on an important to-do list or a boring appointment than with a shoe-happy pin or magnet!
Shoe Desk Accessories
Why do I have a shoe desk calendar and a shoe-shaped shoe dispenser on my desk? To make me smile, of course! These make great gifts for the shoe lover, whether they work in a home office or cubicle.
Shop Desk Accessories:
7. Shoe Wall Art
Whether paintings, prints or shoe-shaped art, why not hang what you love on your wall. I mean, if it can't be shoes? There are some surprisingly tasteful prints with shoes.
These would look great hanging proudly in the shoe lover's powder room, walk-in closet or home office! You can find some great prints at Walmart, Etsy and Zazzle. Including the cute ones, below.
Shop Shoe Wall Art:
---
8. Shoe Gift Cards
From Zappos to Nordstrom, the gift card giving is endless with all the amazing retailers out there! Stuart Weitzman is a great contender if your friend likes classic sophisticated styles.
And if she likes fashionable style & function (at a more affordable price-point) Sam Edelman can't be beat!
Final Thoughts on Gifts for Shoe Lovers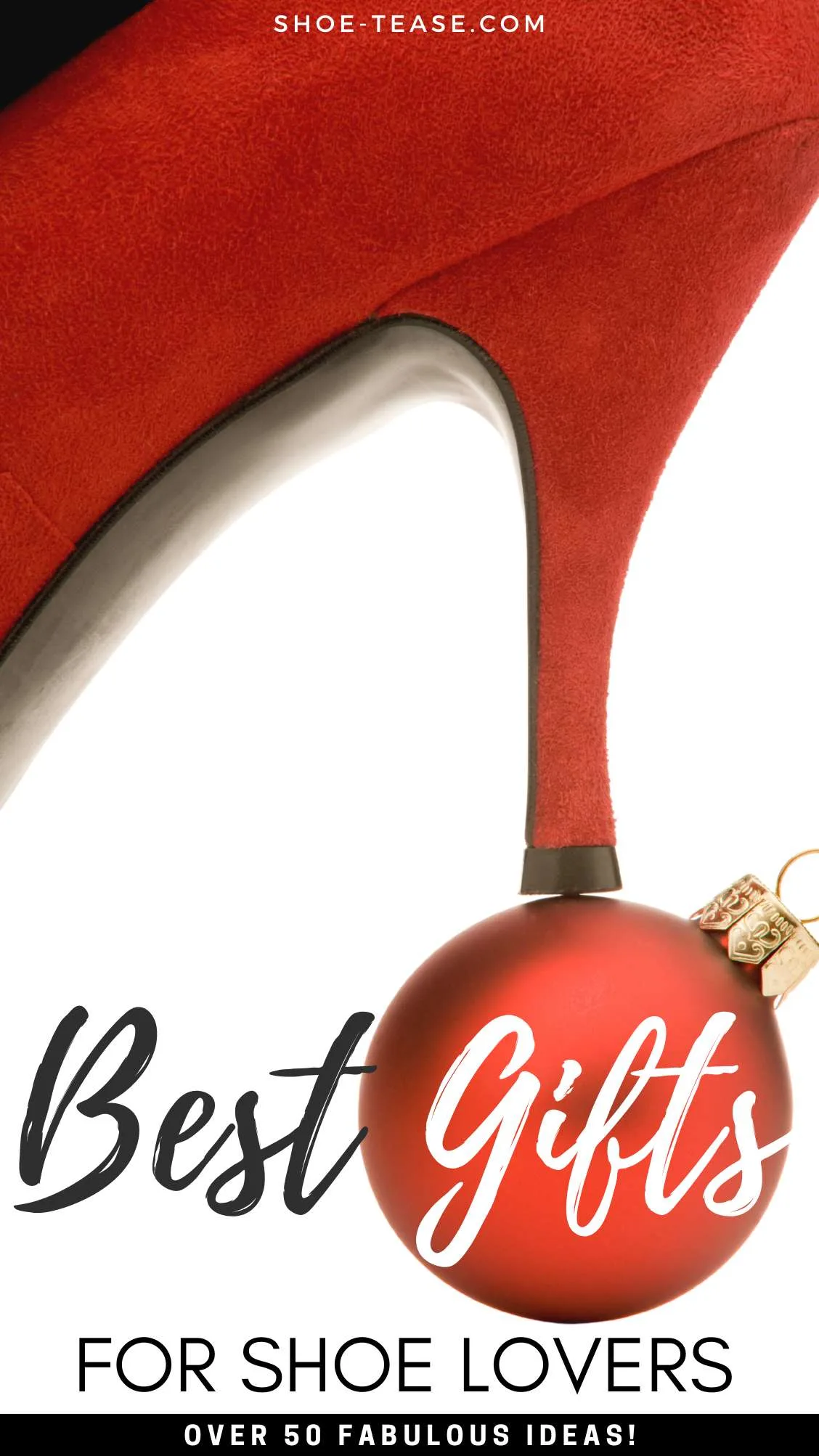 And that wraps up my 2023 gift guide for the shoe lover, which included some of my favorite picks to help maintain, adorn, store or pay homage to shoes!
I hope you've gotten some interesting gift guide ideas for the shoe lover in your life from this post! Whether a small trinket or a more lavish shoe or foot care-related present, there are many shoe presents to explore.
With many items under $25, you'll find practical, fun & quirky gifts for the shoe aficionado that you can really gift to anyone!
And by "anyone", I mean yourself 😉 Best of all, most of these savvy gifts won't break the bank & are gifts that keep on giving.
What would you give as gifts for shoe lovers in your life?
xo ShoeTease