Canadians know a few things about winter & warm footwear. Because let's face it, it's freaking cold over here. And this coming from someone in Toronto, where the weather is comparatively "mild" to the likes of Yellowknife & Calgary.
(Post updated for Winter 2021)
Best Canadian Winter Boots Brands – 2021
That being said, when people scour the internet for warm weather boots, Canadian winter boots are not only the most popular boot brands searched for, but are seen are some of the best winter boots brands worldwide.
(And that's not to discount Canadian shoe brands that offer every day styles as well!)
---
Shop New Canadian Winter Boots Brands :

---
Made in Canada and/or designed in the country, here are some of Canada's favorite winter boots. Proven to keep your toes comfy cozy, warm & dry.
And they also happen to be the best shoes to wear in the snow, below freezing temperatures! In my humble opinion 😉
Which are the complete opposite of the shoe types I mentioned in my post about shoes not to wear in the snow!
1. Pajar Canada Boots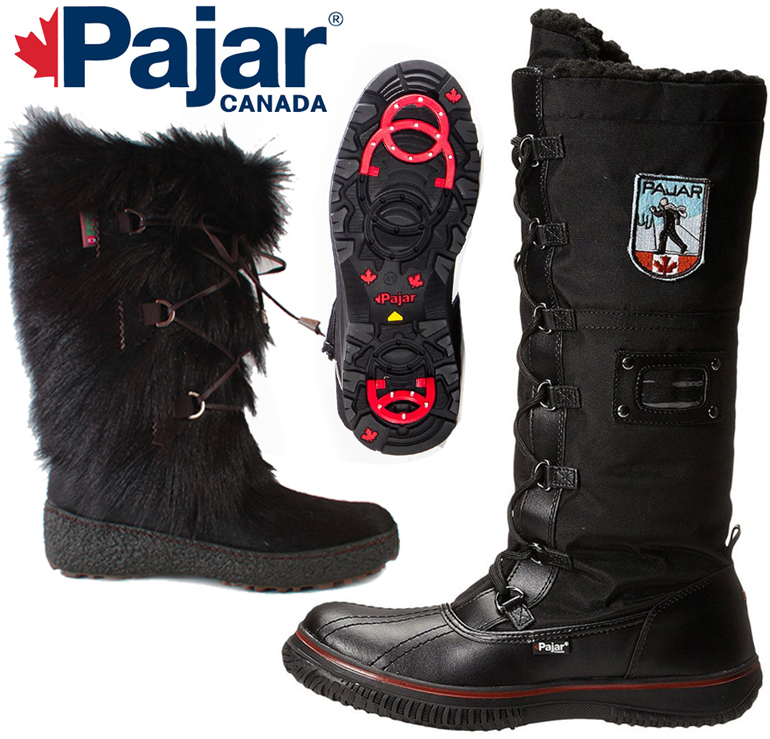 ---
Shop Pajar Canadian Boots for Women:

---
This Montreal-based brand, Pajar is renown for both their warm winter boots as well as their Canada-proof winter coats & jackets for men & women.
This Canadian boot brand is a bit pricier than the first 3 mentioned in this post and offers and huge selection of boot styles.
From their extremely warm & thick-soled styles that will keep feet warm in crazy below 40C, you can find many of their boots with "Grippers". These built in, click out spikes, help your soles grip onto those icy patches to prevent winter wipeouts!
Their more popular boots start at around $225. Pricey, but what can you do? Pajar is one of the best Canadian Winter boot brands around!
Proudly Canadian made & based in Montreal, Kamik offers a number of winter worthy styles with a touch of glam & a hefty dose of Canadiana! What I love about this Canadian boot brand is their sustainable manufacturing process & well thought out recycling program.
Kamik offers ankle to knee high boots for varying degrees of weather conditions for women, men & children. The low winterized Evelyn duck boots are one of their most popular styles. The Sienna F2 Boots are a higher version of the Evelyn & are fabulous looking! I have the Sienna 2 which is the mid high in a similar style & I absolutely love it!
A taller winter boot style that's become a cosy Kamik classic is their Starling winter boots have a slight wedge that adds to their appeal.
Last winter they launched their Herigate 1898 Collection featuring quilted & patchwork details on a selection of their winter styles and a pair of very original insulated rain boots. I was lucky enough to recently test drive these shoes in both rain and slushy conditions & was more than pleased.
Adult winter boots range from 90-190 Canadian Dollars & are temperature rated for up to -32 Degrees C. Among all brands mentioned in this post, Kamik offers some of the most affordable Canadian winter boots.
3. Cougar Canada Boots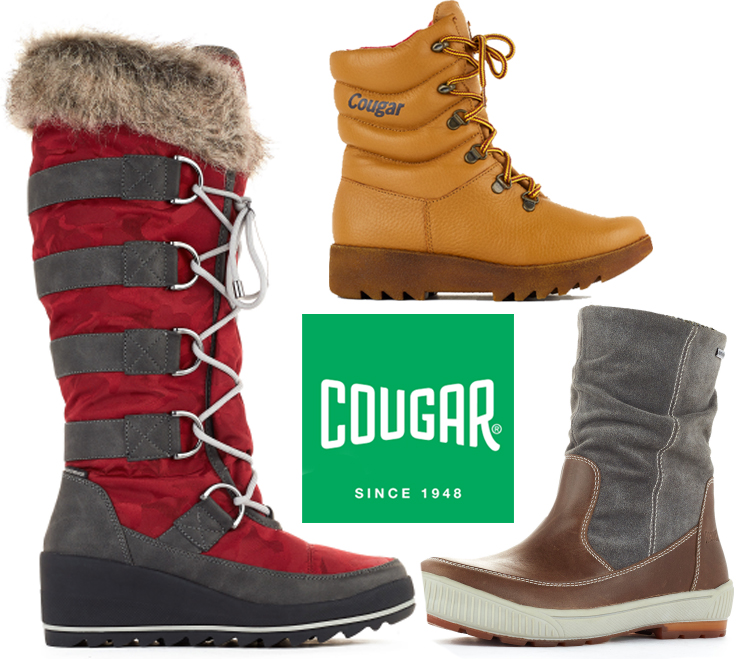 ---
Shop Cougar Boots in women's Styles:

---
I love Cougar Canada boots and I've been wearing them long before I started shoe blogging. Designed in Canada, most of Cougar waterproof boots come with a 6 month guarantee.
Last year's 2019 Womens Cougar Boots Collection is particularly amazing. Take a look at my new post with my fave new styles, here!
My faves for the current 2019/2020 Fall/Winter season? The brand new Dylan style with its sherpa lining & fantastic wedge. I own these in the charcoal colour (also comes in tan). They're toasty warm and comfy.
The Delson boot is a close second fave which is a lace-up fully waterproof & insulated combat boot and comes in 3 colours. If you're looking for a cosy looking winter boot, the fluffy Vanora style (comes in 3 colors) is a must-have!
But don't be fooled, as they are just as insulated and weather resistant as their more rugged styles. However, their warmest styles do offer a cold protection of up to -30 Degrees. And let's not forget Cougar is one of the best boot brands to wear in the rain too!
My favourite snow boots from this Canadian brand? The 39068 Original, aka the Cougar pillow boots which is amazing in black on black, featured in the widget above, now available in all black & red too. With their slight platform & deep track sole, they are way up on my list. As are their very popular Vesta winter boots that have a sporty yet chic appeal.
They have a ton of styles for women, men & kids. As other brands of their kind, they've started making winter boots that look nothing like your typical winter boots,. Like these Arvida olive green suede boots.
Prices of Cougar boots for women range from $120-240. See the 2019 Cougar Collection, here.
Santana Canada is certainly the more sporty looking boot brand of the bunch. From the more classic lace-up winter styles like the popular Maldine boots, Santana also designs sporty après-ski boots with flatform outsole (such as this style, which comes in 2 colors). Also notable from the brand is their fully waterproof Andrea leather boots, which are wool-lined winter boots.
With a -20C temperature rating & the look of a casual moto/riding boot hybrid, these are the perfect winter boots that don't actually look like winter boots!
This Quebéquois footwear company utilized Pro-Dri waterproofing, warm wool lining, & thermal insoles in their footwear to ensure that they stand up to the harshest winter conditions.
5. La Canadienne Montreal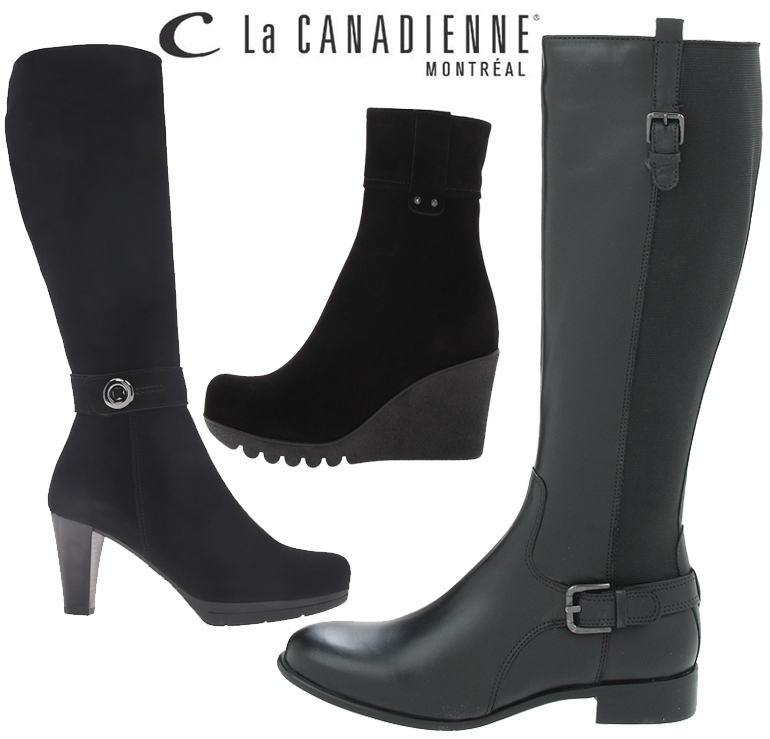 ---
Shop La Canadienne Favorites:

---
From our most stylish, albeit freezing city: Montreal, comes popular women's fashion winter boot brand La Canadienne. Their winter boots made in Canada and Europe, are streamlined to blend seamlessly with your classy business casual attire.
Available primarily in black, this Canadian boot brand has many flat, wedge and high heel styles that are weather resistant and will easily take you from your commute, to the boardroom, then to dinner. Like the Samia waterproof riding boot (now 33% off) & the amazing Mabel waterproof heeled Chelsea bootie. Seriously swoon-worthy with a great tread to keep the traction on the snowy sidewalks!
The La Canadienne winter boot favorite from my readers last year? The Polly waterproof knee boots. You can barely tell they're even made for the cold & snow!
Most of their luxurious winter designs are lined with shearling. La Canadienne's cold weather boots start fro $425 US and are meant to last both in style and durability. You can also find stylish coats & handbags in La Canadienne's collection.
They have a great selection of La Canadianne boots at both Nordstrom and Neiman Marcus.
6. Sorel Snow Boots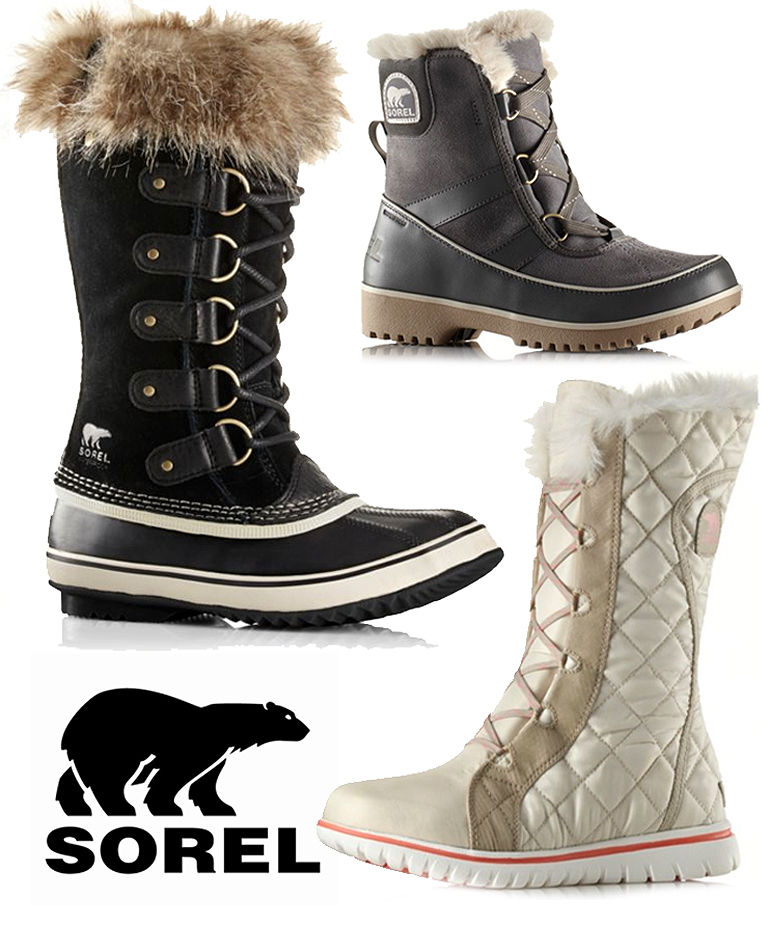 ---
Shop Women's Sorel Winter boots:

---
One of the most recognizable Canadian winter boot brand designs comes from Sorel. With their famous & fabulous Joan of Arctic lace up knee boots with furry accents (pictured above), it has become one of the most iconic and beloved winter boots to wear either in the city or as a stylish après-ski boot.
Fun fact: although no longer Canadian owned, Sorel was born in Kitchener, Ontario before it was purchased by Columbia in the 60s.
I love how Sorel plays with various textures, patterns & colours to offer fun alternatives to the simple black winter boot. This is definitely a fave Canadian Winter boot brand!
Their boots go between $110-300 Canadian and many of the styles can keep your toes warm in up to -32 Degrees Celcius! Aside from a great variety of styles for the whole family, Sorel has expanded their range of winter footwear to include less bulky boot alternatives, fashion footwear, slippers & stylish winter coats & accessories.
Baffin Boots
If you're looking for a Canadian boot brand that has extreme cold weather in mind, Baffin Boots might be for you. Born in Canada, with many styles made in Stoney Creek, Ontario this brand crafts some of the warmest winter boots along with other cold weather products to perform in the coldest climates!
The look of their boots, also for women's styles is tough and rugged. So if you live in a rural area and/or particularly cold region (think, Calgary, Yellowknife, Alaska) these might be the winter boots for you! Thanks to a reader for mentioning this brand to include in this post!
---
Shop Women's Baffin Boots:

---
I hope you'll take it from a Canadian that our winter boots are some of the warmest, weather proof & durable you can find! The brands above are what most of my fellow Canuks & I deem as the best Canadian winter boots you can put on your feet in the coldest months of the year.
Of course, there are many winter boot brands that aren't made or designed in Canada, like in my Warmest Winter Boots post, featuring styles from Emu Australia.
But if you're looking for sturdy, rugged no-nonsense boots with extraordinary features to trek in the snow & ice, Canadian styles are surely some of the ones to beat!
Don't forget to check out my post about the best Canadian shoe brands, with brands that offer casual, formal and rain boot styles too!
Are any of these Canadian boots among your favorite winter boots brands?
Oh, and if you're looking for a great shoe deodorizer to un-stench your winter boots, mid or end of season, check out this amazing product! Also, come read my post on how to store winter boots too!
---
Shop Favorite Canadian Winter Boots Brands in Popular Styles:

---
xo ShoeTease