The days of nixing any white clothing after labor day are dead & gone. How you wear your whites, however, is another thing altogether!
That's why I've written this post about the best shoes to wear with a white dress. Including which shoes types – flats, boots and heels – work well with white dresses.
I'll also be color matching purses and accessories with your white dress, so you'll have a head-to-toe ready to wear look!
Many may never ask the "white dress what shoes?" question. There are so many trendy and classic shoes to wear with dresses.
However, there are certain shoe styles & colors that look better with white dresses. While some other won't quite fit the bill!
Which is kind of important to know fashion-wise. Considering how much of an impact the Little White Dress is currently having, both in summer and winter months!
What Shoes to Wear with a White Dress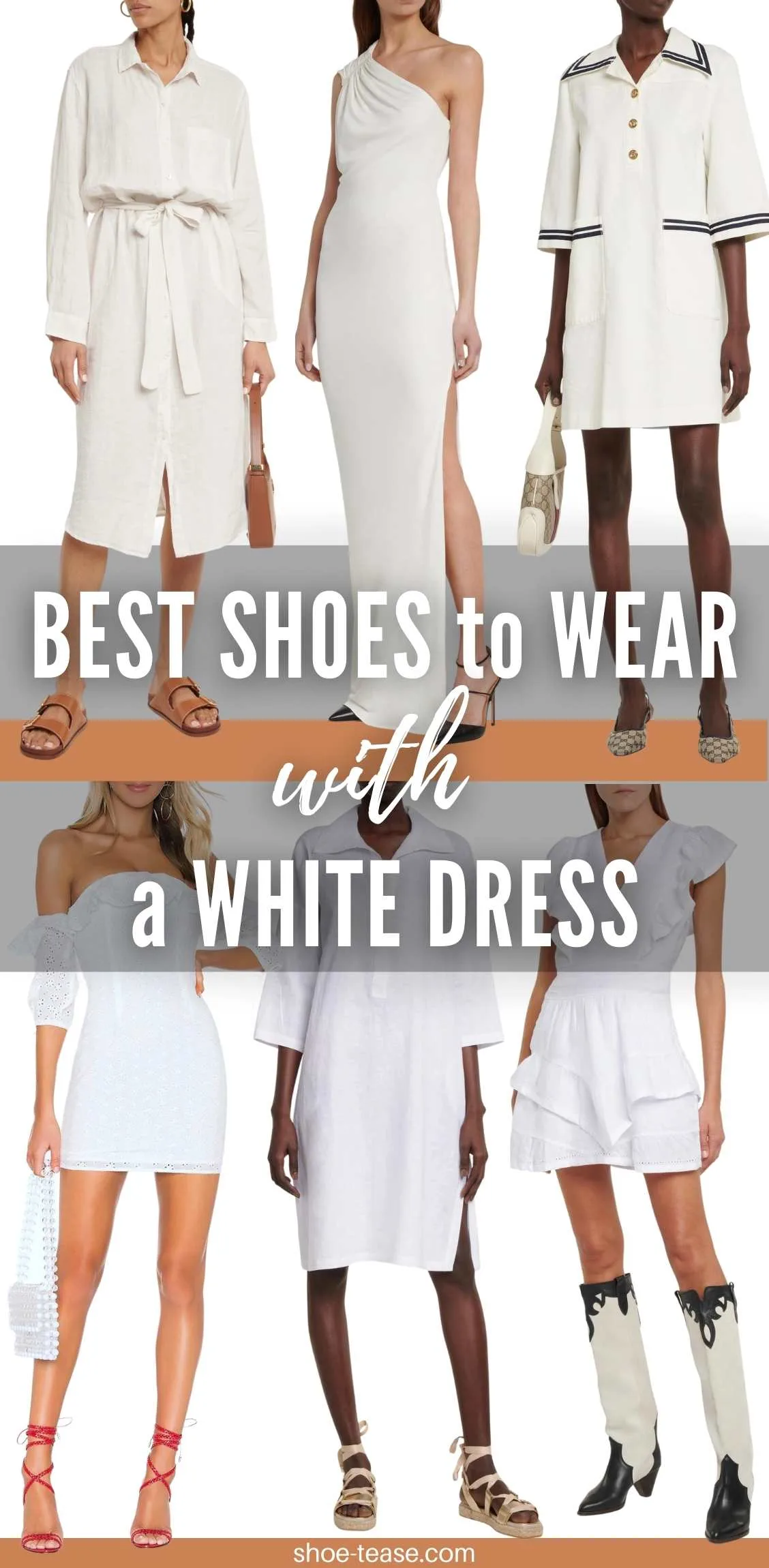 Before considering what shoes to wear with a white dress, you'll have to think about what event you'll be wearing it to & what look you're going for (bohemian, smart casual, cocktail) in addition to dress type.
Will your fashionable white dress outfit be used for work or a fancy dinner? Aside from wedding or gala gowns, which we're not going to delve into today there are 3 white dress types. And basic ways in which you can style each:
Structured casual dress
Flowy casual dress
Cocktail dress
Both casual & flowy dresses can either go the laid-back bohemian route, or depending on shoes & accessories worn, can become smart casual.
Some casual white dresses can easily become cocktail reception worthy when styled with the right heels and purses.
Cocktail dresses, however, almost always require certain shoe types & colors to make them look formal dress code-worthy.
Dress type also dictates what shoes to wear with your white dress. For instance, if you're seeking out what shoes to wear with a lace dress. That's because it's a more intricate material, a more minimal shoe would work best.
Let's start with the best color shoes to wear with a white dress! Again, as I always say taste & style is personal. So if it's not listed & you want to rock it, go for it!
Neutral Color Shoes to Wear with a White Dress
So this one might seem a little obvious, with white being a non-color & all. And yes, almost all neutral shoe colors look fabulous with a white dress.
The following are the best neutral shades & non-colors to match your white-hot look:
1. White Dress with Black Shoes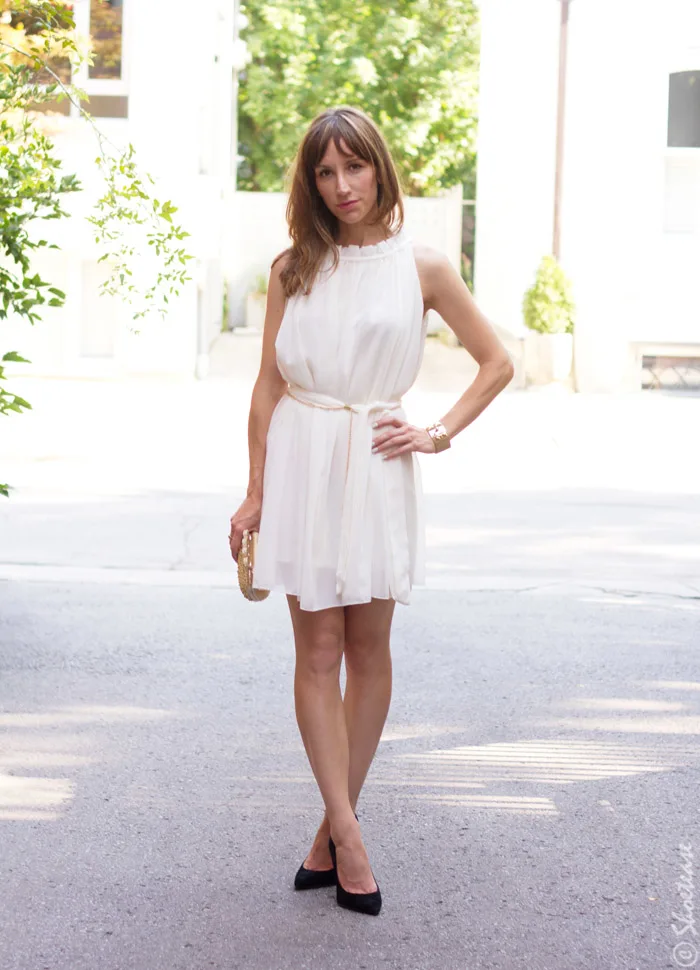 A white dress with black shoes, or black heels, you ask? Well, no matter how bright or off-white will always look great with a black shoe. This is one of my favorite white dress with shoe color pairings.
It keeps things simple, classy & both the shoes & the dress are able to shine without dulling each other's sparkle. Try a strappy stiletto or pointed-toe pump to elevate an outfit. Black ankle or knee boots with sweater dresses and frilly dresses look lovely!
Purse Styling Tip: For elegant black shoes with white dress outfits, a sparkly gold clutch will create a perfect party look, as will a silver or shiny black one.
For more laid-back white dresses and black shoes look great with a leather brown or black crossbody or tote.
Shop Black Shoes & Heels:
2. White Dress with Nude Shoes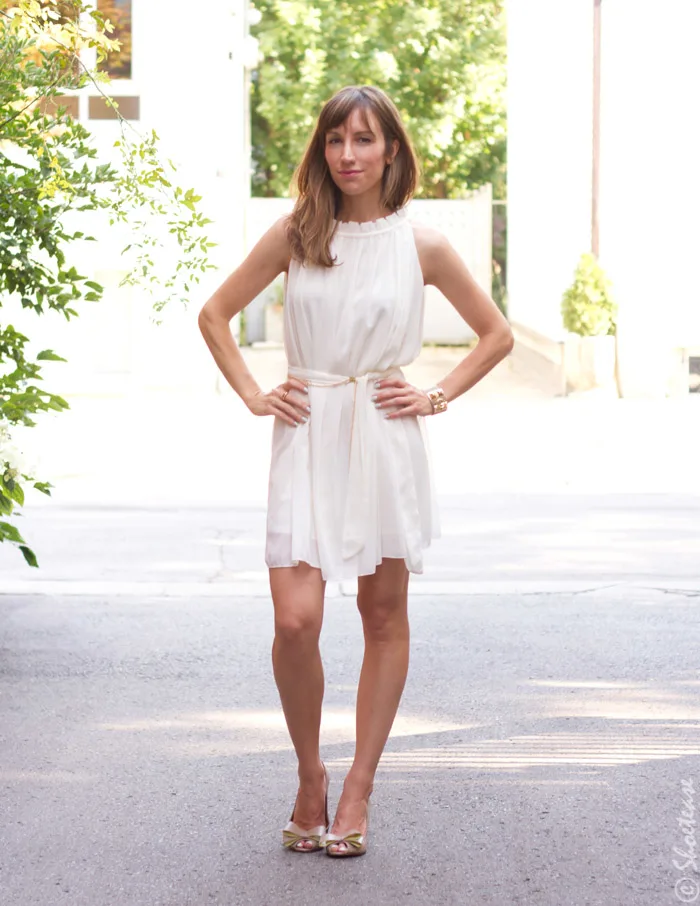 On the opposite spectrum of the contrast of a white dress & black shoes, white dresses & nude shoes are a refined way to create a more understated look.
Nude shoes (ones that match your skin tone that is) allow the dress to stand out, while lengthening your legs. The more minimal the nude shoe, the lesser impact the footwear will have.
Purse Styling Tip: Keep your look neutral with a white, beige, tan purse or clear clutch. Animal print purses such as leopard and snake will look fab, as will a pop of color such as pink, purple or blue.
Shop Nude Heels – Each Style is Available in Various Tones:
3. Bronze & Gold Shoes with a White Dress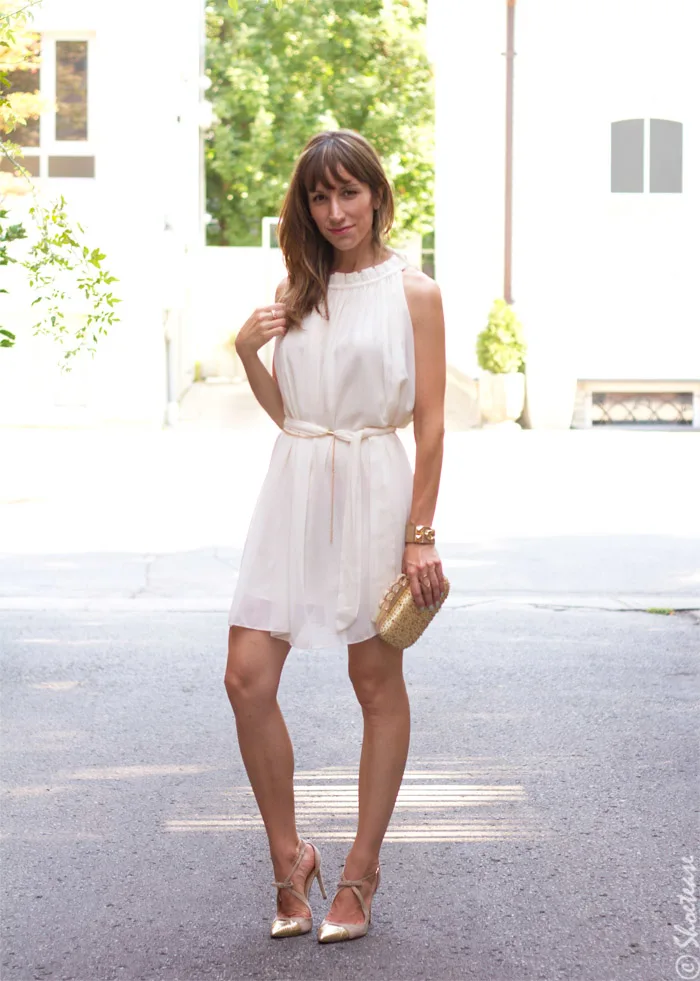 Metallic shoes look fabulous with white & work best for a more formal occasion. Strappy gold sandals & pumps in particular will dress up even the most simple white dress.
It is my metal hue of choice when choosing which color shoes to wear with a white dress. Especially with a cream colored dress with warm undertones.
Bronze and copper footwear looks pretty with both pure & creamy whites. It will contrast more with a bright white dress, but look great with off-whites too.
Purse Styling Tip: You can match your purse to your gold shoes, or contrast them with a black one. For more casual outfits, I love a tan or brown purse with gold shoes.
4. Beige Shoes with a White Dress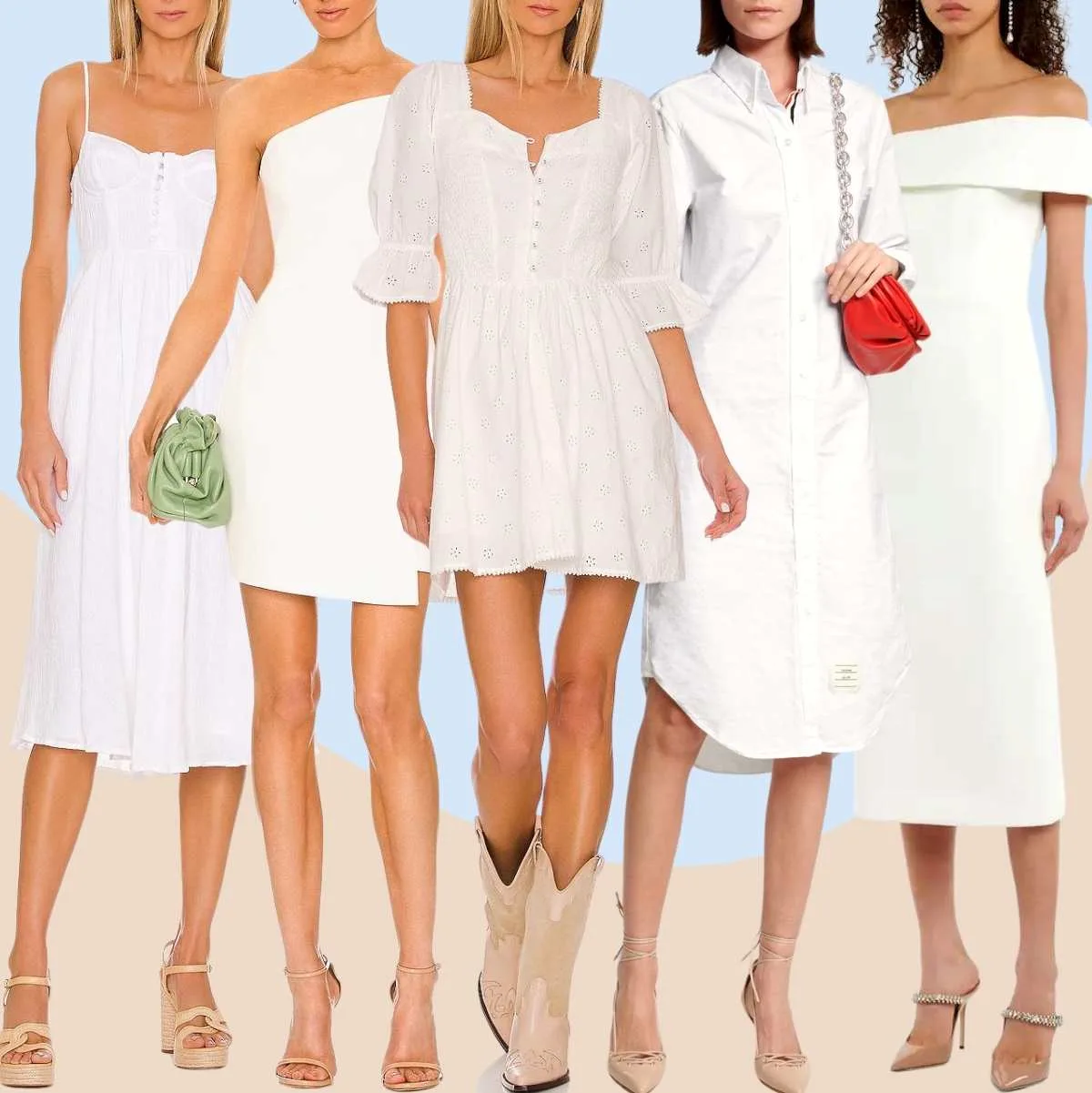 Unlike 'nude' shoes which match your skin color, beige shoes are another subtle option. These color shoes work great with all skin tones and create a casual look. Especially if you choose a cork, raffia, rope or even suede material.
I love a fancy patent leather pump or sandal with an elegant dress too! You can go extra fancy and pick a bejeweled version.
Purse Styling Tip: For casual white dress outfits, try a tan or brown purse or add a pop of color (any color looks good here!). For elevated looks, go for a contrast black purse, white pearlized or metallic clutch.
Shop Beige Shoes & Heels:
5. Silver Shoes with a White Dress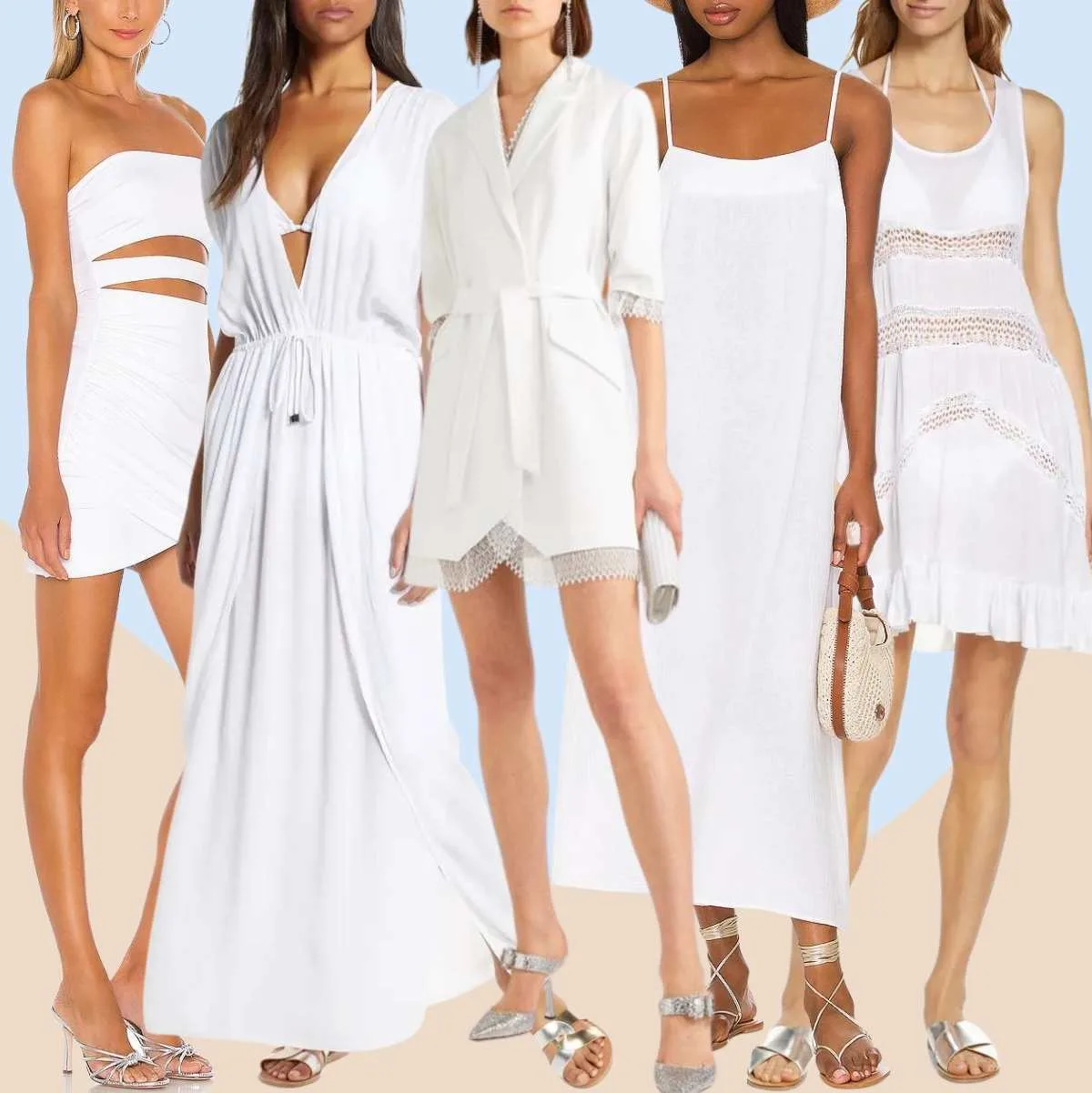 Silver is a great metallic to wear with white. It does, however, look best when worn with a bright white with cool undertones. I wouldn't pair silver heels with off-white dresses unless the silver has a warmer tinge.
There are many different silver shoes to wear with a white dress. These include bright metallics, hologram hues and glitter silver shoes.
Silver shoes will complement a white dress, without distracting from it. That's because it is virtually colorless and will reflect your skin tone and dress color.
Purse Styling Tip: White, matching silver or beige will be most neutral. Contrast with a pop of color, like hot pink or apple green, or choose a black purse.
Shop Silver Shoes & Heels:
6. White Dress with Brown Shoes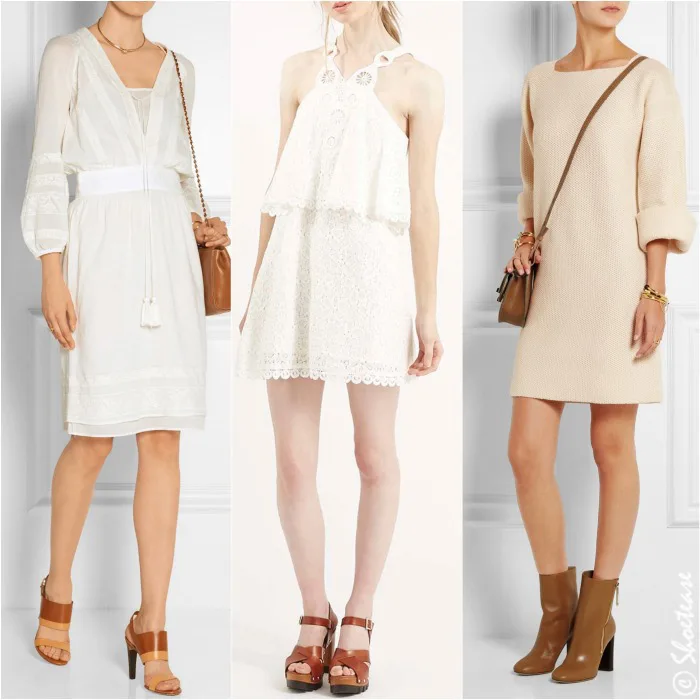 Brown is a fantastic shade to wear with white. Best for casual looks, brown is a great neutral tone shoe to pair with your white dress for an office look.
Strappy brown sandals or clogs will give off a summery boho feel, while tan or caramel boots will add an earthy vibe to your white dress outfit.
Purse Styling Tip: Match with a similar brown, or keep things in tone with a beige, or contrast brown purse. Black, blush and yellow handbags will also work well.
7. Animal Print Shoes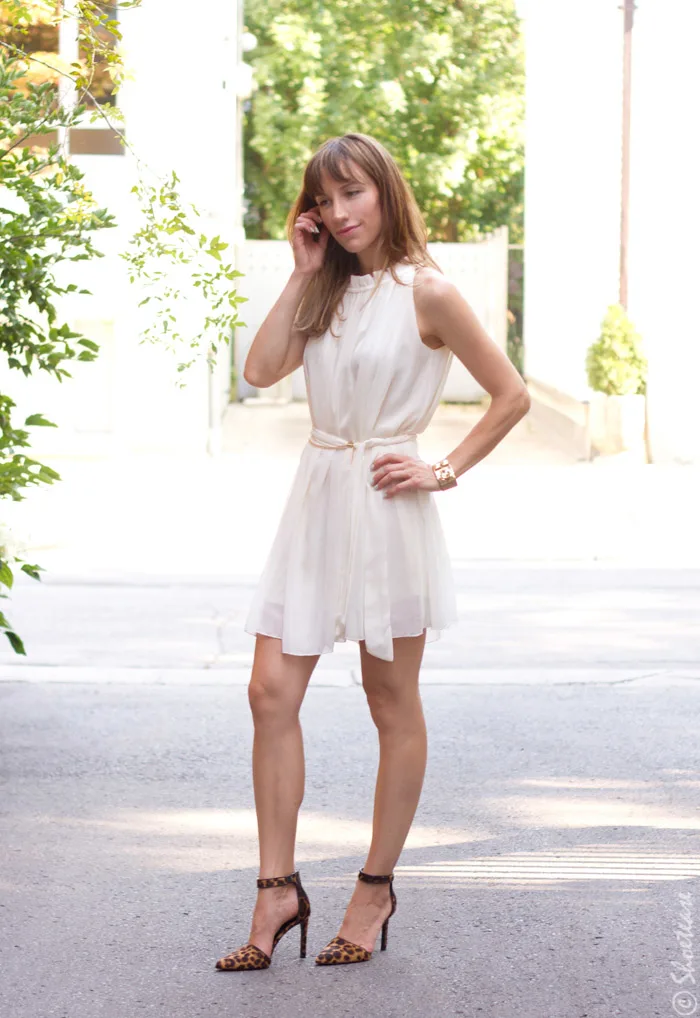 When suggesting what to wear with leopard print shoes, a little white dress always comes to mind! I consider leopard print shoes and snake print shoes in brown/beige hues a neutral. As white is also a neutral, why not pair the two?
Remember that a classic leopard or cheetah print shoe will make your look more casual. Especially with a large surface print, like on a pump or boot.
For summer, choose a strappy animal print shoe or sleek slide. For winter, pumps, ankle and knee boots will complement a white sweater dress.
Purse Styling Tip: Match your handbag to any hue in your shoes, or go for a white or black handbag. Or, you can contrast with a hot pink, cobalt or bright green bag!
8. White Shoes with a White Dress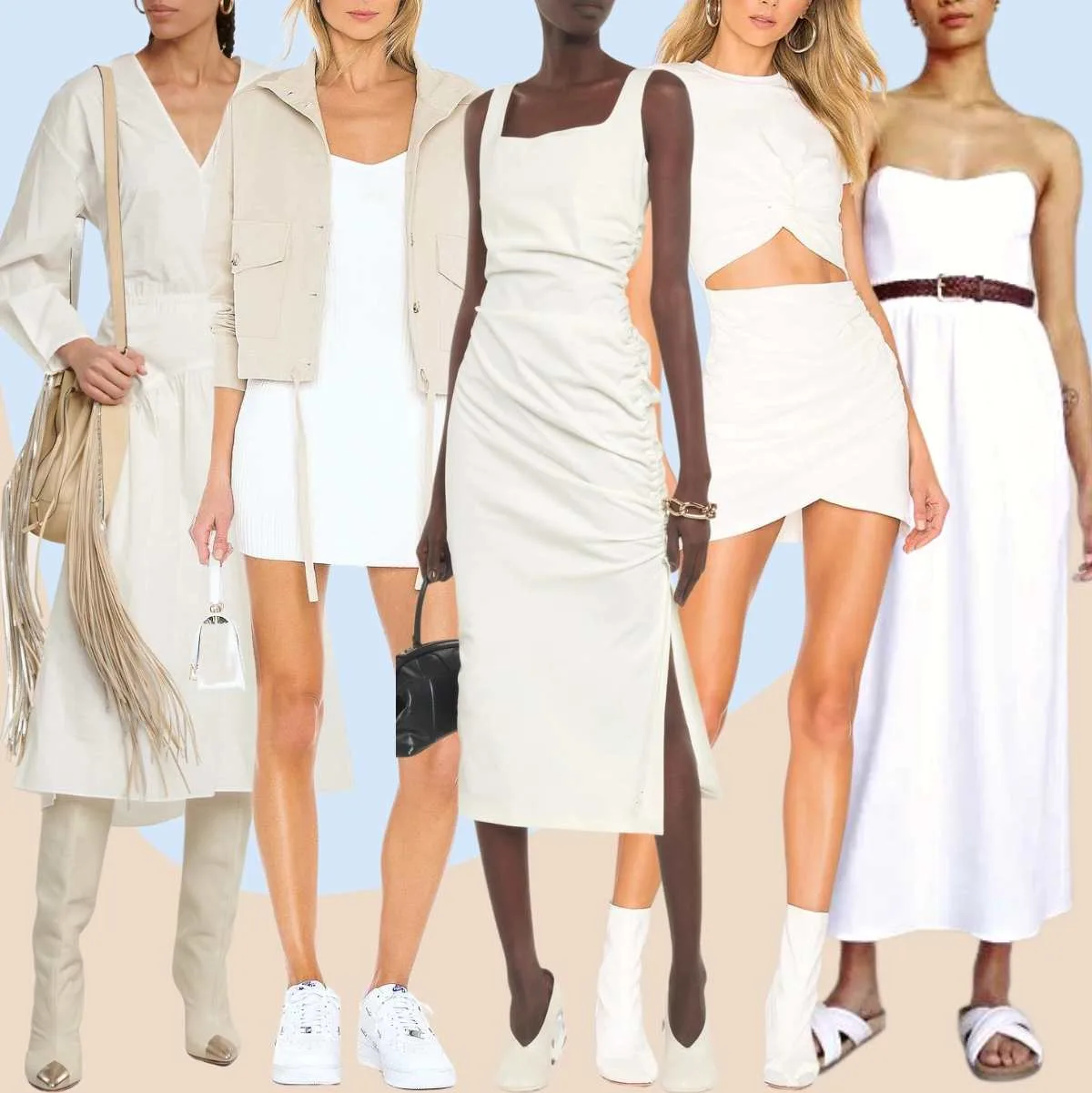 I usually don't recommend going all matchy-matchy with dress and shoe colors as it can look very bridesmaid-like. However, with white, you can look like a full-on bride if you're not careful.
Here are some tips on wearing white shoes with a white dress for everyday wear:
Avoid any white dresses made of lace, tulle, silky slip dresses or ones that are overly ruffled. Essentially you want to stay away from any dress that looks bridal.
Pick a contrasting white shoe. Such as pairing a bright white dress with an off-white, almost-grey shoe.
Choose casual shoes with a white dress. Think chunky slides, sneakers, boots and statement pumps.
Purse Styling Tip: Accessorize with laid-back and/or contrast accessories, like a black or brown leather purse, or pick a boho-inspired studded or fringe purse.
You can get away with a dainty bride-like purse if you're dressing in a sporty white dress and shoes. If you are searching for white shoes for your white wedding dress, but don't want to go for the obvious choices, check out my selection of 14 great non-traditional wedding shoes.
Shop White Shoes & Heels:
9. Clear Heels with a White Dress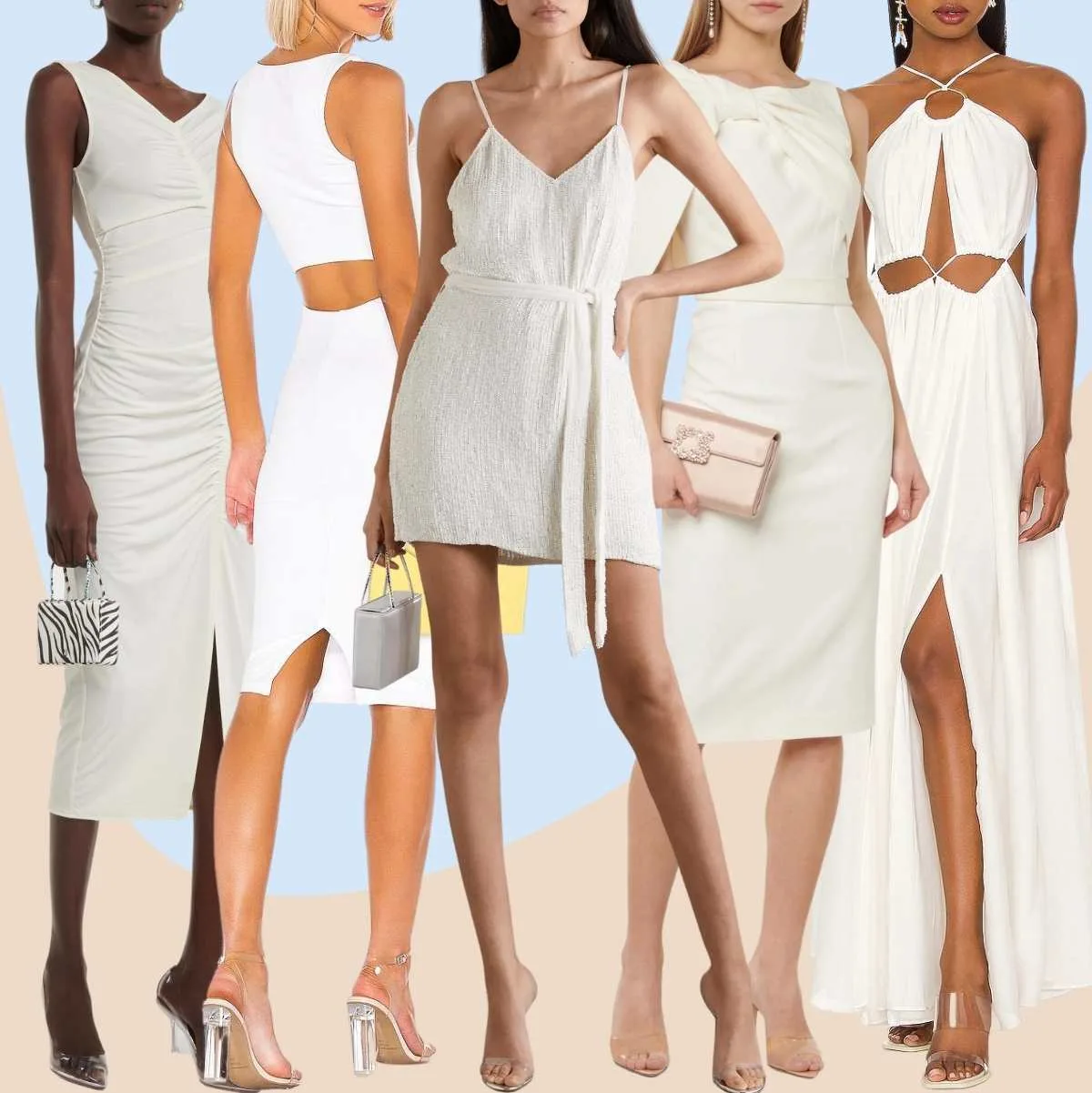 Add a trendy, but subtle splash to your white dress with a pair of clear heels! These will put your white dress at the forefront. Clear heel outfits are great not to distract from more ornate dresses, or for a minimalist white dress outfit.
Wearing a shorter white dress? Along with nude shoes, these almost-invisible shoes will make your legs look extremely long!
Purse Styling Tip:: Anything goes with a white dress and clear heels. You can keep the look minimal with a white or matching clear purse, or contrast with a black or colorful clutch.
Shop Clear Heels for Women:
Best Colorful Shoes with a White Dress
Yes, white goes well with many color shoes! However, not all white dresses are the same shade of white (and there are many shades!). Also, not every dress is the same style, so not every shoe color will be your best choice.
Below I've selected my favorite colorful shoes for a white dress and styles and purse colors to pair them with!
10. Red Shoes with a White Dress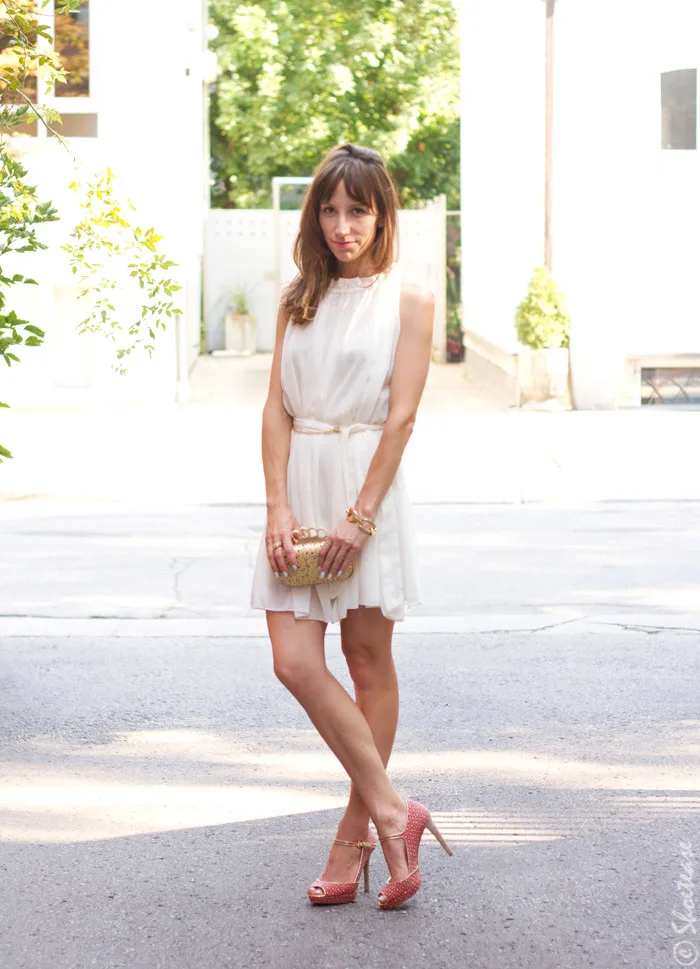 Red Shoes: White dresses & outfits look fabulous with red shoes. A true poppy red will look great with all shades of white. And it's one of my top recommendations on what to wear with red shoes!
Purse Styling Tip: Match your purse to your white dress, or choose a black or metallic purse. If color is your thing, try a bright blue or turquoise handbag.
Shop Red Shoes & Heels :
11. Pink Shoes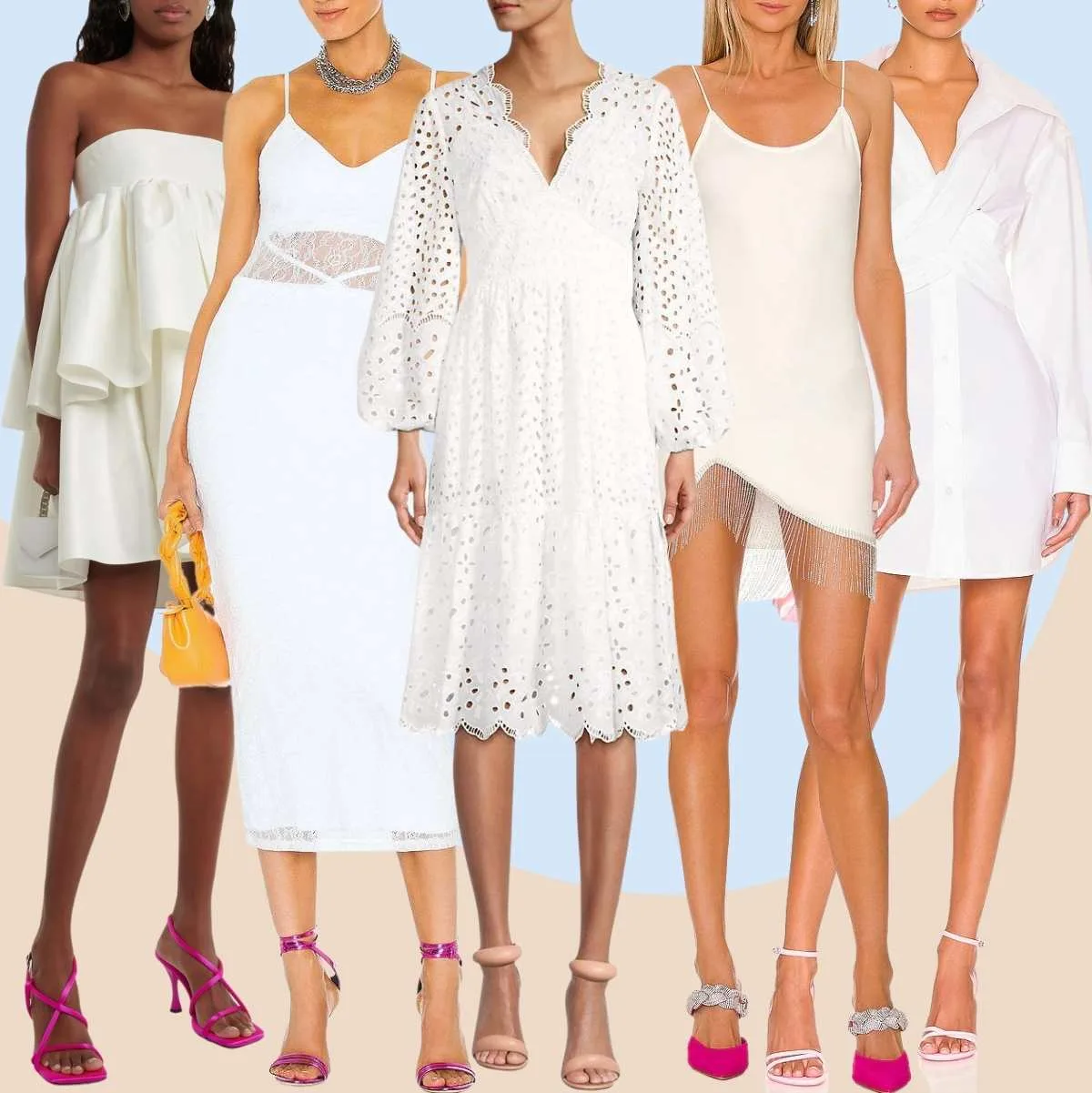 Pink shoes with a white dress give a dose of sugary sweetness to your look. The whiter the white, the more contrasting these will be.
From hot pink heels, metallic pink shoes, to more subtle light pink and blush heels, you have your pick when it comes to pink shoes! I love a lighter pink shoe with a fancier look, and a hot and/or pink heels for a bold little white dress.
Purse Styling Tip: Keep things more subtle with a white or silver purse, or match it with your pink shoes. Be extra bold and contrast your shoes with a colorful purse or jet-black purse.
12. Yellow Shoes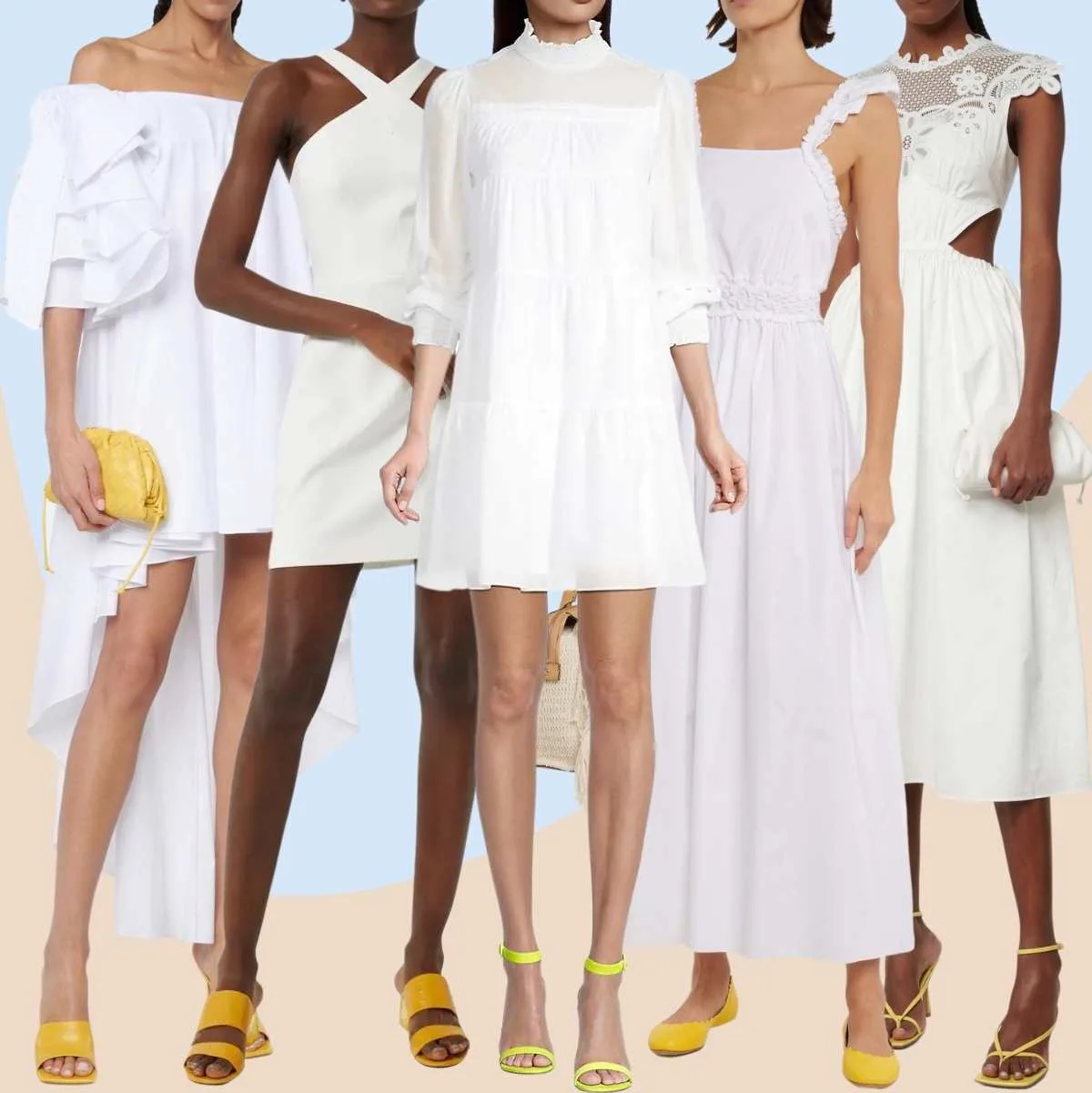 Yellow shoes with a white dress make a bright and energetic combination that can be styled for both day and night!
You can wear a white dress with yellow sneakers or slides for a brunch with a white summer dress. Strappy yellow heels with a white dress works great for evening cocktails. Pick neon yellow heels to make a loud statement!
If you are going to work and you have a white pantsuit, you can add a pop of color with a yellow pump. For brides who are looking for the perfect wedding dress shoe, a charming yellow is a great option!
Purse Styling Tip: you can either match your shoes or keep things neutral with a white, black or beige purse. You can also add a pop of color with a light pink or pale green handbag.
Check out my in-depth post on how to wear yellow shoes for more styling tips.
13. Green Shoes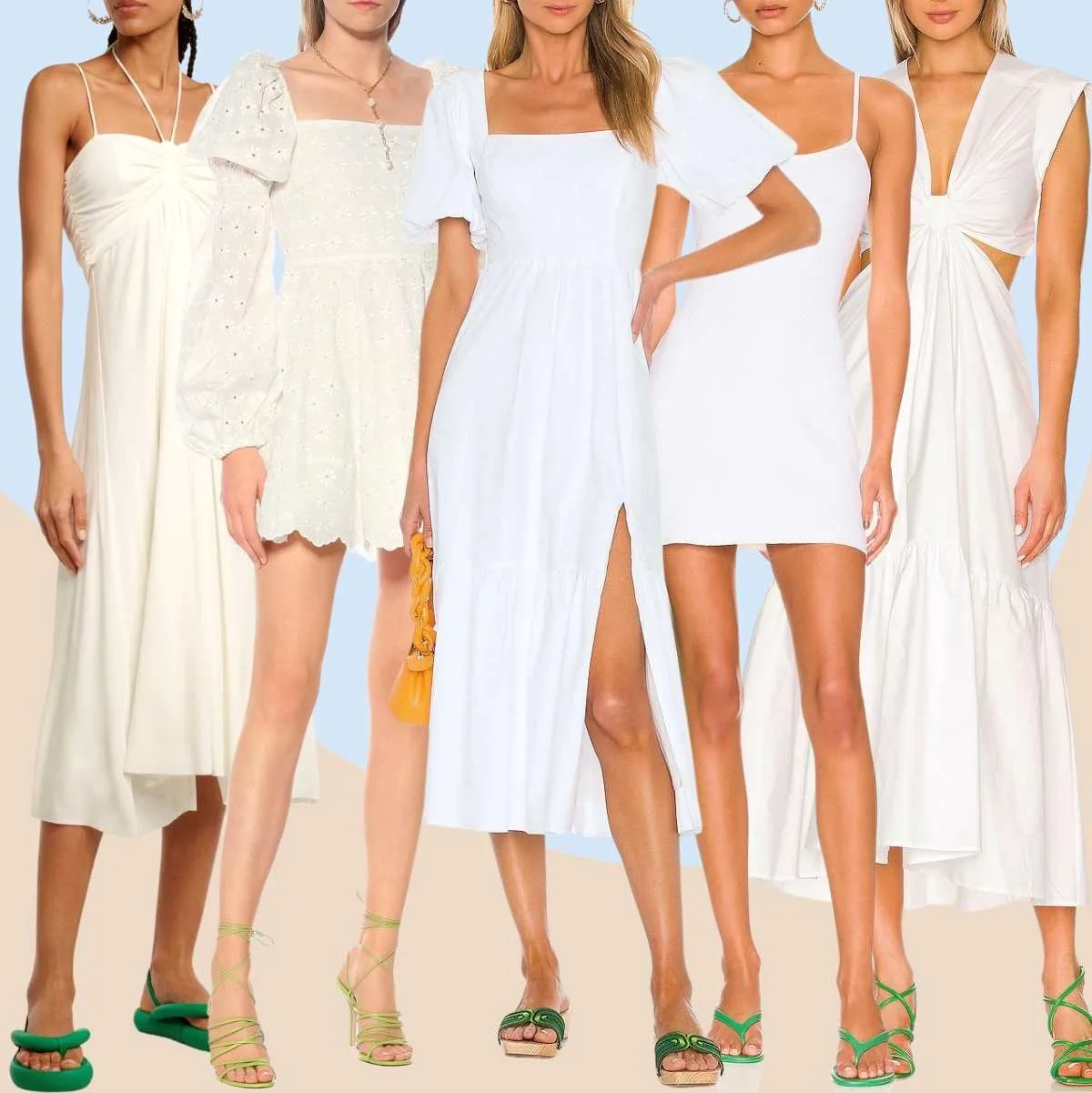 Green shoes are having moment and they look so fun with a white dress. From strappy stilettos, to chunky clogs and sandals, green can up your white shoe game!
Green shoes look fab with any type of white or off-white dress and will brighten up your look. Check out my post on the best green shoes outfits!
Purse Styling Tip: Keep things simpler with a black or beige bag, or have fun with a colorful hot pink, turquoise or yellow purse.
14. Blue Shoes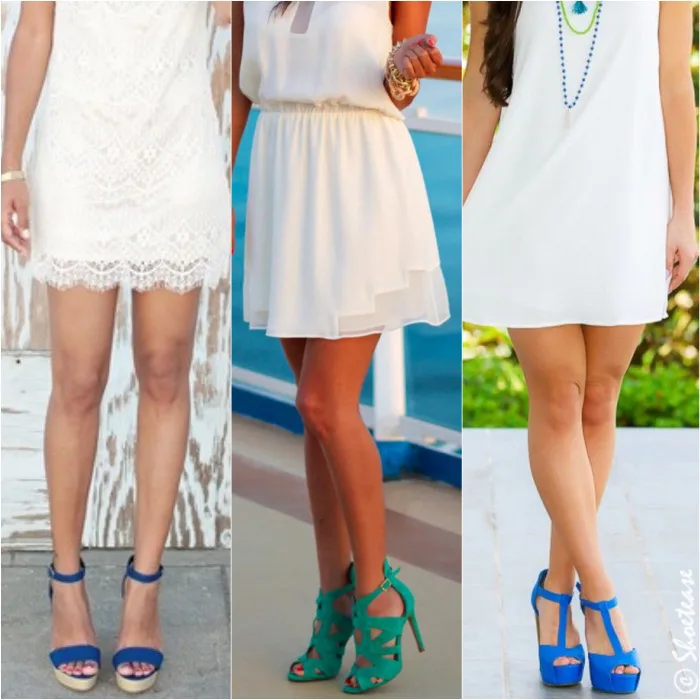 Bold blues such as cobalt, turquoise or closely related purple work best with very bright whites with a cool undertone.
Tru a blue satin, jewel-adorned pump for a fancy white dress outfit. Dress down your look with a baby blue or blue denim shoe!
Purse Styling Tip: Try a contrasting blue, orange or pink purse. For more subtle looks, choose a white, blush, beige or black handbag.
15. Orange Shoes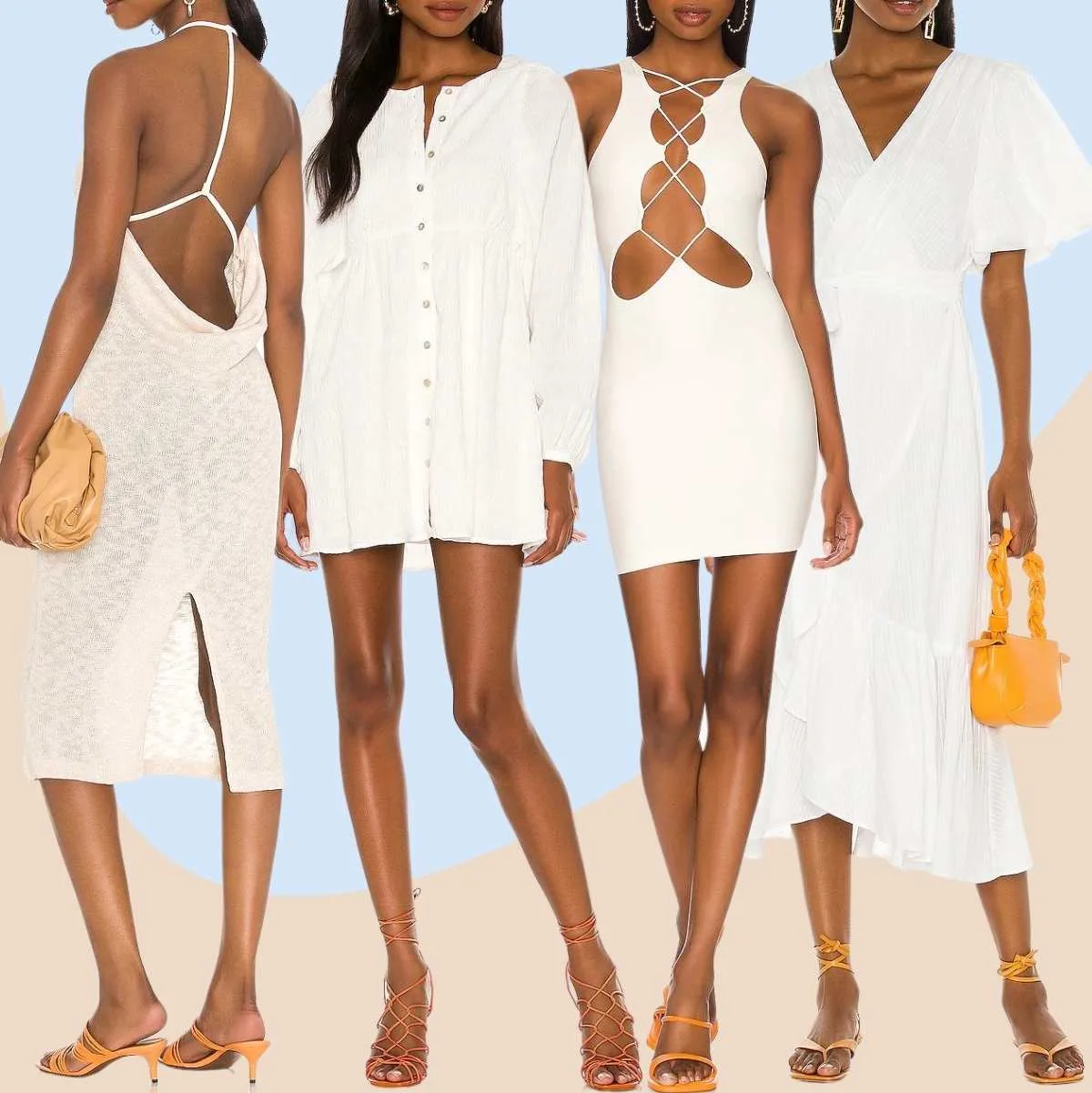 Bright orange & coral colored shoes look fab with white, especially pure white dresses, for more contrast. Orange heels and open-toed shoes suit more casual dresses in summer.
But you can also brighten up a white dress in winter, with a pair of orange ankle boots or pumps!
Purse Styling Tip: White, black or brown purses will look great. If you're looking for some color, try a bright yellow, purple or blue handbag.
Shoe Colors to Avoid Wearing with a White Dress
Of course, this wouldn't be a comprehensive post if I didn't chat about my least favorite pairings!
White shoes: with frilly, lacey or slip dresses, you're going to look bridal, especially if you choose a strappy high heel or pump. To be on the safe size, keep white-on-white strictly for black tie & all white parties, weddings & red carpet events.
Pale pastel shades: other than a beige if it matches your skin tone, I'm not a fan adding very pale pastels colors to a white outfit. Although a baby blue or baby pink – heck – even light mint green isn't going to make you look HORRIBLE at all, it just isn't going to particularly compliment an off-white dress. It'll sort of wash it out.
Pale Yellow shoes: unless it's a saturated, orangey-yellow or a bright neon yellow pump, yellow doesn't create enough of a contrast with a white dress as, say, orange shoes would. Avoid this combo with warm-toned white dresses.
Best Shoe Style to Wear with a White Dress
There are many shoes that go with everything, including white dresses! Below are some of my favorite trendy and timeless heels and shoes that go with white dresses.
Some will work well in winter, some in summer and some types of shoes will look fab all year round! Of course, there are also lots of different types of heels and great boots for dresses too!
1. Pumps with White Dresses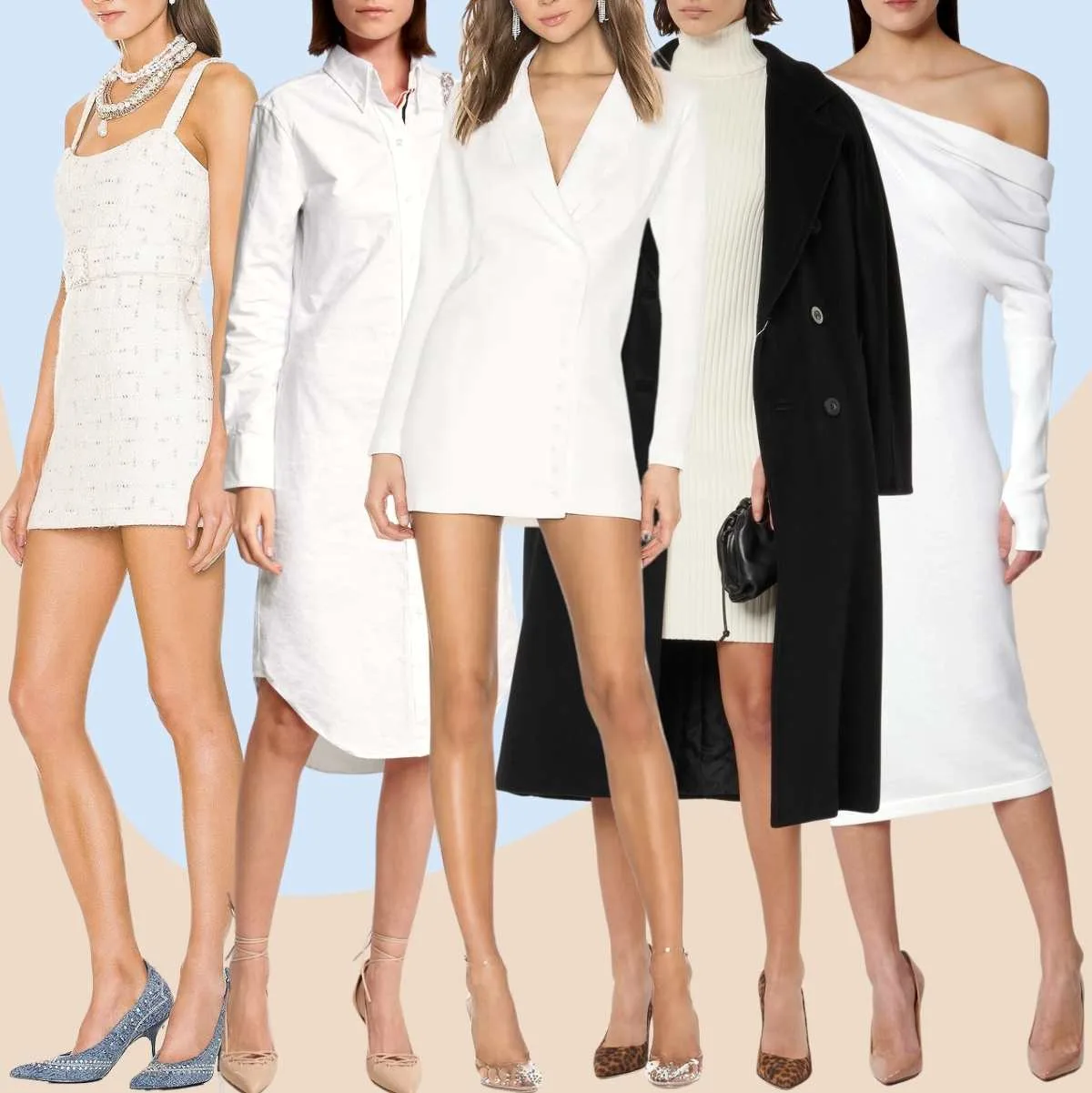 Pumps, either a classic pointed toe t-strap or cap toe pump with ankle strap works great. This should be your go-to shoe for all seasons & will literally match any outfit, along with a simple or not-so-simple white dress.
A definite "YES" shoe to wear with a white dress, especially a pointed-toe pump with a fine heel if you want to elevate your white dress outfit!
2. Minimal Strappy Sandals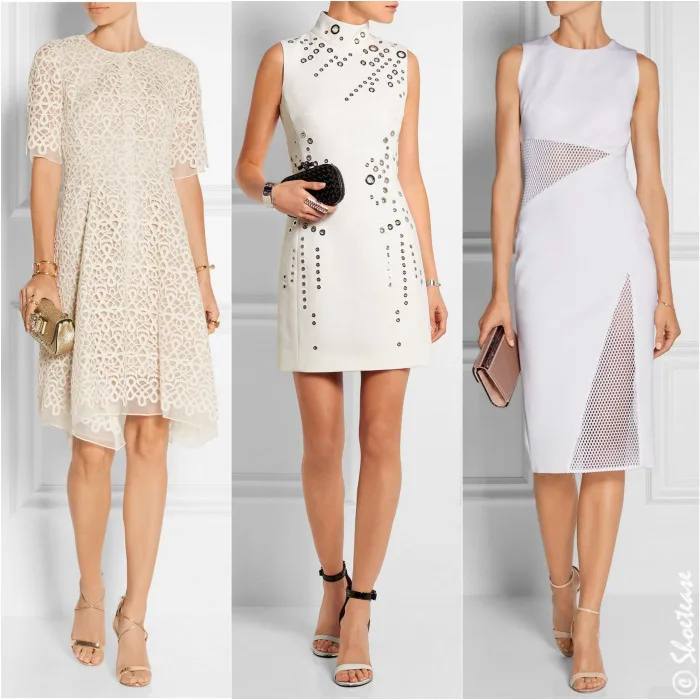 Dainty & barely there à la Stuart Weitzman Nudist, these sandals will perfectly compliment your pretty white dress!
They come in many colors, including beige, white, black and metallics. However, there are also many Nudist dupes you can check out.
Minimal sandals are great shoes to wear if you have a particularly elaborate dress & want to keep your shoes understated. For the latter, opt for a nude, tan or gold color. Pair with a dainty handbag or clutch.
3. Pointed Toe Flats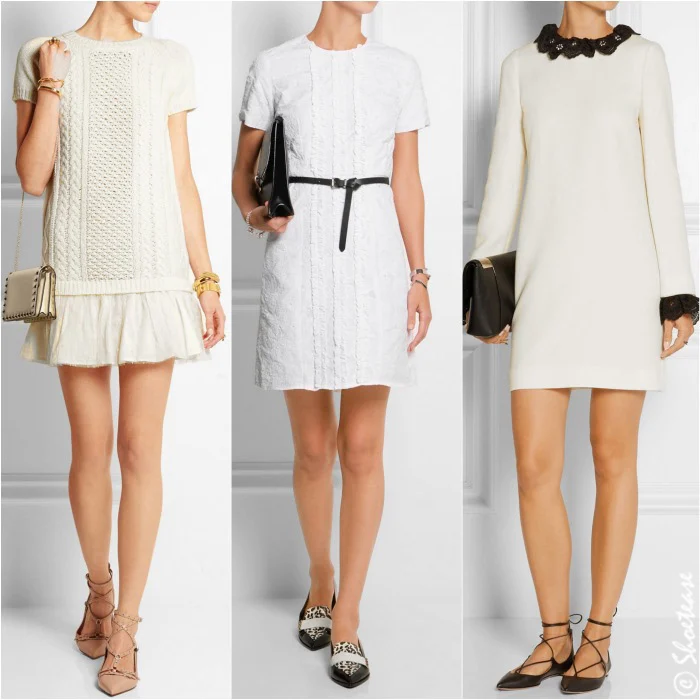 Pointed-toe flats are amazing with little white dresses! You can try strappy lace-up, a minimal black flat, or even a pointy loafer to update your white dress.
You can also choose jeweled or adorned pointed-toe flats like this Aquazurra pair, to elevate a white cocktail dress.
The tapered/pointed toe is edgy enough not to make you look like a little girl, which sadly, those rounded toes or classic ballet flats often do!
Square-toe flats are now coming back in, but these can make your feet look duck-like, so wear these with caution!
4. Clogs with a White Dress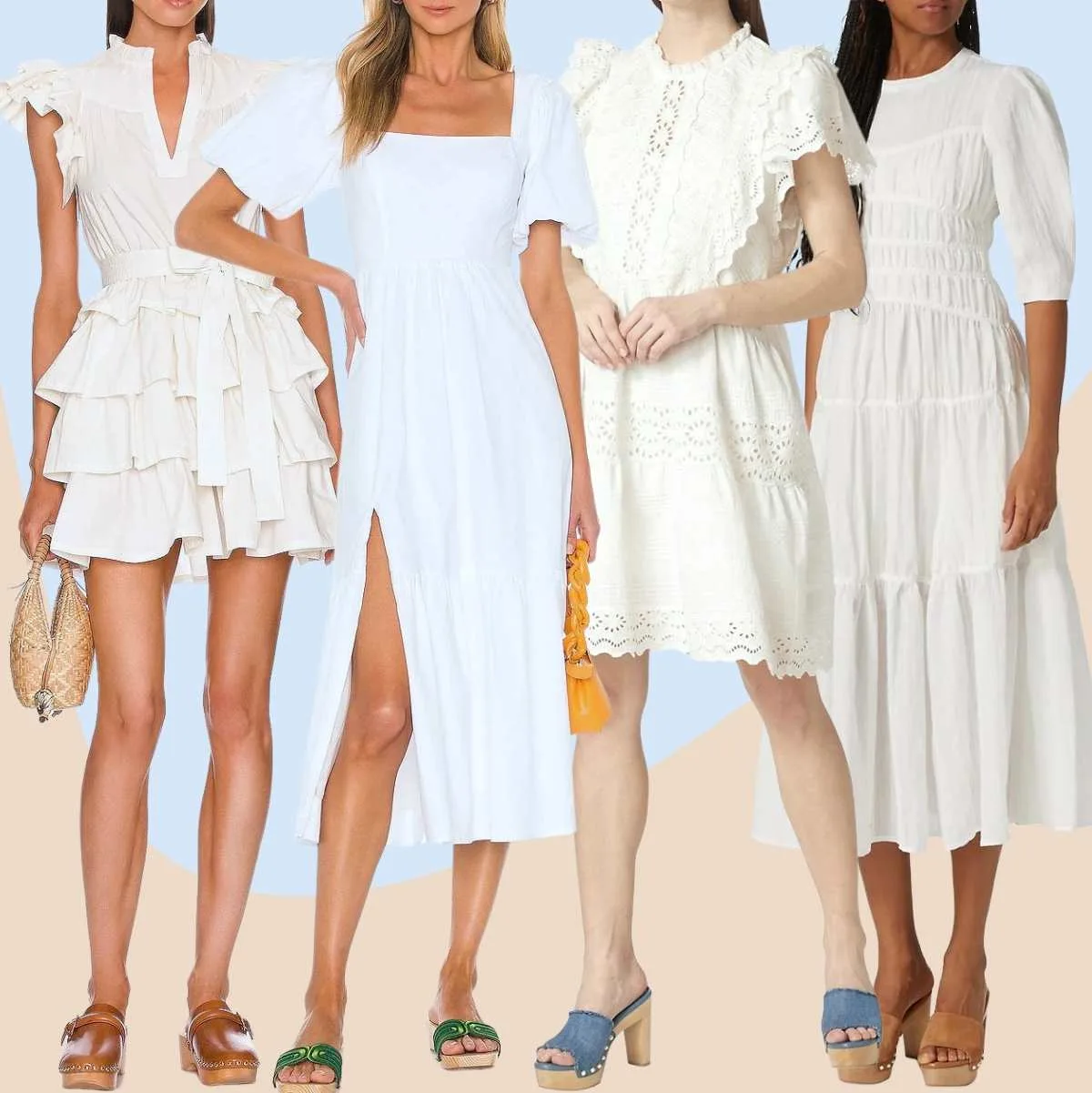 Comfy and trendy, clogs are shoes that go well with little white dresses. From closed-toe classic studded clogs, to high heel slides or orthopedic flats, that wooden sole will give a laid-back or boho vibe, depending on your white dress of choice!
You can easily wear open-toe clogs during summer. But clog mules with tight or socks also work great in winter with a cute white sweater dress. Check out how to wear clogs in my dedicated post!
5. Espadrilles with a White Dress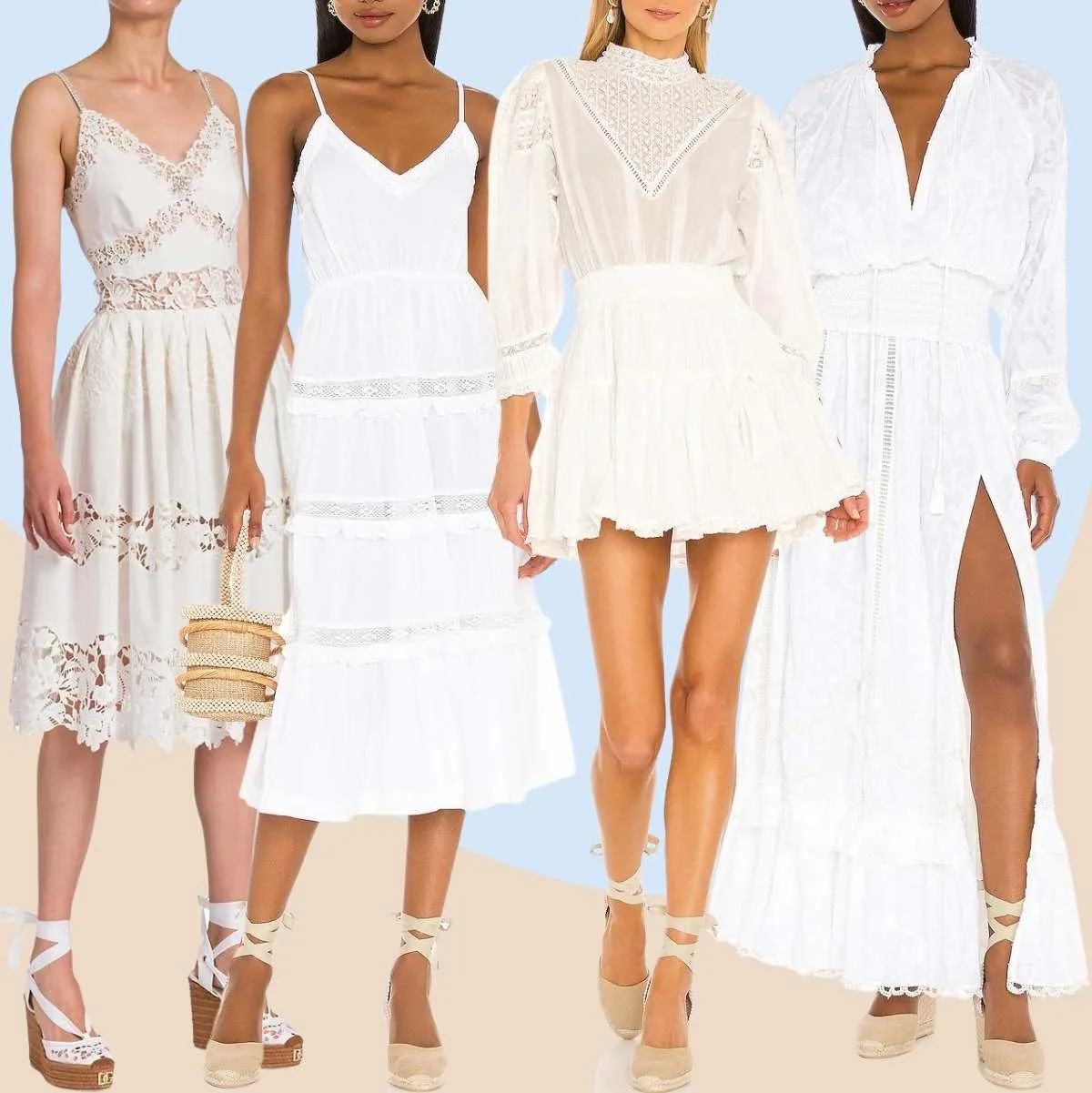 Espadrilles with white dresses make great outfits all summer long! They're comfortable, stylish, and will go with just about any white dress style.
Choose from lace, eyelet, ruffled or frilly white dresses for a country girl vibe! In terms of colors, choose a white, tan or brown style for a more earthy feel. See more styling tips on how to wear espadrilles.
6. Strappy Flats & Gladiator Sandals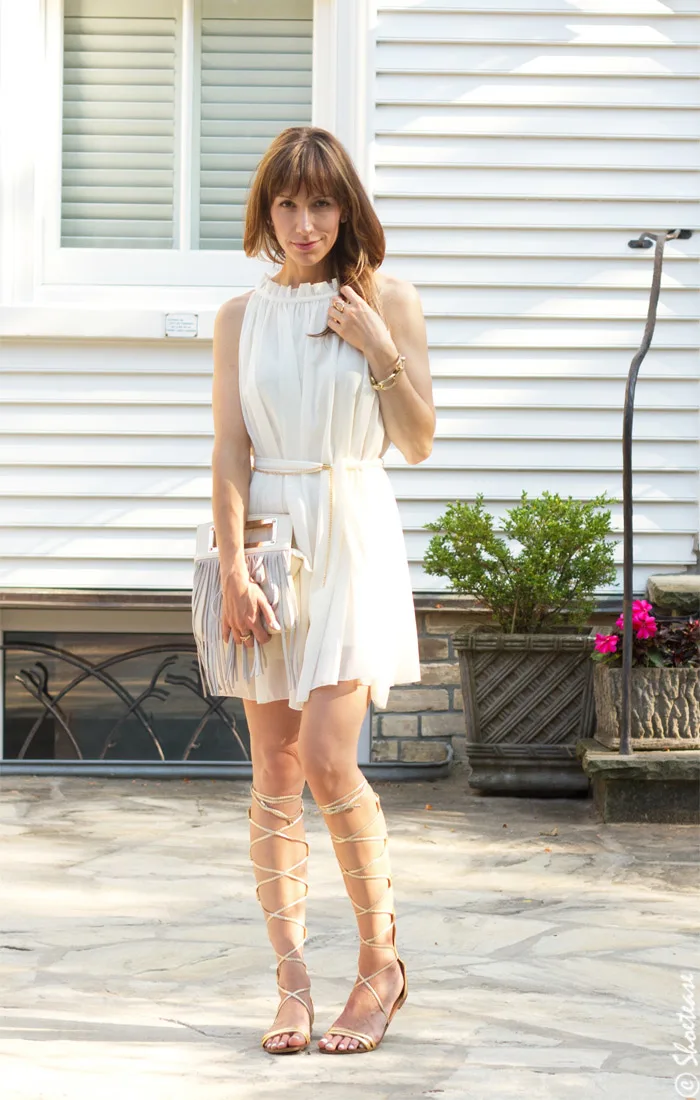 For summer, I love strappy or gladiator sandals with white dresses for casual looks. The straps add some fun dimension to the outfit. Whether it's adorned or plain, strappy shoes will look amazing with your little white dress.
I love more subtle gladiator sandal colors with a white dress such as beige, tan, gold and white. However, black styles can also look great, if you're looking for more of a shoe contrast.
You can choose a low or tall gladiator for short to knee-length dresses like I did, above laft. See more ways to wear gladiator sandals, here.
7. Ankle Boots with a Little White Dress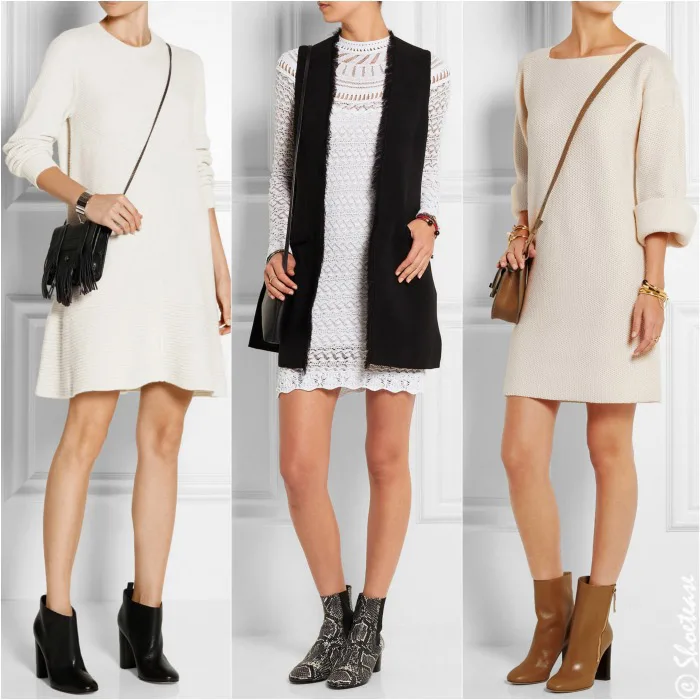 An ankle boot will perfectly transition your little white dress into Fall & for the chillier Winter months? Well, you can always add a pair of leggings or tights to keep your legs warm, but keep you stylish!
Learn all about how to wear ankle boots with dresses of all sorts, in my dedicated post!
Shop Classic Ankle Boots for Women:
8. Cowboy Boots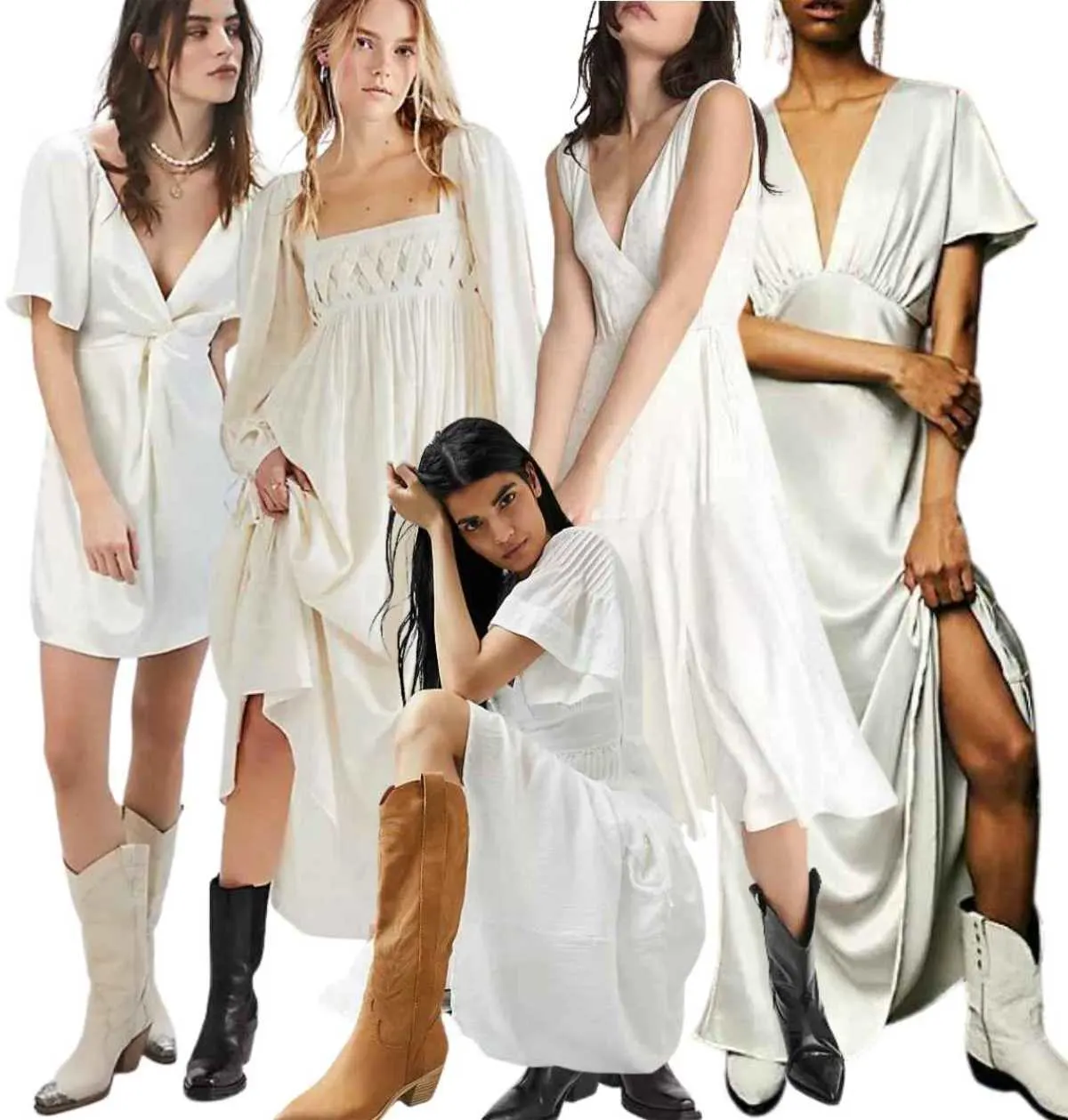 A white dress to wear with cowboy boots – whether black, white or brown will look amazing. The white dress styles doesn't really matter, as almost all will look great. I prefer a soft, flowing dress, no matter the length for a more country vibe.
For a more contemporary look, pair your cowboy boots with a structured dress, such as a shift dress, shirt dress or blazer dress.
Other Shoes to Wear with a White Dress
Of course, there are many shoes to wear with white dress that will create a fantastic look! Some other fashionable shoes you might want to consider when asking yourself what shoes to wear with a white dress:
Loafers: great for work or play
Brogues: perfect for the office
Sneakers: see my post about the best sneakers for dresses
Thigh high boots: to transition your little white Summer dress for Fall
Knee high boots: great to achieve that fashionable 70s look
Final Thoughts on Shoes for a White Dress
I hope this post has put you at ease about what color shoes to wear with a white dress, and which styles suit a white dress best for various occasions!
There is a huge selection of great shoes for a white dress, for sure. Which is your favorite? I love gold strappy shoes, both flat and heeled with white dresses for summer. During winter, I love pairing beige suede boots with sweater dresses!
xo ShoeTease