If you're looking for how to wear ankle boots with dresses in different styles, colors and dress types, you've come to the right place!
Ankle boots are the fashion darling of all boots. Of course, they are the go-to boots to wear with dresses – all sorts of dresses!
These are amazingly versatile boots to have in your closet. I've even included them as an essential item in any woman's capsule shoe wardrobe!
Ankle boots can be styled with a variety of dresses for many occasions. You can vary the look by wearing – or not wearing – socks, stockings and leggings.
In this post here at shoe-tease.com, I'm here to show you how to wear ankle boots with dresses so you look chic and contemporary!
Whether you're rocking a little black mini dress or a flowy white maxi, an ankle boot out there will perfectly complement your look. So grab your favorite pair of ankle boots and let's get started!
How to Wear Ankle Boots with Dresses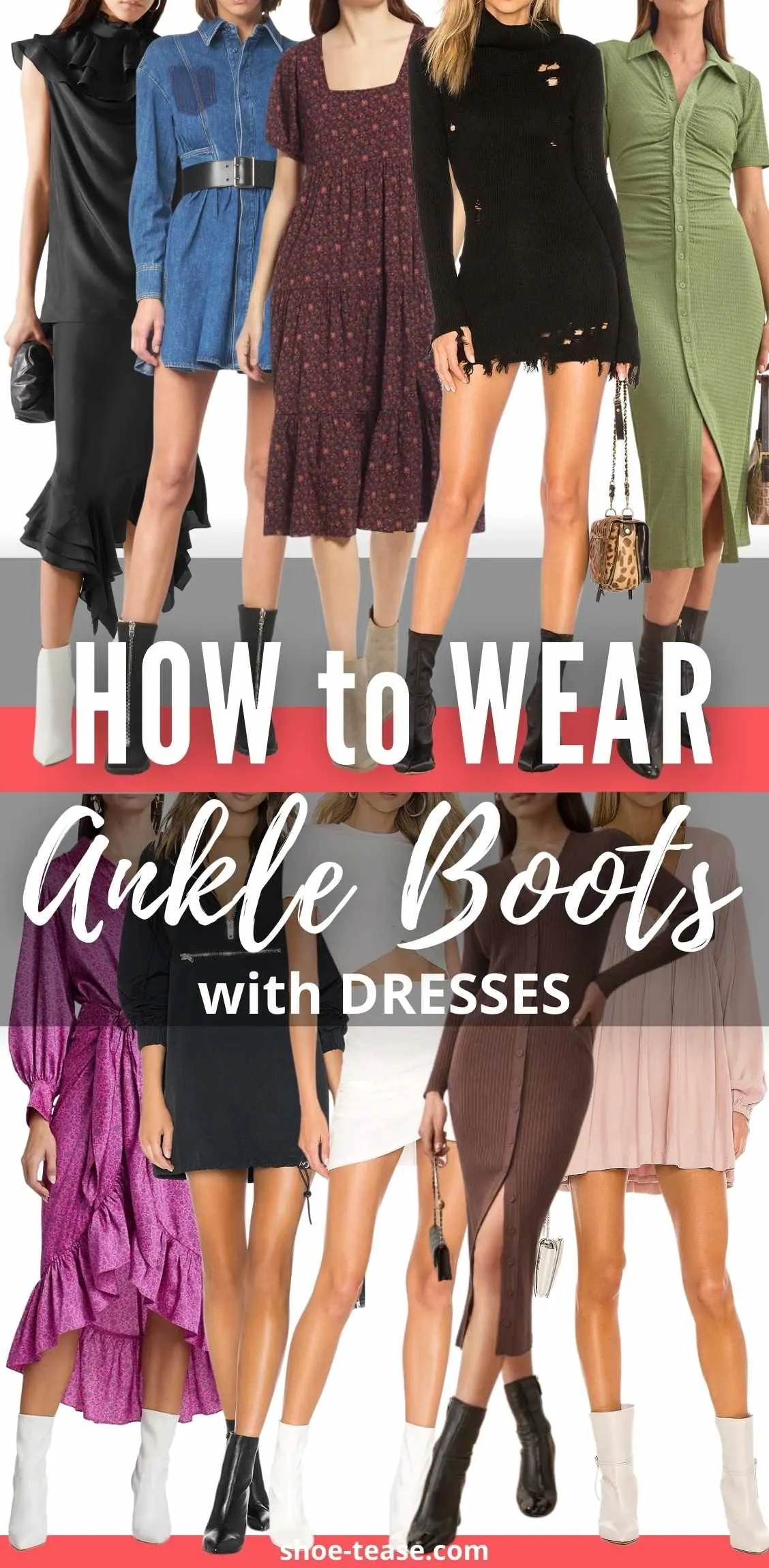 There are many different types of women's boots. They come in many shapes, widths, heights and heel sizes. Classic, stylish ankle boots today have an almond or pointed-toe shape and end right above the ankle.
That said, squared toe shapes are making a comeback and will give an outfit a more edgy look.
The most popular ankle boots have a side zipper, are slip-on or have elasticized sides, similar to Chelsea boots.
Slick, black leather, patent leather or sock ankle booties with a pointed toe and stiletto heels are great for fancy dress pairing.
Earth-tone suede booties with block heels make for a more casual look. Specifically, if they are lower vamp boots that show the ankles. Slouchy and western-inspired suede ankle boots will also give off a more laid-back vibe.
And don't forget about animal prints! Suede, or pony hair leopard print ankle boots or leather printed snake ankle boots will make a statement with or without a heel. Particularly with shorter dresses.
Of course, combat boots, Chelsea boots and high lace-up heeled booties are all considered 'ankle boots' if they end at or around the ankle.
Where to Shop for Ankle Boots:
Shop Classic Ankle Boots for Women:
How to Wear Ankle Boots with Various Dress Lengths:
Ankle Boots with Midi Dresses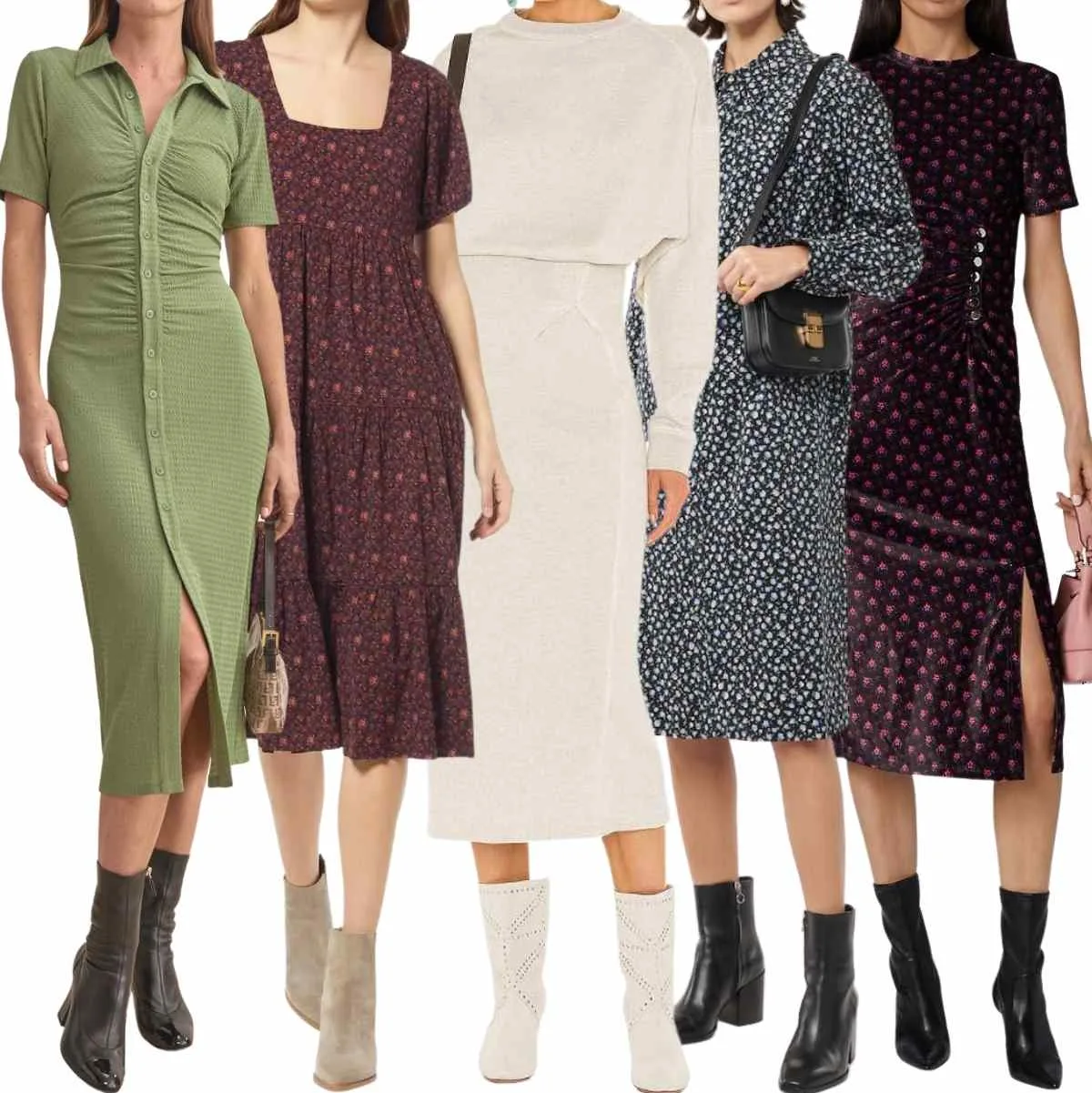 You might wonder if you can wear ankle boots with a midi dress. The answer is yes, but it depends on the style of both the dress and the boots.
Your height is also a factor since midi dresses make you look shorter. Wearing calf-length dresses with certain types of ankle boots can be tricky. But if you choose the suitable styles, it can be a great look!
How to Wear a Midi Dress with Ankle Boots
Tight, sleek ankle boots will work with any type of midi dress. That's because these are shoes that go with everything! Other ankle boots with midi dresses can be tricky, though.
That's because styling midi dresses with ankle boots can make your legs look shorter. Avoiding dresses that end at the largest part of the calf can help. The combo may make you look squat if you're a petite lady and choose lower-heel or clunky ankle boots.
In general, midi length dresses look best with tight-fitting high-heeled ankle boots. Knock-length boots with a midi dress are better if you're a petite woman since they won't visually crop your legs.
Ankle Boots with Mini Dresses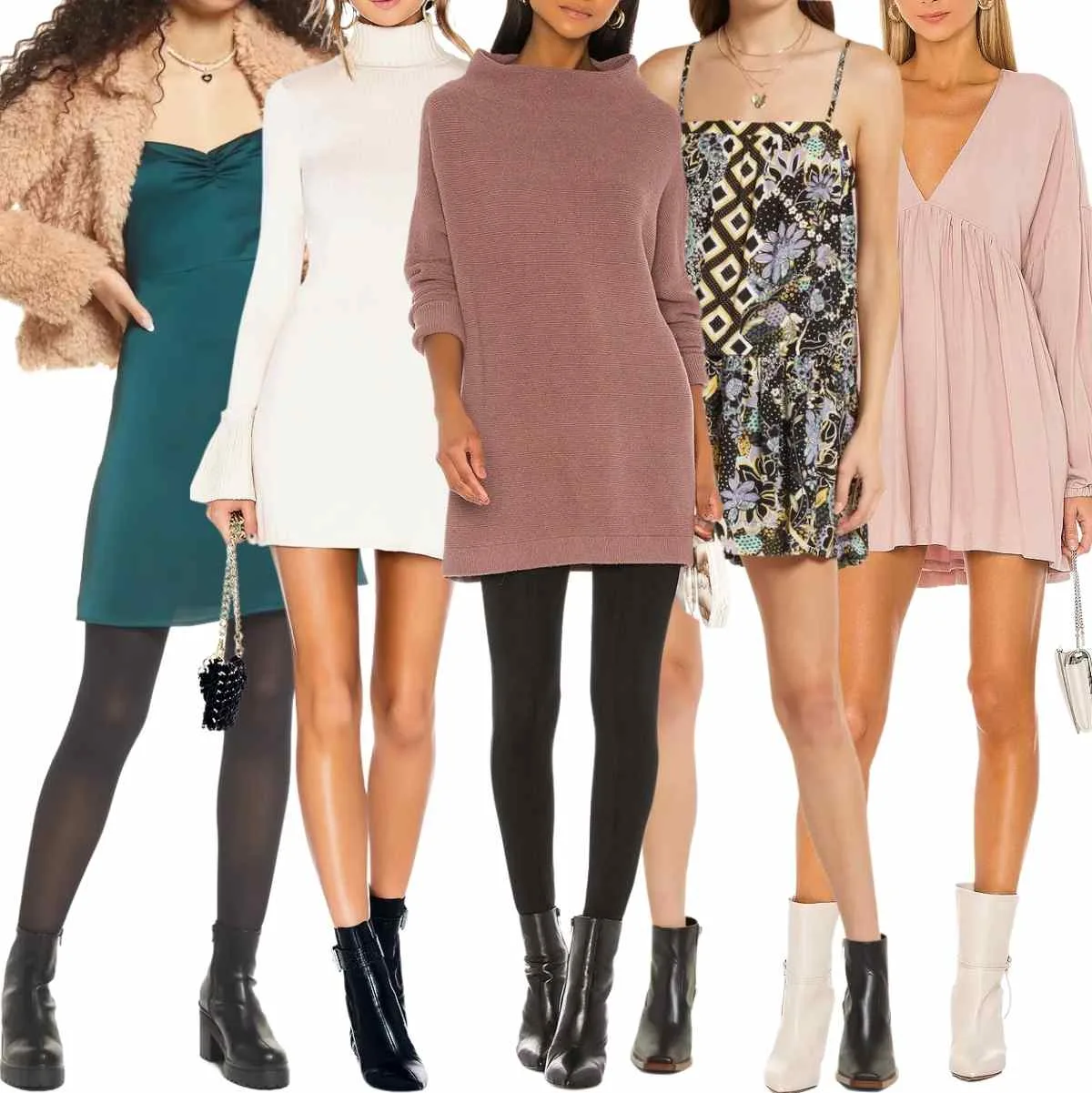 Ankle boots are some of the most versatile types of boots for women. I love wearing short dresses with boots, but ankle boots are an excellent choice for all kinds of mini dresses.
You can elevate or dress down your short frock by pairing it with different styles of ankle boots. The overall look will depend on the type of boot, the heel shape and material.
How to Wear Short Dresses with Ankle Boots
Try black or patent leather ankle boots with a pointed toe and delicate heel for a fancy mini dress. For a softer look with a more casual sweater dress with ankle boots outfit, go for an Earth-tone suede bootie with block heels.
Animal print ankle boots will add some cheeky fun! Think leopard print or reptile prints that are flat or with a heel.
If it's chilly outside, you can wear leggings that match your dress or boot color, tucking them into the boots.
A pair of semi-sheer pantyhose is also an option. For a more casual look, add a pair of socks in tone with your boots, or pop on sporty crew socks that peek out of the ankle boots.
Check out my post all about the best socks for ankle boots for more styling tips!
Ankle Boots with Maxi Dresses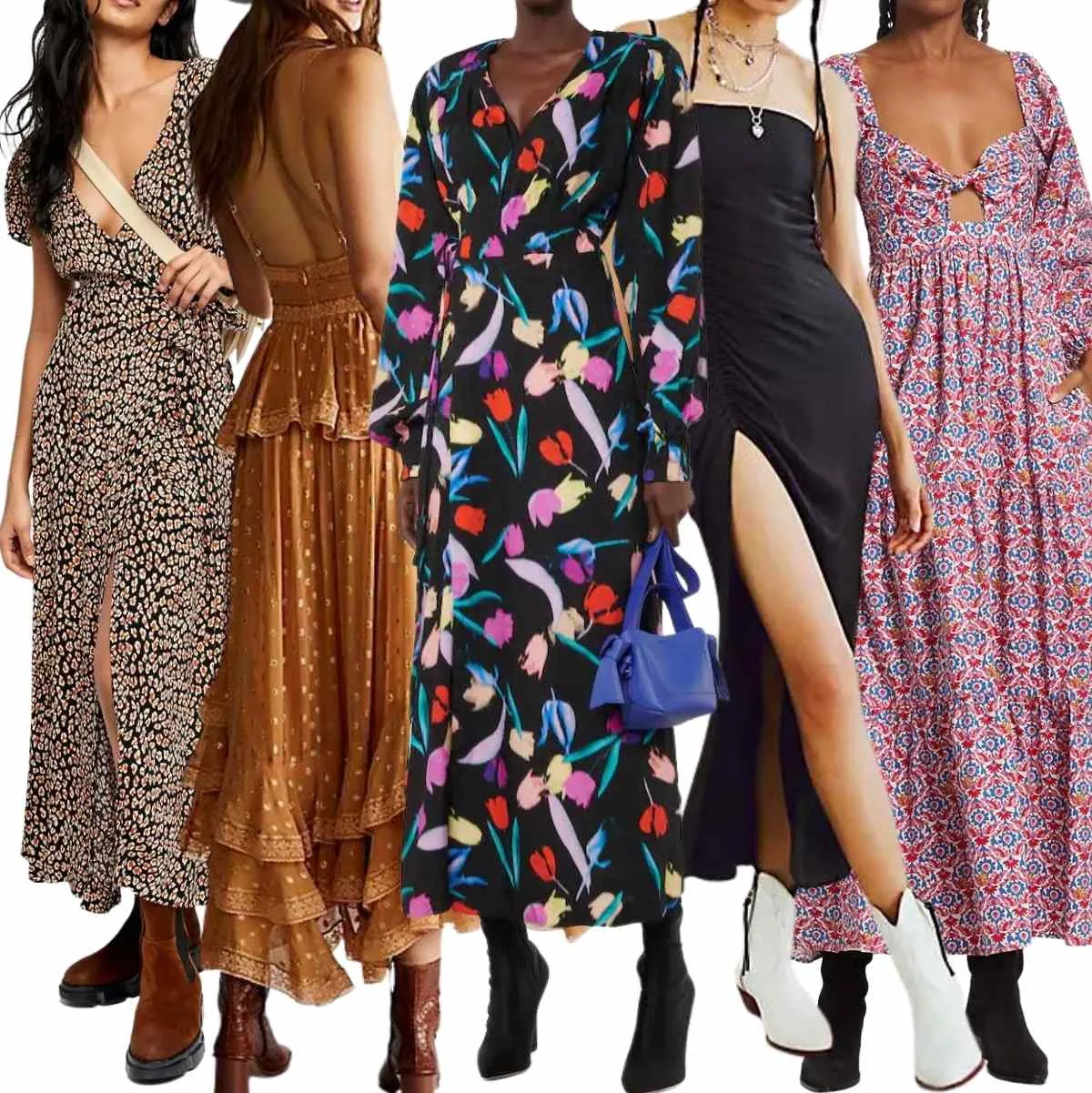 If you want to make a statement this season, there's no better way than in an elegant or bohemian maxi dress.
You can wear a long sundress or a more summery dress with ankle boots, adding a sweater or jacket for a transitional season look!
How to Wear Ankle Boots with a Maxi Dress
Lower-ankle boots look great with a long dress. However, if you want a more dramatic look, you can have fun with a fun dress and a trendy platform bootie à la Bowie!
Or give off boho vibes with a pair of western booties! You can also wear a taller ankle boot with a not-full-length maxi that hides under your dress. Chelsea-style ankle boots will add a rugged edge to even the most feminine of dresses.
Add a pair of sleek leather or socks booties with a pointed toe to dress up your maxi dress. These are an excellent replacement for pumps or sandals when you want to keep your ankles warm!
Read my maxi-dress-specific post for all the best shoes to wear with long dresses.
How to Wear Ankle Boots with Dresses and Tights & Leggings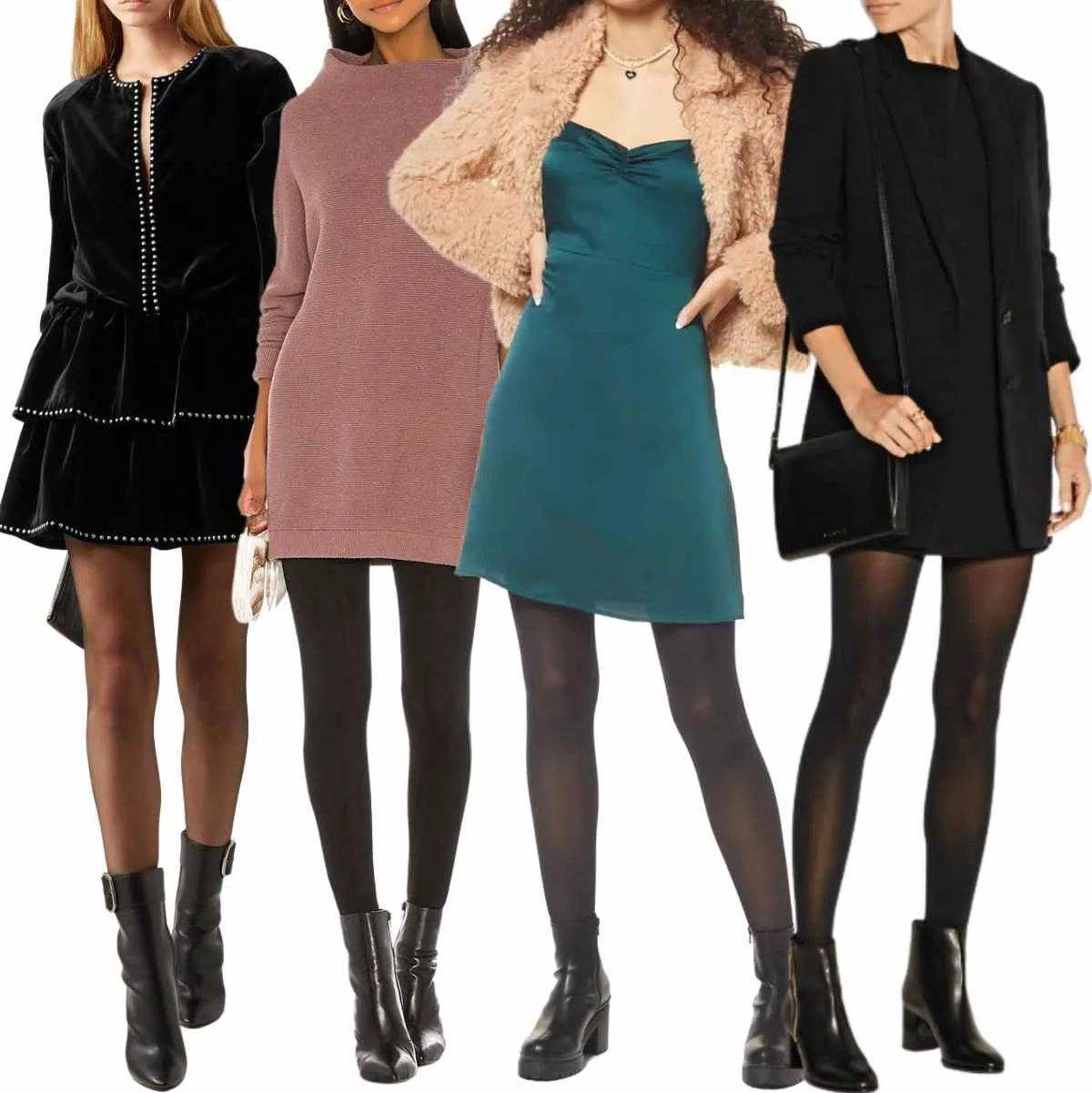 Whether you're opting for a pair of thicker leggings, opaque or sheer tights, there are quite a few ways to wear dresses with ankle boots and tights.
Ankle Boots with Dresses and Tights
I love semi-sheer tights with short or side-slit midi dresses. Black tights will always be my favorite, but light grey or white tights can work for some outfits too.
To elevate any mini dress for an event, pick a pair of sheer black tights with metallic sparkle. These will look great with a little black or white dress.
Ankle Boots with Dresses and Leggings
Leggings pair well with very short dresses and ankle boots to add coverage and warmth during cooler temperatures. I love them with sweater dresses too.
For a seamless look, opt for a pair of leather leggings that match your ankle boots or a pair of matte black leggings that match suede booties.
Always choose leggings that are tight on the legs. Any baggy areas will look like you're wearing oddly structured pants. Ensure the leggings are long enough to tuck into the boots and won't pop out when you walk.
Alternatively, you can wear leggings that end above the ankle with lower boots for a 90s vibe with an off-the-shoulder knit dress! Or, add a pair of slouchy or contrasting socks that pop out of your boots.
These will add warmth and/or act as a 'patch' between the boots and leggings.
How to Wear Specific Ankle Boot Colors with Dresses:
How to Wear Black Ankle Boots with Dresses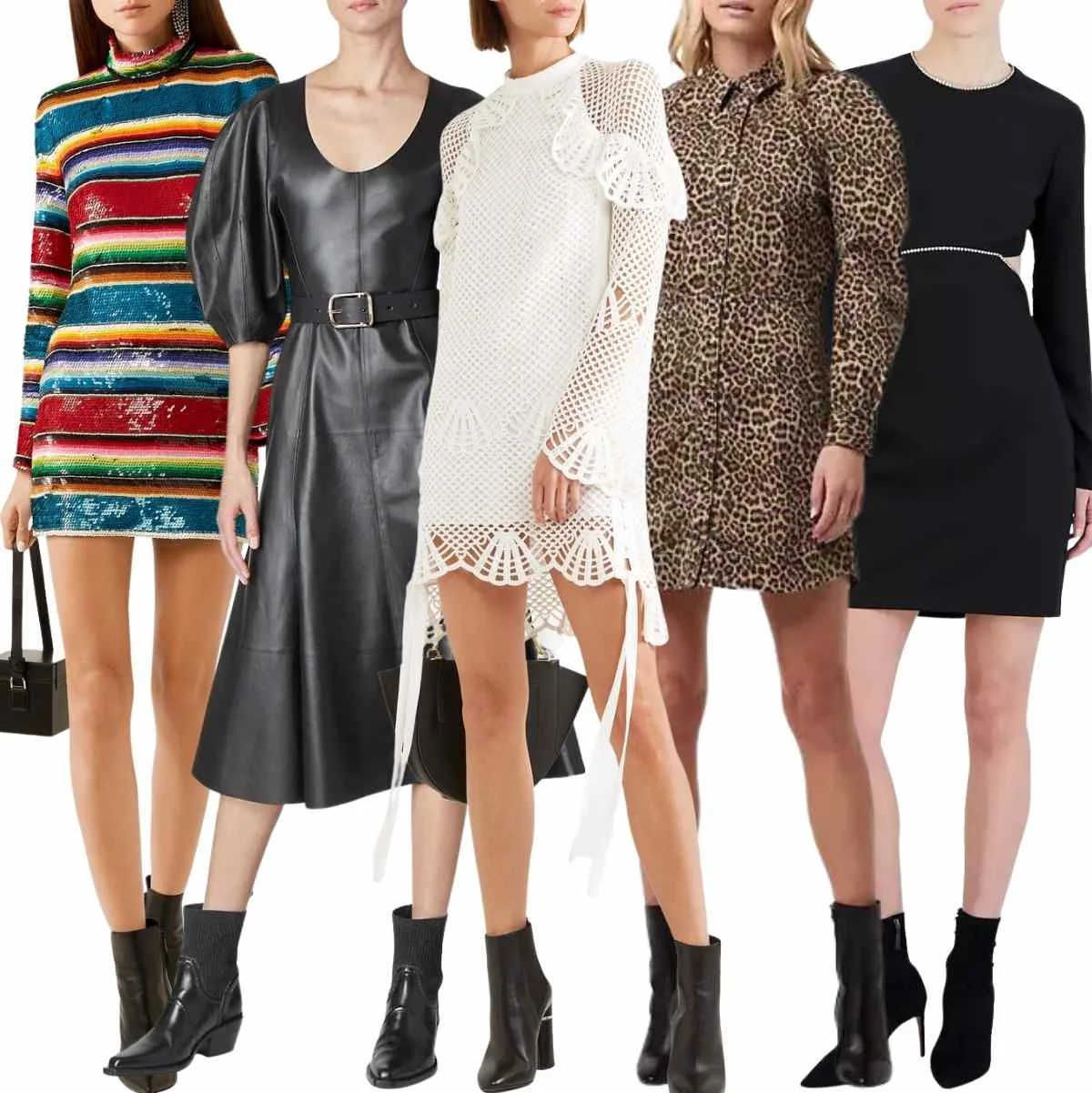 Wearing black ankle boots with a dress is one of the easiest and most versatile ways to style them. You can wear them in any color or dress, and they'll look great.
Of course, the style of ankle boots can dictate the look. Wide ankle boots, such as slouchy or Western styles, will make your outfit more casual, especially in opaque black materials.
Sleek, pointed toes, stiletto heels on a tight black bootie will elevate any look. If the material is patent black, even more so! For an added edge, try black studded or jeweled ankle boots for fancier occasions.
How to Wear Brown Ankle Boots with Dresses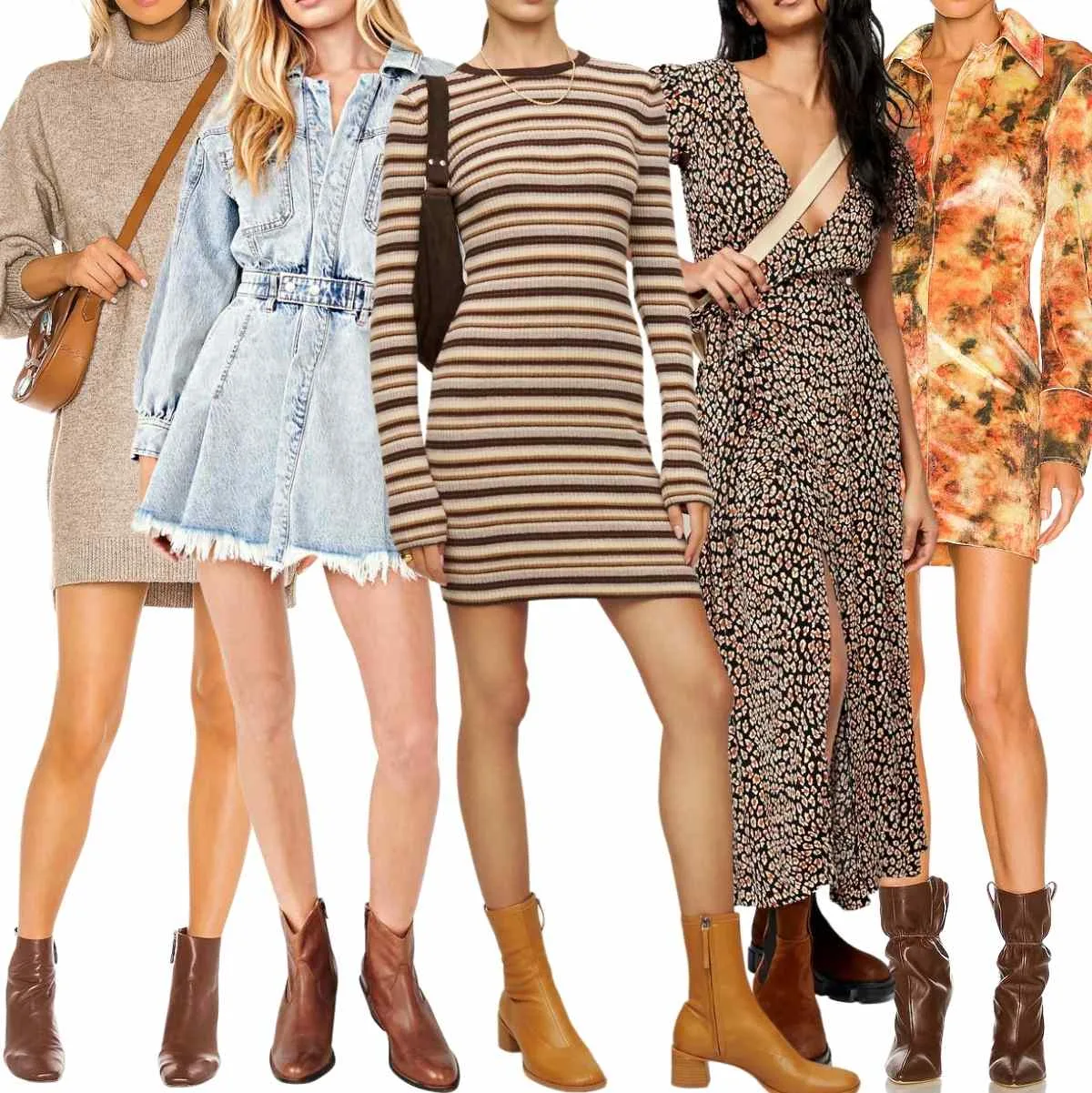 Brown ankle boots can be a little trickier to style than black, but they're still a great option for fall. Pairing them with a denim dress or soft sweater dress is always a good bet!
If you want to get a little more daring, try pairing brown ankle boots with a printed dress in beige, orange or other warm tones. A leopard print dress is always a good choice!
Brown ankle boots can make any dress a boho look if it has some fringe, slouch, or a cowboy vibe. Especially if you add a western-buckled belt and/or layered jewelry. A floppy hat is optional!
How to Wear White Ankle Boots with Dresses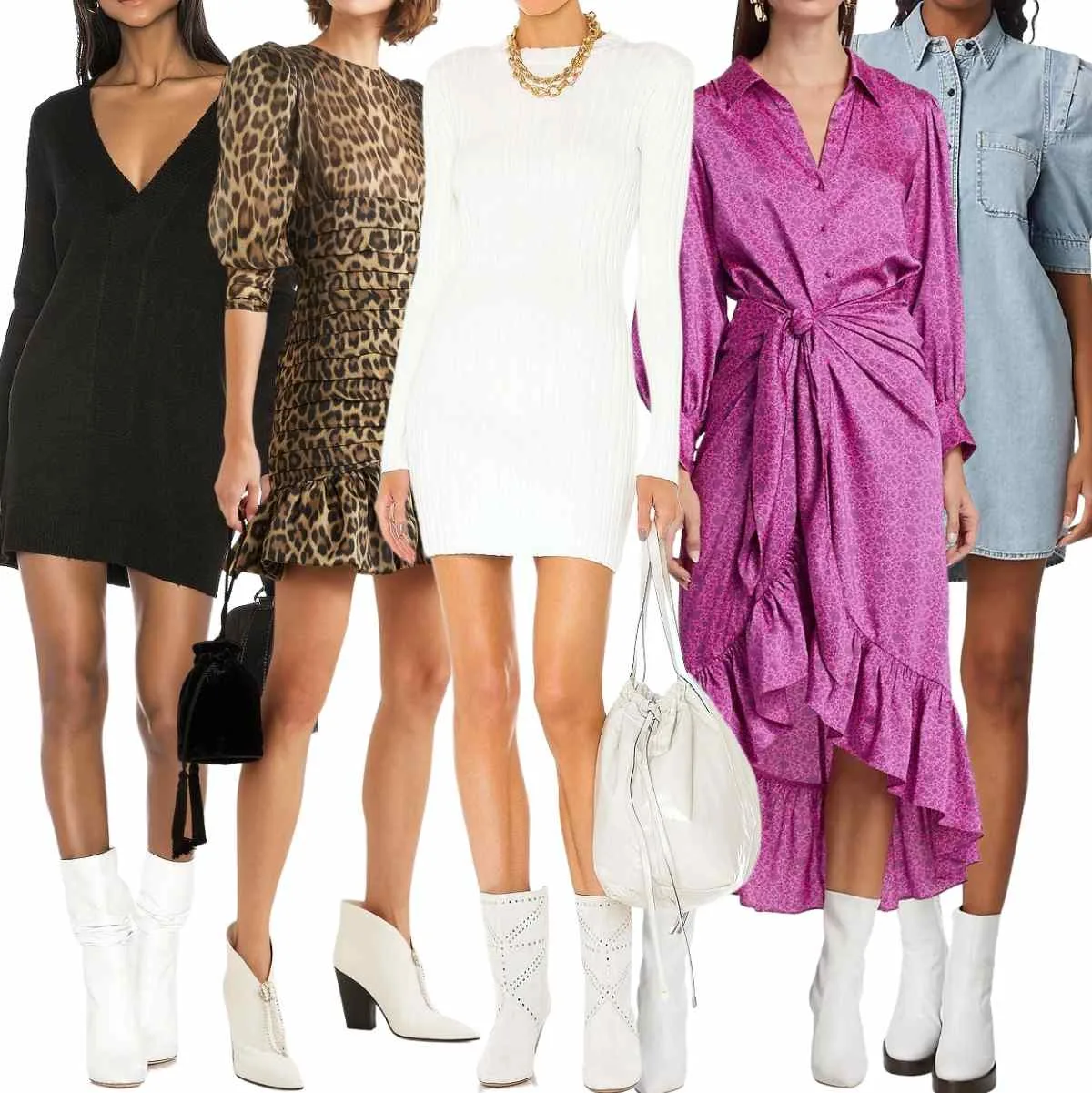 White ankle boots are having a moment right now, and there's no better way to rock them than with a pretty, flowy dress. They'll add just the right amount of edge to a feminine look.
You can add them to a total white look, or soft pastels. Or contrast your white boots with a brightly colored outfit or contrast to the extreme with a little black dress!
White ankle boots make great alternative wedding shoes for the unconventional or winter bride.
Learn more on how to wear white boots, including white ankle boots with all kinds of outfits in my dedicated post!
How to Wear Ankle Boots with Various Dress Styles:
How to Wear Ankle Boots with Bodycon Dresses
Bodycon dresses are tight-fitting dresses that show off your curves. They're typically made short, but you can also find them in midi lengths with or without a front/side slit.
To elevate a bodycon dress for a chic night out, choose a pair of slim, high heeled ankle boots so they don't throw off the proportions of the dress. A longer-sleeved dress will balance the look, as well as a voluminous cropped jacket.
With more casual bodycon dresses, like sweater dresses or to play down a fun sundress, opt for low or block heeled ankle boots or a combat boot style. Throw on a leather jacket to add some edge!
You can also match white ankle boots with a cut-out white dress to glow all night in a club!
How to Wear Ankle Boots with a Shirt Dress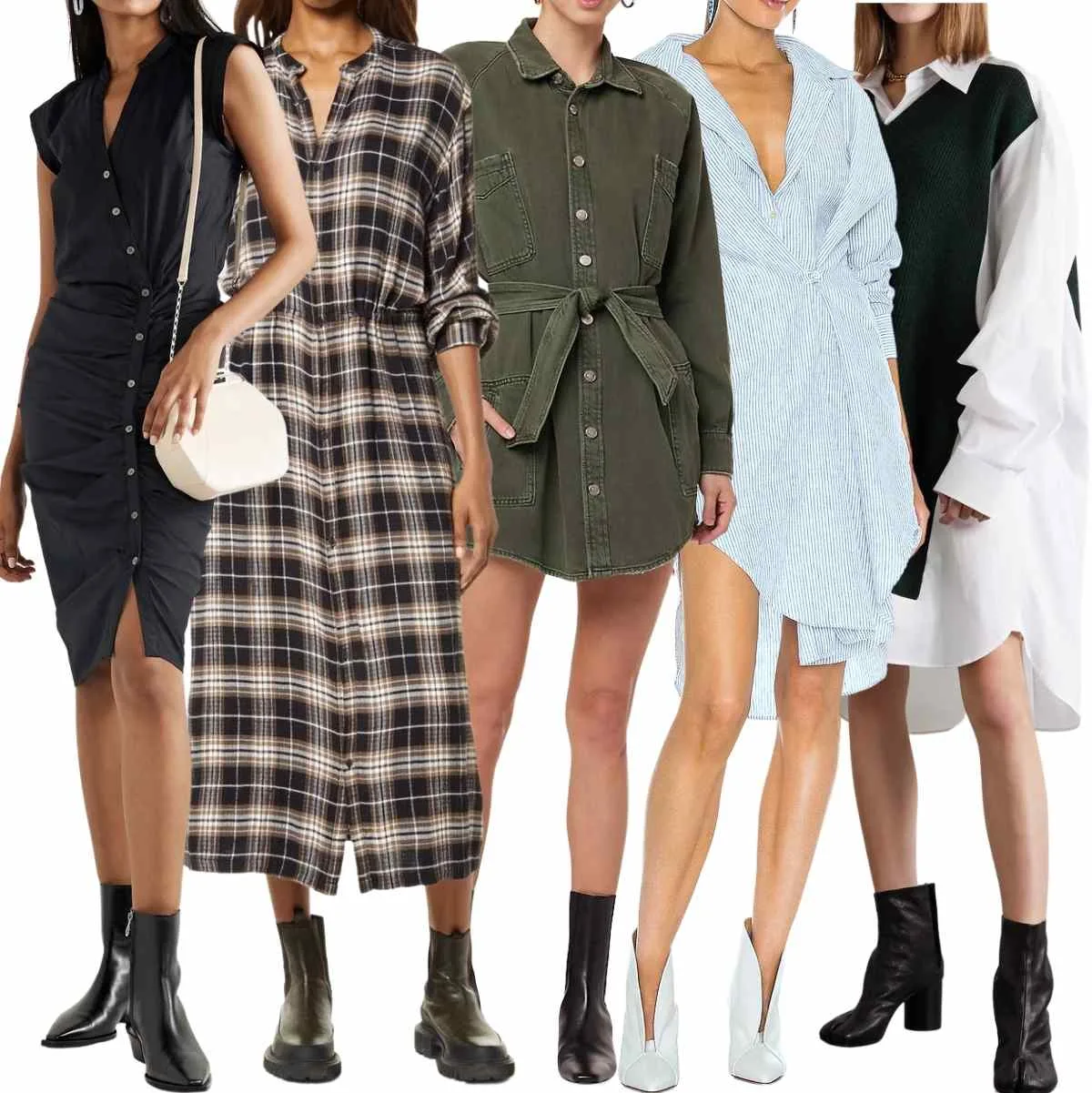 Ankle boots with a shirt dress look great together. Especially if the shirt dress is short, three-quarter length or a side/front slit maxi shirt dress.
Ankle boots will dress down your shirt dress and make a great pairing for classic shirt dresses in an office setting.
Choose matte black or patent ankle boots with a pointed toe to elevate your look. If you want to wear a more casual outfit, reach for brown, tan or beige suede bootie with a block heel. These tones look great with a khaki shirt dress.
I love adding printed ankle boots with a white shirt dress in beige and tan tones. Styled with an oversized vest and a classically structured purse, you will look fabulous!
Check out my posts on how to style a shirt dress and all the best shoes to wear with a shirt dress for more styling options!
How to Wear Ankle Boots with Sweater Dresses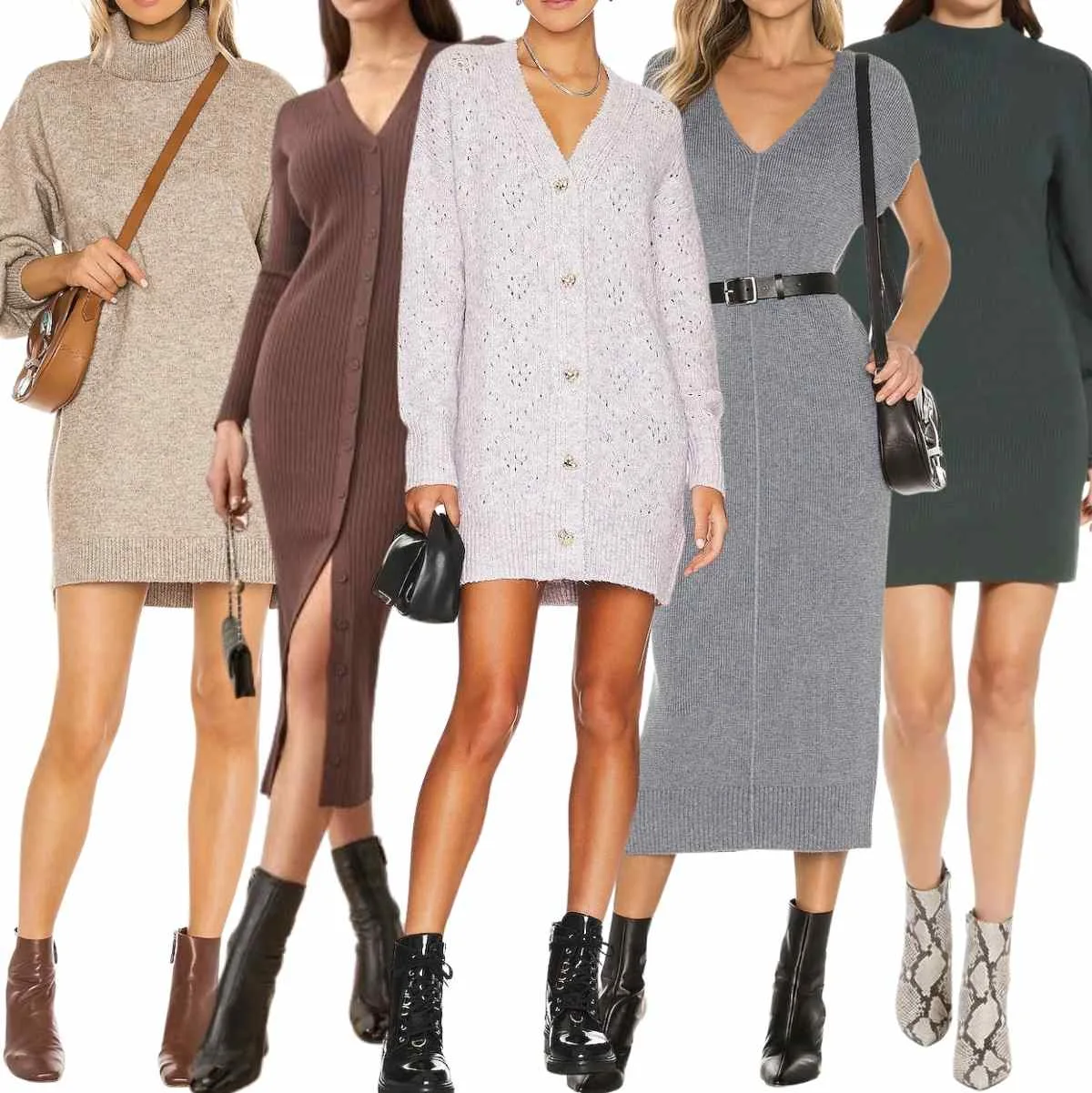 Ankle boots look good with mini to maxi sweater dresses that are either boxy or tight.
With mini sweater dresses, wear leggings that match your dress or shoes, or you can wear hose or leggings. If it's not too cold, you can wear socks that pop out above your boots.
I love speckled socks, myself for fall, but thin, dainty socks will also add some nuanced appeal!
Maxi sweater dresses also look great with flat ankle boots for a casual outfit. Make sure there is enough space between the boot top and the dress' hem so that it doesn't get caught on the boots as you walk.
That's why lower ankle boots are better. However, you can bypass this "rule" by wearing a wide sweater dress style with a front or side slit.
Want to elevate your look? Pair your sweater dress with tight ankle boots like stiletto satin sock booties, and add a small metallic purse to make a statement! Learn how to wear sweater dresses with boots, here.
How to Wear Ankle Boots with a Denim Dress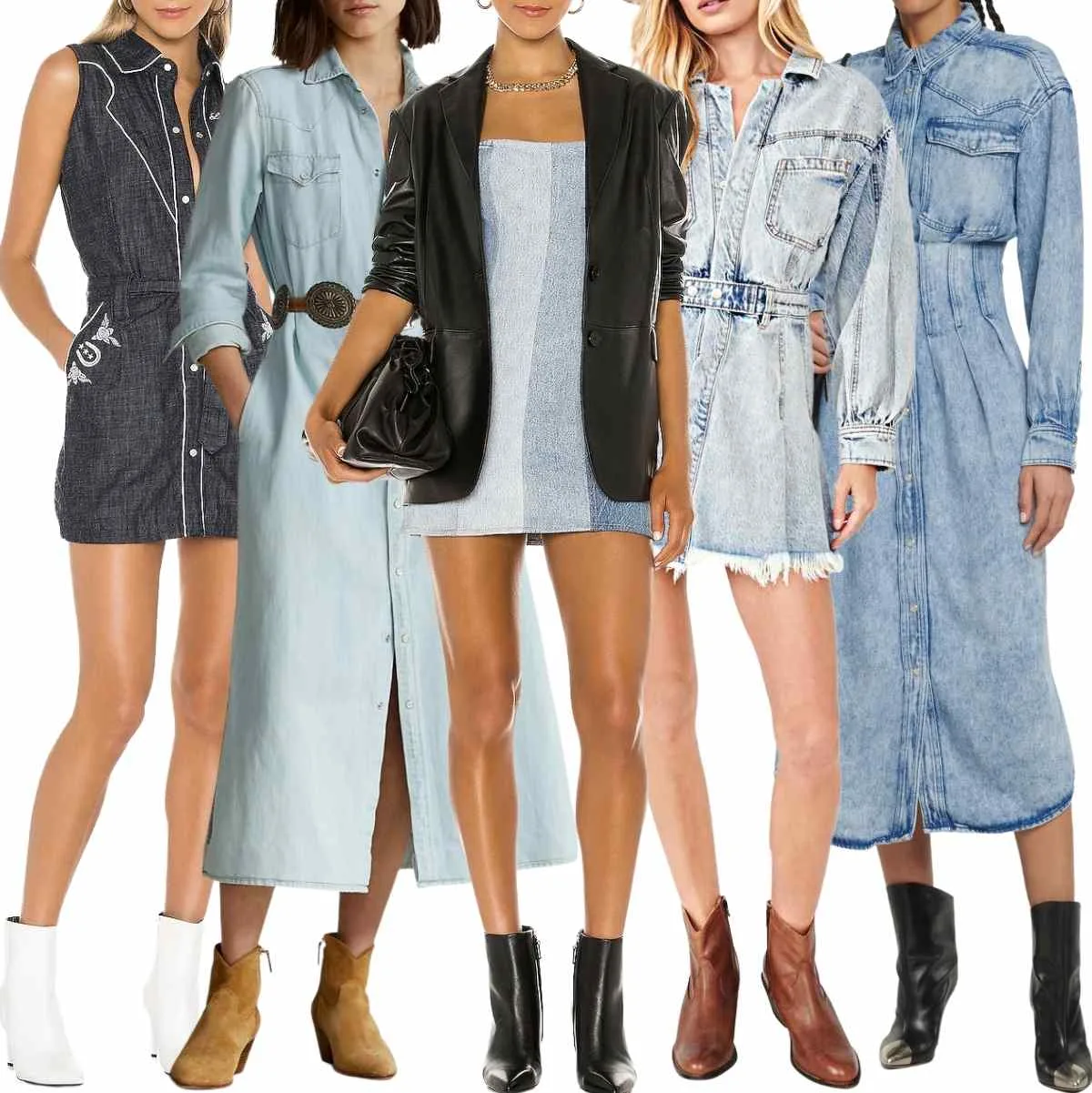 Ankle boots are great shoes to wear with denim dresses. They are an easy-to-wear to complete any denim dress outfit for fall or spring!
Your denim dress and ankle boots will look great in neutral boot shades such as black, tan, beige or brown.
You can have some fun with darker denim dresses and leopard print and studded booties for fall. For summer, you can choose perforated or cut-out ankle booties too.
You can't go wrong with either a western-inspired ankle boot or a slouchy tan, heeled ankle boot! Most casual style purses, like a crossbody and minimal jewelry, will complete your look.
How to Wear Ankle Boots with Cocktail Dresses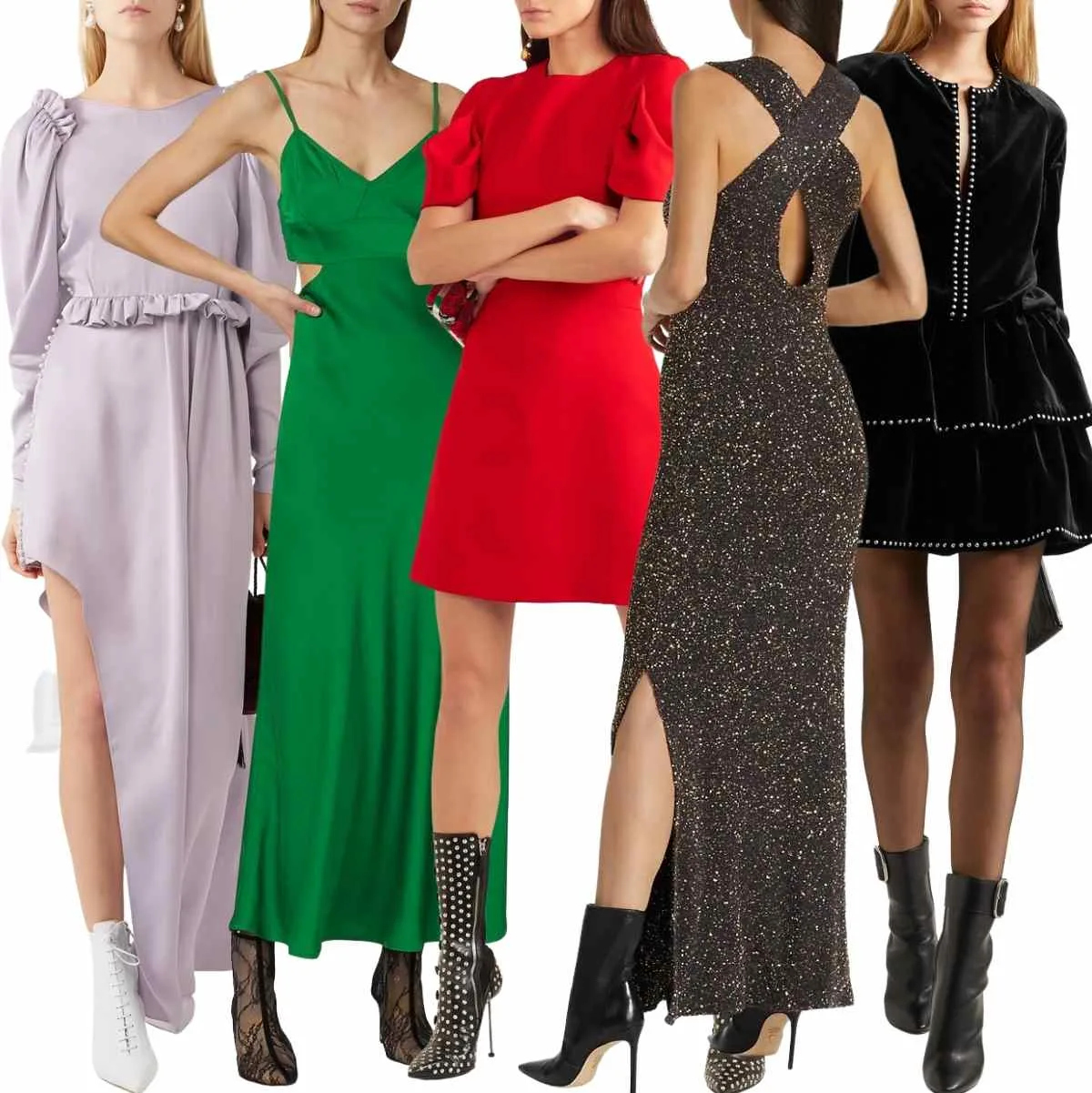 A gown or cocktail dress with ankle boots might not be on the top of your list, but hear me out! Ankle boots can certainly be dressed up for more formal occasions.
If you're wearing a cocktail dress, wear thin-heeled ankle boots in a similar color family for a cohesive look.
Black and nude high or kitten heeled booties are always safe bets. Try pairing lace or metallic booties if you want something different.
Simple-lined dresses with no added embellishments are a great canvas to style a festive look with your ankle boots! Try booties with glitter, studs or rhinestones, and a metallic clutch.
Of course, patent or satin ankle boots will always look amazing with any style of cocktail dress!
Ankle Boots with Dress Colors:
How to Wear Ankle Boots with a Little Black Dress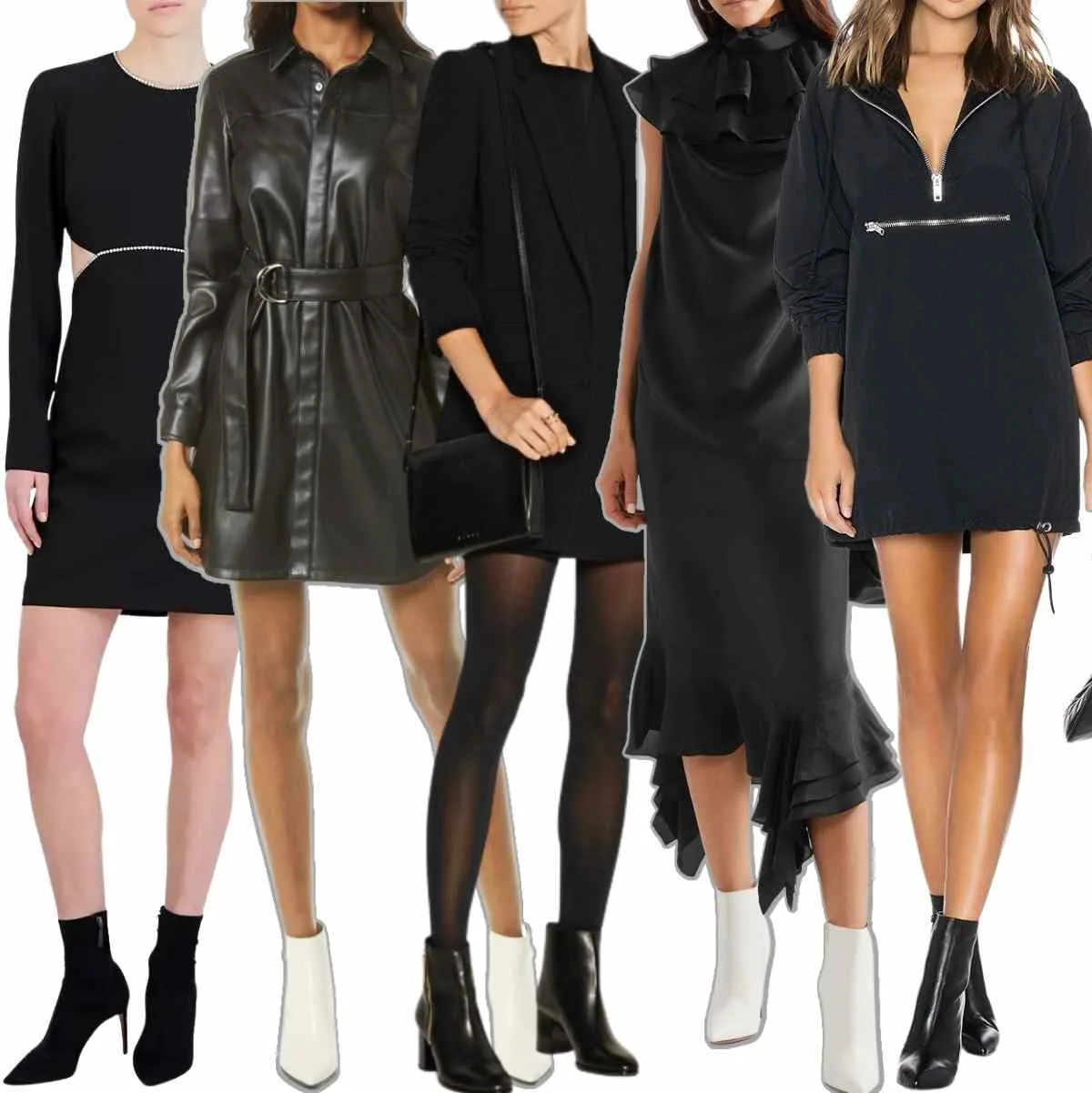 Every gal needs a little black dress in her closet! Luckily, this timeless piece goes great with ankle boots! For a classic look, pair your LBD with black boots.
Black studs are always a good idea to add some edge. If you want to add a pop of color, try wearing red or gold ankle boots instead.
Want to make a statement? High-shine metallics or animal prints are the go-tos!
You can also experiment with different textures, like pairing patent leather boots with a matte finish dress or vice versa. Check out my post with all the best boots and shoes to wear with a black dress.
How to Wear Ankle Boots with a White Dress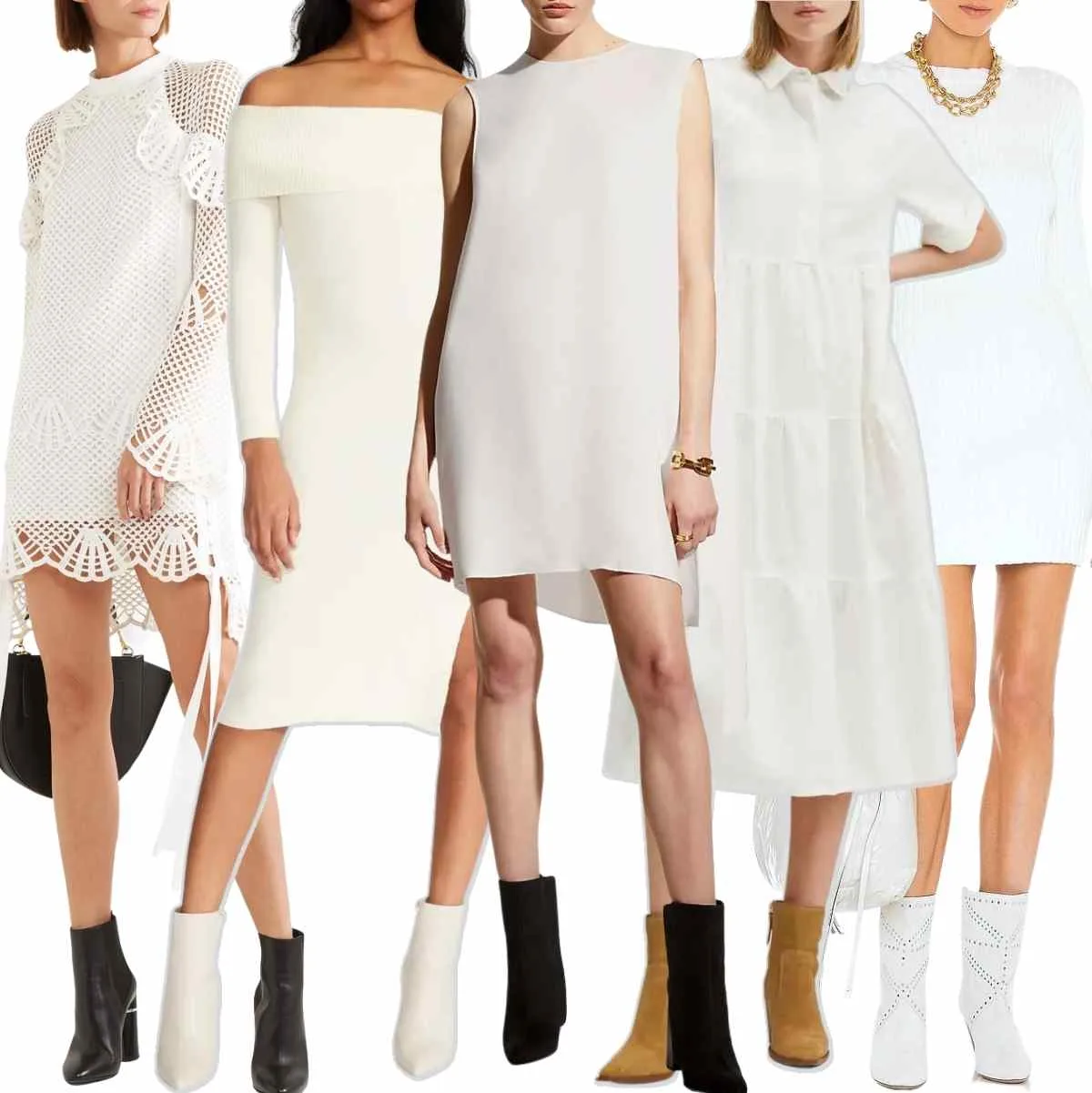 Wearing a white dress with ankle boots is the perfect way to add a touch of edge to your look.
Add silver stiletto ankle boots to subtle glam to your look. Or, contrast with a black, brown, or colorful yellow boot. These latter choices are great for casual dresses.
If your dress is made from a more delicate fabric like lace or silk, try blush, beige or skin-matching boots to avoid looking too harsh. White booties will also look fabulous with your white dress!
Check out all the best styles and color shoes to wear with a white dress in my dedicated post.
Final Thoughts on Styling Ankle Boots with Dresses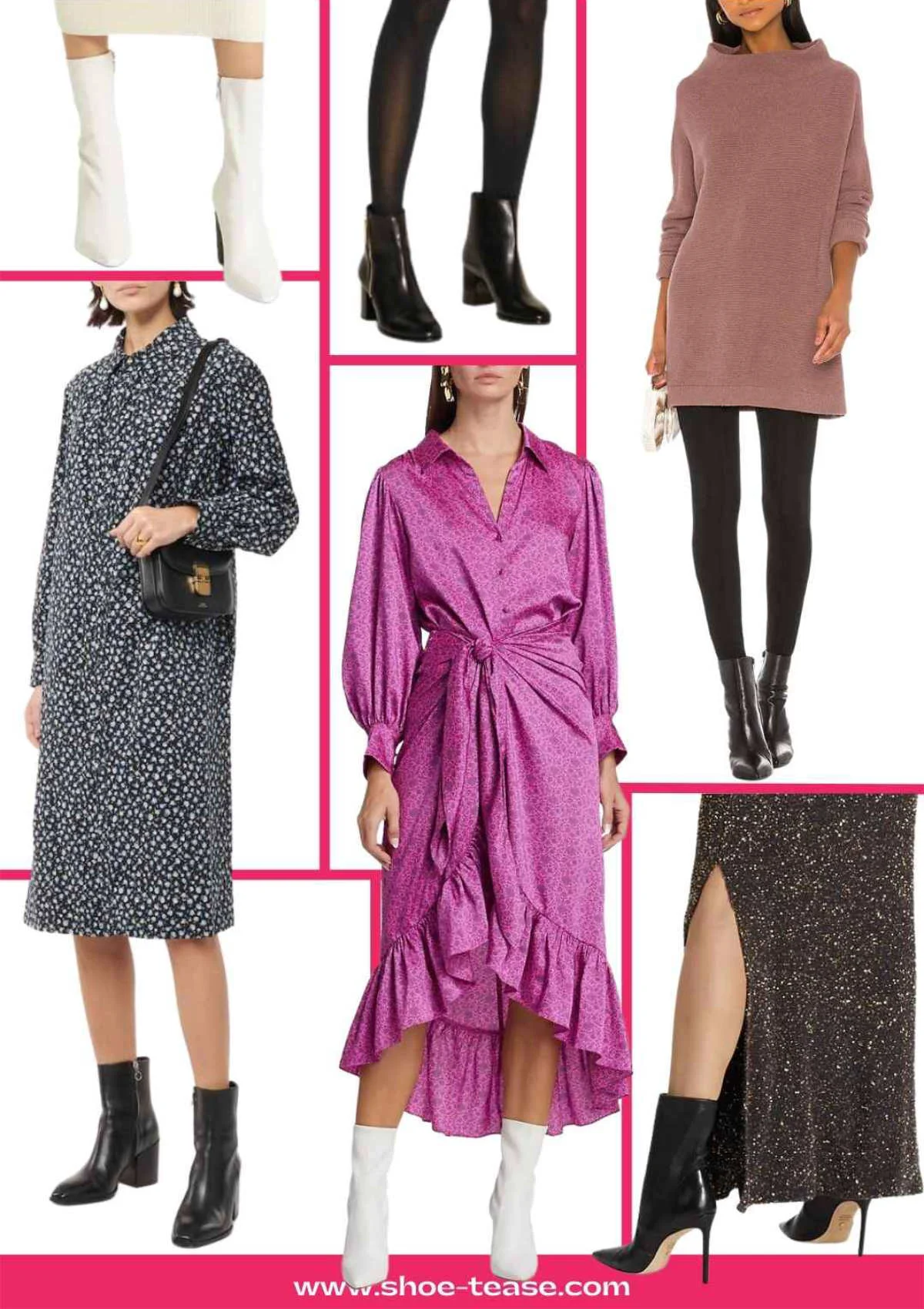 There you have it! These are just some ways to wear ankle boots with dresses from spring to fall and even winter.
I do how you've left this post feeling more confident about wearing dresses with ankle boots. Of course, as I always say, style is subjective; if a particular outfit appeals to you, wear it!
Shop Trendy & Classic Ankle Boots from:
Shop Classic Ankle Boots for Women:
xo ShoeTease