Cocktail dresses, like holiday style, come in many fabrics & finishes, so the shoe & dress combinations could seem rather endless. So here's an easy guide to finding the right shoes for various cocktail dresses & party frocks alike, so you can shine bright in your holiday party look!
The Best Shoes to Wear with Cocktail Dresses
One may think that sparkles & sequins are THE holiday party dress type. But there are sooo many more dress & suit fabrics that are cocktail party worthy, whether for a big bash or holiday party alike.
So in this post, I'm going to list off the best shoes to wear with a party dress, according to cocktail dress type. And the more festive the party, the more fun your cocktail party styling should be! Especially during the holiday season.
But if you're short on time & want the condensed version of my "what shoes to wear with a cocktail dress" post, you're in luck!
Essentially, the more ornate your party dress outfit, the simpler I would suggest your shoe choice. Want some fashionable staple shoe suggestions? Try a black pointed pump, minimal beige pump or stiletto ankle bootie. Even a neutral metallic heel like this one is a great choice. Below are some fave styles:
---
Simple, yet elegant cocktail dress shoes:

---
Conversely, if your dress is made of a solid, simple color & the dress style is classic and simple, you can take your holiday shoe game to the next level! This means flashy, voluminous, maybe even shiny, statement making footwear. Below are some fave party shoes of the moment:
---
Holiday Party Heels:

---
All the designer dresses featured in the dress images below are from Net-A-Porter, but I've linked to more reasonably priced dress & shoe options below in every dress category!
Shoes with a Simple & Sleek Cocktail Dress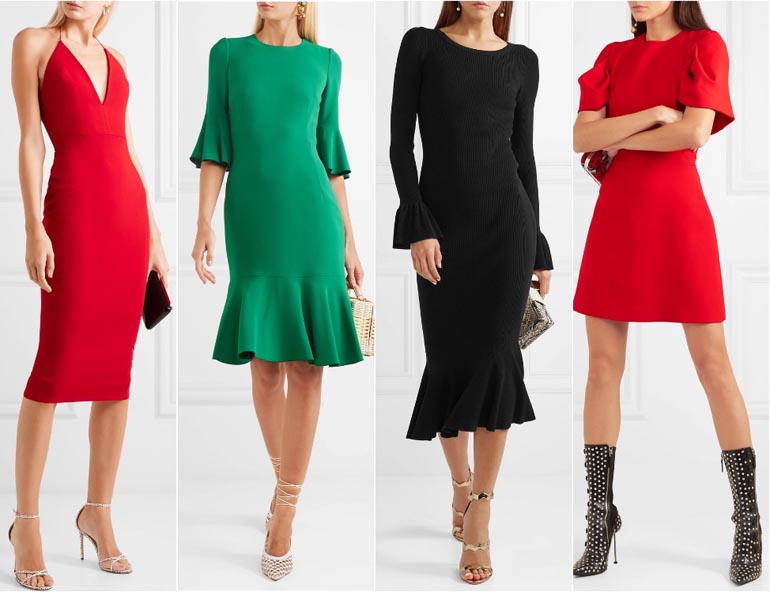 ---
Shop Simple Cocktail Dresses:

---
If you're going to wear a simple, clean lined dress with no extra embellishments as part of your holiday style, you can definitely play around with more festive shoes. Or a glittery, rhinestoned clutch!
You can go for the glitter or even feathered, bejewelled shoes, boots & sandals to make your maybe already luxe everyday, more casual dress more party-like & festive. Even super strappy shoes will make a statement here, if you're bedazzle shy!
If you want to keep your shoes simple, but still exude some party spirit, you can easily sink your feet into a patent or metallic boot, heel or sleek flat. Still shiny, but not as "crazy"!
This option is perfect if you're going from the office right to a holiday party & don't have time to change. If you're curious about what color shoes to wear with a specific color dress, check out more of my shoe and dress styling posts! Or read on below to style your black, red, gold or green cocktail dress for the holidays!
---
Shop Festive Shoes to Wear with a Simple Dress:

---
Shoes to Wear with Gold Cocktail DressEs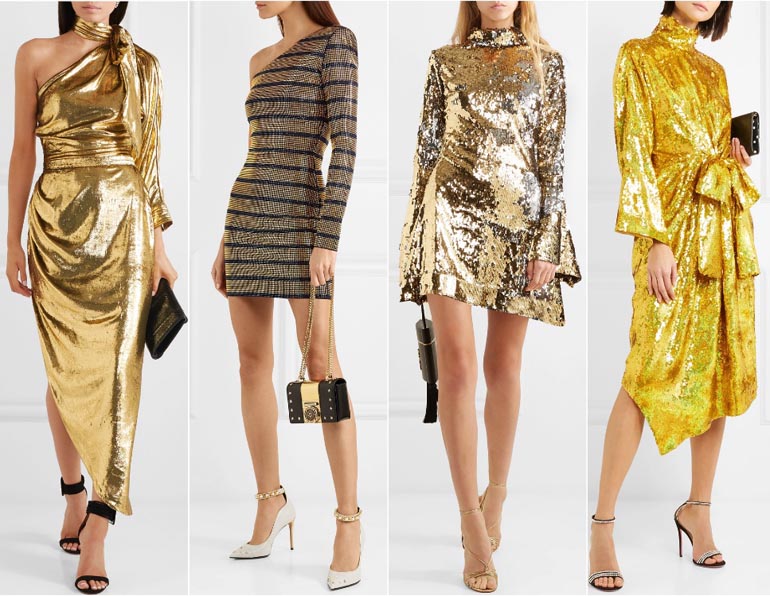 ---
Shop Gold Cocktail Dresses:

---
Gold, whether sequin, metallic or embroidered is a likely the most festive holiday cocktail dress you could choose to wear! It's a cocktail dress that will get you noticed.
That's why I would play it simple with the shoes style (basic stiletto bootie, strappy sandals, pointed pump are best). You can opt for black or white shoes. However, you can have fun with doubling the metallic fun. Maybe match a gold sequin dress with a matte metallic gold or silver shoe.
In the end, it's really what you feel most comfortable with & what flatters you and your dress best! Check out my comprehensive post with more info on what color shoes to wear with gold dresses.
---
Shop Shoes to Wear with Gold Cocktail Dress:

---
Shoes to Wear with a Lace Dress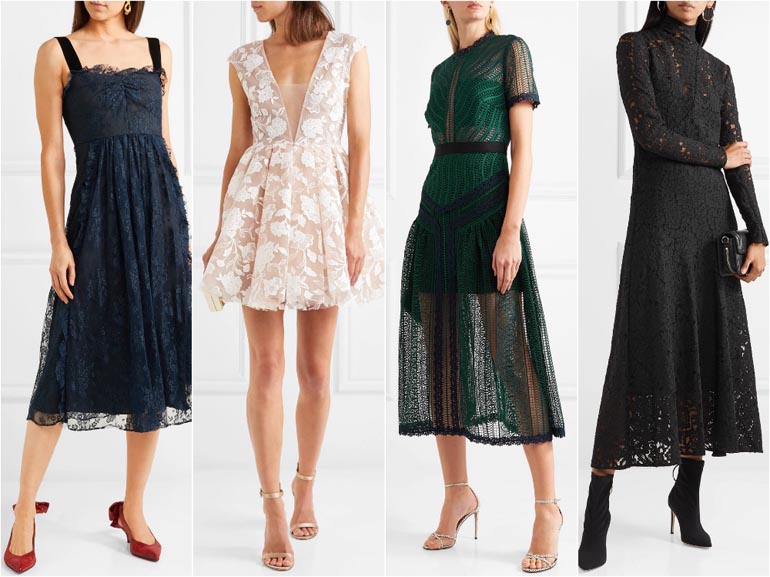 ---
Shop Lace Cocktail Dresses:

---
Whether you're looking to pair shoes with a black lace dress or a colorful one, there are many options. Since the dress itself is likely already ornate & busy because of the lace, a simpler shoe the standard route to take.
As a shoe type, you can pick a sleek stiletto bootie, pump or minimal sandal. You can decide to pair your lace dress with a satin, suede or leather shoe.
I would keep the color of your shoe with a lace dress simple and opt for a uniformly colored shoe (ie, no patterns or multi-colored). Patent shoes can definitely work & if you have some metallic in your dress, you can match it to your shoe color!
---
Shop Shoes for a Lace Cocktail Dress:

---
Shoes to Wear with a Plaid Dress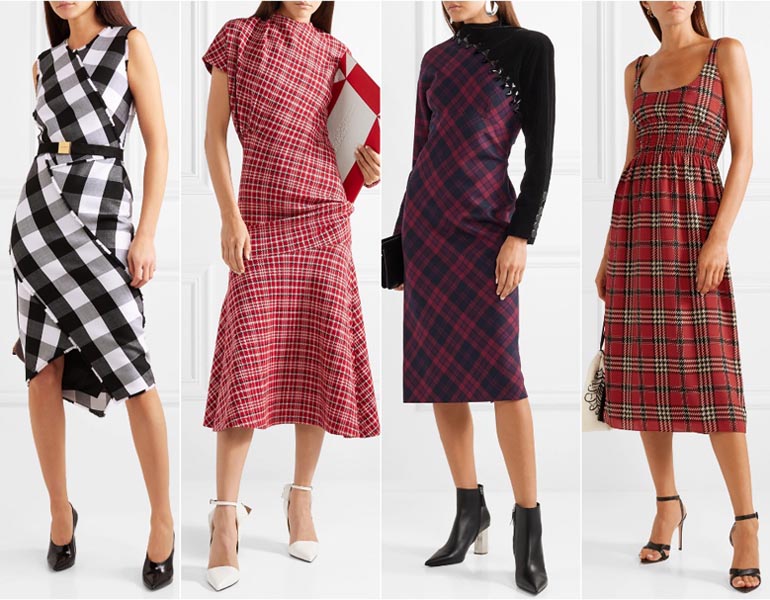 ---
Shop Plaid Cocktail Dresses:

---
Nothing says holiday time more than a plaid dress, am I right? How to wear a plaid dress really starts with what shoes to pair it with!
Since the pattern in your plaid dress is already busy, I would suggest wearing a uni-colored, non-metallic shoe. A fave is pairing is a black or white patent pointed pump or bootie, which adds the perfect amount of shine to your plaid dress outfit.
In terms of shoe color, why not match your shoes with a secondary color in your dress? If not, you can always opt for black, skin tone nude or white heels, which pretty much go with anything!
---
Shop Party Shoes for a Plaid Dress:

---
Shoes with a Sequin Dress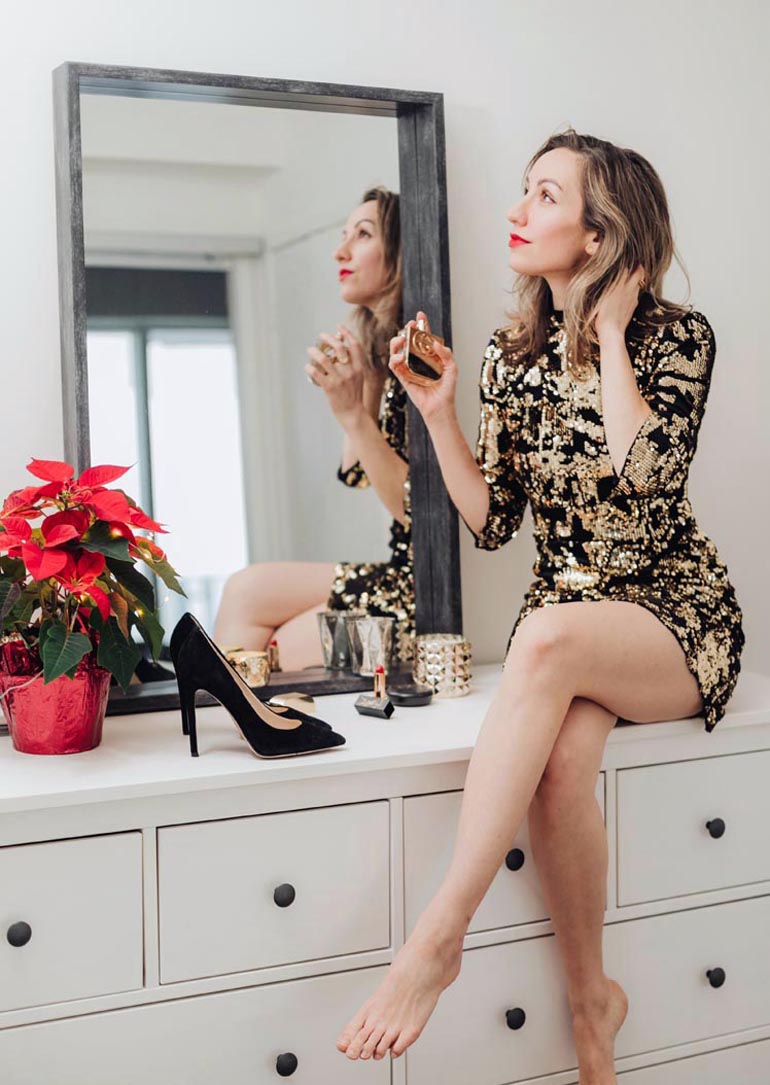 ---
Shop Sequin Party Dresses:

---
I've gone pretty in-depth about what shoes to wear with sequin dresses in a previous post, but here's the rundown: sequin dresses are high octave on their own.
Wearing flashy shoes with a sparkly dress is a tough styling choice, so unless you're a pro at overkill style, I would suggest keeping it simple. Plain stiletto boots, pumps, mules or simple minimal sandals work best.
If you want extra oomph, you can always opt for a metallic that matches your dress, especially at during the holidays & at any New Year's Eve party!
In terms of shoe color, you can go with black, white, or any metallic, really. You can even color match to your dress or opt for a contrast heel. Check out my guides on what color shoes to wear with what color dress posts.
---
Shop Shoes for Sequin Party Dresses:

---
Shoes For Black Cocktail Dresses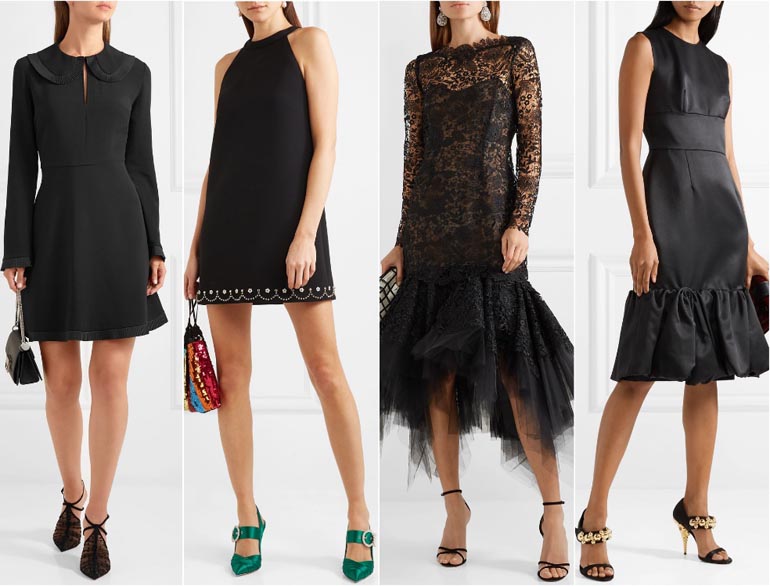 ---
Shop Black Cocktail Dresses:

---
So with a LBD, I really say go big or go home! A fun, embellished shoe in a contrast color & material is just so exciting for a cocktail outfit. However, if you feel like sticking to black, why not choose a lace or bejewelled little black shoe?
Of course, the more ornate, the more simple your shoes should be. Technically. So if you're dress is fringed/laced/frilly to the max, a simple strappy heel such as these pretties from Sam Edelman are a basic that will look refined & polished.
However, you can always opt for a simple strappy sandal with an ornate black cocktail dress. These gorgeous metallic sandals by Paige, for instance. Or even a minimal red or green sandal!
For more color choice, please visit my post where I chat about what color shoes to wear with a black dress. More on what shoe styles to wear with a black black dresses <– here. Below are some fave black dress & shoe pairings:
---
Shop Shoes for a Black Cocktail Dress:

---
Shoes with a Red Cocktail Dress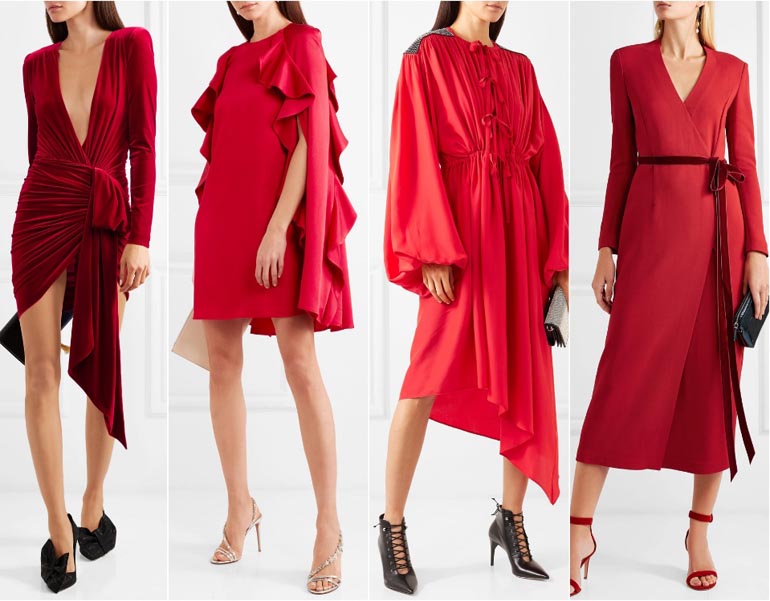 ---
Shop Festive Red Cocktail Dresses:

---
Of course your shoe choice with a red dress will depend on how ornate your dress is! However, in term of color, red dresses pair really well with metallics (silver, gold, pewter), black & white. If you're going holiday tacky, this is your chance to pair your red dress with a green shoe!
Since red is a bold color, I would keep the shoe fabric simple, opting for suede, leather, velvet or satin. If the red dress is quite simple, you can go crazy with strappy heels and more intricate shoes.
I have a full post dedicated to what shoe color to wear with a red dress, if you're interested!
---
Shop Shoes for a Red Festive Cocktail Dress:

---
What Shoes with a Velvet Cocktail Dress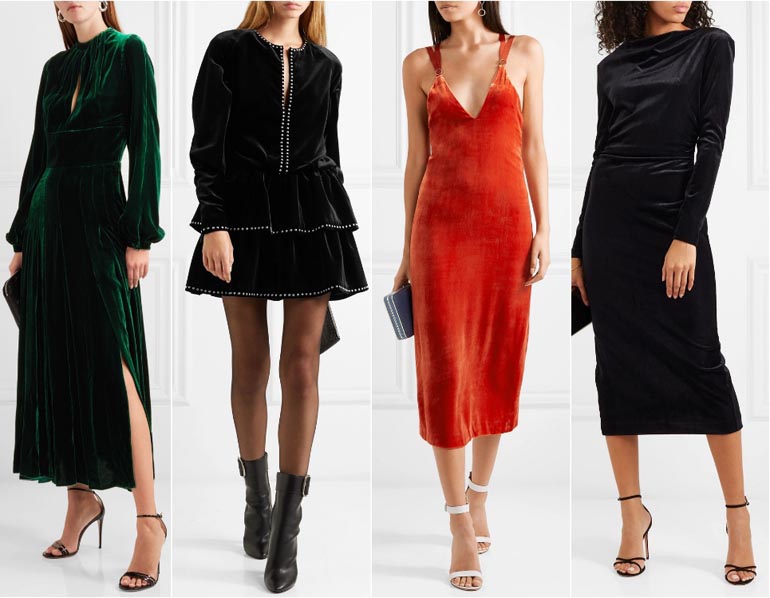 ---
Shop Velvet Cocktail Dresses:

---
Love me a velvet dress during the holidays, but they serve as a fabulously lush cocktail dress all throughout the Fall/Winter season. And as this fabric has become more popular in the last few years, it's a good time to know what shoes to pair with them.
As the fabric is overly rich, I would suggest contrasting the matte of the fabric with a shiny shoe (patent or metallic). The more fancy your dress, the simpler your shoe type should be, so you don't take away from the Va-Voom factor of the dress.
---
Shop Shoes to Wear with a Velvet Cocktail Dress:

---
Shoes For a Green Cocktail Dress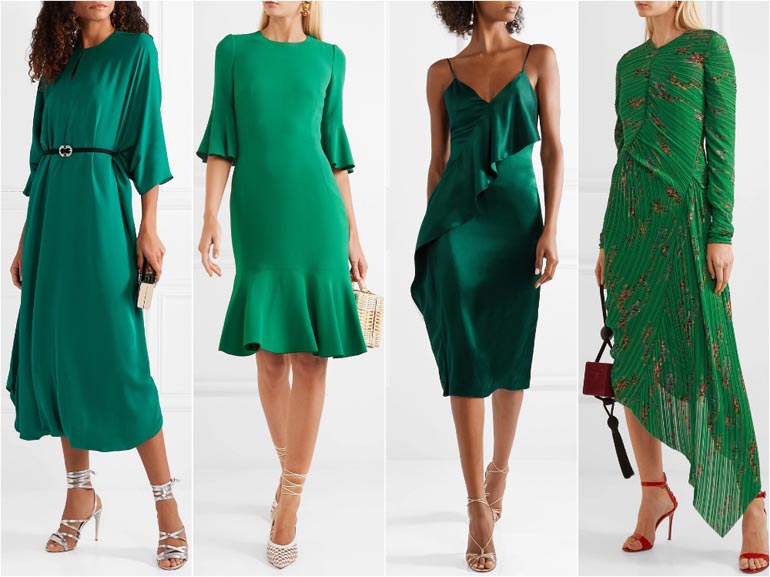 ---
Shop Green Cocktail Dresses:

---
As with wearing a red dress with green shoes during the holidays, you can totally get away with wearing a bright red pair of heels with your green dress! If your green dress is simple, check out the "shoes to wear with a streamlined dress" above.
If your dress is a sequin, metallic or lace-y number, take a look at my above sections too! Remember, the simpler the dress, the crazier you can go with your shoes (intricate materials, embellishments etc) and vice versa. Unless you're a styling guru, where you're skilled enough to pair any holiday dress with any shoe type! But if that's you, you're likely not reading this 😉
Not feeling so Christmas color-ey? Choose a white pair of heels, to show off 2 of the less obvious Christmas colors together.
I've also written extensively on shoes to wear with a green dress, which you can take a look at here!
---
Shop Shoes for a Green Cocktail Dress:

---
Shoes For a Metallic Cocktail Dress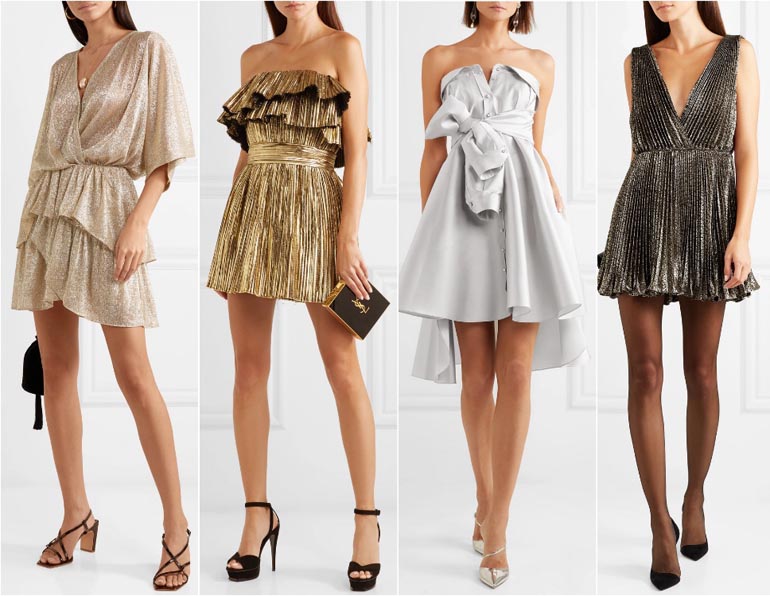 ---
Shop Metallic Cocktail Dresses:

---
Your metallic dress or outfit may or may not be a sequin dress, so let's chat about metallic non-sequin dresses specifically. Metallic & shiny materials are statement making on their own. If the fabric is ruched, flounced or embellished, it's all the more extra.
So why not play up the fun in your dress with a more subtle shoe? A plain pump or minimal sandal can go a long way.
However, if your metallic dress is rather simpler in nature, you can always choose a shoe with more shine, like a patent or metallic material or even opt for a boot or shoe with rhinestones. If you're specifically curious about which shoes to wear with metallic silver dresses, check out my in-depth post all about shoes with silver dresses!
---
Shop Shoes for Metallic Dresses:


---
So that wraps up my selection of shoes for cocktail dresses post! Although there are no rules to styles (especially with out-there street style becoming more common place) I thought I would guide you through with some styling advance.
Have a cocktail dress styling question that I haven't covered above? Feel free to ask me, in the comments, below!
xo Cristina