If you're looking to learn about the different types of heels and high heel styles for women, your search is over!
In today's post, I'm going to walk you through the different types of high heels, from kitten heels to sky high stilettos.
You'll also become familiar with all the high heel styles, heel names, heel shapes and the various heights available.
Each heel type will be illustrated, so you'll come out of this guide with visual knowledge too.
Just how many types of heels are there, you ask? Let's just say there are a lot. I mean, I've been working in shoes for over 15 years and some of these types of high heels surprised even me!
And every few years a new style pops up. I feel like I'm constantly discovering more by the day!
Need to brush up on your high heel lingo? You can reference my post about all the parts of a high heel – inside & out – if high heel terminology isn't your strong suit!
32 Different Types of Heels for Women
There are so many types of shoes for women, a plethora of types of sandals, and oh-so-many types of heels. These heels range from low to high, straight to curved.
Each serves a different purpose and can suit different outfits, occasions and even the wearer's moods!
Heck, there are even so many boots that I wrote a post on the 19+ types of boots for women. Let's just say that we have a lot to choose from!
Fun fact: The origin of high heels is said to come from 10th century Persia. Army men wore them with stirrups when horse riding (source).
They have since taken many forms and are one of the preferred shoe styles for women.
Some heels are of course, more fashionable than others, depending on the year, season and era. Other types of heels have been in style for centuries!
Others have become timeless classics that every woman should own. I should probably write a post about that 😉
Of course, my favorite type of heels are stilettos. I love them so much that I wrote a post about them, answering various questions including, what are stilettos! Lots of info about this thin heel type.
Although women have been warned of the potential dangers of high heels (sprains, foot and back problems, are just a few), high heels have a vast appeal.
I mean, how many high heel quotes have been noted over the years and counting?
Although many women are still learning how to walk in heels, many wear them regardless of heel-wearing ability.
In fact, over 70% of women are going to wear heels at least once in their life.
Many others will be repeat wearers, especially in their youth. I was definitely one of those gals! I mean, if we're talking statistics here: in 2019 alone, the value of the global high heels market was worth about 34.1 BILLION US big ones.
And these numbers are expected to rise to over 42.7 billion US dollars by 2024. I know, shocking, right!? (source)
In this post about high heels, I will divide my knowledge of different heel types into 2 guides: 1) will be heel shapes and 2) will be heeled shoe styles.
Feel free to click on the link to jump to the guide you're most interested in:
Different Heel Types: the heel portion itself
Various styles of high heel shoe types: the kind of shoe as a whole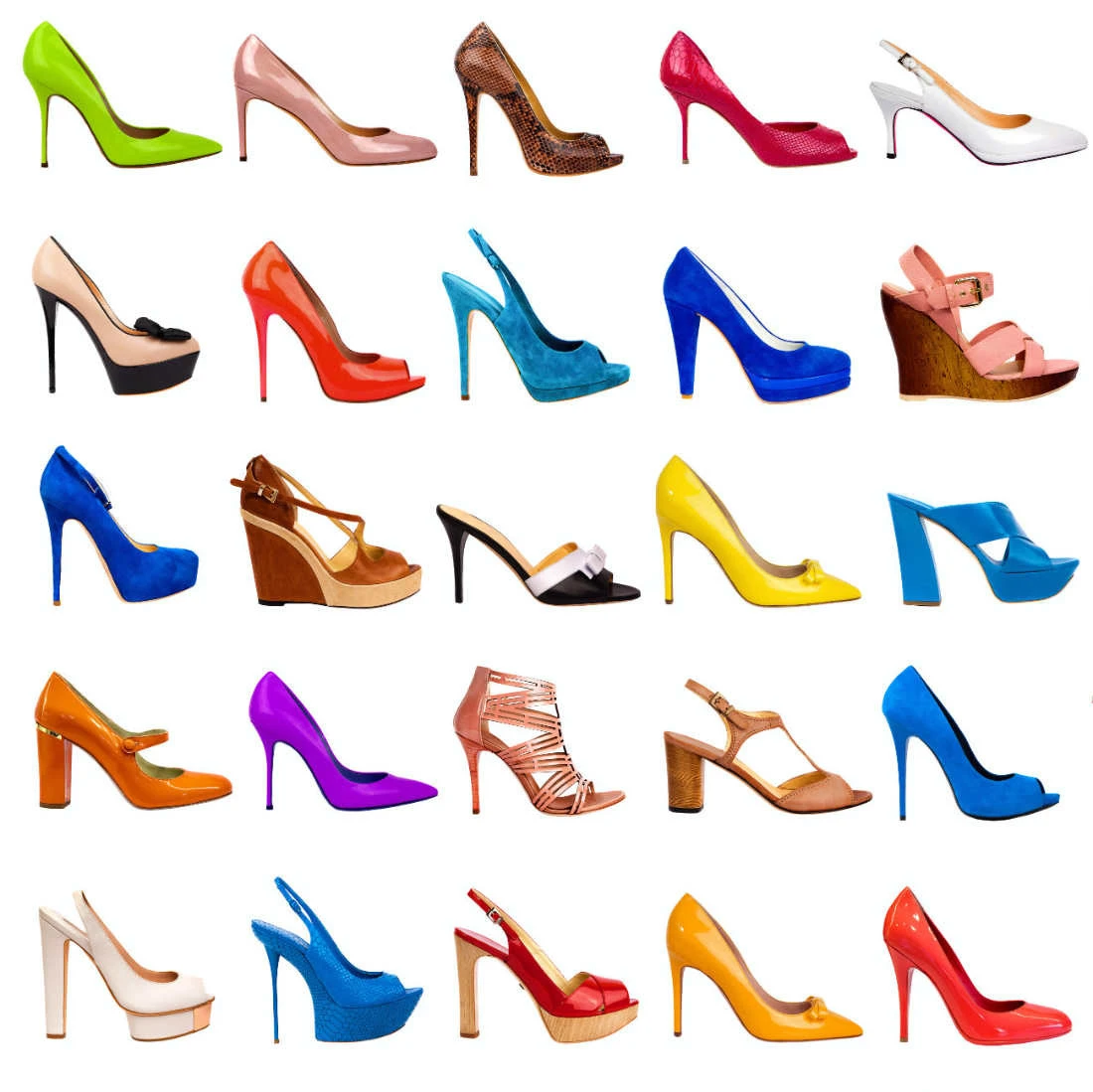 Different Heel Types & Shapes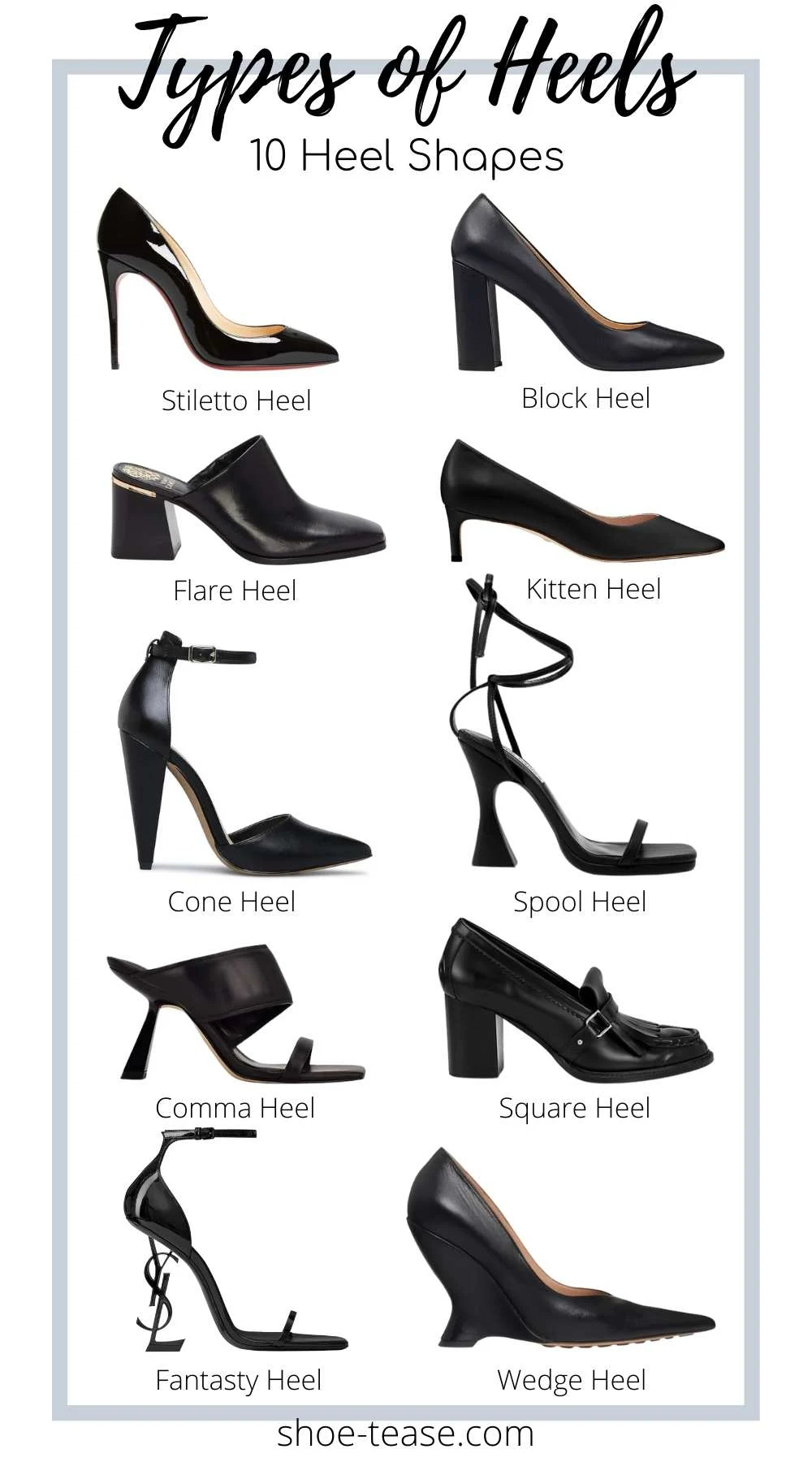 Block Heels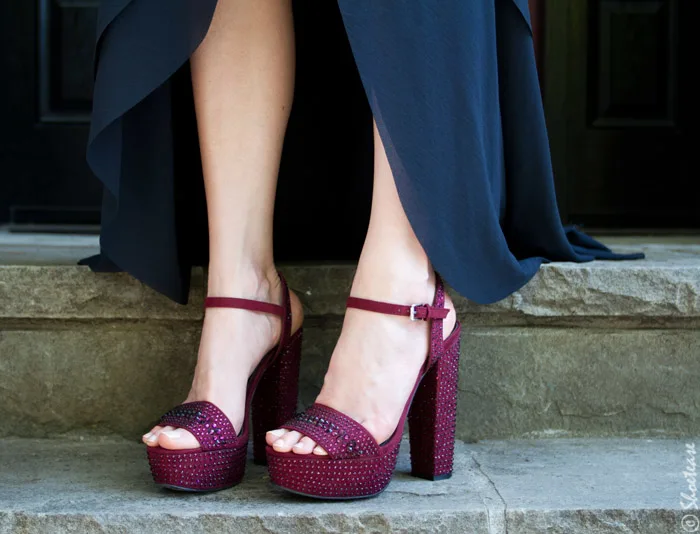 Starting our journey into the foray of different heel types with the block heel.
Block heels (aka Chunky Heels) take their name from the fact that instead of being thin shape (see the stiletto section below for that). The heel itself is a thick block with a larger surface area.
Not only a fashionable heel aesthetic at the moment, but block heels are also great because they make walking and standing a little bit easier vs other heel types.
Block heels come in many shapes and sizes, including square heels, or rectangular in shape, although sometimes block heels can be rounded in shape, similar to that of a cylinder. Check out all the pretty ones available now.
Stiletto Heels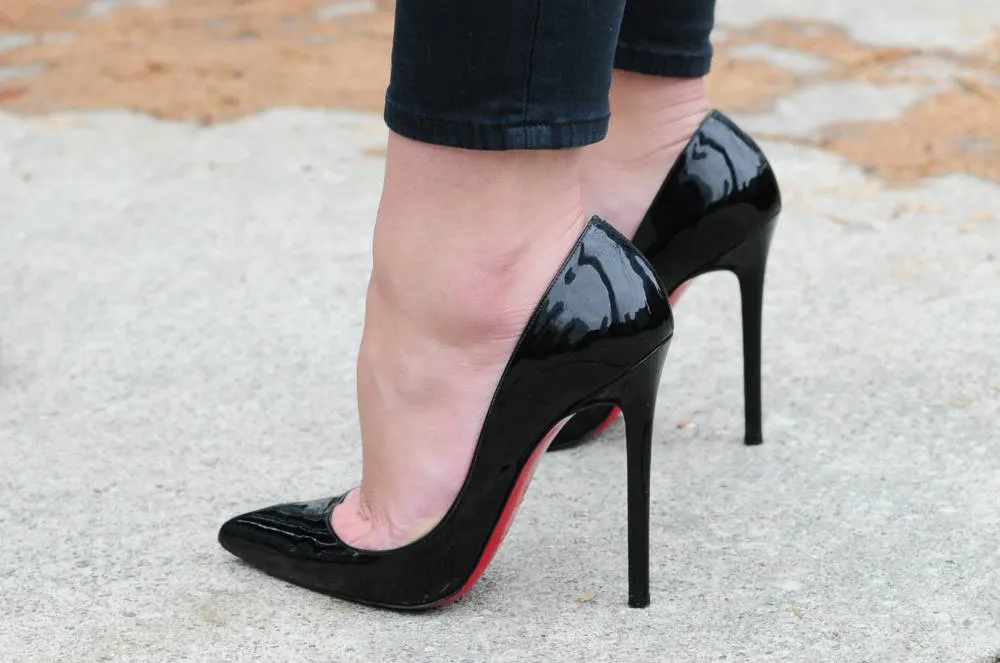 In complete contrast to block heels, stilettos are thin and for many, the higher the better! Stiletto heels can be found on many fet!sh shoes, such as very high heels (skip ahead neat the bottom for that).
Stilettos are commonly found on pointed pumps, and strappy summer sandals. Christian Louboutin's So Kate pointed pumps or his lower heeled version called Pigalle are a great example of a stiletto heel.
Very thin, often metallic stiletto heels are also called pin heels. Learn more about stilettos in my What are Stilettos post.
Shop Stiletto Heels:
Cuban Heels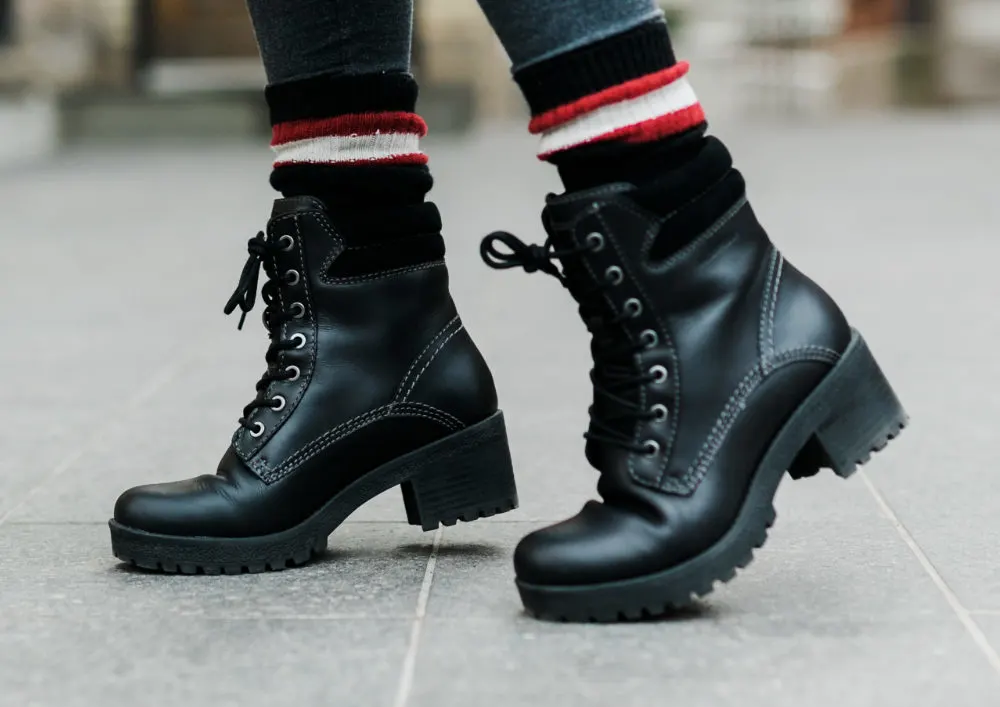 Cuban heels are an even blockier/chunkier, version of a block heel. Cuban heels can be medium to high in height and are often found on tougher shoe or boot types, such as cowboy boots and combat boots.
But you can also find them on a rugged pump or loafer.
Cone Heels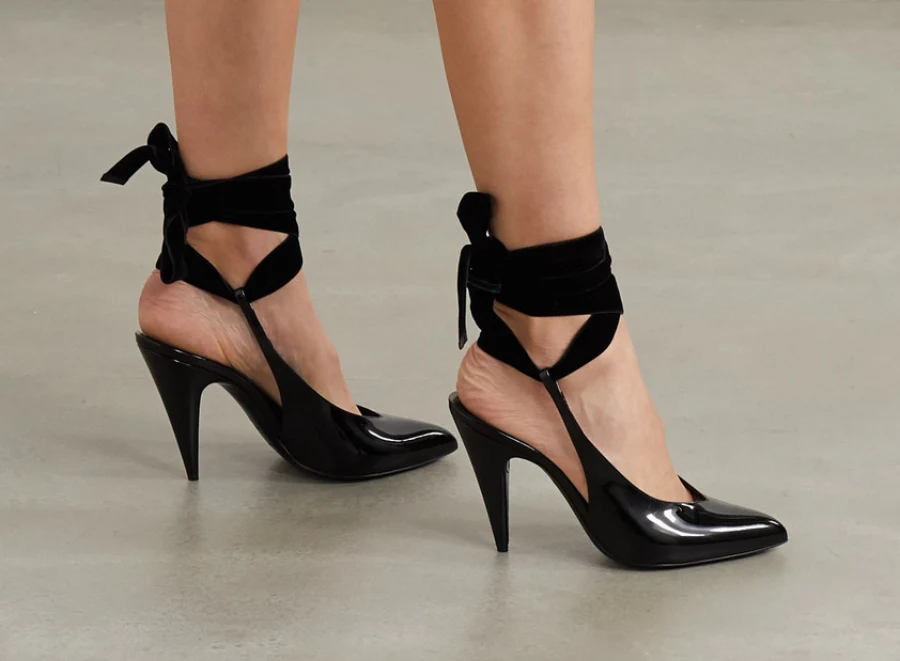 Just as it sounds, a cone heel is the shape of an ice cream cone. Just like these Saint Laurent heels, featured above.
The part of the heel that attaches to the shoe's base is the larger portion, from which it tapers down towards the bottom.
Cone heels always remind me of Shoe Bakery's literal ice cream cone heels that are magnificent!
Cone heels can be found on all types of shoe styles, from booties to sandals and can be any heel height. Even as low as a kitten heel. Which brings me to my next one…
Kitten Heels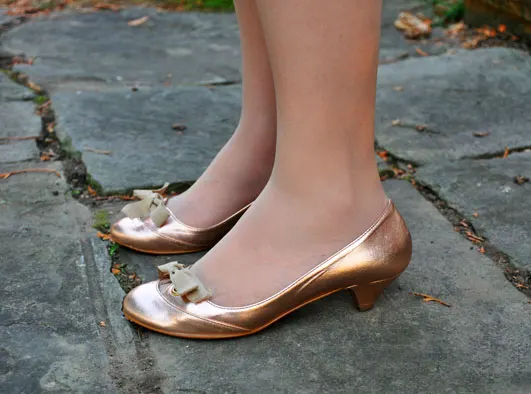 Cute as a button, kitten heels are short, narrow heels that are primarily defined by their height: usually between 1-3 inches tall.
Kitten heels come and go in fashion and are used in all kind of shoe types for women in including booties, pumps, mules and sandals.
This heel type also comes in many shapes and sizes, including cone heels, stacked heels, comma heels and more.
Many women prefer wearing kitten heels because they are easier to walk in, compared to their high heel counterparts, but seen as more elegant that a simple flat. Shop current kitten heels here.
Wedge heels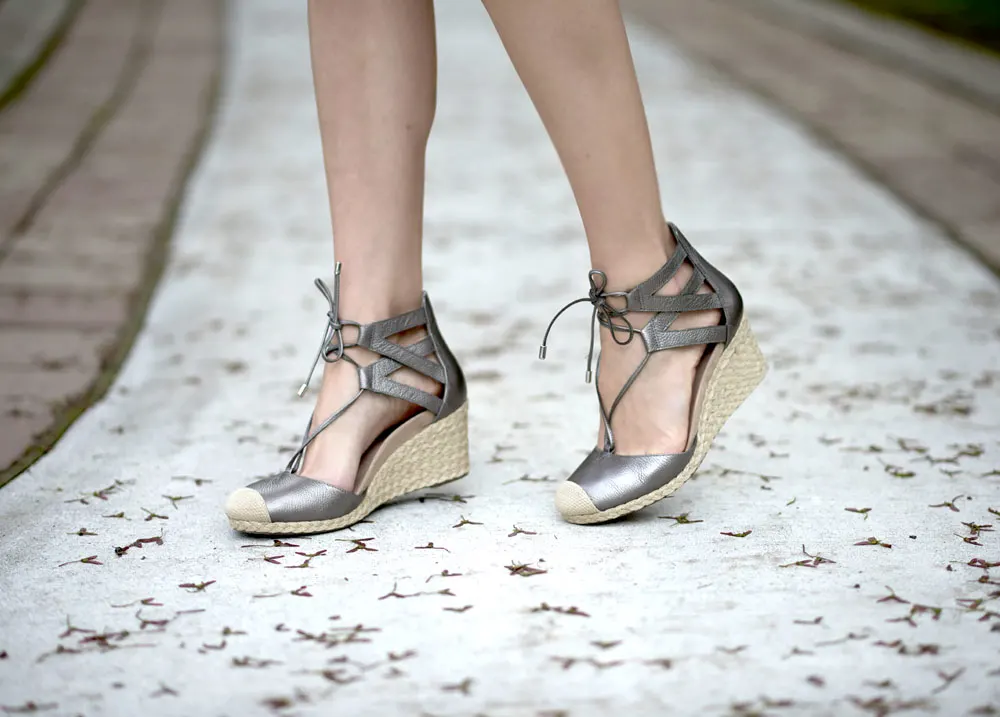 Speaking about comfortable high heels, wedges are a great option for that. A wedge heel's heel does not detach from the sole and continues along the outsole without a break.
This allows the wearer's weight to be distributed evenly along the whole base of the foot. Walking and standing in wedge heels is hence a lot easier.
Salvatore Ferragamo is famous for having created the wedge shoe as an orthopedic wedge in the early 1930s.
He used wood and cork materials as there was a shortage of leather and rubber materials during the second world war.
Wedges are still popular made of cork, and these by Christian Louboutin are going strong on Ebay.
Wedge heels can sometimes be made with a platform under the ball of foot, to make the heel that much higher.
They are also a more casual heel type and are popular in sandals, peep-toes and booties. Wedge sneakers became popular in the mid-2010s.
Famous wedge heels include espadrilles heels, which are wrapped in rope. Wedge heels made of cork are and have been very popular as well.
But wedge heels can be covered in various other materials too, including leather. See some great wedge heels here.
Comma Heels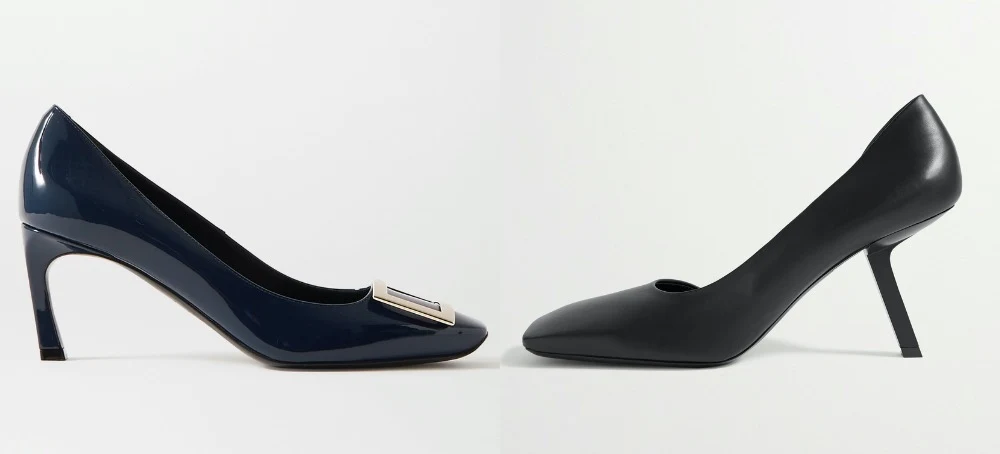 Comma heels are just like you picture them: a big 'old comma used to punctuate sentences. (And one of my favorite punctuation marks to use, might I add.).
Heels shaped like a comma tend to bring an element of quirkiness to the shoes. It's no surprise that many unique shoe brands create women's shoes with comma heels!
Dior recently brought them back with their J'Adior slingbacks, which also feature a kitten-height heel.
Roger Vivier's Belle Vivier and Balenciaga Void pumps, above, are current interpretations of the comma heel.
Flare Heels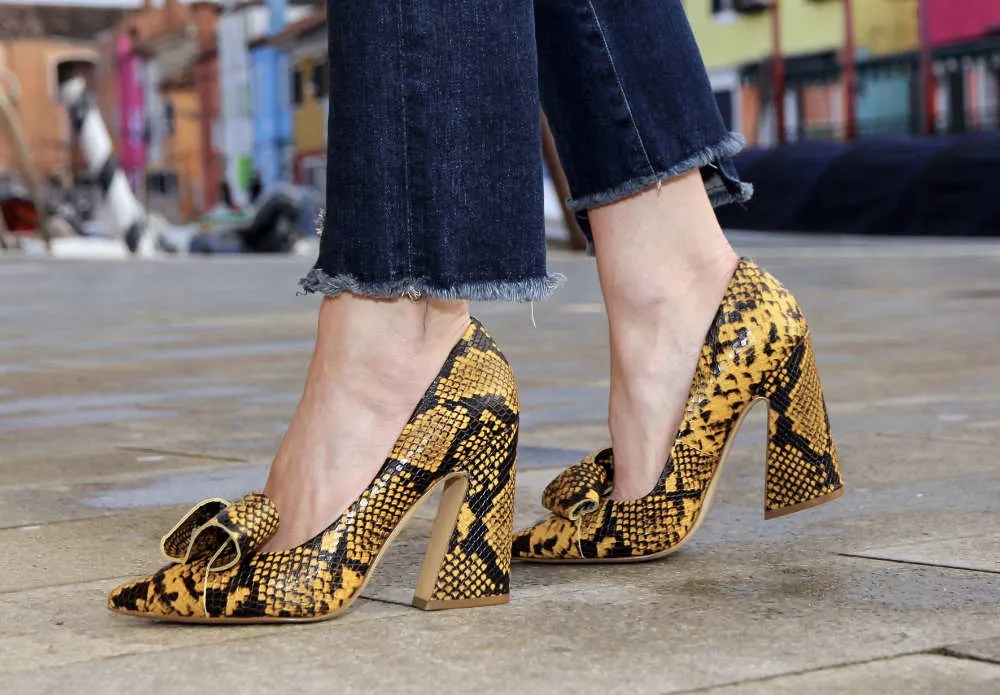 Similar to the post in which I speak about shoes to wear with flare jeans, flare heels take on a similar shape to their denim namesake.
They are the opposite of cone heels, as they start more narrow where attached to the shoe, and flare out – aka widen – towards the base.
And just like flare jeans – or perhaps more accurately, bell bottoms – they became widely popular in the 1970s. They recently made a comeback in the 20teens in the form of ankle boots. I own a few pairs still!
French Heels

Quirky like the comma heel, French heels have their origin in 18th century France. The heel is sculpted in such a way that narrows at mid height. Just like a corset would cinch at the waist.
French heels are usually found on a pump style shoe with a pointed or almond toe as was popular during King Louis' reign.
French heels are also known as Pompadour Heels, Louis Heels, Antoinette Heels, spool heels and waisted heels.
You will find this type of heel on many period costume-inspired shoes. Canadian shoe brand John Fluevog is a big believer in this type of heel design, like in his 2 shoes featured above.
Stacked Heels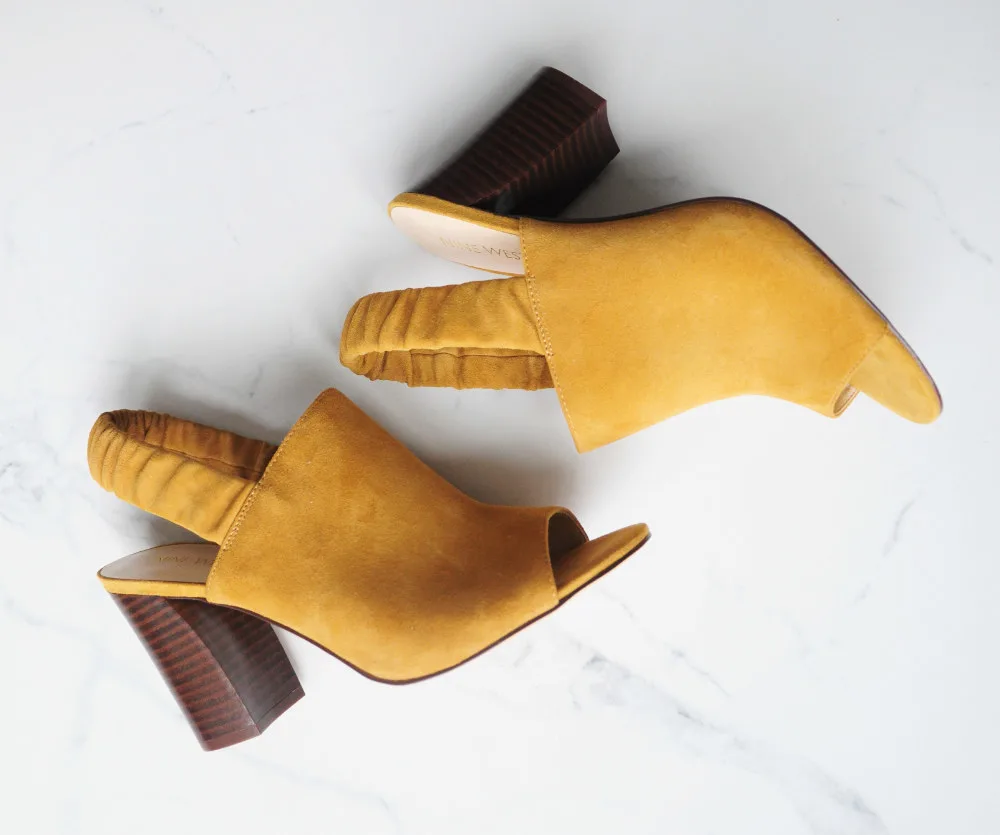 What is a stacked heel, you ask? The stacked heel has less to do with its shape and everything to do with its construction.
It's a heel made of thin stacked layers of materials, usually leather or wood, that one can see via subtle horizontal stripes. See the shoes above.
Sometimes, a stacked heel is covered in leather or other materials. Stacked heels are mostly seen on cowboy boots and similar boots with thicker heels, such as block, cone or Cuban heels.
This heel type has had many fashionable moments on sleek ankle boots, loafers and high heel shoes alike. Shop stacked heel shoes here.
Lucite Heels (Clear Heels)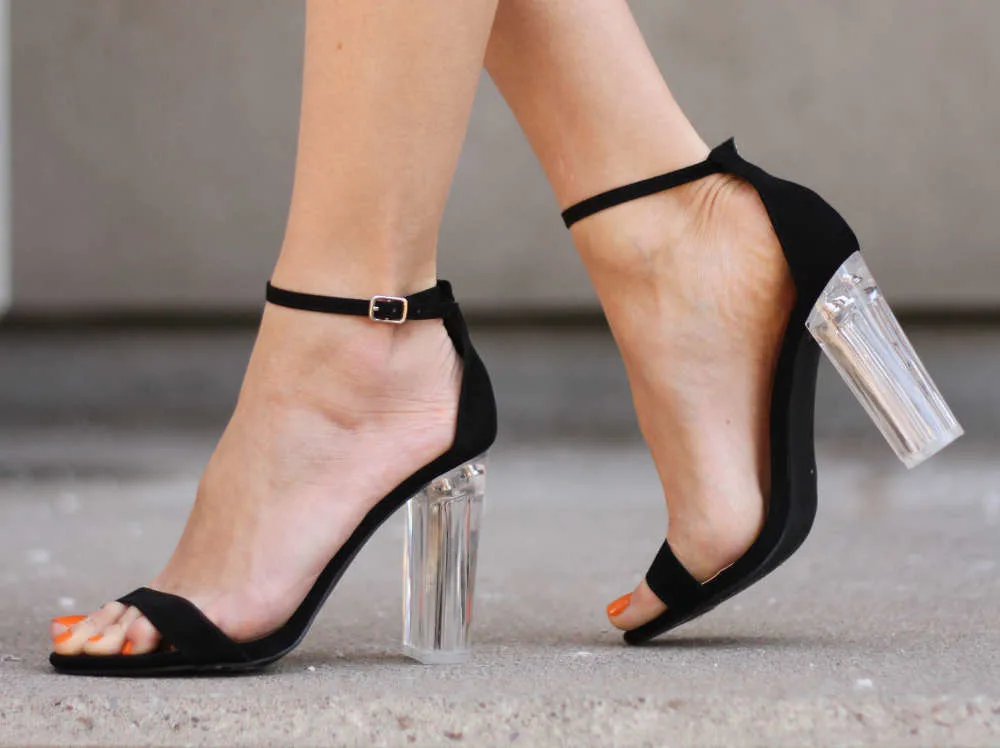 Ever seen clear, see-through heels? More than likely, these are lucite heels. Although they might be a preferred shoe for ladies who like to dance on poles, shoe designers have shaped them into a fashionable trend.
Lucite heel shapes are mostly block heels, but I've seen them shaped into curved and flared heels.
Some designers have fused them with other materials and even filled them in with random objects!
Like Jeffrey Campbells' Barbie head heels. See all the many current shoes with lucite heels, here.
Lobster Claw Heels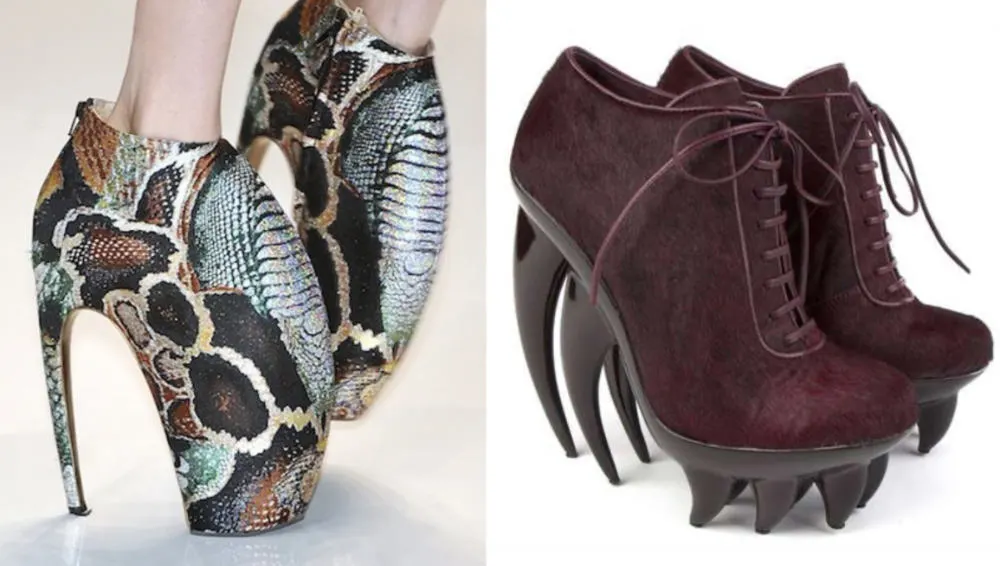 The lobster claw heel is closely associated with 2009's Alexander McQueen's Armadillo, catapulted to fame by Lady Gaga. She wore a glittery pair in her Bad Romance video and on various red carpet appearances by her and Daphne Guinness.
They were a revolutionary shoe form at the time that spun a ton of inspiration to other brands, from Christian Siriano to United Nude (the toothy ones above). Definitely a fashion moment for this extreme high heel!
Fantasy Heels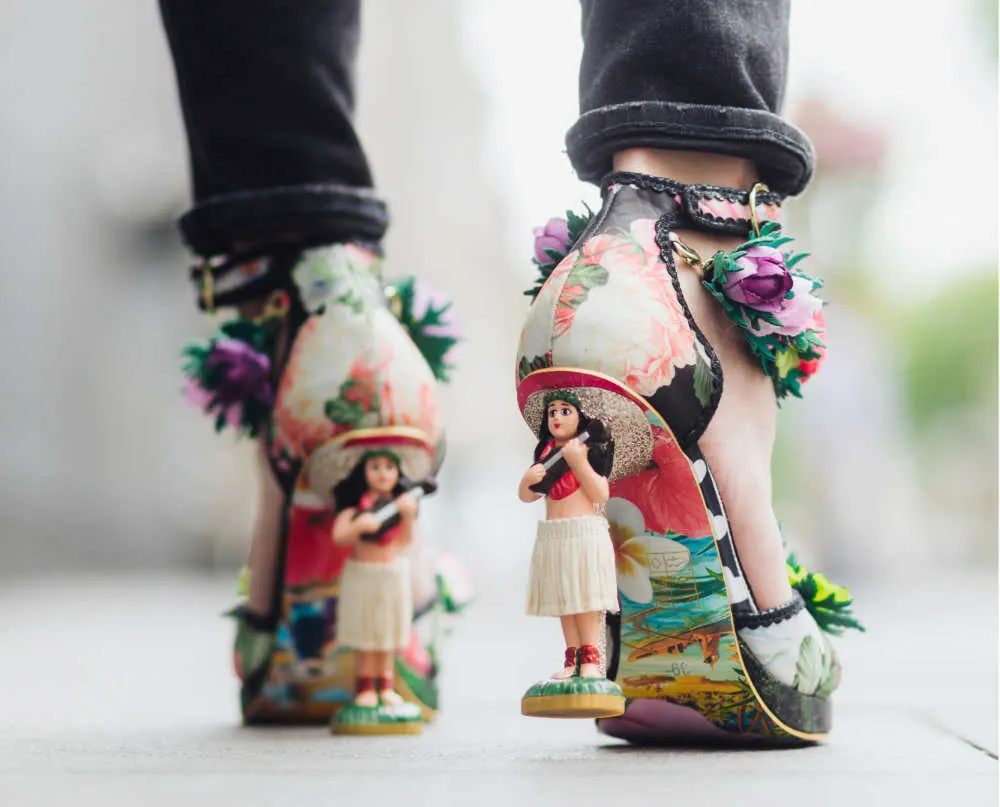 When other heels don't fit the mold – quite literally in this case! – and are so creative, they're considered Fantasy Heels.
Often also called decorative heels because of their ornate nature, this type of heel is hard to miss! Think heels shaped into flowers or wild creatures kinda heels!
Usually reserved for special outings, fantasy heels are predominantly seen on high fashion and couture runways, rather than in real life.
Some of the most beautiful and strange heels ever created have been fantasy heels. Like various ones by Irregular Choice, like these Hula Girl Heels, featured above.
18 Different Types of High Heel Shoes
Pumps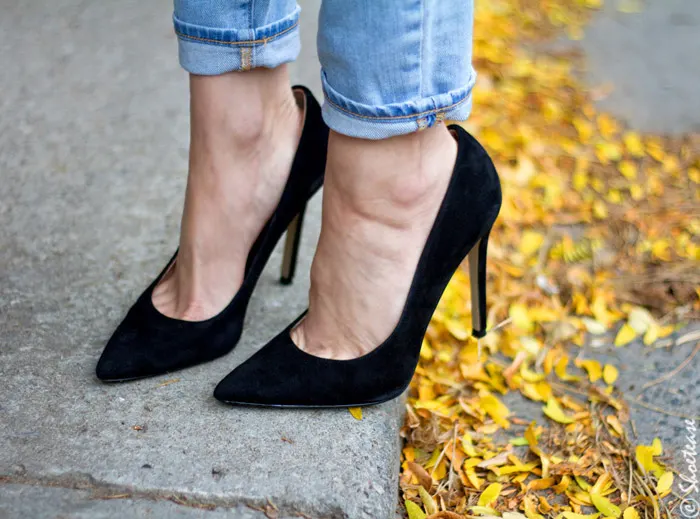 High heel pumps, also known as court shoes to the British, are one of the most popular high heel shoe types. They come in a variety of heel heights (usually over 1 inch tall), and in various toe and heel shapes.
What makes them pumps is their low cut front. I've even declared high heel pumps one of the top heeled shoes that go with everything!
Click the following link to learn all about stilettos vs pumps!
Mary Jane Heels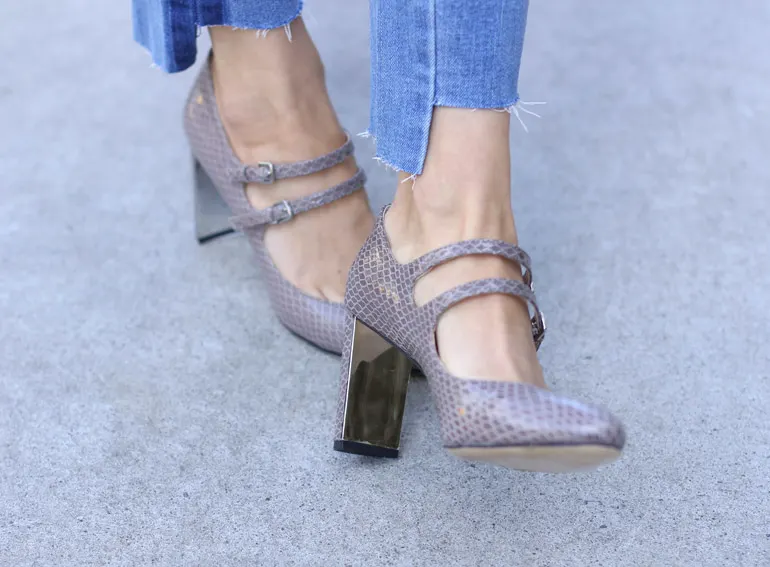 Mary-Jane heels are similar to pumps, but they have a fastening in the middle of the foot, usually a buckle or strap.
The shoe type is American in origin, and in low heel form, has been popular little girl's shoe.
However, designers such as Manolo Blahnik have created a very adult shoe out of it. Carrie Brandshaw of Se!x and the City famously declared Manolo's Campari Heels an urban shoe myth.
Lots of fun saying about shoes in my high heels quotes post, if you're interested!
Platform Heels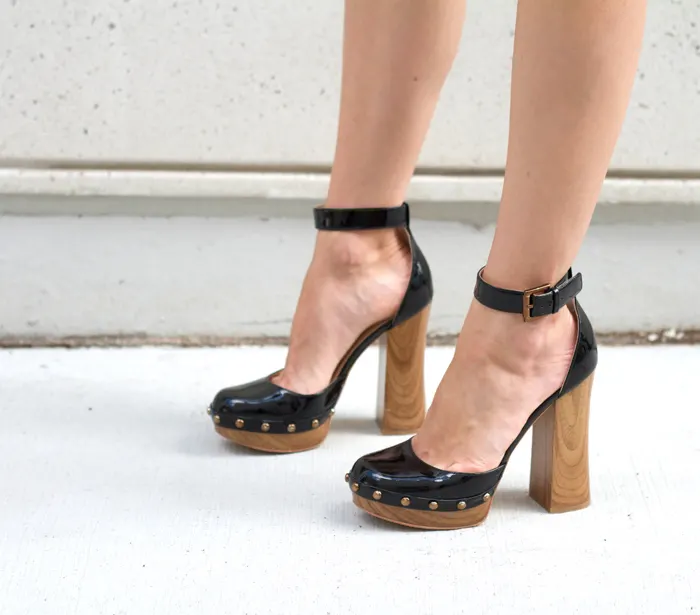 Platform heels are those that have an added element – a platform – under the front portion of the outsole to add height. Any type of high heel shoe can have a platform.
Platform heels tend to be more comfortable because the platform itself reduces the incline of the foot and puts less pressure on the ball of foot area. The platform itself can vary in height.
Take a look at what platforms are in store right now.
Flatform Heels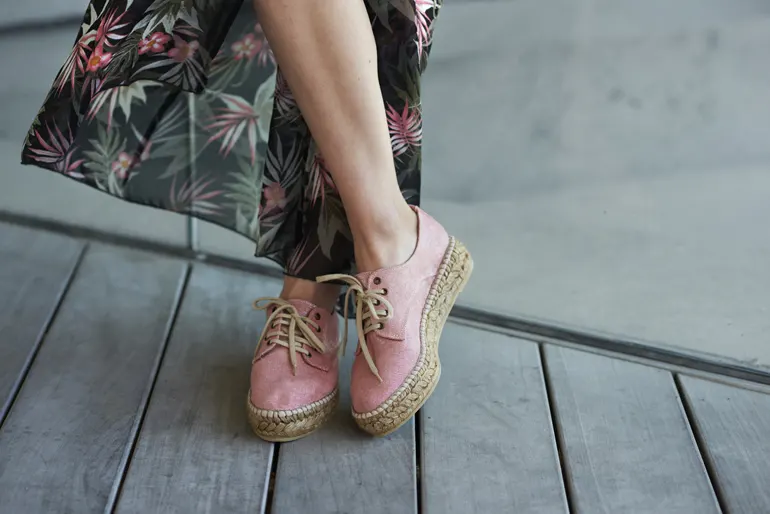 Flatform heels are a type of wedge heel that does not have an incline. It's essentially a platform that extends along the full outsole at an even height, so the foot remains flat, but on a pedestal of sorts.
Flatforms, like platforms were a hit in the 70s.
Sling Back Heels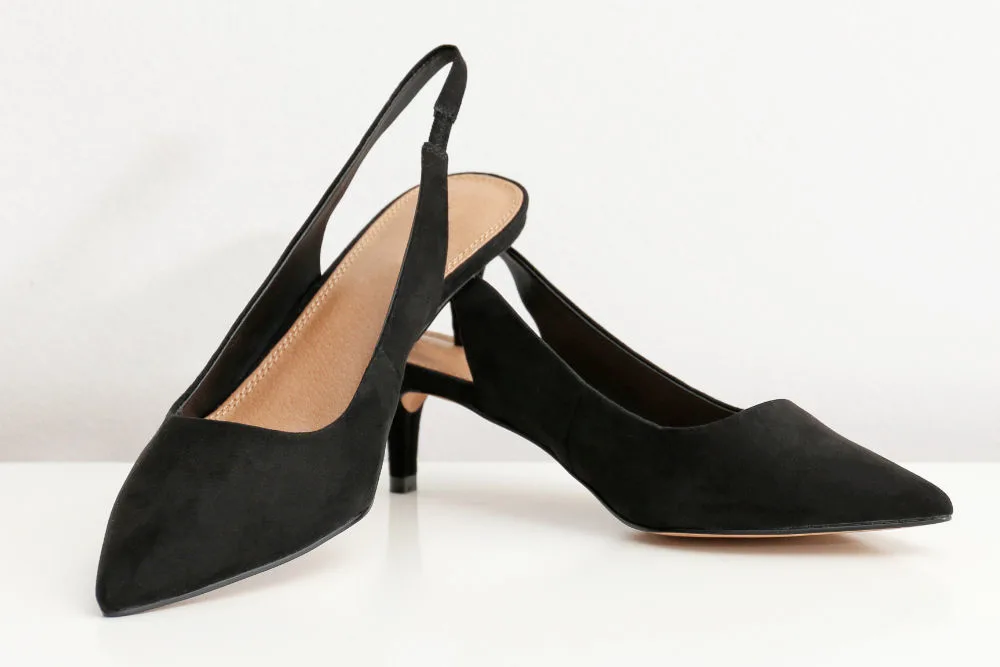 Slingback heels are women's shoes with an ankle strap that wraps around the back and sides of the ankle, right above the heel.
The slingback is different from an ankle strap shoe, as the strap doesn't wrap around the full ankle – only the back.
D'Orsay Heels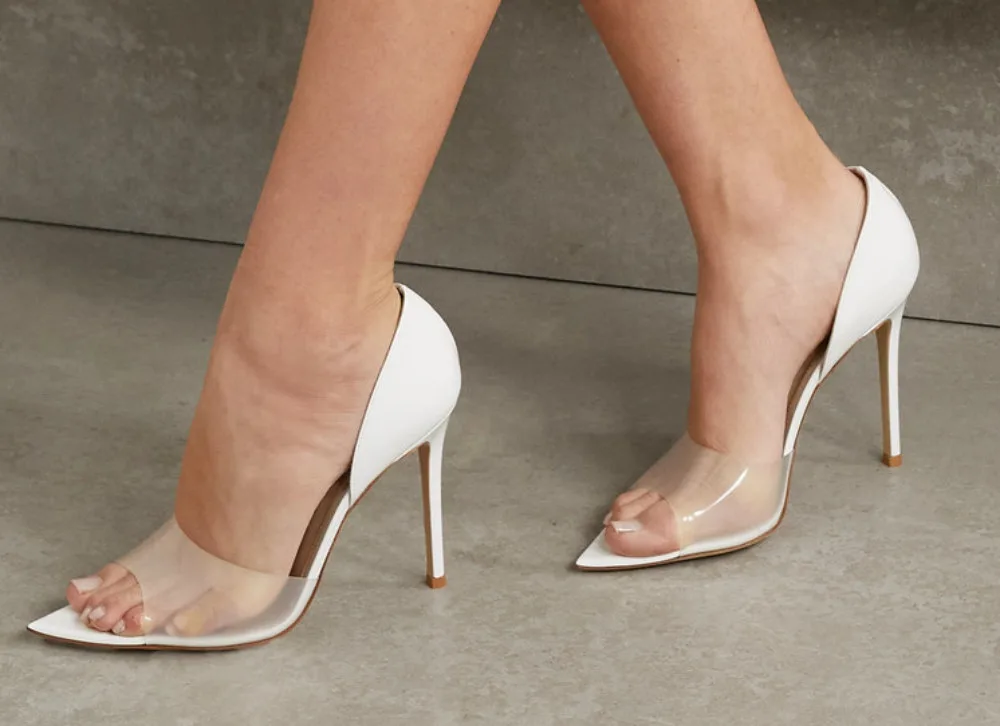 What is a D'Orsay heeled shoe? It's a shoe that has at least one side of the shoe – where the foot's arch is – cut away.
Most D'Orsay shoes are heels, but they can also be used in lower styles like oxfords, booties and ballerina flats. Some have ankle straps.
The D'Orsay heels featured above are Gianvito Rossi's Bree pumps from Net-A-Porter. You can also find a great selection of D'Orsay heels from Nordstrom.
Ankle Strap Heels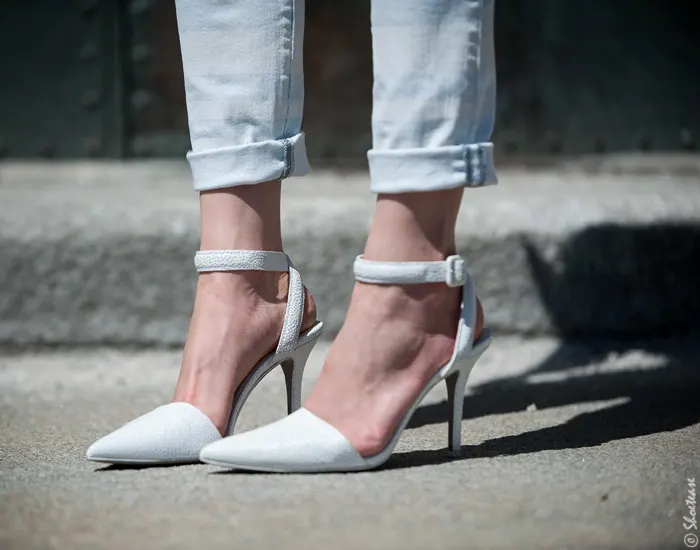 Just like the name states, ankle strap heels are those heels that have one or more straps that wrap around the ankle. The strap might buckle up or tie around.
The strap may also wrap high up the leg. Ankle strap pumps are a popular version of these heels, as are D'Orsay heels with ankle straps.
Peep-Toe Heels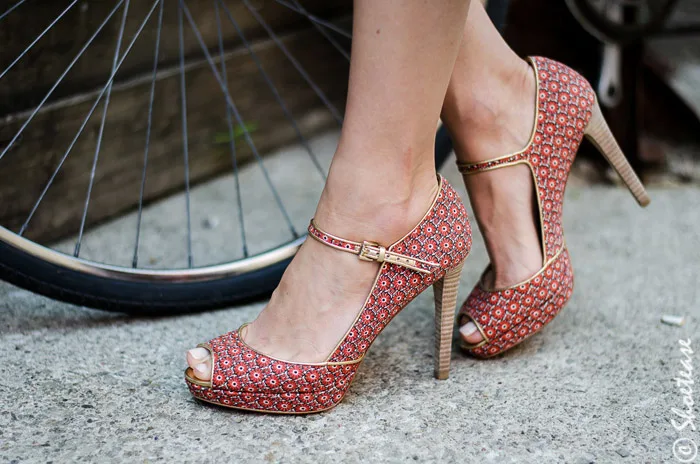 Peep-toe heels are shoes with a cut out at the toe. Often, they are a pump with a toe cut out and can have a platform or not. Heeled peep-toe booties have also been a popular heel style.
These ones featured above, are platform peep-toe Mary Janes.
Mule Heels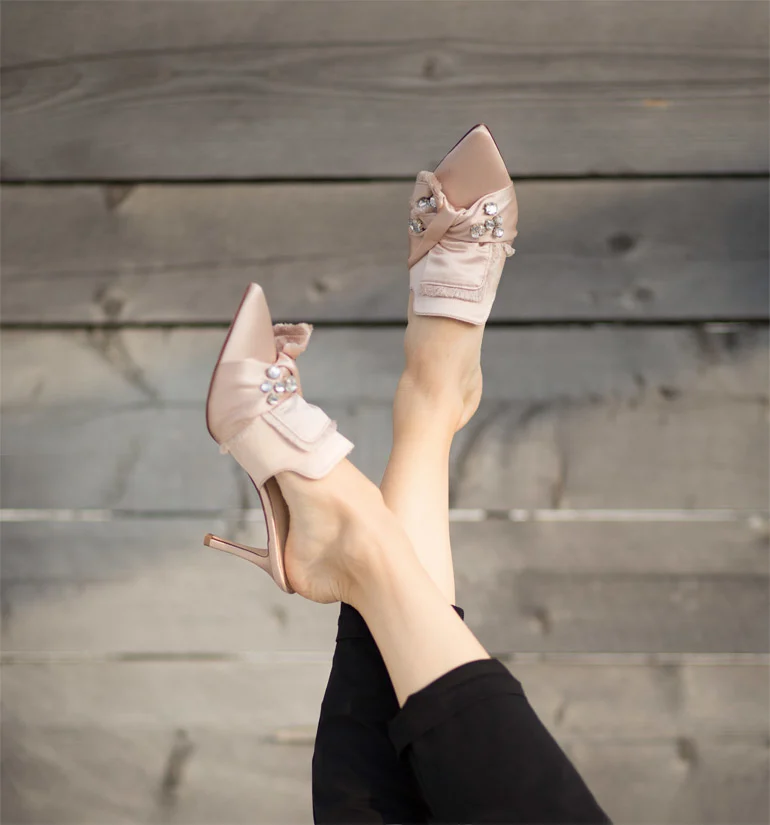 Mules are shoes that are open at the back and are usually closed-toe. Some can have a peep-toe.
The heel heights can range from low to very high. Their origin dates back to Ancient Rome.
Clogs are a popular type of mule heels, but Gucci brought them back with a vengeance in loafer version. Shop mules at Nordstrom, here.
High Heel Slides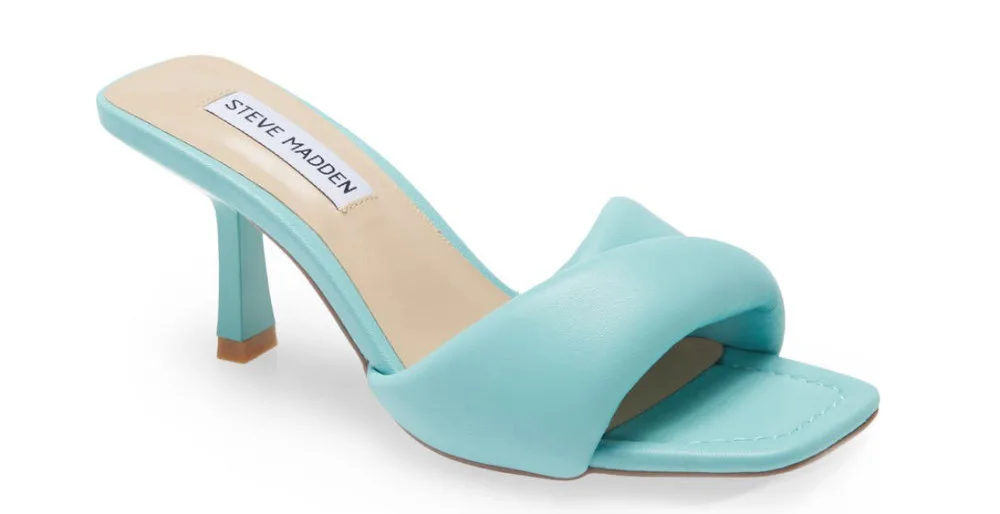 Slides are similar to mules in that they don't have any form of closure in the back or around the ankle.
Slide heels, however, are completely open-toed and considered a sandal. They've been extremely popular since 2020.
Flip Flop Heels

Flip flop heels have come and gone over the years and they've come full force in 2021.
The most fashionable high heeled flip-flops at the moment come with a squared toe. Check out these ones that are in store.
Ankle Booties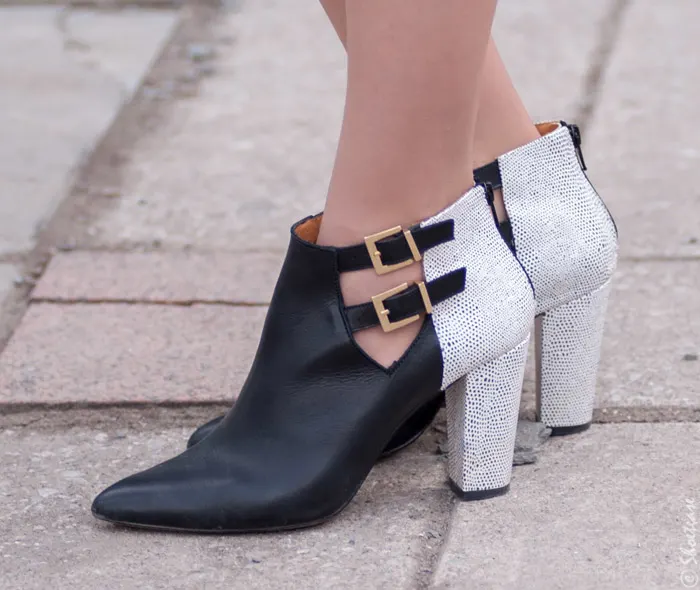 High heeled ankle boots have become a wardrobe stable for women, especially for Fall.
Some consider peep toe boots – a boot meets sandal – an 'ankle bootie' while others see them as high heeled ankle boots.
I am one of the latter! Ankle boots are one of my favorite shoes to wear with bell bottom jeans.
Ankle Boots We Love:
Heeled Boots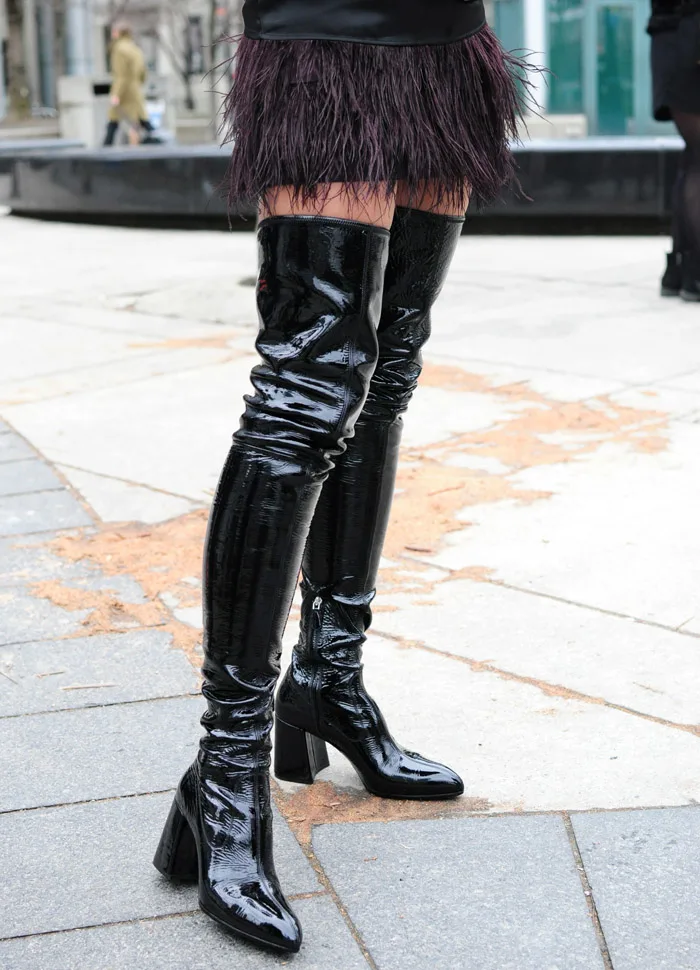 Of course, heeled boots are just popular on high boots too. You can find all kinds of heel types from ankle boots, knee high to thigh boots, and in all different heel heights.
Wear your tall heeled boots with skinny jeans or a summer dress for Fall.
Very High Heels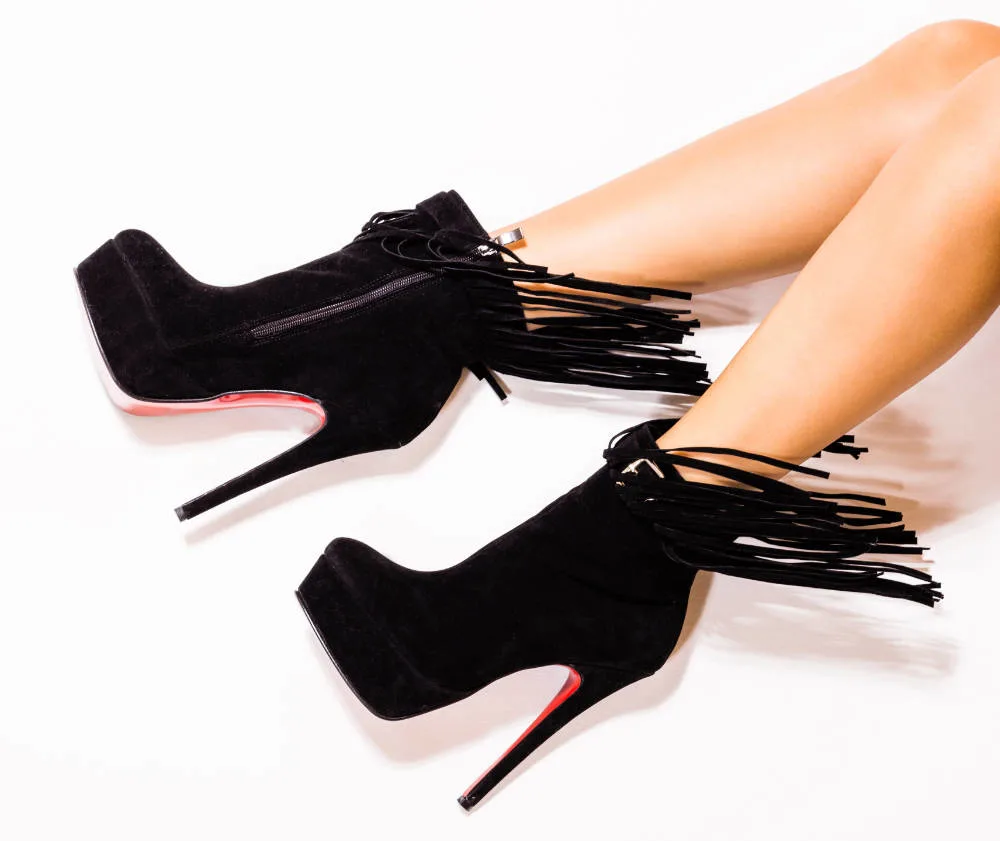 Very high heels refers to both the very high heel of the shoe (usually above 6 inches) as well as the high heel type. There are many different types of very high heels.
For instance, a very high heel can be a pump or sandals with extra height, usually supported by a platform.
Fet!sh Heels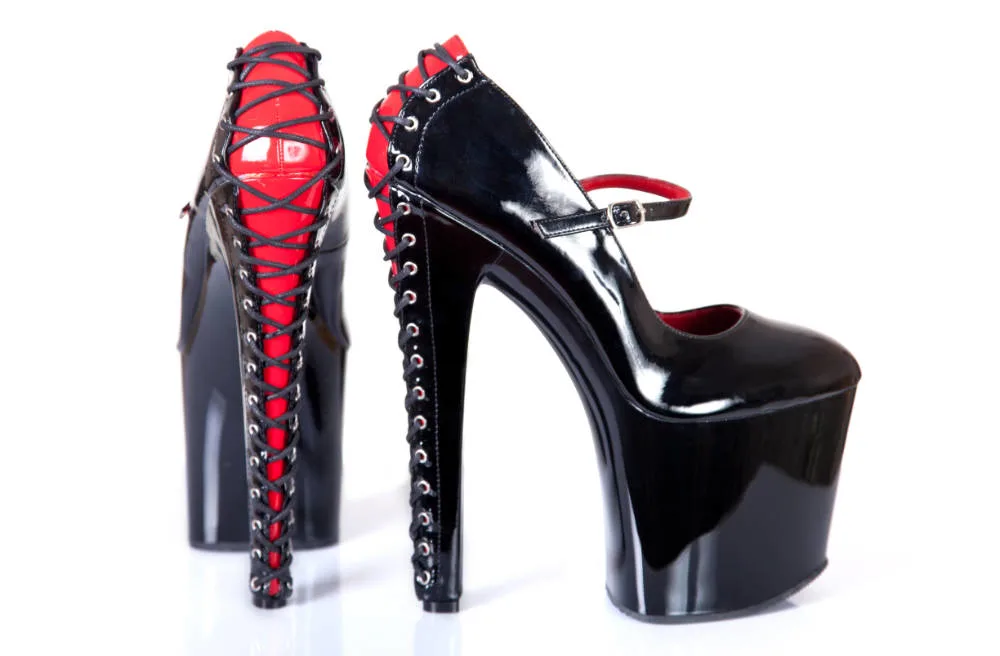 Not all very high heels are fet!sh heels, but all fet!sh heels are very high heels, like these ones.
They sell a ton of similar styles plus extreme high heel ballet shoes on Ebay, so they are a lot more popular than you might think!
Heelless Heels
Heelless Heels are somewhat hard to describe in words. Think of a high-heeled platform shoe, minus the back heel portion and that's the result!
André Perugia is said to have created this extraordinary non-heel around the same time as Salvatore Ferragamo created both the wedge and platform, in the mid-late 1930s.
They didn't become particularly popular until more recently creations by Japanese designer Noritaka Tatehana that caught both Daphne Guinness and Lady Gaga's eye.
These types of shoes for women aren't as popular at the moment of publishing this post, but here's a good example of this type non-heel.
Pole Dancing Heels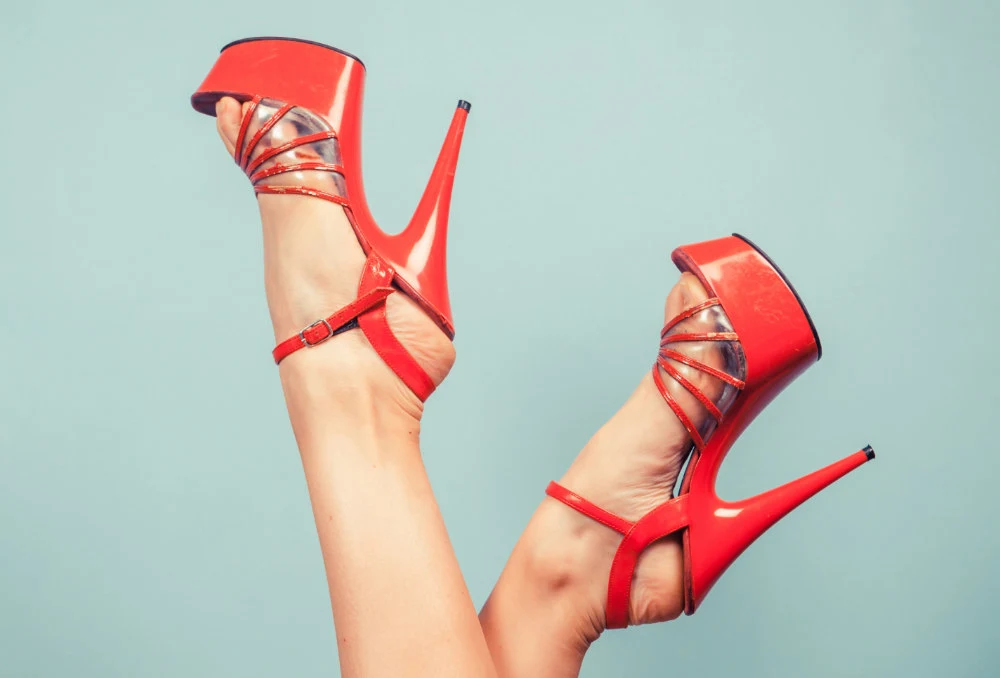 Another very high heel subcategory is the sky-high pole dancing shoes, aka str!pper shoe.
These shoes can have lucite heels with an extra high platform with ankle strap to keep them from slipping off.
For some ladies, these are a preferred clubbing shoe, but it's the pole dancers that have made them famous. Hence the name!
Ballroom Dancing Heels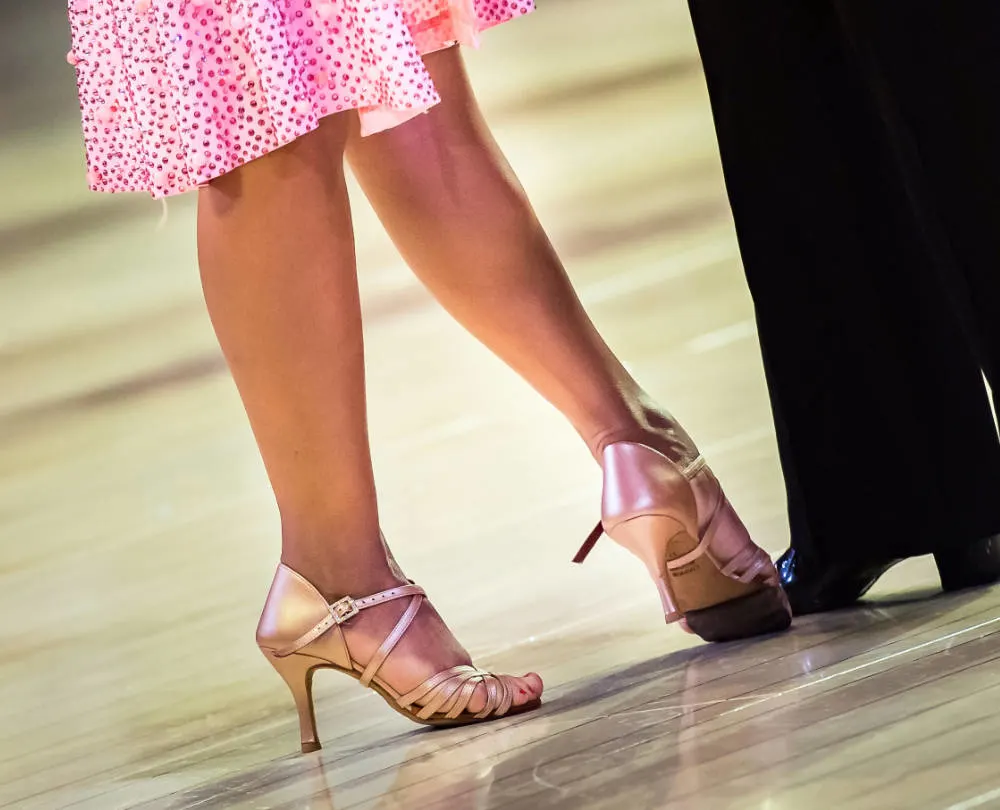 Another type of heel shoe style is that worn by women on the ballroom dance floor. They usually have a kitten heel or heel between 1-3 inches high.
Ballroom dance shoes for women have heels because they help keep the woman's body weight balanced on her heel and toes.
This makes various dance movements flow more easily. Ballroom heels are mostly d'Orsay sandals with ankle straps and a slender curved heel.
Many are often made of shiny satin, or bejewelled materials.
Corset Heels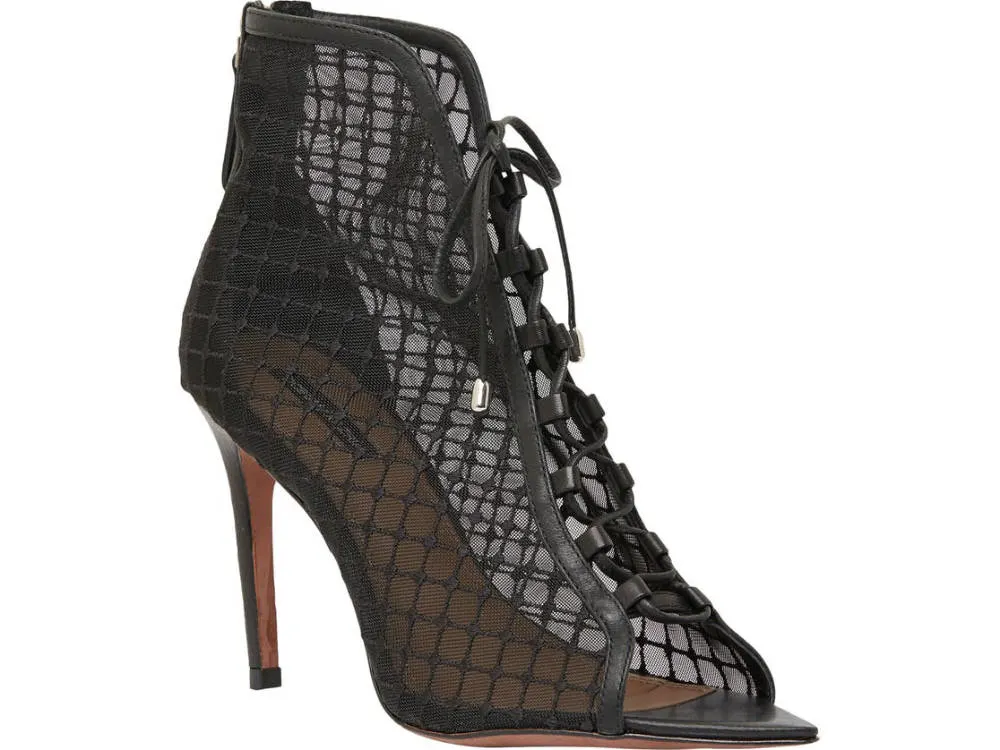 Corset heels take their name from the undergarment, because of how they're laced up – usually at the front – similarly to a corset.
However, corset heels can also have laced-up detailing that runs up at the back of the heels or side too.
The FetIsh heel section above shows a shoe with a corset heel. Corset heels are usually found in bootie or sandal form, however, corset-detailed high boots also exist.
Shop strappy heels like these featured above, from Nordstrom.
Final Thoughts on Different Types of Heels
Now that I've given you plenty of food for thought when it comes to the different types of heels, high heel styles and heel types, I hope you feel better acquainted with all of them.
As you've seen, many of the above heel types can be a combination of heel types and styles.
This means that the number of different types of heels is almost immeasurable!
It all shows how much more difficult getting dressed in the right heels can be. Well, at least it is for me!
Which heels are your favorite high heel types? Any high heel names and/or heel styles that got you scratching your head?
Let me know in the comments below. I'd love to know!
Photo Credits: Bruna Rico, Joel Gale, Kenneth Chou, Gianni Ragazzi Foto, Leonard Shen, Conrad Collaco
xo ShoeTease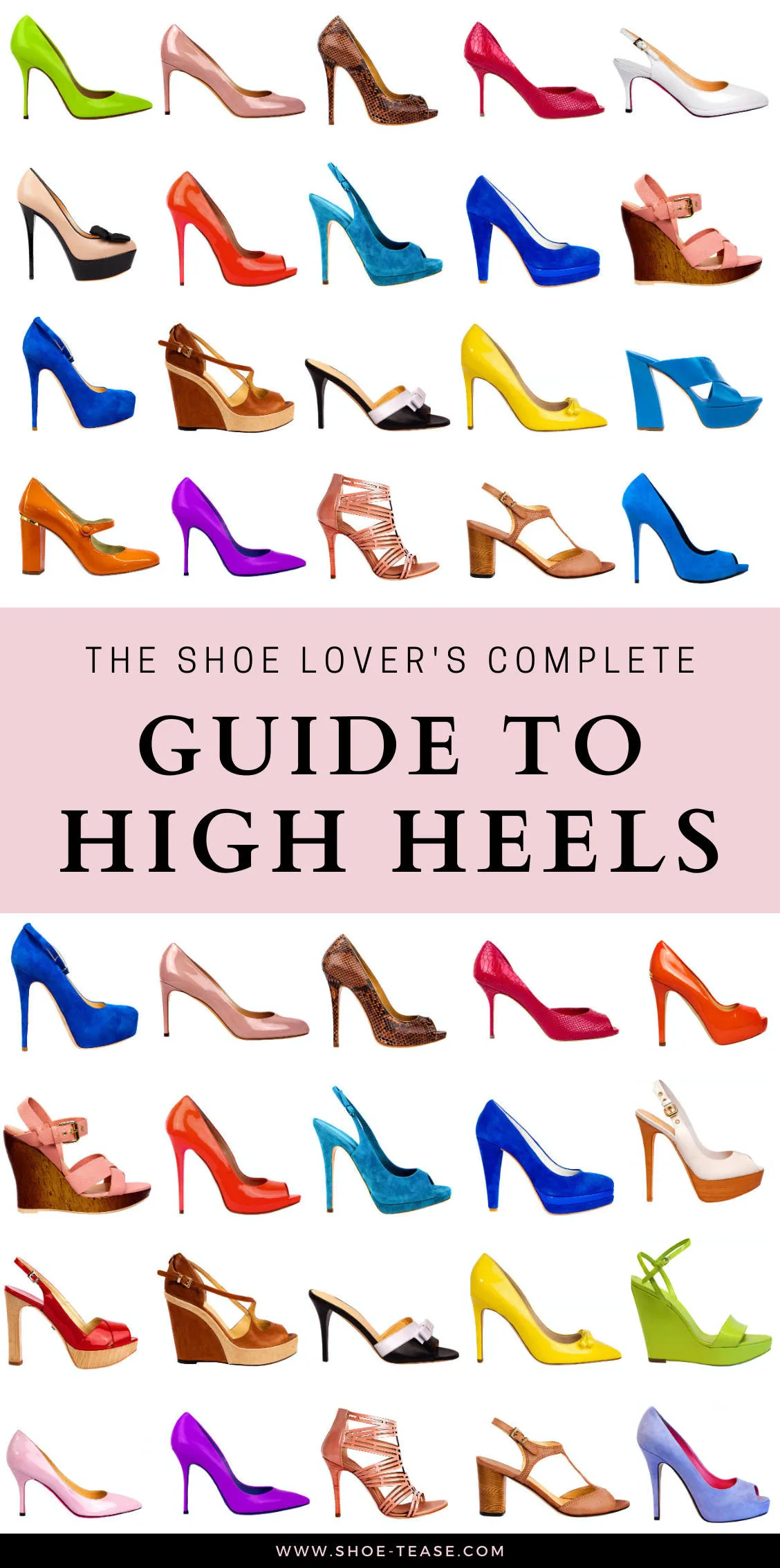 Cristina is the chief editor, fashion & shoe expert here at ShoeTease. As a seasoned stylist and women's fashion & shoe designer, she boasts over 20 years of experience in the fashion industry. She loves crafting effortless outfits for ladies both online and off and believes that styling advice should be accessible to everyone. Whether you're a styling pro or just starting out, Cristina's here to guide you on your fashion journey! Learn more.