Wearing a beige dress, tan dress or taupe outfit and unsure how to style it? Check out this guide that includes 8 great color shoes to wear with a beige dresses – and purse color tips – on shoe-tease.com, below!
Sometimes, trying to decide what color shoes to wear with a beige dress outfit or taupe dress can get a little confusing. It's darker color than white, it's not quite brown, so what shoes to wear with beige outfits, you ask?
Luckily for us beige and wearers, any shade of beige from off-white to light brown to tan or light taupe are all neutrals that play very well with other colors.
If you're wondering what type of shoes to wear with beige, it all depends on your outfit & to what occasion you'll be wearing it.
If you're looking for more beige dress options, check out what Net-a-Porter has to offer at the moment too.Soft knit sweater dresses or sweaters with jeans look fab paired with ankle boots, or pumps for an elevated look.
If you're wearing beige to a cocktail party or formal event such as a wedding (maybe you're a bridesmaid?), then I would opt for sleek pumps, sandals (either minimal or strappy), with or without a platform.
You can also get away with a pointed toe flat in a metallic hue, taking it the more fancy route. This strappy number is one of my faves this season!
However, if your beige dress is somewhat shiny or metallic, you should definitely check out my post on what shoes to wear with a champagne dress, instead!
With respect to what color shoes to wear with beige dresses & outfits, I have listed my fave pairings, below. Whether you're choosing to style a light beige dress, dark beige dress, taupe or tan beige dress, all these color pairings will apply!
In addition, I'm giving some advice on how to style beige outfits, not only with your shoes, but with your purse selection as well. Happy beige outfit styling!
---
Shop Beige Dresses Under $250:

---
8 Color Shoes to Wear with a Beige Dress or Taupe Outfit
RELATED POSTS:
1. Metallic Shoes with a Beige Dress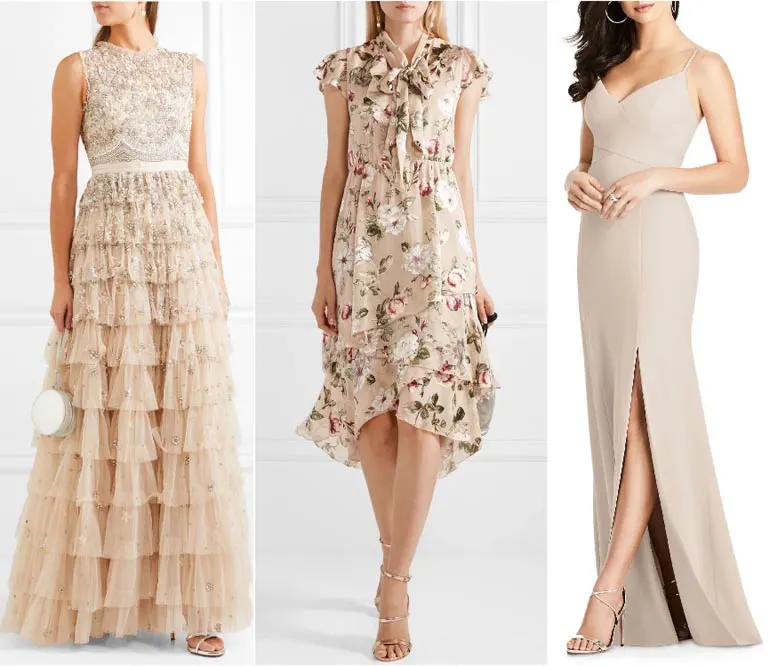 Metallic shoes with beige is my first pick for a cocktail, formal, bridesmaid or even bridal look. It makes the dress or outfit so much more fancy & fun! You can either opt for silver, gold or rose gold metallic heels & shoes.
Popular silver heel choices at the moment are: Leith's Chinese Laundry from Nordstrom (priced for under $100!) and J. Renée's Maressa metallic silver pointy pump.
If you're looking for a wear-with-everything gold sandal, check out Sam Edelman's Yaro. Looking for a pump? Vince Camuto's Gabe pump is a great contender.
Looking for a more casual flat? Check out these gold Gucci-inspired loafers, which are amazing! You can also jazz us a more casual beige sweater dress look with a cool pair of space-like metallic booties.
Purse Styling Tip: If you're styling a beige formal dress with metallic shoes, I would choose a solid color black or white purse. White is my fave because it would be a subtle addition to the look.
Yet a dark-hued purse such as burgundy, dark green or navy could work well too, depending on what shoe & outfit being styled.
Favorite Silver Shoes & Heels:
2. Beige Dress Red Shoes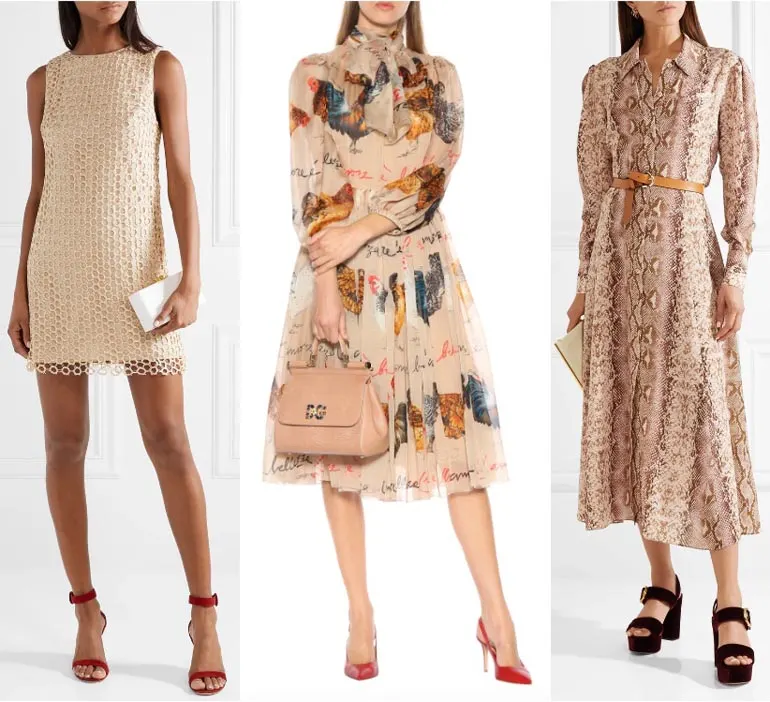 If adding a bit of color to your beige dress outfit, what better hue than red? Go bright red with your shoes or keep it more tonal for winter with a burgundy heel.
Red shoes are a great way to jazz up any beige dress or outfit. That's why I emphasize how great neutrals go with red, in my how to wear red shoes post!
Purse Styling Tip: Beige, black, brown (for less formal occasions) or a hue matching a secondary color in your beige dress works best! Go for cobalt blue if you really want to liven up your beige outfit look!.
Favorite Red Shoes & Heels :
3. Beige Dress And Black Shoes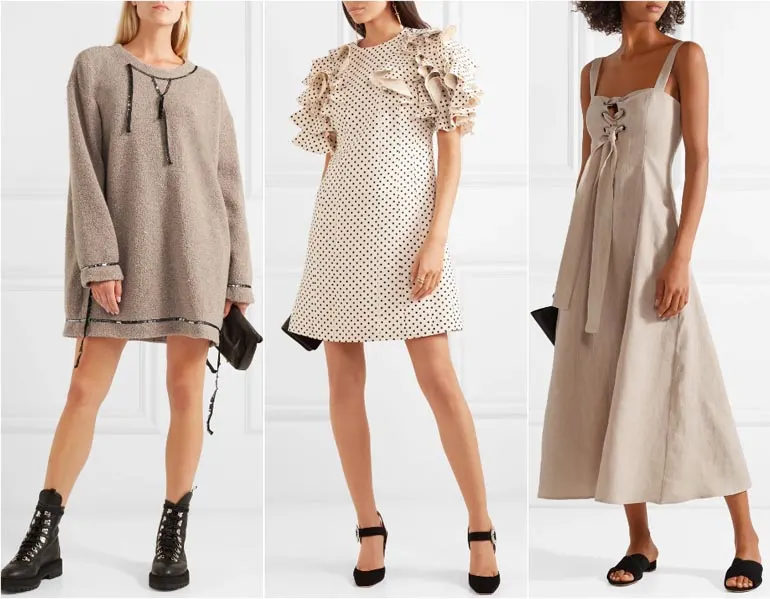 Beige dress and black shoes, you say? Well, beige outfits, like most outfits, will definitely work great styled with black shoes!
Pick a patent stiletto or strappy sandal for a fancy event, or pair a beige sweater dress or work attire with a black boot or loafer/
For specific shoe types, I love Stuart Weitzman's NudistSong strappy sandals (available here at Nordstrom). Or if you're looking for a lesser pricey item, check out these pretty sandals, here.
Sam Edelman also makes a great, simple but comfy pointed pump called the Hazel. It comes in many colors & you can take it from ballroom to boardroom to the bar!
Purse Styling Tip: Since you're pairing neutral colours together, you can either opt for matching black, a white purse or have fun with color!
Favorite Black Shoes & Heels:
4. Tan/Beige Shoes with a Beige Dress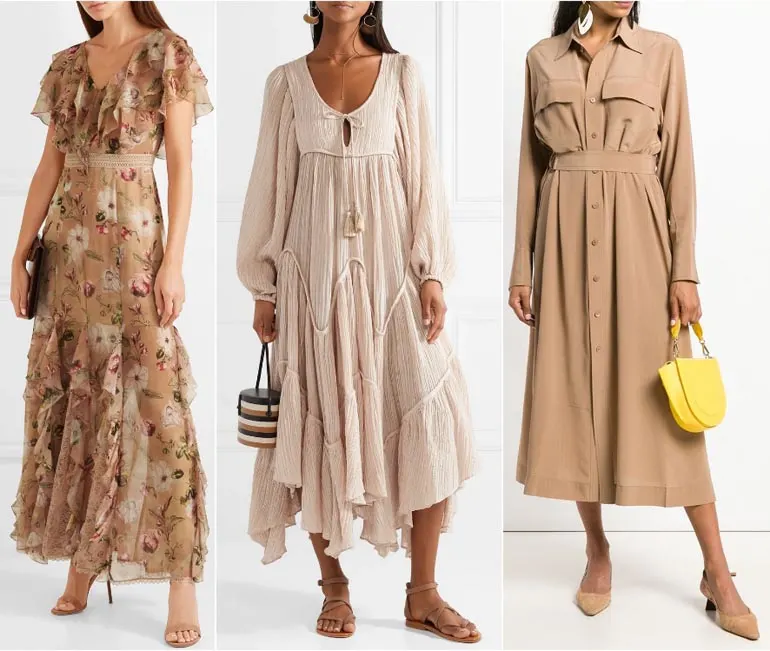 You can't go wrong with two neutrals, either matching with your beige dress or contrasting with a darker toned shoe!
I'm partial to contrasting a cream colour with a taupe shoe or vice-versa, but any shade of beige or tan shoes would work well.
In terms of specific styles, Louboutin's Pigalle Follies pump amazing & comes in different shades of nude. Three lovely shoes that are also striking color shoes to wear with purple dresses & outfits too!
Looking for a less expensive alternative? Try Sam Edelman's perfectly minimal Patti Strappy Sandal!
Purse Styling Tip: You can keep it simple with a neutral purse (brown, beige, black or white) or funk up your look with a metallic, pink or blue bag!
Favorite Beige Shoes & Heels:
5. Beige Dress, White Shoes

Perfect for summer or winter, casual or formal looks: white or eggshell white shoes with beige outfits. Both understated & simple colors make for a lovely combo.
I love a good classic white sneaker, pump or slide for beige dresses.
Purse Styling Tip: When you're styling neutrals, it would be difficult to pick a purse color that doesn't compliment your outfit!
Favorite White Shoes & Boots:
6. Brown Shoes with a Beige Dress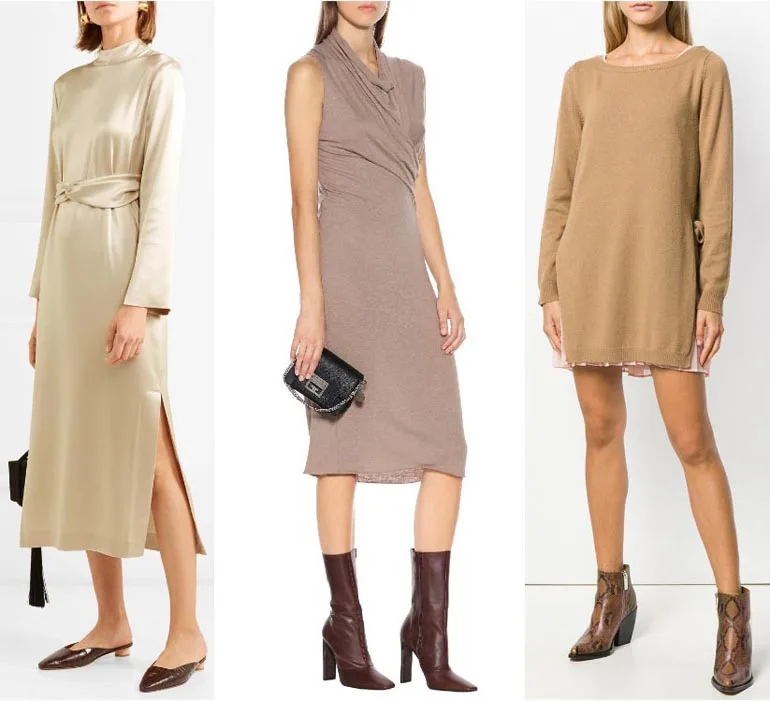 Neutrals are all the rage & timelessly classic. You comfortably opt for a caramel or dark brown colored shoe with your cream colored outfit. It will be more interesting than black, however, but much less formal.
Think brown shoe with a beige dress for a casual or office look. If you want to jazz up a beige bridesmaids dress or formal beige attire with brown shoes, choose a patent material or metallic/copper.
Brown, no matter the shade is a great way to solve that "what color shoes to wear with beige dress" dilemma!
Purse Styling Tip: I'm a fan of a white purse or a blush purse with beige dress, brown shoes looks. However, you can easily choose a black or matching or contrast brown bag you already have in your closet!
7. Snake Print Shoes with a Beige Dress

Ok, so technically snake & reptile prints are not an exact color per se, buuut, they look amazing with beige dresses & outfits. Especially into 2019 when snake prints are all the rage. Opt for a brown or beige-hued snake.
But you can also have fun with colorful snake prints. Just make sure they don't clash by finding a snake print shoe that has beige tones in with the colorful hues as well!
Check out this faboosh Sam Edelman snake print pump! Or this incredible Jeffrey Campbell bootie.
Purse Styling Tip: Oh, the possibilities! This entirely depends on the snake print color, but if you're wearing tonal snake, opt for a black, beige or white purse.
If you're choosing a colorful snake print shoe or boot, why not pick one of the colors in your footwear & match it to your purse?
8. Blue Shoes with a Beige Dress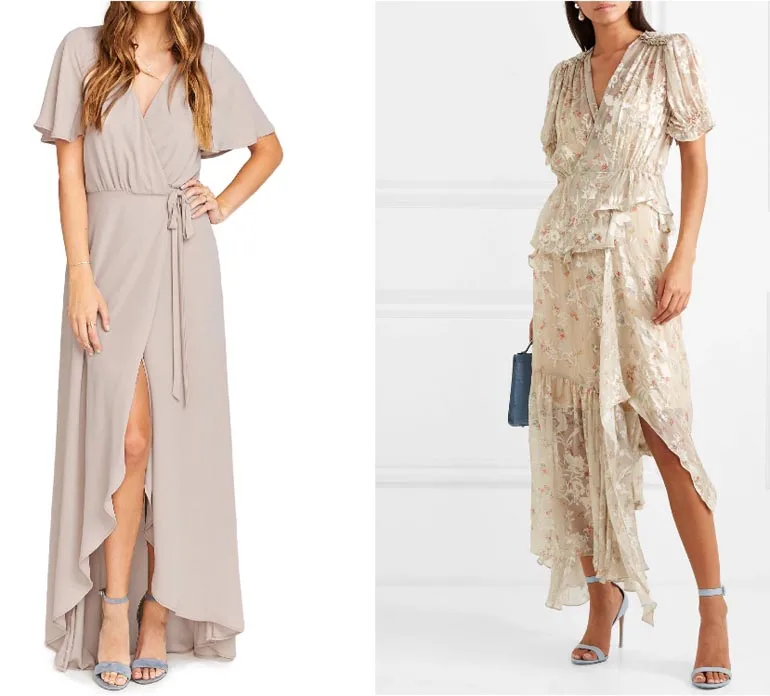 Bet you didn't think about pairing blue shoes with your beige dress, did you? I love a soft blue shoe with a tan dress, as it contrasts in tone but also gives an understated elegance to the look.
Purse Styling Tip: If you're styling beige outfits with a light blue shoe, keep the color palette pale and choose a metallic, white or beige purse.
If you'll be wearing your beige outfit with a darker colored blue shoe, you can choose the same purse color as with a lighter blue shoe, or also opt for black or a darker contrast shade like burgundy.
Final Words About Shoes for Tan & Beige Dresses
So this is my rundown on how to style beige outfits & beige dresses with the right type & color of shoe. Are there any combos of what color shoes to wear with a beige dress that I might have missed?
As always, style is relative to what makes you feel great, so if there's a pairing missing from this of any "what shoes to wear with beige dress" article, just go for it!
Looking to pair the right color shoes with a specific color dress? Check out all of my posts on dress color styling! These include color pairings like shoes to match peach dresses and what color shoes to wear with pink dresses.
xo ShoeTease
Cristina is the chief editor, fashion & shoe expert here at ShoeTease. As a seasoned stylist and women's fashion & shoe designer, she boasts over 20 years of experience in the fashion industry. She loves crafting effortless outfits for ladies both online and off and believes that styling advice should be accessible to everyone. Whether you're a styling pro or just starting out, Cristina's here to guide you on your fashion journey! Learn more.