Clear heels can be seen on both the concrete and fashion runways nowadays. And if you're looking for tips on how to wear clear heels, or get some clear heel outfit ideas, read on!
What are clear heels?
Clear heels, transparent heels, perspex heels, lucite heels – so many names, so little time! – are literally shoes made of transparent, plastic materials.
Most clear heels have clear heels and uppers, while some are partially transparent. These can be colorless or colorful, with or without added detailing, such as rhinestones and crystals.
Whichever style you choose, clear heels are sleek, versatile shoes that go with everything. Well, as long as the occasion calls for it!
Clear heels are even more versatile than skin tone matching nude shoes. That's because they are transparent and can look virtually invisible, depending on the style.
Choosing a pair of clear slides or clear heel sandals will give any outfit a fresh, trendy and somewhat futuristic vibe. But first, let's answer a few common questions about clear heel sandals and shoes.
The downside to clear heels? They can be less comfy and require foot care and shoe prep before wearing them.
How to Wear Clear Heels – Foot Prep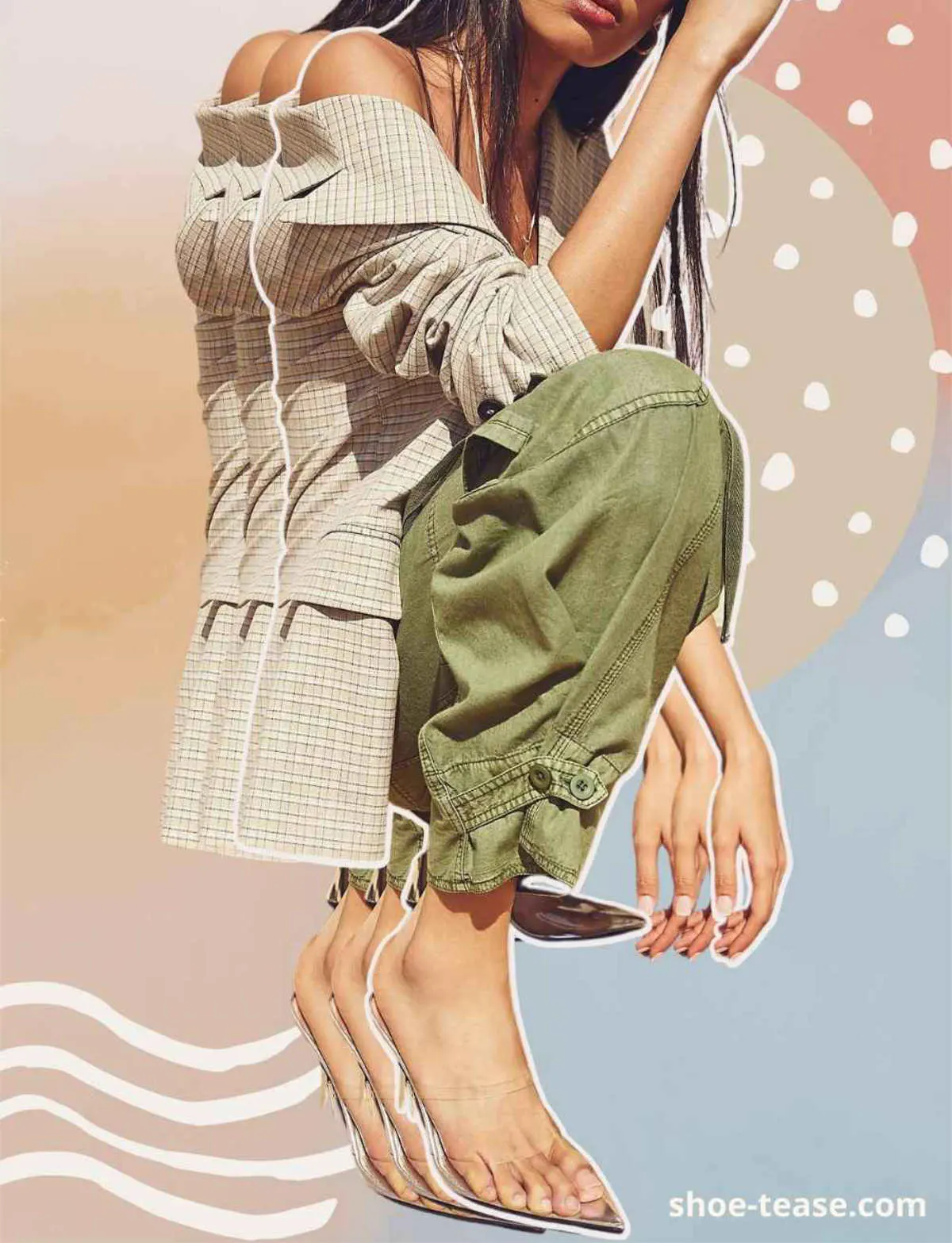 Before going into detail on how to wear clear heels outfits, you must think about your feet! Clear heels might be pretty, but they're a higher maintenance shoe. Especially closed-toe clear heels.
The last thing you want to do is cram rough feet and overgrown toenails into these fine shoes or make them foggy!
First – Prep Your Feet
Clear heels can be tricky to wear. However not with outfits, but with the bare feet that will be talking in them.
Since clear heels will show off your full feet, you'll need to prep, prim, and polish them! A pedi is ideal, but if you can't make it to the salon, here are a few tips:
Exfoliate your feet – do this after you shower to remove unsightly dry skin and calluses
Toenail care – after you bathe, push down the toenail cuticles, clip and file the nails. Add polish that will go with your outfit, or simply buff your nails
Moisturize your feet – especially in and around your heels. Use a light, water-based moisturizer that dries quickly. That way, you don't end up sliding inside your heels
Keep feet dry – roll or spray antiperspirant on your feet. This is a great way to wick away sweat to prevent your feet from getting sweaty and fogging up your shoes. Yes, that's a thing!
Second – Prevent Clear Shoes from Fogging
A downside to closed-toe clear shoes is that they fog up. This is due to excess moisture trapped inside the shoe, like a car window when it gets humid inside the vehicle. Trust me it's a thing, and take a look at Kourtney K's foggy clear shoes as an example!
Here are some tips:
Use an antiperspirant under your feet to prevent sweating
Add a moisture-wicking half insole that hides the front of your soles, which will also avoid slipping
Wear cut-out, laser-cut, or open-toe clear shoes. This will allow air to flow and moisture to evaporate
Wear crew socks inside your clear shoes or boots, or choose lace, fishnet, or sheer socks for something more subtle.
Avoid wearing your clear heels on a hot, sunny day
Clear Heels Outfit Ideas for Women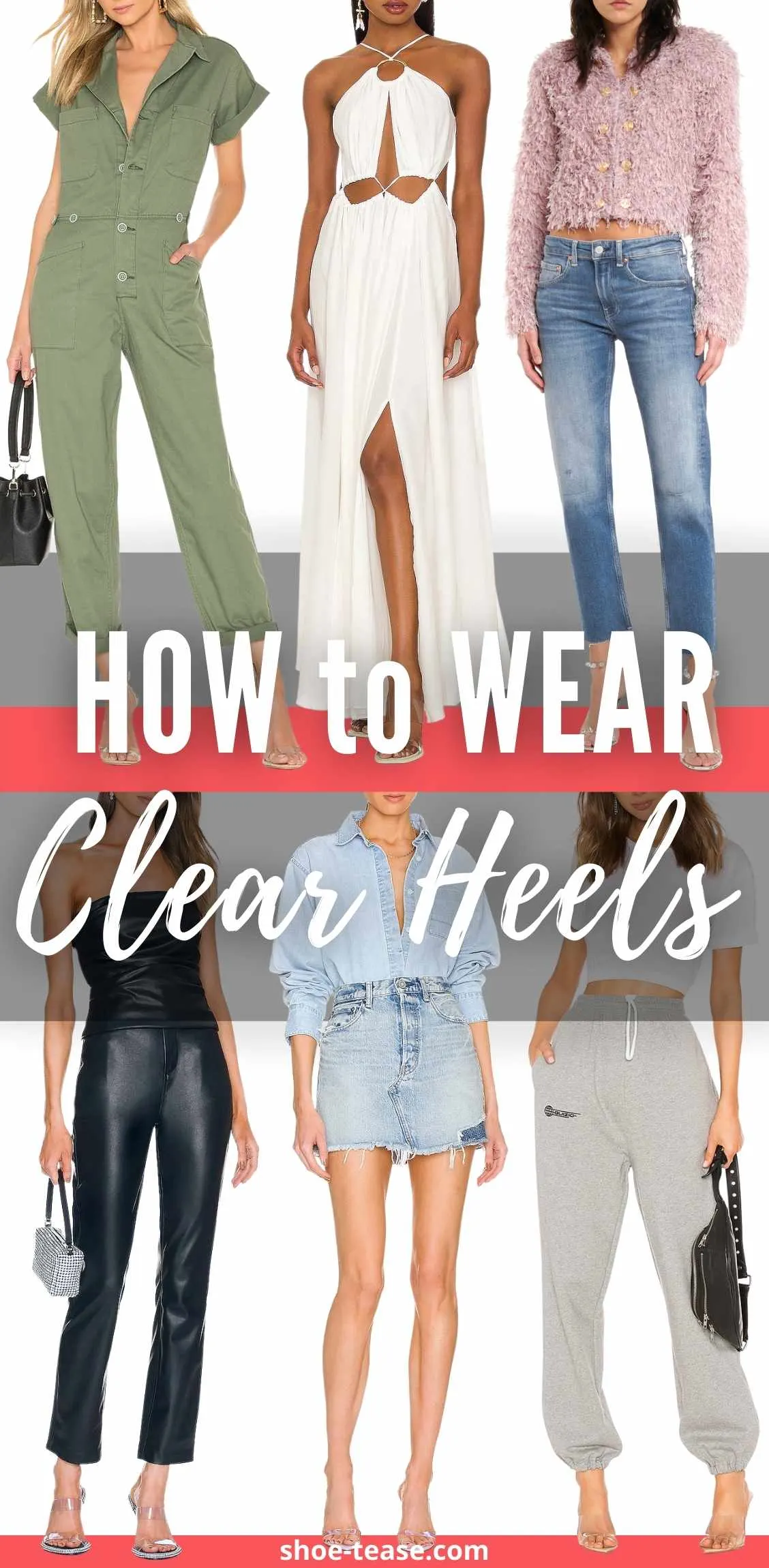 Favorite Clear Heels:
1. Clear Heel Outfits with Prints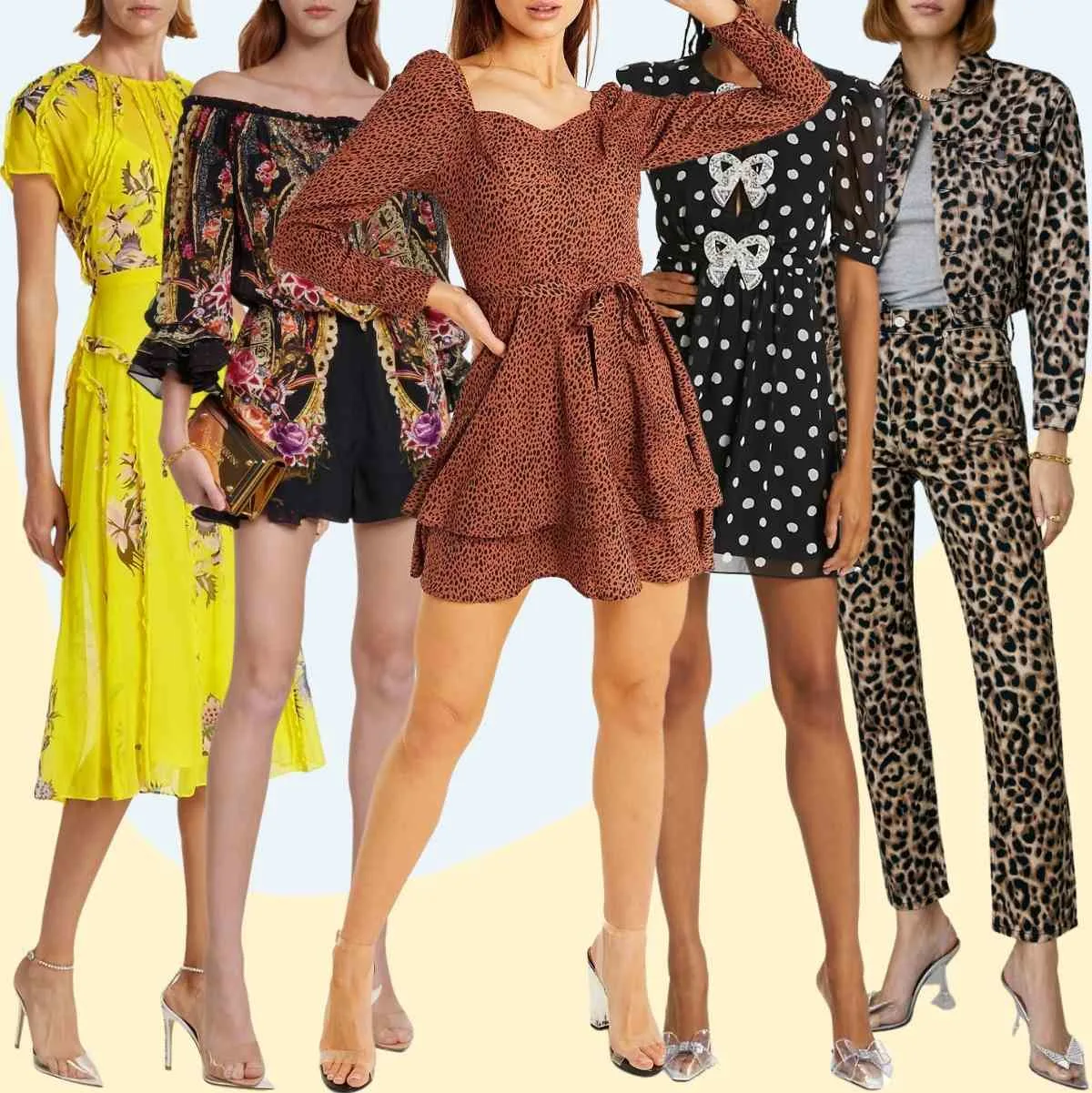 Clear heels are the ultimate trendy barely-there-shoes. They make perfect shoes to wear with leopard print, other animal prints, and various playful and floral patterns.
The busier the print, the more they will accentuate it! Finish off the look with minimal jewelry, matching a small purse with one of the secondary colors in your outfit's print.
2. Clear Heels with White Clothing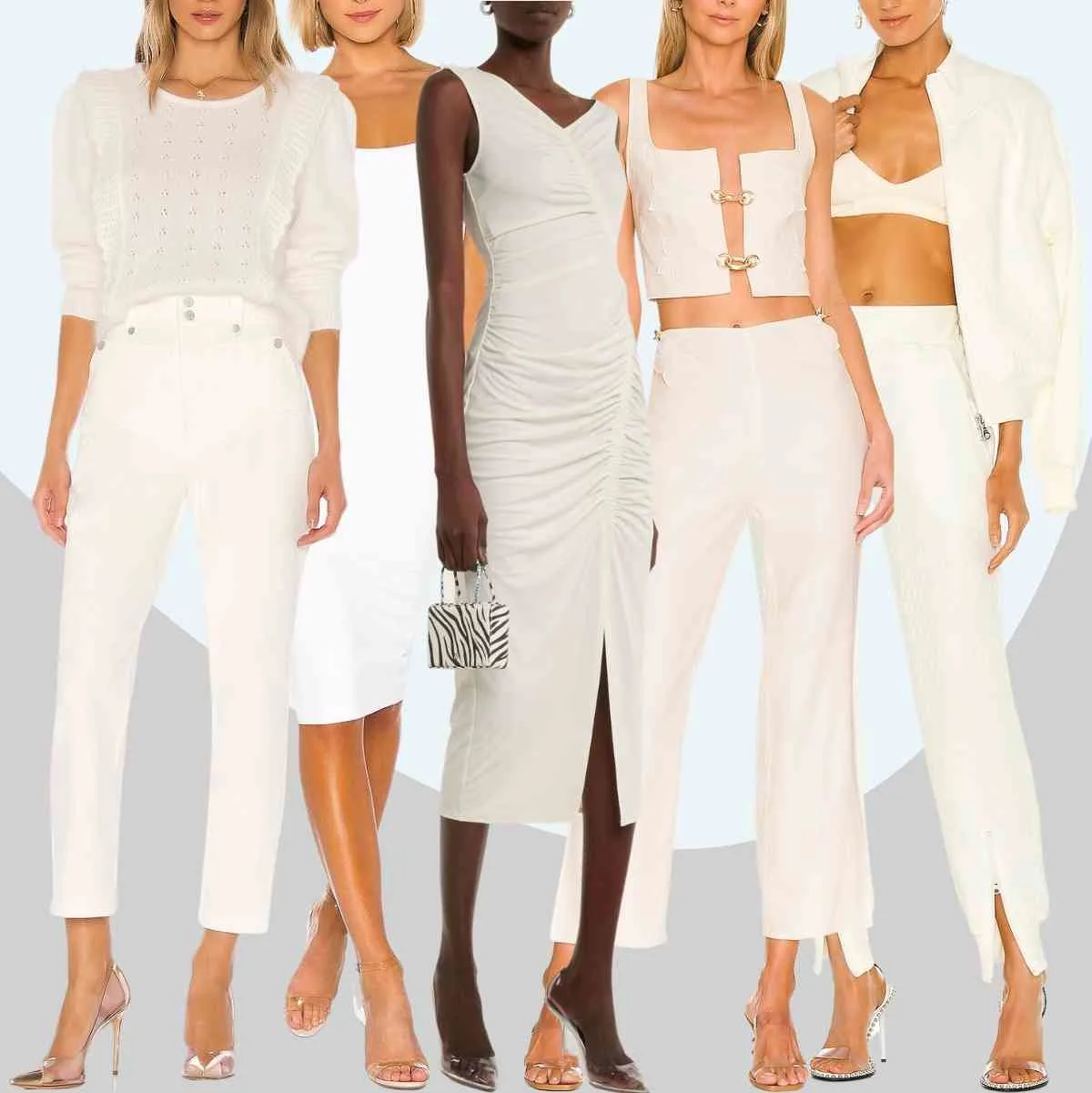 Outfits with clear heels will make all-white looks appear even more crisp and cool! They're also great shoes to wear with white dresses!
From a formal white dress, white jeans and tee, or matching white pantsuit – even a wedding dress – clear heels are a 10/10 match for all of the above.
Make sure the base of your clear shoes matches your skin tone or is in a demure hue like gold or tan. This will prevent the shoes from distracting from all the white.
3. Clear Heels with Jeans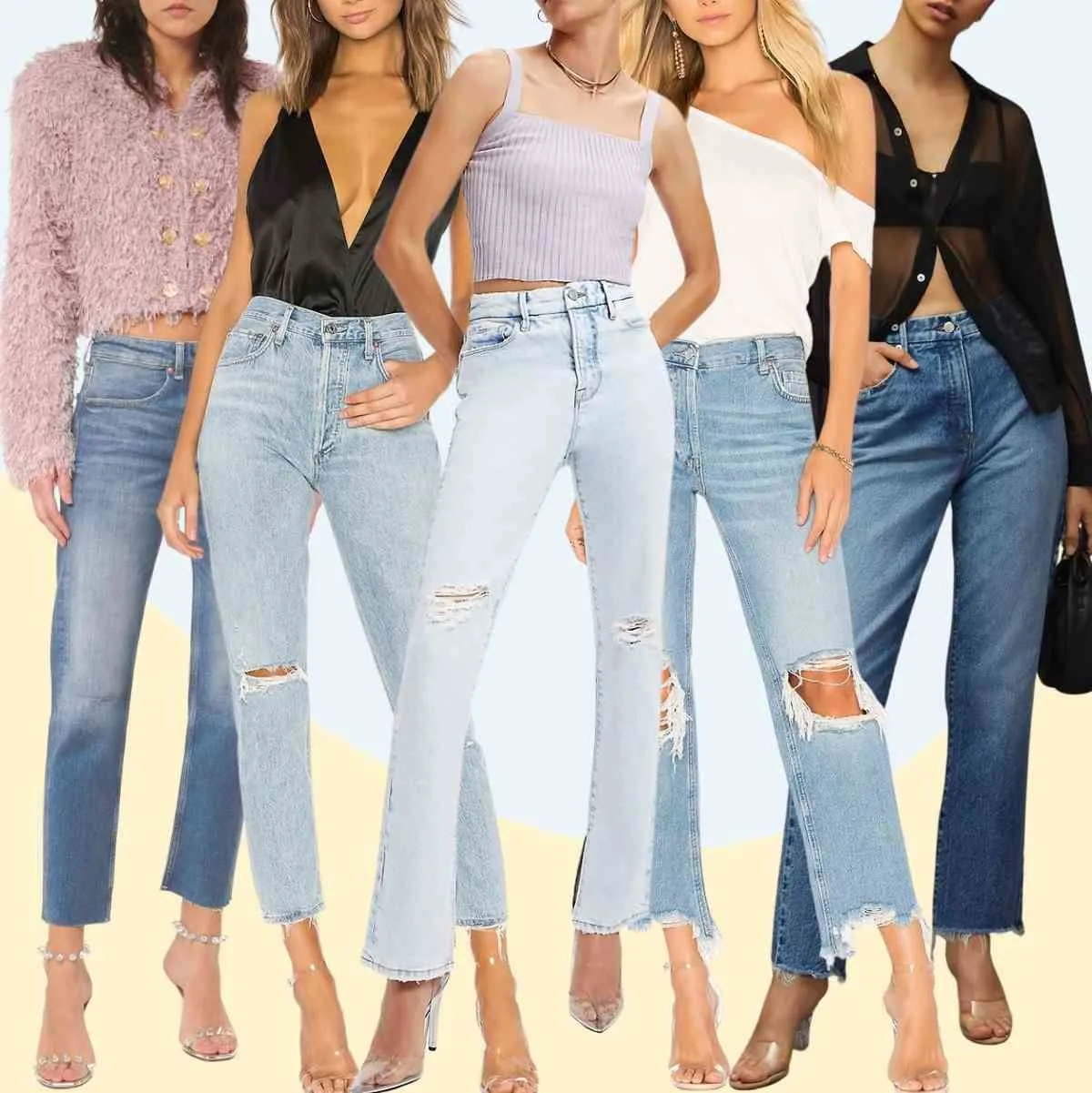 Clear heels outfits with jeans will add a futuristic edge to any style of jeans. I love these heels with blue jeans to jazz up even a simple jeans & tee or sweatshirt outfit.
But they can look super glam with black or dark jeans, a bodysuit and an oversized blazer or moto jacket.
Cropped jeans are my fave with clear pumps and especially strappy sandals, so they can be fully showcased!
Try a block-heeled clear shoe with wider jeans, and play around with clear kitten heels with any cropped for slim jeans.
4. Clear Heel Outfits with Dresses
Clear heels are great shoes to wear with dresses! In fact, these clear shoes can make even the most country girl dress look modern and on-trend.
From tall to long, tight to edgy, these are my favorite dress types to wear with clear heels:
Bodycon Dresses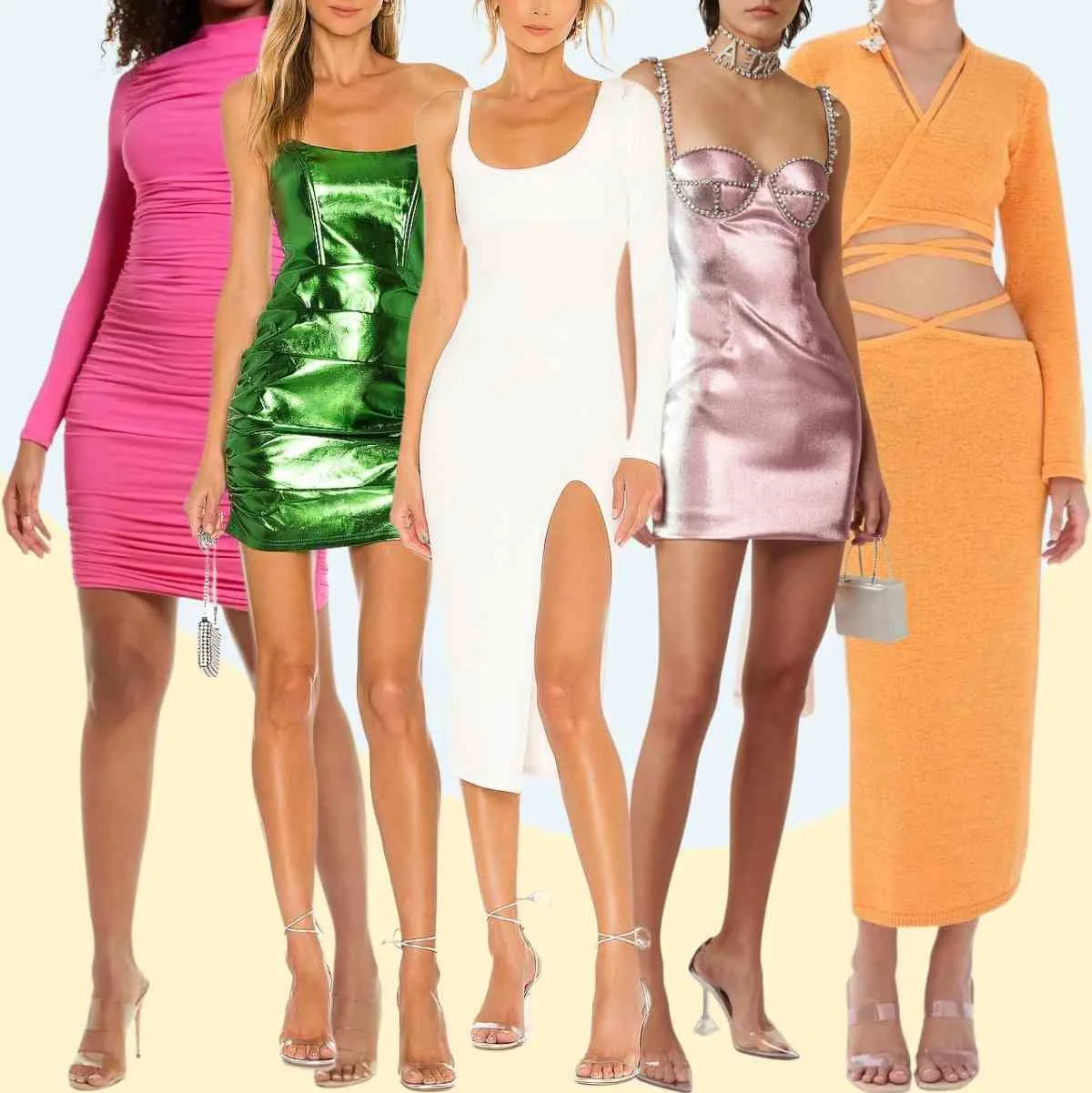 There's something sassy and provocative about a clear heels outfit that just make sense with a bodycon dress.
You can't go wrong with these two pieces if you want to make a statement. For instance, you can wear them with a mini bodycon dress for a night out at the club or a midi cut-out dress for a sultry date night look.
Cocktail Dresses & Gowns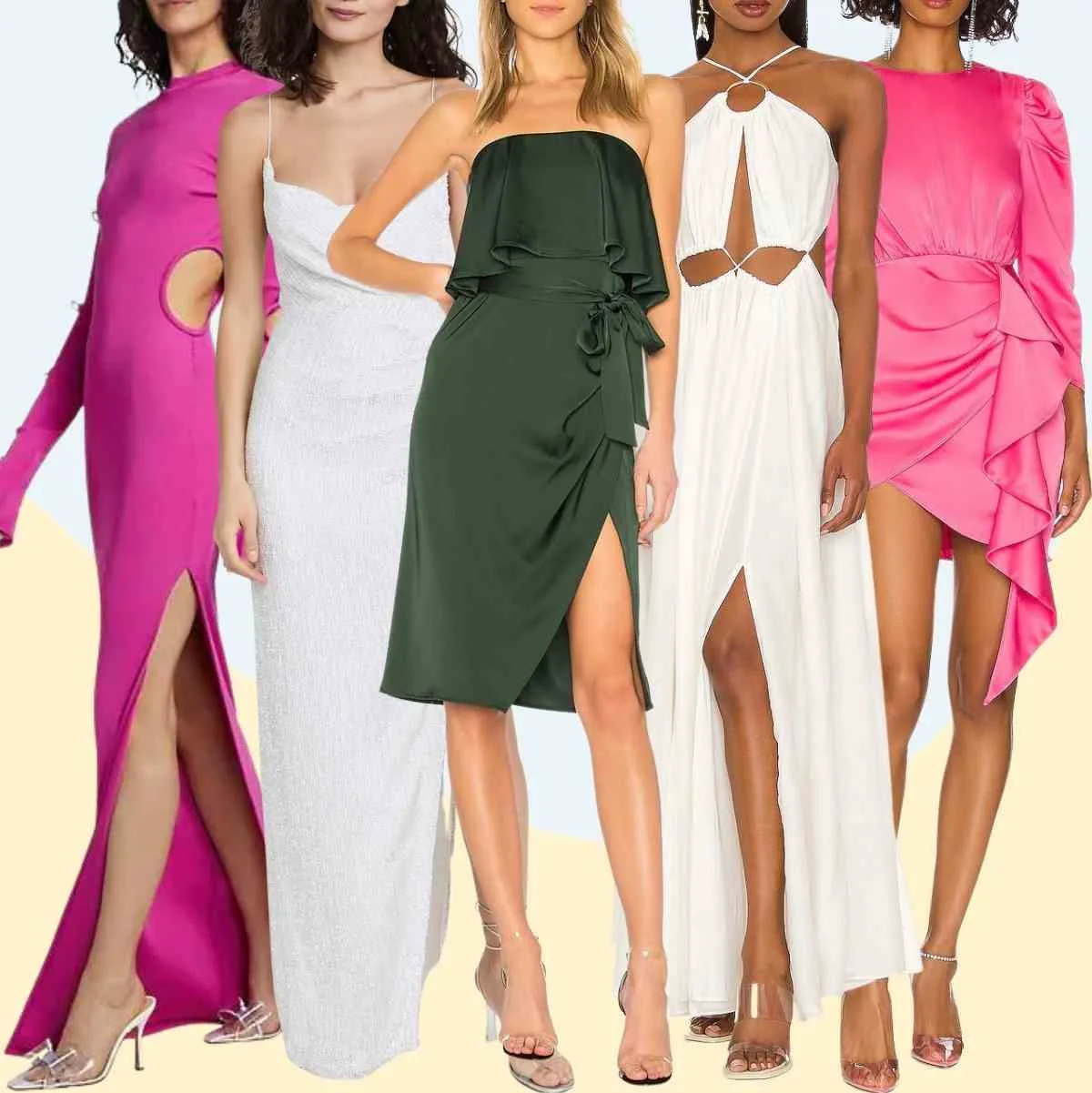 Tired of simple black pumps or floss heels? Then clear heels with a cocktail dress will make your outfit fresh and current.
From tulle ball gowns, greek goddess-like floor-length dresses to chic festive mini evening dresses, there are many clear heels to choose from. The more 'nude' your clear heels are, the more of a statement your dress will make.
Check my post about the best shoes to wear with cocktail dresses, and see my favorite picks!
Slipdresses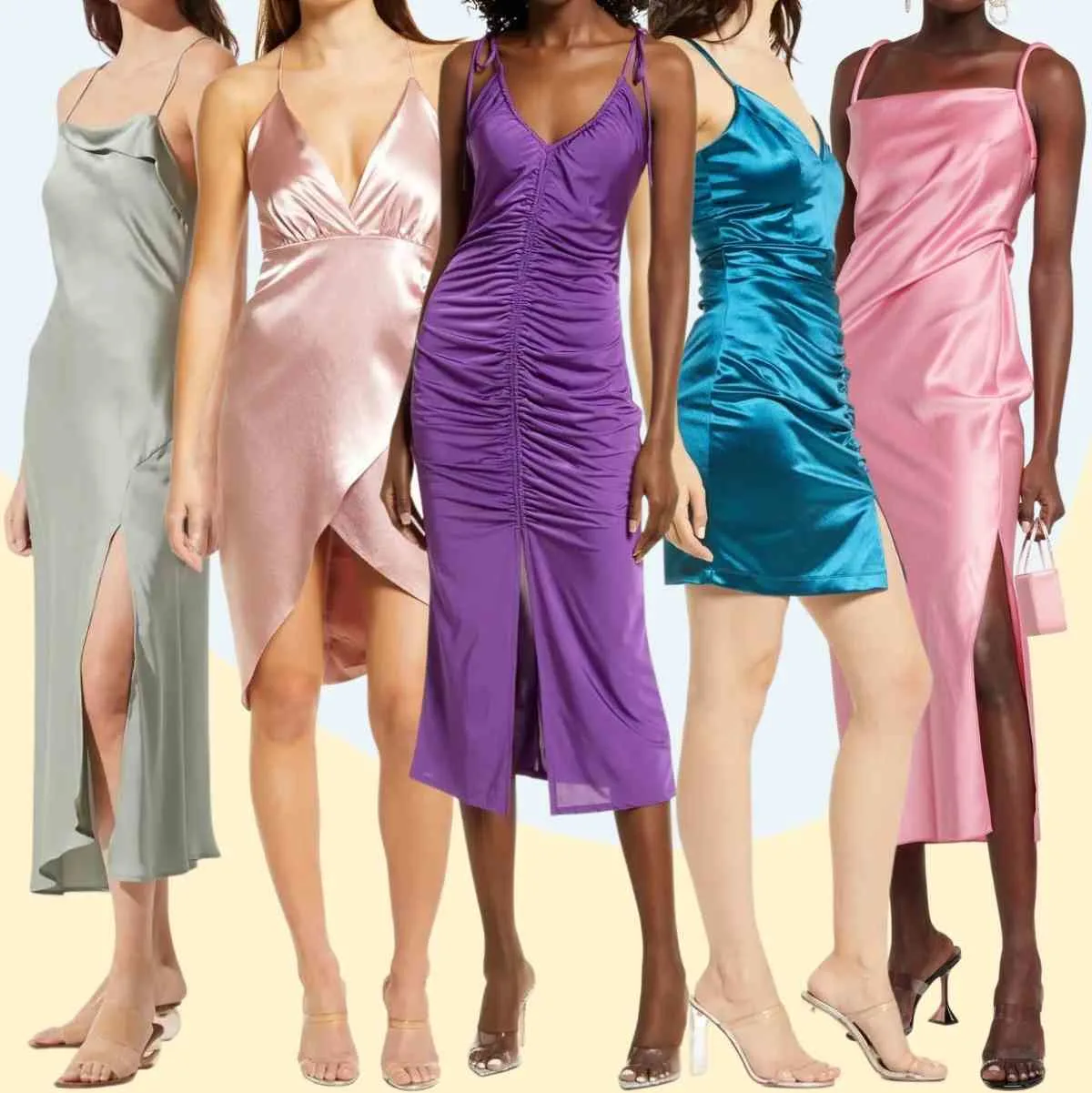 Wear your clear heels and slip dress for an evening soiree or to pair with your bridesmaid dress. However, topped with a cozy sweater or oversized blazer, you have a cool day-to-night look!
The daintiness of strappy, minimal clear heels compliments a body-skimming satin dress no matter where you're wearing it. And an extra bonus is that they will match any color dress!
Sequin Dresses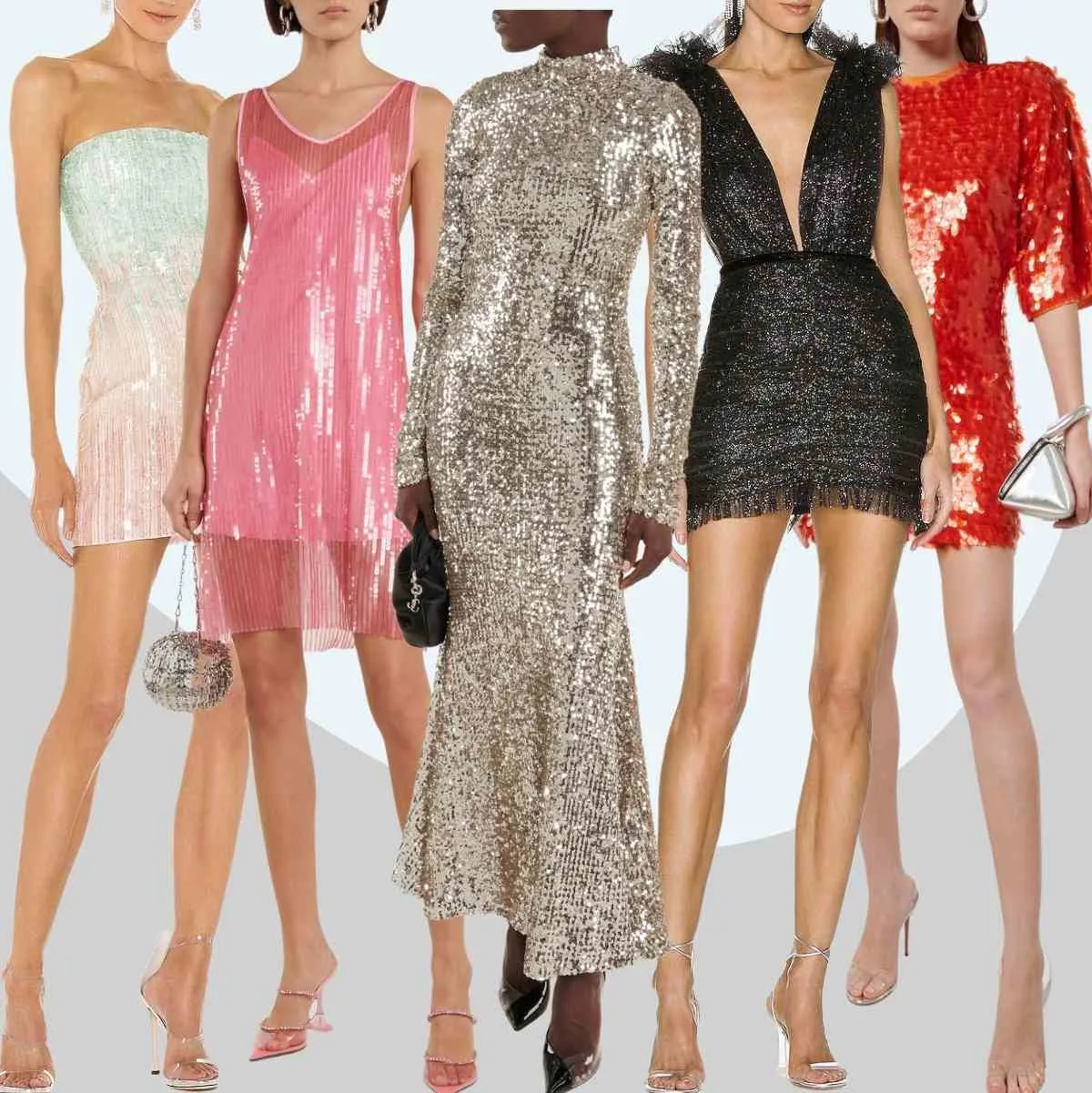 For a party or new year's event or even a bachelorette, pairing a sequin dress with a clear heel is stunning! The shoes will play up the sheen of the dress, while not taking away from it's sparkle!
You can choose to opt for a fully clear heel with no color, or one that has some detailing that goes with the dress. You can even go all matchy-matchy with a similarly colored clear heel. Go all out with sparkles!
Leather Dresses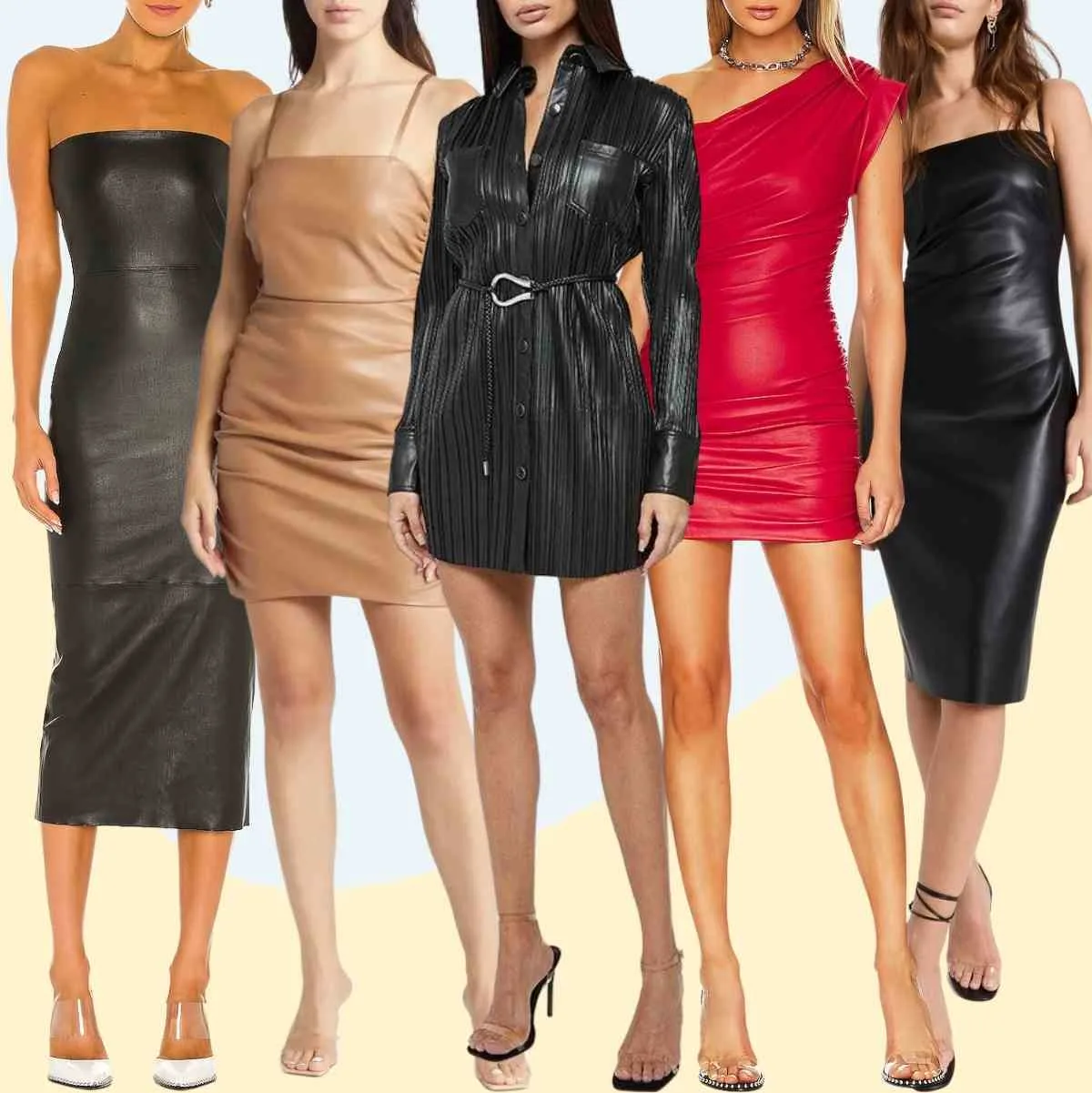 Leather dresses plus clear lucite heels are a match made in edgy heaven! If you want to look fierce, this is a pairing worth wearing. With a black or any color leather dress, your clear heels will take the fierceness of the frock to the next level.
Slides, sandals, or pumps will all work, as with two-tone clear heel sandals with a contrast color strap or outsole. Complete your look with a minimal clutch and silver jewels, such as a chain belt, earrings, or necklace.
5. Clear Heels Outfits with Pants
If you want to perk up any old pair of dress pants or plain black leggings, clear heels will make them relevant again. Especially with a simple top or jacket, completed with a structured leather handbag.
Clear Heels with Dress Pants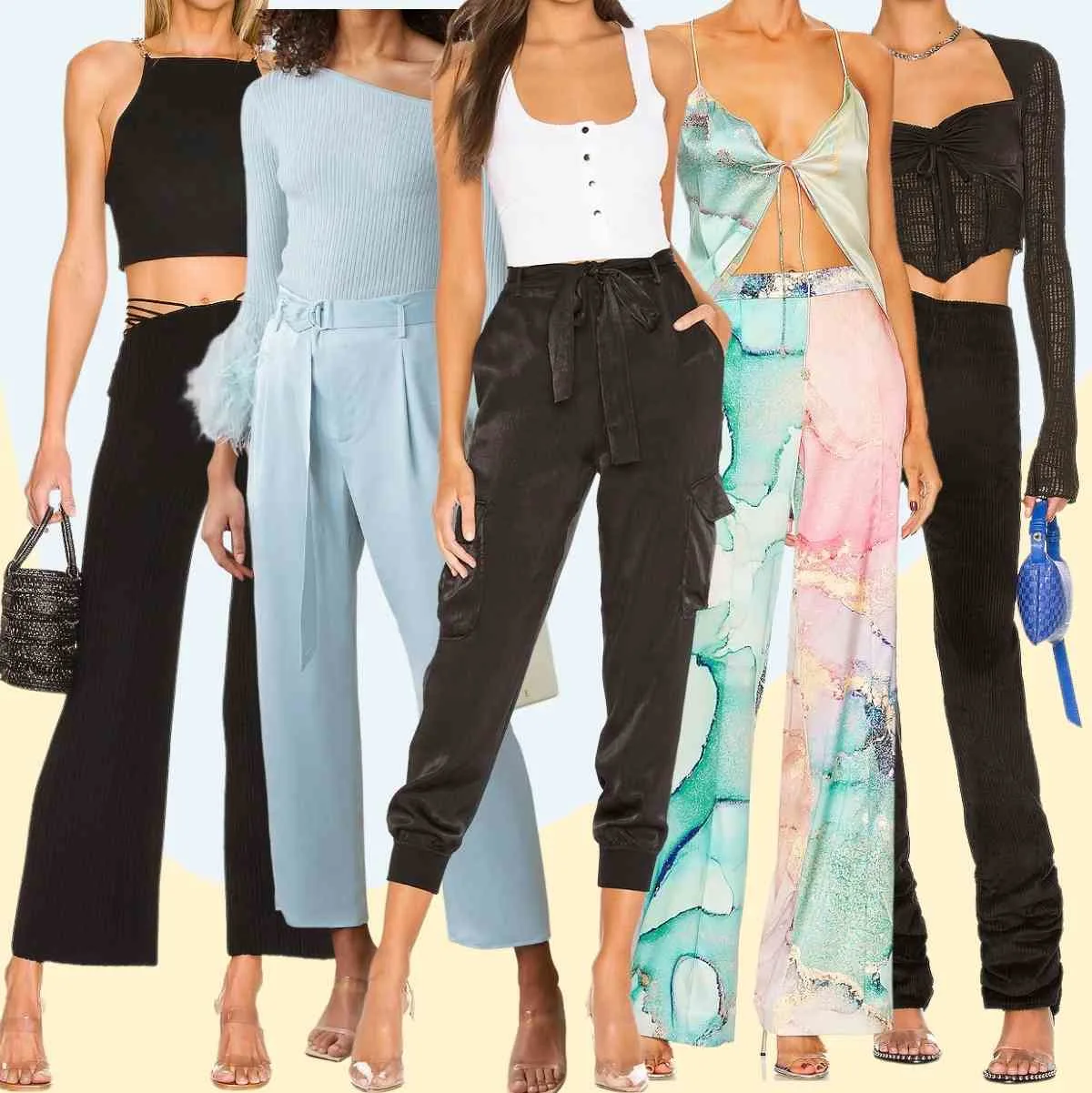 From cropped to wide-leg pants and everything in between, dress pants can look great for all occasions and outfits. Choose a matching set of pants and top, clear sandals and simple jewels, and slicked-back hair for an evening out.
Even the most billowy, pajama-like pants with clear heels will make it look like you're dressed for the occasion. Whatever that may be!
Clear heels – especially pumps – will be an unexpected choice for tight or loose suits worn to a gala or an evening of cocktails. There are so many ways to wear shoes with cropped pants and wide-leg pants, so read those posts for more inspo!
Leather Pants & Leggings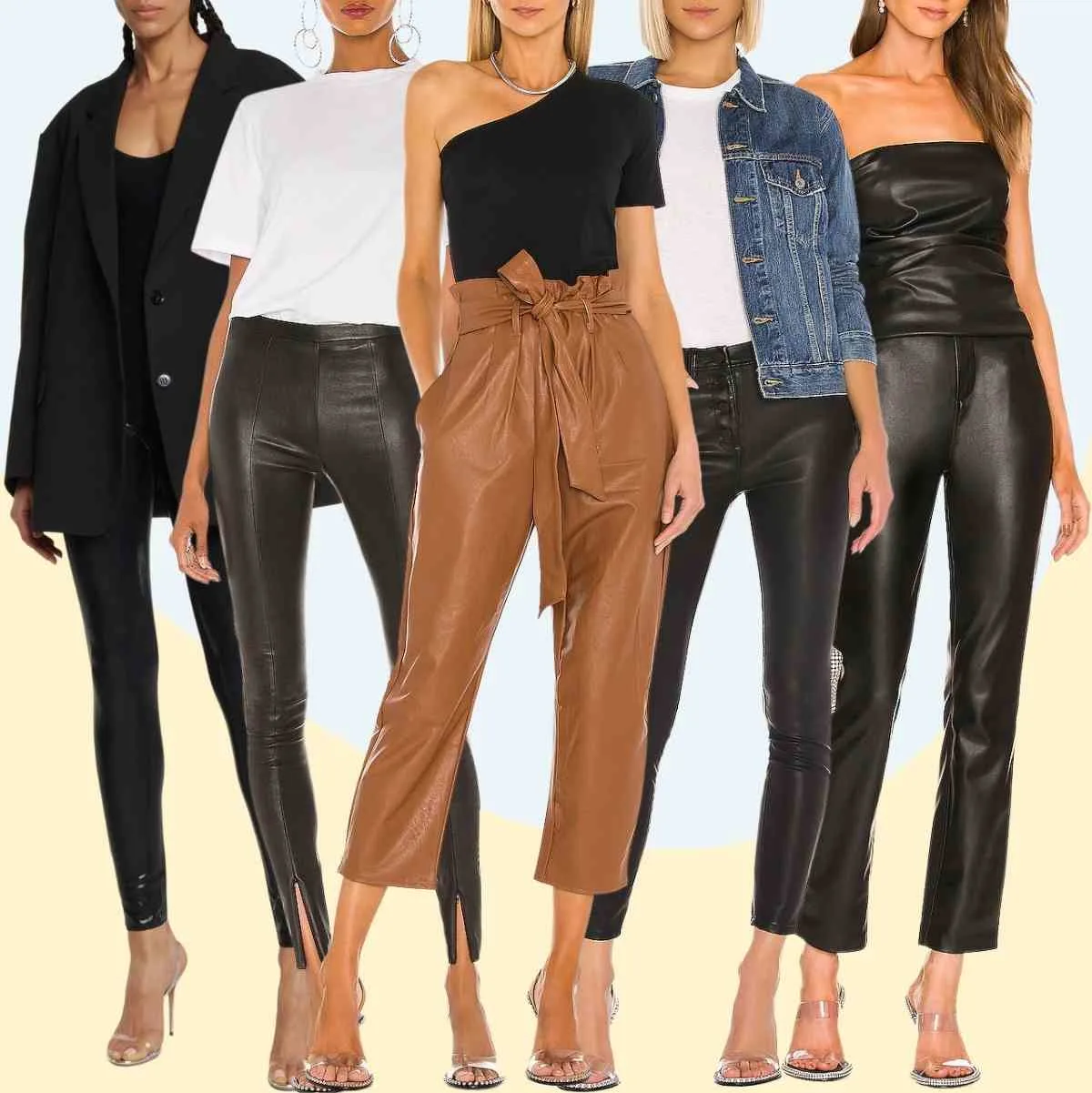 If outfits with clear heels and leather dresses look great, leather pants will too! They play up the edginess of the pants while not drawing too much focus away from the primary clothing item.
Shiny, matte, or leather leggings will also look extra chic with a pair of clear heels. These pants are perfect for a night out. However, they also make trendy leggings outfits look with a basic tee and jacket.
6. Clear Heels with Jumpsuits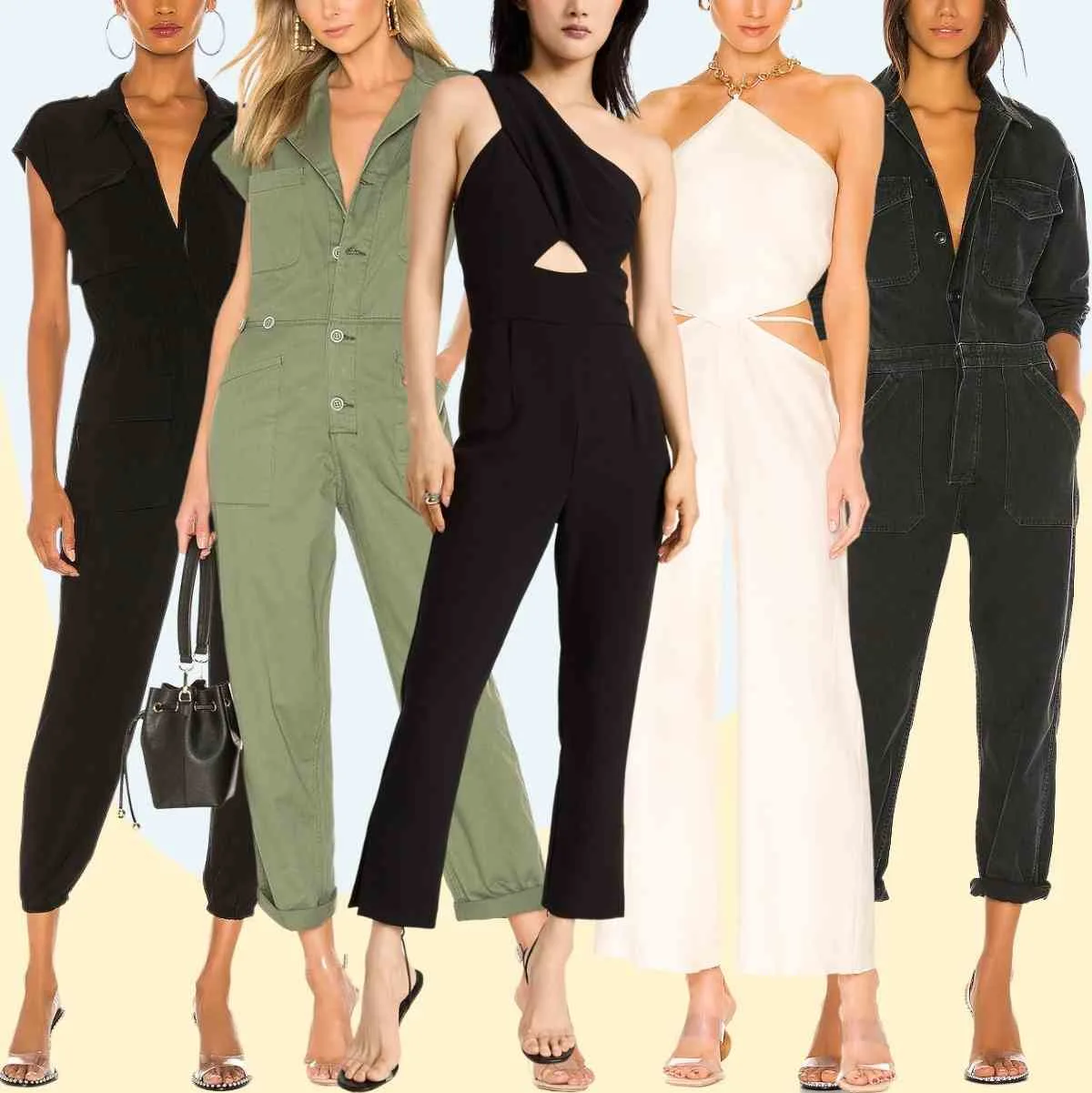 Jumpsuit outfits with clear heels are a great combination. These shoes can liven up a black jumpsuit to wear to a wedding or make a sassy look day or night paired with a utility jumpsuit.
I love playing around with denim or army jumpsuits, adding the unexpected touch of a shiny, transparent heel! More about the best shoes with jumpsuits in my other post in if you're interested!
7. Clear Heels with Joggers & Sweats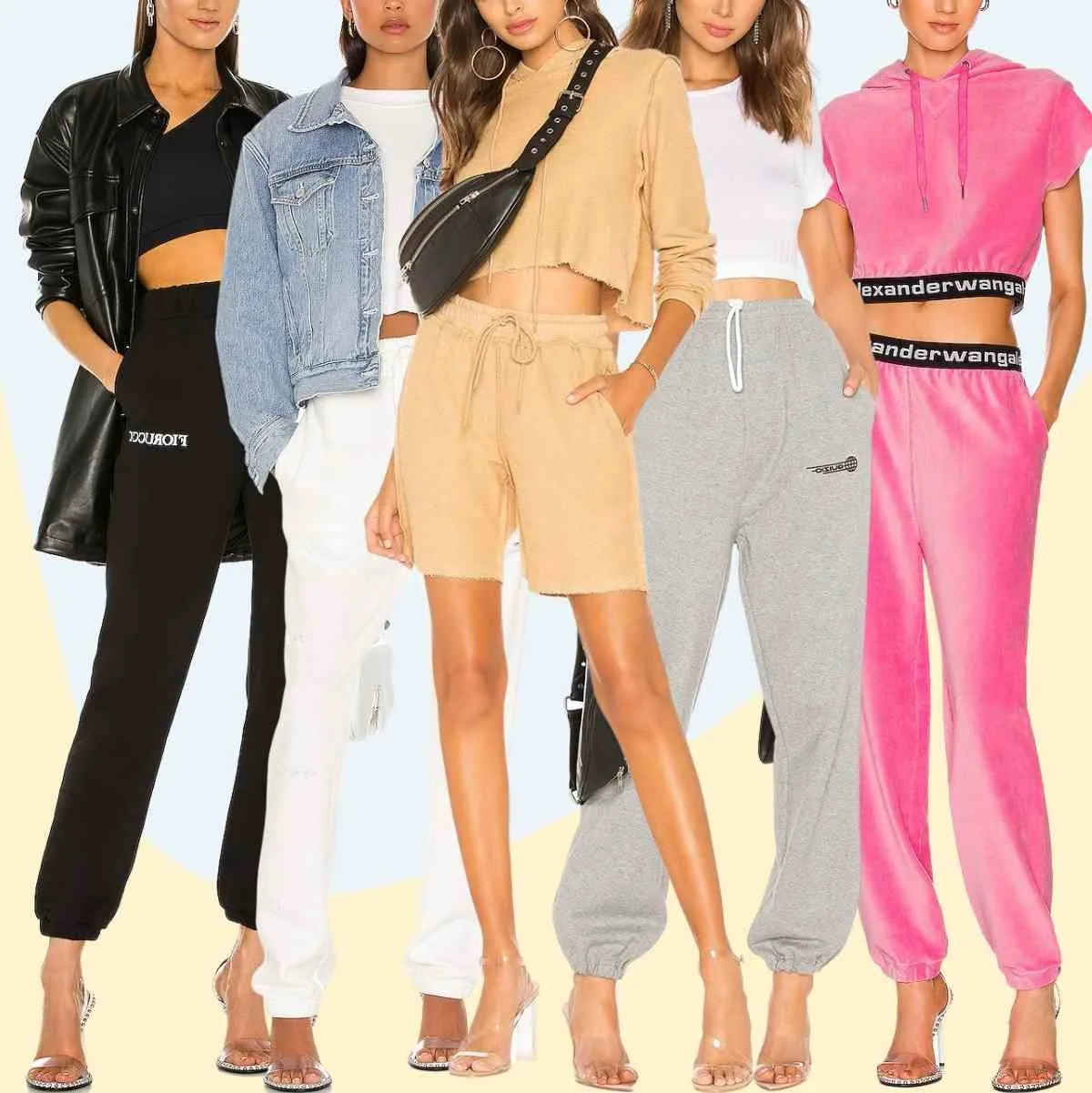 One way to elevate any joggers, sweats and loungewear is to slip into a pair of clear sandals or slides. You can choose matching joggers and tops, or simply pair your sweatpants with a bodysuit or cropped tee, adding a moto or denim jacket.
These looks work best when your hair is slicked-back or blown out and your sweats don't look like they've binged the latest Netflix series.
Complete the look with a leather sling purse or crossbody and statement earrings. I love hoops! Check out my post for more tips on the best shoes to wear with joggers, which include clear and other heels.
8. Clear Heels with Skirts and Skirt Suits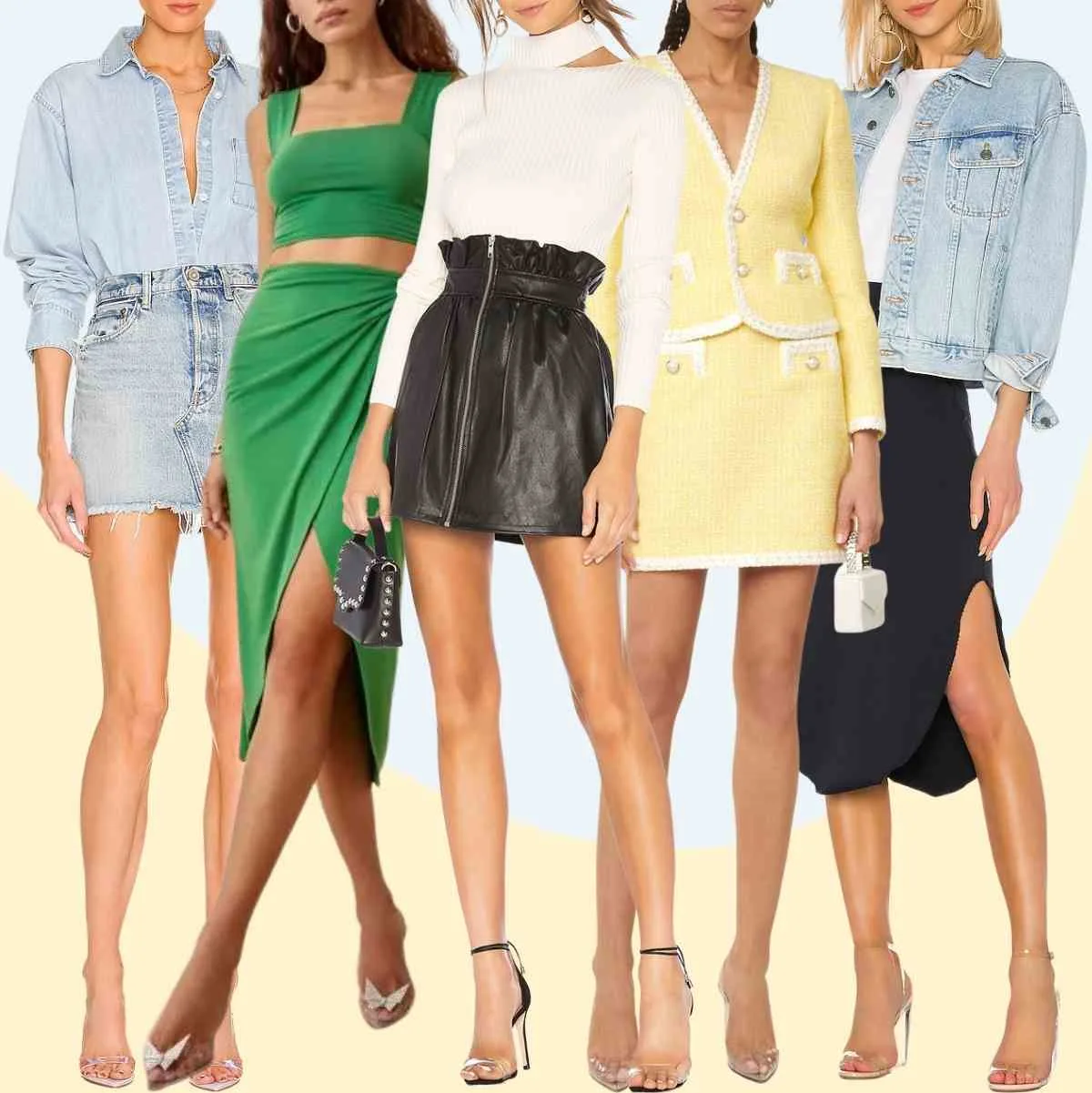 There are many ways to wear clear heels outfits with skirts. If you're looking to wear a matching skirt set to an evening event. Or, you can go for double denim (like a jean skirt and chambray shirt combo) for a lunch date.
Off for a night on the town? Put on a leather mini with a cut-out top with your clear heels!
You can even transform the look of a classic skirt suit with a pair of clear pumps, so it looks more current and modern. Add a small handbag to give a dainty edge to the look!
Read my post about how to wear shoes with skirts of all kinds if you're curious about styling various skirt lengths and styles with your clear shoes!
9. Clear Heels with Shorts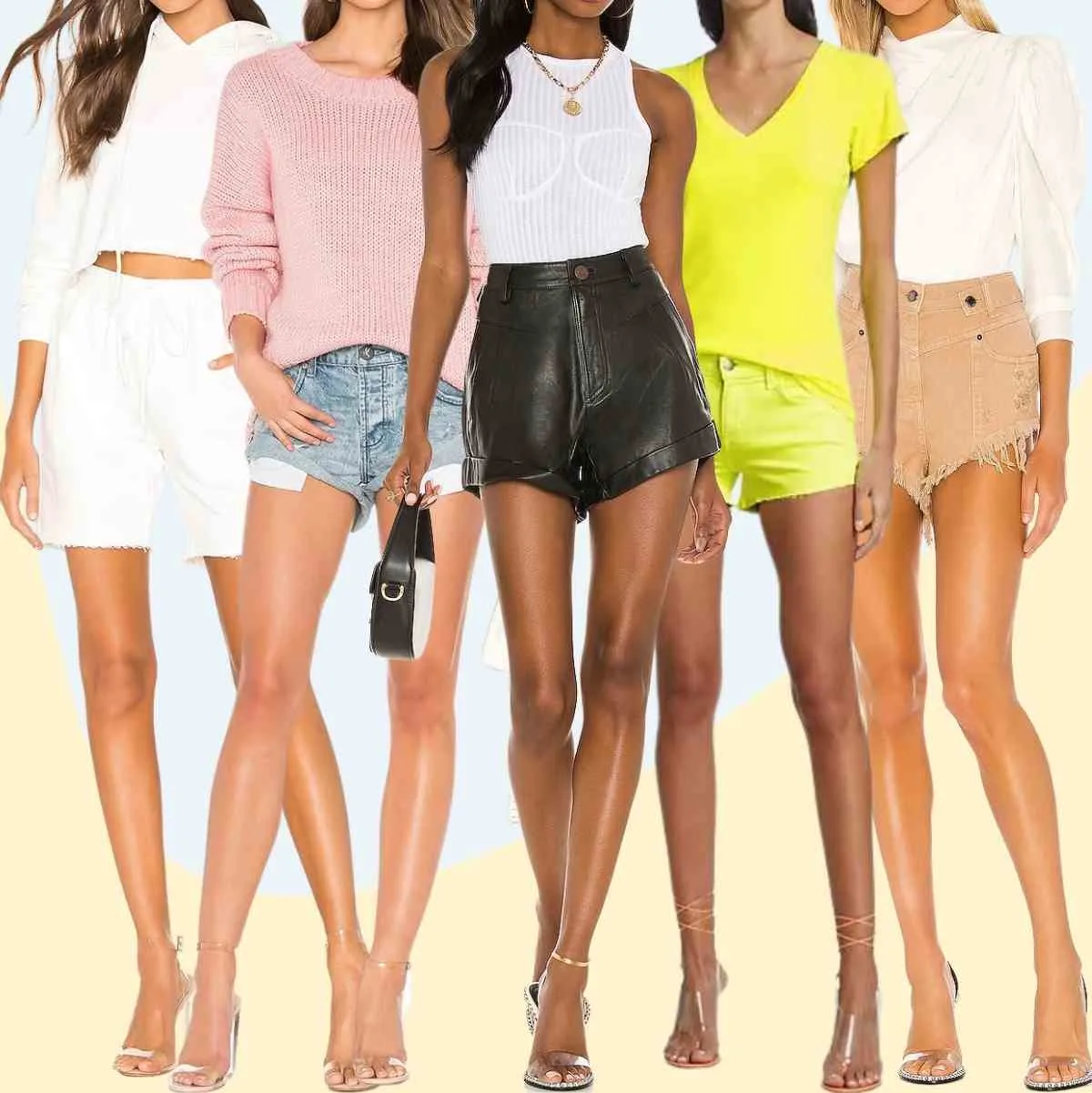 Sweatshorts, denim shorts, leather shorts and cut-offs, many ladies are currently showing off their legs in these trendy heels.
I love short shorts with clear heels, but Bermuda style shorts can also work great for more conservative dressers. Or the older crowd, like me 😉
A pair of clear pumps or chunky plexiglass-heeled sandals would add a certain je-ne-sais quoi to a light pair of shorts with a matching jacket and minimal tee.
Add a billowy top or tuck your tank into high-waisted shorts for a proportioned look.
How to Wear Clear Heels FAQs
Are clear heels in style?
Yes, clear heels are very much in style at the moment and I don't see them losing traction in the next few seasons.
I've seen them worn as alternative wedding shoes, paired with simple jeans and a tee, or even with a pantsuit!
Can you wear clear heels with anything?
I have done some style testing with clear heels and I have yet to find an outfit where clear heels don't look fab and edgy! That being said, these aren't conservative heels.
So for functions that require closed-toe or less foot-revealing shoes, they might not be appropriate. Also, they're not the best option for winter outfits, but if you're indoors, they can still look great for indoor use.
Other than for a few dress code reasons, clear heels look great with just about anything, just like a minimal strappy sandal would!
Final Thoughts on Clear Heel Outfits
So, there you have it! All the tips on how to wear clear heels, along with a slew of outfits to wear with them.
I hope this post has inspired you to add a pair of transparent shoes to your wardrobe. Or to wear the ones you have more frequently.
Will you be wearing clear heel outfits? I sure hope so, as they are versatile shoes for any gal looking to add a touch of trendy chic to her look.
Whether paired with jeans and a tee or dressy trousers and blouse, clear heels can take your outfit up a notch.
xo ShoeTease