Are you a unique bride looking for non-traditional wedding shoes, heels, flats, boots, or other shoe styles?
If yes, then you've come to the right place! I'm excited to show you my personal favorite & alternative wedding shoes for brides here at shoe-tease.com!
These will include 14 unique wedding shoe styles and fun wedding shoe colors for brides. Because not all wives-to-be want to wear traditional white satin wedding shoes!
I've got you covered, from bright and eclectic heels, to country boots and clear, colorless shoes.
So get ready to dance the night away in style – with a pair of non-traditional wedding shoes or heels on your feet!
14 Non-Traditional Wedding Shoe Ideas for Brides
1. White Booties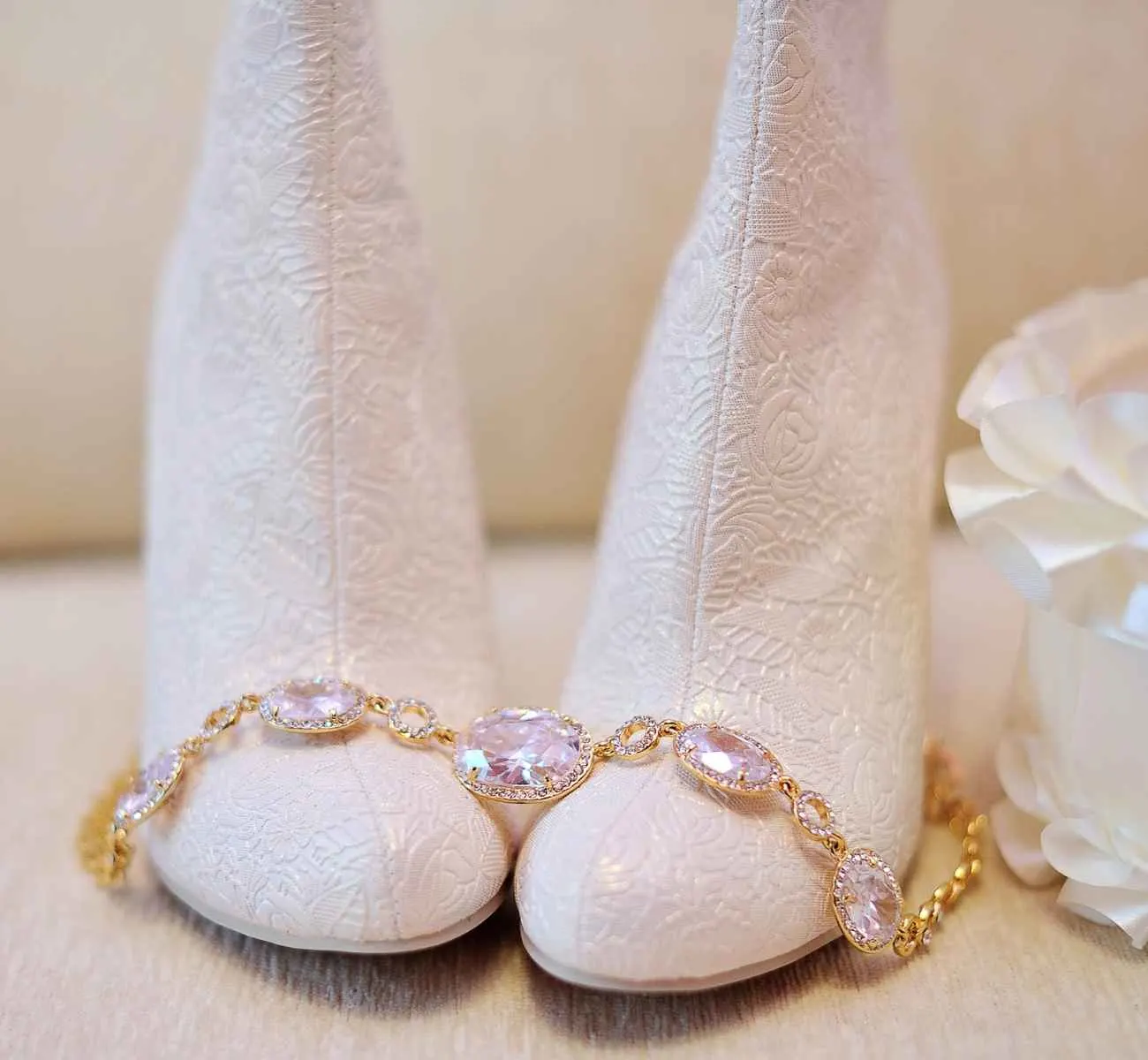 If you're looking for an alternative to the traditional white satin bridal shoes or high heels, consider white booties.
They're unique, stylish, and provide a better grip on the foot – perfect for dancing the night away!
Whether plain, bejeweled, pearly, caged, lacey, laced-up, or slip-on, white ankle boots make an original wedding shoe choice for bridal gowns and midi dresses.
White booties make great non-traditional wedding shoes for fall/winter weddings. They're also unbelievably versatile for everyday dressing, as you can see in my post about how to wear white boots 🙂
Learn more about how to wear ankle boots with dresses, here!
2. Bridal Sneakers
For the bride who wants to be uber-comfortable on her big day, sneakers are a great alternative to heels.
Wear classic kicks or wedding sneakers and dress them up or down as you'd like, depending on the rest of your wedding look.
Thanks to Kate Spade, Keds, Jimmy Choo, and Stuart Weitzman (just to name a few!), brides have the option to really bring the bling via their sneakers!
Sparkly, studded, lace or rhinestone or everyday classics make fun, unique wedding shoes for the sporty, spunky lady that prioritizes comfort on her big day.
3. Colorful Heels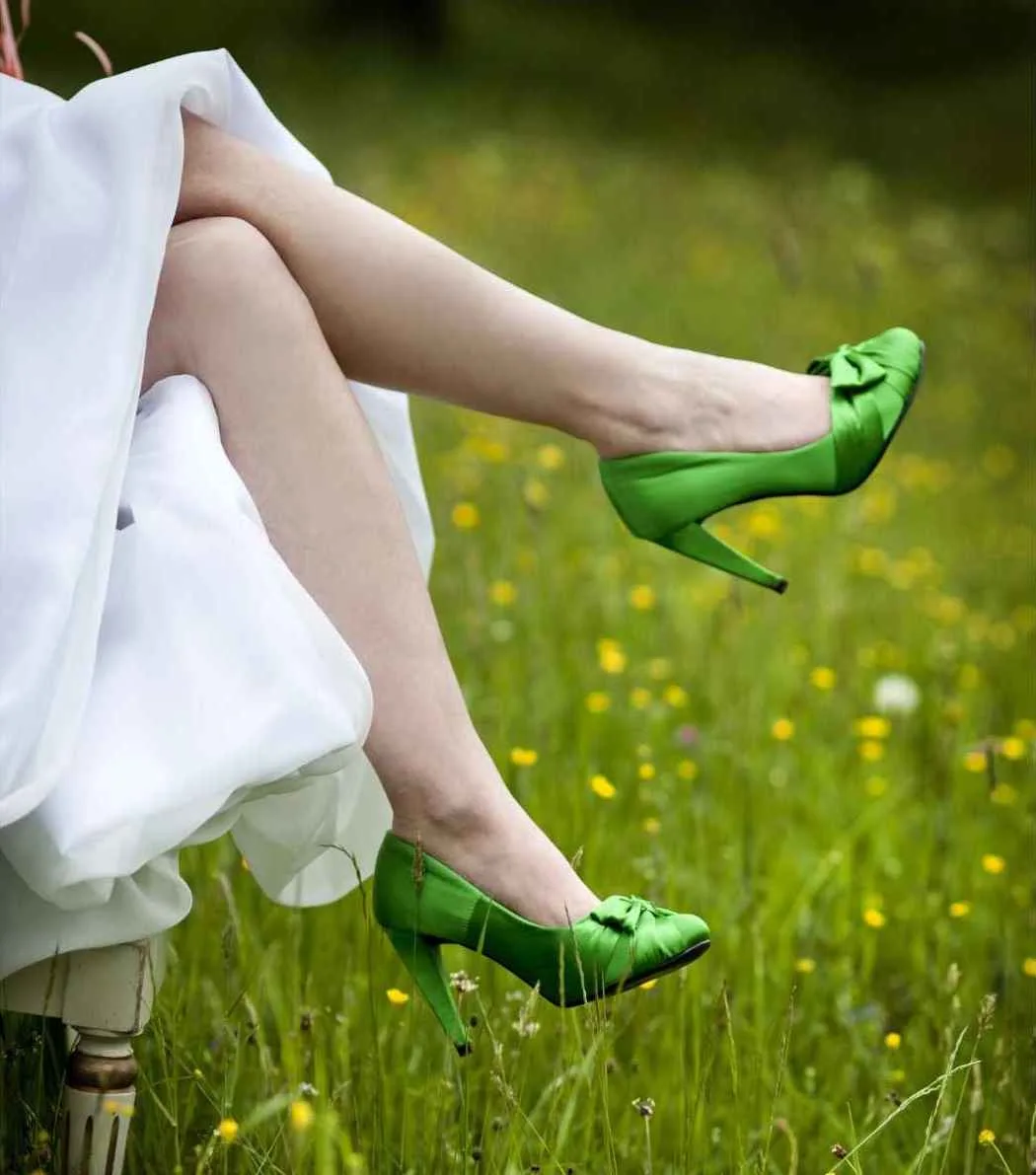 If you're looking for a pop of shoe color, consider colorful heels. They'll add personality to your wedding look and are sure to make you stand out from the crowd.
The best thing is that ALL colors, both brights and pastels look fab with any white gown. Darker colors are less likely to get ruined by grass or the elements and can easily be worn after with various outfits.
I recommend an apple or forest green shoe if grass is part of your terrain that day. Your shoes will blend right into the scenery!
Color heels or flats are unique wedding shoes suited for ladies who want to bring out their wedding colors in their bridal look. Or just want to add some colorful joy to their day!
4. Clear Heels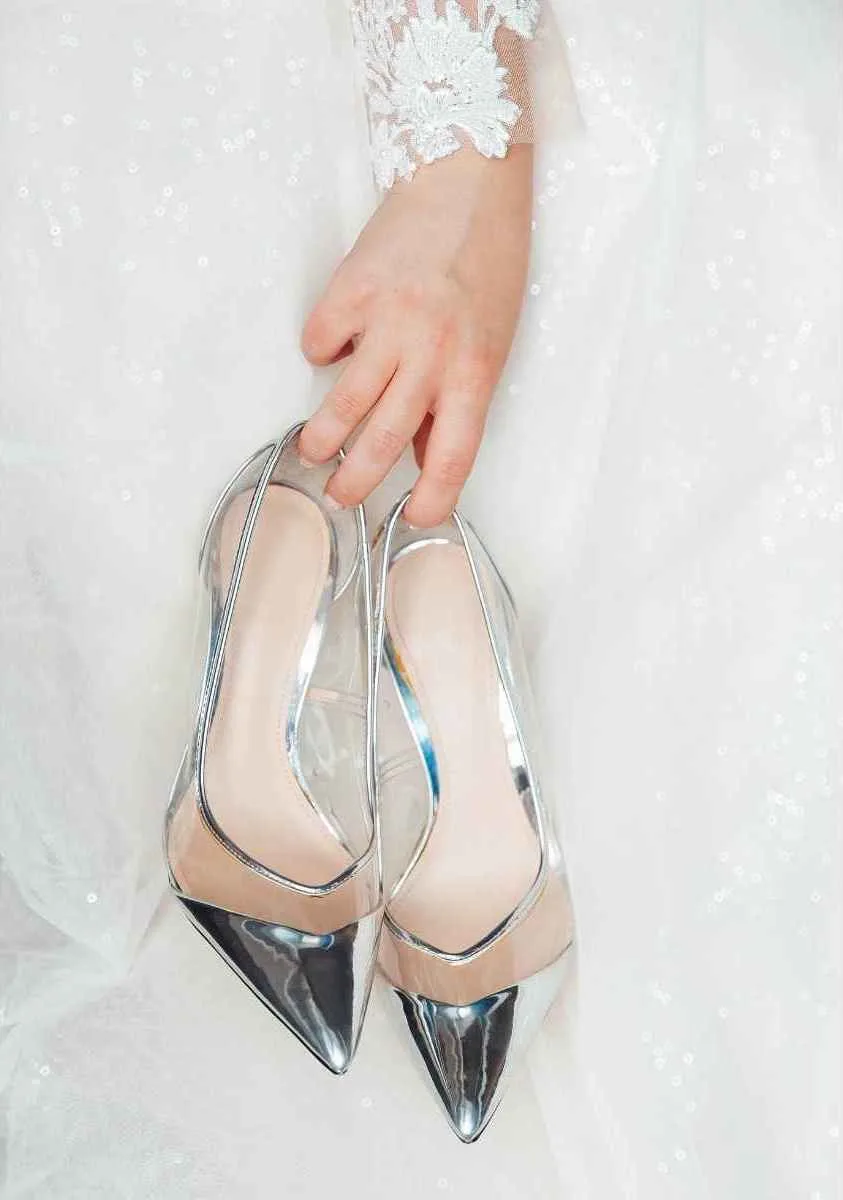 If you've waited all your life for a Cinderella moment, this is it! For a unique take on the classic high heel, try clear heels. They're elegant yet modern and will be your go-to heels for all events after your wedding!
Clear heels make great non-traditional wedding shoes for the trendy bride who wants to show off her pedicure and create a 'naked' shoe effect.
You can find them plain, with metallic, pearl, or rhinestone details. I love transparent high heels with shorter bridal dresses as they'll make your legs look miles long!
However, don't forget that clear heels and flats come in all sorts of colors if a color-tinged shoe is what you're after. A plus is that clear heels outfits are versatile with all kinds of dresses, pants, jumpsuits and more!
5. Blue Shoes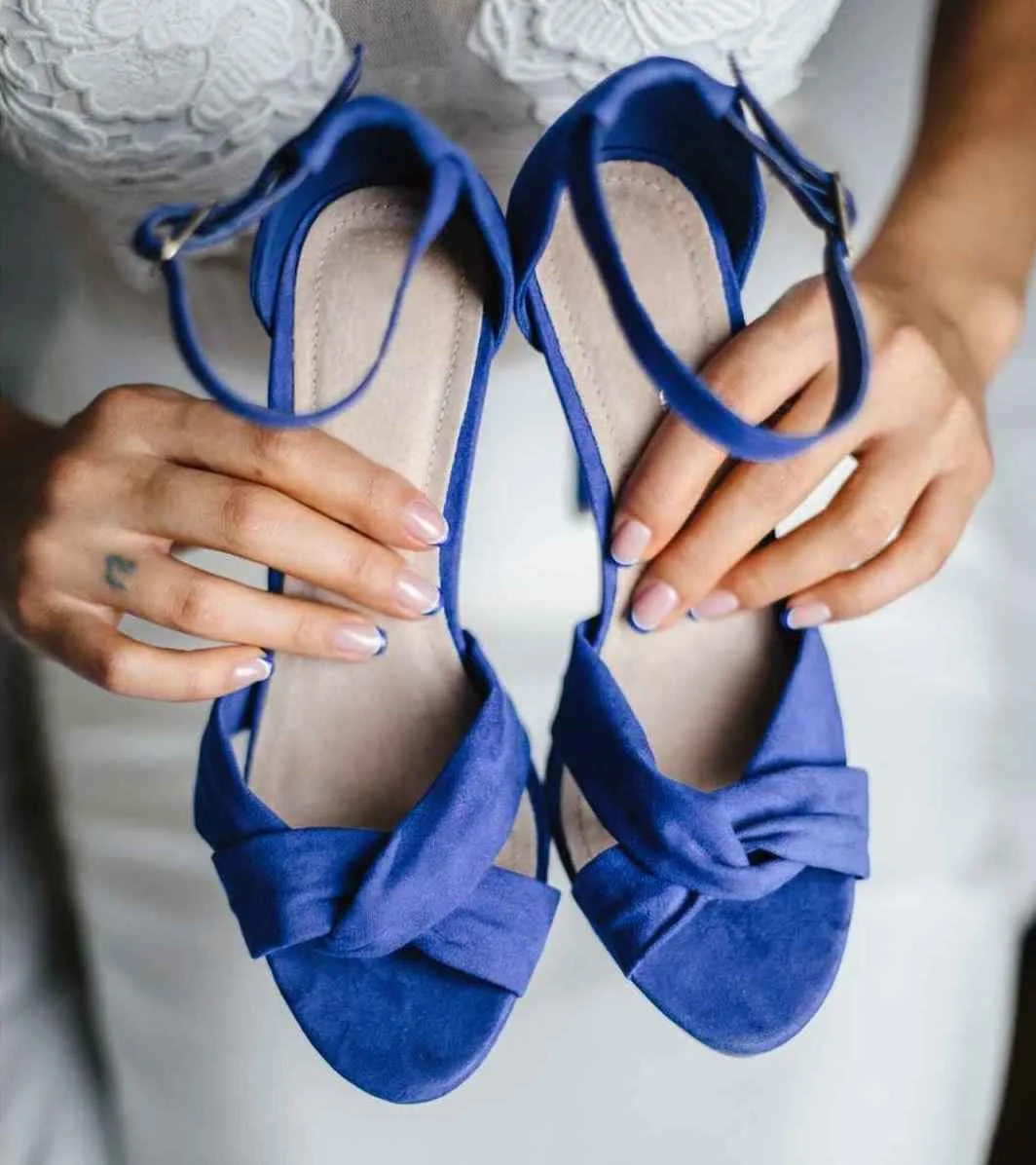 You know the saying: something old, something new, something borrowed, something blue. So why not add unique blue shoes to your wedding look?
They'll add a pop of color and are sure to make you stand out. I mean, blue Manolo's were Carrie Bradshaw's choice, and they looked phenomenal!
From navy to cobalt to light blue, there are lots of options, depending on how vivid or muted you'd like them to be.
6. Platform Heels
If you're looking for extra height, then platform heels are a great option. They'll make you feel like a glamazon – just be careful not to trip on your dress! Choose a silky pair or a sparkly pair, or opt for a sumptuous velvet or suede style.
You can pair platform sandals with all kinds of dress hemlines. However, I would keep the chunky sky-high platforms to elevate you under your dress!
Platform heels, pumps, and sandals are unique wedding shoes for the petite bride or for the lady who wants to stand out even more.
These are also a fab choice for those who want less strain on their feet since a portion of the platform compensates for the back heel.
7. Ballerina Flats
For the bride who wants to be comfortable (and avoid any potential wardrobe malfunctions), flats are a great alternative to heels.
You can find them in various styles and colors, from bejeweled to ballet style, so they'll match any wedding look.
I love a sophisticated pointed-toe flat! But for those that want to channel their inner ballerina, you can opt for a rounded flat that resembles a ballet slipper.
I personally love them with a white tank and a short tulle skirt for the full effect. These make fab, unique wedding shoes for the taller bride and look great with midi and mini bridal dresses.
8. Whimsical Heels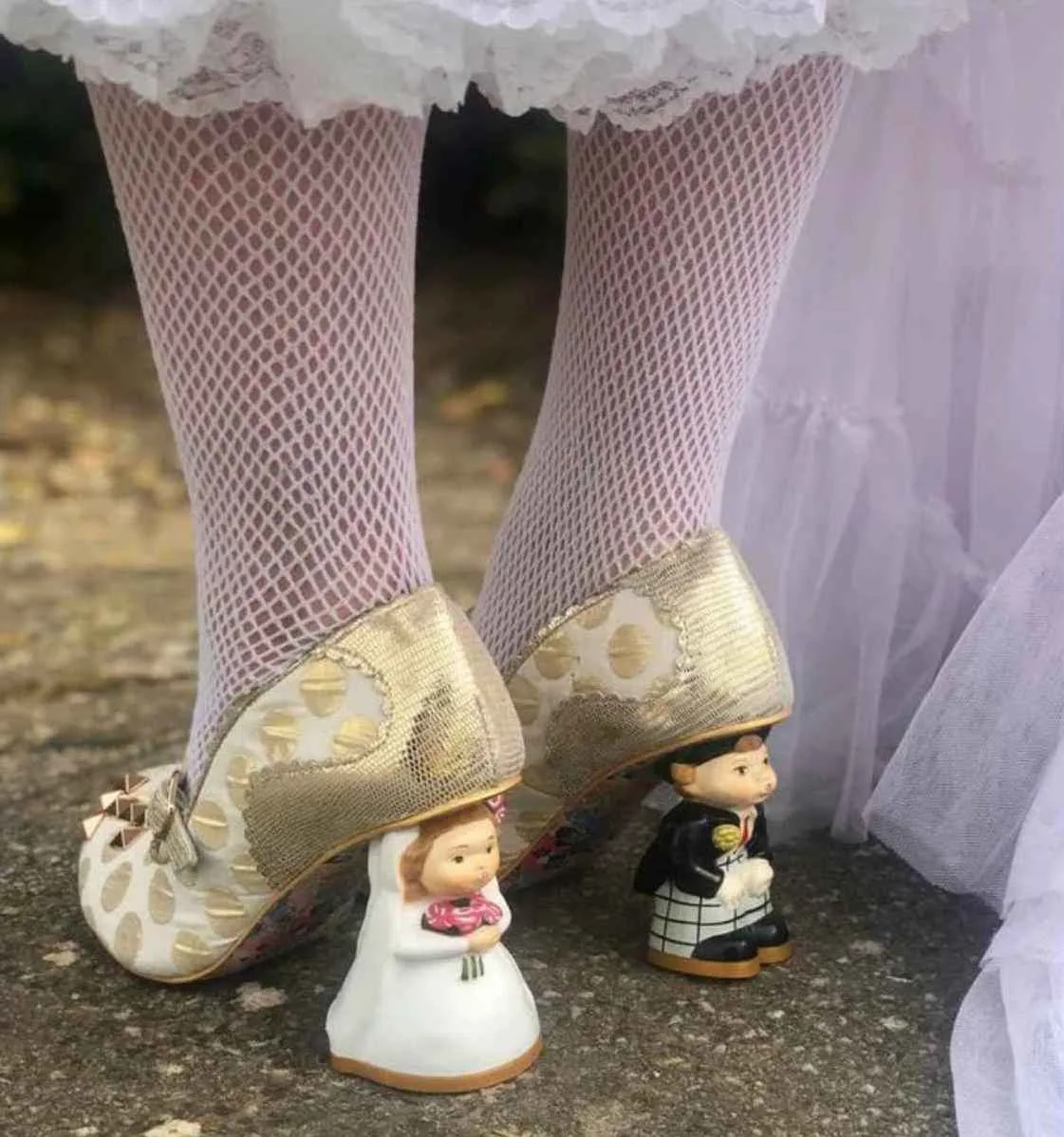 For the bride who wants her shoes to be as unique as she is, whimsical heels are a great option. From ornate heels to extravagant detailing, there's no shortage of designs to choose from.
Unique shoe brands such as Sophia Webster, Kate Spade
and Irregular Choice make quirky and fun bridal shoe collections.
You can showcase your whimsical heels in a shorter wedding dress or bridal slip dress. Or keep them your little secret under a gown. With shoes this fun, I would show them off!
9. Feather Heels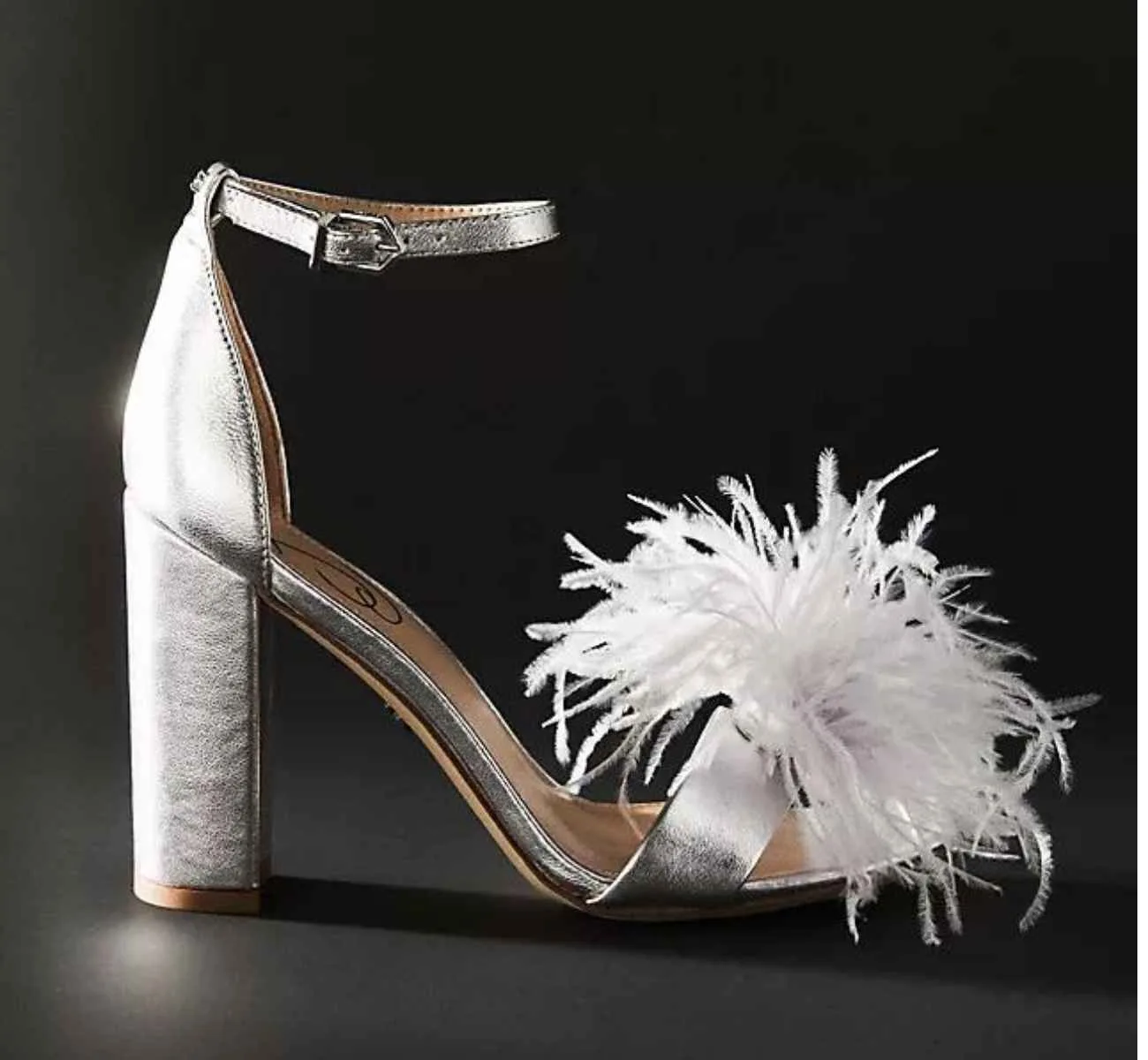 Feathers are light and airy, just like a wedding dress! From pom-pom shoes to fully covered feather heels, there are many on the market that can suit any type of bride.
Feather fluffy heels look fab with structured and/or shorter wedding dresses – even bridal jumpsuits! – as the feathers will be crushed under a gown.
These become fun shoes you can wear to make a statement at other weddings and functions.
10. Slides for Brides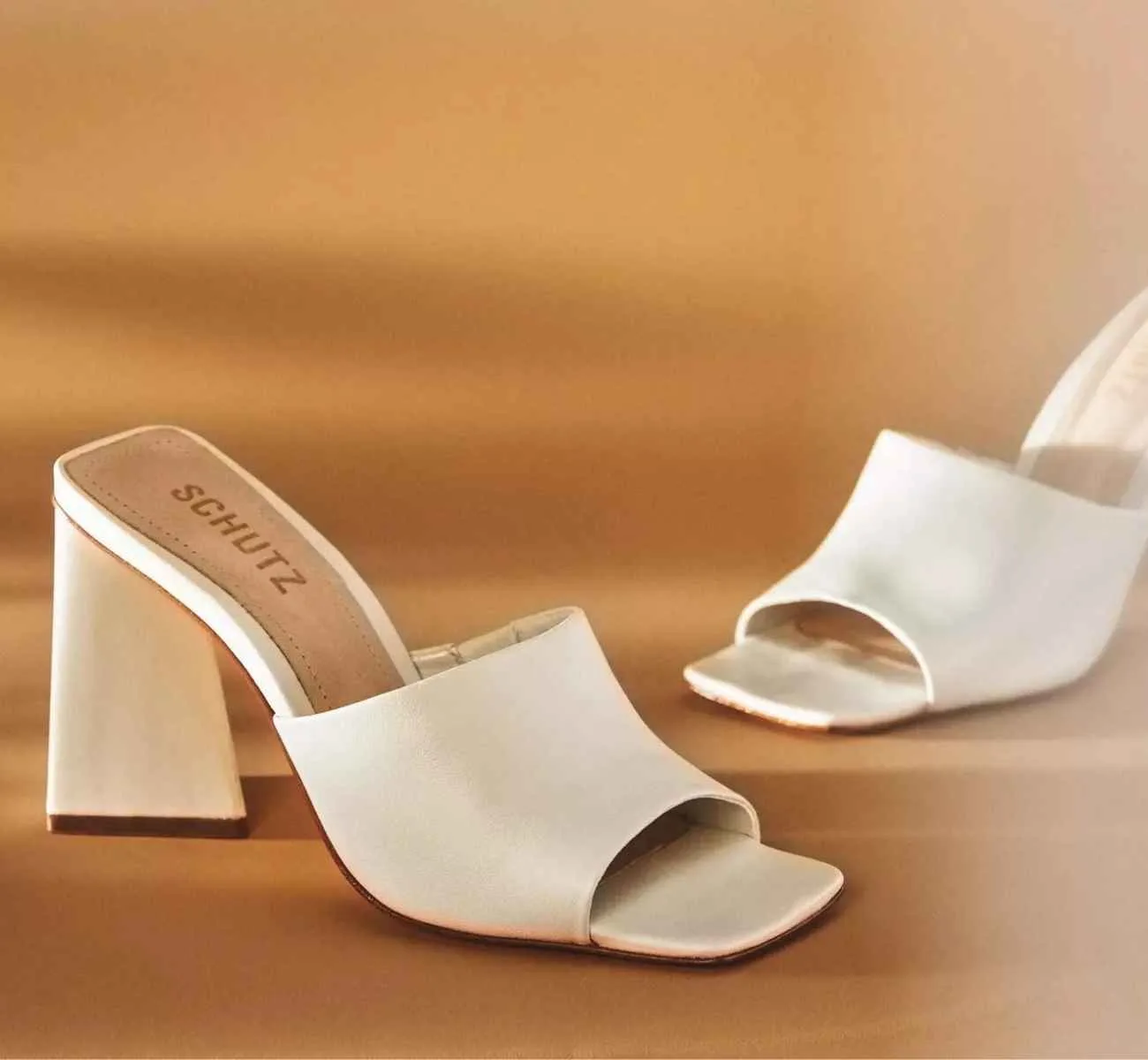 If you're looking for a comfortable and stylish alternative to heels, then slides are a great option. You can find them in a variety of colors, finishes, heel styles, and heights.
A white or colorful leather slide will look fab with a bridal pantsuit, midi dress, or cropped dress.
The great thing is that any color slide you've chosen will be a great staple to your future wardrobe! I mean, the possibilities of slide outfits are endless!
11. Holographic Heels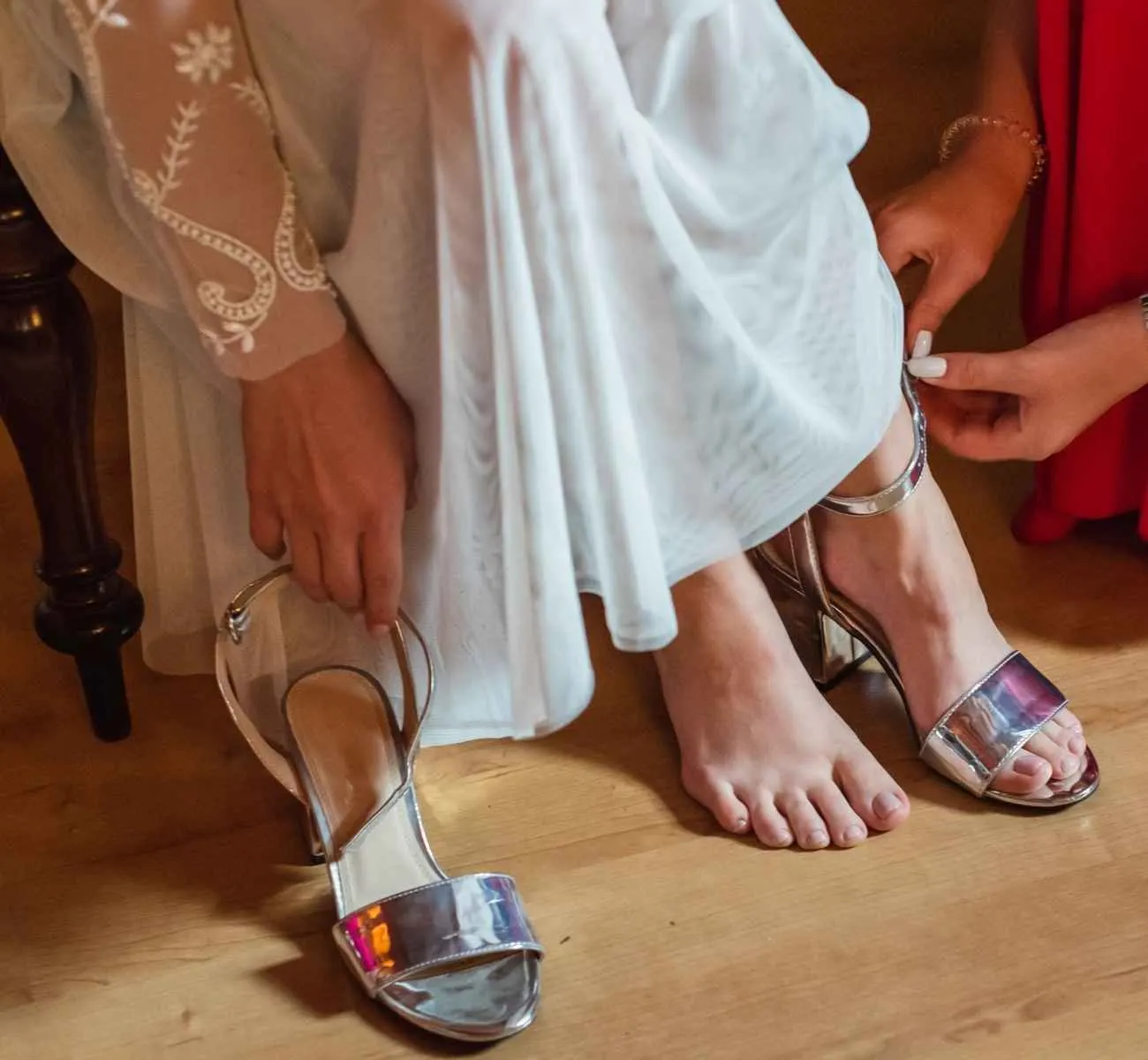 Futuristic and fun, I love holographic – aka iridescent heels – as, yes, they're a non-traditional wedding shoe, but also not too far off from the more common metallic silver.
You can choose holographic heels that are part plexiglass – hence transparent – or have all-over shimmer. Most iridescent shoes are silvery, but some can be pewter (dark silver) or even pinkish.
These are great alternative shoes for the bride who wants to add a little rainbow sparkle to her step but doesn't want to commit to a colorful shoe.
12. Rain Boots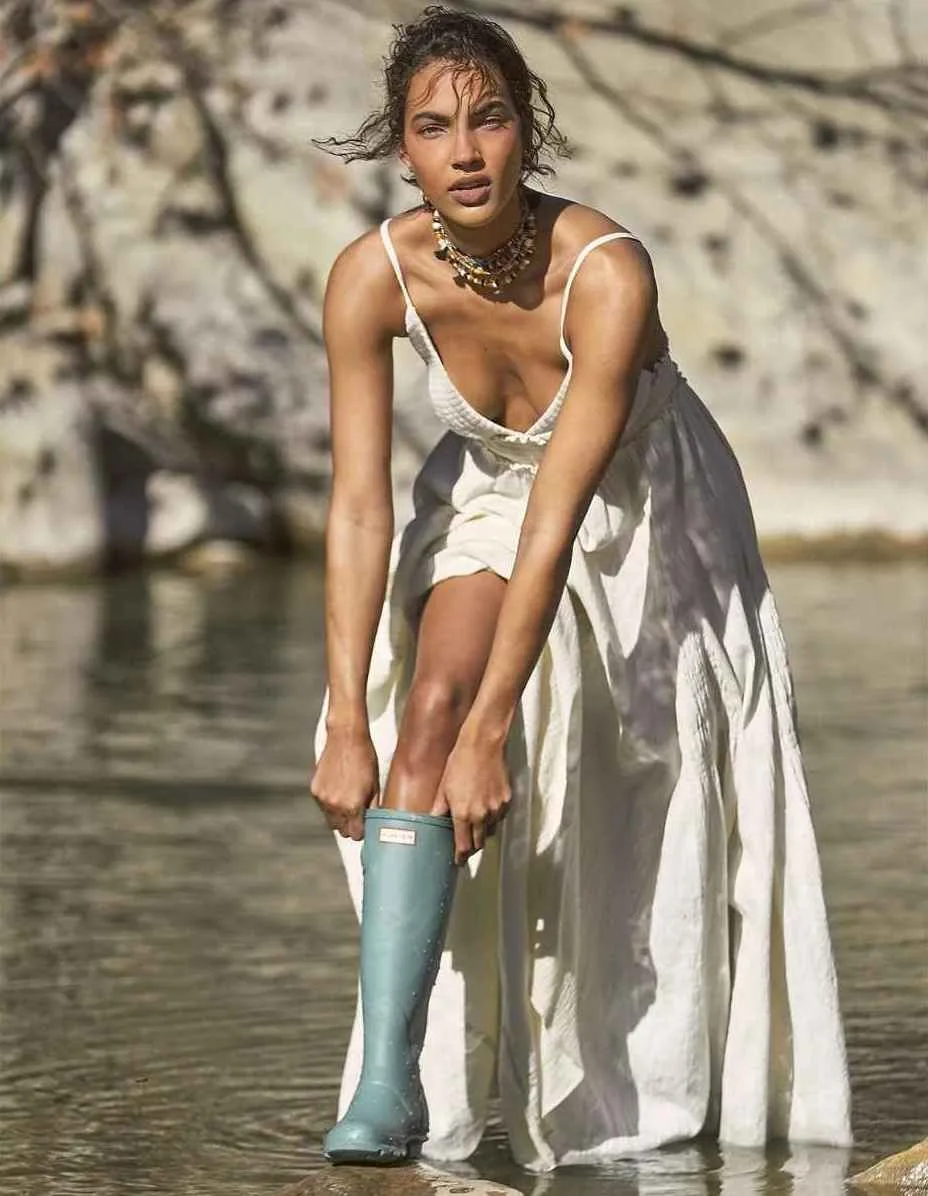 If you're getting married in the spring or summer (a barn wedding in particular!), then rain boots are a must-have accessory.
They'll keep your feet dry if it rains on your big day and add a touch of whimsy to your wedding look.
Rain boots make sense as non-traditional wedding shoes for the practical, no-nonsense bride that marches to her own drummer.
Also great for those that wish to celebrate their vows in nature, where the grounds aren't conducive to heels or white satin shoes!
13. White Birkenstocks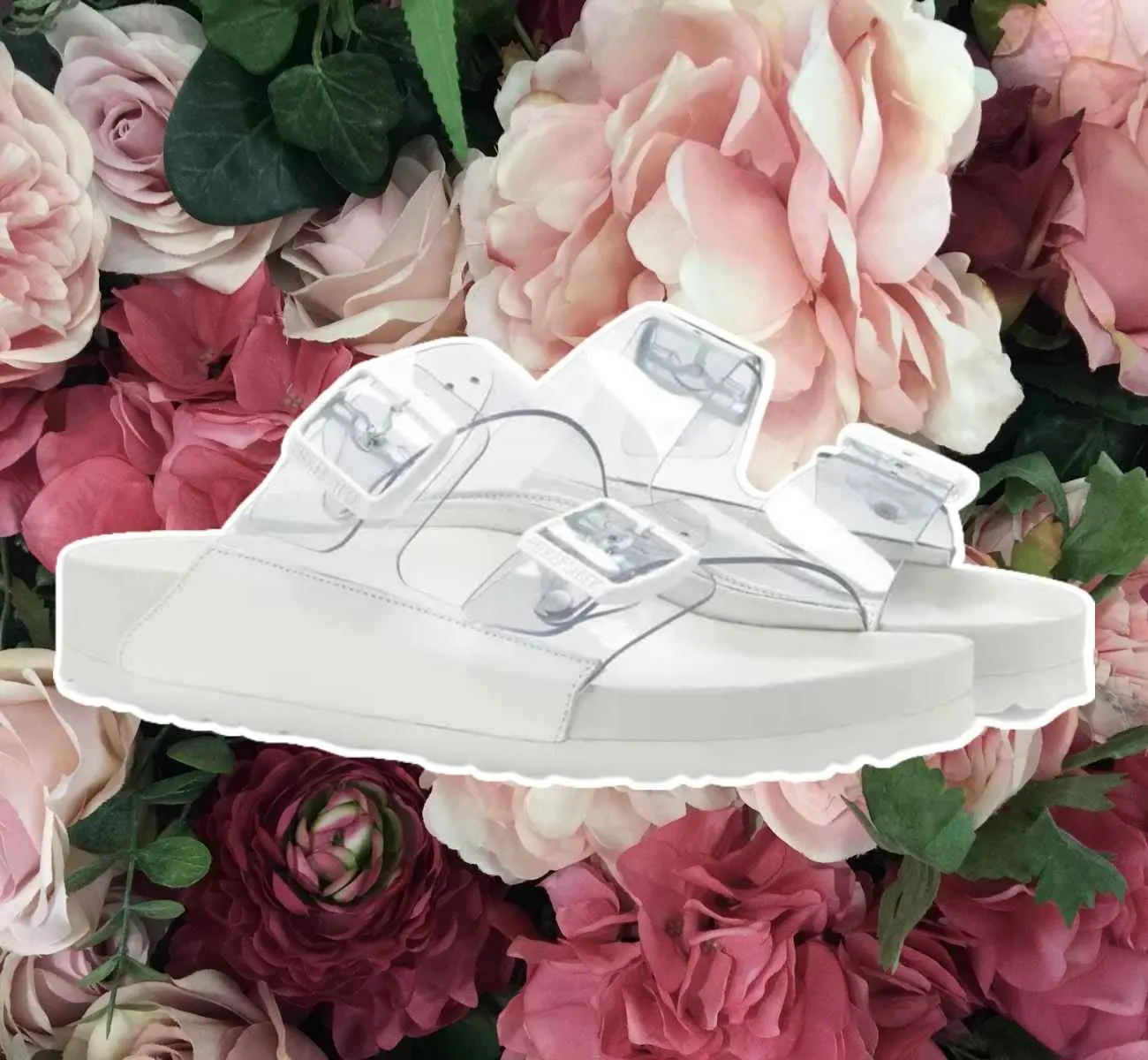 For the bride who wants to be comfortable and stylish, white Birkenstocks are a great alternative to traditional wedding shoes.
They're unique, trendy and can pair with a long puffy gown (especially this clean Birks from the Manolo Blahnik collab) to a white minidress and slip dress.
White or metallic Birkenstocks make unique wedding shoes for the boho-loving bride or crunchy soon-to-be wife 😉 Oh, and if a fall cottage core inspo is what you're after you can take it up a notch and wear socks with Birkenstocks!
Of course, you can then wear these versatile white or metallic sandals in your everyday wear. Take a look at my post about what to wear with Birkenstocks for styling inspo!
14. Cowboy Boots for Brides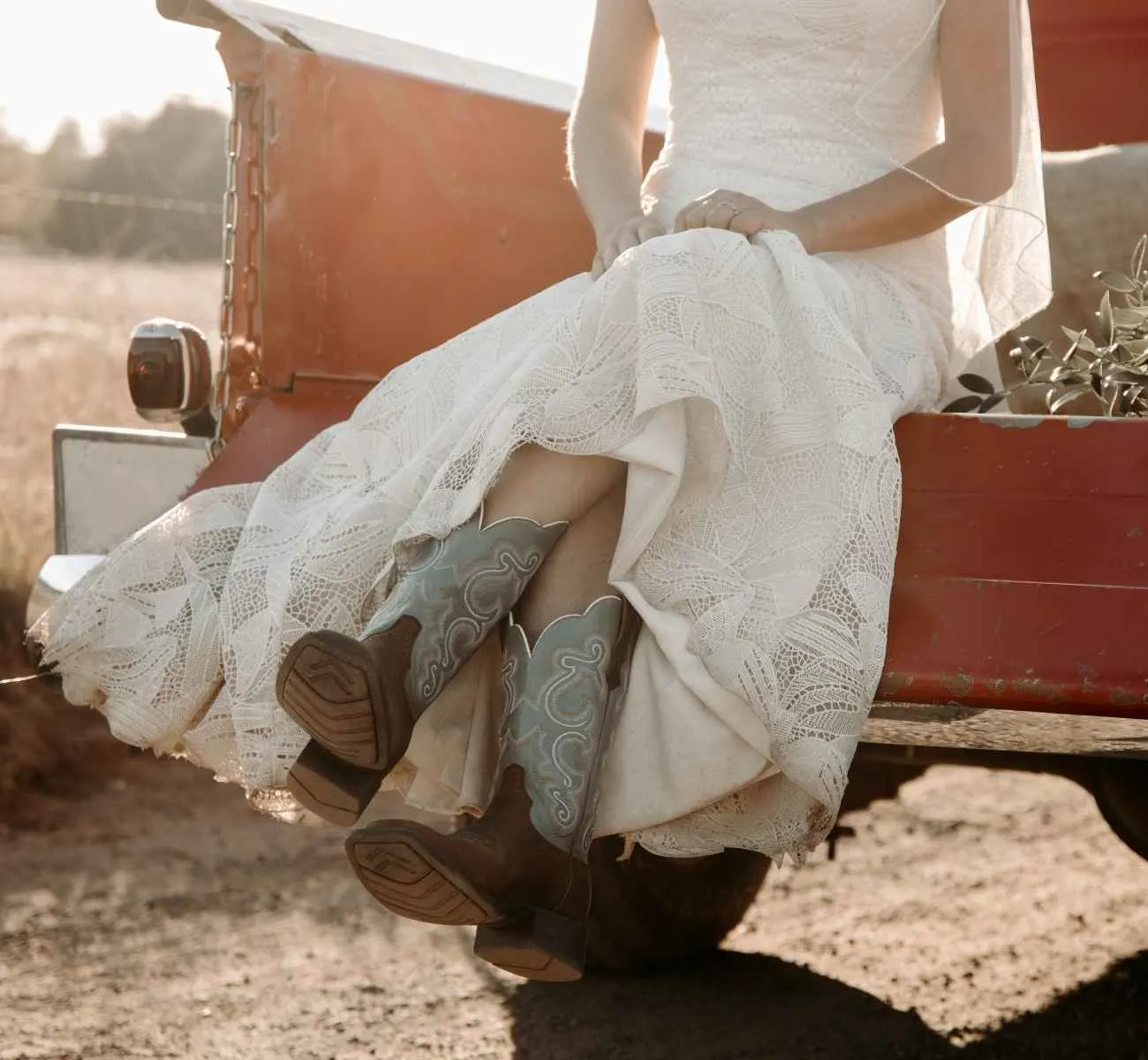 Cowboy boots make great alternative wedding shoes for a western-themed wedding. Or for the brides-to-be that want to channel their inner cowgirl!
I love a white cowboy boot or embroidered pair for a wedding, but black and white or metallic ones can look fierce too.
Pair your cowboy boots with a silky slip dress, crochet gown, or lacey number. It's incredible how many great wedding dresses pair well with them, from mini dresses to full-on wedding gowns.
Just make sure there's enough room for your boots underneath! Lots more info on all the best dresses for cowboy boots in my dedicated post.
Final Words on Non-Traditional Wedding Shoes for Brides
There are likely more non-traditional wedding shoes out there than you imagined! From sparkly sneakers to fun and funky flats, there are plenty of options to express your personality on your big day.
And since you'll be standing (and dancing!) all night, choosing a comfortable shoe that you can wear confidently is important. Unless you're used to sky-high heels and want to show 'em all what you've got!
Whether you're looking for something cute and quirky or elegant and edgy, you'll find a non-traditional wedding shoe perfect for you.
So go ahead and ditch the white satin heels in favor of something a little more unique. Your feet – and wardrobe – will thank you for it!
Shop Unique Bridal Shoes from these Retailers:
xo ShoeTease