The perfect way to add a sunny glow to your look this season is by putting together a yellow shoes outfit. And that's why today I'm talking all about what to wear with yellow shoes!
And we're not just talking about classic yellow pumps here. Designers are offering up all sorts of yellow shoes – from sandals to sneakers, flats to heels in various yellow shades.
Think mustard yellow heels, bright yellow sneakers and neon yellow sandals. But let's not forget the more demure shade of pale yellow, which are pretty in many shoe types, including ballerina flats.
If you're wanting to add a pop of color to your spring or summer outfit, yellow shoes might be just what you need. In fact, yellow sandals makes great shoes to wear with sundresses! Today on shoe-tease.com, I'll show you 11 amazing ways to style yellow shoes for women.
Whether you're looking for something casual or dressy, there's sure to be an outfit suggestion in this list that'll tickle your fancy. So put on your favorite yellow shoes and get ready to take your style to the next level!
Shop trendy yellow shoes from the following retailers:
How to Wear Yellow Shoes Outfits 11 Ways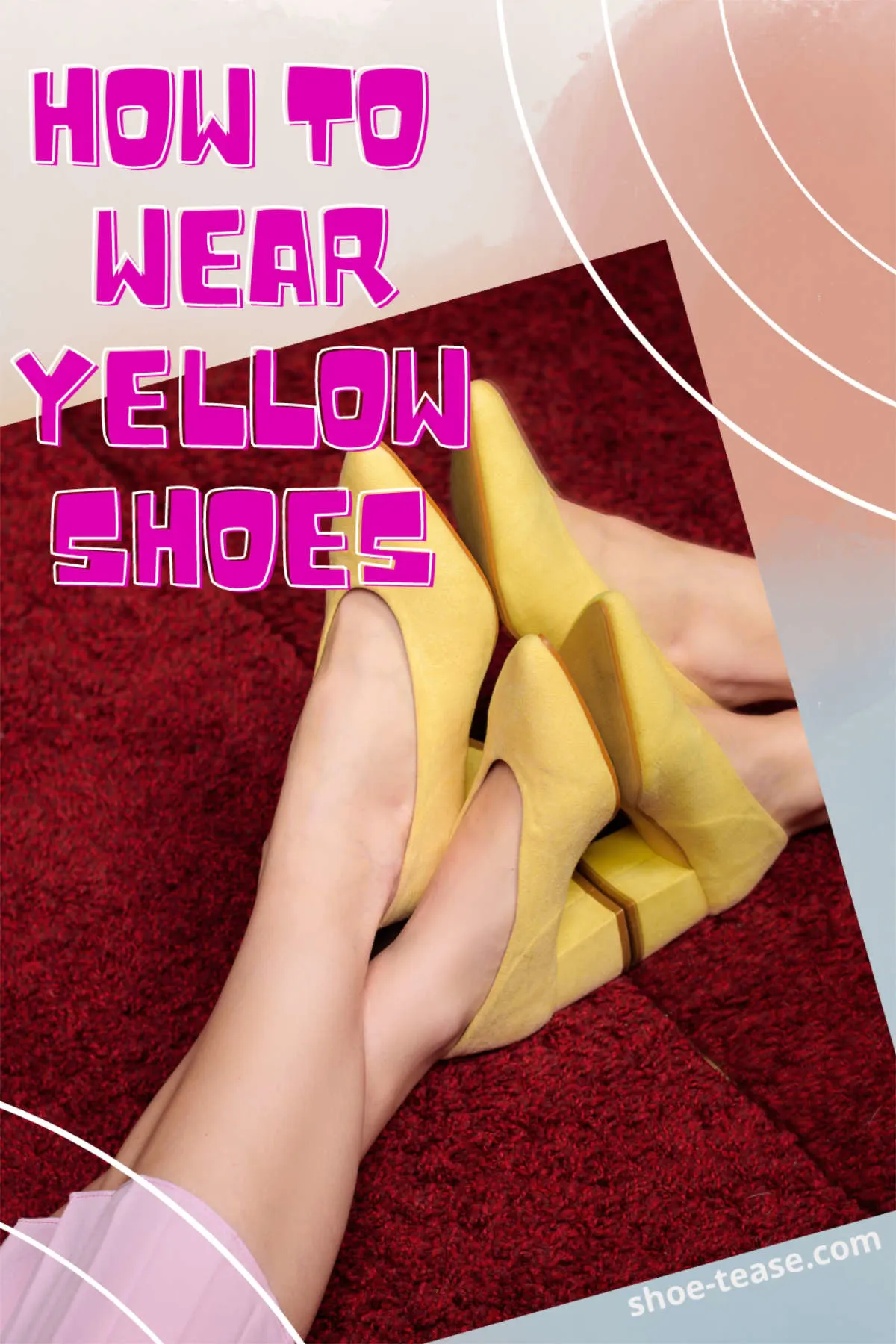 RELATED POSTS:
1. Yellow Shoes Outfits with Jeans & Denim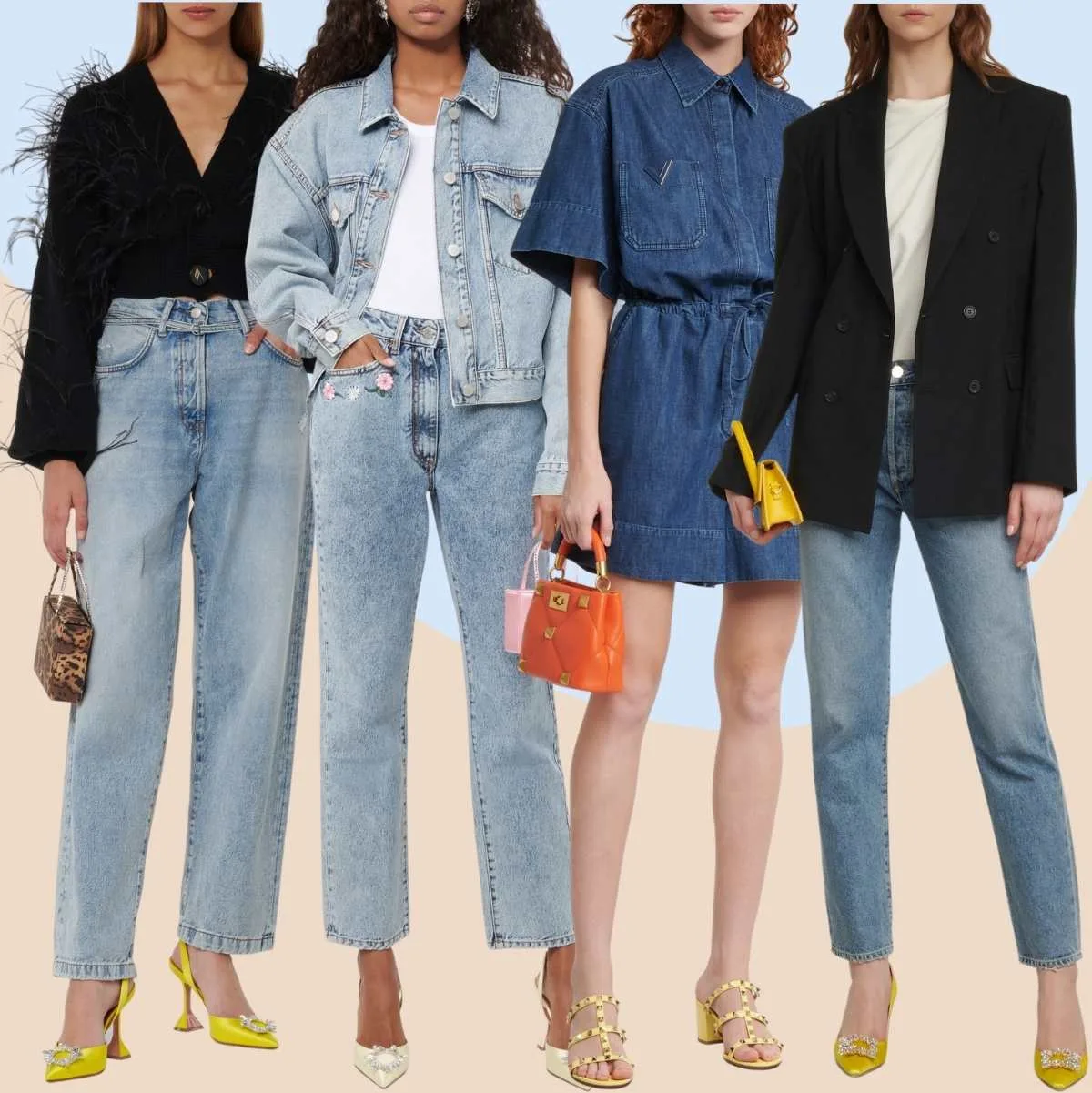 Here's an easy-breezy idea for how to wear yellow shoes: liven up denim with a pair. Jeans, shorts and skirts. Shift dresses, overalls and tunics. They'll benefit from the cheery pop of a yellow shoe. And denim isn't picky – any wash goes with any style or shade of yellow on the color wheel.
Here's how to wear yellow shoes with jeans: mustard sneakers or strappy sandals with tight skinny jeans, straight leg or mom jeans. Bright yellow ballerina flats with white flare denim and a blue tunic. I love yellow clogs with jeans for a more rustic look.
Pale-yellow slides with cut-off shorts and a tee. And casual is cool when considering how to wear neon yellow shoes with jeans. Picture flip-flops with your favorite blue, black or white overalls and a neutral tank.
What about the always-in-style denim on denim look with yellow? One thousand times, yes. Your button-up denim shirt or utility jacket, plus blue jeans, plus yellow shoes, equal an instant showstopper.
If you've been on the sidelines, unsure of what to wear with yellow shoes, ease on in with denim. You'll get an instant mood-lifter!
Purse Styling Tip: Black, brown and white purses, will look great, but jeans require something more fun! Think a pink, blue or gold metallic purse!
2. Yellow Shoes with Black Outfits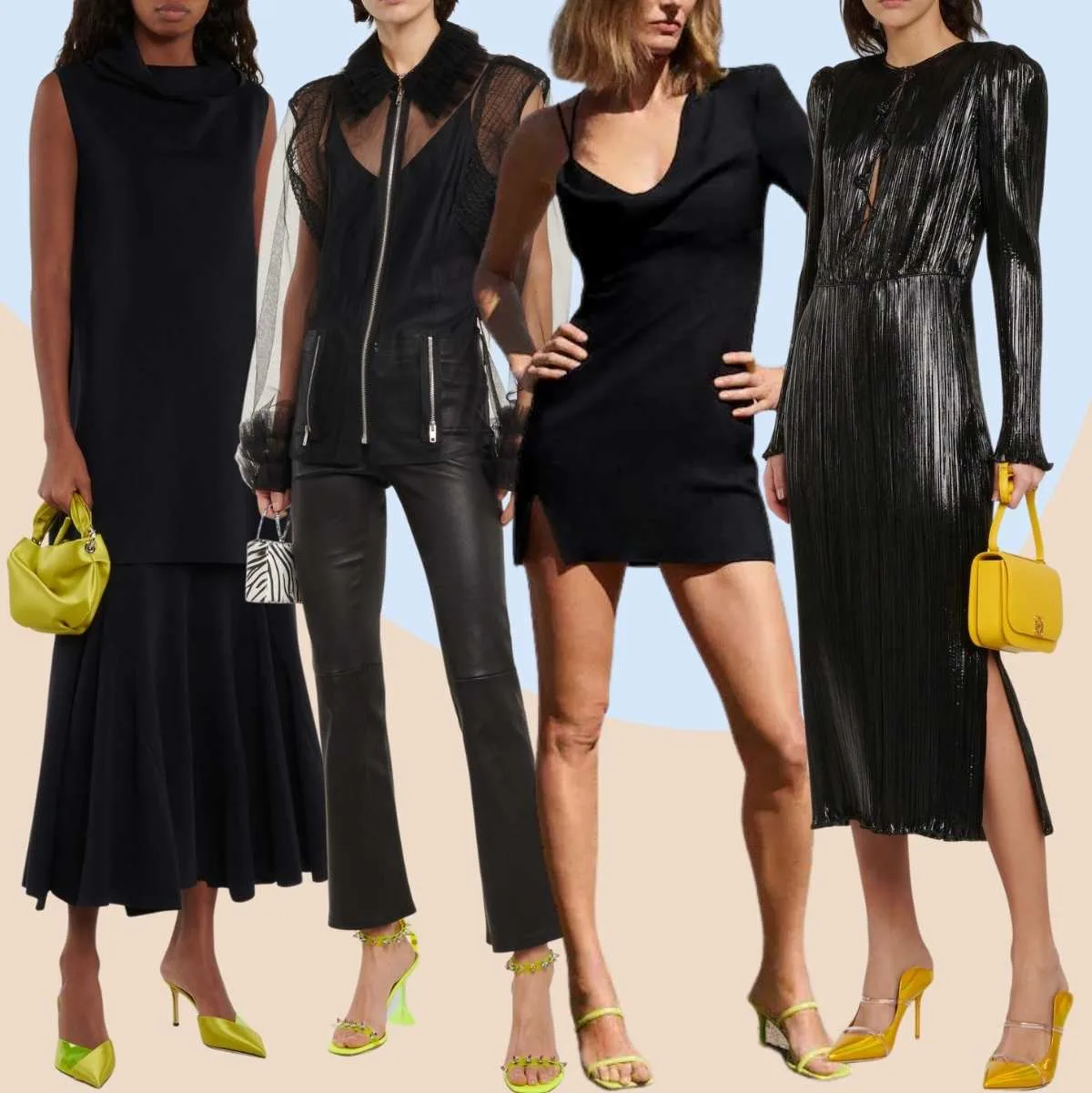 Wondering how to wear yellow shoes with black? Well…got a little black dress that needs extra spice? Yellow pumps can turn up the volume in a cinch.
A casual black jumpsuit that needs more personality? Yellow slip-on sneakers or neon sandals to the rescue.
A classic black pantsuit that needs professional polish but with room for playfulness? A yellow slingback heel would do the trick, bringing just the right amount of attitude to your vibe.
Monochromatic begs for a surprise touch, and yellow shoes outfits are perfect for an unexpected, daring twist.
Purse Styling Tip: Pick a black, white or matching yellow purse. Have fun with color-blocking by opting for a bright turquoise or pink purse.
3. Yellow Shoes with White Outfits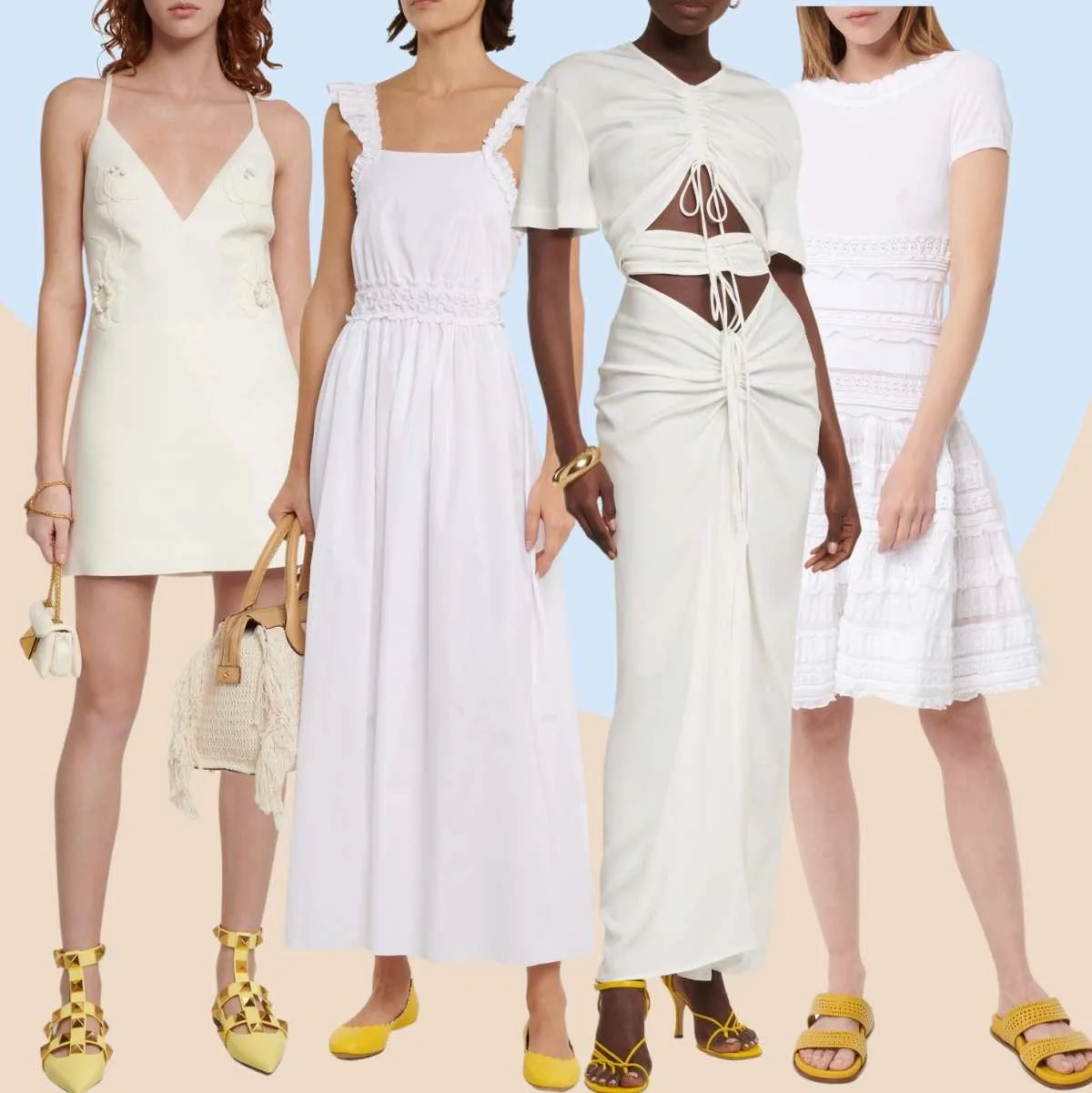 Were you dying to wear yellow for years but it wasn't the hue for you?+ Good news: yellow shoes.
And with white, how to style yellow shoes is a no-brainer. Bright, sunny, energetic – yellow and white is an easy combo to style and transition from day to night.
It's the season of sundresses. Wear your white dress with yellow shoes, like a yellow espadrille for an al fresco brunch. Try a lace-up sneaker for an afternoon of antiquing, or a strappy yellow heel for evening cocktails.
Office-bound and have a crisp white pantsuit in your rotation? A yellow pump can "pump up" the volume with a splash of summer sunshine. For brides hunting down the perfect wedding dress shoe, give charming yellow a double-take.
Purse Styling Tip: You can always match your bag to your shoes, or keep things neutral with a white or tan purse. Add a pop of color with a light pink or pale green purse.
4. Yellow Shoes Outfits with Pink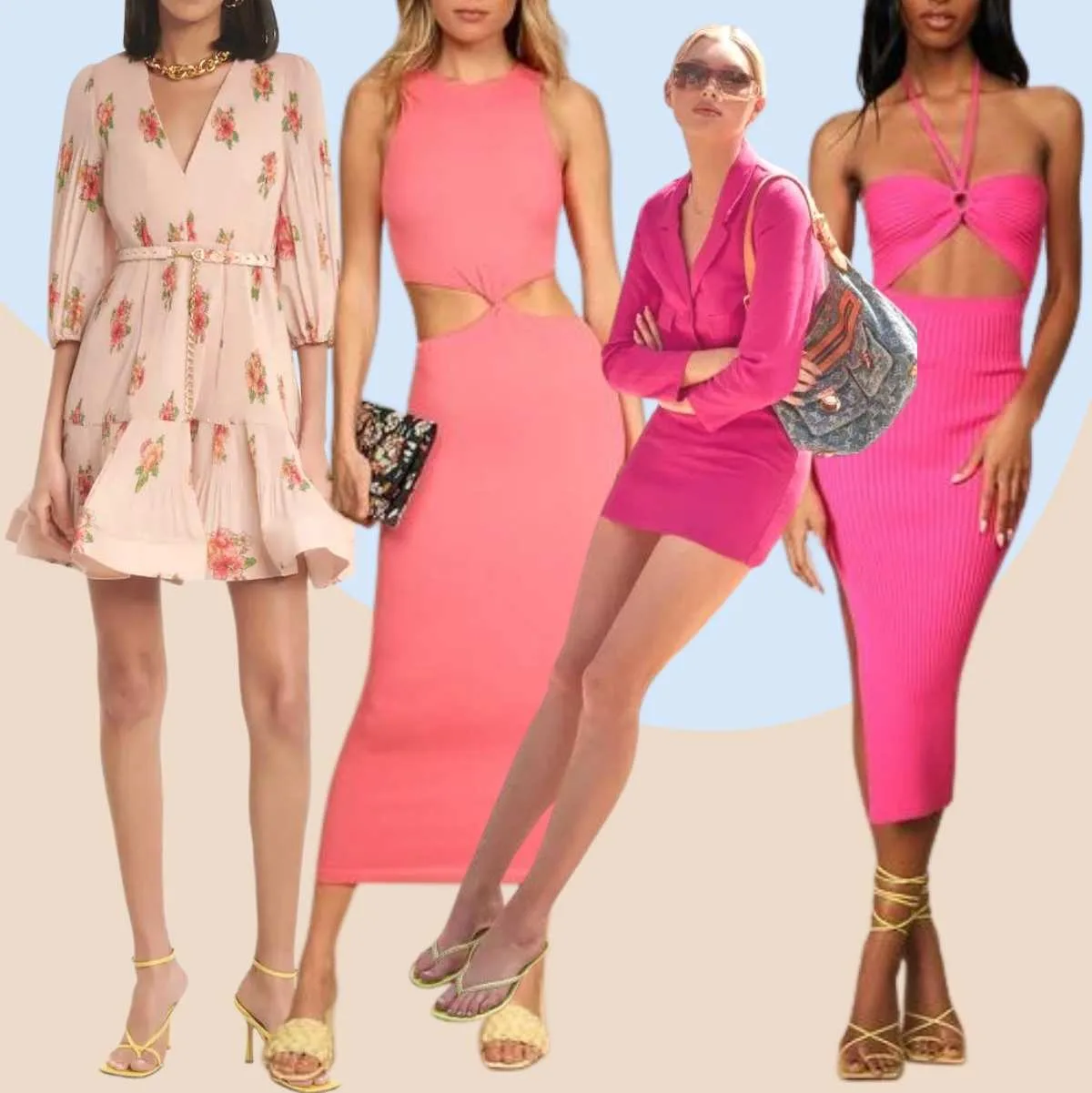 Canary or pastel yellow or shoes with bubblegum or pale pink are a fantastic pairing. Fun and unexpected, bright yellow shoes will liven up any pink look, such as one with a pink dress!
Think yellow heels with a pink or pink floral garden party dress, yellow loafers with a jumpsuit, and yellow mules with a pink pantsuit. This color combo is perfect for a wedding outfit, a creative office look or when heading to a fashionable luncheon.
Purse Styling Tip: Pack an extra punch of color with a cobalt blue purse, or stay more neutral with a white, black or blush handbag. Complete the look with silver, gold or black jewelry. Statement earrings are encouraged!
Mustard yellow is tricky to style with most shades of pink, so pick a happier sunny shoe hue unless you're opting for a blush pink outfit. Check out my posts all about the shoes to wear with hot pink and blush pink dresses & outfits!
5. Yellow Shoes with Yellow Outfits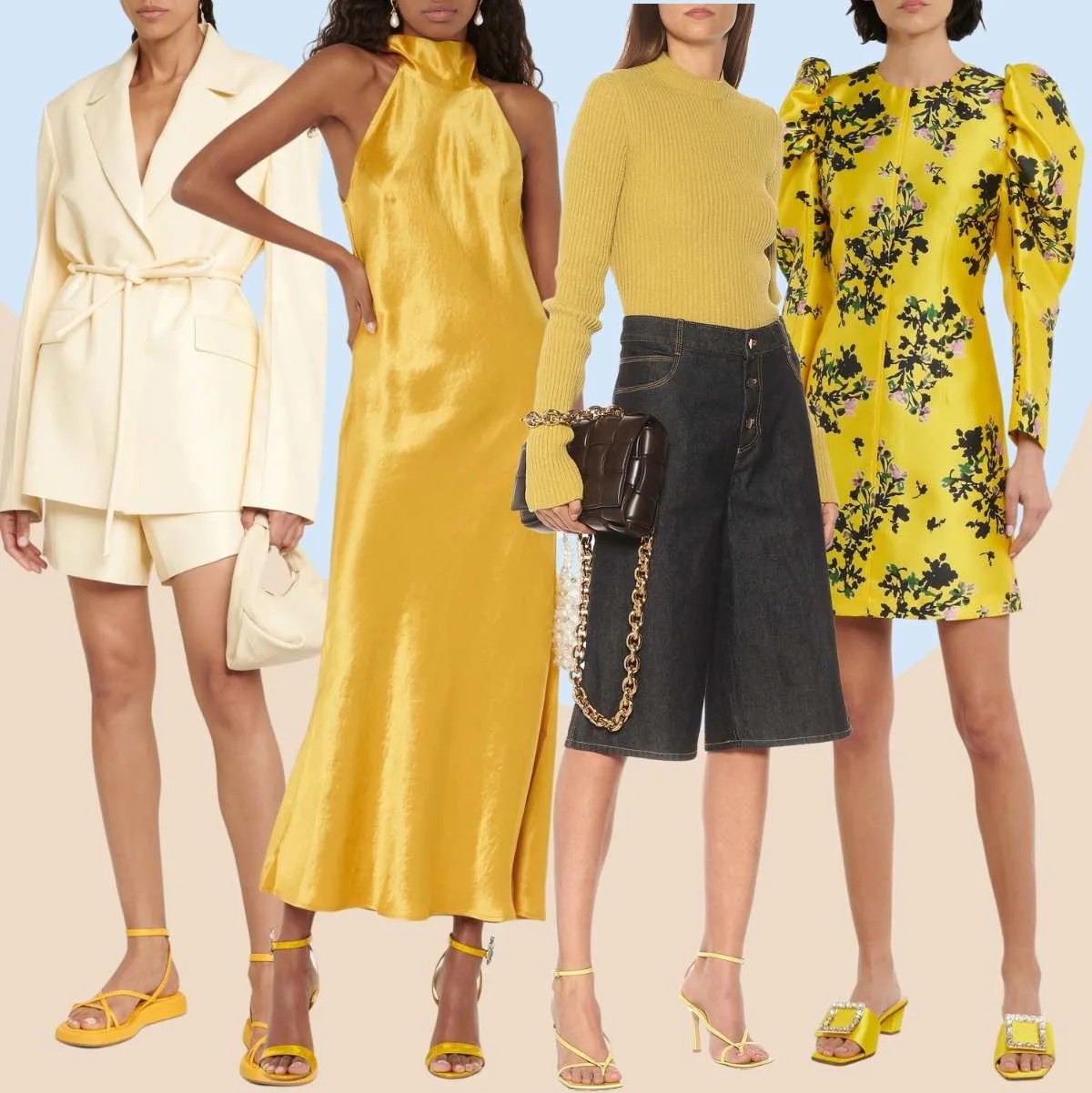 If you're a pattern person, a dress, blouse or skirt in your wardrobe may have a fleck of yellow. With that comes the perfect opportunity to play off the yellow, with your yellow shoes.
Maybe last season's mustard yellow handbag or playful yellow hoop earrings are looking for an outfit to jazz up. Pair them with a classic neutral and add your yellow shoes. Think mules or loafers, depending on the occasion.
Just make sure the yellows are close to the same shade, or that they complement one another such as with contrasting mustard yellow shoes & pale yellow outfits.
Even though you won't be wearing the yellows side by side, they shouldn't clash! And yes, a head-to-toe yellow look can work, such as with bridesmaid or wedding looks!
Purse Styling Tip: Match your purse with any hue in your outfit, or safely reach for black, espresso brown or a white handbag. A sparkly silver clutch will dazzle your outfit for a more formal occasion.
6. Color-blocking with Yellow Shoes
If yellow shoes are on your must-buy checklist, or you've got some in your closet begging for an appearance, one thing is certain. Yellow shoes outfits are a perfect summer statement. And mixing and matching colors is all part of the fun.
If you need help with what colors match yellow shoes, here are my favorites:
Blues – cobalt, navy, turquoise, teal, light/sky blue
Purples – lavender/lilac, royal purple, dark/eggplant
Blacks and greys – all shades
Whites – if you're wearing off-white/beige, stick to mustard or pale yellow
Greens – sage, army, lime
Oranges – coral, peach
Let yellow shoes help you step outside your comfort zone. Experiment and push boundaries. Try 2 of the above colors mixed in with your outfit. See what works best for your unique style and personality!
Purse Styling Tip: Pick a different shade from the list above to color-block your yellow shoes outfit to the max!
7. Black & White Outfits with Yellow Shoes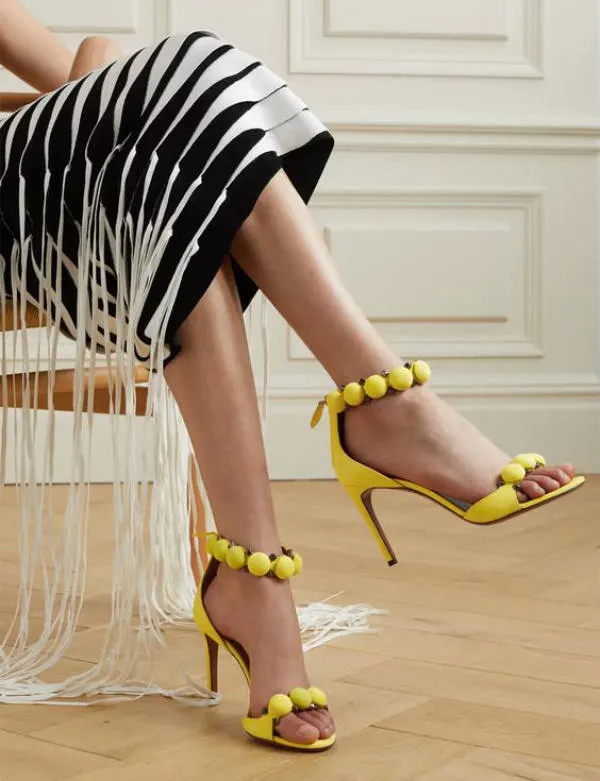 Your black and white outfits may call for an enhancement. Think polka-dot dress, black pants and white top, or a patterned black and white jacket. Bright yellow answers, in the form of shoes.
The style is up to you, but I have a thing for my color-blocked black and white ruffle tiered skirt, ruffle-sleeve tank and my bright yellow strappy sandals or ballerina flats. I pull this simple outfit together in no time. You can, too!
Here's another fun idea for what goes with yellow shoes. During pool season, try your black swimsuit with a black and white sarong, yellow flip-flops and a cute straw hat. Fun, flirty, functional. Summertime ease at its finest!
Purse Styling Tip: A white, black or matching yellow purse will do. Or inject more color into your look but choose a bright pink or blue purse.
8. Grey Outfits with Yellow Shoes
Grey and yellow shoes outfits were destined to be together. This as-old-as-time pairing has survived shifting trends in home décor, and it can do the same in your closet.
From heather to charcoal, paired with nearly any yellow – these neutrals are wardrobe workhorses. And yes, yellow is a fab neutral!
Even in fall and winter, when darker greys are popular, a bright yellow loafer looks great with grey plaid trousers. As do grey suits with a splash of yellow pumps. Or maybe pale yellow booties with a sweater dress, might work for you!
How to wear mustard yellow shoes, you ask? A mustard sneaker dresses up grey joggers.
In spring and summer, a pale yellow or canary yellow slide works with grey shorts or a shift dress. Add a patterned neck scarf with hints of yellow, grey to tie it all together. Check out more tips on how what color shoes to wear with a grey dress or outfit!
Purse Styling Tip: Play it safe with black, white or a silver purse. If you're looking to make more of a statement, a neon green or hot pink purse will do the trick!
9. Earth Tones with Yellow Shoes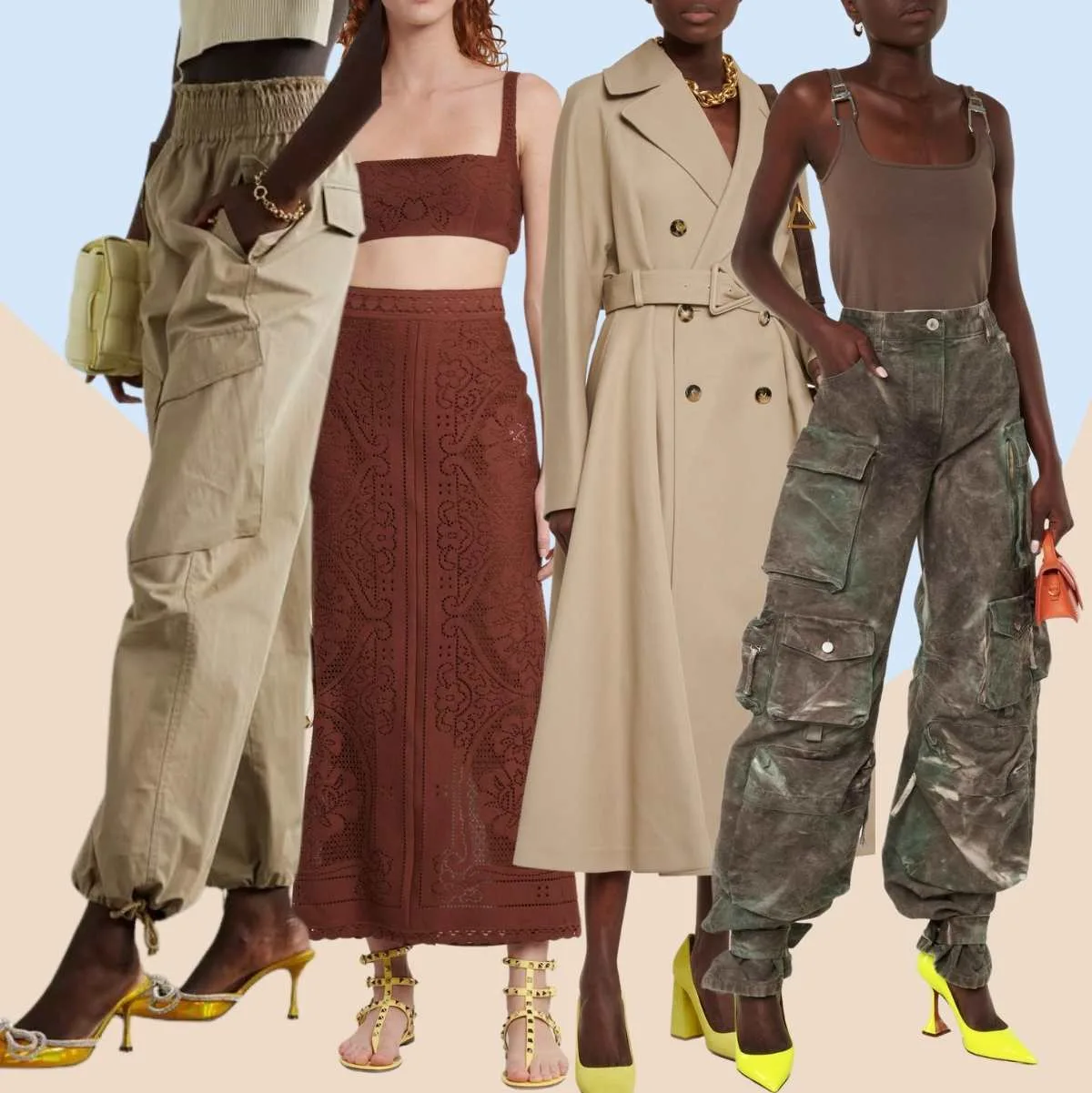 When I nabbed my yellow sneakers, I realized how many things they went with. Mustard yellow shoes go hand-in-hand with the earth tones we love.
Pair mustard sneakers with jeans and a rust tee. Wear mustard mules or neon yellow pumps with your favorite army green cargo joggers and a white tank.
Grab mustard D'Orsay flats and match them with beige or brown linen pants and a simple top. This would also work as a mustard yellow heels outfit.
Bottom line – mustard yellow shoes will bring more warmth to your gray, brown, tan, beige and rust pieces!
Purse Styling Tip: Keep things consistent with a matching yellow purse or pick a beige, tan or forest green handbag.
10. Navy Blue with Yellow Shoes
You can't get a more classic and user-friendly (read, fashion no-brainer) pairing than navy and yellow! Like grey and yellow, they strike a balance between subtle and bright. Any yellow shade will do the trick when you're looking to kick your navy up a notch.
Think of navy like a blank canvas, onto which you can layer various yellow shades.
A lightweight navy cardigan and white jeans plus yellow loafers, flats, sneakers or sandals. This outfit says classic and sophisticated. A navy off-shoulder dress as a mustard yellow heels outfit, or with strappy bright yellow heels, says bold yet feminine.
Navy shorts with a chambray or Breton top and yellow ballerina flats say, "Get me to Paris, pronto."
Of course, if you want to go for a bright blue, you can also give it a try. Just be careful to pair 2 complementing shades, as if both blue and yellow are too bright, you might look like something out of a coloring box!
Purse Styling Tip: Black, beige or white purses will be a good match for yellow shoes and navy. As will a clutch in the right shade of coral or lavender.
11. Yellow Shoes Outfits with Green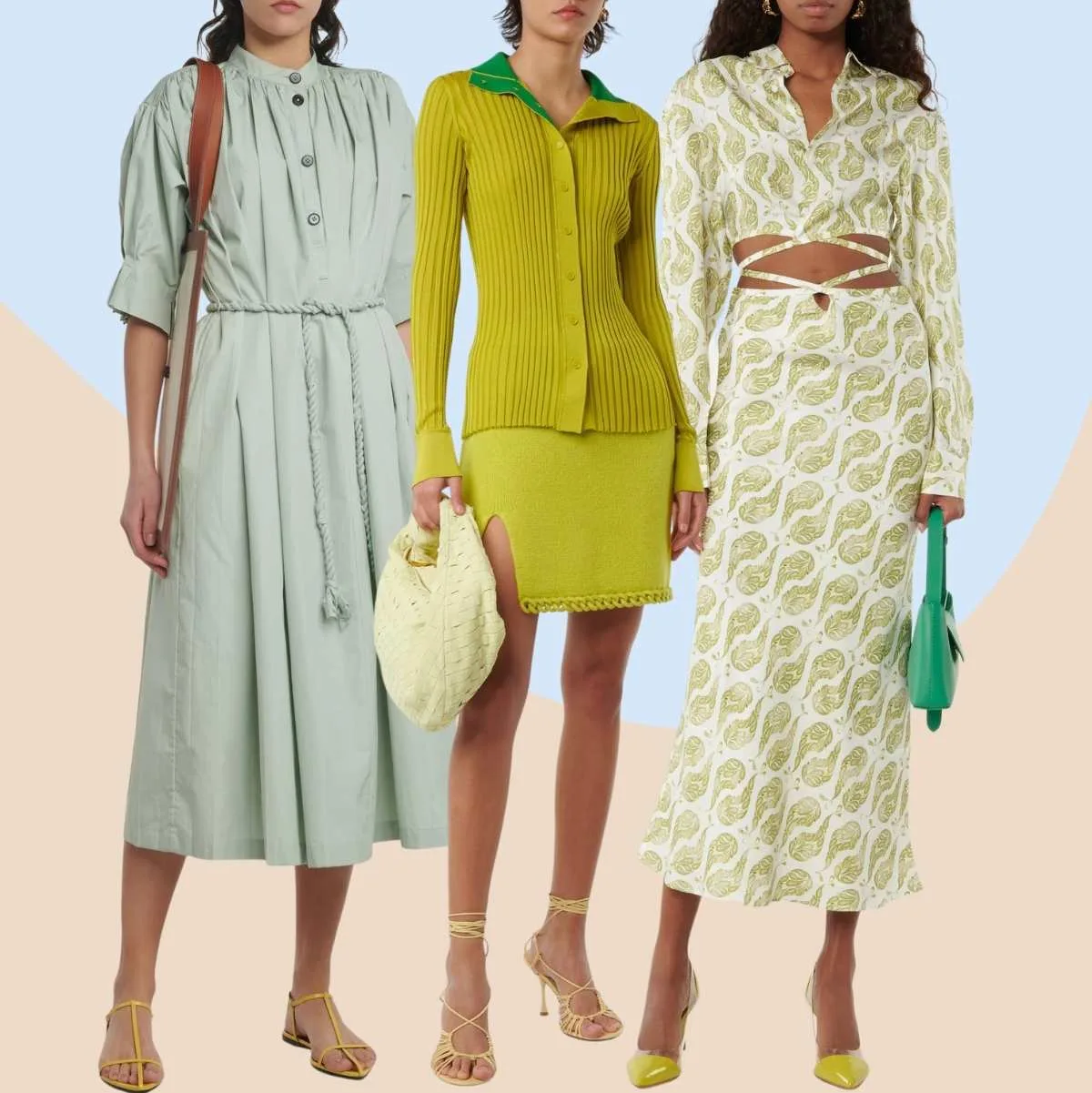 With the right pairing of yellow shoes and a green dress or outfit, you'll be sure to make a fashion statement that will turn heads for all the right reasons!
For a more subdued look, opt for mustard yellow shoes with forest green clothes, teal green dress, or a mint green outfit. This combo is perfect for an office setting or a casual lunch date.
If you're feeling bold, go for bright yellow shoes with teal green, sage green, or neon green clothes. This pairing is great for making a statement at a party or on a night out on the town.
And if you really want to stand out from the crowd, try apple green with neon yellow- you won't be sorry!
Purse Styling Tip: you can match your purse to your shoes, stay neutral with beige, black or white or opt for some fun color-blocking with a pink purse!
FAQs – What to Wear with Yellow Shoes Outfits
How to Wear Neon Yellow Shoes?
So you've got yourself a pair of neon yellow shoes, huh? You're probably wondering how on earth to incorporate such a bold piece into your wardrobe. Rest assured, it can be done!
With a little creativity and confidence, you can rock those neon yellow shoes like it's nobody's business. Start by pairing them with basics like jeans or a little black dress.
Then, add some accessories to make the outfit your own, possibly tying in a neon yellow color to match your shoes.
Outfit colors that go with neon yellow shoes, you ask? Here are my top 8:
Black
White
Khaki
Forest Green
Turquoise
Denim blues
Greys
Bright Pink
Purple
Now go out there and strut the concrete runway in neon yellow shoes!
How to Wear Mustard Yellow Shoes?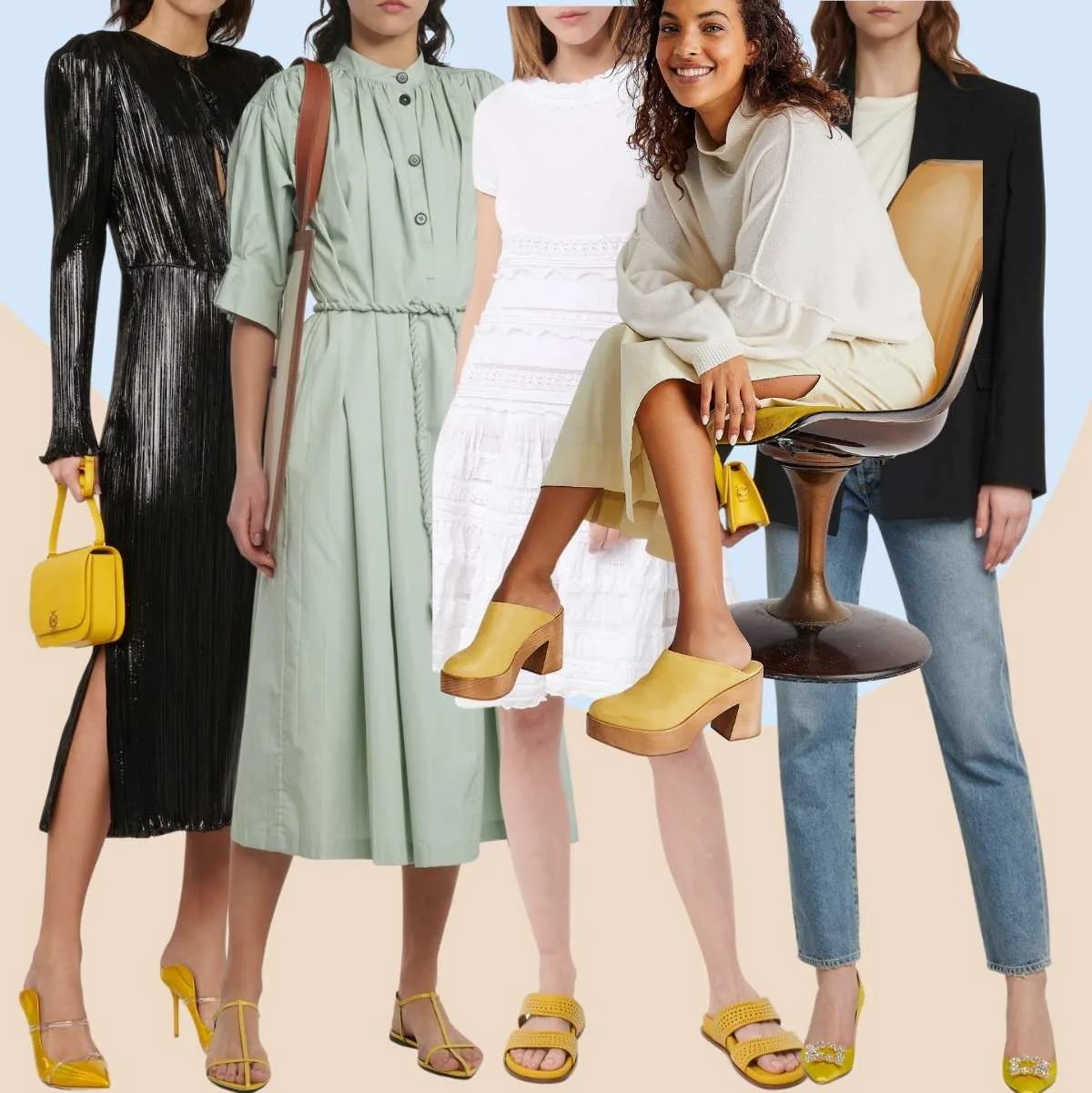 When it comes to mustard yellow shoes, less is definitely more. You don't want to go overboard and end up looking like a walking hot dog.
A good rule of thumb is to pick one other item in your outfit that's mustard yellow, whether it's a scarf, handbag, or a piece of jewelry. If you're feeling la-di-da, you can even try pairing your shoes with a mustard yellow dress or top.
As far as color combinations go, a few work particularly well with mustard yellow. One is black and white; the contrast between the two colors really makes the mustard pop.
Another is tan and navy; the earthy tones of the camel offset the brightness of the yellow nicely. And finally, if you want something a little unexpected, try pairing mustard yellow with blush pink, dark green, or khaki outfits.
What Colors Match Yellow Shoes?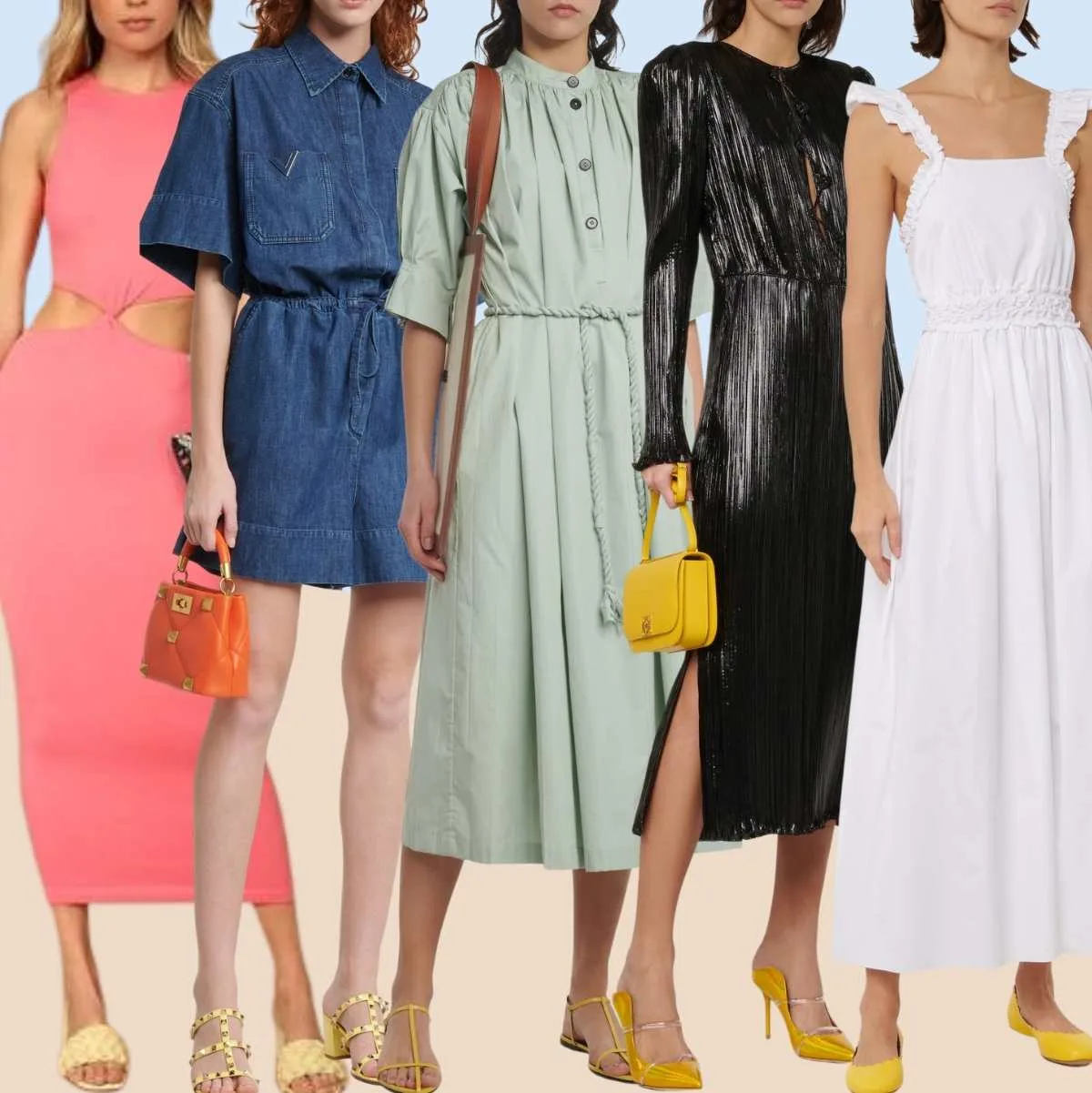 What colors go with yellow shoes, you ask? And what color dress, shirt, or pants should you wear? First, let's start with the basics.
Yellow is a bright and cheerful color. It's also a primary color, which means it can be mixed with other colors to create a variety of new shades.
When it comes to fashion, yellow is often paired with the following hues:
White
Black
Blues
Greens
Pinks
Any color combo of 2 shades above
So what does that mean for your outfit? If you're wearing yellow shoes, you can pair them with black pants and a white shirt for a classic look. Or try blue jeans and a yellow sweater for something a little more relaxed.
Not feeling as colorful? No problem! Yellow shoes also look great with a simple black dress. But there's no need to limit yourself to just these colors.
Yellow goes great with almost any color in the rainbow. So whether you're looking for a subtle accent or want to make a bold statement, yellow shoes are the perfect way to do it!
Colors to avoid with yellow shoes? Any color too similar, such as beige or yellow shoes with a yellow or orange outfit. You'll want to avoid looking like a canary.
Final Words on What to Wear with Yellow Shoes Outfits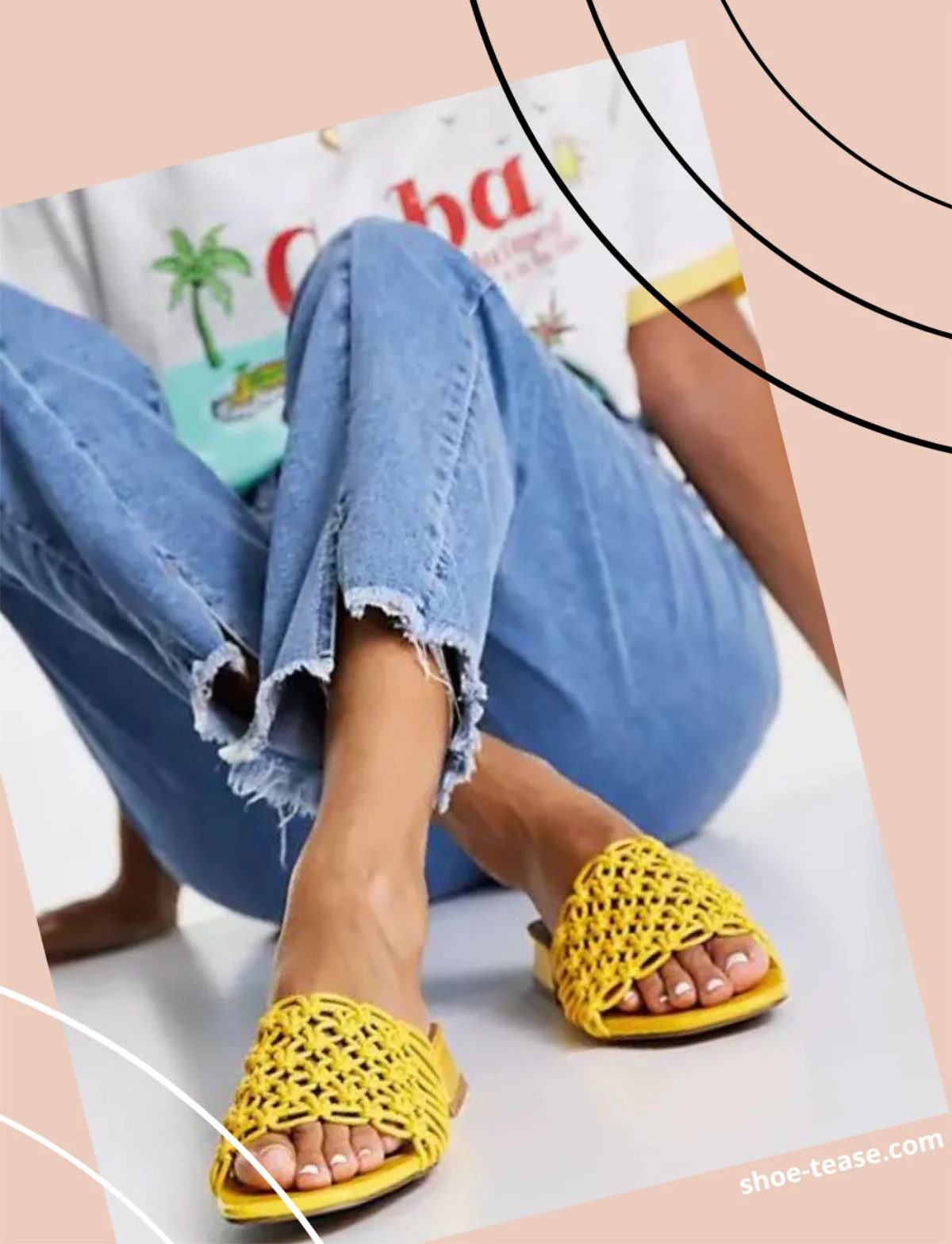 So there you have it – 11 amazing yellow shoes outfit ideas for you to try! I hope this post has given you confidence on what to wear with yellow shoes. And perhaps I've inspired you to go out and buy shoes in this often neglected color.
I love pairing crisp, bright whites with strappy yellow sandals or suede mustard yellow pumps. Gold jewelry adds a touch of warmth to make the outfit glow!
How will you style your yellow shoes outfit this season? Let me know in the comments, below!

xo ShoeTease