Oh, the ubiquitous Stuart Weitzman Nudist! It's minimal, it's sleek & it's the best shoe to wear not to distract from a fancy-schmancy gown or a particularly ornate outfit.
Amidst the top shoes of 2015 on the red carpet or otherwise, there were other 3 other dominant heel styles that did significantly well: Louboutin's So Kate, his Pigalle & Valentino's Rockstud. But the most popular celebrity shoe of 2014, one that would win a Red Carpet Award, really, is hands-down, this barely-there sandal! You'll see why.
Stuart Weitzman Nudist sandals beat out the competition & all those other shoes mentioned above didn't stand a chance, really. As a particular favourite with celebrities & their stylists, the Nudist heel dominated the red carpet with certain celebs such as Reese Witherspoon, Sophia Bush, Sarah Hyland & fashion darling Diane Kruger, opting for repeat wears & various color-ways.
That the thing: these tiny strap sandals come in so many colors it'll make your head spin, with new hues coming out what seems to be every week!
One of the reason they're also so popular is that they fit snugly to keep your feet in right, all the while being as light as air. A red carpet staple they have been & will likely continue on being onto 2015. It is such a classy shoe & looks particularly flattering due to its single sole construction, simple design & sleek 4.5″ heel. No wonder it's a celebrity favorite!
Stuart Weitzman Nudist| Celebrity Shoe of 2014
The Most Nude Nudist Sandal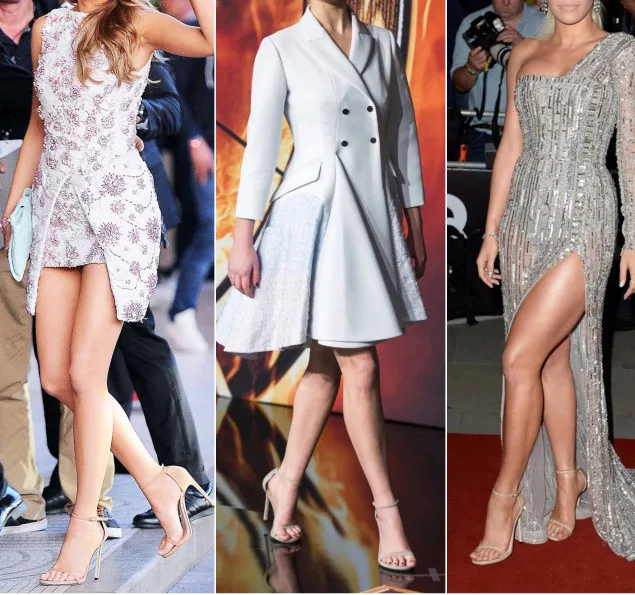 Perfect to make your legs mile-high & do nothing to deter the gaze from your fabulous self, Weitzman's sandals were a particular hit in Nude. Worn here by Blake Lively, Shailene Woodley & Rita Ora. They're so subtle you can barely see them! Difficult to see the difference unless looking at them up close, but these sandals were made in so many subtle shades of nude-blush-tan-beige, that it's worth taking a moment to differentiate them. It's great that Stuart created them in so many colors so to complement many a skin tone.
Sexy Black Sandals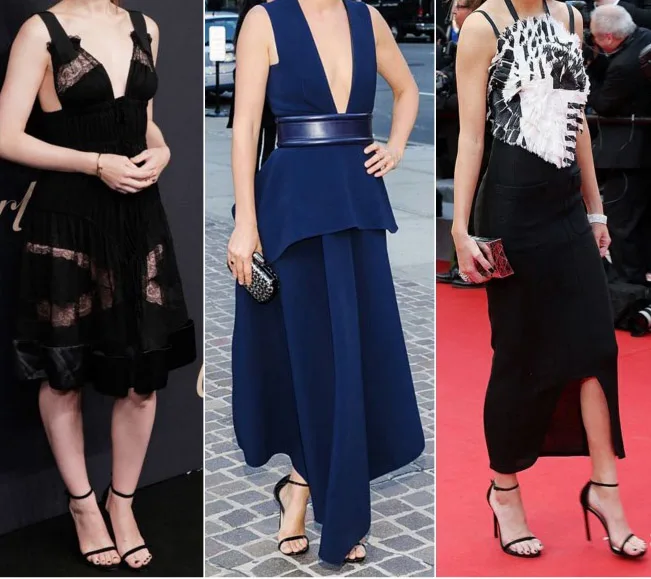 Black will always be the customer favorite & look particularly beautiful with navy & black dresses. The darkest of the Nudist shown here on Rooney Mara, fellow Canadian Cobie Smulders & Kendall Jenner's feet.
Posh White Sandals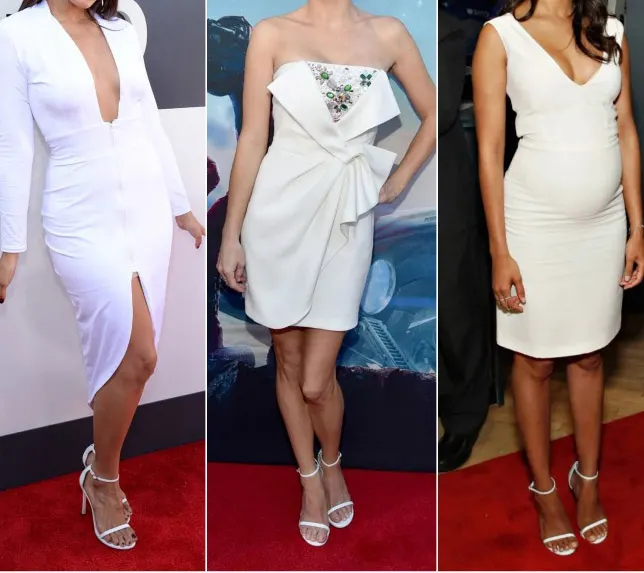 Celebs styled their white dresses with bright white Weitzman sandals & looked fabulous. Bright white heels definitely add light & boldness to the look, which would have not been the same case with a nude or blush version of the sandal. Definitely a good choice of shoe color for Jordin Sparks, Anna Faris & Zoe Saldana. Talk about the perfect summer wedding shoe inspiration!
Metallic Minimal Sandals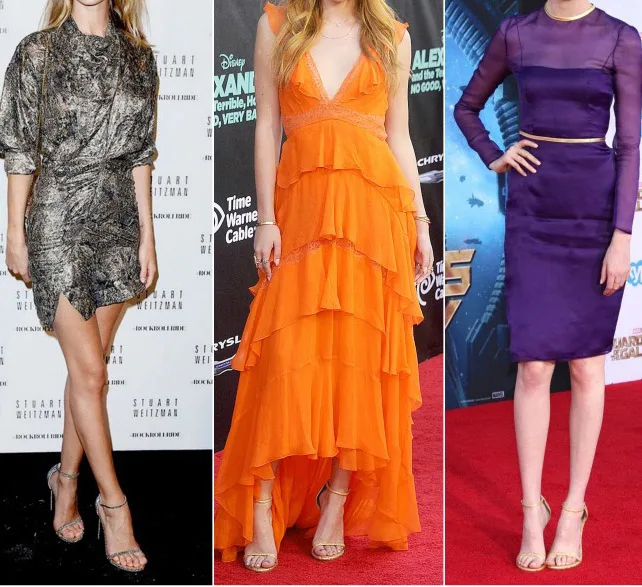 Gold was the winner in the metallics category, but depending on which material the footwear designer chose, even black or nude styles had a dash of sparkle! Gold works particularly great with all colors & a prefect complement to metallic jewelry in the same shade. If you're able to get your hands on a pair, it's really worth noting how pretty the colors & textured the material is on this style. Just goes to show how important fabric choice is even when creating a barely-there sandal! Rosie Huntington-Whiteley wear hers in a bronze shade while Bella Thorne & Karen Gillan opt for Gold.
Bright Red & Pink Sandals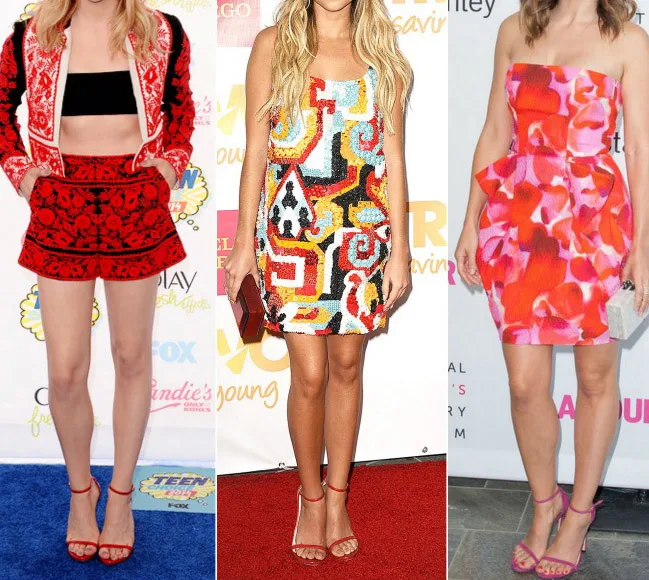 Less popular, but still oh-so very stylish are Stuart's colored Nudist sandals. Great to match with any oufit as seen above. Also a fabulous way to add a minimal pop of color to complete your look. Chloë Grace Moretz, Sarah Hyland & Sophia Bush would have to agree!
In conclusion, it's worth mentioning that these Stuart Weitzman sandals have had a huge presence in the fashion blogosphere, with the biggest names in the industry seen wearing them for all occasions. Whether gifted by the company or not, they've had a massive presence on & off the web! Can I say how amazing they look with jeans? Oh & if you're looking for New Year's inspiration, these are fab shoes styled with a sequin dress 😉
What do you think of this style as the top shoe of 2014? Would you have rather seen another design take centre stage?

xo
Cristina M.