How to Wear Red Shoes: 7 Easy Outfit Combinations
I believe every woman should have at least one pair of red shoes in her closet. It's an unmistakably vibrant color that gives a stylish punch to many outfits and (most importantly) they're bound to make a statement!
But so many ladies I know don't have any red shoes in their wardrobe. Nope, not even one set of red dressy shoes, heels or flats. A little shocking for a shoes blogger such as myself, who owns at least 4 pairs!
What to Wear with Red Shoes
I get it, pairing up red shoes with outfits can be daunting, especially with the hue's association with love, lust & well, fiery hell. So yes, red shoes & clothing might seem a little "too much" for many!
Social connotations aside, the biggest reason women (and men I'm sure!) avoid donning them is because they can't figure out what to wear with red shoes, simply for the color alone. Yet paired with the right outfits, red shoes can & will look sensational!
And if you feel hesitant about wearing them, remember that red shoes are a significant shoe trend, making them more "acceptable" than ever, even in the most conservative environments.
So if you're looking to style some ruby hued footwear in the near future, or want to explore new ways to wear outfits with red shoes, you've come to the right place! I've rounded up the 6 most fool-proof ways to wear red shoes, and some of the most eye catching, fun & trending red shoe available right now, below.
---
Shop the Hottest Red & Burgundy Shoes in Store:


---
6 Chic & Simple Ways How to Wear Red Shoes
1. Black Dress with Red Shoes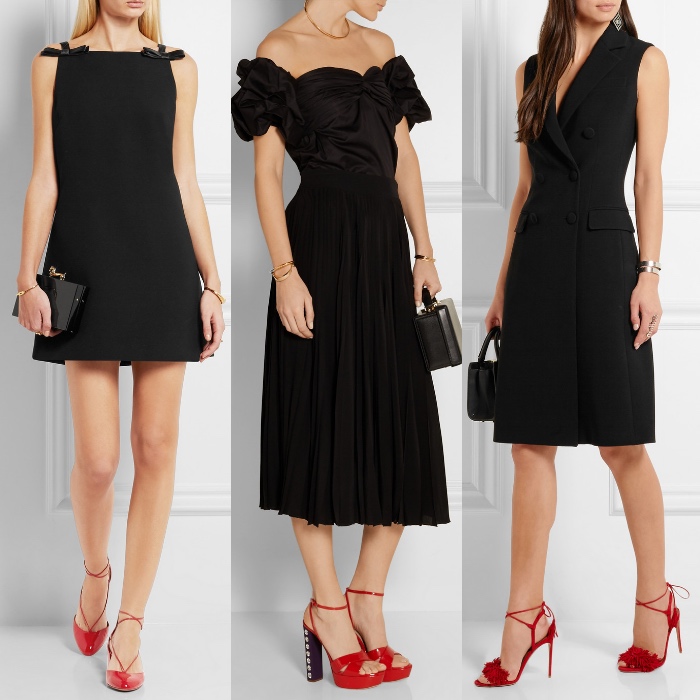 ---
Shop Black Dresses:

---
An easy way to answer your red shoes styling dilemma is going back to black. I love a black shoes red dress combo, but it also works fantstic with any all black outfit, including a pantsuit and jumpsuit. Or even a black jeans and black t shirt with red sneakers or heels!
Because with red shoes, a black outfit is anything but boring! In fact, my absolute favorite statement maker with a black outfit, whether jumpsuit or little black dress, is a brightly colored shoe. Especially a red one!
Yes, all black with red shoes outfits look amazing & will give your little black dress that je ne sais quoi, making you & your basic black stand out from the crowd. Pick the right red shoes with your work attire & you can easily wear them to the office too!
I love poppy red shoes with black dresses, but wine-hued shades look just as well, especially in the Fall/Winter months & for more conservative office dressing. Need more options with black dresses & outfits? Check my in-depth post all about the best shoes to wear with a black dress.
Purse Styling Tip: To keep the focus on your ruby shoes, keep your purse either black or white. My fave? A matching black purse in a contrasting material, say patent black leather with a matte black outfit. A black and white bag is also a fun combo with this red shoes outfit!
2. White Outfits with Red Shoes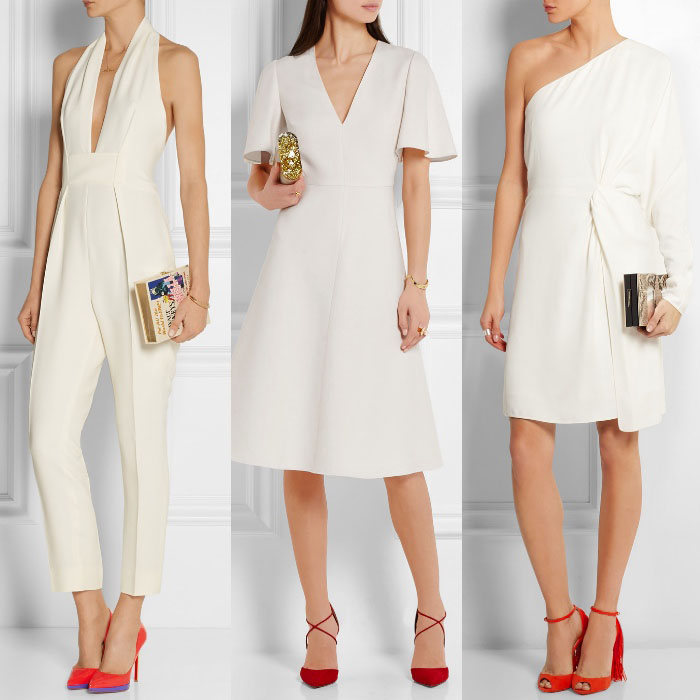 ---
Shop White Dresses:

---
Whether you're thinking about pairing a white dress with red shoes, or with a white romper or separates, each will surely look amazing. If you think the contrast is a little too much for your style, opt for a pair of burgundy heels. These will reduce the brightness of the heels. Or go for an off white outfit, which will contrast less with the shoes.
Love white but not sure about the red shoes? Check out more shoe colors to wear with a white dress!
Purse Styling Tip: Black, beige or gold clutches will be a pretty addition to your red shoes & white outfit. Or add a contrasting color (all except green!) to pump up your look if you're feeling adventurous!
3. Red Shoes with Blue Dresses & Outfits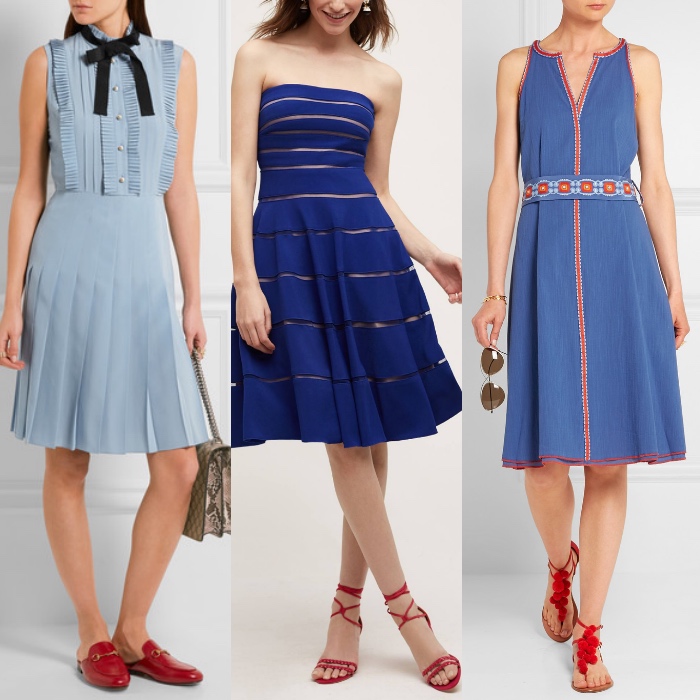 ---
Shop Navy Blue Dresses:

---
Of course basic blacks or whites are not the only colors that look great with red shoes! Whether you're looking to pair a baby blue, cobalt blue or navy blue dress or outfit with red shoes, they're all great options. Denim rompers, jumpsuits & dresses are all great blue clothes to wear with red shoes too! And don't forget how fab red heels can look with double denim as well 🙂
Purse Styling Tip: I love a contrasting purse color with red shoes & blue outfits. Beige, taupe & white in particular.
4. Red Shoes with Mixed Prints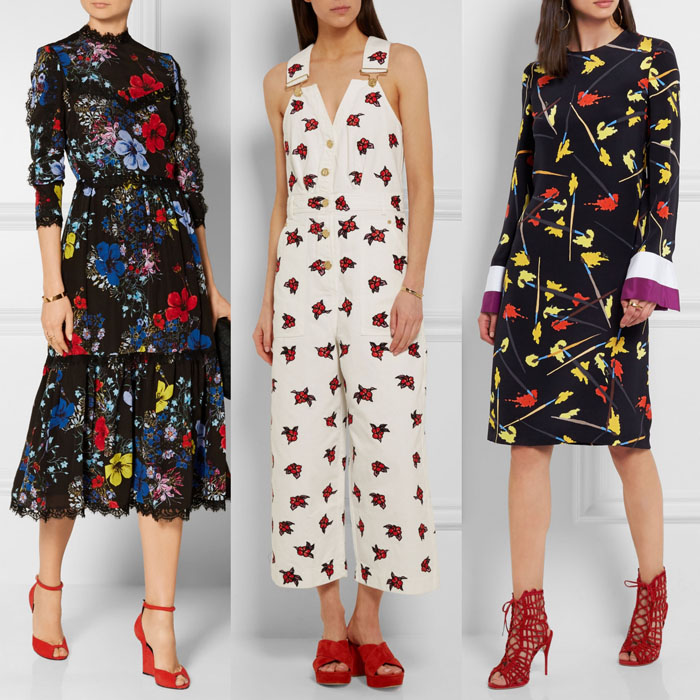 Many people steer away from mixing colored shoes with colorful outfits, but it's actually a lot easier than you think, especially with red shoes! Go for a printed outfit with a neutral base (such as black, white or gray) that happens to have red in it & match your red shoes accordingly. Just like the 3 dresses above.
This is an easy styling trick that you can apply to any shoe color. For instance, both black dresses above would look great with yellow shoes too, as yellow is a color in the print. The same can be said about green shoes pairing well with the featured white overalls.
Purse Styling Tip: Colorful outfits with red shoes look great by matching your handbag with any color present in your printed clothes. Easiest pairing is grabbing a bag that matches the base color of the outfit.
5. Red Shoes and Jeans + White Shirt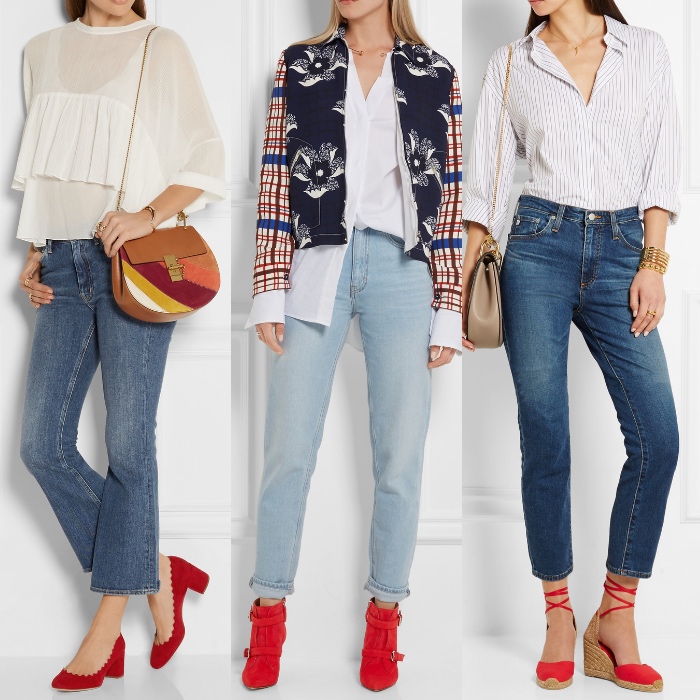 If someone asked me what to wear with red shoes, I'd likely tell them my personal favorite way of styling them: with jeans! In particular, red shoes and jeans with any neutral top will look fab.
But nothing beats a primarily white shirt with blue jeans and a fab pair of red shoes! Throw on a printed bomber for an instant update to the most basic of clothes you already own!
This look is timeless, and when you add a great fitting jean with a trendy blouse, you've got a styling winner. Want to keep your blue jean look even more casual? Opt for a simple white tee. Want to add a little rock n' roll to your jeans and red shoes? Add a black/white striped top and leather moto jacket.
There are endless ways you an fabulously style your blue jean (or white or black!) with red hot heels!
Purse Styling Tip: How to wear red shoes, jeans & a basic top with other accessories? Honestly, anything goes! I'd stay away from all red bags, as it'll look far less effortless, than, say, a contrasting color or neutral. I'd avoid green accessories.
6. Black and White Outfits with Red Shoes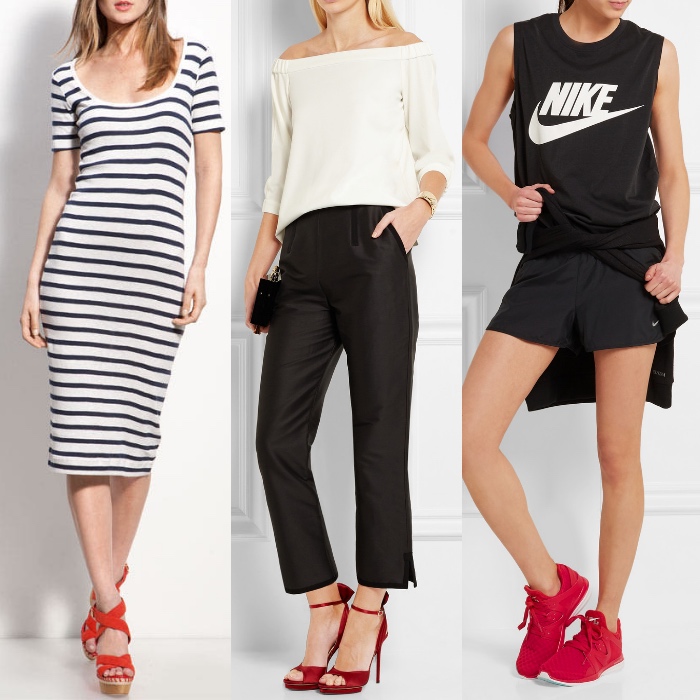 If black looks great with red shoes as much as white does, black & white outfits will surely look just as fabulous, if not better. Much more visually enticing, black and white looks will still let your red shoes shine without overpowering your outfit.
Pair black & white separates with burgundy shoes for work, red sneakers with black/white sportswear for an original workout look & black and white stripes (either top or dress) for an instant nautical feel.
Purse Styling Tip: I do love a good black or white purse when pairing red shoes with a colorless outfit (especially in a contrasting material). Red will work too, but I know you can do better 🙂
7. Leopard Print Outfit with Red Shoes
Ok, so leopard print may not seem like an "easy" article of clothing, but a leopard print dress with red shoes or whatever your spotted item is, will look amazing with red shoes.
That's me wearing red heels & printed skirt in the middle, from my leopard print pencil skirt and red heels post! The pop of color is unexpected, fun & very chic as long as the dress or outfit isn't too tight & revealing (could look mighty unglam with the wrong dress & tacky shoes!).
Purse Styling Tip: Anything goes here, whether you want to contrast or not. If you want to keep it safe, a black or white purse will work well. A gold clutch could be fun for an evening look too!
Of course these are not the only outfits that look great with red shoes! Other neutrals such as grey & beige look phenomenal with red heels & flats.
If you're more daring, however, you can always add a pair of red shoes to completely contrast a pink or purple outfit. Style, in personal, right!? But Whatever you chose to pair with your red footwear, your shoes will leave a lasting impression!
Outfit Colors to Avoid with Red Shoes?
There's how to wear red shoes, and how to avoid wearing them! I'd say there are 3 red shoe & outfit combos that one should avoid, especially if fashion styling is not your forte:
Green outfits: unless a dark olive or moss green, any other green hued clothes with red heels can look too Christmas themed & tacky with red shoes.
Red outfits with red shoes should be left for cocktail party or formal, bridal occasions, only. Why? Red on red is 99% of the time just too overpowering for any other occasion.
xo Cristina