If you're wondering what to wear with leopard print shoes, you're not alone. Although seen as one of the boldest patterns to exist, there are many ways to tone it down—or ignite its fierce appeal even further!
In this post, I'll be showing you how to wear leopard print shoes, cheetah print shoes and similar animal print shoes. We will be talking about the clothing types to pair with your leopard print footwear, along with the neutral and bold colors and even prints that pair with them best.
I will guide you so that you can confidently step into a variety of different leopard shoes outfit options. Whether it be for a casual or business look, or an elegant evening outfit, I have you covered on how to wear leopard print heels, sneakers and boots!
But before we get started: if you're asking yourself if leopard print shoes are in style for 2021, the answer is yes! I mean, I do consider leopard print shoes and accessories to be a neutral classic at this point, so.. 😉
Roberto Cavalli's latest collection alone, with every wildcat pattern under the sun on his runway—proves that leopard prints still reign supreme. And if you need further proof, just pounce over to the social media feeds of Bella Hadid, Tracee Ellis Ross, or any one of the Kardashian-Jenner sisters and you'll find leopard prints hiding in plain sight. But don't worry, you don't have dress like any of them to pull off the look!
So let's start your eye-catching ensemble from the ground up with a pair of animal print shoes. Ready? Here's how to wear leopard print shoes, just scroll down below!
---
Shop stylish leopard & cheetah print shoes, at Nordstrom:

---
What to Wear with Leopard Print Shoes
What Clothing to Wear with Leopard Print Shoes
To get a better grasp on leopard print shoes outfit ideas, clothing items are the best place to start! From the right bottoms, including jeans, to the most fashionable clothing of the season, let me show you how to wear your animal print shoes with all the right pieces and accessories!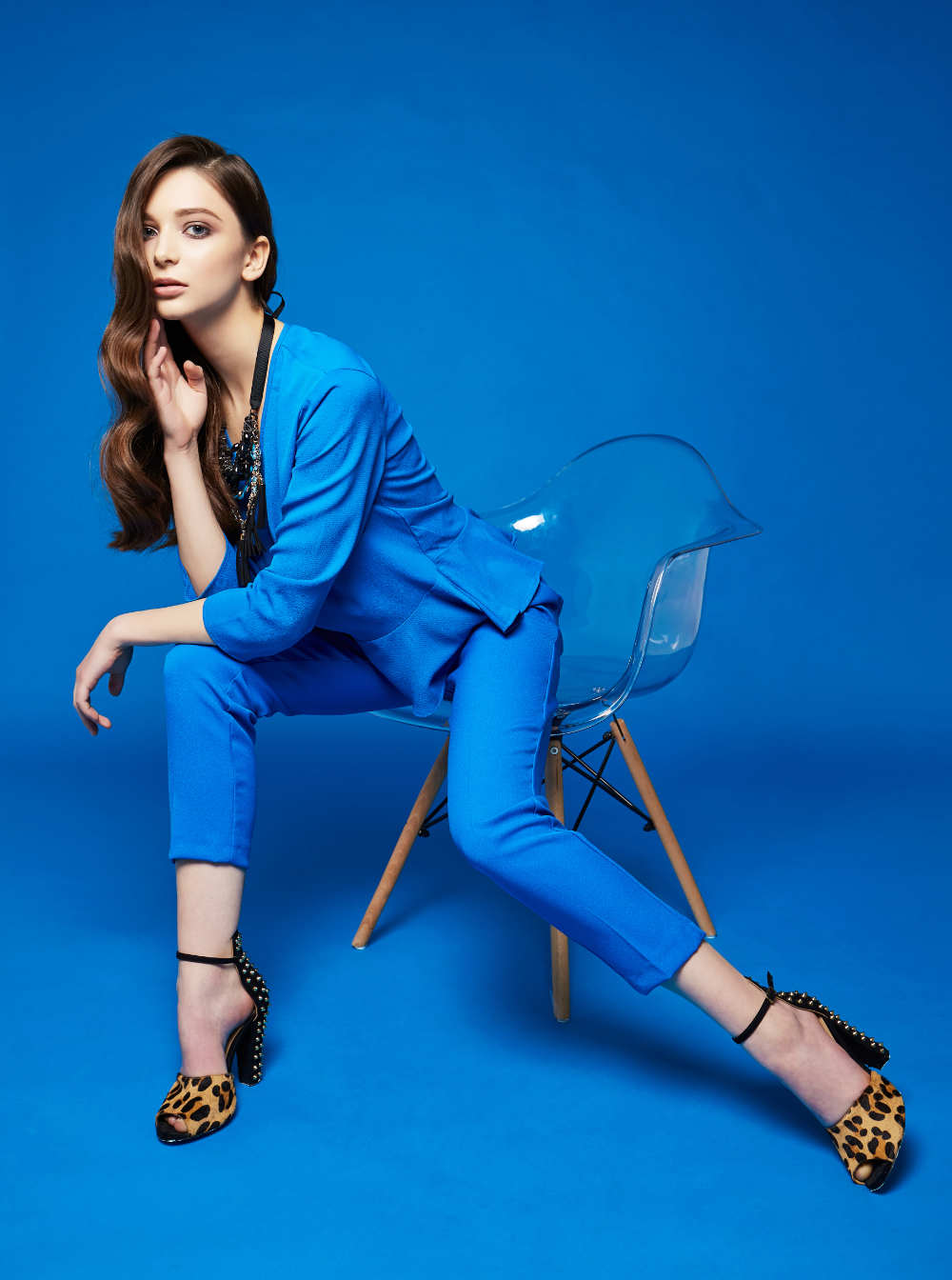 1. Leopard Print Shoes with Jeans
If you're wondering how to wear leopard print shoes with jeans, we've got you covered. Jeans are so versatile that they look great with a wide variety of animal print shoe styles, no matter the occasion. If you're ven in doubt how to style your cheetah print shoes outfit, you can always count on jeans to look complete the look!
Try a strappy heeled sandal for evenings out, a pair of cheetah boots on date night, or leopard sneakers when running errands around town. When in doubt, wear the most fashionable shoe silhouette, but make it animal print! Want to know which jeans go with leopard print shoes and how to style them? Read on, below!
Purse style tip: A purse that can hang over your shoulder is always a great choice. Choose one in caramel or charcoal to complement your casual look, or go bold with a bright red purse!
Skinny Jeans
Slim-fitting skinny jeans with a slightly cropped leg are perfect for showing off your leopard print shoes! A staple in every woman's closet, skinny jeans are flattering and easy to pair with different tops like off-the-shoulder sweaters, graphic tees, and oversized men's dress shirts.
Skinny jeans look great with leopard print heels, sneakers, and loafers. I personally love pairing them with a spotted stiletto for a fun night out or a pair of animal print tennis shoes for an elevated casual look. Looking for more animal shoe types to wear? Read my post on the best shoes to wear with skinny jeans
Boyfriend Jeans
If you're heading to pick your kids up from school, or just want more wiggle room, opt for light-wash boyfriend jeans (distressing optional). Boyfriend jeans will pair well with leopard print tennis shoes, slides, chunky heeled pumps and ankle boots.
A V-neck T-shirt, lightweight knit pullover will complete your look. For something super easy, layer a chunky cardigan with your boyfriend jeans. You also can't go wrong with a simple white or black T-shirt, so you can make your animal print shoes the focus of your outfit!
High-Waisted Jeans
High-waisted jeans are meant for crop tops and shrunken silhouettes. They're also perfect for the "half-tucked" look—take the bottom of your knitted sweater and simply tuck a small portion into your waistband. You can wear your leopard print shoes with high waisted jeans that are wide legged or skinny.
High-waisted jeans are great for creating the illusion of height. If you want to appear supermodel tall, pair them with leopard print heels and a black halter top or bodysuit. You can opt for loose fitting cropped tee + boyfriend or wide legged jean for a more casual look
Straight-Leg Jeans
This timeless denim type can be worn with a simple tank top and a blazer when you're meeting your friends for brunch. Bring some extra volume to your straight-leg denim look with puffed sleeves or a flowy peasant top. Straight leg jeans pairs well with similar leopard print shoes as skinny and boyfriend jeans. That means loafers, slides, leopard print heels and sneakers will all look fab.
Give your straight leg jeans a roll up to wear with cheetah print ankle boots and cozy sweater for a perfect fall look! A wool overcoat makes for a solid for a laid-back look and fluffy faux-fur jackets are great when you want to step it up for colder temperatures.
2. Leopard Print Shoes with Pants
Tailored Pants
Whether you're going into the office or out on the town, tailored pants keep you looking polished. And what better way to jazz them up than with a pair of leopard print slip ons, pumps or animal print loafers?
Try wearing a silky button-down blouse for more elevated occasions, or a cotton t-shirt for something a little more casual. If you're wearing them in a more conservative setting, opt for a less contrasting leopard print shoe.
Leather Pants
For something different: Wear your leopard print shoes with leather pants. They're timeless, classic, and look effortlessly cool no matter how you style them. The most fashionable fit right now is a loose, high paperbag waist, which looks amazing dressed up in stiletto leopard print heels and an oversized blazer!
In terms of color combos: navy-blue sweater will look great with brown leather pants, while a top-to-bottom black look can be achieved with a black satin camisole and black leather pants. Because of the warmer tones, this outfit will be the perfect compliment to your cheetah print shoes!
Culottes
Culottes really help your shoes stand out! With their shortened silhouette, all eyes will be on your footwear. If you're on the shorter side, culottes can also help you seem taller. Shoe choices? I'd select a leopard print slide, mule or sneaker.
Choose a pair with a wider leg and wear them with a closely-fitted top like a stretch-blend crew neck or slim sweater in taupe, black, or white. For even more height, wear them with your leopard high heels.
Sweatpants
Sweatpants are all the rage right now. From super laid-back to more fashion-forward, there's something for every occasion. Adding the perfect animal print shoe of the season is definite added styling bonus. If you're running out to the grocery store or post office, try wearing your sweatpants with leopard print tennis shoes—they'll give you the traction of a cheetah while remaining comfortable. Anything casual can go on top: a coordinating sweatshirt, zip-up hoodie, puffer jacket.
Feeling like elevating your sweatpants for evening? Try a leopard print stiletto pump or sandal!
Leopard Print Shoes with Leggings
Simple and versatile, leggings are a must-have for any cozy outfit rotation. When you're heading on a casual stroll through the park, wear your classic black or heather-grey leggings with a baggy sweatshirt, camel overcoat and leopard print ankle book or sneaker.
Purse styling tips: Depending on where your day takes you, a variety of purses can add to your look. When running errands, a mini leather backpack will add convenience. At night, switch it up for a purse that can effortlessly hang hands-free from your shoulder. Jazz up your look with gold earrings and a simple chain necklace.
3. Leopard Print Shoes + Skirts
Mini Skirts
A summertime staple, mini skirts are an easy-going wardrobe choice. Choose a leopard print shoe with a lower block heel, a sneaker or loafer. High, stiletto leopard print heels with mini skirts tend to look ultra provocative, so keep that in mind!
Midi Skirts
Midi skirts strike the perfect balance between long and short. For an ultra-casual look, knot a faded, vintage tee at the waist. Transcending seasons, midi skirts can be worn in the summer with your leopard sandals or in the winter with tights and leopard boots.
Long Skirts
Great for colder months, long skirts will reach your ankles, no problem. Wear them with heavier knits. If you're opting for a black skirt, try a long-sleeve turtleneck in an olive green or mustard yellow.
For caramel colours, you can easily wear black or white on top. An outfit that gets it right every time and pairs well with leopard print shoes is a beige sweater with a coffee-brown skirt.
Purse styling tips: You can't go wrong with a classic black clutch. Ever. If you want something a little fancier, try a metallic silver or bejewelled wrist bag—just make sure you buy one that can fit your phone!
4. Leopard Print Shoes and Dresses
A simple T-shirt dress is a classic option for summer. Tie your jean jacket around your waist when you're out and about—you'll have the convenient extra layer when the sun sets.
Purse styling tips: You'll want something as carefree and on-the-go as your outfit! A crossbody messenger or a trendy canvas or nylon belt bag will lend easy access to your belongings while keeping things hands-free.
Red Dress with Leopard Print Shoes
Shades of red and leopard prints go together like fine wine and aged cheddar. On your next charcuterie night in, zip into your favourite crimson frock and grab a pair of leopard heels to match. Of course, your outfit doesn't have to be a blindingly vibrant jungle red. You can go for something a little more low-key like a muted maroon wrap dress or burgundy shift dress.
Purse styling tips: Things can get a little too out of control with too much red—you want your outfit to look on fire, not actually be on fire—so when it comes to your purse, keep it neutral: black, white, or beige are your go-tos.
Black Dress with Leopard Print Shoes
A black dress with leopard shoes is a foolproof choice. There's a reason why the Little Black Dress is the world's most renowned garment! It's flattering, slimming, versatile, and will remain a staple in your wardrobe for many, many seasons to come.
Leopard Print Shoes + Ball Gowns
When the invite says "dress to impress" go for a ball gown. You can choose a baby-blue for a Cinderella vibe or something timeless like a gown made from champagne-coloured silk. Of course, a black ball gown is always an elegant option. Choose something with a high slit for a dramatic flair.
Purse styling tips: Elegance is key here. Choose something sleek—maybe a satin wrist pouch or a glossy gold clutch.
5. Leopard Print Shoes and Jumpsuits
Jumpsuits are just about the easiest thing to wear. Slip on one garment and you're good to go. Depending on how you style it, your jumpsuit can move from season to season.
When it's hot out, go for a white jumpsuit with leopard sandals. When the temperature dips, layer a neutral trench coat on top of a black jumpsuit. Switch it up with a retro-inspired denim jumpsuit.
For a casual jumpsuit look, style it with a leopard print sneaker, brogue or loafer. Learn about all the great shoes to wear with a jumpsuit in my dedicated post!
6. Animal Print Shoes and Pantsuits
When dressing for work—like the power woman you are—opt for something classic, like a suit. A suit works for everyone and can be worn in a casual way (perhaps with a pair of sneakers) or in the traditional, super-structured way (in this case, whip out your leopard print pumps).
However, suits go way beyond the office these days. They're a popular option for brunches, shopping trips, coffee breaks, low-key errands, and happy hour!
Purse styling tips: You can't go wrong with a bag that features a bold, gold chain strap. A black leather briefcase will show the world that you mean business. For another option, tuck a slim khaki portfolio under your arm.
Colors to Wear with Leopard Print Shoes
Bright colored outfits can look striking with leopard print shoes and you'll be surprised how many compliment this animal print! Red, orange, pink or yellow are some great colors that add warmth to a leopard print.
The brighter the hue, the more you will stand out. So if you're looking to be more subtle, you can choose to pair 1 bright piece, say, a top ,with your leopard heels and a neutral bottom, such as a black jeans. And if want to be more vibrant, you can choose a bright head to ankle outfit to pair with your leopard shoes.
Purse styling tip: since your look will be very vibrant with your outfit color choice + leopard heels, keep purses minimal in shape and color. Keep purse choice neutral: black or white would work best.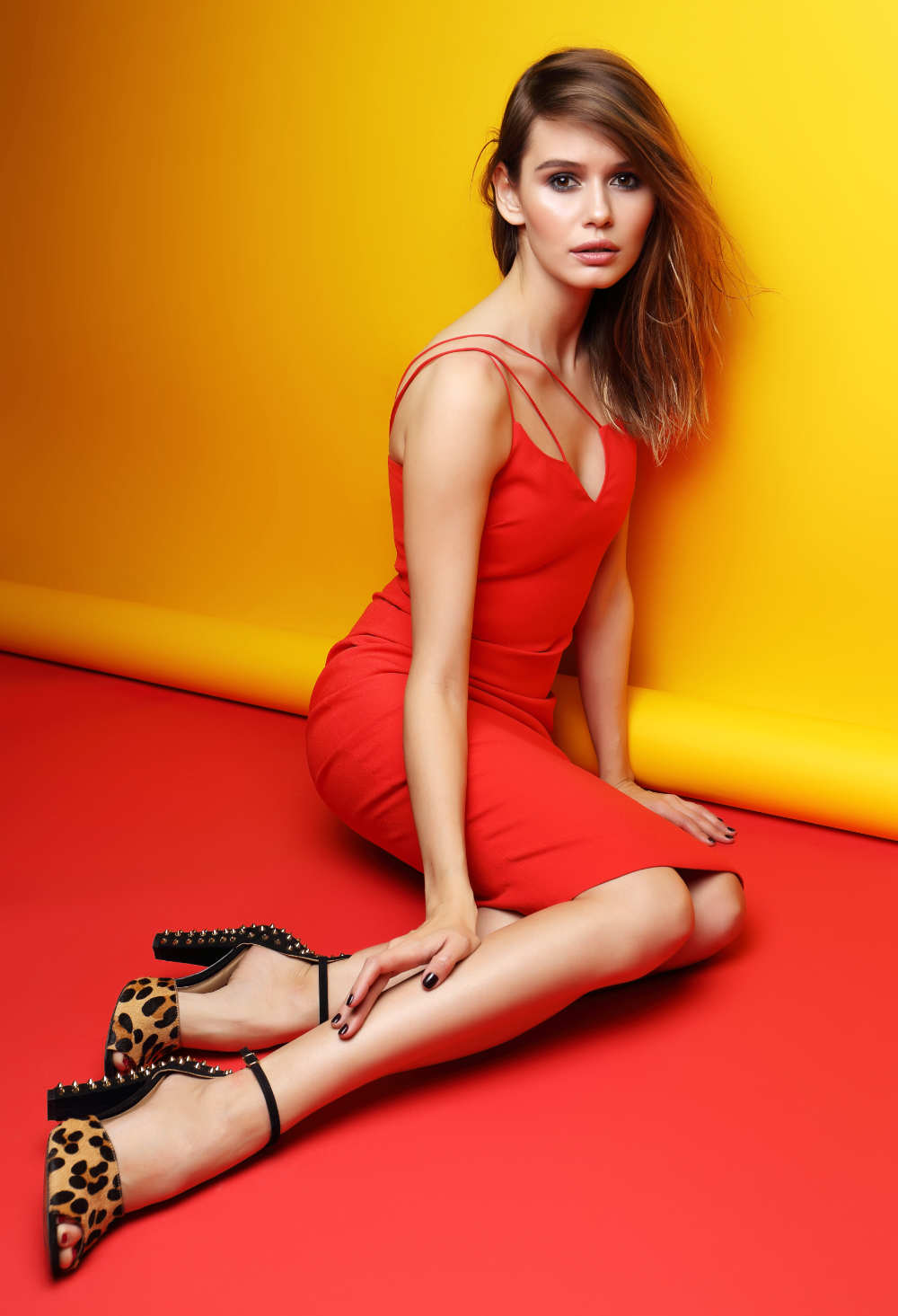 Leopard Print Shoes and Neutrals
Since leopard print is a neutral itself, it's easy to pair with other neutrals. If you don't feel so bold, there's always the option of keeping your animal print shoes the main focus of your look. Attention: All eyes to the ground, please!
Black
Black is fashion's favourite shade. It looks polished and stylish on anyone. Try a black blouse tucked into a black skirt for a dinner date or black jeans with a black t-shirt to meet your girlfriends for coffee.
White
Keep things cool, crisp, and clean with a white outfit. White skinny jeans always look fabulous with leopard print shoes. Break up your look with a blush pink top or a cheetah-printed button-down in a breezy chiffon. Add a white blazer for an extra dose of summertime sophistication.
Beige
Earth tones are leopard print's best friend. A beige blazer, camel-coloured trousers, and creamy camisole will have you looking ready to tackle the day. You can look effortlessly on-point in a simple beige wrap dress and a pair of strappy leopard print sandals with a slender heel. Add a pinch of pizzazz to your neutral outfit with a wide belt.
Leopard Print Shoes with Bold Colors
Bright colored outfits can look striking with leopard print shoes and you'll be surprised how many compliment this animal print! Red, orange, pink or yellow are some great colors that add warmth to a leopard print.
The brighter the hue, the more you will stand out. So if you're looking to be more subtle, you can choose to pair 1 bright piece, say, a top, with your leopard heels and a neutral bottom, such as a black jeans. And if want to be more vibrant, you can choose a bright head to ankle outfit to pair with your leopard shoes.
Bright Red
Red is one of my favourite colors to complement a leopard print, especially when worn with shoes! I find a red outfit with cheetah print heels especially bold and beautiful, and is bound to make a statement.
The brighter the red, the more it will pop will the leopard print. If you want to make a statement with red, but tone it down slightly, you can opt for a burgundy wine hue instead. Of course, the most red wear with leopard shoes, the more of a statement you will make, so be aware!
Hot Pink
Add a feminine pop to your look by layering a hot-pink blazer with a pair of worn-in jeans, a loose white T-shirt, and leopard print pumps. For something more subdued, try a blush-pink dress with spaghetti straps or a rosy cable-knit pullover with wide-leg trousers. See more shoe color choices in my post outlining what color shoes to wear with a hot pink dress!
Sunshine Yellow
Yellow is one of the colours that complements leopard prints the best. Try wearing a muted yellow blouse with black slacks and a cream-coloured cardigan on a casual day. Dress up with a mustard knit dress and black leather jacket. Check out more shoes to wear with yellow too!
Bright Blue
If you want to make more of a statement, a cobalt-blue dress would look particularly striking with a pair of leopard print shoes. At the office, try a coordinating blue suit with a white silk camisole. Of course, blue jeans are the easiest option! Switch up your denim look with a bright blue strapless top worn underneath a black varsity jacket.
Green
Bright like apple green or deep like emerald green I just love pairing a green clothing item with leopard print shoes. In fact, it's one of my favorite shoes to wear with green dresses and outfits!
Leopard Print Shoes with Prints
Plaids
Adding plaid to your outfit can be as simple as a plaid scarf or purse. You can take the patterned look to the next level with a plaid mini skirt or flannel shirt. Plaid-printed trousers will also look sharp with a black blazer and a pair of cheetah shoes.
Polka Dots
A classic pattern, polka dots are sure to be found in every woman's wardrobe. A midnight-blue polka dot dress will look great with leopard print flats or pumps in the summer. During colder months, throw on a black and white polka dot turtleneck with skinny indigo jeans.
Fun fact: Dolce & Gabbana paired polka dots with leopard prints on their Fall 2010 runway and the combo is still on-trend today.
Purse styling tips: Why not try an animal print bag in a different pattern? You've done leopard, you've done cheetah—let's go for a zebra clutch to make your outfit really pop. If you'd rather take a break from wild animals, try a beaded bag or a simple and elegant black leather purse with short top handles.
Animal Prints
Top-to-toe leopard prints might be all the rage but they're definitely not for everyone. And that's okay. However, there are those fashionistas among us who want to take things even further. If you're one of them, try wearing your leopard print shoes with leopard jeans, a cheetah t-shirt, and a faux-fur leopard teddy coat.
---
Final Remarks on How to Wear Leopard Shoes
Ultimately, learning how to wear leopard print shoes is as easy as slipping into a backless mule. Whether you're a sneakers and skinny jeans kinda gal or prefer something a little more glamorous like leopard pumps and a red dress, there are plenty of options to consider. You'll be sure to stand out in the concrete jungle with these fierce styling options!
One thing is for sure: No matter how you wear leopard print shoes, you'll feel an instant confidence boost. And who doesn't want more of that?
If you're not feeling so confident about what to wear with leopard print shoes, try just adding a small pop of leopard to your look. It can be a single strap on a sandal or a small patch on the heel of a sneaker. Either way, I do hope I helped answer your question about what to wear with leopard print shoes!
Looking for more visuals on wearing leopard print shoes? Come check out and follow my Pinterest board here!
xo ShoeTease