There are many shoes to wear with a dress. But today on shoe-tease.com, I have a select few shoes to wear with a sundress that are simply perfect for the hotter months!
What is a sundress, you ask? A sundress is usually described as a sleeveless summer dress, similar to a slip dress, but looser fitting and more casual. However, they can have sleeves too!
Sundresses are usually made of cotton, viscose or linen, but can be made of various fabrics.
From closed-toe summer shoes, flirty sandals & even boots, here are the 7 best shoes to wear with a sundress this summer, or on your warm-weather vacation!
7 Best Shoes to Wear with a Sundress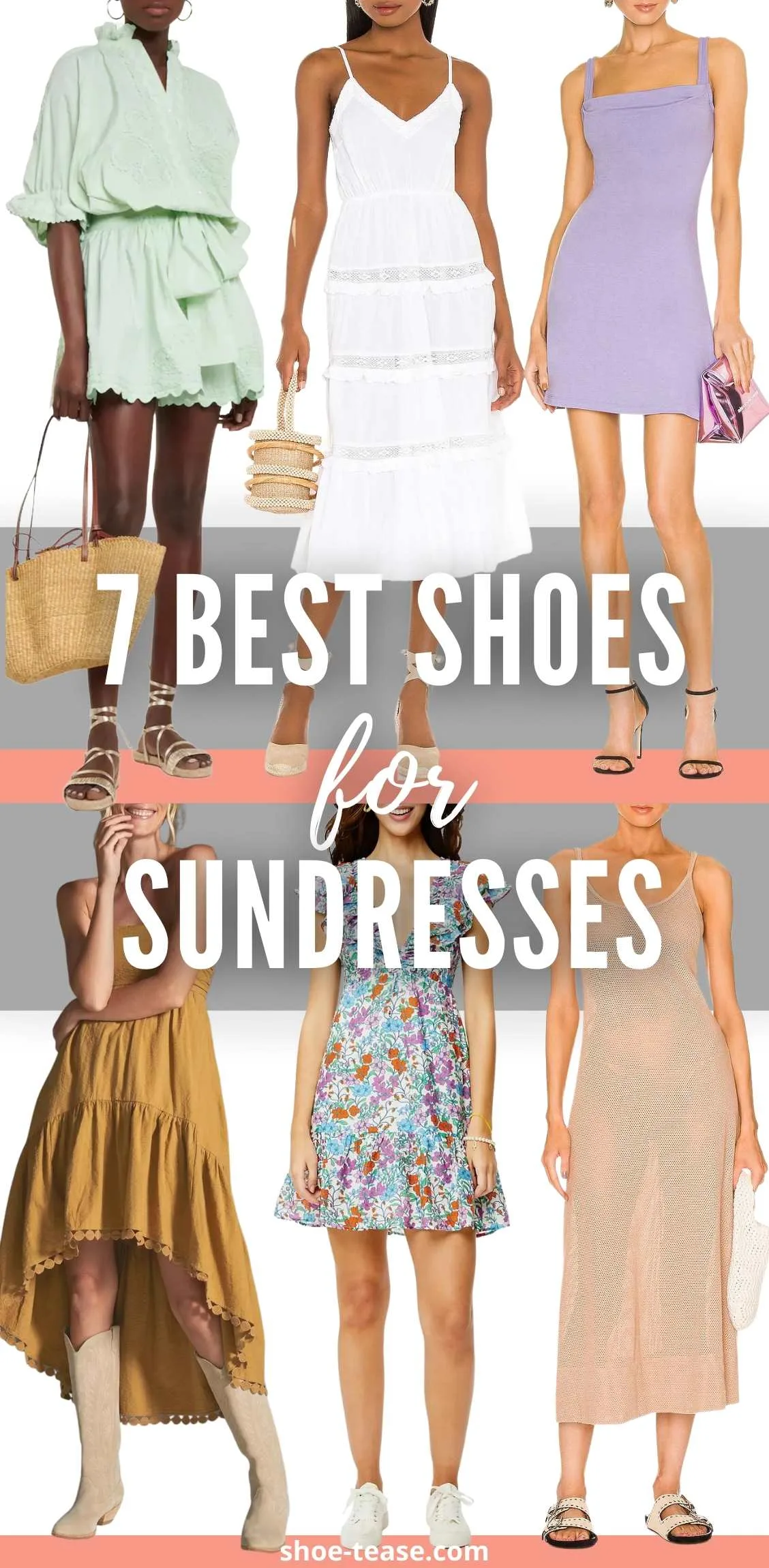 Shop Sundresses from:
1. Slides with Sundresses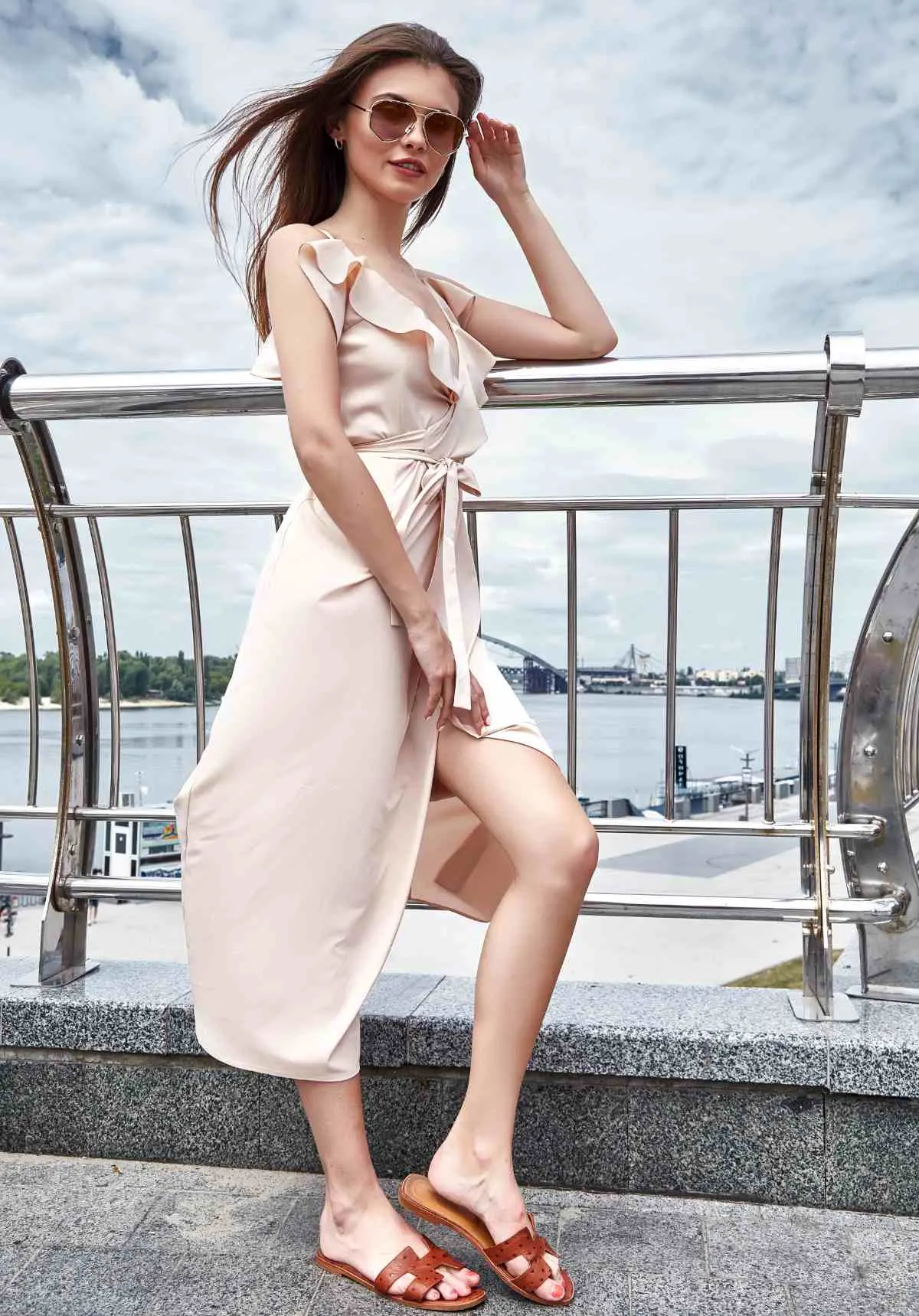 When thinking about what shoes to wear with a sundress, it's hard not to think of slides. My favorite is a simple leather slide with one strap and no or barely any heel. These look especially great in tan for more casual sundress outfits.
If you want to elevate your sundress with shoes, try a kitten heel slide, for a dainty look. Kitten heels not your thing? Try a mid to high, block heel. Choose black or metallic to add some shine.
Opt for a sports slide like the Adidas Adilette or current puffy slides for a sportier look. For an earthy vibe, choose a Birkenstock sandal with your sundress! More on how to wear slides in my dedicated post.
2. White Sneakers with a Sundress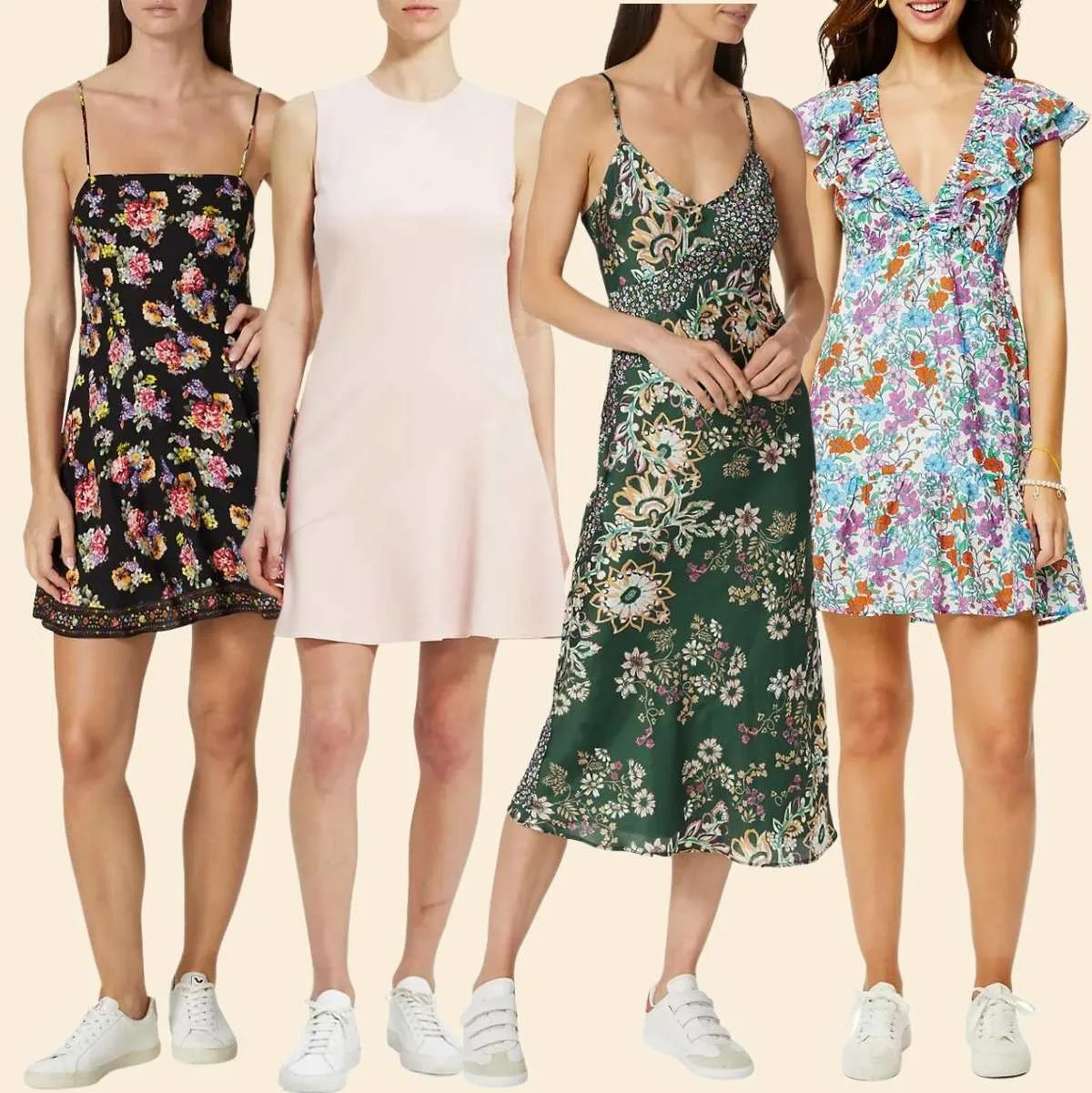 Classic white sneakers are cute sneakers to wear with dresses. They also make great casual shoes to wear with sundresses!
I love canvas sneakers in the summer as they're light and breathable and add a sporty, rugged edge to a summery look.
Choose from classic Vans, Superga, Keds and Taos sneakers. If you want to add a dose of glam to your sundress look, try a pair of Golden Goose Superstar sneakers, or opt for one of the many Golden Goose dupes instead!
3. Strappy Sandals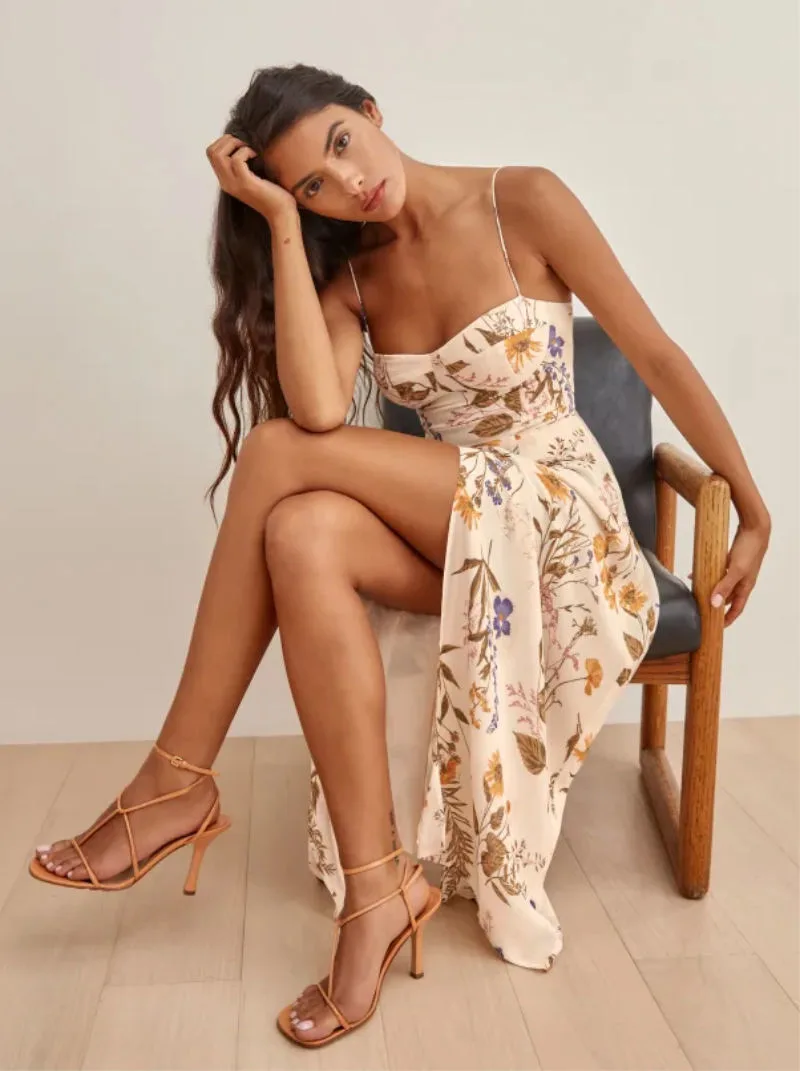 Strappy sandals, both low are fab summer shoes to wear with sundresses. If you want to elongate your legs and upscale your sundress look, reach for a pair of minimal strappy sandals with a fine kitten or stiletto heel.
For everyday wear, I love me pair of tan lace-up gladiator-like sandals. These will ground a sundress in any color.
They also look just as good in white or black (if you want more contrast) and gold if you want to add some shine. Green shoes are all the rage, so why not be bold in a bright green pair?
4. Espadrilles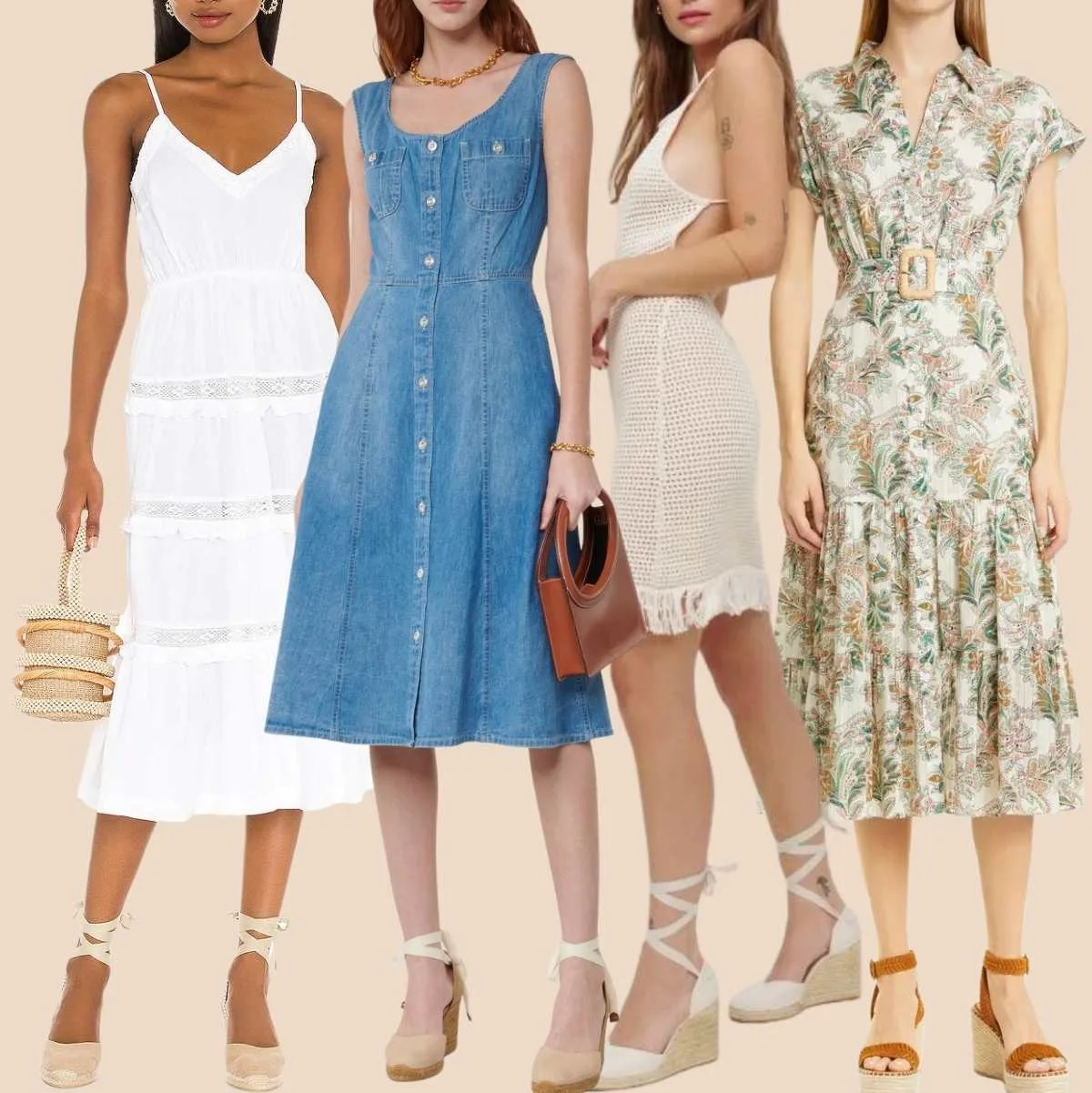 I love classic espadrilles with all dresses. But I have a special place in my heart for wedge espadrilles with ribbon bows. They're flirty, yet have laid-back ease to them.
Choose a simple canvas, lace or more sporty striped pair. A woven sunhat and a small crossbody purse are great shoe and sundress outfit additions. Check out my other post ton more ways to wear espadrilles!
5. Mesh Pumps with a Sundress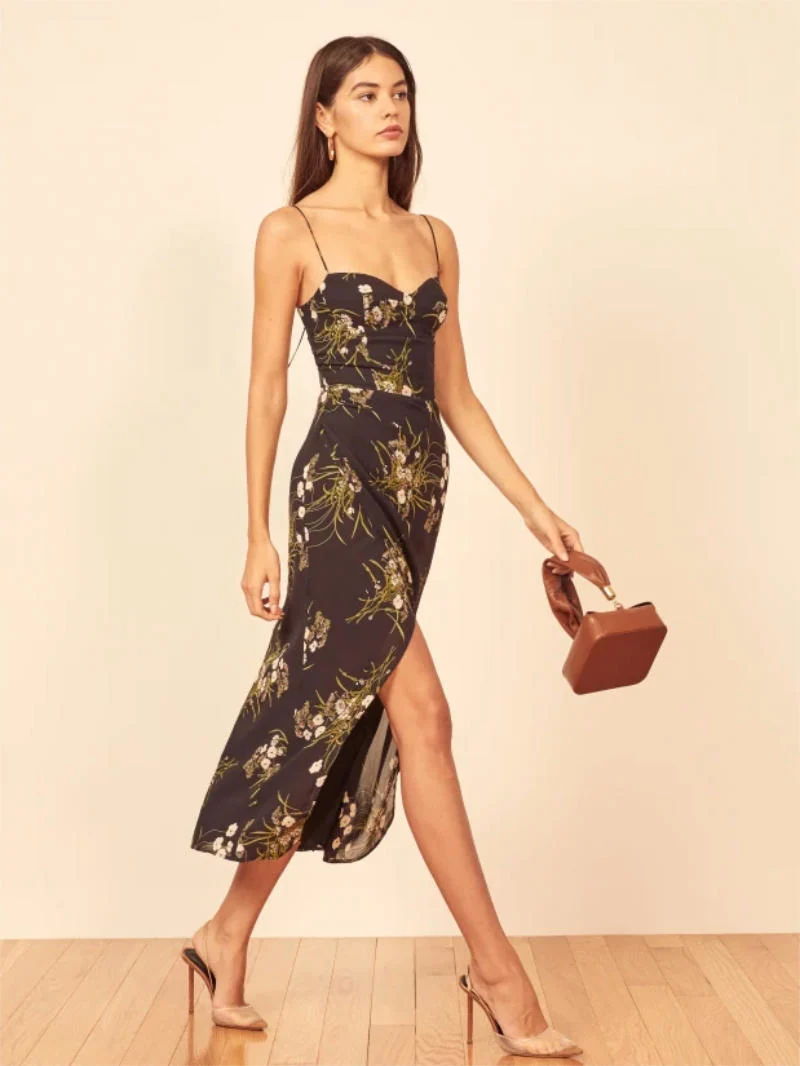 Not usually a fan of pumps with slinky little sundresses, but sporty mesh pumps work well. They're airy, light and won't weigh down your outfit. Play with ankle straps or simple pumps.
Balenciaga makes modern square-toe ones (dupes here), but you can also find some dainty mesh slingbacks and more classic-shaped pointy pumps. What I love about these is that they'll let your feet breathe even on a hot day!
6. Cowboy Boots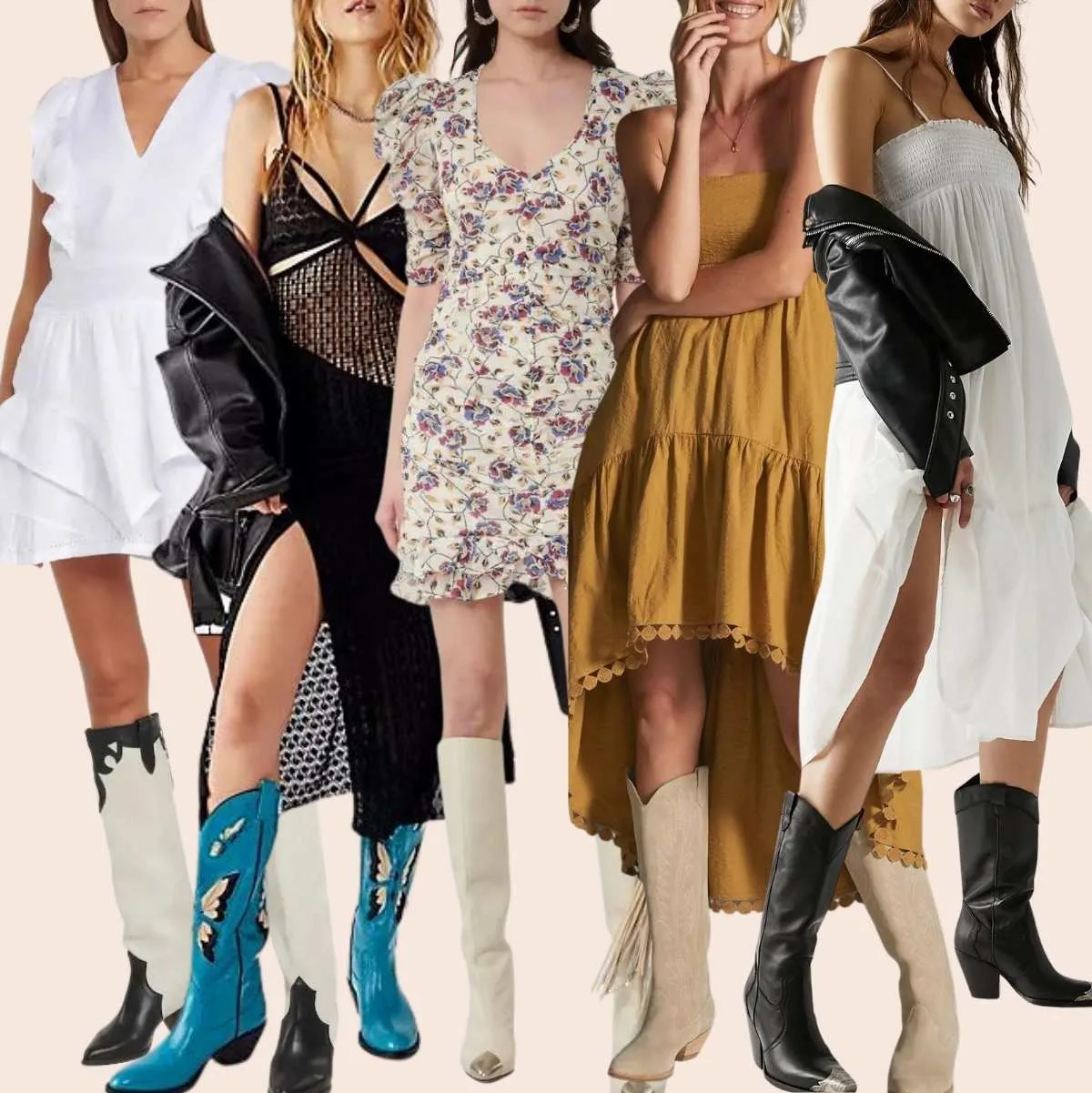 Sundresses are at the top of my list of all dresses to wear with cowboy boots. Especially little black or white sundresses. I see cowboy boots as spring/summer boots, which look great with sundresses.
You can choose a shorter sundress to show off your cowgirl boots, or have a side slit or wider maxi or midi dresses drape over them. I love black and white cowboy boots or all-off-white western boots with a cute summer dress!
Opt for perforated or all-leather cowboy boots to prevent feet from getting too hot in the sun.

Ballerina Flats with a Sundress
Cover up your feet, while allowing them to breathe in a pair of perforated, cut-out or woven ballerina flats, slingbacks or mules! These shoes with a sundress look great if you're looking for something dainty, yet closed-toe.
Rothy's has a great variety of lightweight knit flats, in all colors in shapes. I love them in pointed-toe form!
Final Thoughts on Shoes to Wear with Sundresses
I hope I've given you lots of inspiration on what shoes to wear with sundresses! Of course, the 7 shoe styles listed are personal suggestions. These are the shoes that I find work best with sundresses.
But that doesn't mean other types of shoes can't be worn with them! Your best bet is to choose a dress and shoes that mesh together and that you feel great wearing.
And don't forget to pick shoes that also make sense for the occasion.
So enjoy your sundress outfits this summer (or during the Fall, if you want to add some layers!). If you have any top shoes to wear with sundresses, let me know in the comments, below!
More Dress Styling Posts:
Shoes to Wear with Cocktail Dresses
Shoes to Wear with a Little Black Dress
Shoe to Wear with a Shirt Dress
xo ShoeTease
Cristina is the chief editor, fashion & shoe expert here at ShoeTease. As a seasoned stylist and women's fashion & shoe designer, she boasts over 20 years of experience in the fashion industry. She loves crafting effortless outfits for ladies both online and off and believes that styling advice should be accessible to everyone. Whether you're a styling pro or just starting out, Cristina's here to guide you on your fashion journey! Learn more.