Looking for the best sneakers to wear with dresses of all kinds? Today on shoe-tease.com I'm going to be helping you pinpoint the best dress with sneaker outfits and combos!
The great thing about dresses is that they're versatile and can be dressed up or down to be edgy, elegant, and/or feminine. And a plus is that all women have them in their wardrobes!
But when it comes to choosing the right shoes to wear with dresses, things can get a bit tricky. High heels are always a classic choice, but they're not always comfortable—and let's be honest, they're not always practical. That's where sneakers come in!
Whether you're running errands or going out for brunch with friends, a chic pair of sneakers can elevate your look while keeping you comfortable at the same time.
And with so many different sneaker styles on the market, there isn't a shortage of choice!
In this post, you'll learn about all the cute sneakers for dresses, so you can look and feel your best!
9 Best Sneakers to Wear with Dresses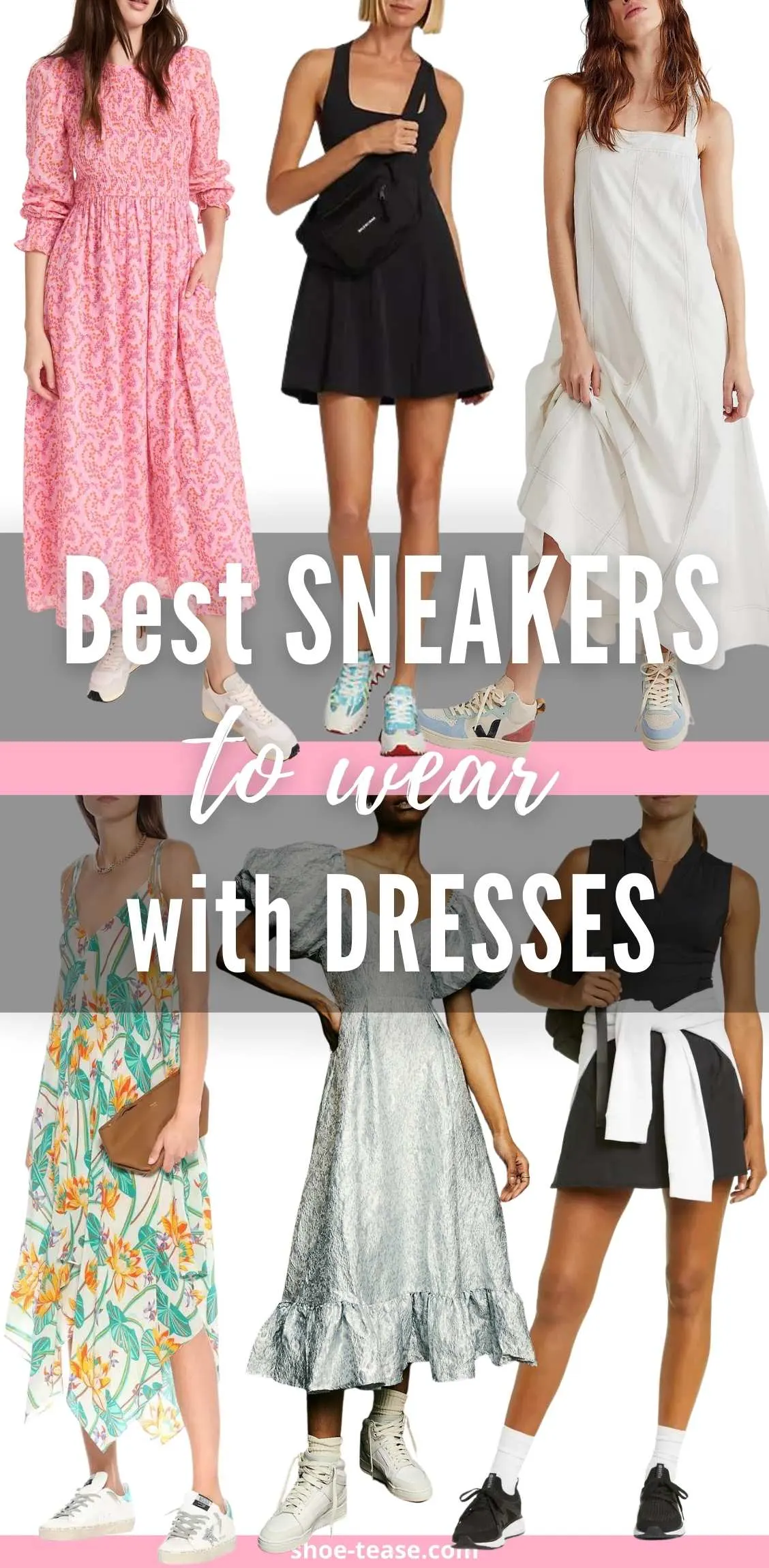 Shop Women's Sneakers for Dresses from:
Saks Fifth Avenue
Zappos
Taos Footwear
Anthropologie
My Theresa
Free People
Revolve
1. White Sneakers with Dresses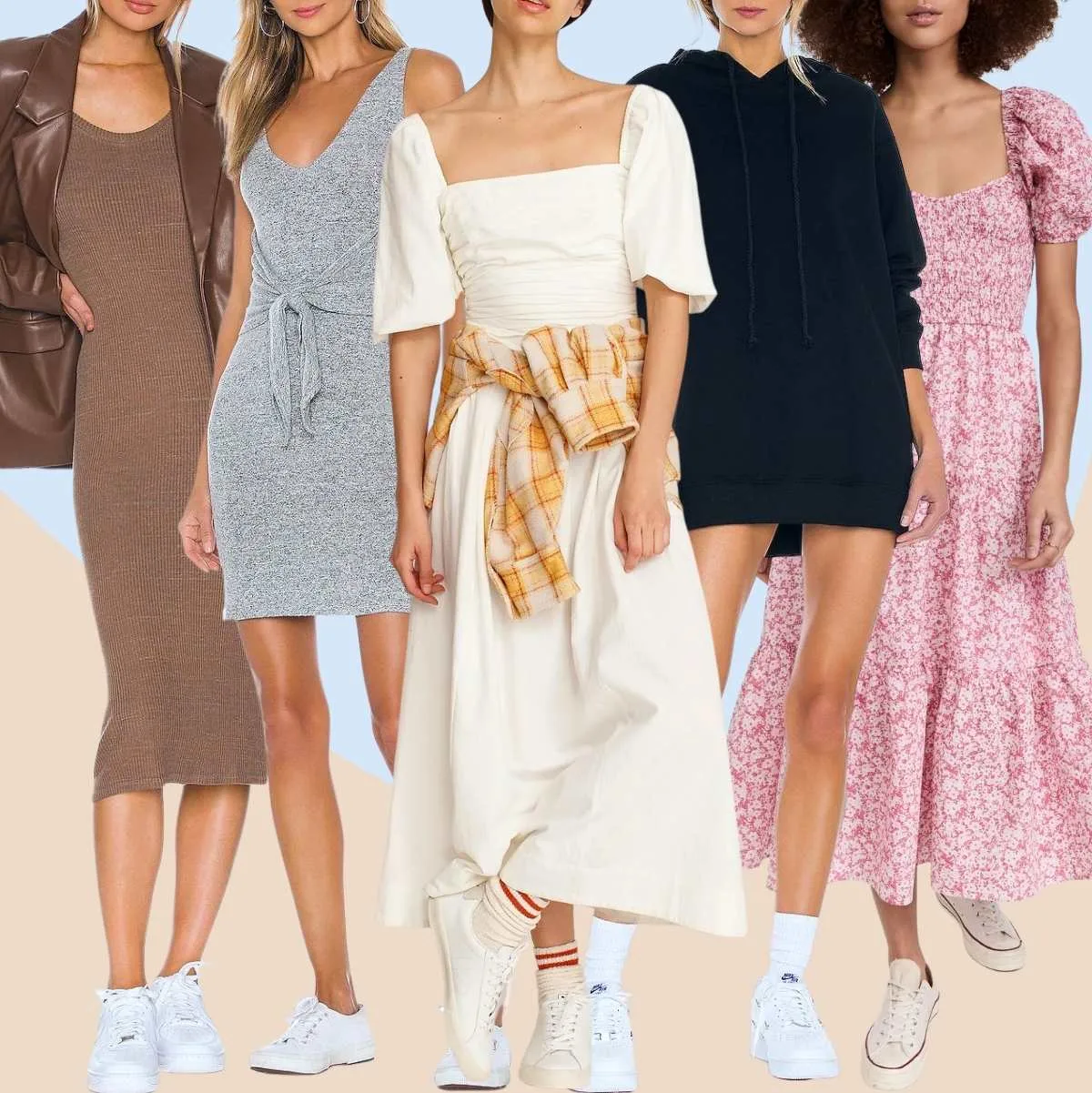 Classic white sneakers will never go out of style—and there's a good reason. These are shoes that go with everything! 3 main types of white sneakers with dresses work great.
These include white canvas sneakers, white leather sneakers, and white luxury sneakers. Both sneaker materials can be found in everyday classics or high-end designer styles.
Canvas sneakers will look more summery and casual. Try a comfy pair of ergonomic Taos Plimsoul or Taos Star sneakers. Or, for old times' sake, a set of white Vans Old Skool or Converse Chuck Taylor's.
White leather versions will look more sporty (Nike Air Force 1s) and, depending on the sneaker style, will look sleeker.
Luxury white sneakers will elevate even the most mundane dress outfit, like a pair of white Golden Goose sneakers which I've reviewed, here.
Whether you're wearing a utility or sweater dress, these versatile shoes will pull your whole outfit together while keeping you comfortable.
Choose a simple shift dress and add a moto or jeans jacket. Or go for a more elaborate dress with your white sneakers.
Best Dresses to Wear with White Sneakers:
Silky slip dress + white canvas sneakers
White Baby doll dress + white leather sneakers
Bodycon dress + white leather Nike Air Force 1
Knit dress + luxury white leather sneakers
2. Retro Sneakers With Dresses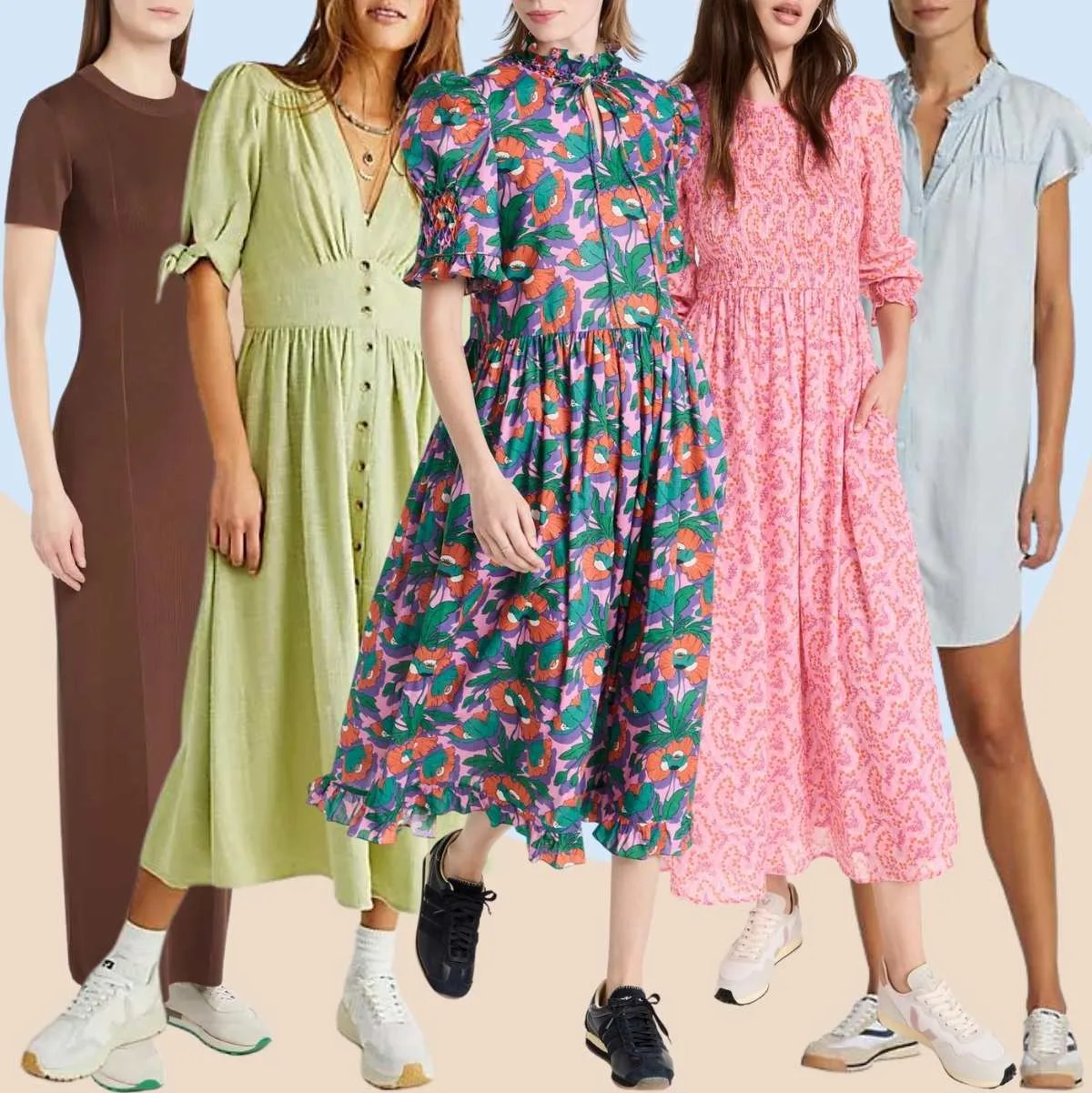 Love vintage vibes? Then you'll love retro sneakers with your dresses! Choose a dress in a fun print or bright color to maximize the look. Then, add a pair of retro-inspired sneakers like Reebok Classics or Adidas' Gazelles.
Or, choose a white or little black dress with colorful retro sneakers. These sneakers look fab with flowy maxi dresses and also fun with sweater dresses styled with some sporty socks and summer dresses.
Best Dresses to Wear with Retro Sneakers:
Sweatshirt dresses
Sweater dress
Button-down printed midi and maxi dresses
Denim Dresses
3. High Top Sneakers with Dresses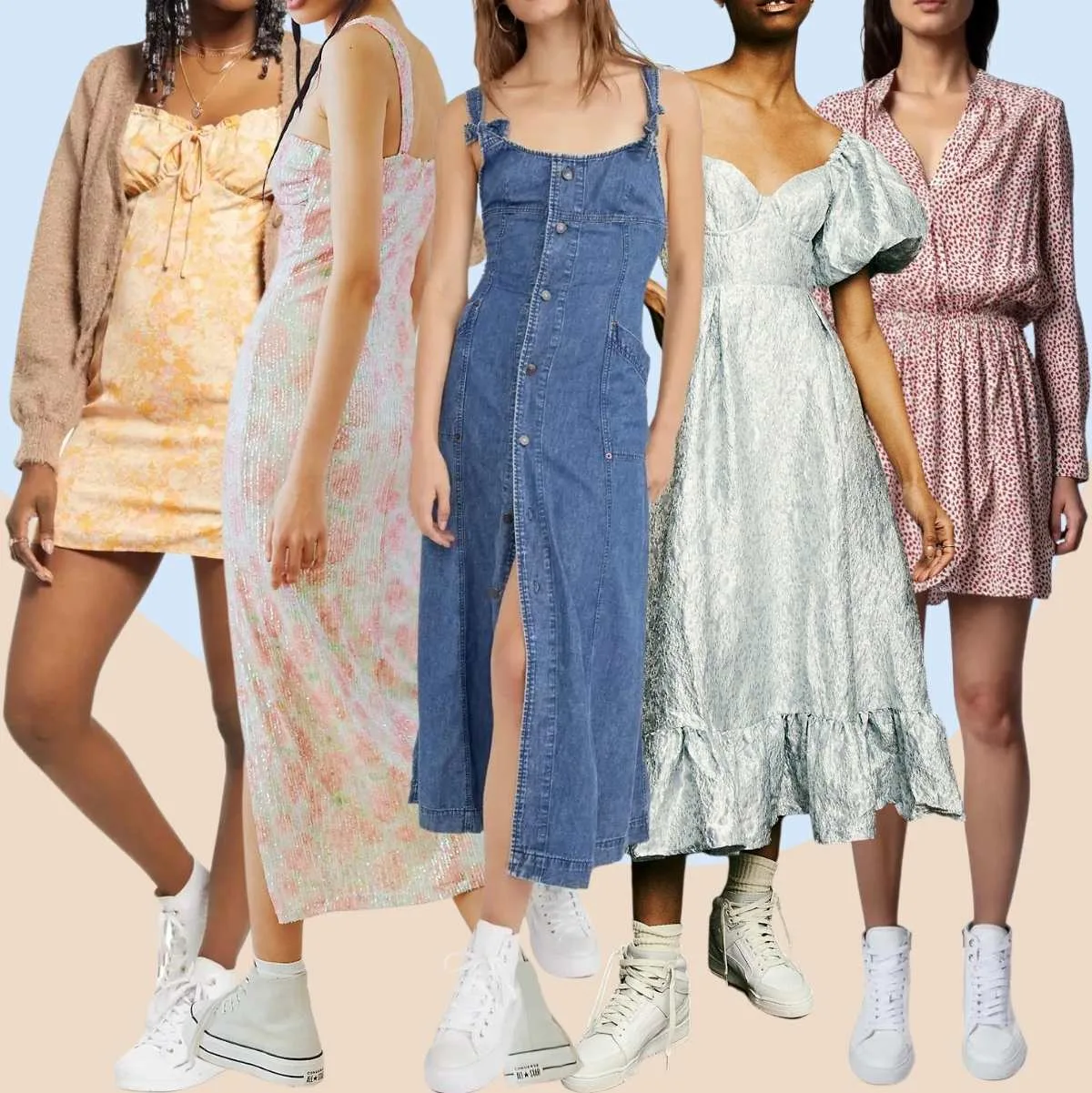 Try pairing high-top sneakers with your favorite dress for an edgy take on the classic sneaker-and-dress combo.
This look is ideal for women who want to add a touch of tomboyish charm to their outfits.
Just make sure to choose a dress that falls above or below the calf so that your legs don't look shortened by the high tops. And if you want to make heads turn, try adding a pop of color with your shoes! Trust us, it'll look so fun!
Best Dresses to Wear with High Top Sneakers:
Midi and Maxi Dresses with a side or front slit
Mini dresses
T-shirt dresses
Sweatshirt dresses
4. Dad Sneakers with Dresses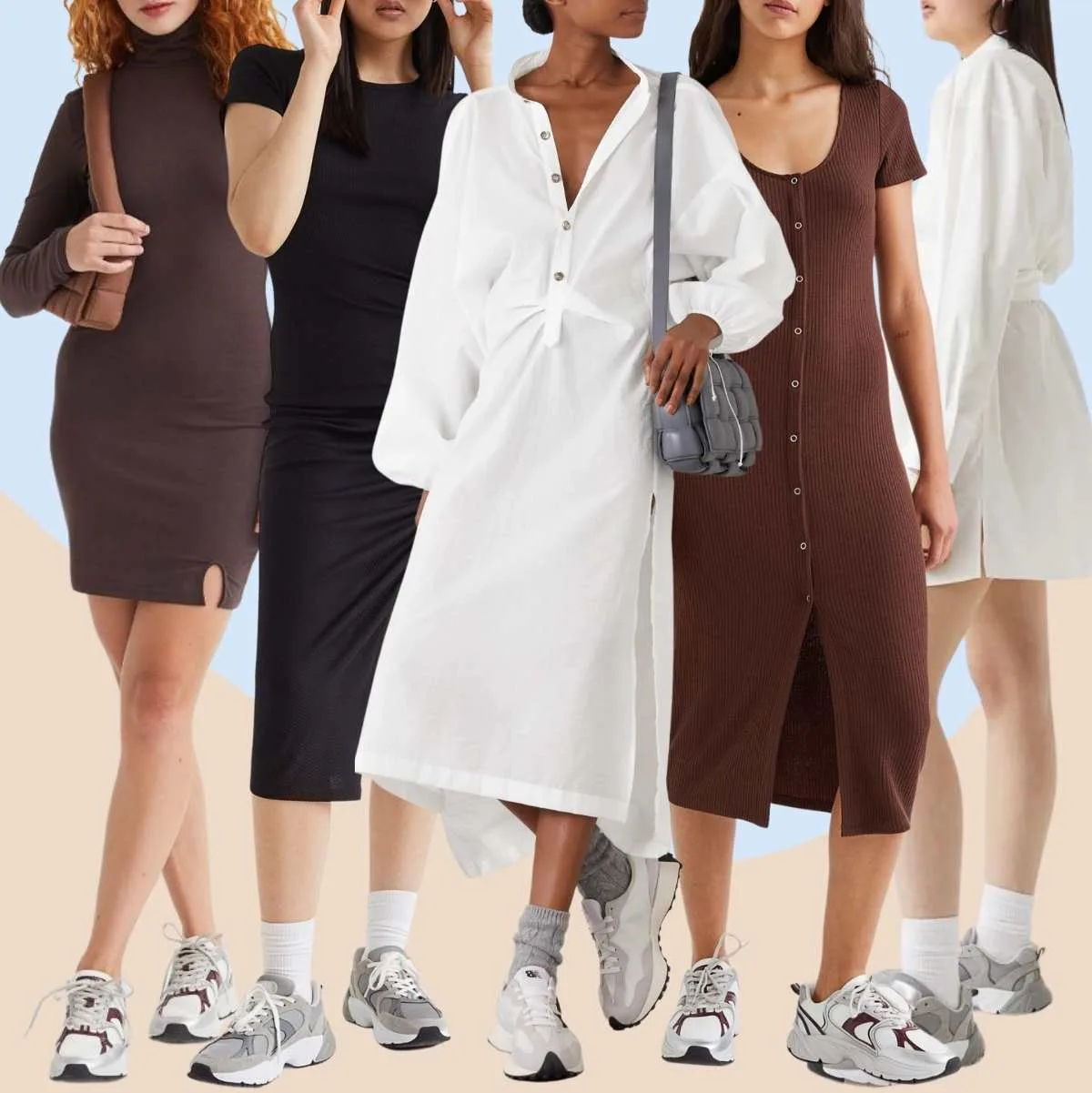 Dad sneakers have been in style with everything from joggers and dresses. This is thanks to those grey-toned New Balance 990 sneakers worn by almost every influencer in the last couple of years!
Dad sneakers are somewhat boring-meets-running-retro-sneakers. Their normcore aesthetic works well in contrast with tight and/or feminine dresses.
However, dad sneakers pretty much work well with any dress. These work well to dress the look down. Add white crew socks for an even more casual dress with sneakers outfit.
Best Dresses to Wear with Dad Sneakers:
Bodycon dresses
Sporty, knit dresses
Silky slip dresses
Shirt dresses
Floral midi dresses
5. Platform Sneakers With Dresses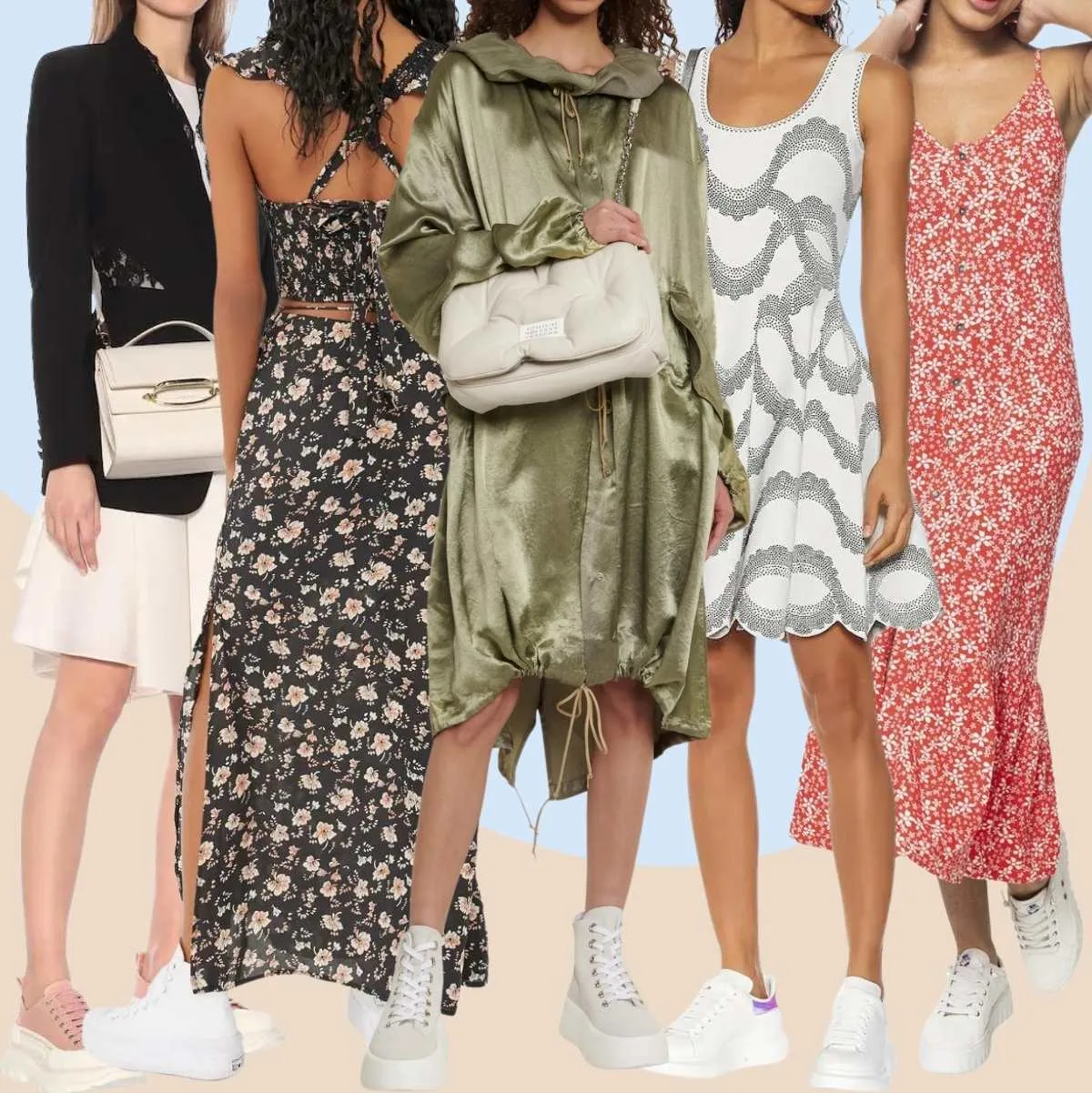 Platform sneakers are the way to go if you're looking for a way to add extra height (without sacrificing comfort).
As they add quite a bit of volume to your look, I suggest keeping the rest of your outfit relatively simple.
Try pairing them with something like a slip dress or a mini dress with a fuller skirt to balance the proportions. Add a chunky bag to complete the look!
Best Dresses to Wear with Platform Sneakers:
Floral Slip dresses
Skater Dresses
Sweatshirt dresses
Sporty Dresses
6. Slip-On Sneakers with Dresses
If you've ever struggled with what sneakers to wear with dresses, slip-on sneakers are the way to go! They're comfortable, stylish, and versatile – perfect for any occasion. They come in all sorts of colors and prints.
Slip-on sneakers are much less casual than regular lace-up sneakers. So with the right dress, these can look almost like sporty loafers – perfect for everyday work dress outfits.
For summertime, opt for a lightweight canvas slip-on sneaker. White and/or perforated slip-ons make great, closed-toe summer shoes with dresses!
Opt for a darker slip-on sneaker or a fun animal print like leopard or snake paired with a denim or cozy sweater dress for fall.
Throw on a leather jacket or cardigan to complete the look. Either way, slip-on sneakers are a great way to add a touch of edge to your outfit without sacrificing comfort.
Fave Dresses to Wear with Slip-on Sneakers:
Shift dresses
Sweater Dresses
Sundresses
Shirt Dresses
Sweatshirt Dresses
7. Chunky Sneakers with Dresses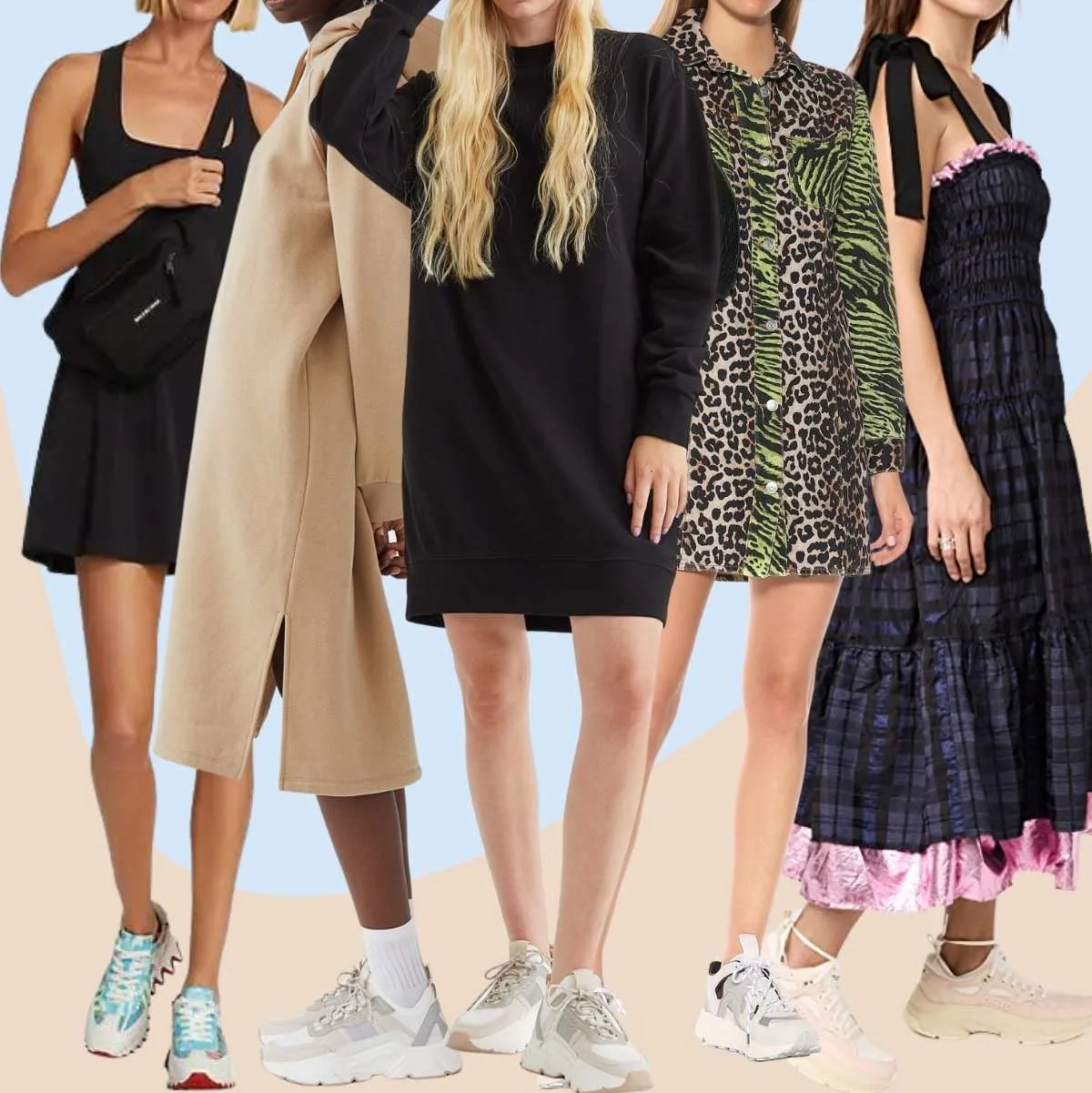 Chunky shoes are in style, which means chunky sneakers are also! If you're daring, try teaming them with an unexpected dress like a tulle ballgown or sequined mini dress.
Trust me, it'll work—just keep the rest of your jewelry minimal, so you don't look too overdone. However, chunky sneakers can look fab with sporty dresses or in contrast to leopard print dresses or floral frocks.
Choose a neutral-colored pair of chunky sneakers with dresses, or opt for a bright color-blocked style to make even more of a statement!
Add a voluminous sweater dress or chunky puffer in fall or winter to balance the look.
Best Dresses to Wear with Chunky Sneakers:
Sweatshirt dresses
Shirt dresses
Flirty sundresses
Skater dresses
8. Athletic Sneakers with Dresses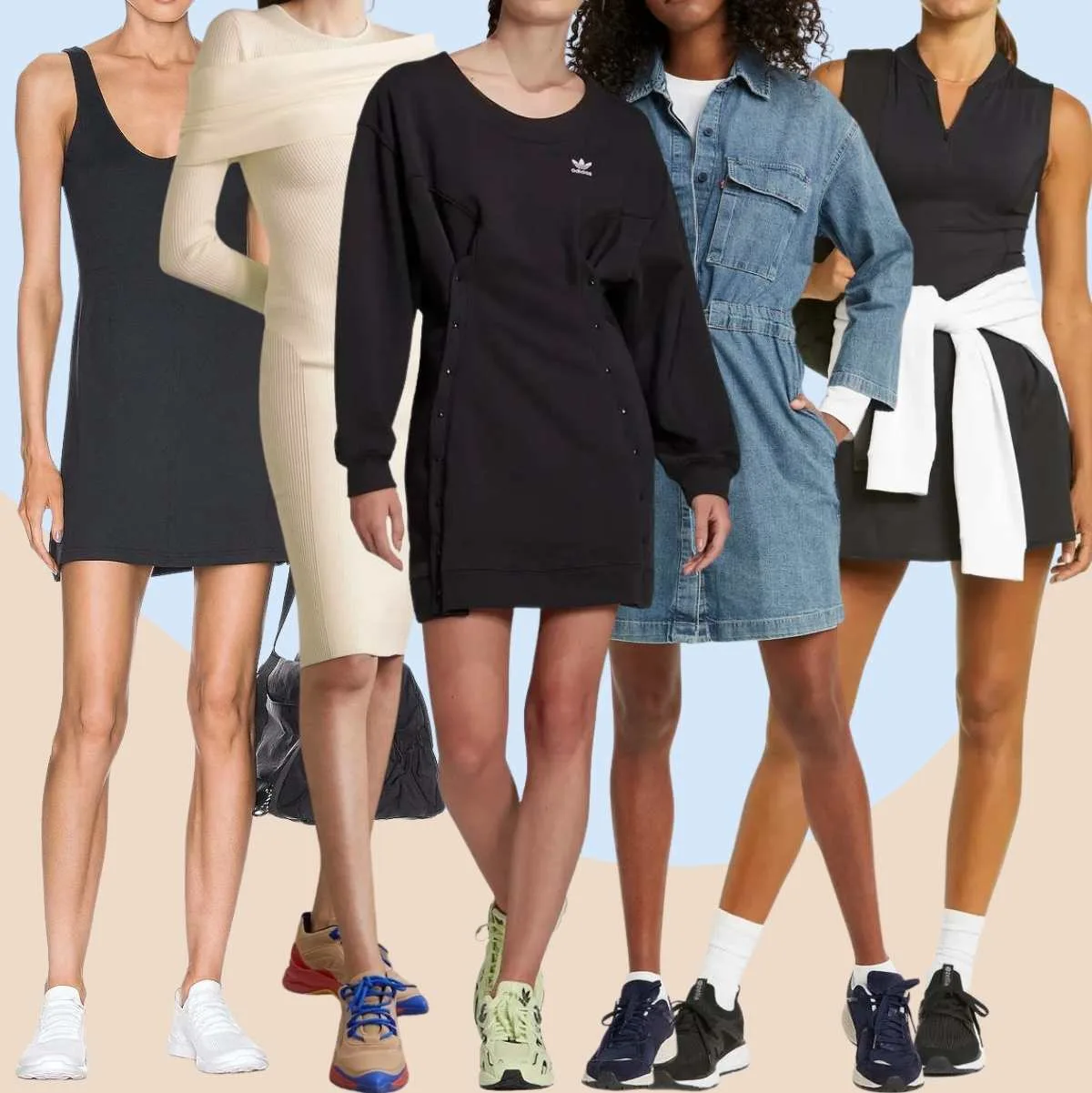 If the only sneakers in your closet or athletic style sneakers, don't fret! These sporty sneakers look great with dresses.
Whether you're changing into a dress after the gym and didn't bring other shoes, or your feet need more support, you can wear these sneakers with dresses!
I love a sporty knit sneaker or white-soled black athletic sneakers with simple dresses. However, if you have brightly colored running shoes, you can play up the look. Add an oversized sweatshirt dress or a colorful mini dress!
Best Dresses to Wear with Athletic Sneakers:
Any sporty dress
T-shirt dresses
Knit dresses
Sweatshirt dresses
Bodycon mini or midi dresses
Skater dresses
9. Low Profile Sneakers with Dresses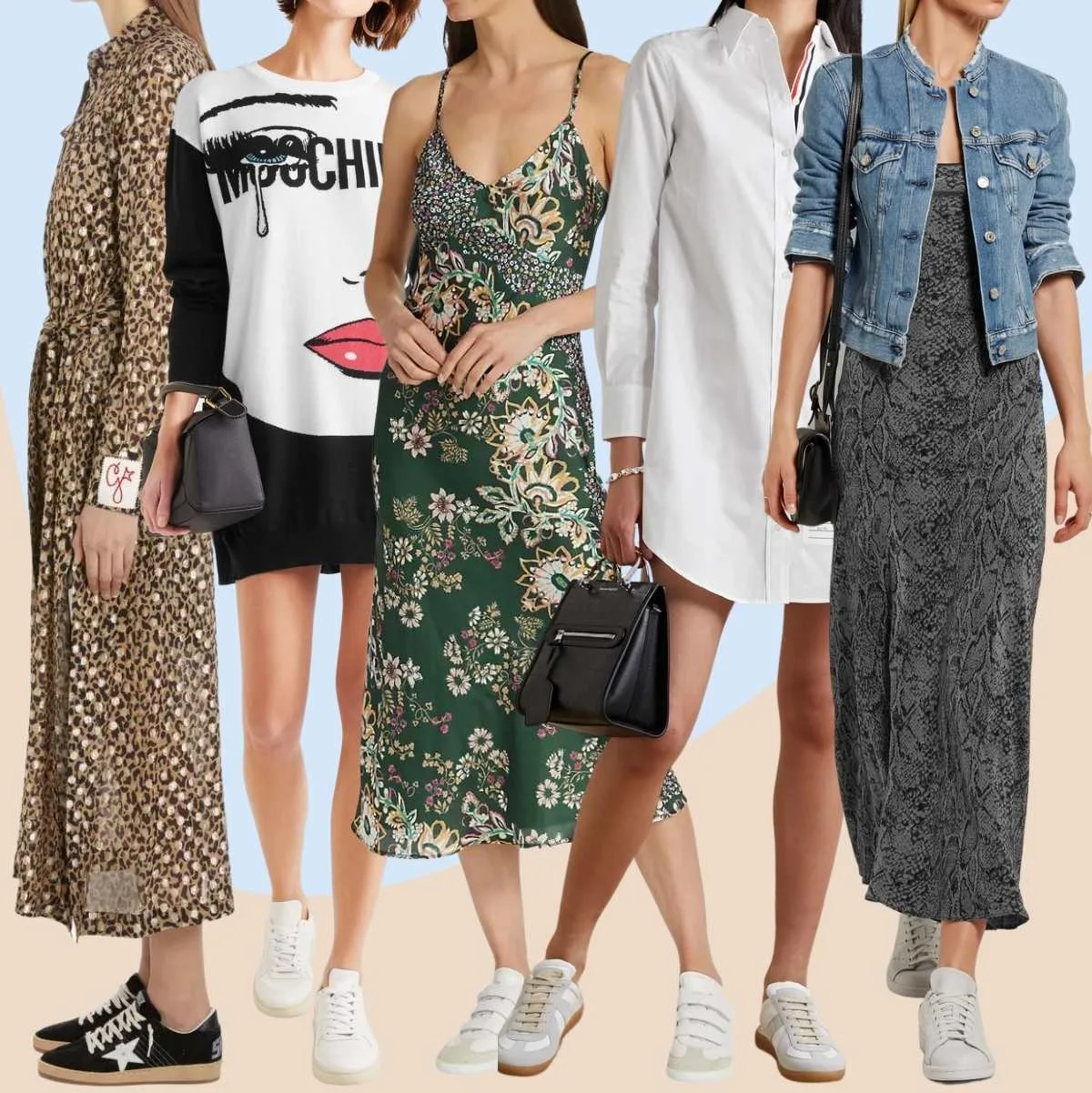 Low-profile sneakers, with their minimal aesthetic, are the ultimate sneakers for dresses! They are sleek and, unlike most other sneakers with dresses mentioned in this post – offer a more subtle casual look.
Low-profile, lace-up sneakers with dresses are classic pairings. Pick a white, black, or simple hue to match a minimal dress style.
Or contrast a voluminous and/or printed dress with the sneakers. A lot of ladies over 40 prefer them, as do I!
Best Dresses to Wear with Low Profile Sneakers:
Tighter, less voluminous dresses
Mini dresses
Work dresses
Dainty dresses, like slip dresses
Popular Dress Styles with Sneakers
Bodycon Dress with Sneakers Outfits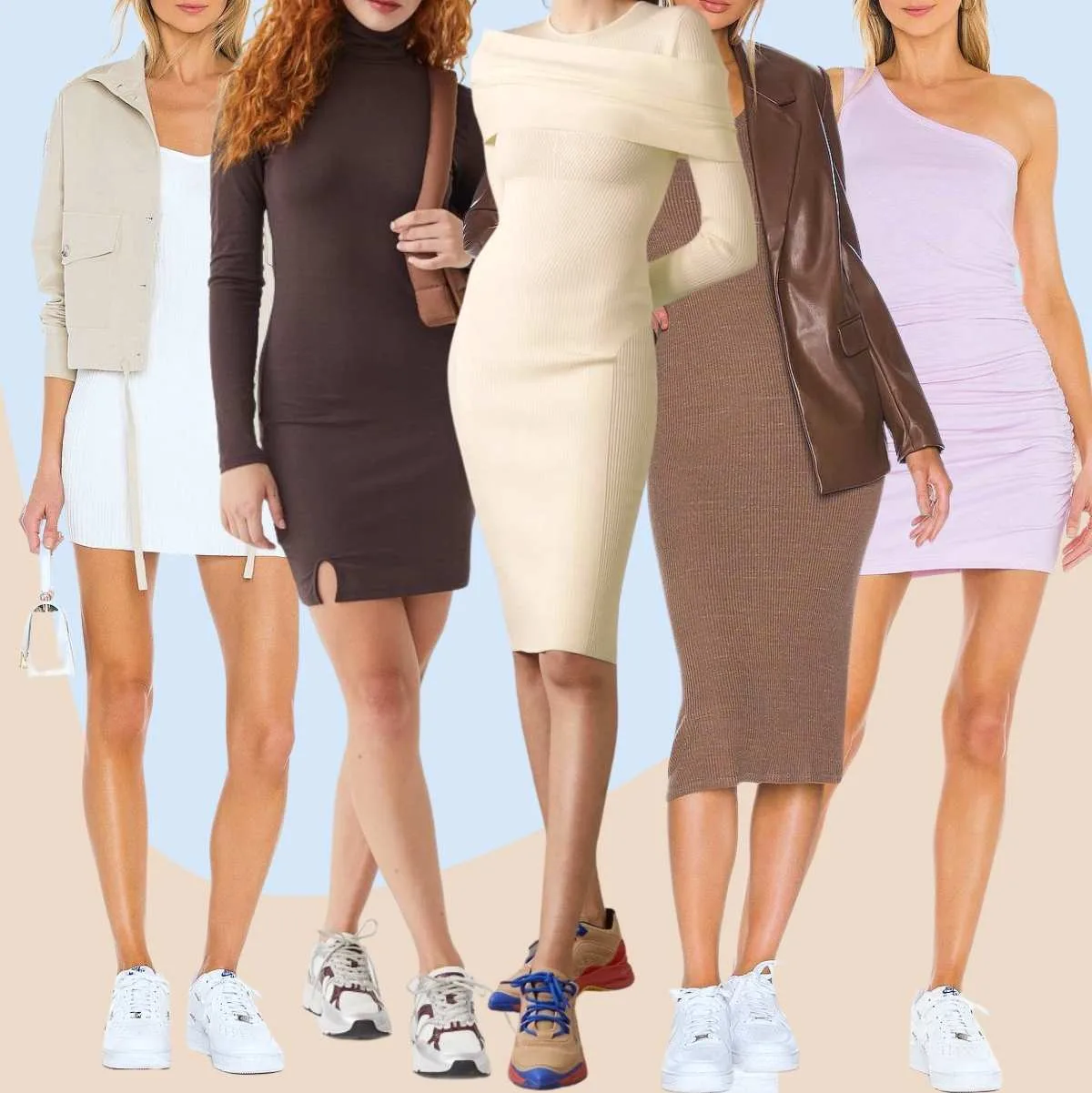 There's a lot of wiggle room for styling a bodycon dress with sneakers outfit. White Air Force 1s are a top contender for casual-yet-trendy outfits, but chunky styles are all the rage too.
I love a tight chic sweater dress with chunk sneakers or a shorter bodycon dress with low-profile sneakers, myself!
Black Dress with Sneakers Outfits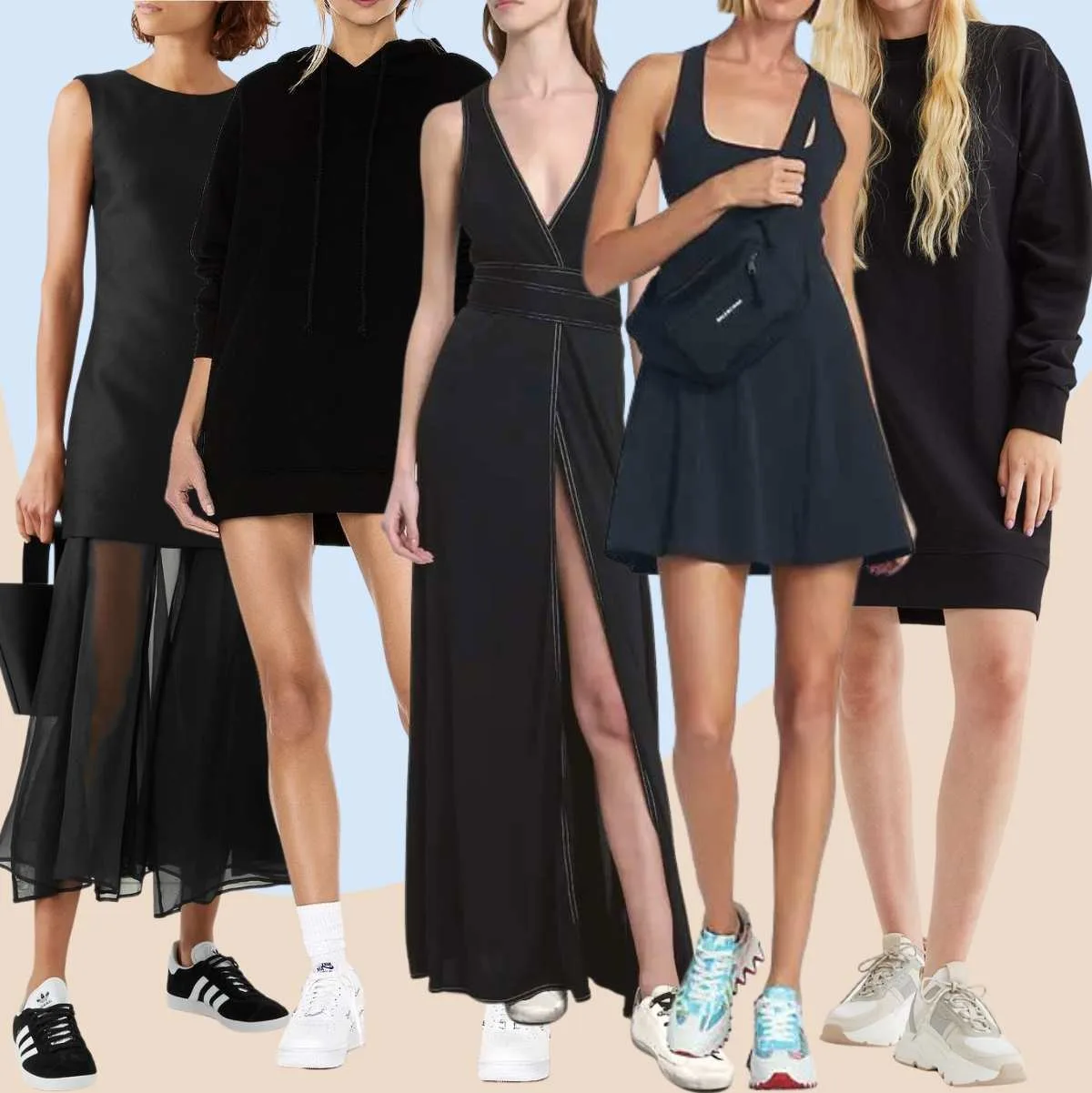 A little black dress with sneakers makes for a great outfit! You can play up a fancier black dress with a low-profile sneakers. Or, you can add a sporty pair to a simple LBD.
Chunky sneakers with a roomy black sweatshirt dress. Add a fun colorful bag or keep things simple with a black purse. Check out my post about all the best shoes to wear with a black dress, which includes colors and styles!
T-shirt Dress with Sneakers Outfits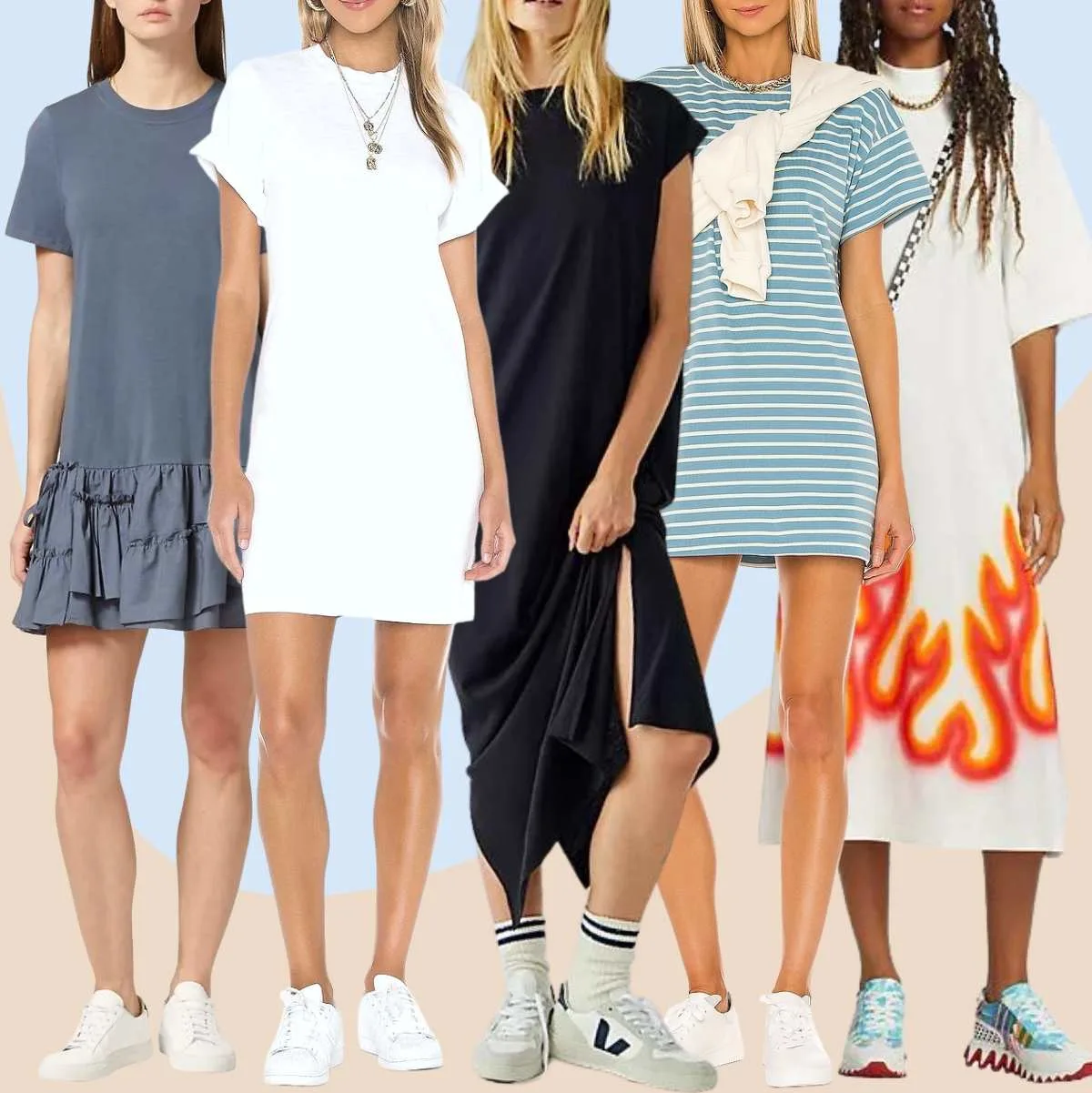 There's nothing quite as laid back than a t-shirt dress with sneakers outfit! From basic t-shirt dreses to longer, roomier versions, printed or plain all sneakers work well with them.
This outfit combo makes for various layers including moto jackets, trench coats, denim jackets and even fun sequin ones.
Shirt Dress with Sneakers Outfits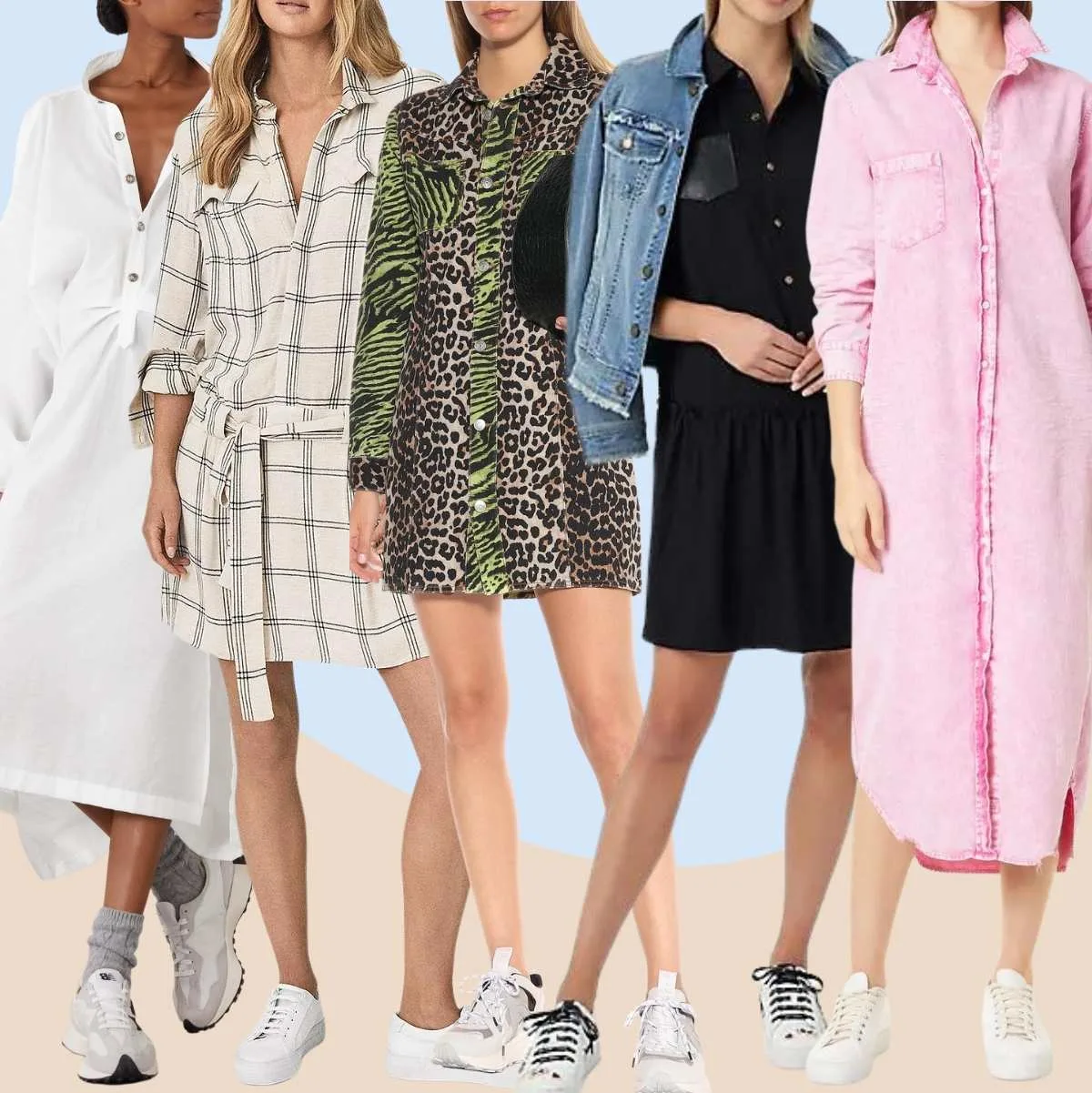 There are so many ways to style a shirt dress and sneakers are just one of them! You can go for a structured shirt dress or looser one.
Want to wear a shirt dress with sneakers for work? Try a simple pair of white or black low-profile lace ups or slip-ons for a subdued look. Find out all the best shoes to wear with a shirt dress in my dedicated post!
Best Sneaker Brands to Wear with Dresses
Adidas Sneakers
New Balance Sneakers
Nike Sneakers
Reebok Sneakers
Golden Goose Sneakers
Veja Sneakers
Final Words on the Best Sneakers with Dresses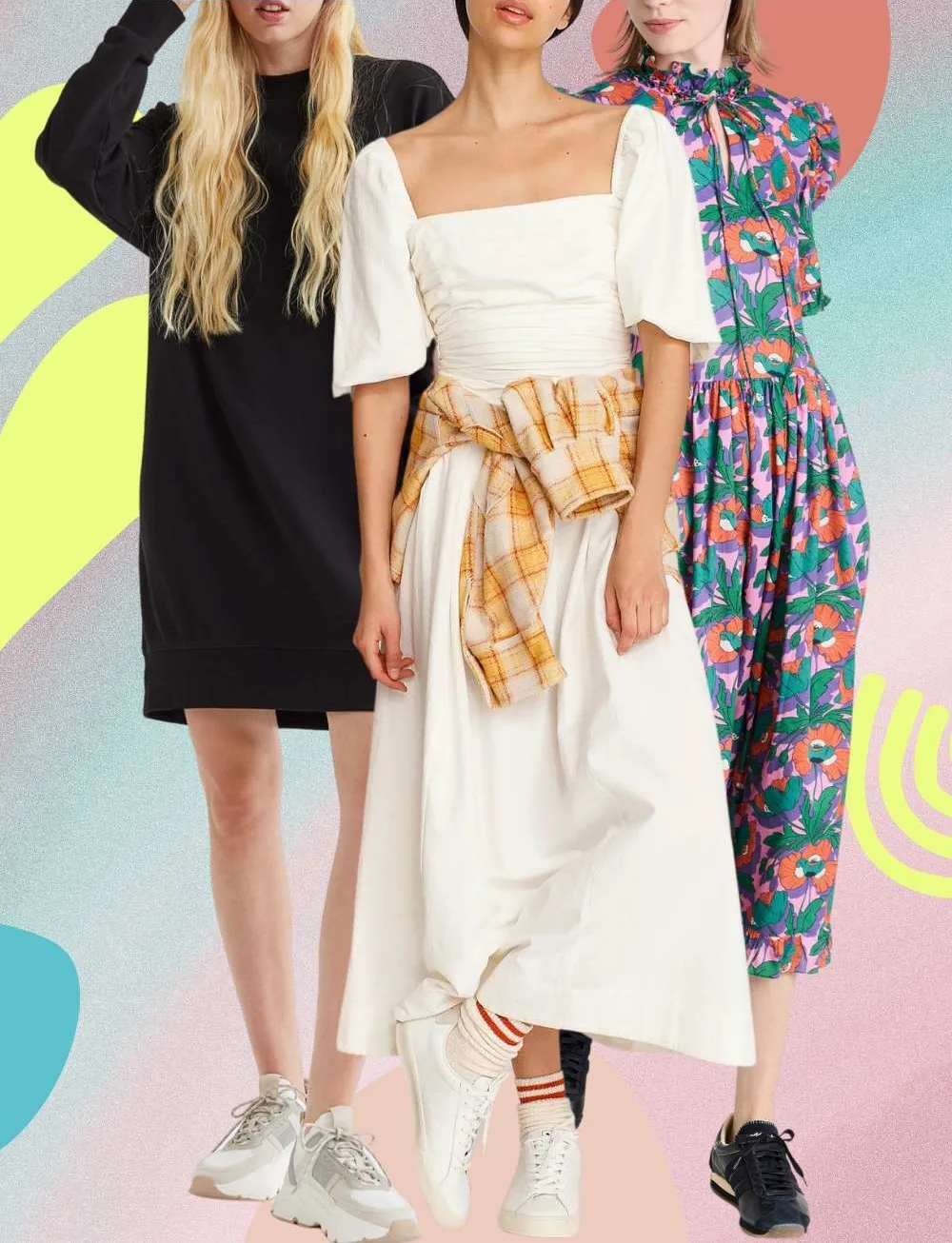 No matter what your personal style is, there's bound to be a sneaker out there that will work for you—you just have to know where to look 😉
From more athletic and chunky sneakers to more subtle low profile or slip-on sneakers, there is no lack of cute sneakers to wear with dresses!
What are your favorite sneakers to wear with dresses? I love a sleek low-profile, like my Golden Goose sneakers or a chunkier sporty pair!
xo ShoeTease