When you think about what shoes to wear with dresses, I'm sure a lot of shoe types and colors come to mind! If you're looking for summer shoes that go with dresses – especially sundresses – I'm sure you'll think sandals and sneakers.
And if you're curious which shoes to wear with dresses in winter, there are a variety of closed-toe boots and stylish weather friendly shoes that will work wonders for your dress outfit.
In fact, there are a lot of cute shoes to wear with dresses seasonally and even all year-round. So the options you can find will not limit your styling choice.
In today's post, I'm going to outline which sneakers, shoes, different types of heels and boots should be your top choices with dresses!
The list includes shoe types of all kinds to accommodate different dresses. Such as shoes with midi dresses, short and long dresses). I'll also talk about which shoes are the best for certain occasions and those that are most comfortable.
But most importantly, you will finish reading this post knowing exactly which footwear to wear with your dresses – all kinds of dresses – for summer, winter and transitional months.
You'll see that there are many great shoes to choose from!
Photos 1-3 by: Bruna Rico Photo
All the Best Shoes to Wear with Dresses
Best Shoes to Wear with Dresses in Summer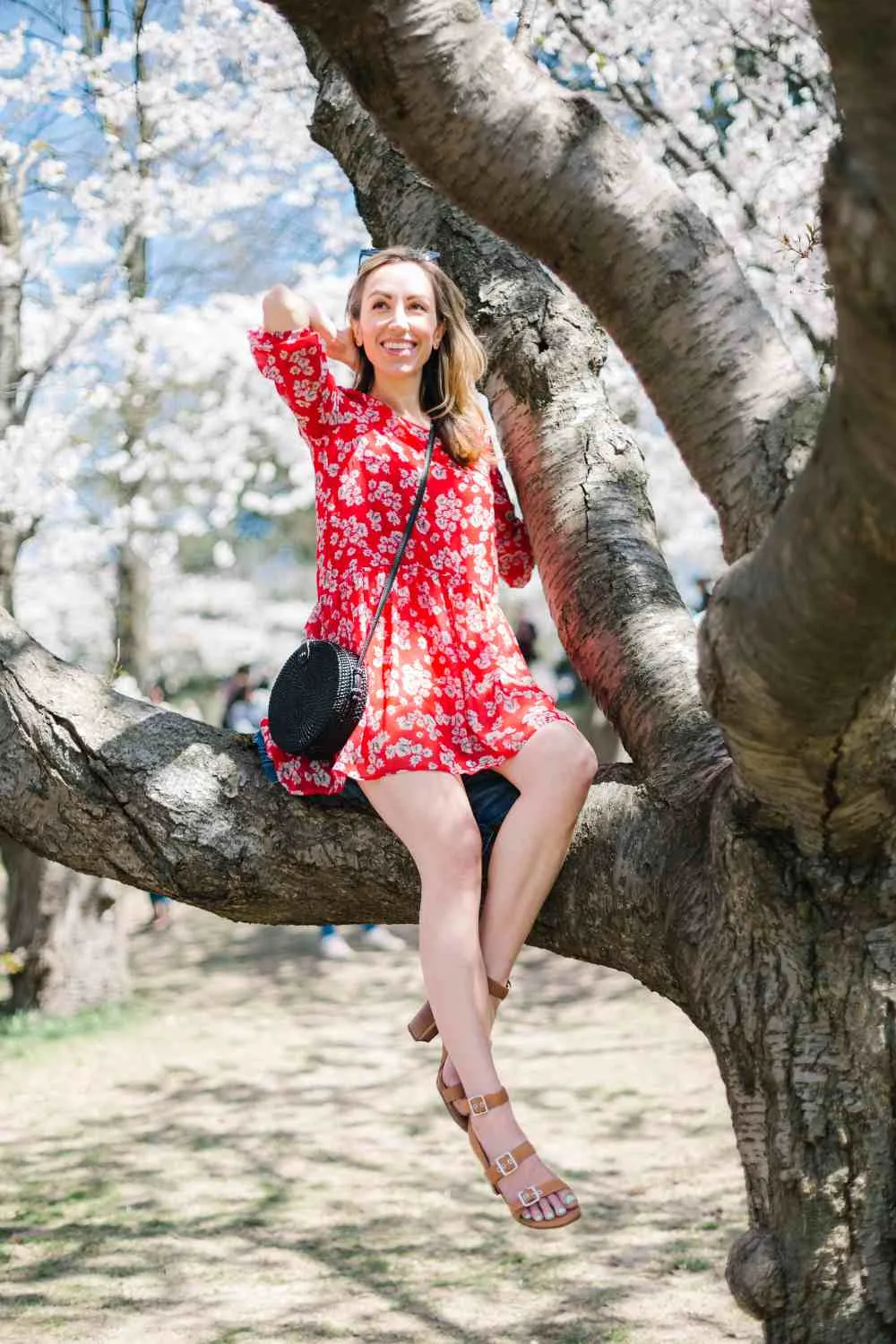 The Best Sneakers with Dresses
A summer dress with sneakers is never a bad idea. Actually, it's a wonderful idea for a casual look for the warmer to transitional seasons.
Sneakers, especially white sneakers are top casual choice of shoes to wear with sundresses!
And one can't deny that sneakers are some of the most comfortable shoes to wear with dresses, ever! Below are some of the best sneakers to wear with dresses: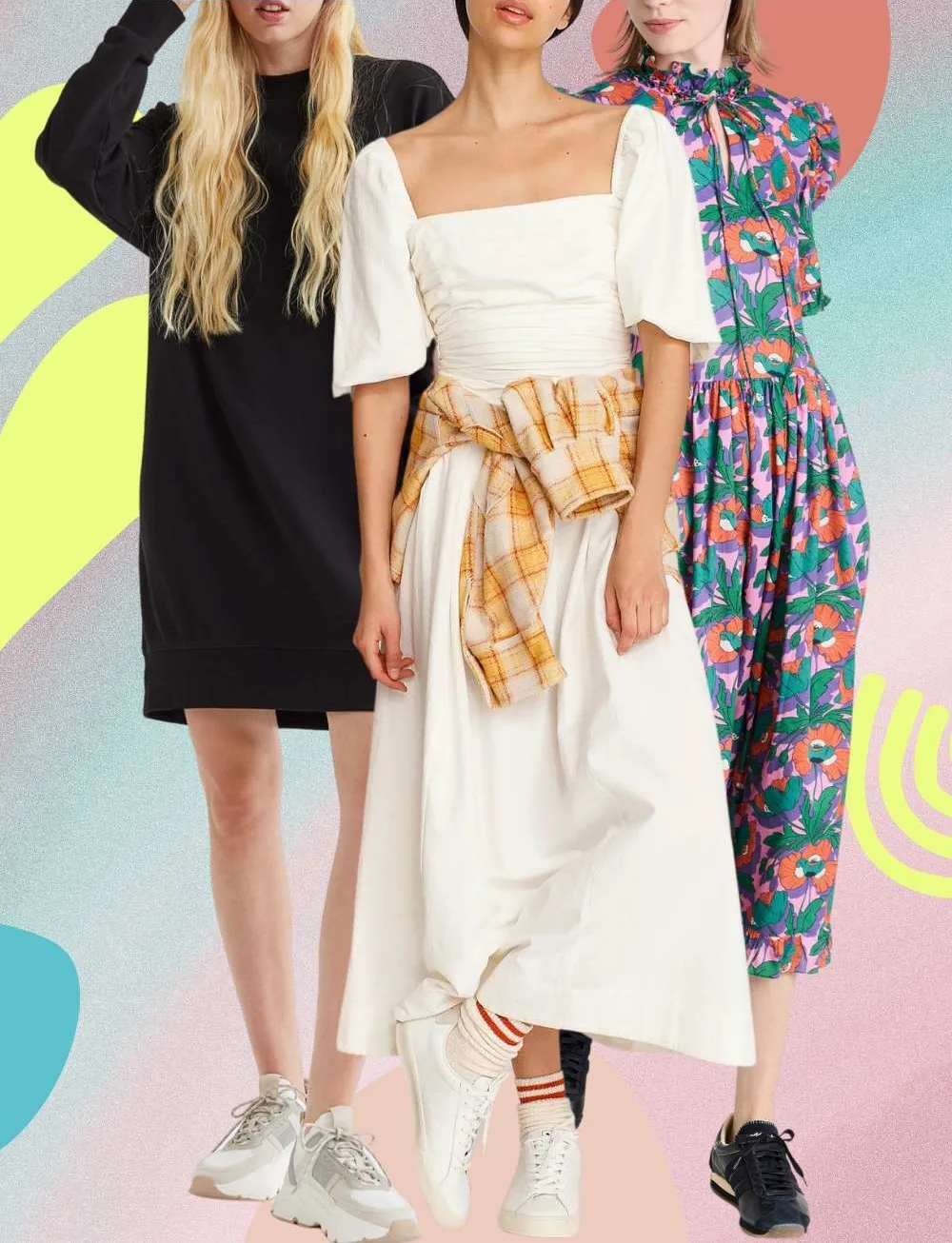 White Sneakers with Dresses
Some of the best shoes to wear with dresses in the summer — but can also work year-round — are sneakers. Or aka in other parts of the world as tennis shoes.
White sneakers in particular always look fresh. You can choose a classic pair to a trendy pair. There are so many white sneaker styles to choose from!
Perfect for casual occasions such as a stroll in the park, attending a sports event or a laid-back date, white sneakers with your summer dress are a great choice.
Also, white sneakers are great with all kind of dress lengths, styles and colors. Sneakers are truly the shoes that go with dresses go-to!
However, the particular style of your white sneakers are going to be important for completing your sneakers and dress outfit.
You can opt for the chunky style du jour, a classic sneaker or a trendy designer style.
If it works with your dress style, you can choose either a lower or platform sneaker. Looking for a more sporty look? Try a white high top sneaker or a more running shoe style.
You can complete your white sneakers and dress look with a caramel colored cross-body purse, a printed shopper or even a backpack that suits your style.
You can even add some statement earrings or hoops if you're in the mood. If you're feeling it, anything goes with dresses and white sneakers, especially in summer!
Classic Canvas Sneakers
There are some great classic canvas sneakers in white and all colors in store. Some of my faves are Superga's Cotu or Old Skool Vans, which are affordable brand styles.
A pair of classic canvas sneakers are the perfect choice for casual summer outfits like cotton mini dresses or a linen maxi styles, to name a couple.
These kind of classic white canvas sneakers are definitely THE sneakers that go with everything, not just a dress! These make great breathable closed-toe summer shoes, if that's what you're after.
Golden Goose Sneakers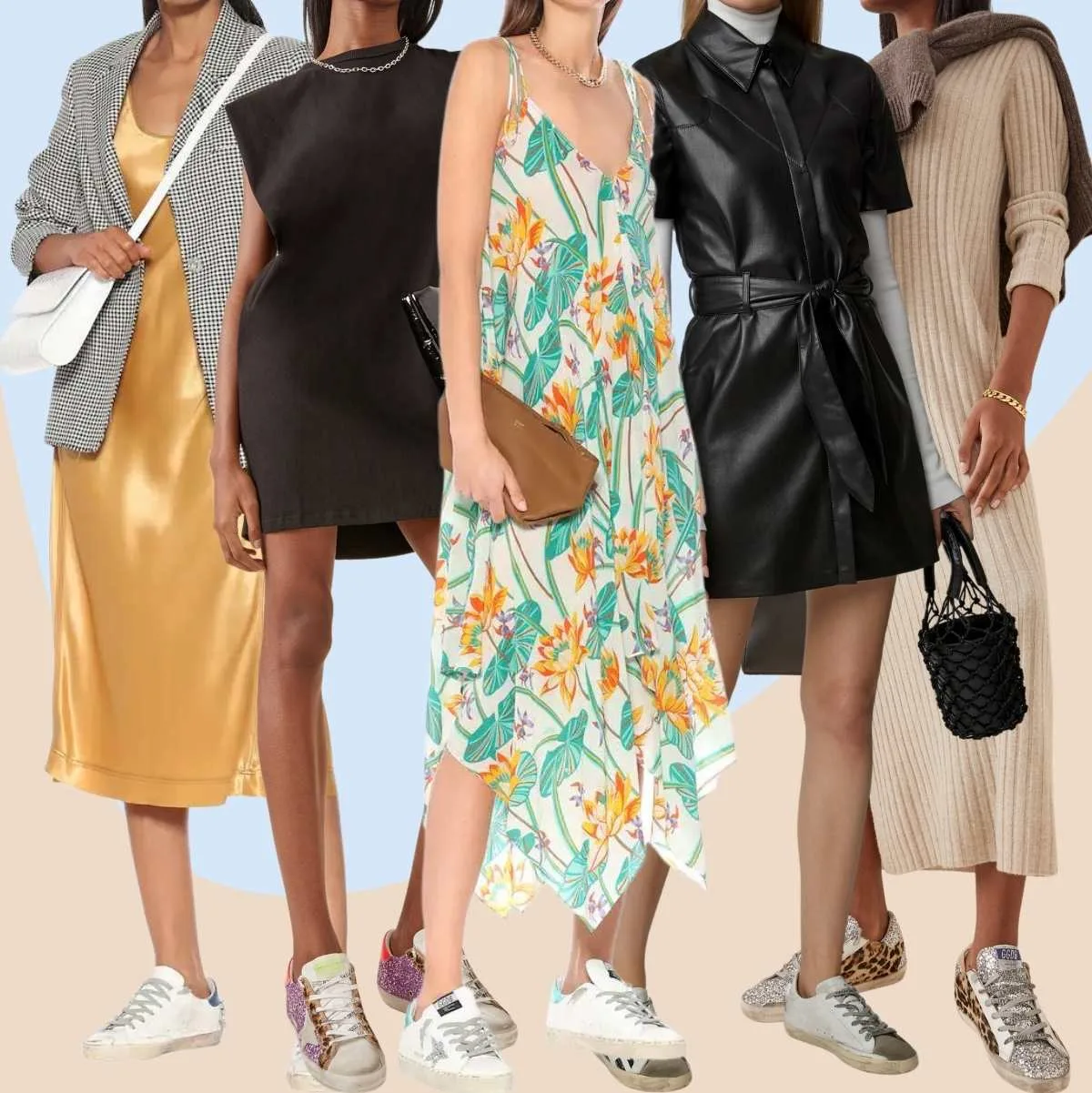 I'll admit, Golden Goose sneakers are not the most affordable sneakers, but they are a trend that seems to be lasting a few years now.
They offer so many styles from low to high tops, in a variety of finished and colors even. I have a white and silver pair myself that I wear with my dresses in summer and fall.
GG sneakers are classy, comfy and add a certain je-ne-sais-quoi to your dress. They are also a great sneaker to wear with skinny jeans, boyfriend jeans & much more.
Wearing Golden Goose sneakers with a short, neutral color dress such as white or black, will put a spotlight on your designer sneakers! Check out my post on all the ways to wear Golden Goose Sneakers outfits.
Leather Sneakers
Leather sneakers never go out of style, especially with summer dresses. Or any summer outfit, really! You can find them in solid colors such as black or white, prints and my favorite: gold or silver.
If you're looking for a sign to dig your Nike Air Force sneakers out from the back of your closet, this is it. It's time to revive your classic leather sneakers!
The best part? The more you wear them, the softer the leather gets. And they are extremely trendy right now too.
Gigi Hadid is a fan of mixing low-key leather sneakers with party-ready dresses for a night on the town. Suede sneakers are also a good choice. Just don't wear them on a rainy day!
Statement Sneakers
Make a statement in a pair of standout sneakers. There are so many to choose from. Bold patterns, animal prints, color blocking, raised outsole — you name it. Popular now? Those extra chunky sneakers.
For an interesting contrast, wear a pair of fancy bejeweled sneakers with a laid-back, casual dress in black or white.
Or try a pair of comfy dad sneakers with a posh, printed dress to create an eye-catching yet unexpected combo. Bonus points for wearing sneakers with a sequinned frock!
Knit Sneakers
When it comes to knit sneakers, comfort is key. If you're running errands across the city, this is the type of sneaker you want to choose.
Breathable and stylish and perfect for summer. Nike, New Balance, and Adidas are all stylish choices.
Try wearing them with stretchy dresses or even a cozy romper. Even skorts are making a comeback! On colder days, throw on a lightweight windbreaker.
Lots of styles and colors of knit sneakers are available at Nordstrom!
Summer Sandals to Wear with Dresses
Sandals to wear with dresses you ask? Yes, please! From strappy to plain, thin-heeled to no-heeled, sandals are one of the most sought after shoes for summer dresses.
Many of the styles below are also excellent shoes to wear with skirts.
Strappy Sandals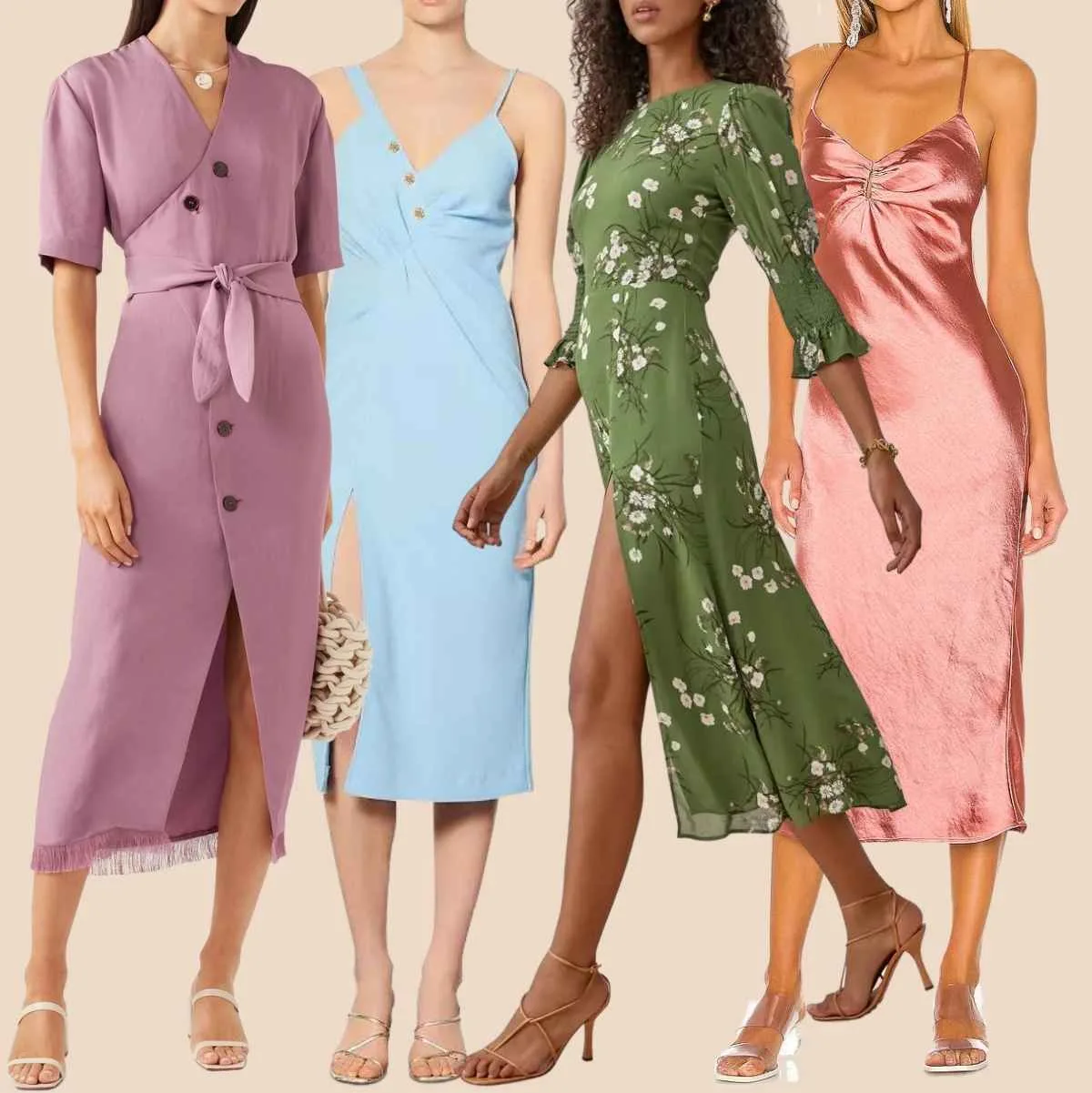 Whether minimal or ornate, strappy sandals never go out of style! From the nineties to now, they've been a staple in just about every woman's summer rotation.
For work, a neutral sandal can look sophisticated with a blazer dress or a pleated midi.
Choose a high heel, a low heel a chunky heel or stiletto heels! I suggest strappy stiletto sandals to elevate your maxi dress for a fancier occasion summer, like a wedding.
I also find them one of the best shoes to wear with a jumpsuit to more formal functions.
Heading out on the town requires a bit more pizzazz. Try matching your metallic sandals to a metallic purse with either a neutral or brightly colored strapless dress.
Strap on your stringy sandals in either a high-heeled, low-heeled or flat version.
Casual Sandals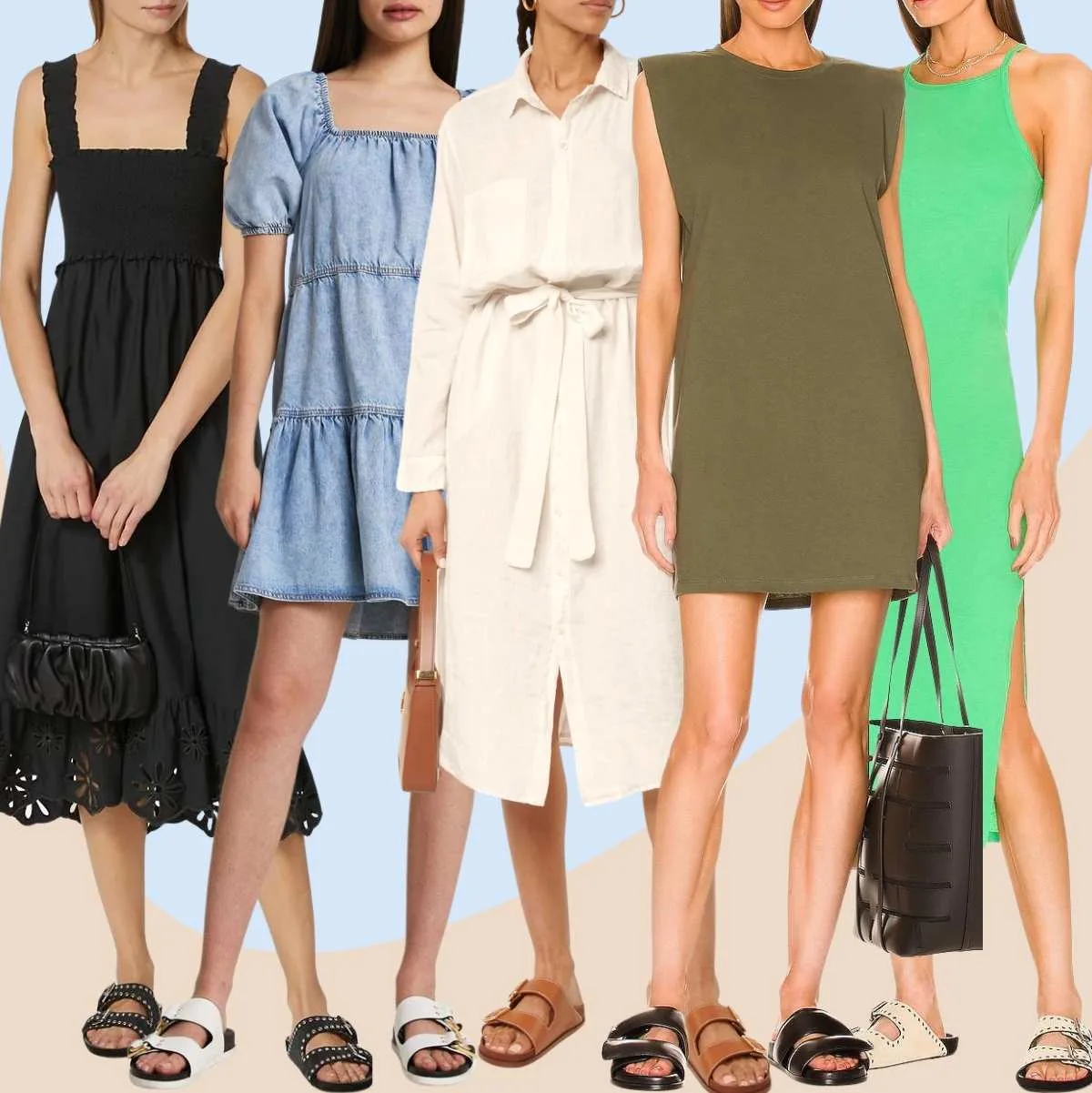 Shoes to wear with dresses come in all shapes and sizes. And one fail-proof pair is any type of casual sandals.
From earthy Birkenstock outfits with dresses to sporty Teva and classic flip-flops, you'll have these in your closet forever. Literally forever if you invest in a well-made pair!
With casual sandals, it's easier to get away with being bolder on top. Why not try a ruffled sundress or a mini with a smocked bodice?
Sporty sandals for short dresses are perfect for summer. Tone down a fancier dress outfit with casual sandals and a neutral leather bag.
Slides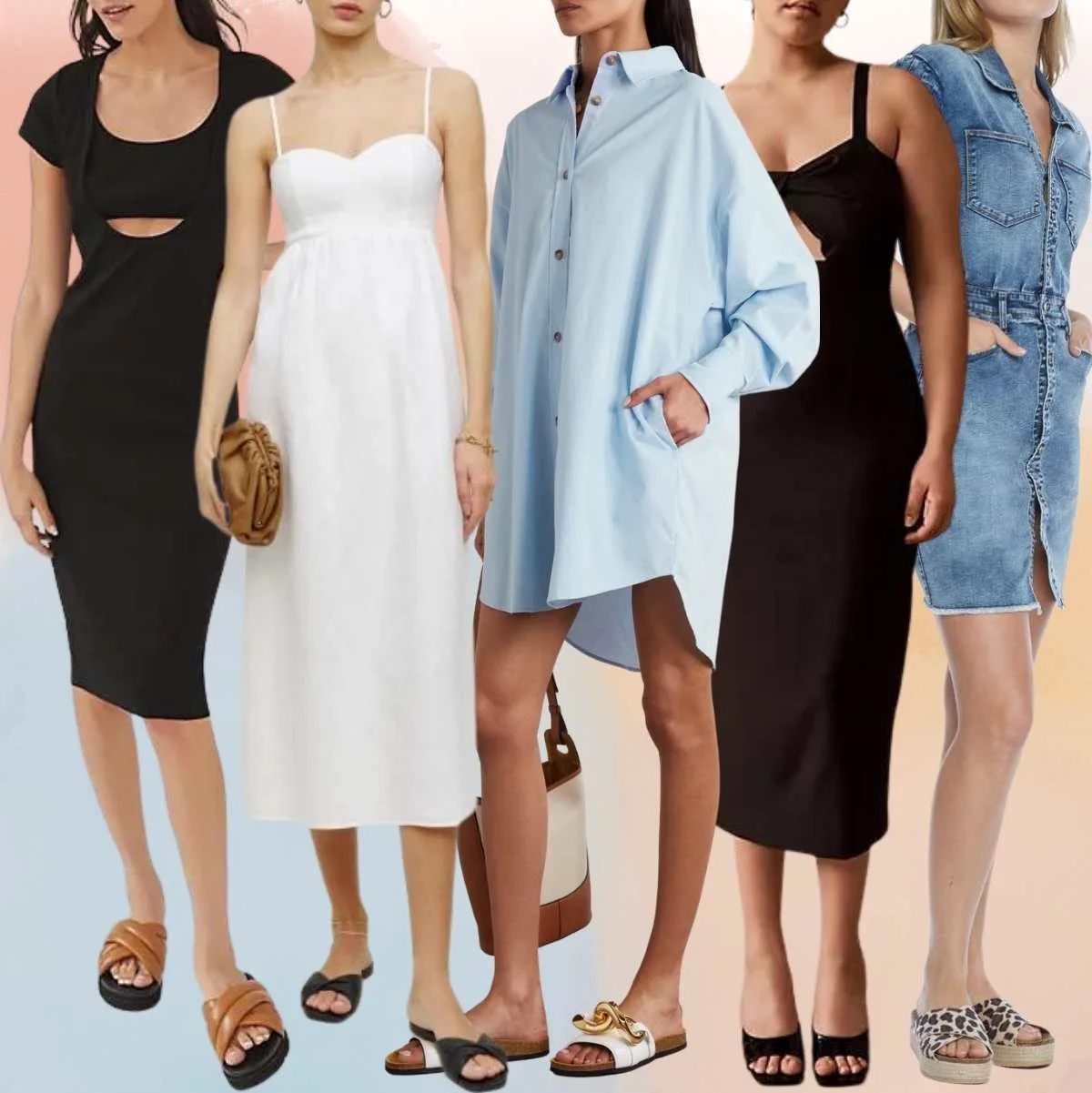 What shoes to wear with dresses that all the stylish summer gals are wearing? That's right: it's slides! Besides being very on-trend, slides are super comfortable shoes to wear with dresses.
And frankly, they are likely the best shoes to wear with summer dresses to keep things casual. Simple leather styles can add class to any sundress, denim dress or stretchy maxi.
On the other hand, puffy platform slides will add a touch of trendiness. (And nostalgia—does anyone remember The Spice Girls's penchant for platforms?).
Slides can look great with a sportier tennis-style dress or even a long ribbed tunic. And don't forget: if you are wearing a simple dress, you can opt for less neutral & more funky slides to pair with your dress!
Clear Heels
Clear heels with dresses are transparent shoes that will add a touch of subtle edge and trend to any dress.
From a bodycon to a summer dress to a sequin number, almost all dresses will look incredible with a pair of clear heels!
Check out my post on how to wear clear heels with various dress types and more!
Espadrilles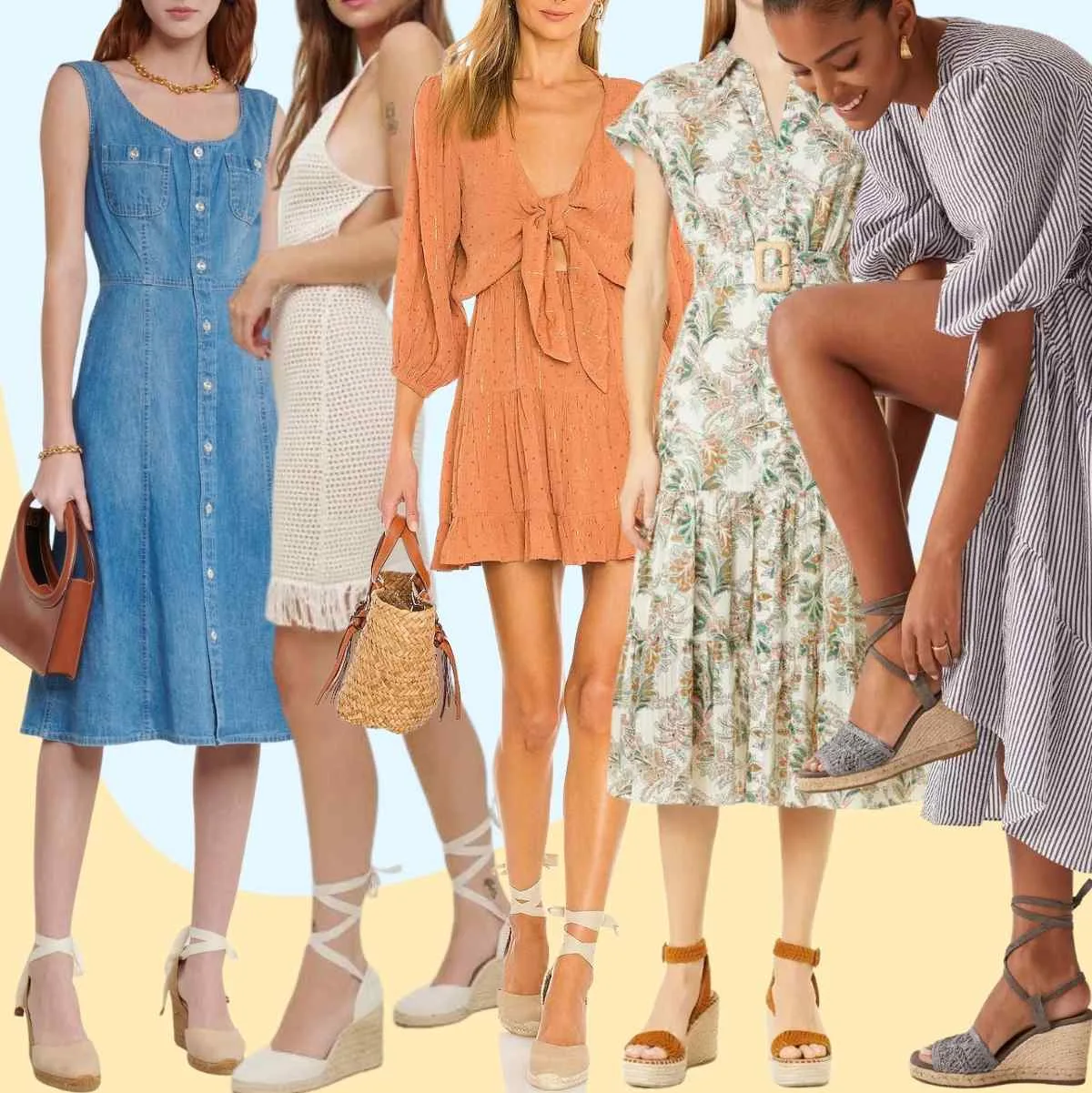 Other great shoes to wear with dresses that are closed-toe summer shoes? Espadrilles! These always remind me of vacation, are comfy and timeless.
Whether you choose a flat or wedge version, your feet will be ready to hit the streets of Greece. Or anywhere in between!
A decidedly summer style, espadrilles are one of the best shoes to wear with dresses. I love a long, flowy cotton dress or a tiered linen style. Try keeping things neutral with a white dress, beige espadrilles and a rattan bag.
A dress with a bit of flounce can look amazing with espadrilles too! Many brands make espadrilles these days.
But if you want to go with the top espadrilles makers, opt for Cantañer or Soludos! For more info, have a look at my post all about how to wear espadrilles.
Flirty Flats
Looking for cute shoes to wear with dresses? Flirty flats hit the mark every time.
There are endless types of flats to choose from. Versatile and comfy, this type of shoe can easily be worn across multiple seasons.
If you're taller than average and not comfortable in heels, flats can be an effortless solution. Go for colorful flats for a pop of vibrance.
Or if neutral hues are more your taste, pair them with timeless wrap dresses.
Mules
Mules are one type of shoes that go with dresses all year round. For summer, choose a chic open toe style.
In the winter, it's easy to pair a closed-toe mule with an ankle-skimming dress. As for outfit options, they're never ending.
Working lunch? Choose a white calf-length shirt dress and beige leather mules. Cocktails with your friends?
A belted mini and patterned mules will do the trick. Clasp an anklet around your ankle for a bit of sparkle.
Clogs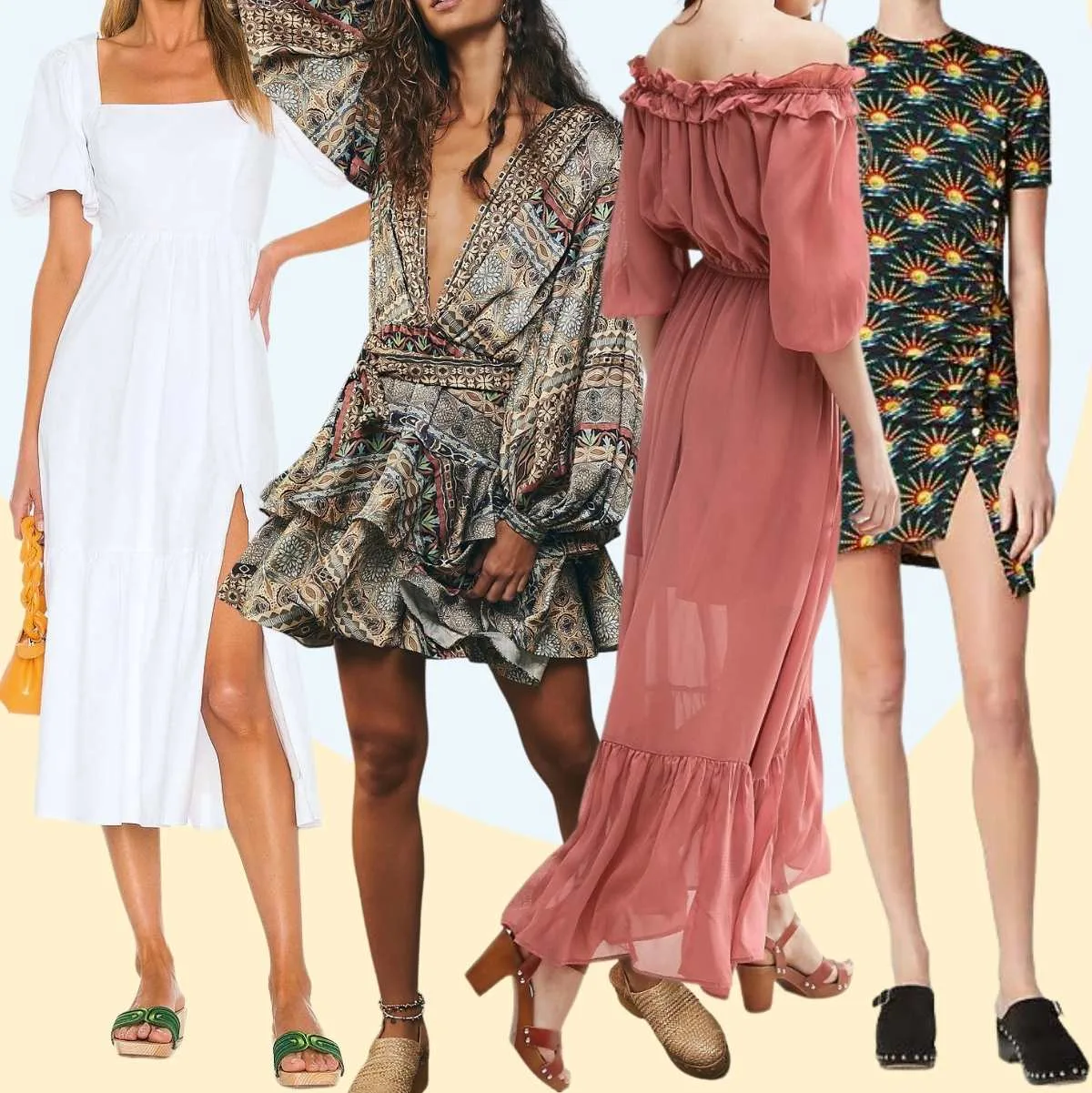 Fashionable and classic clogs are great shoes to wear with dresses in a slew of cute styles. From mini to maxi and everything in between, a clog will give a dose of laid-back retro casual vibes to your dress.
I even like them with sweater dresses and socks for a cozy feel during cooler months.
And this season, you'll be able to find clogs in lighter materials, new colors, and even with heels! In fact, faux fur clogs are becoming increasingly most popular, so keep that in mind when planning your next fall clogs outfit with dresses.
Check out my post on all the style details on how to wear clogs with dresses & your favorite outfits!
Ankle Boots with Dresses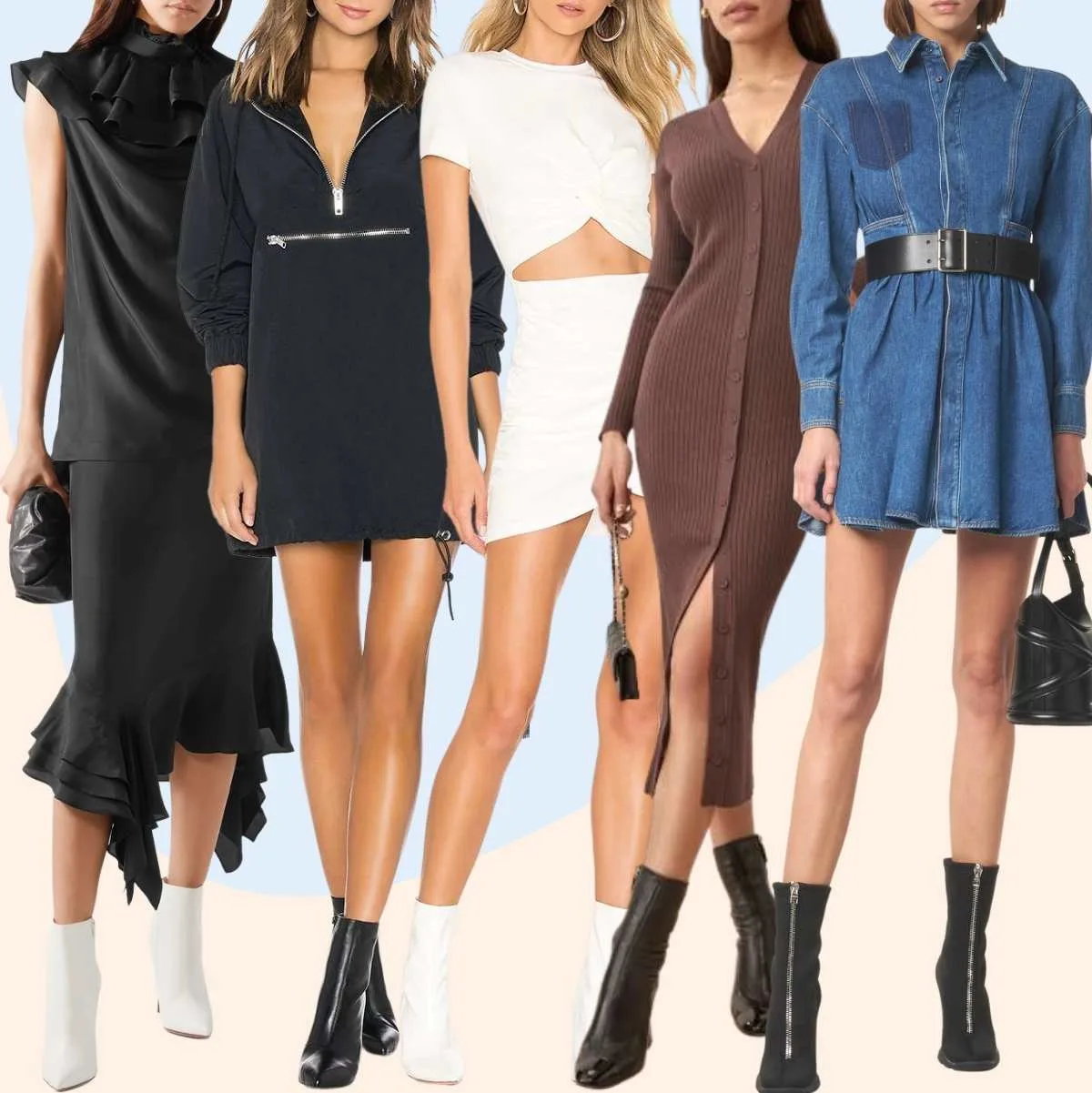 Ankle boots are cute shoes to wear with dresses throughout any season. There are so many styles to choose from! With ankle boots, there really is something for everyone.
And every occasion. Shopping with your friends, a family dinner, a first date or even a business meeting.
For all of these outfits, ankle boots are the way to go! They'll pair well with summer dresses of all varieties.
There are a few ankle boots styles that are best for summer. White, beige, perforated, cut-out, and cowboy styles in particular.
Complete your summery outfit with a clutch, tote or duffel-style carry-all. Your go-to black leather bag is always a safe option as well.
And don't forget the accessories! Simple hoop earrings are a must, as well as thin chain necklaces. Learn how to wear ankle boots with dresses of all types in my dedicated post!
White Ankle Boots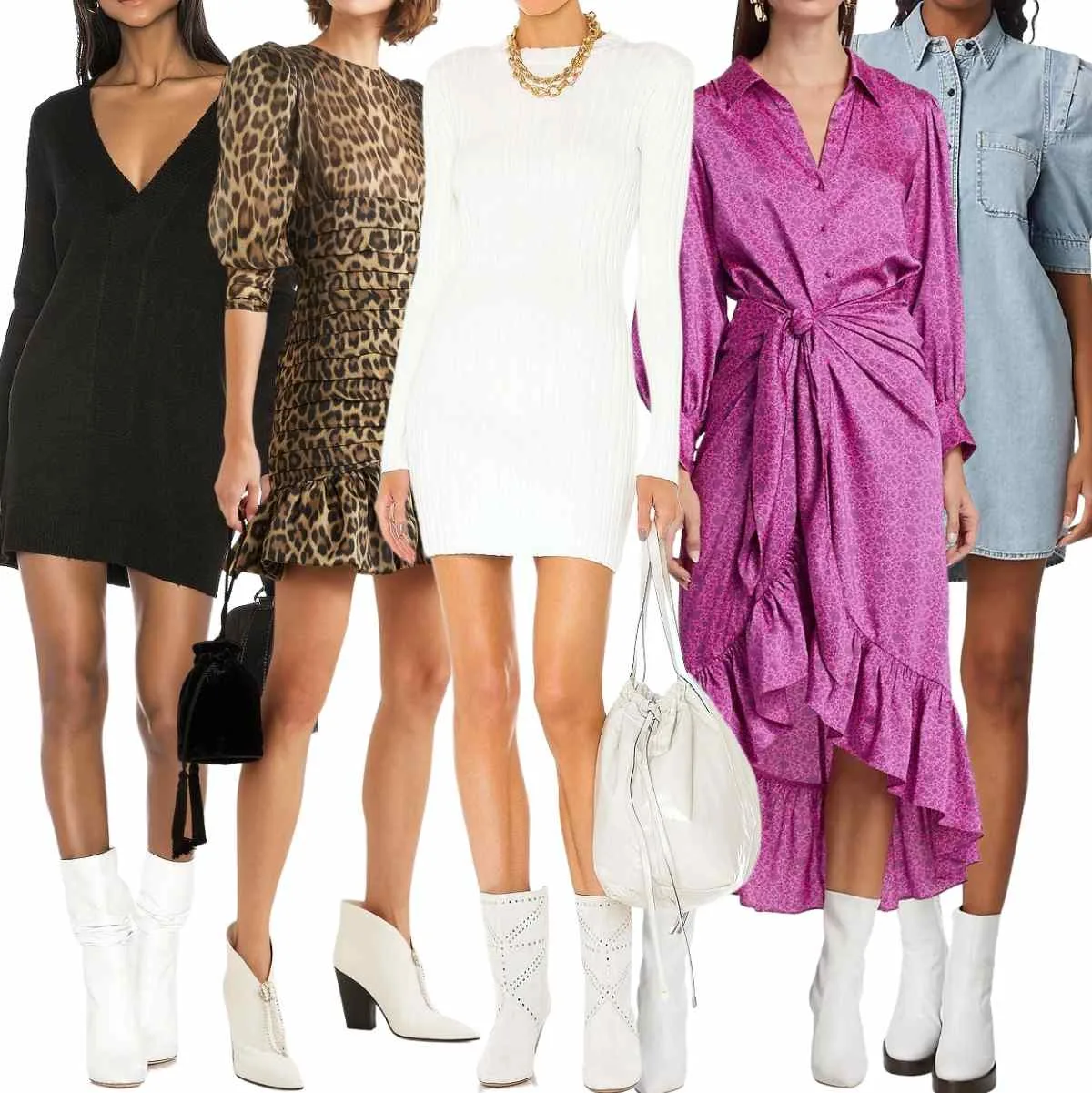 Say hello to the modern go-go boot! Since white is a neutral, these boots will go with everything. I like wearing shorter dresses with white boots so that they can really be seen.
Try a dress with a knee- or mid-thigh hem. White ankle boots really are a blank slate. For a fashionable brunch, wear your white boots with a printed blue or purple dress. Complete the look with a white purse.
Beige Ankle Boots
When you want your outfit to steal attention, choose beige ankle boots. Their natural hue will let your accessories and clothing do the talking.
For a chromatic look, wear head-to-toe neutrals in different shades of beige. A cable-knit dress looks right at home with beige ankle boots made of smooth suede.
Perforated Boots
Switch up your classic boots for a pair of perforated ones. Many of my favorite styles are made from ultra-soft, slouchy suede that's as comfy as it is stylish!
A loose linen maxi dress or a simple wrap dress that ties around the waist will look great. Throw an oversized boho bag over your shoulder and you're good to race out the door. This look would make Alexis Rose proud 😉
Cut-Out Boots
Getting fancy? Try cut-out ankle boots. You'll take your outfit to the next level and look fabulous! Especially in the summer, these boots will help your feet breathe a little easier.
Matching a cut-out dress with your boots can be an interesting look for meeting friends or running errands. At night, try a simple slip dress and a worn-in leather jacket.
Ankle Boots We Love:
Cowboy Boots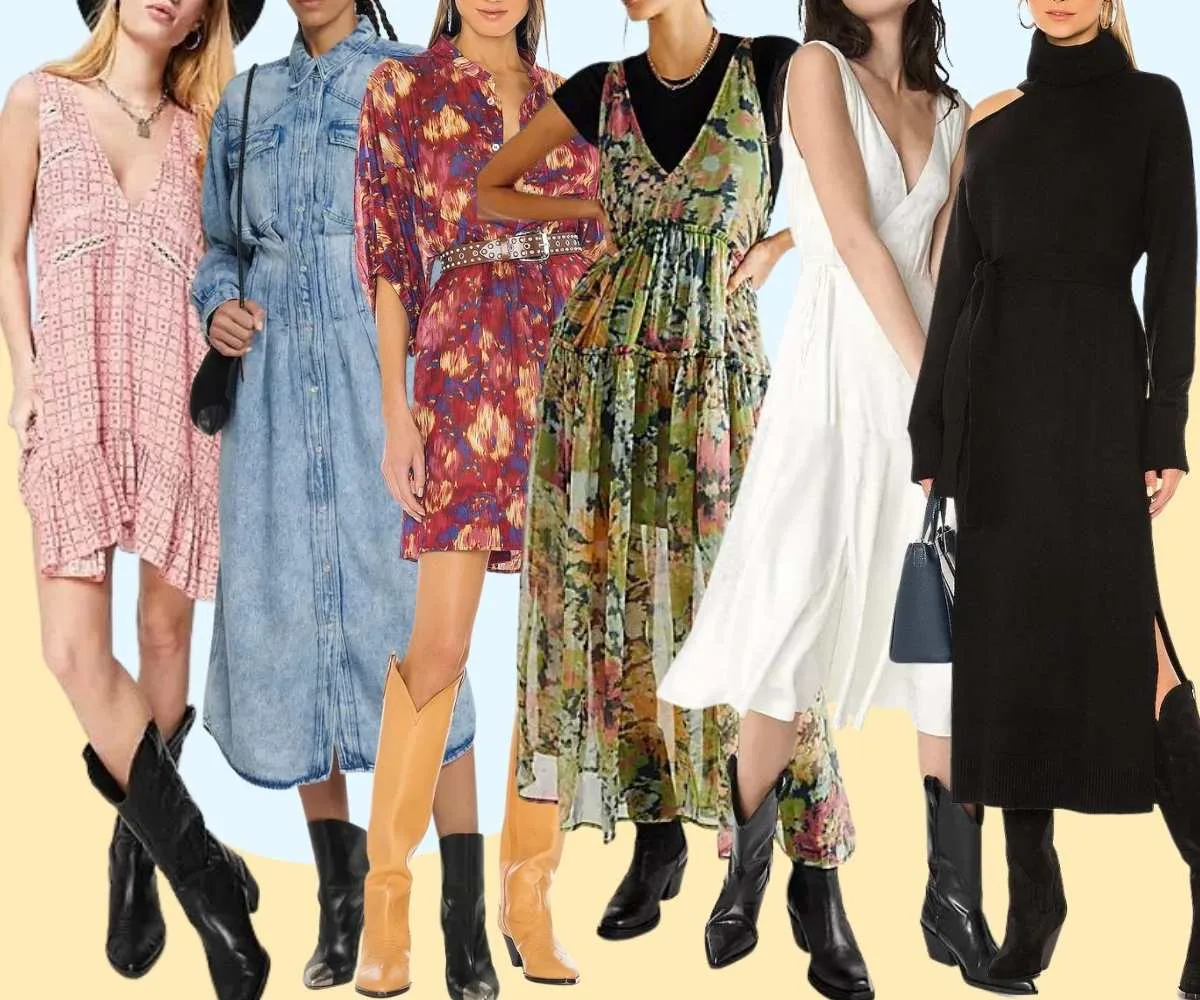 Cowboy boots – or western inspired boots – have made a big comeback in the last couple of years. In particular for summertime use! Kendall Jenner has been spotted many times wearing cowboy boots with a bikini by the pool.
Just throw a crochet dress on top and you're good to go! These boots will also look great with a denim mini or plaid shirt dress and a canvas tote when running errands. You can choose an ankle or higher version to complete your outfit.
Need more info? See my newest post on the best dresses to wear cowboy boots with for over 20 amazing dress styles!
Best Shoes to Wear with Dresses in Winter
What shoes to wear with dresses in winter, you ask? There are so many great shoes. From loafers to high boots that you can choose from for the cooler months of the year.
From stylish to casual, there's a shoe for the dress you want and the occasion you're wearing it to!
Pumps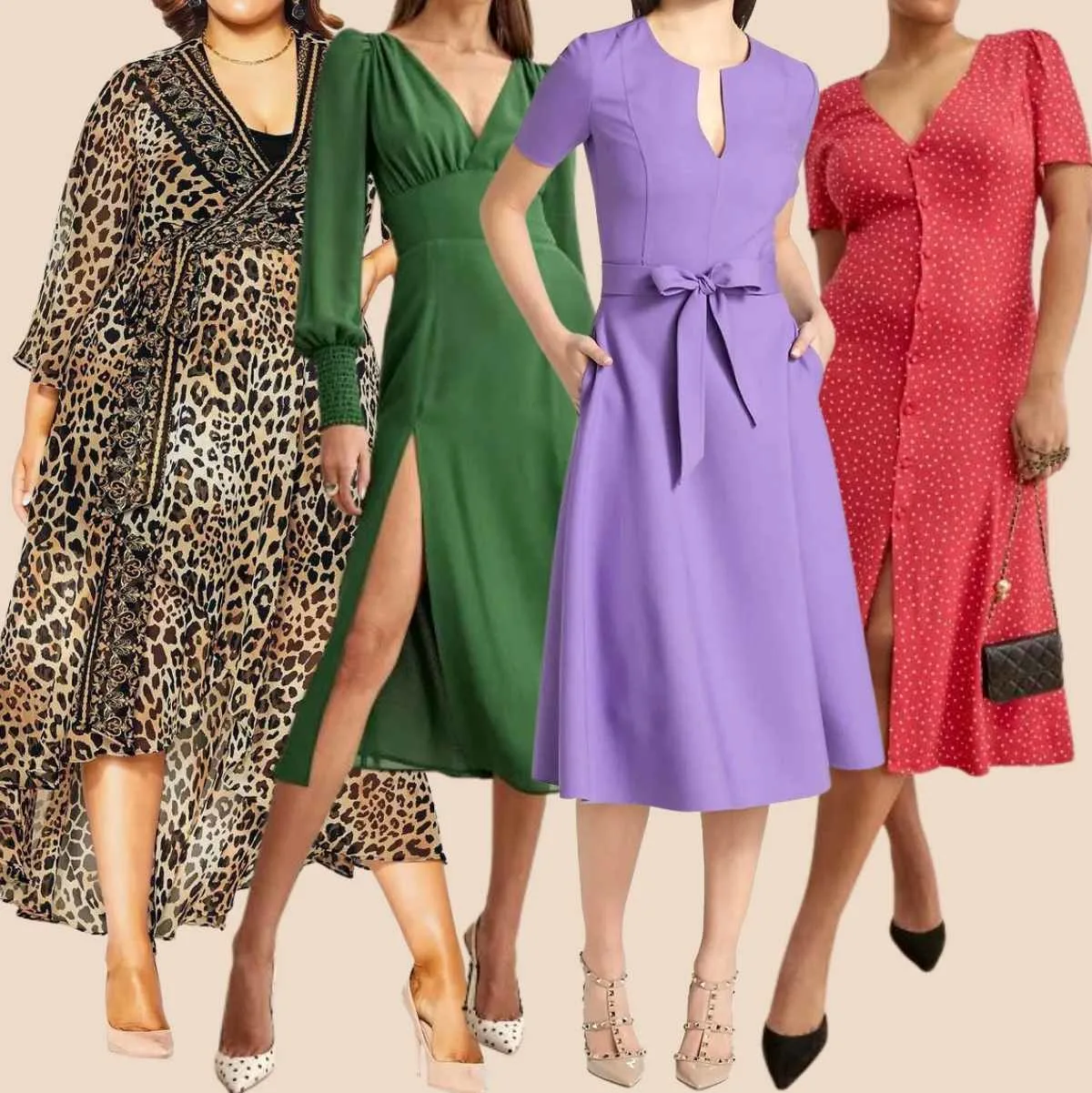 Pumps will always be classic. They're timeless! Right now they're fashionable with a pointy front and stiletto or block heel. They are the shoes that go with dresses all the time and for any occasion.
For the office, try your pumps with a sheath dress with a simple slit and a pair of black patent pumps.
Pumps look fantastic with midi dresses all year round, really. Optional: sheer tights -unless the winter months near you are especially grueling!
A calf-length turtleneck dress keeps you warm and fashion-forward in the winter — especially when paired with a pair of bold pumps.
You can play with solid colors or patterns such as leopard prints. When running errands, loop a supple leather tote bag over your shoulder.
Worth mentioning that pumps are also appropriate shoes for summer dresses, if you need a closed-toe option.
Loafers with Dresses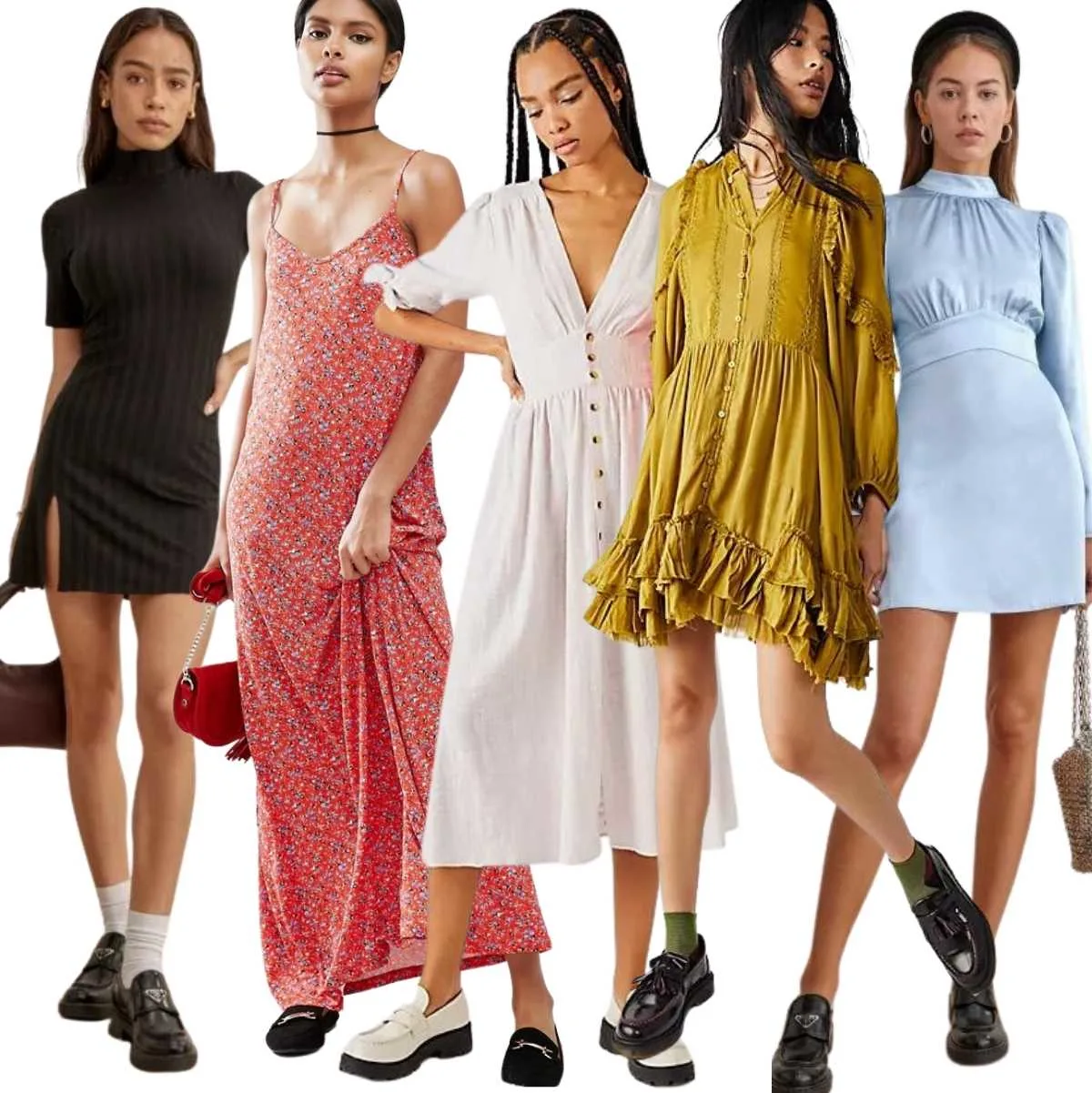 Loafers are essential for on-the-go days. Not only are they comfortable, they're polished and forever part of the current trends.
Great shoe type for work and play, with so many loafers, like classic penny loafers and slipper loafers to choose from!
Often, you can find loafers with unique buckle details or tassels. A midi or mini length dress is perfect for showing off your loafers and a pair of cozy socks.
Try a polka dot dress with a pair of sleek black loafers. Give your outfit a professional touch by adding a blazer. For low-key occasions, choose a denim or biker jacket.
Learn how to style loafers with many outfits, including all types of dresses, in my dedicated post!
Oxfords
Although on the masculine side, brogues can be feminine if you want them to be. It all depends on how you style them.
A crisp shirt dress looks perfect with a pair of beige brogues, but you can add a little fun with a metallic or spotted print too!
Or a structured printed dress fits well with black and white brogues. Go for a school girl vibe with a plaid or pleated dress, tights and black brogues. A long wool coat will complete your outfit.
Ankle Boots
The perfect shoes for winter are boots! And you can't beat ankle boots with dresses! And of all the best boots to wear with dresses, ankle boots are the most versatile. Below are my top faves for fall/winter.
Leather Ankle Boots
A quality pair of leather ankle boots are a must-have for winter dressing. Chances are, there won't be many dresses in your wardrobe that wear badly with them.
Structured or slouchy, studded or plain, both silhouettes of ankle boots look great with mini, midi or maxi dresses.
That way, you can really show off your boots! For a coffee run, try crimson ankle boots with a red pleated midi dress and a toasty cropped shearling jacket on top.
Matching a cut-out dress with your boots can be an interesting look for meeting friends or running errands. At night, try a simple slip dress and a worn-in leather jacket.
Ankle Boots We Love:
Black or Brown Ankle Boots
Black and brown are two shades that never look out of place in a winter wardrobe. Or any wardrobe for that matter! Of course, you can choose a clean and simple black or brown boot.
However, if you want to switch it up, look for a pair with multiple buckles or metallic hardware. I love dresses that show off the shoe — even if it's just a peek!
Try a paisley patterned flowy maxi dress with brown boots. At the beginning of the winter season, you can get away with a denim jacket on casual outings. For colder days, zip up a stylish puffer.
Combat Boots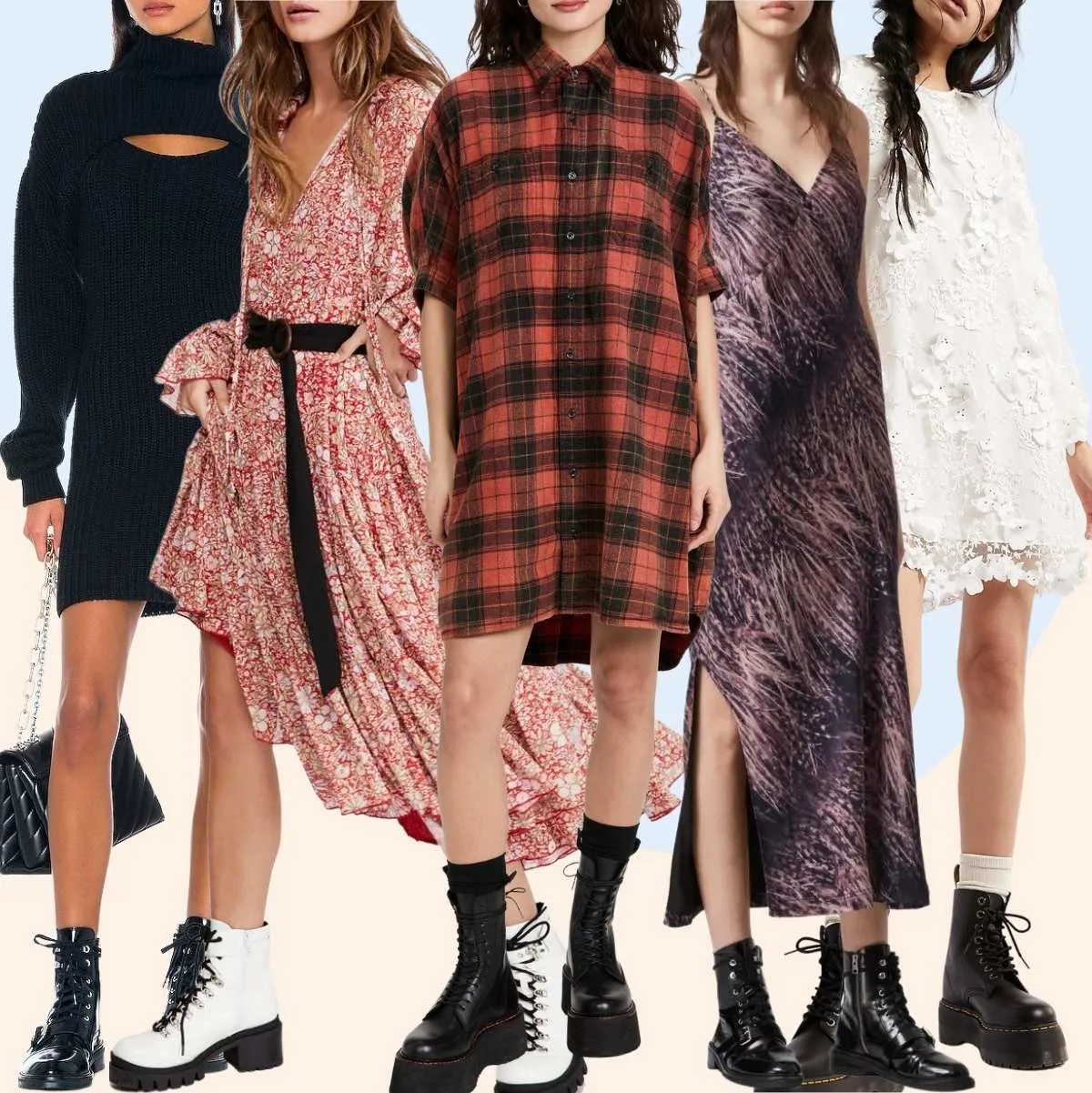 Combat boots —Doc Martens in particular — have been a staple in alternative wardrobes for years. However, they've since become more mainstream. The new chunky styles from Steve Madden are pretty amazing too.
Model Kaia Gerber has been known to rock a pair of combat boots with feminine dresses and so has actress Julia Roberts. Layer a blazer on top to add some extra warmth!
On a drizzly day, opt for a pair of waterproof combat boots. Elsa Hosk is also a fan of wearing a mini dress, tights and combat boots in the winter.
Take a peek at my post on how to wear combat boots with dresses of all kinds and more!
Combat Boots We Love:
Chelsea Boots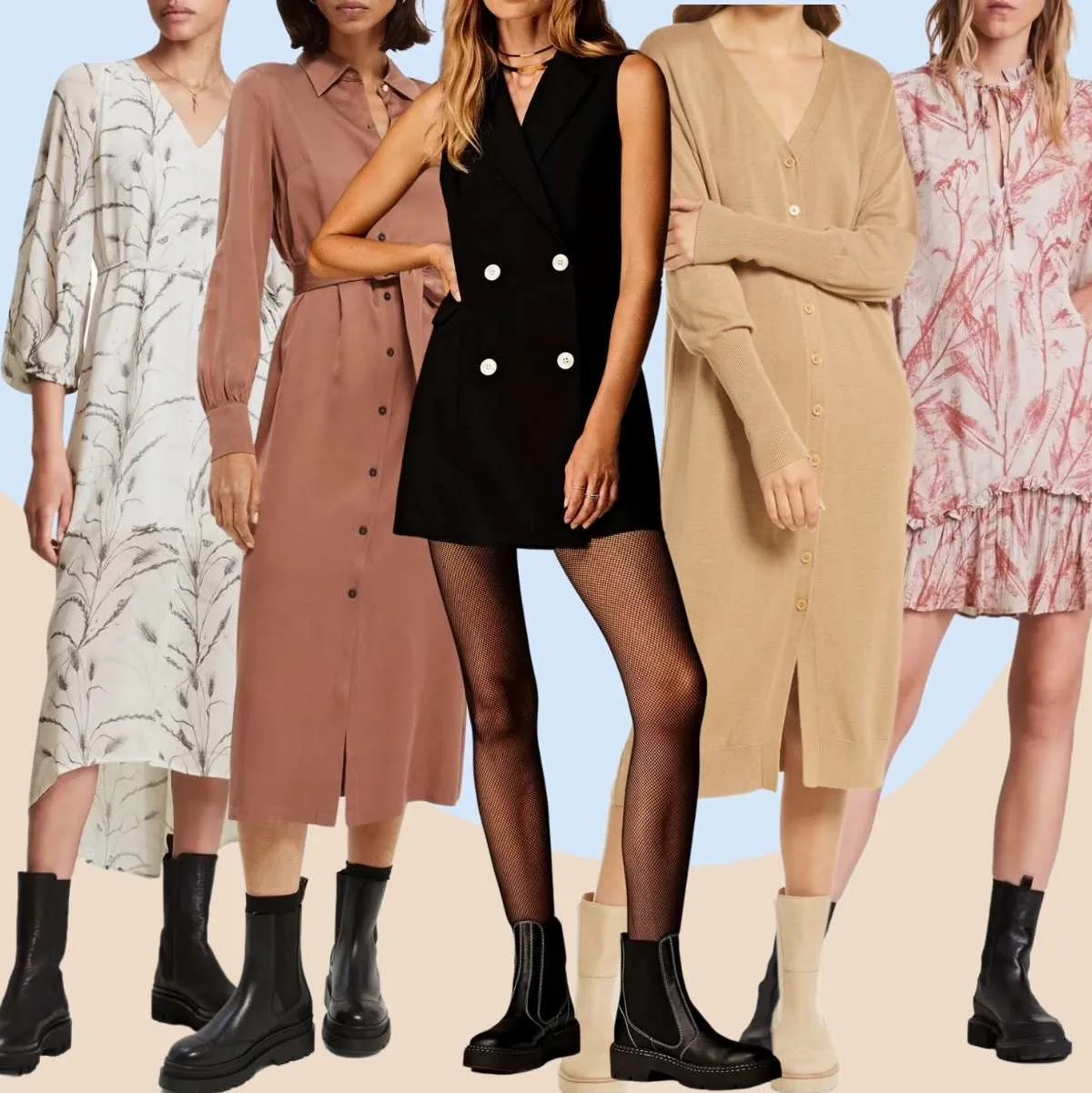 Chelsea boots are fab shoes to wear with dresses! They will give a rugged vibe to any dress, whether a maxi, mini, slip dress or sweater dress.
Whether chunky or classic, these boots are also insanely comfortable, which is an added bonus.
There are so many ways to wear Chelsea boots with dresses! Check out my post all about how to wear Chelsea boots for more!
Chelsea Boots We Love:
Knee High Boots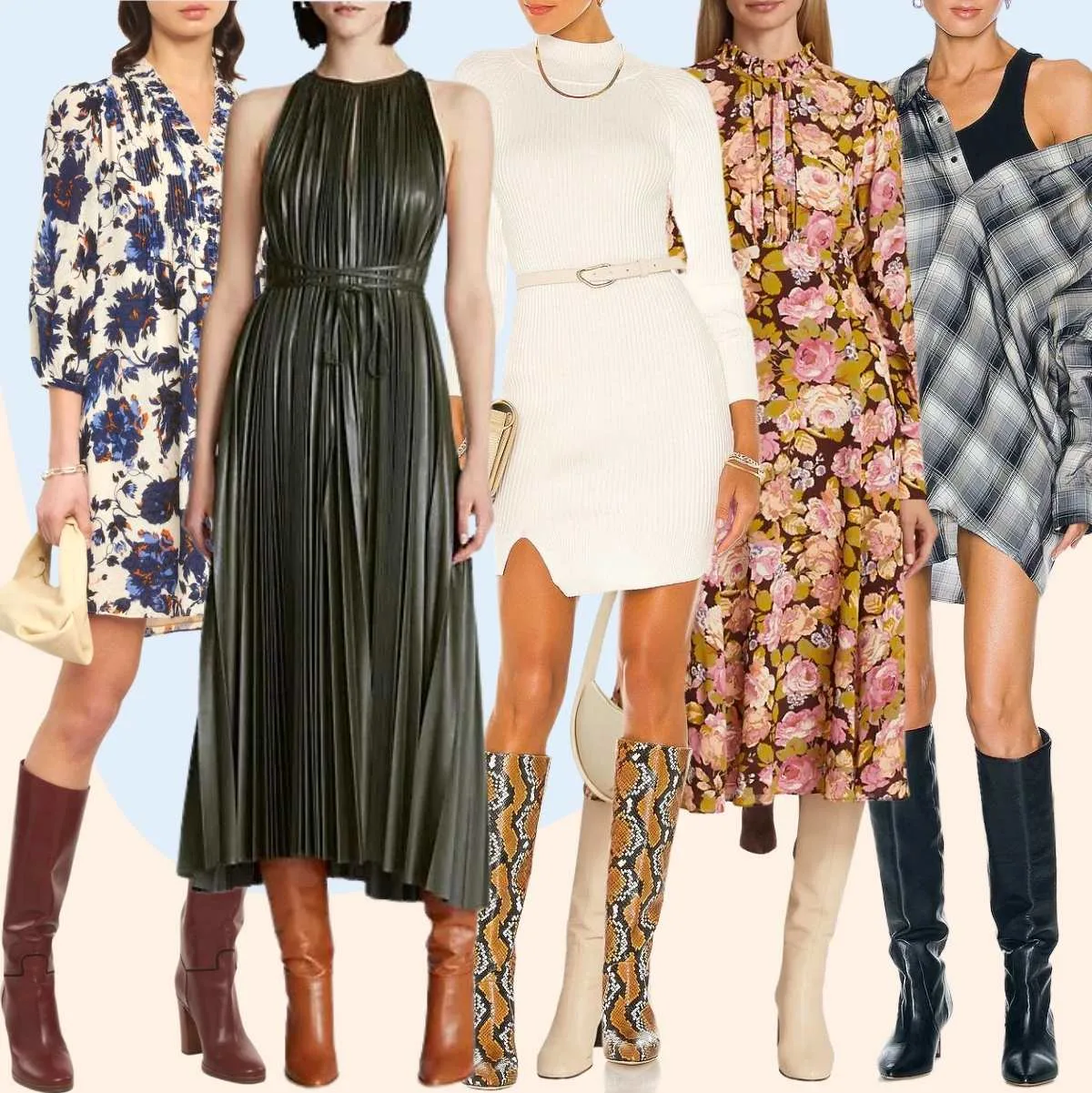 If you're wondering how to wear knee-high boots with dresses, I've got you covered. Or at least, your lower legs covered 😉
They are my favorite shoes to wear with dresses in winter because they keep my legs warm! Depending on how cold it is, you can choose a chunky knit dress that ends above your knees to show a little skin.
Too cold to bare anything? Pair your knee-high boots with a longer sweater dress or flowy winter florals dress. Layer a moto jacket and a fuzzy scarf on top and you're good to go. Anywhere!
Tall Boots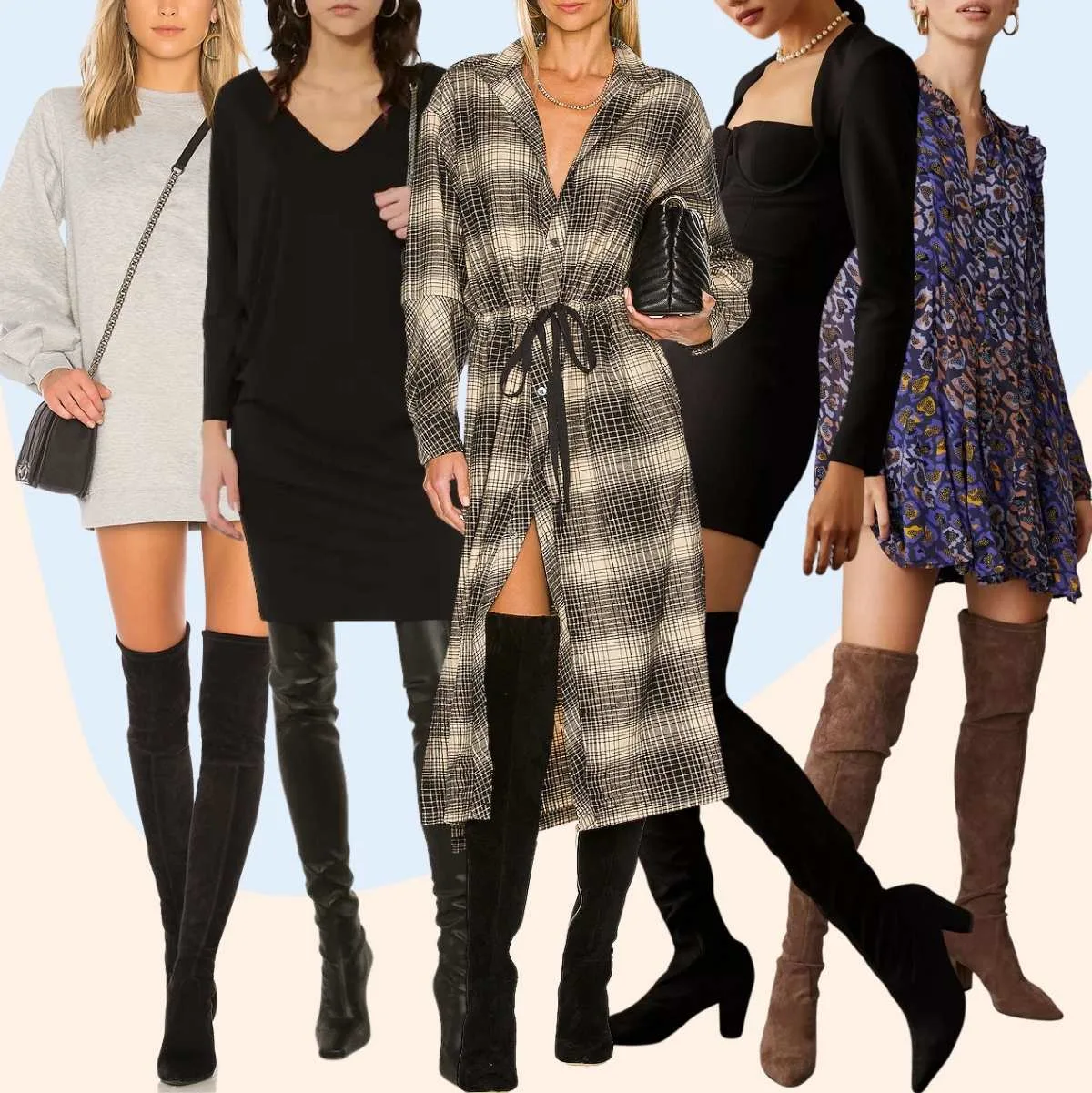 Rihanna often favors boots so high that they cover her entire legs! Of course, your boots don't have to get that high. From mid-calf to thigh height, all of these styles pair well with dresses.
A good way to get use of your summery dresses during colder months is to wear them with boots that end above the hemline.
Your legs stay warm and you look stylish! Take a cue from Hailey Bieber and sport thigh high camel suede boots with a beige sweater dress and tan overcoat.
Learn about all about styling a sweater dress with boots in my latest post!
Final Thoughts on Shoes to Wear with Dresses
Better equipped to know what shoes to wear with dresses? As you can see, the number of shoes to wear with dresses is many!
You really can't fail to style your dress during summer, winter and all the months in between with a fashionable or classic pair of shoes or boots.
The choice on how to style your dress with shoes really depends on where you're wearing your outfit, the look you're going for and the season. My biggest piece of advice is to have fun with it!
What are your favorite shoes to wear with dresses?
xo ShoeTease