Looking to wear one or more outfits with green shoes for St Patrick's day, a spring cocktail party, or just for fun?
Then follow along right here on shoe-tease.com and I'll teach you how to wear green shoes with many colors, styles and for various occasions.
This post will dig deep and showcase a compilation of the best green shoes outfits and heels to suit various fashion styles.
Green can be such a fun and unexpected shade that is much more versatile than we give it credit for. It's a fresh and vibrant color that can add a pop of personality to any outfit!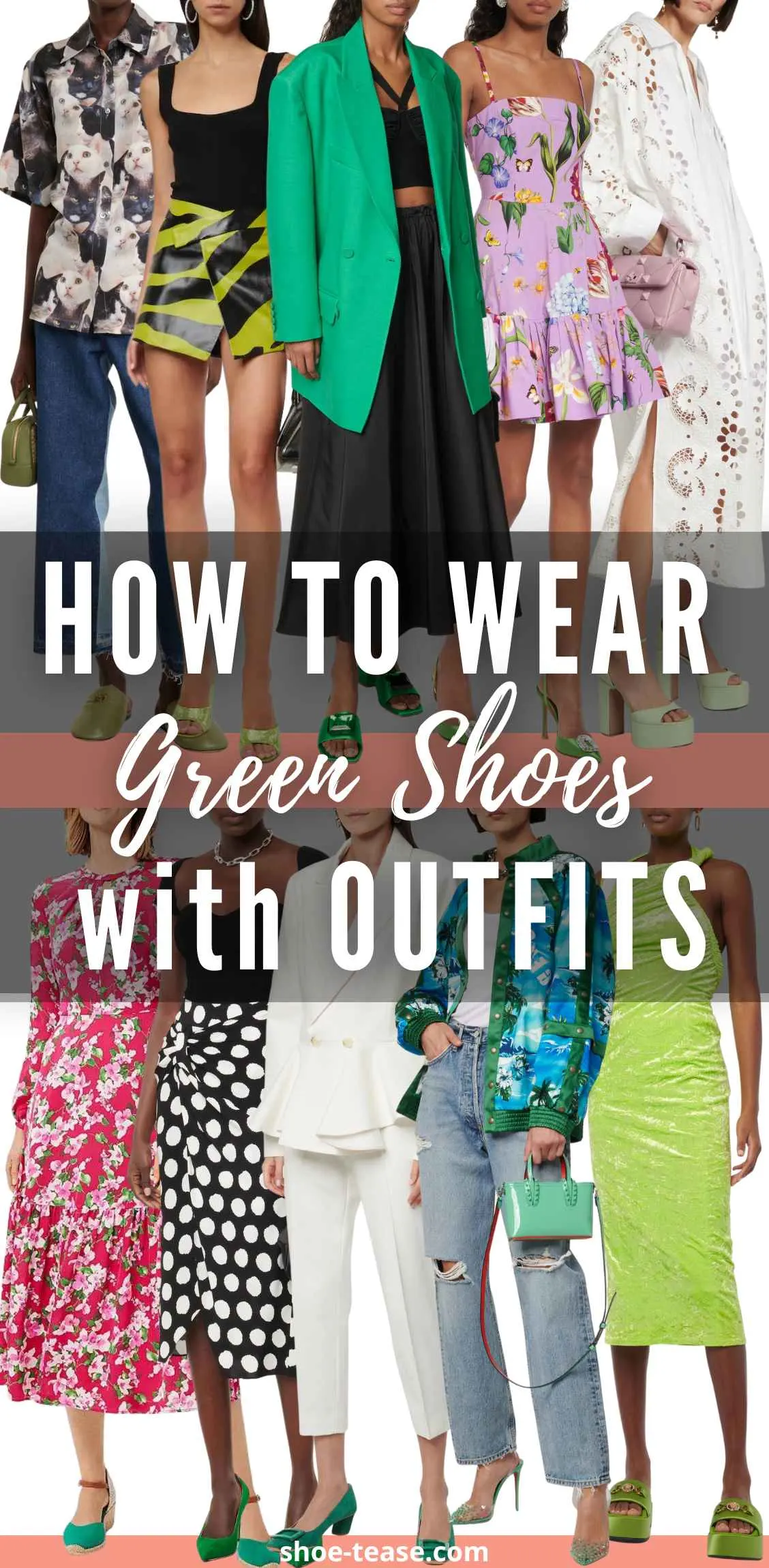 From casual outfits with jeans, to more lady-like looks, there are many ways to wear green shoes fashionably. No matter which green shoe-shade you prefer!
If you tend to gravitate towards black or neutral shoes, adding a pair of green shoes to your shoe closet can help you switch things up and add some earthy tone to your wardrobe.
If this is you, I would start with a pair of subtle dark green shoes. This shade is a great way to add color without overwhelming your wardrobe.
However, if you're feeling adventurous, you might opt for a pair of lime green or neon green shoes that really pop!
Current trending green shoes range from dark forest green, to pea green to blinding neon green shoes and my favorite: bright apple green shoes!
How to Wear Green Shoes Outfits for Women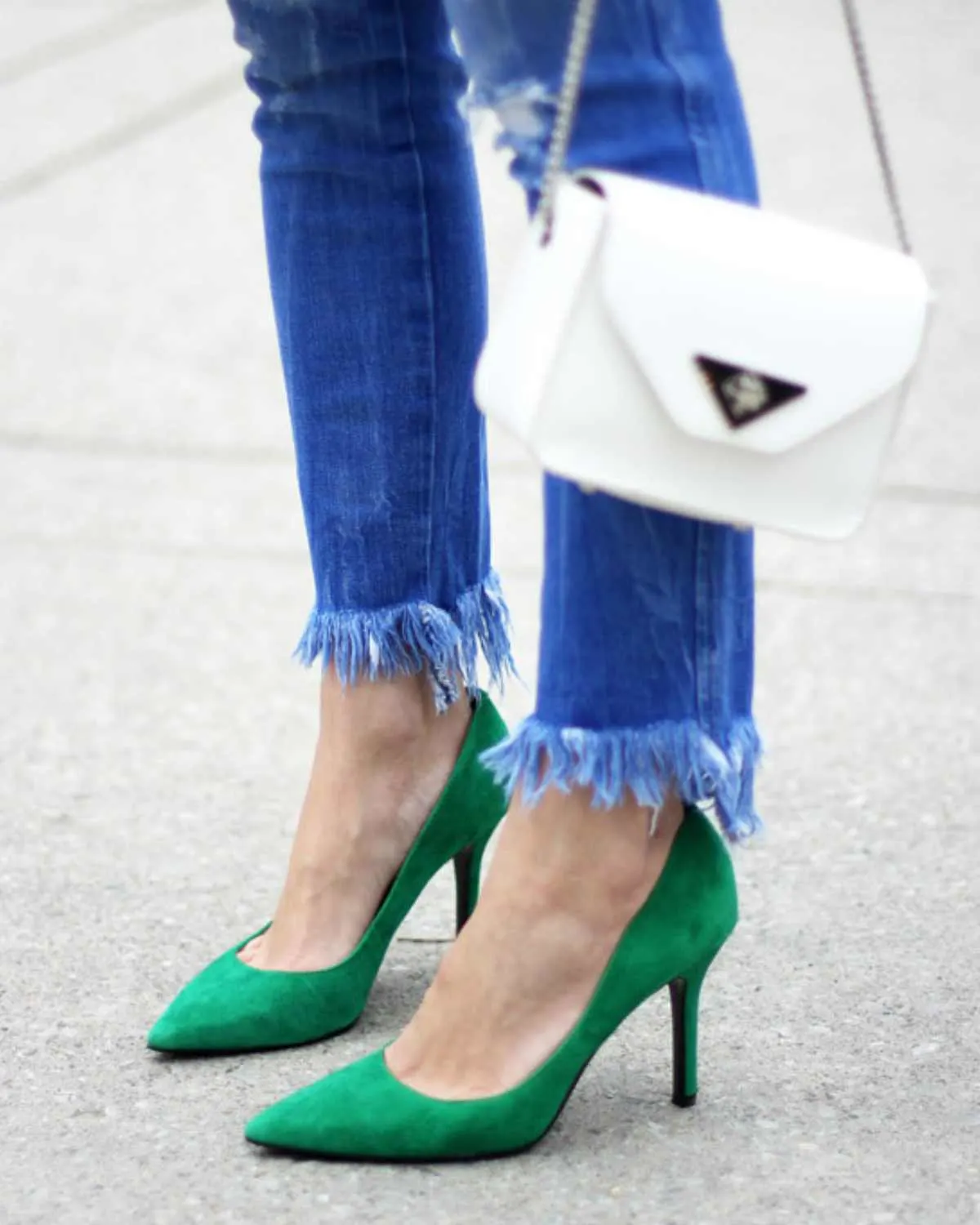 1. Green Shoes with Blue Denim & Chambray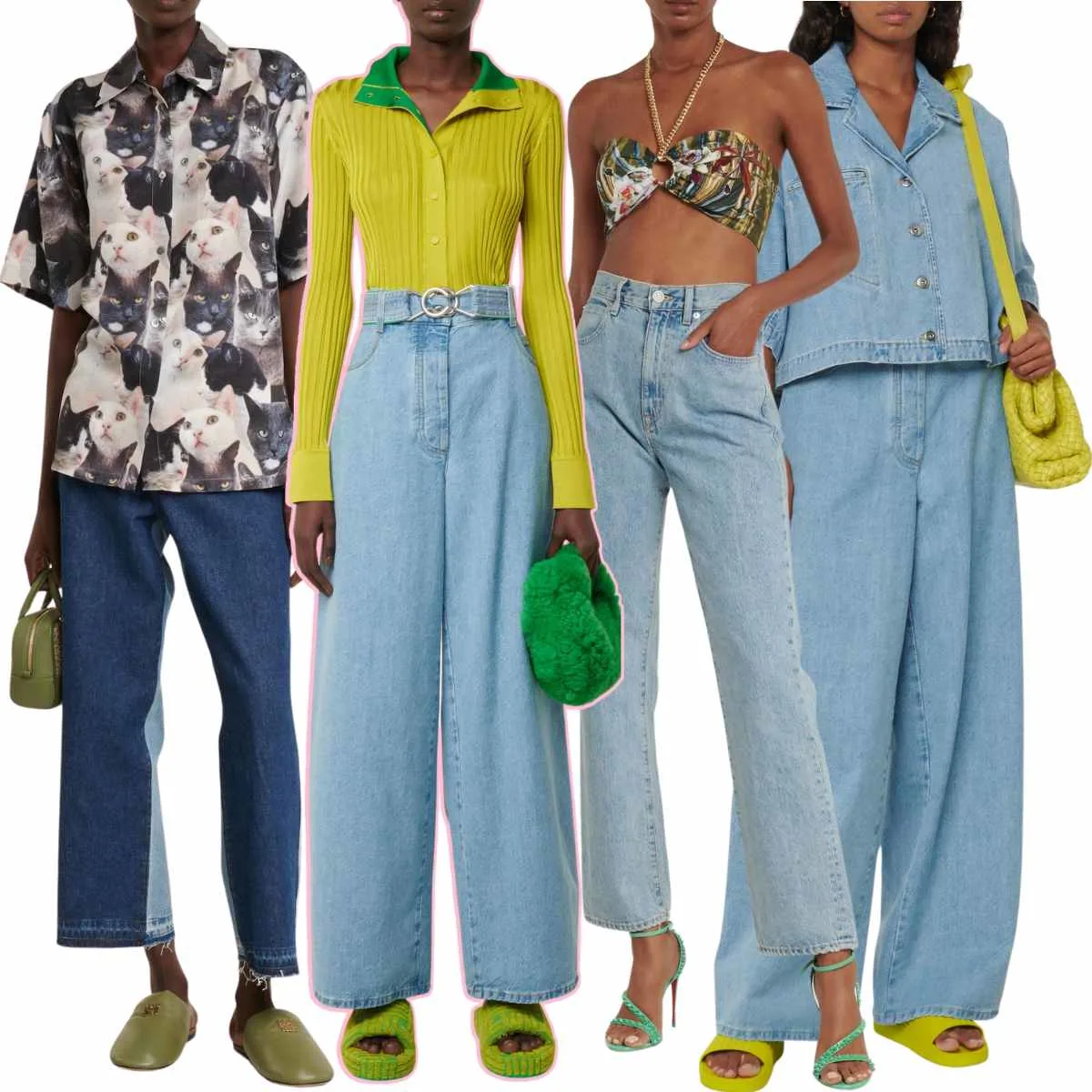 I have to say that I'm partial to this way of wearing green shoes among many. As it's an easy, no-fuss way to add an unexpected colorful touch to casual denim. And learning how to wear green shoes with denim is a piece of cake!
You can create a polished look with a dark green shoes outfit and indigo jeans. Top it off with a black or navy blazer and you're work-ready.
Or, you can have a little fun like I did above, with a light pair of distressed blue jeans & bright apple green pumps! If you wear neon green high heels with a cute denim dress – you will be the life of the party!
Purse Styling Tip: You can reach for a contrasting green to your shoes, to keep things fun. Or, if you have some other element to your outfit, you can choose to match your purse to your shoes to keep your look balanced. A white or neutral purse like black or caramel brown is also a great subtle purse choice.
2. Green Shoes with Chic Black Outfits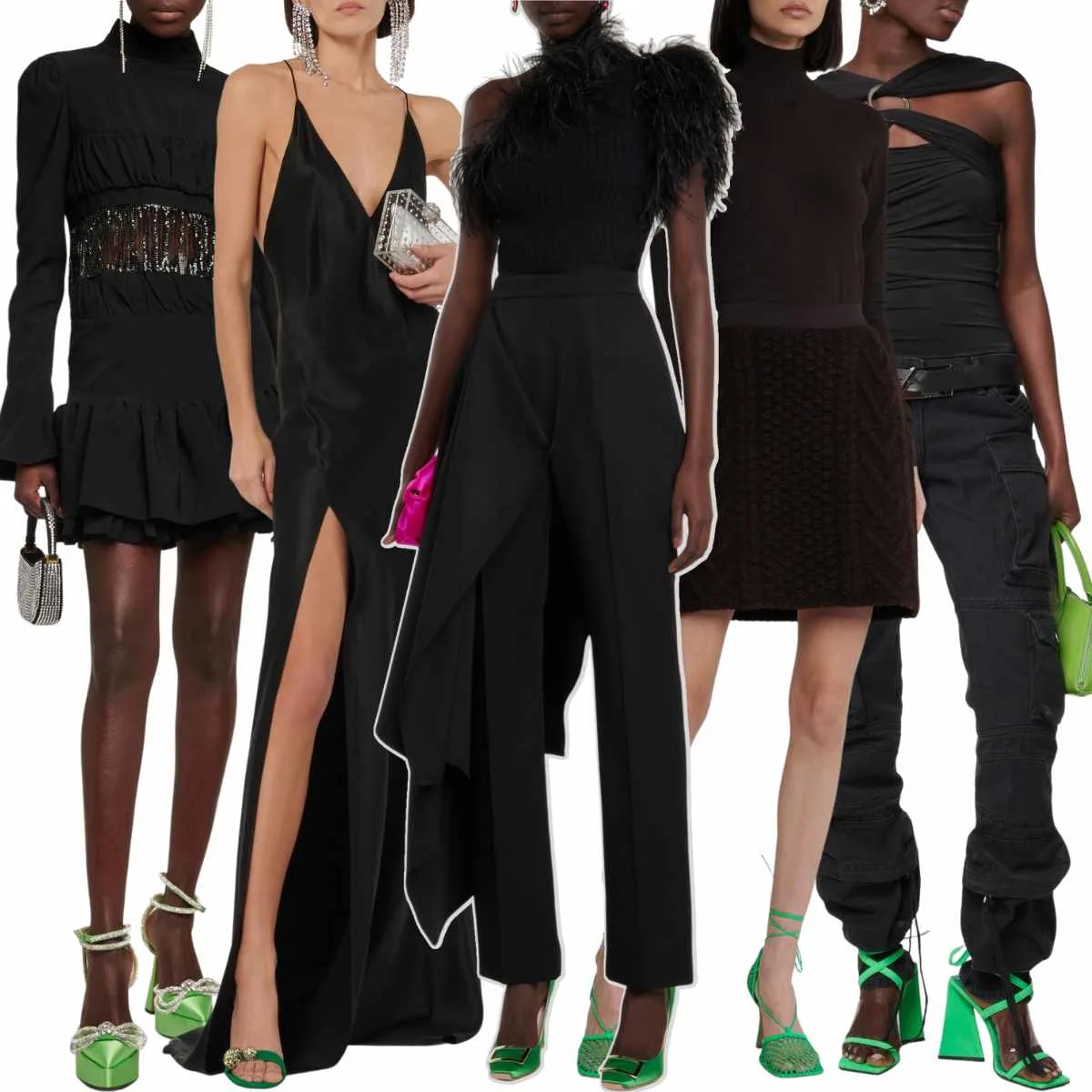 If you want your green shoes to take center stage, wearing a bright pair with a black outfit is the way to do it! Try green pumps with a black pantsuit, jumpsuit or casually with green sneakers & a black denim and tee look.
The brighter the green shoes, the more a visual impact they will have against a black outfit. If you're looking for a more subtle contrast to black, try a pair of emerald or forest green shoes instead.
Feeling bold? Lime & neon green will make your black outfit anything but boring! Check out my post with all my fave shoes to wear with black dresses.
Purse Styling Tip: For this combo in more elevated outfits, I like a silver or clear purse. With more casual outfits you can contrast with a colorful purse, a contrast green, or keep things simple with a black or white handbag.
3. Green Shoes with Black and White Outfits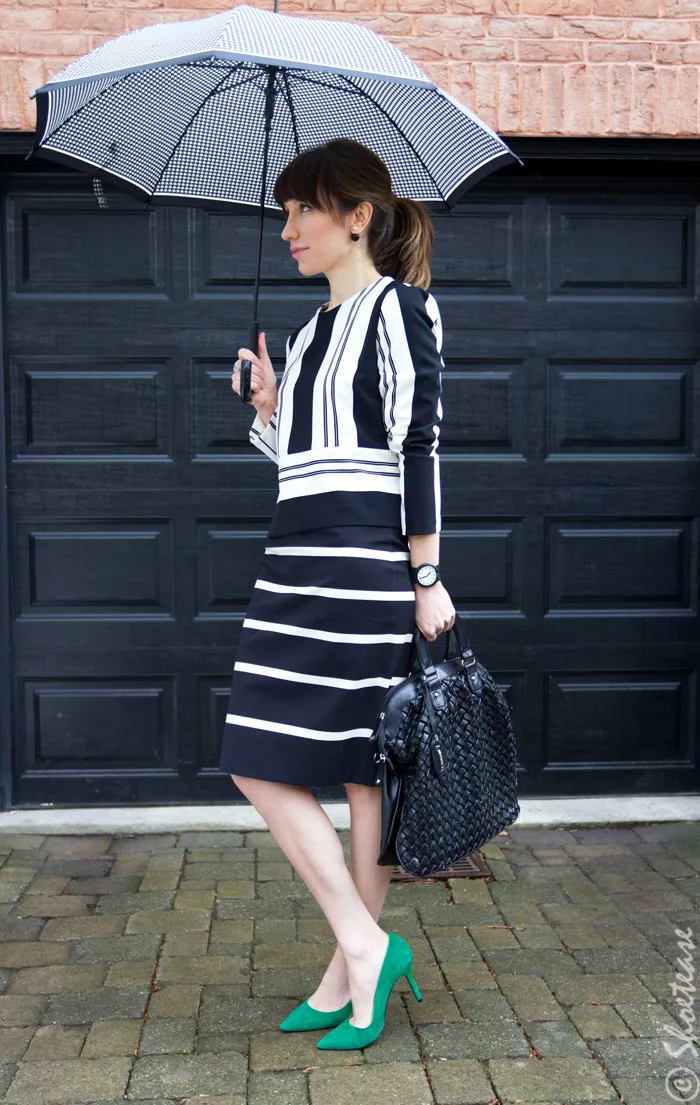 Black and white clothing with bright green shoes is a thumbs-up in my books. This makes sense, as green shoes are one of my top hue when coordinating shoes with a black and white dress!
You can opt for black and white stripes, or patterns. Or, keep things simple with a white tee, black jeans and bright green shoes!
Purse Styling Tip: It's the most fun to pick a contrasting color that works well with your green shoes, such as purple, pink, or yellow.
However, a white or black purse will never fail with this combo either! Add a gold clutch for a more formal look, to add a little shine to your look.
4. Green Shoes with All-White Outfits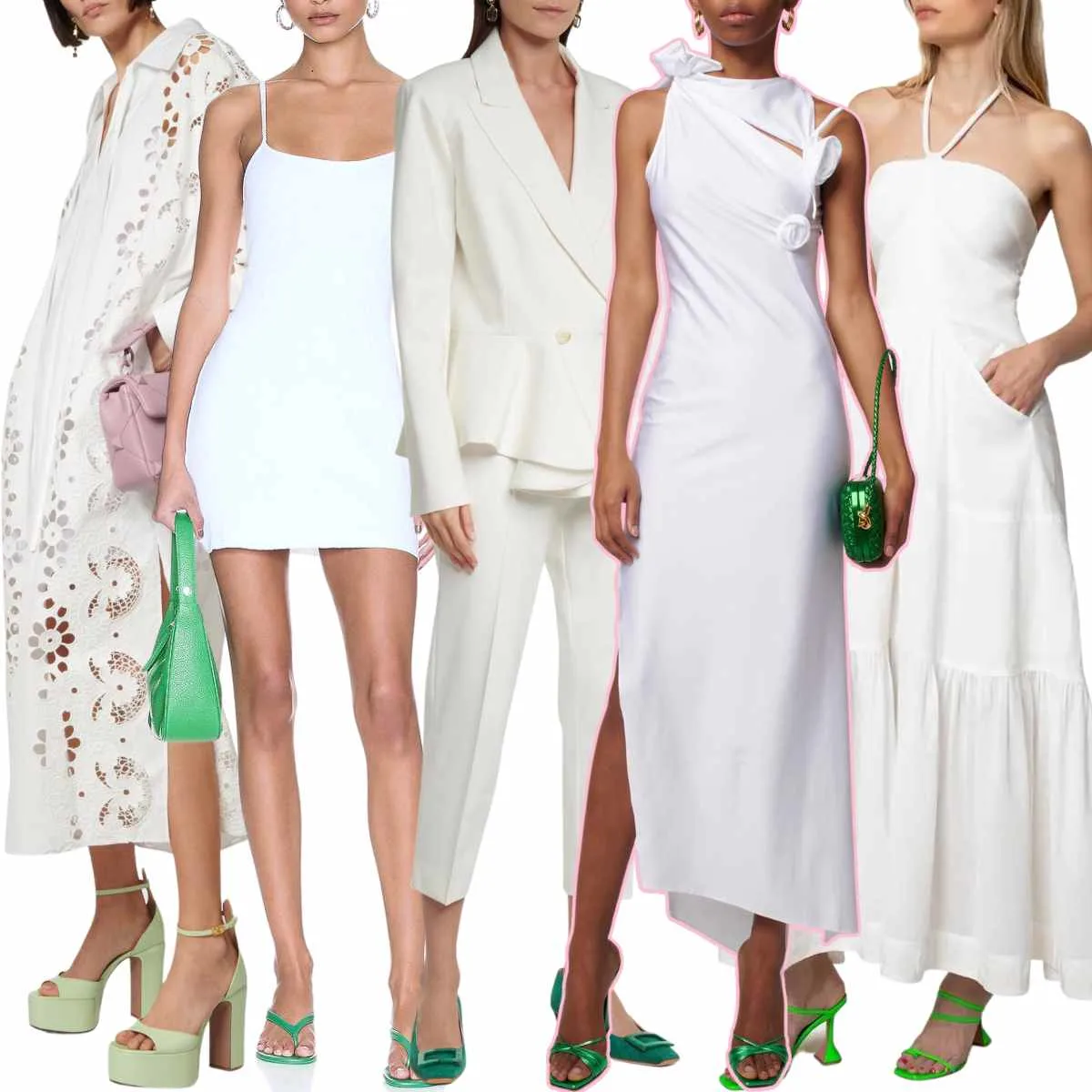 Green shoes outfits with white dresses, suits or jumpsuits are a fantastic pairing for weddings and casual wear during spring and summer. And how to wear green shoes with white is really simple!
Any shade, including off-white or bright white will work well with green shoes. I like a bright white outfit with deep emerald green or brighter shades. My preference for off-white dresses or suits is pea, sage or mint green shoes.
You can even make your white outfit work-appropriate with darker forest green pumps. Looking to wear green shoes with winter whites? A sleek dress topped with a long white cardi can work wonders with knee high suede boots. A white sweater dress will look fab too!
Purse Styling Tip: Match your purse to your shoes, to keep things neat, or reach for a gold or vibrant color. Take cue from how light or dark your green shoes are and pick a colorful back accordingly.
Examples: light green shoes with a pale pink purse, or bright green shoes with a fuchsia pink purse.
5. How to Wear Green Shoes with Purple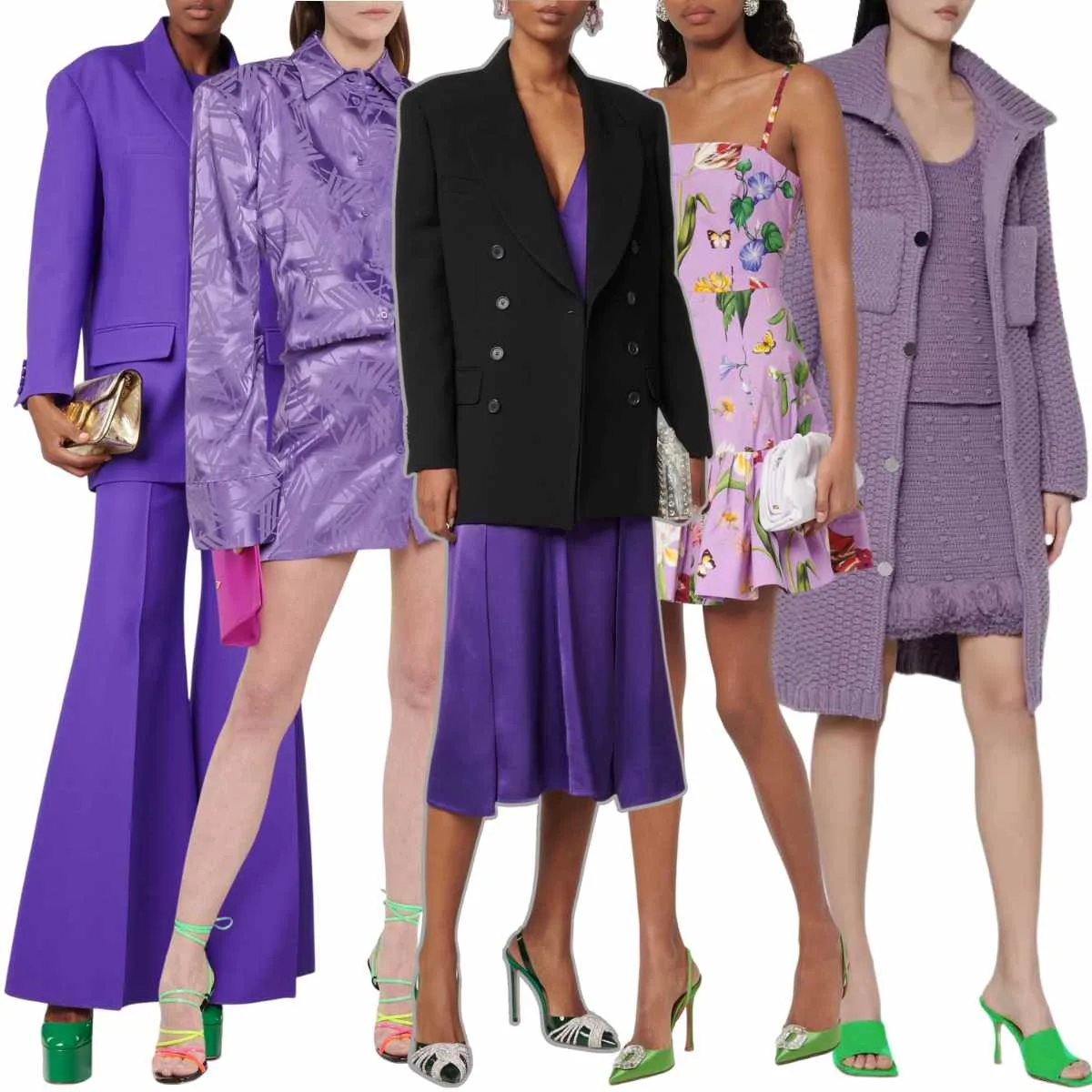 Of all green shoes outfit combinations, my favorite color to wear with green shoes is purple! And in a variety of shades, from deep purple, to lavender, to mauve.
How to wear green shoes with purple outfits is a lot easier than you'd think. You could pair a deep purple dress with mint or forest green sandals, or a lavender suit with bright green ankle boots.
This will create a multi-dimensional, interesting outfit that will surely turn heads. Learn more about what shoes to wear with purple in my dedicated post!
Purse Styling Tip: You can keep things neutral with a white, beige or black purse, or have fun with contrast. Think yellow, hot pink or metallics for your bag.
6. Green Shoes with Contrast Shades of Green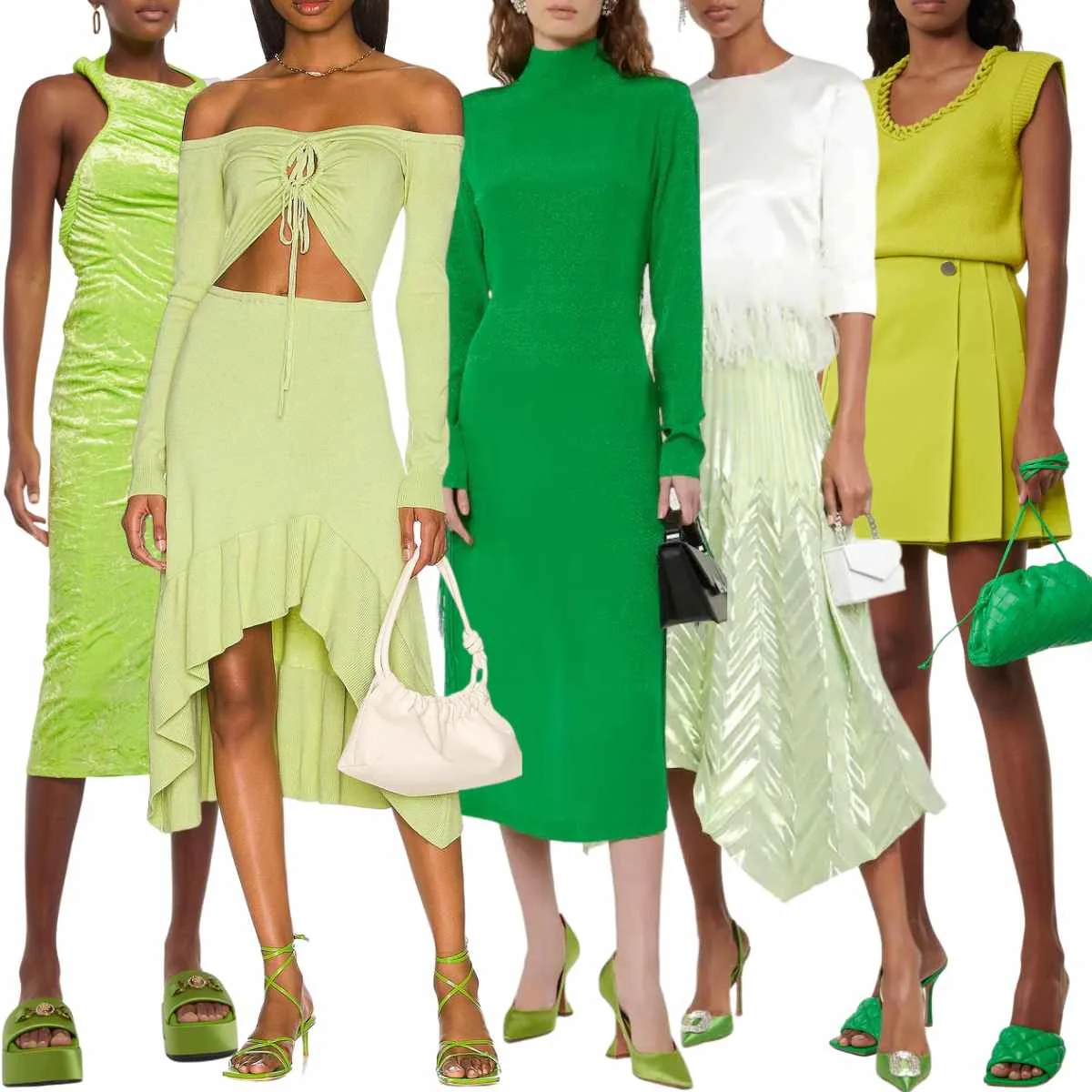 Wearing green shoes outfits with..green? Yes, and yes! And the contrast is the key to creating a multi-dimensional look.
Start by considering the shade of green you're wearing. If you've chosen a bright or bold green outfit, you may want to wear green shoes in a more subdued shade, such as olive or forest green.
Alternatively, if you're wearing a more muted green outfit, you could choose shoes in a brighter or bolder shade, such as lime green or my fave happy apple green. This will help to create a balanced and harmonious look.
Don't be afraid to mix and match textures and patterns! For instance, you can pair a green suede dress with sleek green patent leather pumps, a silky slip dress with strappy suede sandals, or a wool green skirt suit with green snakeskin heels. This will create a fashion-forward sense of style.
In the event you'd like to take your "greens" to the next level – say, in dress or outfit form – check out ShoeTease's guide to the best color shoes to wear with green, here!
Purse Styling Tip: consider a complementary color such as purple, a warm yellow, or keep things more mellow with a black or white purse.
7. Green Shoes with Multi-Color Prints
As you've seen, green shoes look fantastic with many colors. So why not pair your green shoes outfit with a mix of printed hues?
When wearing green shoes with multi-color outfits, it's important to choose the right shade of green that is harmonious the other colors in your outfit.
For example, if your outfit has a lot of warm tones like yellow and orange, you might opt for a pair of green shoes in a cooler tone like mint green or seafoam.
The easiest way to make your green shoes look good with a multi-color print? Pick a print that incorporates your green shoe shade. Yes, it's that simple! But it's not always necessary.
Like when mixing a leopard print dress with green shoes, or classic black and white polkadots. There is no green in these classic prints, but the combo with a pair of bright green shoes creates a spectacular contrast!
Purse Styling Tip: Matching your purse or bag with another color in your pattern will look fresh and effortless. Or, just match to you shoes.
8. Green Shoes Outfits with Pink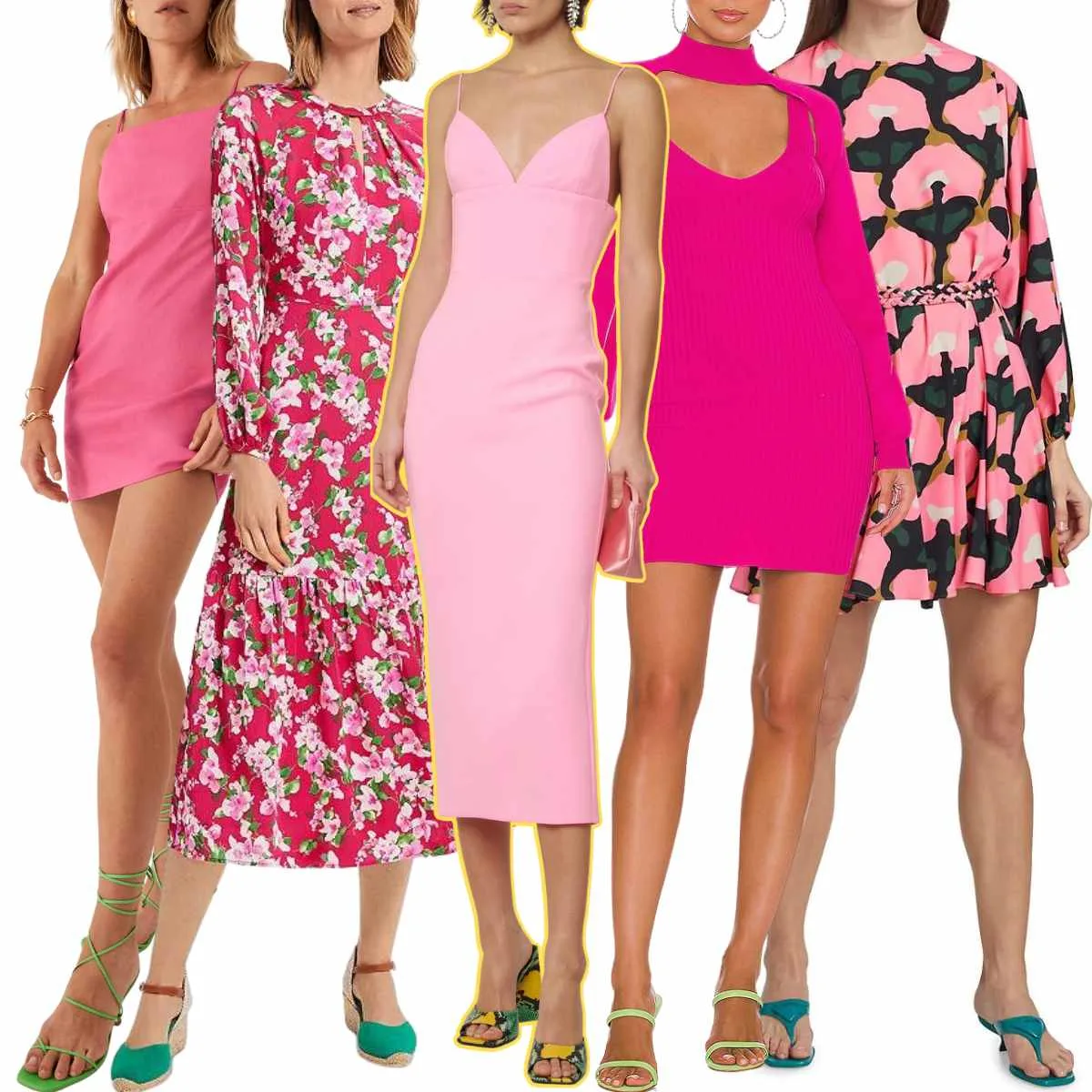 Similarly to purple, pink looks fabulous with green and is near the opposite side of the color wheel. When paired together, pink with green shoes create a striking, yet balanced look. Probably because both colors are just as fun!
Green shoes are also very versatile as they can be paired with various shades of pink. Bold fuchsia look fabulous with bright, dark or light green shoes, while a light pink dress will also suit those shades.
That being said, I do have a penchant for mixing deeper pinks with lighter and brighter green shoes, and pale pinks with darker versions of green.
Purse Styling Tip: go bold with a yellow or turquoise purse, or keep things more neutral – yet still bright – with a white or clear purse.
9. Green Shoes with a Green Outfit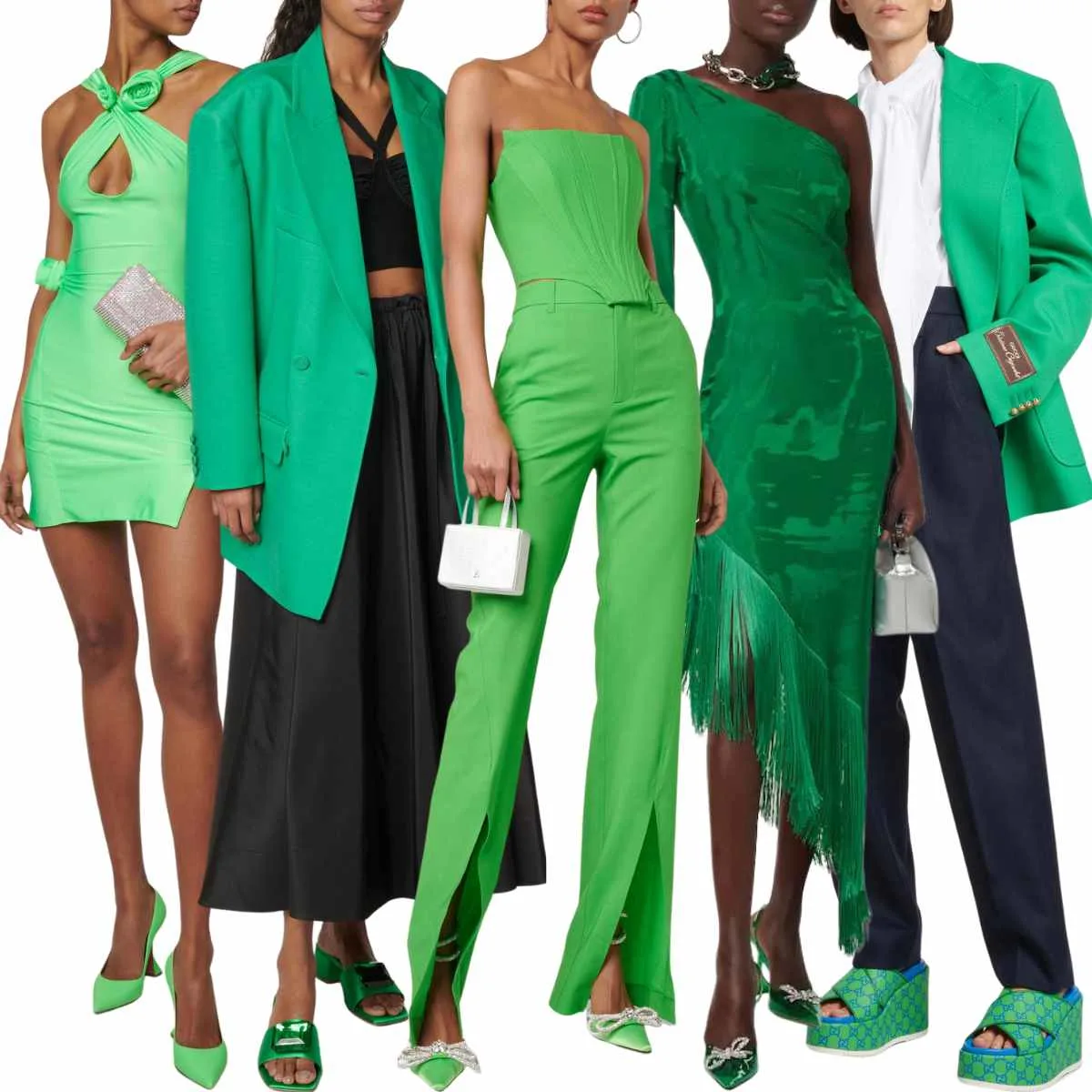 The boldest green shoes outfit you can wear is a total look with the same green. Yep, head to toe the same shade of green! This is a bold statement, and hard to pull off. Let me show you how to wear green shoes with green, below:
If you want to match your green shoes to your clothes and look chic, you best bet is to mix some black or white clothing into the mix. This will break up the green, so you don't look like a leprechaun.
That being said, a formal matchy-matchy outfit can also look chic, when you choose a darker shade of green and add some contrasting accessories into the mix like black or silver.
Of course, a lighter, even neon green can look great for a fun party look or a night out dancing!
Purse Styling Tip: contrast is key! Detach from your all green look with a white or black purse. Or, if your outfit or shoes have any metallic detailing, match your purse with that hue, or go for a colorless clear purse instead.
10. Color Blocking with Green Shoes
Green shoes also pair well with a mix of other colors, including blue, turquoise and yellow. So, don't be afraid to experiment with different color combinations to create a unique and eye-catching look.
And why not mix it up? Like with a pair of green shoes, purple skirt, white tee and light denim jacket. The possibilities are endless!
If you pick an item that pairs well with green, just add a neutral such as black, white or blue denim and you'll have a street-style ready outfit!
If you're feeling more bold, you can add a printed skirt in leopard with a pink jacket, black top, finishing off the look with a hot pink purse.
Trust me, you can have all sorts of fun with green shoes outfits! And you will pull it off as long as you feel comfortable with what you're wearing.
Final Thoughts on Green Shoes Outfits
I hope this post on how to wear green shoe outfits has inspired you to add more green to your wardrobe! Hopefully in the form of shoes 🙂
If you're looking to treat yourself to non-boring green shoes to lift your mood, there are many designers and retailers that carry this on-trend shoe color for the current and next season.
How will you style your outfits with green shoes this year?!
xo ShoeTease