It's sweater dress weather! And a favorite footwear choice for sweater dress styling with this soft, feminine piece? Boots, of course!
Thankfully you can pair a sweater dress with boots and even shoes of all kinds. Perfect for fall and cooler seasons.
Sweater dresses are cozy, stylish and a staple clothing item every woman should have in her closet. And best of all, there are so many knit types, lengths and styles to suit every figure, shape and fashion preference!
There are so many different types of boots – both classic and trendy – in various styles, materials and heights. All that will suit your knitted dress perfectly.
You can dress your outfit up or down depending on which boot type you choose! This is true also for any shoes with sweater dresses you decide to wear.
From a sweater dress with short boots to a sweater dress with tall boots – and every height and style in between – here are the best boots and shoes to wear with sweater dresses for Fall/Winter 2023.
Don't feel like wearing boots? No worries! After all the relevant boot styles, I've listed some of the best shoes to wear with sweater dresses too. Click on the link to skip right to that section!
How to Wear Sweater Dresses with Boots
I'll start with what boot materials and prints look best with sweater dresses, moving on to all the styles of boots that look best.
And I'll end the post with a list of the most fashionable sweater dresses at the moment and how to wear them. Read on for more!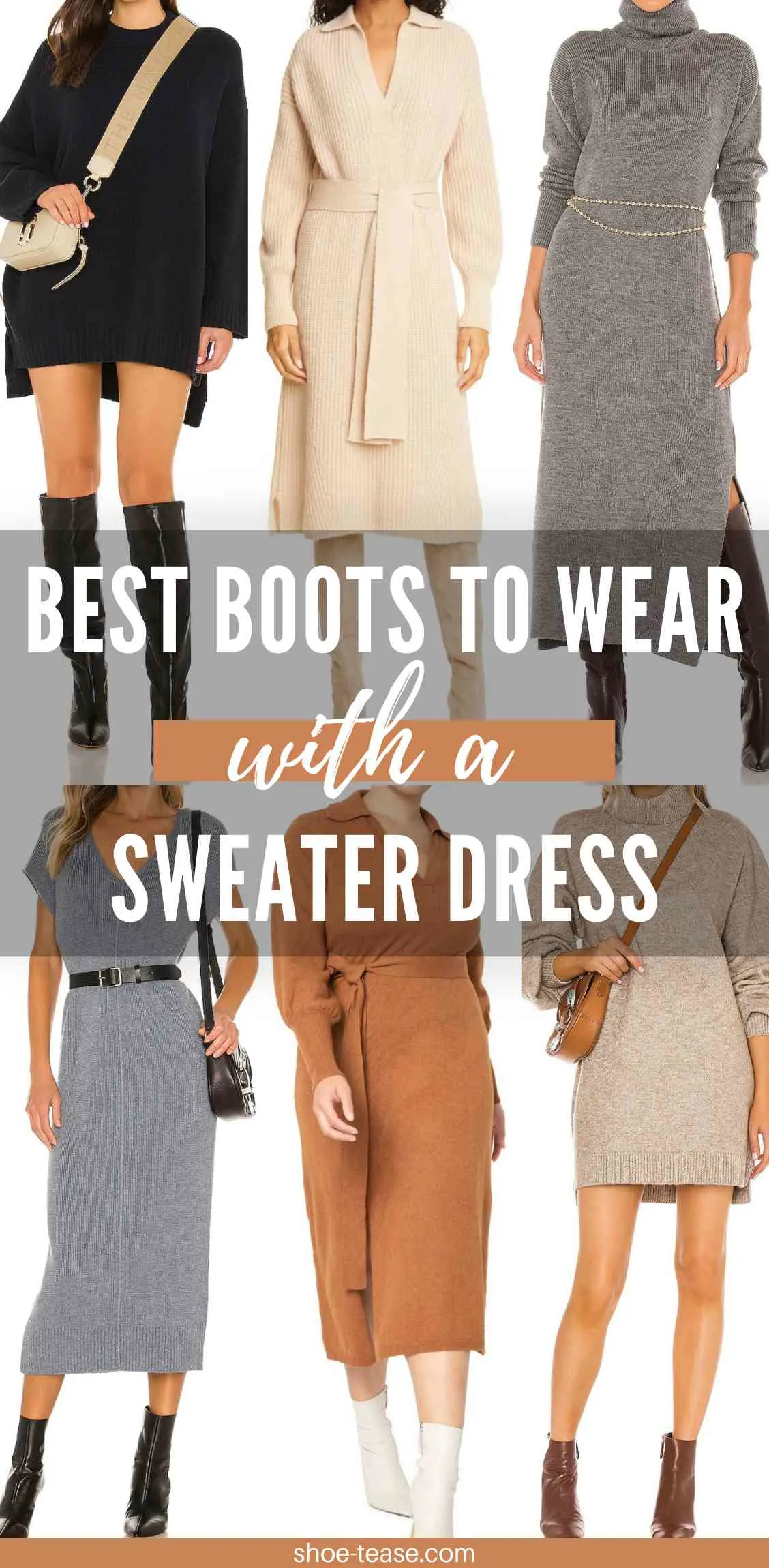 Looking to shop for sweater dresses this season? You'll find a huge selection of sweater dresses at Zappos, Bloomingdale's and Nordstrom for all budgets and tastes.
Looking for designer sweater dresses? Check out Saks Fifth Avenue, Net-A-Porter and the trendiest sassy items at Revolve.
Sweater dresses are usually soft and cosy. But not all! There are many fine knit dresses that work for springtime too.
With a finer, thinner knit dress – such as a slip dress or button-down bodycon style – I prefer a smooth boot material or a fun snake print, if that suits the occasion.
I love a thicker sweater dress with a buttery smooth leather boot to contrast cozy and slick. Try pairing a white boots outfit with a white sweater dress for a white-hot total look!
However, you can also choose to wear your soft sweater dress with boots that are soft as well, such as suede or velvet materials.
Want to have some fashion fun? Opt for a good leopard ankle boot or knee high snake print boot too! Check out my related post to learn more about what to wear with leopard print shoes.
Read about boot color pairings with sweater dress colors:
Style Guide to Wearing a Sweater Dress with Boots
1. Sweater Dresses with Knee High Boots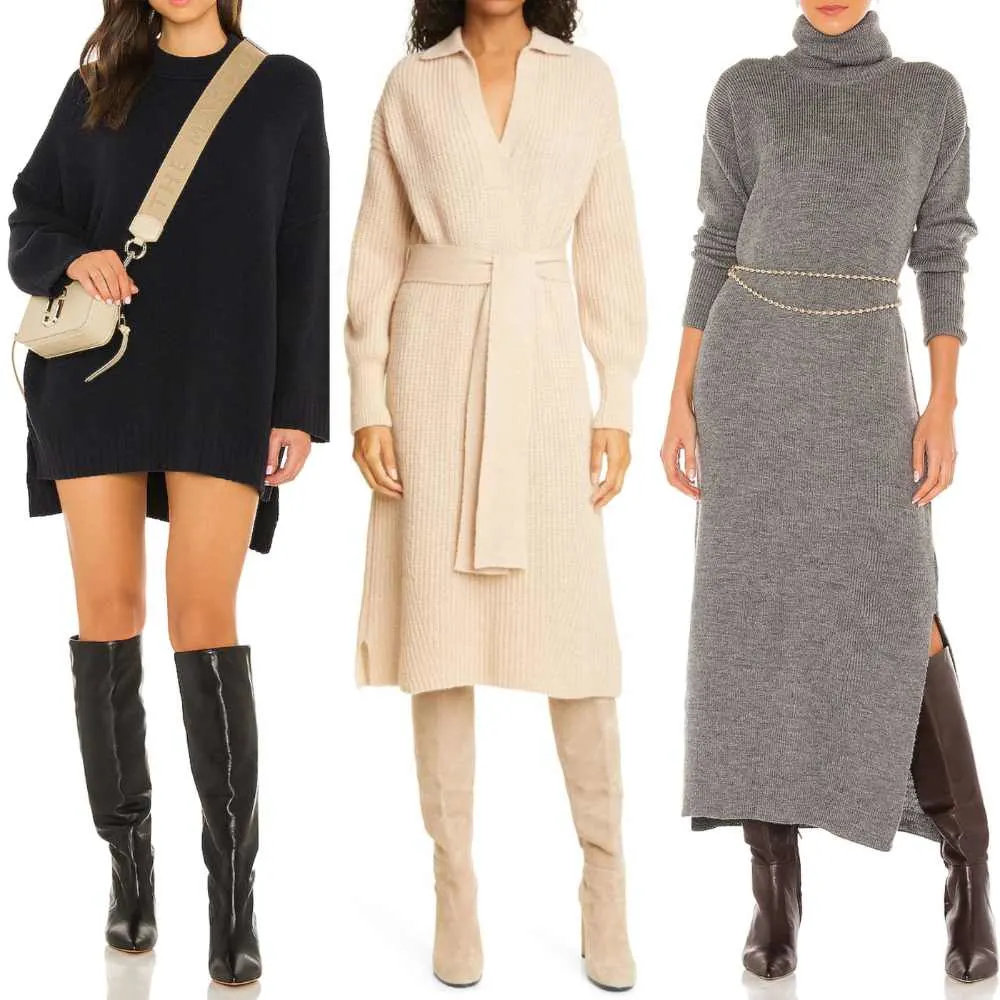 Knee high boots outfits with sweater dresses look fantastic and are one of the top fashionable boot choices for this dress type! However, they can be a bit of a tricky boot to style correctly.
When styling a sweater dress with knee high boots, look for a slick leather pair of structured knee boots to contrast your soft dress.
You can also wear a slouchy pair of suede knee boots if you're going for an all-over cosy feel.
How to Wear a Sweater Dress with Knee High Boots
Knee boots can look great with all types of sweater dresses, from short boxy styles to longer maxi sweater dresses. I love the look of knee boots with sweater dresses that are short enough to allow at least 3/4 inches of leg to show from the top of the boot. That's why I prefer sweaters dresses with knee high boots without hose or leggings – but that's just a personal preference!
If you want to wear knee boots with a maxi length sweater dress, choose one with side or front slit. Or a button down version. That way, you can unbutton the bottom 2-3 to create a slit and let the top of your knee boots peek out. Read my post about shoes to wear with maxi dresses for more info!
Make sure the dress isn't too thin or skin tight and the boots too boxy or wide, as the boots will form a bulk underneath. I suggest that with longer dresses, you pick tighter fitting boots.
Midi sweater dresses can look awkward with knee boots if the top of the boot meets right at the bottom of the dress. If this is the case, opt for a shorter bootie with a midi length dress, or pick a tight high boot that vanishes under the dress, instead.
2. Sweater Dress with Ankle Boots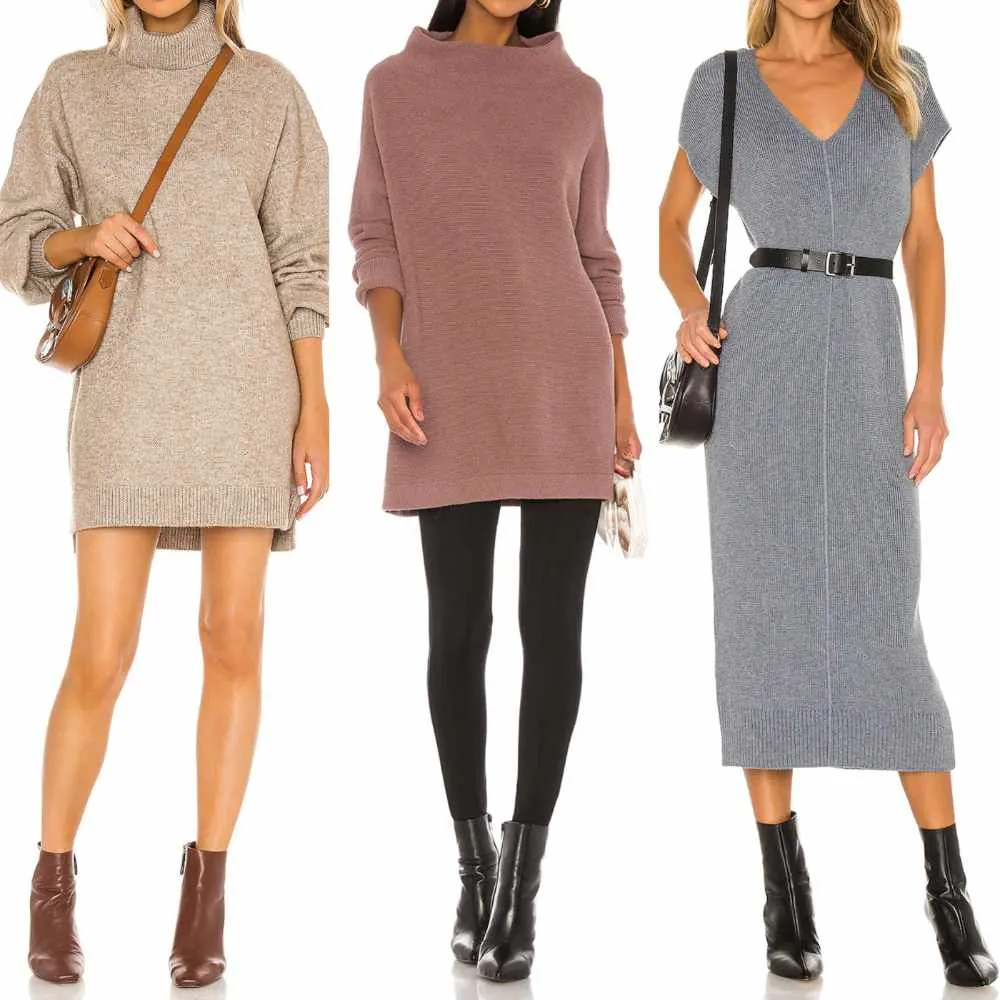 Ankle boots are the fashion darling of all boots! They are the go-to shoes to wear with dresses of all sorts, including sweater dresses!
Classic, stylish ankle boots today have an almond shaped toe, and end right above the ankle. However, squared toe shapes are making a comeback.
Ankle boots can be laced-up, but the most popular ones at the moment have a side zipper. They can also have side elastics as a Chelsea boot.
Ankle boots are so versatile that you can dress them up or down depending on the dress you've chosen and the boot heel shape.
Reach for slick black leather, or patent leather ankle boots with a pointed toe and stiletto heel for a fancy sweater dress pairing. Add an Earth-tone suede bootie with block heel for a more casual sweater dress boot outfit.
You can have fun with animal prints too! Suede leopard print ankle boots or snake print leather ankle boots will make a statement, with or without a heel.
How to Wear a Sweater Dress with Ankle Boots
Ankle boots are great boots to wear with sweater dresses that are mini to midi length. You can tuck in opaque leggings that match your dress or shoe color, or opt for a pair of hose. Or, if cold legs aren't an issue, you can add a pair of socks that peek out 2 or so inches above your boots.
Maxi sweater dresses can also look good with flat ankle boots, where there is enough of a gap between the top of the ankle and hem of the dress, so that the boot doesn't catch onto the edge dress as you walk. That's why short boots are better.
However, you can bypass this long sweater dress and ankle boots styling "rule" of sorts by wearing a wide maxi style or one with a side or front slit.
Ankle Boots We Love:
3. Sweater Dress with Western Boots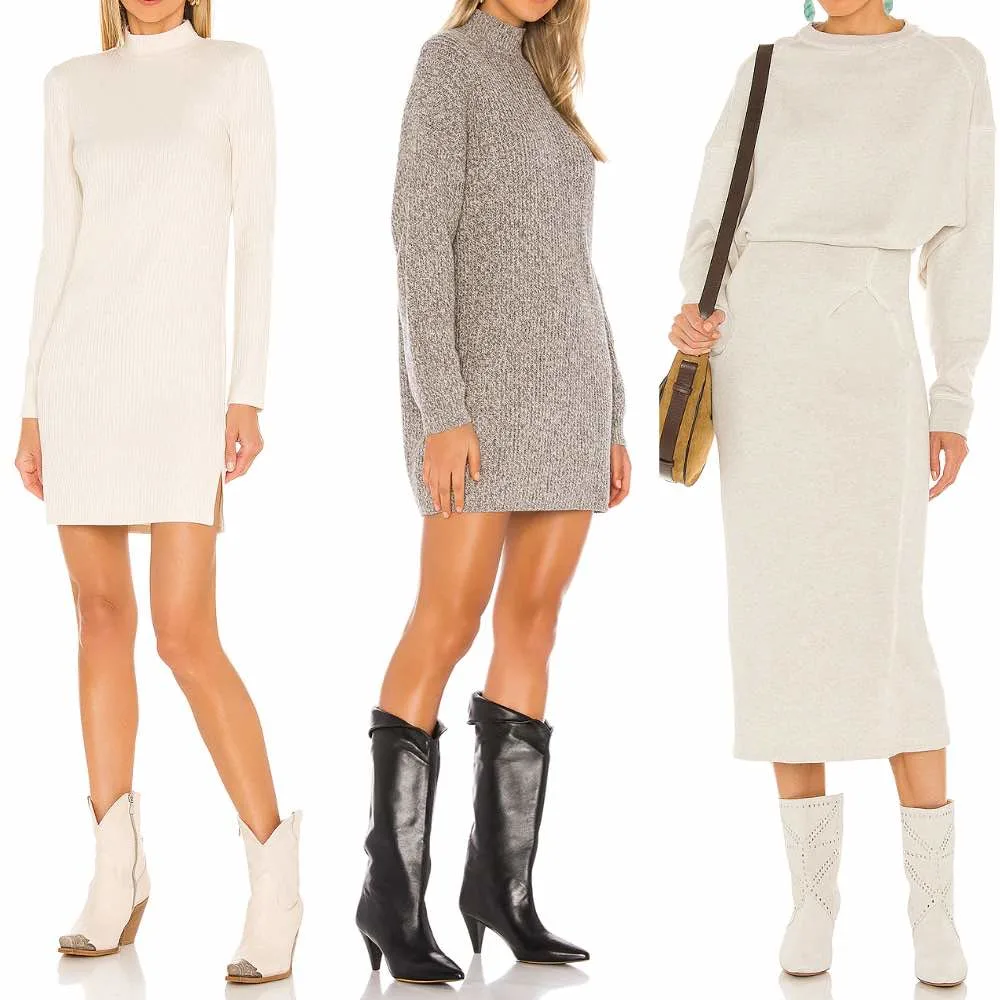 Western ankle or calf height boots are great boots with sweater dresses! They're more casual than their classic counterparts and draw inspiration from cowboy boots.
So you will notice detailing such as a stacked, angled heel with an almond pointed toe.
How to Wear a Sweater Dress with Western Boots
Western-inspired boots look best with short and midi length sweater dresses, so you can really show off the look of the boots. However, longer sweater dresses with a side slit can also give room for movement for your boots to play peek-a-boo from!
Feel free to belt the sweater dress at the waist and add a shoulder bag and dangly earrings to complete the look! Keep your legs bare and legging-free with this style of boots.
Check out my cowboy boot-specific post if you're looking for another type of dress to wear cowboy boots with! Otherwise, have a peek at my post with a slew of other cowboy boots outfit ideas!
4. Sweater Dress with Short Boots
Sometimes called booties, this lace-less, shoe-meets-boot is shorter than your average ankle boot and shows off the ankle, in part or fully. Some current styles have side slits in the shape of a V.
The most fashionable short boots are low heeled or fully flat boots for a casual, laid back yet sophisticated sweater dress outfit. Many current ones have a Western influence as well.
How to Wear a Sweater Dress with Short Boots
Mini sweater dresses, whether more figure-hugging or oversized, look great with this boot. Pairing them with leggings or stockings is a great option too. Low heeled short ankle boots are a great combo with sweater dresses for a more conservative look, even if your dress is shorter.
Midi sweater dresses also work with short boots that have some heel (at least 2-3inches, I'd say) to proportion the look and lengthen your legs. Leggings and socks are optional here.
Short boots and long sweater dresses are also a great fit. Unlike ankle boots, short boots will be low enough to keep a gap between dress and boot, while not catching onto the dress hem when you walk. Do cinch the waist with a belt or chain to give your sweater dress outfit more shape and style.
5. Sweater Dress with Combat Boots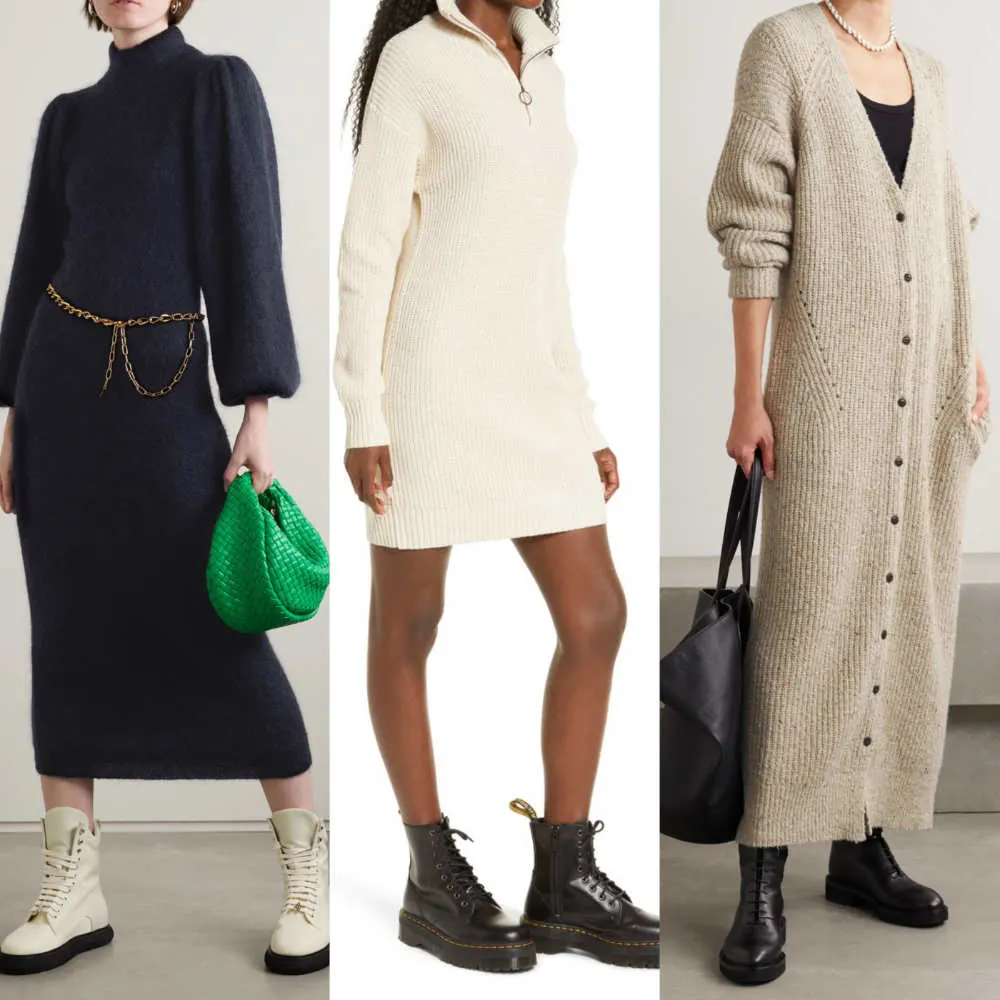 Combat boots – just like sweater dresses – never go out of style, but some designs are more popular than others at a given time. Right now, the most fashionable lace-up combat styles have a thick, rubber lug sole.
They're a fun spin on the classic low-heeled combat boot. However classic combat boots with sweater dresses are still chic!
You can even find waterproof combat boots to wear in the rain and cold. For more combat boots outfits, check out my new post on how to wear combat boots!
How to Wear a Sweater Dress with Combat Boots
You can wear your combat boot with any type of sweater dress, even a thinner knit midi sweater dress. Both a tight fitting knit and a soft, looser sweater dress give a feminine touch to the strong boot.
As for sweater length dress, keep it shorter (at or above the knee), or go longer with a side slit to show off the boots as you sit or strut!
Pair the look with a trench or wool coat and cute sporty of leather cross body purse.
Combat Boots We Love:
6. Sweater Dress with Sock Boots
Want to elevate your sweater dress with boots outfit? Then pair it with tight ankle boots known as sock boots! Sock booties can be found in a variety of colors and heel types and many stretch materials, including tight knit versions.
Most sock boot styles are just above or at ankle height, but sometimes they can extend to the calf and is one of the few boot styles that can make a sweater dress look fancier, especially if it has a finer heel.
How to Wear a Sweater Dress with Sock Boots
Chunky Heel Sock Booties Styling
Current sock boot favorites come with a tight black pointed or almond-toe shape with a 2-3 inch block heel. These look great with any style sweater dress, even a shorter one.
Keep warm with a pair of thin, but opaque leggings tucked into your sock boots to create a continuous look from toes to sweater dress hem.
Stiletto Heel Sock Boot Styling
A second favorite sock boot style, which will make you look fancier, is a black suede, faux leather or velvet sock boot with a 3-4 inch stiletto heel. You can also opt for a patent sock boot.
Add semi-opaque black tights to make a statement and complete the look with a chain belt and metallic clutch.
7. Chunky Chelsea Boots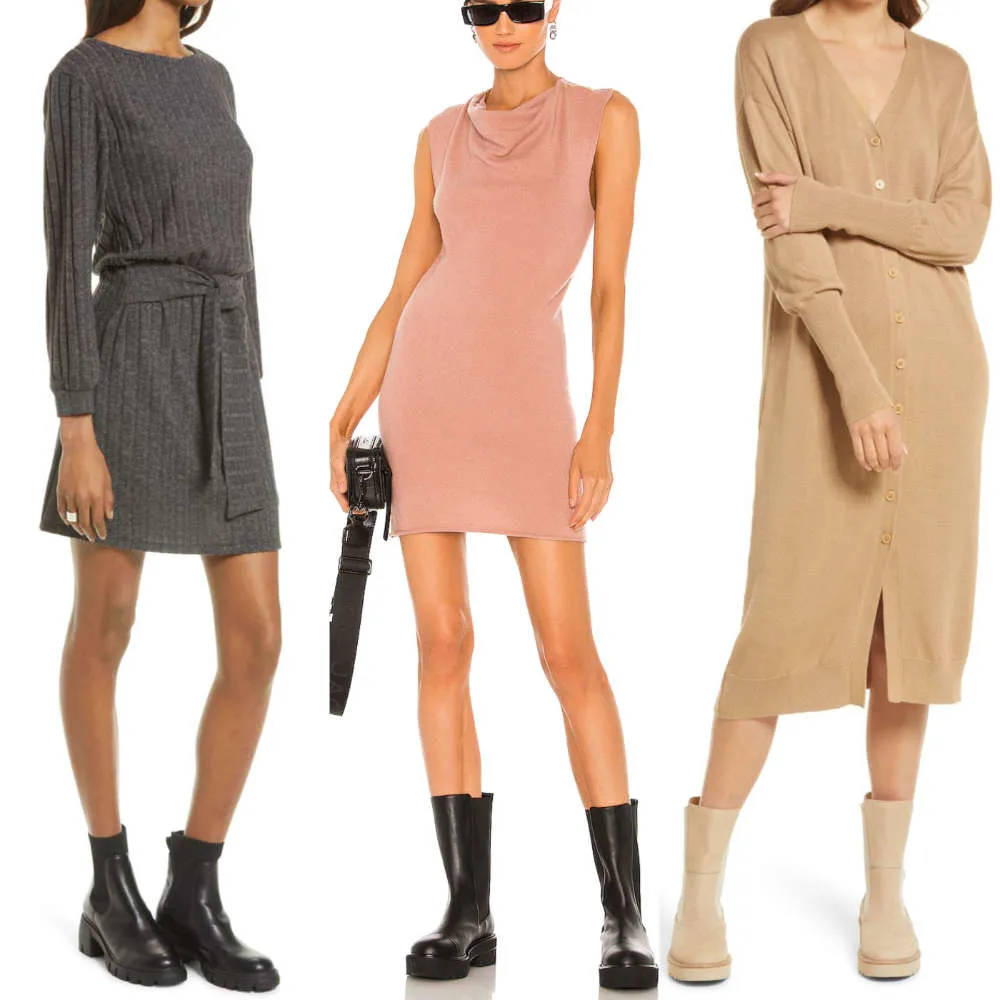 A lot of classic Chelsea boots can be considered classic ankle boots, as covered in the second section of this post.
However, along with their chunky combat boot counterparts, chunky Chelsea boots are coming for your money this season!
Available in a variety of colors shapes and heel heights, this boot is a great option for sweater dresses. Some even have a contrast elastic to pack a bit of a color-blocking punch! Check out more styling tips in my post all about how to wear Chelsea boots.
How to Wear a Sweater Dress with Chunky Chelsea Boots
Styling chunky Chelsea boots with sweater dresses is similar to combat boot styling. So keep things extra casual with an oversized short or mid length sweater dress and Chelsea boots.
Or try on a thinner knit, tight midi-length style with a side slit to contrast the toughness of the boot with the sweater dress.
Chelsea Boots We Love:
8. Sweater Dress with Thigh High Boots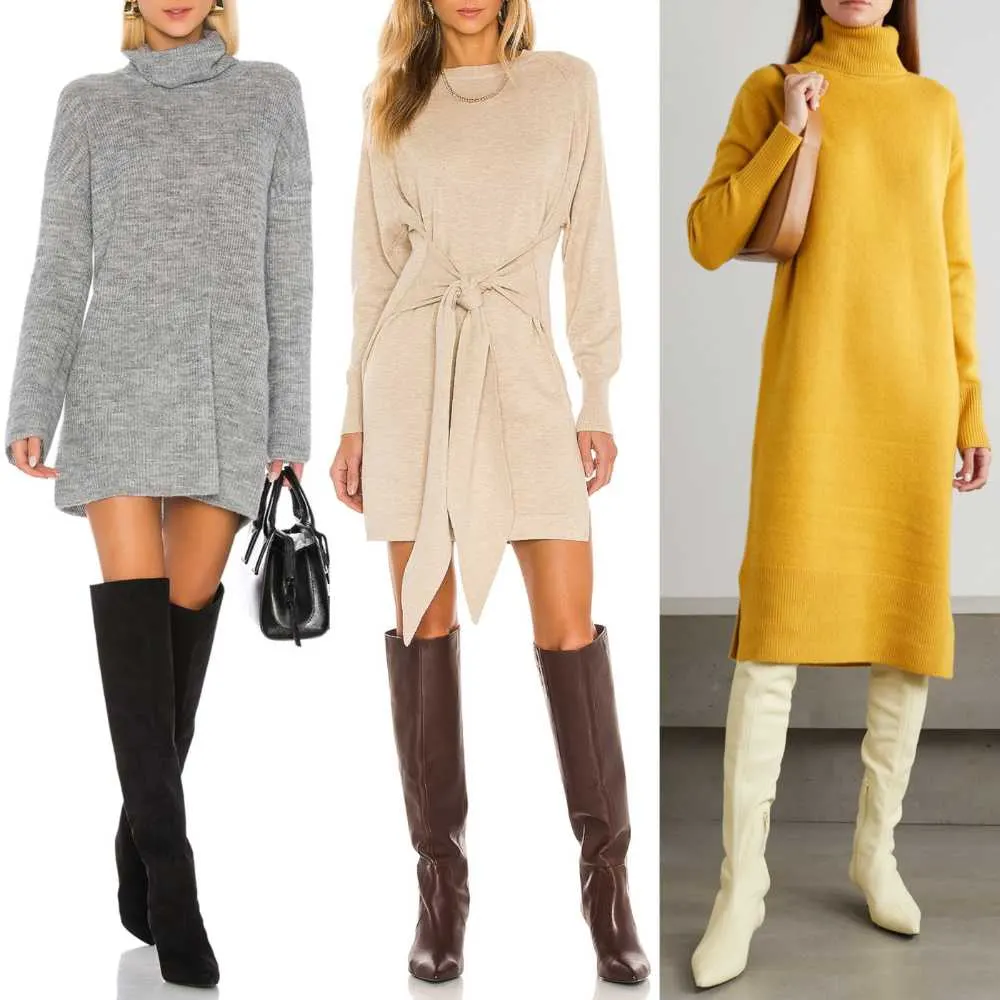 Thigh high (aka over-the-knee-boots) had their big comeback in 2015, but they're still widely worn today. Especially with sweater dresses.
Added bonus is that they'll keep your legs warm during cooler temps!
You can keep things casual with a flat heeled over-the-knee boot style, or block heel. Or, to make things a little more enticing, try a stiletto thigh high boot.
How to Wear a Sweater Dress with Thigh High Boots
Skin-hugging tight thigh high boots will look fab with a loose mini sweater dress or any style midi dress and bottom slit maxi dress. Just make sure the boots are tight enough under your dress, so it doesn't stick out underneath.
I'm not a huge fan of tight, mini knit dresses with thigh high stiletto boots, as the pairing can look a little racy. However, this look can work if you throw on a loose sweater/shaw or choose a more structured, wider pair of thigh high boots.
Learn all about how to wear outfits with thigh high boots, in my dedicated post!
9. Sweater Dress with Minimal Riding Boots
If you're looking for a preppy spin to the knee boot, riding boots with sweater dresses are what you need to reach for!
To keep things more fashionable, opt for riding boots that are slick and modern, like the Kaite Derby boots showcased above.
They are all black, semi-matte and oh-so chic! Well, the price tag is also rather chic, but I've linked a few alternatives for you, below.
How to Wear a Sweater Dress with Riding Boots
When it comes to riding boots, some are knee high and some over-the-knee. Select the right sweater dress according to boot height. You can pop back up to my knee boot or high boot section to get the scoop!
I do suggest a simple ribbed style with riding boots, topped with a loose cardigan or trench. A loose fitting thick knit dress with a side slit can also go well with these boots.
10. Sweater Dress with Winter Boots
Of course, a post about boots with sweater dresses could not be complete without talking about winter boots. As thicker, long knit sweaters are all the rage during the Fall/Winter months, what better way to face the elements, than to pair them with a fun snow boot?
Shorter winter boots generally look chicer, and many ladies will opt for sheepskin styles to keep them warm.
Sherpa detailed boots are still in style and work great with sweater dresses, but so do a lot of other suede and leather boot styles. Many winter boots are lace-ups with puffer detailing which is so cute!
Even sturdier winter boots like duck boots, or Sorel Joan of Arctic can look great paired with the right sweater dress.
All you need is a mid-length cosy sweater dress topped with a long wool coat or puffer! Check out my post on the best Canadian winter boots available. More fashionable winter boots below:
10 More Shoes to Wear with Sweater Dresses
If you're looking for what shoes to wear with sweater dresses, other than boots, this section is for you! Yes, boots with sweater dresses make for a great combination, but not only boots go well with these cozy dresses!
Below are some of my fave non-boot shoes for sweater dresses:
Classic Loafers & Loafer Mules
Loafers mules, thanks to Gucci, have a been extremely fashionable for a few seasons now. From simple black leather loafer mules, to ones with chains and metallic detailing – even furry lined ones – the choices are seemingly endless!
Wear classic loafers, platform loafers, or loafer mules with any type of sweater dress: from mini to maxi. Belt a more fitted mid-length sweater dress with loafers for a comfy office look.
Take a peek at how to wear loafers in my loafers styling post!
Pumps
Pumps are a go-to shoe that every woman should own! And pumps are great heels to wear with sweater dresses. Stiletto pumps will dress up a thinner knit midi length sweater dresses.
A kitten heeled or a chunky heeled pump will work well for a mini or knee length sweater dress. A suede or leather pump will work well for Fall and you can opt in or out of an ankle strap.
Strappy Sandals
Want to wear unexpected shoes with a sweater dress? Opt for a strappy high heeled sandal to show off some cozy chic style – AND a cute pedicure! Choose a shorter sweater dress to show off a higher sandal leg strap.
This look is best for fall or transitional months, but make sure you don't need to walk in puddles or any snow!
Strappy sandals also work well with a thinner knit midi or full more body hugging long dress – preferably with a front or side slit – for all seasons.
You can even make a sweater dress and strappy sandal outfit work for a glam evening if you chose a sparkly knit dress!
Clogs
If comfort with comfort is what you're looking for, clogs are great shoes to wear with sweater dresses – from snugger maxi length sweater dresses to loose knee length ones.
Great option for when you're running some errands or grabbing a casual coffee with friends.
Oxfords
For a polished office look, you can wear your sweater dress with classic oxfords or brogues. Chunky heeled ones are fashionable at the moment and will give your sweater outfit an edge.
Add sheer tights for some contrast to your thicker knit dress. Top your look with a peacoat or trench and leather cross-body bag.
Slides
Another option for open-toed shoes with sweater dresses is slides. Perfect for your mid-weight or lighter knit dress.
You can choose a chunky heeled slide or flat leather pair for more casual occasions. Puffy slides are popular choices at the moment, as are chunky leather woven ones.
Clear Heels
Clear heels are very trendy right now and that's because these shoes go with everything, including a sweater dress.
Some clear heels have some color to them, but my favorites are ones that are completely transparent with no color, other than some beige or white detailing. These will really elevate your sweater dress or any fun, even holiday, party!
Favorite Clear Heels:
Classic Sneakers
White or neutral colored sneakers with a sweater dress is a great choice! I love to wear my Golden Goose sneakers with sweater dresses for some added chic.
Simple leather or canvas sneakers, like Vans, Nike Air Force and knit sneakers will all work well to complete your casual and cosy sweater dress outfit!
Chunky Sneakers
Want to make a statement with your sneakers? Pair loose fitting knee length sweater dress with fun chunky or dad sneakers.
You can find many white, beige and multi colored options these days. Some are all around chunky, while other just have a thicker outsole.
Add a cross body purse and, leather or oversized denim jacket and off you go! Chunky sneakers are best worn with looser fitting, just over-the-knee to maxi length sweater dresses.
Hi Top Sneakers
For a fun twist to sneaker and sweater dress styling, choose a hi-top sneaker. All classic brands make a version and they'll keep your ankles warm.
Hi-top sneakers are best worn with midi and maxi length sweater dresses. Add a pair of thick knit leggings or opaque tights if your legs tend to get cold!
The Hottest Sweater Dress Styles of 2023
Now that we've delve into the specifics of sweater dress with boots choices, let's talk about types of dresses that are trending right now.
From cosy plush knits to thinner, body-conscious knitted dresses, here are a few favorites for the upcoming season!
---
---
---
---
---
---
Final Thoughts on Boots & Shoes with Sweater Dresses
Do you feel better equipped to know what sweater dress with boots pairing works best? As you can see, there are plenty of boots to wear with dresses!
The most popular boots for sweater dresses are both ankle boots and knee high boots, but there are more to choose from. You really can't fail to style your sweater dress this fall or winter with a classic or fashionable pair of boots.
The common theme of which boots to wear with your sweater dress has to do with the dress style itself, yes, but and even more to do with the dress length. In sum:
Keep a gap between the dress hem and boot top of at least a couple of inches (3+ is ideal).
Or, you can choose to have your footwear hide completely under your sweater dress, but make sure the boots don't add any visible bulk under the dress.
The choice on how to style your sweater dress with boots really depends on where you're wearing your outfit, the look you're going for and the season. My biggest piece of advice is just to have fun with it and do what feels best for you!
And if you're wondering if there are non-boots shoes to wear with sweater dresses, yes there are! Chunky sneakers, pumps and strappy sandals are some greats if you're not needed a winter shoe!
Check out more about shoe to wear with dresses and read my complete guide on the types of women's shoes!
How do you like to wear along with your sweater dresses with boots?
xo ShoeTease