Looking for some advice on what shoes to wear with your shirt dress? Whether you're dressing up or dressing down, shoe-tease.com has got you covered with the best shoes to wear in summer and winter and all seasons in between.
From sandals to pumps, boots to loafers – I've found got the perfect style for any shirt dress. So check out our list of the 15 best shoes to wear with a shirt dress and find your new favorite pairing today.
FYI: Be sure to peek at my other post with tips & tricks on how to style a shirt dress outfit. From styling it for the beach or for a fancy dinner, I got you covered!
RELATED POSTS:
15 Best Shoes to Wear with a Shirt Dress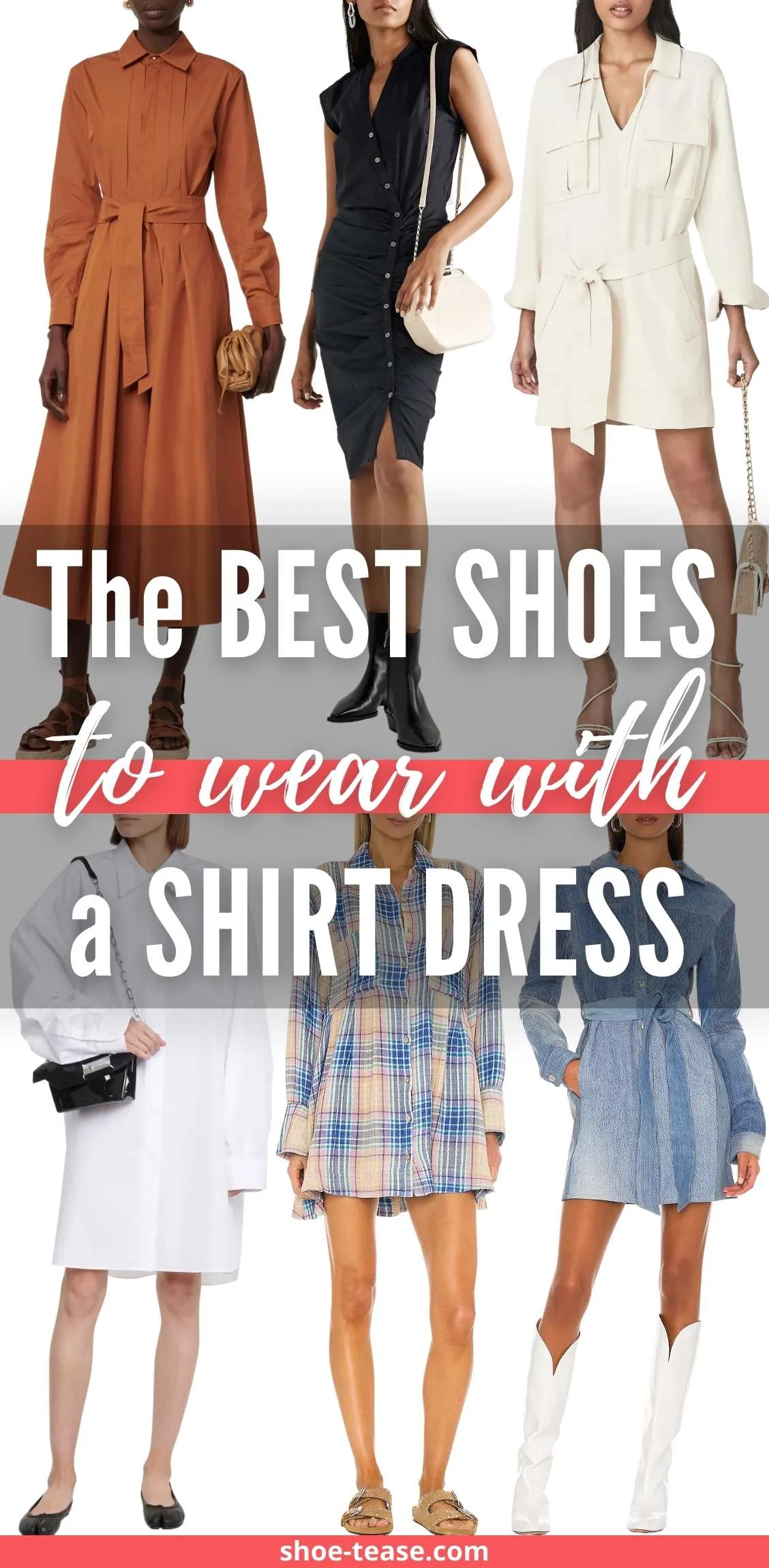 8 Best Shoe Styles for Spring/Summer
Slides with a Shirt Dress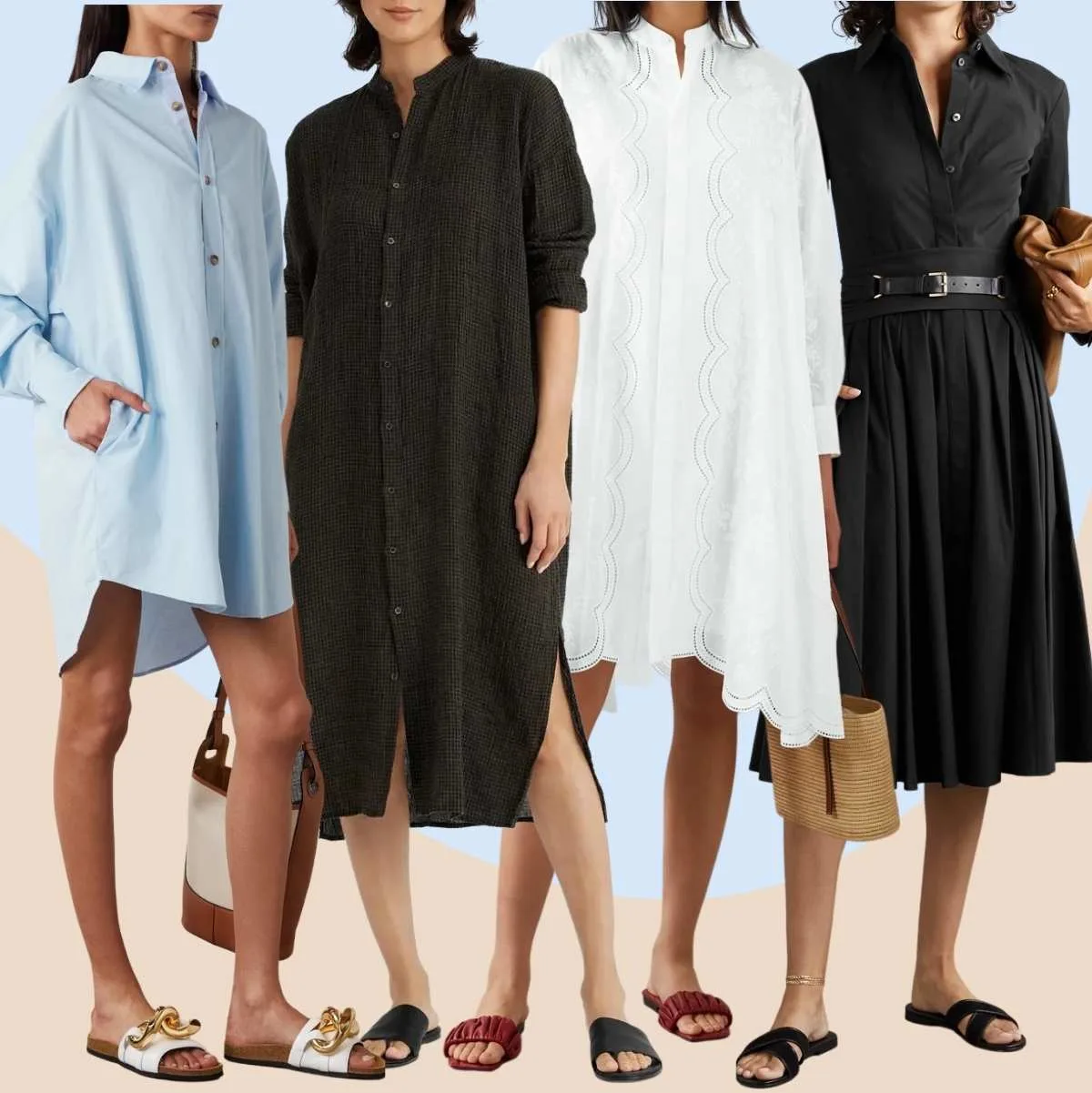 One of summer's sandal favorites are also perfect shoes for a shirt dress. It's hard to go wrong with summer slides. They're the perfect shoe for any occasion, especially when you want your look casual and effortless!
Opt for sporty slides with a flowy long shirt dress and cross body for a casual day look. Any color or printed slide – like a leopard-printed one – will work well.
For a more elevated vibe try wearing sleek slides in neutral or metallics that will work well alongside almost anything from cotton shirt dresses all the way up to elegant tight knit shirt dresses this season.
Wear a neutral or metallic high heeled leather pair with a mini or midi shirt dress for a more elevated look. A clutch or cute handbag will complement your outfit nicely.
Espadrilles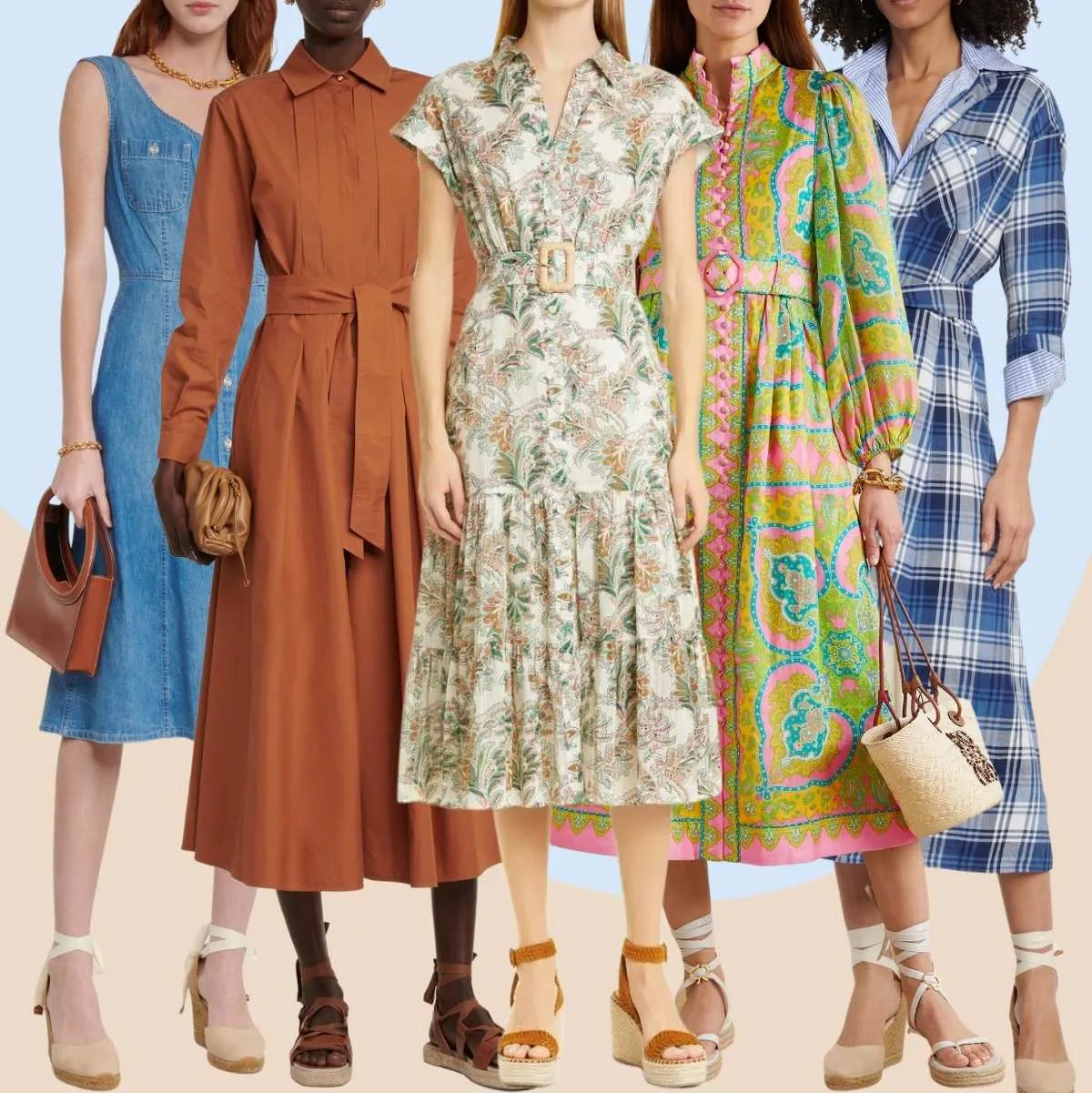 The classic and trendy Espadrille is such a great shoe to wear with shirt dresses this summer!
You can find the perfect style like wedge Espadrilles, flat forms or flats, with many heel heights or lack thereof, in any color of your choosing. Espadrilles will work for any kind of shirt dress you want.
You can create minimalistic summer outfits all way to more whimsical boho looks by adding extras like leather bags, hoop earrings and delicately layered necklaces.
White Sneakers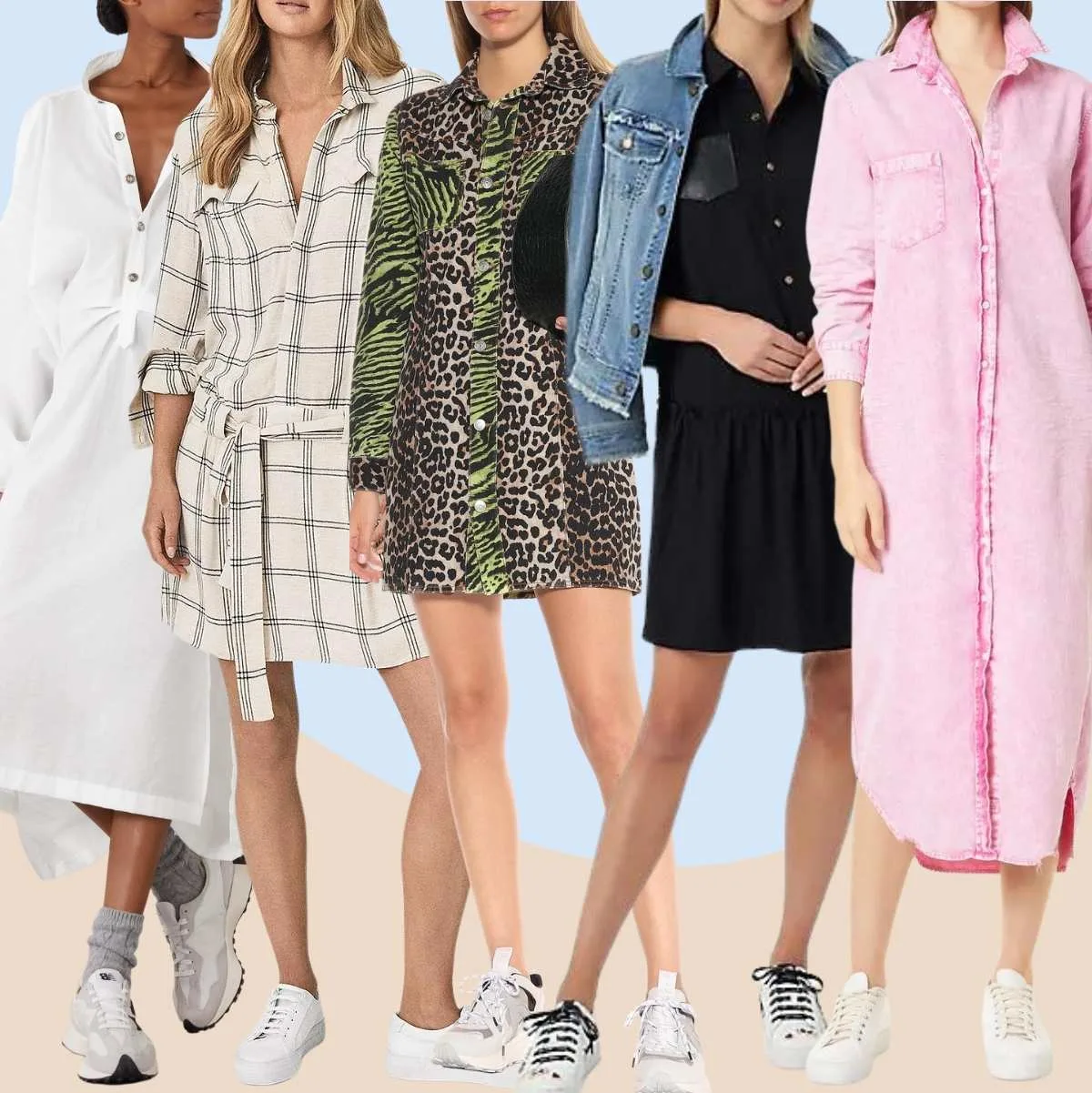 White sneakers are the shoes that go with everything, a shirt dress of any color. Choose a classic style such as a lace-up or slip-on from Vans and Superga.
So you want to look extra stylish with sneakers and a shirt dress? Wear it with a pair of luxe white sneakers and a classic or on-trend shirt dress. Think off bright white or almost white Golden Goose superstar sneakers!
But, if sporty looks are more your thing, you can pair a breezy shirt dress with a chunky or platform white sneaker. Nike Air Force 1s are a fine contender!
To complete your look, reach for a tan leather crossbody purse, a patterned canvas shopper or even a leather backpack if that is more your style. Add a pair of statement hoops or earrings for some fun, or keep things minimal with simple studs.
White sneakers not your thing? Beige, black, metallic, or even a leapard print sneakers will pair well with any neutral shirt dress ensemble. Check out all the cute sneakers to wear with dresses in my dedicated post!
Birkenstocks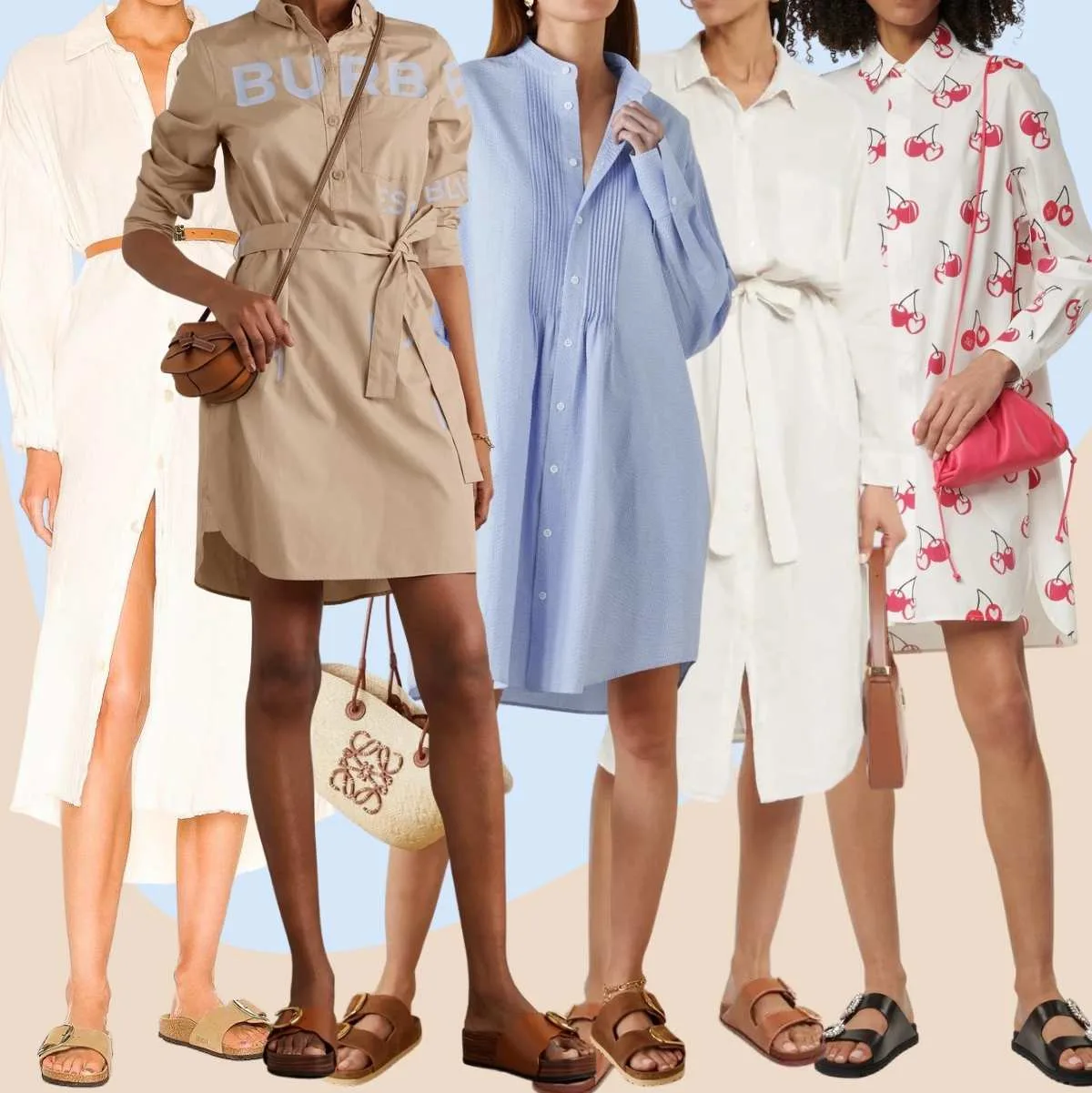 For an ultra-casual look, go style a pair of Earthy sandals such as Birks for a no-nonsense shirt dress and Birkenstock outfit.
You can create a chic pairing with a crisp mini or midi shirt dress and a Big Buckle Birkenstock style like the Madrid or Siena. Add a structured leather purse and slicked back hair with minimal jewelry to complete the look.
For more laid-back looks, reach for a fuller shirt dress in a soft fabric. You can pair any Birk style from the Arizona to the Gizen. A studded or fringe crossbody purse will add boho appeal.
Check out my post all about how to style Birkenstocks for more style pairings.
Strappy Sandals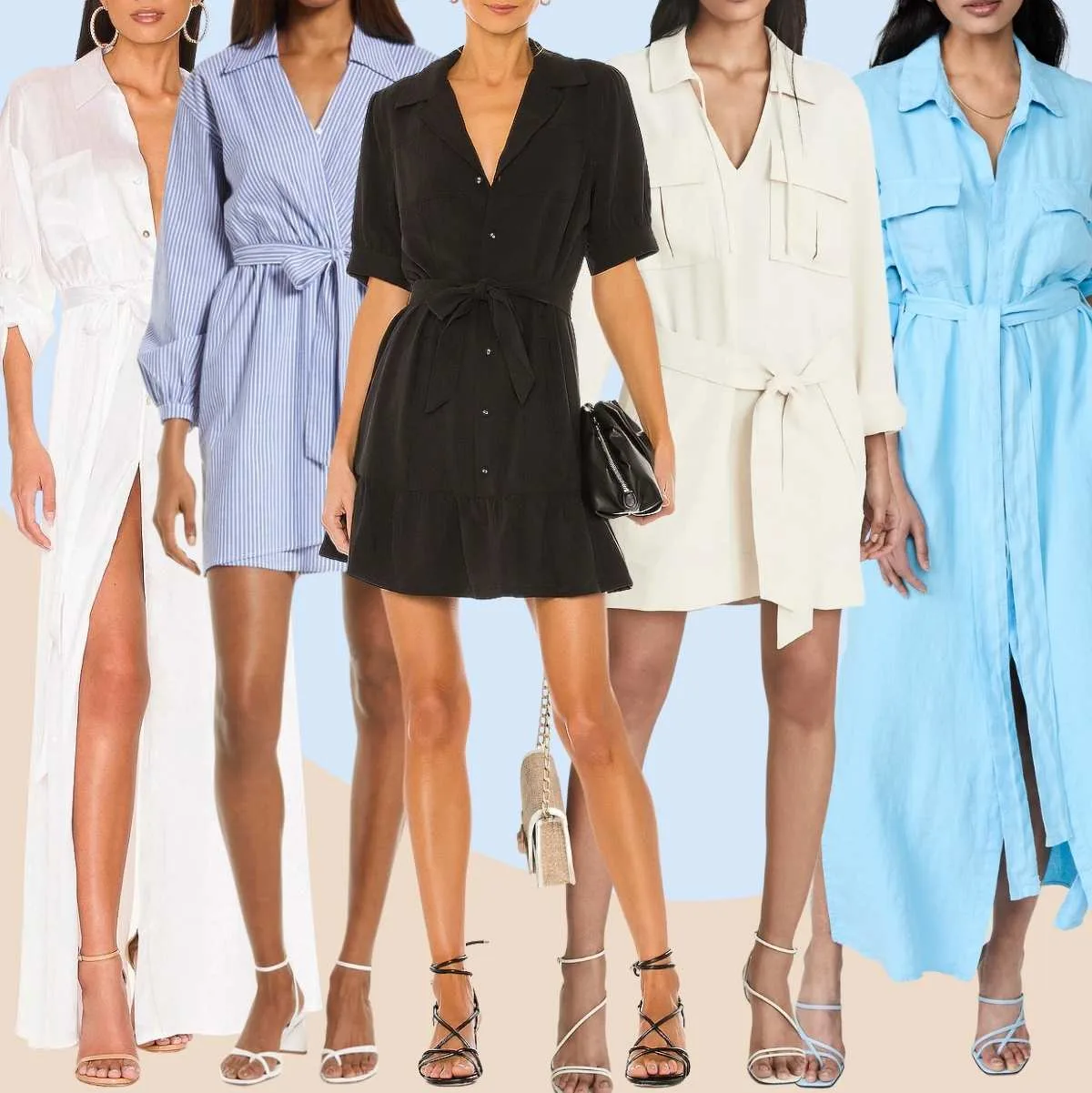 Strappy sandals are a fab addition to your shirt dress. These high heeled strappy sandals come in many forms: from high heels, lower kitten heels, chunky heels or sky-high stiletto heels!
How to wear a fancy shirt dress with heels, you ask? Add a strappy stiletto sandal in a metallic hue and cute clutch and you'll have the perfect shirt dress date look. Belt the waist to show off those curves!
I suggest barely-there stiletto strap sandals to elevate your full-skirted maxi shirt dress for a fancier outing like a cocktail party.
Looking for more casual shirt dress shoe pairing ideas? Choose a black strappy flatform sandal for a fashionable walk.
Cowboy Boots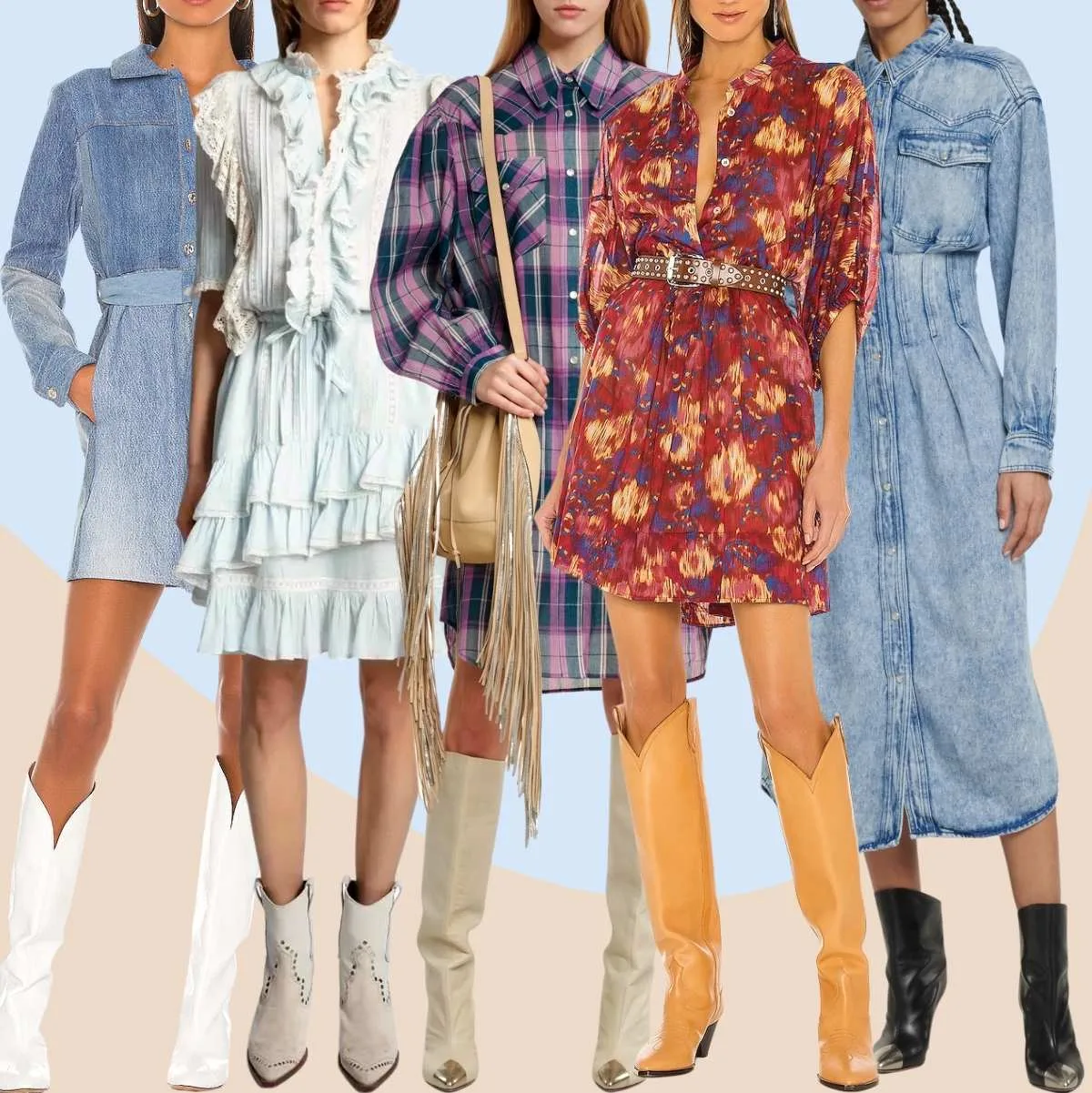 A fun way to pair boots with a shirt dress is with cowboy boots! Great for summer and transitional months and to add a little yee-haw to your vibe.
Rugged and tough, cowboy boots (and western-inspired boots) with a soft boho-style shirt dress of all lengths will look fab. Add a leather shoulder bag or cross body – any studded or fringe details are just an extra!
However, if you want a more contemporary feel, reach for a crisp buttoned-down or wrap shirt dress in black or white. Add a pair of high-shine black, white or black and white western boots to give your look an edge. Complete the look with a slick, structured handbag.
Sporty Sandals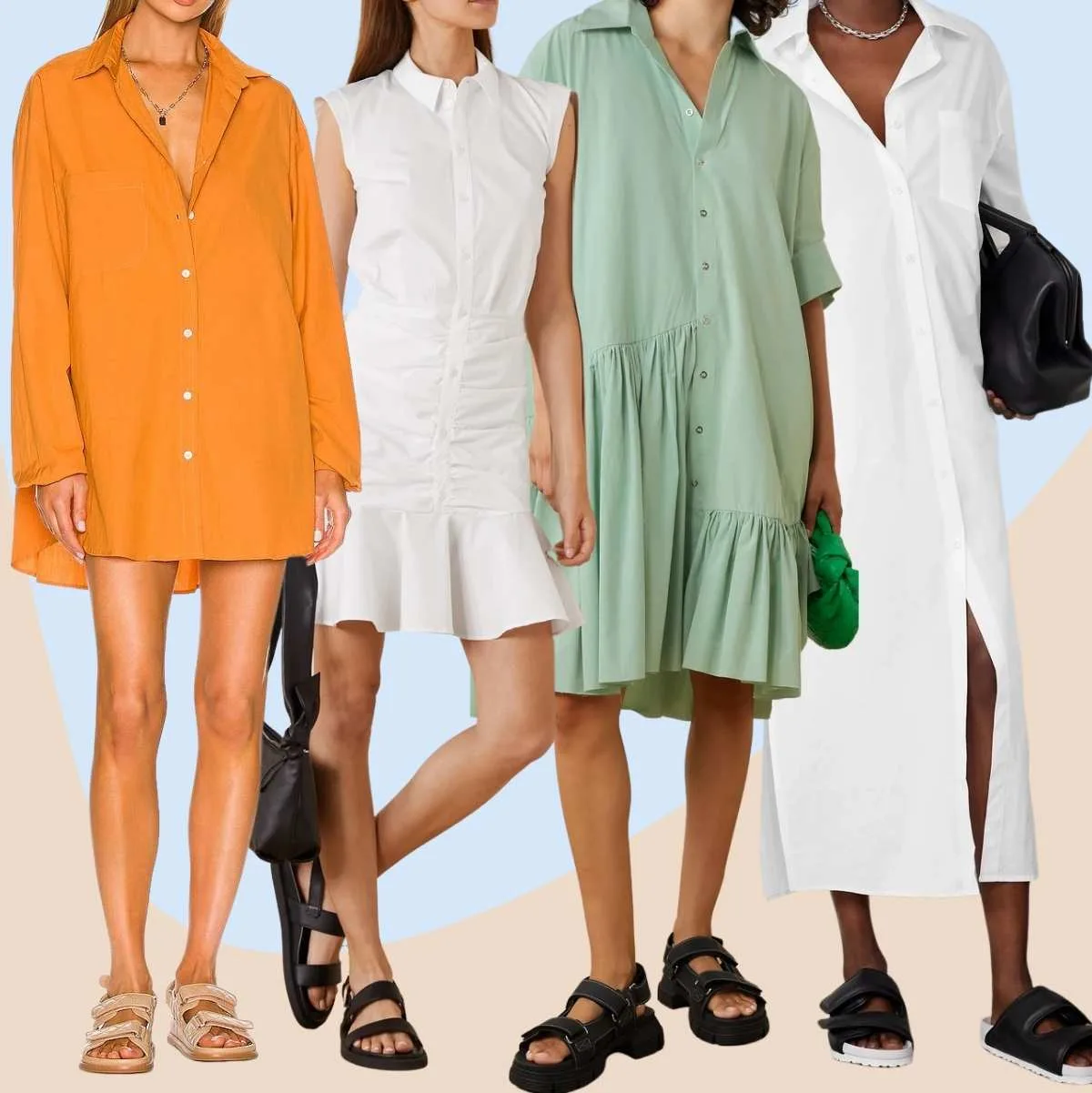 You'll want to wear sporty sandals and slides when you've got places to go in your shirt dress!
So if a more laid back look in your shoes and shirt dress is what you're after, slip into some sporty slides, either classic Adidas Adilettes or Teva sandals. Great shoes to change into from a work commute!
As these will make even the most sophisticated shirt dress look casual, play up the look with a baseball cap and a simple leather shopper.
All-Season Shoes to Wear with a Shirt Dress
Pumps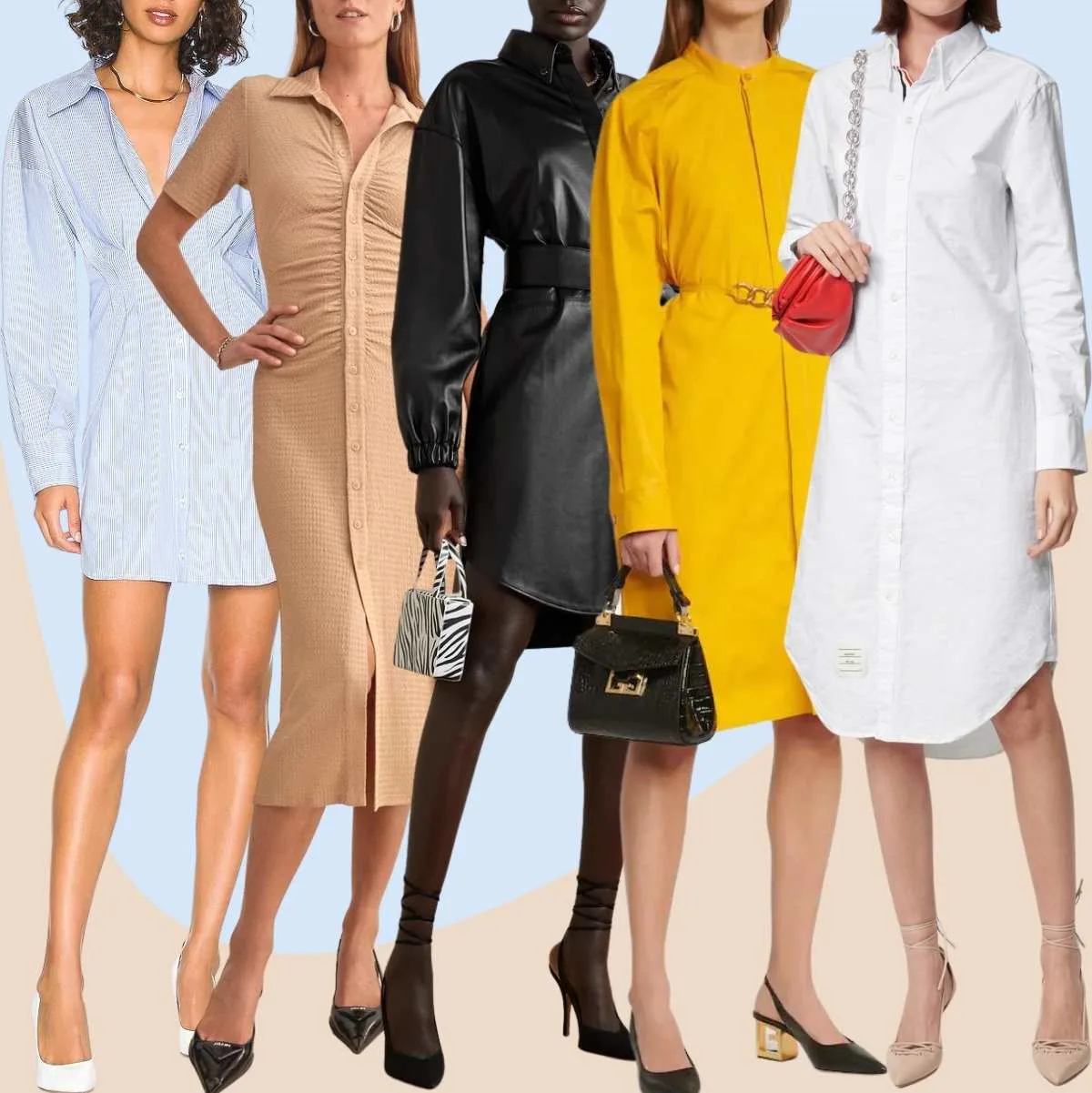 There are various styles of pumps that can be worn with a shirt dress. I like to wear pumps that have a block heel with a structured shirt dress. This gives me a more polished and business-ey casual look.
For a more flirty look, you can pair a flowy midi shirt dress for spring/summer with nude, mesh or pastel stiletto pumps.
Heeled pumps will also work with shorter dresses. But if wearing these together, keep the heels on the lower side, such as with a kitten heel. Complete the dainty look with a small purse or clutch and refined jewelry.
Mules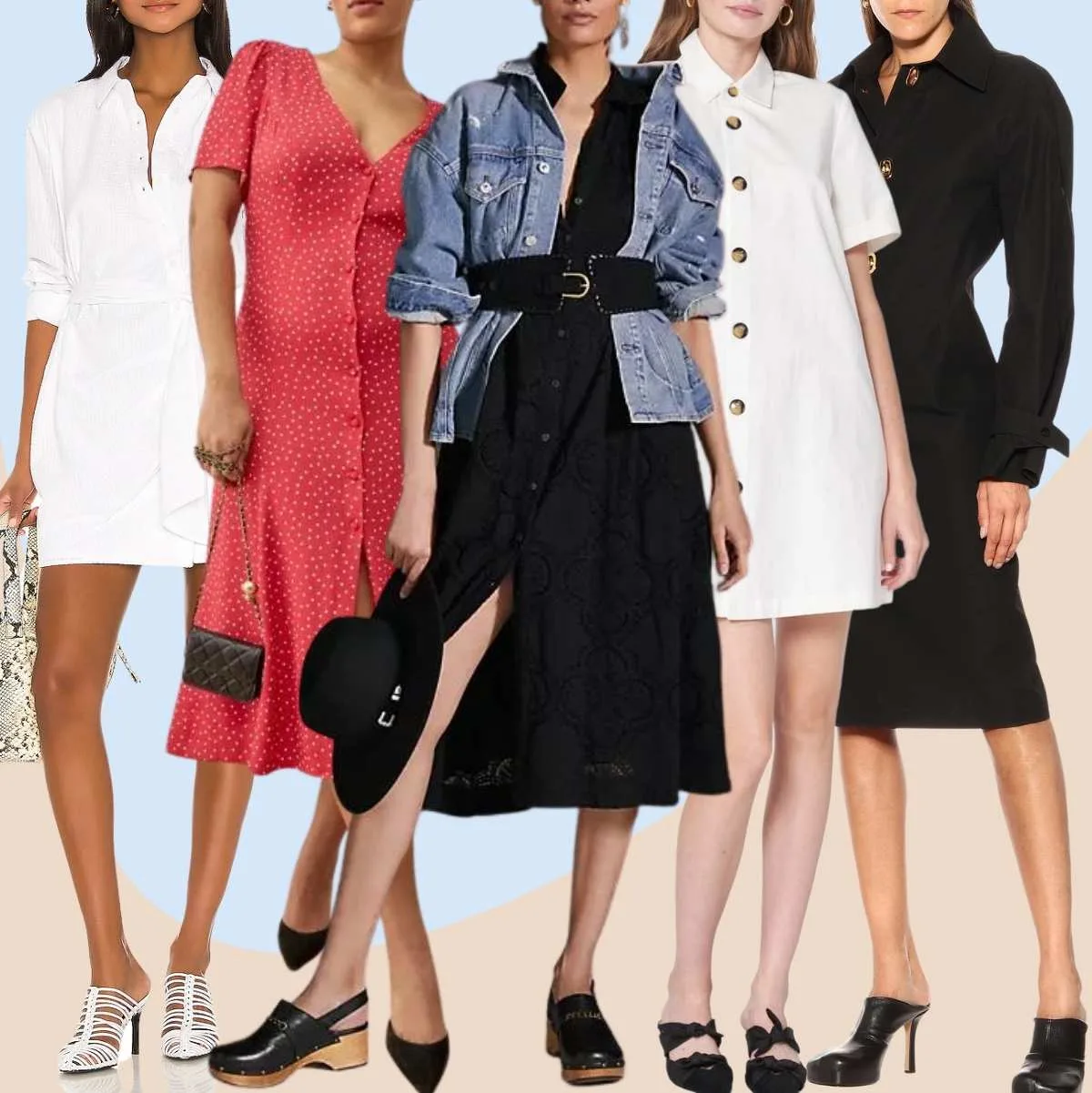 Mules are such an easy shoe to slip-on and off! They come in many forms. You can find mules with flat heels, low heels and various high heel heights. You can shop for them in many neutral colors and prints that go with a shirt dress.
Loafers mules (aka backless loafers) are perfect shoes with a shirt dress if you're looking for an up-to-date smart casual or work look.
Black leather loafer mules are popular thanks to Gucci's Princeton slippers. However, with a blue, navy or grey shirt shirt dress, I'd pick cream, beige or off white suede pairs.
Want to elevate your mules and shirt dress ensemble for an evening date or for after work cocktails? Slide into a high heeled mule, adding a metallic clutch with some minimal gold jewelry to complete your outfit!
Clogs
Clogs and shirt dresses are a perfect match for summer or fall. You can style them to be current or give them a 70s vibe.
You can shop for clog mules and sandals in different styles, such as with a high or low platform. There are so many pretty clogs at the moment, including studded or sherpa-lined ones to keep your feet warm!
To complete the look with any shirt dress style, put your hair in a topknot, grab a shoulder or shopper bag, and you're good to go!
Ballerina Flats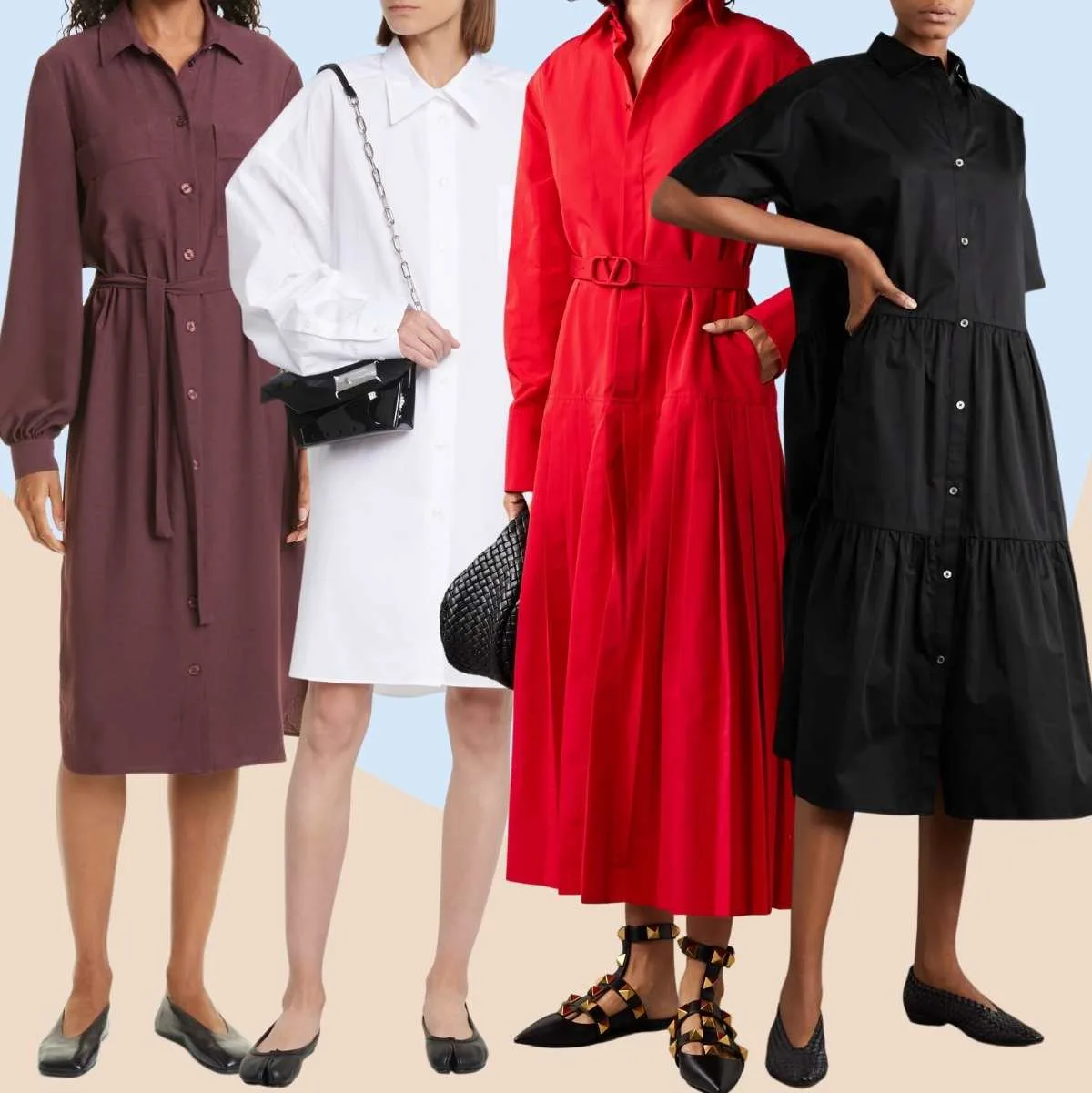 There are so many types of flats to wear with a shirt drss to choose from! Versatile and comfy, these shoes can easily be worn across multiple seasons, events and outfit types.
If you're not comfortable in heels or are extra tall, closed-toe flats can be an effortless solution. Opt for colorful flats for a pop of vibrance. Or if neutral hues are more your taste, pair them with timeless wrap dresses.
In terms of shape, I love a sleek pointed or almond toe. However, the most modern of ballerina flats have a sinuous square toe, which may not be for all. But when it doubt, a classic black or tan Repetto style can never do you wrong when wearing a shirt dress!
I was a lady the other day wearing a sleeveless navy shirt dress with minimal black pointed toe flats, and a perfectly polished pony and the style from head-to-toe was perfection!
Loafers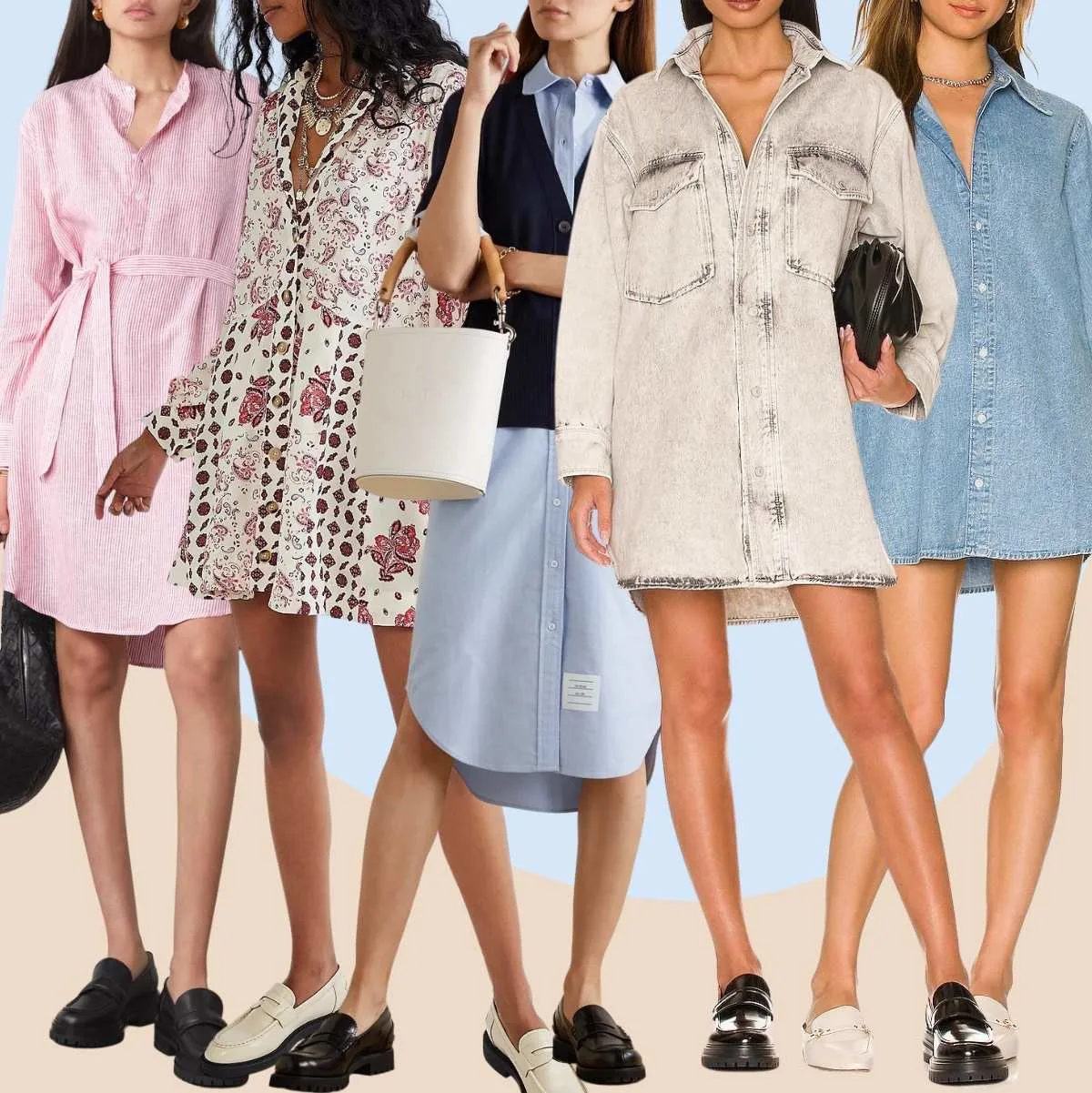 There are many different types of loafers that you can wear with a shirt dress. You can choose between slip-on loafers, classic brown leather penny loafers, lug sole patent loafers, slipper loafers, and high heeled loafers. The only difficulty will be picking a favorite for your shirt dress!
If you want to keep your outfit more conservative, you can choose a structured dress and black loafer. You can also add a cardigan to the outfit.
For a more casual look, try adding a simple leather purse and your minimal loafers with shirt dress. This look is great for going to the office or attending a parent teacher conference.
Want to have more fun with shapes and colors? Add a leopard slipper loafer, a metallic or patent loafer. A thick lug is not only trending these days, but convenient for Fall/Winter months. Prada Spazzolato are all the rage!
You can pair your shirt dress and loafers with socks for a quirky look! See my post all about how to wear loafers for more styling tips.
Best Boots to Wear with a Shirt Dress in Winter
A shirt dress with boots is a solid choice all year round. In fact, many will say that they prefer boots over shoes to wear with shirt dresses!
Shirt dresses with ankle boots and even western inspired ones are perfect all year round. Taller boots such as knee height and over-the-knee boots make great Fall/Winter footwear choices.
Learn about all the boots to wear with shirt dresses in these seasons, below:
Ankle Boots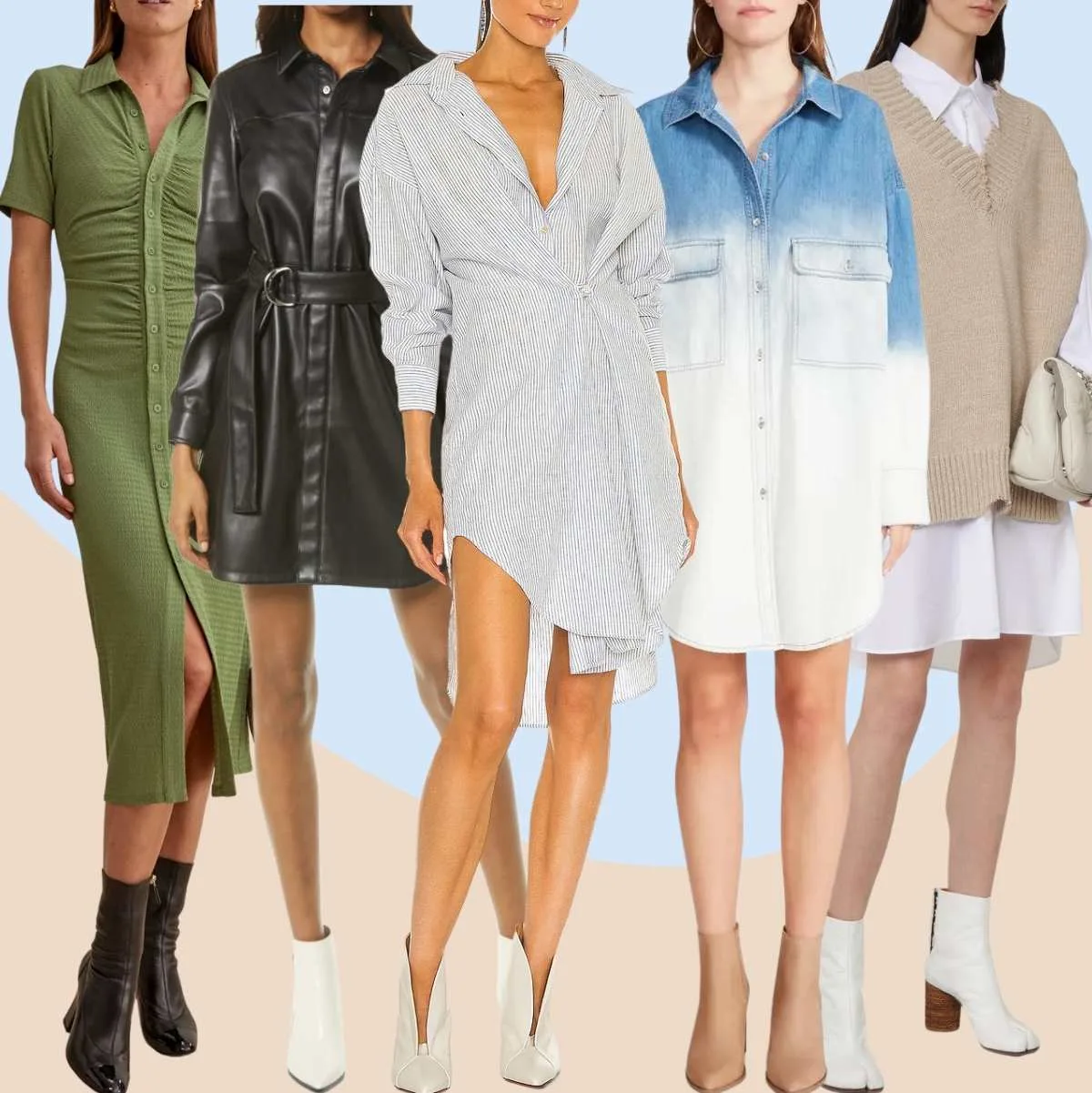 You can't go wrong with ankle boots with a dress, especially a short, maxi or side/front slit maxi shirt dresses! Ankle boots can be dressed up or down, depending on the dress you wear and the heel shape of the boot.
You can choose matte black or patent leather ankle boots with a pointed toe and stiletto heel for a fancier look with a simple black or white shirt dress.
If you want a more casual outfit, reach for an Earth-toned suede bootie with a block heel. These tones look fab with a khaki shirt dress.
You can also have fun with animal prints! Try suede leopard print ankle boots or snake print leather ankle boots to make a statement. Learn all about how to wear ankle boots with dresses in my dedicated post!
Combat Boots & Chelsea Boots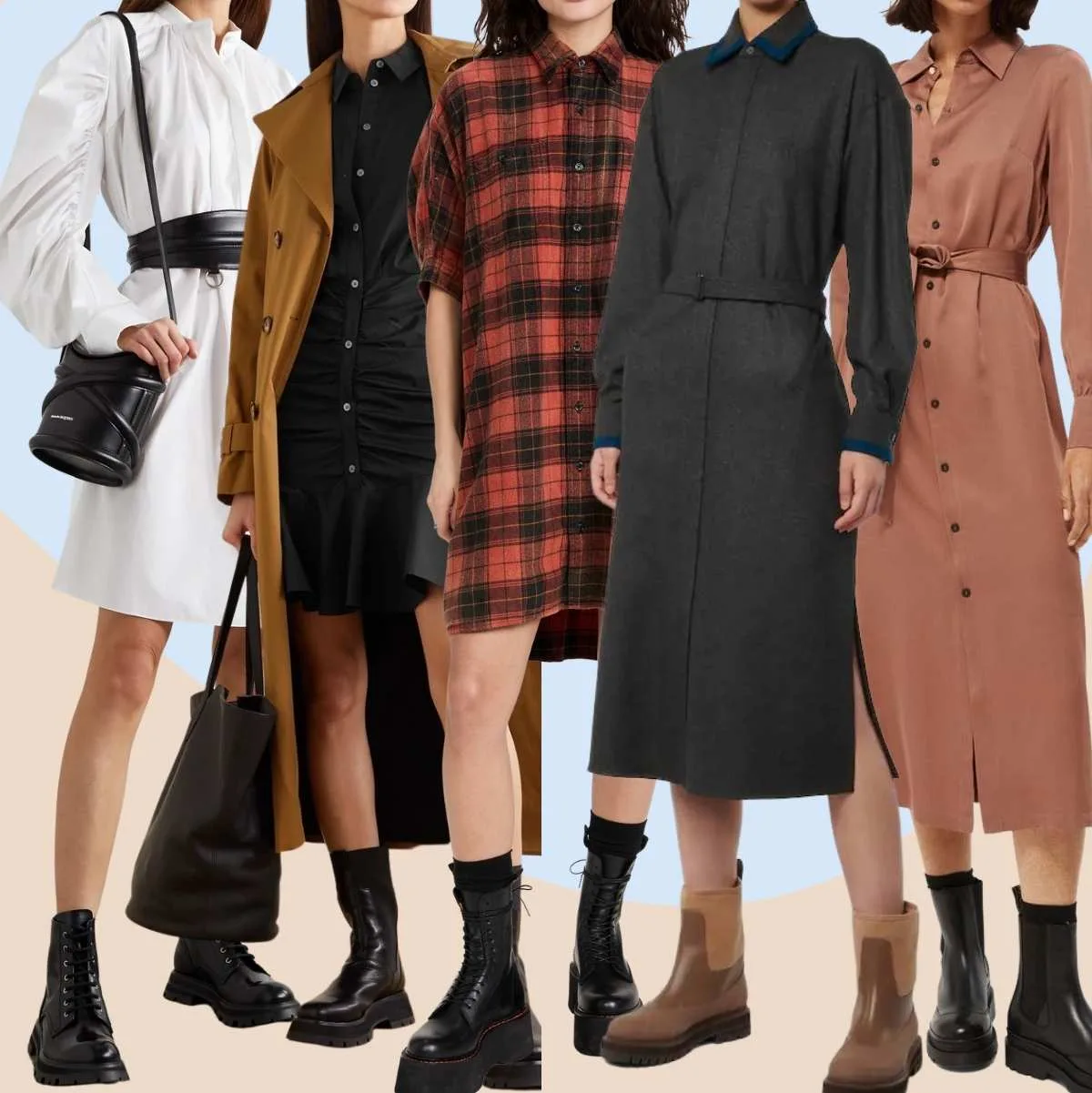 Combat boots with a chunky sole have been a huge trend the last few fall/winter season. Some faves are those from Doc Martens or new styles from Steve Madden. These will give any shirt dress an edgy vibe.
But don't dismiss the classic shapes, such staples styles from Taos or Frye, either! Generally you can't go wrong with a pair of black classic combats.
However, if you want to be extra trendy, try an elevated white combat boot, or opt for a black patent pair.
I love combat boots with anything from a classic shirt dress to a utility shirt dress with lots of pockets for a bad@ass vibe!
But as combat boots are pretty much boots that go with anything, most shirt dresses with play well with them. Read my post all about how to wear combat boots with dresses and countless other types of clothing!
Knee Boots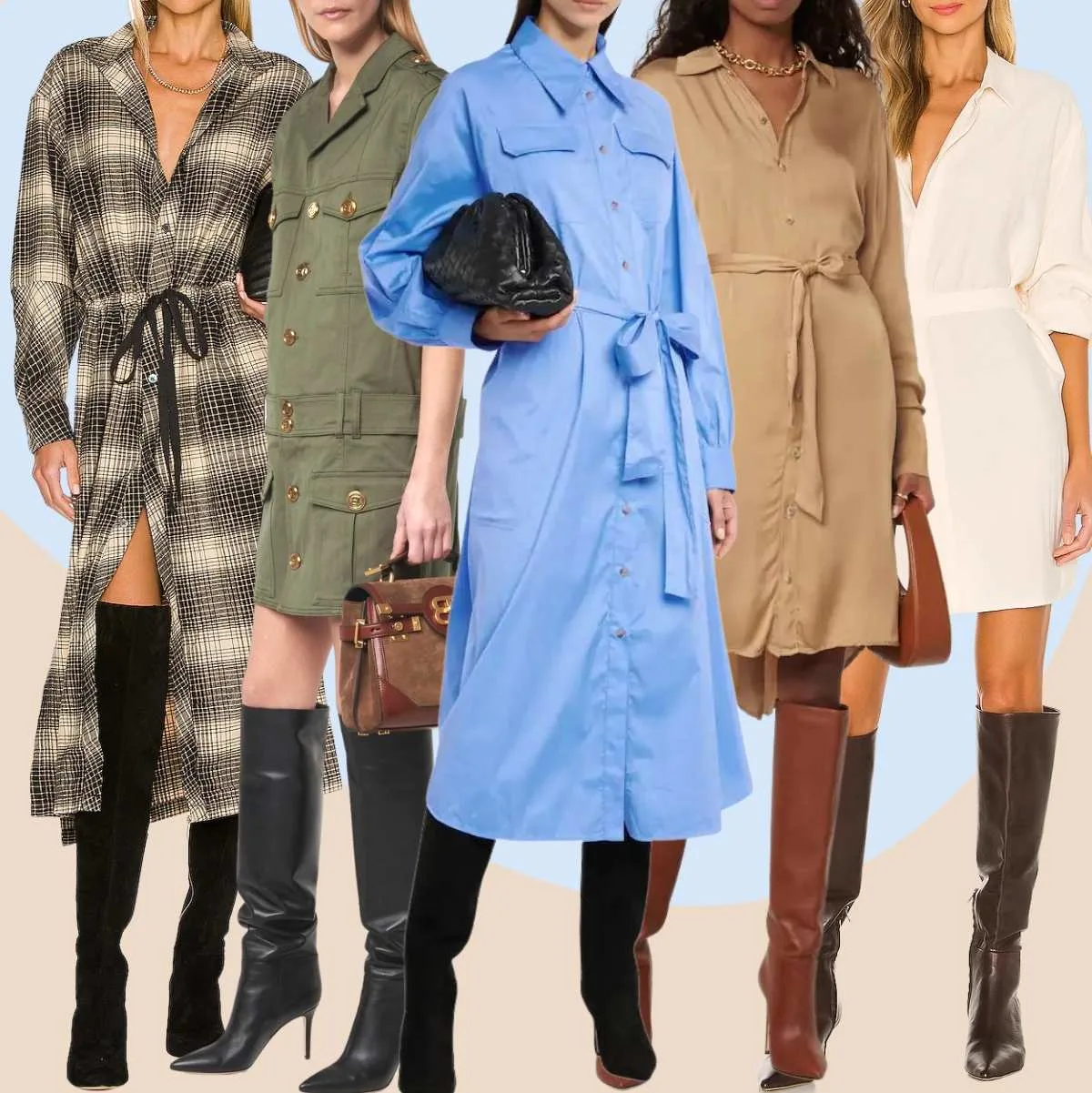 With the right style of shirt dress, over-the-knee boots can look great. I personally love wearing block heeled tan suede tall boots with a mid to long length shirt dress.
Your knee boots can either end inside your dress, or you can pop open a few buttons to have them peek out!
If you're looking to wear a mini or maxi shirt dress with boots that are over-the-knee, keep all other accessories minimal, including any belt, purse or accessories chosen.
Best Color Shoes to Wear with a Shirt Dress
I will be talking about various styles of shirt dresses and shirt dress colors today. Below is a quick guide to selecting colors for certain shirt dress colors, prints and types.
What Shoes to Wear with a Black Shirt Dress: All color shoes work great with black! The only color I'd stay away from (if it doesn't match your skin tone) is a dark espresso brown, and any extremely deep color that could look like an off shade of black. Check out my post on all color shoes to wear with a black dress + shoe types.
Shoe Colors for White Shirt Dresses: all colors look great, including black, neutrals, metallics and bold colors. Be aware that white shoes could give off a bridal look with certain shirt dresses. More info on my post all about which shoes to wear with a white dress.
Shoe Colors for Blue Shirt Dresses: white, beige, blush, pop of color (yellow, pink), gold, silver. And for more in-depth posts on specific color shoes to wear with your shirt dresses, check my posts on the best color shoes to wear with light blue dress and best shoes with navy dresses.
Shoe Colors for Pink Shirt Dresses: Subdued shades of beige, tan, white, as well as pops of green, yellow, gold and blue can look fab. I have separate posts on shoes to wear with blush dresses and what shoes to wear with hot pink dresses if you want more insight!
Shoe Colors for Striped Shirt Dresses: colors depend on the shirt color stripe, but generally contrast colors and neutrals will work. Avoid any prints, which might not be very aesthetic mixed with the stripey shirt dress.
Shoe Colors for Denim Shirt Dresses: as denim is a neutral, all colors work well! The only ones I would avoid are navy, and a blue tone that doesn't properly contrast with the blue of the dress. More insight in my post about shoes to wear with a denim dress!
Final Thoughts on What Shoes to Wear with a Shirt Dress
Whether you're dressing up for a special occasion or just want to feel more put together during the work week, I hope this guide has helped give you some ideas about what shoes to wear with a shirt dress.
For winter, try pairing your dress with boots or tights and heels. In summer, sandals or espadrilles are perfect companions.
And for any time of year, make sure to have a pair of versatile flats like loafers handy! What shoes will you be wearing with your shirt dress?
More Styling Posts:
How to Wear Short Dresses and Boots
Shoes to Wear with a Midi Dress
xo ShoeTease
Cristina is the chief editor, fashion & shoe expert here at ShoeTease. As a seasoned stylist and women's fashion & shoe designer, she boasts over 20 years of experience in the fashion industry. She loves crafting effortless outfits for ladies both online and off and believes that styling advice should be accessible to everyone. Whether you're a styling pro or just starting out, Cristina's here to guide you on your fashion journey! Learn more.