There are many great shoes to wear with leggings, but for Fall/Winter, it's all about leggings with boots!
But between the different types of women's boots and leggings styles, how to wear boots with leggings can be a bit of a doozy.
But don't worry, I'm here to help! Today on shoe-tease.com, I'm going to go through each of the best boots to wear with leggings, how to wear them, along with the top leggings to choose (and avoid!) with each.
Your Guide to Boots with Leggings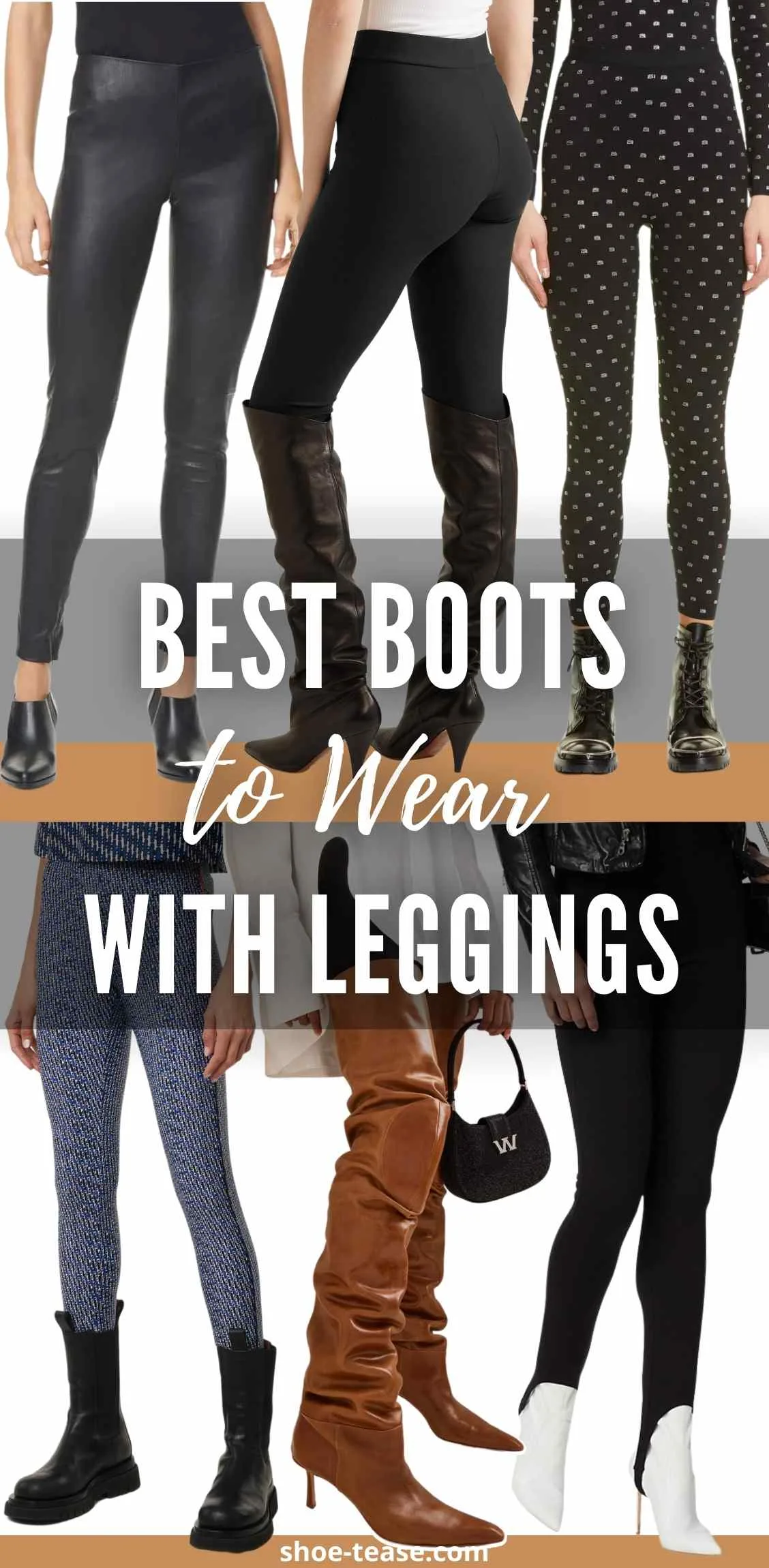 Types of Leggings to Wear with Boots
There are so many legging types! To keep things simple, I'll be focusing on these 8 types of leggings in this post.
Although there are many legging lengths, I'll be focusing this post on ankle, to full-length tight leggings. These are more wearable with boots.
Classic Black Legging: these can be tight from waist to ankle or have a slit at the front to create a flared look. Usually made of cotton+spandex
Leather Leggings: real or faux, these can look opaque and have a semi-sheen or lacquered high-shine "liquid" look. They can be simple or quilting detail
Athletic Leggings: black, colorful, or printed. These are meant for sporty activities and tend to have more seams around the waist, bum, and even pockets.
Suede Leggings: usually a faux suede material, popular in dark browns and tan
Ponte Knit Leggings: thick knit leggings. These are great for work or cooler temps
Thermal leggings: thick leggings used for winter sports, including skiing
Cut-out Leggings: leggings with laser cuts, holes, or lacing
Stirrup Leggings: these full-length leggings have a strap that goes around the bottom of the foot, much like riding pants
How to Style these 9 Boots with Leggings
Leggings with boots are a classic combo. I love pairing them from fall through spring for easy go-to outfits! I choose a thicker or thermal to tuck into boots during the frigid months.
From ankle boots to thigh high boots to combat boots, there are lots of boots to wear with leggings. Below are some of my favorite boot styles with leggings and how to wear them.
1. Classic Ankle Boots with Leggings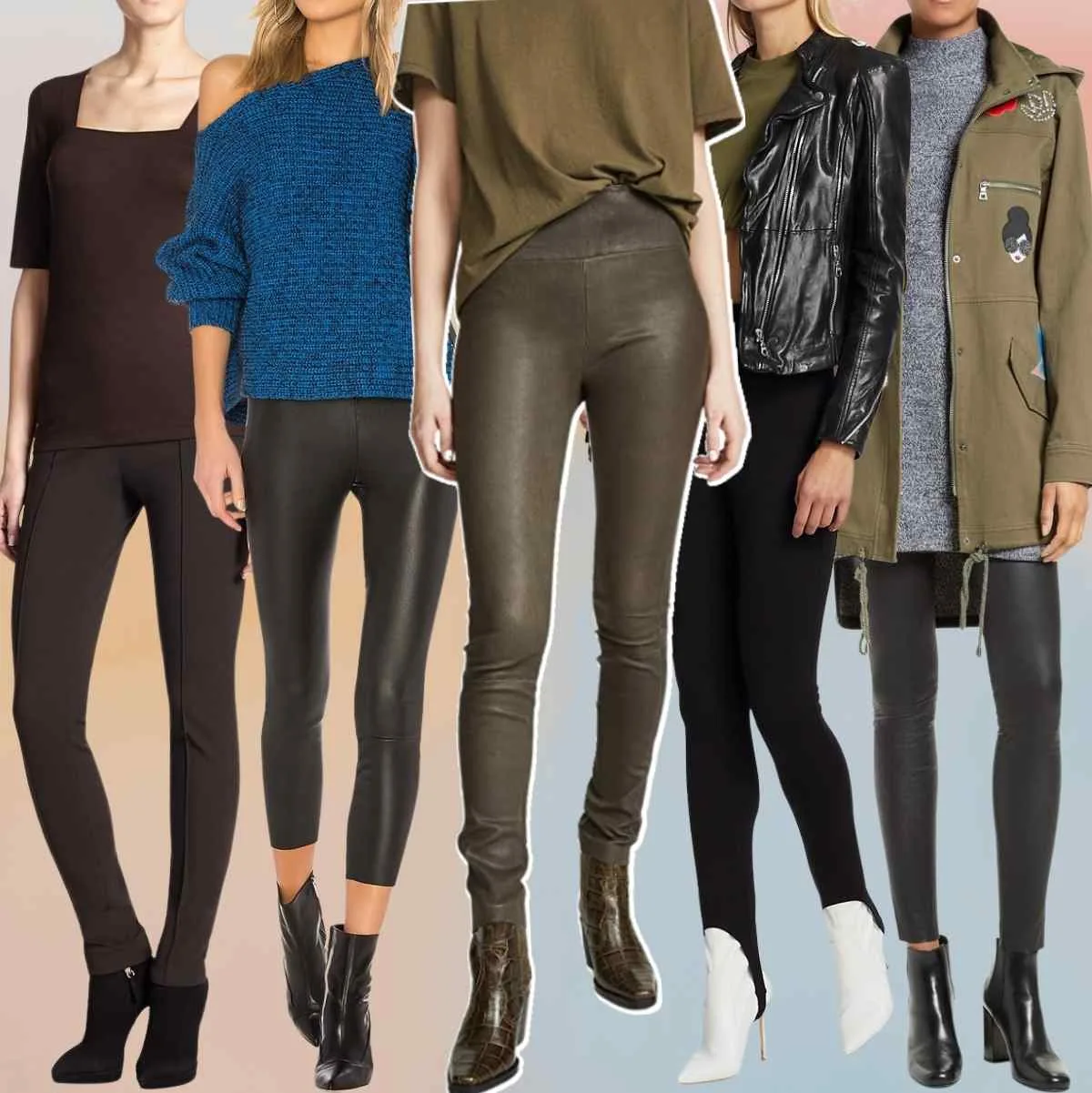 Ankle boots with leggings outfits are a classic pairing. There are so many ankle boots styles to choose from! Which sometimes makes explaining how to wear ankle boots with leggings somewhat confusing.
For instance, you can wear your leggings casually with western-style ankle boots, or add an edgy look with black silver studded booties. And every ankle boot in between!
Leather ankle boots with kitten heels and mid-height block heels are office chic. A heeled stiletto bootie will easily take you from your desk to a chic dinner.
If you pick lace-up booties or slip-on booties, that's your choice! Black and brown classic booties will look great with darker hues, while white or beige booties can go with dark and light colored leggings.
Your low-cut ankle boots will look best with leggings just above the ankle. Show some ankle skin! Or for extra sass, wear stirrup leggings over your booties. Oh, la la! Or, wear a pair of slouchy socks for ankle boots which you can layer over the leggings.
If you have longer leggings, tuck them into your boots. Have your socks peek out above the boot if you want.
Wearing intricate or printed leggings? Go for a simple ankle boot. Opting for fun, busy boots, like an animal print? Choose simple leggings.
Best leggings to wear with ankle boots:
Classic leggings and jeggings
Thermal or Ponte leggings
Suede, leather, and high-shine leggings
Stirrup leggings
Avoid: cropped leggings, athletic leggings
Shop Classic Ankle Boots for Women:
2. Combat Boots with Leggings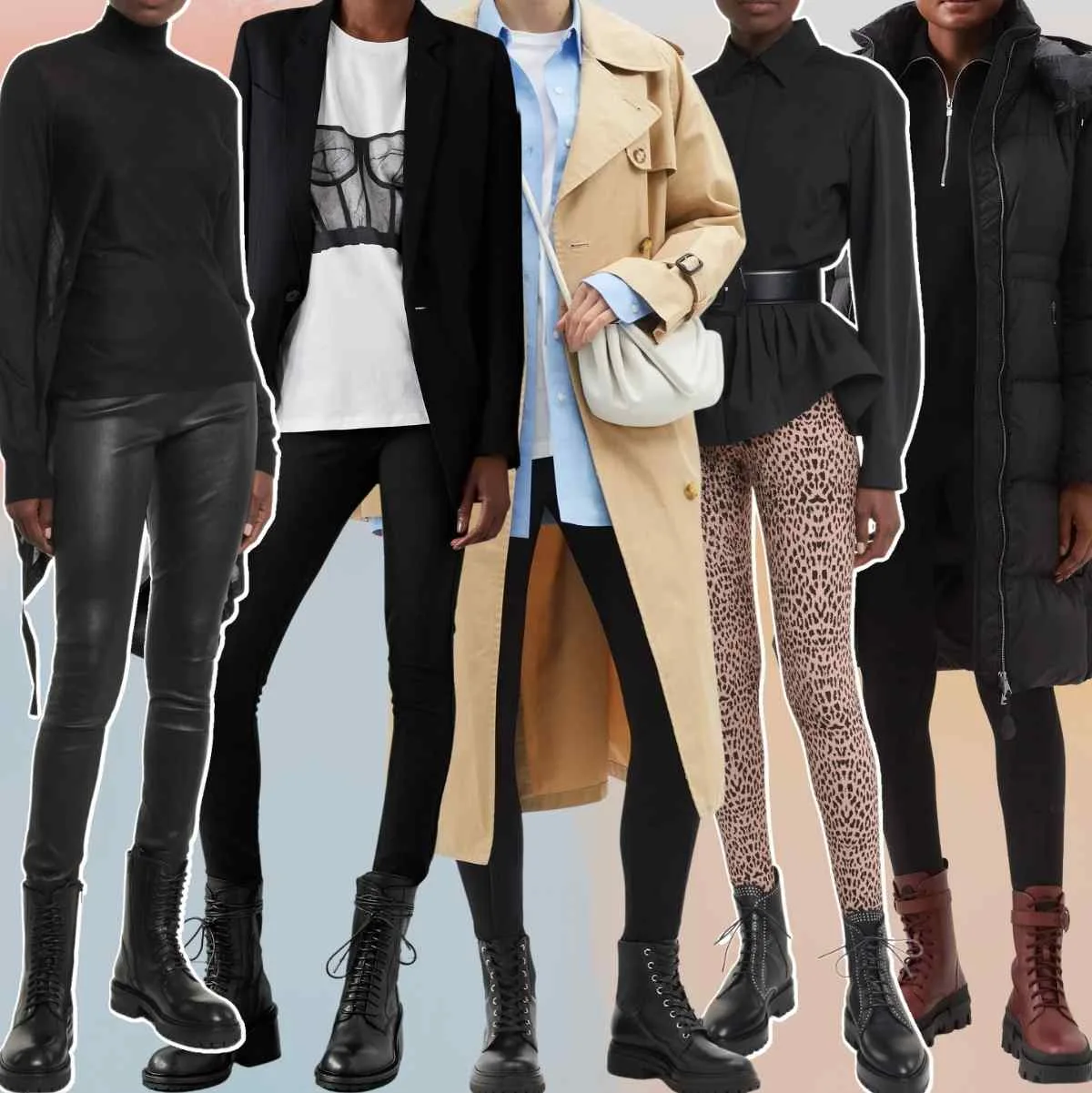 Combat boots with leggings are a fab combo. These boots, especially Doc Martens, have been popular for years with people who like alternative styles. But now they've become mainstream and trendy. Taos and Frye make great classic styles.
The current trend is for a higher flatform boot with large treads. All the cool kids are wearing them, and they look great with any pants.
Combat boots with leggings – especially black cotton, leather, or suede leggings you can tuck inside – are best.
Pairing them with a khaki jacket or longer cardigan on top of a simple tee is an effortless look. Add gold hoop earrings to add some flair to your outfits with combat boots and leggings.
Read my post about what to wear with combat boots for more outfit choices with this popular boot. Then, check out the women's waterproof combat boots you can wear for wet and cool weather.
Best leggings to wear with combat boots:
Classic black leggings and jeggings
Leather leggings
Printed leggings
Moto leggings
Cut-out leggings
3. Knee High Boots with Leggings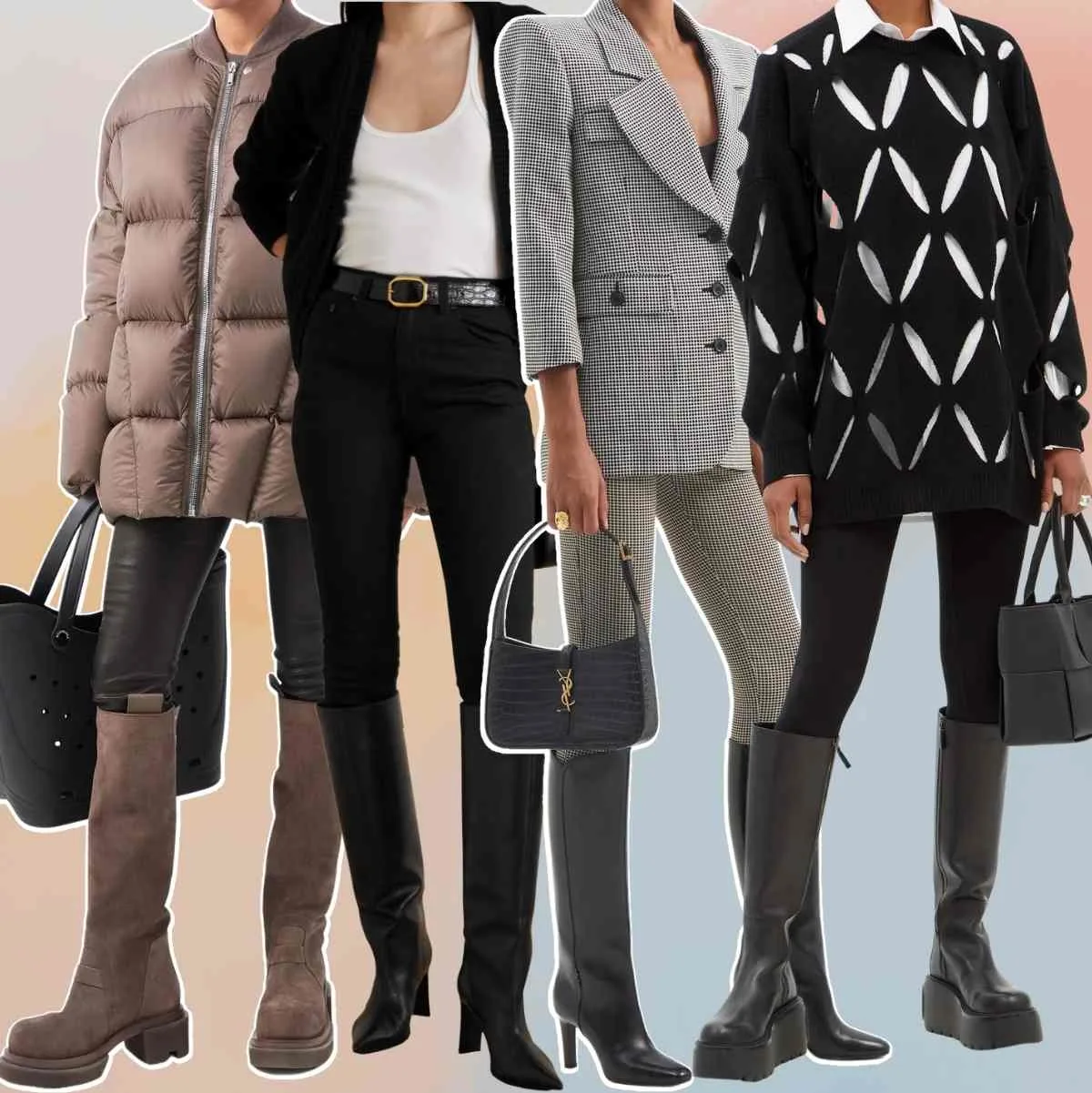 Knee boots with leggings are an easy combo. Especially when you don't want to think about pant hemlines!
Thankfully, the knee high boot has become a popular choice again for Fall and Winter. This, after being overshadowed for a few seasons by the taller, over-the-knee boots.
I love a straight leg knee high boots outfits with simple black leggings, a loose blouse and an oversized jacket. You can even reach for a matching Ponte knit legging pants and fitted blazer cinched at the waist with a leather belt.
Slouchy black or brown suede boots are fun and have a more relaxed look with jeggings and simple black leggings. Add a staple bodysuit and an oversized cardigan and you're everyday ready!
If the weather is cold, you can even add a chunky knit dress or floral maxi to your knee high boots and leggings combo. This is a great way to cover rear ends if wearing leggings, as pants aren't your thing.
Of course, leather leggings with knee high boots can look super chic, especially when your legging material matches that of your leather boots!
Best leggings to wear with knee high boots:
Classic black cotton or Ponte-knit leggings
Dark colored jeggings
Leather or faux-leather leggings
Avoid: athletic leggings, printed leggings, cut-out leggings, moto leggings
4. Over the Knee Boots with Leggings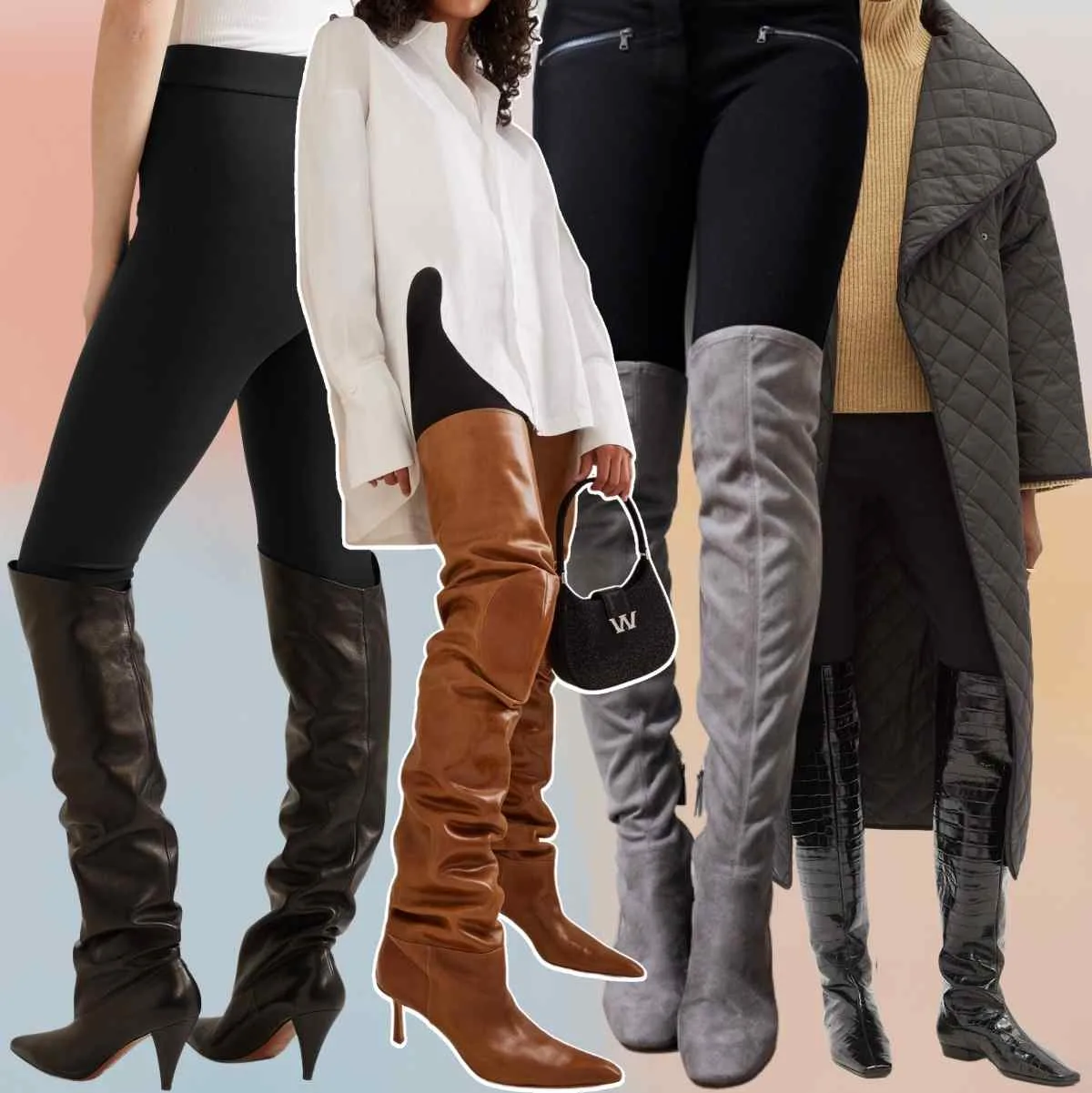 You can wear thigh high boots with leggings if you choose the right leggings style. Go for simple leggings that match the tone of your boots. Black on black is always a good choice.
I prefer lower or flat-heeled high boots for daily wear, like Stuart Weitzman's 50/50 high boot, which looks sleek and classy.
High boots with leggings and a high stiletto heel can look a little racy, so if that's not what you're going for, keep things simple by pairing them with a long sweater, cardigan or crisp shirt. Great for the office or more conservative outfits.
Want to wear heels for an everyday or office look? Keep it to a block heel. I love black polished over-the-knee boots with a sky-high stiletto and black leggings for a night out. A basic black tank with a sequin jacket will make a statement!
For an ultra casual look, opt for a low heel thigh high boots in distressed leather with black or espresso leggings or jeggings. I like to wear mine casually with a rocker tee, moto jacket and large gold hoop earrings.
See more OTK boot styling info in my new thigh high boots outfit post!
Best leggings to wear with over-the-knee boots:
Classic black cotton leggings
Ponte-knit leggings
Dark colored jeggings
Leather or faux-leather leggings that match the boots
5. Chelsea Boots with Leggings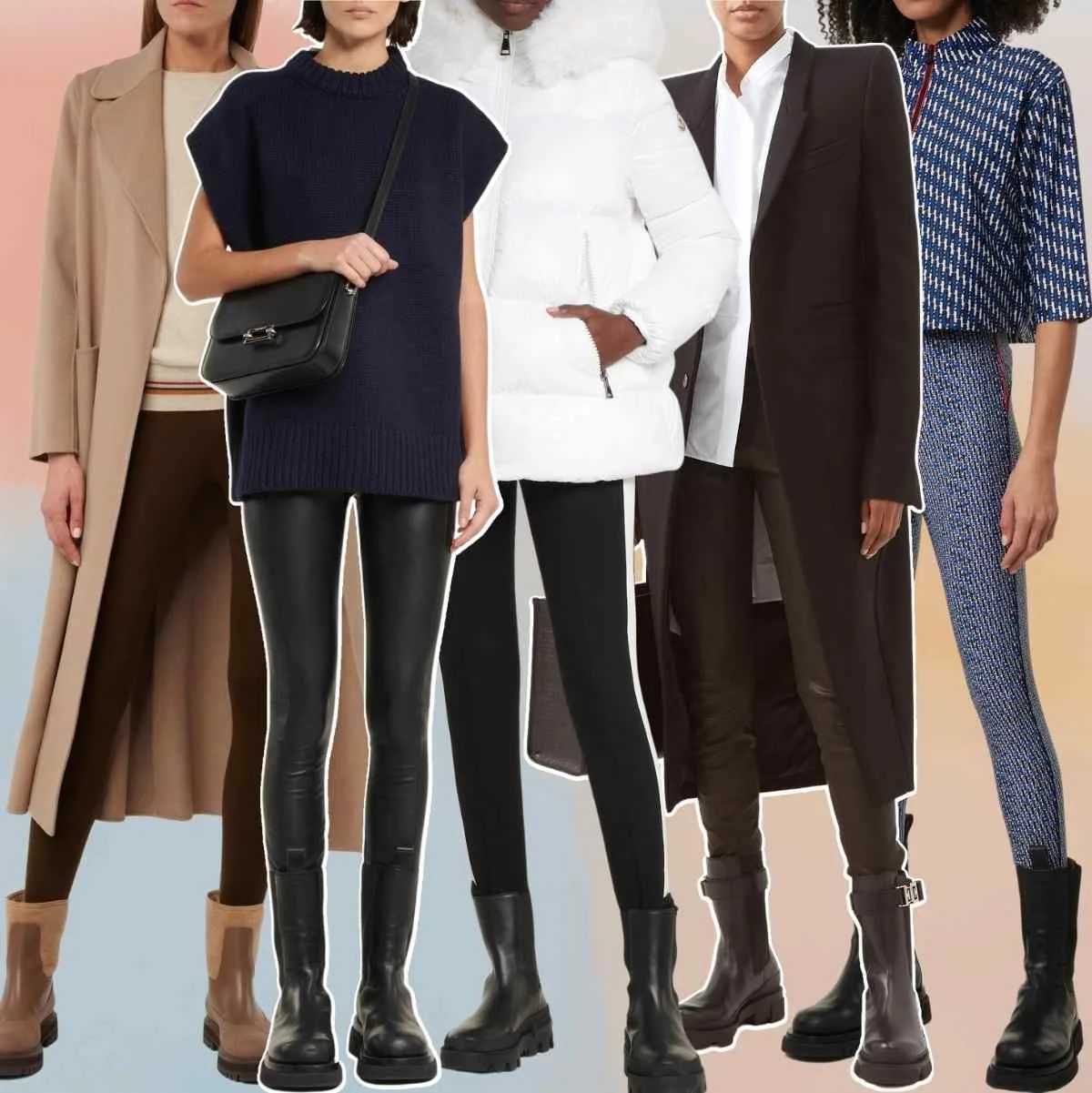 When it comes to wearing Chelsea boots outfits with leggings, the styling principles are similar to combat boots.
Chunky Chelsea boots are incredibly trendy right now. I usually don't recommend a chunky boot with tight pants, but if an edgy vibe is what you're after, it can look fun.
Opt for leather or black leggings, with black lug sole Chelseas and an oversized shirt or tee.
More classic styles like Blundstones will add an earthy appeal to your look. These look great paired with jeggings and dark leggings and I've seen many women rock them with animal print athletic leggings!
Best leggings to wear with Chelsea boots:
Classic black leggings
Leather leggings or high shine leggings
Moto leggings
Thermal leggings
Athletic leggings, black, colorful or printed
Cut-out leggings
Avoid: none
Shop Chelsea Boots for Women:
6. Cowboy Boots with Leggings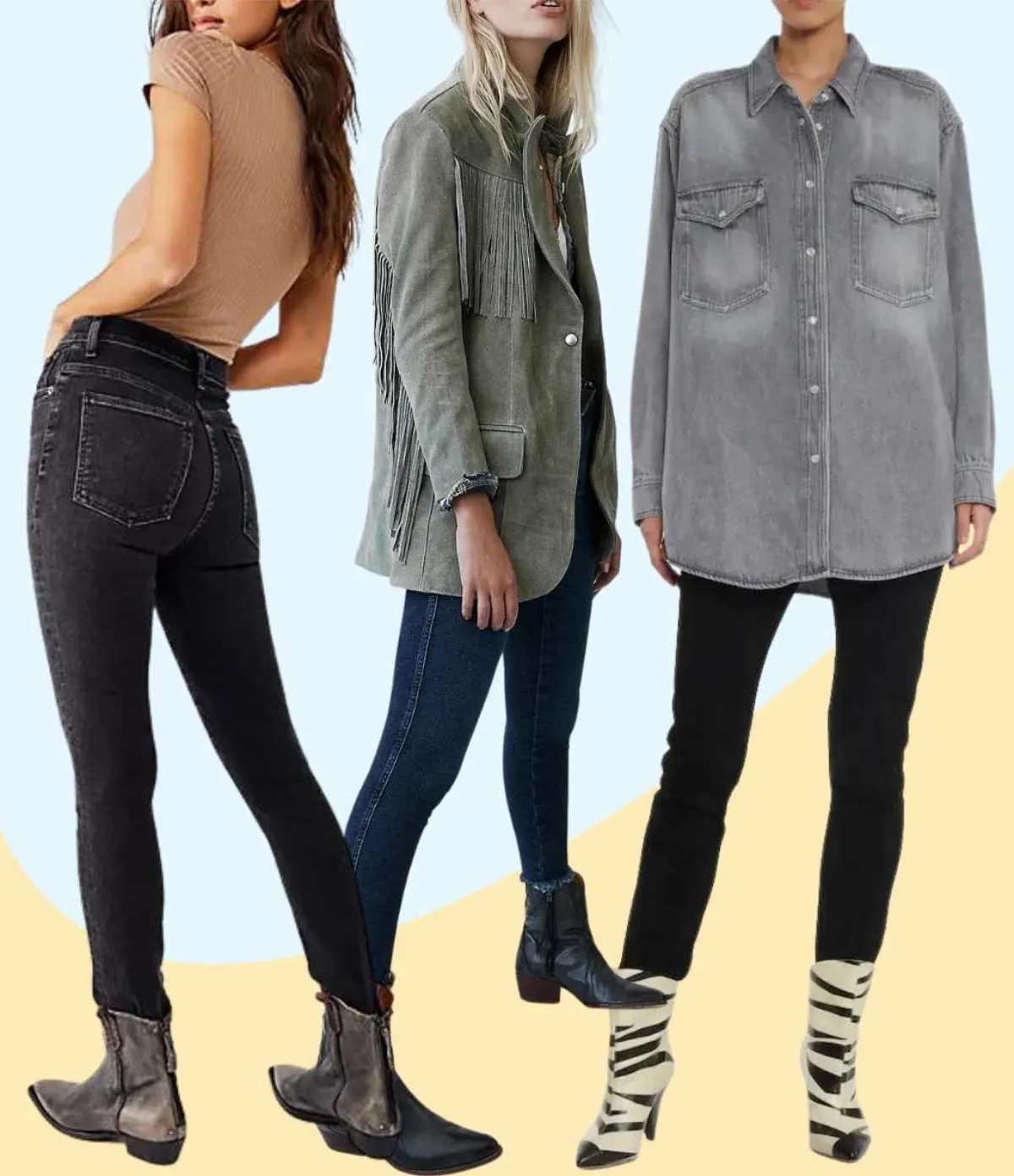 Cowboy boots with leggings or jeggings work well for casual outfits. Western boots are both comfortable and trendy and can be worn in different colors and with various leggings.
All of knee high, calf height, or western ankle booties with leggings will work.
Stick to darker colored leggings with cowboy boots that have deeper hues. With lighter western boots like beige or white, you can choose any color you like!
For a cowgirl look, pair your cowboy boots with dark wash jeggings and a plaid shirt. You could also add a cardigan or denim jacket if you need an extra layer of warmth. Add a western buckle at the waist.
Check out my post on how to wear cowboy boots in my dedicated post!
Best leggings to wear with cowboy boots:
Classic black or leggings
Ponte knit leggings
Dark colored jeggings
Avoid: athletic leggings, printed leggings
7. Hiking Boots with Leggings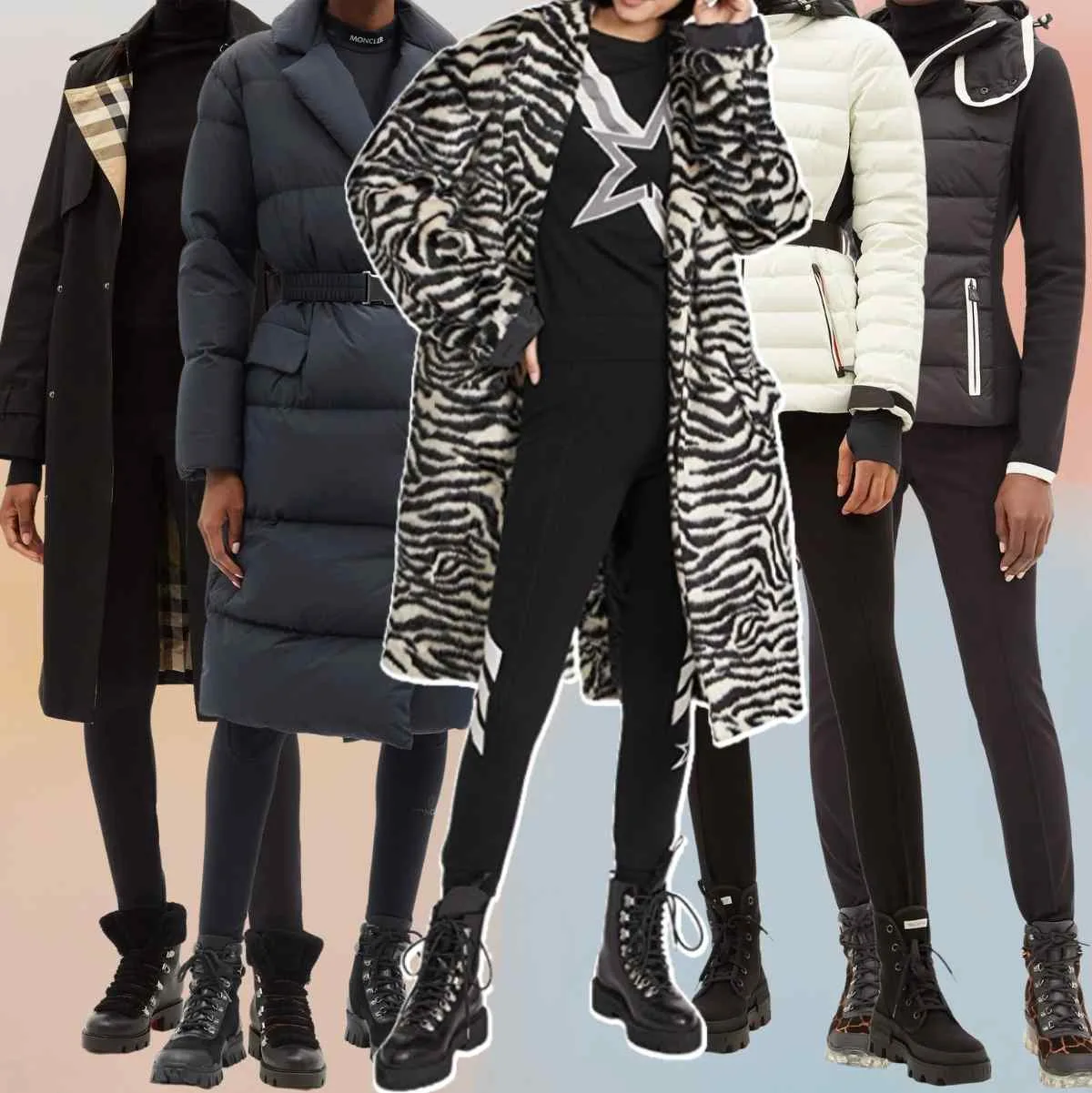 For more practical or casual looks, hiking boots with leggings just make sense. Especially pairing your boots with thermal or thick leggings during the fall and winter seasons.
How to wear hiking boots is simple. You can play up the sporty aspect of the boots with thermal leggings, a tight turtleneck, and a fitted puffer.
If you want a more day-to-day look, you can choose black or athletic leggings with a matching sweatshirt, a moto jacket, or a wool coat.
Best leggings to wear with hiking boots:
Classic black leggings
Thermal or Ponte leggings
Athletic leggings, black, colorful or printed
Avoid: suede leggings, high-shine leather leggings
8. How to Wear Riding Boots with Leggings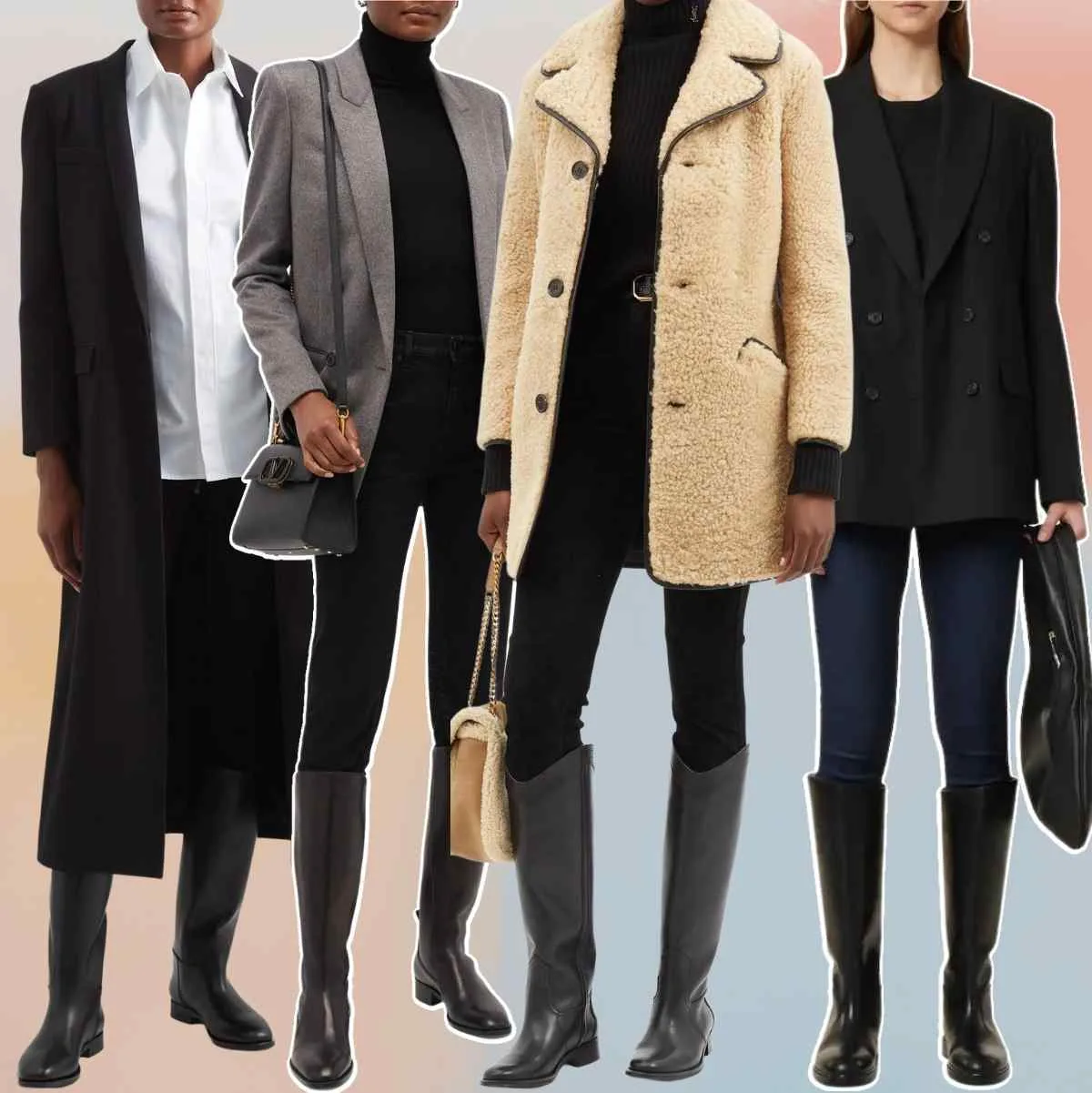 It's not surprising that riding boots and leggings look great. Equestrians wear their riding boots over their specially deisgned stirrup leggings, after all!
You can wear a classic pair of two-tone riding boots with earth-tone or black leggings. Faux suede or leather leggings will look great too. Just add a flowy blouse and oversized plaid blazer for a modern equestrian look.
All black riding boots are in. Whether rain boots or made of leather, these will look great with dark toned leggings and jeggings. I love them with an almost invisible houndstooth pattern.
A two-tone legging looks great too. Add a crisp shirt, moto, or denim jacket for a casual look.
9. Winter Boots with Leggings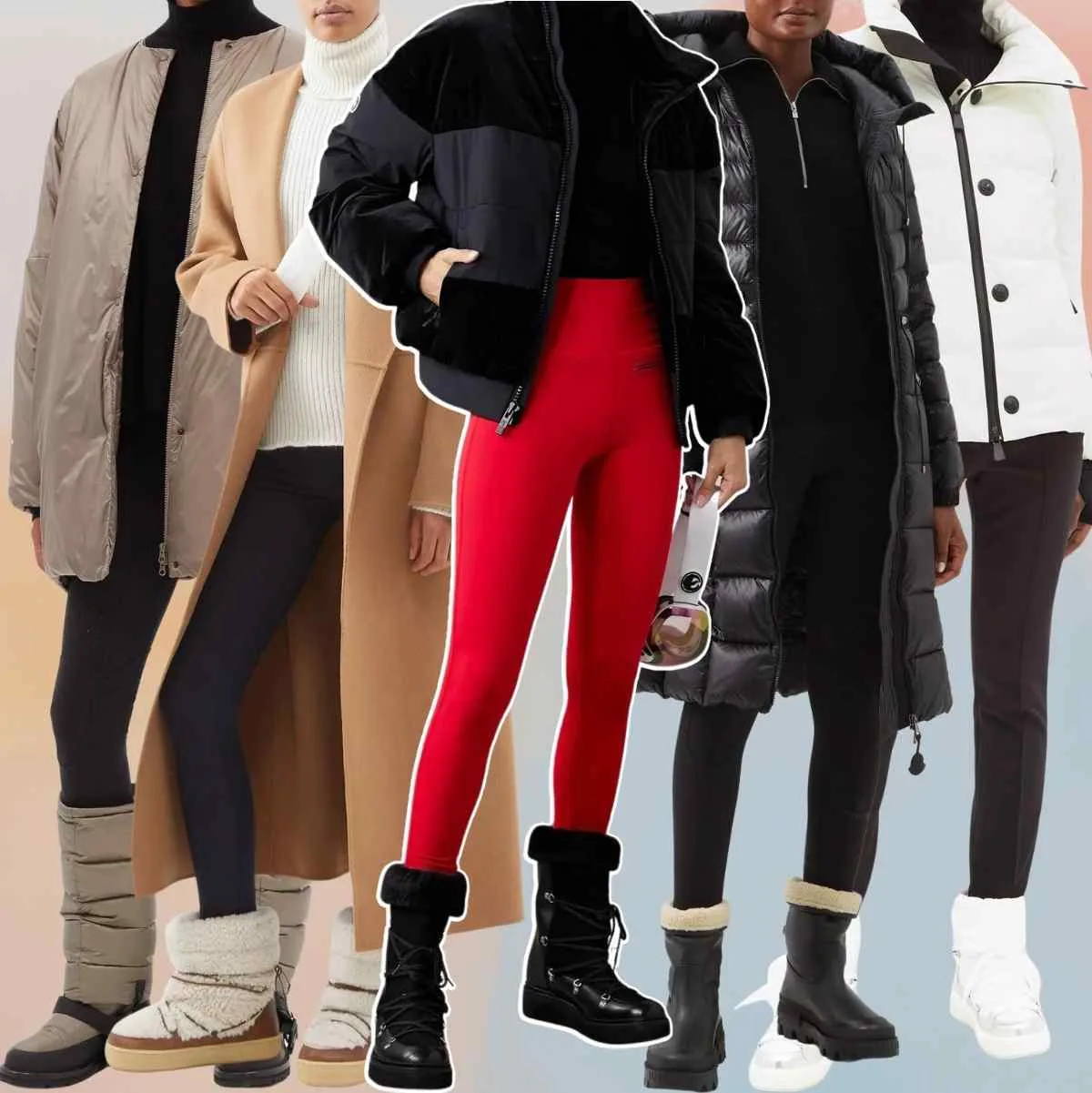 Winter boots with leggings my go-to pairing for the cold Canadian winters. I'll almost always thermal pair of leggings with my winter boots.
And from ankle snow booties to taller Moonboot styles, leggings will look great.
You can easily play up the après-ski aesthetic pairing leggings with winter boots or snow boots.
Choose thermal leggings or thick Ponte leggings and tall puffy winter boots. Add a form-fitting cropped winter jacket and buckle it at the waist.
For an everyday casual look (my fave!), reach for a thermal or simple black legging with a loose sweater, topped with a long wool coat or puffer.
Want to look like you're strutting the fashion week concrete runway? Try a printed athletic legging with a contrasting or black winter boot, topped with a cropped puffer jacket.
I mean, the more colorful, the more fun – and can help beat those winter blahs!
Best leggings to wear with winter boots:
Classic black leggings
Thermal & Ponte knit leggings
Athletic leggings
10. Mid Calf Boots with Leggings
Calf boots are the perfect fall and winter footwear. They're stylish, keep your legs warm, and have an unexpected height. Since most boots are either ankle or knee high, these will make a statement.
Two types of mid calf boots with leggings are great: straight leg calf boots or slouchy ones. For a more casual look, opt for a pair of thick black leggings or blue jeggings with a slouchy pair of tan calf boots.
For more elevated work outfits, choose a straight leg black leather pair with black Ponte knit leggings, a billowy blouse, and a structured jacket. Or sub this for a cozy black sweater dress.
You can also dress up your look for a night out with leather leggings, black patent calf boots, a sparkly bodysuit, and gold jewelry.
I have a kitten heeled pair made of a fuzzy leopard print that I love wearing with plain black legging and an oversized hoodie!
Best leggings to wear with calf boots:
Black cotton or Ponte-knit leggings
Jeggings
Suede or faux-suede leggings
Leather or faux-leather leggings

Avoid

: athletic leggings, printed leggings
How to Wear Winter Outfits with Leggings and Boots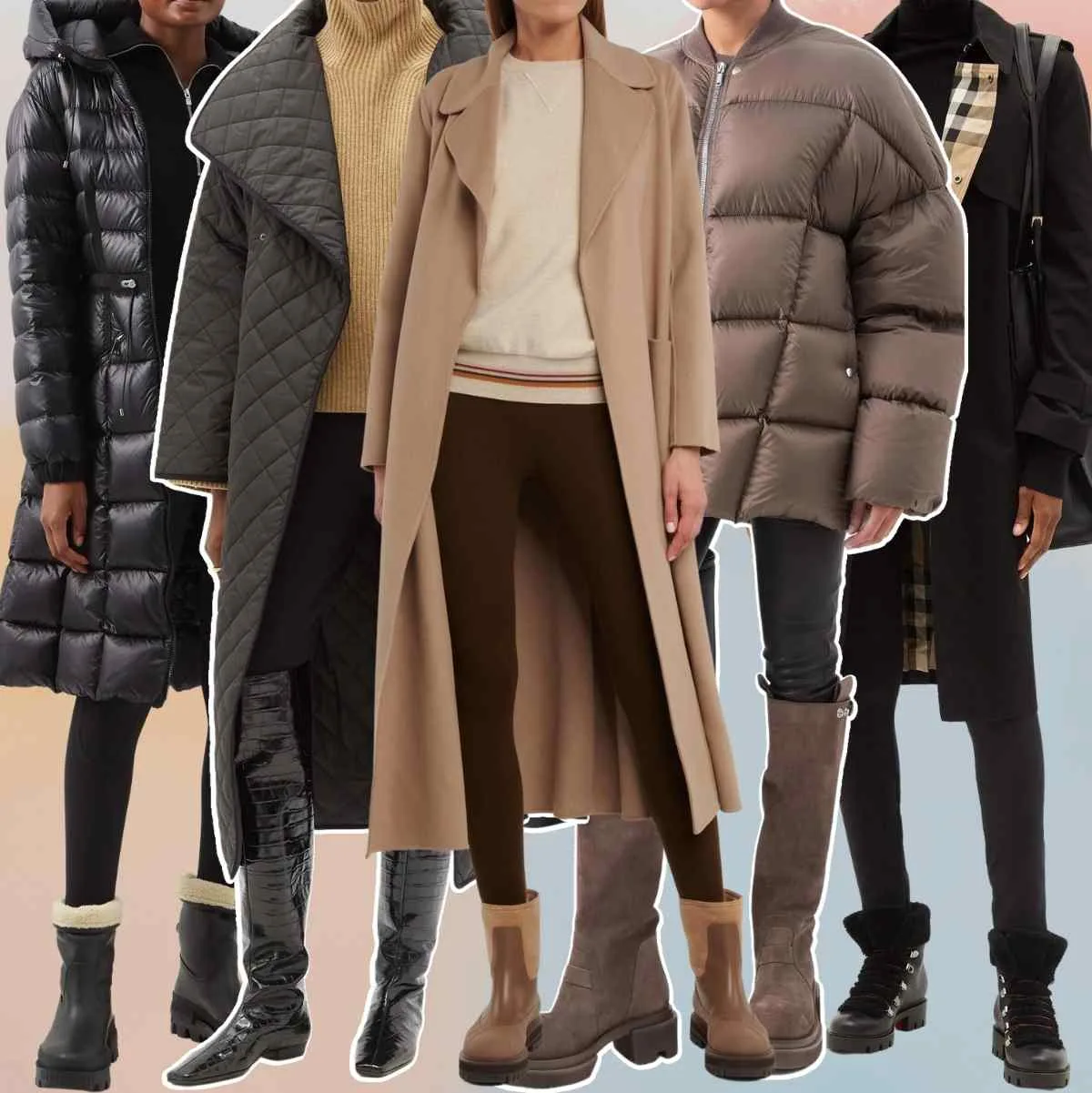 Wintertime is the perfect time to break out your leggings and boots! But what is the best way to style these two essential winter pieces? Here are some tips to help you get the most out of your leggings and boots this winter.
Choose a warm and comfy pair for your needs when it comes to leggings. Wear them with an oversized sweater or sweatshirt for a comfortable look.
When it comes to boots, there are endless possibilities! You can go for a classic snow boot, a current lug sole combat, or a Chelsea boot. Or, if you really want to make a statement, try pairing fun animal printed leggings with more sporty boots.
I like to top leggings in winter with longer coats and jackets if the leggings or jeggings are thinner. Thicker leggings like Ponte knit or some athletic styles can easily pair with a shorter puffer or jacket.
Best leggings to wear in winter:
Thermal legging
Ponte knit lettings
Quilted leggings
Calssic black leggings
All athletic leggings (avoid indoor styles in cold climates)
How to Wear Legging Boot Outfits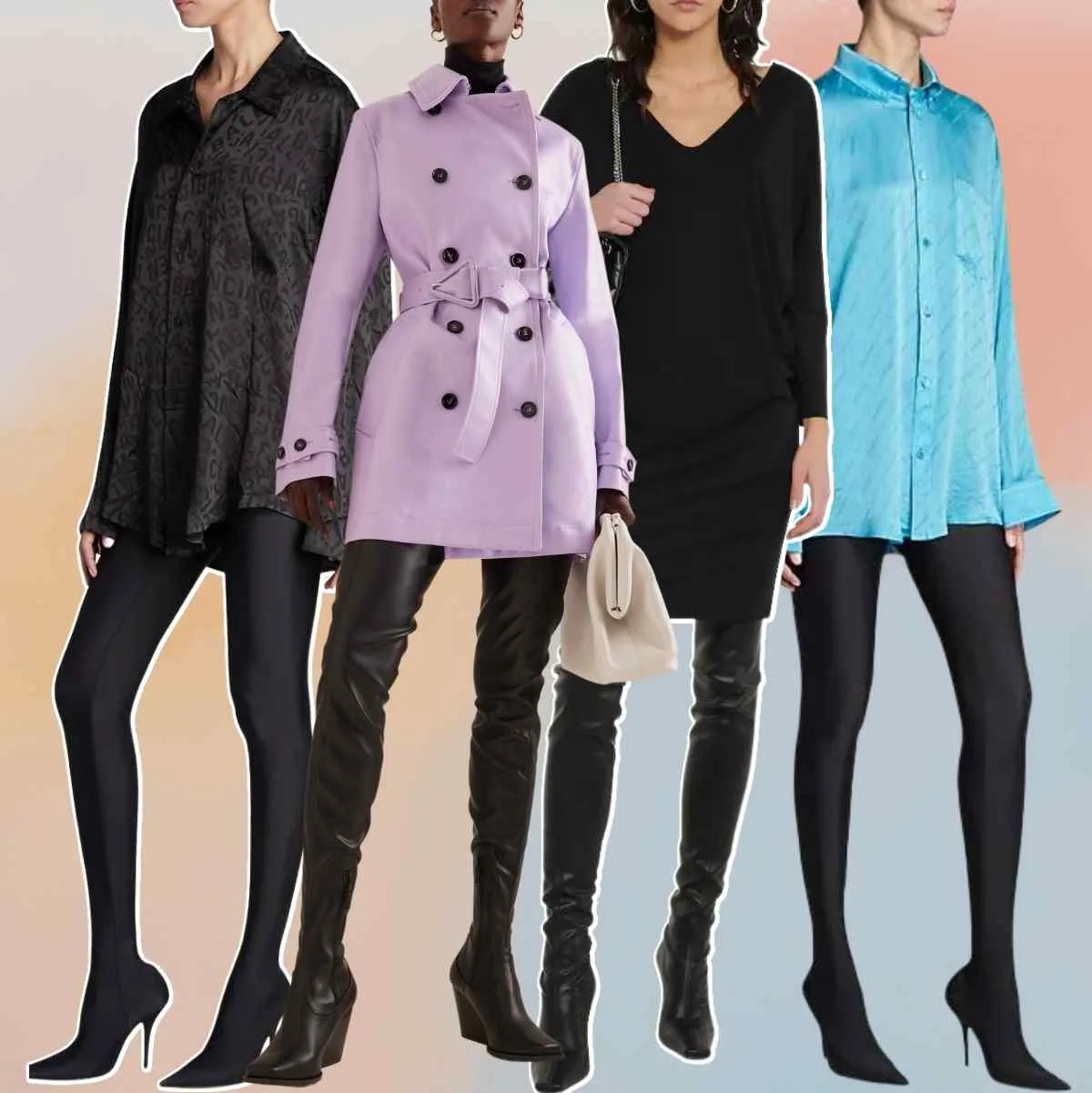 Thanks to Balenciaga and other designers, the legging boot – aka shoe attached to legging – is all the rage. These can easily replace skirt and stocking combos for everyday wear.
They will also looking fabulous with a mini cocktail dress for a winter's ball, or under a skirtsuit for work.
Final Words on Wearing Boots with Leggings
I hope this post has helped you with how to wear boots with leggings. Of course, as always, my advice is very general and is to be taken as mere suggestions.
Of course, there are many different boots to wear with leggings. These come in various shapes, colors and materials, as do leggings. In the end, if you feel comfortable with your style choice, go for it!
The only significant piece of advice is to steer clear of athletic leggings with ankle, knee, or over-the-knee boots. Also, the taller the boot, the more awkward any print or cut-out legging will look.
How will you wear your leggings and boots this fall/winter?
xo ShoeTease