Ankle boots might not be your first choice of shoes for dress pants, but they work great together! And if you're a woman wondering how to wear ankle boots with dress pants, this post is for you.
Today on shoe-tease.com, I'm here to help you style these two items for a variety of looks and occasions. Because let me tell you, there so many ways to wear ankle boots outfits!
So if you're looking for suitable dress pants and ankle boots combos for a casual, elegant or chic office look, I have you covered!
You will find inspiration on how to wear ankle boots with cropped dress pants, wide leg dress pants and even skinny or flared dress pants. This guide will include loads of pictures to reference too!
So read on for all the tips and tricks you need to know about pairing ankle boots with dress pants for women.
How to Wear Ankle Boots with Dress Pants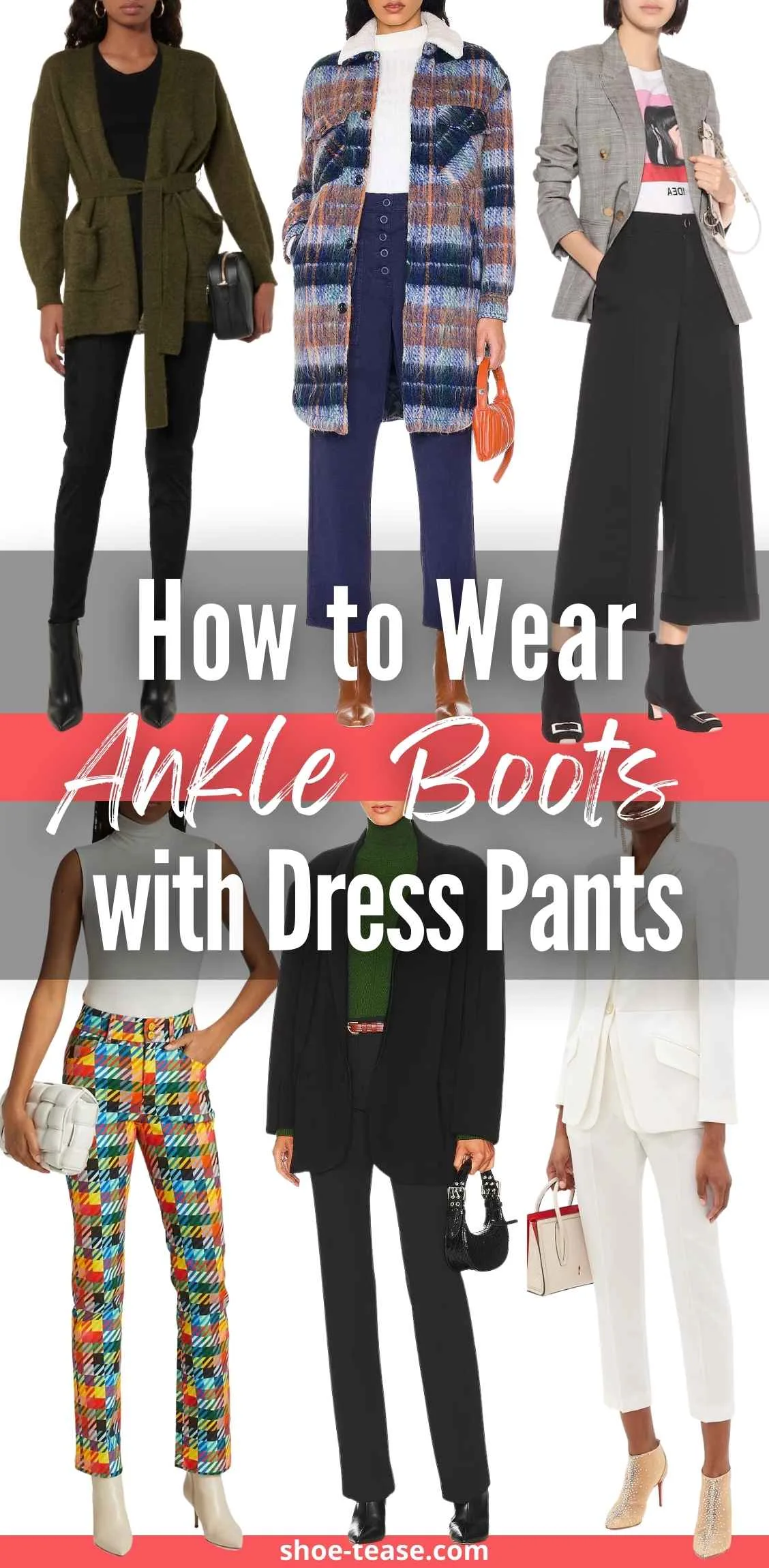 Ankle Boots We Love:
How to Wear Cropped Ankle Pants with Ankle Boots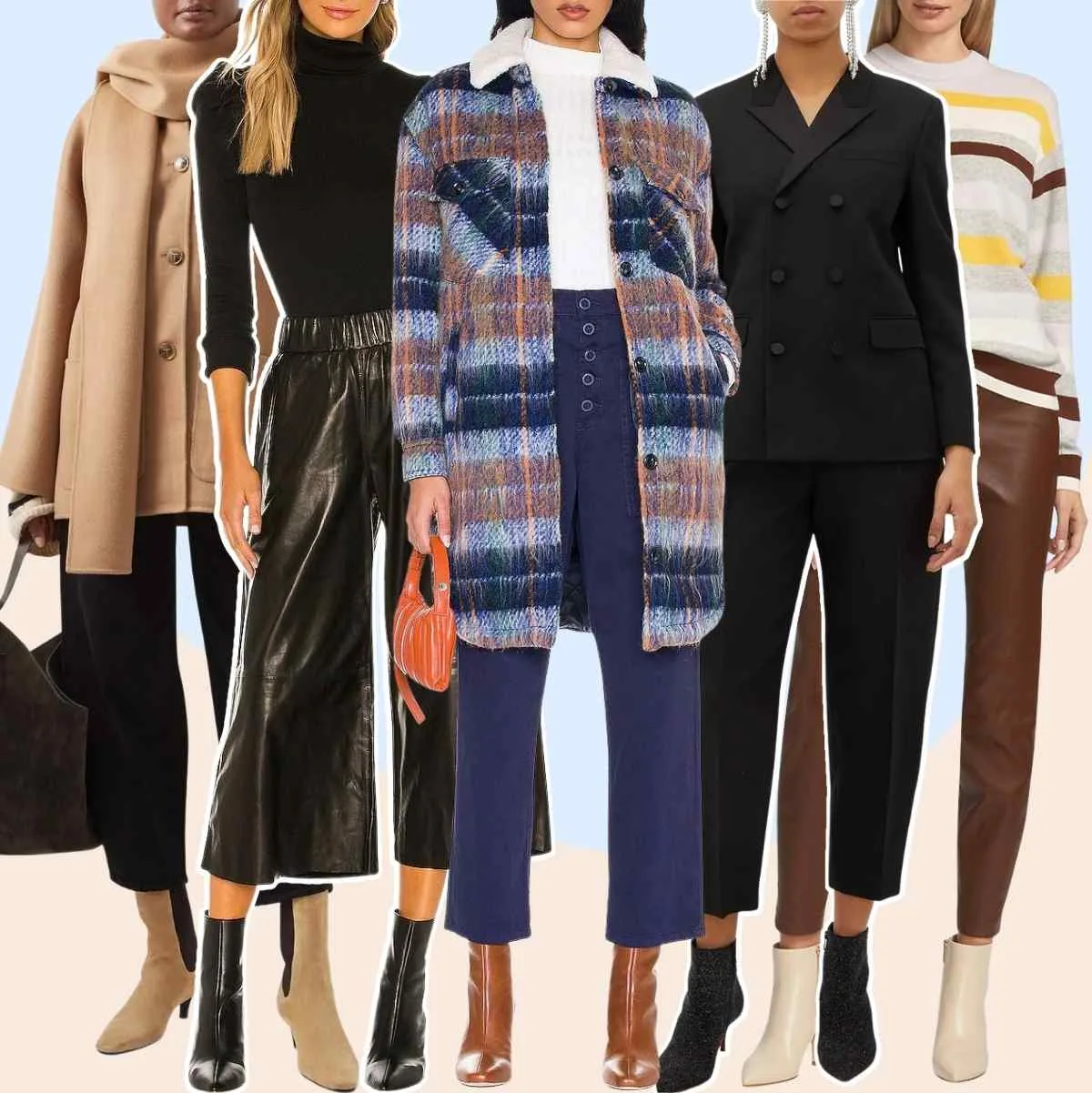 One of the easiest ways to wear ankle boots with dress pants is to pair them with cropped ankle pants. Especially during the fall/winter seasons!
You can choose to show off more of your ankles with a lower shaft ankle boot. Or, you can have fun with the gap between your ankle boots and pants by styling some mesh or slouchy socks.
Types of ankle boots that will help elongate your legs are low-shaft boots, with either block and stiletto heels. They can be worn with high-waisted wide leg and slim cropped pants.
For slimmer cropped ankle pants, choose a tighter-shaft boot with a thinner heel so they don't look too chunky in comparison.
With cropped wide leg pants, you can wear tight boots, like sock booties, to elevate the outfit. Opt for a wider boot with a chunky heel for more rugged dress pants.
How to Wear Wide Leg Dress Pants with Ankle Boots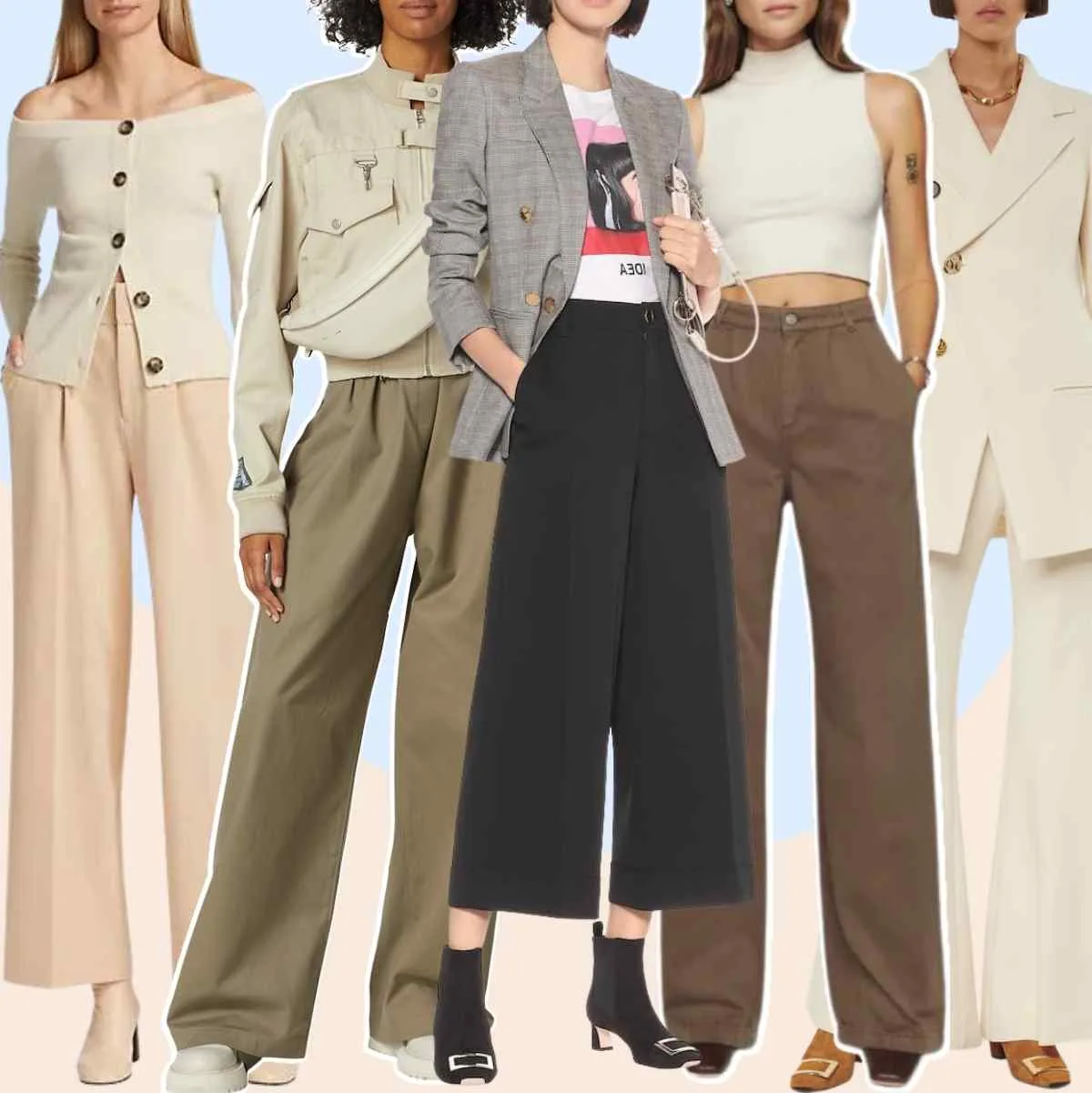 Try pairing wide-leg dress pants with ankle boots for a trendy look. This look is great for work or play, as it can easily be dressed up or down, depending on which ankle boots you choose.
Since there's more room under wide leg dress pants, you can choose chunkier ankle boots with block heels, especially if the pants are long. Lug-sole ankle boots look great with baggy wide leg dress pants.
For ankle length or cropped styles, tighter ankle boots will look chic. Try wide-leg pants with a slit under the knees to show off a fabulous pair of booties and dress up your look!
Style your boots with a sheer tee under a blazer and some statement jewelry. You'll look extra trendy with square toe block heeled booties.
Choose a wider, even chunkier ankle boot with slouchy socks for more casual outfits.
How to Wear Skinny Dress Pants with Ankle Boots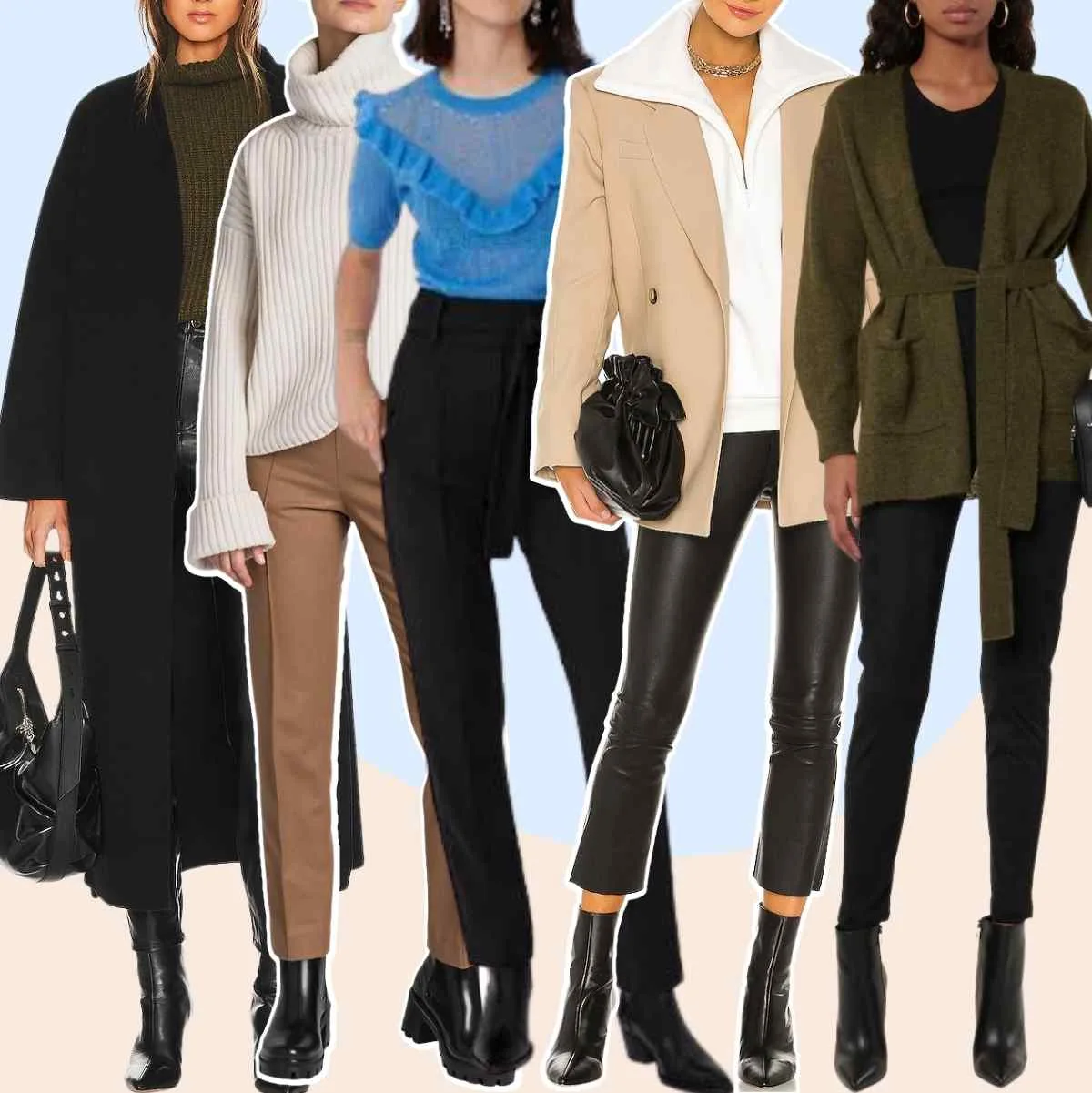 High-waisted skinny dress pants with ankle boots are excellent for a night out or work attire. The slim dress pants will show off your curves, and the ankle boots will add a touch of edge. Great for cooler evenings!
Choose a pair of skinny dress pants in a dark color, such as black or charcoal. Add a pair of sparkly or patent leather pointed-toe stiletto ankle boots for a chic look.
Simple pointed or squared toe ankle boots with a kitten or block heel pair well for casual outings or work. Skinny dress pants, a t-shirt or blouse, and a blazer make a fabulous conservative look.
Try pairing the skinny dress pants with a rocker tee and a leather jacket for a more casual outfit. This combo never fails!
It's your choice whether you'd like to leave a gap between the pant hem and the top of the boot, tuck them in, or wear them overtop.
Avoid bulky or chunky booties with dress pants that are slimmer or tapered at the ankle. These will make your feet look large and unproportioned to the rest of the look.
How to Wear Flared Dress Pants with Ankle Boots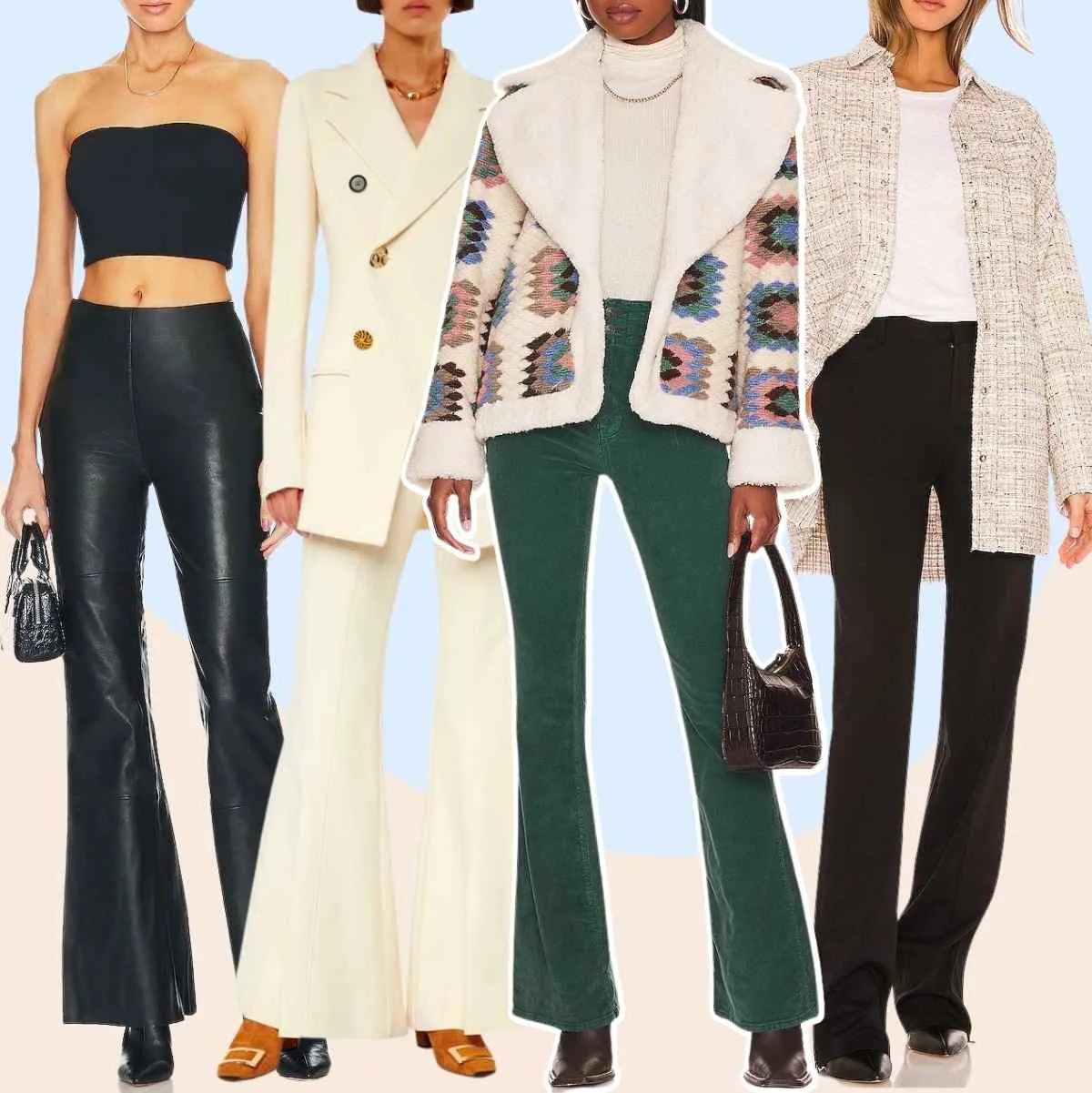 Bootcut and flared dress pants are making a comeback! You can see this pant leg style in pantsuits, leather pants and simple black dress pants.
For longer flared dress pants, opt for ankle boots with chunky heels. These will be more comfortable, and you'll be less likely to trip on your pant hems!
Choosing tighter shaft ankle boots with less flared dress pants is essential. This way, they'll hide well under your pants without adding any bulk at the calves.
Toe shape is also essential. Ankle boots with square or almond toes are great boots to wear with flared dress pants – especially longer ones – for a softer look under the pants. Whether you choose a platform ankle boot or not is entirely up to you!
Shorter, less flared bootcut dress pants can look great with all toe shapes, including pointed toe booties.
How to Wear Dress Pants and Ankle Boots for Work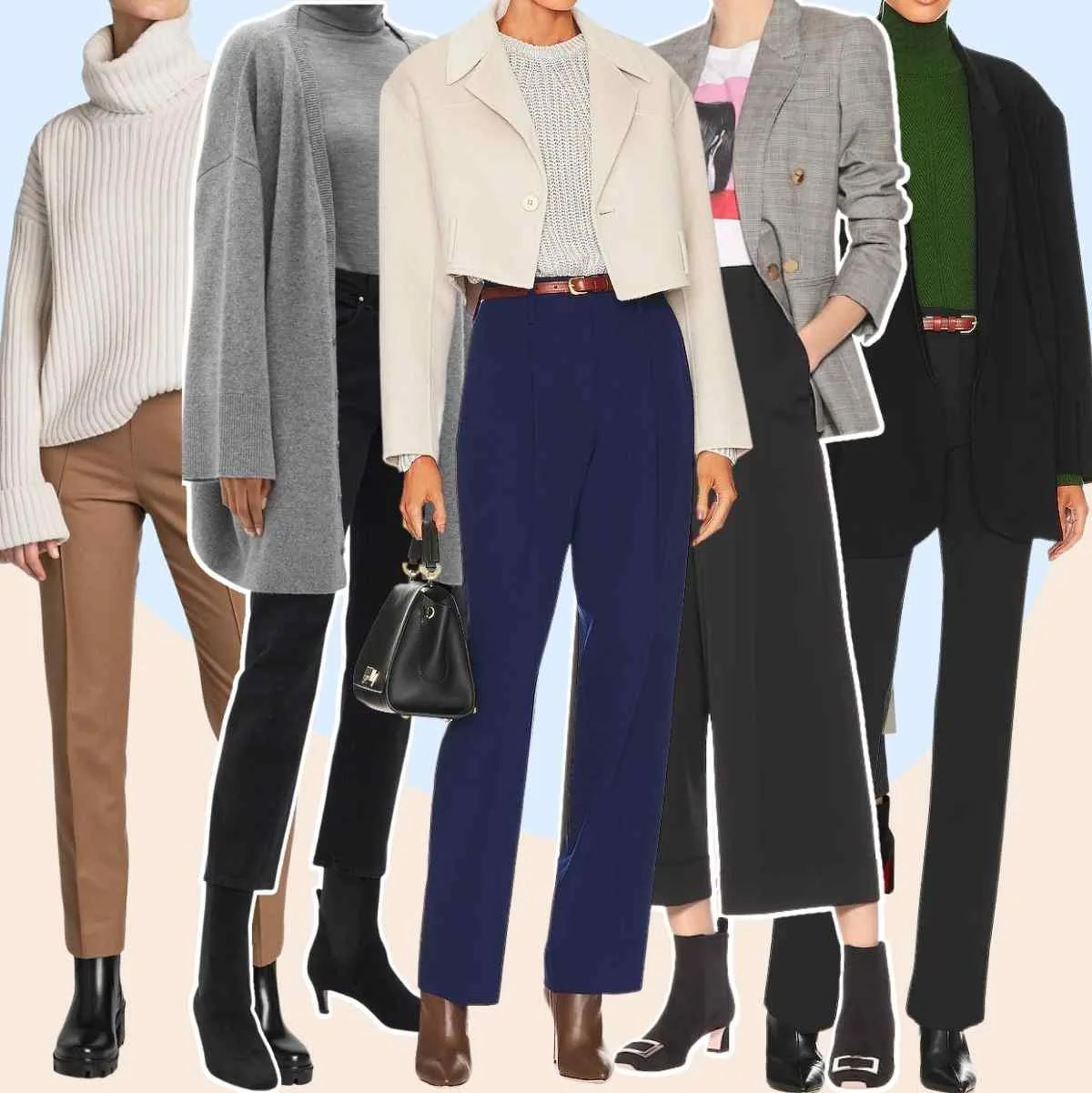 Whether you're headed to the office or a meeting, dress pants and ankle boots are a stylish and professional combo.
Here are some tips for pulling off dress pants and ankle boots for work:
Choose dress pants that are tailored or fitted but not skin-tight. A wide leg pantsuit can also look chic with a classic ankle boot.
Go for dark wash dress pants, which are easiest to dress up or down. Darker dress pants tend to look more sophisticated and put-together than lighter shades.
Classic black booties are perfect ankle boots for work! Opt for a pointed or almond toe shape. Pick a square-toe boot for a wider pant leg to add a contemporary edge.
Avoid gaps between your pant legs and boots for more conservative office looks. Wear dress pants that fall over the boots.
Add a matching or contrast tailored blazer or cardigan twin set and don't forget to accessorize! Minimal jewelry, like a thin-buckled belt and a structured leather purse, will further refine your look.
How to Dress Up Ankle Boots with Dress Pants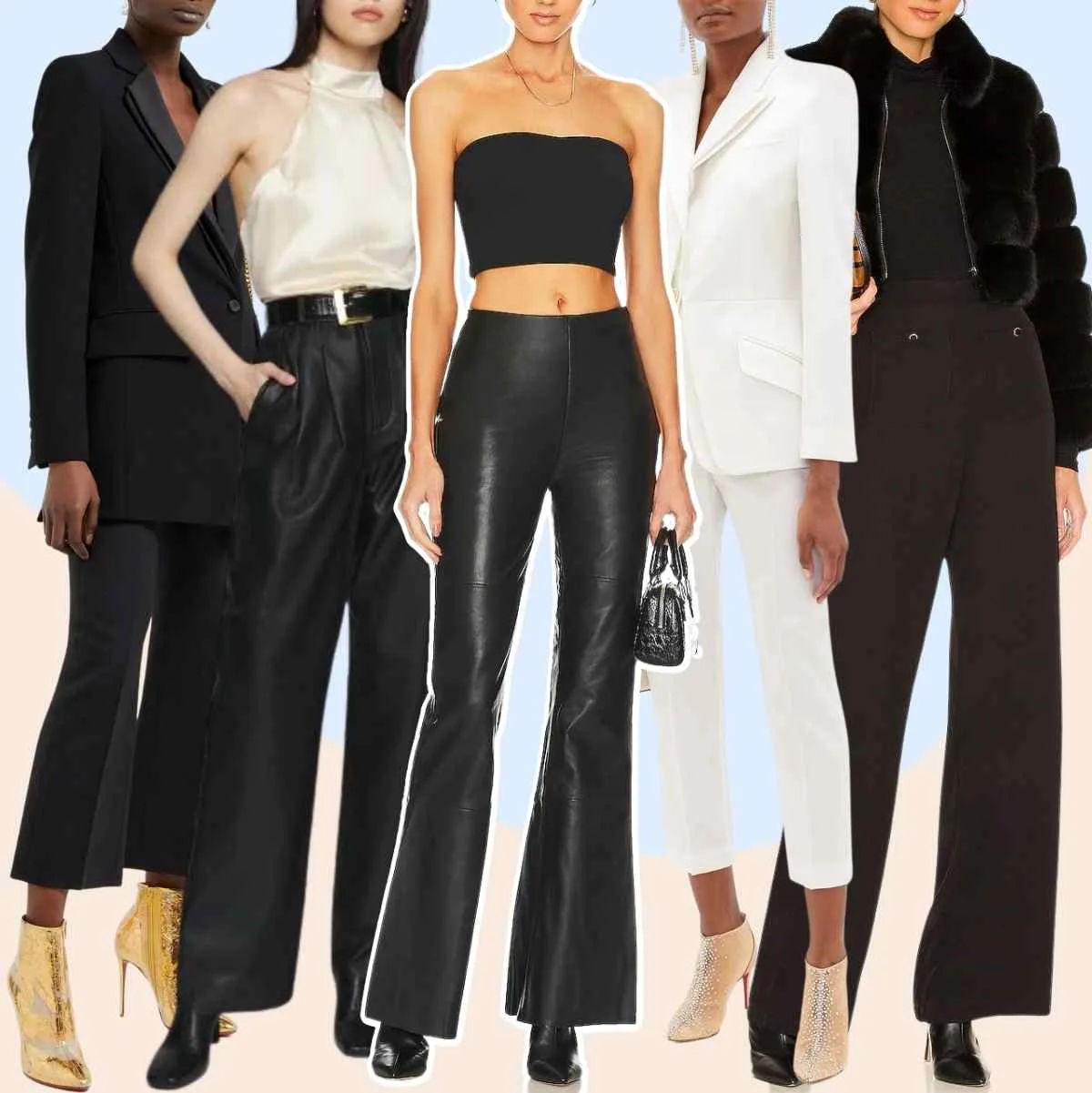 Dressing up pants with ankle boots is so fun! Black high or mid waisted dress pants are a great base to start with. You can add a simple bodysuit or silky sleeveless blouse, topped with a velvet or sparkly jacket.
For a sophisticated soiree, opt for a black or white suit. Add metallic or jeweled pointed toe booties with a stiletto heel. Adding statement earrings and a patent clutch will seal the look!
For a fun outing, such as a club, pick sleek black or white leather pants, a crop top and tall block heels, so you can dance the night away!
How to Wear Dress Pants with Ankle Boots and Socks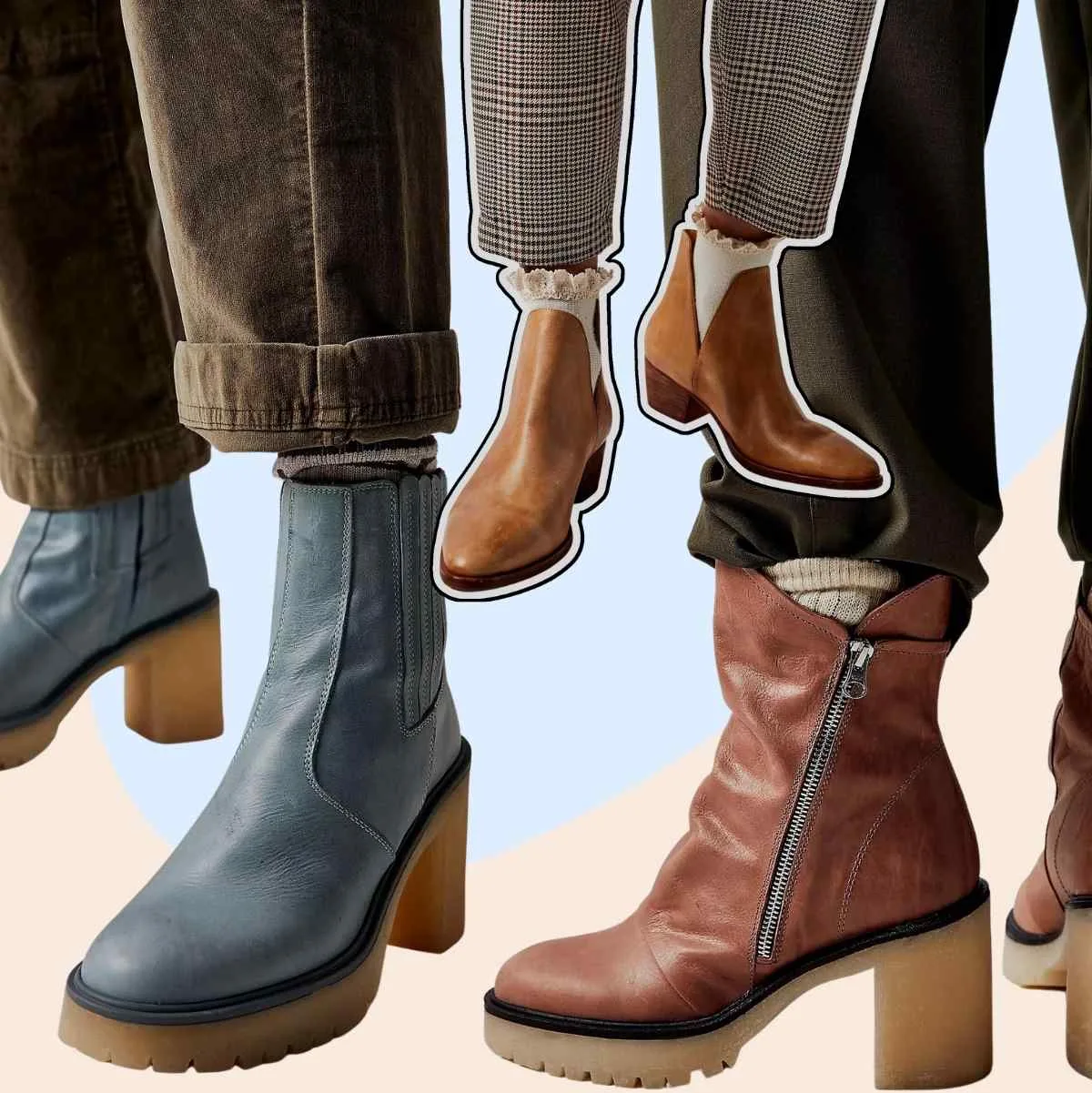 Now that you know how to wear dress pants with booties, you might wonder how to wear socks with ankle boots and dress pants!
Here are a few simple tips to keep in mind:
Stick to neutral colors. Black, brown, and gray are always safe bets. Not only do they go with everything, but they also help to create a streamlined look.
Opt for wooly, speckled, or crew socks for a more casual vibe. Thick wool socks will keep your feet warm and add a touch of coziness to your outfit.
For a more polished look, choose thinner dress socks in a color that coordinates with your pants.
To add a touch of interest to your ankles, roll up or even half-tuck a wider leg dress pant hem into your boots, with your socks peeking out.
Final Thoughts on Ankle Boots with Dress Pants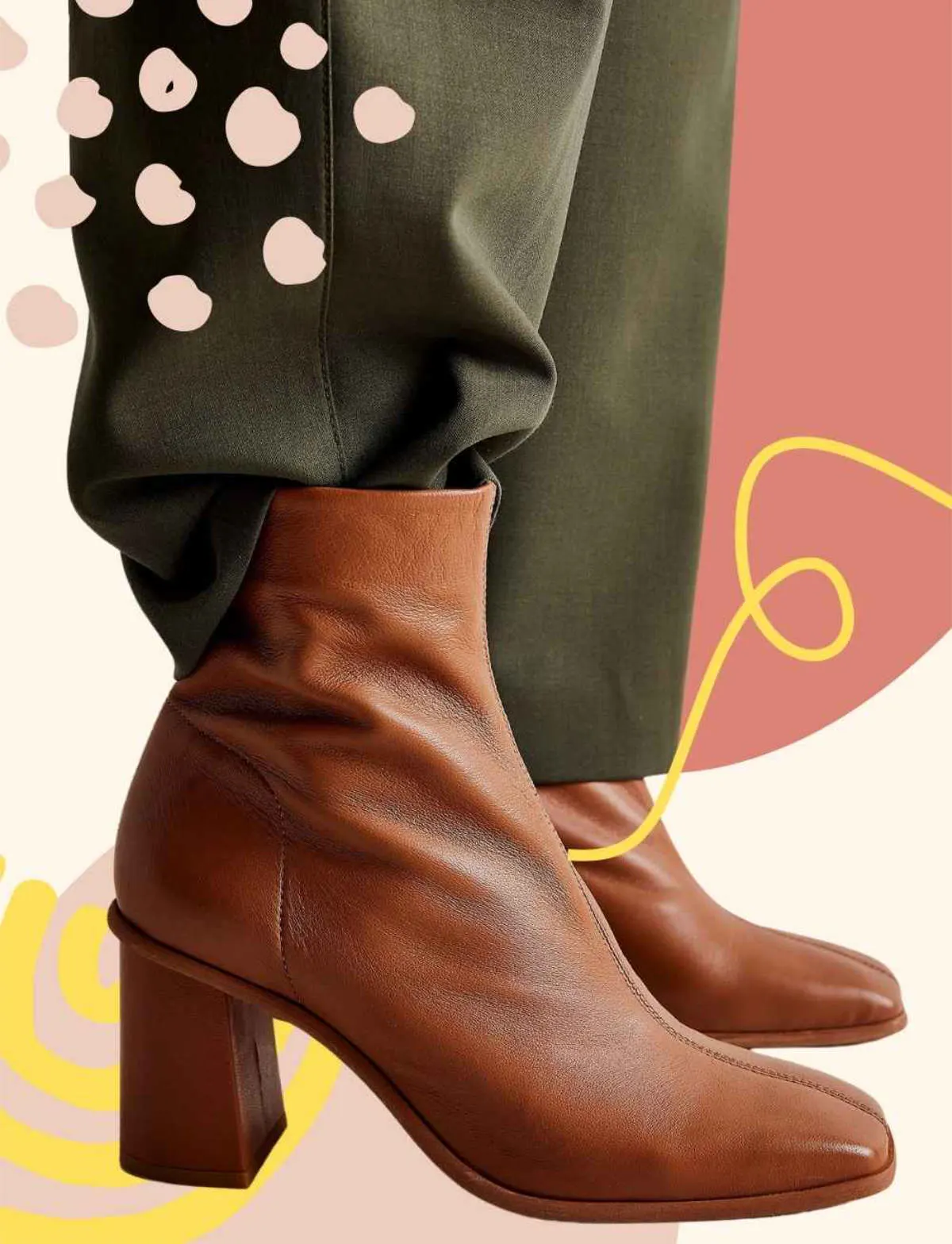 So there you go – everything you need to know about how to wear ankle boots with dress pants!
I hope I've given you plenty of ideas and inspiration on combining ankle boots that match dress pants for all sorts of occasions!
And remember, no matter what outfit you choose with dress pants and ankle boots, rock it confidently!
Shop Trendy & Classic Ankle Boots from:
Ankle Boots We Love:
More Pant & Ankle Boot Styling Advice:
xo ShoeTease