I'm always excited to feature smart & novel shoe accessories on my shoe blog. So when Sassy Strapps approached me with their ornate detachable shoe straps for loose shoes, I was more than eager to try out their various designs!
Not only are these straps fun, but they serve as a great hack to stop heel slips out of shoes!
Detachable Shoe Straps for Loose Shoes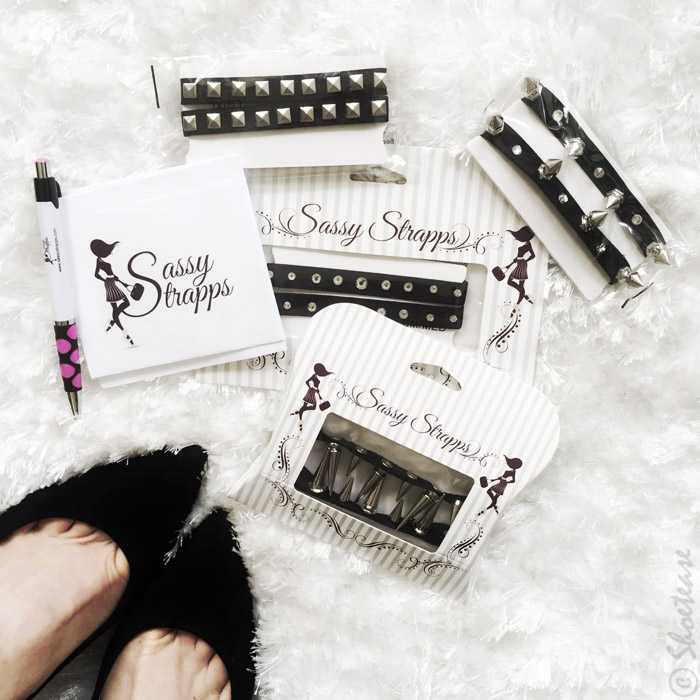 And this isn't simply shoe jewelry, my friends! Just as many high heel protectors safeguard our heels, or how Clickless shoe caps allow us to stop heels from clicking, Sassy Strapps shoe accessories have a double function too.
These detachable shoe straps not only bejewel &/or spike up your heels, but when the elasticized shoe bands are worn around the shoe & foot, they secure loose shoes.
If you've got narrow feet like me, this is a great (and more interesting!) alternative to shoe inserts & insoles for sure.
In addition, you can wear them 3 ways: inside the shoe (as low & as high on the foot as you like), outside the shoe or around your ankles as a faux ankle strap.
Wearing the straps around the foot: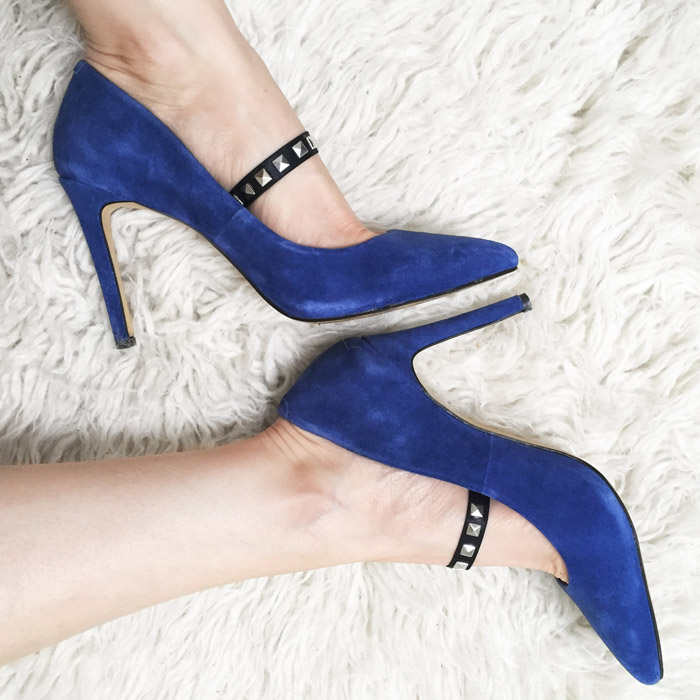 Wearing the straps around the foot & shoe: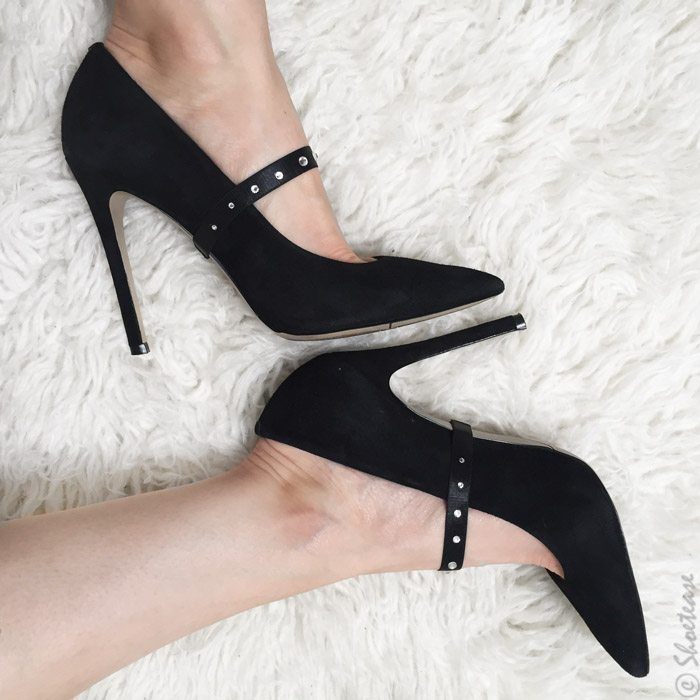 Sassy Strapps: Detachable Shoe Straps Review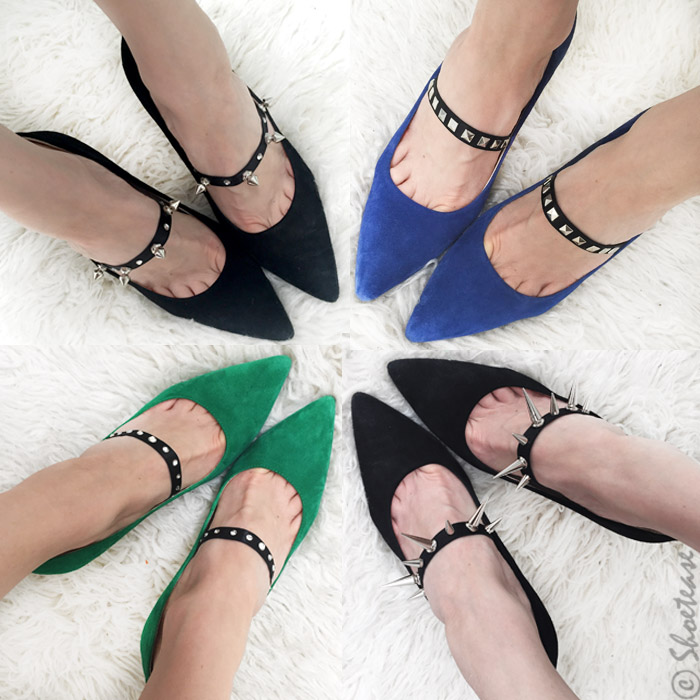 Now, detachable shoe straps for loose shoes aren't an entirely novel idea, but if you run a Google search for them, many less than stellar shoe straps exist out there that serve a merely functional purpose.
Sassy Strapps are definitely not among those practical & aesthetically unappealing bands!
The images of these Sassy shoe straps hardly do them justice. The metal hardware is a heavier metal that is both sturdy & impressive, while the rhinestones really sparkle!
The elastic has a nice grip & fits perfectly around my foot (albeit looser around my small ankles) without causing any discomfort or pain.
Spiked-Out Sassy Strapps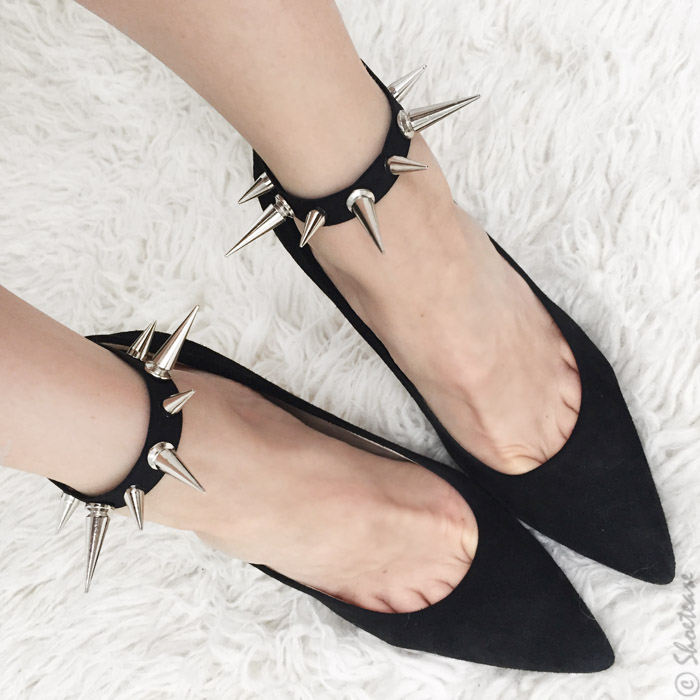 My favourite of all the straps are the "Spiked out" Sassy Strapps. They're made of silver colored metallic hardware that alternates between 2 sizes on the strap.
They're the boldest of the bunch & I find them sensational worn in any which way! Please keep them out of children's reach, though, as these spikes are as sharp as they are long (and why they look so crazy cool!).
Classic Round Rhinestone Straps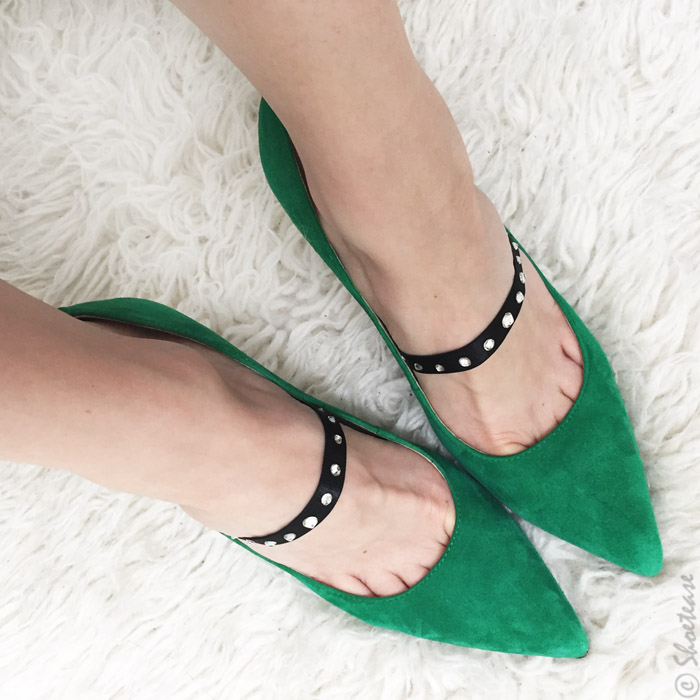 These are Sassy Strapps' best seller & the girliest of the ones I received. The crystal studs are colorless & very sparkly.
I really like these worn on top of the shoes, because the bling goes further around the strap than the other designs.
These bejweled bands are probably your best bet for the office as they are more conservative. Unless your workplace is rather unconventional!
Square Studded Shoe Straps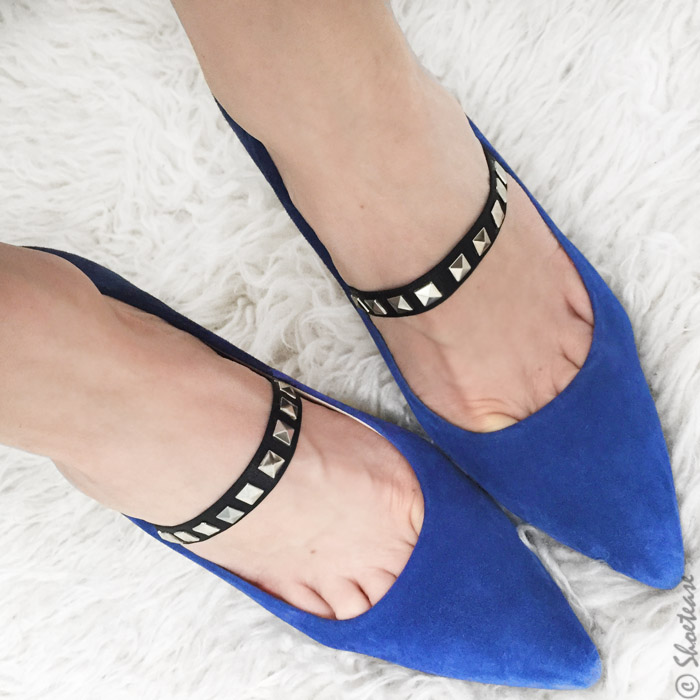 A more tame version of the spiked-out straps are the silver square studs. Perfect for those who want a more rock 'n roll look without being armed with spikes. I really love the look of these with my cobalt pumps, as pictured above.
Short Spikes and Rhinestones Straps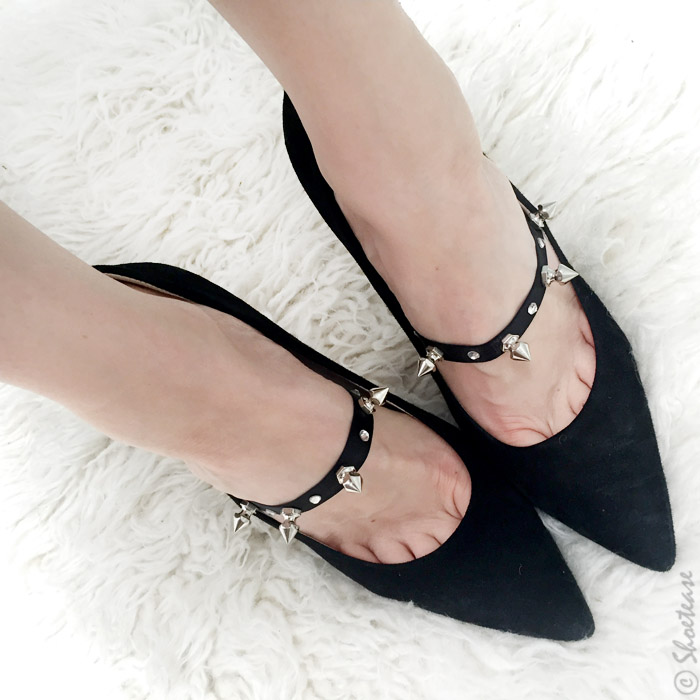 This strappy accessory design is a rhinestone & spike hybrid. If you're a girly-girl itching for a bit of an edge, these ones are for you! These spiked studs are an interesting, chunky 3D shape.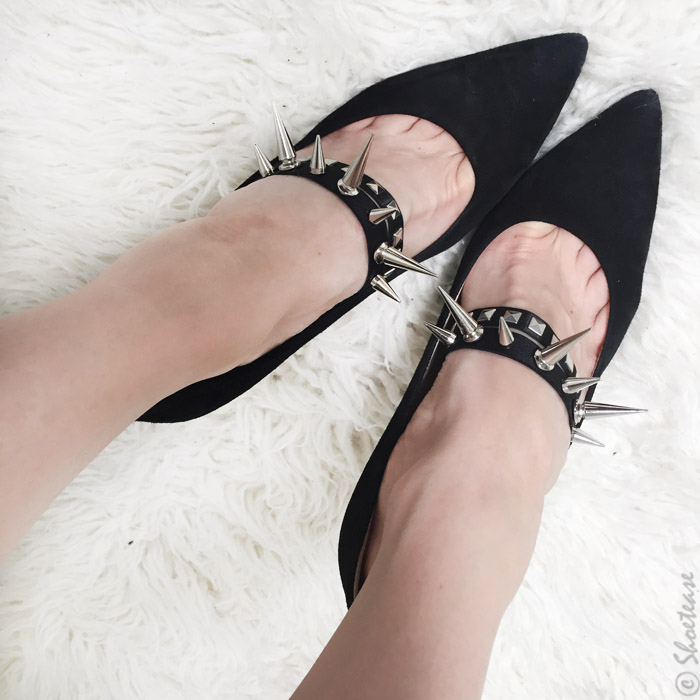 Or, if you're feeling la-di-da, why not double up on these shoe bands to create an even more dramatic effect?
Sassy Strapps mostly come in black as a base color, but are also available in a nude/beige tone among some of the designs as well.
You can see the beige/rhinestone strap in the widget below & can purchase these elasticized & bedazzled detachable shoe straps for your loose shoes (or purely for decoration!) from www.sassystrapps.com or from Amazon.
Disclaimer: Attempting to use removable straps for loose shoes to prevent shoes from slipping isn't guaranteed to work. Using this method to secure shoes might cause damage to your shoes or body. ShoeTease and its partners are not liable for any damages to persons or property arising from any of the advice given in this post. Please follow advice at your own risk. For best results, take your precious footwear to a professional specializing in making shoes less loose.
**This post is brought to you in collaboration with Sassy Strapps. All opinions expressed are my own**
Main photo taken by: Conrad Collaco
xo ShoeTease