Not many of us stop to consider how to waterproof shoes, or whether our shoes are waterproof to begin with! That's because thinking about how our footwear will fare in wet conditions isn't our first thought when we go shoe shopping.
This is true for sneakers, heels and many kinds of boots, especially if fashion or athletic features such as grip are at the forefront of our shoe purchase!
Some of the most beloved footwear favorites, such as white tennis shoes, nude suede pumps, brown oxfords or black leather ankle boots could benefit from waterproofing.
That's because many of these high rotation shoes – unless specifically pre-treated – don't fare well in water or snow. Some shoe materials, can't even handle the occasional raindrop – suede shoes, anyone?
Those who can benefit from learning how to make shoes waterproof? Anybody, really. However, runners, children, busy moms and commuters trying to get to and from work on foot will find waterproofing useful. Especially on rainy days!
Thankfully, there are options available to waterproof shoes, or at least offer some water resistance, even if your footwear wasn't manufactured that way.
For instance, those shoes with a waterproof membrane, like GORE-TEX. Even then, many waterproof shoe materials do lose their waterproofing over time, due to wear and need to be treated every so often.
Read on to learn how to prep shoes for waterproofing, the 8 methods to make shoes waterproof & some FAQs at the end that I will answer:
How to Waterproof Shoes – All Questions Answered!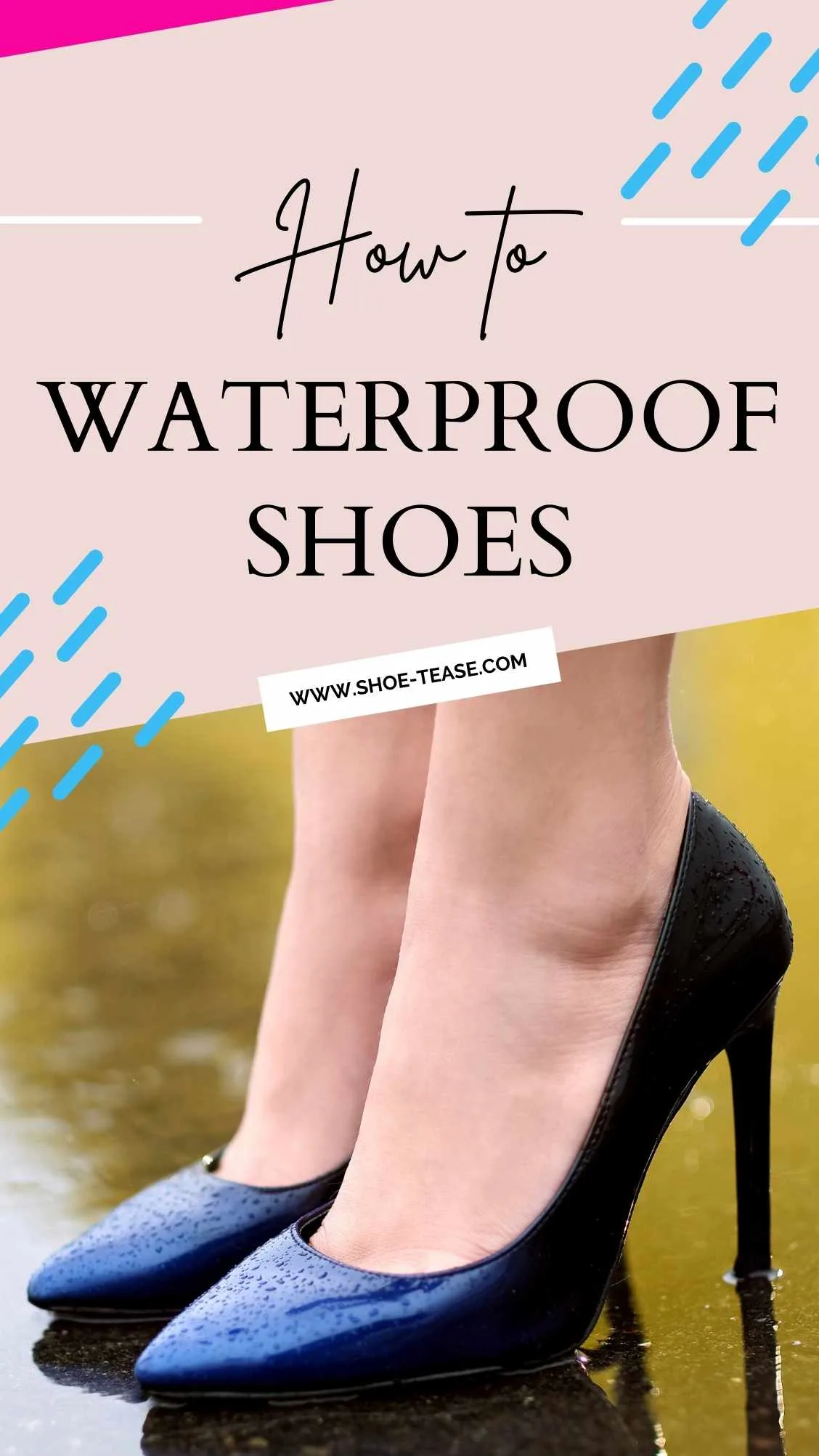 Sometimes we don't think about keeping our feet dry from the elements. Waterproofing is especially helpful on days we're not expecting rain or a nasty splash from a nearby car!
Which Shoes Can Be Waterproofed?
Various materials can be waterproofed, including leather, nubuck, suede, canvas, vinyl, mesh and faux leathers.
Each method on how to weatherproof shoes and boots may be restricted to certain shoe materials. So please read each method and specific product instructions carefully to see if your shoes will benefit from it!
What Are The Benefits Of Waterproofing Shoes?
There are many reasons why waterproofed shoes are beneficial. Below are my top 4 reasons to waterproof shoes and especially boots. Number 4 is the most important to me!
Keep feet dry
Prevent cold feet
Prevent blisters that form when wet feet slide around in shoes
Protect your shoes from stains and water, while extending their lifespan
Are There Downsides To Waterproofing Shoes?
Methods on how to weatherproof shoes can help repel water from your footwear's fabric and materials, but these can also result in some cons. These include:
Decreased breathability of shoe materia – footwear might not be wearable in hot or humid temperatures
Not all methods will result in making shoes 100% waterproof
Applying certain waterproofing agents can make shoes stiff, less pliable, decrease comfort
Water and moisture can remain trapped in waterproofed shoes
How to Prepare Shoes for Waterproofing
Before starting any of the waterproofing processes listed below, please make sure you begin with the following 3 things:
Break in Your Shoes
If your shoes are new or have never been worn, breaking them in is key. Not only is breaking in shoes a great way to get them to mold to your feet, but it will stretch them out to prep for waterproofing.
Many waterproofing methods might stiffen your shoes, making breaking them in afterward difficult.
Clean Your Shoes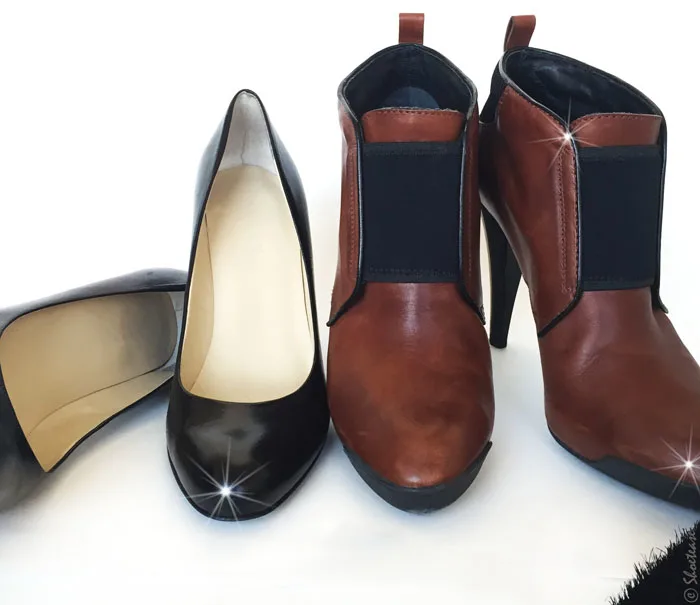 Before waterproofing your shoes, they should be clean, free of dust, dirt or removable stains. A damp cloth or shoe cloth for most real and faux leathers will do the trick.
You don't want to trap any debris underneath the waterproof layer!
Unsure how to clean your shoes? Check out these posts on how to clean various shoe types before you begin the waterproofing process:
Make Sure Shoes are Dry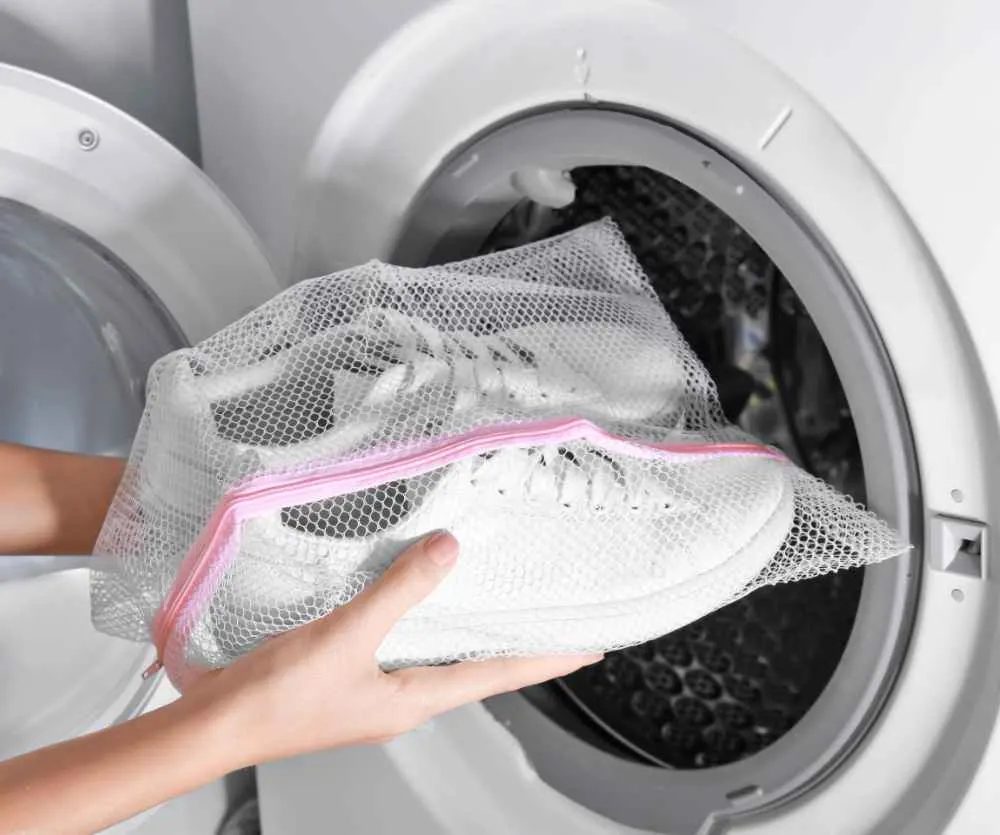 After your shoes are as clean as you can get them, let them dry. Most methods on how to dry shoes require a dry shoe surface to work with.
Airdrying is best, but there are other methods listed in my post on how to dry shoes fast.
Do a Spot Test First
As with any shoe modifications, always do a test on a less or invisible spot. Especially when you're just learning how to waterproof shoes! Which parts to spot test, you ask?
The shoe's interior, such as the shoe tongue, internal shoe wall close to the bottom, or at a low part of the heel is advisable.
You don't want to waterproof a whole shoe only to realize it has been ruined or the material has changed its appearance!
How to Waterproof Shoes – 4 Hacks & 2 Solutions
Many methods on how to waterproof shoes exist, some messier and/or safer for your shoes than others. Not all methods are suitable for all shoe types and materials. Please be diligent with your waterproofing!
1. Use Waterproof Spray for Shoes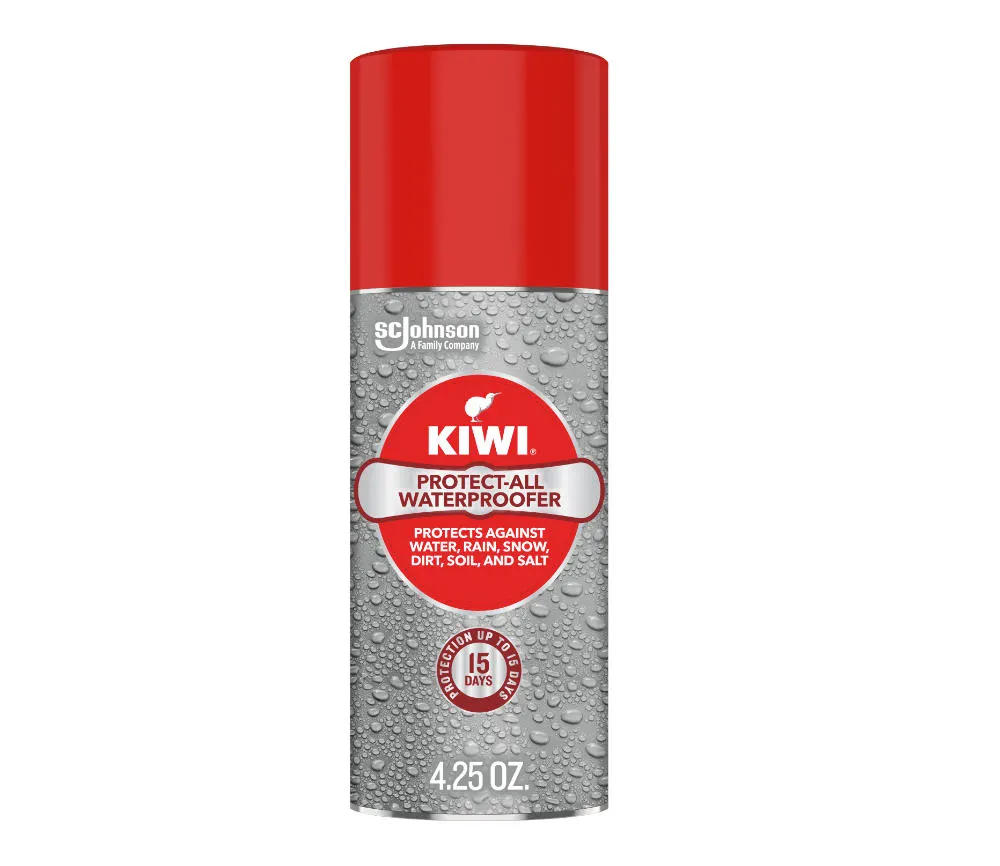 Of all the waterproofing methods to make shoes resistant to water, this is the one I most highly recommend. Waterproof shoe sprays add an invisible layer to your footwear, like a shield to protect the upper materials from absorbing water and dirt.
Waterproofing sprays are not only manufactured specifically for this purpose but they have been extensively tested on various materials. Many of them cater to specific materials such as leather, suede and canvas.
This is what makes waterproofing sprays the safest of all the listed methods. Check out all the best waterproof sprays for shoes and how to use them in my dedicated post.
Pros of Waterproof Shoe Spray:
Safe and effective
Comes with instructions on how to use it effectively, which shoe materials they are most effective on, and which shoe materials to avoid
Most shoe sprays also repel stains
Makes shoes easier to clean, giving them a longer life
Can be used on virtually any shoe material including leather, nubuck, suede, satin, canvas and alternative leathers.
Cons of Waterproof Shoe Spray:
Effectiveness depends on the shoe material
It will not work to seal larger seams or loose shoe stitching
It has to be frequently reapplied
Most need at least 24 hours to set and dry
Some materials cannot be waterproofed
2. Try Wax
It might seem old-school, but actual wax can help waterproof shoes! Scent-free, colorless candle wax or beeswax is preferred. Wax is naturally waterproof and doesn't penetrate shoe materials. It acts as a top-coat sealant of sorts, repelling water.
The wax should be free of dyes or scents. However, if the wax is colored, make sure it closely matches the shade of the shoe material.
You can find wax from hardware stores or online from various retailers, such as Walmart. Brands such as Otter Wax sell small wax bars for canvas and similar fabrics to use for waterproofing.
Learn how to waterproof shoes with wax, below:
How to Use Wax to Waterproof Shoes
Make sure your shoes are properly broken in, clean and dry
After successfully testing an inconspicuous part of the shoe first, rub the wax directly on the outer shoe material of the shoes, like you would draw with a waxy crayon. You should apply it in thin layers so that it doesn't build up too much on the shoe.
Ensure you've adequately covered all external parts of the shoe, including the heel, toes, near the laces, seams, stitching and close to the outsole.
Using a blowdryer on high heat, hold it close to the waxed shoe, moving it over it from one side to the other. The heat will fade the wax as it sets into the fabric. Repeat the steps on the other shoe.
Stop blowdrying when you can no longer see the wax. Look over both shoes to see where you might have missed a spot. If so, blow-dry those areas until the wax disappears there too.
Pour water onto a small shoe section to see if the waterproofing was successful. If not, you can always use a second or third layer of wax coating to ensure the material is thoroughly waterproofed.
Pros of Waterproofing Shoes with Wax:
An effective waterproofing method
Works well on leather, suede and canvas materials
Cons of Waterproofing Shoes with Wax:
A time-consuming method
May darken certain materials, including leather
Will decrease breathability of shoe in areas on which it is applied
May stiffen the shoe materials and reduce flexibility
After waxing your shoes, they won't turn into full-on rain shoes. However, they will effectively fend off some raindrops or bits of slush here and there. No splashing around in deep puddles, please!
Not keen on using this raw DIY waxing technique, but like the idea of wax's effectiveness in waterproofing shoes?
Then maybe shoe conditioning products that double as a waterproofing agent, such as this one from Telia Oils made with 100% all-natural beeswax, can help.
3. Use Leather Oil And Conditioner
As mentioned above, there are conditioning treatments, including leather oils that can restore and waterproof your shoes. Unlike Telia Oils Beexwax waterproofing ointment, most leather oils are mink-oil treatments.
Mink oil is ideal for shoes, accessories and materials made of leather or vinyl. It preserves, softens and waterproofs. Some leather conditioners, such as JobSite's Mink Oil, are formulated with mink oil, lanolin, silicone, and/or Neatsfoot oil.
Leather oil is practical and easy to use. With a rag or shoe cloth, spread leather oil or conditioner onto the external material of the shoes, coating it well. You can wipe off any excess product if you've used too much.
Pros of Using Leather oil:
Easy to use
Safe and effective for leather materials
Conditions, softens and repair leathers, along with waterproofing
Cons of Using Leather oil:
Not vegan
Used for leathers only
4. Try Wd-40 Spray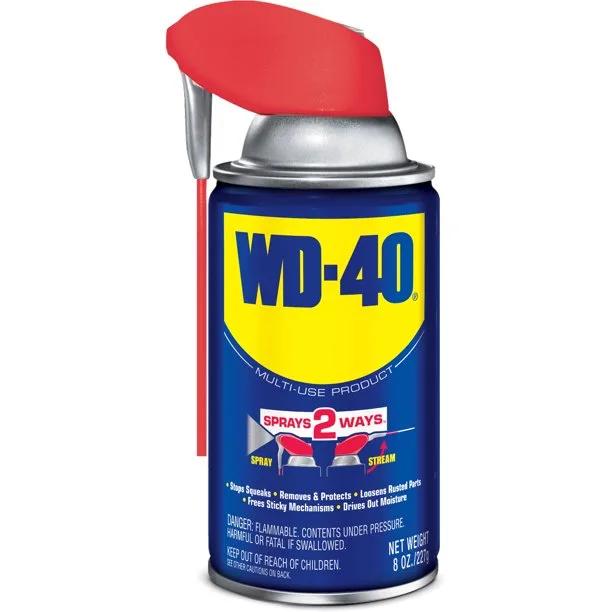 WD-40 has proven to be an all-in-1 solution for many things. It can clean, renew, waterproof and protect certain leather materials. And waterproofing shoes can be included as one of its superpowers!
In a well-ventilated area – preferably outdoors – spray the shoes or boots with WD-40 just like you would a waterproof shoe spray. It will penetrate the material, forming a barrier to prevent water or liquids from infiltrating.
WD-40 can also act as a salt stain remover while softening your shoes. So if you don't have any waterproof shoe spray or beeswax laying around, you can give WD-40 a try.
Pros of using WD-40 Spray:
Easy and practical to use
Can waterproof leather, canvas and textile materials
Makes leathers and other materials soft and supple, when other methods stiffen them
Cons of using WD-40 Spray:
Not specifically meant for waterproofing shoes
Cannot be used on suedes of nubuck materials
Non eco-friendly, petroleum-based ingredients
5. Use Waterproof Shoe Covers
DIY hacks or sprays not for you? Or just not bothered to learn how to waterproof shoes or boots? I hear ya! If so, Waterproof shoe covers might be the answer.
Of course, they won't waterproof the actual material of your shoes, but they will shield your footwear from the elements and any accidental spills, even dirt and debris.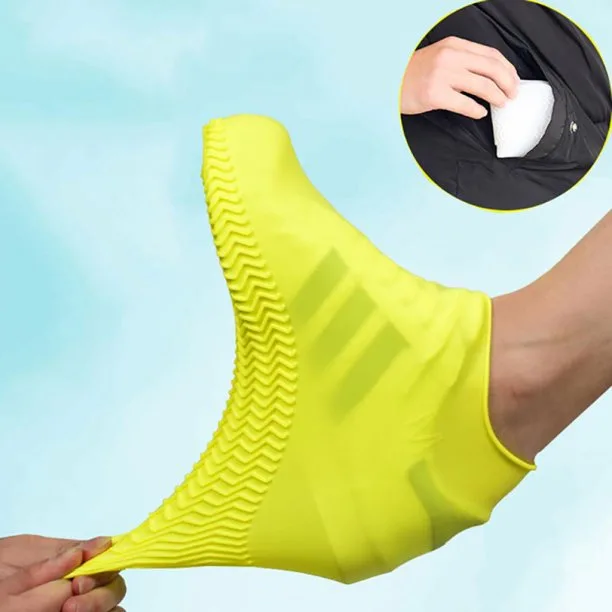 My favorites are these waterproof silicone shoe covers, above from Walmart. Available in multiple colors, they are elastic to fit many shoe styles. They are slip-resistant, easy to clean and durable.
Not to mention that they are pliable so you can easily fold them into your luggage, briefcase or purse!

Have non-waterproof UGG or similar sheepskin boots you'd like to protect from the elements? UGG sells these cute and stylish boots guards, above.
Of course, they mainly protect the outsole and the base of the upper, so a shoe spray on the top of the boots will also be beneficial to keep your boots dry.
6. Buy Waterproof Shoes
Stating the obvious here, buying waterproof shoes is essential if you plan on facing the elements. This is particularly true for fall/winter boots and sneakers you plan to use daily.
So if you're reading this post about how to waterproof shoes and are not comfortable with any of the DIY options listed, it's time to purchase waterproof shoes!
I have a whole post listing the best waterproof combat boots for women if that's a shoe type of interest.
Many retailers such as Zappos, Bloomindale's and Nordstrom offer a vast selection of waterproof shoes, sneakers, sandals and boots.
Brands that make waterproof shoes for women:
How to Maintain Waterproofed Shoes
Now that you've learned how to waterproof shoes and have waterproofed them, maintenance is key to keeping them that way. Wax, shoe sprays and other solvents used to waterproof shoes need to be routinely reapplied.
However, storage and routine upkeep are also important. Here's how to maintain them in their best state:
Keep your shoes clean and wipe them gently after each wear
The waterproofing barrier will wear off after each use. Hence, you should reapply the waterproofing spray or product every so often. This depends on how often you wear your shoes. This is true for most store-bought waterproofed shoes too.
Store your footwear in a cool, ventilated place inside a shoe or boot bag, inside a box (that's why I always keep the original boxes!).
Keep shoes and boots away from moisture and direct sunlight
FAQ – How To Waterproof Leather Shoes
Leather is one of the most versatile shoe materials to waterproof! As such, there are a quite few methods you can use to waterproof leather shoes.
These methods include waterproof shoe sprays made for leather, using beeswax, candle wax, WD-40 or leather waterproofing oils and conditioners.
FAQ – How To Waterproof Canvas Shoes
Canvas shoes are a great material to clean and waterproof. Many methods to waterproof canvas shoes are readily available, such as canvas-specific waterproof sprays, candle wax and WD-40.
FAQ – Can You Waterproof Your Shoes At Home?
Yes, you can do all the waterproofing methods listed in this post at home! Some are messier and more complicated than others, but if you have the materials and shoes ready to go, you can waterproof them in the comfort of your own home – or backyard if you're using WD-40 or shoe sprays.
Final Thoughts on How to Waterproof Shoes
As you've seen, there are quite a few tricks, hacks and products that can waterproof shoes, boots – even covers to protect them from the elements! These methods can protect your shoe uppers from rain, spills and dirt.
However, these will not fully waterproof your shoes where you can splash in deep puddles or walk in piles of slush or snow. Rain boots, they are not! The outsoles may still be vulnerable to water, especially more if they're made of leather.
Let me know what you think of these methods for waterproofing shoes, in the comments, below. Have you used any or were surprised by some I've mentioned?
Now that you know how to waterproof shoes – or at least know of a few retailers and brands that sell cute waterproof shoes! – why not make sure to protect yourself from slips and falls with non-slip shoe spray?
If you're looking for more shoe care hacks, check out more shoe care tips, here!

Disclaimer: The methods listed in this post on how to waterproof shoes and boots are to be used with caution. ShoeTease and its partners are not liable for any damages to persons or property arising from any of the advice given in this post. Follow advice at your own risk. Please note that attempting to alter your footwear in any manner may void your shoe's warranty and make them no longer suitable for returns.
xo ShoeTease