Practical High Heel Protectors You Didn't Know Existed!
If you've ruined more than one of your high heels when facing the elements in everyday life, you're not alone.
And although it would be great to use our stilettos as mere occasional props, a "wear only while sitting" rule is not a practical solution for protecting them from nicks & rips!
So in the name of shoe care, I'll be discussing some of the best gadgets (ie high heel protectors!) to keep your heeled investments safe. Because we all want to have our high heels & wear them too, am I right!?
Luckily for us, many innovative companies have come out with shoe accessories in the form of high heel savers for shoes.
There are some seriously amazing products out there to save our high heels from practically anything. Including, but not limited to: cobblestones, grass, sand & even from our own car interiors, while driving.
RELATED POSTS:
The Best High Heel Protectors for All Heels

Heel savers come in many forms, shapes, sizes, colors — heck — even transparencies! Some of them are heel caps, others, high heel covers & guards.
But no matter how you categorize them, each product exists to serve & protect your heels from unfortunate circumstances. And I've scoured the best high heel protectors available on the market & divvied them up by use.
#yourewelcome 😉
So what is a heel protector, you ask? They're essentially heel savers for shoes that protect either the heel tip, heel shaft or both.
These accessories are used mostly for preventing damage to dainty stilettos, which are prone to damage, not to mention more easily sink into the ground! Some even make shoes less slippery, giving the heel tip added traction.
So, where can I buy high heel protectors, you ask? Patience, my friends, patience! Why don't I list some out to start, so you can become more familiar with the concept & we take it from there, ok? Moving on!
High Heel Protectors for Grass
Let's face it: stilettos often venture where they likely shouldn't. So it comes as no surprise that one of the most sought-out heel protection accessories are those that prevent heels from sinking into grass & getting ruined.
Like at a wedding or garden party where grassy lawns come into play. And you can't really wear flats to a wedding can you!? Oh, alright, you can, but it's usually not a first choice 😉
Ask any party guest who has used high heel caps on grass recently & they'll likely rave about them. Because walking & standing at these sorts of things is somewhat key! But wait…there's more!
These nifty contraptions are not only reserved to protect your heels in the grass, but can also help shield your high heels from muddy streets, country roads & sand.
What's great about these heel caps is that many brands are making them in all kinds of shapes, sizes & colors. Making it easier for you to find a heel cap for your need & liking.
The SolesMates Heel Covers for Grass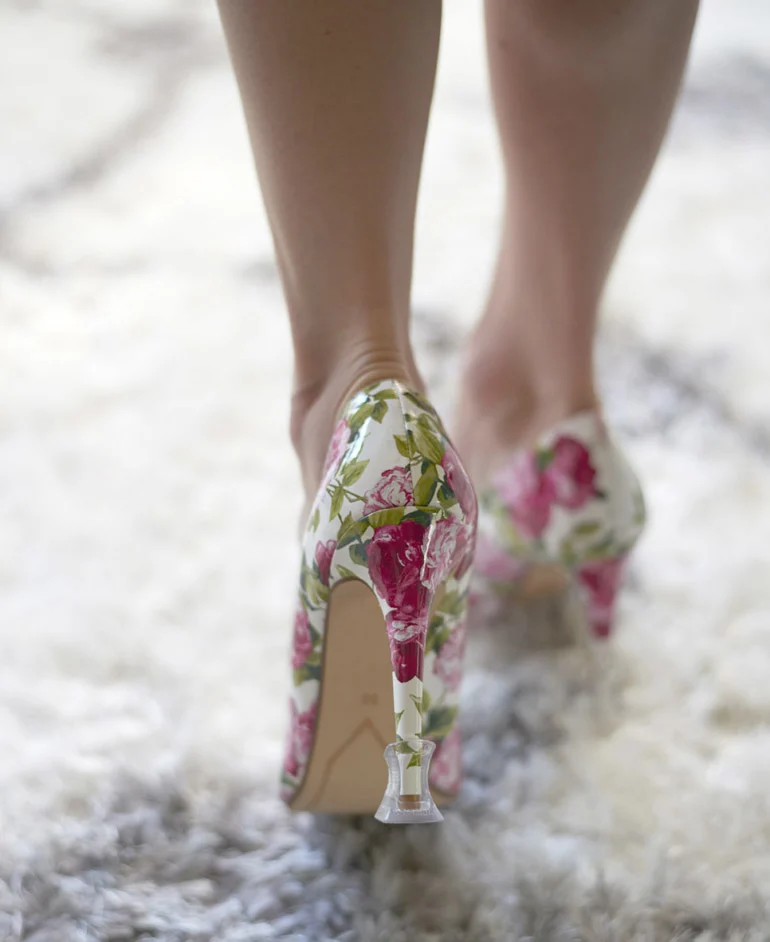 Solemates' High Heeler is one of the most highly rated patented stiletto caps out there & a celebrity favorite. I recently found out that Solemates was the first of its kind to be invented (I verified it!).
Ever since their product was released into the market, it has spurred a slew of copycat versions. Yes, they're that good!
Made in the US, Solemates' heel caps are a discreet & functional option if you'll be walking both on & off the grass in stiletto heels.
The most popular style is the clear version, but they also come in black, silver & gold. Available in 3 sizes (narrow, classic, wide), these heel tip protectors can be reused.
The brand has expanded its line to include a variety of shoe care accessories, which I plan on featuring in the near future. This female-owned business was on Shark Tank a few weeks back. Did you catch the episode?
Shop Solesmates' High Heelers at Walmart, here.
Grasswalkers Heel Strips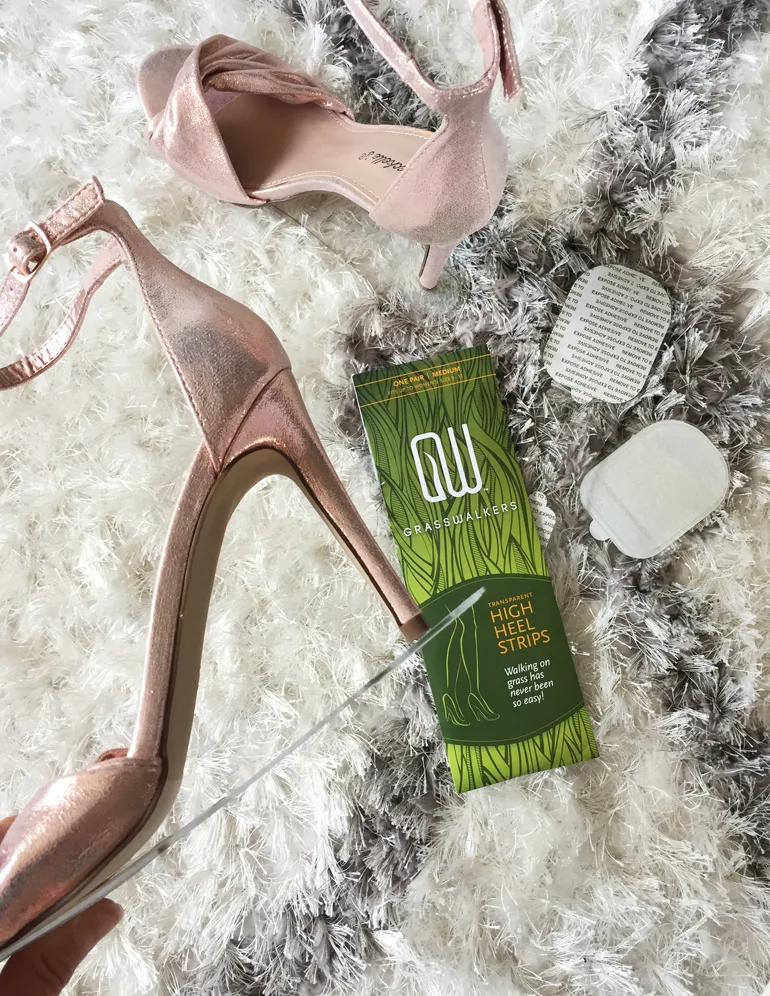 If you're looking for a larger grass shield, US-made Grasswalkers heel protectors offer the widest surface area, so they will work with many types of heels. Just think of them as DIY wedges! They can be used on all kinds of heels too, not just stilettos.
Clear & flexible, Grasswalkers cover both heel tip + sole, so they will also help protect any fragile leather outsoles. They have a good grainy grip on the exterior to make sure you don't slip on the surface you're walking on.
The perfect sole and overall shoe protector, and a great way to prevent bridal or satin shoes from being soiled. Trust me, you'll want to avoid the painstaking motions of cleaning satin shoes!
I'm sure these could also prevent heels from sinking into the sand. I still have to give that a try, though. Check this space for an update!
You'd think that being larger than any other of their kind, these heel protectors for grass would be more visible than a simple heel cap. However, they're actually quasi-invisible. Seriously.
I had trouble getting them to show up in the pictures above! Grasswalkers are available in 2 sizes to fit different shoes & are recommended for one-time use only. I'm a shoe size 8 & the large size fits best on my heels.
Worthy side note: each year Grasswalkers donates a percentage of its sales to arts education.
Everyday High Heel Protector Caps
For the busy everyday gal, pin-thin stilettos — no matter how high in quality — aren't going to get you from A-Z without an incident. From cobblestones to concrete rubble, many an obstacle our high heels will face!
Clickless Heel Caps

Although you can definitely use SoleMates' heel caps for every day walking around, if you want a more or less visible alternative to protect your heels from small rocks & city sidewalks, Clickless heel protector caps are a great choice.
And multi-functional too, as they are a neat solution on how to stop heels from clicking! With a smaller surface area, these heel tip covers will protect the base of your stilettos without anyone knowing you've snapped them on.
Living in a big city, this is the heel protector I personally use the most. Read my in-depth review on these heel caps, over here.
---
Shop Clickless Heel Caps:

---
Back of Heel Protectors
If you're looking to protect more than just your heels' top piece — that's the technical term for that little plastic nib on the base of your stiletto 😉 — look no further than plastic heel protectors to shield your heels from ruin!
Like Heel of Steel. These nearly invisible strips that you can cut to size, work on both matte & shiny heels.
Worn with heel tip protectors like Clickless or Solemates, these plastic protectors could also save your upper heels from getting stained & muddied by grass & more!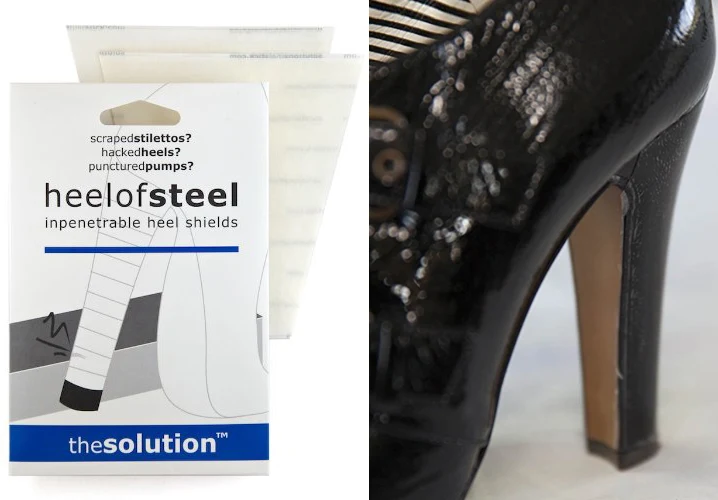 High Heel Covers for Driving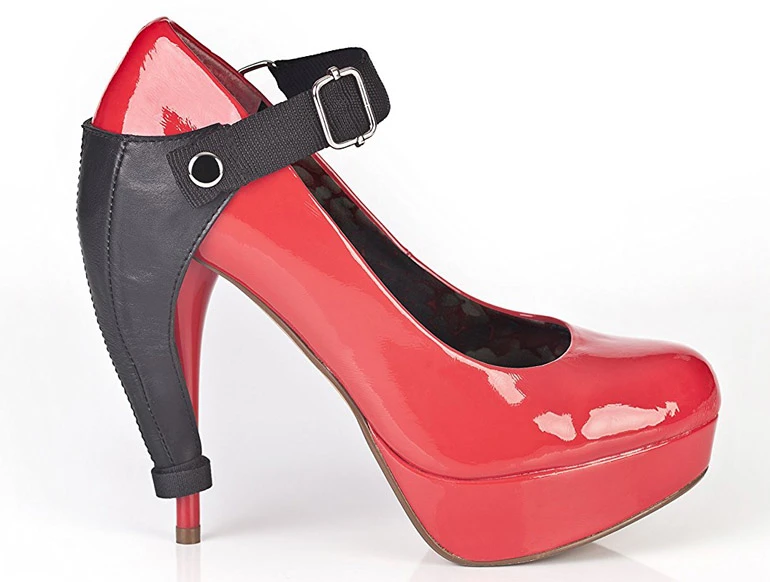 I wish I had known about heel guards for shoes that you can wear in the car, when I commuted daily for my out-of-town design job a few years back. It would have literally saved a few of my favorite shoes from getting tossed to their grave.
Although many ladies (and gents) prefer to keep a pair of driving shoes — ie disgusting but comfy shoes no one will ever see — under the driver's seat of their cars, there is another option.
Like adding a pair of pretty fierce looking heel shields from either Haelgart (featured above) or ShoeCoat, just to name a few! As you can see below, you can buy quite the selection of protectors for both stilettos or flats & for any shoe.
So whether you're driving in heels or otherwise, you know your shoes will be covered. Quite literally!
---
Shop Heel Guards:

---
So if you're looking to protect any portion of your heels from city streets, country parks or your own car, there is no lack of great options to choose from. Heck, you can even double up by wearing a shield & heel cap!
And thank goodness for these amazing shoe heel protectors: without them, our heels would certainly not join us for as many special occasions 😉
What are your go-to solutions to protect your high heels from scuffs, tears & sinking into the ground? If there are any other products that you can recommend that I've missed, feel free to jot them down in the comments, below!
More Posts about High Heels
Photo Credits: Joel Gale, ShoeTease, Conrad Collaco
xo ShoeTease
Cristina is the chief editor, fashion & shoe expert here at ShoeTease. As a seasoned stylist and women's fashion & shoe designer, she boasts over 20 years of experience in the fashion industry. She loves crafting effortless outfits for ladies both online and off and believes that styling advice should be accessible to everyone. Whether you're a styling pro or just starting out, Cristina's here to guide you on your fashion journey! Learn more.