Summer is the perfect season to rock a pair of slide sandals! They are comfortable, easy types of sandals that can be worn with many different outfits, from casual to more upscale.
I'm here to show you how to wear slides outfits in different styles and combinations. I'll provide you with general styling tips for creating casual, elevated, boho ideas and list off a few types of slides to help get you started.
Then I'll showcase various slides outfits. Whether you are going on a vacation, just want something casual to wear around town, or wear the right pair for date night, read on here at shoe-tease.com, for many fabulous slides outfit ideas!
What are Slides?
Slides are types of shoes that are backless, have open-toes with one or multiple straps or multiple. They can be flat, with a heel, or platform. Not to be mixed up with mules, that are similar, but closed-toe.
Slide sandals date back many millennia! They widely became popular as a shoe for both men and women in the US & Europe in 1960. Ever since, it's become a classic shoe type that has taken on many forms!
Two easily identifiable slide styles are classic Arizona Birkenstocks and the sporty Adidas' Adilette. However, there are a slew of different types of slides.
8 Trending Types of Slides:
Leather slides with one (ex: Madewell), or multiple criss-cross straps (ex: Free People)
Rubber Sports slides (ex: Addidas' Adilette)
Cork-Lined slides (ex: Birkenstocks)
Heeled slides (like these)
Puffy upper slides (like these)
Platform slides
Furry Slides (love these!)
Clog Slides (ex: Dr. Scholls' Original)
How to Wear Slides Outfits- 4 General Styling Tips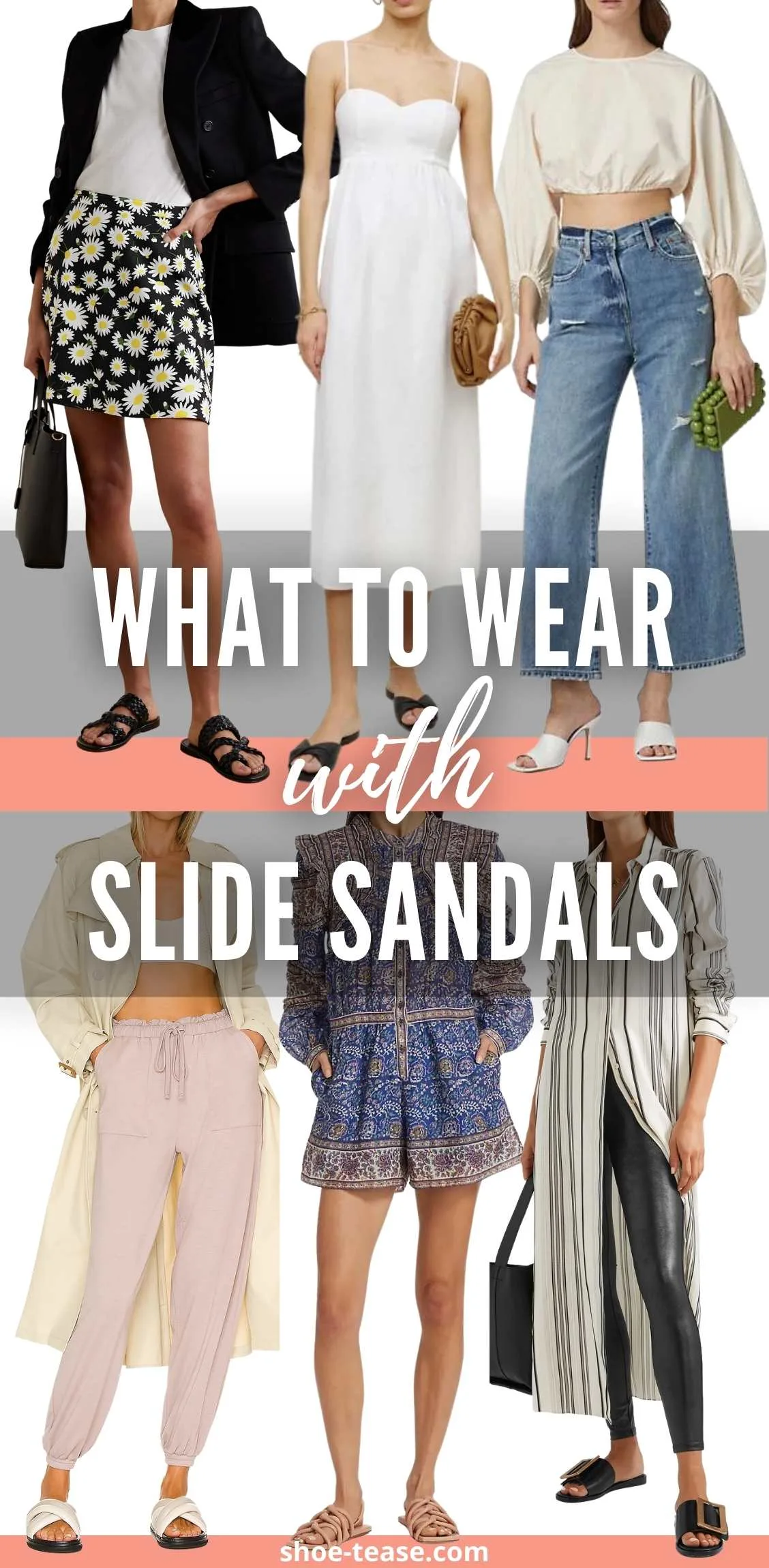 1. Wear them with Easy-Going pieces
Slides are great for everyday wear including running errands. For an effortless outfit, slip into a pair of comfy flat slides and pair them with easy pieces. Below are some of my favorite clothing pieces to style with slides:
Jeans and denim dresses – any slide style will do. Reach for a rubber pair for ultra-casual looks, or simple leather styles for minimal slides outfits.
Lounge pants – Joggers and sweats pair great with a sporty rubber style or furry slide, for a laid-back ensemble. Socks are optional.
Leggings – Basic black leggings go with everything, include all kinds of slide styles. Pick a pair that's as good on your feet as the leggings are on your legs! I love adding fun animal print slides to this look.
Sweatsuits – 2020 brought on the sweatsuit trend and these pair best with sports slides. Choose a contrasting color, or go for a printed slide to play up the relaxed look.
T-Shirt Dress – This is an easy pairing with slides. Opt for a more structured leather pair and a matching purse, so you don't look like you're wearing your jammies!
2. Wear Heeled Slides to Dress up an Outfit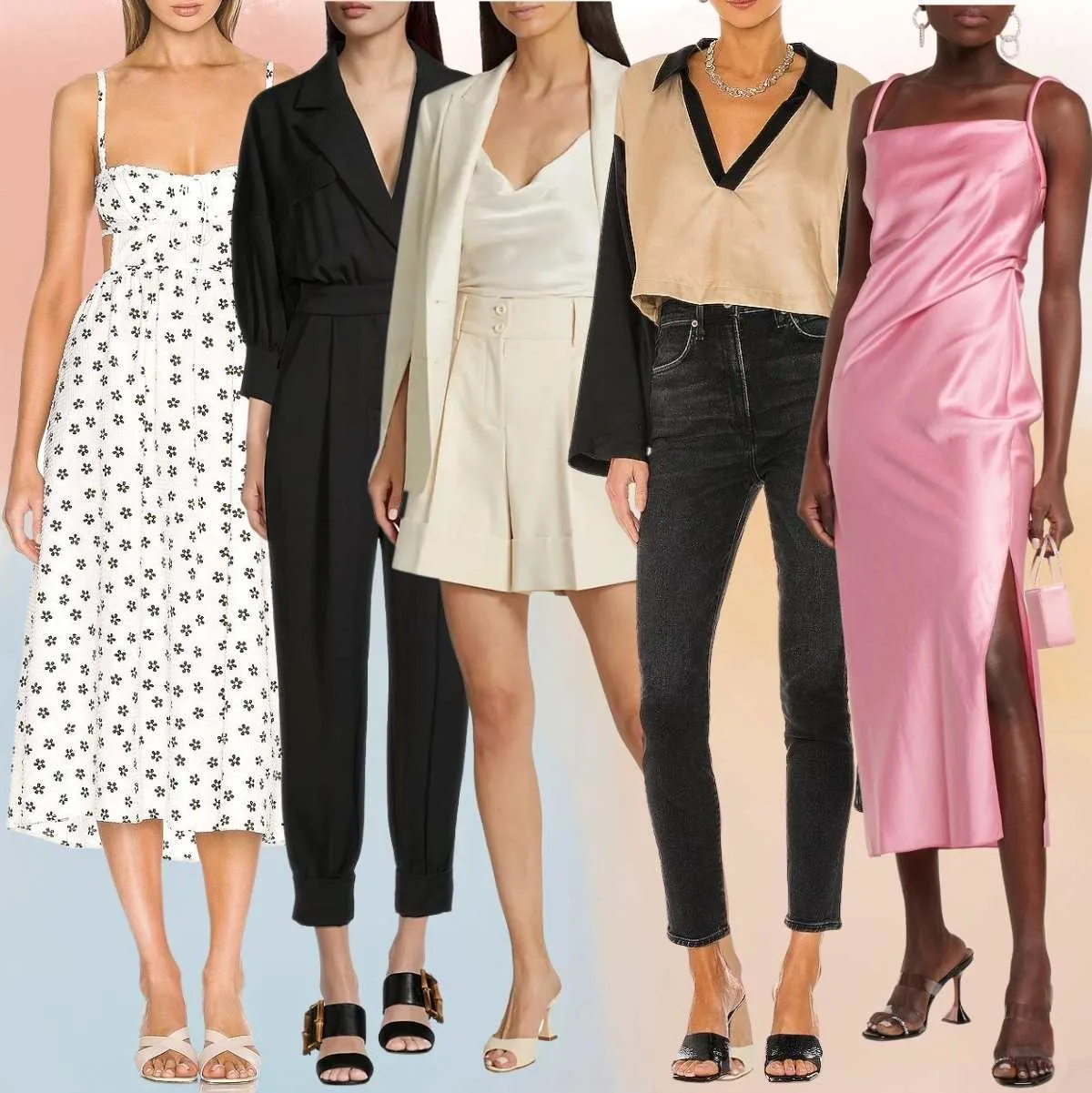 High heel slides, whether block heeled, kitten heeled or higher heeled, are a great summer sandal. A black, metallic, bejewelled or clear strap pair will elevate even the simplest outfit.
Simply grab a cute clutch or purse and you're ready to take on the town in a shirt dress, tailored suit, and even basic jeans & tee!
3. Wear Cork-Bottom Slides for Relaxed Outfits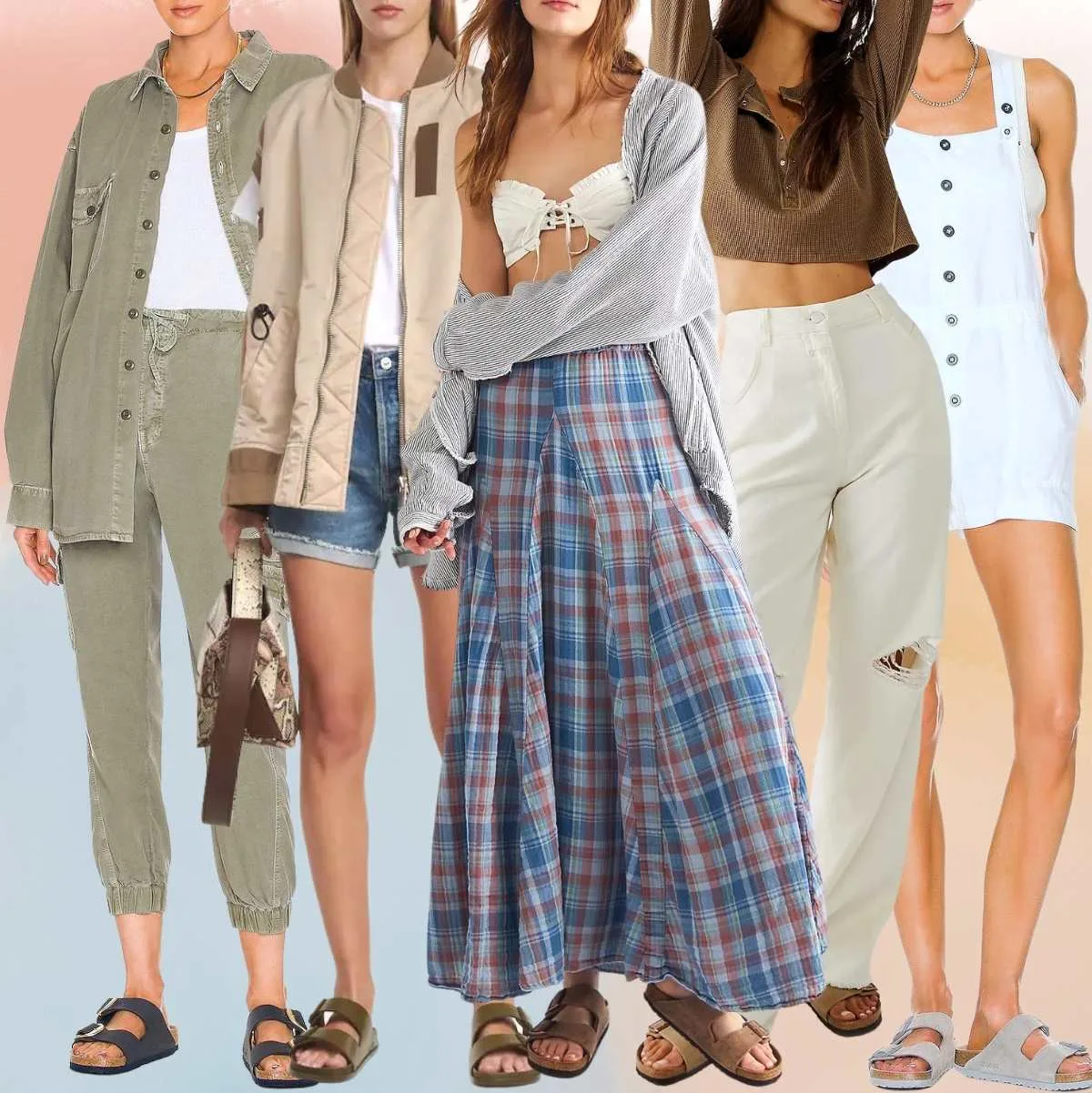 For boho vibes or more relaxed looks, reach for a pair of cork-bottom sandals. Birkenstocks Arizona slides and similar sandals are the way to go.
Pair them with a fringe purse, layered fine jewels and easy-breezy clothing for a bohemian chic outfit. I love a flowy maxi dress, wide-leg pants and tucked-in tee, or loose shorts and a tight tank for this aesthetic.
You can even wear Birkenstocks with socks! If you're looking to create a warm in-between season look still wearing your Birks or similar Earthy-looking slides, try socks. Wooly speckled socks will create cozy cottage appeal, while white or striped ankle crew socks will make your outfit more sporty.
4. Keep Your Feet Pretty
While I believe in always keeping your feet clean & pedicured, it's especially important when wearing slides.
Slides are minimal sandals that showcase your ankles, heels, toes and foot soles as you walk. Having ungroomed feet fully on display will make a casual outfit look messy and it will bring any chic outfit down.
Clean, filed toenails and buffed, moisturized heels & soles will do. Colorful, lacquered nails are an added bonus! If haven't cared for your feet and need the comfort of a slide sandal, reach for appropriate socks, or avoid slides altogether.
What to Wear with Slides: 45 Slides Outfits Ideas
Slides Outfits with Dresses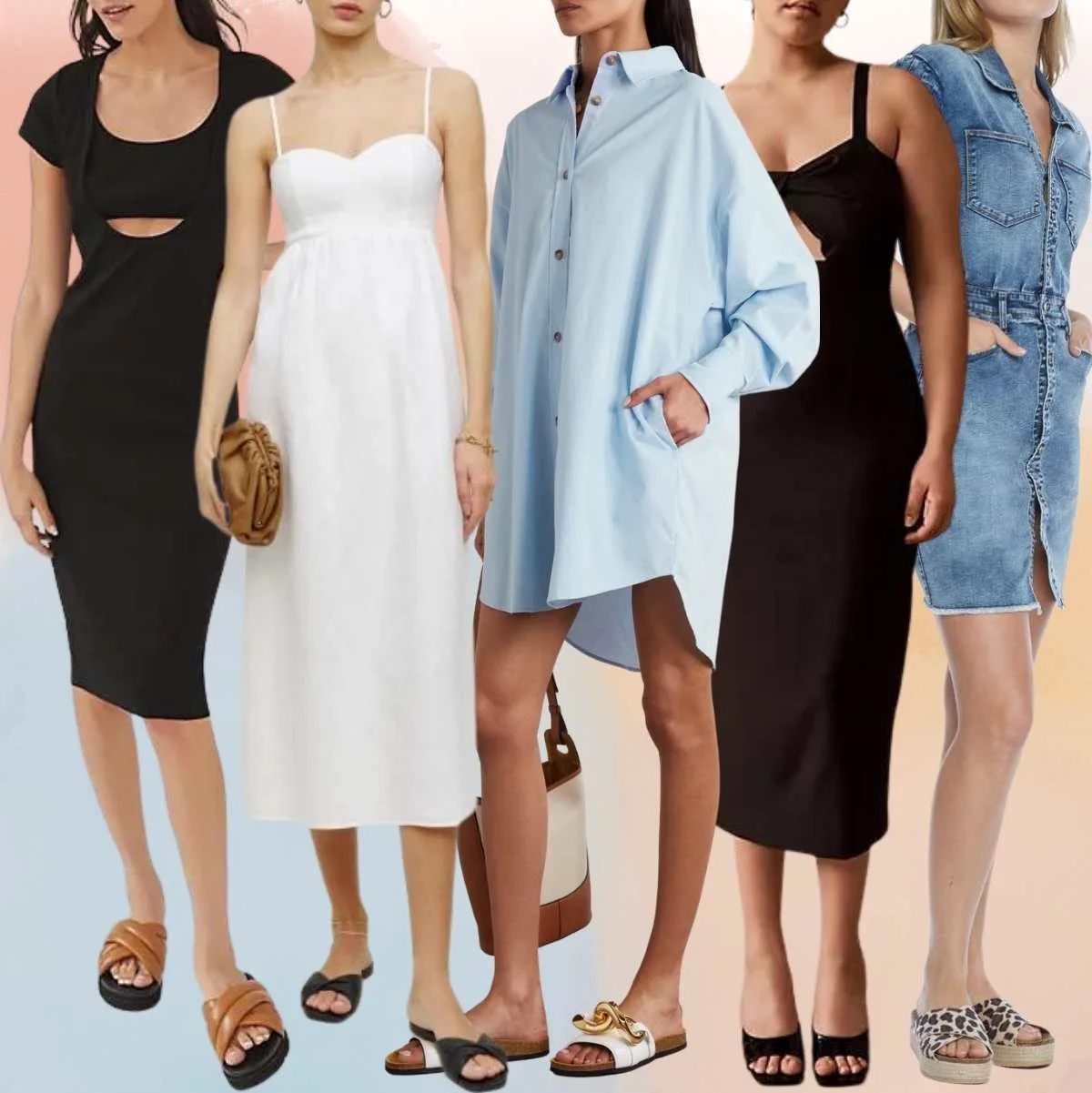 Easy breezy for summer, slides make a great addition to any dress, whether sporty, minimal or platform styles. Puffy or sports slides bring your outfit to more casual levels. These look great with shirt dresses, maxi dresses, midi dresses and even fine-knit sweater dresses!
High-heeled slides, by contrast, can elevate any type of dress, especially a LBC! Read my post on all the shoes to wear with dresses for more styling tips!
Slides Outfits with Jeans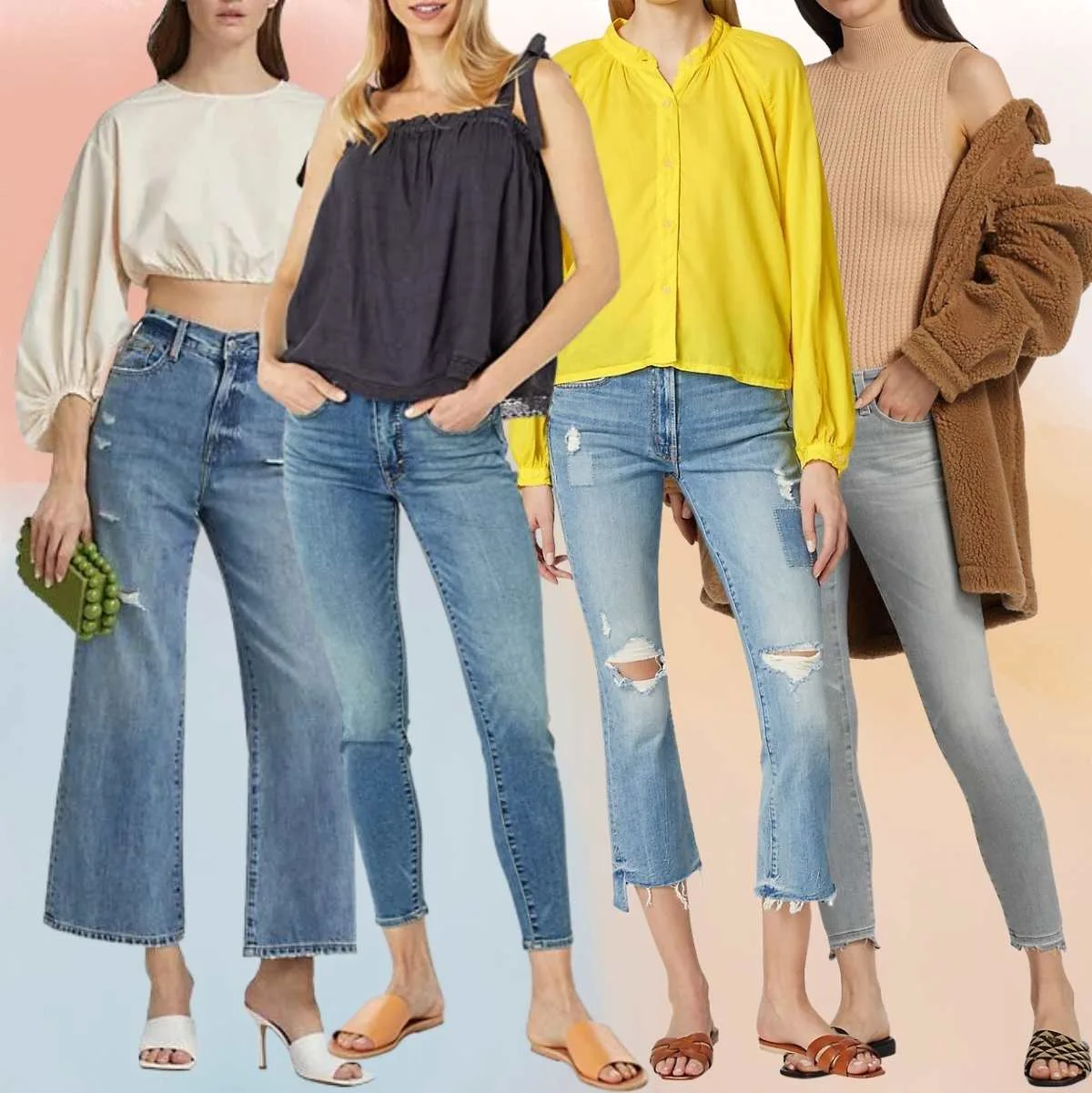 Slides outfits with jeans are a great combo! You can dress up a darker denim jean with simple leather slides, especially those with a heel. Keep chunky slides reserved for the heftiness wide-leg jeans or looser fit straight leg jeans.
For tight skinny jeans, opt for minimal chic slides as not to create too much bulk at the bottom of your outfit.
As per jean length, you want to avoid longer, wider jeans with slides as not to trip over or catch the jean hem in your sandals as you walk. With this type of sandal, keep jeans ankle height or cropped.
Colorful slides look fab with the neutral nature of denim! Keep things simple with a simple black or white tee, or bring on more color with a fun printed top. Curious how to style a particular pair of jeans? You can find a list of all my post about shoes with jeans, here!
Slides Outfits with a Jumpsuit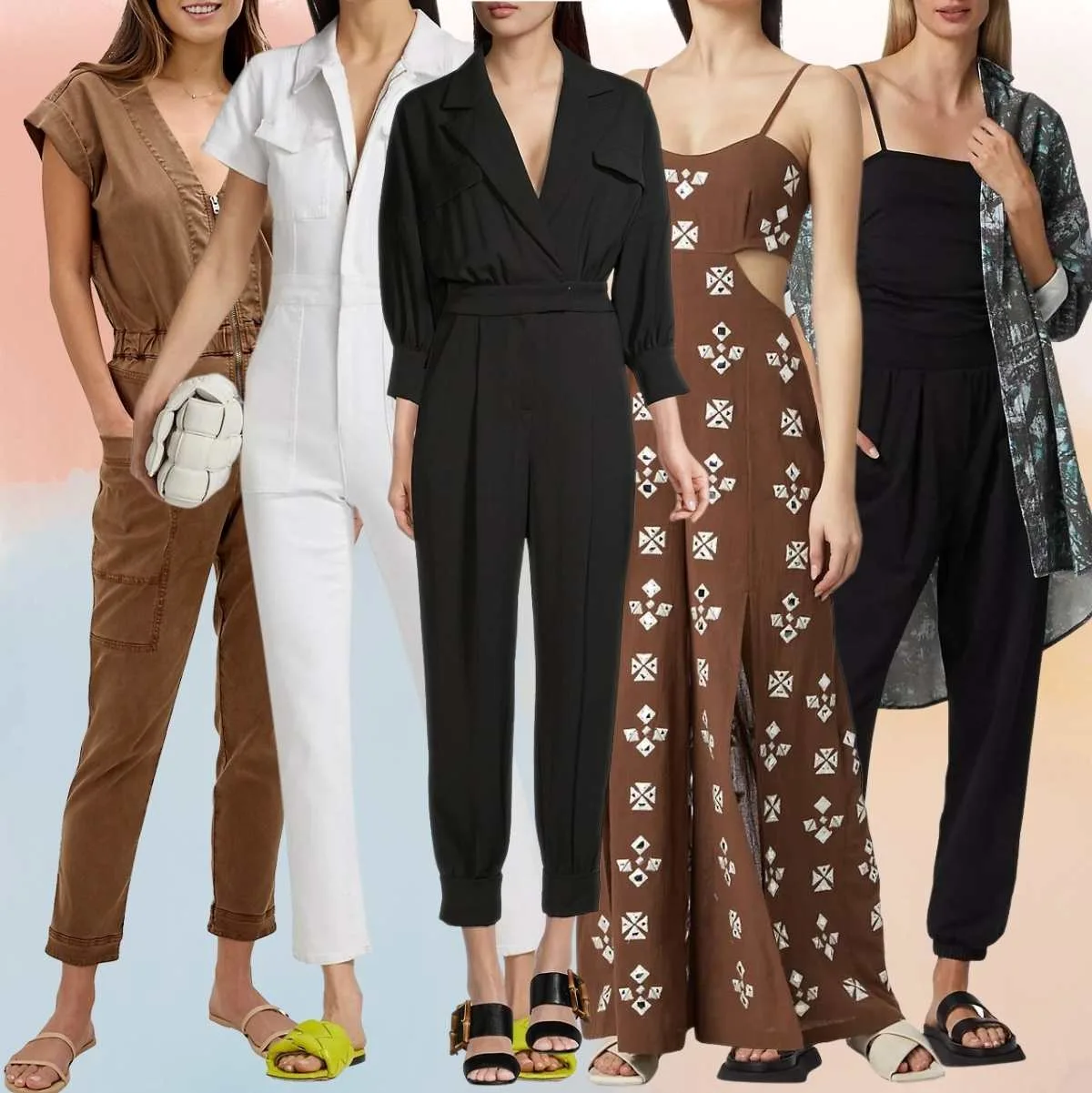 Literally my go-to spring/summer slides outfit is paired with one of my many jumpsuits! And how to style slides with jumpsuits is really easy. I keep things casual with a simple Birkenstock slide for casual jumpsuit looks, but that's no the only option,
For a dressier, more structured jumpsuit I love a high heeled slide, adorned with rhinestones or a statement buckle. That being said, you can style slides that are minimal with one large or multiple fine straps for elevated outfits too. It all depends on your comfort level!
Like with pants or jeans, keep your jumpsuit hemline above the shoes, so you don't catch the edge of the jumpsuit in your sandals as you walk! Looking for more sandals to wear with jumpsuits? Check out my post on what shoes to wear with jumpsuits for all occasions.
Slides Outfits with Rompers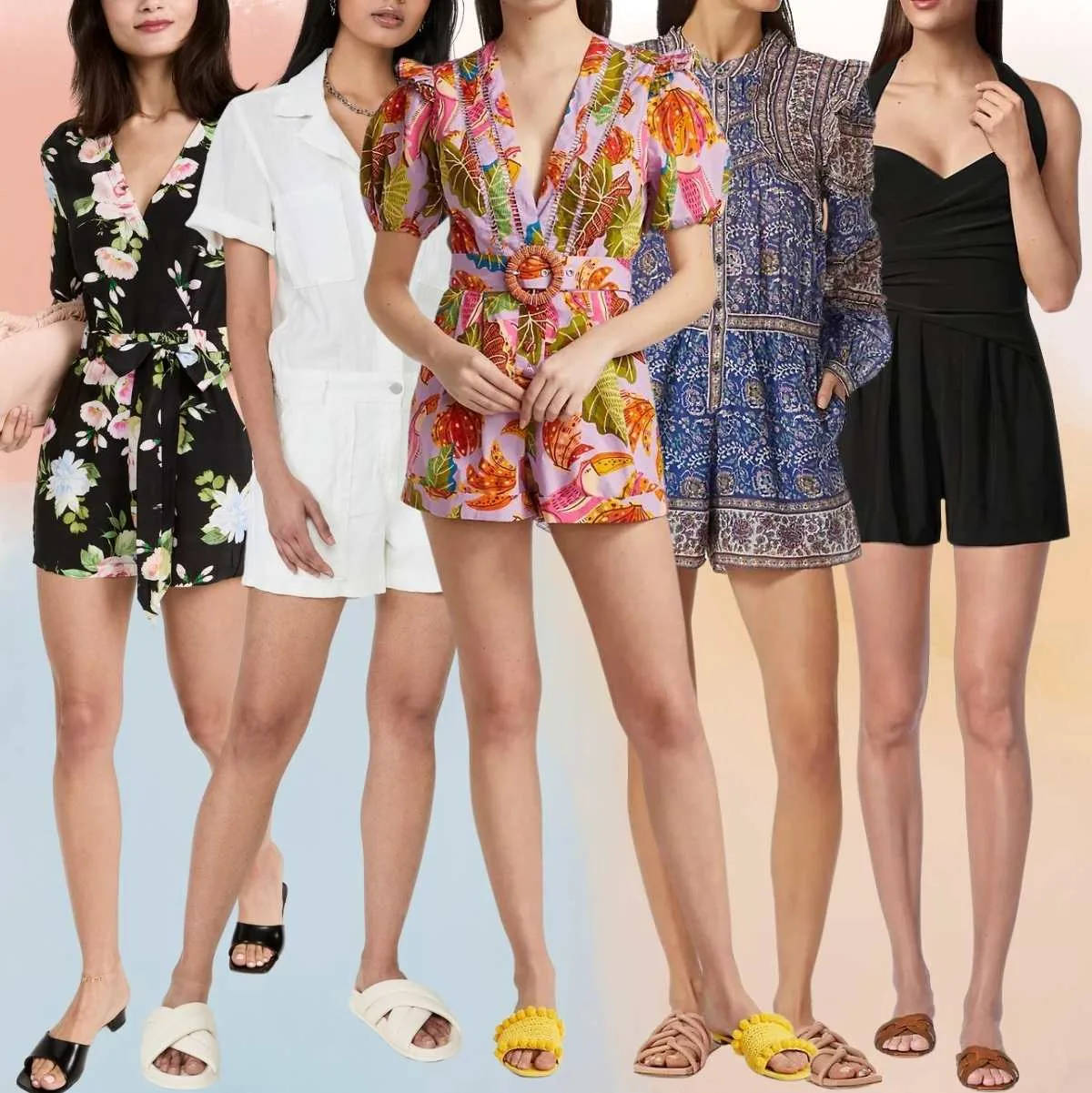 Easy summer outfit involve rompers. Just slip into a romper and then a pair of slides, and with cute purse, you're all set! With shorter hemlines, I prefer flat or kitten heels.
High heel slides with rompers can be tricky and will really only look classy with structured rompers that look more like a mini dress.
For a beachy look, choose a tropical print or loose romper. Add a pair of tan woven slides or easy-going cork-bottom slides. So many shoes to wear with rompers, if you want to read that particular post!
Slides Outfits with Joggers & Sweatsuits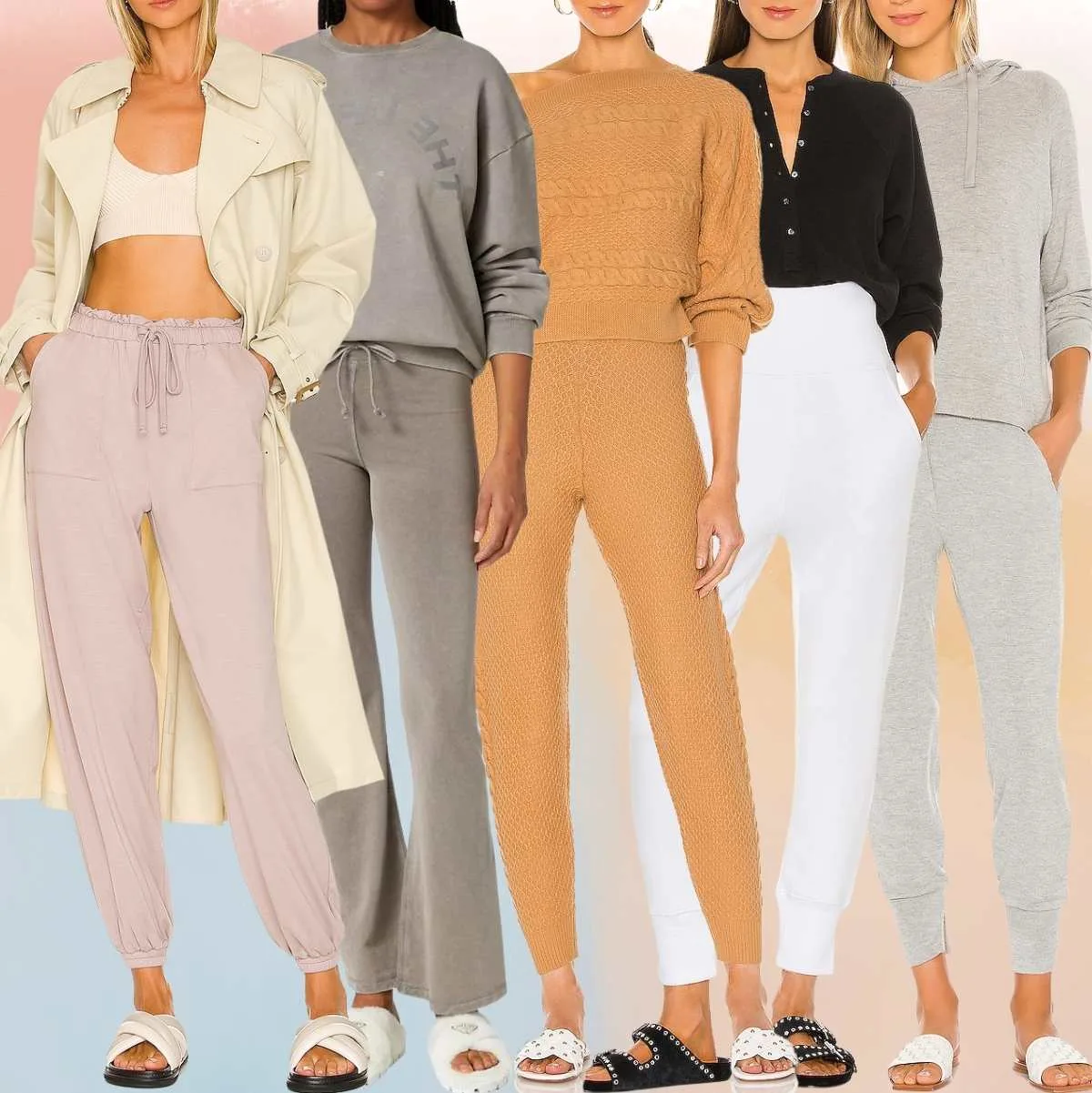 Chunky slides outfits with joggers and sweatsuits are so fun! But you don't need to choose sporty slides only. Those puffy upper ones, or fluffy platform ones are also a great match, especially for sweatpants.
For thin knit, tighter joggers, watch out for heftier slides. These, as with leggings, can make your feet look really big and bulky. So if you have a medium to large foot size, opt for a chic minimal leather slides.
You can also dress up this type of joggers with refined slides with a billowy blouse or tight tee under a trench or blazer. Lots more styling tips on how to wear slides and other shoes with joggers in my dedicated post!
Slides Outfits with Shorts
A summer staple are shorts outfits with slides! Make a casual outfit with distressed denim shorts and Birkenstocks, or elevate your look with tailored shorts, sleek heeled slides with a smart top and jacket! I love a good matching shorts set with slides, myself!
Slides Outfits with Leggings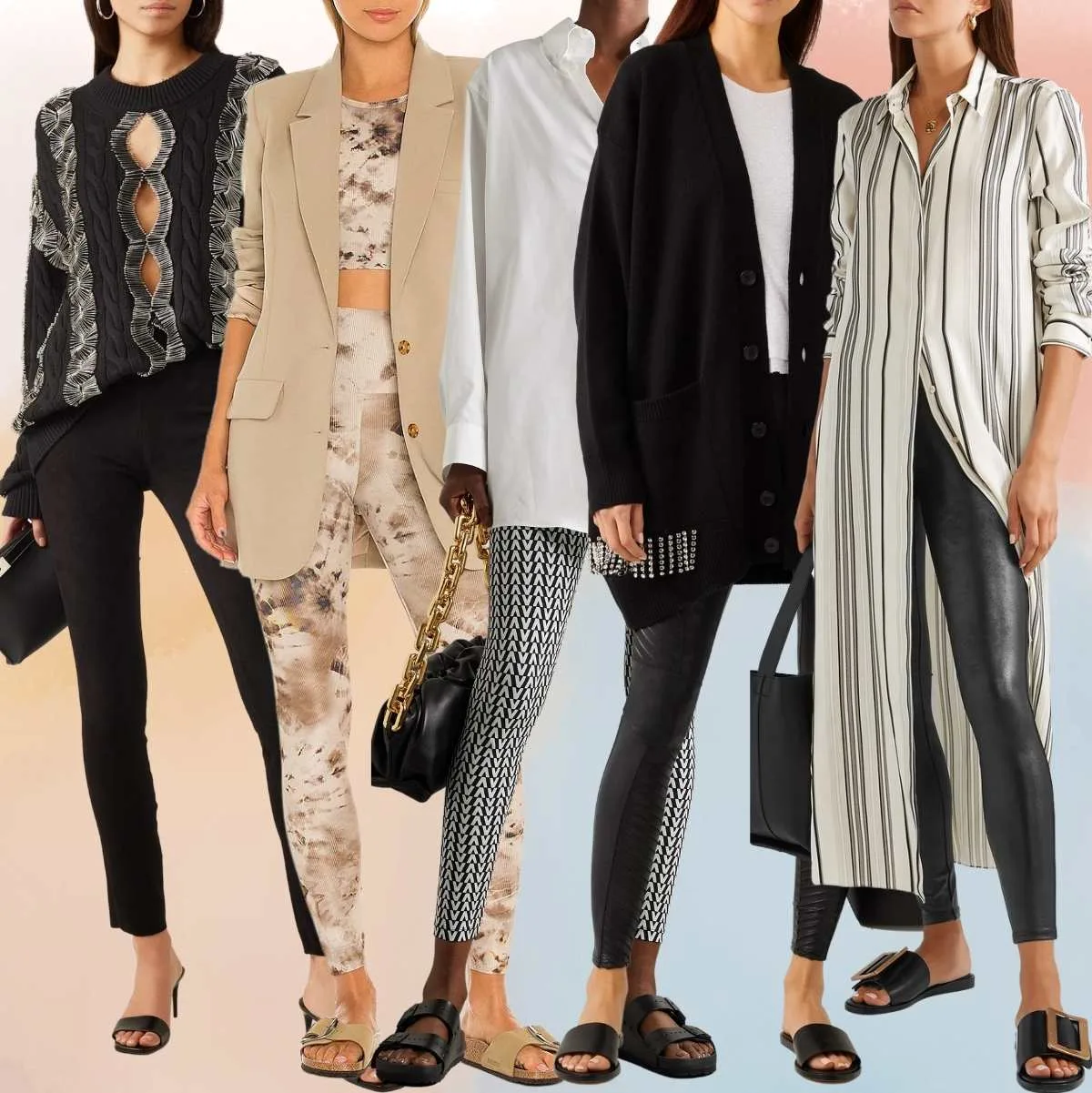 It's hard to talk about slides outfits without mentioning leggings! This easy-to-wear bottom has become a staple in many a woman's wardrobe, just as the slide sandal has.
You can wear sporty slides with simple or athletic leggings of any length or leg width. Add a cropped top or sweatshirt to complete the casual look. Platform slides add extra fun to your leggings outfit too. But be aware that larger shoe sizes can make this slide style look awkward with leggings!
Want to look more rugged? Opt for leggings outfits with Birkenstocks and a tank, layered with a long or oversized shirt or sweater for cooler days. To keep wearing leggings with slides in the Fall, opt for a shearling version of your slides.
Choose a kitten heel or higher heel slide to elevate your leggings look. Add a tight tank and an oversized matching jacket to complete the look.
Slides Outfits with Dress Pants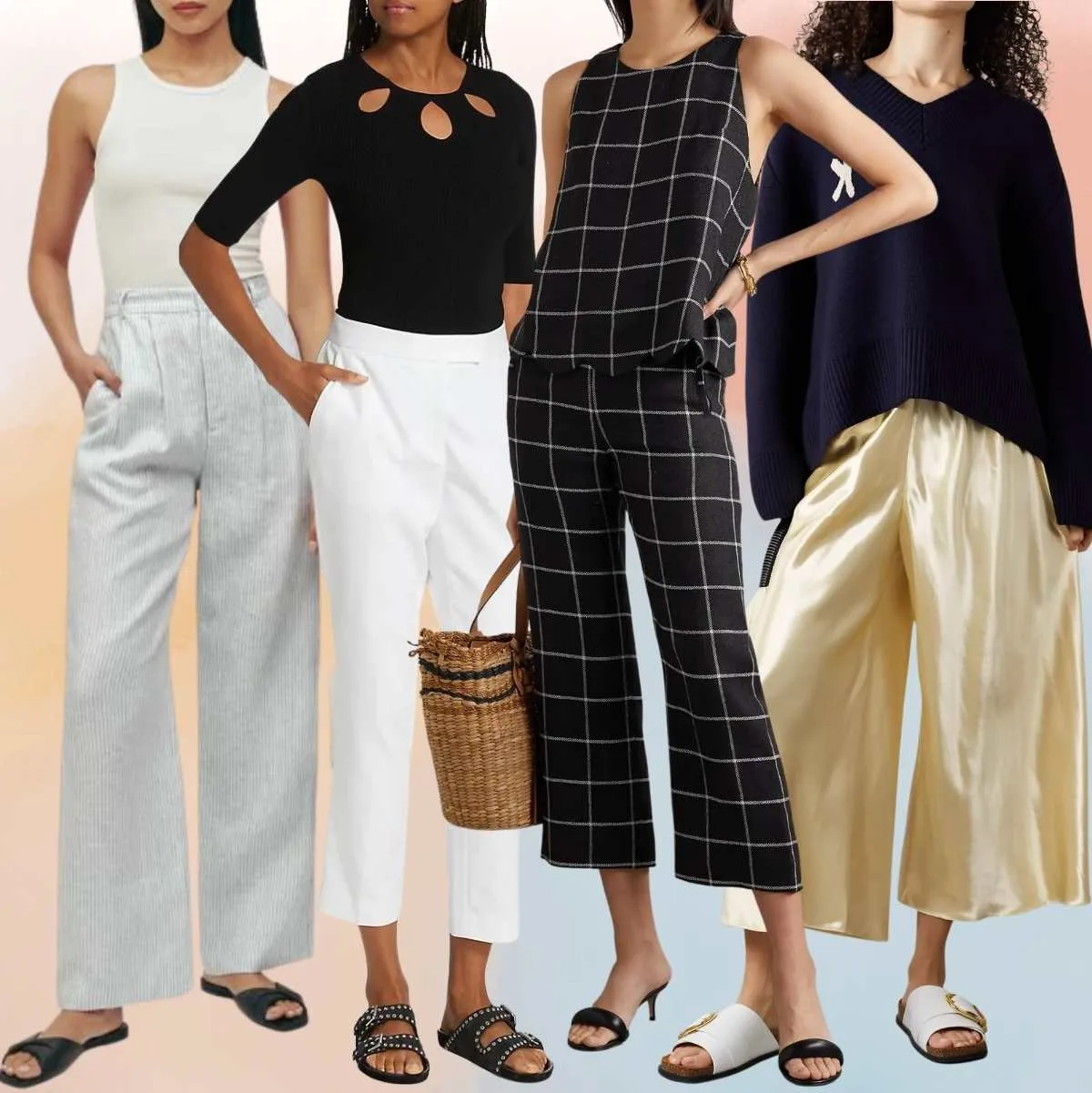 Slide sandals will add a certain ease to your dress pants. Whether you choose a marching pant and top set, a wide leg trouser or a cropped pant, you have many options with slides.
Kitten heel slides look great for some work-appropriate looks and outings. To keep things ultra-casual, wear a soft, wide-legged dress pant with a tight tee and chunky slides.
Take a look at all the shoes to wear with wide leg pants and the best shoes for cropped dress pants in my dedicated posts!
Slides Outfits with Skirts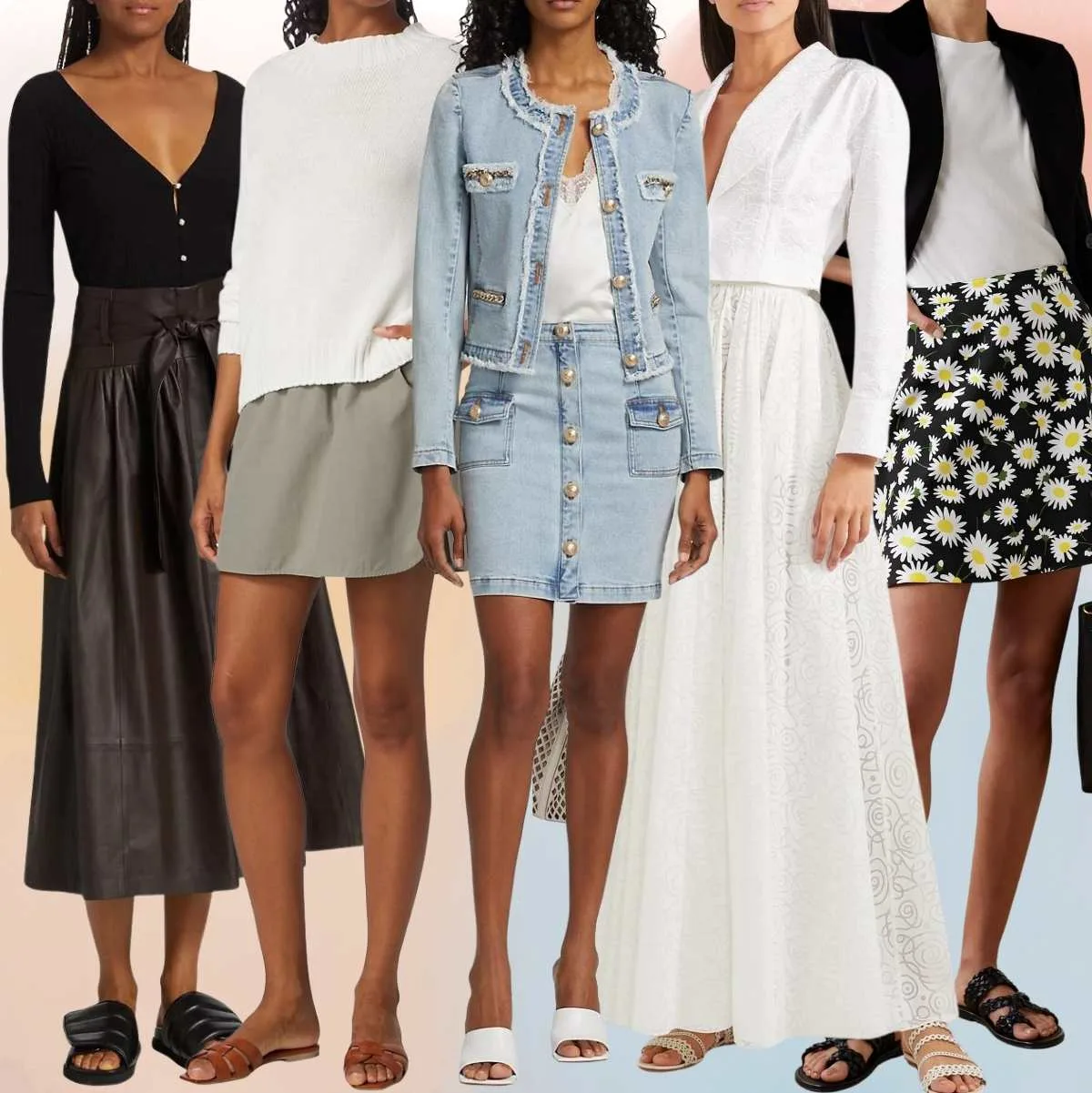 With more versatility than a dress, a skirt can be dressed with many tops and slides to cater to whichever outing you're going to!
A denim mini will look casual, a leather skirt will add edge, while a flowy maxi skirt can be dressed up or down with the right outfit or slides.
With tighter skirts, keep your slides single-soled and minimal. With wider skirts, you can have fun with larger sandal proportions and platforms. Check out my post on all the best shoes to wear with skirts of different lengths and styles!
Final Thoughts on What to Wear with Slides Outfits
Now that you've learned how to wear slides outfits in different ways, I hope you're ready to brand out with your spring/summer slides styling!
From earthy to sporty to chic, elevated leather slides, there are many ways to transform your outfits with this simple sandal.
But never forget to keep your feet well maintained, so that the attention is kept on your cute outfit with slides, vs what your feet look like!
How will you be wearing your slides this summer? As mentioned above, I'm all about jumpsuits with a comfy pair of slides to take me on errand runs and school pick-ups!
xo ShoeTease